<! cd = 04/15/18 > <! UPDATES: 02/24/19 - posted a crude version >
---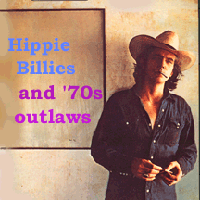 Many Thanks!
Since about 2014, the focus of my country music section has been on documenting "under the radar" artists of the pre-Americana era of the 1960s and '70s. This includes local and regional performers, lounge singers, bar-bands, longhaired hippiebillys, and the many, many musicians who tried to make it in Nashville -- one-hit and none-hit wonders alike. This page gives credit to some of the sources I've found online and in the analog world that have helped in this project.
My primary source of information has been my own obsessive record collecting, with forays to countless record and book stores, swap meets, antique shops and thrift stores. "Anything with twang" has been my motto, and much to my delight, the amount of records that have appeared seems to be fairly endless, if not infinite. I also returned to eBay, where weird old records keep bubbling up from states and countries I'm unable to travel to... I've bought as much of it as I could, and made note of the ones that got away. Careful study of liner notes and composer credits has been the backbone of this project.
Newspaper and magazine archives have also been helpful, particularly old Billboard columns and numerous local papers which occasionally these hometown bands, usually just brief show notices, although when I'm super-lucky, an actual article pops up with an interview or a profile of some musician I'm trying to track down. Sadly, the most common source of information about many musicians has been from obituaries, either in local newspapers, or local funeral parlours. On several occasions the artists themselves have reached out to me, or I've been able to contact them and ask a few questions. (Thanks!)
Some musicians have been mentioned in music blogs and I have used these sites to either confirm or expand my knowledge of musicians I've discovered on my own... It is my sincere hope that no one feels robbed of their work, and I give credit where I can. I haven't footnoted every album review I've made because after twenty-plus years online, I've seen how pervasive web-rot can become, and how quickly links go dead. I welcome any feedback, scoldings, corrections, additional information or suggestions that other writers would like to offer... At some point, I would like to invite other country fans to contribute to this "locals only" guide, though so far managing that kind of project has been too big a task for me to take on...
There are probably a half-dozen online resources that need special shout-outs, and that I have found consistently useful and (I think) fairly accurate information. Most of the artists I'm looking at aren't on Wikipedia, and barely exist on Google, but some have been written about by the following amazing websites:
And the ever-indispensable Wikipedia, which I give teeny, tiny amounts of money to when they ask.


Finally, several YouTube posters have led me down some fun rabbit holes:
Warm regards to Armadillo Killer, Mario Boronat and others who keep sharing cool stuff from their collections
And finally, here it is... a link to the site itself:
---
HIPPIEBILLY & NO-HIT WONDERS
A | B | C | D | E | F | G | H | I | J | K | L | M | N | O | P | Q | R | S | T | U | V | W | X, Y & Z | Comps | Other Hick Music Styles


---