<! MP3 05/26/10 > <! outside 00/00/00 > <! pix 00/00/00 > <! icons 04/18/11 > <! states 05/24/16 > <! UPDATES: 01/21/20 - DE-AMAZONED 07/20/20 - images updated, almost all assigned 02/12/21 - Fillies > <! Bob Inglis "Songs From The Saga Of Tucson Bob" (xxxxx, xxxxx) (LP) - "country rock" - country(???) >
---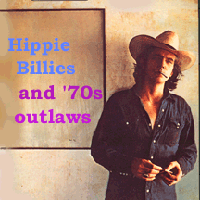 LOCALS ONLY: This is a guide to independent and off-the-radar country musicians from the 1960s, 1970s and early 'Eighties, including hometown performers working in regional oprys, jamborees, dude ranches, casinos, pizza parlors and lounges. They included longhaired country-rockers, red-dirt outlaws, Nashville hopefuls and earnest amateurs, as well as the more country-oriented artists in the bluegrass and southern gospel fields. Many of these musicians toured nationally or regionally while others were strictly hometown folks. These are the people who are often overlooked in the history books but who contributed their talents, hopes and dreams to the country music world, and the aim of this guide is to keep their memories and their work alive. Comments, corrections and suggestions are always welcome.


This page covers the letter "I."





---
HICKS, HIPPIEBILLIES & NO-HIT WONDERS:
A | B | C | D | E | F | G | H | I | J | K | L | M | N | O | P | Q | R | S | T | U | V | W | X, Y & Z | Compilations | State-By-State

---
About This Guide | Thanks | Other Hick Music Styles

---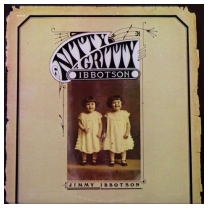 Jimmy Ibbotson "Nitty Gritty Ibbotson" (First American Records, 1977) (LP)
(Produced by Dik Darnell)
The album title refers to Jimmy Ibbotson's longtime off-again/on-again membership in The Nitty Gritty Dirt Band, an eclectic group whose style is echoed in this far-flung record, although he had left the band in '75... Ibbotson also was a frequent collaborator with Dirt Band honcho John McEuen (notably in the band The Wild Jimbos) although McEuen doesn't appear on this album... Some notable sidemen include Canadian bluesman Ray Bonneville on harmonica and John Macy playing steel guitar. All but one of the songs were written by Ibbotson...


<! - # - (CO) - was in Evergreen Blueshoes with Skip Battin >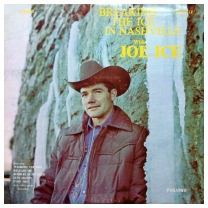 Joe Ice "Breaking The Ice In Nashville" (Pyramid Records 1977) (LP)
Well, despite his (--snicker, tee-hee--) cool name, this would-be honkytonker from Bayfield, Colorado actually cut an uber-DIY album which is a model of so-bad-its-good-ishness. The adenoidal Joe Ice (which was apparently his real name) was not a terribly good singer, and the production of this album is also pretty remarkable... The mix is incredibly murky, and the performances are wild and chaotic... The (unidentified) pedal steel player was pretty good, but both the lead guitar and the keyboard player were totally out of control -- note-happy and showboating whenever possible. It's definitely a country album, and Ice was definitely a country boy, but these musicians sounded like rockers at heart. Perhaps Ice could have made a more credible record with better editing and greater restraint on the part of band, but honestly it wouldn't have been half as much fun... This record really was a goofy trainwreck, and has to be heard to be believed. So, let's drink a toast to the dreams and the dreamers... Sometimes they really make those records, after all!


<! - # - no ASIN 03/06/15 - (CO) >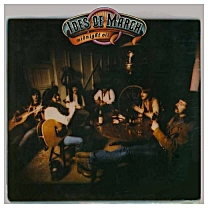 The Ides Of March "Midnight Oil" (RCA, 1973) (LP)
(Produced by Frank Rand & Bob Destocki)
This was the fourth album by the Chicago-based rock band Ides Of March, who had a big hit early in their career ("Vehicle") but struggled to keep their momentum in the years that followed. They "went country" on this eclectic set, anchored mostly in the boogie rock of the time, with a hint of Southern rock, but also some definite hippiebilly twang. Rusty Young, of Buffalo Springfield and Poco fame, kicks in some tasty dobro and pedal steel licks, and while a few tunes lapse into the forced rock-star profundity of the time, there are also quieter, more acoustic moments that seem pretty nice. The group disbanded after this album came out, with lead singer Jim Peterik moving into the Southern rock scene as a songwriter for artists like Sammy Hagar and 38 Special -- an improbable third act came when he founded the band Survivor (yes, that Survivor...) and scored an early-'80s megahit with "Eye Of The Tiger." Jeez...who'da thunk it? Anyway, this album isn't earthshaking, but it's certainly worth a spin if you're really delving into the history of '70s country-rock.


<! - # >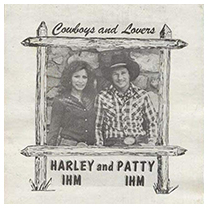 Harley & Patty Ihm "Cowboys And Lovers" (LCM Records, 19--?)
(Produced by Don Silvers)
A Canadian duo who came to Nashville to record... The songs are all written by Harley Ihm, including the regionally-themed "Canada Cowboy." The backing band -- which included Richard Carpenter on drums, Mel Deal (dobro and steel guitar), Doug Hall (bass) and Tom McCallister playing fiddle and lead guitar -- doesn't seem to have been Nashville usual suspects. The Ihms later seem to have become inspirational lecturers and authors, each publishing their own books. Anyone out there have more info about these two?


<! - # - Harley Ihm seems to have become a religious figure of some kind later on >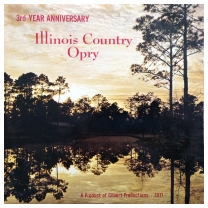 The Illinois Country Opry/Various Artists "Third Anniversary Album" (Gilbert Productions, 1971) (LP)
A souvenir record from the Illinois Country Opry, based in Petersberg, Illinois, one of the countless local "opry" variety shows that operated across the country before WSM lowered the boom and took a few of them to court over the name. This show was operated by the Gilbert family, with some family members performing on stage. I'll go out on a limb and say there were probably earlier albums in this series, as well as ones that fill in the gaps, but these are the only ones I've laid eyes on so far, so for now I'll just list the ones I know for sure were pressed as actual albums...


<! - # - Fillies? yes for later albums (below) >

The Illinois Country Opry/Various Artists "Fifth Anniversary Album" (Gilbert Productions, 1973) (LP)





The Illinois Country Opry/Various Artists "Eighth Anniversary Super Album: 14 Super Hits" (Gilbert Productions, 1976) (LP)
This edition of the Illinois Opry includes Phil Decker, Carlotta Gail, Pam Gilbert, Kent Gordon and Jack Lewis...


<! - # >

The Illinois Country Opry/Various Artists "Ninth Anniversary Album" (Gilbert Productions, 1977) (LP)
(Produced by Chet Gilbert & Bill Olszewski)
For this album Ken Decker acted as stage manager with Pam Gilbert, Paul Lewis, Jack Lewis, Carlotta Gail and Kent Gordon featured as soloists.


<! - no ASIN 07/07/15 - pix - >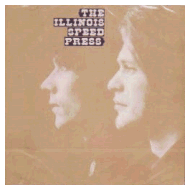 Illinois Speed Press "The Illinois Speed Press" (Columbia Records, 1969)
The commercialized country-rock sound is usually thought of as being a Southern California export, but this band out of Chicago had an important early role in its development... Guitarists Paul Cotton and Kal David had been in a variety of garage and pop bands before meeting each other and forming this band, which honed some of the same kind of vocal harmonies and acousti-electric picking styles that flooded the LA scene. In fact, after the ISP broke up, Cotton was recruited to join an early '70s lineup of Poco, bringing some of his songs with him and staying with the band off and on for several decades. Although this earlier band had rougher, more rock'n'roll edges, their mellower numbers have a familiar feel, definitely worth checking out if you're mining deep into the mainstream country-rock sound.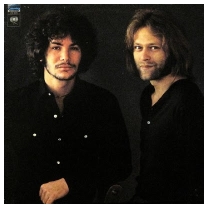 Illinois Speed Press "Duet" (Columbia Records, 1970)



<! - # - formerly the Rovin' Kind - just how "country" were they? - apparently a proto-Southern rock band, credited as an inspiration for Skynyrd: >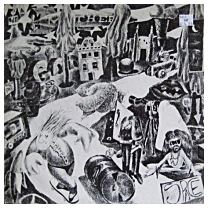 The Incredible Broadside Brass Bed Band "The Great Grizzly Bear Hunt" (Poison Ring Records, 1972) (LP)
This thumpy electrified jug band from New Britain, Connecticut had some twang in there, but mostly they were a party band, with a heavy beat echoing around the washboard and kazoo... They were sort of like the earlier, more rock-oriented Youngbloods, but with a harder, less laid-back hippie vibe. Not quite a full-on boogie-rock band like Hot Tuna or Canned Heat, but kind of in that general direction. One of the leading forces int he band was singer Bill Comeau, who is perhaps best known for his Christian folk music, recorded before and after this band was formed.


<! - # - members (CT) > <! Bob Inglis "Songs From The Saga Of Tucson Bob" (xxxxxxxx, xxxxxx) (CD & MP3) B0056NYI6S B0055A210W - with Mac Gayden, Willie Bobo and Luther Vandross - country?? >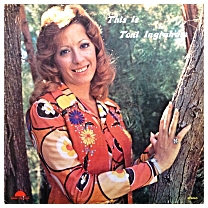 Toni Ingraham "This Is Toni Ingraham" (Artists Recording Studios, 1976-?) (LP)
(Produced by Junior Bennett)
California-born singer Toni Ingraham had a background in pop/big band vocals, including gigs with bandleaders such as Ray Anthony and Esquivel while playing Vegas and the hotel circuit... In the 'Seventies, though, she "went country" and switched to playing state fairs and rodeos. This album is an all-hits set of country covers, specializing in chart-toppers originally sung by female artists: "Funny Face," "Top Of The World," "Happiest Girl In The USA," "Teddy Bear," "No Charge," et. al. To be honest, I found her vocals a little lacking in oomph, but it's a decent snapshot of a working, ground-level country artist. The backing band, led by fiddler Junior Bennett, seems to have been all Cincinnati locals -- guys like Denny Rice, Gary Toy and Brownie Mannett -- though I'm not sure if Ms. Ingraham was living in the Midwest when she cut this album.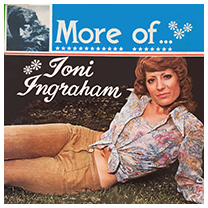 Toni Ingraham "More Of Toni Ingraham" (Sunset Records, 1977-?) (LP)
Well, she made at least one other record, though I'm not sure when it came out. The catalog number and the cover photo suggest 1977, although the set list really seems from much earlier. There are early '70s hits such as "Delta Dawn" (1972) and "Let Me Be There" (1973) and several from 1975 -- "Before The Next Teardrop Falls" (1975), "I'm Not Lisa" (1975), and "When Will I Be Loved," an Everly Brothers oldie that was a hit for Linda Ronstadt in '75. Maybe they had some stuff sitting in the vaults? Although she kept some back-east roots, with this album being pressed in Cincinnati, her label's address was in Vegas, and that seems to have been her base of operations for most of the 'Seventies and early 'Eighties. Ingraham had some success nationally, recording at least one single for RCA Victor, circa 1975, and even had headshots done for the label by a studio in Hollywood, but chart success eluded her. She also toured in California, and may have retired around LA, though I'm not 100% certain about that. Sadly, no info about the musicians backing her here, or who produced this album.


<! - #770103 - 10/26/19 seen @ Record Man - (CA) >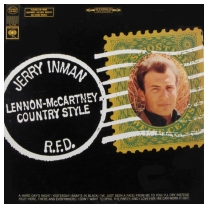 Jerry Inman "Lennon-McCartney: Country Style" (Columbia Records, 1967) (LP)
(Produced by Jerry Fuller & Tom May)
An easy listening/countrypolitan take on eleven Beatles classics... Jerry Inman became known as a bit player in the swinging early 1970's LA country-rock scene, but here he's hanging out with Glen Campbell and Jerry Fuller, on the posher side of 'Sixties twang. Of course, these West Coast sessions also included plenty of heavyweight session players, notably guitar hero James Burton and pianist Glen D. Hardin, who were both in Elvis Presley's TCB band, and who played key roles in the growth of the country-rock sound, including late '70s stints in the Emmylou Harris Hot Band. So while this is a pretty gooey-sounding album, it does have a serious pedigree.


<! - #CS 9593 - dc says '67; I had it as '68 >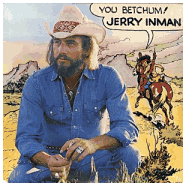 Jerry Inman "You Betchum!" (Elektra-Asylum Records, 1976) (LP)
(Produced by Snuff Garrett)
An odd but alluring album by a guy who was part of the Southern California country scene, apparently playing in the house band at the fabled Palomino nightclub around the time this album was released. He sings with a gruff, old-man voice and gives off a grizzled, rodeo-rider vibe. There are a couple of scary, bombastic pop vocal ballads that interrupt Side One, but the rest of the record has some sly, slick country stuff with curiously rough edges. A bunch of well-observed cheating songs, including Bill Haney's steamy, sleazy "She's Lying Next To Me" and equally seedy entries such as "When It Rains, Don't It Pour" and "Scotch And Soda," as well as the more novelty-oriented "Woman With A Gun" (about a wife who tracks her unfaithful hubby down at his favorite bar, and she comes packing heat...) and "She Loves To Hear The Music" (a somewhat depressing story-song about a middle-aged secretary at a Nashville music publishing company who likes to sleep with the clients... A little too backlash-y for me, I'm afraid.) Anyway, Inman was an interesting character -- this record might not leap out at you right away, but there are some subtle, effective performances that are definitely worth checking out.


<! - # - (CA) >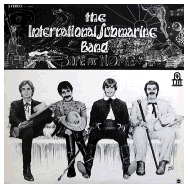 International Submarine Band "Safe At Home" (LHI Records, 1968)
(Produced by Suzi Jane Hokum)
Before he crashed the party over at Chris Hillman's pad, Gram Parsons was working a lot of his ideas out in this short-lived rock-country combo. Most of the tracks they recorded were uneven, though charming. This album was recorded for Lee Hazelwood's LHI label, with Hazelwood's then-girlfriend Suzi Jane Hokom trying her hand as a record producer... Most of the songs were cover tunes or songs provided to the band by the label, although several Gram Parsons classics are showcased here for the first time, including irresistible gems such as "Strong Boy" and "Blue Eyes." Also includes an early version of "Luxury Liner," a song which Emmylou Harris and Albert Lee resurrected in 1977 with jaw-dropping results. This also includes a nice version of "Do You Know How It Feels to Be Lonesome," a song co-wrote with blues-rocker Barry Goldberg... Not the most cohesive album ever, but it has a nice, naive, earnest charm and it definitely worth a spin.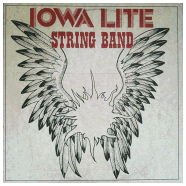 Iowa Lite String Band "Iowa Lite String Band" (ILSB Records, 1981)
(Produced by Iowa Lite String Band)
An ultra-DIY outing from this longhaired, Midwestern bluegrass-twang band, from Fort Dodge, Iowa. They were stronger on the bluegrass side of things, particularly banjoist Brad Wilson, who was pretty good; when they got into more of a thumpy honkytonk mode, things could get a little shaky. Great record, though, warts and all, particularly in the repertoire. The tunes are all originals, except for their live version of Hank Williams' "I Saw The Light" and a zippy run-through of "New Blackberry Blossom," and songwriters Paul Dunn and Brad Wilson came up with some winners. Highlights include "Headin' Down To Texas," which namechecks Willie Nelson and the rest of the Lone Star groovers, as well as "Sad Arcade," which is a bittersweet, boogie-rock novelty song about a pinball wizard who can beat any machine, but wishes he had a better way to spend his time. I'm not sure if any of these guys made any other records, but this is a fine latter-day hippiebilly offering. If you like folks such as the Dusty Chaps or the Cornell Hurd Band, this is kind of in that same general range.


<! - # - (IA) >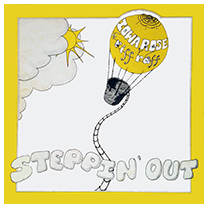 Iowa Rose & Riff-Raff "Steppin' Out" (Checkered Records, 1982) (LP)
(Produced by Iowa Rose & Riff-Raff)
Despite the state-specific bandname, these string-swing revivalists were apparently from (or living in) teeny-tiny Brethren, Michigan when they cut this album, a semi-nonexistent locale which is way in the middle of nowhere, up north, near Lake Michigan. The quartet probably got its name from one member, Jeff Rose, who wrote four of the band's original songs. They cover material as diverse as the swing-R&B oldie "Choo Choo Ch-Boogie," folkie Don Lange's "Old Wooley" and jazzman Nat Adderley's "Work Song."


<! - # - (MI) >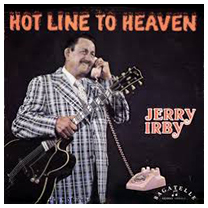 Jerry Irby "Hotline To Heaven" (Bagatelle Records, 1975-?) (LP)
(Produced by Byron Benton)
A true-twang gospel album from a veteran of the 1950s hillbilly era... Originally a secular singer, Irby got swept up in the early 'Seventies wave of born-again evangelical Christianity, and seems to have penned all the songs on this self-released album. He plays rhythm guitar, backed by a local Houston, Texas crew that included Glenn Adams (piano), George Holsomback (drums), Dan Waters (lead guitar), John Wilbanks (bass) and backing vocals by Merlene Singers. Western swing old-timer Clyde Brewer (1930-2011) chimes in on violin; Irby may also have done some work with Brewer's band, the Original River Road Boys... anyone know for sure?


<! - #LP-92875 >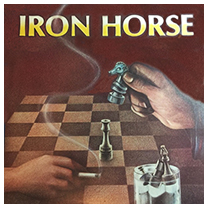 Iron Horse "Iron Horse" (Iron Horse Records, 1981) (LP)
(Produced by Jim Dicks, Mike Yates, Ken Scheidler & Steve Lesser)
This rock/country band from Indianapolis, Indiana featured a slew of original material, most of it written by singer-bassist Jim Dicks, who seems to have been in an early 'Seventies rock band called Granite. Songs include "Cowboy Day" and "North Dakota Reel," "Down In The Canyon," but also less rural-sounding tunes, such as "I Wanna Go To War" and "Morocco." Other bandmembers include Ken Scheidler on banjo and pedal steel, Mike Yates on acoustic guitar, and a slew of family and friends to fill out the sound around the main trio. Anyone know more about these guys?


<! - #CPI-9987 IRON HORSE – Lost Weekend – Pioneer AUS'86 - same as '81 band?? >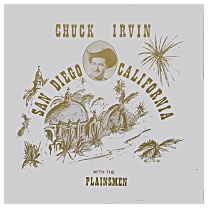 Chuck Irvin & The Plainsmen "San Diego California" (Showboy Records, 1980) (LP)
(Produced by Chuck Irvin & Ray Griff)
Dunno much about this fella... I thought he was from California because of the album title, but it turns out he's a Canadian old-timer -- I'd guess his heyday was in the 1950s or '60s, and much of this album seems like a nostalgic journey. Some cowboy stuff and old-timey western/sentimental tunes, as well as more robust honky-tonkish material, with a debt to fellow northerner Hank Snow... Irvin sometimes sounds a little shaky as a singer, but on the whole, this is a pretty satisfying set... Definitely worth a spin!


<! - # >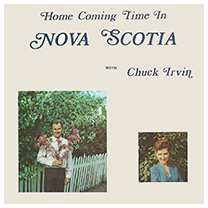 Chuck Irvin & Jackie Corbett "Home Coming Time In Nova Scotia" (Showboy Records, 1982) (LP)
This album sticks closely to Irvin's Canadian roots, with duet vocals featuring gal singer Jackie Corbett. Along with classics like "Apple Blossom Time In Annapolis Valley" and "Home Coming Time In Nova Scotia," they sing "A Tribute To Wilf Carter" and several other songs with Nova Scotian themes, and several Chuck Irvin originals.


<! - #SR-00233 - Corbett is a female singer - tracks (CAN) >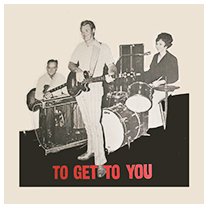 The Troy Irving Trio "To Get To You" (Moon Records, 19--?) (LP)
Born and raised in Chariton, Iowa, Troy Irving (1940-2019) worked all kinds of jobs -- feed store manager, insurance salesman, used car lot owner, and musician. He and his wife Carolyn formed a band in the mid-1970s and recorded this album with Mr. Irving on lead vocals, her on drums and a guy identified simply as "Jean" playing lead guitar and steel. An uber-indie DIY release, this disc sadly includes no information about where or when it was made, who produced it, or if any other musicians played on it. The Irvings moved to Kissimmee, Florida in 1976 and may have recorded this album there, or while still living in Iowa. The repertoire is mostly country standards, stuff like "Drinkin' Champagne," "Good Times," "Help Me Make It Through The Night" and "Last Date," and "Steel Guitar Rag." A few tracks may have been originals; the instrumental showcase, "Jean's Boogie," almost certainly was. The Irvings also released at least one single, "Cryin's Not The Answer"/"Tommy In Ted," which features two apparently original songs which were not included on this LP. Other than that, this group remains a real mystery.


<! - #LAS0129 - no pix ~ 19301 (if Rite, then 1967) (doubtful) >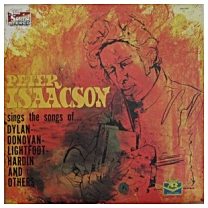 Peter Isaacson "...Sings The Songs Of Dylan, Donovan, Lightfoot, Hardin And Others" (Altair Records, 1971) (LP)
Can't get much more "folkie" than this... I think Pete Isaacson started out as a folk singer in Wichita, Kansas (correct me if I'm wrong!) and he was known even as far back as the late '60s for adding electric guitar and drums to his band. Check out below for some info on Isaacson's country side...


<! - # - (KS) >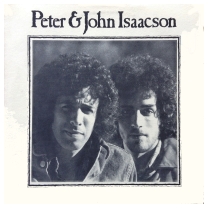 Peter & John Isaacson "Peter & John Isaacson" (Philo/Fretless Records, 1975) (LP)
(Produced by Peter & John Isaacson)
A nice set of casual-sounding folk-and-country from brothers John and Peter Isaacson, with Peter being the main songwriter, lead singer and guitarist. Some of the songs are too far into the straight-up 'Seventies folk sound for my tastes, though nothing on here is at all unpleasant... The country stuff is really nice, though, particularly with the dreamy pedal steel licks added by Herb Jones on songs like "Coming Home To Houston." I thought maybe Isaacson's wife Karen was singing uncredited on a tune on a tune or two, but listening closer, it might actually be his brother, adding a near-falsetto counterpoint with a touch of the uncanny "brother harmony" feel. A really sweet, soulful album that holds up well over the years.


<! - # >

Itinerant Musicians License "Itinerant Musicians License" (Front Hall Records, 1972-?) (LP)
This hippie-folkie old-timey string band was an offshoot of the Canterbury Orchestra, an amorphous New Hampshire ensemble led by multi-instrumentalist Dudley Laufman, who plays accordion on this record... He's joined by several fiddlers -- Jack Perron, Randy Miller and Fred Breunig -- on a lively acoustic set. Laufman also recorded a solo album (or two) back around the same time.


<! - #F73-DL101 - lots (NH) >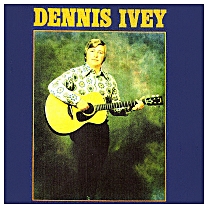 Dennis Ivey "Dennis Ivey" (Lakeview Records, 19--?) (LP)
Starting in the late 1960s and throughout the '70s, Dennis Ivey and The Waymen were the house band at the Lakeview Club, near College Station, Texas. While there, as Ivey fans like to point out, he frequently sang Terry Stafford's song, "Amarillo By Morning," which later became a Top Five hit for George Strait. As with many East Texas troubadours, fame eluded Ivey, but he did record a couple of great albums back in the day, where his Ray Price-like vocals were captured, riding atop classic Texas shuffle honkytonk.


<! - # - ext, big profile (TX) >
Dennis Ivey "Texas Bound" (Lucky Day Records, 1983) (LP)
(Produced by Dennis Ivey & A. V. Middelstedt)



<! - # - tracks, links (TX) >
Dennis Ivey "Something Old, Nothing New" (IMG Records, 2008)



<! http://www.swinginwest.com/reviews/dennisivey.htm "...The album also features some very enjoyable Rick Price steel guitar and the fiddles of Kevin Carter and Reggie Rueffer. Jim Loessberg is heard playing the drums and Randy Prince is playing lead guitar. Austin, Texas' T. Bonta is the pianist and the one and only Jake Hooker plays the upright bass. Randy Lindley plays rhythm guitar and Amber Digby is heard as a background vocalist." >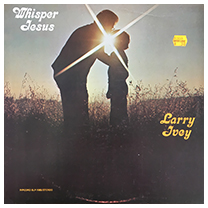 Larry Ivey "Whisper Jesus" (Ripcord Records, 197--?) (LP)
(Produced by Gene Breeden)
A disappointing dud on the otherwise-awesome Ripcord label... Although Gene Breeden and his studio crew are on here -- Blaine Allen, Danny Breeden, Geno Keyes, and Gene Breeden on lead guitar and steel -- they're barely going through the motions, backing the schmaltzy, wobbly-voiced evangelist Larry Ivey. Ivey was a pastor from Hayward, California, though he apparently made the trek up to Vancouver, Washington to cut this disc. At any rate, this is an uninspiring album, at least from a country fan's perspective, with too little twang to be heard.


<! - #SLP-1085 - no ASIN 08/07/18 >
Ivory Chuck "Ivory Chuck At The Ivories" (BOC Records, 197--?) (LP)
Piano player Charles "Ivory Chuck" Bechtel (1922-1989) lived in Burlington, Iowa, performing locally at craft fairs and the like... He may have also played some gigs down in the Ozarks, as evidenced by his numerous albums on BOC, which was a custom label based in Mack's Creek, Missouri.


<! - #LPS-2001 - (IA) >
Ivory Chuck "Lonesome And Dreaming" (BOC Records, 197--?) (LP)



<! - #LPS-2009 >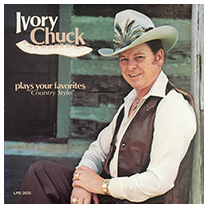 Ivory Chuck "...Plays Your Favorites -- Country Style" (BOC Records, 197--?) (CD)
(Produced by B. J. Carnahan)
Plinky, plunky piano instrumentals with modest backing by the house band at B. J. Carnahan's studio in Mack's Creek, Missouri, and a repertoire of all cover tunes, stuff like Webb Pierce's "Slowly," "Green, Green Grass Of Home" and the Carter Family oldie, "Gold Watch And Chain." It's pleasant enough, though unlikely to inspire wild fans in years to come. (Though who knows?) No original material, and no info on who was in the band... alas!


<! - #LPS-2025 - no ASIN 07/11/17 >

---
---