<! MP3 05/28/10 > <! outside 00/00/00 > <! pix 00/00/00, added Rosslyn Mountain Boys pix 08/11/11 > <! icons 04/25/11 > <! states 02/01/18 > <! UPDATES: 09/01/13 - 02/01/14 - major section overhaul 02/15/14 - started Leon Russell page 01/30/14 - checked all ASINs - ready to post 02/02/2020 - DE-AMAZONED - needs lots of editing though > <! The Rader Family "Fresh Country" (Ocean Opry Records, 19--?) (LP) (Produced by Dennis Rader) - #00-1004-LP - billed as "Ocean Opry's own" - from Panama City, Florida - no specific credits, some next to songs: - Becky, Billy, Ocean Opry Trio RainCrow "Cowboys And Indians" (Howling Record Company, 1983) (LP) - #43075 - country?? Jenny Robbins "Hello, I'm Jenny" (El Dorado Records, 1978-?) (LP) (Produced by ) - #CLP-20472 - related to Marty Robbins? - liner notes by Doyle Wilburn - sang at least once on the Opry - date per eb, nv - musician, producer credits nv - also recorded singles for the Americountry label, circa 1970 (Jamboree?) - singles credited to Sure-Fire Music (Wilburn's publishing company) - eb list says '70; radio station notation (on singles) says '73 - several tracks (on singles and LP) credited to Sharon Higgins: her real name? - "The Dream" on yt - pretty bad... can't make up my mind if it's the kooky production (yes) or also her vocals; imitative of Dolly Parton Del Raines & Bert Raines "Great Nashville Sounds Of Gospel Music" (Skyland Records, 19--?) (LP) - #4029 - related to bluegrass bassist Missy Raines(??) she grew up in the Allegheny Mountains - Nashville label - 1960s? - bc nv - "A Stanton Production" - Nashville label Alex Richman "Salty" (Capitol Records, 197--?) (LP) - rock? - with Ry Cooder, Jesse Ed Davis, Chris Ethridge on bass, Wayne Perkins (guitar) - Richman on piano Rainbow Canyon "It Was So Tasty" (Rainbow Canyon Records, 1985) (LP) (Produced by Jack Casey & Doug Edwards) - also a 'Seventies hard-rock band called Rainbow Canyon Rainbow Canyon CB "Rainbow Canyon CB's Greatest Hits" (19--?) (LP) (Produced by Tommy Lee Reid) - early '80s? - apparently from Columbus, Ohio ("Franklin Country Woman") - recorded at several different indie studios (Rome Records, Artist Recordings, etc) - Neil Walter, Bob Hummel - songs credited to M. Harbold, N. Walter, B. Hummel and M Gardens - "Corvette Cowboy" has a lot of swearing - a cover of Jimmy Buffett's "Why Don't We Get Drunk And Screw", a Kenny Rogers song, Johnny Horton's "Battle Of New Orleans" Ronny Robbins "Reach For All You Can Get" (Thunder Records, 1981) (LP) - #DRP-7774 - Marty's kid? think so - seems to have been cobbled together from a lot of different sessions, different producers, etc Jeris Ross "Jeris Ross" (ABC Records, 1975) (LP) (Produced by Ron Chancey) - #DOSD-2046 - gal singer >
---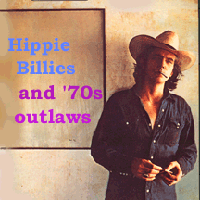 The "twangcore" and "Americana" boom of today owes a large debt to the shaggy twangers and no-hit wonders of yesteryear -- this section looks at the hippiebilly and stoner bands and a few odd, random artists from the 1960s, '70s and early '80s, back before there was anything called "alt-country." This page covers the letter "R."





---
HIPPIEBILLIES & NO-HIT WONDERS:
A | B | C | D | E | F | G | H | I | J | K | L | M | N | O | P | Q | R | S | T | U | V | W | X, Y & Z | Compilations | State-By-State

---
About This Guide | Thanks | Other Hick Music Styles

---

Jimmy Rabbitt "...And Renegade" (Capitol Records, 1976) (LP)
(Produced by Waylon Jennings)
A decent Commander Cody-ish set, though nothing amazing, really. Jimmy Rabbit was a Texas-born radio deejay who had previously been a rocker, playing in Texas bands such as Mouse & The Traps and a short-lived psychedelic garage band called Positively 13 O'Clock. Switching gears, Rabbitt moved to California in 1969 and became an influential member of the "freeform" radio scene, notably with a long stint on KROQ in LA, where his sets mixed classic country with material bubbling up from the '70s country-rock scene. He also played music and is best known for co-writing "Long Haired Redneck" with David Allan Coe... He seems to have hooked up with Waylon Jennings as well -- ol' Waylon not only produced this album, playing geetar and whooping along on a tune or two -- and that's nothing to sneeze at. Rabbitt seems to have had his heart in the right place, covering folks like Delbert McClinton and Alice Stuart, as well as a version of Lee Clayton's "Ladies Love Outlaws," which chipped its way into the charts. It sounds like Rabbitt wasn't really able to cut loose on this album, playing it safe when he should've gotten a little wild. This is okay, but it ain't gonna make a big difference in your life... Worth a spin, though!


<! 144 x 144 > <! "Jimmy Rabbitt and Renegade" was released on Capitol Records in 1977, and yielded two chart singles, , and "Someone To Miss", is still considered one of the best Texas rock and roll country albums ever! >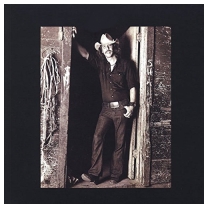 Jimmy Rabbitt "The Texas Album: Outlaw Country" (St. Roch Recordings, 2015) (LP)
(Produced by Jerry Wexler & Keith Olson)
Long-lost demo recordings, cut for Atlantic Records in 1973... Jerry Wexler helmed the sessions, with fabled session player James Booker backing Rabbitt's band on the ivories...


<! - recorded at Sound City Studios in Van Nuys, California >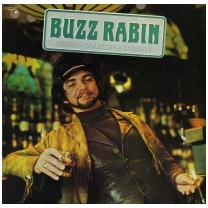 Buzz Rabin "Cross Country Cowboy" (Elektra Records, 1974) (LP)
(Produced by Pete Drake)
Songwriter Buzz Rabin (nee Raybon Busby) was a Nashville journeyman who is probably best known as one of the main contributors to Ringo Starr's country-oriented 1970 solo album, Beaucoups Of Blues. Rabin was recommended to Ringo by producer Pete Drake, and rode that coup all the way into a solo album several years later. Other than one single released in '69, this was apparently the only record Rabin released, though his career as a songwriter in Nashville lasted many years, most notably with the Top Five hit, "Your Body Is An Outlaw," recorded by Mel Tillis in 1980, as well as gigs with David Allan Coe and others. (Note: I'm not sure where Rabin was from originally -- he occasionally seems to be confused with the much-older, Louisiana-born bluegrass legend Buzz Busby, though I don't think there was any real connection. Anyone with more info about Rabin's career? I'm all ears!)


<! http://boards.ancestry.com/thread.aspx?mv=flat&m=1150&p=surnames.busby "...raybon busby,also known as buzz rabin" "...it didn't say anything about him being any kind of singer songwriter.the one i knew,sang country music and wrote it real well.i've lost track of him and would really like to find him again.his sister was a telephone operator.his father passed on not to long ago.he was born in alexandria,la.he used to work with jimmy johnson,)jimmy sadd)for pete drake in nashville.i even know someof the stars that recorded his songs.he only had one album out but it was perfect to me.he had a song on a 45rpm called the drifter.he hung out at tootsies orchard lounge as i did,on broadway in nashville.he had sung at the wheel bar across the street from tootsies." - was he related to bluegrass musician Buzz Busby? (Bernarr Graham Busbice (b. Eros, Louisiana 1933-2003) - 06/17/16 - don't think so, there's just confusion about them online. >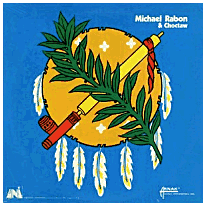 Michael Rabon & Choctaw "Michael Rabon & Choctaw" (Uni Records, 1970) (LP)
A non-pop outing from Michael Rabon, the former leader of the bubblegum-ish 'Sixties Top 40 band The Five Americans. He apparently dropped out and went to live in the desert after the his days of '60s pop glory, and this album seems to have been a musical declaration of independence. There's some overt country-rock on here, particularly on songs like "Texas Sparrow" and "Country Music," though the album is even more full of mellow folk-psych tunes and (semi-) hard rock with power chords though with thankfully little macho swagger. The twang tunes are interesting, particularly how Rabon blended pedal steel with sharper rock guitars... Although this is more of a rock record, its early '70s release does make it a credible country-rock forerunner, and it'll probably be of interest to folks who are into Mike Nesmith's music of the same era.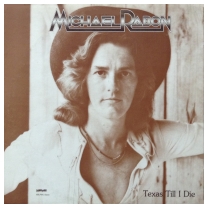 Michael Rabon "Texas 'Til I Die" (Knife Wing, 1975) (LP)



<! Side One: Let The Music Play, Try a litle harder, Just for a memory, Two-sided Man, Shotgun... Side Two: Texas (Til I Die), Free Loose and Lonesome, Straight Brother, Dixie Rain, Country Wedding... > <! https://en.wikipedia.org/wiki/Mike_Rabon "...Mike Rabon had a successful touring career afterwards, released two albums that sold well, and played guitar for the Tyler, Texas, pop group, Gladstone, whose "A Piece of Paper" reached No. 45 in October 1972. Rabon later formed a group called Michael Rabon and Choctaw which also included Five Americans drummer Jimmy Wright. One album was released by Uni in the early 1970s to good reviews but was mostly overlooked by the label due to promotional and legal difficulties. After 10 years in the music business, Rabon went back to college and obtained his master's degree in administration. Rabon is currently involved in education technology in his hometown of Hugo, Oklahoma." >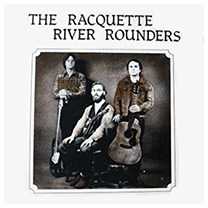 The Racquette River Rounders "The Racquette River Rounders" (Adirondack Records, 1980) (LP)
(Produced by David Fleur & The Racquette River Rounders)
An acoustic string-swing and folk trio made up of Danny Gotham, Michael Hadfield and John Kribs... They took their name from the Raquette River, which originates in upstate New York. The album features lots of original material, including the "Harrisburg Rag," which was inspired by the 1979 Three Mile Island nuclear reactor meltdown.


<! - #AR-1002 - >

The Racquette River Rounders "Liberty" (Adirondack Records, 1982) (LP)
(Produced by David Fleur & The Racquette River Rounders)



<! - #AR-1006 - "I'm So Lonesome I Could Cry," "I Don't Want To Spoil The Party" >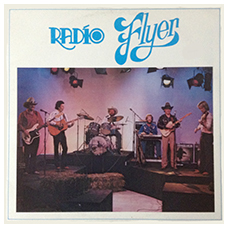 Radio Flyer "Radio Flyer" (End Of The Trail Records, 19--?) (LP)
(Produced by Radio Flyer)
Not to be confused with the bluegrass band from Missouri, this Radio Flyer was a country bar band out of Van Dyne, Wisconsin, playing classics'n'outlaw, with a peppery dash of western swing. The group included lead guitarist Tim Ferguson and his brother Fred Ferguson on bass, with Wally Messner on steel guitar and accordion and Bryan Christiansen pulling triple duty on banjo, fiddle and mandolin. The musicianship is pretty solid, though sometimes their vocals lapse into a corny bar-band self-parody, as if at times they couldn't take the whole country thing totally seriously. That's okay, though, since for the most part this disc is pretty fun, especially with a cover of the old Webb Pierce hit, "Tupelo County Jail," along with several swell originals. Tim Ferguson also played in a band called Ida Red, and more recently in a band called The Best Westerns.


<! - # - same as the bluegrass band on Turquoise? doubtful http://www.thebestwesternsband.com/about-the-band.html 02/17/16 - LK emailed Tim Ferguson to ask about the band >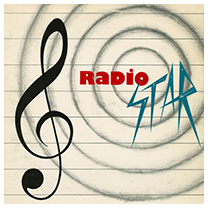 Radio Star "Radio Star" (Trackdown Studios, 1987) (LP)
(Produced by Gorman John Ruggerio & Alan W. Prince)
The star of Radio Star, lead singer Gorman John Ruggerio, claimed fifteen years of experience acting on stage and in television prior to cutting this album at a studio in upstate New York... He has several family members backing him, as well as studio engineer Alan W. Prince on lead guitar, Randy Rollman on pedal steel and bass, Keith Crofut picking guitar on one tracks, and a few other folks. There are some country-themed tunes, such as "There's A Cowboy Town Where Nobody Knows" and "A Cowboy's Holiday," as well as some songs that seem to be from stage productions he was in... Years later Ruggerio landed some film roles, though largely he seems pretty obscure, at least on the country scene.


<! - # - how country is this?? - Prince lead guitar and engineer; probably his studio - listed under Ruggerio's name on dc >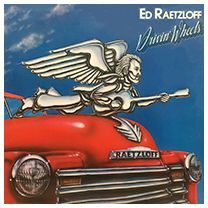 Ed Raetzloff "It Took A Long Time To Get To You" (Newpax Records, 1981) (LP)
(Produced by Steve Aune & Joe Wilson)
Christian country-rock with some fancy pickers on the sessions... Ed Raetzloff was formerly lead singer for the group Blue Jug, and brings that secular band's southern rock sound into the CCM movement, carving out a new career in the Christian music scene. The gruff, bluesy twang is an interesting twist, though the sometimes-clunky lyrics suffer (as gospel rock often does) from the need to explain his conversion and preach about it to others -- perhaps not the easiest thing to express artfully. At any rate, an interesting mix of sensibilities, groundbreaking at the time.


<! - #NP33078 - Jesus rock/country-rock >

Ed Raetzloff "Drivin' Wheels" (Newpax Records, 1981) (LP)
(Produced by Turley Richards)



<! - #NP-33103 - with Turley Richards >

The Railsplitters "In Dixie" (Marbil Records, 1978-?) (LP)
(Produced by Bill Turpin, Scott Long & Fred Perkins)
This group from Georgia was led by fiddler Everett Clackler (1921-2015), who was born in Clanton, Alabama and later moved to Georgia, eventually settling in the town of Warner Robins, where he owned a business called Kissing Cousins. Mr. Clacker was inducted into the Georgia Music Hall Of Fame, and worked in a variety of bands, including his own Melody Makers (while still in Mobile), the Railsplitters, and a group called the Claude Hicks Vocal Band, in the 1990s. The Railsplitters were together for much of the 1970s and '80s, with a lineup that included Clackler on fiddle, Billy Bumpers (bass), Gene Griffin (drums), Garland Thornton (rhythm guitar), and Jeff Walker on lead.


<! - #10278 https://www.findagrave.com/memorial/149609962/everett-clackler https://www.clantonadvertiser.com/2015/07/22/everett-clackler/ July 22, 2015 "...Everett "Red" Clackler, 93, passed away July 21. Mr. Clackler was born in Clanton. He was a veteran of the United States Navy and a member of the Tyrian Masonic Lodge No. 111. He loved to play music and swing a golf club." >

The Rainbow Boogie Band "The Rainbow Boogie Band" (Capital City Records, 1980) (LP)
(Produced by Pete Blanchard)
A Texas country-rock band from Abeline...


<! - #CC-2110 - recorded in Abeline - songs by Ric Vickery, xxxx Young, xxxxxx Maloney - no ASIN 04/23/15 >

The Rainbow Ramblers "Dance Time With The Rainbow Ramblers" (Goldust Records, 196-?) (LP)
(Produced by Emmit Brooks)
Led by singer Bill Marinell, the Rainbow Ramblers were a straight-up country dance band from Ruidoso, New Mexico, with a following throughout the Southwest. The group was formed in 1962 and included Hank Henke playing bass, Jimmy Patterson (drums), Jimmy Temple (lead guitar), Calvin Turbeville (steel guitar), and Fred Wood on fiddle. The set list for this album is almost all cover songs, stuff by George Morgan, Moon Mullican, Buck Owens and Bob Wills, as well as one song penned by Bill Martinell, "Like I Did You." Martinell sings lead on most tracks, with Temple and Wood each taking the spotlight on one song. Other than a single or two, I'm not sure if they made other records; Calvin Turbeville worked as a session player on several other Goldust albums.


<! - #LPM-152 - >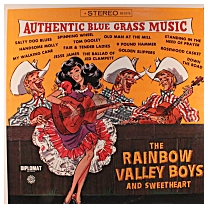 The Rainbow Valley Boys & Sweetheart "Authentic Blue Grass Music" (Diplomat Records, 196-?) (LP)
Fairly straight-up bluegrass, notable from my end of things for the gal singer referred to only as "Sweetheart" (though I sure wish I knew her real name!) This album has was issued under a few different budget-line labels, with different album art as well. The pressings were pretty cheap, though, and the sound quality was also pretty poor. Oh, well.


<! - #DS-2375 - listed 12/05/17, but did not research >
Rains & Harris "Rains & Harris" (RCA Victor, 1977) (LP)
(Produced by Jim Ed Norman)
The short-lived country/pop duo of Greg Harris and Chick Rains, both veterans of the '70s Southern California country-rock scene, with backing by Al Perkins on pedal steel, and Michael Bowden. Starting in the late '70s, Greg Harris was a frequent on-again/off-again member of the Flying Burrito Brothers and studio musician, while after this album tanked, Chick Rains went on to become a successful country songwriter in Nashville. I think this was the duo's only album, with all but one of the songs being written by Rains.


<! - Michael Bowden from the band Cold Steel >

Jerry Rainwater "...Presents An Instant Replay" (Sound Systems, 1978) (LP)
(Produced by Hoot Gibson)
A mega-DIY album of rootsy folk-twang, recorded in Odessa, Texas, where Jerry Rainwater (1942-2011) had a long run leading the house band at a place called the Flamingo Bar in the mid-to-late 'Seventies. He was a lifelong Texan, born near Abilene in a tiny town called Snyder, and his band seems to have been all locals, including Doug Atwood on bass, Merle David (fiddle), Jay Hansborough (percussion), Terry Vincent (piano) and Jerry Rainwater playing all the guitars. All the songs are Rainwater originals, including the title track, "Instant Replay (Of A Time That's Never Been)" and "Busted For Loving You." Not sure if he made any other records, though I think this one later came out on CD.


<! - #SSR-779 - NOTES, obit w/ contact >

The Rainy Day Singers "Country Favorites" (GRT/Sunnyvale Records, 1977) (LP)



<! - #9330-1008 - no ASIN 12/21/17 >

The Rainy Day Singers "Great Country Songs" (GRT/Sunnyvale Records, 1977) (LP)
(Produced by Dick Heard)
An odd, Pickwick-esque, cheapo-budget label offering with covers of early- and mid-1970s country hits by an anonymous studio band. The back cover lists several other "rainy day" records, including LPs of show tunes and movie themes, so make of that what you will.


<! - #9330-1009 >
Roger Rainy "Breaker Breaker: Roger Rainy Sings Country" (197-?) (LP)
A twangster from rural Minnesota who also released some 7" singles... Roger W. Reini (d. 2010) was an active musician throughout much of the 1960s and '70s, working a day job in the grocery produce business. According to his obituary, Reini performed extensively throughout the Great Lakes region and in Texas before deciding to retire from the music business, and was known for his tenure in the house band at a joint called the Broken Spoke, in Big Lake, Minnesota. He wrote a couple of songs on this album, including "Best Day Of My Life" and "One More Time," although the title track was penned by June Petri... There are also a few cover songs, including a version of Mel Street's 1972 hit, "Borrowed Angel," which might place this album somewhere in the '73-74 range... The front of the album is one of those "cop covers" showing a staged photo of a police officer "busting" the band; the back cover is blank white cardboard, with no info about where or when this record was made. The band included Roger Rainy on vocals and rhythm guitar, Jerry Rahn (lead guitar), Curt Nohrenberg (bass) and Gary Stibal on drums.


<! - #CPO-216 L-A - NOTES, songs, band - Petrie, or Petri? - no year or producer info, no label name >

Roger Rainy "These Changes In Me" (197-?) (LP)
This later album was recorded in both Nashville and Minneapolis; Buddy Emmons, Leon Jackson and Bud Logan were in the Music City crew...


<! - #37694 - 1976(??) - pix, have - NOTES, obit >


Bonnie Raitt -- see artist profile



Norm Raleigh "Midnight Cowboy" (Crown Records, 1969) (LP)
Another anonymous cheapo-label disc with no liner notes, no producer or musician info, no nothin', except the music! It's possible "Norm Raleigh" was a pseudonym for one of the Southern California hired guns who banged these discs our, morning, noon and night. Or possibly, Norm was a real guy... Maybe he came from a small town somewhere in Texas or something, headed for the big city with nothing but his guitar, his hat and a jacket, tried to make it in the music business and fell in with some shady characters... Who knows? At any rate, this must have been a reasonably popular album, since Crown was still selling it in the trades several years after it was made. The title track is, of course, a cover of the theme to the 1969 film, Midnight Cowboy, though the rest of the record is packed with idiosyncratic originals, the kind of weird, half-baked gems that make these cheapo albums fun. No songwriter credits, though, of course.


<! - #CST-600 - NR 04/18/20 - per dc >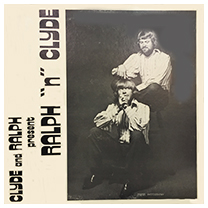 Ralph & Clyde "Clyde And Ralph Present: Ralph And Clyde" (Big J Records, 19--?) (LP)
The roots duo of bassist Clyde Jorgensen and guitar picker Ralph Smith first came to Grand Junction, Colorado to do a few weeks residency at the St. Regis Hotel hotel. They liked the area, liked the audience, and stayed in Colorado for decades, becoming local legends.


<! - #LPS-9940 - no ASIN 01/12/18 - also made an LP with Duane Eddy - Big J label from Grand Junction, Colorado >

Ralph & Clyde "Getting Inside With Ralph And Clyde" (Big J Records, 19--?) (LP)



<! - # LPS-9941 >

Ralph 'N' Clyde "Listen To The Lights In The Rain" (Big J Records, 19--?) (LP)



<! - Duane Eddy plays on two songs - band included Mark Espy on banjo, fiddler Duane Knopp >
Ramblin' "Enjoy A Touch Of The West" (Kershenstine Holding Company, 1979) (LP)
(Produced by Gary Edwards & Jay Gallagher)
If ever there was an album that screamed out "tax writeoff," this disc issued by the Kershenstine Holding Company would be a pretty good candidate. Kershenstine's was an old-school rib joint in Metairie, Louisiana, and is pictured in the background of the album art... One assume's Ramblin' played there at some point? Anyway, Ramblin' was not, oddly enough, the name of a band, but rather the attempted pseudonym of songwriter Phil S. Malbrough, who wrote all but one of the tunes on this album. Malbrough was born in Marksville, LA and apparently tried his luck in Nashville, possibly in Austin as well. One strong point in his favor is that the liner notes were written by uber-indie honkytonker Norman Wade, so major props for the company he kept. Malbrough seems to have been backed by friends, or at least Louisiana locals -- nary a Nashville cat to be seen in this studio crew. The group included Johnny Bonvillain (bass), Harold Cavalara (steel guitar), Pat A. Flory (lead guitar), Phil Meeks (fiddle), Bobby Stapler (piano), Ray Wood (guitar), and others. The one cover tune here is a version of Jerry Jeff Walker's "Mr. Bojangles," with all other songs credited to "Ramblin'," including tunes such as "Almost Perfect Lady," "Beertender Pour Me A Bar," and "What's A Workin' Man Gonna Do." Other than this album, Malbrough remains pretty much a cipher... He apparently passed away a while ago (it was mentioned in his brother's obituary) but where or when is unclear.


<! - #K-00422 ramblin_1979_enjoy-a-touch_208.jpg >

Ramblin' "Ramblin' " (Self-Released, 1982-?) (LP)
(Produced by Tom Renfro)
Not to be confused with the Louisiana group above, this cover band from Ponca, Nebraska was formed in the late 1970s and had a sweet tooth for melodic hits and harmony vocals, stuff like "All The Gold In California" by the Gatlins, "Fancy Free" by the Oak Ridge Boys and Johnny Lee's big hit, "Lookin' For Love." They also dug more country-rock type stuff such as "Lyin' Eyes" by the Eagles, and "Third Rate Romance," the 1975 hit by the Amazing Rhythm Aces. The group included lead guitar Mark Brewer, bassist Dan Frohberg, drummer Craig Kleinberg and lead singer Jeff Taylor -- and also his wife, Joan Taylor, on vocals (even though they didn't include her in the band photo...) Although eventually the band broke up, the Taylors continued to perform together at weddings and other local events well into the 1990s and 2000s; Mr. Taylor passed away in 2010 at the age of 55.


<! - # nv - any originals? ss, credits nv - recorded at Flood City Studio, in Sioux City, Iowa - "Fancy Free" was from 1981 Jeff Taylor (1954-2010) died of cancer: http://www.enterprisepub.com/news/ponca-plans-a-benefit-for-local-musician/article_d566811a-0cb7-5e60-91b5-3fd68ff74d2d.html http://www.mohrfuneralhome.com/obituary/1510/Jeff-Taylor/ "...After years of working the family construction business, Jeff became the Dixon County Clerk from 1987 to 1992. For the past 18 years Jeff worked for Iowa Paint as a salesman for the Industrial Paint Division." OLD LK: An early '80s country-and rock covers band from Sioux City, Iowa featuring Mark Brewer (lead guitar, vocals), Dan Frohberg (bass), Craig Kleinberg (drums), Jeff Taylor (vocals, rhythm) and Joan Taylor (vocals). The songs include covers of "All The Gold In California," "Looking For Love," "Coward Of The County," "Third Rate Romance," "Sittin' Fancy Free," "China Grove" and the like... Most of these songs date back to 1980-81, so I'd guess an '81-'82 release date for this album. >

Ramblin' Lou & Joanie Marshall's Family Band "...Featuring The Waltz Of New York" (Harmony Records, 1980-?) (LP)
(Produced by Paul David, Murray Hunt & Louis A. Schriver)
Wanna know where the folks from Hee-Haw got all their swell showbiz ideas? Well, it might not have been specifically from this family band from upstate New York, but certainly from countless country revue shows just like theirs. Don't believe me? How about Buck Owens, then? He wrote the liner notes praising these folks, and giving an outline of their decade's-long careers playing old-fashion country both onstage and on the radio. Ramblin' Lou Schriver was a deejay on radio station WXRL in Lancaster, New York and presumably worked on the hillbilly vaudeville circuit as well, or in one of the many echoes of that scene. His wife Joanie was the daughter of another hillbilly performer, Bashful Eddie Marshall, who's joined her by his pal, comedian Armand ("Accordion Zeke") Cory... and check out Joanie Marshall pictured with her badass double-neck guitar, her name inlaid in pearl and everything! There are also several Schriver sprats playing various instruments, and a couple of ringers as well, notably Al Brisco on pedal steel. The songs are mostly covers of bandshell standards such as "Games People Play," "Green, Green Grass Of Home" and "Rocky Top," as well as a few backwoods oldies and gospel tunes -- the title track was written by Louis A. Schriver (not to be confused for his son Louis E. Schriver, who plays the drums). These folks were the real deal, an old-time family band with old-time country roots. Just ask Buck!


<! - #HRS-1154 - Christian? - recorded at the Mercy Brothers studio in Toronto, Ontario >

Ramblin' Rebel Band "Ramblin' Rebel Band" (Ramblin' Rebel Band, 198--?) (LP)
(Produced by Gregory-Andrews Audio Productions)
A country band with an undercurrent of bar-band rock -- slightly clunky, local-level stuff with a very Waylon-esque feel... This group from out of Hot Springs, Arkansas featured a whole slew of Castleberrys -- brothers one would assume -- with the full lineup being Doug Castleberry on lead guitar, Kurt Castleberry (rhythm guitar), Troy Castleberry (steel guitar), Andrew Frye (keyboards), Greg Spurling (bass), and Kevin Thorton on drums. Some of the guys look pretty young, maybe even in their highschool-year teens. The vocals are sometimes a little wobbly, and the production's a little static or flat, but they sound like real folks, doin' the best they can. There are a few different singing leaders; one of 'em sounds like he was a little nervous working in the studio, and some of the picking sounds pretty amateurish as well. Also noteworthy is the inclusion of a bunch of originals, as well as cover tunes like Buck Owens' "Let Jesse Rob The Train" and Waylon's "Theme From Dukes Of Hazzard." There's no date anywhere on the album, but the "Dukes" tune lets us know it's from at least sometime in the early-to-mid '80s.


<! - debut LP - Hot Springs, AR - deadwax: DRP-7764-A/B >
Rand And Betty "Crisp Country Mornin' " (Oreana Enterprises, 1977) (LP)
(Produced by Betty Hillman & Rand Hillman)
An album of all-original material written, performed and produced by the Boise, Idaho couple of Betty and Rand Hillman. They both grew up in the rural region along the Snake River and started performing in public at an early age, him working the rodeo circuit and her playing in her family's country band. According to her bio, Betty initially set out on her own and played in bands down in Missouri, presumably in the late 1960s, returning home to meet and marry Rand. They started writing together several years before this album came out: some songs were copyrighted as early as 1971, with her name listed as Betty A. Hillman. The liner notes here only list their own musical contributions -- basically she writes lyrics, sings and plays drums, he sings, writes and plays several instruments. It's not clear, though, if there were other musicians involved: we're informed that another album was in the works, and that they were currently on tour with their "all-girl" band, Wild Honey. Rand and Betty seem to switch off on songwriting and led vocals, though two tracks feature lyrics by Helen M. Nanney, a local religious author who may have been a family member. Rand Hillman got deep into the whole cowboy poet/western music scene, performing at various shindigs and also contributing to the music on Buckaroo Bard, a 1988 documentary about cowboy poet Waddie Mitchell. Mrs. Hillman went back to her musical roots and self-released a CD full of yodeling songs and other western material, billed as Betty Adel, which may have been her maiden name. (No idea whether that second album came out... though I sure am curious about the Wild Honey band!)


<! - #RBN-1-7074 - (ID) extensive! https://store.cdbaby.com/Artist/BettyAdel >
Beau Randall "Beau Randall Records Presents..." (Beau Randall Records, 196-?) (LP)
A mega-barebones self-released LP, with all songs written by Mr. Randall... Plainly labeled as a demo set, it has absolutely no graphics, and a plain-old blank back cover. Raphael Beauvais Randall, aka Beauvais M. Randall, aka Beau Randall (d. 2003), was originally from New Orleans but moved to Decatur, Georgia probably right around the time this disc came out. According to his obituary -- which doesn't mention music at all -- Mr. Randall worked at The Atlanta Journal for forty-three years, and as near as I can figure, this album came out right around 1960, when some of the songs were copyrighted. He gives a New Orleans mailing address (maybe he was still using his family's address?) but very little other info. No date, no info about the musicians or producer, and nary a photo of the artist. A WWII veteran, he was probably about forty when this was made, though that's really just a guess on my part. A


<! - #BRR-1033 - (GA) obit, notes, alt text >

Darlene Randel "...Sings You Are My Man" (Starway Records, 1978-?) (LP)
(Produced by Jack Logan & John Salisbury)
A vanity album recorded in Nashville by a gal from Eudora, Kansas, just outside of Kansas City. Claudia Darlene Randel (1936-2015) wrote the title track, "You Are My Man," as well as "Okey Doke Yodel," both of which were also released as singles. She had a nice voice for country, and sounds like a dead ringer for Loretta Lynn on several tracks, although she struggled on high notes, and when she'd croon... Producer John Salisbury also contributed three originals, "Baby Please Don't Take That Plane," "Home Brew," and "It Takes A Man (To Make A Woman Sing The Blues)." He seems to have been under contract with Acuff-Rose publishing, and had material recorded by stars such as Sue Thompson and Charlie Walker. He had another Kansas connection: originally from the West Coast, Salisbury married singer Mary Taylor, and moved to Nashville around 1971; Taylor later retired to Coffeyville, Kansas, down by the Oklahoma border. Sadly, the backup musicians aren't identified, though I suppose Jack Logan had a stable of sidemen he worked with in the late 'Seventies; it seems likely this was recorded at his sound house, Studio 19, which the Logan brothers purchased in '74.


<! <! - #LP-1315 - Love Garden dollar bin, 07/10/19 >
Phil Randoy "Phil Sings" (Randoy Corporation/Topaz Records, 19--?) (LP)
The very epitome of a "private press" vanity album, this set of folkie tunes pops up from time to time as a "country" record, though for the most part methinks twangfans can pass on it. Seattle, Washington amateur troubadour Phil Randoy covers some interesting material, including three songs by John Prine and a version of Kris Kristofferson's "Jesus Was A Capricorn," but most of the songs were from artists such as John Denver, Kenny Loggins, Don McLean and Buffy Sainte Marie -- mainstream folkie-AOR types given a stripped-down acoustic homage. However, Randoy's low-impact renditions don't really add much to any of these songs... He was earnest and well-meaning, and there's a picture of him singing at a grade-school assembly, but nothing on here really catches fire. There are also two original songs written by Randoy, "Voice" and "Mirror," again both in an earnest folk style... No date or recording info on this one, but I'd guess it's a 1974-76-ish affair, maybe even a little earlier.


<! - #TLS-1216 - no date or producer info >
Wayne Raney "Tear Down The Mountains" (Rimrock Records, 19--?) (LP)
Born in Wolf Bayou, Arkansas, singer and harmonica player Wayne Raney (1921-1993) was a major figure in the raucous "hillbilly boogie" style that preceded rock'n'roll in the late 1940s and early '50s. Raney started his own label, Rimrock Records, releasing several records of his own, up through the 1970s. Over the span of several decades Rimrock became a focal point for regional musicians who wanted to make their own so-called "private," or custom-label records; some of these were released under the Rimrock label, others used label names thought up by the individual musicians. The title track of this Raney LP, "Tear Down The Mountains," was originally a King 78 -- I'm not sure if the tracks on this disc are re-recordings, or reissues of older material, but I'd guess they were newly recorded versions.


<! - #RLP-490 - no ASIN 09/25/17 >
Wayne Raney "Gathering In The Sky" (Rimrock Records, 19--?) (LP)
A gospel/sentimental set reflecting Raney's old-time, backwoods roots... As with the album above, these may have been re-released King recordings.


<! - #RLP-492 - no ASIN 09/25/17 Wayne Raney "Don't Try To Be What You Ain't" (Starday Records, 1964-?) (LP) - #SLP-279 - NOT all gospel NO SLIPCUE ARTIST PAGE as of 01/29/18 >
The Rangers "The Rangers" (Police Records, 1980-?) (LP)
(Produced by Bill Ham & Ralph Murphey)



<! - #PR-TR10680 - no ASIN (?) 07/17/15 - vocal trio of Jerry, Terry and Wally Gilmore - with a band: - a bunch of originals - recorded in Nashville >
Rank Strangers "Rank Strangers" (Pacific Arts, 1978) (LP)
(Produced by Chris Darrow & Chester Crill)
This short-lived band was formed by Chris Darrow and songwriter Robb Strandlund, along with singer Cindy Edwards, who had all worked together on Strandlund's first solo album... They covered some oldies, like "Tumbling Tumbleweeds" and Dan Penn's "Do Right Woman," along with a bunch of originals, several gems by Chris Darrow. Overall the vibe was a little too folk-ish for me, though it was an interesting approach, much less rock-oriented than their Southern California contemporaries, and more anchored in the pre-Nashville stringband sounds of early rural artists such as the Carter Family and Jimmie Rodgers. I always enjoy Strandlund's voice, and while Edwards added nice harmonies, when she's put in the foreground, it doesn't do much for me. Still, an intriguing and rewarding album, one of the lost nuggets of Michael Nesmith's fabled Pacific Arts label... Apparently there's a reissue edition that also includes some bonus tracks, with an alternate version of Strandlund's bar-room classic, "Just Another Country Song," along with a cover of Hank Locklin's "Send Me the Pillow You Dream On." Haven't heard that edition, though.


<! Robb Strandlund, Chris Darrow, singer Cindy Edwards - 1978 also LPs: B00413ZMAA, B003XOQ0E0 Starting All Over Again (Phillip Mitchell) 3:52 Time Will Tell (Chris Darrow) 2:37 Tumbling Tumbleweeds (Bob Nolan) 4:36 Do Right Woman (Lincoln Wane Moman/Dan Penn) 3:35 What Did I Do? (Chris Darrow/Robb Strandlund) 2:02 Ragtime Cowboy Joe (Lewis Muir/Maurice Abrahams/Grant Clark) 2:47 Where the Grass Won't Grow (Earl "Peanut" Montgomery) 3:44 For As Long As I Live (Chris Darrow) 3:56 All I Have are Memories (Robb Strandlund) 3:57 Too Ripe on the Vine (Chris Darrow) 3:39 BONUS: I've Had It (Carl Bonura/Raymond Ceroni) 2:38 Just Another Country Song (Robb Strandlund) 3:47 Send Me the Pillow You Dream On (Hank Locklin) 3:13 Little Girl and the Dreadful Snake (Alpert J. Price) 4:08 >
Jim Ransom "Just Come Along For The Ride" (Biscuit City Records, 1974) (LP)
Folksinger Jim Ransom founded the Biscuit City label in the early 1970s, quickly establishing it as the focal point for a vibrant Colorado folk/acoustic/bluegrass scene. Ransom was originally from the East Coast, but he certainly made a name for himself in the Rockies... This was his first album, the prelude to a long career in low-key musicmaking.
Jim Ransom "The Escape Of J. D. Mackenzie And Other Songs" (Biscuit City Records, 1976) (LP)

Jim Ransom "Ransom Notes" (Biscuit City Records, 1977) (LP)



<! http://www.numerogroup.com/artists/jim-ransom >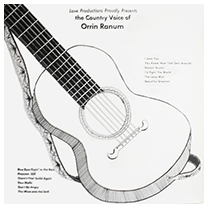 Orrin Ranum "The Country Voice Of Orrin Ranum" (Love Productions, 19--?) (LP)
(Produced by Al Perry)
This album includes country classics like "Four Walls," "Blue Eyes Crying In The Rain," "Phantom 309" as well as standards like "Distant Drums" and "Beautiful Dreamer" -- also the promisingly titled "The Wine And The Lord" and "There's That Smile Again" (originals?) This was recorded in Tyler, Texas, with producer Al Perry playing guitar and steel, Glenn Worf on bass and Rags Allen playing piano, and Donna Love playing drums and singing backup. There's no information about when this came out, or where Mr. Ranum lived, but I think there's a good chance that he was from Wisconsin, and that this was recorded early in Glenn Worf's career, before he left Wisconsin to pursue his career in Nashville. Anybody got more info on this one?


<! - #LP-719 - no ASIN 01/26/15 - several Orrin Ranums(!) was this the Orrin L. Ranum of Wisconsin Rapids, Wisconsin, who died in 2010?: http://www.tributes.com/show/Orrin-L.-Ranum-88887487 -- no mention of music career >

Lynda Rask "Lynda Rask" (Stop Records, 1972) (LP)
(Produced by Tommy Hill)



<! - #STLP 1029 - only album - from Minnesota(???) - no ASIN 04/01/15, 06/20/16 lyndarask@hotmail.com - same? - 06/20/16: LK emailed to ask 06/20/16 http://countrydiscography.blogspot.com/2009/12/lynda-rask.html >

Kenny Raska "...And The Kickers" (Camelot, 1979) (LP)
(Produced by Anthony Puccio & Charlie Booth)
Some indie honky tonkers from Houston, Texas, with almost all original material, along with covers of oldies by Webb Pierce, Charlie Walker and a countryfied version of Neil Diamond's "Red Red Wine." Raska is kind of a croony singer, and the record has a distinctly 'Seventies production style, with keyboards and synths drifting around in the aether... But overall, nice stuff from the indie side of the mainstream country world. One question, though: what exactly was it that they were kicking, anyway?


<! - from Houston, Texas - no ASIN 01/26/15, rev 06/19/15 >

The Rathbun Country Music Show "The Rathbun Country Music Show" (Professional Artists, 1974) (LP)
(Produced by Parvin Tramel)
An Opry-esque variety show from the Branson area, started in June, 1974 by Willis and Melvin Dickerson. The cast included Debbie and Steve Dickerson, Janice Pickering, Bill Pickering, comedian Bobby Allen, and others. Recorded in St. Louis.


<! - an Opry-lite Branson(?) area show started in June, 1974 by (brothers?) Willis and Melvin Dickerson. Cast includes Debbie and Steve Dickerson, Janice Pickering, Bill Pickering, others. Recorded in St. Louis - no ASIN 03/28/15 >

Rattlesnake Annie (Anne McGowan) "Rattlesnakes And Rusty Water" (Rattlesnake Records, 1980) (LP)
(Produced by Annie McGowan)
A self-produced album by Texas-based songwriter Anne McGowan (aka Rattlesnake Annie), This is a pretty stripped-down and unpretentious, bluesy set, as much influenced by Jimmie Rogers and the '60s folkies as by more modern country types. Not mindblowing, but kind of an interesting footnote to the whole "outlaw" scene... Sorta similar to Townes Van Zandt, I suppose.


<! 144 x 144 > <! - pals with Willie Nelson?? - need artist page? >
Ralph Raulerson & The Countrymen "Sing Your Favorites" (Auburn Orange Records, 197--?) (LP)
(Produced by Jon Corneal & Leonard Walls)
Bandleader Ralph Raulerson hailed from Fort Myers, Florida and was active for several decades, first as a honkytonker and later as a bluegrass artist... On this 1970s album he's singing pure hard country, and sounds a lot like Merle Haggard on several tunes. Later on in the 1980s, Raulerson could be heard singing at bluegrass festivals, but the stuff he was playing was more more of an old-school hillbilly boogie style, ala Wayne Raney. At any rate, he was a presence in Florida's traditional country scene for many, many years. Most of the songs on here are covers, though there's one tune written by Mr. Raulerson, "It Breaks My Heart (To Let You Go)" and one by lead guitar picker Roger LeBlanc, "This Is The Place." Raulerson sings on three tracks, generously sharing the spotlight with the boys in the band, who handle the rest of the record. Highlights include Raulerson's original, as well as a semi-kooky, slightly wild, amped-up and completely countrified rendition of CCR's "Proud Mary." Good stuff, with plenty of twang.


<! - #AO-CM-100 - looks 1970s http://www.oocities.org/garycountry/raulerson.html - no ASINs 04/16/15 - LK purchased a chewed-up copy 07/18 - Raulerson b. 1940 - with David Brooks (bass), Roger LeBlanc (lead guitar), George Smith (fiddle), Wes Hollingsworth (drums) >
Ralph Raulerson & The Countrymen "Country Gold: Ralph Raulerson Sings With The Countrymen" (Music City Records, 19--?) (LP)
(Produced by Len Walls)
A sizzling set of rambunctious country covers, with a little bit of rockabilly retro in the mix as well. The album opens with a cover of "The Race Is On," done Buck Owens style, with hefty doses of Merle Haggard, Harlan Howard and Hank Williams to follow... The vibe is a mix of West Coast/Bakersfield Sound and Southern-fried rockabilly bop, with a simplicity and primitive, no-frills approach that sounds really damn good. In technical terms, this album is not well produced, and I'm willing to bet that Raulerson and his band could summon a much bigger, more electrifying sound when they played live, but even with the modest production values, this record oozes authenticity and vigor. It's fun. I'm a fan.


<! >

The Raunch Hands "Pickin' And Singin' With..." (Epic Records, 1960) (LP)
(Produced by Stephen B. Fossett)
These jovial fellas from Harvard were a straight-up '60s folk-parody group, not quite the kind of twang we're looking for here... But certainly worth mentioning just to differentiate them from the '80s cowpunk band of the same name. The band included Fritz Donovan, Cam Fordyce, Al Goldman, Raph Henderson, Larry Reeder and Bill Wood.


<! - not the punk band - this is 1960s w/ generic white cover. No label, no date. - musicians are: Bill Wood, Larry Reeder, Al Goldman, Cam Fordyce, Raph Henderson, Fritz Donovan - *might* be "blue," but it looks like straight folk stuff - ?? >

The Raunch Hands "Against The World... And Other Favorites" (Epic Records, 19--?) (LP)



<! - politically themed, satirical songs >

Ray & The Emeralds "Transition..." (Yellowstone Records, 1975-?) (LP)
(Produced by Ray Burdett & Tom Hersley)
Bass vocalist Ray Burdett seems to have been aiming at a sort of Dave & Sugar setup here, backed by three (unidentified) gals collectively known as the Emeralds. They toured with Billy Walker and did their time in Nashville, which is where this album was made. A young-looking fellow, Burdett was cut firmly from the same cheesy cloth as country elders such as Tennessee Ernie Ford or Jim Ed Brown, with a deep, rumbling voice that was (almost) worthy of William Lee Golden -- indeed, he sang bass with Hovie Lister and the Statesmen Quartet from 1973-77, presumably around the time this album was mad. Burdett opens with an amazingly earnest reading of "Biff The Friendly Purple Bear" (one of the all-time worst novelty songs of the early 'Seventies) and things are going along just fine until he shakes himself out of recitation mode and goes all uptempo on Roger Miller's super-perky "I Believe In The Sunshine," one of several crypto-Christian, pseudo-secular anthemic pop songs he explores. The trouble is, once he starts singing Burdett reveals that he's got the vocal tone, but perhaps not the performing chops to really pull it off. This disc is a digression from his religious career, packed with covers of hits by John Denver, Carole King, Joe South ("Games People Play"), Olivia Newton-John ("If You Love Me" and "Let Me Be There," in a nod towards the Oak Ridge Boys...) as well as Kris Kristofferson ("Why Me Lord," of course, and "Please Don't Tell Me"). It's a nice snapshot of a would-be Top Forty country band, circa 1975-ish, with professional backing by a bunch of usual-suspect Nashvillers... but it has its limits as actual entertainment. Not surprisingly, Ray Burdett moved decisively back into proper Christian music, letting his little light shine down in Branson rather than the big city nightclubs.


<! - # - Burdett, or Burdette? - Burdett and a female trio - Tommy Strong, engineer - recorded at Monument Studios in Nashville - possibly from Illinois? a couple of show notices in Bloomington and Mattoon, c. 1975 - DJ Fontana, John Rich (lead guitar and steel), Tom Hersley (bass) Vic Jordan (banjo, acoustic guitar) >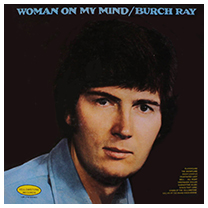 Burch Ray "Woman On My Mind" (Yellowstone Records, 197-?) (LP)
(Produced by Burch Ray & Bill Porter)
A singer from Miles City, Montana who sported a fabulous white afro, Burch Ray was backed by a band called the Walkers (though sadly the musicians are not listed by name...) This album includes several originals, as well as rock, folk and country covers; two tracks were recorded in LA with members of the Crickets, a version of Buddy Knox's "Playground" and Buddy Holly's "Well, All Right."


<! - #LSP-1719 > <! Frankie Ray & Maryellen "Everyboy's Got Someone" (Irish-Indian Productions, 197-?) (LP) - country? SIDE 1 COME BACK HOME WITHOUT A DREAM WAITIN FOR A BUS I'LL NEVER LET HER GO DIME SIDE 2 INDIAN MAN EVERYTHING I HAD IS GONE HERE COEMS THE SUN ROSES IN THE WINTER EVERYBODY'S GOT SOMEONE >

John Ray "Woman On My Mind" (Jef Tone Recordings, 197-?) (LP)
(Produced by Greg Miller)
A truly awful lounge vocals album, from a guy who at the time was holding down a gig at the Chalet Inn, in Gaylord, Michigan. This disc is packed with 'Seventies hits and material ranging from country chestnuts to acoustic-oriented AOR, stuff like "Tie A Yellow Ribbon," "I'll Have To Say I Love You In A Song" and "I'll Be Your Baby Tonight." On the country side of things, there are spectacularly cheesy renditions of "Green, Green Grass Of Home" and "Now And Then There's A Fool Such As I." I'm not really into the whole mocking-cheesy-musicians-on-old-lounge-albums, but this disc is a standout in the genre. The band was okay, but Mr. Ray's super-schmaltzy Elvis-style vocals are, honestly, pretty challenging.


<! - #LSP-1719 >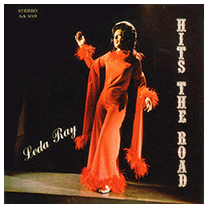 Leda Ray "Hits The Road" (Allied Artists, 1974-?) (LP)
Originally from Raleigh, North Carolina, singer Leda Ray made he way to Nashville, and cut a string of singles on the Allied Artists label starting in the early 1970s... There's no date on this album, but several of the songs on here were copyrighted to Ms. Ray in late 1973, so I'm gonna guess it's a 1974 album. The cover songs include Wanda Jackson's "Two Separate Barstools," "Rose Garden" and "Sunday Morning Coming Down," which were all hits in 1970, so it could have been even earlier. Anyway, I'm not sure what happened with Ms. Ray's career -- she cut a bunch of discs, got some mentions in the press playing telethons and whatnot, but at some point she packed up and moved to Sanford, North Carolina, where she opened a coffeehouse called Moka Joe's Cafe. This album seems to have been a songwriter's demo set, packed with original songs -- most (including two credited to Leda Ray) were copyrighted by Kilrey Publishing, which seems to be a concatenation of her name and Bill Killian's. Other composers include Carol Jones and Clay Price, though oddly enough one song, "Crying In Color" is credited to Clay Price on the album, but copyrighted by Leda Ray in '73. Who knows. Ray seems to have quit her Nashville career rather abruptly, though she did record a couple of singles for the Illinois-based Nashville North label, including one with neo-trad honkytonker Dallas Wayne(!). I'm not sure if she was attached to any local "opry" type shows, but it seems likely that at least for a while she was affiliated with the Nashville North club, in Chicago. Later, in the 2000s, back in Sanford, Ray started up a new band, and was available to play regional gigs as recently as 2019.


<! - #AA-1001 - no date: 1973? '74? (pf guesses 76?) - NOTES, links, blog posts, copyright info - (b. 1941) >

David Rea "Maverick Child" (Capitol Records, 1969) (LP)
A well-regarded folk-scene sideman, Ohio-born singer-guitarist David Rea (1946-2011) moved to Canada in his teens and kicked off his career in the early 1960s as a sideman for Gordon Lightfoot, later performing with Ian & Sylvia, Jesse Winchester and other stars of the era... By the time he got his own record deal, Rea had moved into more of a rock mode, albeit with strong currents of country in there as well. He worked for a few years with blues-rocker Felix Pappalardi, and Pappalardi's new band, Mountain, co-writing the sludge-y hard-rock anthem, "Mississippi Queen," which became a big hit. He continued working as a studio session player and sideman, including a brief stint with an early-'Seventies lineup of the English folk-rock band Fairport Convention. Jinkies!




David Rea "By The Grace Of God" (Capitol Records, 1971) (LP)



<! http://davidreamusic.com/Biography.asp ...featured members of Pappalardi's band Mountain, with the Young Rascals, Kenny Buttry, Vassar Clements, Tommy Jackson and Norbert Putnam." >

David Rea "Slewfoot" (Columbia-Windfall Records, 1973) (LP)
(Produced by David Rea & Bob Weir)
Although this one's mostly on the radar for Deadheads, standard-issue twangfans will wanna check it out too, particularly for the fine covers of real-deal country songs that Rea opens the album with, notably Tom T. Hall's "The Year That Clayton Delaney Died" and the Dolly Parton/Porter Wagoner duet "Run That By Me One More Time," which spotlights a dead-on Loretta Lynn imitation by Darlene DiDomenico. Rea excels on the copious cover tunes, and picks some doozies, even including one by UK folkie Dave Swarbrick(!) along with some R&B songs by Chuck Berry and Ike Turner that kind of get swallowed up into the early '70s boogie-rock void. Speaking of which, let's circle back to the Dead now... David Rea was definitely in the Dead-o-Sphere, in a major way... His band features Bob Weir, both as a producer and guitarist, Keith and Donna Godchaux, as well as folks from the New Riders Of The Purple Sage and other orbiting musicians: bassist John Kahn, drummer Spencer Dryden, Matthew Kelly (from the band Kingfish), Buddy Cage on pedal steel and even fiddler Richard Greene and post-bop saxophonist Charles Lloyd. The originals on here by Rea are mostly spacey, yearning, folk-rock-boogie tunes, with great concern for capital "L" Love, and it sounds perhaps as if Rea was really hoping that the Dead or some of their pals would pick them up to record. Anyway, this is a pretty decent hippie twang album, at least when he is being twangy. Definitely worth a spin.


<! http://www.allmusic.com/artist/david-rea-mn0000811426 http://davidreamusic.com co-wrote "Mississippi Queen," w/ Felix Pappalardi David passed away Thursday afternoon, October 27th, 2011, the day after his 65th birthday. * Obituary * Tribute Concert 1/29/2012 * From lead guitar player for Gordon Lightfoot, Ian & Sylvia, Joni Mitchell and others, to a singer/songwriter in his own right, David had a long and rich career in music. He even had a hit song, having co-written Mississippi Queen, a hit for Mountain. Joni Mitchell literally sang his praises; see excerpt above, and the video at her site (with David on 2nd guitar). >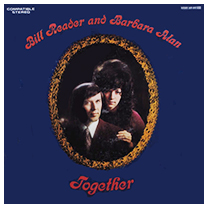 Bill Reader & Barbara Alan "Together" (Hawk Records, 197--?) (LP)
Not a lot of info on this one... It's a decent, if low-key country/pop duets set featuring singers Barbara Alan and Bill Reader, modestly backed by an anonymous studio crew whose strongest member was the pedal steel player. Reader seems to be the onetime pop-rockabilly singer Bill Reeder (sic), who recorded a few singles in the early 'Sixties for labels such as Fernwood and Hi Records. (Which would explain why they cover pop oldies like "Playboy" and "Searching.") I honestly can't tell if this is the same Barbara Alan who recorded the 1978 In Nashville album, though I think it was... If so, this looks (and sounds) like an earlier album, possibly from around 1972-74: he sings a version of the Statler Brothers "Bed Of Rose's," which was a hit in '71, and the general countrypolitan vibe on several tracks has a definite early 'Seventies feel. Sadly, there are no composer credits -- although most of the tracks are cover tunes, there are a couple of uptempo numbers showcasing Alan in a vaguely Wanda Jackson-ish mode which are album highlights. The album opens with the mildly raunchy "A Kind Of A Woman" and closes on "Don't Leave Without Me," both of which I think are originals. Not an earthshaking album, but it has its charms.


<! - #HR-BR-101 - producer, date, song credits not listed "...I think this may be Bill Reeder who recorded on Fernwood , Pol Para and Hi..." >

Joe Reagan "Memory Of Cowboy Copas" (Crown Records) (LP)
Not quite sure where crooner Joe Reagan was from, or when he cut these tracks, but I'd guess around 1963 or '64, just after Copas and Reeves passed away. In all honesty, I gotta say Reagan sounded kinda geefy, foghorning in a very exaggerated, mannered baritone, he covers some nice old country tunes with pretty solid, if rather minimal, country backing. The band had a good steel player, for sure, although the rhythm stays pretty sedate. I can't say I'm that into his voice -- personally, I'll just stick with the originals.


<! - #CLP5430 - goofy crooner - above is a reissue of: - #CLP-5338 >

Joe Reagan "A Tribute To Cowboy Copas" (Crown Records, 19--?) (LP)
This album was also issued on the Coronet imprint as Hits Made Famous By Cowboy Copas<


<! - #CLP-5430 - reissued as: Joe Reagan "Hits Made Famous By Cowboy Copas" (Coronet Records) (LP) B003QRSZSI >

Joe Reagan "A Tribute To Jim Reeves" (Wyncote Records, 19--?) (LP)





Toby Rean & The Common People "Outa Space" (Crown Records, 1972) (LP)
Singer-picker Toby Rean was a minor figure but longtime fixture in the West Coast/Bakersfield country scene of the 1950s and '60s, playing gigs with stars such as Merle Haggard and Buck Owens, as well as his own gigs at venues such as the Stallion Club and on some Southern California military bases. This album is a little weird in that it's packaged as though it was a cheapo exploitation album for the psychedelic rock scene, when actually it's pretty solidly a country thang. Well, mostly: the first track, "Outa Space," is a hyperactive psych-funk instrumental based on a Billy Preston song, with a punchy rhythm section and lots of over-the-top wah-wah guitar work... But then things abruptly turn towards twang, and while charmingly down-to-earth, it's also a little bit rickety overall. Rean's mix of straight-up twang and strained comedy material reminds me quite a bit of Bill Carlisle, combining limited vocal talent with plucky energy and a somewhat random, see-what-sticks attitude. You can hear both desperation and resignation in these sessions, as though he knows it ain't really gonna work, but you never really know, right? So there are some interesting country tunes on here, though overall the album is a slapdash, low-budget affair, and like most of the el-cheapo Crown LPs, there often an undercurrent electrified, rock-flavored music courtesy of whichever underemployed hippies they had come in and play on the sessions. Not the greatest record ever, but certainly worth checking out if you're into Crown Records kitsch, and also another footnote in the saga of the Bakersfield Sound.


<! - #CST-629 - (CA) bio >

Frankie Reb "The Frankie Reb Show" (Linda Records, 19--?) (LP)
(Produced by Kenny Wallis)



<! - # >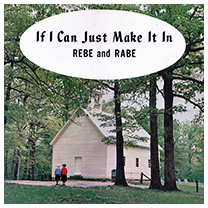 Rebe And Rabe "If I Can Just Make It In" (Linda Records, 19--?) (LP)
(Produced by Kenny Wallis)
Revin "Rebe" Gosdin (1924-1978) and Auburn J.C. "Rabe" Perkins (1923-2005) were an old-timey gospel duo from Alabama, modeled on the Blue Sky Boys and the Louvins. The pair met while working in a local cotton mill, and began performing professionally in the 1930s and '40s. For many years they had a show on radio station WVOK, Birmingham as well as on WBAM in Montgomery, where Gosdin also had a day job in the early 1960s. They recorded prolifically for a while, but gradually gave up their music career, several years before Gosdin passed away. They continued to perform and record together sporadically; an early 'Seventies reunion included an appearance at Bill Monroe's fabled Bean Blossom Festival. This album includes Rebe Gosdin on mandolin and Rabe Perkins on guitar, as well as Wayne Cobb Jr. (drums), Buddy Davis (guitar), Junior Maharrey (bass) and John Probst playing piano. [Also of note is Gosdin's nephew, honkytonk balladeer Vern Gosdin, who became a chart-topping country star in 1970s and '80s.]


<! - # - NOTES, obits, etc >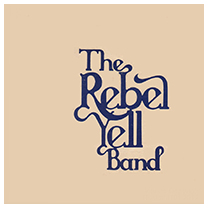 The Rebel Yell Band "The Rebel Yell Band" (198--?) (LP)
(Produced by Melinda Grable, Larry Nix & Andy Black)
This Memphis-based group played a mix of bluegrass and country and apparently did extensive travel on multiple USO tours in the late '70s. That's according to the group's drummer, John Lodholz (aka Johnny Washboard) who later moved to Nashville, where he landed a gig in Mark Collie's band, as well as finding studio work... The group also included a guy named John Anderson, although as far as I know, he's not the swingin' dude from Florida. Not a lot of info about these guys out there... Anyone who remembers them, feel free to get in touch!


<! - # - no ASIN 02/11/17 - label(?) Free Wheelin' http://www.johnnywashboard.com/about.html JW@Johnnywashboard.com - emailed him 05/06/18 >

The Red Birds "...Sing And Play Your Favorites" (Ben Records, 1967-?) (LP)
(Produced by Bill Nix & John Hacha)
A swell set by a family band from Fort Wayne, Indiana, moving through old-school (1940s-ish) sentimental and novelty country tunes, along with standards such as "Bill Bailey," "Home Sweet Home," and a gospel tune of two. The dad, Joe Taylor, wrote a song called "He's A Cowboy Auctioneer" -- which became a hit for Tex Ritter back in 1950 -- and worked steadily in the Midwest for decades to come. This edition of the band also includes his sister-in-law, Patti Corbett, who was an original founding member of the Indiana Redbirds, back in the late 'Forties, as well as fiddler-guitarist Jay "Pee Wee" Dickerson, who lays down some sweet, jazzy licks. Also notable here is Taylor's eleven-year old daughter, Paula Jo Taylor, who chugs her way through a version of the Bob Morris instrumental, "Buckaroo," -- her performance is impressive for a pre-teen, but only a faint foreshadowing of the days, decades later when Paula Jo would go viral as the "Granny Guitarist," a smoking hot chicken-picker championed by rocker Nikki Sixx and profiled in Guitar World magazine. Parts of this album seem to have been recorded live, though others, such as Patti Corbett's recitation, "Letter To Mom," notably are not. All in all, this is a swell set -- there's no steel guitar on here, but the Merle Travis-y guitar pickin' more than makes up for it! Nice little record.


<! - #711-368 - no ASIN 05/16/18 - no date - pressed by Rimrock Records LK: "Lastly, there's her little brother Danny, who bangs the tambourine on a few tunes; not sure if he stuck with music or not..." http://tasteofcountry.com/joe-taylor-dies-89/ (d. 2011, age 89) http://www.hillbilly-music.com/artists/story/printartist.php?id=12759 >

The Red Boot Boys "Fire!" (Williamson Recording Studio, 197-?) (LP)
(Produced by Stan Willamson & Terry Wilson)
This band was formed by several middle-aged members of the Greeneville, Tennessee fire department, including producer Stan Williamson on keyboards, Steve Morris on pedal steel, Marty Kaufman on fiddle and Steve Kaufman on banjo and guitar, as well as drummer Marty Llewellyn. Other than a couple of public domain oldies, it's mainly original material, including a few tunes written by guys who apparently weren't in the band, Johnny Jones and Don Williamson. They also released at least a couple of albums as cassette-only records, including the gospel-oriented Songs Of Inspiration and a concert album, Live From Rutgers University.


<! - no #(?) (inner label nv) - no ASIN 06/24/17 >

Charlie Red "Mother Lode Minstrel" (G&J Motherlode Productions, 1980) (LP)
Near as I can figure, this fella, Charles Rovenstine, was a modern-day folk minstrel who played gigs up in Angel's Camp and around Sacramento, California, up in the so-called Gold Country. His repertoire spanned historical-ish songs like "Streets Of Laredo" and "The Saga Of The Hotel Leger" and Utah Phillips' "Daddy What's A Train," as well as good-natured novelty numbers, including several songs by one of my favorite songwriters, Dick Feller: "Uncle Hiram And The Homemade Beer" and "Money, Trouble And Love." Charlie Red had a nice, straightforward presentation -- he's not super-charismatic or a particularly arresting performer, but he's completely likeable and sincere, and certainly had good taste in music. Rovenstine played shows across California well into the mid-1980s, though I'm not sure how many albums he made... Maybe just these two?


<! - #VC-4994 - from G&J Motherlode Productions, Angels Camp, CA... - includes a couple of Dick Feller cover songs Fun LP with good material, cover songs by Utah Phillips, Michael Smith (the Always Fine "SPOON RIVER" and Dick Feller... G&J # VC 4994... With Tucker McMullen, Larry Hamilton- Heiman, and Brent Corson... Selections are: "THE DAY I JUMPED FROM UNCLE HARVEY'S PLANE, THE MINER, STREETS OF LAREDO, HISTORICAL LANDMARK #143, THE BALLAD OF SNOWSHOE, SIERRA RAILWAY/ DADDY WHAT'S A TRAIN, SPOON RIVER, UNCLE HIRAM AND THE HOMEMADE BEER, RIDING DOWN THE CANYON, MONEY TROUBLE AND LOVE, THE SAGA OF THE HOTEL LEGER, THE MOTHER LODE MINSTREL" "...Charlie Red, the Mother Lode Minstrel. With his banjo and bass players, Red performs the nostalgic sounds of bluegrass and early country. Born Charles Rovenstine, this Sacramento balladeer travels the country fair circuit with a medicine wagon that converts into a stage." >

Charlie Red "Skinny Dippin' " (Carco Records, 1983) (LP)
(Produced by Charlie Red & Mark Welborn)



<! #CWMO1005 - comedy album - novelty songs, some cowboy stuff - about half are originals - recorded in Sacramento, California >

Red Heart "Introducing Red Heart" (SRC Records, 19--?) (LP)
This was a Coeur d'Alene bar band, playing all rock oldies and honky tonk covers... The group included Jim Sherman, Steve Pierre, Jim Boardway and Armando Velazquez (who is described as "of Mexican descent," which gives you an idea of how times have changed...) There's no label or year listed on jacket or LP, so this one's a bit of a mystery.


<! - SRC is index # info - no label or year listed on jacket or LP - no ASIN 01/30/15 >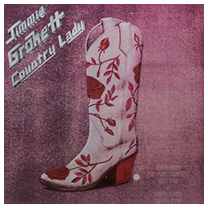 The Red Horse Band "Borderland" (AMI Records, 1986) (LP)
(Produced by John Beland & Jerry Abbott)
A country-rock set by a red dirt band out of Sherman, Texas which worked as the road band the Flying Burrito Brothers in 1983-84. They get production assistance by erstwhile Burrito member John Beland, who had earlier produced a single for the group, as well as a solo album (also on AMI) with keyboard player Jimmie Grokett. For whatever reasons, Grokett was no longer part of the band by the time Red Horse made it to the studios in Hendersonville, Tennessee, although his album seems to have been recorded at basically the same time as this one. (That must have been a fun road trip for Beland, who produced both records...) About half the songs on here were written by John Beland, with additional material by Glenn Frey, Hugh Moffatt, Sonny Throckmorton, and others... The lineup for this album included Danny Batchelor on lead vocals and guitar, Benny Vincent on lead and two new guys, bassist Bob Campbell and Jeff Williams playing drums. No sign of Jimmie Grokett though... Red Horse previously released a single, back in Texas, and there's a mysterious comment in these liner notes about those two songs, "...master tape to WAITING ON A SOUTHERN TRAIN and WHISKEY TO ME was erased at Precision Audio in Dallas, Texas. THANKS, Rick." Hmmm. Maybe there's some connection here to Mr. Grokett leaving the band? At any rate, these guys seemed to know how to hold a grudge... Probably best that we don't know the whole story.


<! - #AMI-LP-1507 >


Leon Redbone -- see artist discography



Johnny Redd "Country Hot" (JRS Records, 19--?) (LP)
(Produced by Johnny Redd)
A hard-rockin' bar-band/outlaw country group from Palmdale, California, with canny covers of Waylon & Willie, Delbert McClinton and Ray Griff... Singer Johnny Redd pens a trio of originals, "Sunshine," "Lonesome" and "Party Party Party," while bass player Mike Hufford adds "Just Her Friend" into the mix. Though not part of the band, a guy named Big Lloyd Carlson sings lead on a version of Dennis Linde's "Burning Love." I couldn't find out much about these guys online -- dunno when this album came out (looks like late '70s/early '80s) or if the band played live. Anybody out there have more info?


<! - no ASIN 02/19/15 - #RS Rec. L-2001 >

Kamie Redell "I've Got The Country In Me" (Blue Gem Records, 1982) (LP)
(Produced by Pete Martin & Bill Kredel)
Not totally sure where Redell was from, but this album was recorded in Torrence, California, while the label is credited as from LA proper... The songs appear to be all originals, including songs like "From Home To Waiting Tables," "Troubled Mind, Lonely Body" and "Forget Me Tomorrow." Her band included Peter Apodaca on bass, Brad Fenton (steel guitar and banjo), Pete Martin (piano), Pete McIntire (fiddle), Lee Stanley (lead guitar), and several others.


<! - #BCR-1200 - no ASIN 05/13/17 - Kredel(sp?) was the engineer - all originals (credits nv) >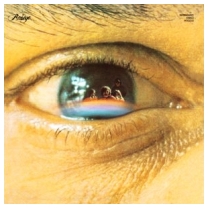 Redeye "Redeye" (Pentagram Records, 1971) (LP)
This LA-based rock band was apparently a one-hit wonder, placing one single ("Games") in the Pop Top 30 before losing their mojo and drifting into obscurity. Singer/guitarist Douglas "Red" Mark had previously been in another moderately successful band called the Sunshine Company; I'm not sure what happened to any of these guys after they disbanded. Although they got into twang on their second album, there are few traces of country music here, basically it's a rock'n'roll record, lots of guitar in the early-'70s hard rock style.


<! - # >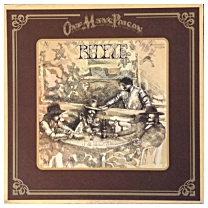 Redeye "One Man's Poison" (Pentagram Records, 1973) (LP)
(Produced by Al Schmitt)
Their second album definitely had a more "country" feel to it, a rugged, clattersome, rock'n'twang style that recalls the classic early-'70s Grateful Dead albums, as well as stoner jug-band rockers like Jesse Colin Young and the Youngbloods... It's not bad! Definitely a rock band, but they were having fun going into hoedown mode, and this record has a lot to recommend it... It's basically hippie rock, but good for the style. The twangiest tunes are "Walter Why Knott" and the spacier "Beginning To End," with the best tracks on here being the ones that are most nakedly imitative of the Dead. Worth a spin.


<! - # Douglas "Red" Mark - vocals, guitar (previously of The Sunshine Company) Dave Hodgkins - guitar, vocals Bill Kirkham - bass guitar, vocals Bob Bereman - drums and percussion >

Red Heart "Red Heart" (SRC Records, 197--?) (LP)



<! Red Knuckles (?) >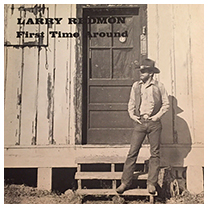 Larry Redmon "First Time Around" (Country Crossings, 1979) (LP)
A sweet, well-produced set of mellow outlaw honkytonk by Lexington, Kentucky's Larry Redmon. On some songs he presents himself as a blatant Waylon Jennings soundalike (which is fine by me) though in addition to the outlaw growling, there's a fairly wide stylistic range. The album is packed with Redmon originals, including one co-written with Greg Austin, as well as one song by Chuck Pyle, a cover of Guy Clark's "Desperados Waitin' For A Train," one from Hank Junior, and the Latin-tinged pop hit "Come A Little Bit Closer," which had already entered into the country canon in 1977 through a hit duet version recorded by Johnny Duncan and Janie Fricke. All in all, this is a pretty solid record for such an off-the-radar artist. Worth tracking down!


<! - no ASIN 09/30/15 >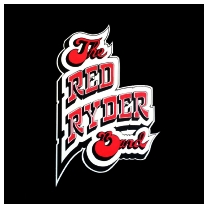 The Red Ryder Band "The Red Ryder Band" (Decameron Records, 1978) (LP)
(Produced by J. M. McCarthy)
A modestly shaggy, relatively clean-cut outlaw twangband from the Great Plains... Although they recorded in Omaha, Nebraska, this was an Iowa-based band... The group included lead singer Jack Dahlke on guitar, Betty Frank (guitar and piano), Duane Gallagher (bass), Steve Mether (drums) and Jon Smith (lead guitar and mandolin) with additional steel guitar by Chuck Lettes. Except for a cover of Gram Parsons' "Sin City," all the songs are originals, including six tracks credited to Mr. Dahlke. This band was together for several years, and like many beloved local groups they fanned out into various subsequent bands and seem to have done a reunion show or two over the years...


<! - # - originals "Hari-Kari On Beer", etc. - (IA) possibly from Council Buffs, Iowa >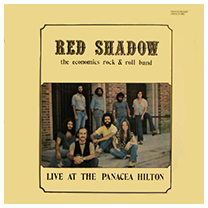 Red Shadow "Live At The Panacea Hilton" (Physical World Records, 1975)
Now, I'm not saying that this record is any good (wouldn't know) or that it's particularly "country," just that it exists and that it's very, very 1970s. Self-identified as "the economics rock'n'roll band," these longhaired commies (and I mean that literally) brought their hard-left socialist critiques to the People in the form of hippie-rock musical harangues, with song titles such as "Stagflation," "Understanding Marx" and "Commodity Fetishism." Whoo-hoo! Party down!!


<! - #21-005 - (NP) >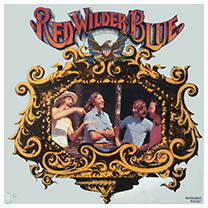 Red, Wilder, Blue "Red, Wilder, Blue" (Warner/Pentagram Records, 1971) (LP)
(Produced by Al Schmidt)
While it's not much of a country album, this rock record is worth noting for twangfans because it's by an early band of future Texas outlaw, Michael Ballew, who was kickin' it on the West Coast for a few years trying to make it as a rocker. It's mostly a mediocre mix of contemporary styles: LA sunshine pop, CSNY-style group harmonies and a bit of hard/psych, as heard on their riffy cover of Jesse Colin Young's "Darkness." I think they were mostly aiming for the Crosby Stills & Nash sound, and they probably could have been more successful if the album had been better produced, or rather, better edited: the songs drift and meander quite a bit, and generally don't feel all that cohesive. But if you're just into obscure '70s soft rock and soft-psych, you might wanna check this one out; definitely not much overt twang involved here.


<! - # >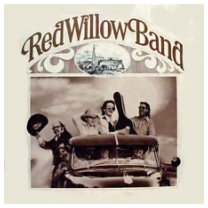 Red Willow Band "Red Willow Band" (Lost Records, 1976) (LP)
(Produced by Chris Gage & Hank Harris)
South Dakota's answer to Asleep At The Wheel, the Red Willow Band blended country, bluegrass, blues and western swing, often led by their fiddlers, but with strong backing by the rest of the band, which included sleek pedal steel and a versatile piano work from Chris Gage, one of the band's two lead singers, along with Hank Harris. They produced two fine albums and toured extensively between 1974-82, and like many regional bands have reunited frequently over the years.


<! - # - Chris Gage, Hank Harris, Kenny Putnam, Barry Carpenter, Marley Forman, and Dale Saukerson. >
Red Willow Band "Note For Note" (Lost Records, 1978) (LP)
(Produced by Barry "Byrd" Burton)
On their second album, RWB traveled to Nashville to record at the Jack Clement studios and stretched out into more ornate pop and jazz stylings, but only on a tune or two -- there's still plenty of great honkytonk and western swing material. A couple of songs feature surprising approximations of more contemporary commercial country sounds -- not enough for them to crack into the charts, but another opportunity to show the band's musical chops and stylistic breadth. All in all, even with the fancy stuff added into the mix, this album was pretty similar to the first, and worth checking out as well. They were a really good band!


<! - # >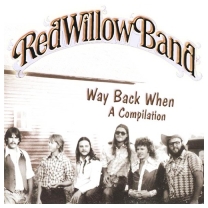 Red Willow Band "Way Back When: A Compilation" (Moonhouse Records, 1999)
This handy-dandy CD gathers the songs from the RWB's two long-out-of-print albums, Red Willow Band and Note For Note, a fun, comprehensive collection with good sound quality and a wealth of strong original material. Unfortunately, there are no significant liner notes, nothing to give the story of the band itself, but the music is pretty impressive. Chris Gage compiled the disc, and decided to mix the two albums together, so the more country-sounding tracks from the first album are peppered into the later stuff from '78.


<! also some reunion records... >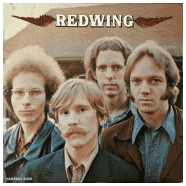 Redwing "Redwing" (Fantasy Records, 1971) (LP)
(Produced by Russ Gary & Redwing)
These SF Bay Area roots-rockers had a funky vibe reminiscent of Little Feat, while also colored by John Fogerty and CCR -- and The Band, too, of course. Previously, the Sacramento-based band had been a straight-up rock group called Glad, but when bandmember Timothy B. Schmit left to join an early lineup of Poco, the group reformed around guitarists Andrew Samuels, Ron Floegel and Tom Phillips and got into a looser, funkier roots-music sound, and are considered one of the classic early California country-rock bands. For me, most of the songs on this debut disc go too far into the "heavy" boogie-rock sound of the time, although on Side Two they delve more into twang, notably with their cover of Mickey Newbury's "(Tell Me Baby) Why You Been Gone So Long" as well as their funky jam version of the Jimmie Rodgers oldie, "California Blues," as well as their Band-like original "Oh Maggie," which is possibly the catchiest track on the record. Redwing were one of the most promising, on-the-edge-of-fame bands on the early-'70s Northern California rock scene, but it never quite clicked in the end. This disc is worth checking out, though maybe more rock-oriented than some twangfans might like. See for yourself... they were pretty groovy, man!
Redwing "What This Country Needs" (Fantasy Records, 1972) (LP)
(Produced by Russ Gary)
This one was kind of disappointing, at least from a twangfan's point of view. They set aside the funky rural vibe they pioneered on their first album, concentrating instead of crunchier, early-'70s boogie-rock, which was doubtless more salable then, but doesn't hold up so well now. Well, maybe there are jam-band or heavy rock aficionados who will be all over this album, but I thought it was a bummer, considering the innovation and diversity of the surrounding albums. Oh, well. I guess they were just looking for a hit.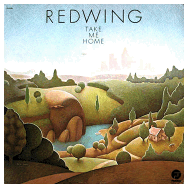 Redwing "Take Me Home" (Fantasy Records, 1973) (LP)
(Produced by Redwing & Brian Knapp Gardner)
A great record, with lots and lots of twang. They really upped the ante on their country bona fides: the album opens with the jaunty "Here I Go Again," an uptempo country-rock tune that's very reminiscent of the Gram Parsons-era Flying Burrito Brothers, followed by "Fast Locomotive," with some tight, funky chicken-picking guitar straight out of the Jerry Reed playbook, while the instrumental "Katy Warren Breakdown" showcases some awesome Joe Maphis-flavored flatpicking. Guitarists Andrew Samuels and Tom Phillips display a mastery of country picking that's head and shoulders above what most of the country-rockers were doing at the time, while guest fiddler Tiny Moore adds some sweet licks of his own, around Phillips' dazzling yet concise dobro and pedal steel. More conventional rock/pop riffs come into play on the boogie-funk of "Lost Highway" and the dreary slow-dance power ballad, "Our Day." As a viable regional band, Redwing might not have been able to set aside their hippie-pop and ballroom boogie roots, but even if those songs give the album an uneven feel, it's still packed with genuine gems. It's also worth noting that all the songs on here are originals, including the humorous, Doug Sahm-ish "Lowdown Samuel," co-written by fiddler-pianist Ed Bogas. If you're looking for a swell souvenir of the San Francisco country-rock scene at it's best, here it is.




Redwing "Dead Or Alive" (Fantasy Records, 1974) (LP)





Redwing "Beyond The Sun And Stars" (Fantasy Records, 1975) (LP)



<! Redwing "Redwing" (Fantasy, 1971) B000WZ7OPM - CD B003MXICCA - LP Redwing "What This Country Needs" (Fantasy, 1972) (LP) B004IB1R2W Redwing "Take Me Home" (Fantasy, 1973) (LP) B00E3T32QI (or B003UJ1P20) Redwing "Dead Or Alive" (Fantasy, 1974) (LP) B00413UGJC Redwing "Beyond The Sun And Stars" (Fantasy, 1975) (LP) B00413WHI0 Redwing - 5 LPs on Fantasy Records (plus others?) This superb album makes its long-overdue CD debut here, showing Redwing to be an excellent, unfairly neglected piece of the early 1970s Californian musical jigsaw. They had made an earlier psych-pop album as Glad, featuring Timothy B Schmit (later of Poco and The Eagles), and when he departed they regrouped and put together this classy collection of gritty rock and roll. It was much-praised on its original release in 1971, but despite gigging alongside acts including Delaney & Bonnie, Deep Purple, the Steve Miller Band, and releasing four further LPs, the band never got the commercial breakthrough they deserved. http://www.allmusic.com/artist/redwing-mn0001535628 >
Billy Cole Reed "Billy Cole Reed" (B. C. R. Enterprises, 1980) (LP)
(Produced by Al Pachucci & Billy Cole Reed)



<! - # - recorded at Pete Drake's studio >
Billy Cole Reed "Tribute To An Outlaw" (Phonorama, 1982) (LP)
(Produced by Al Pachucci & Billy Cole Reed)
A tribute to Waylon Jennings...




Billy Cole Reed "Music Row - Audiograph Alive" (Audiograph, 1982) (LP)



<! - reissue of first album? (d. January, 2012, age 69) - from Illinois? - http://countrydiscography.blogspot.com/2011/03/billy-cole-reed.html http://thesouthern.com/entertainment/music/billy-cole-reed-was-one-of-a-kind-musician/article_2c28d59a-4d38-11e1-988f-001871e3ce6c.html "... >

Bobby Reed "Shakin Charlene" (Shur-Trak VII, 1978) (LP)
(Produced by Brien Fisher)
An excellent set of uptempo, pop-flavored '70s-style honkytonk cheating songs, a surprisingly strong record that probably didn't do as well as it should have due to the super-ugly artwork. An independent artist from Benton, Illinois, Bobby Reed was a popular regional performer who'd been around since the early '60s. He made a strong play to break out nationally with this record, though he wasn't able to get onto the charts. The bouncy, energetic single, "Shakin Charlene," is a novelty number about a nightclub stripper who is condemned by local hypocrites, reminiscent of topical songs like "Harper Valley PTA" and "Skip A Rope." It was a regional hit and is buoyed by a slew of equally potent, well-produced material on the album, all of which was written by Reed, whose neotrad approach echos that of Moe Bandy, with a healthy dose of Merle Haggard in his vocal tones. The musicianship is pretty high-calibre as well -- unfortunately the studio crew isn't listed, but since the Cate Sisters are singing backup, it's probably a safe bet that he cut this album in Nashville. Another album highlight is the cheatin' song, "My Bridges Won't Burn," a really great honky-tonk number about a guy who resists temptation... even though it's so, um, hard. Bobby Reed made another big push a few years later while still plugging away in Illinois; his 1982 single, "If I Just Had My Woman," broke into the back forty of the Billboard charts, but his momentum flagged and he decided to switch gears and go into production. Reed moved to Nashville in 1985, and opened a recording studio. I'm not sure if this was his only full LP... but it's a doozy!


<! - #ST-9001 - lots of original(? no credits) material, including "My Bridges Won't Burn" and "Evil Night In Dallas" - no ASIN 07/24/16 >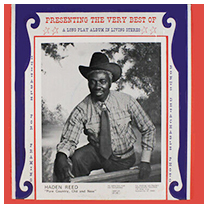 Haden Reed "Pure Country, Old And New" (Reedsound Records, 19--?) (LP)
Dunno much about this fellow... Haden Reed (1937-2006) was apparently from Summerville, South Carolina and had been recording country tunes since at least 1974, when he placed an ad in Billboard for his single, "The Woman Of My World," which he self-released and sold from his home. Mr. Haden passed away in 2006, but other than that he's a bit of a mystery. Anyone out there have more info?


<! - # - NOTES, address in SC, possible obit date(?) - also singles >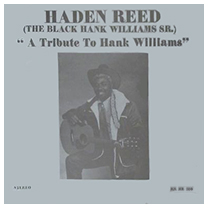 Haden Reed "A Tribute To Hank Williams" (Reedsound Records, 1981) (LP)
On this album, Reed was billed as "The Black Hank Williams Sr.," so make of that what you will... As with his other LP, this doesn't give a release year or any info about the musicians, although a print ad (in Popular Mechanics, no less!) provides us with the 1981 date. (PS - thanks to Ken at Wildwood Records for the info about this one!)


<! - #RR-HR-210 - no ASIN 01/10/18 - advertisement: "...Country and Western Singer Haden Reed. A Tribute to Hank Williams Sr. Albums $4.98, Send To: ReedSound, 120 Mikel Dr., Summerville, SC 29483" >


Jerry Reed - see artist discography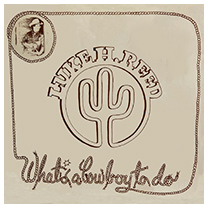 Luke H. Reed "What Is A Cowboy To Do" (Bueno Records, 1987) (LP)
(Produced by Paul Goad & Luke H. Reed)
The first(?) album by Sooner songwriter Luke H. Reed, who hailed from the tiny town of Ringling, Oklahoma, near the Texas border. Though this is mostly straight-up country stuff, Mr. Reed was also a frequent participant at cowboy poetry gatherings and had his original songs covered by older stars such as Michael Martin Murphey and Red Steagall who had drifted into the western music scene. His tunes have also been recorded by Top Forty honkytonkers such as Gary Allen, David Ball, George Strait, Randy Travis, and Gene Watson, as well as by numerous regional artists, including Clay Blaker and Roger Brown. On this disc he's backed by what I believe was a local Okie crew, though they also got some help from the Maines Brothers folks over in Lubbock, with Lloyd Maines adding a few licks on dobro and steel guitar, as well as glowing liner notes. The main band included Luke Reed on rhythm guitar and vocals, along with multi-instrumentalist Paul Goad, Richard Bowden (fiddle), Ray Carl (harmonica), Billy Grimes (drums), Ronnie Miller (slide guitar), Jill Mulhair (harmony vocals), and Johnny Mulhair on lead guitar and steel. (Thanks to The Gene Watson website for details about Reed's career.)


<! - # - inner nv, no label name bc >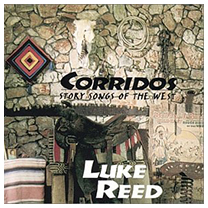 Luke Reed "Corridos: Story Songs Of The West" (Blue Hat Records, 2007) (LP)
More of an overt western/cowboy slant on this disc, with guest performers including Waylon Jennings and Ranger Doug Green, of the Riders In The Sky band.


<! - # - (OK) ext >
Ray Reed "Sings Traditional Frontier And Cowboy Songs" (Folkways Records, 1977)
(Produced by J. D. Robb)
Western singer and cultural preservationist Raymone William Reed (1917-1998) came from a ranching family near Clovis, New Mexico and grew up as an actual, working cowboy. In his youth spent time out in California and hung out with West Coast country musicians, including some guys from the Bob Wills band. Eventually he moved back home, but it was during a trip to Texas in 1989 that he attended a western event in Lubbock that inspired him to create a similar gathering in New Mexico. Reed was the driving force behind the Lincoln County Cowboy Symposium, and annual shindig filled with poetry and song -- this album shows Reed's own facility with ballads and tall tales, a nice addition to the cowboy canon.


<! - #FD-5329 - NOTES, Smithsonian liners, also a big article about the symposium - way more info online >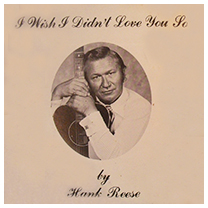 Hank Reese "I Wish I Didn't Love You So" (Buckeye Records, 19-?) (LP)
(Produced by Hank Reese)
Indiebilly from Daleville, Alabama, a tiny town in the Southeastern end of the state, near the Florida border... Reese was originally from Georgia, but later moved to the heart of Dixie and was playing here with a largely local band, including fiddler Murrell Counts, Tommy Cozart on drums, Tommy Floyd (bass), Benny Kennerson (piano), Glen Ray McWhort (steel guitar) and Jack Solomon on lead guitar... The repertoire is almost all cover songs -- real oldies like "Cattle Call," "Shotgun Boogie," "Devil Woman" and "The Gods Were Angry" -- with one tune credited to Hank Reese, "I'll Still Be Waiting." No date on this one, but I'd guess late 1970s, just from the look of it.


<! - band was all locals (pic) except for(?) Benny Kennerson on piano - no ASIN 08/25/15 - not the football guy (? I don't think) >

Jimmy Reesor & Orchestra "Easy Coffee Cup" (Wax Records, 1971-?) (LP)
(Produced by Larry Benson)
A mix of gospel originals and country covers... Songs include some overt gospel tunes ("Lord Jesus Lives," "Abraham To Be Free," both written by Reesor) and many straight country covers: "Sunday Morning Coming Down," Harlan Howard's "Busted," "Green Green Grass Of Home" along with a couple of other Reesor originals, "Bright Side Of The Sun" and the colorfully titled "Television Atom Bomb." Reesor was originally from Bismarck, North Dakota, where as a teen he recorded a rock single called "Streak Of Lightning," before decamping to Nashville in 1962... He apparently had a staff writing job at House Of Cash for a while, but as far as I know, this was his only album.


<! - #SLP-509 - Easy Cup the label name?? - Larry Benson: arranger; Buzzy Orange: music director - instrumental album? - Buzzy Orange a real person - became a vocal and career coach https://www.reverbnation.com/jigrop "James Reesor a.k.a. JIGROP originally performed as Jay Rees and the Monarks on the SOMA label. Four of his original songs written for the House of Cash were included in the Jimmy Reesor & Orchestra Easy Coffee Cup album on WAX. Twelve songs were released on the REESOR COMMUNICATES album on the Christian Folk label. James "JIGROP" Reesor is now searching through old tapes for unpublished songs while writing new ones for the only loyal fans he has at this point in time -- his wife Melissa and son Harrison." >

Jack Reeves "Wabash Cannon Ball" (Corral Records, 1977) (LP)
(Produced by Big Bill Smith & Rob Kinney)
A longtime fixture on the Southern California country scene, singer Jack Reeves grew up in Desire, Arkansas and claimed to be a cousin of Glen Campbell, who was born in nearby Billstown. Moving out to the West Coast around 1966, Reeves landed feet first in the middle of the Bakersfield-adjacent longhair country scene that clustered around the Palomino Club, including guitarist Clarence White and singer Eddy Drake. Reeves cut several singles in the decade leading up to this first LP, including one produced by scenester Gary Paxton, and others on various microscopic SoCal indie labels. In 1974 he won a major country music showbiz award, but remained mostly off-the-radar nationally; imitations were a big part of his live act act, and after Elvis Presley died, he specialized in an Elvis routine, working casinos and elsewhere. Eventually he moved back to Arkansas, and formed a band with his two sons, Cole and Matt, who also went on to record as The Reeves Brothers. This was Jack Reeves's first album, and finds him backed by Archie Francis on drums, John Hobbs (piano), Don Lee (guitar), Jay Dee Maness (steel guitar), Curtis Stone on bass.


<! - #CLP-122 - liner notes say he was from Southern California, had been playing there the last eleven years - Rob Kinney = engineer - Don Lee - arrangements - includes a version of "Me And Bobby McGee" >

Jack Reeves "When I Dream" (Ripcord Records, 1977-?) (LP)
(Produced by Gene Breeden & Blaine Allen)



<! - #SLP-1079 - AM: B00BC6FN80 - same guy?: "Wabash Cannon Ball" LP https://www.discogs.com/Jack-Reeves-When-I-Dream/release/6713854 Acoustic Guitar, Engineer, Remix [Remix Engineer], Arranged By [String Arrangements] – Blaine Allen Backing Vocals – Lorraine Walden Drums – Danny Breeden Keyboards, Arranged By [String Arrangements] – Geno Keyes Lead Guitar, Steel Guitar, Engineer, Backing Vocals – Gene Breeden - won an award in '74 - doing Vegas shows in '78 >

Jack Reeves "The Heavenly Quartet" (Novo Productions, 1983-?) (LP)
(Produced by Roy Barnes)
You'd be excused for assuming this was a gospel album, based on the title, but alas it's actually a "tribute" to four deceased country stars -- Hank Williams, Jim Reeves, Elvis Presley and Marty Robbins -- who Reeves imagines singing together in a celestial choir, despite their different musical styles. It's a showcase for Reeves's putative skills as a musical imitator, but the sad fact is he doesn't sound remotely like any of those singers, and the arrangements are pretty bad. I'll leave this one up to the local schadenfreude patrol to embrace; I thought it was fairly unlistenable. On the plus side, the LP was a gorgeous picture disc... the liner notes indicate that Reeves was holding down a regular gig at a bar called the Magnolia Room, in Corona, CA when he cut this record. Alas, the backing musicians are not identified.


<! >

John Rex Reeves "Introducing..." (Soc-A-Gee Records, 1977-?) (LP)
(Produced by Al Gore & Johnny Elgin)
Why, yes, this was country crooner Jim Reeves' nephew -- son of Catherine and Buford Reeves -- singing a bunch of Jim Reeves covers, including "Mexican Joe," "He'll Have To Go," et. al. John Rex was, of course a Texan, hailing from the same East Texas terrain that gave us so many country great, including his uncle Jim. Although the Soc-A-Gee label was from Houston, these sessions were recorded in Nashville. Sadly, the backing musicians are not listed, and alas, neither was the release date. The Jim Reeves-cover-band act was pretty good for Mr., um, Reeves, and he continued to perform his uncle's repertoire -- and other country oldies -- at various venues for decades to come. Starting in 2005, John Rex was given a permanent berth for his family tribute show at one of Branson, Missouri's many country venues, and was still traveling and performing as recently as 2017.


<! - #201 - Soc-A-Gee 45 "Love Is On The Move" c. 1977, though that song is not on this album single >

John Rex Reeves "John Rex Reeves" (Soc-A-Gee Records, 1982) (LP)
(Produced by Johnny Elgin)



<! - #SCLP-203 >

John Rex Reeves "After All These Years" (House Of Rex Records, 1991) (LP)
A later album... though, it should be noted that Reeves has self-released many, many other CDs since this one, mostly selling them through his own website...


<! - # http://johnrexreeves.com/ http://johnrexreeves.com/Bio.htm "...Beginning in April, 2005, he began doing The Jim Reeves Tribute Show in Branson, Missouri and had the pleasure of entertaining thousands of country music fans from every state in the U.S. and some from abroad... >

Joseph Reeves "Heaven Forbid" (Tribute Records, 1977) (LP)



<! - #LR-1010 "Track Listing: Hurt So Much; Heaven Forbid It to Happen; Right on the Line It Goes; We're Even Forever; Tryin' to Get Together; In My Hour of Need; I Want Help; Looking After Me. "Joseph Reeves grew his roots in the honky-tonks and bars of Memphis, Tennessee. He sings the blues, country style." - no ASIN 01/30/15, 07/25/15 >

The Reflections "My Heroes Have Always Been Cowboys" (American Artists Records, 1981-?) (LP)
Thanks to the KCLawrencevinyl blog for bringing this one to our attention.. Apparently the Reflections were a bunch of kids from Pittsburg, Kansas (on the state line near Joplin, Missouri) who cut this disc filled with country and pop covers, largely on late '70s/early '80s vintage. Along with the Willie & Waylon stuff, there are covers of Olivia Newton-John and (yikes) Irene Cara, as well as some Charlie Daniels Band. I haven't heard it -- yet -- but it's nice to have goals in life. I'll keep you posted.


<! <! - #AAS-1500-LP - 1980? '81? - AAS-1519 is 1981, per dc >

Helen Regan "Here's Helen" (Bejay Records, 1973) (LP)
(Produced by Mickey Moody)
A solid set covering a bunch of early 'Seventies country hits, including a slew of "girl" songs such as "Delta Dawn," "I Wish I Was A Teddy Bear," "Paper Roses," Lynn Anderson's "Top Of The World," etc. The backing band is solid -- the Bejay studio crew were one of the most underrated house bands of the era -- and even though they may have been going through the motions a little bit, it's still a strong performance. No info on Ms. Regan, though presumably she was from Arkansas as well. In all honesty, she wasn't the greatest singer ever -- the album starts with an excellent uptempo rendition of "My Man," but gets a little wobbly the farther in you go. Nonetheless, she seems to have been enjoying herself, and her good spirits are infectious. Unfortunately, the musicians aren't specifically identified, though Mickey Moody contributes some cheerful, though extremely brief liner notes. (Note: this album may have actually come out in '74, though the liners tell us it was recorded on November 29th and 30th, 1973.)


<! >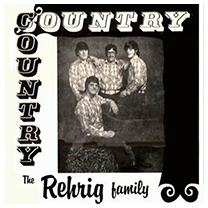 The Rehrig Family "Country" (Rehrig Family Records, 1974-?) (LP)
Originally from Pennsylvania, the Rehrig Family band did a ton of backup work in early '70s Nashville, notably working for Conway Twitty, while Bill Rehrig was the lead guitarist in Dolly Parton's band... They also performed and recorded under their own name, including this self-released set.


<! - #RF-1000 - no ASIN 01/30/15 - NOTES, good info >

The Rehrig Family "While In Nashville" (Royal American Records, 19--?) (LP)
(Produced by Bill Rehrig & Louis Owen)
This album features liner notes by the great Dolly Parton herself...


<! - #RAS-1007 - no ASIN 01/30/15 > <! Al Reid "Honky Tonk Heart" (Polaris Productions, 19--?) (LP) - #WRC-1-5379 - Canadian >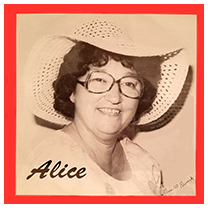 Alice Reinert "Alice" (Fun-nel-Aires Records, 1983-?) (LP)
Dubbed "the queen of the funnel cake," Pennsylvania baker Alice Reinert was known as the gal who popularized traditional Dutch funnel cakes, selling them at county fairs from her family-run kiosk, and she even wrote a book about 'em. Reinert also composed some country music, which local picker Marty Navarre recorded, backed by his band the Country Jades. This undated LP is basically the same as another (very similar) record released under Navarre's name, with near-identical artwork, and the track listing jiggled around a little. It was also released as a cassette tape with Reinert calling herself Dutchie Alice, but as far as I can tell it contained all the same music.


<! - # (none) - Reading, PA label - recorded at Helfrich Studios - book ASIN: 1465380116 - NOTES, more about her than him >

Ted & Ruth Reinhart "Go Western" (Teru Records, 1982) (LP)
An early album by the husband-wife duo of Ted and Ruth Reinhart, who co-hosted a long-running radio show in Pennsylvania and specialized in nostalgic western songs -- cowboy stuff -- on their own records. Fans of the style may appreciate their music, but this is one of those times when it may be difficult to separate the music from the man: in 2005 Mr. Reinhart was arrested and received a fifteen-year prison sentence on child molestations charges. So... ew. Kinda makes me way less likely to check this album out.


<! - # - (PA) >

Ted & Ruth Reinhart "Sing Cowboy Sing" (Muscadine Records, 1984) (LP)
(Produced by Paul Hornsby)
More oldies and cowboy tunes... This disc is notable for producer Paul Hornsby, who was best known for his work with the Capricorn label, a Southern rock powerhouse during the 1970s. Hornsby apparently set up shop in Macon, Georgia during the early '80s and this album features some of the same studio players as other Muscadine productions, including fiddler Randy Howard, pedal steel player David Irwin, and Hornsby on a variety of instruments, so the Reinharts get a pretty full backing on this one. Most of the songs are duets, though Mrs. Reinhart also has a couple of multi-tracked numbers where she harmonizes with herself.


<! - # - liner notes by Pee Wee King - also several singles >

Bob Reinier "Me, Myself & I" (Ripcord, 1978) (LP)
Down-home twang from the Pacific Northwest. A singer from Salem, Oregon, Bob Reinier wrote four of the songs on here, including the title track, "Me, Myself And I," as well as "Is It Time Again," "This Bottle And This Old Guitar" and a gospel song called "The Path To His Mansions." He also covers a few newer songs, like James Joiner's "Fallen Star" and Bill Mack's "Drinkin' Champagne." The session was recorded at the Ripcord studios, with Gene Breeden playing steel guitar and leading a house band that included Gene Keyes on piano, Ellis Miller on bass and Blaine Allen singing backup.


<! - #1044 - no ASIN 06/25/15 http://nwmusicarchives.com/artist/reinier-bob/ - says he was from Salem, Oregon Side One 1. Me, Myself & I (Bob Reinier) 2. This Bottle And This Old Guitar (Bob Reinier) 3. Don't Be Angry (Wade Jackson) 4. I Need Somebody Bad (Ben Peters) 5. Is It Time Again (Bob Reinier) Side Two 1. The Path To His Mansions (Bob Reinier) 2. Danny Boy (Fred E. Weatherly) 3. She Didn't Color Daddy (Ray Warner - Scott Turner) 4. A Fallen Star (James Joiner) 5. Drinkin' Champagne (W. Mack) LOCATION: Vancouver, WA RECORDING PERSONNEL: Bob Reinier [guitar, vocals]; Danny Breeden [drums]; Gene Keyes [keyboards]; Ellis Miller [bass]; Dave Dixon, Don Turner [rhythm guitar]; Gene Breeden [lead steel guitar]; Gene Breeden, Lorraine Walden, Blaine Allen [vocal accompaniment] RECORDING STUDIO: Ripcord Recording >
The Reinsmen "Songs Of The Trail" (Sierra Records, 1973) (LP)
Western music cowboy revivalists from Southern California, the Reinsmen formed in 1962 after working a gig with the Wagonmasters, a country-oriented house band at the Knott's Berry Farm amusement park. The original trio included steel player Jerry Compton, with singer-guitarist Don Richardson and bassist Dick Goodman, who formed the core of the group for over three decades. They are joined on this album by guitarist Bob Wagoner, one of many musicians to pass through the band over the years. The Reinsmen were based in Southern California, but toured nationally, including gigs in the Branson/Lake Of The Ozarks circuit, as well as appearing in western films and performing at the White House, and perhaps most notably they backed cowboy star Rex Allen for many of his projects. They self-released a series of souvenir albums, with this one being -- I believe -- their first LP.


<! - #W-CGR-1001 - from Anaheim, California Jerry Compton [vcl-1/gt/steel], Robert Wagoner [vcl-2/ld gt], Don Richardson [vcl-3/rh gt], Dick Goodman [vcl-4/bass]) Jerry Compton, RIP- 2009: http://bb.steelguitarforum.com/viewtopic.php?t=151838&sid=209334698081da9f0f9d0b7f08eec78f "...The Reinsmen formed in the early 1960s in part I think to carry on the traditions of the singing cowboy bands of the 1940s and 50s. They recorded and performed with Rex Allen Sr. and appeared in motion pictures as well. The Reinsmen were inducted into the Western Music Association's Hall Of Fame in 1992. " >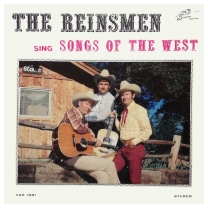 The Reinsmen "Sing Songs Of The West" (Sierra Records, 1977) (LP)



<! - #CGR-1001 reinsmen_1977_songs-west_208.jpg >

The Reinsmen "Sentimental Trails" (Sierra Records, 1980) (LP)
(Produced by Manny Alvarez & The Reinsmen)
A fairly sedate, perhaps overly formal set of western oldies, with one original written by lead singer Doc Denning, the title track, "Sentimental Trails." The rest of the quartet -- Dick Goodman, Don Richardson and Jerry Compton -- provide a smooth, professional backing, though the album's reverential tone makes it feel... I dunno... a little less joyful than might be...? The studio and label are both from Visalia, California, just south of Fresno, so I bet you there's a pretty good chance some of these guys actually ran cattle up in the mountains around the Valley, or, if they stuck in the flatlands, they at least knew which end of a shovel was up.


<! - D-CGR-1002 >

The Reinsmen "Alive... In Death Valley" (Sierra Records, 1983) (LP)



<! - D-CGR-1003 - no ASIN 08/10/16 >

The Reinsmen "This Ain't The Same Ol' Range" (Sierra Records, 1985) (LP)



<! - #D-CGR-1004 - no producer credit >

The Relations "Record No. 1" (QCA Custom Records, 19--?) (LP)
A country covers band from Newburg, Pennsylvania, featuring singers Bob Crank and Calvin Ott. Songs include honktonk ballads such as "She Thinks I Still Care," "The Older The Violin, The Sweeter The Music," and Tony Booth's "The Key's In The Mailbox." The liner notes say that when this album was made, brothers Calvin and Dennis Ott had been with the band about five years, with Bob Crank having "taken over" the band back in '73.


<! - #8074N9 - no ASIN 06/25/15 - year 1974-? or 1980-? > <! Rita Remington - several albums listed in Fillies - she had a handful of singles chart, all 'way back in the Back 40 Minnesota obit - same person?? NO "Remington, Rita (Anderson) of St. Louis Park, passed away March 2, 2012. Memorial service Federal Club House, Anoka, June 16, 12-5 PM." - 06/22/16 - unable to find bio info on RR >

Renegade "...With Bobby Mack" (Golden Voice Recordings, 197-?) (LP)
(Produced by Bobby Mack, Terry Jamison & Tom Byler)
Not to be confused with the (much younger) Texas blues player of the same name, midwesterner Bobby Mack (nee Mack L. Lipe) (1932-2016) was born in Tennessee, but he moved to Peoria, Illinois after serving in the Korean War, and was an early rockabilly artist from the heartland. Nicknamed "the man with a thousand voices," he self-released his first single, "Waitin' For You To Call"/"Crazy Heart" in 1958, a thumping rocker with an Elvis-y sound, followed the next year by two locals-only 45s that gave off increasing amounts of country twang. He laid low for a while, reemerging in 1967 with a hip-sounding, Waylon-esque single on the Golden Voice label, cut a couple more for Ace Of Hearts in the early '70s. This disc appears to be his only full LP, with backing by a band of younger musicians, Renegade, which included Tim Atwood on piano, Kenny Elam (bass), Bill Houston (guitar) and drummer Sal Salamanca, who was originally from Santiago, Chile. There's no date on the album, though the liner notes say this was Bobby Mack's "twentieth year in the entertainment field," so it was from sometime in the late '70s. Unfortunately, there were also no composer credits, so even though Mack wrote a lot of originals, it's hard to tell which songs are his... The most obvious covers are a version of "La Bamba," as well as a Gary Stewart's sultry "I See The Want To In Your Eyes." Over the years, Mack owned a string of supper clubs and bars -- The Field Steakhouse, The Driftwood and The Music Mill -- and played at his own clubs and other venues, often backing touring country stars when they came to town. His obituary mentions sone songwriting in Nashville, but as of press time, I'm not sure which if any of his songs were recorded there.


<! - #52 - no ASIN 01/25/18 - from Illinois; Mack lived in Peoria - (1932-2016) http://goldenvoicerecordingco.com http://www.legacy.com/obituaries/pjstar/obituary.aspx?pid=180854595 >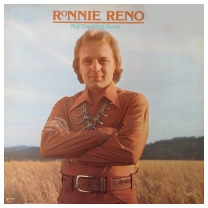 Ronnie Reno "For The First Time" (MCA-Tally Records, 1975) (LP)
(Produced by Bill Compton & Jim Williamson)
In the mid-1970s, country superstar Merle Haggard presided over a corporate echo of Fuzzy Owens' old Tally label, using the imprint to put out a couple of albums featuring Haggard pals and proteges. In this case, it was the solo debut of bluegrass prodigy Ronnie Reno, who became a member of Haggard's band in '73 and stayed with him for the better part of a decade. Ronnie was the son of '50s truegrass legend Don Reno, and worked in his dad's band as a kid, then did a stint with the Osborne Brothers before giving Nashville a shot. At this point in his career, he was writing and pitching songs, some of which Haggard recorded, and here he crafts a pleasant if not totally amazing set of soft-toned '70s country, including three of his own originals and a couple of Hag's lesser-known numbers, as well as a countrypolitan cover of the Beatles' "Hard Day's Night." There's surprisingly little bluegrass influence here (none, really) which makes this album a curious footnote to a long career: Reno went back to the high lonesome sound, forming the Reno Brothers band with his younger siblings many years later.


<! Roger Revette "Drifter" - went into Christian music? - more of a rock thing, per YT https://www.youtube.com/watch?v=lyWyS6-7w4s - same guy in obit? https://memorials.harterfuneralhome.com/Revette-Richard/3809563/service-details.php "...Richard B. Revette, 56, of Mexico, NY; died Sunday, April 14, 2019 at his home. He retired from Nine Mile Point Nuclear Station. He was a loving father, son and husband. He touched many lives and was a good friend. He was pre-deceased by his father, Frederick Revette... survived by... his brothers, Roger Revette..." >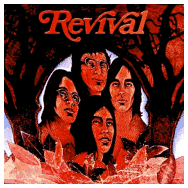 Revival "Revival" (Kama Sutra/Ampex Records, 1972) (LP)
(Produced by Bob Rose)
An ambitious though awkward country-rock outing from a group with clear folkie roots. The liner notes detail how the core duo of singers Dan Daley and Michelle Conway played a bunch of "hoots" in the NYC folk scene, and later picked up a backing band that gave them more opportunity to branch out musically. They harmonize nicely, particularly when he takes the lead with his enthusiastic (and pleasantly dorky) vocals, hitting sort of a Gram Parsons-like vibe; when Conway sings lead, she inevitably leaps into a too-serious, Joan Baez-ian folkie warble, undercutting the country feel that Daley was building up. There's a spiritual-religious undercurrent to some of the songs, though many just seem like spaced-out, word-salad hippie-druggie stuff, which often takes on a quasi-religious tone, just because that's what sometimes happens when you realize you have hands and could fly the spaceship on your own. Musically, the rest of the band is kind of iffy -- the rhythm section is pretty stiff -- but there's some noteworthy pedal steel from Hank DeVito (later a key member of the Emmylou Harris band) and nice fiddling by Larry Packer, of the Cat Mother band. This album isn't really a classic, but it is a nice, authentic slice of early, hippiedelic country-folk. This was the first album featuring Dan Daley, who later struck gold as a songwriter, penning the Charlie Daniels Band hit, "Still In Saigon," a decade later.


<! is this the same Dan Daley who wrote "Still In Saigon" for Charlie Daniels? > <! yes it is: from an Oct, 2013 email: L: You are testing what's left of my memory. Yes, I was in Revival. That record came out in 1972 and Still In Saigon came out in 1982. In between I played pedal steel and guitar on records and on tour with a slew of baby acts, many of which, for some reason, were on RCA, like Free Beer and Frank Morgan. I had a couple of publishing deals with United Artists and other and had a few good covers, such as This Could Be The Night by RB Hudman, Give It Up by the Holmes Brothers, and Rain by Johnny Winter. I was also pursuing my own record deals, and was signed briefly, by RCA (again!) though I'm glad it worked out that way in the end. Since Saigon, I've done quite a few things but mostly I've had a very successful 27 years as a journalist and author. It was an unpredictable road but so far, so good. Thanks for asking. Dan Daley New York/Nashville >

Revival "After All These Years" (Blue Mountain Records) (LP)
Hang on... this one might get a little dense. This late 1970s(?) album isn't totally a country thing, but I just spent half the evening tracking their story down online, so I figure I might as well write it down. This group from Indianapolis, Indiana had just three guys in the band -- Ed Moore, Pat Brunner and Larry Lewis -- and the band name on this project (Revival) seems to be a playful reference to their long-running stint as midwestern folkies. Brunner and Moore were in a folk group called The Gateway Trio, which is not to be confused with the Gateway singers spinoff of the same name, or the jazz combo with John Abercrombie, et. al. Anyway, these guys played local gigs forever, jammed with John Mellencamp, etc. etc. Here they cover stuff by John Denver, Dan Fogelberg, Billy Joel, and John Prine, along with a couple of songs (originals?) credited to "Austin," "Maine To Texas" and "Mason Dixon." An article about a show they did circa 2008 refers to the Gateway Trio (in various incarnations, no doubt) playing "on the same stage" for forty-five years... unfortunately no mention of exactly where that might have been. Anyway, that's what I've got... so far.


<! - # - no ASIN 03/26/17 (there's no one named Austin listed in the liner notes, though, just three guys in the band... Ed Moore, Pat Brunner and Larry Lewis EB: Vintage Folk LP Revival After All These Years on Blue Mountain Records. Couldn't find a whole lot about the LP but from what I found it's a folk group called The Gateway Trio. The group personnel is Pat Brunner on banjo, Ed Moore on bass and Larry Lewis on 6 & 12 string guitars. The group was based in Indianapolis. AKA the Gateway Trio! >
Jody Reynolds "Endless Sleep" (True Gems Records, 1978)
This was apparently the only full-length album by former '50s teenpop/rockabilly singer Jody Reynolds, who was best known for the 1958 Top Five pop hit, "Endless Sleep," a moody teen tragedy song that inspired a number of imitators (songs like "Teen Angel" and "Tell Laura I Love Her"). Like many early rockers, Reynolds was mainly a singles artist and bounced from label to label. Eventually he retired from show business and moved to Palm Springs and occasionally did gigs on the oldies circuit. This is a pretty cool album, seen from the '70s hippiebilly point of view: pure psych-tinged country-rock, with a spacey, laid-back feel that's similar to stuff by Mike Nesmith or Ricky Nelson. The Nesmith vibe is perhaps reinforced by the guitar work of Al Casey, an LA studio heavy who played on the Monkees albums, and fits in nicely with the loose feel of this album. Reynolds, who sounded fine as a youth-oriented rock singer, shows a few flaws in his older incarnation, but anyone who was willing to forgive, say, Gram Parsons, for his vocal limitations, should be able to do the same for Reynolds here. It's the spirit of the music that counts, and this is some truly groovy, vintage California indie twang, with a little whiff of Buck Owens-style Bakersfield in there as well. Worth tracking down.


<! 10/2013: still no ASIN >


Lawrence Reynolds - see artist profile



Neely Reynolds "The Way You See Yourself" (JW Records, 1977) (LP)
(Produced by Joseph Wyndell Productions)
Songwriter Neely Reynolds was an early '70s sensation, or perhaps a flash in the pan, depending on your point of view. In 1974, he won a national competition called "In Search Of The Singing Cowboy," a TV talent contest sponsored by ABC's Wide World Of Entertainment. It was a prestigious win, but didn't have much teeth behind it -- the 24-year old Reynolds did the rounds of a few daytime talk shows but found few doors open to him as a result of the show, and had to retrench for several years while making his living singing in bars. This album came out during that time, and was recorded in Dallas, Texas with a band featuring Chicken Hubbard on fiddle, Maurice Anderson on pedal steel and some saxophone in the mix as well... All the songs are originals. Eventually, Reynolds got religion and started his own ministry as a singing evangelist, recording many albums, both secular and religious over the years.


<! - issued with two different covers https://news.google.com/newspapers?nid=888&dat=19790928&id=5ExSAAAAIBAJ&sjid=b3wDAAAAIBAJ&pg=3887,3174492&hl=en St. Petersburg Times - Sep 28, 1979: >

Rolly Reynolds "...Sings At The Alisal" (Sunny Records, 197--?) (LP)
(Produced by Hal Southern & John Phillips)
Western swing and country oldies by California crooner Rolly Reynolds, who "for many years" had a gig at the Alisal dude ranch and golf club, near the coastal town of Solvang. Not sure when this album was recorded, though it looks early '70s; apparently Reynolds later moved to Arizona, and was using Phoenix as his home base around 1976. To be honest, his vocals are pretty underwhelming, with a nice deep timbre, but problems with phrasing and occasionally with staying on key. However, he's backed by several SoCal country veterans, including guitarist Roy Lanham, Billy Armstrong on violin and Noel Boggs on steel guitar, as well as bassist Dusty Rhoads and drummer Keith Berry. They don't sound super-inspired, but they're competent and add some nice licks throughout. Western balladeer Hal Southern produced the album, showing Reynolds' links to the older West Coast country scene... He recorded at least one single as well, though I think this was his only full album.


<! - no ASIN 05/04/17 - single listed in Guys >


Red Rhodes - see artist discography




Ron Rhodes "Down The Road" (Breeze Music, 1982) (LP)
(Produced by Leon Forrest Caulkins)
These shaggy, hippie-lookin' Oregon dudes might have been the exact kind of guys that Kurt Cobain and his pals were rebelling against later in the '80s -- plaid-clad older brothers who wouldn't share their beers with those pesky little kids who wanted to borrow their guitars. Anyway, I'm not sure how country this was, but with tunes like "Country Woman" and a cover of Jud Strunk's "Daisy A Day," it's worth a whirl. This was recorded in Lincoln City, Oregon (on the coast, between Portland and Eugene) with David Franklin (lead guitar), L. F. Caulkins (bass and keyboards), and R. Jackson Smith on drums. Most of the songs are originals, with five songs written by Ron Rhodes, and four more penned by the otherwise obscure Gib Pelts, aka Gilbert Lee Pelts, who had been making music for a while: he filed a copyright on a song called "Baby It Will Be All Right," which dates back to 1972 (though it's not on this album...) Oh, and yeah, I know Nirvana weren't from Oregon... but you get my point, right?


<! - #BR-802 >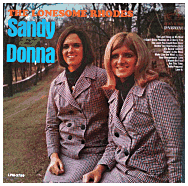 Sandy & Donna Rhodes "The Lonesome Rhodes" (RCA Victor, 1967) (LP)
(Produced by Felton Jarvis)
A completely charming folk-country outing, sort of like the Kimberlys or Gale Garnett, but better. Great backstory on this one, as well: hailing from Memphis, the Rhodes sisters were daughters of regional celebrities Dusty Rhodes and Dot Rhodes, singers who recorded for Sun Records in the old days, and who hosted a local TV show that the whole family performed on. Skeeter Davis caught wind of them and championed the gals at RCA, recording some of their original material and urging Chet Atkins to sign off on this album. It's a great record, simple, charming, with the gals singing sassy pop-country crossovers that mix light go-go stylings with a mod-country vibe that reminds me of Waylon Jennings. You can sense that the RCA studio crew weren't quite as hip or as funky as they wanted to be, but if you like the girl-group tinged '60s stuff by Skeeter Davis and Connie Smith, you'll want to check this out. Sandy and Donna went on to forge a truly remarkable career as backup singers singing with some of the best Southern soul and pop artists of the 70s, notably Al Green and O.V. Wright. They sang backup and recorded their own material as RCR, or the Rhodes Chalmers Rhodes trio, with Sandra's husband Charlie Chalmers as the third voice. In addition, both Sandra and Donna recorded their own solo albums, though more solidly in a soul and pop style. This early Nashville folk-pop album, at the beginning of their careers, is a winner... Give it a spin, if you get a chance!


<! The Last Thing On My Mind I Can't Grow Peaches On A Cherry Tree Fully Prepared Love Is Make Like The Wind Your Overpowerin' Love I Wanna Be Free Not This Time The Least You Could Have Done Nothin' But Heartaches Here It's Rainin' Anyway Blowin' In The Wind http://en.wikipedia.org/wiki/Ray_Downs http://www.sirshambling.com/articles/rhodes_chalmers_rhodes/index.php >
Sandra Rhodes "Where's Your Love Been" (Fantasy Records, 1972) (LP)
(Produced by Sandra Rhodes & Charlie Chalmers)
A remarkable distillation of the two strands of Sandra Rhodes' remarkable career -- a truly funky, truly twangy mashup of musical genres, filtered through the slick, professional Memphis Sound of the early '70s. Ultimately more of a white soul album, this still has strong callbacks to her country roots, including some swell steel guitar, but also the undeniable rural twang of Sandra Rhodes sly, sinuous vocals. On the title track she evokes a much-funkier Carole King, while obvious comparisons to Dusty Springfield and Bonnie Bramblett suffuse the rest of the record. Nevertheless, Rhodes emerges as a singular performer in her own right, and one marvels that she didn't find greater success as a solo artist based on the strength of this album alone. The material is uniformly strong, with a heavy tilt towards straight-up soul on Side Two; even her cover of the Rolling Stones' "You Can't Always Get What You Want" turns out to be a winner, with a sneaky country vibe that transforms it into a rural-rock gem. The RCR trio is at the core of this album, with Charlie Chalmers co-producing and sister Donna Rhodes playing percussion (and presumably adding harmony vocals...) Chalmers and Rhodes clearly benefit from their history as a session players, getting great performances out of the studio crew, which included Butch Johnson and Leo LeBlanc on guitars, Steve Holt on drums, pianist James Brown and a horn section led by Charlie Chalmers on tenor sax. If you get to check this one out, go for it -- it appeals to a wide variety of 'Seventies music fans.


<! Omnivore: "...While Sandra Rhodes made a name for herself singing behind Al Green on his classic Hi Records sides and writing songs including Conway Twitty's #1 single, "The Clown", her best work missed the public eye. And ear. Where's Your Love Been was Sandra's 1972 album, recorded at Sam Phillips Recording Studio in Memphis and originally released on Fantasy Records. Just as her backing vocals (usually performed with sister Donna and then husband Charlie Chalmers) appeared on recordings of every genre, Where's Your Love Been moved from Country to sweet Memphis Soul. The same reason her songs have been recorded by artists as diverse as Skeeter Davis to Isaac Hayes. Co-Produced by Sandra and Chalmers, the ten tracks on Where's Your Love Been include originals like the title cut to a cover of The Rolling Stones' "You Can't Always Get What You Want." >

Alan Rhody "Stop The Rain" (Headless Horseman Records, 1980) (LP)
(Produced by Barry "Byrd" Burton, Tom Knox & Alan Rhody)
This was, I believe, the first album by Kentucky-born songwriter Alan Rhody, who was plugging away in Nashville in the late 'Seventies, and took over a year during 1979 and 1980 to record the tracks on this album, squeezing sessions in when he could with a variety of producers. Although he remained a folk-ish indie-niche artist in his own career, Rhody was pretty darn successful as a composer... His biggest hit was the weeper "I'll Be True To You," a song that became the first Country #1 for the Oak Ridge Boys -- Rhody kept 'em coming, with Top Forty tracks recorded by George Jones, Lorrie Morgan, Suzy Bogguss, Toby Keith, and others. His version of "I'll Be True To You" is included on this album, which features backing by Nashville session players attached to the Tree Studios... Alan Rhody can perhaps be seen as an "Americana" artist, playing small gigs and keeping it low-key while also making a living through his Music City contacts. At any rate, this one has been reissued on CD and is easier to find now than it was when it came out, lo those decades ago...


<! - has recorded a bunch of albums (needs a page?) - also credited as producers, on various tracks are Don Cook, Don Gant, and Dan Wilson - took over a year to record, from July, 1979 to October, 1980 - recorded and mixed at Tree Studios (same as the publishing house? was he a demo artist?) - songwriter, had stuff recorded by Carol Chase, Billy Crash Cradock, The Oak Ridge Boys, and others - one of the tracks on here, I'll Be True To You," was released as a single by the Oak Ridge Boys http://www.30asongwritersfestival.com/artist/alan-rhody-0 "...His #1 country classic, "I'll Be True To You" (Oak Ridge Boys) was recently sung as a duet by Garth Brooks and Trisha Yearwood, in honor of the country quartet's induction into the Country Music Hall of Fame. Other Rhody hits include "Trainwreck Of Emotion" career-breaking single (Lorrie Morgan); "Trainwreck Of Emotion" #1 bluegrass (Del McCoury); "Wild-Eyed Dream" career-breaking single (Ricky Van Shelton); "Christmas To Christmas" (Toby Keith /Tanya Tucker / Lee Greenwood) plus cuts by George Jones; Suzie Bogguss; Don Gibson; Hoyt Axton; Lynn Anderson; Michael Martin Murphey; Kevin Welch; John Schneider; T.G. Sheppard; Kieran Kane; Atlanta Rhythm Section; Michael Cleveland & Flamekeeper; Barbara Fairchild and Jimmy C. Newman." http://www.orlandosentinel.com/news/lake/os-lk-alan-rhody-mount-dora-20150610-story.html https://www.google.com/search?q=%E2%80%9CI%E2%80%99ll+Be+True+To+You%E2%80%9D+oak+ridge+boys&ie=utf-8&oe=utf-8 >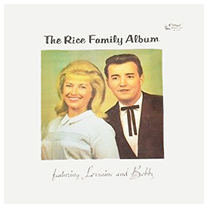 The Rice Family "The Rice Family Album: Featuring Lorraine And Bobby" (Cuca Records, 196--?) (LP)
Originally a child member of a regional family country band, Bobby G. Rice had real rural roots... Born in Boscobel, Wisconsin, Rice and his family made nearby Richland Center their center of activity, and they were a real-deal 1950s hillbilly band that performed in gingham and overalls for several years before breaking up as the siblings got older and married off. After a high school fling in a frat rock band, Bobby G. formed a country duo with his sister Lorraine, and when that fizzled out, he set off for Nashville to become a solo star. This reunion album is of late '60s vintage, packed with covers of hits such as "Talk Back Tremblin' Lips," "Tippy Toeing" and "Company's Coming," along with a bit of polka and waltz music that was still popular in the region. Sure would be cool to also hear some of the stuff the Rice Family did in the 'Fifties when they were on the radio, but this is a pretty interesting memento of his early years.


<! - #K5540 - http://www.alancackett.com/bobby-g-rice - Lorraine also has at least one single >

The Rice Kryspies "Sugar Coated" (Fanfare Records, 1969) (LP)
(Produced by Ron Compton)
Describing themselves as "neither hick nor hippie," this bluegrass-folk family band from Southern California was made up of brothers Jim, Joe and Wayne Rice, (on guitar, mandolin and banjo, respectively) as well as Wayne's wife Marci, who played bass and sang harmony. They saw themselves as a Christian group, though they made a concerted effort to appeal to a wider audience, and recorded mostly secular material, peppered with a few Jesus tunes here and there. The band formed in the early '60s as part of San Diego's folk revival scene, though they were still in their teens and early twenties when they cut this album: bandleader Wayne Rice was the oldest member at twenty-three, while younger brother Joe Rice was still in high school. Though they only cut a couple of self-released records, the Rices went on to co-found Brush Arbor, one of the most influential country-gospel groups of the country-rock era.


<! - #LPS-1028 - no ASIN 10/01/17 - single on AAA Records features several tracks from this album - #SA-1979/1980 - connected to the Brush Arbor gospel-grass band >

The Rice Kryspies "A Reason To Believe" (Tortilla Records, 1970) (LP)
This was the second album from this San Diego band, with Side One devoted to secular music, and Side Two to religious tunes. Bass player Marci Rice quit the group in 1971, and the Rice brothers then merged with members of another SoCal band called the Kentucky Faith, recruiting their singer, Ken Munds, to create a new group which eventually became known as Brush Arbor.


<! - no ASIN 10/01/17 >
Dave Rich "Soil Brother" (Stop Records, 19--) (LP)
A pretty plainspoken, no-frills vocalist, sort of in the Ernest Tubb school, Dave Rich mostly sang covers of hits like "Green Green Grass Of Home" and several by Merle Haggard, as well as one old-school, cornball recitation song, "The Runt." The musical backing is decent -- a good studio crew backing a modest singer -- nothing dazzling, but it's okay.


<! MP3 = B003HGQFRQ >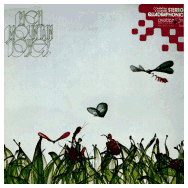 Rich Mountain Tower "Rich Mountain Tower" (Ovation Records, 1971) (LP)
An interesting and very early '70s country-rock outing from a little-known Tennessee band... Really, though, these folks are mainly anchored in psychedelic folk, with a driving, rock rhythm and lots of jangly guitars and Southern-style slide balancing out the nascent twang. The lyrics are very hippie-dippie and diffuse, spacey, celebratory stuff about being alive and in nature, sung in airy harmonies with pedal steel an 12-string guitar providing sweet counterpoint -- all in all, a very Byrds-y sound. A few Nashville studio pros were brought in to beef up the band's sound -- Charlie McCoy lays down a few hot harmonica riffs, and steel player Weldon Myrick adds gorgeous accompaniment throughout. There's not a lot on here that I would call "country," as opposed to rock, and a few songs may get irritating if you're just in search of country sounds, although for psych/folk-freak fans this record is a real treat. A mixed bag, but a great document of its time.


<! - # - NOTES, bio, band, links >
Rich Mountain Tower "Can't You Feel It?" (Ovation Records, 1976) (LP)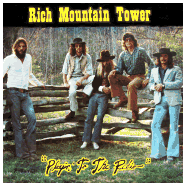 Rich Mountain Tower "Playin' To The Radio" (Beau Geste Records, 1976) (LP)
There's more overt twang on this album, and more of a relaxed feeling overall... Still plenty of rock influences, and particularly a Byrds-y vibe, but the influence of mainstream country-rock comes into play as well, as on the John Denver-esque "Where I Live," as well as numerous tracks that have an Eagles/Poco/Ozark Mountain Daredevils feel. On the uptempo, funky "Sour Mash," they dive headlong into slide-driven Southern rock, but the rest of the record is much mellower -- and though "Good Time Music Band" has a nice, laid-back feel, there's one weird line about how one of his girlfriends used to "make love to a great dane" that was just a little too creepy for me. Ah, the 'Seventies! Anyway, like their other albums, this is a fine musical time capsule, with a handful of tunes that will interest country-rock cratediggers, balanced by rock music that really shows the eclectic spirit of the times. This does seem like a band ripe for some kind of reissue record. Anyone?




Spider Rich "The Rich Sound Of Twin Guitars" (True C Records, 19--?) (LP)
(Produced by Raymond Rich)
Guitar picker Spider Rich, showing off some of his versatility... Producer Raymond Rich was "Spider's" brother; I think they were from Kentucky, or at least they recorded this album at Cardinal Recording Studios, in Central City, KY.


<! - #CRSR-10001 - no date? - NSD distributed - (NP, for now) >

Richmond Recipe "Richmond Recipe" (Eastern Recording Studios, 1975) (LP)
(Produced by Jim Harmon & Tim Williams)
That would be Richmond, Virginia, home of songwriter John O. Atkinson, who's also the lead singer. This album, which is a mix of bluegrass and country, seems to have been a vanity album with backing by a pickup band -- the liner notes indicate he hired them all one by one. The lineup was John O. Atkinson (rhythm guitar, vocals), Dave Garrett (banjo), Craig Wingfield (dobro), Mel Hughes (bass), Ray Garrett (steel guitar), Bruce Nicholls (lead guitar) and Wally Southworth on drums. As for their pedigrees, Wingfield and Garrett were recruited from Chief Powhatten's band; Hughes from a group called the Grasscutters, and apparently Ray Garrett also toured with Cal Smith. Almost all the songs are Atkinson originals, along with cover tunes such as "Blue Eyes Crying In The Rain," "Making Believe" and Jimmie Rodgers' "Waiting For A Train," all of which reveal a healthy love of old-school, pre-honkytonk sentimental stuff. Apparently only a thousand copies were pressed back in '75.


<! - #ERS-554 - no ASIN 03/12/18 - includes a bunch of originals by John O. Atkinson = (*) A1 Montana Red (*) A2 Waiting For A Train A3 Forgive Me Dear Mother (*) A4 Blue Eyes Crying In The Rain A5 Riding Through The Country (*) A6 Making Believe B1 Dream To Ride (*) B2 Bull Roar Blues (*) B3 City Morgue (*) B4 El Cumbanchero B5 Gallon Of Blues (*) B6 Last Call (*) >

Brian Richards "Brian Richards" (Richard III Music Company, 1977) (LP)
(Produced by Keith Johnston)
Wow, talk about intimate. When I saw this disc, I thought Brian Richards was probably some low-level lounge singer (which he may have been) but it's even better than that... way better. Apparently, this entire album was recorded live at his own wedding reception and I'd guess was given out to the guests later as a memento. While there are several distinctly country songs ("I Must Have Been A Cowboy," "Johnny Cash Pickin'," "Superstar Of The Singles Bar") there's also a lot of fabulously bad 'Seventies pop-vocals material, such as the Neil Diamond-esque "Ah! Music" and the plunky keyboard-driven semi-reggae of "My Love Is Alive," one of several songs that seem to be directed at his newlywed wife, Jodi Richards. The band is actually pretty good, particularly guitarist Bruce Gaddy, who goes off on some epic flights on a tune or two. In addition the arrangements are way more ambitious than what you'd expect from a live wedding gig, and while some of the pop ballads are flat-out embarrassing, the country stuff is kinda fun. Richards seems to have been a Californian at the time, providing an address in West Los Angeles for his label, although in the (presumably) autobiographical "I Used To Love To Hear My Daddy Sing," he mentions growing up in Iowa... so your guess is as good as mine.


<! - no ASIN 01/11/18 - LK found in Sacto, 12/17 >


Digby Richards -- see artist profile




Earl Richards "The Sun Is Shining (On Everybody But Me)" (Ace Of Hearts Records, 1973) (LP)



<! http://www.nashvillescene.com/music/article/13061691/blonde-on-blonde-and-beyond-50-classic-albums-of-nashvilles-postdylan-era-part-ii-19732008 "...While the rest of the pop world was imitating Dylan, Nashville country musicians kept doing their things. Still, The Sun Is Shining reflected some of the changes that had occurred since 1966. "Walking in Teardrops" is essentially Southern rock, while "Mother Nature's Daughter" begins and ends with a New Orleans piano lick." >
Earl Richards "Earl Richards" (RPA Productions, 1976) (LP)
(Produced by Less Ladd)
Songwriter Earl Richards (born Henry Earl Sinks) was a Texas native, born near Amarillo, who as a teen in the early 1950s played with Bob Wills' Texas Playboys and years later was tapped by producer Norman Petty to replace Buddy Holly in the Crickets, after Holly left the band. When the Crickets gig ended, he headed to Nashville where he enjoyed success as a songwriter in the '60s and started his own label, Ace Of Hearts, establishing himself as a successful music producer along the way. As "Earl Richards," he placed several songs in Billboard country charts during the '70s, including his biggest hit, "Margie, Who's Watching The Baby," which peaked at #29 early in 1973. (A version of that song is included on this album, along with several other originals. This album seems to have been reissued several years later, as seen below. He also recorded an earlier album, The Sun Is Shining (On Everybody But Me), under the name Earl Sinks, and re-released some of that material as Earl Richards...)


<! - # - NOTES - no ASIN 02/03/16 >
Earl Richards "Margie, Who's Watching The Baby" (Berden Records, 1982) (LP)
This appears to be a reissue of the 1976 album above... Not sure if the version of "Margie, Who's Watching The Baby" is the same one as his 1973 hit.


<! - no producer credit >
Sheriff Joe Lee Richards "Country: Yesterday, Now And Forever" (Richmar Records, 1977) (LP)
(Produced by Charlie Louvin)
A real-deal, country singin' cop... Joe Lee Richards (1935-2013) was the Sheriff of Saline County, Arkansas, cutting an album with a bunch of Nashville cats, pickers like Johnny Gimble, Buddy Spicher, Buddy Harmon, as well as Charlie Louvin, who arranged and produced the album...


<! - # - date per picture of 7" w/ "Completely Out Of Love/Thing Called Love" - Charlie Louvin, Johnny Gimble, Buddy Spicher, Buddy Harmon and other Nashville luminaries... Numbers are: "SEE ME THROUGH, I LOVE YOU (I JUST DON'T LIKE YOU), NOTHING SURE LOOKS GOOD ON YOU, GAME OF LOVE, OLD LOVE TURNED MEMORY, COMPLETELY OUT OF LOVE, ARE YOU SURE, WE LIVE IN TWO DIFFERENT WORLDS, THING CALLED LOVE, ALL GOOD THINGS MUST END" >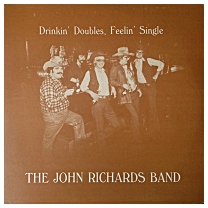 The John Richards Band "Drinkin' Doubles, Feelin' Single" (John Richards & Pat Sheedy Enterprises, 19--?) (LP)
(Produced by John Richards)
A nice obscuro offering from Ottumwa, Iowa, recorded sometime in the late '70s or early '80s. The "John Richards Band" featured Richards and three brothers -- Don, Tom and Tony Blew -- who provide solid harmony vocals on the opening title track, a song that sounds a bit like the Statler Brothers backing Don Walser. There seem to be at least two lead vocalists; I think the other was Tony Blew, who wrote four of the ten songs on this album, and I think it's Blew who has the younger-sounding voice, a bit like Gram Parsons, in fact. Well, despite the lack of liner notes to clarify who done what, this is an excellent privately released album -- there are some amateurish parts, but the quality of the songwriting and the sincerity and conviction of the performances is pretty compelling. Yet another band I'd love to hear more about!


<! - # >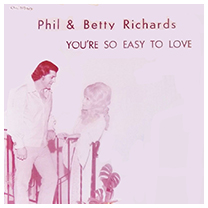 Phil & Betty Richards "You're So Easy To Love" (P & B Records, 1979) (LP)
This husband-wife lounge duo from Portland, Oregon were not strictly country, but there's some twang in there, including covers of "Wasted Days and Wasted Nights," "Long Black Veil," and John Denver's "Back Home Again," although the rest of the record goes in a decidedly pop/pop vocals direction, with stuff like Bobby Goldsboro's "Pen In Hand," "They Call The Wind Mariah," etc. Most of the tracks are just the two of them singing and strumming, though on Side Two they are joined by a drummer named Dale Snyder.


<! - #RA-10375-LPS - no producer info Phil & Betty Richards "You're So Easy To Love" (P & B Records, 1975-?) (LP) - #RA - 19375 LPS - no ASIN 12/19/16 http://nwmusicarchives.com/artist/richards-phil-and-betty/ old LK: This couple from Portland, Oregon sang together through the whole decade of the 'Seventies before cutting this album... There's some old-fashioned pop vocals material on here, such as "They Call The Wind Maria," but also plenty of country covers, including "Wasted Days And Wasted Nights," "Long Black Veil" and John Denver's "Back Home Again." >
Rusty Richards "The American Cowboy" (Young Oak Records, 1984) (LP)
(Produced by Rusty Richards & Gene Breeden)
A solo set by cowboy crooner Rusty Richards, who became a member of the legendary Sons Of The Pioneers in 1963 and was with the group off and on for about two decades... Richards was a California native who grew up as a rancher in rural Orange County, and in his teens he got into playing western music -- later, after a hitch in the Marines he headed for Hollywood where he worked as a stuntman on TV westerns. He was championed by a young Burt Reynolds for an audition with the Sons Of The Pioneers, where he yodeled and sang tenor for many years. Richards also was a member of a latter-day version of Hal Southern's old band, the Frontiersmen, led in the late '60s by Ken Curtis, and eventually set himself up as a professional horse trainer before rejoining the Sons in 1974. This album includes a snapshot of Richards with the group on the back cover, but around the time this record came out, Richards was asked to leave the band, and in 1985 he sued them over the use of the group's name and for his share of the profits from a 50th anniversary album released in '82, having himself been kicked out of the band in '84. (Did you really need to know all this? Well, maybe not, but there it is, anyway...) The lawsuit was apparently resolved amicably, and Richards continued to sing (and write) cowboy songs for years to come, appearing at the Gene Autry museum and other SoCal venues. I gotta say, this album seems a little rough around the edges, but it does contain a wealth of original material, and is worth checking out if you're a diehard western music fan.


<! - # http://www.ocregister.com/articles/rusty-305616-cowboy-one.html http://www.debed.com/rustyrichards/ - was also in the Frontiersmen in the late '60s >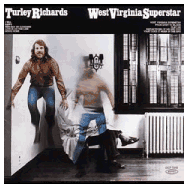 Turley Richards "West Virginia Superstar" (CBS-Epic Records, 1976) (LP)
(Produced by Ron Bledsoe & Troy Seals)
Wow... I would never, ever in a million, bazillion years have guessed that an album like this -- with that picture of a dorky-looking, longhaired good-old-boy, a guy named Turley, for goodness sake! -- wouldn't be a country record. Instead, it's more of a whiteboy Southern disco-soul album, and a pretty good one at that. Originally from West Virginia, Richards was an ex-rockabilly singer from the late '50s who slid into soul and pop vocals, in sort of a Jackie Wilson-meets-The Righteous Brothers mode. This later record, despite being recorded in Nashville and despite the presence of country-afilliated artists like producer Troy Seals and Janie Frickie (who sings harmony), is more like an Atlanta Rhythm Section or Average White Band record. Oh, well. Can't win 'em all! But all of y'all who are into the whole retro-disco thing... well hey, you might want to check this one out.


<! - # - former rockabilly singer, blind since childhood - NOTES, discography, wp >

Jim Richardson & Purebred "Who Are Those Guys?" (Starting Gate Music, 1981) (LP)
(Produced by Vince Emmett)
A fixture on the Lexington, Kentucky bar scene, singer Jim Richardson led the band Purebred from 1977-83, with this album recorded pretty much in the middle of their run. Although they definitely projected a country image and played country-rock twang, there are also a few regrettable doses of '70s-ish AOR and herky-jerky jam-band rock in there, too, with maybe just a hint of disco rhythm as well. The sound mix isn't great, though this album is notable for a wealth of original material... The twangier tunes are respectable, in a New Riders Of The Purple Sage kinda way... Which, by the way, is probably the band they stole their album title from... A little iffy, overall, but worth a spin. (Note: the album's producer Vince Emmett, who plays pedal steel and guitar on some tracks, worked at the independently-owned Lemco music studio, which was a hub for up-and-coming bluegrass talent, and went on to become a well-regarded country/Americana producer and film music composer.)


<! http://prabook.org/web/person-view.html?profileId=235657 >

Randy Richardson "A Country Called Heaven: Country Gospel Music" (Gospel Media, 19--?) (LP)
Aww. This one was disappointing: despite its proclamations of being a "country" album, this gospel set is mostly just Mr. Richardson strumming solo in a Sunday school folksinger mode, although there is one track, "Shadow Of The Cross," where he imitates the classic 1950's Johnny Cash chunka-chunka rockabilly riff -- other than that, though, it's mostly a folk-guitar style. Half the songs are credited to Richardson, along with covers of songs by Laverne Tripp, Marty Robbins, the Rambos and others. Slightly long-haired, Richardson was a California native living near Sacramento who recorded several albums back in the 'Seventies, and may eventually have had a ministry of his own.


<! - no ASIN 04/02/16 >

Randy Richardson "Can't Stop Praisin' The Lord" (Gospel Jubilee Records, 1974) (LP)



<! - date per AM MP3 listing >
Joe Richie "Live At O. T. Price's Music Hall" (Red Dirt Music, 1981) (LP)
(Produced by Hewlitt Crist)
An excellent set of independent, old-school bar-room country music, with strong, simple songs and plenty of twang, recorded by a Panhandle transplant to the California shores. In the liner notes Richie goes out of his way to explain the meaning and origin of the term "red dirt music," an amorphous regional music movement which was named after the iron-heavy, crimson soil of Oklahoma... This is a rambunctious live set recorded at O. T. Price's Music Hall, a country music venue in Santa Cruz, California that was open from 1979-1990. O.T.'s was a well-loved showcase club for local and national roots music acts, and is pictured on the back cover. Great record... Highly recommended, particularly for fans of pre-Nashville George Strait.


<! I dunno if anyone's done research into the evolution of the term "red dirt music" to describe the hard-country sound of the Texas-Oklahoma Panhandle region, but this album is certainly one of the earliest I've seen use it... >
Robert Richie "Hail We Americans" (Pyasaw Music Studio, 19--?) (LP)

Robert Richie "Writer-Producer" (Pyasaw Music Studio, 19--?) (LP)



<! ROBERT RICHIE (w /ROY DEE) + Writer Producer - from Orange, California - must be '70s sometime - an anti-OPEC song Hail We Americans Iowa Corn West Virginia Coal Red Hearts and Cinnamon Candy Scale of One to Ten Hard Times are Coming Minnesota Town Side Two: Agony and Ecstacy Good Lord's Willing Movin On Down the Line Gotta Be Green to Grow I Love You, I Want You, I Need You Ramona the Girl in My Dreams > <! Richmond Recipe "Richmond Recipe" (Eastern Records, 1975) (LP) (Produced by Jim Harmon & Tom Williams) - band name? - bluegrass? (partly) - band includes - most songs written by bandleader J. O. Atkinson, with covers of "Blue Eyes Crying In The Rain," "El Cumbanchero," "Making Believe," and "Waiting For A Train" >
Richard Riddle "Cowboy" (no label, 1975) (LP)
A mega-custom pressing with no album art (a plain white cover) and only the song titles on the inner label. This disc was a memento of, or possibly a reference material for, an off-Broadway biographical play written about "cowboy painter" Charles M. Russell (1864-1926) a folkloric figure who was born in the Midwest but moved to Montana in his teens. Russell is often seen as a romantic figure who set out to capture the spirit of the open frontier, which he saw vanishing by the turn of the century as the open plains were being fenced off and the rough-and-tumble wild west was settling down. First staged in 1975, the play featured a libretto by Jess Gregg and music by Richard Riddle, and was performed by a cast that included David Canary as Russell, playing opposite Cyd Charisse's niece, Zan Charisse. The musical was panned by critics, and appears to be Riddle's only play staged for Broadway, although it found a second life in regional performances in Montana. I'm not sure how twangy or "country" this recording is, or who performs on the tracks, as there are no liner notes or information online (that I could find) about these recording sessions. The album "cover" pictured here is from an old listing on eBay; apparently it was a plain white cover with the title hand-scrawled with a black marker... Not sure how many copies of this disc were actually pressed.


<! - # Staged at the Goodspeed Opera House (though maybe these weren't the reviewed shows? A1 Hunker Down, Cowboy A2 Seems To Me A3 Loud And Tacky A4 The Dutchman's Pants A5 You Look Like My Valley A6 Cowboy A7 I'll Dream Your Dream B1 The Horse B2 It's A Waste Of Rice B3 Pass The Bread And Butter B4 This Kid B5 Singin' To 'Em B5 Charlie B6 Getting Late High, Wide And Handsome - NOTES, Broadway info, reviews, link - posted in MONTANA - also add to NY? >

Ozzie Ridings "It's Finally Over" (Ribbit Record Company, 1983) (LP)
(Produced by Nelson Larkin & Steve Scruggs)
Old-school country twang from Oklahoma City, Oklahoma with songs such as "If I Never See Your Face Again" "Don't Wake Me If I'm Dreaming," "I've Forgotten How To Love" and "I Gave You A Diamond (You Gave Me A Heartache)."


<! - #RRLP-1001 Tracks: 1. It's Finally Over 2. I Always Dream This Way 3. I've Forgotten How To Love 4. Laurie Lee 5. Don't Wake Me If I'm Dreaming 6. Don't Close the Door 7. I Gave You a Diamond (You Gave Me a Heartache) 8. I Wish 9. Will Your Memory Fade Away 10. If I Never See Your Face Again - 2016 web search showed him to be a Tea Party, anti-Obama hardliner... >

Len Ridley "On The Banks Of Old Chattooga" (Sounding Board, 1980) (LP)
(Produced by Otis Forrest)
An amateur singer from Taylors, South Carolina who specialized in old-time stuff, Len Ridley was apparently a mobile home salesman who played at bluegrass festivals and other gigs in and around Greenville... The liner notes for this album were by Raymond Fairchild, so you know it's the real deal.


<! - no ASIN 03/14/16 - #SB-32780 "...Len Ridley owned a Mobile Home Sales Lot in Taylors, SC, record was recorded at The Sounding Board in Easley SC" >

Rig "Rig" (Capitol Records, 1970) (LP)
(Produced by Elliot Mazer & Adam Mitchell)
An amiable, but fairly inconsequential country-rock(ish) outing notable for Nashville heavyweight Kenny Buttrey playing drums, with his twangy colleague Weldon Myrick also sitting in on one track, though for the rest of the record it's Artie Richards who contributes on pedal steel. The driving force of this band came from the principal songwriters, Kendell Kardt and Don Kerr, who seem like your average early 'Seventies, middle-American semi-longhair dudes who got caught up in the cosmic vibes of the time. Kardt was the better-known of the two, a kid from Queens, New York whose career always skirted on the edges of success. Beginning in the 1960s, Kardt was in a series of bands and projects that fell apart just when a major label deal looked likely... This album turned out to be his magnum opus; a couple of solo projects followed, but both were shelved by the labels involved. He moved into the 'Seventies folk scene, but doesn't seem to have recorded much beyond this hippie-era album. As a legacy, this record ain't bad -- the songs are rambling and inchoate, expressive but unformed, but they also have a quavering, fragile sincerity that probably has more appeal for the folk-freak crowd than for us twangsters. I suppose it wasn't implausible that these guys could have succeeded, given the eclectic artistic environs of the era, though as fate would have it, Rig was destined to be one of those weird, obscure artifacts of a very inventive era.


<! - ST-473 https://en.wikipedia.org/wiki/Kendell_Kardt - who is the gal who sings on (at least) one of the tracks?? http://www.boneyardmedia.com/?page_id=596 "...Kendell was a key member of Capitol recording artists Rig, who were based in San Francisco, and whose sole album Kendell hates. He was also an Archies session man in '69 – that's him playing the Rhodes keyboard on "Sugar Sugar," which he also hates." WP: says he was in an early lineup of The Fugs, but the wp Fugs page makes no mention of him >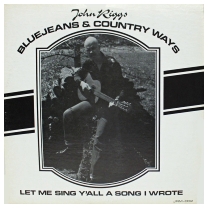 John Riggs "Bluejeans & Country Ways" (JRM Records, 19--?) (LP)
Cool souvenir album from Nashville-based songwriter John Riggs... Although he wasn't a smash hitmaker, Riggs had an impressive track record at selling his songs to several bona fide Nashville stars, and placed several in the Top Ten. This album features his own versions of songs that were recorded by folks such as Dave Dudley, Stonewall Jackson, George Jones, Loretta Lynn, Marty Robbins, Hank Snow, Mel Street, Conway Twitty and Don Williams. Unfortunately, the liner notes don't give much insight into where or when this record was made, but if you're a fan of songwriters performing their own material, you might want to track this one down.


<! - no ASIN 12/31/15 - #JRM-002 >

Riley "Grandma's Roadhouse" (Mo-Fok Records, 1970)
Honkytonker Gary Stewart was a sideman for this obscuro hippie-soul/country-rock outing, playing in a small band led by singer Riley Watkins. It's fun stuff, with a rough-and-ready proto-Southern rock feel that Stewart's fans will recognize from his later records. Watkins is kind of iffy singer, but the music is still fun. Originally released as a vanity pressing in Florida, this has seen the light of day during the reissue renaissance of the post-millennial digital era. Worth checking out, particularly if you're a Gary Stewart fan.


<! http://swampland.com/articles/view/title:the_riley_watkins_interview - 144 x 144 >

Bartow Riley "Panhandle Fiddling" (Kanawha Records, 1971) (LP)
(Produced by Ken Davidson)
A television repairman by trade, old-timey fiddler Bartow Riley was from Oltan, Texas and is accompanied on this disc by guitarist V. C. "Zipp" Durrett from nearby Lakeview, TX, as well as Ollie Miller, a truck driver from Rotan, and Nolan Price, of Shamrock. Years earlier, Riley recorded for County Records, contributing several tracks to a collection called TEXAS HOEDOWN, which also featured his idol, Benny Thomasson.


<! - #315 - Kanawha specialized in fiddle albums - maybe look them up? - Texas Hoedown album: B003MXD1GC >
Harold Riley & The Country Rush "Live At The Gold Rush" (198-?) (LP)
Low budget, but good music... This live album captures a West Coast bar band tearing through a bluesy, twangy set that included some early Rodney Crowell stuff, so despite the lack of any discographical info (not even song titles) I'd place this one as an early '80s album, maybe around 1981-82, possibly later. It's a good record, but a bit of a mystery. Anyone out there know anything about this band?


<! - no ASIN 01/05/16 - #AR 1065 - 1977 listing in Stanford paper has them playing at the Cowtown, in San Jose - was this recorded at the Gold Rush club in Nashville?? >
Rimrock "Rimrock" (Rimrock Records, 1981)
(Produced by Buzzy Smith)
An excellent, well-realized, professional-sounding country-rock set by a band from Lafayette, Louisiana... This is all very smooth and Poco-delic, but nicely done, with excellent musicianship and and with some pretty strong songwriting as well. If you like the classic, LA-based Top 40 country-rock sound of the 'Seventies, you'll want to check these guys out.


<! - songs seem to be all love stuff >
Jim Ringer "Any Old Wind That Blows" (Philo Records, 1975) (LP)
(Produced by Jim Ringer & Michael Couture)
Really nice. I'm used to thinking of California troubadour Jim Ringer as more of a "folk" artist, and as the longtime partner of singer Mary McCaslin, but this set of country twang is a real delight. It's most cover tunes, including hillbilly classics such as Roy Acuff's "As Long As I LIve," Jimmy Driftwood's "Good Woman's Love" and Don Reno's "I Know You're Married But I Love You Still," as well as bluesier numbers like "Sittin' On Top Of The World," and an outstanding, wonderfully lusty version of "Stackolee" (here entitled "Mrs. DeLion's Lament," with a songwriter's credit to Ringer...) McCaslin sings harmony on several tracks, and in this oldies-country context, they evoke the hardrock sentimentalism of duos such as Wilma Lee and Stoney Cooper... Ringer's own vocals bring to mind robust vocalists such as Hoyt Axton and old-fashioned twang-stars such as Roy Acuff, and a couple of tracks that feature a small horn section have a boozy charm reminiscent of Leon Redbone. All in all, this is swell album... Highly recommended!


<! - # >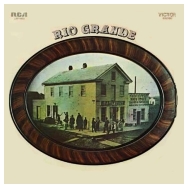 Rio Grande "Rio Grande" (RCA Victor, 1971) (LP)
(Produced by Dale Hawkins)
This pioneering but short-lived country-rock band was an offshoot of the Tyler, Texas rock group, Mouse & The Traps, and featured several members of that band, including lead singer Ronny Weiss, bassist David Stanley and drummer Ken Murray, along with producer Dale Hawkins, who had previously worked with Mouse & The Traps and had the band back him on his own late-'60s records. The trio was joined by pedal steel player Bobby Tuttle and bassist Tom Russell (though not the same Tom Russell known to Americana fans of the '80s and '90s...)


<! - # 01. Idle Idabelle (3:44) 02. Me And My Wife (3:06) 03. End Of The Battle (3:43) 04. Sue Ann (3:35) 05. So Good To Be Free (3:21) 06. Wish I Could See You Again (3:06) 07. What Do You Do When Love Flies Out Your Window (2:13) 08. Before My Time (3:31) 09. Nice And Easy (4:20) 10. Dog Song (4:13) *Ronny Weiss: Vocal, Guitar, Lyrics *David Stanley: Bass, Guitar, Vocals *Ken Murray: Percussion Tom Russell: Guitar, Bass Bobby Tuttle: Pedal Steel * = ex-Mouse & Traps >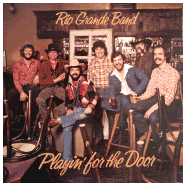 Rio Grande Band "Playin' For The Door" (Rounder Records, 1978) (LP)
(Produced by Craig Chambers & The Rio Grande Band)
A groovy set of longhaired western swing -- great music by a great band, right up there with the best by Asleep At The Wheel. Lead singer Craig Chambers was a native Texan who dug western swing and led this band for several years, notably as the "house band" for the original Broadway run of the play, The Best Little Whorehouse In Texas. Chambers and the band opened the play, with Chambers as narrator -- many years later, he joined the retrodelic Time Warp Tophands, with steel player Tom Morrell. Before all that, there was this record... and it's really a gem. There are several classic tracks on here, notably the illicit substance anthem, "Mean Old Alcohol," and rollicking renditions of oldies such as Spade Cooley's "Crazy 'Cause I Love You," "Four Five Times," several Hank Thompson tunes, including "Hillbilly Band From Mars" and "Total Strangers," as well as the uptempo "Blue Blue Bonnet Lady," all given plenty of instrumental kick from top-flight folks such as steel player Doug Jernigan, Bucky Meadows on piano, and the twin fiddles of Ernie Reed and Hoot Hester. These songs were all in heavy rotation on KFAT when I was a kid (sorry, do I talk about them too much?) and it's no wonder why... This is fun stuff! A couple of tracks are skippable, but that's why turntables have tone arms... All in all, a real '70s treasure.


<! also B007FE1ZVC - LP > <! Blue Blue Bonnet Lady; Gold And Silver Waltz; Four Five Times; Total Strangers; Crazy Cause I Love You; Mean Ol' Alcohol; Hillbilly Band From Mars; Harvey; Drink Muddy Water; Leaving Tennessee Craig Chambers - vocals and guitar Ben Brogdon - bass NOT to be confused with: https://en.wikipedia.org/wiki/Rio_Grande_Band - backing band for Michael Martin Murphey: Gary Roller – bass and vocals Ryan Murphey – lead guitar and vocals - MMM's son Pat Flynn – guitar and vocals David Coe – fiddle and mandolin Troy Ingle – fiddle and mandolin Bobby Blazier – drums >

Rio Grande Gold "# 1" (Turquoise Trail Records, 1979) (LP)
(Produced by Rio Grande Gold)
This band from Cerritos, New Mexico included local legend Lewie Wickham who'd led a trio, a duo and a solo career before going all-out country with these guys. This was a pretty ambitious album, spanning honky-tonk, country-pop, folk/countrypolitan ballads and a little bit of outlaw twang... Wickham was just one of several lead singers, notably latina singer Kay Kay Baca, whose chirpy voice had hints of Dolly Parton as well Dolly's sister, Crystal Gayle, who she seems to have been channeling on the perky pop of "Before My Heart Falls Prey." She sings several solo numbers, as well as a few duets with Wickham and the other male lead singer. With a wide stylistic scope and a very professional attitude, these guys had a strong almost-but-not-quite feel -- you can taste the hit potential, but the magic's not quite there in the recordings. Still, this is a good record from a very focussed, ambitious regional band, a better-than-average record from a group that clearly hoped to break through into the big time. A little softer than I usually like my twang, but definitely worth a spin.


<! - #KM-6279 - no ASIN 10/05/15 - NOTES, link >

The Rio Grande River Boys/Tex Ritter "Starring Tex Ritter" (Premier Records, 1966-?) (LP)
This is one of those bait-and-switch cheapo budget LP where a few tracks by a brand-name artist are padded out with stuff by some unknown musicians... This disc is split between some Tex Ritter tunes of obscure provenance, backed on Side Two by a handful of western songs sung by an anonymous ensemble called the Rio Grande River Boys. No info about who they were, though it's possible they were a real band and were contemporaries of Tex Ritter -- his tracks were apparently originally from made-for-tv video clips that date back to the early 1950's, so maybe theirs did, too. The tracks on this album are also to be found on an LP on the Coronet imprint.


<! - Premier #PS-9023 - Coronet #CXS-273 PF: "Coronet CXS-273 Tex Ritter Sings With Rio Grande River Boys : [Tex Ritter:] Deck Of Cards; Billy The Kid; Boll Weevil; Night Herding Song; Bad Brahma Bull; [Rio Grande River Boys:] Boy In Buckskin; Buffalo Girls; Wyatt Earp; Jesse James; Old Chisholm Trail; Wild Bill Hickok - 66 (Snader/Studio Telescriptions, early 1950s, also on Premier PS-9023 Starring Tex Ritter)" >

The Rio Grande River Boys "Music From Out Of The West" (Spin-O-Rama Records, 196-?) (LP)
This disc features several of the same tracks as the split LP above, along with many western tunes also credited to the Rio Grande River Boys. Are they all by the same artists? I'm sure somebody out there knows, but alas, it ain't me.


<! - >

Jerry Riopelle "Take A Chance" (ABC Records, 1975) (LP)
(Produced by Jerry Riopelle, David Plenn & Keith Olson)
Originally from Florida, rock producer Jerry Riopelle broke into the early 1960s pop scene and established himself as part of the Los Angeles/West Coast musical elite... Although this mid-'70s album is mostly an overblown, self-indulgent rock-pop muddle, there is one track on here, Riopelle's own "Red Ball Texas Flyer," that is a genuine 'Seventies alt-country classic, a chugging, uptempo, irresistible country parody that was played constantly on KFAT, and it still brings a little smile to old coots like me from time to time. The studio musicians on this album are mostly groovy, slick, too-smooth LA regulars, but for the twangy stuff, Riopelle recruited bluegrassers such Sam Bush, Alan Munde and Byron Berline, along with flatpicker Tony Recupido, and he gave studio pro Waddy Wachtel a chance to stretch out on steel guitar. Mostly, though, this is a skippable record, at least from a twangfan's perspective.


<! Recupido info: was in the band Savanna http://www.witcherbrothers.com/tony.htm >
Rising Sons "Featuring Taj Mahal And Ry Cooder" (Sony Music, 2008)
(Produced by Terry Melcher)
This semi-legendary band was an early home to two of the greatest roots music revivalists of the 1970s, folk-blues guru Taj Mahal and twang auteur Ry Cooder, who gigged together around Los Angeles for a couple of years, between 1964-66. A popular live act, they were signed by Columbia Records, but their lone album was shelved and left in the vaults for decades -- another, earlier archival edition came out on Rhino Records. Although the group was noted for their diversity and the difficulty pigeonholing them into a single genre, most of these tracks have a heavy, muscular blues-rock feel, more of a boogie-rock thing, and not quite what drew fans to the later, lighter, more subtle work of both Cooder and Mahal. Still, it's worth checking out, just so you know what was going down, man. Y'know... back in the day.


<! - # >

John Lutz Ritter "Welcome To Lutz" (Cat Tail Records, 1981-?) (LP)
(Produced by Bill Aerts & John Lutz Ritter)
Tampa, Florida deejay John "Lutz" Ritter got his nickname from a regional hit that he penned, "In Beautiful Downtown Lutz," which is a pretty damn funny song, poking fun at the smalltown Tampa suburb of Lutz, and the stereotype the town apparently had as kind of a lost-in-time, redneck paradise... Ritter just piles it on, joke after joke, and they add up to one fine novelty song. The song was in heavy rotation at the country station where he DJ-ed, but it stands up on its own merits and is still a pretty great novelty song. Think, "Luckenbach, Texas" or "London Homesick Blues," as written by Jeff Foxworthy, and you'll be in kind of the right neighborhood... Side One of this album is all originals, including "Beautiful Downtown Lutz," while Side Two includes cover songs such as "Rocky Top" and "Rollin' In My Sweet Baby's Arms."


<! - Obscure Private Local Country/Pop Rocker - #JR52281 - no ASIN 02/19/15 - Side One in all originals, including "Beautiful Downtown Lutz," an homage to Lutz, Florida; Side Two is cover songs such as "Rocky Top" and "Rollin' In My Sweet Baby's Arms" http://www.teddwebb.com/showcase/where_are_they_now/john_lutz_ritter.html : "...John earned his nick name 'John 'Lutz' Ritter after penning and recording the local hit 'In Beautiful Downtown Lutz'. That song got quite a bit of airplay on Q105 and other stations. NOT TRUE(?) written by JEFF ARTHUR(?) John also wrote the Bucs fight song 'Hey Hey hey We're The Buccaneers'. He did many variations of the song to accommodate every opponent on the Buc's schedule. -Ritter was also known locally for writing the sports anthem, "Hey Hey Hey, We're The Buccaneers," which he recorded in several versions. John owns a 24 track studio where he continues to write and produce songs. He has recorded with Warner Brothers and RCA records, and co produced with Anita Pointer of the Pointer Sisters. He hosted mornings on Country Q105 for 6 years with Ken Cooper, and is now the host of WQYK 's 'The Rise Up Show' Sunday mornings from 6-10 AM. >
River City Good Tyme Band "Lonesome Wind" (Tumble Weed Records, 19--?) (LP)
(Produced by Ronnie Dobbs & The RCGTB)



<! - # - from Louisiana - profile of band founder Jim Hogg: http://www.sj-r.com/article/20091229/NEWS/312299943 >
The River Mist Band "Country Partners: Favorite Country Duets" (Pickwick International, 1979) (LP)
I have no info on this one, who the musicians were, etc., though obviously it was a cheapo exploitation album commissioned by the Pickwick budget label to capitalize on the country duets tradition that was still popular in Nashville in the '70s. The thing is, despite the odd provenance, I bet this is actually pretty good. I'll let you know when I finally track a copy down.


<! - # >

River Road "Lay Back Country Style" (1982) (LP)



<! A mix of originals and honkytonk covers - Tim Powers, Lee Brock, Al Burress - from Indiana? - no ASIN 09/04/15 >

(Clyde Brewer's Original) River Road Boys "Country Music High" (Longhorn Records, 1985) (LP)



<! - Dick Allen listed on the single >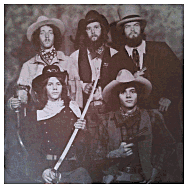 Riverrock "Riverrock" (SRC Records, 1975) (LP)
(Produced by Riverrock & Ron Ubel)
Longhaired bluegrassers from Kansas City. To be honest, these guys were not top-flight pickers -- they plunk their way through standards like "Foggy Mountain Breakdown" and "Orange Blossom Special," and well as grassed-up versions of old honkytonk tunes like "Jambalaya" and "Oh, Lonesome Me," as well as few nods at rock'n'pop, like clompy bar-band renditions on the Beatles' "With A Little Help From My Friends" and John Denver's "Thank God I'm A Country Boy." It's all adequate, but not sizzling. They hint at bigger things with their pedal steel-tinged cover of the Byrds' "You Ain't Going Nowhere," which is the only plugged-in tune on here. Curiously enough, a couple of years later they cut a single with two songs written by fiddler/lead singer Jim Blanton, which I guess they started tucking into the album from '75 -- that's how I found mine -- and it's really quite good. The songs, "Come On In" and "Pine Mountain Railway" have an electrified, Byrds-y feel, and were a sign of things to come, when they shifted into more of a country group. Here, though, they are more or less a straight-up, amateur-level progressive bluegrass band.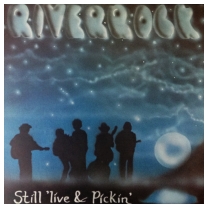 Riverrock "Still Live And Pickin' " (Rockin' W Records, 1977) (LP)
(Produced by Riverrock)
This live album shows the Riverrock band in a more stripped-down mode, playing spunky bluegrass and acoustic-swing tunes, mainly covers of country and bluegrass standards such as "Gotta Get Drunk," "Nashville Cats," "Six Pack To Go" and "Fox On The Run," as well as a trio of original songs by brothers John and Paul Mumma: "Another Girl Like You," "I Love You Now" and "Lost Road At Midnight." This LP documents a July 9, 1977 show at Putsch's Strawberry Patch, a restaurant-lounge venue in Overland Park, Kansas that hosted a variety of musical acts. The sound quality's so-so, and the performances are pretty scrappy, but it's a nice picture of a DIY local band with their fans in full force, cheering them on. The Asleep At The Wheel-ish swing songs showed a promising, vigorous direction for the band, and it would have been nice to hear more of their own material, but overall this is a nice souvenir of bygone times... Worth a spin!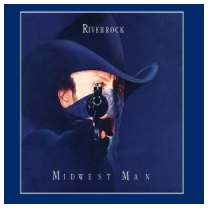 Riverrock "Midwest Man" (SRC Records, 1980)
This album marked a major change of direction for Riverrock, with the band ditching bluegrass in favor of a deliberately commercialized, bigger country sound, some of it kind of Firefall-ish or Poco-esque, some of it inching into the glossy style of Top 40 bands such as Alabama. The new lead singer, Rick Harrelson, sounded like a cross between Kenny Rogers and Jonathan Edwards, matching the bland material and the equally uninspiring arrangements. On a few tunes you can hear echoes of their earlier style, with bluegrass licks and novelty lyrics coming to the fore... But mostly this one's kind of rough going... Uneven, at best.




Eddie Rivers & The Country Stones "Rock Into Country" (Eastern Records, 1976) (LP)
(Produced by Jim Harmon)



<! - #ER-154 - no ASIN 07/02/17 - Eddie Rivers (vocals and guitar), Scott Shenk (lead guitar), Marlin Mitchell (bass), Gary Good (rhythm guitar) , Bob Winters (drums) - liner notes say the band had been together for a year, and this was their first album - originally from Louisville, Kentucky, Rivers was living in Lancaster, Pennsylvania; the other guys in the band were all from nearby Strasberg, PA - steel player? - same guy who joined Asleep At The Wheel? I think that's a different guy: http://www.wiscnews.com/bdc/news/local/article_8a37ebf5-3134-5ac5-9623-f5836a76c2e9.html - same guy who recorded for Charta label? yes to Charta (see below) https://whisnews21.com/2012/05/27/eddie-rivers-rock-n-rolled-into-country-music/ "...Eddie Rivers, born in Kentucky, and settled in Pennsylvania, he has been in music most of his life. Working hard and playing hard. he was in the rock and roll era, but slowly went into the country scene, when he saw thats where the peoples hearts were turning to. His first album was named Rock Into Country with Country Stones Early into the country music, he came to Nashville to seek out some one he could trust to do him right, who would also let him sing some rockabilly sounds along with his country . He walked into Charta Records office in the late 70's, and found that Charlie Fields, owner of Charta and a well known producer in Nashville, would let him put some rockabilly sounds on his albums. One of his single releases being Open Up Your Door. He would come back again and do some more recordings, never releasing them, looking for a backer to help him with his dreams. In the late 80's Eddie found a backer, in his hometown, together they both came down, talked to Charlie and went into the studio, to put the tracks down for the album, titled, Straight Up Country. With this album, he had promotion and did really well, on radio in the states and overseas..." https://www.newspapers.com/newspage/59626458/ - wonky OCR: "...often fleeting, and having once found a niche on the charts does not guarantee it will happen again. "His manager in Denmark wants me to do the pushing over here," Karen Rivers said. "I'm trying to back him up 100 percent on what he tries to do." Rivers would also like to open a restaurant locally featuring country music on the weekends. Ironically, Rivers seldom sings or plays the guitar at home, but his wife says he has no problem going back to it. "He can go for months without touching his guitar and pick it up and play again with no problem at all," she said. Rivers feels the future of country music is bright, but a little more difficult that in years past. "Country music is bigger than its ever been," he said. "But it's not like the old days, you don't get discovered anymore. You have to have a lot of money or good backers. Appearances with country music great Faron Young at Nashville's Jailhouse Club, and the Wheeling Jamboree in West Virginia In 1977, Rivers reached number 38 on the WXOX, Bay City, "Michigan, list of the top 50 requested country songs, with Open Up Your Door. This song received airplay not only in Michigan, but throughout the midwest. After leaving the industry for a while, Rivers found country music would not leave him. Signing with Charta Records in 1982, he made a comeback with two big hits, Christian Woman, and If You Can't Bring It Home. Rivers reached a milestone the week of June 10, 1989 when he made the Billboard hit list of hot country singles with what may have been his most popular hit, You Won The Battle. After the release of this song, Rivers toured throughout West Virginia, Pennsylvania and New York. But the music industry is competitive, and there is very little room at the top. Fame is (Continued from Dl) CD (compact disc) at Rock Bottom Music, in Pittston," Rivers said. "We're going to try to incorporate some of my music into this." Although his first music interest was rock and roll, Rivers, the son of a minister, developed a deep and lasting love for country music. Since the release of his first album in 1976, that love has grown stronger. This first album, Rock Into Country with Eddie Rivers and the Country Stones, was recorded in Richmond, Va. With the exception of Rivers, all band members were from Strasburg, Lancaster County. His music is pure country, with strong overtones of traditional artists and many who listen to Rivers for the first-time become hooked. "Eddie has made appearances on TV shows such as Nashville Now, Nashville Connection, and Nashville RFD," Karen Rivers said. These programs are broadcast on the Nashville Network. Rivers also made live ap..." >

Eddie Rivers "Straight Ahead Country" (Charta Records, 1989) (LP)
(Produced by Charlie Fields & Jim Tarbutton)



<! - #CHLP-13125 >
River Saint "River Saint" (Van Dyke Records, 1977) (LP)
(Produced by Gary Vandy, Pat Powers & Mike Guerra)
A Miami-based rock band, with bassist Jim Keegan and guitarist Steve McNamara splitting the lead vocals, and producer Gary Vandy chiming in on guitar. The songs are all originals, mostly second-rate, very DIY '70s rock, though some tracks definitely fall into the country-rock category, with echoes of bands like America and Firefall, albeit with more of a spaced-out, psychedelic/amateur hour "outsider art" feel. Keegan composed more than half the songs, while McNamara wrote one, and drummer Steve Brettholtz added three more. These rambling, minimally-produced tracks definitely fall short of greatness, but there is a certain naive sweetness and earnest authenticity that's appealing to fans of the era.




Jack Rivers & The Detours "At The Sand Box, Honolulu Hawaii, Sand Island Road" (Sandbox Records, 19--?) (LP)
A veteran West Coast honkytonker from the post-WWII era, Jack Rivers (1917-1989) really made his name in Los Angeles, where he recorded for Capitol Records and cut influential versions of "Dear Oakie" and "Detour." Rivers worked his way through a variety of popular bands, most notably backing Johnny Bush as well as western star Jimmy Wakely. Although he was pretty successful in LA, from there Rivers moved around a lot, starting in the 1950s with a long stint in Seattle where he recorded for a series of small labels, including several of his own imprints. This undated album documents a Hawaiian interlude, where Rivers and his band headlined a nightclub on Sand Island, in the Honolulu harbor. It's not clear when this LP came out, although it looks early 'Seventies to me; the inclusion of "Little Old Wine Drinker Me" (a song that actor Robert Mitchum took to the charts in 1967) makes this at least a late 'Sixties outing. This edition of his band The Detours included singers Sunny Estes and Sheila Tilton, as well as Warren Johnson and drummer Jim Webb, each of whom got solo spotlight numbers.


<! - #LP-500 - year? - no full credits, no producer info - NOTES (in California) - brother of Texas Jim Lewis >

Jack Rivers & The Detours "Alsie Records Presents..." (Alsie Records, 19--?) (LP)
Another indie-label outing, released on one of Jack Rivers' own labels. The imprint was named after his wife, Alsie Rivers.


<! "...Alsie Records Presents Jack Rivers and Bill Young from Europe At Night" >

Riverstreet "Riverstreet" (Rare Summer Records, 1981) (LP)
(Produced by Mike Summerfield)
More of a southern rock thing by this band from Charleston, West Virginia... The group was led by lead singer/guitarist Marshall Crowder, who wrote most of the band's original material. Other members included Fred Blackwell (lead vocals), Fred Lacy (drums), John Wiseman (bass), Bugs Workman (rhythm guitar) and Rosie Workman (vocals). Not totally sure how "country" to consider these guys, bu there was definitely some twang in the mix... Also worth noting that there are other bands called Riverstreet, including a late 'Seventies band from Georgia that was basically a straight-up hard rock group.


<! - # ~ 111012 - (WV) fb >

The Rize-N-Fast Band "Recorded At The Stompin' Ground" (Nashville Remote Recordings, 19--?) (LP)
(Produced by Conrad Jones)
This was a live set recorded at a country venue in Maggie Valley, North Carolina, a place called the Stompin' Ground which was literally housed in a big, old barn. It seems to have had some connection to the Opry, like sort of a farm-team concert hall(?). Anyway, this band included Arthur L. Fisher, Angoe M. Derrick, Travis Fisher, Ralph A. Tonney, E. T. Jackson... not much info about them that I could find, though.


<! - # - no ASIN 10/15/15 - other album at this venue: Various Artists "OLD TIME MUSIC" (xxxxx, xxxxx) (LP) B010NQCU4O, >
The R. J. Keen Band "Some Days Are Just So Blue" (Abattoir Records, 1978) (LP)
(Produced by Jack Goga & Lewis Mark)
Yeesh. It's records like this that force me to admit that I may have hit rock-bottom on this whole obscuro-country thing. I mean, I just had to check it out after I confirmed that, yes, this was a follow-up album by Midwestern folkie Larry Keen, who recorded an odd folk-pop/outlaw album a few years earlier, here officially teamed up with his pal, R. J. Pollack, who had also played on Keen's Ventilated Stetson album, back in '75. By this time, they seem to have been kicking it full-time in LA and this time around going full-steam-ahead for a gooey, 'Seventies pop-AOR sound, ala Harry Chapin/Seals & Croft/Paul Davis, complete with a disco rhythm section on several songs, and plenty of emotive anguish in the lyrics. They rehash a song from '75 ("Marco Polo") and disastrously cover Smoky Robinson's "My Girl," and presumably were doing enough coke that they'd convinced themselves that this was really great stuff. But then again, who am I to judge? I'm sure there's someone out there for whom this marginal would-be Top Forty pop is just as compelling as some marginal, would-be Top Forty country is to me. (And if you could actually follow that last sentence, congratulations! You've won your very own no-prize, courtesy of DJ Joe Sixpack!) Anyway, if you want my honest opinion, this is a dreadful record, although I suspect a soft-pop fan or two out there might really dig it. Not me, though.


<! -# - one song, "Lee Mayberry" is acoustic, with a mild country-folk flavor. "On My Way" sounds a little Steeler's Wheel-ish >
The Roadside Band "Storm's About To Brew" (Southern Star Records, 1981)
(Produced by Randy Enright & Billie Kessler) <! not sure about "Billie" >
This is more of a Southern rock kinda thing... You can tell partly by the Confederate flag-colored eagle pictured on the front cover, and also by the big, bad guitars inside. But they have some surprises as well, such as their cover of the Bill Withers classic, "Ain't No Sunshine..." I'd like to see Molly Hatchet try that one, dude!


<! - # SONGS: Somewhere Tonight / Another Dollar / I´ve Got My Mind Set On Loving You / Storms About To Brew / A Song To Myself / Ain´t No Sunshine / Give What You Get / Missouri / Just To Run Me Down >

Diana Roan "Give Me Some Time" (Roan Enterprises, 1977) (LP)
(Produced by Pierce Roan & Danny Baker)
This gal from Boise, Idaho sang all-original material written by the Roans and various bandmembers, with several songs arranged by producer-keyboard player Danny Baker...


<! https://www.newspapers.com/newspage/150756901/ - was playing shows in Reno >

Roanoke "Roanoke" (Ridge Runner Records, 1977) (LP)
(Produced by Roanoke)
Bluegrassy, but with definite country and rock-friendly "progressive" streaks, this Texas twang band had a pretty diverse repertoire and some tasty licks, too... The group featured Michael Anderson playing bass and singing lead, Joe Carr on mandolin, Dan Huckabee (of the Dickey Betts band) on dobro, and Mark Maniscalco strummin' on the old on banjo, with guest musicians that included pedal steel player Ray Austin and fiddler Dave Ferguson. They cover songs by Norman Blake, Delbert McClinton, Walter Hyatt, Elton John and others, as well as a few original tunes written by Anderson and Maniscalco.


<! - # - Alan Munde wrote the liner notes - recorded in Fort Worth >

Sandy Robb "From The Heart Of Sandy Robb" (Award Records, 19--?) (LP)
(Produced by Biff Collie)
A singer from Bryan, Ohio covering country classics like "I Fall To Pieces," some Hank Williams tunes and a version of Mickey Newbury's "American Trilogy." Several of the backing musicians seem to have been from Robb's own band, while Nashville players such as Doyle Grisham and Willie Rainsford also play on this album...


<! A1 I Saw The Light A2 Separate Ways A3 I Fall To Pieces A4 Say You're Gone A5 House Of The Rising Sun B1 I'll Never Be Free B2 You Are The One B3 Why Don't You Love Me B4 You'll Never Get A Better Chance B5 American Trilogy band: Acoustic Bass [Bass-Fiddle], Banjo – Randy Byrd Acoustic Guitar, Electric Guitar – Jack Eubanks Bass – Billy Adair* Drums – Bob Dean Mixed By – Roger Holmes Piano, Clavinet – Willie Rainsford Producer – Biff Collie Steel Guitar, Resonator Guitar [Dobro] – Doyle Grisham, Jim Baker (9) >
Mike Robbins "...Long Time Comin' " (AVI Records, 1977) (LP)
(Produced by Lee Silver)
I reluctantly list this one in the annals of country-rock, though mostly this review is really just a friendly warning. Keyboardist Mike Robbins apparently worked as a backing musician for artists such as Merilee Rush and Sonny & Cher, stepping here into the spotlight with a set of mostly dreadful '70s soft-pop tunes, would-be sweeping epics of sonic grandeur, but mostly... yeesh. Still, there are a few twangtunes, perhaps the best of which was the relatively straightforward "Don't Wait Too Long." If you're looking to mine individual songs from the vast pool of vastness that is all music past, this disc might yield a couple of gems, but you have to suffer through some pretty overcooked, gooey other stuff to get there... Some good pedal steel in the mix, though sadly I don't know who played on this album.
Ronny Robbins "Reach For All You Can" (Thunder Record Corporation, 1981) (LP)
(Produced by Pete Drake, Eddy Fox & Bobby Dyson)
Things never quite clicked for Ronny Robbins, who was the son of superstar Marty Robbins and piggybacked on his dad's career a little bit, but seems to have tried to make it on his own. He released his first solo album on Columbia way back in 1969 -- it tanked, but he hung on in Nashville and recorded this album a decade later with a bunch of top-talent studio pros. I think it was all just for fun, though... Includes songs by his pop, one by Eddy Raven and one by Eddy Fox, who co-produced this disc.




Bobbie Roberson "Was Young Love Born To Die" (Bolivia Records, 1979) (LP)
(Produced by Roy Edwards)



<! - # - female artist from Brewton, Alabama - more of a soul singer? lead singer of The Founders (also on Bolivia) - nope - some of her stuff is definitely country! (yt) - distributed by Bear Family - BB trade ad July 7, 1979; plug in Cash Box - several singles on Bolivia, c. 1979-81, including later ones not on this LP Was Young Love Born To Die One Too Many Years Smile Me A Song Walk In Peace United Never Let Me Go I'm Just Not Your Kind Empty Promises The Smell Of Roses The Taste Of Tears While He's Making Love, I'm Making Believe You Were The One >

Robert & Claudene "Lamp Lighting Time" (Davis Unlimited, 1975) (LP)
(Produced by Steve Davis & Robert E. Nobley)
This is one of my favorite old-timey albums, a battered but beloved memento of the days when dollar albums still only cost a quarter (or five for a dollar, if you were lucky...!) The husband-and-wife team of Robert and Claudene Nobley were just plain folks from Roanoke, Alabama who loved all kinds of old-timey music, and they regularly went to festivals and shows with Steve Davis, the guy who started the Davis Unlimited label. Thank goodness he stuck them in front of a microphone, because the Nobelys are just so heartfelt, soulful and sincere singing these old tunes, with simple, no-muss/no fuss guitar picking and autoharp strumming. Their harmonies are plainspoken but effective, and they really bring these old songs to life, tunes like "Poor Willie," "Katie Dear," All The Good Times Are Passed And Gone" and, of course, "Lamp Lighting Time," which is an album highlight. If you love those old records by the Blue Sky Boys, Delmore Brothers and Louvin Brothers, you might want to track this one down as well.


<! - no ASIN 02/03/15 >
The Robert Coady Band "Nowhere Special" (Zobro Records, 1977) (LP)
(Produced by Peter Maletta)
Country-tinged southern rock from Orlando, Florida. Oddly enough, there wasn't anyone in the band actually named Robert Coady: the group was named after Captain Robert Coady, an MIA Vietnam War-era Air Force pilot from Florida who was shot down over Laos in 1969 and was said to have been seen alive in POW photos much later in the war. Anyway, back to the music: this is decent stuff, give or take an excessive drum solo or two. All the songs are by lead singer Lonnie Getson Brown (the "bro" in Zobro) who is backed by his pals, Andy Maksimowich (bass), Rob Echelman (drums), and Mike Lewenthal on keyboards. It's all very much in the Allman/Skynyrd/Dickey Betts style of '70s redneck twang, with desperate-sounding guitar leads and a distinctly rural vibe. Lonnie Brown kept the band together (with major changes in lineup) at least through the mid-1980s, later recording a song called "Flyin' Again," which was an explicit homage to Capt. Coady.


<! - #AR-2980 - NOTES (FL) >

Bill Roberts "I Had A Dream" (Scot Records) (LP)
(Produced by Tom Pick & Roy Shockley)
Another mystery record from the heartland, but one packed with original material. All but one song was written by Bill Roberts, including "Nashville Country Singer," "Down And Out, Busted, Hated And Mistrusted," "Move It On Down The Road Blues," and one song penned by Julia Petty, "Butterfly Kisses And Yellow Balloons." (The liner notes thank Jack and Julia Petty, so maybe they helped finance the record?) This was recorded at RCA Nashville with a studio crew that included pros such as Lloyd Green, Harold Bradley, Pig Robbins, Ray Edenton and Hank Strzelechi... The label it came out on, however, was located in Independence, Missouri.


<! - no ASIN 01/15/15 - thanks to Jack and Julia Petty - Scot label address was: POB 1882 Independence, MO - no info online 03/01/15 - revised 10/01/17 >
Billy Roberts & Grits "Thoughts Of California" (Tulip Records, 1975) (LP)
(Produced by Hillel Resner & Billy Roberts)
This is apparently the only album by rock/folk songwriter Billy Roberts, who is the guy who wrote the '60s beat classic "Hey Joe," a big hit for Jimi Hendrix and numerous other artists. Roberts started out in the Greenwich Village folk scene, and like many East Coasters migrated to San Francisco when the decade got weirder... He played gigs at the hungry i nightclub and was a regular fixture in the Bay Area music scene throughout the hippie era. This record is very odd and idiosyncratic, a real outsider-art kinda thing, but it holds up well. The first time I heard this album, I thought it was a little too folkie for me, but revisiting it I found the country sound was much more prominent than I remembered. Side One of the LP is almost entirely twang, and has a couple of particularly memorable tunes, including the novelty number "Rebound" and the more subtle, gospel-flavored "Hide Behind." That soulful, bluesy vibe gives Roberts a sort of Jerry Lee Lewis-ish vocal quality on several tracks -- Side Two of the album branches out into other styles, not all as successful as the country stuff, though even the goofy white reggae tune has weird, interesting lyrics, and Roberts seems to have had a singular artistic vision. Sadly, he was severely injured in an auto accident in the 1990s, bringing his music career to an end. This album's a nice legacy, though... That, and of course "Hey Joe!"


<! - # >
Billy Roberts/Various Artists "A NIGHT AT THE WINE CELLAR" (Cabernet Recordings, 1976) (LP)
(Produced by Timothy Dawe)
Roberts contributes three songs on this live album, recorded with a passel of folkie artists at the Ghiradelli Wine Celler restaurant in San Francisco. Other artists include Leo Collignon, a band called Good Morning, Skip Henderson, Joey Lent, Jim Nelson, John Palme, Patricia Pickens, Dev Singh, Wayne Smith, and a few tunes by album producer Timothy Dawe. One highlight is the Billy Roberts song "The Grip" about living with alcoholism: "For at last it's come to pass/that the grip I've got on the glass/is nothing compared to the grip/that the glass has got on me..." Mostly this record is packed with painfully earnest folk material, but Roberts' stuff does stand out.
Chris Roberts " 'Till Five In The Morning" (Frisky Records, 19--?) (LP)



<! - #FLP 417 - 1970s? early '80s? - from Sheridan, Wyoming >
Glenda Roberts & Tim Myers "On Stage" (Shiloh Productions, 1981) (LP)
(Produced by Tom Gregor)
A country-rock duo from Colorado Springs, Colorado, with pedal steel and banjo picking added by Dan Williams and Steve Daigle on drums... The set list is all cover tunes, drawing on the mainstream country-rock canon of Emmylou Harris, Michael Martin Murphey and Linda Ronstadt. No less than five of the songs come from Emmylou's '70s repertoire, along with a couple from the Patsy Cline catalog... Sounds good to me!


<! - # - no ASIN 01/26/15 >
Hoot Roberts "Invitation To The Blues" (Choco Records, 1968-?) (LP)
Honkytonk crooner Thomas Houston ("Hoot") Roberts was born in Alabama but had moved to Wausau, Wisconsin by the time he recorded this album. He had solid country roots: before forming his own band, Roberts toured with Johnny Horton, and while up North he became a protege of Marvin Rainwater, who wrote two of the songs on this album, "Now And Then" and "The King Has Fallen," which was also released as a single. Most of the other songs are covers, mainstream country ballads such as "Blue Side Of Lonesome," "Don't Touch Me," "Funny How The Time Slips Away," and "There Goes My Everything." Alas, there's not info about the album's producer or the musicians who backed him, so they may have been Great Lakes/Rust Belt locals... but that's just a guess for now.


<! - #1340-320-A/B - label from Marquette, Michigan - more research needed? - date per dc >
Johnny Roberts "...Has Country Fever" (Public Records, 1970) (LP)
(Produced by Earl Ball & Hugh Davies)
Dunno if Johnny Roberts really got that far in the music business, but he sure came out with a bang on this disc... The backing band included pros such as James Burton on lead guitar, with Jimmy Bryant, Jerry Cole and Don Lee playing rhythm, and Red Wootten on bass... definitely a pretty high-power group. Producer Earl Ball plunks some piano, with Carl Walden on pedal steel... Most of the songs were covers, though there were some originals as well. The liner notes say that Roberts was born in Grants Pass, Oregon but grew up in the Southwest, mostly in Arizona and New Mexico, and that he worked as a rodeo rider... which maybe explains his rugged good looks? He won a bull riding championship in '68, so I guess he was the real deal...


<! - #PS-5003 >
The Paul Roberts Band "I've Never Had As Much Fun As This" (Outlet Records, 1982) (LP)



<! - no ASIN 03/15/15 -year? - looks pretty good! lots of original material >
Rick Roberts "Windmills/She Is A Song" (Beat Goes On, 2009)
In between his stint with the Flying Burrito Brothers and the founding of the Top 40 country-rock band Firefall, Florida-born singer-songwriter Rick Roberts recorded two solo albums, which have been reissued together on a single CD... Another reissue coup for the estimable BGO label!
Rick Roberts "Windmills" (A&M Records, 1972)
(Produced by David Anderle)
On his solo debut, Roberts showcases his reedy voice in a grittier context than his later work with the lighter-toned Firefall, working in a variety of styles that generally hover around an artsy, folk-ish twang but also branch into roots grooves ala Little Feat ("Drunk And Dirty") and even more briefly into retro-twang, as on his cover of Charlie Walker's "Pick Me Up On Your Way Down." There are wisps of all kinds of contemporary country-rock, with a couple of CSNY dudes (David Crosby and Dallas Taylor), some of the guys in the Eagles orbit (Don Henley, Bernie Leadon, Randy Meisner and Jackson Browne) as well as a few Burrito bros, like Al Perkins and Chris Hillman... So maybe it's not so surprising that there are familiar early '70s riffs and rhythms floating around in here, although Roberts sticks to an idiosyncratic songwriting style with few pop-oriented tunes. Even though there's lots of groovy twang in the mix, there aren't many songs you'd really hum along to or sing in the shower. Still, there's a lot of country-rock royalty on here, and it's a well-produced album. Not totally my cup of tea, but worth checking out.


<! Rick Roberts - guitar, lead vocals, choir Bernie Leadon - banjo, guitar, harmony vocals, choir Don Henley - drums, harmony vocals, choir Al Perkins - steel guitar, guitar Chris Hillman - bass Randy Meisner - bass, choir Byron Berline - fiddle Dallas Taylor - drums Joe Lala - percussion David Crosby - harmony vocals Jackson Browne - harmony vocals Jane Getz - piano, harmony vocals Mike Utley - organ Mother Hen - piano, harmony vocals Mark Benno - guitar Leland Sklar - bass >
Rick Roberts "She Is A Song" (A&M Records, 1973)
(Produced by Chris Hillman)
Roberts took a more overtly "rock" approach on this album -- there's still plenty of twang-talent in the mix, but it's all cosmic and ornate, kinda like a late-edition Byrds album, perhaps. Oddly enough, the songs are still pretty idiosyncratic and less pop-oriented than you might imagine from a guy who led such as facile, successful AOR band as Firefall, and that's probably to his credit. The guy was versatile. Of note among the usual suspect crew in the band backing him is Texas folk-country pioneer Steven Fromholz, singing harmony on a tune or two... And this time around they got Joe Walsh to bang out some guitar riffs as well... Includes a version of Paul Siebel's "She Made Me Lose My Blues," as wella s Roberts' Christian rock anthem, "The Captain." Give her a spin, if you're up for it.


<! - # Rick Roberts – guitar, lead vocals, choir Chris Hillman – bass, harmony vocals, choir Al Perkins – steel guitar, electric guitar Joe Walsh – guitar, slide guitar Rusty Young – dobro, guitar Paul Harris – piano, organ, keyboard, synthesizer George Grantham – drums, choir, harmony vocals Joe Lala – percussion, conga Steven Fromholz – bass, harmony vocals Joe Vitale – flute, drums Kenny Passarelli – bass >
Walt Roberts "Draggin The Bow At The Grapevine Opry" (Grapevine Opry Records) (LP)
(Produced by Phil York)
Fiddler Walt Roberts hailed from McAlester, Oklahoma, but was a regular on the Grapevine Opry in Texas... He's backed here by other members of the "opry" revue: a full band including Johnnie High, Joy Newman (piano), Bud Carter (steel guitar), Pat Dacus (guitar) and others, Brad Davis (guitar) and Greg Davis (banjo). They work through classic instrumentals such as "Old Joe Clark," "Black Eyed Susie" and "Draggin' The Bow," as well as covers of country tunes like "Faded Love" and "Together Again." According to the liner notes, this was Roberts' first album.


<! - #GO-7811 >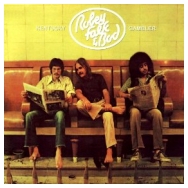 Robey Falk Bod "Kentucky Gambler" (Epic Records, 1973) (LP)
The uniquely-named rock trio of Bill Robey, Don Falk and Bod Noubarian are emblematic of the wild diversity of the early 1970s, dipping into hard rock, bubblegum, prog and, yes, even some pretty decent country-rock twang. The country material is only on a few tunes, but it's pretty good. The studio crew includes Weldon Myrick, Bobby Emmons, Buddy Spicher, all playing at their peak. This record is pretty challenging, at least to those who dislike bands that are "too hard" to pin down... But if you're the kind of person who's always said, "Oh, why can't bands play whatever they want to and try all different kinds of genres?" then this one is definitely for you. Viva la '70s!




Robin & Micki "Cowboy's Sweetheart" (Ripcord Records, 19--?) (LP) *



<! - no ASIN 12/21/17 >

Mike Robin "Hard Times Knockin' " (Mootrey's Studio Recordings, 1977-?) (LP)
(Produced by Ricci Moreno)
Not a lot of info about this guy, other than that he was from Freeport, Illinois and made it onto the radar of producer Ricci Moreno, who had done a few sessions with reputable country stars. Moreno lined up an A-list Nashville studio crew, including Jim Baker (steel), guitarist Jack Eubanks, drummer DJ Fontana, Bunky Keels, Willie Rainsford and others. All the songs are Mike Robin originals, except for "Trucker's Heaven" which is credited to Hayes Maxwell. Not sure of the year, but it definitely looks late 'Seventies, possibly early '80s.


<! - #DRP-7714 - no ASIN 07/31/18 - looks very "tax writeoff" >


Betty Jean Robinson - see artist profile




The Robinson Family "Live At Petticoat Junction" (Mockingbird Records, 1976) (LP)



<! - no ASIN 08/16/15 >

The Robinson Family "...Of Georgetown, Kentucky" (Blue Jay Records, 1982-?) (LP)



<! - no ASIN 08/16/15 >

The Robinson Family "At Home With The Robinson Family" (Blue Jay Records, 1983-?) (LP)
I'm not much one on the whole har-de-har-har laughing at "funny looking" people on old LP covers things... (Times change; different strokes, etc.) That being said, this Oklahoma family band's matching outfits are pretty hilarious, particularly the too-too tight white jeans worn by the gals. Plus, it doesn't hurt to have a semi truck in the background. The Robinsons, as it turns out, were diehard mambers of NATSO -- the National Association Of Truck Stop Operators, an industry group founded in the 1960s -- and it might not surprise you then that they have a trucker tune or two in their repertoire, including "She's A Driver, She's A Lady," one of several originals written by various family members on this album. Other highlights include "Oklahoma City Blues" and "I Never Liked Country (Till I Met You)." Breaker, breaker, 10-4, good buddy!


<! - hilarious matching outfits - lots of original material, - #KM 13853 A1 Come Along With Us A2 Little Bit Old-Fashioned A3 Oklahoma City Blues A4 Why Couldn't You Tell Me A5 You Are Special B1 I Never Liked Country, (Till I Met You) B2 She's A Driver, She's A Lady B3 Michael's Song B4 Maple Leaf Breeze B5 Travelin >

Jim Robinson "Construction Man (Job #001)" (Cram-Itup Records, 1979) (LP)
(Produced by Bob Johnson, Jim Knight & Dan Meisner)
A not-quite-all-that-goofy collection of songs about the construction industry from a guy who really knew what he was talking about. Robinson was a skilled electrical engineer who supervised large projects across the United States and in several foreign countries, notably in Indonesia, as recounted on songs such as "Palembang." Robinson was apparently from Texas originally, and tips his hat to the Lone Star State and nearby Mexico on tunes like "Houston, Texas U.S. Of A" and "South Of War-Ez." It's not clear where this travelin' man was hanging his hardhat when he cut this disc, though several of the musicians were from Oklahoma, including steel guitar player Ira Caple (1933-2012) and harmonica player Larry Megill, who was a founding member of the band Oklahoma Thunder, which was active at the time. Also included are Billy Dozier on guitar, drummer Dwayne English, banjo picker Ronald Farrar, and bassist Leon McCormick. This album gets a lot of attention from the "don't all those country records look so goofy" patrol, but it's actually pretty solid, musically speaking.


<! #AV-1152 Credits: Res. Const. Mgr. – Dan Meisner Office Mgr. – Bob Johnson Chief Field Eng. – Jim Knight Const. Supt. – J. Zed Robinson Mouth Organ – Larry Megill (founding member of the Oklahoma Thunder band) Bass – Leon McCormick Guitar – Billy Dozier Steel – Ira Caple (1933-2012) buried in Oklahoma Banjo – Ronald Farrar Drums – Dwayne English >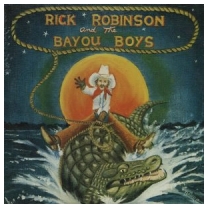 Rick Robinson & The Bayou Boys "Rick Robinson & The Bayou Boys" (Belmont Records, 1978) (LP)



<! - # - from Massachusetts - Belmont label owned by John Penny >

Rick Robinson & The Bayou Boys "I Spent Last Year In A Barroom" (Belmont Records, 1984) (LP)
(Produced by Larry Flint & Buck Mitchell)



<! - #BB 0002 Rollin Home I Spent Last Year in a Barroom Take Some Time One Drink Closer to Heaven New Truck Driving Man Never Thought There's a Song on the Jukebox Right or Wrong Finest queen Still Some Wine Left in the Cup >
Ronnie Robinson & Sound Company "Don't Envy Me" (Starr Records, 1976-?) (LP)
(Produced by Jack Casey & Marvin Jones)
This album includes four original songs by Ronnie Robinson: "Back Door Of My Mind," "Don't Envy Me," "She's Walking" and "Try To Understand Me Melissa," as well as covers of classics by Hank Cochran, Willie Nelson, Buck Owens, Hank Williams, and Leroy Van Dyke's "Pass Me By." The record label was based in Columbus, Ohio, though I'm not totally sure where the band was from...


<! - #SLP-6276 - no ASIN 12/27/16 - band includes - Columbus, Ohio label ~ Rome Records >

Jackie Lynn Robison "A Portrait Of Jackie Lynn Robison" (Fabor Records, 19--?) (LP)
(Produced by Fabor Robison)
I guess this gal was the wife of Fabor Robison, an influential early rock'n'roll and country producer who racked up an impressive string of hits in the 1950s and '60s. Robison famously sold the rights to his masters at several points in his career, and ran his own label with the proceeds. I think we can safely categorize this disc as a vanity project: I found it pretty painful to get through, though more charitable listeners might get a kick out of it.


<! - #LP-712 - recorded at Audissey Studio, Honolulu, Hawaii (dc) - same Jackie Lynn who played bass for Willis Wade? (dc) - 83 years old in Dec, 2019 (yt) - so... born around 1936? - some kind of Elvis Presley connection? - Fabor Robison (1911-1986?) >


The Roches - solo, duo & trio




Tim Rock "Backseats, Bedrooms & Bars" (Starbuck Records, 197-?) (LP)
(Produced by Jim Brado, Mimi Fitzgerald, Tim Rock & Jim Wolf)
A mellow, six-song country-rock EP, featuring plenty of rootsy tunes, including two songs by Hearts & Flowers founder Larry Murray ("Headed For The Country" and "Mama Lu"), a version of Billy Joe Shaver's "Black Rose," a tune from Donnie Fritts and a couple of originals by Tim Rock and his guitar player Bill Hayes. Rock was a record producer from Seattle's mid-'70s rock scene, known for his work as an audio engineer at a studio called the Music Farm; as far as I know this was his only album.


<! - no # ? - none visible >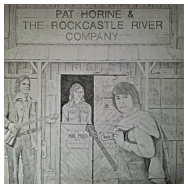 Rockcastle River Company "Pat Horine & The Rockcastle River Company" (Rockcastle Records, 1975) (LP)
John Denver fans might like this one. Independently released, for sure, but not as country as one might hope... This Indianapolis, Indiana trio took their cues from classic '60s folk groups such as the Kingston Trio or the Chad Mitchell Trio, with lots of frightfully earnest songs about drifters and dreamers, and a couple of novelty numbers like "Rubber Car," which closes the album out. From a twangfan's perspective, about the most country tune on here is "I'm Tired Of Being A Cowboy," which still has a pretty folkie feel, slightly tempered by a Michael Martin Murphey-ish vibe. Lead singer Pat Horine seems to have been the guiding force behind this band, although for next album he let go of top billing and they just went by the band name. As far as I can tell, most of the songs on here were originals written by the guys in the band; also worth noting is that guitarist/banjo player Nick Heyl later worked with a re-imagined, early '80s lineup of The Kingston Trio, producing a couple of their records. Not sure what the second Rockcastle River album sounds like...


<! - # >

Rockcastle River Company "From Maine To Texas With..." (Rockcastle Records, 1976) (LP)



<! - From Maine to Texas with The Rockcastle River Company is 1970s upbeat country music, similar to the works of John Denver. >

Rockcastle County Line "Presenting..." (1981) (LP)
(Produced by Mike Graham)
More country, less folk on this one, though it is the same band as the "Rockcastle River Company" with Pat Horine, et.al. Includes covers of classics like Doug Kershaw's "Louisiana Man," Steve Young's "Seven Bridges Road," and "Sweet City Woman," by the Stampeders. There are also some original tunes, such as their "Coca-Cola, Biscuits And Grits" and one called "Muncie, Indiana." (Which seems to have been their stomping grounds at the time: this album was recorded in Indianapolis...)


<! - #38663 - Pat Horine, Tom Cool and Curt Walters Another album titled "Two Sides Of..." - the same material? same album? >

The Rockin' J Wranglers "Original Western Show" (Rockin' J Records, 19--?) (LP)
(Produced by Jim Crouch & Don Cary)
A souvenir album from a "chuckwagon" dude ranch in Post Falls, Idaho called the Rockin' J Ranch. The campfire quartet included Dean Eacker (fiddle), Russ Eacker (bass), Dan Hibbard (rhythm guitar) and Bob West on lead guitar, working through a standard mix of folk tunes, cowboy oldies and one regional pride song, "Here We Have Idaho," the state song. The Rockin' J was owned by Jim Crouch, and apparently Dean Eacker had worked there as the ranch foreman for fifty years(!) by the time this record was made... No date on the disc, but it looks early '80s. Recorded at Eastern Washington University, in Cheney, WA.


<! - RJ-846 >

The Rockin' R Cowboys "On The Bandstand" (Rockin' R Records, 196-?) (LP)
Straight outta Austin -- Austin, Minnesota, that is -- comes this charming live album by a family band mostly made up of the Rinehart siblings: singer-guitarist Bill Rinehart, lead guitar Steven Rinehart and sister Terri Rinehart on drums, along with their dad, Harold Rinehart, who sings on a tune or two, and managed the band. Recorded live at Red's Dogpatch Inn in Troy, Minnesota -- though they don't say exactly when -- the liner notes indicate that this show was performed after the group had been playing together for three years, while 14-year old Steven had been playing guitar for six years, starting when he was eight... and he's pretty good! He's got some nice, classic licks, and a definite rock influence, although he does get a little note-happy sometimes. Bill is an okay vocalist, with a deep, resonant voice that sounds more manly and gruff than his twenty-one years; old Dad, on the other hand, drifts into Ernest Tubb-ish territory, and guest singers Fritz Mehmen and Judy Keenan also have okay voices, but lacked the ooomph of true country professionals. The liner notes say that this band had been together three years when they cut this disc -- apparently they were together in one form or another through the end of the 'Sixties, as seen by the single below.


<! - no ASIN 03/26/17 - LK purchased 03/01/17 - Iowa?? - label is also from Minnesota - liner notes give their ages as: Steven (14), Terri (18) and Bill (21) >

The Rockin' R Cowboys "Steve And His Rockin' R Cowboys" (Rockin' R Records, 196-?) (7")
This six-song EP reprises Fritz Mehmen's novelty number, "The Mule Song," but forges into new territory with a set that includes Merle Haggard's 1969 hit, "Okie From Muskogee," and honkytonk oldies like "Pick Me Up On Your Way Down" and "Release Me," which are both sung by poppa Harold. There are a bunch of new performers working with the Rineharts here, including guitarist Don Pederson, fiddler Lloyd Rosecke and singer Connie Jo Valasek, as well as a duo calling themselves Cindi & Jeanne, The Country Cousins. No date on the disc, but I'd guess it's from around 1970 or thereabouts, based on the repertoire. Not sure if the rest of the family was still in the band at this point; sometime later, Steve Rinehart moved to Washington state.


<! - # - made at least one single backing Connie Jo Valasek, circa 1971 - also "In The Mood" single, circa 1968(?) >

The Rockin' R Cowboys "A Tribute To Harold Rinehart" (Mark Records, 1973-?) (LP)
(Produced by Joel Nelson)
This was probably the Rockin' R Cowboys' swan song, recorded live on New Year's Eve, 1973 at the Eagle's Club in Austin, Minnesota... (Does that mean New Year's Eve 1972-73, or 1973-74? It's unclear, though the set list skews a bit towards the earlier end of the decade, with covers of "Bad Moon Rising" and "The Key Is In The Mailbox," as well as older tunes from the 'Sixties like "Apartment No. 9" and "North To Alaska.") Anyway, this is billed as a tribute to family patriarch Harold Rinehart, though he is credited on the album, along with his son, guitarist Steve Rinehart, as well as Jerry Morse, Don Pederson and Bill Schmid. I guess Mr. Rinehart must have passed away right after the show was recorded, while the album was in production; the liner notes laud him, but are short on hard info. His other son, Bill Rinehart, was listed as a guest performer, so it looks like he had officially left the band by this point. Anyone know what Steve Rinehart did later on?


<! - #MC-4316 - (MN) > <! ROCKLAND ROAD BAND - backed gospel artist Lottie Adams on at last one album >

Rocky & Hal "Hoot 'En-Naughty" (T Records, 19--?) (LP)
Raunchy country comedy, recorded live at a venue called the Wintergarden in Bellingham, Washington. Rocky and Hal -- who don't give their last names -- play banjo and guitar on a set that is proudly proclaimed as "Definitely not suitable for radio broadcast: ADULTS ONLY." The duo apparently worked out of both Spokane, Washington and Lewiston, Idaho... thanks to Teh Northwest Music Archives for info on the other albums, listed below.


<! - #TLP 1001 >

Rocky & Hal "Action After Midnight" (T Records, 19--?) (LP)



<! - #TLP 1002 White Lightnin Chug-A-Lug Louie Louie Scotch & Soda Raunchy Tiger By The Tail 40 Miles of Bad Road You Can't Roller Skate In A Buffalo Herd Party Doll May The Bird of Paradise Fly Up Your Nose >

Rocky & Hal "Act III" (T Records, 19--?) (LP)



<! - #TLP 1003 >

The Rocky Top Band "Rocky Top Band" (1982) (LP)
Sadly, I couldn't find any information about this uber-indie country-rock band -- like where they were from, where they recorded this album, etc. -- other than that this record came out in the early '80s. And yes, they played "Rocky Top," but also country-rock hits like "Midnite Flyer" and JJ Cale's "Tulsa Time." The band included Randy Hayward, Howard Jensen, Dale Murray, Rick Murray and Earl Shoemberger (sp?). Anyone out there know more about these guys?




Michael Roden "Born In A Whirl" (1978) (LP)
(Produced by Michael Roden)
Country-rock/soft pop from upstate New York... Roden's Stony Creek Band featured Randy Rollman on pedal steel, but also included instruments such as the maracas, congas, clave, clarinet, etc., so maybe it's not totally "country"?


<! - "Upstate N.Y. Outlaw Country Rock" - no ASIN 07/02/15 >

The George Rodgers Trio "Favorites Of..." (Pheasant Records, 1975-?) (LP)
(Produced by William Beasley & Tom Sparkman)
This trio from Springfield, Oregon included singers George Rodgers and Cookie Cook, as well as pedal steel player Jimmie Kelley, who showcases his work on several original instrumentals -- "Patterns Of The Past," "Skipalong" and "Vile Inn Boogie." There are also covers of oldies by Cindy Walker, the Carter Family, and a version of Bill Mack's "Drinkin' Champagne," along with some pop stuff, like Burt Bacharach's "Close To You." But, dang it! After I already made the decision not to make a Springfield-based Simpsons reference, I notice that there are two songs on here written by someone named Ralph Wigham(!) -- "If Only" and "Please Forgive Me." D'oh!!


<! - # - Wigham, Kelly both used Pheasant Music publishing (LOC) - 1974 date per: https://www.discogs.com/The-George-Rodgers-Trio-Favorites-Of-The-George-Rodgers-Trio/release/8811488 - 1975 date per LOC copyright office: https://books.google.com/books?id=v0shAQAAIAAJ&pg=PA2721&lpg=PA2721&dq=%22Ralph+Wigham%22&source=bl&ots=ktWMKFoVrs&sig=iMcCvNbDldg_UBH1YvNDa2kmUBk&hl=en&sa=X&ved=0ahUKEwiQpKr216bRAhVryVQKHVL_AsI4ChDoAQgcMAE#v=onepage&q=%22Ralph%20Wigham%22&f=false >

Marlys Roe "All The Way" (Dellwood Records, 1977-?) (LP)
(Produced by Link Wray)
Singer Marlys Roe started her musical career while still living in South Dakota, as the lead singer of a local rock band called the Talismen, where Roe credibly emulated the sultry pop-soul sound of Dusty Springfield... She recorded a couple of late 'Sixties singles for ABC Records, a major label deal that generated some buzz, but not enough to make it on the national scene. (Although her early singles definitely weren't country music, she did get to work with producer/pianist Glen D. Hardin, who later helped anchor the Emmylou Harris Hot Band...) Marlys Roe later married drummer Jerry Kroon, a fellow South Dakotan who made his way to Nashville and became a prolific session musician. Relocating to Music City, Roe also got into the country scene, cutting a couple of singles for GRC and later this album, which is often referred to a "tax scam" record, though it could also more charitably be called a demo disc, featuring a brace of tunes by Bobby Bond, Don Cook, and Mitch Johnson... (Thanks to the Bad Cat blog for providing some background info on Ms. Roe's biography...)


<! - # 1.) I'm Gonna Give Myself Away (Toni Dale - Bobbi Cole) - 2:30 2.) Love Can Be a Tearful Game (Bobby Bond) - 2:52 3.) All the Way (Mitch Johnson) - 2:13 4.) Settun' for the Second Best (Mitch Johnson - Dude McLean) - 3a;20 5.) Let's Not Call It Love (Tom McKeon) - 2:20 1.) He Ain't the One To Chose (Kim Morrison) - 4:30 2.) Take Me Along (Bobby Bond) - 2:35 3.) Sweet Thang (Rafe VanHoy - Dave Shipley) - 2:16 4.) More Than Magic (Don Cook) - 2:32 5.) Sand Castle Dreams (Don Cook) - 2:16 >

Tex Roe "Sings Fire Shootin' Pony And Other Highway Songs" (Mark IV Records, 1970-?) (LP)
(Produced by Link Wray)
A set of trucker tunes from New York state honkytonker Tex Roe (aka John Frederick Robarge, 1922-2001) whose career stretched back to the 1940s... Based around Syracuse, Roe hosted radio and TV programs, was a cast member of the WWVA Jamboree, and appeared on numerous shows such as the Ernest Tubb show as well as on WSM, the home of the Grand Ole Opry. Over the years, he recorded a handful of songs that charted nationally, including numerous 78s and 45s, although this was his only full album.


<! - # - no ASIN 03/30/16 http://www.findagrave.com/cgi-bin/fg.cgi?page=gr&GRid=19229232 "...Link Wray produced the album,"Fire Shootin' Pony" for Tex on Mark IV Records around 1970 at his studio in Accokeek, MD" http://ronwray.blogspot.com/2012/03/history-of-syracuse-music-chapter-32.html "...His 1965 release "Pass the Bottle Bartender" included famed musical great Glen Campbell and Elvis Presley drummer D.J. Fontana. Between 1955-80 Tex Roe's bandmates included Don Elster, Lynn Strauff, Stan Fish, Jim Ingram, "Snuffy" Smith, Ely Brothers, Jimmy Miller. George Kay, "Dizzy" Mead, Mike Ocello, Hank Recor and others." >

Chuck Rogers "...Sings Tied Down" (Frolic Records, 19--?) (LP)
A later-life recording full of all-original material by an old-timer from Tennessee. Chuck Rogers (nee Ross Arwood, 1926-1986) was born in Madisonville and worked for many years in Knoxville radio, with stints in other states, dating back to the 1940s. Initially nicknamed Tennessee Slim, he cut a number of singles in the hillbilly era, including a grim WWII ballad from 1944, entitled "Why Did They Bury Daddy In The Philippines." By the early 'Fifties he'd started performing under the name Chuck Rogers, and claims to have discovered honkytonk superstar Ray Price -- Rogers even penned one of the first two songs Price recorded, "Jealous Lies," back in 1950. Another one of his songs, "Tied Down" was recorded by Lulu Bell & Scotty, back in 1952. The liner notes imply these are newer (1970s?) recordings (though some might have been a mite more vintage) and he was still living in Knoxville when this album came out...


<! - #1942-46 - same Chuck Rogers who produced Bobby Mackey's album? - obit: "You're Standing In The Shadows Of Sorrow" c. 1976 - is in on this album? https://books.google.com/books?id=z08hAQAAIAAJ&pg=PA2433&lpg=PA2433&dq=Ross+Arwood&source=bl&ots=MGzDxu1Z1v&sig=ACfU3U2H_tymB_l_rDaPc6CHpLX0esOiBA&hl=en&sa=X&ved=2ahUKEwjEmdnM49rgAhVSVK0KHRTuCVEQ6AEwCnoECAkQAQ#v=onepage&q=Ross%20Arwood&f=false Also the same as "Tennessee Slim"(??) who wrote a song in 1944 called "Why Did They Bury Daddy In The Philippines http://hillbilly-researcher.blogspot.com/2010/05/covered-wagon-records.html >
Jack Rogers "Sings Country Music Hits... The Road" (Modern Sound Records, 19--?) (LP)
(Produced by William Beasley & Tom Sparkman)
A groovy set of trucker tunes from singer Jack Rogers, who had previously released some singles on the Nashville-based Modern Sound label, which was an offshoot of Spar Records. Rogers was not a top-flight vocalist, and some of these tracks are a little rough around the edges... But actually, that's kind of cool, if you're in the market for authenticity and earthiness. The backing musicians retain a little chunkiness as well. The songs are mostly (if not all) covers of hits -- "A Tombstone Every Mile," Giddy Up Go," "Give Me Forty Acres," "Six Days On The Road," etc. -- though there might be a one or two originals, such as "Almost To Nashville..." Unfortunately, there are no composer credits anywhere on the album. Anyway, this is an enjoyable album, at least if you're able to cope with a few imperfections here and there. Plenty of twang!


<! - #MS-560 - "stereo compatible" - Sparkman engineer >

James Rogers "Live At Saddles" (Commonwealth Recording Group, 19--?) (LP)
Guitarist James Rogers lived in Tennessee, but cut this album while playing a gig at the Saddles restaurant in Richmond, Virginia. The repertoire includes some country stuff, such as "Silver Saddles," "American Trilogy" and "Tennessee," though also a few showcase guitar songs such as a medley of Mason Williams' "Classical Gas" and "Malaguena."


<! Tennessee Fly Eagles Fly Silver Saddles American Trilogy Classical Gas / Malaguena Roulette Wheel Toad Suck Be Young Be Foolish Be Happy - possibly just a guitar album? - >

James Rogers "Night At the Tivoli" (Producers Incorporated, 1985) (LP)
This seems to be the same guy, although by now he had a home address in Rock Spring, Georgia... This was a live set, recorded at the Tivoli Theater, in Chattanooga, Tennessee, with a backing band that included David Brooks (synthesizer), Billy Reynolds (drums), Dennis Talley (banjo and guitar), and Greg Throstle (steel guitar). It's only partially country, with a medley of "Rocky Top" and "Foggy Mountain Breakdown," as well as some patriotic stuff and odd pop songs and standards. Some of the same material from his previous LP reappears here, such as "Malaguena" and a version of the '70s novelty number, "Toad Suck."


<! - PJR-5135 - Rogers has an address in Rock Spring, Georgia 30739 >

Jody Rogers "Rainbows And Rodeos" (Southern Pride Records, 19--?) (LP)
Rogers was a deejay on Fort Myers, Florida radio station WHEW-102-FM (aka "The Country Giant")


<! - pix blurry - no ASIN 02/19/15 - NO info online: 02/01/18 https://www.facebook.com/jody.rogers.395 - this is the same guy - now living in Nashville, big Confederate flag fan >

Johnny Rogers "Memories" (Trail Records, 1979-?) (LP)
(Produced by Bobby All & Rick Salyer)



<! - #TRSC-9798 - recorded at Tri-State Recording Co., in Kingsport, Tennessee - Trail mostly a gospel label (Cooke Trio, etc) - Bobby All (guitar), Art Bain (piano), Tim Compton (bass), Elan Lu Chalford (fiddle), Randy Manis (drums), Eddie Tipton (rhythm guitar) A1 You Ought To Hear Me Cry 4:02 A2 I Have You 3:09 A3 Please Release Me 3:12 A4 Precious Lord, Take My Hand 2:36 B1 His Name Is Jesus 3:23 B2 Pass Me By 3:10 B3 Make The World Go Away 2:53 B4 I Can't Stop Loving You >
Joyce Rogers "Little Old Ladies Can" (National Foundation Records, 1986) (LP)
(Produced by Johnny Dollar & Jim Cartwright)
A Patsy Cline soundalike from Newaygo County, Michigan, Joyce Rogers was a protege of country second-stringer Johnny Dollar, who produced most of these tracks before he passed away in '86. She wrote all the songs and they have a familiar feel, again with many building on the old Patsy Cline formula of blending rich country roots with perky, muted rock'n'roll, which by the 1980s had a definite retro feel, almost a Sha-Na-Na-ish vibe. But she sings nicely and this is well-produced, with strong performances by the studio crew, particularly steel guitar players Sonny Garrish and Mike Cass, who really out some feeling into it. Though commercially inclined, this record may have been a little out of step with the synthy, antiseptic stuff coming out of Nashville at the time, though I'm sure that's fine with most of us -- right? Anyway, this isn't a super-original sounding set, but it's an admirable indie offering. Also, kudos on the songwriting -- I'm not sure if she ever sold any of her songs, but she sure made a good go of it.


<! - no ASIN 11/24/15 - Johnny Dollar commited suicide in April, 1986 >

Kenny K. Rogers "Lonely Heart" (RPI, 197--?) (LP)
(Produced by Rich Richardson & Kenny K. Rogers)
Not to be confused with the evil entity known as Kenny "Sauron" Rogers, this fella from Peoria, Illinois sang mostly covers, although he wrote four of the tunes on here, including the title track as well as several gospel-themed numbers. Other than that, a complete mystery album!


<! - # - no ASIN 03/26/17 - (b. 1940 in Peoria, Illinois) - a DJ on KSMN, Mason City, Iowa - recorded at Faron Young Studios in Nashville; musicians not listed - "Lonely Heart," "That's Brotherhood," "Hello Jesus," "The Things He Might Have Been" - on song by J. Jolly, "God Knows Every Story" (one of the Jolly Brothers??) - includes covers of "For The Good Times," "Pick Me Up On Your Way Down," "Green Green Grass Of Home," "Ruby," "Skip A Rope" and "You Gave Me A Mountain" >

Roy Rogers, Jr. "Just Call Me Dusty" (Vistone Records, 1982) (LP)
The son of western film stars Dale Evans and Roy Rogers, singing some ballads, honkytonk and western swing, backed by a band called the Highriders which Matt Starner, Larry Carney and others... Roy Junior also recorded some stuff on albums headlined by his folks.


<! - # - #VI-656 - tracks (CA) > <! RUSTY ROGERS (aka Russell Kempton) https://lcnme.com/eventsactivities/bradley-inn-to-host-rusty-rogers-tribute/ "... Bradley Inn to Host Rusty Rogers Tribute June 13, 2018 at 10:44 am The Bradley Inn in New Harbor will host a tribute to Rusty Rogers, "The Pemaquid Cowboy" Rusty Rogers was the stage name of Russell Kempton, a longtime Pemaquid resident. After receiving his first guitar at the age of 7, Rusty went on to make a name for himself in the country western music scene. He was the lead singer and featured yodeler with the Down Homers and starred in "The Rusty Rogers Show" on NBC from 1956-1958. In a career spanning more than seven decades, Kempton was inducted into the Maine, Massachusetts, Connecticut, and Rhode Island country music halls of fame. >

Tex Rogers & Jimmie Collins "...And Western Gospel Crusaders" (Songs Of Calvary, 1964-?) (LP)
A gospel duo from Oakland, California, who sang both as a duo and individually on this album, Collins and Rogers had previously worked in secular country, notably with western artists such as Ken Maynard and a band called the Pals Of The Purple Sage. Though born in Pennsylvania, Rogers got his nickname because he grew up near East Texas, Pennsylvania, an oddly-named dot on the map near Allentown; Jimmie Collins was originally from Chilicothe, Missouri, though apparently they produced this disc by way of a church group in California. They are backed on this album by fellow believers Gene Shelby (on "electric Hawaiian guitar"), Effie Shelby (guitar), Mary Lou Stewart (vibraphone), Royce Collier (bass), and Judith Collier (piano). More than that, I cannot tell you.


<! - #LP-164 - no ASIN 10/14/17 - did Tex Rogers also record that toy piano album? >

Troy Rogers & Harmony "Troy Rogers And Harmony" (TRH Records, 19--?) (LP)
(Produced by Troy D. Rogers)
A teenage band from Warsaw, Missouri fronted by talented guitar picker/multi-instrumentalist Troy Rogers and lead singer Darlene Hayes. Not exactly when they recorded this album, but they covered the outlaw anthem, "Luckenbach, Texas," along with two hits by Kenny (Sauron) Rogers -- "Lucille" and "The Gambler -- so I'm thinking this was from around 1979-80, somewhere in there. The kids in the band were all apparently seventeen years old when they cut this disc, with one original song, "Second Chances," written by second guitarist Jim Hayes, while everything else was cover songs, including a number of charmingly clunky instrumentals. I also kinda dig the folk-ish, strummy acoustic version of "I Wish You Were Someone I Loved," which has a John Denver-y feel to it. Hey, anyone know if Rogers did anything after this?


<! - no ASIN 06/29/15 - picked up in Sacto, 12/17 >

The Walt Rogers Four "The Walt Rogers Four" (Walor Records, 197-?) (LP)
(Produced by Walt Rogers & Jay Andy Thompson)
Originally from Bascom, Florida, fiddler Walt Rogers settled down in Portland, Oregon after traveling around for years as a sideman in various bands. In 1969 he put together the Walt Rogers Four, with his fiddle backing three female singers, including his wife, Lorri Rogers, who had been his partner on the road throughout the early 'Sixties. The repertoire includes country chestnuts such as "Green Green Grass Of Home" and Kenny Rogers's "Just A Yodel For Me," but is more remarkable for the many rock and pop cover tunes, given inventive arrangements and buoyed by Walt Rogers' solid, sizzling fiddle. "Hitchin' A Ride," "Leaving On A Jet Plane," Jackie DeShannon's "Put A Little Love In Your Heart," and a couple by Creedence Clearwater, "Looking Out My Back Door" and "Proud Mary" show a with-it hipness that belies the geeky appearance of the band on the cover. One of the best tracks is his version of "Orange Blossom Special," a song that makes me involuntarily flinch when I see it on an album: Rogers puts his heart into his fiddling, getting a very soulful tone, while the drummer gets in some really cool, inventive licks. To be honest, the vocals are kind of uneven... I won't name names, but while Rogers and one of the gals are pretty good, the other half of the team have some pretty iffy moments. Regardless, this is a cool album from an accomplished and ambitious country lounge band, and a groovy document of the ever-rootsy Pacific Northwest country scene.


<! - recorded at Ripcord Studios - was playing in San Jose in the late '60s - was Ernie Hagar in this band?? >

The Walt Rogers Four "Complete And Onabridge" (Walor Records, 19--?) (LP)
(Produced by Walt Rogers & Jay Andy Thompson)



<! - #SLP-1002 - recorded at Ripcord Recording Studios >
Bob Rohan "Bad Bob" (1983) (LP)


Bad Bob (Rohan) "Bad Bob And His Good Friends" (Self-Released, 2001)
Good-timin' western swing and the local spirit of independent Texas music are alive and well, as heard in this fun album by fiddler and songwriter Bob Rohan. He pays dutiful homage to the spirit of Bob Wills in a rousing version of "Deep In The Heart Of Texas," and on his original tune, "When You Play The Fiddle In Texas (You Better Know All The Tunes!)" It was the charm of his original material that caught my attention -- especially on great novelty tunes like "She Took A Blowtorch To My Workbench" and the similarly-themed "Daddy's Pad (When Momma's Mad)," which extols the virtues of sleeping in the cab of your truck when domestic tension looms. Fans of humble, obscuro alt.country greats such as Deadly Earnest, Alvin Crow, Chuck Wagon & The Wheels, or Cornell Hurd will find a lot to celebrate in this album -- this ain't super-slick Nashville pop, it's just a guy with a friendly-sounding voice and a bunch of pals who can pick some nice country music, and it's pretty cool. This is the kind of independently-produced album you used to hear a lot more often; nice to know someone out there still has the magic formula.


<! 144 x 144 >

Bad Bob (Rohan) "Bad To The Bow" (19--?)

Bad Bob (Rohan) "Prairie Rose" (Self-Released, 2008)

Clarke C. Rohn "Country" (Redhill Records, 1975) (LP)
(Produced by Clarke Rohn)
A fairly rootsy country album from La Mirada, California's own Clarke C. Rohn, a modestly talented singer who performed around the Long Beach area for several decades, on TV and at clubs and private events, hosting a variety of Southern California talent on various occasions. Rohn self-recorded and self-released this album, with a strong backing band, particularly on the pedal steel. The reperoire is a mix of covers from artists such as Moe Bandy and Ray Price, as well as some original material, notably a gospel song called "Instant Happiness," which Rohn co-wrote with Stacy Farrell, the owner of the nightclub where Rohn had a residency at the time this album was made. Although he doesn't dazzle as a vocalist, Rohn's heart was in it, and you can hear hints of Mickey Gilley and Willie Nelson in his phrasing -- honkytonk at its core, but with sophisticated leanings. A nice document of a resolutely local performer in his early years...


<! - # Steel player Jerry Hayes contact info available: http://bb.steelguitarforum.com/viewtopic.php?t=176454&sid=5992e066ae16959b6945d4591cf641f8 - from 1976 clipping: "Clarke Rohn's 170- pound Great Dane, Marmaduke, enjoys listening to a recording of Clarke's country music at his" Red Hill recording studio in the Whittier area. Clarke and his duo will present the Clarke Rohn Show tonight at Stacy Farrell's Long Beach club and restaurant, where he performs Tuesday through Sunday nights. " - best article: http://newspaperarchive.com/us/california/long-beach/press-telegram/1975/05-29/page-12 >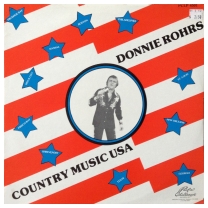 Donnie Rohrs "Country Music USA" (Pacific Challenger Records, 1981) (LP)
(Produced by Chuck Whittington, Terry Dwyer & Gary Brandt)
A charmingly rough-hewn, amateurish country-meets-oldies album by middle-aged singer Donnie Rohrs, a native of Sanborn, Iowa who also recorded several singles in the 1970s, on equally obscure labels. He sings some old-school rock'n'roll -- songs like "Party Doll" and and adaptation of an old Chuck Berry song -- but mostly this is an idiosyncratic but honest country record. There are definitely rough patches on a few songs, but he's so enthusiastic and sincere you can't help but like him, and several songs hold up well as oddball novelty numbers... Rohrs has a chunky good-ole-boy sound that brings Jerry Reed to mind, as well as Joe Stampley, in his more R&B-oriented moments. I think this album took him a long time to complete, and some tracks sound like they were recorded in very different sessions -- one of the best songs is an original that Rohrs wrote called "Waltzes And Western Swing" where the band sounds really solid and the pedal steel has a much richer, deeper tone than on other tracks, which sound more rock-flavored and bar-band-y. Regardless, the guy was authentic and totally home-grown. My copy included a flier for membership in his fan club, with the kind of artist bio that lists things like his winning talent contests in junior high, and wowing the crowd in eighth grade with his Elvis impersonation. I love that kind of stuff. Rohrs went out west to record this one at the Sun-Dwyer Studios in Riverside, California, which was a short-lived vanity pressing service that was around in the late '70s and early '80s.


<! - no ASIN 01/05/16 - recorded at Sun-Dwyer Studios in Riverside, California >

The Rollin' Country Rock Band "Rollin' Country" (Atomic Records, 1980) (LP)
These longhairs from Salt Lake City, Utah cover some roots and rock stuff, such as "Hello Mary Lou," "Redneck Roots" "Under My Thumb" by the Rolling Stones.


<! - #WR424 - total longhairs - no ASIN 09/04/15 - Logan, Utah >

Larry Rollins "Suppertime" (Little Nashville Records, 1977-?) (LP)



<! - #DRP-7755 >

Larry Rollins "The Best Of Larry Rollins" (Little Nashville Records, 1982) (LP)



<! - #DRP-8222 >

Larry Rollins "Traditional Country" (L. R. Records, 1983-?) (LP)
Although he had an impressive track record as a songwriter, Indiana bandleader Larry Rollins devoted most of this record to versions of classic country tunes, real oldies like "Crazy Arms," "Fraulein," and "Mansion On The Hill." A couple of more current numbers help date this release: Rollins covers John Anderson's "Would You Catch A Falling Star" (which charted in '81) as well as "I Found Jerry Reed's Bird," an answer song to a then-current hit. He tries to one-up Reed on his imitations of various Nashville stars, both on that track and one entitled, simply, "Impersonations." Finally amid all the parodies and homages, there's a Rollins original called "Come To Nashville." Rollins also had a knack for tapping local talent... In addition to his core band of lead guitarist James Allen, drummer Karl Lutz, steel player Gary Pugh and pianist Roger Smith, this album also showcases fiddler Glen Duncan, who grew up in Columbus, Indiana and went on to be a nationally-known bluegrass star and in-demand Nashville session player.


<! - #DRP-8311 - producer not listed - "The Bird" (1982) - "Would You Catch A Falling Star" (1981) - Little Nashville single of "Jerry Reed" dated 1983 Kenny Dace & The Downstate Ramblers "Blue Grass Remembrance" (Little Nashville Records, 1978) (LP) - #1112 >

Larry Rollins "Smooth Country" (L. R. Records, 1984-?) (LP)



<! - #DRP-8403 - no ASIN 01/25/17 http://www.45cat.com/artist/larry-rollins >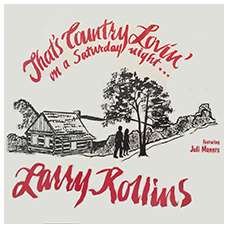 Larry Rollins "That's Country Lovin On A Saturday Night" (L. R. Records, 1985-?) (LP)
(Produced by Larry Rollins, Kurt Ericson & Mike Graham)
This mid-'80s twangband had a honkytonk edge, with commercial sensibilities... Songwriter Larry Rollins led these locals from Indianapolis, Indiana, a group he called The Little Nashville Express Band which most notably included a young fiddler-singer named Lisa Germano, who was a couple of years away from a gig in John Mellencamp's band, and from her own solo career as a 1990s indie auteur. Also in the band was steel player Gary Pugh and lead guitar James Allen and pianist Roger Smith... They played an interesting mix of material, including two originals by Rollins, a cover of the Moe Bandy single, "It Took A Lot Of Drinking (To Get That Woman Over Me)" (a minor hit in 1984) and a Hank Williams medley closing the album out, after a tune by David Miller called "Ain't Gonna Play Your Cheatin' Heart Again." Rollins had a long career -- he recorded several singles on various labels, including one for NSD's Soundwaves imprint; years later, Mellencamp would include a song by Larry Rollins on the country-themed soundtrack to his film, Falling From Grace.


<! - #DRP-8521 - recorded in Indianapolis, Indiana: - with Lisa Germano on fiddle and vocals (aka Juli Maners?) - date per set list and cat#: >

Larry Rollins "Highway To Heaven" (L. R. Records, 1986-?) (LP)



<! - #DRP-8620 - no ASIN 01/25/17 >

Lulu Roman "Now Let Me Sing" (Rainbow Sounds, Inc., 1974-?) (LP)
(Produced by Bob Cline & Jim Grier)



<! - #R-5009-LPS - all gospel album - with Smokey Montgomery, Marc Jaco, Tom Morrell (lead guitar), and the Bob Cline Singers - the title track and "Oh How He Loves Me" were co-written by Lulu Roman, with someone named Dearman - also covers a couple of Andre Crouch songs, a version of Fanny Crosbys "Blessed Assurance," and a couple by someone name Wolfe >

Lulu Roman "Hee-Haw's Lulu Sings For Her Friends" (Rainbow Sounds, Inc., 1979) (LP)
(Produced by Jim Grier, David Boothe & Larry Nix)
An admittedly painful album by Hee-Haw cast member Lulu Roman, whose career dates back to the 1950s, when she recorded a string of singles, but failed to click as a headlining artist. Later in life, Roman -- who had a thyroid problem that contributed to her weight gain -- settled into a "fat gal" schtick and played that role for many years on Hee-Haw. Like Johnny Cash before her, Roman struggled with drug addiction and straightened out after she got religion, eventually moving into the Southern Gospel field. This disc is kind of a transitional effort, mixing secular country and pop covers with gospel songs... A Dallas native, Roman drew on local talent such as Smokey Montgomery, steel player Maurice Anderson, bassist Marc Jaco and drummer Perry Skidmore... They deliver a professional, if somewhat by-the-numbers backing, mainly in a soft-sounding post-countrypolitan mode which, if you ask me, doesn't support Roman's rather husky vocals as well as a more robust, uptempo style might have done. The inner gatefold features "scrapbook" backstage photos of a number of huge country stars that Roman had hung out with -- Roy Clark, George Jones, Jerry Reed, Connie Smith and others -- but several self-deprecating comments sprinkled throughout cast a shadow on the project. For example, a picture taken with Tennessee Ernie Ford reads, "Ernie...(and) 16 TONS!!" which strikes me as a little depressing... Overall, body issues aside, this is an okay album, although it didn't really wow me.


<! - #R-5053-LPS - Dallas, Texas label - link to Bear Family collection https://en.wikipedia.org/wiki/Lulu_Roman >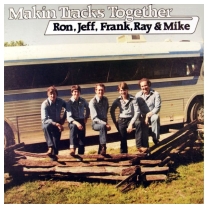 The Rompin' Stompin' Texans "Dance Time 'N Texas (Or Anyplace Else)" (Stoneway Records, 1977) (LP)
(Produced by R. M. Stone)
Well, hell yeah. Especially when this particular batch of Lone Star stompers includes steel player Hern Remington and fiddler Clyde Brewer, along with some of the fellas who played on various Stoneway label releases, such as vibesman Gene Meyers and guitar picker Danny Ross.


<! - # - (TX) >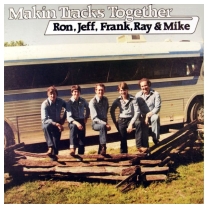 Ron, Jeff, Frank, Ray & Mike "Makin' Tracks Together" (BOC Records, 19--?) (LP)
Cover tunes by a Missouri quintet that included Ron Mahan... They play stuff by Merle Haggard, Ray Price and Jerry Reed... Recorded sometime in the '70s, methinks, at the Mack's Creek studio, near Branson.


<! - # - recorded at Mack's Creek studio in Missouri - includes Ron Mahan - no ASIN 02/19/15 Ramblin Fever Three Cord Country Song Old Joe Clark Farewell Party Crazy Arms Pause for the Cause Amos Moses Faded Love Ramblin Man Orange Blossom Special You Gave Me a Mountain >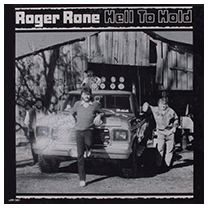 Roger Rone "Hell To Hold" (LDR Records, 1989) (LP)
(Produced by Bobby Bradley & B. Vaughn)
A neo-trad singer in the style of Randy Travis, Rone and his band, Country Fury were from Akin, Illinois, a microscopic crossroads in the south end of the state, between Saint Louis, Missouri and Louisville, Kentucky. They played locally and recorded a couple of singles before heading to Nashville to cut this album at Bradley's Barn under the sponsorship of Bobby D. Reed, the owner of the True Records label, which released the single "Holdin' On To Nothin'," a song that made it into the back forty, peaking at #83 in Billboard.. All but two of the songs here were written or co-written by Reed, with Roger Rone contributing two of his own... While this album was part of the last gasp of Nashville's '80s indie labels, it's a nice legacy for a hard-working local artist...


<! - no ASIN 08/04/16 - pix - a bunch of original songs by Bobby D. Reed >


Linda Ronstadt - see artist discography




Elvin Rooks & The Bluegrass Ramblers "Live At The Commons" (Elgett Records, 1980) (LP)
(Produced by Guy F. Preston & Steve Hood)
Uber-indie bluegrass/twang from Columbus, Indiana... Lead singer Elvin Rooks and his band work through a lively set which includes a cover of John Prine's "Paradise" as well as grassed-up versions of straight country songs by Carl Smith, Buck Owens, Bob Wills, as well as classic bluegrass tunes from Flatt & Scruggs, Reno & Smiley, and one original by Elvin Rooks, "Bum In King's Clothing."


<! - no # - no ASIN 01/11/17 >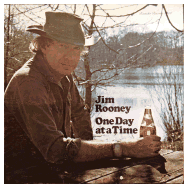 Jim Rooney "One Day At A Time" (Rounder Records, 1975) (LP)
(Produced by John Nagy & Peter Troisi)
A stalwart of the 1960's folk'n'bluegrass scene kicks back and gets loose with a country-flavored set, full of plenty of sweet picking and on-purpose not-great vocals, a resolutely DIY-sounding, back porch style that makes the music all the more delightful. Jamming with him are his "partners in crime," East Coast truegrasser Joe Val, guitarist Steve Bruton and Rooney's longtime collaborator, Bill Keith, playing banjo and pedal steel. The music stretches from folk and bluegrass to honkytonk and outlaw music, with songs by James Talley, Hank Williams, Dolly Parton, Willie Nelson and hillbilly old-timers Wiley & Zeke... A strikingly diverse set for a guy who's best known as a bluegrass revivalist. Highlights include Rooney's bouncy original composition, "Do You Think It Will Ever Go Away," which has some groovy, Merle Travis-styled guitar licks. This is an album you have to place yourself in the right wavelength to enjoy, but once you do, it's very rewarding.




The Ropers "Current Country: 20 Hit Songs" (QMO Records, 1973-?) (LP)
This cheapo-label disc is so sketchy they actually put the band's name in quotation marks... Truth in advertising, I guess. Anyway, if you wanna go a couple of notches lower than Crown Records and K-Tel, this looks like a doozy of a disc, with covers of early 'Seventies chart toppers like "Behind Closed Doors," "Blood Red And Going Down," "Satin Sheets," and "Superman," in versions of very questionable provenance. Plus, it also came out on 8-Track tape!


<! - #QMO-119 - no LP ASIN 11/26/17 (8-track, though!) >

The Rose Canyon Band "Destiny" (RCB Records, 1980) (LP)
(Produced by Tom Sierakowski & The Rose Canyon Band)
This country-rock band band from Oshkosh, Wisconsin was a four-piece -- Gary Ormsby (lead guitar and vocals), Mike McKenzie (drums), Scott Sherman (bass) and Steve Becker (lead guitar, banjo and pedal steel) with additional musicians on piano, sax and fiddle. The songs are all originals, written or cowritten by various bandmembers, including tunes like "Rolling Wheels," "Border Bound," "Highway Rider," and the rather prosaic "Rockin' In The Country." Maybe they weren't the most imaginative songwriters, but they were definitely deep into the longhair twang scene... Not bad for Oshkosh, b'gosh!


<! - #41191/92 - recorded in Waupun at "Madison Street Sound Studio" >

Doug Rose "Doug Rose" (Snail Records, 1979) (LP)
(Produced by Doug Rose & Tom Underhill)



<! - recorded at Lemco studios - no ASIN 04/16/15 http://dougroseflyfishing.com/blog/?p=318 (same guy?? RIP: 1950-2013) >

The Rose Family "Presenting The Rose Family" (O&R Records, 19--?) (LP)



<! - # - no ASIN 10/04/15 - copy on DC, 01/30/18 "...Recorded By – Sound 80 Inc." Side 1: 1. Just Call Me Lonesome 2. You've Gotta Have A License 3. You Ought To Hear Me Cry 4. Proud Mary 5. Is Anybody Goin' To San Antone 6. Travel On Side 2: 1. Blue Diamond 2. Take Me As I Am 3. The Only Daddy That'll Walk the Line 4. Hungry Eyes 5. Party Doll 6. Ain't it Funny How Time Slips Away Are they the same as: The Rose Family "Pray The Clouds Away" (Jayln Records) (LP) B004C2YTNQ >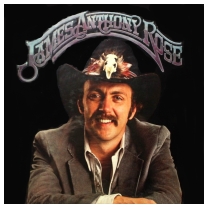 James Anthony Rose "James Anthony Rose" (Stallion Records, 1981) (LP)
(Produced by Luckey Walker & Jim Rose)



<! - label, management in Portland; fan club in Vancouver, Washington - later a federal marshall(???) from Wyoming - from South Dakota?? pseudonym? "... James Anthony Rose (Dennis Brown) Flandreau native" - no solid info 01/30/18 >
Rita Rose "...Sings Potter County, Pennsylvania" (Jewel Records, 1977) (LP)
A gal from Catawissa, Pennsylvania, singer Rita Rose pursued a career in music, heading to Tennessee straight out of high school, and landing a spot on Cas Walker's show, "The Farm And Home Hour," a Knoxville television program that famously helped Dolly Parton start her career. While in Knoxville, she recorded at least one single, then returned to Pennsylvania where she hosted her own TV show, with sponsorship from Datsun Motors. She recorded this album with her husband Bruce Rosenbaum -- aka Bruce Rose (1940-2017), who managed her career and also sings on a couple of tracks. She tackles several country standards, oldies like "Folsom Prison Blues," "Harper Valley PTA" and "Silver Threads And Golden Needles," as well as the title track, and original written by a friend from Idaho. Not sure if there are other originals on here, though her single from 1970 had two tracks credited to "Rose-Yorks," so it's possible there are original tunes on here as well.


<! - LPS-717 - with Bruce Rose (Rosenbaum) on two tracks (her husband) - no producer or musician credits Rita Rose Born With The Losers / Chi Chi Wa Syntar Records, 1970 - #UR-352 - Knoxville label - both tracks c: Rose-Yorks https://en.wikipedia.org/wiki/Cas_Walker https://www.allenrhornefuneralhome.com/obituary/Bruce-Rosenbaum - nee Rita Longenberger - later ran a campground: http://www.buzzfile.com/business/Springbrook-Camping-Resort-570-799-5118 >

The Rose Sisters "Songs From The Lord Done Country Style" (Horizon Records, 19--?) (LP)
Sisters Charlotte and Fay Rose were born in Murray, Kentucky, though apparently they grew up near Detroit, and were living in Michigan when they cut this album at a studio in Nashville. The disc is packed with all-original material, with all but one song composed by Charlotte Rose, and the remaining number written by Rev. Ray Nahurien, who shared her publishing company. I've only seen and not heard this one, but I suspect there's a strong debt to the Carter Family, what with the autoharp-guitar combo pictured on the back. Not sure if they recorded any other material, but this looks pretty sweet.


<! - # - recorded at Varsity Recording Studios, in Nashville >

Rosebud "Are Ya Crackin'?" (Nightmare World Records, 1975) (LP)
(Produced by N. Cole Harrison)



<! - # - pix - bluegrass and western swing covers - from Atlanta, Georgia - Rocky Hutchens (banjo), John Kornhauser (vocals), Buck Peacock (lead guitar), Jim Tolles (bass and fiddle), Charles Wolff (drums) A1 Foggy Mountain Breakdown A2 Toy Heart A3 On My Way Home A4 Take Me Back To Tulsa A5 Homestead On The Farm A6 Talk To Me Oh Lonesome Heart A7 Orange Blossom Special B1 Country Roads B2 After You've Gone B3 Duelin' Banjos B4 Willin' B5 Jug Band Music B6 Rocky Top >

Rosebud "By Request Only: Take His Money And Throw Him Out" (Warped Records, 19--?) (LP)
(Produced by Bob Hoban & Jack W. Traver, Jr.)
Recorded live at Muhlenbrink's Saloon in Atlanta, Georgia... I'm not sure what year this album came out, but the Muhlenbrink's venue closed in 1979... So presumably it was sometime before then...


<! - # - "country-bluegrass" - facaetous liner notes refer to CSN, Mama's & Papas and the New Deal String Band - no ASIN 01/30/15 Bob Hoban, Bob Isenhour, Buck Peacock, John Kornhauser, Bob White Rocky top -- Ain't that a shame -- By request only (Foggy Mountain Breakdown -- Honky tonk angels -- Wildwood flower -- Wabash Cannonball) -- Dark hollow -- Love potion No. 9 -- I'm walkin -- Now you're lonely -- Orange blossom special -- Mr. piano -- Yesterday I had you -- Country roads -- Great balls of fire > <! Rosewood "Rosewood" (1973) A private-pressing hippie folk album from Colorado... Was "Rosewood" a commune, perhaps? >
Rosewood "Rosewood" (Dark Star Records, 1979) (LP)
(Produced by Ray DeLeon & John Wheeler)
This longhaired SoCal country-rock trio featured Bob Bartosh on vocals, Wayne Johnson playing bass and John Wheeler picking banjo and lead guitar... They recorded their album live at the El Paso Cantina in Riverside, California, covering a mix of material, from "Fire On The Mountain" and "Foggy Mountain Breakdown" to "Mack The Knife" and a medley of Beach Boys songs.
Rosewood Junction "Rosewood Junction" (Rosewood Junction, 1975) (LP)
(Produced by Bobby Dennis)
Although the trio of Sam Caster, Jim Underwood and Brad Watson are pictured on the cover of this album outside of an old train depot in Rosewood Junction, Colorado, they were actually from Dallas, Texas, where they worked most of the year. They also toured extensively in Colorado, Idaho and particularly in Nevada, where they had a regular gig at Harold's Club, a casino up in Reno. Rosewood Junction first formed in 1973, when Underwood and Bob Foreman, of the band Stonewater Edge, partnered with Rick and Cheryl Sparks, from another group called Young Country. That lineup fell through, and while Young Country went on to record an album of their own, Underwood put this band through a couple of change-ups before recording this set of bluegrass'n'country-rock. It's mostly cover songs, stuff like "Aime," "You Ain't Goin' Nowhere," and "Louisiana Man," as well as originals such as "Oh Damn The Bluegrass Band." The main trio is joined by Maurice Anderson on steel guitar, drummer Johnny Montagnese, and Alison Snyder on piano... As far as I know this was their only album, although Brad Watson released at least one record under his own name, with Rick Sparks playing steel guitars for him. [Note: some sources identify this album as "Railway Express," because that phrase appears on the front cover; it's not on vinyl labels, though, so I think this is actually a self-titled album, i.e. "Rosewood Junction."]


<! - # - no ASIN - 02/21/15 - from TEXAS, not Colorado - listed as "Railway Express" on Discogs, but not on vinyl label: I think it's ST - NOTES, multiple clippings >

Bobby Ross "Voice Of America" (Constellation Records, 1988) (LP)
(Produced by Dick Bradley, Mike Stidolph & Jeff West)
A Vietnam vet revisits the war over a decade after it ended, with a set of original songs such as "No Home For The Brave (In The Land Of The Free)," "Saigon State Of Mind," and "Finally Welcomed Home." Many are rueful songs about the tough time many vets had coming back to the States, where turmoil at home and their own disillusionment made their reentry into civilian life particularly jarring. Mr. Ross booked an all-star session, with heavyweight pickers such as Bela Fleck, Sonny Garrish, Brent Rowan and Willie Rainsford, and some interesting backing vocalists, including future Top Forty star Billy Dean and Dolly's little sister, Stella Parton. The album is dedicated to a rifle platoon in the 101st Airborne Division, which presumably Bobby Ross served in.


<! - #VOA-1 - dc - (N, folk) >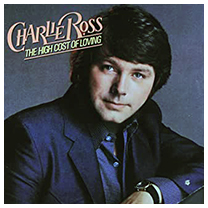 Charlie Ross "The High Cost Of Loving" (Accord/Town House Records, 1982) (LP)
In the late 1960s, Mississippi-born Charlie Ross was a rock-pop musician, scoring a few minor hits with the band Eternity's Children, and he continued to record as a solo artist in the early '70s. He finally "went country" mid-decade, and had similar success on the Country charts, with a 1976 remake of one of his pop songs, "Without Your Love" proving to be his biggest hit, peaking at #13, after the original version was in the Pop charts earlier that same year. This album followed, though he wasn't able to match his earlier successes, and Ross went back into broadcasting, with this album being his swan song as a performer.


<! - #ST-7007 - title track hit #33 - had a Top 20 single in 1977 https://en.wikipedia.org/wiki/Charlie_Ross_%28singer%29 Side 1: The High Cost Of Loving The Name Of The Game Is Cheating I'm Digging Another Man's Gold If I could Take Back One Goodbye She Got The Green, I Got The Blues Side 2: Are We In Love Whose Gonna Teach Me To Forget Shoot First, Ask Questions Later Let's Start Over Somebody Loves You >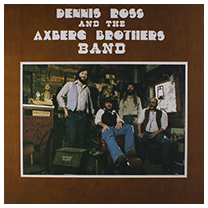 Dennis Ross & The Axberg Brothers Band "Dennis Ross And The Axberg Brothers Band" (197-?) (LP)
An iconic, hard-working roadhouse band from Lubbock, Texas, with a tough mix of rock, blues and twang. The three principal members -- bassist Jim Axberg, drummer John Claude Axberg and singer Dennis Ross -- have worked together for decades, including this album from the late '70s (or early '80s?). The disc is packed with original material -- although John Claude Axberg and Dennis Ross trade off on lead vocals, Ross takes the spotlight here as the primary songwriter, penning eight out of eleven tracks. Jim and John Axberg each contribute one song, with the last one coming from Wright Waldrop, who was not a member of the band. The group was rounded out, though, with lead and slide guitar player Daniel Elzner who is awkwardly given a side credit on the album cover and inner label. It's worth noting that the Axberg brothers had a long history on the Texas rock scene, originally forming in a 'Sixties garage band called The Only Ones, which recorded a few tunes that have been reissued elsewhere.


<! - #1001-A/B ~ LH-19458 - recorded in Tyler, Texas >
Jack Ross & Woody Bowles "Sedalia" (Room Service, 1973) (LP)
A Nashville-based folk duo, featuring Indiana-born Jack Ross and Nashville native Woody Bowles. A decade later, Bowles really made his mark in Music City as the manager of the Judds, helping elevate them from obscurity to mega-superstardom. Who'da thunk it, way back in'73?


<! - no ASIN 06/14/15 >
Jack Ross "Quite The Handyman" (Room Service Records, 1975) (LP)
(Produced by Jack Ross)
Perhaps more on the folkie side of things... Most of the songs are Jack Ross originals, along with a version of Kris Kristofferson's "Jody And The Kid," and "Hobo's Lullaby," which most folks probably know from the Arlo Guthrie version. Some of the tracks on here were previously released on his Sedalia album, listed above. (Of note to Nashville fans: future super-producer Kyle Lehning plays piano and helped engineer and mix the album...)


<! - # - unable to find out where he was from >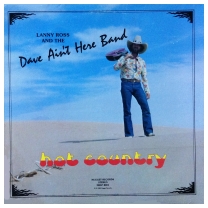 Lanny Ross & The Dave Ain't Here Band "Hot Country" (Nugget Records, 1980) (LP)
(Produced by Lanny Ross)
A nice set of indie twang from the New Mexico scene... This is mostly all original material written by L. R. Gerald (presumably Lanny Ross?) with lively, enthusiastic backing by a local Albuquerque band with plenty of pep... Fiddles, pedal steel, harmonica and twangy guitar back Ross' homespun vocals. Plenty of good tunes, as well, including winners such as "Sweet Steel Guitar," "Hardhat Days, Honky Tonk Nights, Hillbilly Bands" and the cleverly-titled "Skoal Brother." Definitely worth tracking this one down.


<! - # from ALBUQUERQUE NM TRACKS: Disc: 11.Skoal Brother * Big Balls in Cowtown * Hardhat Days, Honky Tonk Nights, Hillbilly Bands * Sweet Steel Guitar * Highway Cowboy2.Highway of Pain * Looking for a Heartache * Can't Pole That Piro * Cowboys Love the Honky Tonks * Back in the Saddle Again > <! Lanny Ross "Silver Dollar Country" (SDC, xxxxxxx) (LP) - This looks like a work-for-hire album commissioned by the Silver Dollar Country Gallery in Great Falls, Montana - it also looks like it's the OTHER Lanny Ross, not the indie guy >

The Rosslyn Mountain Boys "The Rosslyn Mountain Boys" (Adelphi Records, 1977) (LP)
(Produced by Bob Dawson & The Rosslyn Mountain Boys)
This DC-area country-rock/boogie band worked the Mid-Atlantic country-folk scene for the better part of a decade, and recorded a few albums and played a bazillion gigs (not counting the occasional reuinion gig...) The band sported several several ex-rockers and nurtured some country pickers who would later make a go of it in Nashville. Steel player Tommy Hannum, who had played with Emmylou Harris in her pre-Gram Parsons folk days, and who went on to be a notable session player in the '80s and '90s, is one of the most notable bandmembers, at least from a country perspective: he gets some sweet licks in on a tune or two. Another mainstay of the band was pianist Peter Bonta, who became a prolific Americana session player and engineer, and joined Bill Kirchen's band in the 1990s. This debut album is uneven but charming; I remember hearing the best songs off it getting airplay on KFAT, back in the days before "alt-country" existed... It's work checking out, if you ever run across a copy, though you shouldn't make any heroic efforts...


<! 144 x 144 > <! - # >

The Rosslyn Mountain Boys "Lone Outsider" (Schitzophonic Records, 1982) (LP)
(Produced by Bob Dawson, et.al.)
By the time this album came out, they'd pretty much worked the kinks out of their performing style... The steel playing, in particular, is pretty sweet, and undeniably true to country roots... There are several nice songs on here, although nothing really reaches out and grabs you -- that's probably mostly due to the modest production values... Nothing sounds bad, but the music lacks immediacy. Nonetheless, this is a nice document of one of the East Coast's great also-ran twang bands


<! - # - 144 x 144 >

The Rosslyn Mountain Boys "Different Skyline" (Sosumi Records, 2006)





Elliot Rothpearl "Sippin' Slow" (Rumplestiltskin Records, 1988) (LP)
(Produced by Elliot Rothpearl & Ed Sloan)
Dunno much about this guy... He seems to have been from upstate New York and wrote most of the songs on here. Lots of pros on here backing him, including Lloyd Green playing pedal steel and Buddy Spicher on fiddle, while Rothpearl plays guitar, banjo and mandolin... Also notable is Chip Taylor chiming in with some background vocals... The arrangements are good, though in all honesty, Rothpearl's vocals don't always hold up well.


<! - year? really 1988? >

The Roundtown Boys "Deadheads And Suckers" (Swallow Records, 1978) (LP)
(Produced by The Roundtown Boys)
A lively set from a youthful oldtimey band out of Fresno, California... The driving force is singer-fiddler Evo Bluestein, who along with his brother, mandolin picker Jemmy, grew up as part of the long-lived Bluestein family band, a pillar of the Central California bluegrass scene. Evo stands out as a dynamic and devoted old-timey fiddler, as well as a master of the reedy, nasal intonations of the genre... The Boys pay obvious homage to the New Lost City Ramblers, matching their wildness, fervor and wit, also dutifully noting each of the scratchy old 78s they used to build up their repertoire... Pretty darn good little record!


<! - no ASIN 11/19/17 >

Bobby Rowan "Johnny Cash Song Hits Sung By Bobby Rowan" (Arc Records, 196-?) (LP)
This one's kind of self-explanatory, right? On the Canadian Arc label.


<! - #ARC-504 >


Peter Rowan - see artist discography





The Rowans - see artist discography



Lloyd Rowland "In Dreams" (Cannon Records, 197-?) (LP)



<! no release date? SONGS: In Dreams, Dream Loser, Constant Sorrow, Deep Water Blues, On the Road Again, Somewhere In Between, The Running Man, She Was Always There, Love Of Lifetime, Get Back Home To You >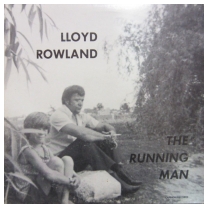 Lloyd Rowland "The Running Man" (Cannon Records, 197-?) (LP)
(Produced by David Hearn)
Hailing from Phoenix, Arizona, guitarist Lloyd Rowland worked in local country bands in the late 1960s, cutting this "solo" album with his pal, Bob Norine sometime in the early '70s, probably around 1973. The album includes covers of country and pop hits such as "Delta Dawn," "City Of New Orleans" "Games People Play" and "If We Make It Through December," as well as a couple of originals, "Constant Sorrow" and "Running Man," both credited to Rowland.


<! - #AM-1411 - LK purchased 09/10/17 - no date, or personnel info - liners don't say which band he was in http://www.midwestentertainersinc.com/talent.php?ID=37&ref=7 >

Gary Rowles/Various Artists "This is Oregon Country" (Flat Records, 1981) (LP)
(Produced by Gary Rowles)
A historical and sometimes humor-filled celebration of the soggy state of Oregon, with songs such as "Oregon, My Oregon" and "Wet Oregon," which just about says it all.


<! - no ASIN 09/04/15 - Gary Rowles wound up in LA(?), played on Allen Abajian's album >

Lee Royal & The Sawdusters "Lunch Time At The Saw Mill" (Timber Records, 1983) (LP)
(Produced by John Dougan & John Busbice)



<! - #TLPS-1001 - no ASIN 08/24/18 - all songs written by Lee Royal - from Elk Hork, West Virginia - is he different from the Lee Royal who put out a 1981 single on an Oklahoma label? - Randy Boone (drums), Warren Hoover (pedal steel), Jerry Lundy (fiddle), Brian McAlexander (bass), Dick Walton (fiddle) - backing vocals by Janet Kammerer and Darlene McGaffin - Brian McAlexander played in the '70s country-rock band Timberline - Jerry Lundy from Ted Lundy's bluegrass band; moved to Oakland and was in the Country Ham band >

The Royale Western Singers & Orchestra "Country And Western Hits" (Royale Records, 195-?) (10" LP)
An interesting oddity from the ultra-cheapo budget label, Royale Records. If I had to guess, this early stab at putting together an album was probably drawn from various 78s... The set includes western (cowboy) standards like "Red River Valley" and "Blue Tail Fly" along with honkytonk weepers such as "Why Baby Why" and "Yes I Know Why," as well as Elvis-era rock songs like "I Forgot To Remember To Forget," "Heartbreak Hotel" and "Blue Suede Shoes." Royale was known for (endlessly) repackaging old recordings by folk/western singer Red River Dave, and he may be on at least a few of these tracks. (Don't quote me on that, though!) The "Royale Western Singers" name was also used on at least one 7" EP, of all country material.


<! - #18150-C-1/2 - no ASIN 09/25/17 https://www.discogs.com/artist/3900981-Royale-Western-Singers-And-Orchestra >

Roy Royston "Roy Who?" (Starwest Records, 19--?) (LP)
(Produced by Roy Royston & Blaine Allen)
A native Oregonian, Roy Royston grew up in Eugene, moved to Portland and eventually to Longview, Washington, where did regional bar-band gigs starting in the early '80s at places like Hillman's and Scotties Lounge. This album was recorded at the legendary Ripcord Studios in nearby Vancouver, WA, and like his live act, it was a mix of rock oldies and country. It includes four songs written by Royston -- "Falling In Love (Doesn't Come Easy)," "Dancing To A Slow Love Song," "Quivering Lips" and "Stormy Weather" -- as well as covers of "Statue Of A Fool," "Unchained Melody," Jody Reynolds' teen tragedy classic, "Endless Sleep" and even a version of Dick Feller's "Some Days Are Diamonds." No info about when this album came out or who was backing him, alas.


<! - Not to be confused with the English child actor of the silent era, >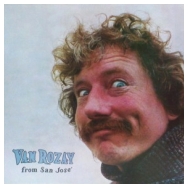 Van Rozay "...From San Jose" (Golden Vanity Records, 1981) (LP)
(Produced by Steve Mackay & Van Rozay)
An eclectic acoustic album from an easygoing local in the Northern California orbit of San Francisco and Santa Cruz... Mixing jazz and twang influences, Rozay gets in some fancy, clever guitar picking amid a set of original songs that wobble between slightly forced kookiness and more romanitc inclinations. I suppose this falls mainly into the folkie fold, though I think he may have been shooting for a Dan Hicks or Jerry Jeff Walker kind of vibe. The list of musicians collaborating on this album spans Bay Area rock and jazz players such as Merl Saunders to folkies and bluegrassers such as Kate Brislin and Kathy Kallick, and even Commander Cody alumni Bill Kirchen kicking in on guitar, as well as steel player Bobby Black. A lot of the songs seems a little too much like inside jokes, but there's a mellow feel to this album that's kinda nice. More folkie than what I'm usually into, but one worth knowing about.


<! - # >

The Rubber Band "Stretch It Out" (A & R Record Manufacturing, 1976) (LP)
(Produced by Carl Warren)
This Oklahoma band was led by bassist Buzz Carter and piano player Paul Thacker, with lead guitar by Lloyd Brooks on, Steve Walters on drums, and steel guitar by a guy named John Bell. Carter and Thacker started the group in the early '70s, doing gigs as early as '72, and later played together (as late as 2016) in a country/oldies band called the Shadow Riders. They seem to have been from Lawton, Oklahoma or thereabouts, and probably played gigs in North Texas and the Panhandle. As far as I know, this was their only album.


<! - # - no ASIN 11/22/16 https://www.facebook.com/The-Shadow-Riders-400242563415490/ - Buzz Carter's later band, the Shadow Riders, in 580 (OK) area code - Thacker also in the band c. 2016 - Carter also released at least one single under his own name Buzz Carter "Saving Your Love"/"" (Vono Records, 1984) (7") (c. W. L. Carter) # Vono-108 label in Flatonia, Texas >

Rube Rubin & The Westerners "Kansas City Star & King Of The Road" (Crown Records, 1965-?) (LP)
Well, yeah, you would assume with the big, blazing banner album title that this would be a full-on Roger Miller soundalike/ripoff disc... But, alas, it's a little more cobbled-together than that, with those two cover songs matched up with a bunch of random "western" tunes ("Careless Love," "Letter Edged In Black," "Wabash Cannonball," etc. all doubtless dredged up from deep in the Crown Records vaults. And Rube Rubin? Your guess is as good as mine.


<! - #CST-477 - no LP ASIN 05/29/18 >

Rube Rubin & The Westerners "Engine, Engine #9" (Crown Records, 196--?) (LP)
It worked so well the first time... And, no, I haven't been able to Google up any info about Mr. Rubin... or his Westerners.


<! - no LP ASIN 05/29/18 >

Ruby "Sings Sweet 'N' Swingin' " (Nashville Cats Productions, 1976-?) (LP)
(Produced by Jim Vest)
This vanity pressing, dollar-bin LP was a bit of a mystery... In the liner notes, Ruby is only identified as "Ruby" but she seems to have been connected to The Kendalls, who note they know her as a friend, as well as professionally, which made me wonder if maybe she sang backup for them. Also chiming in on her behalf are Nashville second-stringer Sonny Wright, impressionist Urel Albert, and steel players Curly Chalker and Jim Vest, who both play on the sessions. The Music City studio crew also includes Cliff Parker on lead guitar, Willie Rainsford plunkin' piano, Bob White on fiddle and Jack Leonard on bass; drummer Jerry Kroon was a South Dakota boy who started out making indie albums with his family band, then made it in Nashville as a studio musician. Despite the wealth of talent, this is actually a pretty sedate offering -- Ms. Ruby was an okay singer, but never quite lights a fire with her vocals, and the band mostly seems to be going through the motions. The repertoire is pretty interesting, though: there are several standards, stuff like Hank Williams' "Mind Your Own Business," "Sweet Dreams," "Crazy" and "Release Me," but also a flavorful offering of original material which reveals this to be one of those country music demo albums that were so prolific in the '60s and '70s. Highlights include "Back Porch Heart," one of two Doodle Owens tunes, as well as "I Can't Get Over Getting Over You" (by Willie Rainsford), a couple of songs credited to Calvin Miller ("Lay Your Head Down" and "He Makes Everything All Right") and a saucy-sounding composition by Susan Parsons, who also sings backup on this album. So, it turns out, after more research time than I'd care to admit, that "Ruby" was Mrs. Ruby Key of Platte Woods, Missouri. She was the wife of Larry Key, a country music deejay (and local amateur musician) who was nicknamed "the KC Thin Man," and was working at station KBIL at the time this album was produced. As far as I can tell, Mr. Key doesn't play on this album, but he did autograph the copy I found at my local Record Hut.


<! - #NC-001 - from Love Garden dollar bin, 03/28/18 http://obits.dignitymemorial.com/dignity-memorial/obituary.aspx?n=Lawrence+%22Larry%22-Key&lc=2376&pid=151991593&mid=4710839 "...Lawrence "Larry" Key, 70, of Platte Woods, MO passed away June 15, 2011... Larry was a former disc jockey at KBIL, KEXS and KXEO radio stations. His on air personality was the "KC Thin Man". He was a very fine musician and played in several local bands over the last 25 years... Survivors include his wife of 43 years, Ruby Key..." >

Jesse Rucilez "The First Of Jesse Rucilez" (Ripcord Records, 1977-?) (LP)
(Produced by Gene Breeden & Blaine Allen)
A confident and robust country crooner, roughly in the same camp as Conway Twitty or Mel Street, Jesse Rucilez fronted the Rucilez Brothers Band, which played regularly around Reno, Nevada in the late '70s. The album includes covers of Marty Robbins' "You Gave Me A Mountain," "Listen To A Country Song" (originally recorded by Lynn Anderson), Doug Kershaw's "Louisiana Man," and pop tunes like "My Way" and Fats Domino's "I'm Walking." There are also a few originals, including two songs credited to Eddie Hawkins: "We Don't Need Tomorrow" and "Oklahoma Pride." Also worth noting is one by Willie Nelson's first wife, Shirley Nelson, "No Place To Go." Alas, there's no info in the liner notes about who played on this album, but it's a pretty good bet that Ripcord's Gene Breeden was sitting in on guitar... It's a well-produced set, with a few flowery arrangements, but a pretty solid country core. I'm not sure what happened to Mr. Rucilez -- after this album came out, he seems to have vanished from sight; his son, Jesse Lynn Rucilez, is also a musician, playing in some local rock bands over the years, as well as authoring several self-published novels.


<! - #1031 - no ASIN 03/14/18 - no info in liners about where he was from, who played on the album. https://www.discogs.com/Jesse-Rucilez-The-First-Of-Jesse-Rucilez/release/8714261 - all tracks on YT - father of author Jesse Lynn Rucilez - played at the Red Rose Inn - might have originally been from Santa Cruz(?) w/ brother David >

Andy Rucker "Andy" (Ancor, 197--?) (LP)
(Produced by Louis Redding & Jack Logan)
Rucker was a country singer from Richmond, Kentucky, backed here by Faron Young's band, the Deputies. The songs are mostly covers, with one written by Rucker: "Where Could My Heart Be" and one by album producer Louis Redding, " No Regrets For Loving You." There's also a big medley of Merle Haggard hits, along with covers of "Summertime" "Danny Boy" and "Me And Bobby McGee." Not sure of the exact year this came out -- anyone have more info about this one?


<! - no ASIN 11/01/14 - Cincinnati, Ohio label, >

Gene Rucker "Ring Her Bell... And Nashville Picker" (Chantel Records, 198--?) (LP)
(Produced by Gene Breeden)
Rootsy twang from the Pacific Northwest... Mr. Rucker was from Washington state, and availed himself of the services of Vancouver, WA expatriate Gene Breeden's Nashville studio, with a familiar studio crew including Gene Breeden, Terry Crisp, Benny Kennerson, Geno Keyes and Bruce Watkins, to name a few... Intriguingly, all of the songs on here were written or co-written by Idaho songwriter Dale Miller (who also recorded with Breeden and his buddies). Two songs feature lyrics by Verna Hodgson, an otherwise obscure figure in the musical world -- my guess is she was from Idaho as well. One thing I'm curious about: this album has a catalog number that indicates earlier releases on the Chantal label, though the only other one I've seen mention of is a single from this album... Anyone know anything about that?


<! - #1004 - other than the single from this album, what else was on Chantal? - iffy pic >

Arnie Rue "Arnie Rue" (Big Bear Records, 1977) (LP)
In addition to playing live gigs, recording this country album and several singles, Azuza, California's Arnie Rue also dabbled in local Republican politics, running for a state Assembly seat... He may have also worked in radio for a while, and had a couple of minor Billboard hits in 1979, "Spare A Little Lovin' (On A Fool)" (which hit #56 on the charts) and "Rodle-Odeo-Home" (#74) which sounds like something Ned Flanders would sing. Rue was a pleasant-sounding indiebilly artist, with an unusual voice, but a nice one, sort of in the tradition of singers like Bill Anderson, who you wouldn't expect to carry a lyric as well as he does. Nice stuff if you can track it down; it would be nice if someone could reissue this album along with some of the singles that followed.


<! - label from Azuza, California - no ASIN 01/26/15 "...While I've never heard of Arnie, I do have his 2 charted singles in my collection. This was his biggest hit (#56 in 1979), and listening to it I wonder why it didn't become a bigger hit. I wasn't able to find much about Arnie, he performed throughout the 70's and apparently by the 1980's was a radio station music director. >

Billy Rufus "Another Country Morning" (Guinness Records, 1977) (LP)
(Produced by Jack Eubanks)
All originals, mostly composed by Billy Rufus, with two written by Woody Bowmar...


<! - contributed two songs to the Phil Dargo album on Guinness - 01/29/18 moved to "Not Placed" though no research - 05/29/19 still not placed - there's a Billy Rufus Band in Australia(!?) Denmark-Walpole https://www.facebook.com/pg/billyrufusband1/posts/?ref=page_internal Woody Bowmar - apparently a Nashville staff writer >

Rural "One By One" (Mole Records, 1974) (LP)



<! - # from Ames, Iowa. >

Rural Delivery "R. D. Breakdown" (HARC/Horizon Audio Recording Company, 1982) (LP)
A self-described newgrass band from Washington state, noteworthy here for recording (yet another) cover of "Friend Of The Devil," along with "Ghost Riders In The Sky" and tunes by country folks like Gene Autry and Hank Thompson. Most of these guys aren't familiar to me, though Rick Ahrens went on to play in a bunch of lesser-known bands.


<! - #082082-RD - members: - Terry Enyeart, Butch Haslip, Wayne Franco, Roger Ferguson, Gary Harpe, Rick Ahrens - liner notes mention that banjoist Rick Ahrens won a contest in 1980 - same as RFD? >

Teri Ruse & The Roosters "People Pleasin' Country" (Custom Fidelity Records, 1971-?) (LP)
(Produced by James Ackroyd & Jim Ruse)
A mystery disc. Led by bass player Teri Ruse and lead guitarist Jim Ruse, the Roosters were a plain, old bar-band country outfit from Thousand Oaks, California, just north of Malibu. At the time this album was made, they were holding down a gig at the local Straw Hat Pizza Palace, which apparently footed the bill for this album. The rest of the band included drummer Al Janov and steel player Doug Dalley. Not a lot of info about any of these folks, alas. Not sure when this one came out: the Straw Hat logo on the cover includes the date 1970, but that corporate could have been made years before this disc actually came out; the Custom Fidelity numbering system is pretty mysterious. The Roosters were definitely playing at Straw Hat in 1971 when they were given a silver record award for a song they wrote called "Candy Is Dandy," an event documented on a Thousand Oaks historical website, though untraceable elsewhere online, much like the band itself, or the label that was said to have recorded the song, Magna Sonic Records. The song isn't included in this set, which is all cover material.


<! - #CFS-3040 - "I'm Sorry If My Love Got In Your Way" an original? nope: Dallas Frazier - "Put Your Hand In The Hand" (Anne Murray, 1970) - Dalley possibly from San Jacinto, Texas(??) - Dalley may have moved to Las Vegas(??) - no info on anyone other than this: - her name spelled "Terri" https://www.flickr.com/photos/conejovalley/11211365786 "...Terri and Jim Ruse (far right) examine silver pressing disc they received for recording of the song they wrote, "Candy is Dandy." Looking on is Al Smith of AFT Artist Agency and Rod Tibeawlt of Magna Sonic Records. Award was presented at Thousand Oaks' Pizza Palace. Photograph by Bob Pool. News Chronicle Collection, 04-16-1971_1. >

Johnny Russ "Memories" (Ramblin' Records, 1983) (LP)
(Produced by Johnny Russ & Wayne Woosley)
Singer Johnny Russ and Willie Glazier formed their band the Ramblers and for several years made a go of it in Nashville... This album is packed with original songs written by Russ, as well as a couple of covers. He seems to have been aiming at kind of a Joe Stampley kind of sound -- a smooth country balladeer taking occasional dips into white Southern soul. Russ didn't quite have the vocal ooompf to take things to the next level, but this is a pretty solid set overall, and on a few tunes he hits a pretty resonant emotional tone, notably on his version of Ann J. Morton's "Life Without You." A sincere, sometimes haunting, set by a struggling second-stringer... Worth checking out if you're into Top Forty-oriented Nashville hopefuls.


<! - says "Woosley" -was it Woolsey? - no, also says "Woosley" on a song credit... >

Charlie Russell "...And The Jones Hatband" (JHB Productions, 1975) (LP)
(Produced by Emmitt Brooks & Charlie Russell)
Bandleader Charlie Russell was a deejay at KHEY radio, in El Paso, Texas... He's backed by John Harding (on lead vocal, fiddle, who also contributed to some of the songwriting), Charlie Russell Jr. (bass), Wynn Pinkham (steel guitar), Conrad Morales (drum), Debbi Russell (on "guest" vocals). This mid-'Seventies album is notable for including an early version of Terry Stafford's "Amarillo By Morning," which was later a hit for fellow Texan George Strait.


<! - no ASIN 02/27/17 - LK purchased 06/17 >

The Russell Brothers "Take Me Home Country Roads" (Jewel Records, 197-?) (LP)



<! - #257 >

The Russell Brothers "Live At The Big Red Barn" (Jewel Records, 1974) (LP)



<! - same group? - - Harold Russell - on YT: https://www.youtube.com/watch?v=0LyOJmQB25k >

The Russell Brothers "Magnify The Lord In Songs" (Jewel Records, 197-?) (LP)



<! Harold Russell (Artist), Eugene Gilbert (Artist), Billy Gabbard (Artist), James Parker (Artist), Delbert Dickey (Artist), John Hogan (Artist), Clarence Perry (Artist), Denny Rice (Artist) >

The Russell Brothers "Country Grass" (Jewel Records, 197-?) (LP)



<! - #719 - no ASIN 08/04/17 - eight out of ten songs are originals, with two written by Harold Russell, one by Lanny Rogers, three by Glen Sparks and two by L. Mack (Leroy Mack? songs are: "Out Skirts Of Town" and "Whiskey Bottle") >

The Russell Brothers "Operation Boogie-Grass" (Grass Country Records, 1980) (LP)



<! - #GC-3501 >

The Russell Brothers Boogie Grass Band "On The Run" (Old Homestead Records, 1979) (LP)
(Produced by John W. Morris & Tony Stubbs)



<! - #OHS-90112 - no ASIN 12/18/16 - same band? well, kind of... Gabbard and Perry were in the first group... - Lanny Rogers (rhythm, lead vocals), Alan Hayes (drums), Penny Perry (banjo), Wendy Miller (mandolin), Billy Gabbard (lead guitar - electric), Randy Hayes (bass) - about half the album original - various writers on Jaymore Publishing - three by Penny Perry, one by Wendy Miller > <! David Russell "Fiddlin' Old And New" (xxxxxxxxxxxxx, 1983) (LP) >

George Russell "Snake River" (Green Linnet Records, 1981) (LP)
(Produced by Peter Oshtroushko)
George Russell was a guitarist from Scott's Bluff, Nebraska who became part of the Minneapolis folk scene... This album is a little less country than most of the records I'm looking at, but along a bunch of his own originals, he also covers some Jimmie Rodgers tunes such as "Peach Pickin' Time In Georgia" and "Columbus Stockade Blues." The backing band includes Peter Ostroushko, Butch Thompson, Barry St. Mane (on banjo), Mike Cass (dobro and steel guitar) and folkster Bill Staines contributes liner notes.


<! - #SIF-1036 >

Gregg Russell "Stars" (Wintersong Records, 1978) (LP)
(Produced by David Wings)
A live album capturing a restaurant show in South Carolina "recorded live under the trees, Harbour Town, Sea Pines Plantation, Hilton Head Island." Includes covers of nominally country stuff such as "Grandma's Feather Bed," "Country Roads" and "Rocky Top," as well as "Love Potion Number Nine."





Leon Russell - see artist discography


<! Mary Russell? >

Mel Russell "Truck Drivin Man" (Mountain Empire Records, 1983) (LP)
Latter-day trucker tunes from Bristol, Virginia... Couldn't find out much about this guy online... I think "Mel Russell" may have been a stage name.


<! - no ASIN 09/19/15 - 1980s(?) 1990s(?) http://www.worldcat.org/title/truck-driving-man/oclc/31772389 - WorldCat says 1983 "...You should be wearing jeans and cowboy boots" by Mel Russell. Words and music by John M Rushton. aka Mel Russell. tongue in cheek country song about a transvestite cowboy. - same guy? - also a "Mel Russell" country singer in England >

Russ Russell "New Orleans Country" (NoCo Records, 1979) (LP)
Includes "Willie Ain't Writing No Sad Songs," which I assume is a Willie Nelson tribute song... Anyone know for sure?


<! Russ Russell "New Orleans Country" (NoCo Records, 1979) (LP) B002A92Q06 (Willie Ain't Writing No Sad Songs / Baby Can You Rock & Roll / Satisfy Me / I Don't Think That I'll Forget / I Need You (All The Time) / A WOMAN Like You / Walkin Down An Open Road / I'm In Love / What Is The Name Of That Song / Cold In The Nightime) >

Russ Russell "Dixie Country" (NoCo Records, 1981) (LP)
(Produced by Jack Linnemann)
A honkytonker from New Orleans, Russ Russell had a gig at a place called The Branding Iron, in Jefferson, Louisiana, fronting a band called The Rustlers... This is an album of all original material, including a few patriotic tunes: "Red White And Blue (Means Freedom To Me)" and "America, This Cowboy Still Loves You," as well as the rather icky-sounding, "All This Time I Thought She Was Too Old." He's backed by an all-star studio band: Doug Jernigan, Benny Kennerson, Dave Kirby (guitar), Bruce Watkins (guitar, fiddle), Billy Linneman (bass) and Clyde Brooks on drums. He also seems to have had sponsorship from the Dixie Beer company... nice work if you can get it!


<! - #NOCO-191 Red, White And … / Drink One More / Indian Lady / All The Time I Thought … / A Cajun Cowboy's Dreamin' Ain't Never Done / Life Ain't Easy For This Old Cowpoke / Picking Roses With Rosie / America This Cowboy Still Loves You / A Dixie Love Song / Bayou Boogie Boy - "...and the Rustlers" (listed on single) - also a bunch of 45s (see Singles Guys) >


Tom Russell - see artist discography




Garry Rust "...And The Rust Country Band" (Rust Country Records, 1982) (LP)
(Produced by Garry Rust, Bill Cashman & Fred Porter)
This band from the Tucson, Arizona twang scene played a few choice covers, such as "Amanda" and "Y'All Come Back Saloon," as well as plenty of original material. Among the bandmembers were lead singer Garry Rust, pedal steel player Ted Hockenberry, Steve Call on rhythm guitar and pianist Duncan Stitt, who played in several other local Arizona bands during the '70s and '80s.


<! - from Tucson, Arizona - no ASIN 02/01/16 http://www.dantiques.com/tucsonmusic/garryrust.html Engineered by Bill Cashman and Fred Porter Garry Rust (Vocals, Lead Guitar, Rhythm Guitar, Mandolin) John E. Mann (Vocals, Bass Guitar) Steve Call (Vocals, Rhythm Guitar) Ray Vidal (Drums) Duncan Stitt (Piano, Harmonica, String Synthesizer) Ted Hockenberry (Pedal Steel Guitar) >

David Ruthstrom "Moonshine Dreamer" (Goldust Records, 1980) (LP)
(Produced by Emmit Brooks & David Ruthstrom)
More folkie than the stuff I'm into, but still worth mentioning here... Although he traveled to the Emmit Brooks studio in Las Cruces to record this album, songwriter David Ruthstrom hailed from west Texas -- when he performed at the 1975 Kerrville Folk Festival, he was listed as a Lubbock lad. He seems to have been a protege of Lone Star folk guru Allan Wayne Dameron, who he thanks in the liner notes... The set list includes a couple of Ruthstrom's originals, "In My Lady's Eyes" and "Moonshine Dreamer," though he also covers Bob McDill, Michael Martin Murphy and John Stewart, as well as a version of John Phillips' "Me And My Uncle," which is probably best known to many as a staple of the Grateful Dead's 'Seventies shows. Although this seems to have been Ruthstrom's only solo album, be later formed a musical partnership with Jeannie Robertson.


<! - #LP-181 - NOTES, tracks, links >

Bob Ruzicka "What The World's All About" (Signpost Records, 1972) (LP)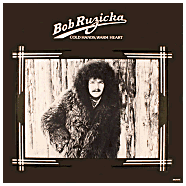 Bob Ruzicka "Cold Hands, Warm Heart" (MCA Records, 1973) (LP)
(Produced by David Briggs)
Canadian singer-songwriter Bob Ruzicka was the host of some 1970's folk-scene music shows up North, and he put out several albums, at the same time penning hits recorded by Valdy and other Canadian country and pop artists. This album is a mix of AOR pop and ponderous, message-heavy folk. He sounds sort of like Gordon Lightfoot, but with a heavier touch -- too self-serious and searching for profundity. A little bit of twang, notably on one song where he gets into sort of a Mickey Gilley mode, but mostly this isn't my cup of tea. Nice album title, though.




Bob Ruzicka "Soft Rocker" (RCA, 1973) (LP)





Bob Ruzicka "Dude" (RCA, 1975) (LP)





Bob Ruzicka "Landfall" (Mustard Records, 1973) (LP)





Bob Ruzicka "Loose Talk" (Mustard Records, 1973) (LP)



<! Bob Ruzicka "What The World's All About" (Signpost, 1972) (LP) B000VTF9W4 Bob Ruzicka "Cold Hands, Warm Heart" (MCA, 1973) (LP) B004GSV53S Bob Ruzicka "Soft Rocker" (RCA, 1973) (LP) B00413292E Bob Ruzicka "Dude" (RCA, 1975) (LP) B003UIUMGQ Bob Ruzicka "Landfall" (Mustard, 1973) (LP) B004O74Z5G Bob Ruzicka "Loose Talk" (Mustard, 1973) (LP) B003UITJ2Y Bob Ruzicka "Fresh Tracks" (RCA) (LP) B005LTKLSQ >
RW & Donna "Country" (Rite Records, 197--?) (LP)
(Produced by Dan Burton & Lan Ackley)
A secular set by "RW & Donna," aka the Nashville-based duo of Donna Blackwood and her husband, Ron Blackwood, who was best known as the youngest member of the fabled Blackwood Brothers southern gospel group. Although their careers were mostly devoted to religious material, here RW & Donna work their way through an all-covers set of early 'Seventies country hits, singalong favorites such as "Let Me Be There," "Please Mister Please," "The Top Of The World" and "Somebody Done Somebody Wrong Song." Over the years R.W. moved between various incarnations of the Blackwood Brothers and his own Blackwood Singers band, eventually moving from Tennessee to the warm embrace of the Branson, Missouri/Ozark oldies opry scene. I'm not sure when this album came out, but I'd guess sometime around the mid-'Seventies.


<! - # - 1970's-? - NOTES (TN) >

Herb Ryals "Country Lovin' Album" (Rymon Records, 1973) (LP)
(Produced by Mike Shockley)
A self-released set from Albany, Georgia, with all of the songs composed by Mr. Ryals... Best known as a soul music songwriter, Ryals also had success as a white soul/pop vocals artist, with a number of moderately successful singles in the 1960s and was, methinks, mostly dabbling in country for this album. Ronnie Light plays guitar, with Willie Rainsfield on piano and Larry Sasser on pedal steel, and a trio of gal backup singers that included Ginger Holladay. The songs are all Ryals' originals, including "How Should I Spend My Time," "Mind, Make Some Sense" and "You're Not Getting Older."


<! CoCo Ryan "Bad News On The Radio" (Crazy Cajun, 19--?) >

Jamey Ryan "Jamey Ryan" (Woodstone Records, 197--?) (LP)
(Produced by Johnny Virgin)
Perhaps best remembered as the gal who married Patsy Cline's widower, Charlie Dick, Texas-born Jamey Nell Ryan signed to Columbia Records in the late 'Sixties, and recorded a few singles for them and later for the Showbiz label. Nothing quite clicked, though, perhaps because so much of her career was spent living in Patsy's shadow -- singing Cline's material with masterful vocal likeness that both showcased and obscured Ryan's own powerful voice. Jamey Ryan landed a gig as the "girl singer" on Country Carnival, a syndicated variety show hosted by Del Reeves. She divorced Charlie Dick in 1972 and kept at her music career for a while, signing to Atlantic Records, though again, she couldn't quite hit the bigtime. She eventually retired from show business, although she did some voice work, including dubbing a version of "Blue Christmas" for the 1984 Patsy Cline biopic, Sweet Dreams. Although she was from Texas, Ryan had apparently moved to Saint Louis sometime in the mid-1970s: this album sports a mailing address in the Cross Keys Shopping Center in suburban Florissant, Missouri. Along with covers of Donna Fargo's "You Can't Be A Beacon" and several Tanya Tucker songs, the album includes two of Ryan's old songs, "21 Inches Of Heaven" and "The Worst Of The Hurt Is Over," although I think these are re-recordings rather than the Columbia originals. Seems like a reissue retrospective is long overdue!


<! - #WSLP-115 - no ASIN 07/24/19 - no date, though this looks late '70s - label address is for the Cross Keys Shopping Center in the Saint Louis suburb of Florissant, Missouri - NOTES in Missouri - also a BUNCH of singles >

The Betty Rydell Trio "Setting The Pace At Paul's Place" (Universal Audio Recording, 19--?) (LP)
A folkie trio from Minneapolis, doing showtunes, novelty numbers and a wee bit of country in there as well. Singer and multi-instrumentalist Betty Rydell was a farm kid from rural Minnesota whose first paid gig was playing country sets at a local truck stop, where she also worked as the cook. While still a teen, she gravitated towards bigger towns and even bigger cities, ultimately moving to Minneapolis where she performed at the Flame Cafe, and also landed a spot on the Sunset Valley Barn Dance, sponsored by radio station KSTP. From there, Rydell hit the road, touring with several different regional bands and marrying musician Bob Friedl. They continued to tour nationally, baby in arms, until their son was old enough to go to school, then they settled down back in Minnesota, continuing to play gigs at county fairs, supper clubs and other local venues. This album was recorded at Paul's Place, with Rydell on vocals, mandolin (and several other instruments), husband Bob on guitar and Jake Braziel rounding out the trio, on Cordovox and bass. There's no date on this album, but the liner notes refer to Betty and Bob having been married for eleven years, so based on her bio, I'd guess this came out around 1969-70 (although it looks much earlier...) since they met in 1958. Anyway, the material includes "evergreens" like "The Impossible Dream," "Ob La Di" by the Beatles, movie themes from "Midnight Cowboy," "Zorba The Greek" and "Hair," and country stuff including "Folsom Prison Blues" and "He Taught Me How To Yodel."


<! - #UAS 548 49600 - "Folk Rock" - "husband and wife for 11 years" - look up Sunset Valley Barn Dance? >

Betty Rydell "Betty Rydell" (Encore Productions, 197--?) (LP)
Although she and Bob Friedl divorced in the early '70s, Betty Rydell kept up her career and has recorded and self-released numerous CDs, in addition to this old LP. She covers hits like "Me And Bobby McGee," John Sebastian's "Darling Companion," and "Till I Can Make It On My Own," which was a hit for Tammy Wynette in 1976. I'm not sure when this album was released, but it's at least a late-'70s offering. (Thanks to Ms. Rydell's website for filling in details of her biography!)


<! - Encore Productions (of Minneapolis, Minnesota) - #E-565 - late 1970s(?) post-1976 >

Jim Ryder "Cowboys Stay In The Saddle Just A Little Bit Longer" (Crow Records, 1976) (LP)
(Produced by Tim Flaherty)
This British bronco buster may have been the same "Big Jim" Ryder who played in a few English blues and rock bands in the early 'Sixties... At any rate, he was in a country mode here, singing some outlaw-ish material (David Allan Coe's "Divers Do It Deeper," "Lyin' Eyes," "Willie, Waylon And Me") along with a slew of more traditional, mainstream country ("Muleskinner Blues," "Wabash Cannonball," "American Trilogy"). Couldn't find much info about Mr. Ryder himself, although my eyes popped open when I saw that Peter Frampton was playing lead guitar on this album(!) Turns out it's a different guy -- Peter J. Frampton, not Peter K. Frampton -- but he and some of the other guys on here, notably bassist Alan Crookes, drummer Martin Duffy and producer Tim Flaherty worked together in a series of bands throughout the '80s, recording as The Cliffsons and as Poacher, a group best known for recording a hit version of Oscar Stuart Blandemer's "Darlin'," one of the all-time great English country tunes. This disc seems to have a curious backstory as some sort of business promotion, with a note on the back cover proclaiming it "sponsored by Marcol Incentives and Industrial Gifts." (Your guess is as good as mine.) At any rate, this seems to have been a dry run for the Poacher band, but if anyone out there has more info on this country collective, I'm all ears.


<! - #PPC-012 Peter Frampton (lead guitar, mandolin), Alan Crookes (bass), Martin Duffy (drums), Dermot Gethings (steel guitar) similar lineup as: The Cliffsons "Country Feelings" (Crow Records, 1984) (LP) B00IORWLSU Poacher "Poacher" (RK Records, 1978) (LP) https://www.discogs.com/Poacher-Poacher/release/7721985 Poacher "Poacher" (World Wide Records, 1982) (LP) >

Curt Ryle/Various Artists "Longhorn 25th Anniversary Album" (Longhorn Ballroom, 1983) (LP)
(Produced by Dewey Groom & Keith Rust)
Oklahoma-born multi-instrumentalist Curt Ryle anchored the band for this set recorded in honor of the Longhorn Ballroom's twenty-fifth anniversary. A gigantic music hall, the Longhorn was a fixture of the Dallas, Texas country scene, built in the late 1950s as a homebase for western swing legend Bob Wills. Music promote Dewey Groom managed the Longhorn for about a decade before becoming the full owner in 1967, and commissioned this anniversary album, which showcased Curt Ryle as a guitarist and songwriter. The backing musicians were presumably the early '80s house band, younger dudes who included Buddy Brady on fiddle, bassist Van Crane, Donnie LaValley on steel guitar, piano plunker Kenny Martin, Shane McCauley on drums and of course Curt Ryle. While Mr. Groom croons on some oldies ("Faded Love," et. al.) he mostly lets the spotlight fall on the young'uns, and this album is packed with original material -- six songs written or co-written by Curt Ryle, including two co-composed with Kenny Martin. Not long after this was recorded, Ryle headed for Nashville, where he found success as a sideman, songwriter and producer; some of his most successful tunes include "Storm In The Heartland," a mid-1990s single by Billy Ray Cyrus, and several songs recorded by Clinton Gregory. Although Ryle's "first" album wasn't released until 1999, I think we can plug him here as well.


<! >

Bob Ryman "Hot Licks Fiddlin', Foot Stompin' Music" (Chumley Records, 197-?) (LP)
(Produced by Russ Hicks)
Originally from Texas, fiddler Bob Ryman hoofed it over to Nashville to cut this album, joined by Russ Hicks on pedal steel, Wayne Moss on bass, pianist Ray Cobb, Buddie Blackmon on banjo and guitar, with a little bit of drum thumpin' by Sy Edwards. The repertoire is mostly what you'd expect -- showcase fiddle tunes like "Old Joe Clark," "Orange Blossom Special," and "Soldier's Joy," as well as originals by Ryman, including "Inflation Blues" and "A Little Bit Of Country." Ryman has recorded several albums since this one, branching out into various styles, including his own original compositions, though this early album is pretty firmly anchored in bluegrass and country roots traditions.


<! - no ASIN 06/22/17 >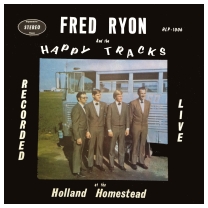 Fred Ryon & The Happy Tracks "Recorded Live At The Holland Homestead" (Happy Tracks) (LP)
Although poorly recorded, this live album is a swell snapshot of an earnest country quartet from Michigan who were devoted to an old-timey sound, even though they played a lot of contemporary (late 1960s, early '70s) country material. Along with a version of "Wreck Of The Old 97" they include covers of hits by artists such as Little Jimmie Dickens, Kenny Price, Charly Pride, Connie Smith, and oldies such as Johnny & Jack's "Girl Of My Dreams" and Hank Snow's toungetwisterdelic "I've Been Everywhere." The band included Bill Grandstaff, Fred Nelson, Fred Ryon and bandleader Roscoe Wray, and their rough-edged performances radiate vitality and good cheer, as well as a pleasant dose of amped-up amateurism. The brief liner notes are from Arvin and Doris Holland, local country and bluegrass show promoters who started their own tentpole venue, the Holland Homestead, out on their farm near Waldron, Michigan. They ran a musical revue on the farm called the Country Music Roundup from 1971-79, and hosted Ryon and his group sometime at the start of that run... There's no date on the album art, but I'd guess 1971-72, since they play Bill Anderson's "Where Have All The Heroes Gone," which was a hit in 1971. Nice stuff!


<! - no ASIN 11/21/15 - label from Sturgis, Michigan - no date - possibly 1971-72? >

---
---