<! MP3 00/00/00 > <! outside 00/00/00 > <! pix 00/00/00 > <! icons 04/25/11 > <! states 05/14/20 > <! UPDATES: 00/00/00: need Talley page, Taj Mahal, Tempchin reviews 09/01/13 - added James Talley page, Timber, Timberline, Timbercreek albums. Talley still needs bio 01/01/14 - major section expansion 12/15/14 - added all eB with full info, ASINs 02/21/15 - 03/22/15 - more eB adds 06/15/15 - alpha-ed the add list 03/12/17 - cleared the deck for letter T 03/28/18 - re-alpha-ed the adds; a couple dozen lined up 02/03/20 - DA, needs line edit, move to States 05/05/20 - big pix add starting in April 06/02/21 - adds to Gospel, still need Fillies > <! - Benny Tibbets also on Jerry Bradley album? Telegraph Pass (pix) bc nv - from San Diego(?) >
---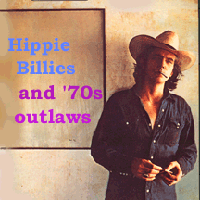 LOCALS ONLY: This is a guide to independent and off-the-radar country musicians from the 1960s, 1970s and early 'Eighties, including hometown performers working in regional oprys, jamborees, dude ranches, casinos, pizza parlors and lounges. They included longhaired country-rockers, red-dirt outlaws, Nashville hopefuls and earnest amateurs, as well as the more country-oriented artists in the bluegrass and southern gospel fields. Many of these musicians toured nationally or regionally while others were strictly hometown folks. These are the people who are often overlooked in the history books but who contributed their talents, hopes and dreams to the country music world, and the aim of this guide is to keep their memories and their work alive. Comments, corrections and suggestions are always welcome.
This page covers the letter "T."





---
HICKS, HIPPIEBILLIES & NO-HIT WONDERS:
A | B | C | D | E | F | G | H | I | J | K | L | M | N | O | P | Q | R | S | T | U | V | W | X, Y & Z | Compilations | State-By-State

---
About This Guide | Thanks | Other Hick Music Styles

---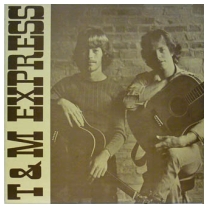 T & M Express "T & M Express" (Tunesmith Music Company, 1977) (LP)
(Produced by Tony Griffin)
Acousticky, mellow folk-rock from Columbus, Ohio... The songwriting duo of Tim York ("T") and Michael Hawthorne ("M") are joined by bassist Jeff D'Angelo and drummer Tony Martucci for a mostly-original set that also includes a medley of Guy Clark's "Desperados Waiting For A Train" and the Eagles hit, "Desperado." Also includes a bunch of gooey-sounding T&M tunes, such as "Early Morning Breeze," "Morning Light," "Riversong" and "Cherish Your Dreams." Groovy, man!


<! - #102561 - NOTES (OH) >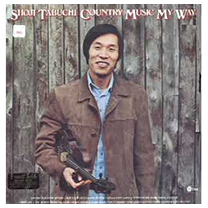 Shoji Tabuchi "Country Music My Way" (ABC-Dot Records, 1975) (LP)
(Produced by Grady Martin & Chip Young)
One of the best-known performers in Branson, Missouri, fiddler Shoji Tabuchi was born in Daishoji, Japan in 1944, and played in a nationally popular bluegrass band in the 1960s. He later emigrated to the United States to pursue his passion for American country music, finding success in the mainstream scene with help from showbiz elder Roy Acuff and others at the Grand Ole Opry. This album features backing from the cream of the crop of Nashville's studio session players, among them steel guitarists Lloyd Green and Weldon Myrick, bassist Henry Strzelecki, Bobby Thompson on banjo, drummer Kenny Malone, Jimmy Colvard playing guitar, and of course top fiddlers Johnny Gimble and Buddy Spicher playing in tandem with Tabuchi. It's a pretty impressive lineup, with a fairly muscular production style framing Tabuchi's fat-toned fiddling and admittedly iffy vocals. Interestingly enough, Tabuchi moved away from the Nashville scene, choosing instead the more independent country industry of the heartland.


<! - #DOSD-2022 - discuss repertoire? >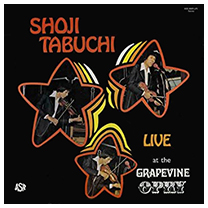 Shoji Tabuchi "Live At The Grapevine Opry" (Grapevine Opry Records, 1980) (LP)
(Produced by Phil York)
Before moving to Branson, Missouri, Tabuchi joined the cast of the Grapevine Opry, a country variety show located on the outskirts of Dallas, Texas. There he was guided by the show's co-owners, singer Johnny High and manager Chisai Childs; when the Grapevine partners split up the show, Tabuchi followed Childs up north to Missouri, and like Childs, helped transform the Ozarks country scene from a series of smaller mom'n'pop operations into something slicker, more modernized and upscale, like Vegas but with a lot less sleaze. They both opened their own venues, with Tabuchi hosting the Shoji Tabuchi Show in his own 2000-seat auditorium. This album is a souvenir of his previous tenure in Texas, though it was recorded and released during a transitional period when Tabuchi was already gravitating towards Branson. The backing musicians were members of the Grapevine cast, including folks like Bud Carter (steel guitar), Dan Morris (lead guitar) and Joy Newman on piano... Lots of fiddle tunes and oldies, including standard fare such as a Hank Williams medley and, of course, a lively version of "Orange Blossom Special."


<! - # >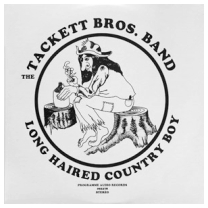 The Tackett Brothers Band "Long Haired Country Boy" (Programme Audio, 1979) (LP)
(Produced by Dave Scott & Tim Padrick)
This Midwestern progressive 'grass band did indeed include a slew of Tacketts -- brothers Danny Lee, David Lynn, Larry Randall and Timothy Scott Tackett, along with Justin Wallace on banjo and Rory Harper playing dobro. They play some bluegrass oldies and standards -- stuff by the Stanley Brothers, Larry Sparks and the like -- as well as a lot of non-canonical rock and country covers, tunes like Merle Haggard's "Mama Tried," Eric Clapton's "Lay Down Sally" and "4 + 20" by Crosby Stills & Nash... and, of course, Charlie Daniels' hippiebilly classic, "Long Haired Country Boy." The lads were from rural Ohio, and grew up or lived in a series of small towns just east of Akron.


<! - # - from Orrville, Wooster, Wadsworth Ohio - NOTES, band, obits >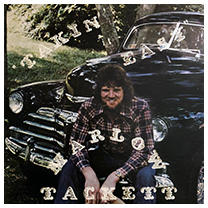 Marlow Tackett "Takin' It Easy" (Palace Records, 1978) (LP)
(Produced by Bill Holmes & Jake Hottell)
Originally from Pike County, Kentucky, singer Marlow Tackett (1944-2014) ran a mid-sized music hall in Piketown called Marlow's Country Palace, which he opened in 1975. The venue hosted local performers as well as national stars but became best known for a series of annual Christmas concerts Mr. Tackett hosted as fundraisers providing aid to needy children struggling against the poverty that was endemic to many Appalachian families. In the late 'Seventies Tackett was championed by deejay Ralph Emery, and landed a contract with RCA Victor, where he released a string of singles in the early '80s. He had a big, schmaltzy, almost operatic vocal style, with an obvious debt to Elvis Presley, who was Tackett's idol. This album, which predates his major label years, was recorded in Nashville, apparently with a mix of Tackett's own "Southern Comfort" band, and some Nashville hired guns. There are several covers songs -- stuff by Billy Edd Wheeler and Tony Joe White, Jame Taylor's "Bartender's Blues," Bob Seger's "Turn The Page" -- but also a slew of original tunes composed by several of the Nashville pickers. Producer/guitarist Bill Holmes contributes "True Love Is Hard To Find," while other songs are provided by rhythm guitarist Jimmy Payne, lead player Jud Phillips and Wayne Marshall, who plays harmonica. Among the other musicians are Jim Glaser and Doyle Grisham on pedal steel, as well as Walt Cunningham on piano.


<! - #PR-1003 - (KY) notes, other album(?) >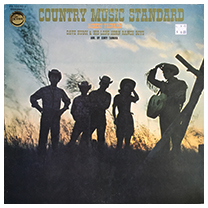 Robert Tainaka & Dave Kuboi "Country Music Standard" (Denon Records-Japan, 1970) (LP)
Guitar picker Robert Tainaka was a diehard enthusiast of American bluegrass music, dating back to the late 1950s and early '60s when he and his brother Jerry came to the United States as part of a cultural exchange tour, and made a point of seeing some of the great pickers of the time. He toured extensively and performed at American military bases and USO shows, and was instrumental in introducing Japanese audiences to bluegrass legends such as The Lilly Brothers and Del McCoury, organizing tours and producing albums of their music. On this album, Tainaka is backed by Dave Kuboi & His Long Horn Ranch Boys... Alas, while my copy includes English-language lyrics and song titles, the rest of the liner notes are all in Japanese, so no info about the musicians or the producers, other than a mention of Jerry Tainaka as the arranger. (There's a gal pictured in the band; unfortunately we don't see her holding an instrument, though I'd guess she plays fiddle. Although the Tainaka brothers were particularly into bluegrass, there are a lot of country songs on here, stuff like "Streets Of Laredo," "He'll Have To Go," and "High Noon," as well as classics from Hank Williams and Bob Wills.


<! - #PX-10032-J - backing band is Dave Kuboi & His Long Horn Ranch Boys - Kuboi mentioned by this Japanese country bar: http://www.littletexas.jp/nativetexan-e.html - big BB article about country music in Japan, circa 1978: https://worldradiohistory.com/hd2/IDX-Business/Music/Billboard-Index/IDX/1978/1978-10-21-Billboard-Page-0120.pdf >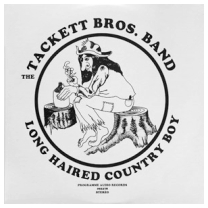 Robert Tainaka "Old Time Music" (Old Homestead Music, 1975) (LP)



<! - #OHS-90056 - two gals in the band - great liner notes by Everett Lilly, of the Lilly Brothers - with Kay Kawaguchi (guitar), Reiko Shirai (fiddle) and K. Kohrikawa (autoharp and banjo) > <! Taj Mahal - born in Harlem, New York > <! The Takers "The Takers" (xxxxxx, xxxxx) (LP) - #Tell LP 404 = bc nv - date, locale nv - no ASIN(?) 02/01/17 - the same group?: Tim Morss & The Takers (Golden Voice Records) (7") "I Know You Told Me" (c: Tim Morss) "Heartaches By The Number" (c: Harlan Howard) - #GV7-23 Morss, originally from Illinois, worked as a country DJ on WGIL, Galesburg and was a member of the Iowa-based Ozone Ramblers - lots of show notices of him working with the Takers, circa 1974 https://www.newspapers.com/newspage/94443630/ The Decatur Herald June 19, 1974 > <! Wayne Talbert "Houston Nickle Kicks" (Mercury Records, 1972) (LP) (Produced by Huey P. Meaux) - #SR-61259 - house rockin', funky piano plunker, very Dr. John-ish - former Doug Sahm sideman? - yes, plated on 1+1+1=4, composer credit on "Don't Bug Me" - played on about half the tracks: Wayne Talbert (tracks: 2, 3, 7, 8, 11) - includes a version of "Lonely Weekends" Wayne Talbert "Lord Have Mercy On My Funky Soul" (Pulsar Records, 1969) (LP) - all funk/blues Wayne Talbert "Lord Have Mercy On My Funky Soul" (Pulsar Records, 1969) (LP) (Produced by Mack Rebennack) - funk/blues https://www.discogs.com/Sir-Douglas-Quintet-2-Honkey-Blues/master/868524 YT: "...texan musician wayne talbert who after leaving prison in early '67 left for los angeles and a job with 'pulsar records' through his friend dr.john...he then made his was to san francisco and met local group 'the melting pot' who i know absolutely nothing! i cant find any info on them at all....they like many others in the bay area they got signed to 'mercury' records' but the trail runs out...they played all over the region including a date at the 'avalon ballroom' march 28th '68 with 'linn county/4th way'....like 'jade muse & petrus' the melting pot were supposed to have albums released but no one seems to have seen them! probably recorded but held back....if you have any info at all please let me know....the melting pot members also backed james cotton on his album 'cut loose' in '68...they thru mercury then went to los angeles to provide backing for wayne talbert as 'pulsar' was affiliated to mercury records....the album was produced by friend dr.john who also provided one song....the melting pot seemed to be more in the blues/rock vein but simply vanished!..if you have any info on them do get in contact.....talbert who made 3 solo albums would later join the sir.douglas quintet...just in!!!! they played 14/15th march '69 at the avalon ballroom then again on 26-30th march...later playing the straight theatre 30th june with mother earth/womb and more..." "...I love Wayne Talbert. The James Cotton album is essential, his work on Sir Doug's Honkey Blues and 1+1+1=4 is great, and his solo LPs are wonderful. Can't believe he doesn't get more love. I heard he died from drug abuse in the end. Very interesting to hear about possible recordings being held back. I have heard some early Mother Earth live recordings in which Wayne was playing and singing. He also co-wrote the song 'Crying Bag' with Powell St John, which Mother Earth continued to play after his departure. The Melting Pot's Martin Fierro, Eddie Adams and Jose Rodriguez all played together in the hippy-jazz band Shades of Joy. Not sure, but could be Millie Foster doing backing vocals on the Dues to Pay album, or maybe not. That's all I know so far" - was a founding member of Mother Earth in 1967 with Tracy Nelson: https://en.wikipedia.org/wiki/Mother_Earth_(American_band) - left the band by '68 https://www.austinchronicle.com/music/2006-12-22/431087/ >
The Talbot Brothers "The Talbot Brothers" (Warner Brothers, 1974) (LP)
(Produced by Bill Halverson)
Beautifully produced, classic-sounding '70s country-rock, with an explicit religious overtone. The Talbot Brothers -- John And Terry -- were the driving force behind the Chicago-area '60s country-rock band Mason Proffit, where they explored some spiritual themes, but later they more openly revealed themselves as what was once known as "Jesus freaks," which is to say, sex-and-drugs-friendly hippies of an evangelical bent. The siblings pioneered what became known as "Christian rock," but they also rocked, backed by an impressive lineup of top talent behind them: in addition to a bunch of rock-scene studio cats such as David Lindley, Leland Sklar and Russ Kunkel, twangsters like Josh Graves, Randy Scruggs and Sneaky Pete Kleinow add to the country vibe. Most of the songs are Talbot originals, although Little Feat's Lowell George contributes the album's opening track, "Easy To Slip," and outlaw country songwriter Lee Clayton contributes the slinky, swampy "Carnival Balloon." It's a very nice, very '70s record, one that fans of Brewer & Shipley would appreciate -- although you gotta be willing to hang with the Christian messaging, because it is inescapably present. One track, the gear-jamming "Moline Truckin'," has a raunchier, more secular feel -- a fun song that apparently got left off the later reissue LP, which was retitled Reborn. Go figure.


<! - # - originally from Oklahoma City, lived in Indianapolis, Chicago WP: "...Brothers Terry Talbot and John Michael Talbot played together in several local bands around Indianapolis, Indiana and later in Chicago. After their group Sounds Unlimited disbanded, in 1969 they formed Mason Proffit with a focus on the emerging blend of folk, country and rock that would come to be called country rock.[3] > <! Tall Corn "Tall Corn" (Pendulum Records, 1986) (LP) - #JFB-016 - from Minneapolis, includes Billy Alcorn, Dan Lund - more Americana? - bc nv Side 1 : All the way / Nadine / Easy chair / Honky tonk blues / Apache - Ghostriders Side 2 : Unwound / Fastest gun / Mournin' time / Beauty operator / Swingin' doors / Yankee lady >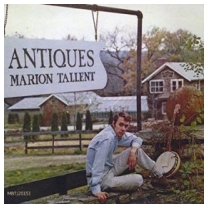 Marion Tallent "Antiques" (Police Records, 1970) (LP)
(Produced by Tony Andreason)
Don't worry... I will resist all temptation to pun about how "Tallent-ed" this guy was and limit myself to simply saying that this is an immensely charming, shoot-from-the-hip, off-the-cuff, faux-lounge rock record from a Minnesota local who definitely had a sense of humor and a nice, relaxed attitude. Yeah, there's some twang in the mix, mostly on a couple of Chet Atkins-y chicken-pickin' tunes, though mostly there's a groovy mix of bossa, pop and jugband music... Reminds me of that great old Banana & The Bunch album, which was made around the same time. I'm not sure what the connection was, but this album was produced by Tony Andreason, who was in the Trashmen. This has been reissued digitally, though the track listing is a little screwy, breaking medleys such as "You're Getting More Midwest Everyday" (love that title!) down into separate tracks. Whatevs. I'm not sure if the Pat Donohue listed as the bass player is the same Twin Cities superpicker who fronted the Prairie Home Companion band for a bazillion years, but it seems highly likely. I wouldn't totally call this a "country" record, but it's definitely worth checking out, regardless.


<! - # - MP3 = B015S5DDY6 >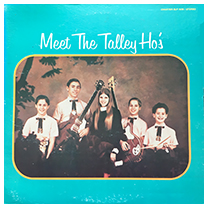 The Talley Hos "Meet The The Talley Hos!" (Charter Records, 197-?) (LP)
I'd be willing to bet there was a lot of good-natured ribbing at various Talley family events over the years regarding this album... "Hey, let's put on that record you guys made when you were twelve years old... again!!" Well, actually, there was a wider age range than that -- this group included four brothers, Bill Talley (age 16), Don (14), Frank (12) and Audie (11), along with gal singer Lori Norris, who sings lead on four tracks. They cut this album under the auspices of the folks at Ripcord Studios in Vancouver, Washington, which used its Charter imprint for custom-label recordings that were even more "private" than the ones that came out on Ripcord itself... It's possible that owner Gene Breeden or some of his studio players backed the kids on this album, though they may have played all the instruments themselves -- alas, the liner notes don't include musician credits. The Talley Hos were a family band that had previously released a single, "Down Fall Of Me"/"Country Sunshine," though sadly neither song was included on this covers-heavy set. And, if the truth be told, this isn't really a record you need to run out and find in a hurry -- the musicianship is fine, but the vocals are iffy: they really do just sound like a bunch of kids. Still, it's a nice snapshot of some regular folks, in this case teens and pre-teens, putting themselves out there and making a record filled with music they enjoyed. Just for fun. And, yes, the kitsch-loving irony patrollers among you may get a genuine kick out of hearing Norris crooning away on "Let Me Be There" and "Me And Bobby McGee," or Bill Talley tackling Johnny Paycheck's "Don't Take Her (She's All I Got)." Go on, enjoy yourselves -- I'm sure the Talley kids have been taking it on the chin for years!


<! - #SLP-1015 - producer not listed - liner notes by Johnny West, program director at KBAM radio - from Southwest Washington state >


James Talley - see artist discography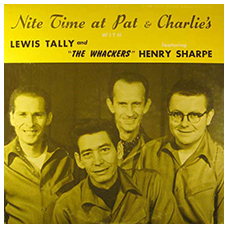 Lewis Tally & The Whackers "Nite Time At Pat & Charlie's" (Tally Records, 19--?) (LP)
(Produced by Charlie Brown, Merle Haggard, Fuzzy Owen & Lewis Tally)
This is sort of a split LP, featuring two lesser-known singers from the early Bakersfield scene... Lewis Tally was a longtime friend of Merle Haggard and a cast member of Herb Henson's Trading Post TV show, as well as the founder of the Tally Records label, a West Coast indie which Haggard took over in the early '70s. Side Two of the album features vocals by drummer Henry Sharpe, who was a member of Tally's band, along with lead guitar Jack Collier and steel guitarist Frankie Hardcastle, a Central Valley local from the tiny farm town of Hanford, California. The band had a regular gig at a place called Pat & Charlie's in nearby Ridgecrest, with the bar's owner Charlie Brown presumably putting up the dough to produce this LP. Their repertoire includes a bunch of songs by Merle Haggard and Willie Nelson, as well as a couple of obscure ones by Bakersfield stalwart Fuzzy Owen, "Jam It (Up Your Heart)" and "Ole What's Her Name," as well as an instrumental number from Frankie Hardcastle raunchily called "Tally Whacker," which closes the album. It don't get much more Bakersfield than this!


<! - #ST-1005 - no ASIN 09/28/16 - early '70s? maybe late '60s?? >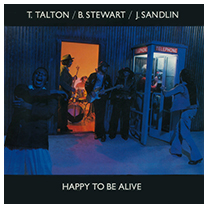 Tommy Talton, Bill Stewart, Johnny Sandlin "Happy To Be Alive" (Capricorn Records, 1976) (LP)
(Produced by Johnny Sandlin)
A footnote to the band Cowboy, this features frontman Tommy Talton and some of his buds, playing bluesy virtuoso rock, some of it with a twangy spin. Originally from Orlando, Florida, as a teen garage rocker, Talton played in the rock band We The People and formed Cowboy in the late 'Sixties, and also was in the orbit of the Allman Brothers Band. This album starts out with a mellow, country-ish vibe, but gets more electric and streetwise, ending up in a kind of Stones-y jam-session. Some songs, like "Baby Could We Be Alone?" and "Help Me Get It Out" have a raunchy tone that brings Todd Rundgren and Steely Dan to mind, maybe Tom Petty as well, though he was still a few years down the pike at this point. Kind of a stretch to call this a "hippiebilly" record, though.


<! - # >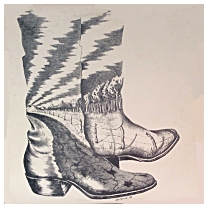 Talty Road "Talty Road" (Royal T Music, 1976) (LP)
(Produced by Bill Howard & Michael Echart)
A Dallas, Texas band who recorded in Nashville, ala the Flatlanders... The group included lead singer and guitarist Bill Howard, bassist Ron Bass, drummer Dave Bilderback and Al Sparkman on pedal steel, and some additional banjo picking by Archie Shearer. The album includes all-original material written by the various bandmembers, and was recorded in Nashville though released locally in Dallas. As far as I could determine the group's name refers to a small side road in suburban Terrell, Texas, on the east side of Dallas; there may have also been a nightclub nearby back when this was recorded.


<! - #BH-276 >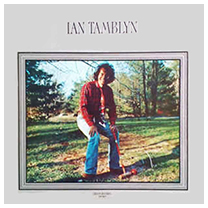 Ian Tamblyn "Ian Tamblyn" (Cream Records, 1978) (LP)
(Produced by Ted Gerrow & Harvey Glatt)
The debut album by Canadian folkie Ian Tamblyn, who has sort of a Bruce Cockburn-ish versatility and mildly cynical, or perhaps merely ironic demeanor... I finally picked this album up after years of seeing it in the country bins and always kinda thinking, "Hmmmmm... really?" but finally someone had it in a quarter bin, and it was the right price, so it was time to check it out. Turns out I was right: this is really at heart a mellow, even gooey folk-pop set, although brandishing a wide variety of styles, with the strongest material on Side Two of the original LP. There's a lot of spacey, tidily arranged chamber-folk romanticism, some funky-jazzy instrumental flights, a hint of the blues, a rambling, street-poet ruefulness and even a shot of passable whiteboy reggae. And yeah, there are a few country touches, with pedal steel player Dennis Delorme adding nice licks on a tune or two, and trad-country oddball Sneezy Waters pickin' acoustic guitar somewhere in the background... But Tamblyn mainly seems faced in the direction of rock music, nodding towards the stadiums with a glint in his eye that says he could do that macho stuff, if he wanted to... If you like eclectic 'Seventies soft-rock and space folk, you might wanna give this a shot... Of limited interest, perhaps, for the purely twang-at-heart.


<! - # - 1977-? dc copy says '78 - (CAN) >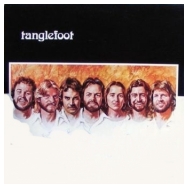 Tanglefoot "Tanglefoot" (Generic Records, 1978) (LP)
(Produced by Paul A. Rothschild & Roger Mayer)
Yikes. This Pennsylvania-based ensemble mixed folk, orchestral pop, gospel and a bit of country-rock twang, but lacked subtlety or finesse. Some of the more country-based tunes, such as "A New Banjo Song," are horribly strained, and it took me a while to realize that maybe this was a Christian folk-pop group, and not a twang band, but either way, there's a wealth of overwrought arrangements, big, blunt key changes and iffy vocals, along with a lot of original material that's of an equally un-subtle calibre. I gave 'em a fair shake, but just in fairness to you all out there in cyber-land, I can't honestly say that I can recommend this post-hippie pop-folk muddle. It just didn't work for me, and I can't imagine it would do much for you, either.


<! Jim Yoder - bass, mandolin, vocals > <! Yoder now in(??) Cashiers Music Company http://www.optinswnc.org/the-cashiers-music-company-unplugged-into-a-deep-tradition/ >
David Tanner "The David Tanner Album" (Royal T Music, 1976) (LP)
(Produced by Phil York & David Tanner)



<! - # - no ASIN 12/26/15 - with Marc Jaco, bass - Maurice Anderson, pedal steel, Buddy Brady on fiddle - recorded in Garland, Texas also:(?) David Tanner "Alive And Among Friends" (Tanden Audio Products, xxxxxxx) (LP) (Produced by Phil York) - Christian music, recorded live in October, 1972 - >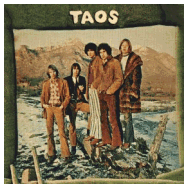 Taos "Taos" (Mercury Records, 1970) (LP)
(Produced by Barry Seidel & Warren Dewey)
Heavily influenced by Crosby Stills & Nash, The Byrds and various boogie-rockers and sunshine pop bands of the era, these guys from New Mexico were more of a rock-harmony band, though they experimented earnestly with twangy shadings in their music -- haphazard steel guitar, mandolin riffs and some out-of-tune guitar strumming (as a mistakenly "country" sound, as on "On The Way Down"). The group included Jeff Baker (rhythm guitar), Kit Bedford (bass), Albie Ciappa (drums), Burt Levine (banjo, lead guitar and steel), Steve Oppenheim (guitar and piano), with each of the guys chiming in on vocals. The bandmembers were from all over, East Coast and West Coast, but they were hanging in Taos when they cut this disc... as far as I know this was the group's only record, and I'm not sure if any of them worked on other projects later on. Anyway, maybe this isn't the bestest hippie rock album ever, but it is an authentic memento of its times, and folks who are into CS&N or Buffalo Springfield will probably get a kick out of this as well. Plus, it's another piece of the desert-twang jigsaw... they sure had a lot of hippiebilly bands out there in the Southwest, didn't they?


<! - # - >

Gordie Tapp "Both Sides: Live At The Grapevine Opry" (ASR/Aunt Susie Records, 1980) (LP)
(Produced by Phil York)
A country musician and comedian originally from Ontario, Gordie Tapp (1922-2016) started out on the CBC and in regional shows such as the Main Street Jamboree, before hitting the bigtime down south as "Cousin Clem," on the fabled Hee Haw TV show. Somewhere along the way he got involved with the Grapevine Opry, a mom'n'pop revue in Dallas, Texas led by performers Chisai Childs and Johnnie High, with backing from Aunt Susie Slaughter. I'm not sure if Tapp was a regular cast member or just a celebrity guest when this souvenir album was made; it features "two sides" of his persona: solid country oldies, augmented by cornball comedy bits such as "I Wouldn't Take Her To A Dog Fight" and that old Hee Haw favorite, "Pffft! You Was Gone." He's backed by members of the Grapevine Opry's house band, including Bud Carter on steel guitar, Pat Dacus (guitar), Jerry Hargrove (bass), Noel Riddle (keyboards), Perry Skidmore (drums), David Tanner (guitar and piano), and fiddler Bob Zelner.


<! - #ASR 8003 LPS >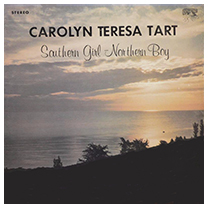 Carolyn Teresa Tart "Southern Girl - Northern Boy" (Country Road Records, 19--?) (LP)
(Produced by Manford Harper)
Indie twang from North Carolina... Ms. Tart's father, Steve Stephenson, once led a group called the Gold Star Band, which was later renamed the Stephenson Family Band, and included Carolyn on vocals. She also performed in a duo with her sister Brenda, and eventually recorded on her own as a solo artist. I couldn't quite decide if she was actually the same person as Francesca Contessa Carbone, who is credited as songwriter on some of her songs, though I think not, since one composition "Only A Song (Can Save Us Now)" was copyrighted as being written by both Francesca Carbone and Carolyn Tart. That song is not included on this album, though another that is, "We Must Say Good By," was credited to Carbone alone. The lineup on this album included Teresa Tart on lead and rhythm guitar, Bob Jenkins (lead guitar), Clyde Mattocks (steel guitar), Gary Moore (bass) and Lee Sandlin on drums.


<! - # - no ASIN 12/06/17 >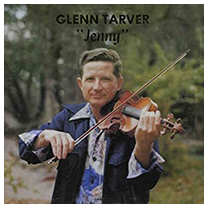 Glenn Tarver "Jenny" (Amber Records, 1976) (LP)
(Produced by Glenn Tarver, Dan Moore & Rosie Moore)
A Texas fiddler who moved to Sacramento in the late 1940s, Glenn Tarver (1930-2019) was a well-known western swing musician who played with stars such as Luke Wills, Truitt Cunningham and Tiny Moore. He is famous among his fellow pickers for commissioning an electric mandolin which was built by Paul Bigsby in 1953 and passed along to various musicians over the years. This album is a pretty stripped-down, simple affair with backing by Jim Baughman (lead guitar) and Vern Baughman (bass and rhythm guitar). The title track, "Jenny," was Tarver's signature tune, which he also recorded with a Sacramento-area family band led by George Costenko. Tarver also recorded an album called Swing Fiddle Favorites, which may have been a cassette-only release.


<! - #LPS-2238 - Roseville, CA label - (CA) w/ obit >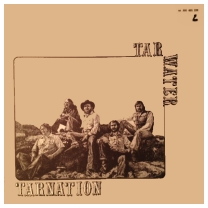 Tarwater "Tarnation" (American Heritage Music Corporation, 1975) (LP)
(Produced by Tarwater)
A longhaired twangband from Boise, Idaho... Haven't heard them yet, but the album sports liner notes by Pinto Bennett, so that may provide some indication of their rowdiness level...


<! - # - Pinto Bennett in this band? >


Barry Tashian - see artist discography


<! ALEX TAYLOR?? - on Capricorn, then Ichiban - blues? >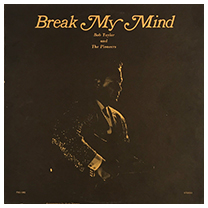 Bob Taylor & The Pioneers "Break My Mind" (Fathom Records, 197--?) (LP)
(Produced by Kearney Barton)
A country singer from Oak Harbor, Washington (just north of Seattle), Bob Taylor's band included local musicians such as Rey Brown (bass), Dave Darragh (piano), Andy Stevens (guitar) and Lanny West on drums. They stuck more or less to contemporary material, covering songs such as "Break My Mind," Joe South's "Games People Play," a couple of Waylon Jennings song, some Merle Haggard and the like. There are also a couple of original tunes penned by Taylor and Stevens, "I'd Take You Back Again" and "Losin' You's A Thing I Can't Forget," which were released together as a single. Apparently the Pioneers also released an earlier album on the Fathom label, By Request, though this was under the band name, without Taylor as the spotlight artist.


<! - #FRS-1002 - NOTES >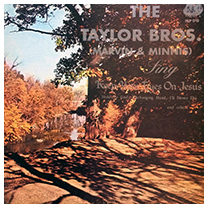 Taylor Brothers "Sing Keep Your Eyes On Jesus" (Pathway Records, 19--?) (LP)
(Produced by Red Ellis)
The Taylor Brothers -- Marvin and Minnis -- grew up in Greenville, Tennessee and were living in the Detroit suburb of Lincoln Park, Michigan when they cut this album. They were clearly unabashed fans of the Louvin Brothers, playing in the classic Louvin style, while covering several of their songs ("He Included Me," "I'll Never Die" and "Keep Your Eyes On Jesus") on this album. There are also a couple of originals by Marvin Taylor, "How Can You Stand" and "Build Your Life On That Stone," and a slew of traditional standards as well as gems by Flatt & Scruggs and Don McHan. Musically, this is a little uneven -- one gets the impression that the Taylors made due with the talent at hand, and while their harmonies are fine and the Atkins-esque/Travis-y guitar is pretty groovy, the mandolin player was a bit sluggish. The musicians include Brenda Farley (piano), Junior Porter (mandolin, a little clunky), Bill Loveday (bass), Jerry Hyatt (lead guitar) who were all, I believe, locals from around Detroit, or from Ypsilanti, home of the Pathway label. Sweet music, very heartfelt and compelling.


<! - #PLP-170 - label from Ypsilanti, MN >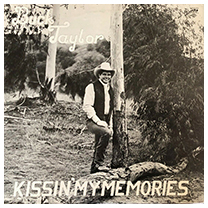 Buck Taylor "Kissing' My Memories" (Windi Records, 197--?) (LP)
(Produced by Gary Young & Rolf Erickson)
Walter Clarence Taylor was a Hollywood native who worked as a character actor in film and TV, most notably playing deputy Newly O'Brien on the show Gunsmoke, and in numerous westerns for years to come... He's backed here by a Southern California crew who are mostly unfamiliar to me, including Dan Robbins on lead guitar and Art Sanchez playing steel. It looks like this album was made while he was still on Gunsmoke: there are several cover songs of late '60s/early '70s hits -- Gordon Lightfoot's "Early Morning Rain," Merle Haggard's "Swinging Doors," Everybody's Talkin'," "Rose Garden," "Me And Bobby McGee" -- as well as a couple of songs credited to Roger Hill, one by producer Gary Young (the title track, "Kissing' My Memories") and one by Taylor himself ("Take Her By The Hand"). The liner notes say this was his first record; it's anybody's guess if he made any others. (Later in life, Taylor took up painting, and is known for his western-themed work.)


<! - #WLPS-1005 - no ASIN 09/30/16 - or produced by Jack Logan? - pic - label address in Manhattan Beach, California - band included Jack Armstrong (bass), Jim L---- (drum), Dan Robbins(last name?) (lead guitar), Art Sanchez (steel guitar), Joe Webber(?) (piano), and John Wilson (guitar) > <! Carmol Taylor "I Think They Call It Homesick" (Country Internationl Records, 1984) (LP) (Produced by Carmol Taylor & Al Pachuki) - #CI-735 -about half the songs are credited to Taylor; the others seem to be aspiring songwriters signed to his publishing companies >


Chip Taylor - see artist discography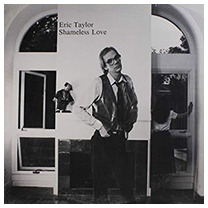 Eric Taylor "Shameless Love" (Featherbed Records, 1981) (LP)
(Produced by John Hill, Laurie Hill & Eric Taylor)
The first album by Texas folkie Eric Taylor (1949-2020) who won the Kerrville Folk Festival's "new folk" contest back in 1977. For several years, Taylor was married to Americana doyenne Nanci Griffith, who sings backup on about half this album; guitar pickin' polymath Gurf Morlix also plays on several tracks.


<! - #FB-901 >

Frank Taylor "F.T. Sings E.T." (Savannah Records, 1984) (LP)
An earnest tribute to Ernest Tubb, sung by a guy from Georgia who had previously recorded a string of singles on Chart Records (and a few other smaller labels) dating back to the early 1960s. Not a lot of info on this guy, though apparently this was his only full LP.


<! - #84-S-1001 - former rocker? - (GA) >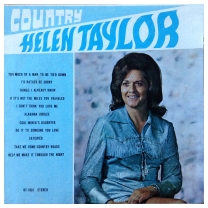 Helen Taylor & The Taylor Sisters "Country" (Helen Taylor Records, 19--?) (LP)
(Produced by Jack Logan)
A rock-solid honkytonk set from Ewing, Nebraska's Helen Taylor, an accomplished guitarist who recorded original music as well as covers, and led her own, all-female band which is pictured on the back cover. They were originally called the Country Misses, but legend has it that in the late '60s Johnny Cash suggested they change the name because at the time the word "country" was out of fashion in show business. Taylor may have recorded some singles as well, but I think this was her only album... According to the liner notes, it was recorded in Nashville, but they don't say what musicians are playing on the sessions, so I'm not sure if it was her own band backing her or not... Anyway, Taylor was a fine singer -- earthy, charismatic and direct, and very much in the Loretta Lynn style. She covers Loretta's "Coal Miner's Daughter," as well as a couple of Kris Kristofferson songs and a version of John Denver's "Take Me Home Country Roads," which probably places this (undated) album at around 1972, despite the impressive, '60s-style beehive hairdos on the band photo... The most enjoyable stuff on here, though, is the original material, with one song written by Taylor ("The Things I Already Know") and another credited to the same publishing company but written by Dave Hall and Louis Redding ("It's Not The Miles You Traveled") as well as novelty numbers like Hank Mills' "I Don't Think You Love Me (I Know You Do)." Old-school honkytonker Faron Young contributed liner notes and was one of many nationally-known stars who knew and performed with Ms. Taylor. She passed away in 1976 from pancreatic cancer, only a few years after this fine album had been recorded. During her career she toured nationally and in Europe, played Vegas, did USO shows in Vietnam and of course performed at countless county fairs and other local venues. It's a shame she didn't get the chance to record more, though, as this really is a fine album with a ton of authentic twang.


<! - #HT-1001 >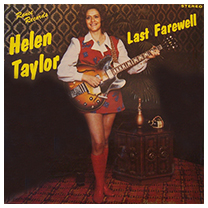 Helen Taylor "Last Farewell" (Renee Records, 1977-?) (LP)
(Produced by Bud Comte & Bob Palensky)
This late 'Seventies album shows Ms. Taylor plugging away, still rooted in real-deal hard country, playing Merle Haggard and whatnot. Looks like she also still had an all-gal band, though alas, none of the musicians are identified. Kansas City country singer Larry Good contributes laudatory liner notes; he seems to have had some connection with the Renee label, as he wrote liners for other releases as well.


<! - #R-1180 - says she was from Lincoln, Nebraska - (NE) >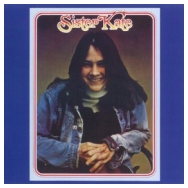 Kate Taylor "Sister Kate" (Atlantic-Cotillion, 1971)
(Produced by Peter Asher)
I'm adding this one mostly as a buyer-beware, cautionary listing. This album by singer Kate Taylor, sister of singer-songwriting superstar James Taylor, often makes its way into country and folk bins, but I think that's largely because she's wearing a big blue denim jacket that reads "rural," but is really just an early '70s fashion thing. Oh, sure, there are traces of twang: some LA country-rock heavyweights pitch in -- Bernie Leadon, Linda Ronstadt, J.D. Souther -- but they're mostly way in the background, although bluegrasser John Hartford does add more overt twang with a banjo riff on a version of Elton John's "Country Comfort." Also, she does a weirdly lethargic boogie-rock version of the old George Jones hit, "White Lightning." Mostly, though, this is just a big LA singer-songwriter popfest, with her singing stuff by Carole King, her brothers James and Livingston Taylor, and of course all these elite popstars pitch in on the recordings. Perhaps most surprisingly, a song by British folkie Beverly Martyn. Can't say as I'm a big fan of Taylor as a vocalist, nor of the music itself... It's inoffensive, but kind of subpar '70s pop, with a few riffs that will feel familiar, but little to excite most twangfans.


<! - # - (MA) (NC) - Taylor family moved to North Carolina in 1951 >
Mack Taylor "...Is Bad News" (Superior Sound Studios, 197-?) (LP)
(Produced by Ken Harding & Bud Billings)



<! - #S 1097 - no ASIN 07/22/17 " private outlaw country" - maybe late '70s or early '80s? - recorded in Hendersonville, Tennessee - musicians not listed - no artist address, no song credits - not to be confused with the 1930s old-timey artist A1 Patriotic Medley A2 My Way A3 Any Way You Want Me A4 City Of New Orleans B1 Hi Jolly B2 Old Dogs And Children And Watermelon Wine B3 Polk Salad Annie B4 Love Me And Save The World B5 To Get To You >


Mary Taylor - see artist discography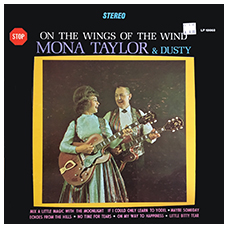 Mona Taylor & Dusty "On The Wings Of The Wind" (Stop Records, 1967-?) (LP)
A husband-wife duo from the northwestern plains, and beyond. Dusty Taylor was originally from Canada, though he grew up in Idaho, while Mona Taylor from South Dakota. This is one of several remarkably obscure LPs put out by the well-connected Stop label, in addition to the slew of singles by equally unknown artists.


<! # LP-10003 - date per dc - producer info? song credits? >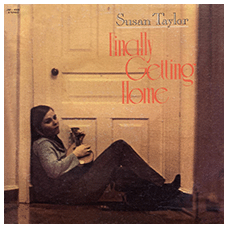 Susan Taylor "Finally Getting Home" (JMI Records, 1972) (LP)
(Produced by Allen Reynolds & Ronnie Dean)
Highly recommended. An outstanding, truly twangy solo set by multi-instrumentalist and vocalist Susan Taylor, who was a founding member of Don Williams's old band, the Pozo-Seco Singers. Although a couple of tracks drift into iffy territory, in general this is a really striking album, which in all honesty seems criminally neglected by country fans. Taylor indulges a deeply rural and completely convincing vocal style, with backing by a rock-solid, all-pro studio group, including primary songwriters Bob McDill and Allen Reynolds, as well as Charles Cochran (piano and organ), steel player Lloyd Green, Jimmy Isbell (drums), Ken Lauber (piano), Billy Sanford (guitar and dobro) and Henry Strzelecki playing bass and guitar. Despite all this firepower, the record is admirably laid-back and restrained, with a funky feel that conjures up the more eclectic side of the Muscle Shoals scene, combined with a country-based blues-mama style that anticipates the sound the Judds would pursue a decade later. Although she later became known as a successful Nashville songwriter, Taylor only wrote a couple of tracks on this album; most are McDill and Reynolds creations, though covers of the Delmore Brothers, Dolly Parton, Delbert McClinton show just how right-on and down-home this gal really was. [Note: Ms. Taylor later changed her professional name to Taylor Pie, and recorded and published prolifically under that name, including a reissue of this album with both names on the cover...]


<! - # - (TX) >
Thomas Taylor "Little Rockie's Lovin' " (Renee Records, 19--?) (LP)
(Produced by Bud Comte)



<! # 1213 - 02/20/15 - only ASIN is for cassette - 04/07/21 - LP listed - couldn't find any info online - very few references - also cut a single: A Girl Like You / In Our Old Way (Johnny Dollar Records, 19--?) (7") #JD-156 - both songs credited to Taylor, no date >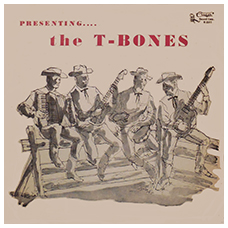 The T-Bones "Presenting... The T-Bones" (Cuca Records, 1964-?) (LP)
A western swing/polka dance band from Wisconsin, sometime in the 1960s, from the looks of it... Most of the material is polka and waltz-oriented, but there are some country songs in there as well, and several that spotlight the steel guitar. The group included lead guitarist Jerry Carlisle, rhythm guitarist Jimmie Hintz, accordion player Ed Borberich and drummer Kidd Carson. The band's name is a reference to their shared involvement in Wisconsin's ag industry -- two of them worked as livestock sellers at the Milwaukee Stockyards, while the other two sold farming equipment. In fact, the album was sponsored by the Milwaukee Stockyards itself, and the liner notes go into great detail about the organization, including a rundown of its annual sales for 1963. Round 'em up, boys!


<! - #K-2041 - 1960s? liner notes mention ag sales for 1963, so album probably '64 Includes: Wild Wood Flower, Big Bang Polka, Sunshine Waltz, Steel Guitar Rag, Guitar Polka, Vets Polka, Adobe Hacienda, Mary Ann Waltz, Someone I Love, Oh Susanna, City Hall Polka, Detour, Pecon's Polka, Blueskirt Waltz, T-Bone Polka >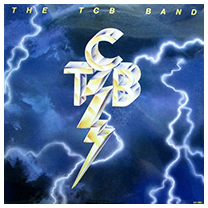 The TCB Band "The TCB Band" (Inergi Records, 1978) (LP)
(Produced by Vincent D. Kickerillo & Jerry Barnes)
A "solo" album by one of the most high-powered music crews in the 'Seventies landscape, the "Take Care Of Business" band, who had been Elvis Presley's backing group and later formed the core of Emmylou Harris' Hot Band. This iteration of The TCB Band featured hotshot guitarist James Burton, along with Emory Gordy on bass and guitar, Glen D. Hardin (piano), Jerry Scheff (bass) and Ronnie Tutt on drums. They had been hired to back Texas singer Mary K. Miller on her album, Handcuffed To A Heartache, which was one of several records that came out on her husband's Inergi Records label, a side project of Houston real estate developer and banker Vincent D. Kickerillo. Probably part of the deal was getting studio time to record and produce this album as well, though apparently the album got shelved and was never officially released, outside of a number of promo copies. The song list is basically an Elvis tribute set, covers of classics such as "Jailhouse Rock," "Suspicious Minds," "That's Alright Mama," etc.


<! - #ILP-1003 >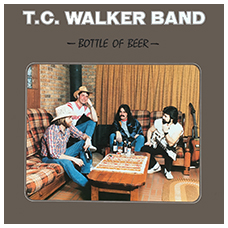 T. C. Walker Band "Bottle Of Beer" (Statesboro Records, 1983-?) (LP)
(Produced by Earl E. Owens & Tom Labus)
Groovy, raggedy twang from the greater Chicago area. Apparently, "TC Walker" was not an actual person, as the band was a four-ish member group anchored by singer-guitarist John Maniatis, who owned a music store in Oak Lawn, Illinois, along with drummer Al Blakesley (previously in a group called Near Beer) and Bob Jares (guitar, vocals) and Larry Spalla (bass, vocals) who both were from a popular early '70s rock band called LaGrange. It took me a little while to warm to this record, but not too long... The singers had an unconventional, slightly geeky sound, though not that far off the beaten track if you like, oh, I dunno, Kris Kristofferson or maybe the guy from Commander Cody, or for a more modern reference, alt-twangster Wayne Hancock... At any rate, if you give 'em a chance, TC Walker will win you over. Good, high-energy bar-band twang, with plenty of fiddle and pedal steel, a slew of original material, and real commitment to the music. Definitely worth a spin! The group also released a string of singles, dating back to 1981, with mostly the same songs as on this LP, though they may be earlier versions, as the producers were different. It's possible those singles may have also featured singer John Curulewski, a founding member of Styx, and was in an early incarnation of the TC Walker Band (though not on this album).


<! - #BJ-2001 - NOTES - other releases on this label are singles by Walker, mostly including songs on this album >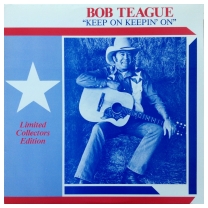 Bob Teague "Keep On Keepin' On" (We're Country Records, 1984) (LP)
(Produced by Frank Teague)
West Coast honky-tonk from a guy who was pals with Merle Haggard back when Hag was just a punk kid getting busted for taking cars on joyrides, and his career in country music was just a distant dream. Obviously, Teague never made it big like his buddy Merle, but the connection is still there, in their lives and in their music, including the autobiographical "Hag And I," which closes out this set of almost-all original material. By the time he cut this album, Teague had moved from Bakersfield to not-too-distant Selma, California, an agricultural outpost near Fresno. The band seems to be made up of locals -- I don't recognize any of their names, which in my book can be a kind of cool sign. Great twangy stuff... It being the '80s, Teague even made a video of the lead song, "A Million Tears Ago."


<! - from Selma, California >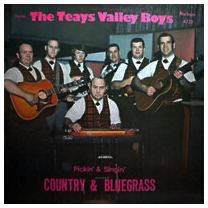 Teays Valley Boys "Pickin' And Singin' Bluegrass And Country" (Marbone Records, 197--?) (LP)
This band from West Virginia started in 1965 and though they were mainly a bluegrass group, they dipped into straight country material as well, and included some steel guitar in the mix. The group included Clarence Lewis (guitar, vocals), Jim Crace (mandolin), Bill Davis (bass), Kevin Coll (banjo), Tommy Davis (guitar), Ballard "Pop" Davis on steel guitar and Don Rowsey (fiddle) with about half the music written by various bandmembers, including "Murder Of Love" and "Now You are Gone" by Clarence Lewis, and a song called "Roll Truck Roll" credited to Jim Crace (although I woulda thunk it's the Red Simpson hit, from out Bakersfield way...) The covers include country oldies such as the Bob Wills standard, "Faded Love," and "When I Stop Dreaming" by the Louvin Brothers, as well as the ebullient bluegrass classic, "Are You Missing Me" from Jim & Jesse.


<! - #4724 (1974?) - bc nv, - (WV) - other albums >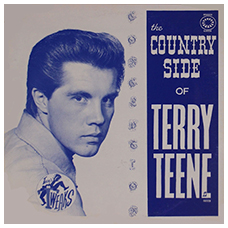 Terry Teene "The Country Side Of Terry Teene" (Cartwheel Records, 1966) (LP)
(Produced by Terry Teene, Tim Dinkins & Jimmy Wilson)
Midwestern singer-songwriter Terence Blaine Knudson (aka "Terry Teene," 1942-2012) was a kid from Eagle Grove, Iowa who cut some rockabilly and teenpop tunes in the early 1960s. He tried to make it as a pop singer, turning to twang for this LP, which also features several gospel songs. He's best known for the novelty number "Curse Of The Hearse," which he recorded at Norman Petty's studio in Clovis, New Mexico, as well as for his work as a professional clown, which apparently included helping develop the character of fast food mascot Ronald McDonald. Although he worked in Southern California and eventually moved to Texas, Teene seems to have still been using Eagle Grove as his home base when he recorded this album. Although the main musicians listed in the band are pretty unfamiliar (Jimmy Collins and Carl Walden on steel guitar, Hank Eschenman on piano, Teene playing guitar) there's also a "thank you" shout-out to Lynn Harper and Jerry Inman, who were both part of the hippie-era on Sunset Strip in Hollywood... Teene was also doing some TV and film work, and had written a book called "Super Sissy" (which I don't recommend you Google... trust me, you won't find the right reference...) Almost all the songs on here are Terry Teene originals, including "We're Gona Put Iowa On The Map," "We're Gona Make Love" and "Eagle Grove, Iowa," which I guess shows his local roots still holding strong... There's also one song written by his producer Tim Dinkins ("Fighting Machine") and another ("Do My Heart A Favor") co-written by west coasters Vern Stovall and Bobby George.


<! - #LP-CW-110 - also Sue Fago and Cheryl Parker - "Gona" (sic) - (IA) >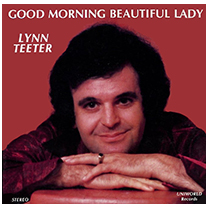 Lynn Teeter "Good Morning Beautiful Lady" (Uniworld Records, 1976-?) (LP)
(Produced by Harold Bradley & Bill Vandevort)
A bit of a mystery disc here... Mr. Teeter seems to have been from Texas, or at least living there when he cut this album. Mostly it was recorded in Nashville, though some of it was made in Don Caldwell's studio in Lubbock, Texas, home of the Maines Brothers band. There are no musician credits on this album, though there are a few clues in the songwriting credits -- the title track as written by Fancy Woodring (aka Fancy Gibson) who also wrote a song later recorded by bluegrass patriarch Jimmy Martin. The album features four songs penned by Austin native David Prather, a local bluegrasser who also played in a number of country and roots bands; it seems likely Prather played on this album, but I haven't pinned that down yet.


<! - # - NOTES, tracks, some links - (TX) - CURRENT contact info for David Prather (11/22/19) >

Telegraph Pass "Say Goodbye" (Telepass Records, 1983) (LP)
(Produced by Norman W. Fisk & Steve Wetherbee)
A bluegrassy twangband from La Mesa, California, led by songwriter Norman Fisk, who wrote or co-wrote all but one of these songs. The musicians are all SoCal locals, though there are a couple of interesting names among their guest artists, notably Wayne Rice (from the Rice Family bluegrass band) who was an influential early member of the Southern California bluegrass scene.


<! - #T-83001 - bluegrassy? despite the Stetsons? - recorded at Golden Track Studios, in Spring Valley, CA - Sue Berman - also early CA bluegrasser? >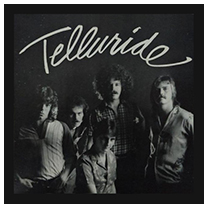 Telluride "Telluride" (Lizardhead Records, 1981) (10" LP)
(Produced by Johnny Sandlin)
Not a ton of information about these guys, though I guess they were more of a rock band, and less about the twang. Despite the name, they were not from Colorado, but rather from Mount Brook, Alabama, near Birmingham, and they had kind of a southern-rock flair. The group included Rick Carter on guitar and vocals, Robert Churchill (drums), Kevin Derryberry (piano), Moore Harrell (electric guitar), and Scott Walker on bass. Apparently these guys partied hearty, back in the day. They included a song called "Sensimilla" on this album and pianist Kevin Derryberry became a born-again minister after struggling for years with alcoholism and drug abuse; part of his personal testimonial includes his description of his wake-and-bake rock'n'roll lifestyle, back when he was young. As far as I know this was the group's only record.


<! - #TEL-001 - https://www.kevinderryberry.com/ministry-page-1 "...After high school I went through several jobs and rock bands and eventually ended up in Birmingham, Alabama. There I started playing and singing for the rock band I would remain with for a long time, all the while partying and having what was then considered fun and the time of my life. Drugs and alcohol were very dominant in my daily activities...." >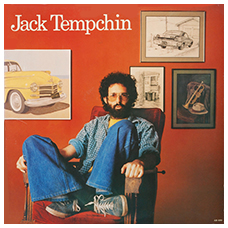 Jack Tempchin "Jack Tempchin" (Arista Records, 1978) (LP)
(Produced by Pete Carr)
California-based songwriter Jack Tempchin was one of many mellow rockers in the Eagles orbit, perhaps most famous for co-writing several songs with Glenn Frey, including "Already Gone," and for penning one of their earliest hits, "Peaceful Easy Feeling" as well as "Slow Dancin' (Swayin' To The Music)," which was a late-'70s crossover hit recorded by both pop and country artists. This album, recorded after the breakup of his band The Funky Kings, includes Tempchin's version of "Peaceful Easy Feeling" and the epic car-repair novelty song, "Fifteen Days Under The Hood." Those two songs are about it for me on this album, although I admit it's been a long time since I listened to the whole thing; maybe some of the other tracks would have more appeal now. Of note among the musicians on here are producer-guitarist Pete Carr adding some sweet licks, as well as country-rock cohorts Jackson Browne and Glenn Frey strumming or harmonizing on a tune or two.


<! - # - NOTES: a bunch of other albums: >
Glen Temple & The GT Band "Greatest Hits, Volume One" (Citrus Records, 1985) (LP)
(Produced by Thomas C. McElroy & Irvin Kramer)
This album features all songs originals, co-written by Glen H. Temple and drummer Thomas McElroy... Temple used to work in the Ozark Jubilee country circuit until he "moved west" and joined the GT Band (Lord only knows what they were called before he joined...) The liner notes don't say *where* the band was located -- California, maybe??


<! - # - no ASIN 12/25/15 - no pix 05/02/20 >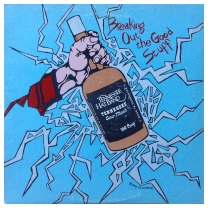 The Tennessee Hat Band "Breaking Out The Good Stuff" (Melon Patch Records, 1982) (LP)
(Produced by John Carey & Tennessee Hat Band)
A "solo" set by David Allan Coe's early '80s backing band, packed with all-original material by bandmembers Fred Spears, Jim Richmond and Bill Clark, with Spears penning almost all the songs, including "Under Rachael's Wings," which was co-written (or should I say, Coe-written?) with their boss. Although they had a mainstream pedigree, this is a surprisingly indie-sounding, hippiebilly-ish album, mixing outlaw/barband twang with smoother, sleek Eagles-y country-rock harmonies. The lyrics are generally speaking a little too wordy and rambling for my tastes, but the music is really nice. Definitely worth a spin if you're into the classic 'Seventies indie-twang sound!


<! - # >
The Tennessee Hilltop Gang "The Tennessee Hilltop Gang" (Christy Records, 19--?) (LP)
(Produced by Jimmy Capps & Kevin McManus)
A bunch of high-powered Nashville superpickers just hangin' out and jamming together... Jimmy Capps helmed these sessions, with Steve Chapman, Buddy Harmon, Billy Linneman, Weldon Myrick, Leon Rhodes, Jerry Whitehurst and Tommy Williams all on board. If nothing else, the photos on the back cover will help demystify what these legendary session players were like. Plus, some fine music! Not sure when exactly this came out, though the group also released at least one single off this album, Dan Fogelberg's "Longer," backed by "My Heroes Have Always Been Cowboys."


<! - #CR-54669 - single cat#: CR-22777 - 1977? (looks '80s...) >

The Tennessee Three "The Sound Behind Johnny Cash" (Columbia Records, 1970) (LP)
(Produced by Neil Wilburn)
A "solo" set by some guys who backed Johnny Cash at various points over the years. The original Tennessee Two was made up of bass player Marshall Grant (1928-2011), drummer W. S. Holland (1935-2020) and legendary lead guitarist Luther Perkins, whose loping, stripped-down pickin' style defined Cash's early work. Perkins died in 1968 and is replaced here by picker Bob Wootton, who stayed with Johnny Cash for almost thirty years. Although billed as a "Tennessee" band, these guys actually grew up in several different states, with Mr. Holland the only native-born Tennessean in the group.


<! -# - (TN) (sort of) >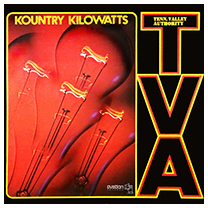 The Tennessee Valley Authority "Kountry Kilowatts" (Ovation Records, 1978) (LP)
(Produced by Brien Fisher, Steve Messer & Alan McGuire)
A bunch of a-list Nashville studio pros -- Jimmy Capps, Sonny Garrish, Johnny Gimble, Buddy Harman, Dave Kirby, Fred Newell, Ron Oates and others -- gettin' together for a more-funky-than-usual instrumental jam session, playing everything from old-time tunes like "Bill Bailey" and "I'll Fly Away" to more modern stuff, such as "Boogie Your Butt Off" and "Down Home Disco."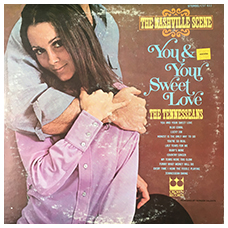 The Tennesseans "You And Your Sweet Love" (Crown Records, 1969-?) (LP)
(Produced by Brien Fisher, Steve Messer & Alan McGuire)
Although billed as The Tennesseans, this crew seems to have been from Southern California, drawn from the local club scene, as were many of the anonymous "bands" in the Crown Records orbit. What sets this disc apart is that this is one of the few Crown albums that actually includes songwriter credits, with nearly a dozen originals (all published by Gordon Calcote's company) written by Jimmy Bivens, Cliff Crofford, D. Ford, May Ford, B. Myers and Skeeter Stultz. This leads us to the trails of Clifton Crofford (1929-2009) a Texas lad who first made his way out to California as a kid in 1942, when his dad got a job working at a defense plant. After the war Crofford was passing through Bakersfield and met scene-maker Bill Woods, who convinced him to join his band, the Orange Blossom Playboys, making him an early and enduring member of the nascent Bakersfield Sound. Throughout the 1950s and early '60s, Crofford performed on several influential radio and TV programs, including Town Hall Party, Herb Henson's Trading Post, and car salesman Cal Worthington's Country Music Time. He knew everybody -- Merle Haggard, etc. -- but was particularly tight with Billy Mize, who he worked with for years, touring with him and playing in the house bands of various SoCal watering holes. Likewise, Marion "Skeeter" Stultz was a SoCal stalwart, starting his career back in Zanesville, Ohio in the mid-1950s, before heading west, where all the action was. Stultz and Bivens seems to have had some sort of partnership and recorded enough material together that an MP3 "album" came out credited to them as a duo, including some of the tracks on this LP. I don't know if all these guys are playing together on all these tracks -- chances are it's a mish-mosh of old singles released in the early 'Sixties, or whenever. But it's definitely West Coast country, cut by some real-deal Bakersfield pickers. Let's hear it for publishing credits!


<! - #CST 611 - title track a cover of Bill Anderson's "You And Your Sweet Love," which was a Connie Smith hit - J. Bivens connected to Ernie Bivens? - not related to(?): Willie Wynn & The Tennesseans "I Am A Seeker" (Heart Warming Records, 19--?) (LP) - massive (CA) >

Bernie Terrell "Bernie Terrell" (World International Records, 1976) (LP)
(Produced by Billy Roines)
Singer Bernie Terrell toured in a late-1970s road show headlined by the old-school comedy duo of Lonzo & Oscar, as well as gal singer Frankie Wray, who he also cut some duets with... This album was produced in Nashville and looks like a songwriter's demo, with several songs written by producer Billy Roiles, along with others on the same publishing company (Scorpil Publishing). Composers include Bob Rash and 'Sixties second-stringer Lorene Mann whose work was copyrighted on Bullo Music. The studio musicians included pros like Sonny Garrish, Jerry Shook and Buddy Spicher... Terrell later recorded a couple of compilation albums with Lonzo & Oscar, and a handful of single on various labels.


<! - #WI-1000-A/B - no pix 05/15/20 - Terrell also featured on a comedy(?) comp with Lonzo & Oscar and gal singer Frankie Wray (in comps) >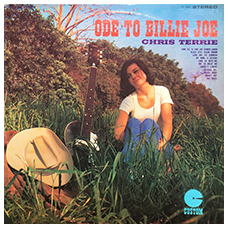 Chris Terrie "Ode To Billie Joe" (Custom Records, 1967-?)
(Producer unknown)
Alas, this is not quite as country as one might hope, based on the album title... Yes, Chris Terrie does cover Bobbie Gentry's big 1967 hit, but it's... well, it's a very weird cover, with a sparse, strange arrangement dominated by a wispy, meandering organ... The album quickly settles into a straight-up coffeehouse folk sound, with the winowy, mousy-voiced Ms. Terrie sporadically backed by sometimes-banjo, sometimes-guitar, with faint male voices chiming in off-mic to urge her on. You get the sense that some of the budget label's anonymous in-house musicians were involved; maybe someone got hired to cut a "folk scene" album and just let the tape roll one night when everyone was blitzed... At any rate, this is a remarkably informal set, even by the Crown/Custom label's standards, although also unlike other discs in their catalog, it is clearly the work of one singer, whoever "Chris Terrie" may have actually been. Any info or insights are welcome.


<! - CS-1085 - date per eb; check on bspubs >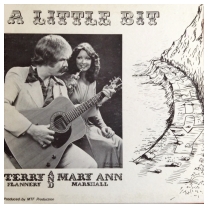 Terry & Mary Ann "Little Bit Country" (MTF Productions, 1982) (LP)
(Produced by Sargon N. Yonan)
The lounge duo of Terry Flannery & Mary Ann Marshall -- also known simply as "Terry & Mary Ann" -- recorded this album at the Sargon Recording Studios in Skokie, Illinois and they give a shout-out on the cover to the folks working at the O'Hare-Kennedy Holiday Inn, where I'd assume they had a regular gig. Terry Flannery did the arrangements and plays most of the instruments -- guitars, bass and keyboards -- along with Ms. Marshall on 12-string and 6-string acoustic guitars and drummer Ron Baron rounding out the sound. They cover stuff like "Me And Bobby McGee" and "The Gambler" as well as oldies like "Danny Boy" and "Ghost Riders In The Sky," and Flannery even gets all choppsy with a run-through of the Spanish guitar standard, "Malaguena." The Kenny Rogers cover places this one at least 1979, if not later. They were not great, but this is a very authentic album from a typical '70s lounge act.


<! - # - no ASIN 06/08/15 - LK purchased 06/08/15 - rcvd 06/15 - scratchy >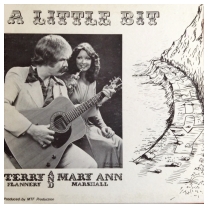 Terry & The Pirates "Live In: Too Close For Comfort" (Wild Bunch Records, 1979) (LP)
(Produced by John Cipollina, Terry Dolan, Greg Douglass & Dan Healy)
Consider this one more of a warning. Terry & The Pirates was a project of 'Seventies West Coast superhippies John Cipollina and Terry Dolan and the overall vibe here is one of dreadfully bad, treble-heavy blues-boogie rock. Yeah, sure, I guess you can plausibly place these guys in the country-rock spectrum -- they included some pedal steel and Hawaiian guitar, and Nicky Hopkins chimes in on piano, but again, that's more of a dino-rock thing. Anyway, not my cup of tea. They recorded about a half-dozen records 1979-90, but I don't feel impelled to track any of them down.


<! - # - >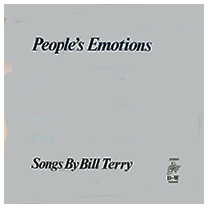 Bill Terry "People's Emotions: Songs By Bill Terry" (B-W Records, 1971-?) (LP)
(Produced by Jim Sutton)
An album of all-original material, with all songs written by Bill Terry. The album jacket doesn't have any info about where or when this was recorded, but he's backed by several guys who were in the orbit of the Wheeling Jamboree -- the West Virginia-based B-W label seems to have been connected to that revue somehow. Not sure if Bill Terry was connected to the show as well, or if B-W also did custom private pressings.


<! - # - same label as Kathy Dee - early '60s - her album (#xxx) was 1963 - the single off this album seems to be early '70s, maybe 1971-ish - "Big Jim pushed the buttons" - producer name through other B&W albums? Jim Sutton? he produced other albums on BW >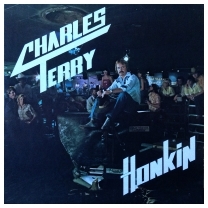 Charles Terry "Honkin' " (EKM, 1980)
(Produced by Lloyd Maines)
A tight set of hard-rockin' Texas bar-band country, a smoothly-produced but still gritty album with major assistance from the Maines Brothers band. Donnie, Kenny and Lloyd Maines are all over this album, adding plenty of thump and twang, particularly Lloyd's ever-stellar pedal steel, while the album art shows Mr. Terry riding the mechanical bull at Cold Water Country, a bar in Lubbock that the Maines Brothers Band called home base. It's sort of a Mickey Gilley-meets-Moe Bandy vibe, good stuff with a blusey backbeat. This is a very earthy album, with several carnally-themed hard-country songs such as "I Can't Keep My Hands Off You" and "Cravin' Your Body" that really don't mince words... I couldn't find any other info about Mr. Terry, but whoever he was, he sure had friends in the right places. He also had a set of songwriters providing him original material -- Garland Arnold, Jess Demaine, David House and Travis Williams -- although none of them seemed to be playing on this album.


<! - no ASIN 01/31/15 >

Gordon Terry & The Tennessee Guitars "Disco Country" (Plantation Records, 1977) (LP)
(Produced by Royce Clark)
Alabama fiddler Gordon Terry (1931-2006) cut his teeth playing in Bill Monroe's bluegrass bands of the 1950s, branching out into honky tonk and rockabilly recordings, and later became well-known for headlining some early 'Sixties major-label square dance records. From his early hillbilly roots he made it all the way into the disco era and cut this slick set, including "disco" versions of classics such as "Orange Blossom Special" and "Tennessee Waltz." Scary, sure, but you can still get into it.


<! - #PLP-514 - >

Gordon Terry & The Tennessee Guitars "Tennessee Hot Rock" (Plantation Records, 1979) (LP)



<! - PLP-539 >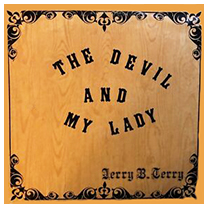 Jerry B. Terry "The Devil And My Lady" (Sounds, Inc., 1973-?)
(Produced by Gene A. Cash)
Originally from Ottawa, Illinois, singer Jerry Terry wound up doing country gigs in Vegas, and recorded this album in Nashville, probably around the end of the '70s. He covers Waylon's "Good Hearted Woman," but the rest of the record is all-original material, with Terry credited on four songs, and producer Gene Cash and Dale Cash (his brother?) penning the rest.


<! - #NR-11673 - 1973(??) - no ASIN 01/31/15 >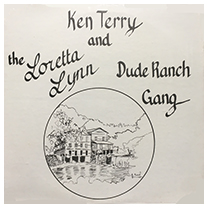 Ken Terry "...And The Loretta Lynn Dude Ranch Gang" (Campfire Records, 19--?) (LP)
(Produced by Jim Sanders & Larry Sanders)
Geez, I didn't even know that Loretta Lynn had a dude ranch... but she does! It's part of her estate at Hurricane Mills, Tennessee, a beautiful former plantation that she bought back in 1966, when she first hit the bigtime. Apparently it's Loretta herself who likes to call the place a "dude ranch," rather than a theme -- that's 'cause she's not all fancy even though the place itself looks pretty swank. Of course, any self-respecting dude ranch needs to have a house band, and for a while Ken Terry and his pals filled the bill. This is a kind of standard-issue souvenir album, packed with cover songs of oldies and a few more contemporary hits and even a few originals. The oldies include "Rocky Top," "Wild Side Of Life" and "I'm My Own Grandpa," while the newer tunes include "South Is Gonna Do It Again," "Texas Women" and "Women I Never Had," as well as a version of Willie Nelson's "On The Road Again," which helps place this undated album into at least the early '80s. Ken Terry contributes the kiddie-oriented novelty number," while the group's gal singer wrote a couple of tunes with an almost folk-freak feel, "You" and "You Made It All So Real." Some tracks are credited to a band called Sweetwater, and they also spotlight an eight-year old named Miss Courtney Stevens, who sings cutesy versions of "Frankie And Johnny" and "Never Ending Love." These folks had a nice county-fair musical quality, though weren't top talent, as heard on the grueling cover of Roy Orbison's "Crying," in which their plodding, out-of-tune bassist dominates. But if you enjoy the souvenir album sound, this is a fine example of the genre; there was also at least one other LP credited to The Dude Ranch Gang.


<! - #CR-305 - backing band also called Sweetwater >

Steve Terry "Wine Women And Sorrow" (Melwood Music, 1980)
(Produced by Steve Terry & Phil York)
An uber-indie DIY release from Rowlett, Texas... All but one of the songs are credited to Steve Terry.


<! - # - pic (R) - no ASIN 05/26/15 >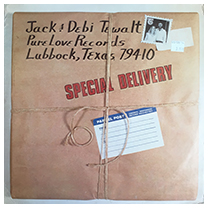 Jack & Debi Tewalt "Special Delivery" (Pure Love Records, 1978) (LP)
(Produced by Don Caldwell & Lloyd Maines)
Late '70s Christian country from Texas... Jack Tewalt (1948-2013) was a divinity student who graduated from a Baptist divinity school in Fort Worth and went on to become a music minister in Texas and Georgia (with a day job in real estate...) This album was produced by Lloyd Maines and features a hefty chunk of the Maines Brothers band, including some tasty guitar and pedal steel from Lloyd Maines.


<! - #PLRA-81278 - no ASIN 01/08/17 - NOTES, obit >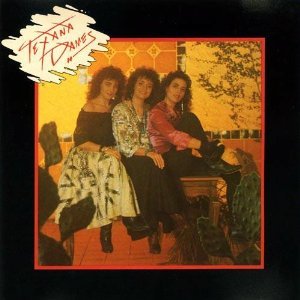 Texana Dames "Texana Dames" (Sonet Records, 1989)
(Produced by Lloyd Maines, Jim Yanaway & Texana Dames)
This all-female trio was a spinoff of the fabled West Texas group, the Supernatural Family Band, which included mother Charlene Hancock, and siblings Traci and Conni Hancock. The album had a big, muscular production sound and a resolutely uptempo feel... (Maybe with a bit of the Blasters brand of retro twang?) The vocals, though, might strike some folks as a bit iffy, a bit thick and rural and maybe not with the most supple phrasing... But in retrospect, their Texas-gal twang bears a striking similarity to Lucinda Williams' own rural intonations. Besides, anyone who covers "Why Baby Why" is okay by me. Plus, what a great cast of guest performers: Marcia Ball on piano, Doug Sahm and Ponty Bone, steel guitar from Jimmy Day and producer Lloyd Maines. Nice.


<! - # > <! Texas "Texas" (Bell Records, 1973) mostly a loud rock band, with bluesy bar-band roots - not very country at all. Southern-rocky, I guess. "Burger King Blues" is a little funny, but nothing on here that interests me. >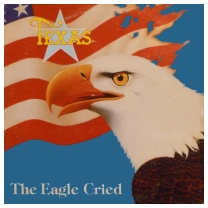 Texas "The Eagle Cried" (DNB Records, 1982) (LP)
(Produced by Gary Soprano)
Don't ask me. I do not know. But I really, really want it on a t-shirt. Well, okay, maybe I do know... a little bit. Apparently these guys were actually from... you'll never guess! Massachusetts! Franklin, Massachusetts, to be exact. Yup, these are big city folk, or at the very least, yankees. The band was led by frontman Dick Nephew, with Bruce Carr on bass, Fred Spencer (lead guitar and steel), Terry LaValle (drums), and a couple other guys who are credited on the back, but didn't make the group photo: pianist Randy Cormier and saxophonist Mike Crowley, who also plays the flute. Whether any of these guys originally came from Texas, I do not know, but they loved Texas -- they even wrote a song that says so. Nephew had a pretty wicked sense of humor, though, as heard on "Country Music From Boston," which tackles the whole New England-ain't-Nashville thing head on. A lotta original material, with all but one song penned by Dick Nephew, and Bruce Carr chipping in his own, "Country Club Blues."


<! - # - Cormier(?) - (saxophones and flute) - Franklin, Massachusetts >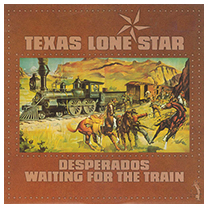 Texas Lone Star "Desperados Waiting For The Train" (Bear Family, 1977/1992)
(Produced by Detlef Wiedecke)
A trans-Atlantic collaboration between Texas hippiebillies Rich Helt and Bryan Seegers and several German country enthusiasts known as the Emsland Hillbillies, which included singer Ulli Mohring, drummer Heini Surken, and singer/steel guitarist Herman Lammers-Meyer, who went on to a long solo career as a honky tonk traditionalist. This album is largely an indiebilly jam session, with covers of country-rock and outlaw classics such as "Good Hearted Woman," "Me And My Uncle," "Wild Horses," "Friend Of The Devil," and "Luckenbach, Texas." There's also one original, "Here I Am Again," by Rich Helt, and an intriguing cover of "In My Own Way," by the Marshall Tucker Band's Toy Cardwell. I guess this came out on vinyl back in Germany, and was later reissued on CD. The Emsland Hillbillies, it should be noted, also recorded several albums and singles, with the first two LPs reissued as a twofer CD on Bear Family.


<! - # - NOTES, tracks, band - Bear Family reissue? - (EU) >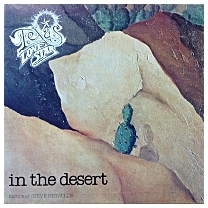 Texas Lone Star "In The Desert" (JA Records, 1981) (LP)
(Produced by Ali Alterbaum)
Apparently Rich Helt made an annual tradition of his trips from Houston to West Germany, and recorded a second album with Ulli Mohring and a new lineup of Texas Lone Star that brought in songwriter-guitarist Steve Reynolds, who at the time was deeply ensconced in the Austin indie scene. It's an odd album. There's an uneasy mix of '70s-style soft-rock and old-school alterna-twang... Four of the songs are by Reynolds, and they have a more overt rock feel, reflecting his blues/electric rock background, while Helt contributes the breezy, anthemic "Arizona" and "Never Find My Way Back Home," while the twangiest tunes come from the kraut contingent: Ulli Mohring adds two songs that embrace hillbilly iconography, including the shambling, unruly "Stumbling Out Of The Stumble Inn," a song paying homage to Tempe, Arizona's legendary cowboy bar, and even namechecks Chuck Wagon & The Wheels. (His second song, "In The Desert," is a gooey country-rock number reminiscent of America or Firefall, complete with soprano sax... ewwww.) Also, Herman Lammers-Meyer pitches in again with some nice steel guitar licks on three of the tracks. I wouldn't call this a twangcore classic, but soft-rock enthusiasts might get a kick out of it, and the Stumble Inn tribute is worth keeping on the radar.


<! - # >

The Texas Rangers "The Best Of Western Swing" (Cumberland Records, 1963) (LP)
(Produced by Shelby Singleton)
Your guess is as good as mine. One of the many anonymous bands playing on generic, cheapo albums, in this case one of the first releases in Smash Records' budget label Cumberland Records, which was launched in 1963, with this disc as one of their initial offerings... At the time, Smash claimed these were all-new recordings made in Nashville although, of course, none of the musicians are identified by name, and this may have been reissued material from an earlier era. It's also possible this was a later edition of the Kansas City-based, western-themed radio band that featured Bob Crawford, Ed Cronenbold, Dave May, and cowboy actor Francis Mahaney... Anyone out there know for sure?


<! - #MGC-29507 - NOTES, tracks, links >
Texas Renegade "Texas Renegade" (Texas Records, 1983) (LP)



<! - they look like a straight-up Top Forty wannabee band... >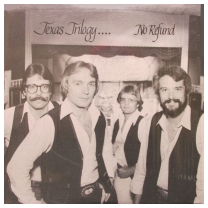 Texas Trilogy "No Refund" (Trilogy Productions, 1981) (LP)
A trio from Grand Prairie, Texas who offer three original songs along with covers of tunes by Larry Gatlin, Michael Martin Murphey and Ian Tyson, as well as a version of Craig Fuller's "Amie." Nice, singalong, folkie country-rock stuff... Their original songs include "Dee-Vor-Cee" and "Mid-Cities Madman" by singer-bassist Jerry Johnson and "Small Town Lady," by guitarist/banjo picker Bob Moore.


<! - # >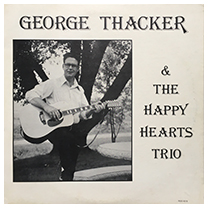 George Thacker "...And The Happy Hearts Trio" (Riverside Recording Studios, 197-?) (LP)
(Produced by Terry Brooks & Ron Shawver)
Super-twangy, pleasantly rough-edged country gospel from a fella from Ewington, Ohio, supported by a small country band with a chaotic but definitely country sound. The trio were vocalists George Thacker, Ruth DeLong and Hester Eblin, who stick to a traditional jubilee style, with rather dynamic musical backing by Bob DeLong on piano, Sonny Hudson (lead guitar), R. E. Tackett (bass), Jerry Taylor (steel guitar), Roger Cooper (fiddle) and Ron Shawver on drums. Thacker was decidedly a singer of limited ability, but he is enthusiastic and joyful, while the female vocals alternate between beautiful harmonies and rougher, more shape-note sounding accompaniment. Thacker's pastor, Dewey King of Wesleyan Church in Pomeroy, Ohio, offers brief congratulatory liner notes. A nice example of lively, heartfelt amateur gospel twang.


<! - #RSS-4516 >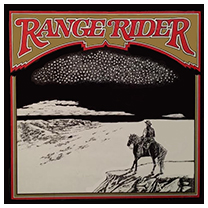 That Sound Music "Range Rider" (That Sound Music Publishing, 1981) (LP)
(Produced by Rick Holbrook & Tom Wolverton)
I'm not entirely sure, but it seems like this may have been some kind of song-poem album, with several different vocalists, including the songwriters singing on the tracks they composed, although it could have just been a very egalitarian and far-flung band. About half the songs are credited to Steve McGehee, with Pam Sorenson and Russ Sorenson singing on a couple of different tracks. Anyone know about these folks? I couldn't find much info about them online... The album doesn't indicate where this record was made, though producers Rick Holbrook and Tom Wolverton were later involved with the Shiloh Amphitheater, as part of a church group in Kalona, Iowa, so I guess they were Midwesterners -- they were both more directly involved in the next That Sound Music album, with Steve McGehee playing a minor role, while the rest of the musicians on this album had pretty much moved on. Apparently that second album, the fancy-titled Beautiful Rotavele Music, wasn't quite as "rural" sounding as this one.


<! - #TSM-1001 - no ASIN 02/12/17 - NOTES, placed in Iowa - FOLK COMP?? https://www.discogs.com/That-Sound-Music-Range-Rider/release/7518907 >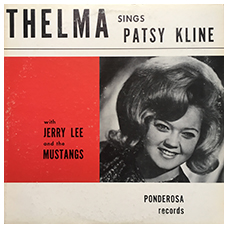 Thelma with Jerry Lee & The Mustangs "Sings Patsy Kline" (Ponderosa Records, 1965) (LP)
(Produced by Norman Baker)
I could not, for the life of me, find out what Thelma's last name was, or any info about "the Mustangs," or why they made a tribute to Patsy Cline, but misspelled her name. Regardless, there was a teensy bit of info in the liner notes: Thelma was born June 16, 1946 in Camden, New Jersey and was apparently eighteen or nineteen when she recorded this album. She did have a remarkable ability to mimic Cline's vocal tones, if not her confident phrasing and command of the material -- similarly, the backing band had some talent but never really gels as a unit on these sessions, and seems to have been disinterested in the material. The pedal steel player is pretty good, but it's harder to gauge the strengths of the lead guitar, as his work generally seems loosely strung together, and is often at odds with Thelma's vocals, most notably on their version of "Walking After Midnight," where the noodly blues licks almost drown her out... It's a glaringly low-budget, one-take kind of recording and is oddly charming as a result... There's never a moment where you go, oh yeah! man, that's how that song should sound! but you do feel the authenticity of an East Coast gal with a passion for Pasty Cline... Anyone out there with more info about this album? I'm all ears!


<! - #PR-33 - Thelma Mason(??) - "Jerry Lee & The Mustangs" on the cover, "Jimmy Lee" on the inner label... >

Them Fargo Bros. "The Studio Recordings: 1976-1981" (2010)
A digital-era reissue of from-the-archives material by the New Hampshire-based band, Them Fargo Bros., which featured songwriter Bill Madison, who had released his own solo folk album, Sunday Mornin' Hayride, before starting this country-rock band in '74. I'm not sure if any of these tracks really came out on vinyl, back in the day, or whether they are gathered here for the first time in album form.




Them Fargo Bros. "1979" (1979-?)
A previously-unreleased album recorded by this regionally-known New England country-rock band at a live gig at North Conway, NH's Oxen Yoke Inn... Apparently the band toured quite widely throughout the '70s and early '80s and stuck together until the early 1990s, in one form or another.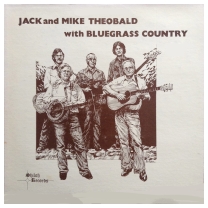 Jack & Mike Theobald "With Bluegrass Country" (Shiloh Records, 1979) (LP)
(Produced by G. Humphrey & Dale Davis)
Brothers Jack and Mike Theobald were from the Wichita, Kansas area -- apparently they were in the first bluegrass band in the state of Kansas, the Bluegrass Country Boys, formed in 1963, and remained stalwarts of the Sunflower State bluegrass scene for decades to come...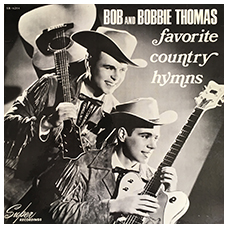 Bob & Bobbie Thomas "Favorite Country Hymns" (Superior Recordings, 196--?) (LP)
Originally from Iowa, the father-son duo of Bob and Bobbie Thomas were featured performers on the 1960s/early '70s edition of WGN-TV's "Barn Dance" country variety show in Chicago, which by the end of the 'Sixties had become a nationally syndicated program. Bobbie Thomas was a child prodigy, learning to play guitar and perform onstage at age five; later on his brother Scott joined the group, which then became billed "Bob & Bobbie, Plus One." Although this is an all-gospel album, they regularly performed secular material on the show, as can be heard on the 1965 album, Saturday Night At The Old Barn Dance, which probably came out around the same time as this disc... Bobbie Thomas also recorded a solo album (below), though I'm not sure if the Thomases recorded any other records as a duo.


<! - #6204 - NOTES >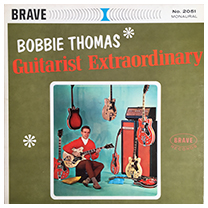 Bobbie Thomas "Guitarist Extraordinary" (Brave Records, 196--?) (LP)



<! - #2051 - label from Harvey, Illinois >
Dale Thomas "For The Life Of Me" (Wahoo Records, 1969-?) (LP)
(Produced by Dale Thomas)



<! - label from Forest City, Iowa - mentions Thomas' church in West Branch, Iowa - NOTES - YES, Thomas is from West Branch, Iowa >
Dale Thomas "The Territory Band -- With Melissa Thomas" (Progress Records, 19--?) (LP)
(Produced by Dale Thomas & Ken Simon)
Steel guitar player Dale Thomas formed his first country music group, the Bandera Boys, way back in 1956(!) and established himself as a regional country performer along the Iowa/Illinois border. He landed a major label contract a few years later, cutting a single for Dot Records, and recorded infrequently over the years while also appearing on local TV programs, both as a backup musician for polka/dance bandleader Leo Greco, and as a show host himself. Thomas cut this album in Skokie, Illinois with his thirteen-year old Melissa Thomas daughter singing and playing bass, along with Kenny Schultz thumping drums, Jerome Vogel sawing fiddle and Jeff Spangler picking lead guitar. Thomas was used to covering oldies and popular tunes, so he packed this LP with all-original material, including several songs where Melissa sings lead. Sideman Jeff Spangler sings on a tune he wrote: " 'Til The Feeling's Right." On a side note: years later, Spangler married Melissa Thomas, the couple eventually moved to Texas and, true to her dad's predictions on this album jacket, she learned several other instruments. The Spanglers made a go of it, playing in Vegas and elsewhere, though later they settled down and became pastors in Texas; their daughter, Averielle, also became a musician. Mr. Thomas kept his band(s) running well into the 21st century and self-released several CDs, including the one below.


<! - #PR-29 - NOTES - http://dalethomasband.com/recordings.htm - dale@dalethomasband.com - active contact info (2019) - 1983-? (per writing on eb copy) >
Dale Thomas "The Back Forty" (20--?) (CD)
This retrospective disc includes the songs from Thomas's 1959 Dot single, "Hello Lonesome" and "Too Young To Love," as well as 'Sixties recordings made with his TV band, and even a song that his daughter recorded when she was thirteen, "As Each Night Goes By."
Darrell Thomas "Brand Of A Country Man" (Lee Mace's Ozark Opry, 1980) (LP)
(Produced by Harold L. Luick)
An Iowa native who became a member of Lee Mace's Ozark Opry, Darrell Thomas wrote six of the ten songs on this album, including tunes like "Billboard Cowboy," "Me, Her And The Telephone" and "Waylon, Sing A Song To Mama."


<! - no ASIN 12/06/15 - musicians seems all local >

Dave Thomas "Comin' Out" (Marque Music, 1977) (LP)
(Produced by Dave Thomas, Jerry Berman & Dave Gardner)
An all-original set recorded in Denton, Texas. All but one of the songs were written by Dave Thomas, with the title track, "Comin' Out," penned by Don Pettigrew, a songwriter who I believe was from nearby Gainesville, Texas. This may have been more of a singer-songwriter-ish affair, but with a fair amount of Lone Star twang in the mix... Thomas is backed by Kim Platko on electric guitar, Kerry Vance (electric guitar and vocals), Dick Woodling (bass), Rick Woodul (drums), and Jack Wright, also on bass.


<! - no ASIN 03/23/15 - how country is this?? - NOTES >

Frank Thomas "Frank Thomas's Florida Stories" (1980)
A native Floridian, songwriter Frank Thomas concentrated pretty exclusively on tales of local and regional pride, penning odes to his homes ("Memories Of Clay County" and "My Polk County Home") military history ("The Battle Of Natural Bridge," "The Battle Of Olustee" and "The Second Seminole War") and some oddball regional humor ("Alligator Milk" and "I'm A Cracker"). Apparently this is only one of nine(!) albums he wrote with similar material and themes...


<! - # - NOTES, tracks: >

Gene Thomas "...And The Brothers" (Studio 5 Records, 1971-?) (LP)
Country stuff from a Minnesota honkytonker... The album kicks off with a cover of Porter Wagoner's "You Gotta Have A License," though most of the other songs are pretty obscure. Of note are novelty numbers such as the then-topical "Hot Pants" and one called "I've Got A Polish Girl Friend" which despite the un-PC premise may be excused since most of the albums released on the Studio 5 label were polka records.


<! - # S5-7101 - from Minnesota? Minneapolis label - bc nv - no producer info inner - gospel? NO A1 You Gotta Have A License 4:32 A2 Whatcha Gonna Do Now 3:17 A3 Gypsy Summer 2:46 A4 Please Believe Me 2:46 A5 Hey Pretty Girl 3:11 A6 I've Got A Polish Girl Friend 3:26 B1 Hot Pants 3:18 B2 Mary's Oberek 1:40 B3 Our Break Up 3:35 B4 Over Three Hills 2:11 B5 Rosie From Jersey 2:20 B6 Let The Sun Shine In >

Gene Thomas "Rainbow Ribbons" (Astro Records, 19--?) (LP)



<! - #LP-3000 - Mickey Gilley's label based in Pasadena, Texas. A1 Sometimes 5:25 A2 Rainbow Ribbons 4:54 A3 The Weed 3:33 A4 God Bless My Old Guitar 3:10 A5 I'd Wish You Home 3:06 A6 Poor Man's Bouquet 2:18 B1 Lay It Down 3:16 B2 Where Goes The Child 3:30 B3 Gypsybo 4:20 B4 Jesus Hold Me 5:57 B5 Good Time Charlie 3:40 B6 What Say You Then >
Gus Thomas "Gus Thomas" (Jamboree USA Records, 1972) (LP)
(Produced by Ray Pennington)
Country singer Gus Thomas joined the cast of the WWVA Jamboree show as a performer and emcee in 1968, and frequently performed with his wife, Jo Ann Thomas, who had kind of a Loretta Lynn-like sound. He hosted the radio program during a transitional time when the venerable Opry-like program was shifting towards a more modern country/countrypolitan image, and helped tweak the show's on-air format. Thomas left the Jamboree at the end of 1973, and as far as I know, this was his only album. After he left the show there was talk of another album, but I don't know if that panned out. Although Thomas had a lot of name recognition in the country music industry, none of his songs ever charted... This record includes "Morning Train To Cleveland" and "It's Not The End Of Everything," and reprises a couple of songs from an earlier Jamboree single, "Daddy Don't You Walk So Fast" and "My Greatest Hour." The Thomases also recorded several singles on the American Voices label, from Virginia Beach, Virginia.


<! - # - NOTES, extensive, links, singles - current (2019) contact info for JoAnn Thomas joann.wwsm@gmail.com >
Guthrie Thomas "Sitting Crooked" (Singing Folks Records, 1974) (LP)
(Produced by Ray Gideon & Guthrie Thomas)
Singer-songwriter Guthrie Thomas is one of the best and most under-the-radar artists in the genre... This was his first album, recorded in Los Angeles with originally only five hundred copies pressed. Thomas was born in Texas, but living up in Northern California when he met folk legend Ramblin' Jack Elliott, who promoted his career and helped Thomas get his foot in the door in the Los Angeles music industry.


<! http://www.guthriethomas.band "...Thomas has recorded and released 62 full length albums, 3 motion pictures scores, and has recorded and performed with many of the most renown musicians in the world. He has also produced 16 albums of other artists, is a registered pharmacist, a painter, and author, among other things." >
Guthrie Thomas "Dear Ginny" (Singing Folks Records, 1975) (LP)
(Produced by Guthrie Thomas)



<! Recorded in Hollywood and Salt Lake City, Utah in 1974. My second LP. Side 2 was recorded live in a radio station in Salt Lake City with Ramblin'Jack Elliott. 500 copies printed. >
Guthrie Thomas "Guthrie Thomas One" (Capitol Records, 1975) (LP)
(Produced by Nicolas Venet)



<!. >
Guthrie Thomas "Lies And Alibis" (Capitol Records, 1976) (LP)
(Produced by Guthrie Thomas, Carter & Steve Cropper)



<! - # >
Guthrie Thomas "Kidnapped" (Eagle Records, 1977) (LP)
(Produced by Guthrie Thomas & Larry Hirsch)



<! - # >
Guthrie Thomas "This One's For Sarah" (Taxim Records, 1978) (LP)
(Produced by Guthrie Thomas & Albert Cecere)



<! LP = B0096F2C88 >
Guthrie Thomas "The Poisonous Beauty" (Eagle Records, 1979) (LP)
(Produced by Guthrie Thomas)

Guthrie Thomas "As Yet Untitled" (Line Music, 1980) (LP)
(Produced by Guthrie Thomas)

Guthrie Thomas "Buffalo" (Eagle Records, 1983) (LP)
(Produced by Guthrie Thomas)
A mellow, contemplative, stripped-down folkie set, just Guthrie Thomas and guitar, and a lifetime of soulful reflection. More of a folk record than I normally am into, but compelling nonetheless, in a quiet kinda way.


<! a bunch more albums: http://www.guthriethomas.com http://www.gtpicks.com/GuthrieThomas/GuthrieThomasDiscography.html >

The Thomas Singers "True To The End" (197--?) (LP)
(Produced by Wayne Walters & Kevin McManus)
Gospel music from a family band led by Don and Virginia Thomas, with their daughter Leana Thomas playing banjo, and backing by a high-power Nashville crew, including Doug Jernigan on pedal steel, and guitar picker Leon Rhodes playing lead. Bassist Noel Walters and rhythm guitar Wayne Walters may have been locals who were part of the Thomases own band; the album features a couple of originals written by Wayne Walters. Unfortunately, there's no info on the album about where the Thomas family hailed from...


<! - #SH-4065 - no ASIN 02/20/15 - daughters' names not given - no label name, or date - Wayne Walters of the Country Troubadours? >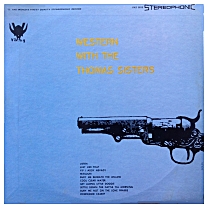 Thomas Sisters "Western With The Thomas Sisters" (Viking Records, 19--?) (LP)
Well, this is certainly an odd an unsatisfying record... and downright weird and misleading as well! Yeah, sure, it says it's by the Thomas Sisters, but the first thing you hear -- on every track -- is this big, booming, goofy male chorus, and every once in a while some gals chime in with some bland oooh-waahh pop vocals chorus stuff. So, wait -- what?? I'm confused. Anyway, my guess is this is a cheapie label "album" that was repurposed from some previous release... Maybe it used to be the Saguaro Chorus or something like that in a past lifetime, and the evil geniuses at Viking Records said to themselves, "hey, weren't there some girls on that record, too??" The music is weird, too... It's old-school singing cowboy material, chestnuts like "Bury Me Not On The Lone Prairie" and "Cool Clear Water," but done in some bizarre squaresville-pop chorus style, all very 1950s. It's also a mystery disc: lord knows who was actually on this one. That being said, a glance at the list of records on the back cover shows that Viking released a fascinating array of country artists, including Andy Devine, Roy Self, Louise Massey, Dick Thomas, and various tribute albums recorded by super-obscuro artists like Sally Bee, etc. I doubt they had the rights to any of these recordings... but, hey, if a few LPs fell off the back of a truck near a few music stores, who's to know?


<! - # >
Tex Thomas & The Danglin' Wranglers "Dare To Dangle" (Pennies From Heaven, 1980) (LP)
(Produced by Vince McGarry)
An Austin artist... This isn't all country (more blues and big band, but with a bit of twang here and there...) Nonetheless, Lucky Oceans plays steel as part of the Danglin' Wranglers...


<! - # >
The Thomases "Country Side/Gospel Side" (Cumberland Records, 19--?) (LP)
(Produced by Al Bennett & Hal Duncan)
A half secular, half gospel album from the Greer, South Carolina family duo of Carroll Thomas and his daughter Linda, who sings and plays piano, with backing by Luke Brandon (1925-2012) on bass and lead guitar, Donnie Hale thumping the drums, and Stony Stoneciper (1932-2018) on pedal steel. Side One is secular, Side Two is gospel: all the songs are Thomas originals, except for an instrumental version of "What A Friend We Have In Jesus," which closes out the album. Although the Thomases were from South Carolina, they apparently traveled to eastern Tennessee to record this album: the Cumberland label was located in Oliver Springs, Tennessee while Brandon and Stonecipher were both well-regarded local pickers with deep roots in the Knoxville country scene.


<! - #CR-CT-2057 - daughter? YES says so on bc - Oliver Springs, Tennessee label (near Knoxville) - (SC) info on pickers in TN >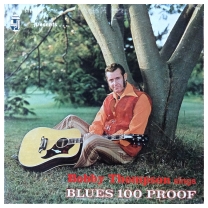 Bobby Thompson "Sings Blues 100 Proof" (Tom Paul Jones Productions, 1973) (LP)
(Produced by Allene Randall)
A swinging set from hillbilly honkytonker Bobby Thompson, who was originally from El Paso, Texas but living near Oklahoma City when he cut this solo set. Many of the tracks on here have minimal instrumentation, with a slightly clunky guitarist who gets a little jazzy while Thompson settles into a crooning mode, though other songs have a more robust, hardcore country sound, including the title track (which was also released as a single). It's likely that the picker was Thompson himself: earlier in the '70s, Thompson had been working as the guitarist in the Sonny James band, but he went solo around '72. There's some fun stuff on here, particularly "Blues 100 Proof," which opens with the couplet, "I'm a loner/an alcoholic wreck... which seems worthy of comparison to Merle Haggard or Dale Watson and other honkytonk giants. He also covers songs by Merle, Ned Miller and others... Dunno if he cut any other records after this, but this one's kind of nice and heartfelt.


<! - # - NOTES, article, profile - label from Moore, Oklahoma >
The Thompson Brothers "Harry And Larry In Nashville" (B Joy Records, 1977) (LP)
(Produced by Jimmy Bryant)
Musically based country comedy, reminiscent of all those old Homer & Jethro albums. The Thompson Brothers, Harry and Larry, were apparently proteges of electric guitar whiz Jimmy Bryant, who produced this album, plays on it, sold it and managed their career. He's joined by a few other hot pickers, notably steel player Jim Baker and fiddler Rufus Thibodeaux. For their part, the Thompsons played the tambourine and something called a "comodian," which seems to have been a mandolin with a toilet seat glued to its front... hah, hah. They also had a gag where they wore heavy fur coats and mufflers, all year round... it was their look. Anyway, I'm not sure if these guys were actually using their real names, or what their deal was -- a couple of tracks on this album were also released as a single, including "You'll Never See Me Again," by Gary Williams -- maybe he was one of the brothers? Maybe not. Anyway, they got a little traction in the late 'Seventies, appearing on Hee Haw and whatnot, but I don't think this act ever really took off.


<! - # BJR-002 - no ASIN 03/23/15 - >
Chuck Thompson "Country Guitars" (ABC Records, 1966-?) (LP)
(Produced by Fred Carter, Jr.)
Easy listening, country style. The unusually chatty liner notes are pretty informative: Born in West Virginia, slick picker Chuck Thompson was a country music veteran who had toured with stars such as Rex Allen, Wade Ray and Tex Williams, most notably a six-year stint with Williams's Western Caravan, out on the West Coast, as well as rodeo gigs, and appearances on the Midwestern Hayride and the Grand Ole Opry. He'd moved back East by the time this disc came out and was working as a staff musician for the Baldwin piano company in New York City, and is photographed on this album modeling their then-current line of guitars. This set was recorded in Nashville and though there's no info about the musicians backing him, I would imagine there's a good chance that producer Fred Carter threw in a few licks of his own.


<! - #ABCS-579 - no date, dc says '66 - (WV) >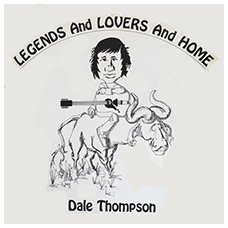 Dale Thompson "...Sings Of Legends And Lovers And Home" (Nova G Records, 1975-?) (LP)
(Produced by B. B. Cunningham & Loren Newkirk)
A slightly kooky set of indie-twang, possibly recorded in Los Angeles, sometime in the late 1970s. All the songs are Dale Thompson originals, and while I can't tell you much about Mr. Thompson himself, he definitely was hanging out with a cool crowd. Backing him on this disc are Ed Black (guitar), Bob Butte (drums), Mickey McGee (drums), Arnie Moore (bass), Templeton Parcley (fiddle) -- most of these guys were well-established sidemen who played on some pretty cool records, notably with LA country-rockers Max Buda and Chris Darrow. Templeton Parcley was a guiding force in the band Kaleidoscope (with guitarist David Lindley) and also played in The Rank Strangers with Chris Darrow and on Darrow's solo work (alongside Ed Black, Mickey McGee, and Loren Newkirk). Similarly, bassist Prentiss ("Arnie") Moore played with Chris Darrow, as well as folkies Arlo Guthrie and John Stewart, so these were some pretty cool cats. I'm not sure, but I think producer B. B. Cunningham was the same guy who fronted the 'Sixties Memphis garage band The Hombres, but don't quote me on that. Not sure about Dale Thompson's bio, though I'm fairly confident he was not the Christian rocker of the same name, because he would have had to've been about twelve years old at the time.


<! - # - no date on disc, but cover drawing seems to be dated '75 (dc interprets it as '73) - no address - possibly from Memphis(?) (LA?) - (NP) 04/25/20 >

Glenn Thompson "Country Songs I Love To Sing" (Big T Records, 196-?) (LP)
(Produced by Walt Copeland)
A farm kid from rural North Carolina, like many country musicians Glenn Thompson traveled around and had a lot of far-flung gigs in his youth... Before serving in WWII, Thompson was working down in Florida, and after he demobilized, he found a radio gig in his home state before founding a hillbilly radio show called the "Virginia Barn Dance," in 1949, leading a regional band through the 1950s. He retired from the music business for several years, but by the time he cut this (mid-'60s?) album, Thompson was back on the air, hosting a daily radio show on WBBB, in Burlington, NC. His backing band for these sessions included Don Causey (bass), Jackie Dee (rhythm guitar), Marvin Hudson (steel), Dicky Robertson (drums) and Jimmy Saunders (lead guitar). Thompson also released numerous singles on a bunch of mega-indie labels, and worked with old-school country stars such as the Louvin Brothers and Charlie Monroe. There's no date on the album but it's at least post-1963, as the liners were written by someone from the Emmons Guitar Company, which was established in 1963. It also says he "retired" at age 40, then got back into music, so I'm guessing this LP was from 1965-66-ish, since he served in WWII. There are no contemporary cover songs to judge the date by -- mostly oldies, possibly some originals.


<! - #LPM-CSS-555-6 - no ASIN 12/15/16 - SoN production >

Glenn Thompson "The Best Of Glenn Thompson" (Tornado Records, 196-?) (LP)
Not sure which of these albums came out first, though according to the trove of materials Thompson donated to UNC these appear to be the only full LPs he released, although he also cut a CD many years later. Mr. Thompson, whose career dates back to the 1940s, apparently retired in 1985.


<! - #LPM-102 - no ASIN 02/13/18 - QCA pressing - producer, musician info, date not listed - NOTES, massive info >

Haydon Thompson "Here's Haydon Thompson" (Kapp Records, 1967) (LP)
(Produced by Paul Cohen)
A 'Fifties rockabilly pioneer taking a brief fling at mainstream country success... Singer Haydon Thompson (also spelled "Hayden") was born in Mississippi, grew up on a farm, and cut his first single back in 1954, while still a teenager, and was one of the first generation of artists to record for the Sun Records label. According to the liner notes on this album, Thompson made his way up to Chicago where he worked as a bus driver, all the while nurturing a dream of continuing his career in music. The country thing didn't work out -- this was his only album for Kapp -- but like many '50s rockers, he got a second wind thanks to the European rockabilly revival, with reissues and later recordings galore... I think this was his only full-on country album, though.


<! - #KS- 3507 / KL-1507 - (b. 1938) - NOTES >

Hayden Thompson "Rock-A-Billy Gal: The Sun Years Plus" (Bear Family Records) (CD)




Ron Thompson "Plays, Sings" (Claremont Records, 19--?) (LP)
(Produced by Andy Watermann)



<! - #CL-176 - pix - see pic for tracks, etc - pianist >
Ronnie Thompson "Macon's Mayor Ronnie Thompson: Here I Am" (Starday Records, 19--?) (LP)
(Produced by Bud Hobgood & Louie Innis)
I have no idea what kind of closed-door back scratching took place in the making of this album by the venerable Starday label, although it should be said that it wasn't entirely a vanity project. Georgia politician Ronnie Thompson, Macon's first-ever elected Republican mayor, was also an accomplished country singer who had started his career in the late 1950s and cut several singles before veering into a career in politics. Elected in 1967 on a wave of anti-civil rights backlash, Thompson was known as a "law and order" mayor and wound up well to the right of President Nixon, who he frequently criticized as being too squishy and compromising. But I guess the guy could sing... This album has a lot of country standards -- four songs by Hank Williams and one by Merle Haggard, along with two originals by Thompson himself, "Room Full Of Emptiness" and "Downtown Country Girl," and a rendition of the gospel standard, "Just A Closer Walk With Thee." There's also some soul music on here, including a version of "Dock Of The Bay" (Thompson was an Otis Redding fan) and two songs by producer Bud Hobgood and his songwriting partner Judy Russell: Hobgood was tight with soul king James Brown, who Thompson claims to have been a friend of in the album's effusive liner notes. Sure... just as long as no one tries to go on strike, everything should be just fine.


<! - # - NOTES >
Sam Thompson "Songs Of The Oil Field" (Jack O'Diamonds Music, 1974) (LP)
(Produced by Ed Thomas)
An odd one... Not just because it's a whole album of songs about oil drilling in the American South and the Panhandle, but because this album is basically a song-by-song remake of an album that composer Alex Zanetis recorded about ten years earlier (Alex Zanetis Writes And Sings The Stories Of The Oil Fields) The songs are all the same, except for one which has been minorly re-written as an homage to producer Ed Thomas (who apparently was an oil worker himself...) As Zanetis had done in '64, this album lines up top studio talent of the era: the studio crew is a virtual who's who of "usual suspects" superpickers: Dave Kirby on lead guitar, Buddy Emmons, Leon Rhodes, Weldon Myrick, Bobby Thompson, etc., whereas Zanetis had been working with pros such as Floyd Cramer, Jerry Kennedy, Grady Martin and Charlie McCoy. One wonders if this is actually Zanetis himself, reissuing his old stuff under a different name... we may never know.


<! - #MLP-1001 - is this the same album?? actually Zanetis?? - all songs written by Alex Zanetis - producer Ed Thomas is name-checked in "Ballad Of Ed Thomas" and was a former oil worker >

Verlon Thompson "Verlon Thompson" (Timberline Records, 1977) (LP)
An old friend of tunesmith Guy Clark, Verlon Thompson hailed from Binger, Oklahoma, though apparently he was doing time in Colorado when he cut this self-produced debut disc. He wrote all the songs and played all the music, giving fans a taste of things to come. Thompson has enjoyed a great run as a professional composer, with his works recorded by Americana outsiders, Top Forty stars, folkies and bluegrassers. Like the late Guy Clark, Thompson is considered "a songwriter's songwriter" and the two men formed a close bond, touring together as well as collaborating in the recording studio. Though highly regarded, Thompson never gained the same level of acclaim as Clark, and though he's made numerous albums, they're all pretty hard to find. But definitely worth the search.


<! - # - no producer credit; thanks "Joe and Bruce at American Recording Studio" - Colorado artist, songwriter(?) his site says Oklahoma - https://www.verlonthompson.com >

Verlon Thompson "Verlon Thompson" (Capitol Records, 1990) (CD)
(Produced by Blake Chancey)



<! - #CDP-7-94970-2 >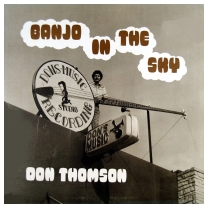 Don Thomson "Banjo In The Sky" (Grass Ridge Records, 1982) (LP)
This was mostly a straight-up bluegrass album, but the cover art is so great and so goofy, that it certainly deserves mention here. It's a picture of picker Don Thomson standing on the roof of the music shop he worked at in Rolla, Missouri, perched next next to the store's giant mock-up of a banjo... Completely dopey, but completely cool. Thomson also operated a recording studio in the store, and helped produce (and play on) several albums by local artists, including as a duo with Wayne Southards -- Southards & Thomson -- which recorded at least one full album.


<! - # - no ASIN 02/20/15 - any relation to Cyndi Thomson? >

Dave Thornton "Breckenridge Nights" (Whip Records, 1975) (LP)
(Produced by George Holsomback)
This album was a souvenir of a gig at a joint called Singin' Sadie's Saloon, in Breckenridge, Colorado, though I think pianist Dave Thornton was originally from Texas. Several songs appear to be originals written by Thornton, including "Run To The Mountains," accompanied by covers of hits such as Dylan's "Lay Lady Lay" and "Long Black Veil."


<! - #LP-750825 - NOTES - possible contact info? >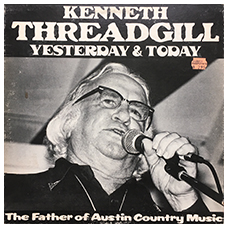 Kenneth Threadgill "Yesterday And Today" (PSG Recording Studios, 1974) (LP)
(Produced by Rod Kennedy)
Known as "the father of Austin country music," old-timer Kenneth Threadgill (1909-1987) was an iconic figure and an important early patron of the Texas music scene. In his youth, Threadgill was a devotee of blues yodeler Jimmie Rodgers, and worked as a regional musician during the Great Depression before opening his own bar in the 1930s. For the next several decades, Threadgill's Tavern became a nurturing ground for local talent, hosting open-mic nights and touring acts, as well as Threadgill himself singing in his own old-school style. This album, which was created with the help of the Kerrville Folk Festival, compiles music recorded over the span of a decade or so, including mid-'60s demo tapes, a song from Threadgill's first seven-inch single, and live recordings from Kerrville and other, less formal venues. Throughout these tracks, Threadgill stays true to his roots, singing plenty of Jimmie Rodgers oldies and other songs of a similar vintage and hue, all with an admirable roughness, though also with a sense of un-rushed authority. The year this album came out, Threadgill retired from ownership of the bar, selling it to the hippiefolk running the Armadillo World Headquarters, though he continued to host shows and perform at the soon re-opened Threadgill's restaurant.


<! - # - had a group called the Velvet Cowpasture Band - no ASIN 07/14/16 >
Kenneth Threadgill "Silver Haired Daddy" (Armadillo Records, 1980-?) (LP)
(Produced by Henry Alrich)
This later album features Texas folkie locals Bill and Bonnie Hearne backing Threadgill and singing harmony, with Johnny Gimble on fiddle... The record was made with the help of the folks at Armadillo World Headquarters in the waning days of the venue, and like his first album features bluesy oldies from a bygone era.


<! - #ARLP801 >
Three Faces West "Three Faces West" (Outpost, Records 1969) (LP)
(Produced by Lynn Calloway)
The first album by Texas songwriter Ray Wylie Hubbard. This was his highschool band, formed with Wayne Kidd and Rick Fowler, with George Sanders on drums... More of a rock'n'roll thing, but still worth tracking down if you're a fan. They were, I believe, named after an old John Wayne film...


<! - # - (TX) notes >
Three On A String "Best Of Friends" (RPI/Ryan Productions, 1979) (LP)
(Produced by Glen Wood)
This jugband-y, folkie crew from Birmingham, Alabama included Gordon Burt on fiddle, mandolin and flute (uh-oh), along with Bobby Horton playing banjo, dobro and trumpet (wait, what?); Andy Meginniss on bass and kazoo (hey, no problem there!) and brothers Jerry and Terry Ryan playing guitar and various other instruments. Lightheated, eclectic stuff that includes several traditional tunes, a Johnny Cash cover ("I Still Miss Someone"), Billy Edd Wheeler's "Coal Tattoo," while the flipside of the album is packed with several originals penned by various members of the band. Possibly most telling is their cover of a Red Clay Ramblers song ("The Ace") which may give the best indication of where they were headed with this group -- kinda bluegrass-y, but with deep roots spreading out in several directions. The group has stuck together (with an evolving membership) more or less continuously since 1971, and even has a robust online presence.


<! - #RRC-001 - (AL) Three On A String "Three On A String" (197--?) (LP) >

Three On A String "Going Places" (1981)
(Produced by Tony Wachter)



<! - # - acoustic stringband(?) lots of oldies like Chatanooga Shoe Shine Boy" "Shady Grove," "I'm A Believer" - from Georgia? recorded in Arkansas - other albums: " >

Tom Throckmorton "Loose Wheel" (Nashville Goose Records, 19--?) (LP)
This was a set of country comedy stuff, including parody songs, ala Homer & Jethro: the title track was a parody of the Kenny Rogers hit, "Lucille." All the songs were written by Wayne M. Richey, and sung by Tom Throckmorton, who appears to have been from Pennsylvania, although the Nashville Goose record label was in Colonial Heights, Virginia. Go figure!


<! - Recorded in Marietta, PA - liner notes by someone from PA - no ASIN 02/08/16 >
Hank Thunander "Country Love" (HT Records, 1976) (LP)
(Produced by Art Boyd & Hank Thunander)
Originally a Michigander, accordionist Hank Thunander settled down in Saint Paul, Minnesota after a stretch in the military, and soon established himself as a champion on the "Cleveland style" of polka music, which is apparently the term used for polka music based on Slovenian themes, usually played with a piano-accordion and a small horn section. (I learn something new every day...) This is one of eight LPs Mr. Thunander recorded, and is completely devoted to country material, played with a polka flair by Thunander and his compact ensemble, including Curt Anderson on bass, guitarist Dennis Anderson and Jim St. Jacques on lead guitar. A lot of songs you'd predict, including "For The Good Times," "Green, Green Grass Of Home," and "Tennessee Waltz," as well as some contemporary hits such as "Behind Closed Doors" and "Funny Face." The soft, wispy vocals -- presumably Hank Thunander's -- are kind of a hoot.


<! - #HT-1001 - recorded at Studio 80 - http://www.clevelandstyle.com/hank~thunander.html (b. 1942) - (MN) >

The Thunderbirds "Hold Back The Tears" (Bay Country Records, 197-?)
(Produced by Paul Birch, Bill Handley, Leslie Myers & Steve Woolston)
A bunch of dudes from eastern Maryland playing straight-up honkytonk and twang, including a bunch of their own originals. The group included Jim Conley (bass), Roger Hubbard (lead guitar), Wayne Jones (drums), Tommy Kaufman (fiddle, guitar and pedal steel), Len Reed (dobro) and Thom Slaughter on lead vocals and piano. Slaughter provides four original songs -- "Hold Back The Tears," Honky Tonk Fever," "I Can't Help The Way That I Feel" and "I'm Ashamed To Be Here" -- while the rest of the repertoire includes classics by Bob McDill, Buck Owens, Webb Pierce and others. Not a lot of info about these guys, though it seems likely that Len Reed is the same Leonard Reed who played steel guitar on the Jon & Jodi Two Sides Of Jon & Jodi outsider folk album back in 1971.


<! - # ~ NR-11767-1/2 - (MD) notes >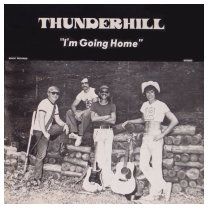 Thunderhill "I'm Going Home" (Minco Records, 197--?) (LP)
This band from Keyser, West Virginia had been around for a long time before they cut this album... A few singles came out 'way back in the '60s, when -- as the Thunder Hill Singers -- they covered Marianne Faithfull's "As Tears Go By" (which is also included on this LP...) and several other folk classics. That early folkie trio featuring core members Jim Broome (lead vocals), Ed Jordan (lead guitar), and Jerry Marsh (on bass) released a few singles and later expanded to a full band, going into more of a country/country-rock direction. Although they were from West Virginia, the album's liner notes inform us that "the group is presently based at Deep Creek Lake, Maryland resort area," and toured regionally on the Eastern seaboard. The album includes covers such as "Peaceful Easy Feeling," "Good Hearted Woman," "Folsom Prison Blues," and "Don't It Make You Want To Go Home." Not sure of the date, but I'm guessing late '70s on this one...


<! - #M-206 - issued with two different covers - NOTES, tracks, '65 single - Peaceful Easy Feeling, Good Hearted Woman - both came out in 1972 >

Billy ThunderKloud & The Chieftones "...Where Do I Begin To Tell The Story..." (Superstar Records, 1972) (LP)
Vincent Clifford, aka "Billy ThunderKloud" was the lead singer for Canada's "all Indian band," who scored a surprise commercial hit with "What Time Of Day," which peaked on the US Country charts in 1975. They never topped that success, but managed to place a few songs on the charts over the next couple of years, and stayed together as a working band for over a decade more.


<! - # >

Billy ThunderKloud & The Chieftones "All Through The Night" (Superstar Records, 1973) (LP)



<! - # >

Billy ThunderKloud & The Chieftones "Off The Reservation" (Superior Records, 19--?) (LP)



<! - #SLP-212 - 1978 (per LPD) >

Billy ThunderKloud & The Chieftones "Some Of Nashville's Finest" (20th Century, 1974) (LP)





Billy ThunderKloud "I Want To Be Touched By You" (CheyShawnee Records, 1981-?) (LP)
(Produced by Bob Witte & Joe Mills)
TMI, my friend... TMI.


<! - #CSR-1981 - recorded in Nashville - dc different cat# (C-669) no date >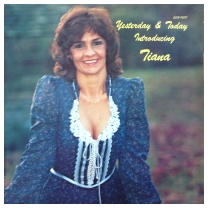 Tiana "Yesterday And Today: Introducing Tiana" (Crescent Hill Records, 1981-?) (LP)
(Produced by Dewey Stiltner & Sonny Deaton)
The very essence of a "private press" vanity album, this album showcases an amateur vocalist from Pennsylvania who was billed only as "Tiana." She had a good voice, although she showboats her way through a lush repertoire of vocal standards and country oldies, tilting more towards pop-standards than twang. Among the country tunes are covers of "Crazy," "Cold Cold Heart" and "Hold Me," while the pop standards include "Yesterday," "Side By Side" and "Cry Me A River." Apparently she went to Nashville to record, and has pedal steel pro Doug Jernigan onboard for the Tennessee sessions, as well as several members of the Deaton family, who were doing studio work at the time. Brief liner notes are provided by Tiana's old high school music teacher, Phil Runzo, and an almost equal amount of text is devoted to detailing his own career -- where he earned his own college degrees, etc. which gives you an indication of where this album stood in relation to the professional music scene. Anyway, although Ms. Tiana had a good voice with a nice timbre (best on the pop ballads) this album simply emanates an aura of amateurism, which on several tunes manifests itself in the giddy, unrestrained performances of some of the backing musicians (notably guitarist Steve Hambree...) Although in all honesty I would be hard-pressed to recommend this album, there's a sincerity and palpable sense of enthusiasm here that has charms of its own, though perhaps mostly only to hipster-collector types who are drawn to records like this more for the "real folks" vibe than for the music itself.


<! - date based on catalog #112281 >

Benny Tibbets "Laugh, Dance, And Sing With Benny Tibbets" (Charter Records, 1972-?) (LP)
(Produced by Gene Breeden)



<! - SLP-1003 - dc says 1972-? - all but one song written by Benny Tibbets - "Count Down The Blues" by Dale Brown - "Foolish Pride" co-written with Ruth Walker >

Benny Tibbets "On A Highway Headed South Searching For Something" (Artists Revue Records, 19--?) (LP)
(Produced by Gene Breeden)
A construction worker and former rodeo rider from Oregon, Benny Tibbets recorded this album in Nashville at veteran Pacific Northwest producer Gene Breeden's Tennessee studio, with backing by steel player Terry Crisp, Bruce Watkins on bass, and Breeden playing lead guitar. Half the songs are Tibbets originals, including "Lovin' Could Come Easy," a tune co-written with Ruth Walker, who also contributes one called "The Cowboy And The School Marm." The rest of the record includes covers of David Frizzell, Porter Wagoner and Don Williams, and Jerry Fuller's "Something To Drink About." Not a ton of info about this guy online; he also cut a couple of singles, including one on the Vanco label, one of many imprints connected to Breeden's old Ripcord label.


<! - #GBS-LP-1005 - pictured on the side of the highway, in front of a sign to Birmingham - liner notes by Roy L. Larson, program manager at KICE, in Bend Oregon - Benny Tibbets also on Jerry Bradley album? >

Billy Tibbets "Cowboys And Pioneers -- A Tribute To The Old Oregon Trail: 1843-1993" (GBS Records, 1993-?)



<! - # - cassette only? - tracks: The Legend Of Sam Barlow ~ The Old Oregon Trail ~ Cowboys and Pioneers ~ The Barlow Road Jam Band ~ The Promised Land ~ The Cowboy and the Schoolmarm ~ I'm a Son of Oregon ~ Only a Cowboy Knows ~ Oregon City ~ Amazing Grace >
The Tibor Brothers "Our Last Album Of 1975" (JoMar Records, 1975) (LP)
(Produced by The Tibor Brothers & Paul Martinson)
North Dakota's Tibor family certainly had a colorful backstory... Their great-grandfather led a dance band in the 1920s, and their mother learned to play country songs when she was young, teaching her own children to play as well. The Tibors were farmers, but in the 1940s they began to play music professionally, and eventually became so successful that the family split the work up into multiple bands so that they could play more than one gig a night. That was easy since Jospeh and Margaret Tibor had fourteen children(!) born over a span of a couple of decades... Not only that, but the kids were named alphabetically as they were born: Albert, Bernard, Charles, Dorothy, Ernest, Francis, Gerard, Harvey, Irene, Jerome, Kurt, Larry, Marie and Noreen. (And thank goodness they stopped halfway through the alphabet! Their poor mom!) Anyway, this is one of several albums the Tibors recorded over the years, released on their own home label, JoMar Records, which was named after their parents. The songs are all originals, written by various members of the band. (Thanks to NDSU and the Hebron Herald for background info on this band...)


<! - # - NOTES >

The Tibor Brothers "Land Of Broken Dreams" (JoMar Records, 1978) (LP)



<! - #1084 >

The Tibor Brothers "Country Music" (JoMar Records, 1981) (LP)



<! - #JR-10825 >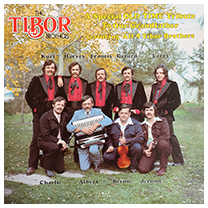 The Tibor Brothers "A Special Old Time Tribute To Our Grandfather -- Featuring All Nine Tibor Brothers!" (JoMar Records, 19--?) (LP)
In the Great Lakes/High Plains region, when they say "old time music," what they mean is polka. And waltzes. Which is what's on this album... not the Carter Family type stuff from the Appalachians. This one was an homage to their grandfather, Leonard Heckler, who was himself a local musician, pictured on the back cover in 1931, accordion in hand.


<! -# >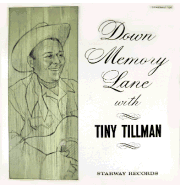 Tiny Tillman "Down Memory Lane With Tiny Tillman" (Starway Records, 19--?) (LP)
This is what I assume was the lone solo album by a regional Missouri country star, Tiny Tillman, who performed on several Opry-like radio shows, most notably the Kansas City-based "Brush Creek Follies" where he was a cast member from the late 1940s through the early '50s. This self-released record caught my eye for a couple of reasons, notably because of the all-star lineup of hotshot musicians backing him up, including Tommy Hill on guitar, Shot Jackson playing steel, Junior Husky on bass and Tommy Jackson playing fiddle... the elite of the '50s studio crews! There's no discographical info on the jacket, but I'd guess this came out round 1966-69. Anyone know for sure?


<! - bio (MO) >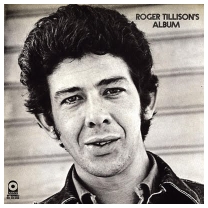 Roger Tillison "Roger Tillison's Album" (Atco Records, 1971)
(Produced by Jesse Ed Davis)
Oklahoma-born songwriter Roger Tillison came from the same "Tulsa sound" scene as J. J. Cale and Leon Russell, moving to upstate New York when Woodstock became a hip retreat for roots-oriented musicians such as the Band and all the folks around the Bearsville studios. This was Tillison's only solo album (until the 2003 release below) and while it was a cult fave, it didn't generate much sales action at the time... The repertoire is half originals, half covers, including an early version of The Band's "Get Up Jake," which they recorded the following year.


<! - # - (OK) >
Roger Tillison "Mamble Jamble" (2003)



<! on a Japanese label >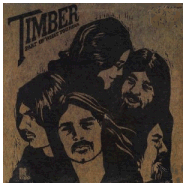 Timber "Part Of What You Hear" (Kapp Records, 1970) (LP)
This short-lived band was a collaboration between two songwriters, Wayne Berry and George (no, not that one) Clinton who each had distinctive and largely divergent musical interests, with Clinton being (roughly) more of a rocker, and Berry being more on the country/rural/acoustic side of the tracks. They recorded two albums as Timber, followed by a couple of solo albums, and briefly reunited as "Volunteers" for one album in 1976.


<! - 03/2014: still needs a real review - Wayne Berry from Nashville; met Clinton in California >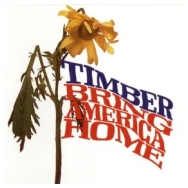 Timber "Bring America Home" (Elektra Records, 1971)
(Produced by Don Gallucci)
A curious mix of white-boy boogie-funk and more rural material, reminiscent of Leon Russell and Little Feat, with Wayne Berry apparently the more versatile songwriter: he contributes a couple of the more effective funk-pop tunes, as well as some twangier, more acoustic material, such as the overtly country "Canada" and the softer, folkie ballad, "Don't Underestimate Your Friends." I'd say Clinton got into heavier, deeper grooves, though I like Berry's songs better. Several tracks also feature a third vocalist, Judy Elliott, a more folk-oriented singer who recorded with Timber on both their albums, and later did some work with Hoyt Axton... I find her a little distracting because she seems stylistically out of sync with the blues-rock vocals of the guys, but she helps create a funky feel in their choruses... Also worth noting is the album's political content - the opening tracks are about social decay and the draft-dodging of the Vietnam War era, while the rest fo the songs are more oblique and veiled, fuzzy ruminations about life and spirituality that are pretty typical of the era. There's not really that much "country" stuff on here, though it is there. But '70s rock fans who are into Joe Cocker or Delaney & Bonnie might dig these guys, too.


<! - # >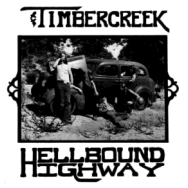 Timbercreek "Hellbound Highway" (Renegade Records, 1975) (LP)
Genuine hippiebilly rock from the Santa Cruz Mountains, near San Francisco... These guys sounds a lot -- and I mean a lot -- like the early-'70s Grateful Dead. Pretty sure it was on purpose, too. If you're a fan of classic, country-flavored Dead albums like Workingman's Dead and American Beauty, but always wished they'd recorded more stuff that sounded like that... Well, here's your wish come true. It's not really Jerry and the gang, but if you close your eyes and smoke enough of whatever, you'd hardly know the difference. Real-deal California super-hippie stuff, and pretty good, too.


<! - # >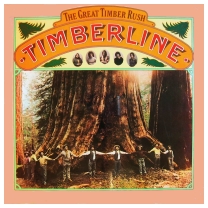 Timberline "The Great Timber Rush" (Epic Records, 1977) (LP)
(Produced by Bones Howe)
Yeesh. This country-rock band from Kearney, Nebraska hit the big time (kind of) with a major-label contract that featured the perky beat and airy melodies of contemporary country-rock, almost to a fault. Brothers Chuck and Jim Salestrom formed the band as teens, back in 1971, building up a regional reputation that led to their getting signed by CBS Records, and a recording session with a bunch of LA heavyweights. Plenty of other artists come to mind when listening to this record: America, John Denver, The Eagles -- et cetera. -- but the ultimate impression is one of generic, derivative, overly-slick, overly-pumped up AOR twang. I mean, yeah, for the genre this is probably pretty good -- fans of 'Seventies soft rock will probably dig it, but for whatever reason it got on my nerves and brought out the twang-snob in me... it just seems too contrived and formulaic, although the band really put their heart and soul into the sessions. Apparently, while riding on the success of this album Timberline toured with Dolly Parton for a while, but the band fell apart in '78, with Jim Salestrom breaking orbit and establishing himself as an in-demand session player, songwriter, and solo musician. He toured with Dolly in the 1980s, and has worked steadily throughout the years. This album? Didn't work for me, but really, it's pretty strong for the genre.


<! - # - NOTES >
The Timberline Band "Too Much Fun" (Golden Horseshoe Records, 19--?) (LP)
(Produced by Claudette Kerr Alldredge)
This longhaired Vegas lounge band (who were different than the Timberline listed above) recorded several original songs by lead singer Kim Blakey, as well as a cover of Commander Cody's "Too Much Fun," a Flying Burrito Brothers tune and a Sons Of The Pioneers medley... Apparently they worked in the Maxim Hotel in the 1970s... Haven't heard this one, but I am curious!


<! - # >
The Time Machine "Live At The Back Alley Lounge" (Manchester Records, 197--?) (LP)
Boasting of their musical diversity, this short-lived trio from the Washington, DC area included guitarist Mike Faour (who was into soul music), drummer John Burgoyne (who is credited as the country influence) and keyboard player John Jackson, who was into oldies. Not strictly a twangband, by any means, they definitely had a country streak, covering a Hank Williams tune, Joe South's "Rose Garden," Leroy Dan Dyke's oldie-but-goodie "Walk On By" and Kris Kristofferson's "For The Good Times," as well as Albert Hammond's "It Never Rains In Southern California," a soft pop hit from 1972 that I always felt had just a little bit of twang to it. There's also one original song, "Can't You See," which is credited to Mike Faour, who apparently ran a DC-area guitar shop along with superpicker Danny Gatton, who was a rising star on the DC roots music scene. As far as I know, this was the only album this group put out, and I'm not sure if any of the members pursued other musical projects afterwards...


<! - #NR-3125 - "early 1970s" according to liner notes - no real info online, no pix - no ASIN 01/17/16 >
Timothy P. & Rural Route 3 "Utah Moon" (Mail Box Records, 1976) (LP)



<! Timothy P. Irvin - several original songs, and an interesting selection of covers; three by Michael McGinnis >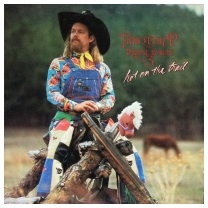 Timothy P. & Rural Route 3 "Hot On The Trail" (Mail Box Records, 1981) (LP)
(Produced by Timothy P. Irvin & John Macy)
Although the repertoire is solid indie-outlaw cow-twang, the performances have a slightly more rock feel to them than I prefer. This is a good record to know about, but somehow there's a slightly manic edge to the music -- and to Irwin's vocals -- that sets me a little on edge. I dunno. Anyway, it's definitely worth checking out, with covers of classics by Willie Nelson, David Allan Coe, a couple by Michael McGinnis and a version of Mike Burton's "Night Rider's Lament." There are also several originals -- Irvin provides "Chat With Your Dog" while bassist Bruce Horn adds "Right Smack In The Middle Of The Blues" and there are a couple of songs by a guy named Jerry Armstrong, though he apparently was not a member of the band.


<! https://yourhub.denverpost.com/blog/2018/11/ring-in-the-season-with-holiday-string-band-timothy-p-and-the-rocky-mountain-stocking-stuffers/230692/ "...Colorado entertainer Timothy P. Irvin, known nationally as the lead singer for the legendary Flash Cadillac and Timothy P. and Rural Route Three..." - IMDB: Timothy P. Irvin is an actor and composer, known for Every Which Way But Loose (1978) Timothy P. Irvin, Colorado Vietnam veteran and well-known entertainer, sings "After The War" -- a song he wrote and once performed at a ceremony at the Wall. A moving story song that all who served in Vietnam will identify with... Tim performed this song for President Clinton at the Viet Nam War Memorial in Washington DC live on CNN. > <! Timothy P. & Rural Route 3 "Live At The Little Bear" (Mailbox Records, 19--?) (cassette) - #MBR-7548 - at the Little Bear, Evergreen, Colorado Timothy P. & Rural Route 3 "Three" (Mailbox Music, 19--?) (LP) - #7544-1 - 1975? - includes "Jesus Scared The Hippie Out Of Me" Timothy P. Irvin & The Rocky Mountain Stockings Stuffers "A Bluegrass Christmas" (199--?) (CD) - # none - no date Timothy P. Irvin - 1996 CD w/ war song >
The Tinhorn Express "Jumping The Tracks" (Lemco Records, 1979) (LP)
(Produced by Cecil Jones & Matt Presby)
A progressive bluegrass/acoustic swing band whose repertoire was a mix of bluegrass, country and western swing, with some material written by lead singer Steve Goins, including the title song, "Jumping The Tracks." This also includes yet another cover of "Friend Of The Devil," in case anyone is keeping a list. Not 100% sure, but I think these guys were from Kentucky...


<! - #12579 - (KY) >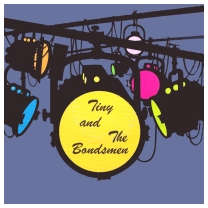 Tiny & The Bondsmen "Tiny And The Bondsmen" (Camaro Records, 1977) (LP)
(Produced by Gary Adair)
Only a little bit of twang on this one: lead singer Tiny Bond, backed by Gary Adair, Buck Hutcheson and Dave Parnell, cut this set of rock oldies, '70s disco and country covers while living in Memphis, Tennessee. Marilyn McCoo's "You Don't Have To Be A Star" coexists with Orlean's "Still The One," Buddy Holly's "That'll Be The Day" and Elvin Bishop's "Fooled Around And Fell In Love." Groovy, baby!


<! - # >

Elmer Tippe "I Found A Song" (Cynda Records, 1971) (LP)
A Canadian radio host and country singer from Alberta, Elmer Tippe started his career in the late 1940s, playing fiddle in a band with his brothers, and was later a featured member of ex-rocker Rudy Hayden's late-'60s band, playing on Hayden's 1967 album, The 401. He broke out as a solo artist on this self-released album, establishing a strong regional following in British Columbia, both as a broadcaster and as a recording artist. He charted a few modest singles in the '70s and was inducted into the Canadian Country Music Hall of Fame in 2002. His son, Rick Tippe, also became a country artist, recording several albums in the 1990s and '00s.


<! #CNS-1001 >

Elmer Tippe "...And His Supercountry Band" (Roadside Records, 1980-?) (LP)



<! #HRL 103-80 >

Elmer Tippe "Dreams Of A Dreamer" (Roadside Records, 1982) (LP)



<! #HRL 106-82 - no LP ASIN 07/17/15 - 1982-? - label from BC, Canada - singles on Roadside as well >

Elmer Tippe & Supercountry "Do It In The Sand" (Roadside Records, 1983) (LP)
(Produced by Harold F. Wainwright)



<! - #HRL-108-83 "Recorded Live At The Canadian Open Sandcastle Building Contest, White Rock, BC" ELMER TIPPE - no ASINs 11/30/16 http://www.ccma.org/cgi/page.cgi/hall_of_fame_inductees.html?log=view&log_id=63 https://www.discogs.com/Elmer-Tippe-I-Found-A-Song/release/7979060 https://www.discogs.com/Elmer-Tippe-Dreams-Of-A-Dreamer/release/8580691 https://en.wikipedia.org/wiki/Rick_Tippe >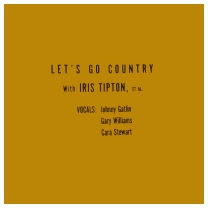 Iris Tipton/Various Artists "Let's Go Country" (Iris Records, 19--?) (LP)
Songwriter Iris Tipton is a beloved figure among devotees of the "song-poem" genre, that shady subset of the music business where aspiring songwriters would send their lyrics (or music) away in the mail and the label owners would hire unknown musicians to perform them in the indicated style. Based in Los Angeles, Iris Records was a private "label" affiliated with the Lee Hudson song-poem company, and was reserved exclusively for the work of Ms. Tipton, who produced a few dozen oddball offerings. For this album, she "went country," penning a dozen songs of questionably twangy pedigree. There were three singers involved, each of whom no doubt hoped that the record might make them famous someday. Side One features six tracks by a guy calling himself Johnny Gatlin who, as far as I can tell, was no relation to the Gatlin Brothers. Indeed, his real name was probably John Stephenson: he and Tipton share the songwriting credits on all six songs, including the topical number, "From Over Here In Viet Nam," a tune that helps place this album somewhere in the mid-to-late 1960s. Side Two includes two tracks sung by Gary Williamson and four more by a gal named Cara Stewart, who is one of the most notorious and prolific song-poem singers. Methinks that the Johnny Gatlin tracks are the most country, with tunes like "Mama Caught Me In A Bar Room" and "Give Me A Bar Girl And A Bottle Of Wine..." [NOTE: For more info about the whole song-poem phenomenon, check out Bob Hudson's blog or www.songpoemmusic.com]


<! - # - (CA) >
Tim Tisdale "...And The Texas Reunion Band" (197--?) (LP)
Okay, I tried, but I really couldn't track down any info about this guy outside of what's seen on the albums themselves... I'm guessing Tim Tisdale could be the same guy who was an early-'60s football star Arlington High School, though maybe not... But he was a prolific songwriter, though, penning all the tunes on this independently-released album. Not sure perzackly when this came out, either -- guesstimates vary widely in the Interwebs, so any guidance would be appreciated.


<! - #TT-515 >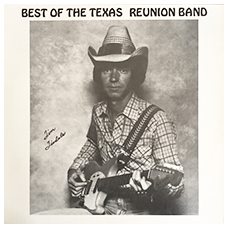 Tim Tisdale "Best Of The Texas Reunion Band" (Earth & Sky Studios, 197--?) (LP)



<! - Worldcat: "1983?" "...2 editions published between 1983 and 1985" - #TX-912 - all songs Tim Tisdale originals - steel guitar by Jim Guthrie - Tisdale (same one?) graduated from Arlington, Texas High in 1964 1987 single on Sirius Records >

Tim Tisdale "Edge Of Town" (RMT Records, 1985) (LP)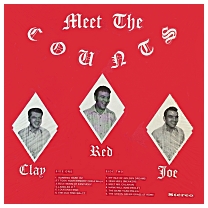 Joe Tishmack "...Play's Waltz's And Polkas" (Count Records, 197--?) (LP)
Cordovox accordionist Joe Tishmack led a dance band from New Hope, Minnesota called The Counts. The band recorded some country twang as well as all the polkas and waltzes, though this disc has a strictly instrumental bias. The misuse of apostrophes in the album title is, lamentably, not all that uncommon.


<! - #LP-002 ~ #40907/40908 - ddc from Rite # >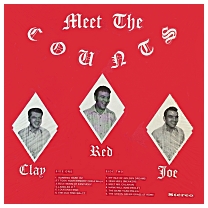 Joe Tishmack & The Counts "...Play Old Tyme" (Count Records, 1979) (LP)
Alas -- no country stuff on here, just more polkas and waltzes, the stuff they called "old time music" up around the Great Lakes and upper Midwest. Slightly different lineup with Mr. Tishmack and guitarist Red Johnson still anchoring the band, along with a tuba player named Jolly Jay, drummer Mike Wagner, and Vi Tishmack on piano. Country fans can skip this one.


<! - #LP-004 ~ #40907/40908 - ddc from Rite # - Violet Tishmack, his wife - Red Johnson also cut a solo album >

Joe Tishmack "Bits Of Country" (Count Records, 1982) (LP)
A country(ish) set by Cordovox accordionist Joe Tishmack, who led and recorded with the New Hope, Minnesota polka band The Counts. As on the Counts records, he mixes "old time" instrumentals with


<! - LP-006 ~ #RR-42141 - accordionist with the polka band, The Counts (also recorded under the band's name) - ddc (Rite = 42141) >

T. J.'s Review "Can't Help But Wonder Where I'm Bound" (Natural Act Records, 1983-?) (LP)
(Produced by Mike Graham)
A bluegrass/acoustic swing band from Greenfield, Indiana featuring Richard Burkett (mandolin,) David Percifield (banjo), Larry Heck (guitar), Jan Snider (banjo, lead vocals), Lew Snider (bass) and Tim Gibson (guitar).


<! - #NA 040483 - no ASIN 01/13/17 >
Dave Toland & The Armadillo Desert Band "You Can't Take Back The Kiss" (Desert Records, 1982) (LP)
(Produced by Michael Larscheid, John Tanner, Frank Lindsay & Dave Toland)
The debut album by honkytonk songwriter Dave Toland, who was a rambling man if ever there was one... Born in Texas, he played bars in Arizona before moving up North to Wisconsin, of all places. This album was recorded in Milwaukee, where Toland was hanging his hat at the time, leading an all-local band that toured the Great Lakes area... In the 1990s he relocated to Denver, Colorado and eventually made his way to Hawaii's Big Island, picking and singing at every stop... This is a fine set of original material -- other than a cover of Terry Stafford's "Amarillo By Morning," the songs are all written by Dave Toland.


<! - # >
Dave Toland "Didn't I Let You Drive My Truck" (Star Revue Records, 2005)
As far as I know, this is the only other album Toland released -- a perky set of country novelty songs, led by the clever title track. Vocally, he sounds a lot like the young Rodney Crowell!


<! - # - (WI) >
Tom & Curt "It's About Time" (T&C Records, 19--?) (LP)
(Produced by Dave Filchak)
A Canadian duo -- guitar picker Tom Price and bass player Curt Stuckert -- who recorded mostly country stuff on this album, including songs like "Grandma's Feather Bed," "Rocky Top" and "Luckenbach, Texas," along with some seemingly out of place pop vocals material (such as a Charles Azavanour song...) No info on these guys, other than that this was recorded at a studio in Alberta. John B. Lacey, who co-produced the album listed below, plays trumpet on their version of Tom T. Hall's "Ravishing Ruby."


<! - no ASIN 10/05/15 - #T&C-100 - Dave Filchak = engineer - no producer credit >
Tom & Curt "Sure Thing" (T&C Records, 1980) (LP)
(Produced by Tom Price & John B. Lacey)
As on their other album, a mix of country stuff -- such as Bobby Bare's "Tequila Sheila" -- along with pop/rock oldies like "Wipeout" and "Pretty Woman."


<! - # - no ASIN 10/05/15 >
Tom & Dink's Red Dog "Tom & Dink's Red Dog" (Lost Dog, 1975) (LP)
(Produced by Tom & Dink Mantle, with Craig Overton & Dakota Sid Clifford)
A sweet, idiosyncratic, unpretentious folk/country-rock album from Grass Valley, California. Brothers Dink and Tom Mantle were the core of the band, writing songs that are simultaneously earnest and goofy, sort of like a mashup between the Holy Modal Rounders and New Riders Of The Purple Sage. Pedal steel player John Ramey matches them in his direct, effective approach -- nothing too flashy or ambitious, just what it takes to get the job done. This is a very appealing album, particularly with the album art by cartoonist Dan O'Neill (one of my favorite "underground comix" artists) and the musician's credit for backup vocals by "The Greater Nevada City Almost Straight Chorus." This one definitely has a place in the hippie twang canon!


<! - # Songs: Tenting Tonight/The Ballad of Coyote/ Keeping Time With You/When You See My Dust/Stood Up/Show Me Where It Hurts/Take Me To Some Water/Dust Devil/The Family/I Haven't Gotten Over You Yet/The Success/The Right Night. >
Tommy & Johnny "Just A Little Bit Lonely/One Out, One In" (Prolif Records, 1970-?) (LP)
(Produced by Fred Mergy & Lonnie Hewitt)
Wow. This is a stunningly bad, really weird record. And all you folks out there who are into stunningly bad, really weird records... pay heed. Tommy Graham and Johnny Steffan were convicts in the California state correctional system when this record was made... Well, actually Graham was recently on parole, hence the record's subtitle, "one out, one in." I'm not sure how or why this record came together, but it's a real hallmark of iffy music-making. Is it country? Well, kind of, on about four of the songs: "If These Walls" -- which is about San Quentin penitentiary -- starts out with an old-fashioned recitation, expounding on the lures of a life of crime before the twangy arrangements (and the moral) kick in... "Ode To Spade" is an homage to western swing legend Spade Cooley, who Graham and Steffan apparently met in prison, and who encouraged them to pursue their musical aspirations. (This wasn't Cooley's only crime: he brutally beat his wife to death and died while still serving a life sentence... The song is based on Cooley's real-life demise, when he suffered a heart attack while doing a benefit show in Oakland, and it's certainly the best track on the record.) Musically, most of this record is over-the-top, bombastic pop-soul crooning with a Fat Elvis feel, and several songs are so bad they are simply astonishing. A centerpiece of the record is "That's What I'll Never Be," a cautionary tale that starts off with a long, Cheech & Chong-ish spoken-word bit where some junkies shoot up and keep getting high even after one of them OD's and dies in front of them... then the band kicks in and plays a funky (but bad) soul number. How this record came about is a mystery -- I guess Graham had some money stashed away and paid for it, but there also seems to be some of the hippie-era revolutionary mystique that convicts were cool, and KFRC, San Francisco radio deejay Dave Diamond contributed glowing liner notes likening them to Elvis. The backing band included some serious session players such as pianist Mike Finnigan and guitarist Jerry Hahn, but nobody could do much to elevate this record beyond novelty status. Still...


<! - #TG-10001 - date dc - no ASIN 10/05/15 >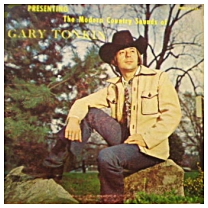 Gary Tonkin "Presenting The Modern Country Sounds Of Gary Tonkin" (Music City Records, 1976) (LP)
(Produced by Mike Shockley)
Originally from Seattle, Washington, singer Gary Tonkin performed extensively while stationed abroad in the Air Force during the early 1960s, and formed his own band when he got back stateside. Tonkin played in a band called the Bitter Creek Canyon Band while living in Flagstaff, Arizona... This album was recorded in Nashville with a band that included Gary Tonkin on rhythm guitar, Frank Bernard (lead guitar), Glen Decker (bass) and Gary Toothaker (drums). The album is mostly cover tunes, along with a few originals such as Gary Tonkin's "Hey You" and Frank Bernard's "Big Fool Of The Year" and "Early Morning Sadness." Tonkin was a fairly schmaltzy performer, in sort of a Glen Campbell-ish mode, although he covers some more robust material -- songs by Waylon Jennings and Willie Nelson. He also covers Rod Hart's "Arizona Morning," a nod towards his days in the desert.


<! - #MC-GT 3-3-76 - a pretty weak singer, indifferently backed. Mix of country and oldies/pop-rock vocals - says he played at "DJ's" in Flagstaff, Arizona - was that JDs? >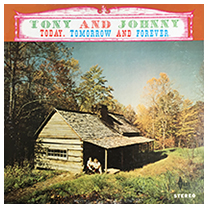 Tony & Johnny "Today, Tomorrow And Forever" (Trail Records, 19--?) (LP)
(Produced by Rick Salyer)
Tony Gosnell and Johnny Wilder were cast members of Bonnie Lou & Buster's country show at Pigeon Forge, Tennessee... They formed a duo in 1974, recording this album at the Tri-State Recording Company in Kingsport. includes four songs written by either Tony or Johnny, including the title track, which was written by Gosnell. There are also several cover songs, including a version of "Before The Next Teardrop Falls." Southern gospel pianist and country producer Otis Forrest plays on this album...


<! >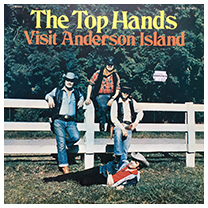 The Top Hands "Visit Anderson Island" (Shiloh Records, 19--?) (LP)
(Produced by Gene Breeden & Dave Dixon)
The house band at the Casino Club in Everett, Washington, the Top Hands played regionally in Washington and Oregon and had been together for three years at the time they made this album. Recorded at the fabled Ripcord studios, this disc is noteworthy for its wealth of original material: all the songs were co-written by bassist Paul Stoffel and an old-timer named Johnny Grange who was pals with (but didn't perform in) the band. The lead vocals were split between Stoffel, drummer Jack Martin and lead guitar Frank Hurley. (I'm not 100% sure yet, but I believe this is the same Frank Hurley who later recorded his own album, I Like Honky Tonks, in 1980...) Anyway, none of them were great singers, and the band was also kind of bar-band average, but they were dedicated and totally into it, so that counts for something. Also, even though all the guys came from other places -- Colorado, Florida, Montana and Tennessee -- there are several Pacific Northwest regional-pride songs, including "I'm In Seattle, Baby" (which constantly references Fresno, California) and "Anderson Island," which literally sings the praises of the southernmost large island in the SeaTac waterways. Not a great record, but charmingly local, for sure.


<! - # - no ASIN 04/28/16 >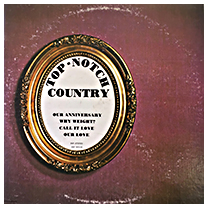 The Top-Notchers "Top Notch Country" (1973-?) (LP)
(Produced by Bill Dobbs, Norm Herman, Dave Melgard, Larry Scott & Wayne Zank)
Real-deal locals-only country from central Wisconsin... The repertoire is half-originals, half-covers, with a few polka tunes thrown in for fun. The Top-Notchers were formed in the 1960s by drummer Bill Dobbs, who anchored the group along with piano player/songwriter Dave Melgard, of Eau Claire. The bandmembers were all from a cluster of towns near Eau Claire and Neillsville, Dobbs and Melgard backed by John Kreuger on drums, Dale Sanders (bass) and Wayne Zank (guitar), while harmonica player Paul Runholm had been active for several years as a college folkie at UW-Stout in nearby Menomonie. Zank, who hailed from Holcombe, played in polka band as a kid, and later got into show promotions and managing bands, including local rockers as well as country acts... Dave Melger contributed four original songs to this album: "Call It Love," "Our Anniversary," "Our Love," "and the novelty number, "Why Weight?" The rest of the record spotlights gems by Merle Haggard and Harlan Howard, as well as a couple of tunes from '71, Jim Chesnut's "Four In The Morning" (a hit for Faron Young) and Wanda Ballman's "Anywhere (Just Inside Your Arms)" which was a popular number for Charley Pride. I'm not sure how long this group stayed together, but Mr. Melger was still performing locally as recently as 2019, although I think he was playing solo.


<! - #1973-33 - guessing at date from cat# - formed in 1960? - liners by DJs at WAXX-WEAU radio, Eau Claire - NOTES, tracks, bios, ci - 10/26/19 - other (older) bands with same name, a few singles >

John Topper "God Loves Cowboys Too" (Raintree Records, 1985) (LP)
Not entirely sure what's going on with this one... John Topper's label was from East Freedom, Pennsylvania, a bitty little town, smack dab between Pittsburg and Harrisburg, about fifty miles away from either big city. I think he may have been a children's music performer -- the cover shows him in cowboy clown makeup, with a kid dressed in western gear. The CD version was called God's Got A Soft Spot For Cowboys, also on Raintree Records.


<! - # - from New Paltz(?) PA - also had a single: John Topper "Simon Says / Leavin' in the Morning" (McKee Records) (7") >

Mitch Torok & Ramona Redd "Ballads Of Texas" (Texas Specialty Records, 1972) (LP)
(Produced by Bill Holford, Mitch Torok & Ramona Redd)
This is one of those late-life indie albums recorded by a country star of yesteryear... Best known for writing the Jim Reeves hit, "Mexican Joe," Mitchell Torok had his heyday in the 1950s, touring with Reeves and placing a couple of singles in the charts before mostly fading from sight by the late 'Sixties. With solo success proving elusive, Torok focussed on songwriting and placed his tunes with a number of Nashville regulars, notably with Hank Snow and Kitty Wells. (A surprising entry into his ouvre was "The Redneck National Anthem," a solid-gold novelty number recorded by Vernon Oxford in the late 'Seventies...) Ramona Redd was the stage-name of his wife and songwriting partner, Gayle Redd, who also recorded as Gayle Jones... This Texas-oriented album pays homage to Torok's early years in the Lone Star state, and is echoed later by another regionally-themed album celebrating the city of Nashville's centennial, in 1980.


<! - Holford engineer - all originals - maybe also in mersh & real hicks? - born in Texas >

Mitch Torok & Ramona Redd "Nashville: 1780-1980" (Cedarwood Records, 1980) (LP)
An homage to the Tennessee town that became the home of the country music industry... It's a centennial celebration that's only a little confusing, since Nashville was actually founded in 1779. But maybe there's some weird thing where the first year doesn't really count, or maybe Tennessee years are different than regular years, or maybe the Toroks know something I don't know. Also features narrations by Dan Miller.


<! - # - narrated by Dan Miller - Ramona Redd was his wife, Gail Torok (nee Gail Redd) https://en.wikipedia.org/wiki/Mitchell_Torok >

Jorge Torrens "Country-Rican" (Log Press Records, 1976) (LP)
(Produced by R. Morrick & Todd Van Ohlen)
Country-rican? Dude, I am so there! I don't have much info about this guy, but apparently he was from Aurora, Illinois and played gigs around Chicago. This album includes lots of cover songs, mostly country, although he also does a version of Bert Kampfert's "Spanish Eyes," as well as Gershwin's "Summertime." There's one original by Torrens ("Love") and a couple by bassist Ken Hill. The album closes with a tune called "So You Say You're Tired Of Country," written by Diane Marcheschi, who I believe later was the owner of Club Alternative, a "teen club" in Chicago, circa 1988. Alas, Torrens doesn't seem to have actually woven Puerto Rican music into his work... but the country stuff is nice. The liner notes helpfully inform us that this was his first album.


<! - no ASIN 12/06/17 - his first album >

Jorge Torrens "Jorgie/I'm Not The Boy I Used To Be" (Log Press Records, 1984) (LP)
He was still keepin' it country in the early '80s... this album includes covers of stuff by Buck Owens, Kris Kristofferson, et al. Nothing by Ramito, though. Alas.


<! - no ASIN 12/06/17 >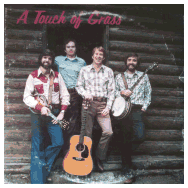 A Touch Of Grass "A Touch Of Grass" (Matador Records, 1981) (LP)
(Produced by Bob Lindner & Fred Catero)
This Bay Area bluegrass band deserves mention in the "hippiebilly" annals, if for no other reason than the record features liner notes by KFAT deejay Cuzin Al Knoth, who taught me a thing or two about bluegrass, back when I was a kid. Also, they have an interesting song selection which includes some country covers (like Don Gibson's "Oh Lonesome Me"), Peter Rowan's pothead anthem, "Panama Red," and a particularly nice version of the contemporary Hawaiian pop song, "Waimanalo Blues" by Country Comfort, which I believe spotlights some sweet dobro playing by guest picker Mike Audridge and his pal, the band's lead singer, Bob Lawrence, who co-authored a book on dobro technique with Auldridge. To be honest, these guys were not all top-flight pickers, but the album has a nice, earnest feel, and is local as all get-out: Northern California gets a special shout-out in one of their original songs, "Mendocino," and the label was in then-sleepy Sunnyvale. (I'm gonna go out on a limb and bet that bassist Mike Sanders -- whose bio blurb (from 1981) -- says that he "sells and repairs home computers," did alright for himself...)


<! - still no ASIN 01/21/15 >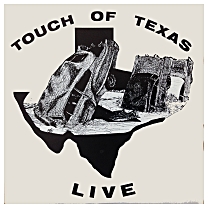 Touch Of Texas "Live" (Touch Of Texas Records, 1984) (LP)
(Produced by Bob Kingdom & Touch Of Texas)
This one's just a plain old, flat out good-timin' live record, with a twangified Lone Star-identified hippiebilly jam band working their way through various favorites and oldies... The set list includes "Roly Poly," "London Homesick Blues," "Hey Good Lookin'," and other songs sure to make the audience -- and the band -- have a ton of fun as the night grows long. The musicianship is simple, confident and loose, nothing flashy or phony, just some folks who know how to party, and aren't making a big deal out of it. The band includes lead singer Scott Sweeten, drummer Steve Burton, Wendy MacBain on keyboards and John Weston playing pedal steel. Although they name-check Texas, the band was apparently really from the West Coast, recording this live set at the Horseshoe Club, in Santa Clara, California, near San Jose. Anyone know more about these folks?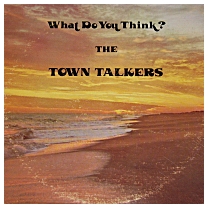 The Town Talkers "What Do You Think?" (Infinity Records, 197--?) (LP)
(Produced by Andy Deganahl)
A Florida-based twangtune band, featuring Rick Arlen on lead guitar, Ray Byrd (pedal steel), Pete Crosby (drums), Fred Schneiter (banjo), Greg Sulzer (bass), and Robert Wesley English on rhythm guitar. The album sports the same "beach cover" stock-art cover graphics as LPs by Roy Clayborne, The Korean Grand Ole Opry, and countless others, though this picture seems pretty widespread, and I haven't yet been able to pin down which manufacturer provided the photo, or the record pressings that came with it...


<! - #NR-9635-1/2 - early (mid?) '70s - no ASIN 10/10/15 - looks like lots of originals(?) and some covers - no songwriter credits Side 1: Bad Blood / Lonesome, Lonely / Blackjack County Chain / Pins and Needles / Georgia / What Do You Think (About That Girl Now) Side 2: Raise Hell / You're Not Mine Anymore / No One Will Ever Know / Ghost Riders / We Could / The Song I Wrote For You >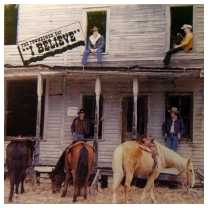 The Townsmen "I Believe" (Coulee Records, 197--?)
Another mystery band. This one was recorded in La Crosse, Wisconsin in either the late 1970s or early '80s, from the looks of it.


<! - #CLPS-1009 - no ASIN 02/18/15 - "great harmonies" says one listing - were they country-rock, or gospel? - spelling of band? (208 available) https://www.discogs.com/label/292897-Coulee "...Coulee was a '60s record label based in La Crosse, Wisconsin. Owned by Bill Grafft, who also ran the Boom, Knight, Column, Lindy and Transaction labels. The La Crosse area is known as "Coulee Country;" in the unglaciated area of Wisconsin, "coulee" refers to a steep-sided valley. >

Bill Trader "Sings His Songs" (Jim Dandy Records, 1963-?) (LP)
South Carolina songwriter Bill Trader (1922-2003) struck gold with his classic weeper, "(Now And Then) There's A Fool Such As I" which Hank Snow took to the Top Five in 1953, and which was later recorded as a pop hit by Elvis Presley. Mr. Trader never really matched that success, nor did he do much as a performer in his own right. A decade later, encouraged by Charlotte, North Carolina television personality Doug Mayes, Trader put together a dozen songs for this album, where he's backed by a pickup band called the Castaways: Jim Waters, Carroll Dills, Tom Cook, Bill Roberts, and Bob Durham. As far as I can tell, Doug Mayes organized the recording session, though the exact details are probably long lost to the mists of time. The Jim Dandy label was a custom service based in Newberry, South Carolina, run as a sideline by local businessman Jim Davis, who issued about a dozen singles by various local artists, in addition to this one LP by Mr. Trader. (Thanks to the Hillbilly Country blog for info about the label...)


<! - #LP-JD-963 - no ASIN 12/14/16 https://en.wikipedia.org/wiki/Bill_Trader http://hillbillycountry.blogspot.com/2010/12/jim-dandy-label.html >

The Trailriders "...Sing Songs Of Western Folk" (KCMS, 196--?) (LP)
(Produced by C. M. "Bud" Edmonds)
A western-themed trio from Colorado Springs, CO, singing cowboy songs and the like... The group included leader Clyde Casey, whose family traces back to old-school Colorado rancher stock, along with Ronn Langford, an easterner with a show business background, and Jerry Teske, a high school chorus director in Colorado Springs. Songwriter Johnny Smith contributes a tune called "Land Of The Velvet Hills" and plays guitar on a couple of tracks. The producer Bud Edmonds owned a local radio station, KCMS, and makes reference to using new recording technology from the town's "recently opened" Ampex factory, which helps date this album. It's not clear if the trio also performed on KCMS, but the album was certainly sponsored by the station, or at least bankrolled by Mr. Edmonds.


<! - #KCMS-1282 - NOTES re Ampex >

The Trailriders "Trailriders" (Garden Sight And Sound, 196--?) (LP)
A similar set, though with a different lineup. Although Clyde Casey was originally identified as the leader of the band, it looks like Jerry Teske was the guy who kept it going... Here he's joined by Bill Moon and Rob Ryder... This disc also includes a version of Johnny Smith's "Velvet Hills," though it's unclear if Smith plays on this album as well. Garden Sight was a custom label based in Colorado Springs that mostly seems to have recorded religious material.


<! - #LRS-ST-4999-A/B >

The Transplant Band "Gift Of Life" (CRT, 1983)
This was apparently a group of doctors and/or surgeons from the Nashville area that formed a band and released this album to benefit the National Kidney Foundation of Middle Tennessee.


<! - CRT = ____________ Records & Tapes - no ASIN 12/01/14 >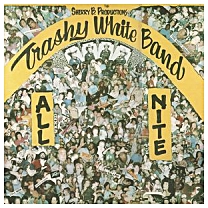 Trashy White Band "All Nite" (Sherry B Productions, 1983) (LP)
(Produced by Sherry Broadhead & Bert Cowell)
Following in the footsteps of David Allan Coe, this Florida band indulged in a bit of racist "humor" with the lead track, "She Ran Off With A N-----," which semi-tastefully only reveals its full title on the inner label. (On the single, however, it's plain as day...) Despite that rather offensive beginning, most of the rest of this album is just straight-up country covers, drawn from a variety of sources, with the next-most overtly risque songs being Milton Brown's western swing oldie, "Fat Gut Phoebe." There's also a cover of Steve Goodman's "She Never Even Called Me By My Name" and a couple of originals by singer Bert Cowell, "Eatin' My Heart Out" and "Tin Roof," as well as a version of Randy Howard's "All American Redneck." Of course. Oh, Florida... don't ever change.


<! - no ASIN 05/26/15 >


Artie Traum -- see artist profile





Happy Traum -- see artist profile



Jon Travers & The Now Country "The Forge Presents..." (Wishbone Records, 197--) (LP)
Not a lot of info about this guy... He had kind of a soft, folk-pop sound, though there was some country in the mix as well. The set list includes covers of Charlie Rich and Elvis Presley, and quite a few original songs written by Jon Travers and one by his co-star, Cheryl Starr. Drummer Greg Starr also gets a vocal number... They cover some pop stuff, too, such as "Will It Go Round In Circles," so I'm not sure how "country" I'd call them. Very earnest, though!


<! MP3 = B000S573GG - #WB 1002 - wow! loungeadelic!! - label from Hollywood - pix (Produced by D------ B----- & J--- T-------) - probably Jon Travers >
Jon Travers & The Now Country "Play Me" (Crown Records, 197--) (LP)
I'm going pretty far afield on this one. Apparently this is the same band, though the sound is definitely more folkie "sunshine pop" than country. There may be a teeny, tiny bit of countrypolitan twang, but this is mostly wannabe soft-pop/rock stuff. Anyone know what the story was on these folks?


<! - # >
The Travis Brothers "The Travis Brothers" (ToNam Records, 1975) (LP)
(Produced by John M. Virgin)
The so-called Travis Brothers were actually a Nashville concoction, pairing songwriters Billy Don Burns and Jimmy Travis Getzen, who wrote about half the songs on here, including tunes like "Be Alright In Arkansas," "Rockabilly Man," "Roll On Ruby" and -- just in time for the Bicentennial -- "The USA Is Where It's At." Before forming a partnership with Getzen, Burns had been working as a Hank Williams impersonator at the Opryland park, and apparently the duo were proteges of country star Mel Tillis, who contributes glowing liner notes, while the boys included a version of his song, "Ruby," so he got a little something on the back end. The two singers took wildly different paths in life -- Jimmy Getzen became a born-again gospel/children's music singer, while Billy Don Burns went full-on outlaw and went through some major substance abuse issues while trying for years to break through in Nashville. On this early outing, they got backing from an A-list Nashville crew, including Buddy Emmons, D. J. Fontana, Bunky Keel, Leon Rhodes, Bobby Thompson and others. (By the way, anyone know if Jimmy Getzen was the same guy who played football for Vanderbilt in 1970? Just wondering.) Getzen also released some albums as a solo artist, under the name Jimmy Travis... and these are listed below.


<! http://www.wape.com/bands/billy-don-burns-1/ >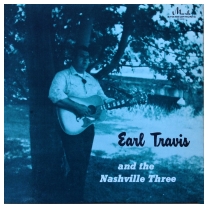 Earl Travis & The Nashville Three "Earl Travis & The Nashville Three" (Mark Records, 197--?) (LP)
(Produced by Al Gibson)
A country lounge band who played at the Darien Lake Fun Country theme park in upstate New York, and at the nearby Green Acres restaurant. Surprisingly for a park band, they had a real wealth of original material: on this album they cover Larry Croce's "Bad Bad Leroy Brown" and a Billy Mize song, but otherwise, these songs were all written by Earl Travis.


<! - # - no ASIN 03/05/15 - no info online outside of eB - couldn't determine year >
Jimmy Travis "My First One" (Getz Records , 197--?) (LP)
(Produced by Jimmy Travis)
A studio album by Jimmy Travis Getzen, who had previously been in a songwriting duo with Billy Don Burns... This record was cut at Pete Drake's studio in Nashville, and includes seven tracks credited to Getzen, including two co-written with Burns... Highlights include "Mama's Out With The Boys Tonight" and "God Never Made A Horse That Happy Couldn't Ride"; he also tips his hat to Harlan Howard and Hank Williams, as well a version of Tom Jans' crossover hit, "Lovin' Arms."


<! - #Getz-1002 - liner notes by Boots Randolph >
Jimmy Travis "Live" (Getz Records , 197--?) (LP)
(Produced by Jimmy Travis)
Recorded at the Boots Randolph Club...


<! - #NAP-G-1002 - thanks "a group of young businessmen in Florida" for funding the album, though his business address is in Hendersonville, Tennessee - label(??): Southern American Record (custom pressing co.) >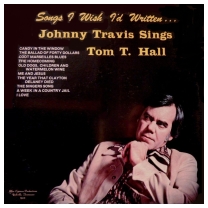 Johnny Travis "Songs I Wish I'd Written..." (Tip Records, 1979) (LP)
(Produced by Glenn Ray)
A tribute to Tom T. Hall, with ten of Hall's best known songs... Travis landed a top-flight Nashville crew to back him, including Leo Jackson, Weldon Myrick, Willie Rainsford and Buddy Spicher. The album was recorded in Nashville, though Travis seems to have been from Texas, putting this out on an Austin label... And Tom T. even wrote the liner notes!


<! - # >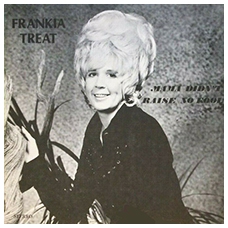 Frankia Treat "Mama Didn't Raise No Fool" (Champion Records, 19--?) (LP)
Arkansas native Frankia Wynonna Treat (aka Franki Treat, 1943-2012) was a regional performer who recorded a few indie records and in 1975 she cut a single for Capitol Records, with Buck Owens as her patron. Owens also hired her as a writer for his publishing company, and although her own career as a performer didn't go that far, Treat had some real success as a composer. One of her songs, "Last Night I Laid Your Memory to Rest," was included on John Anderson's 1992 comeback album, Seminole Wind. She released some singles on her own label, Treat Records, and this album seems to draw on those recordings, although it may have been released much later, possibly in the early '80s. It includes a wealth of original material -- seven songs written by Ms. Treat and two more by her husband Lonnie Treat, along with covers of "Son Of A Preacher Man" and "My Shoes Keep Walking Back Top You." Their son, Mason Treat (1963-2013) also was musician, playing drums for Top 40 star John Anderson.


<! - #NR-5634 - (AL) notes >
Norris Treat "The Winner" (Plantation Records, 1982) (LP)
Honkytonker Norris Treat was born in Arkansas, but had been living in New Jersey for over 25 years before he decided to try his luck and enter a 1981 country music battle of the bands sponsored by the Seagram's Seven liquor company. Although he had only recently put his "Country Treat Band" together a few months earlier, Mr. Norris and his group traveled to Nashville, played at the Opry-sponsored event, and won the five thousand dollar prize, as well as the recording contract that came with it. According to a profile in Billboard, Treat spent more money on travel than he won in the contest, but, hey, he got an album out of it! He got a music career boost afterwards, but remained a regional performer; The Country Treat Band was still recording singles and playing regular gigs at the Schooner Inn in Piscataway as recently as 1985.


<! - #PLP-549 - Norris D. Treat - he was 41 when he entered the contest - lived in Lebanon Township, NJ - may have moved to Pennsylvania, gone into home construction (some scandal?) - (NJ) notes >

Tony Treece "Tall Dark Stranger" (Crown Records, 1969) (LP)



<! - look up date - might also be considered an album by the "Nashville Scene" studio band? - he also recorded a bunch of singles in the '70s: http://www.45cat.com/artist/tony-treece https://www.discogs.com/artist/4042223-Tony-Treece - the title track was recorded by Buck Owens - Johnny Cash-ish voice https://steelguitarforum.com/Forum10/HTML/001813.html "...Tony Treece...I played steel for Tony on a weekend a couple of weeks before he died. He didn't seem to be feeling very well at all. He finally had a massive cardiac arrest. I think he was only about 43 years old or so." >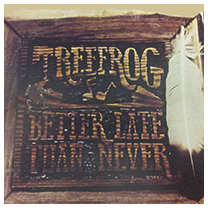 Treefrog "Better Late Than Never" (Great Orm Records, 1980) (LP)
(Produced by Treefrog & Bill Millsap)
Hailing from Lawrence, Kansas, Treefrog was a harmony-driven, progressive country-rock band, much in the style of Poco or the Eagles. The group took its name from the (fictional) brand of beer consumed by the Checkered Demon, an infamously vile underground comix character drawn by S. Clay Wilson (who was himself a Lawrence local in the early '60s...) Treefrog was formed around 1970 and played across the Sunflower State up until the decade's end -- this album was released after the fact and includes demos and unreleased material recorded over the years. In 1973, they went to Nashville to record their music but had session players brought in to dub backing tracks under their vocals, and they were unhappy with the results. After Treefrog broke up, guitarist Eric Elder and bassist Jim Fey went back to Nashville and did session work there, apparently joining a late edition of the band Timberline, while steel player Lynn Piller stayed in Lawrence and opened a music store. As far as I know, this is their only record, and includes both home demos and some of their Nashville sessions... (Thanks to the Lawrence Daily Journal World for providing background info on these guys...)


<! - no ASIN, no EB 12/31/2014 - (KS) >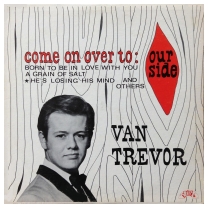 Van Trevor "Come On Over To Our Side" (Band Box Records, 1967) (LP)
(Produced by Dick Heard)
East Coast rocker-gone-country Van Trevor (born Robert Frances Boulanger, 1940-2006) was a singer and songwriter from Maine who began performing at a very young age (seven years old, according to this album's liner notes...) and had been part of the "twist" fad in the early '60s. This was his first country LP, recorded when he was a cast member of the WWVA Jamboree show, though many of the songs still have the feel of early '60s, desperate-for-a-hit, Kennedy-era teenpop... The songs were all originals, written by producer Dick Heard and Hank Hunter, including the songs "Born To Be In Love With You" and "Our Side," which had previously been released as singles in late 1966. To modern ears, Trevor's scattershot approach might seem like an unlikely formula for success, but the Buck Owens-y title track was a breakout hit, cracking into the Top 30, and the various Marty Robbins-ish ballads and Porter Wagoner-esque recitation numbers may win you over after a while, as do the cornball orchestrations of "Christmas In The Country." Some odd arrangements, but that's part of the fun. This actually turned out to be the peak of his career, chartwise, and afterwards it was a steady downward slide, with Trevor dropping out of the spotlight by 1971, concentrating on songwriting rather than being a headliner. But this was a nice, spunky debut!


<! - # - liners mention his first appearance on the Jamboree, in May 21, 1966 real name was Robert Frances Boulanger: https://kimsloans.wordpress.com/band-box-records/band-box-discography-l-z/van-trevor/ > <! Van Trevor "Come On Over To Our Side" (Band Box Records, 1967) (LP) Van Trevor "You've Been So Good To Me" (Date, 1967) (LP) B003NXCKV8 Van Trevor "Funny Familiar Forgotten Feelings" (Buddah Records, 1969) (LP) B000XQ0DJY "...There may have also been a 1980 album from Country International titled "Greatest Hits" but details are impossible to find." >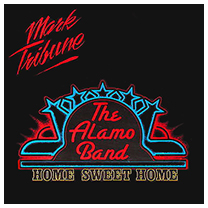 Mark Tribune & The Alamo Band "Home Sweet Home" (MTA Records, 198-?) (LP)
(Produced by Mark Tribune)
Kokomo, Indiana's Alamo Band was fronted by songwriter Gregory Kim Glassburn (1955-2008) who went by the nom-de-twang "Mark Tribune." Formed around 1976, the band played at local venues such as the Steel Inn and Kings Crown Inn, and also featured Tribune's brother David Glassburn on lead guitar. I couldn't track down a release date on this LP, but I'm guessing early 1980s sometime, since one of the covers is of Johnny Lee's 1980 single, "Annie." Tribune traveled to Nashville a number of times to record, working with producers such as Ray Pennington and Harold Shedd; as far as I know this was his only full album, though he also released a few singles.


<! - notes (IN) >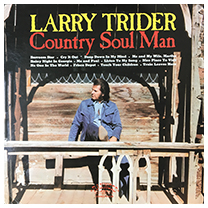 Larry Trider "Country Soul Man" (Ranwood Records, 1974) (LP)
Great record by an old-school Texas rocker who settled into a country mode. Larry Trider worked for a while in Rick Tucker's late-'50s band before going solo and cutting a series of singles in the early '60s -- he had a regular gig at the Golden Nugget casino in Las Vegas when he recorded this album, backed by his own, local Lone Star band. I guess this was his shot at making it big, and although the record failed to chart, it's still a nice legacy for this little-known artist, a rock-solid twang-and-tears record from a time (and on a label) not known for true-country grit. Trider remained a regional artist for the rest of his musical career, spending a hefty chunk of the '70s leading the house band at the Red Raider nightclub in Lubbock, Texas before retiring to a non-musical career in Vegas. There are a lot of cover tunes on here, including some straight-up hippie stuff ("Teach Your Children," "Train Leaves Here") and an opening track that was no doubt a bit of an anthem for Mr. Trider back when he sang it, "Barroom Star."


<! - # - nothing charted on BB - notes, titles (TX) >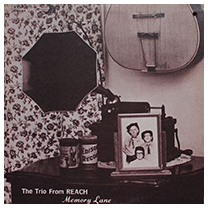 The Trio From REACH "Memory Lane" (Voyager Recordings, 1974) (LP)
(Produced by Phil Williams & Vivian Williams)
An odd little album made by three Seattle-area musicians who played golden oldies at retirement homes and hospitals in the Seatac area... Bassist Stan Cole, guitarist and banjo picker Stan Guernsey and pianist Thelma McKibben volunteered as part of a program sponsored by the REACH nonprofit, which was founded in 1971. They were joined on this album by fiddler Barbara Lamb, who made a mark for herself as a bluegrasser, as well as a couple of other local musicians. The repertoire spans Dixieland and western swing, as well as cowboy tunes and a dapple of Antebellum oldies. It's not an earthshaking record, by any means, but it certainly has its charms.


<! - #VRLP-311-5 - '74 or '77? >
The Triple C Chuck Wagon Stage Show "Recorded Live At Triple C Ranch" (Triple C Recordings, 1979) (LP)
(Produced by Chuck Camp)
A chuck-wagon souvenir album from a dude ranch outside of Tucson, Arizona... The album jacket only gives us the first names of the five bandmembers, though this was a family-based operation, run by Charles R. Camp and his wife Mae Camp, along with three of their kids -- Bill, Cathy and Jim -- who are also pictured on the back. A Colorado native, Chuck Camp (1926-2003) was an educator by vocation, teaching electronics at various schools before retiring to run the Triple C full-time. Before moving to Arizona, Mr. Camp was a performer at the Flying W Chuckwagon, a well-known dude ranch in Colorado Springs; in 1969 the Camps moved to Tucson to replicate the Flying W model and go into business for themselves. Like many tourist ranch bands, the Triple C fostered a lot of talent over the years; in addition to the family members, other featured performers included singers David Bradley and David May. Traveling artists also were booked onto the Triple C stage and starting in 1984 the ranch was home to an edition of the Sons Of The Pioneers led by singer Dale Warren (d. 2008). The Triple C Ranch was part of a regional industry devoted to "wild west" nostalgia, and was often included in package tours of ghost towns and the like. The ranch remained local fixture for many years, run by Chuck and Mae until 1990, when they gave the reins to their son Bill, who ran it for over a decade before closing up shop in 2003. A charter member of the The Western Music Association, Mae Camp continued performing regionally for many years after the ranch closed and after her husband passed away. (Thanks to The Tucson Musicians Museum and local newspapers for providing some of the background info...)


<! - # BIRC-0487 - Mae Camp (b. 1927) - (AZ) notes ALSO SEE: THE CAMP FAMILY (LP) >

The Triple C Wranglers "An Evening At Triple C Ranch" (Triple C Recordings, 19--?) (LP)
(Produced by Chuck Camp)



<! - no # - no info, date, label, etc >
Bill Tripp "Black Coal Mine And White Moonshine" (API-Atteiram Records, 1978) (LP)
(Produced by Gordon Reid)
A set of all-original material from songwriter Bill Tripp, of Sanford, North Carolina. This was recorded for the bluegrass-oriented Atteiram label, with several notable truegrass artists on board, notably guitarist Carlos Brock, an early pioneer of the style who took Bill Tripp under his wing and helped him develop his material. The liner notes peg this as more of a country thing, though, albeit a stripped-down, acoustic set. Mr. Tripp is backed by fiddler Kenny Baker, along with Carlos Brock on guitar, Burt Hoffman (drums) and Joe Stuart (guitar). Ten out of twelve tracks are Bill Tripp compositions, while two others, "A Girl Like You" and "My Love For You Is Gone," are also originals, but written by another, uncredited artist -- it seems likely that they were by Mr. Brock, although there are no composer credits on the album itself. Bill Tripp also recorded a few singles for Atteiram a few years later, including one with singer Liz Howard. Although he doesn't seem to have made many other records, Mr. Tripp opened his own recording studio and worked both as a producer and promoter for local bluegrass and country artists.


<! - #API-L-1581 - bluegrass? says country in the liner notes - any relation to LaVerne Tripp? - (NC) >
LaVerne Tripp "Sings Country Soul" (QCA/Queen City Albums, 1970) (LP)
A mostly-secular set from Southern Gospel stalwart LaVerne Tripp, a North Carolina native who recorded innumerable gospel records, both under his name and as the leader of the Tripp Family band, not to mention his 1968-75 stint in the Blue Ridge Quartet, and in the Palmetto State Quartet and other bands. On this album he deploys sentimental country oldies such as "Mom And Dad Waltz," "Green Green Grass Of Home" and Merle Haggard's "Sing Me Back Home" and "Fightin' Side Of Me" to speak to the traditional, Christian values he wants to promote. There are also a couple of feelgood, think-positive sunshine pop tunes like Glen Campbell's "Try A Little Kindness" and "Put A Little Love In Your Heart" that also fit into this theme, as well as a trio of overt gospel songs to round things out. In some ways this less-obvious, country-oriented set has greater resonance than his usual southern gospel formula, though I suppose it's really a matter of personal preference. At any rate, it's a nice record, with a funky pop-soul sound that matches his Charlie Rich-ish vocals. The album doesn't have a date on it, but based on the material, I'd say 1970, maybe '71, is a pretty good guess.


<! - # - contact info, autobiography (NC) >
LaVerne Tripp "Jesus Loves Cowboys" (Song Revival Records, 1980) (LP)
Just in case you didn't get the country connection on any of his other albums...


<! - # - "Produced by Mark V Studios" South Carolina also an album LaVerne Tripp "Country" (?) >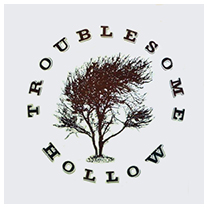 Troublesome Hollow "Troublesome Hollow" (1978) (LP)
This progressive/newgrass band from Hickory Tree, Tennessee recorded several albums in the '70s and '80s with this, I believe, being the first. Although they are basically a bluegrass group, they worked some country rock-ish stuff in there as well, including a Beatles cover ("I've Just Seen A Face") and a version of Pure Prairie League's "Amie," which always sounds like a good idea to me... The pickers included banjo player Tim White...


<! - #479 - no ASIN 01/24/15, 01/03/17 http://www.cybergrass.com/node/5179#sthash.laFRw1lv.dpbs - from Virginia? >

Troublesome Hollow "New Shoes" (1980-?) (LP)
(Produced by Stan Bowman & Troublesome Hollow)
This album includes a version of Rodney Crowell's "Leaving Louisiana In The Broad Daylight" though most of the record is fairly straightforward bluegrass...


<! - #LP-480 - from Bluff City, Tennessee - Tim White (banjo) >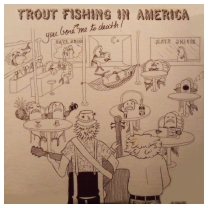 Trout Fishing In America "You Bore Me To Death!" (Trout Records, 1979) (LP)
(Produced by Keith Grimwood, Ezra Idlet & Ram Rosenblum)
This is the debut album by this eclectic, long-lived Texas band, which later became a popular children's music group, but here are more of a nutty folk-country-cana kinda thing. Named after a Richard Brautigan novel, the band started out as a trio, with Keith Grimwood and Ezra Idlet (who previously played together in the Texan folk-rock group Wheatfield) along with piano player Ram Rosenblum, who shared equal billing with them on this record. The repertoire includes a couple of originals, but is mostly notable for the variety of cover tunes -- stuff from the Beatles, the Byrds, Ray Charles, Little Feat, Randy Newman and Stephen Stills... even a version of Tom Lehrer's "Masochism Tango." On later albums, the band was mainly the duo of Grimwood and Idlet.


<! - # Trout Fishing In America "Hot To Trout" (Trout Records, 1982) (LP) B00KWJ6SNM - PRIVATE '82 Alt Folk Country Rock RARE http://en.wikipedia.org/wiki/Trout_Fishing_in_America_%28band%29 >
Billy Troy "First Time Out" (CMH Records, 1981) (LP)
(Produced by Randy Scruggs)
A slick country/pop crossover set from singer Billy Troy, son of the great bluegrass dobro player Josh Graves. A bit poppier than I'd prefer, but still worth checking out. I get a little nervous when I see a flute listed on a country album, or a synthesizer, but steel player Gene O'Neal is also on board to keep 'em honest. Also features harmony vocals by Saundra Steele, a Dolly-esque singer who'd released a pretty glossy album of her own the year before. They sing a duet on "No One Can Ever Love You," which showcases Troy's clear Top Forty inclinations, as well as his own vocal limitations.


<! - #CMH-6258 - Saundra Steele >
Roger Troy "Roger Troy" (RCA, 1976) (LP)
(Produced by Mike Lipskin)
Looks country, but it's really just 'Seventies. This is the lone solo album by sideman Roger "Jellyroll" Troy, a consummate session player who was best known for his collaborations with blues bandleader Michael Bloomfield, including as part of a reunited mid-'70s version of Electric Flag. Troy's bona fides go back even further than that: while still a teen, he was the bassist in the novelty rock band, the Hollywood Argyles, and went on to gigs with James Brown and Freddie King. In 1969 he cut an album as the leader of the band Jellyroll (which was his nickname) and he had considerable success as a songwriter in the early '70s. This album is pretty much pure white soul, with a heavy Muscle Shoals feel: four songs were written by Troy, though tellingly he also covers Dan Penn, whose emotive vocals style is echoed in Troy's own phrasing. Among the many musicians backing him are jazz saxophonist Ernie Watts and pianist/producer Mike Lipskin... Fans of the Atlanta Rhythm Section, Joe Cocker and any number of eclectic Memphis roots/soul bands might want to check this one out.


<! - # - state? >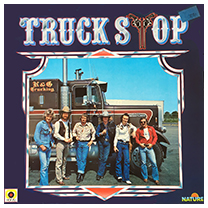 Truck Stop "Truck Stop" (Nature Records/Horzu Records, 1980) (LP)
(Produced by Joe Menke, Volker Heintzen & Truck Stop)
A pleasantly twangy set of German-language honky-tonk country from this Hamburg-based band... The most obvious influence is Waylon Jennings, but they dip into a variety of styles. Nice, robust arrangements with pretty decent pickin'... I can't understand what most of the songs are about, but sure I dig that this isn't sung in English! They have a ton of albums, though I think this might have been their first.


<! - # - German Country band, formed in 1973 in Seevetal-Maschen, Germany - numerous other albums - (EUR) >
Truck Stop "Die Cowboys" (Nature Records, 1981) (LP)



<! - # >
Trucker's Delight "Trucker's Delight" (Ambush Records, 1980) (LP)
(Produced by Gene Elders)
Well, yeah, there is some twang in here, but that might mostly just be a result of the inherent southernness of the band being from Virginia. More of a soft-rock kinda thing, with a slightly rural edge and some very white-sounding blues licks in there as well. A lot of original material by lead singer Gary Wimmer, along with one by Chris Hart. They also cover songs by Delbert McClinton and Charlie Rich, which speaks well of their aspirations, though the music itself seems a bit lackluster. (By the way, finding info about this group is complicated by their unfortunate band name, an allusion to hitchhikers who would trade sexual favors for rides... The search results were just a little too sleazy for me to invest much time in... Sorry, fellas.)



<! - #AM-0003 - (NP) - recorded in Roanoke, Virginia - band from Virginia? - same as Gary L. Wimmer, of Austin? the lithomantic psychic? - LK emailed Wimmer to ask 08/20/20 http://garywimmer.com/musician/index.html >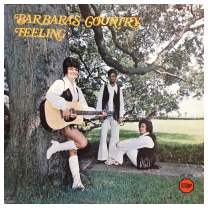 Barbara Trucks "Barbara's Country Feeling" (Stop Records, 1972) (LP)
(Produced by Tommy Hill & Scotty Moore)
An elusive figure on the peripheries of Nashville, Barbara Trucks was one of several artists recorded in the waning days of the independent Stop label, which started out as a second-tier indie with a few chart hits and then seems to have become a sort of pay-to-play vanity label for hopeful unknowns. This was one of the last albums recorded by Stop in the early '70s, and is notable for the five original compositions provided by Trucks. The album also includes its fair share of cover songs, including two Kris Kristofferson songs, two by Mickey Newberry, and a version of "Behind Closed Doors," as well as a version of "Blue Eyes Crying In The Rain" that was also released as a single, although none of her songs charted... Generally speaking, the cover songs are nothing to write home about, largely due to her uneven vocals -- one suspects she could have done better, but the producers let too many flubs slide during her sessions. On balance this is an okay album, it just never quite catches fire. The original material is better, particularly songs like "The Ways Of A Man," a fairly searing divorce ballad, and "In This Barroom," a slightly salacious, utterly judgmental song about a fallen lady who spends her nights boozing it up and trying to hook up at bars, or "walking the streets" all night long. Like her vocals, the songs are a bit rough-edged but hold up both as novelty items and honky-tonk nuggets. I think Barbara Trucks was from around Jacksonville, Florida, though as far as I know there's no relation to blues/rockers Butch Trucks and Derek Trucks, although it does seem possible... Anyone know for sure?


<! - #STLP 1040 - 1972? - obit(?) (FL) >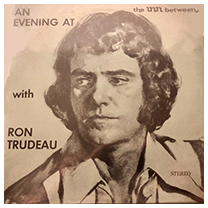 Ron Trudeau "An Evening At The Inn Between" (Rite Records, 1974-?) (LP)
A straight-up early 'Seventies lounge act, recorded in Largo, Florida, though I think the Inn Between was a tiki bar located further inland in the town of Inwood... There are some legit countrypolitan hits in the mix -- "Delta Dawn," "I Believe In Music" and "Most Beautiful Girl" -- along with pop tunes like "Tie A Yellow Ribbon," "Piano Man," "Bad Bad Leroy Brown" and some cheesier stuff as well. A few years earlier Trudeau had been in a Fort Lauderdale duo with John Salerno called "The Society Of Two," even recording an album in 1968, although there was no country in his act back then. A couple of years later in 1977 there's mention of him doing lounge gigs around Sarasota, so he was at this music thing for a while...


<! - #33405/33406 - bc nv, no info on band, etc - (FL) >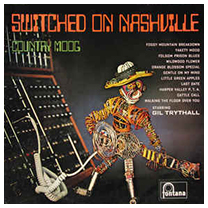 Gil Trythall "Switched On Nashville: Country Moog" (Athena Records, 1972) (LP)
(Produced by Rick Hall & Fred Cameron)
Groovy, man. An all-instrumental album packed with moogalicious versions of oldies like "Cattle Call," "Foggy Mountain Breakdown," "Gentle On My Mind," "Harper Valley PTA" and "Orange Blossom Special." Oh, and just for the record, Trythall was a serious classical composer, and also was actually born in Nashville.


<! - #6003 >

Gil Trythall "Nashville Gold" (Athena Records, 1973) (LP)
Sure, why not?


<! - #6004 A1 Poke Salad Annie 2:34 A2 Ode To Billy Joe 3:01 A3 Honey 2:54 A4 Kansas City 2:10 A5 Mockin' Bird Hill 2:25 B1 Wichita Lineman 2:51 B2 Martha White Theme 1:48 B3 I Can't Stop Loving You 2:13 B4 King Of The Road 1:59 B5 Tennessee Waltz 2:27 B6 Nashville Moog 2:48 >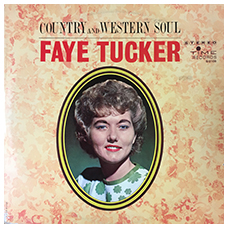 Faye Tucker "Country And Western Soul" (Time Records, 1963) (LP)



<! - #2108 with: Kelso Herston [gt], Ray Edenton [gt], Grady Martin [gt], Wayne Moss [gt], Pete Drake [steel], Buddy Killen [bass], Buddy Harrman [drums], Hargus Pig Robbins [piano], Charlie McCoy [harmonica], Boots Randolph [sax] (PER PF) - BB October 12, 1963, mentions her first single being recorded via Buddy Killen's Tree Publishing Co. - reviewed in Billboard Nov 23, 1963, though no biographical info, she's simply described as a "country Miss" - NOTES (FL) >
Faye Tucker/Dolly Parton "Hits Made Famous By Country Queens" (Somerset Records, 1963) (LP)
I suppose there's a case to be made that the ever-anonymous Faye Tucker was sort of country music's Pete Best... Witness, if you will, this split LP with Tucker on one side, and a sassy little teenager kid named Dolly Parton on the other... Tucker does her best singing covers of Patsy Cline hits and oldies like "Bill Bailey Won't You Come Home," and even though several of these tracks were gathered on Tucker's subsequent "solo" album, we all know where this story's headed. Despite her youthful, Brenda Lee-ish vocals and solid delivery, Tucker never made it out of budget-label purgatory, consigned forever to the dollar bins of our hearts. But, really, this album ain't bad! Dolly, who was still in high school at the time, sang some stuff Kitty Wells, as well as one tune that was not a cover, but rather a Dolly Parton original, "Letter To Heaven." A couple of years later she got her big publishing deal, and was hired by Porter Wagoner to join his road show. The rest, as they say, is history.


<! - # >
Faye Tucker "Blues From A Broken Hearted Country Gal" (Somerset Records, 19--?) (LP)



<! - #SF-28700 - goofy, popped-up arrangements - 1968?? ...the souped-up version of "Bill Bailey" does sound like a later recording - teen-poppish voice, reminiscent of Brenda Lee - NOTES (FL) >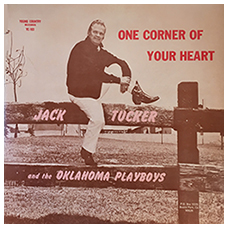 Jack Tucker & The Oklahoma Playboys "One Corner Of Your Heart" (Young Country Records, 1973) (LP)
(Produced by Leo J. Eiffert, Zelma Borunda & Jim Mooney)
Though originally from Oklahoma, bandleader Jack Tucker moved out west after serving in WWII, becoming a fixture in the greater Los Angeles area, with steady gigs at venues such as the the Harmony Park Ballroom in Anaheim, the Jubilee Ballroom in Baldwin Park and the Pioneer Room in nearby Norwalk, as well as various radio and TV gigs. Unfortunately the liner notes don't tell us who was in his band when this early '70s album came out, but we can make a few educated guesses based on the songwriting credits, as the album is packed with original material. Joe Barber, Lee Ross and Lou Martin wrote or co-wrote several of the songs, with others such as "Sam From Vietnam" written by Vern Terry, as well as a song by Vern Stovall, who shared the same publishing company as several other songwriters contributing to this album. It's possible that engineer Jim Mooney played on here as well (he's probably the actual "producer" and doubtless led the sessions...) Anyway, a nice slice of Southern California country... Tucker also recorded a number of singles for a variety of indie labels, dating back to the 1950s. This may have been his only LP, and it apparently draws on some earlier singles, mostly '60s-vintage material. Good stuff!


<! - #YCX-103 - (OK, CA) - Tucker also worked with singer Lina Lynne >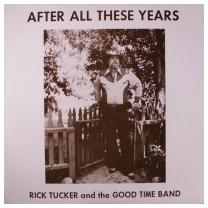 Rick Tucker & The Good Time Band "After All These Years" (Sound Of Clovis, 1980-?) (LP)
Apparently Rick Tucker was once upon a time a guitar player for rock'n'roll forefather Buddy Holly, and here he covers "Everyday" at the end of an album that is otherwise dominated by his own material -- eight out of ten songs were Tucker originals. Norman Petty plays celeste on one song, and it seems likely he also produced the album... The big wow for me, though is the credit for Pete Anderson on lead guitar -- yup, that's right: the same Pete Anderson who helped craft Dwight Yoakam's neotrad twang sound! Also in the band was drummer Pete Gavin, who was in Albert Lee's old group, Head, Hands & Feet, so you know these guys were the real deal.


<! - #47265 - New Mexico? >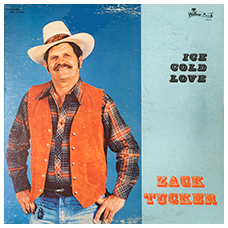 Zack Tucker "Ice Cold Love" (Willow Creek Records, 19--?) (LP)
(Produced by Morgan Ayers & Pauline Ayers)
An interesting memento of a bygone era... Zack C. Tucker was a longtime member of the Southern Strollers, a 1940s-era country band led by Pop Winters, an old-school country artist who was the patriarch of a true musical dynasty. Pop Winters was the father of renowned Nashville guitarist Don Winters, and also grandfather of Southern rocker Donnie Winters, who plays lead guitar on this album. Tucker -- who married into the family -- was Don Winters' brother-in-law as well as one of the guys who held the Strollers together after Pop Winters died in 1953, and he's backed here by some veterans of the old band, notably steel player Lew Elrod and fiddler Virgil Powell, as well as a couple of younger dudes from the Winter Brothers Band. The repertoire is mostly old stuff, tunes like "Any Old Time," "Curly Headed Baby" and "Little Red Wagon," and honkytonk oldies such as Tex Grimsley's "Walking The Dog." It's a heartfelt look back from a guy who was there... and they sure don't make 'em like this anymore!


<! - no ASIN 10/05/15 - #5-15-79 - is this from 1979, or 1975? liners mention "22 years" since Pop W passed away... - is the Gene Watson on bass *the* Gene Watson?? LK e-mailed Donnie Winters website to ask. - he was RELATED to the Winters family - Dennis Winters said he was their uncle - NO - NOT the same Gene Watson (per Winters) - Tennessee? http://garyhayescountry.com/20-country-music-icons-every-fan-should-know-14/ >

The Tucson Messengers "Goin Home" (Eddie Crook Productions, 19--?) (LP)
(Produced by Eddie Crook)
A southern gospel/country gospel group from Arizona, the Tucson Messengers were founded by singer Marojean Tatman (1923-2011) who previously had years of experience performing with her family group, The Kline Family. Mrs. Tatman started her own group in 1968, earning national popularity and recording several albums before her death in 2011. The Tucson Messengers continued on as a group, although the distinctively twangy approach heard on these early albums was gradually softened to take on a more "contemporary" Christian sound.


<! - #ECP-1935 - country gospel - Eddie Crook's studio in Hendersonville, TN - not sure who was in the band, looks like the Eddie Crook studio musicians are listed, but not the Messengers >
The Tucson Messengers "Home In The Sky" (Crusade Records, 1975-?) (LP)
(Produced by Bill McClintock & Paul Cleon)



<! - #LP 92575 - 1975-? - "Cleon"? - recorded in Nashville with studio pros Curly Chalker (steel guitar), Tommy Floyd (bass) and D.J. Fontana (drums) >

The Tucson Messengers "Classic" (Eddie Crook Productions, 1985-?) (LP)



<! - date nv - tracks in Gospel >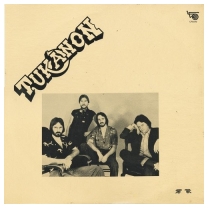 Tukanon "Tukanon" (Cross Road Records, 1981) (LP)
(Produced by Paul Speer)
A country-rock band from Seattle, Washington with kind of a slick, early-'80s look... Maybe a little more on the "rocker" side of things...
Tumbleweed "Where In The Hell Is Alamosa?" (Dogwood Records, 1978) (LP)
(Produced by Sam Hendricks & Ronald Vallery)
Well, it's a fair question: itty-bitty, lil' old Alamosa is way down in the Southern end of Colorado, north of Santa Fe, New Mexico and sorta-kinda near Pueblo. Apparently this was Alamosa's big country bar-band, and at some point the lineup completely changed, with the original members disbursing to other projects, and a new crew taking over in the early 'Eighties. This (original?) lineup included Bill Clark, Sam Hendricks on keyboards, Don Richmond, J. Sanders and R. Sandoval. There was some overlap between this group and several other local bands, many of them more rock oriented, such as the OMI Express (the house band at a place called The Old Miners Inn) and a much later oldies cover group named Sneaker. Don Richmond recorded with several groups as well as recording solo albums; at some point, Sam Hendricks was also in David Allan Coe's backing group, The Tennessee Hat Band, although he doesn't seem to have played on their album, recorded in 1982. At any rate, this is a fine set of outlaw country on an album packed with original material. I think there are only three cover songs on here - tunes by Gene Clark, David Allan Coe and Jim Dawson, to give you a sense of where these guys were coming from. Other than that, though, these are all originals by the guys in the band.


<! - # >

Tumbleweed "House Of Cards" (Howlin' Dog Records, 1985) (LP)
(Produced by Baird Banner)
This edition of the band included Robert ("Robear") Bosdorf (lead guitar and pedal steel), George Egbert (drums), Charlie Johnson (bass), multi-instrumentalist Don Richmond (banjo, guitar, fiddle, and pedal steel), and Scott Russell on guitar and mandolin. Once again, an album packed with original material, mostly written by either Bosdorf or Richmond, with Scott Russell contributing a tune called "Sailing Away."


<! - # - pix >

Tumbleweed "Welcome" (Tumbleweed Records, 1987) (LP)
(Produced by Baird Banner & Jeff Nelson)
A set of all-original material, with the band still led by Robear Bosdorf. I think this may have been Tumbleweed's last album; Bosdorf continued to work with various members of the band in later projects such as the rock oldies group Sneaker, and also formed a band called The Rio Trio. In 2019 a bunch of local musicians staged a benefit concert to help him cover some unexpected medical bills, including a reunited lineup of Tumbleweed.


<! - # - (CO) - not the same as the band below >

Tumbleweed "Drifting With Tumbleweed" (Radiant Star Records, 19--?) (LP)
Wait a sec... Here's yet another group called Tumbleweed, this one from around Fort Collins, Colorado, though apparently completely different from the other Colorado band of the same name. This group included Gary Greiman (1947-1998) on lead vocals, James H. Schafer (lead guitar), Kirby Bullock (drums), Clarence Sitzman (bass, piano, accordion) and Dennis Shoemaker (bass, rhythm guitar) many of who worked in farming and animal husbandry... Dunno if these guys really did much as a band, other than make this album... By the way there are a bunch of other bands named Tumbleweed, in several different country over several different decades, including a few rock bands. Go figure.


<! - #RS -821 - (CO) >

The Tumbleweed Band "The Tumbleweed Band" (Las Brisas Records, 1980) (LP)
(Produced by Al Garcia & Casey Cantu)
A mostly Spanish-language album from a long-lived country band out of Corpus Christi, Texas, and not the same group Tumbleweed, from Colorado, that's listed above. This band included Casey Cantu (bass), Blas Casteneda (lead vocals and rhythm guitar), Pablo Cavazos (drums), James DeButtry (fiddle) and Reuben Rodriguez (lead guitar). Additional musicians included steel guitarist Tommy Elrod and piano player Mike Gregory... On this album they cover "Diggy Liggy Lo," "Heartaches By The Number" and Make The World Go Away" from the Anglo side of the street, with the rest of the record en espanol.


<! - #LP-1001 >

The Tumbleweed Band "Hear To Stay" (Hacienda Records, 1982) (LP)
(Produced by Al Garcia & Casey Cantu)



<! - # - no ASIN 03/17/16 - pix - same as above?? This band included Casey Cantu (bass), Blas Casteneda (lead vocals and rhythm guitar), Pablo Cavazos (drums), James DeButtry (fiddle) and Reuben Rodriguez (lead guitar). Additional musicians included steel guitarist Tommy Elrod and piano player Mike Gregory... same band? TUMBLEWEED BAND – same – Travel Tracs'7? TUMBLEWEED – – Private'84 m/ss 30 >
D. J. Turco "Secretly Lovin' " (19--?) (LP)
Another complete mystery. This one's mostly cover songs -- early '70s material by folks like songs by Merle Haggard, Freddie Hart and Conway Twitty. The title track is the only song written by Turco, although a second song, "Lonesome Cowboy" by Art Rothafel, is from the same publishing company.


<! - #1024 - no ASIN 08/14/16 - no date or label shown - #CLP 17470 - (both on Beni Bob publishing) same company?: ® Beni Bob Music (BMI) . Nashville Contact Robert Metzgar 330 Franklin Road Brentwood, TN 37027-3282 800-767-4984 (toll free) - includes a "Rocky Top" >

The Turkey Foot Band "Makin' Tracks" (TFB Productions, 1980) (LP)
(Produced by Jack Jones & Evan Jones)



<! - recorded in Southbury, CT - Mark Bombard main songwriter - Vassar Clements plays fiddle >

The Turner Eight "The Turner Eight" (Studio 5 Records, 1973-?) (LP)
A little Partridge Family-style action from this country-folk combo from Minnesota, featuring parents Gerry and Dan Turner and their six kids - four girls, and two boys. They cover early 'Seventies pop and country hits such as "Delta Dawn," "Paper Roses," "Top Of The World" and "Sweet Gypsy Rose."


<! - #1712 - 1969 discogs date is wrong: "Delta Dawn" didn't come out until '72 A1 I Never Remember Growing Old A2 Let's Spend Summer In The Country A3 Delta Dawn A4 Top Of The World A5 Paper Roses A6 This Land B1 West Virginia Smile B2 Sing B3 Ma B4 Sweet Gypsy Rose B5 Hahah Nagila B6 Blowing In The Wind - from Minnesota? Minneapolis label >
Jim Turner "Earthtones" (Earthtone Records, 1983) (LP)
(Produced by Larry Cox)
Working with an all-star studio crew that included Larry Carlton, Sneaky Pete Kleinow, J. D. Maness, Bobby Thompson and banjo plunker Dale Whitcomb, songwriter Jim Turner squeezed a few originals into the mix, alongside covers of Top Forty hits and oldies such as "Elvira," "Smokey Mountain Rain" "Sixteen Tons" "Blue Eyes Crying In The Rain." His songs included "You Are The One" and "Smokey Mountain Music," and "Follow The Path."


<! - # - 02/03/15 - only ASIN is for a cassette edition - any other records? Christian artist? >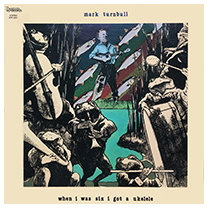 Mark Turnbull "When I Was Six I Got A Ukulele" (Beachtown Records, 1978) (LP)
(Produced by Richard Stekol)
An odd and unusual album, with a definite "only in the Seventies!" feel... Southern California actor and songwriter Mark Turnbull was a child prodigy who did TV shows and talent shows before landing a gig playing guitar for pop-folk bandleader Glen Yarborough in the early '60s. While he was still in high school, Turnbull was nominated for a Grammy(!) for an album of children's music he recorded for Disney Records, and this led to his first album, which came out in 1968. Although he had some buzz around him, Turnbull drifted away from the music business mainstream and devoted himself more to theater and cabaret shows, indulging a wide variety of musical tastes, as heard on this wildly eclectic album. This fits roughly into the same sort of jazz-meets-twang territory as other '70s albums by folks such as Dan Hicks, Jesse Winchester or even the Bonzo Dog Doo-Dah Band, with flourishes of folk-scene twang, western swing and swank, Ellingtonian big band jazz. The songs are resolutely nutty and idiosyncratic, and some are quite catchy... I remember hearing the uptempo novelty tune, "Too Stoned To Gumbo" on KFAT, lo those many years ago, and "She's Nobody's Baby Now," is a softer vocals ballad that I swear I've heard recorded elsewhere... (But maybe it was a KFAT thing as well?) At any rate, the Doctor Demento-ish feel of much of this album might not suit everyone, but if you get into it, this can be a pretty fun record.


<! - # - from Laguna Beach, California - reference to his last record coming out ten years earlier (? was he in a band?) Mark Turnbull "Portrait Of The Young Artist" (Reprise Records, xxxxxxx) (LP) #RS-6272 B003MXPMIC http://markturnbullsings.com/ >

Dean Turner "...And His Guitar" (Bluebonnet Records, 1963-?) (LP)



<! - #BL-102 - date?? - same guy? >

Dean Turner "The Different Sides Of Dean Turner" (Richards Perdue Recording Studios, 1979) (LP)
(Produced by Danny Richards & Dean Turner)
This one's pretty iffy. Recorded at the Perdue studios in Borger, Texas, north of Amarillo, it features the country side, the pop side and the classical side of guitarist Dean Turner, who was the son of "Big Dean" Turner, a popular country DJ from Fort Worth. It's not clear if Dean, Jr. ever played with any bands, or did anything more strictly country. He's joined on this disc by keyboardist Jerry Dixon, Jimmy Everett on rhythm guitar, Danny Richards playing bass, and Vic Richardson on drums, while countrypolitan/honkytonk songwriter Lawton Williams contributes laudatory liner notes.


<! - # - funny album art, but... >

Grant Turner "The Grand Ole Opry As It Was Back Then" (CVS Records, 1980) (LP)
Spoken word nostalgia from Grant Turner (1912-1991) the longtime concert emcee who joined the Grand Ole Opry in 1944, and worked there for nearly half a century. The album includes some musical interludes, but mostly this is a set of Turner reminiscing about the many stars he's worked with over the decades, including Roy Acuff, Eddie Arnold and comedian David "Stringbean" Akeman, another Opry old-timer who was murdered in a home invasion robbery in 1973.


<! - #CVS-8008 A1 Opry Corner A2 Lower Broadway A3 Tootsie's A4 History & Description Of Ryman Auditorium A5 Stage Door A6 Johnny Cash & June Carter A7 The Famous Stage B1 Hank Williams & Jimmy Rogers B2 Ernest Tubb B3 Roy Acuff B4 PeeWee King & Eddie Arnold B5 Red Foley & Tex Ritter B6 Stringbean B7 String's Gone Fishin' >
Mary Lou Turner "Mary Lou Turner" (Jamboree USA Records, 1973) (LP)
(Produced by Ray Pennington & Jim Sutton)
Before pairing up with Top 40 crooner Bill Anderson, Kentucky-born singer Mary Lou Turner had been kicking around for about a decade or so, including a stint at the WWVA Wheeling Jamboree show, where she worked from 1965-73, during the time when the venue changed its name to Jamboree USA. Starting in the mid-'Sixties, Turner recorded a few singles, including sides for Starday, 20th Century Fox and some smaller labels, including one for the fledgling Jamboree label, which was an offshoot of the Jamboree USA theme park. The two songs on her Jamboree single, "I Built A Wall" and "Like We Used To" are included here, along with a bunch of other original material... The following year, in '74, she moved to Nashville, signed to MCA and after a slow rollout, hit the bigtime as Anderson's duet late-'Seventies duet partner. By decade's end, the chart hits petered out, and Turner went on to play various Branson venues, and released at least one more solo album in addition to the LPs and singles she recorded for MCA.


<! - #JLP-1002 - musicians not listed >

Mary Lou Turner "The Girl Next Door" (Silver Dollar Records, 1987) (LP)



<! - #SDC-5082 - no ASIN 03/25/18 - tracks (KY) >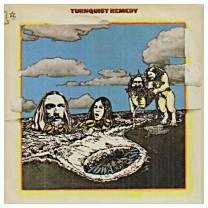 Turnquist Remedy "Iowa By The Sea" (Warner/Pentagram Records, 1970) (LP)
(Produced by Al Schmitt)
A very-hippie, but also very twangy rock band from LA, Turnquist Remedy owed a strong stylistic debt to the early Grateful Dead (the twangy Dead) but also boasted a wealth of original material, with all but one of the songs on their album being written by singer Michael Woods. Despite strong connections in the LA music scene, the band fizzled out, with several members moving into session work, and Michael Woods joining a late edition of the country-rock/AOR powerhouse America. This was Turnquist's only album, but if you like that kooky early '70s stuff, it's pretty good.


<! - # - big profile (CA) >
The Twangbabies "Winnebago Weekend" (Velvetone Records, 1985) (LP)
(Produced by Chris Bruya & Peter Karl)
A good-natured group from Ellensburg, Washington doing an Austin Lounge Lizards kinda thing, playing country parody songs such as "You Show Me Where And I'll Show You How," "Daylight Cheatin' Time" and "She Tells Me It's Something In My Background, But I Think That It's Something In My Genes." The most twang in the band comes from picker Tom Bourne, who plays banjo and mandolin, while the rest of the band plays less rural instruments -- keyboards and whatnot -- but no fiddles or steel guitar.


<! > <! Charlie Tweddle "Midnite Plowboy" (Mighty Mouth Music, 2011) (LP) B00DNLDM1W - THIS IS ALT >

The Twilighters "Country Our Way" (Vanco Records, 196--?) (LP)
(Produced by Bob Gibson & Rick Keefer)
Currently a mystery record... This seems to be a frat/rock band from the Pacific Northwest, "going country" just for fun on one album. The album was recorded at Gibson Studios in Vancouver, Washington and features liner notes by Larry Huston, who says he was in the band when it formed nine years earlier... whenever that was! The songs are all cover tunes, country oldies and other hits. As always, any information is welcome!


<! - #SLP-1005 - (WA) >

Tony Twist "Tony" (Crystal Bridge Records, 1980) (LP)
(Produced by Bob Dean & Gene Lawson)
This Oklahoma country old-timer is not to be confused with the abrasive 1990's NHL pro from Canada (who might well sue you or pummel you if you did mix them up...) Anyway, this piano player led a variety of Tulsa-area bands and was pals with Charlie Daniels, before Daniels got all major label-y in the early 'Seventies... He was also in a group called Crosstown Express, with singer Gus Hardin, who went on to a brief career as a Top Forty Nashviller. Twist had a stroke in the 1990s that sidelined him as a performer, though he moved into producing shows and helping out up-and-coming musicians as host of The Verdigris Valley Music Show, a variety venue he and his wife cooked up. This album harkens back to his own days in the spotlight, with a studio crew that included Jack Eubanks and Dale Sellers (guitars), Stu Basore (steel guitar), Bunky Keels on piano, and Bob Dean on drums. All the songs were written by Tony Twist; I'm not sure, though, if he made any other albums under his own name.


<! - # >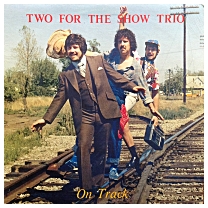 Two For The Show Trio "On Track" (Triaxe Records, 1981) (LP)
(Produced by Dave Engelmann)
Despite the super-dorky cover art, this trio from Springfield, Illinois were actually pretty good... Steve Cox played some lightning-fast banjo with Steve Schimpf on keyboards and Rodney Smith filling in the guitar and bass parts. The album opens with a gloriously twangy version of "Amie" (with added pedal steel by Don Kates and John Peters playing lead guitar) and slides effortlessly into an Eagles medley, two tracks that put the city slickers in LA on notice that folks in the heartland can play some kickass country-rock, too. They move into more folk-trio territory, though, on several medleys of bluegrass and gospel oldies, as well as the album's closer, "Spiked Punch," which is a parade of tunes such as "She'll Be Coming Round The Mountain," punctuated with comedic asides and manic sound effects...) There are also a couple of original songs on Side Two that are fairly dreadful, lethargic romantic pop ballads, one each written by Cox and Schimpf, and both featuring leaden, synthy arrangements. But the twangier tunes are okay -- their version of "Amie" is a winner.


<! - # - bluegrassy, includes pedal steel on a cover of "Amie." - management address is listed as Baylis, IL, not Springfield >
Two Week Notice Band "Two Week Notice Band" (Self-Released, 1981) (LP)
(Produced by Tom Mortenson)
Love the band name! This longhaired crew from Phoenix, Arizona seems to have been the brainchild of brothers Ken Skaggs and Russell Skaggs... Haven't heard it yet, but I look forward to the day I do.


<! >

Billy J. Tyler "Honey And Other Pop Country Favorites" (Custom Records, 196--?) (LP)



<! - #CS-1116 - no song credits, no liner info >
The Tyler Twins "The Tyler Twins" (Checkmate Records, 1978) (LP)
(Produced by Wayne Saunders)
A Canadian duo from Edmonton, the Tylers had an obvious Everly Brothers fixation, covering a few of their songs on here and modeling themselves on Don and Phil's legacy. (Not that there's anything wrong with that, mind you!!) There are also some original songs, including "There Ain't No Country Girls Anymore" and "Livin' Next Door To Alice."


<! - no ASIN 07/15/15 >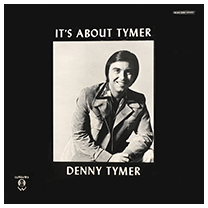 Denny Tymer "It's About Tymer" (Wilwin Records, 1976) (LP)
(Produced by Denny Tymer, Chuck Seitz & Bill Vandervort)
Syrupy, sunshine-y countrypolitan crooning, along the lines of Jim Ed Brown and Nat Stuckey, with competent but uncommitted backing by an all-star Nashville session crew -- Kenny Buttrey, Pete Drake, Hargus Robbins, Bobby Thompson, Charlie McCoy, et. al. Denny Tymer was born in Kanopolis, Kansas, but seems to have made his way out west, recording this disc for the Wilwin label based in Carlsbad, California, just north of San Diego. Though this doesn't quite gel, it's a solid effort, with all-original songs written by Tymer, and he's pretty committed as a vocalist, although the sunshine-country style is an acquired taste, and was about three or four years out of date by the time Tymer recorded this album. Still, countrypolitan crate-diggers might wanna track this one down -- if you're into it, this is good but off-the-radar obscuro stuff. One album highlight is "I Hope To Hit The Traffic Lights All Green," an uptempo novelty with a memorable melodic hook...


<! - #20001 >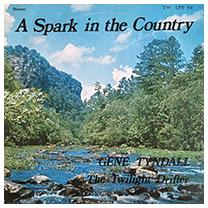 Gene Tyndall "A Spark In The Country" (Twilight Records, 1973) (LP)
Nicknamed "the Twilight Drifter," Clinton, North Carolina's Gene Tyndall released a string of singles, circa 1969-72 before cutting this album in '73. A lot of the tracks on here come from those singles, including tunes like "Hello Mr. Heartache," "Only A Loser Could Know," "One More," "I Cry (Cry All Day Long)," "That No 'Count Infernal Revenue Man," and "Diesel Smoke And The Tennessee Trooper." It's a mix of straight-up weepers and novelty numbers, all originals, and all of them co-credited to Mr. Tyndall and his wife (identified only as "D. Tyndall"). As far as I know, this was Mr. Tyndall's only LP...


<! - #TW-LPS-112 - 1973 date per copyright office documents: - (NC) notes >

---
---