<! MP3 05/24/10, 04/17/11, 04/24/13 > <! outside 00/00/00 > <! pix 00/00/00 > <! icons 04/17/11 > <! UPDATES: 08/12/11 - big expansion, reviews of Cale, Clapton, added crow, Cheap Suit listings 05/01/13 - really big expansion (got LPs out of storage!) - need California Slim pic, Cheap Suit reviews >
---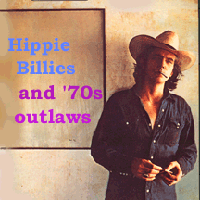 The "twangcore" and "Americana" boom of today owes a large debt to the shaggy twangers and no-hit wonders of yesteryear -- this section looks at the hippiebilly and stoner bands and a few odd, random artists from the 1960s, '70s and early '80s, back before there was anything called "alt-country." This page covers the letter "C."
---
HIPPIEBILLY & NO-HIT WONDERS:
A | B | C | D | E | F | G | H | I | J | K | L | M | N | O | P | Q | R | S | T | U, V &W | X, Y & Z | Comps | Hick Music Styles

---


<! Cache Valley Drifters - need to research the dates better What began back in 1972 as a bunch of California hippy kids playing music for the fun of it, the Cache Valley Drifters have been bringing a modern outlook to bluegrass and country music for over three-and-a-half decades. Although they disbanded from 1985 to 1993, a period the band describes as "eight years off for good behavior", the Cache Valley Drifters (pronounced "cash") have been steadily making up for lost time. Their performances are as likely to include bluegrass interpretations of songs by Paul Simon, Etta James and Cream as they are to feature tunes by the late country folk-singer Kate Wolf and traditional fiddle music. CVD's association with Wolf is natural considering that the band's longest-standing member, BILL GRIFFIN (mandolin, guitar & vocals), toured for many years as her bass player. He produced and was responsible for the musical arrangements on many of Wolf's recordings including her last and much heralded CD POETS HEART (Awarded NAIRD Best Folk Album of 1986). Griffin had previously been a sideman on albums that included artists such as Earl Robinson, Tony Rice, Pete Seeger, Odetta, Mike Auldridge, Norton Buffalo, and a series of national radio spots with the late Burl Ives. In recent years Bill has appeared at several festival and concert dates and on CD with his good friend Greg Brown. He now calls Hawaii home where he is a luthier with Kanile'a Ukulele Co. on O'ahu. His love of Hawaiian music has led him to create the Mandolele, a mandolin/ukulele hybrid (click on MANDOLELE below). MIKE MULLINS (guitar, mandolin & vocals), CVD's resident songwriter, was invited to join the group in 1993. Mike has been active in acoustic music since the early 1980s when he played guitar in the Phil Salazar Band (also produced by Griffin). In 1990, Mike teamed up with former Cache Valley Drifter Cyrus Clarke as a member of the Acousticats, a post he held until joining CVD in '93. WALLY BARNICK (bass & vocals), who played with CVD from 1975 to 1979, rejoined the group with their re-formation in 1993. An excellent vocalist and bass player, Wally also spent two years with Bluegrass Etc. The Cache Valley Drifters have had a more varied performance history than most bands in Acoustic Music. They have shared concert and festival stages with artists such as Doc and Merle Watson, Newgrass Revival, Stephane Grappelli, David Grisman, Alison Krauss, etc.... but also with artists you most likely wouldn't expect: The Allman Brothers, Dave Mason, Little Feat, Willie Nelson, Ricky Nelson, Emmylou, etc. They had the honor of playing the 1978 Los Angeles wedding reception for Rodney Crowell and Rosanne Cash. Building a reputation early on for their rich vocal harmonies and virtuoso musicianship, the Cache Valley Drifters were encouraged by the support they received from bluegrass greats Byron Berline, Dan Crary and John Hickman after a chance meeting in Nashville in 1976. The three had just formed BCH Productions and CVD became their first project. The self-titled LP THE CACHE VALLEY DRIFTERS was released on Flying Fish Records in 1978. The band would go on to record two more LPs for Flying Fish (STEP UP TO BIG PAY and TOOLS OF THE TRADE) before disbanding in 1985. In 1993 CVD reformed and with the release of WHITE ROOM on CMH Records in 1995 (joined by guest artist John McFee of the Doobie Brothers) the band was officially back. In 1998 the band formed their own label, MightyFine Records. The resulting CD, MIGHTYFINE.NET (CVD's personal favorite), was released the following year and featured their good friend DENNIS CAPLINGER (Bluegrass Etc.) on fiddle, banjo and dobro. WHITE ROOM and MIGHTYFINE.NET were subsequently released in Europe on the German label Taxim Records resulting in several European performances by CVD. In 2000 the band received an out-of-the-blue honor when their 1980 version of "Cumberland Blues" was picked by the Grateful Dead to be the first cut on STOLEN ROSES (Grateful Dead Records), a collection of the Dead's favorite covers of Dead songs by other groups. Included were such diverse artists as Bob Dylan, Elvis Costello, the Persuasions, the Stanford University Marching Band and the David Grisman Quintet. Today the Drifters have come full-circle as they are once again playing just for the fun of it. Their philosophy and agreement between themselves: when it stops being fun, that'll be the end of the ride. Hopefully, that won't be happening anytime soon. As they will tell you, it's all about the joy they've found in their music, their friendship with each other and, most importantly, the connection they share with their audiences everywhere. >

The Cache Valley Drifters "The Cache Valley Drifters" (Flying Fish, 1978)


This popular California bluegrass band mixed modern folk songs from the likes of Kate Wolf with 'grassed-up versions of old country tunes and Tin Pan Alley standards. Mandolinist Bill Griffin was a member of Kate Wolf's band, while the other members were in a variety of off-the-radar groups before joining to form the Drifters. On ther debut, they covered John Prine's "Angel From Montgomery" and Bob Wills' "Roly Poly" alongside Bob Marley's "I Shot The Sherriff" and the folk standard "Columbus Stockade." A fine example of the eclectic spirit of yesteryear.


<! This debut album was produced by Byron Berline, Dan Crary & John Hickman. An outgrowth of informal picking sessions, the Cache Valley Drifters continue to bring a modern outlook to bluegrass and country music. Although they disbanded for more than a decade, between 1979 and 1992, the group has been steadily making up for lost time. Their performances are as likely to include bluegrass-ized interpretations of songs by Paul Simon, Leon Russell, and Cream as they are to feature tunes by the late country folksinger Kate Wolf or traditional hill country material. The Cache Valley Drifters' association with Wolf is natural considering that the band's longest-standing member, Bill Griffin, toured with her backup band and produced her last recordings. Building an early reputation for their rich vocal harmonies and virtuosic musicianship, the Cache Valley Drifters were encouraged by the support they received from bluegrass guitarist Dan Crary, who helped them secure their first recording contract. Their self-titled debut album was released in 1978. Deep River,Sweet Mary,Masters-Dixieland Lady The Sorrow Of Saying Goodbye,Columbus Stockade Joanne,Roly Poly,Russian River Song Angel From Montgomery,I Shot The Sheriff B002C50WKO = LP >

The Cache Valley Drifters "Step Up To Big Pay" (Flying Fish, 1980) (LP)





The Cache Valley Drifters "Tools Of The Trade" (Flying Fish, 1983) (LP)





The Cache Valley Drifters "White Room" (CMH, 1996)

The Cache Valley Drifters "Mightyfine.net" (Taxim, 1999)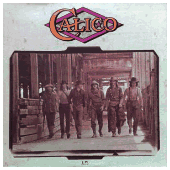 Calico "Calico" (United Artists, 1975) (LP)


(Produced by Allan Reynolds & Garth Fundis)
Second-string countrypolitan/country-rock, with iffy vocals but a wealth of serious talent in the studio: Buddy Spicher on fiddle, Lloyd Green playing pedal steel, Bobby Thompson on guitar, adding a few extra licks behind the band. Top Forty fans will notice youngsters Allan Reynolds and Garth Fundis paying their dues as journeymen producers -- later they'd become two of Nashville's major heavy-hitters. Singer Jerry Oates seems to have been the driving force in this band -- he wrote most of he songs and sang some of the lead vocals, along with pianist Keith Impellitier. This is hardly a classic, but fans of '70s country-rock and soft-pop might want to check it out. The band often reminds me of less-fortunate (non-major label) acts like Greezy Wheels and Chuck Wagon who were also on the scene at the time... (Footnote: apparently steel player Tom Morrell was in an early lineup of the band, but he wasn't on this album... Anyone have more info about their history?)


<! steel player Tom Morrell was apparently in an early lineup of the band >

Calico "Volume II" (United Artists, 1976) (LP)
(Produced by Larry Butler)




California Slim "On The Mall" (Slim Records)
A self-released album by street busker California Slim, a familiar face on the Santa Cruz mall, back in the early 1980s. He sings sparsely-arranged acoustic folk and blues tunes, in the style of Jimmie Rodgers and Woody Guthrie, with a mix of folk standards like "Strawberry Roan" and "John Henry," cowboy songs and old country blues. He's joined by a trio of Santa Cruzers, including bassist Karen Quick who was a singer in the local bluegrass band, Sidesaddle. The album kicks off with a couple of his own original songs, "City Streets" and "On The Mall," topical/slice of life songs, and ends with "Ballad Of Mount St. Helens," which gives a nod to Slim's earlier years in the Pacific Northwest... It also helps date this (undated) album as being at least sometime after Mount St. Helens' famous 1980 eruption. Anyone have more info about this disc?
Bill Callery "Bill Callery" (Columbia/Lone Star, 1976) (LP)


(Produced by Bucky Meadows & Bill Callery)
Classic cosmic cowboy stuff, a mix of spacey folk and unraveling twang... Callery's best known for having Willie Nelson include one of his songs on the Red Headed Stranger album, and for numerous songs of his that were recorded by Jerry Jeff Walker. Unfortunately he doesn't record his own version of "Hands On The Wheel" here, but Jerry Jeff fans will recognize a bunch of the other songs: "Leroy," "The Pot Can't Call The Kettle Black," as well as Callery's cover of Chuck Pyle's "Jaded Lover," also best known from Walker's classic version. Callery didn't have a super-killer voice or anything, but his songs are nice and the record's vibe is both earthy and mellow, the same kind of laid-back approach to country and bar-band music that will resonate with fans of Kris Kristofferson, Jerry Jeff Walker, or Rusty Weir. The backup band includes legendary fiddler Tommy Jackson; other than that, I don't recognize any of the names, although their performances are all rock solid, particularly the lead guitar from the album's co-producer Bucky Meadows, a veteran session musician who dropped out of the Nashville rat race and became a mainstay of the Texas indie scene. This album is definitely worth tracking down; I wouldn't be surprised if it doesn't get reissued... someday.
Bob Carpenter "Silent Passage" (1975)



An obscuro-holics country-folk dream record, this featured Canadian singer-songwriter Bob Carpenter, backed by an all-star cast gathered together by producer Brian Ahern... Two rising stars, Emmylou Harris and Anne Murray, sing harmony, while Lowell George and Bill Payne of Little Feat ply on several songs, as well as bluegrass banjo whiz Bill Keith, and many other '70s heavy-hitters. The truth of it is, though, that I didn't actually care much for this record... I didn't dislike it, but it wasn't really my cup of tea -- a little too folkie, I guess. But it's certainly a lost gem worth looking for and checking out if you're a tried and true hippiebilly fan... How could you resist??


<! Canadian singer-songwriter, Bob Carpenter's first and only album, produced by Brian Ahern and recorded between 1971 and 1974 buy not released until 1984 because of contractual problems. Anne Murray and Emmylou Harris supply Background vocals. It's a decent country rock album. Bill Payne, piano, Bill Keith on steel, Lowell George on guitar >


Marshall Chapman - see artist discography


<! Chinga Chavin >

Chinga Chavin "Country Porn" (1976)


Crude sexual comedy and an even cruder parody of country music, with songs such as "A**hole From El Paso," "Dry Humping In The Back Of A Fifty-Five Ford" and "Sit, Sit, Sit (Sit On My Face)" -- and those are the polite ones. These smutty, silly songs might appeal to a few juvenile-minded listeners, but the music isn't that compelling and the joke grows old, quick, like old Don Bowman albums; might also appeal to fans of Kinky Friedman's work. Apparently this album was distributed by Penthouse magazine... anyone out there know much else about Nick Chavin, like for instance if he as a real person, or just a made-up persona? The vocals remind me of Chuck Wagon & The Wheels, but I doubt there was a connection other than maybe a shared regional accent?
J.J. Cale "Naturally" (Shelter, 1972)



Oklahoma City songwriter J.J. Cale helped develop an eclectic, roots-oriented style called "the Tulsa Sound," which took off in the late 1960s and early '70s, and found its way into the national charts by way of Cale's pal Eric Clapton, and onto "freeform" FM radio through Cale's own albums. This solo debut typified Cale's sound: super laid-back, dipping into blues, jazz-standards and country, mixing it all together with casual ease and lazy beauty. It opens with his lanky, twangy version of "They Call Me The Breeze" and also includes a spacy "After Midnight" that stands in sharp contrast to Clapton's more aggressive (and more profitable) cover version. Sweet stuff, with a weird-but-not-too-weird vibe that will feel comfy and familiar to many fans. Recommended!
J.J. Cale "Really" (Shelter, 1973)

J.J. Cale "Okie" (Shelter, 1974)

J.J. Cale "Troubadour" (Shelter, 1976)







<! OTHER, VINTAGE CALE? http://en.wikipedia.org/wiki/Jj_cale http://en.wikipedia.org/wiki/Shelter_Records http://www.bsnpubs.com/abc/shelter.html * 1966 A Trip Down The Sunset Strip (with the Leathercoated Minds) J.J. Cale "Naturally" (Shelter, 1972) B000001FK3 B000W177GM J.J. Cale "Really" (Shelter, 1973) B000001F2Y J.J. Cale "Okie" (1974) B000008DXB J.J. Cale "Troubadour" (1976) B000001F2M J.J. Cale "5" (MCA, 1979) B000001F2X B000W1ME4W J.J. Cale "Shades" (1981) J.J. Cale "Grasshopper" (1982) J.J. Cale "1983 #8" (1983) * 1984 Special Edition (a compilation of hits from previous albums) * 1990 Travel Log * 1992 Number 10 * 1994 Closer to You * 1996 Guitar Man * 1997 Anyway the Wind Blows * 1998 The Very Best of J.J. Cale * 2000 Universal Masters Collection * 2001 Live * 2004 To Tulsa and Back * 2006 Collected (with bonus tracks) (Dutch release only) * 2006 The Road to Escondido (with Eric Clapton) * 2007 Rewind: The Unreleased Recordings * 2009 Roll On > <! OTHER, VINTAGE CLAPTON? >

J.J. Cale & Eric Clapton "The Road To Escondido" (Universal South, 2006)



Although Oklahoman songwriter J.J. Cale helped shape Eric Clapton's country-tinged, rootsy blues sound and provided him with some of his biggest hits of the early 1970s, the two old coots never made a record together... until now. The big question is: what were they waiting for? Escondido finds Cale still in fine form, and Clapton positively revitalized while gliding through this assertively good-natured, slick-but-substantial pop-blues outing. The old Cale formula -- half dusty barroom ballad, half misplaced swamp boogie -- is as smoky and alluring as ever, a cheerfully sleepy, seductive, world-weary style, with gauzy songs that suck you in like warm, comfy quicksand. Clapton is a perfect foil for Cale's laidback style, and the two move together with the ease and familarity of two old friends. It also helps that they've actually attained the age and wisdom that they earlier pretended to possess -- old bluesmen often ring truer than young hotshots who think they've seen it all. The more rocking, obviously "pop" songs come frontloaded at the start -- "Danger," "Missing Person" -- amorphous tunes that are really more mellow, lazy grooves than proper songs. The pace slows more for "When This War Is Over," an understated antiwar protest that speaks volumes in its plainspoken directness... It's clearly about the Iraq fiasco, but it may prove to have legs of its own, as time goes on and more wars come. Maturity is a constant theme on this album: on "It's Easy," the geezers coach a young listener in the arts of seduction; "Hard To Thrill" is an anthem of middle-aged ennui, and on "Three Little Girls," Clapton croons the joys of fatherhood. While the sound of this disc may feel too slick or mainstream for some roots music fans, the album still has a strong appeal. Certainly for fans of Clapton and Cale, it's a cause for major celebration -- this is a wonderful return to form for two roots-blues legends... Definitely worth checking out!
Central Park Sheiks "Honeysuckle Rose" (Flying Fish, 1976)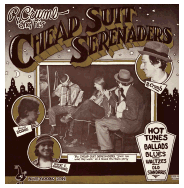 The Cheap Suit Serenaders "R. Crumb And His Cheap Suit Serenaders" (Blue Goose, 1974)






<! B00008Y4CS - expensive import; B004HJNILS is LP >
The Cheap Suit Serenaders "R. Crumb And His Cheap Suit Serenaders, #2: Chasin' Rainbows" (Blue Goose, 1976)


The Cheap Suit Serenaders "R. Crumb And His Cheap Suit Serenaders, #3: Singing In The Bathtub" (Blue Goose, 1978)



Chuck Wagon & The Wheels "Chuck Wagon & The Wheels" (Wagon Tracks, 1978)


Chuck Wagon & The Wheels "Disco Sucks, Country Swings" (Wagon Tracks, 1979)


Chuck Wagon & The Wheels "Please Pass The Gas" (Wagon Tracks, 1979) (LP)


Chuck Wagon & The Wheels "Red Hot Women And Ice Cold Beer" (Wagon Tracks, 1980) (LP)


Chuck Wagon & The Wheels "Keep On Rolling" (Wagon Tracks, 1982)


This Tuscon, Arizona outfit staked a pretty good claim to being the world's most obnoxious country band, what with several albums full of classic bad novelty songs, such as "Red Hot Women & Ice Cold Beer," "You Only Say You Love Me When You're Drunk" and (my favorite), "You Shot The TV (But You Were Aiming At Me)." The Wheels, however, will always be most identified with their uncompromised country music anthem, "Disco Sucks," which has as much resonance now as it did in 1979. Although these songs are all classics (of a sort), the albums themselves were pretty spotty. ...Isn't there someone out there who could be persuaded to put out a collection of the "best" songs this band put out? (Note: apparently one of Disney's labels bought the rights to use the band's name, so that they could use it for a "comedy" record by some lameass wrestling-and-redneck stereotypes band. Don't be fooled... and don't bother. On the other hand, tracking down the old LPs by the original band can be a real hoot!)

Chuck Wagon & The Wheels "The Best And/Or Worst Of Chuck Wagon & The Wheels" (Wagon Tracks, 2006)
Alright... finally!! Some of the original CW&TW "hits," digitally encoded and out on CD at last... This for-fans-only CDR collects obnoxious oldies such as "You Shot The TV (But You Were Aiming At Me)," "My Girl Passed Out In Her Food," "You Only Say You Love Me When You're Drunk" and that enduring classic, "Disco Sucks," an anti-disco anthem from 1979 that still speaks truth to power. These are all songs I grew up with (thanks, KFAT!) and still like to play on the radio from time to time... CW&TW were a great regional band based in Tucson, AZ (and still do a few gigs from time to time, or so I'm told... ) I'm not sure how you can get ahold of this disc, but if I find out any contact info, I'll letcha know... Anyway, it's fun stuff, definitely worth tracking down! Includes a handful of fun, funny bonus tracks drawn from the band's countless live shows... Thanks, Chuck!

Chuck Maultsby And His Old Band "The Best And/Or Worst Of..." (Wagon Tracks, 2006)
(Aka, "Chuck Wagon & The Wheels") Poor Chuck Maultsby, somewhere along the line, this Arizona barband warhorse sold the rights to his band's name to some lame-ass wrestling crew, who put out a crappy album under the CW&TW name, which soon sank into oblivion. I guess they still own the name, though, because after Maultsby put out this (long-overdue) best-of album on his own indie label, he had to turn around and re-issue it under his own name. Well, let that be a lesson to you: never sell your band's name. Regardless, this here is one fine, full-throttle set that fans of smart-ass indiebilly oughtta really dig... Thanks, Chuck! (Available through CD Baby and iTunes... Or through Maultsby's own website, www.chuckmaultsby.com )

Chuck "Wagon" Maultsby & His Old Band "24 Originals" (Wagon Tracks, 2007)


And here's the downloadable version... yay!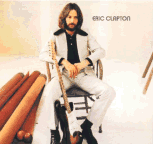 Eric Clapton "Eric Clapton" (Polydor, 1970)



(Produced by Delaney Bramlett)
Although he's a founding member of the Dino-Rock Legion, guitar god Eric Clapton deserves an honorable mention when looking at the roots-twang scene of the 1970s. After extricating himself from the hyperbolic acid rock of his band, Cream, Clapton drifted a bit, going hippie-zonko-psychedelic with Blind Faith and hanging out with the Beatles. On his first proper solo album, he dipped back into the blues, with a dollop of then-cool boogie-rock and a few spacy, Big Star-ish, George Harrison-esque psych-folk outings. This also includes a coked-up version of "After Midnight," recorded along with Delaney & Bonnie, a rootsy duo who figured prominently in most of Clapton's subsequent albums. The twang comes in later, but Clapton does show how diverse and old-school he could be, even after all those years plugged in and playing loud.


<!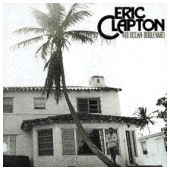 Eric Clapton "461 Ocean Boulevard" (RSO, 1974)



(Produced by Tom Dowd)
Again, still mostly a rock/blues record, but with a few Americana-ish hints of things to come, notably a washed-out but still acoustic cover of "Please Be With Me" and his hit version of Bob Marley's "I Shot The Sheriff," a track that helped bring reggae into the American pop mainstream. Mostly too "dino rock" for me, but it's still worth a spin. A big hit, back in the day.


<! Includes "Please Be With Me" and "I Shot The Sheriff" >
Eric Clapton "There's One In Every Crowd" (Polydor, 1975)



Clapton went to Jamaica to get stoned and record this laid-back album... Includes several reggae-flavored tracks, balanced by sedate, sleek blues-pop... Not much countrywise on here, other than "Pretty Blues Eyes," and also no real hits. It's mellow, but forgettable.
Eric Clapton "No Reason To Cry" (Polydor, 1976)



(Produced by Rob Fraboni)
Another negligible album, especially from an alt-country perspective. The production is a little edgier and more shrill -- more coke-influenced, one would assume. Anyway, there's hardly any twang on this album, even with all the guys from The Band jamming with him... So for our purposes here, this is pretty skippable.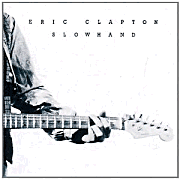 Eric Clapton "Slowhand" (RSO, 1977)



(Produced by Glyn Johns)
As far as hippiebilly and Americana go, this is probably Clapton's most relevant record. It's packed with roots-music goodies, notably "Next Time You See Her," "Lay Down Sally" (which hit #3 on the charts), the languid, romantic "Wonderful Tonight," and Clapton's fine rendition of John Martyn's "May You Never." Oh, yeah, there's also his version of JJ Cale's "Cocaine" which, although I really never need to hear it again, was deservedly a monster hit, an arresting rock anthem with a huge rhythmic hook and an unfortunate relevance to the drugged-out era it came out in. This was one of Clapton's best and most popular records, and made him a permanent fixture of disco-era pop culture. Recommended, particularly for the twangy stuff.
Eric Clapton "Backless" (Polydor, 1978)



(Produced by Glyn Johns)
Flowery, formulaic and somewhat lethargic, this echoes the musical themes of Slowhand, but not the album's vigor. I'm sure many Clapton fans will disagree. I do like "Promises" and "Tulsa Time," though!
Guy Clark -- see artist profile
Merrill Clark "Hold On And Love Her" (Expand Records, 1975) (LP)

Merrill Clark "I'm An Operating Engineer" (Expand Records, 1976) (LP)
A kooky, outsider-art album from this California country indie... It's a theme record about "operating engineers" -- the folks that drive big construction vehicles like Caterpillar tractors and other heavy equipment -- with a slew of original songs mostly written by Merrill himself, along with a couple of Merle Haggard songs and a union tune by Woody Guthrie. In the liner notes, Merrill says her has "worked alongside these men of the Operating Engineers for many years," so I guess he was a construction worker who self-financed a couple of albums, and maybe came up with the idea of producing this one as a benefit for his union, the International Union of Operating Engineers (IOUE), as a way to subsidize his musical moonlighting(?) But I'm just speculating, really -- anyone know more about this guy? And wouldn't a duo album with him and Buzz Martin, the singing lumberjack, be totally awesome?


<! a benefit for the International Union of Operating Engineers (IOUE) >


Vassar Clements -- see artist discography





Commander Cody -- see artist profile





David Allan Coe - see artist discography





Jessi Colter - see artist discography





Ry Cooder -- see artist profile



Shep Cooke "Shep Cooke" (WWC, 1976)



Check it out: another twangy hippie weirdo from Arizona! A veteran of the Southwestern garage rock scene, Shep Cooke moved to LA and joined the Stone Poneys when Linda Ronstadt was emerging as a folk-rock star, and was in her orbit for a couple of years, until "the label" decided to groom her for solo stardom, and fired the band. For a while Cooke bopped back and forth between Tucson and LA, playing with the local band Dusty Chaps, recording an album with the Floating House band (a trio with two other ex-Stone Poneys) and playing on Tom Waits' first album. This was the first of two solo albums recorded in the '70s, it's mostly a spacey freak-folk set but there are glimmers of country twang in there as well, along with the acoustic rock and Tom Rush/Gordon Lightfoot-ish folk. Not as much of a "hippiebilly" album as others included here, but it's worth a footnote due to his lengthy history in the same scene that fostered folks like Chuck Wagon And The Wheels, and also because his next album is a little closer to what I'm talking about. Besides, there's lots of nice guitar picking on here...
Shep Cooke "Concert Tour Of Mars" (Sierra Records, 1977) <! year >



Although most of this album is dewy-eyed singer-songwriter folkie stuff, the album is bookended by a couple of wacky, Bonzo Dog Band-ish tracks about jamming on the tunes with the little green guys on Mars, tailormade for airplay on Dr. Demento. There are a couple of other oddball songs that have an only-in-the-'70s feel: on "Tomcat Boogie," Cooke sings about singing hippie music in biker bars, and "Backstage Rock'N'Roll Star" is an interesting lament from the vantage point of the many, many talented musicians who can never quite grab the brass ring, but know a famous person or two, nonetheless. The album's cult status is confirmed by its reissue in non-vinyl format, including a Japanese import version, no less! I wouldn't say this is dazzling, but it's cute and has novelty appeal... worth knowing about, for sure.
Corn Bred "It's Hot" (Sierra Briar) (LP)





<! Corn Bred "It's Hot" (Sierra Briar) (LP) B00412JTD2 Corn Bred "Hot Corn Bred" (Sierra Briar) "LA's Hottest Bluegrass Band" >

The Cowboy "Album 1" (Dead Rabbit Records, 1976) (LP)





The Cowboy "Album 2" (Dead Rabbit Records, 1978?) (LP)





The Cowboy "Live" (Dead Rabbit Records, 1981) (LP)



<! Cowboy > <! Cowboy Jazz >
Jill Croston "Jill Croston" (Harbor, 1978) (LP)


(Produced by Wayne Nelson) <! executive producer >
The independently-released debut of the artist who would become known as Lacy J Dalton. This album was a regional favorite in Santa Cruz, California, and shows Dalton's folkie/bluesy, Janis Joplinesque roots... The record has a comfy, informal, down-home vibe that reflects the hippie-billy vibe of the time... But her voice is so powerful -- a bluesy blast that pushes up against the sweet acoustic backing -- that in retrospect it's clear that she was destined for something bigger, bolder and more robust. And why begrudge her her successes? For every ten thousand earnest, striving, coffeehouse/open mic singers, there's one Lacy J. that'll make it to the top, and I'm sure the folks who remember her from 'way back when still have their copies of this disc tucked away somewhere and think fondly of her success. Anyway, here's where she started -- it was 0 to 60 after that.
Alvin Crow "...And The Pleasant Valley Boys" (Polydor, 1975) (LP)


Though less famous than Asleep At The Wheel, who were doing the western swing thing around the same time, Texas fiddler Alvin Crow led his scruffy, down-home band through several albums of top-notch country fun. His vocals are a perfect In the 1975 version of "Wine Me Up" (an old Faron Young standard) and Crow's own contributions to country music history include the classic, "Nyquil Blues," an ode to the restorative powers of America's last great patent medicine.
Alvin Crow "High Riding" (Polydor, 1977) (LP)







Alvin Crow "...And The Neon Angels" (Big Wheel, 1979) (LP)
(Produced by Ronnie Roark)
Great stuff with Crow sawing and soaring his way through a sweet set of country and western swing oldies, with a compact and committed band behind him. The repertoire leans heavily on the Bob Wills songbook, along with songs like Mel Tillis's "Heart Over Mind," Jack Guthrie's "Oklahoma Hills" and a version of "Now And Then There's A Fool Such As I that underscores Crow's strong vocal similarity to Hank Snow. These indie sessions were recorded in 1973, and include three Alvin Crow originals, including two that were released as a single, before he got signed to Polydor. Definitely worth tracking down!


<! 05/13: no ASIN >

Alvin Crow "Honkytonk Trail" (Broken Spoke, 1988)

Alvin Crow "Cowboy I" (Broken Spoke) <! ? date? >


Features covers of a bunch of western oldies: "Back In The Saddle," "Ghost Riders In The Sky," "Streets Of Laredo," "El Paso," "Big Iron," and the like. Probably pretty cool!
Alvin Crow "Texas Classic" (Broken Spoke, 1996) <! ? date? >





<! 1 Fiddler's Lady 2 Sands Of Texas 3 One Foot In The Grave 4 Dynamite Diana 5 Turkey Texas 6 Rearview Mirror 7 Chains on Me 8 Nyquil Blues See All 3 9 When I Stop Lovin' You 10 Foolish Faith 11 Just Dropped By To See The Show >

Alvin Crow "White Trash Opera" (2004) <! ? date? >



<! might be others >
J.D. Crowe And The New South "My Home Ain't In The Hall Of Fame" (Rounder, 1979)



An alumnus of one of the early '60s top bluegrass bands, banjo player Crowe set out in the '70s as a newgrass traditionalist, skirting the border between bluegrass and country in much the same way as his mentor, Jimmy Martin. This is my favorite of the New South albums (though the rest are all good, too)... It features a gorgeous version of the title track, Jonathan Edward's classic alterna-country anthem, as well as upbeat versions of "Gone, Gone, Gone" and "My Window Faces The South." The band also included fiddler Bobby Slone, bluegrass whizkid, Jimmy Gaudreau, and the late Keith Whitley (who went on to briefly become a Nashville Top 40 guy). Lots of fun, and highly recommended.
Rodney Crowell -- see artist profile
---
---