<! MP3 00/00/00 > <! update 00/00/00 > <! outside 00/00/00 > <! pix 00/00/00 > <! icons 04/17/11 > <! PF: Stan Farlow -soundalike singer? Stan Farlow "Hot Wheels" (Checker, 1970) Stan Farlow "He Sounds Like Johnny Cash" (Checker, 1970) Freeman & Lange "Freeman & Lange" (Flying Fish) Bob Force & Al D'Ossche "When The Moon Fell On California" (Kicking Mule) Frummox >
---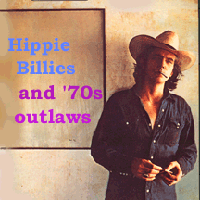 The "twangcore" and "Americana" boom of today owes a large debt to the shaggy twangers and no-hit wonders of yesteryear -- this section looks at the hippiebilly and stoner bands and a few odd, random artists from the 1960s, '70s and early '80s, back before there was anything called "alt-country." This page covers the letter "F."
---
HIPPIEBILLY & NO-HIT WONDERS:
A | B | C | D | E | F | G | H | I | J | K | L | M | N | O | P | Q | R | S | T | U, V &W | X, Y & Z | Comps | Hick Music Styles

---




John Fahey - see artist discography





Dick Feller - see artist discography





The Flatlanders - see artist discography


<! ROBIN FLOWER > <! Burrito Brothers, Flying >
The Flying Burrito Brothers "Authorized Bootleg: Fillmore East Late Show" (Hip-O Select, 2011)



Bereft of frontman Gram Parsons and pedal steel player Sneaky Pete, this late-1970 edition of the Burrito featured country-rockers Bernie Leadon and Rick Roberts (later members of Eagles and Firefall) with founding member Chris Hillman on bass, playing live at New York's fabled Fillmore East. A nice slice of country-rock's formative years... worth checking out if you're a fan of the band, or a fan of the style.


<! November 7, 1970 Michael Clarke on drums >

Jim Ford "Harlan County" (Edsel, 1997)

Jim Ford "The Sounds Of Our Time" (Bear Family, 2007)





<! Includes the "Harlan County" album and a bunch of rare singles and demos. >

Jim Ford "Point Of No Return: Previously Unissued Masters, A Lost 45 & Rare Demos" (Bear Family, 2008)

Jim Ford "Big Mouth USA -- The Unissued Paramount Album" (Bear Family, 2009)



A tantalizing set of material from one of the odder characters on the 1970's twang scene. Songwriter Jim Ford was a pal of funk-soul pioneer Sly Stone; he played on some Sly & The Family Stone albums, as well as other iconic rock and pop records, but he nurtured an abiding love of country music, and wrote some truly stunning original twang-tunes. He must have had some interesting personal quirks, though, because there is a string of unissued demo material for projects on a number of labels. Maybe the major-label "suits" just weren't ready yet to have some hippie longhair crash the Nashville party, but for whatever reason, Ford faded from the scene and wound up living off the radar, ending his life in obscurity, in a trailer home up in Northern California. In his home was a treasure trove of demo tapes, unissued masters, and a handful of singles that had been issued over the years. Some of it is really great stuff, well-sculpted country songs, often with a novelty twist, as well as some dips into sunshine pop-era rock and soul. This disc, along with the Capitol Album collection below, overlaps with earlier Bear Family releases, but that doesn't detract from their value: if you're hearing of Ford's work for the first time, then these discs will be a real treat. Check it out!


<! This overlaps with previous Bear Family releases... >

Jim Ford "The Unissued Capitol Album" (Bear Family, 2009)


The Frank & Woody Show "Damn The Luck" (1978)
(Produced by Bruce Bendinger & Billy Culhane)
A local band from Tucson, AZ, fronted by Frank Manhardt and Woody Janda... They sound a whole lot like their Arizonan contemporaries, Chuck Wagon & The Wheels, though with a slightly less biting wit. (In fact, you can see one of the bandmembers wearing a "Disco Sucks" t-shirt in a photo on the back cover, so they were probably all buddies...) Anyway, back to Frank and Woody... This is another one of those time-capsule hippie country albums, oozing with hard-won authenticity... you can definitely imagine them having their fair share of beer bottles tossed at them in a bunch of desert roadhouse bars, and practically hear the whoops of delight from their longhaired fans as they sang novelty songs like "Damn The Luck" (with the cheerful refrain, "...what the f***"). There are some hot licks and a couple of resonant songs, but mostly this is a pretty sloppy, jokey album -- a nice keepsake for those who were actually there and a great snapshot for those of us who weren't.
The Frank & Woody Show "Wrapped Up In The Fun Of It" (Key Records, 1979) (LP)





<! http://thefrankandwoodyshow.blogspot.com/2003_07_01_thefrankandwoodyshow_archive.html THE FRANK AND WOODY SHOW LP and CD back-up: WRAPPED UP IN THE FUN OF IT (Key Records) B003N487JG One of two lps produced. Tucson, az, 1979. Frank Manhardt- lead vocals and tambourine Woody Janda- Lead vocals, rhythm guitar Donny Roberts- Lead Guitar, group vocals Tim O'Connor- Fiddle, group vocals Pete Smith- Pedal steel guitar Robbie McBeath- Bass, group vocals Andy Michaud- Drums Jim Metz -Drummer (Wrapped Up in the Fun of It) Glenn McKinney - Bassist (Wrapped Up in the Fun of It) TRACKS:SOMETIMES I THINK // WINDMILL// WRAPPED UP IN THE FUN OF IT// ONE LESS JOGGER ON THE ROAD// FOREVER// IF I EVER GET RICH// YOUR TIME'S COMING (Silverstein and Kristofferson)// singin' in the streets// send the fool away// loose on tucson// you really ain't good lookin'


Kinky Friedman - see artist discography




Raymond Froggatt "Cold As A Landlord's Heart" (Castle, 2003)



Here's an odd one. In the mid-1970s, English rocker Raymond Froggatt was instructed by his label to "go country," presumably because his spacy psychedelic meanderings weren't selling well... As Froggatt confesses, he didn't have any innate interest in country music, or much experience playing it, but he did as he was told, and the results were quite nice. In 1978 he went to Nashville to record Southern Fried Frog, an album that has become a minor cult classic of British alt-country... I didn't have high expectations for this 2-CD set -- which includes copious examples of both his rock and 'billy sides -- but I picked it up on a lark, and now I am quite delighted at the discovery. To his credit, Froggatt took the work seriously, and discovered what many rockers fail to recognize: country is an exacting art form, one that demands real craftsmanship and feeling, both of which he was able to develop as he explored the format. While there are few outright "classics" on here, several songs snuck up on me, and are tunes that would work well in sets of either classic or alternative twang. The rock stuff is a little less enthralling, but if you wanted to give this guy a fair shake, this collection will really fill the bill. Worth checking out.

Steven Fromholz "Come On Down To Texas For Awhile - The Anthology: 1969-1991" (Raven, 2001)


This anthology will probably serve as the definitive collection of this '70s cult-hero Austin songwriter, delving into material from eight different albums, and tossing in a duet with Willie Nelson for good measure. Personally, I've never a huge Fromholz fan -- a lot of his stuff is too wordy and leaden for me, and as a singer his phrasing is a bit stiff. He's sort of like a gruff-voiced cross between Fred Neil or Hoyt Axton and Townes Van Zandt, with Townes's lofty poetic aspirations being the dominant part of the equation. For those who groove on the whole latter-day literary cowpoke, windblown Texas-mythologizing ethos, Fromholz will be a real treat, but if you just wanna hear some fun country songs that you can tap your toes to, this disc will mostly be slow going. This disc includes songs like "Blue Lines On White Linen" and "Ain't It Nice To Be Alone" hold up pretty well, but the lethargic, solomn "Texas Trilogy" are a bit much, as far as I'm concerned. But if you want to check the guy out, this is the place to start.
Steven Fromholz "A Guest In Your Heart" (Crystal Clear Sound, 2001)

---
---