<! MP3 00/00/00 > <! outside 00/00/00 > <! pix 00/00/00 > <! icons 04/17/11 > <! states 05/03/16 > <! UPDATES: 07/21/13 - major overhaul, w/ new Fat City, Flying Burrito and Steven Fromholtz pages, new reviews - still need Firefall info 01/01/14, 01/24/15, 03/30/15 - added all the leads I had, many without reviews, moved less likely ones to Info 03/28/18 - alpha-ed the adds; about a dozen titles 01/15/20 - DE-AMAZONED, updated 01/15/21 - cleared pix, need a Foggy River Boys page? need Kelly Foxton pix 02/10/21 - Fillies, notes, intro > <! >
---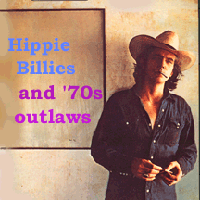 LOCALS ONLY: This is a guide to independent and off-the-radar country musicians from the 1960s, 1970s and early 'Eighties, including hometown performers working in regional oprys, jamborees, dude ranches, casinos, pizza parlors and lounges. They included longhaired country-rockers, red-dirt outlaws, Nashville hopefuls and earnest amateurs, as well as the more country-oriented artists in the bluegrass and southern gospel fields. Many of these musicians toured nationally or regionally while others were strictly hometown folks. These are the people who are often overlooked in the history books but who contributed their talents, hopes and dreams to the country music world, and the aim of this guide is to keep their memories and their work alive. Comments, corrections and suggestions are always welcome.


This page covers the letter "F"





---
HICKS, HIPPIEBILLIES & NO-HIT WONDERS:
A | B | C | D | E | F | G | H | I | J | K | L | M | N | O | P | Q | R | S | T | U | V | W | X, Y & Z | Compilations | State-By-State

---
About This Guide | Thanks | Other Hick Music Styles

---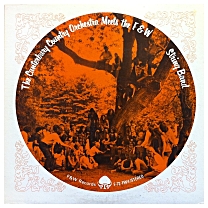 F&W String Band "The Canterbury Country Orchestra Meets The F&W String Band" (F&W Records, 1970-?) (LP)
This far-flung ensemble was a cross-pollination of several New England folk and dance groups, including the Canterbury Country Orchestra and the Fireside String Band, with interlocking memberships and a common devotion to odd, eclectic, and antiquated music. F&W took its name from the Farm and Wilderness camps, a summer camp program with roots in the Quaker movement. The group started out playing in the camp setting, and made its public debut at the 1969 Vermont Fiddler's Convention. The music really draws more on English and Celtic folk traditions than on actual country music... But what the heck. It's kooky and very 'Seventies, and this album pops up all the time. Worth checking out!


<! - #F-FW-1 - Fillies? - (VT) >

F&W String Band "2" (F&W Records, 19--?) (LP)



<! - # A1 Little Judique A2 Maggie Brown's Favorite A3 Jack's Life A4 Craig Park - Limestreet Medley A5 Young Jane A6 Dusty Miller A7 North Shore Breakdown A8 One Hundred Pipers B1 The Brisk Young Lads B2 Teetotaler's Reel B3 The Plough Boy (With Calls) B4 My Home Waltz B5 Durang's Hornpipe B6 Greenfield's Of America B7 The High Bridge Jig B8 Flannigan's Polka >

The Fabulous Backup Band "God, Guts And Guns" (Talon Records, 1984) (LP)
(Produced by Ron DiIulio)
A patriotic, pro-gun country album from the Lone Star State... Producer Ron DiIulio plays keyboards and sings lead on about half the tracks, with other lead vocalists including guitar player Gene Bell, bassist Keith Davis and vocalist Laurie Douglas, and steel guitar provided by Gary Carpenter. Recorded in Fort Worth, this is an odd record, possibly one of those tax dodges you hear about. It was commissioned by executive producer "E. Donzetta Talon," which as far as I can tell, was a fictional identity. Amid numerous cover songs is one original, called "Gun Control," written by "Fletcher" and published by Donzetta Talon, it is sung by DiIulio and is one of the more pointedly political numbers on the record... Other songs seem fairly tame considering the album's artwork and title -- stuff like Merle Haggard's "Fightin' Side Of Me," Johnny Cash's "Ragged Old Flag" and Barry Sadler's "Ballad Of The Green Beret," and even more innocuously, tunes like the T. Texas Tyler chestnut, "Deck Of Cards" and Mel Tillis's "Stateside." Bandleader Ron DiIulio definitely had an impressive career: he played piano in a fabled mid-1960s Denton, Texas garage band called the Chessmen, then moved through a series of other local bands before being tapped to train as a concert pianist, as a protege of international star Van Cliburn. He went on to work as an audio producer, jingle writer and film composer, and eventually, I believe, as an astrophysicist, among other pursuits running the planetarium in Fort Worth. Wow.


<! - # - no ASIN 01/10/17 - links (TX) >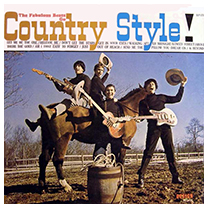 The Fabulous Beats "...Go Country Style!" (Design Records, 1964)
(Producer not listed)
Hardy-har-har. The gag is having four mop-topped Beatles imitators sing country standards, with familiar harmonies, fake accents and surfy Fender guitars... The results are subpar but entertaining: these manic and anonymous lads sound more like Chad & Jeremy than John, Paul, George & Ringo, but it's still kinda funny. And of course, the real Beatles would have the last laugh when they demonstrated their love of twang and recorded actual country songs (such as their cover of "Act Naturally") which gave George Harrison a chance to perfect his Chet Atkins riffs. Anyway, this cheapo-label knockoff is a nice curio of the British invasion era.


<! >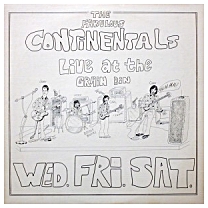 The Fabulous Continentals "Live At The Grain Bin - Weds. Fri. Sat." (Jerry Sparks Record Productions, 19--?)
(Produced by Jerry Sparks)
An ultra-obscuro LP recorded at the Grain Bin Saloon, in Garden City, Kansas... I'm not sure if this band, which included Gary Batchelder, Jerry Wilcox, Carl Knaus, Jimmy Knight and Freddy Morales (on congas!) was connected to the early '60s Topeka, Kansas garage band, the Rockin' Continentals, but it seems possible. Anyway, apparently these guys showed up on the LAS VEGAS GRIND compilation series, though they are definitely playing some country stuff on this album. Let's hear it for the Free State! Ad Astra Per Aspera!


<! - # - no ASIN 01/24/15 - tracks, link (KS) >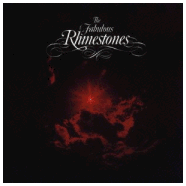 The Fabulous Rhinestones "The Fabulous Rhinestones" (Just Sunshine Records, 1972) (LP)
Produced by The Fabulous Rhinestones & Michael Lang)
This one's added as more of a "buyer beware" listing: if you like early '70s groove and boogie rock, go for it, but if you're mainly into country-rock and twang, this is definitely too rock'n'roll for you. Formed in San Francisco, the Rhinestones are occasionally mentioned in connection to early country-rock because guitarist Kal David was previously in the Illinois Speed Press, a country-tinged band with Paul Cotton, and Paul Cotton later joined an early lineup of Poco. But this album is pretty strictly hippie-era heavy-rock and funky jam-band R&B, good for what it is, but not very country. Steel player Ben Keith plays on the record's lone acoustic tune, "Big Indian," and electric blues legend Paul Butterfield blows harp on the opening track. They recorded two other albums, which I guess I'll check out if I get a chance, and I'll let you know if they ever got any twangier...


<! The Fabulous Rhinestones featuring ex-Electric Flag bassist Harvey Brooks and ex-Buckinghams' keyboard player Marty Grebb, recorded three albums: Fabulous Rhinestones, Freewheelin' (on Paramount Records) and Rhinestones (on 20th Century Records) >


John Fahey - see artist discography




Tommy Faile "The Best Of Tommy" (Peach Records, 1972) (LP)



<! - #PEA-1000 A1 Forever Until Tomorrow * A2 It's Alright With Me 1:50 A3 Phantom 309 3:34 A4 My Home Sweet Home * A5 Love Valley 2:37 B1 Watch Your Step 1:56 B2 Walk Me Slow 3:09 B3 Not Guilty * B4 Brown Mountain Light * B5 Man On The Corner >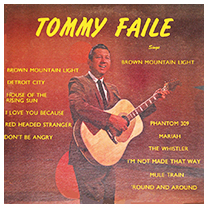 Tommy Faile "...Sings Brown Mountain Light" (CMC/Clay Music Corporation, 1974-?) (LP)
(Produced by Arthur Smith & Charles Andrews)
Although his name might not be immediately recognizable, his music is... Born in South Carolina, songwriter Tommy Faile was an old-school Southern country'n'bluegrass musician who crossed the state line and made his home in Charlotte, NC, working in the bands of Snuffy Jenkins and Arthur "Guitar Boogie" Smith. He's best known for writing the mega-classic, trucker recitation song, "Phantom 309," which became a huge hit for Red Sovine. Faile plays his own version of the song on here, along with several other originals and a few covers, including his version of "The Legend Of The Brown Mountain Lights," a novelty number about a will-o-wisp phenomenon sometimes seen in rural North Carolina. Not sure who backed Faile on this album, but it's a pretty good bet that at least one of the pickers was Arthur Smith himself... Faile also released a slew of indie-label singles in the 1950s and '60s, though as far as I know they haven't been collected anywhere... yet.


<! - pics >

Tommy Faile "Full Moon Spell" (Sapphire Records, 1984) (LP)
(Produced by David Floyd)



<! - #SO-17542 >

Tommy Faile "No Fool Like An Old Fool" (Sapphire Records, 19--?) (LP)
(Produced by Tommy Faile & David Floyd)



<! - from Charlotte, North Carolina - wrote "Phantom 309" (????) https://en.wikipedia.org/wiki/Tommy_Faile >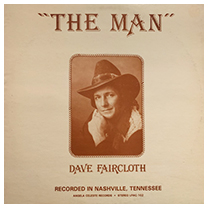 Dave Faircloth "The Man" (Angela Celeste Records, 1982) (LP)
(Produced by Gene Breeden)
A retired rodeo rider and ex-Marine, Texas-born Dave Faircloth made his way out West and had settled down in Bakersfield by the time he cut this album. The sessions were recorded in Nashville, and included several songs written by Faircloth, along with tunes by Red Simpson, Charles Hinley, Len Wade and Jerry Ward (whose "That Hat Don't Make You A Cowboy" is an album highlight. The studio crew included Gene Breeden on lead guitar, Terry Crisp playing steel, and Bruce Watkins on fiddle and bass. The single released off this album says he's backed by "his Jack Daniels Road Band," but I'm not sure how much touring Faircloth did, or how many of the guys backing him on this album were in a real-live band with him.


<! - #LPAC-102 - born in Bridge City, TX >
Fall City Ramblers "Ain't Nothin' In Ramblin' " (Vetco Records, 1975) (LP)



<! - from Louisville, Kentucky - bluegrass only? >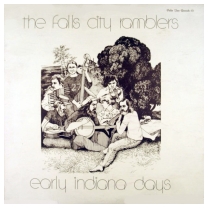 Fall City Ramblers "Early Indiana Days" (Palm Tree Records, 1976) (LP)
This free-flowing, dynamic stringband from Madison, Indiana mixed bluegrass and old-timey with a dash of classic jug-band blues and a hint of old-world European styles and even some hapa haole Hawaiian music, such as the oldie, "The Old Palm Tree." Not sure how long the group was together, but they were pretty darn good!


<! - # >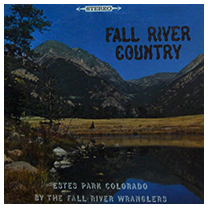 Fall River Wranglers "Fall River Country" (Fall River Enterprises, 19--?) (LP)
Babe Humphrey, Bob Minser and Paul Moyers formed a western trio connected to the Estes Park, Colorado dude ranch and its "chuckwagon supper" singalongs... They sang a lot of typical cowboy stuff, "Ghost Riders In The Sky," "Tumbling Tumbleweeds" and the like, but also some saltier, more country material, such as "Bayou Baby" as well as a gospel tune or two. Unfortunately the voluble liner notes by Denver music critic Red Fenwick aren't terribly informative, other than to tell us the guys were midwesterners, from Colorado, Illinois and Iowa. At any rate, fans of old Gene Autry or Roy Rogers records should get a kick out of this relaxed, retrodelic session.


<! - # >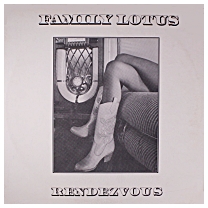 Family Lotus "Rendezvous" (Full Circle Records, 1979) (LP)
Founded in 1968, this puckish, eclectic, hippie-grass twangband was a mainstay of Santa Fe, New Mexico's 'Seventies music scene. The main drivers of the band were multi-instrumentalist songwriters Jim Bowie and Jerry Faires, who are pictured together on the back, although they had a huge supporting cast behind them, which ebbed and flowed in various permutations over the years, including a series of reunion gigs. Among the folks on this album is future folk-scene superstar Eliza Gilkyson, playing a minor role in the backup chorus. All the songs on here are originals, three of them written by Jerry Faires, and all the rest by Jim Bowie, including two co-written with pianist Dennis Culver.


<! - #FSR-0001 / KM-4320 - (NM) >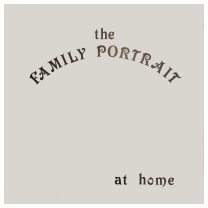 The Family Portrait "At Home" (Sierra Nevada Recording Studios, 1981-?) (LP)
(Produced by Jody Peterson)
The epitome of an local, amateur-hour bar-band, Reno, Nevada's Family Portrait was a later incarnation of a folk duo formed by brothers Jim and Jerry Estes, who were originally from the Midwest but later settled in Nevada and worked at venues such as the King's Inn and the urban-cowboy oriented Shy Clown casino. They were joined on this album by Jim Estes' wife Jackie and pickers Bill Van Dyke (banjo and fiddle) and Ernie Hagar (dobro and steel) who add some nice instrumental ooompf to the sometimes-iffy vocals. This set shows a heavy influence from the Emmylou Harris Hot Band, with covers of Rodney Crowell's "Song For The Life" and "Even Cowgirls Get The Blues" as well as Guy Clark's "She Ain't Goin' Nowhere" and Paul Siebel's old chestnut, "Louise." Perhaps the campy highlight on the album is a lo-o-o-o-ong version of "The Devil Went Down To Georgia," which might not be as kooky as Don Bowman's word-for-word recreation of "Alice's Restaurant," but it's in the same ballpark. Also included as interstitial ditties are a few of Mason Williams' "Them Poems," as odd and entertaining here as they were the first time around. The Estes all worked day jobs as schoolteachers in Reno and perhaps weren't the world's all-time greatest country musicians, but there's a sincerity and guilelessness here that adds authenticity and charm... Worth a spin if you're really rooting for the locals.


<! - #SNRS-4181 - no date - Shy Clown casino (an "urban cowboy" country bar that closed its doors in 1981.) > <! The Family Tradition "When The Juke Box Was Just A Nickel" (xxxxx, 19--?) (LP) - bluegrass? family_tradition_0000_juke-box_208.jpg >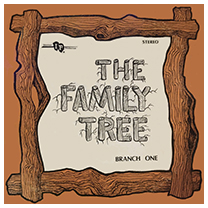 The Family Tree "Branch One" (Identical Productions, 1973) (LP)
This looks like it was a family band, apparently originally from Minnesota, with Dad, three brothers, one sister and included some brass instruments, although they definitely played country material. The repertoire was almost strictly covers of contemporary early '70s popular hits, mostly country songs, but with some crossover into the Pop charts. Their albums seem to have mostly been souvenirs of -- and advertisements for -- their live shows... They were a working band that played paid gigs and gave a Nashville street address for their business contacts, and as far as I can tell, they had moved to Nashville full time and released several albums in the mid-1970s.


<! - #LJG-4353 ~ NR3237 - includes some yodeling "Funny Face," "Good Time Charlie's Got The Blues" - "God Blessed Nashville, Tennessee," "We Call America Home" - FILLIES? >
The Family Tree "Branch Two" (Identical Productions, 1974) (LP)
(Produced by The Family Tree & Stan Kesler)



<! - # LJ-GD-6471 "Behind Closed Doors," "Tie A Yellow Ribbon 'Round The Old Oak Tree" "Satin Sheets" "Let Me Be There" and "Sunshine On My Shoulder." - also "The Auctioneer," "She Taught Me To Yodel" > <! The Family Tree "Somewhere In Your Heart" (Custom Sound, 1975) (Produced by Dennis Garrett & Ace Williamson) - #SC-178 - same band? not much country on this one - recorded in Shreveport, Louisiana vocalists: Dennis Garrett (lead guitar), Mike McCoy (drums), Becky Thomas (piano/keyboards) and Steve Saunders (bass), Barbara Thomas (same as "Becky"?) - worked with Al Anderson, Chuck Fulco(sp?), bassist Ace Williamson and George Clinton (the Volunteers guy??) as studio players(?) - includes the song "Never Gonna Give You Up," a so-bad-it's-good cult classic - George T. Clinton was in the band Crackin', then opened the Sound City studio >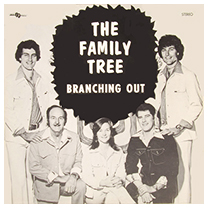 The Family Tree "Branching Out" (Identical Productions, 1976)
(Produced by The Family Tree & Dana Thomas)
This one includes "hip" covers of rock songs by Neil Young ("Love Is A Rose") and The Eagles ("Lyin' Eyes") as well as big country hits from 1975, such as Ronnie Milsap's "Day Dreams About Night Things," "Wasted Days And Wasted Nights," "Rhinestone Cowboy" and "I'm Not Lisa." They still had the same Nashville street address as on the last album, so I guess they stayed in Music City for a long time, doing private shows and other gigs... Pretty impressive, really! (It's worth noting that there was also a Family Tree band in Shreveport, Louisiana around the same time, who are sometimes lumped together with these guys, although I'm pretty sure they were a different band. They are infamous for the so-bad-it's-good cult classic album, "Somewhere In Your Heart" which came out in 1975, but that band didn't feature horns and seem to have had a much more rock'n'roll orientation...)


<! - #TWIG-200 >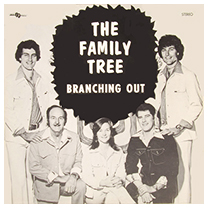 Eddie Fannon & The Calvary Singers "After Calvary" (Jewel Records, 1972-?) (LP)
(Produced by Reggie Wallace)



<! - #LPS-342 ~ 30423 if Rite, 72-? >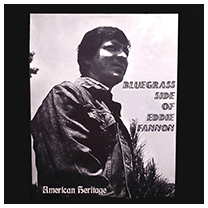 Eddie Fannon "The Bluegrass Side Of Eddie Fannon" (American Heritage Records, 1981)
(Produced by The Family Tree & Dana Thomas)
I'm not 100% sure it's all the same guy, but as near as I can figure Eddie Fannon recorded at least one (really great) secular country single, in sort of a Moe Bandy-ish vein, as well as several gospel albums after he got born-again in 1981, and this bluegrass LP, which was recorded at the Vetco Studios in Cincinnati. Somewhere along the way he also cut a Hank Williams tribute song, "Hank's Gibson Guitar." Fannon was originally from ultra-rural Harlan County, Kentucky but later moved to Newport, Kentucky, a Cincinnati suburb on the other side of the state. He's backed on this album by Duke Bellamy on dobro, David Pinson (guitar), Evelyn Reed (bass), Jeff Roberts (banjo), Dusty Rose (fiddle) and Jeff Terflinger on fiddle and mandolin. (Roberts and Terflinger were both members of the Katie Laur band; the others seem to have been Cincinnati-area locals as well, including Dave Pinson, who played with Buddy Griffin, another Laur alumnus...)


<! - #81003 - (KY) contact >
Frank Fara & Patty Parker "Frank Fara/Patty Parker" (Comstock Records, 1977) (LP)
(Produced by Jim Rooney & Paul Solomon)
A split LP by the founders of the independent Comstock label, which was located in Shawnee, Kansas, outside of Kansas City. Mr. Fara was a former teen idol from Arizona who relocated to Midwest, and co-founded Comstock in the 'Seventies, providing a new venue for many of the region's off-the-radar country artists. Almost all the songs are Frank Fara originals, with the exceptions being a couple of cover songs sung by Ms. Parker, versions of Elvis Presley's old hit, "I Want You, I Need You, I Love You" and Ernest Tubb's "Walking The Floor Over You." This may have been the first full LP on their label, though they'd already put out a bunch of singles, starting in 1976.


<! - #COM-977 - first release on the label? - they both have a LOT of albums >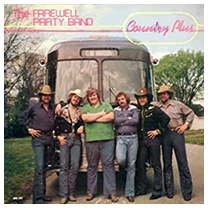 The Farewell Party Band "Country Plus" (BRW Records, 1982) (LP)
(Produced by Gene Watson, Larry Booth & Russ Reeder)
A shaggy band from Spring, Texas whose main claim to fame was backing honkytonk legend Gene Watson, which all things considered, ain't bad. Watson returned the favor by helming this "solo" album, which I think may be the only one they recorded. (Other than the ones with him, of course...) The band took its name from his 1979 hit single, "Farewell Party," a Lawton Williams composition that became known as Watson's signature song. The group grew out of the Larry Booth Band, an early 'Seventies outfit from centered around Tony Booth's brother Larry, who recruited a bunch of guys from the Southern California country-rock scene, including several pickers who played in the house band at the Palomino nightclub. In addition to Larry Booth on bass, the band included Doug Boggs on drums, Norm Cass (guitar), Joe Eddie Gough (piano), Tiny Olson (steel guitar), and Daniel T. Rainwater (guitar). This album includes several originals, such as "Beg For It" by Tiny Olson, "610 Bypass" by Daniel T. Rainwater, and "Sad Songs" by Doug Boggs.


<! - # - Joe Eddie Gough (last name?) - >
Stan Farlow "Hot Wheels" (Checker Records, 1970) (LP)
(Produced by Gary S. Paxton)
Singer Stan Farlow (1941-2013) was kind of an odd artist. As you can hear on this album's title track -- first issued as a single -- he was a shameless Johnny Cash imitator; indeed, recording under the name "Johnny Doe," Farlow recorded several albums that were specifically marketed as Cash soundalike sessions. Here, he's still got the whole Delta baritone sound going on, but the music loosens up a bit, and the liner notes pitch him as a Bakersfield Sound artist. The music is an odd amalgam of Cash-ian chunka-chunka and gritty, Haggard-style twang. (Farlow knew Haggard from his Bakersfield days, and there's a hefty dose of Hag's sound in him as well...) This album's title track, "Hot Wheels," is a macabre trucker tune that ends with the Devil taking the singer's soul, and there's also a proto-outlaw edge to some of the other tracks, notably on "Big City Hooker," a surprisingly raw song condemning a country girl for turning into a prostitute... I guess things never quite clicked for Farlow as a solo star -- he got religion in the '70s and backed out of the country bar-band scene. In later years he became an amateur bluegrass musician, and pretty much left his country years behind him.


<! - # - 1969-? July 21, 1941, Cisco, IL, United States - June 13, 2013, Evansville, IN, United States http://www.thankyouheroes.org/p1/ArtistBio_StanFarlow.php Backing band apparently included Dennis Payne and Kenny Johnson of the California Poppy Pickers LPS-3015 - Hot Wheels - Stan Farlow [1970] Hot Wheels/Kind Hearted Woman/Blue Water/Devil River/The Bottle Told Me Lies/Big City Hooker//Georgia (You Did All You Could)/1040 Blues/Treat Me Like A Man/High Country/January Day/Lettin' It All Hang Out (From Now On) "The Johnny Cash Sound Of Johnny Doe aka Stan Farlow" (Cactus Records) (CD) Stan Farlow "Hot Wheels" (Checker, 1970) (LP) B000XQ33N2 Stan Farlow "He Sounds Like Johnny Cash" (Checker, 1970) >

Stan Farlow "He Sounds Like Johnny Cash" (Checker Records, 1970) (LP)



<! - # >

Stan Farlow "Farlow One" (Vintage Records, 197--?) (LP)
(Produced by Glenn Clarke & Art Snider)



<! - #SCV-112 - Canadian label - might have been kind of a hippie rock album, edgier? more >

(Stephen And) The Farm Band "Up In Your Thing" (Farm Records, 1973) (LP)



<! - # - "Christian psychedelic" more rock? >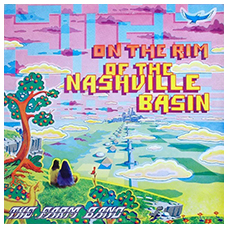 The Farm Band "On The Rim Of The Nashville Basin" (Farm Records, 1975) (LP)
Real-deal hippie sh*t. This fabled jam-band album came out of The Farm, which, if you haven't heard of it, is probably the most famous American hippie commune, founded in the early 1970s by Stephen Gaskin and a caravan of California emigres who headed East and bought a ton of land in Lewis County, Tennessee, settling in for the long haul. The Farm has remained in operation, in various permutations, over the decades, though in its longhaired heyday, the community spawned its own band, which recorded numerous singles and LPs. This might be more rock-oriented than most of the stuff here, but hey, it was the 'Seventies, and there was a little bit of twang in the air... along with a whole lot of pot smoke.


<! https://en.wikipedia.org/wiki/The_Farm_%28Tennessee%29 "...They maintained The Farm Band, a rock group in the early 'jam band' style, which toured the country performing for free at parks, schools, churches, and other accessible venues. Albums from the 1970s include The Farm Band on Mantra Records, and Up in Your Thing, High On the Rim of the Nashville Basin and Communion on Farm Tapes & Records. There were also a number of 45 releases. All Farm Band recordings were self-produced and distributed. During the 2000s (decade), Akarma Records in Italy have distributed bootleg copies of their albums. In addition to the rock music recordings, Stephen Gaskin released a spoken word album titled the Great Western Tour in 1974, which was produced and distributed in the same way as their other LPs.[10] >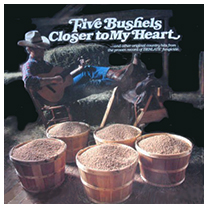 The Farm Family "Five Bushels Closer To My Heart" (Dupont, 1985) (LP)
(Produced by Dwight Marcus)
In a survey of ultra-obscure country stuff, you figure you're gonna get a ringer or two... For example, check out this industrial album of agriculturally-themed novelty songs, created to promote "the proven record" of the DuPont corporation's Benlate fungicide. There are goofy tunes such as "Irrigation Irritations," "Louisiana Losses," "Five Bushels Closer To My Heart," and (I'm not making this up) "Seedy Seeds." Although a coalition of enraged organic gardeners organized bonfire parties to destroy this disc, a few copies remain and are played in secret by the agribiz big boys during private parties held to celebrate the annual renewal of the federal farming subsidies. Funny stuff.


<! A1 We Make Things Grow ("Farm Family") A2 Five Bushels Closer To My Heart A3 Irrigation Irritations A4 Louisiana Losses B1 Just Give Me The Facts Jack B2 Good Day's Work Done B3 Seedy Seeds B4 Boast Beans - no ASIN 07/21/15 - #DPBE-5-7-237 > <! John Faron "Goin' Up To Country" (Windi Records, 1972) (LP) - #WLPS-1004 - NO references online - offered by Amoeba 01/16/16 - country?? >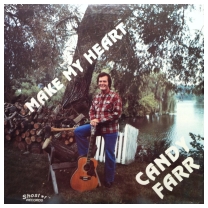 Candy Farr "Make My Heart" (Shostar Records, 1983) (LP)
(Produced by Candy Farr & Jim Reynolds)
Though born in Texas, country singer Candy Farr started performing regularly after he moved to Minnesota... He was apparently a protege of Marty Robbins, as well as a huge Elvis Presley fan. This album features all original material... Don't know much more about it than that, though.


<! - male artist - (fan) pix of him with Ernest Tubb and Marty Robbins on the back - Robbins was apparently a patron >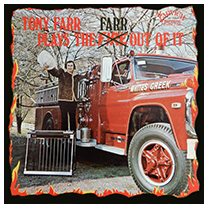 Tony Farr "Plays The Farr Out Of It" (Farview Records, 1973) (LP)
Steel guitar player Tony Farr was a veteran of the Twin Cities country scene, playing at local Minnesota venues such as the Flame Cafe and regionally at country fair gigs like the Cheyenne Days festival in the late 1960s. In the early '70s he moved to Nashville, where he recorded these two albums, but for a variety of reasons things never quite clicked for him in Music City. Of note on these albums is guitarist Gregg Galbraith, a session picker who toured with Nashville stars such as Bill Anderson and Gene Watson, playing here in a more laid-back instrumental mode.


<! - #1001 - fire engine cover - engine says "White's Creek" - unincorporated town in Tennessee - (TN) tracks, sgf >

Tony Farr "Warm And Easy" (Farview Records, 1974-?) (LP)
(Produced by Gene Lawson)



<! - #1002 - (TN) tracks >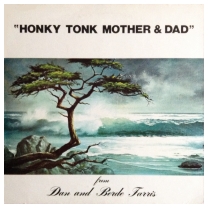 Dan And Berde Farris "Honky Tonk Mother And Dad" (Far-Dell Records, 197-?)
Literally a mom'n'pop record, this disc spotlights the West Coast husband-wife duo of Dan and Berde Farris, who sing fun latter-day heartsongs and honkytonk tunes, in much the same style as other country couples such as Rose Lee & Joe Maphis, or Johnny and Jonie Mosby. It's nice stuff -- a style I really like and they do it pretty well... plus a lot of the songs are Farris originals. The Farrises were both from California -- she was born in Merced but grew up in Washington state -- and they were living in Rialto, CA (near Riverside) when they made this album -- later they moved to Hobbs, New Mexico, where they settled down for good. They seem to have started out in the orbit of Starday Records, although their singles and LPs were released under their own imprint. This disc was released at least twice, once with a hand-glued cover, and the second time with more professional artwork (and two extra songs.) The catalog number (FRLP-102) indicated that this was the second album they put out... I'd love to hear the first one, too!


<! - # - single indicates it was pressed by Starday - no date though - obit (CA) >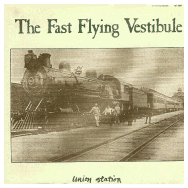 Fast Flying Vestibule "Union Station" (Rolling Donut Records, 1976) (LP)

Fat City "Reincarnation" (ABC Records, 1969) (LP)
An early album from Bill and Taffy Danoff, Washington, DC folkies who championed Emmylou Harris back in her folksinger days, and who later formed the unctuous, chart-topping Starland Vocal Band, best known for the 'Seventies smash "Afternoon Delight." Bill and Taffy were also tight with John Denver and co-wrote "Take Me Home, Country Roads," one of the most widely-recorded country-pop songs of the decade. These Fat City albums date back to their DC coffeehouse days and are appropriately eclectic and idiosyncratic... definitely worth a spin if you're on the hunt for oddball twang.


<! - # >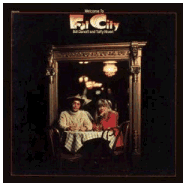 Fat City "Welcome To Fat City" (Paramount Records, 1971) (LP)



<! - # - 1972? >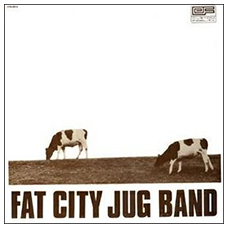 Fat City Jug Band "The Fat City Jug Band" (Custom Fidelity Records, 1969) (LP)
Jug bandsters from Iowa City, Iowa, covering hip tunes that fit in with the work of folks such as David Bromberg, Jim Kweskin, Maria Muldaur and John Sebastian. According to an ad in the Daily Iowan when this came out, the band consisted of John Bean, Ron Hillis, Rick Smith, and Keith Dempster. Dempster (1932-2013) was owner of a music venue called The Mill, which opened as a coffee bar and folk club in 1962, then expanded into a full-fledged restaurant after a fire damaged its original location. According to the newspaper ad, the Mill was one of a handful of local businesses where you could purchase this album. For several decades the Mill was a keystone of the Midwestern roots music scene; the Dempster family ran it until 2003, then after they retired it was reopened under new management. I'm not sure when the Fat City Jug Band first formed, but I think they were probably the same guys who were listed playing a gig at a community festival way over in Neenah, Wisconsin in the summer of 1965. Anyone know how long this band stayed together, or if its members went on to other groups?


<! - #CFS-2015 - (IA) notes >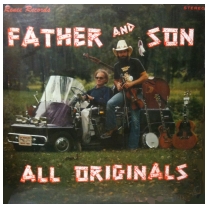 Father And Son "All Originals" (Renee Records, 19--?) (LP)
(Produced by Bud Comte)
This father-son duo was comprised of songwriter Tommy Johnson and multi-instrumentalist Jonny Johnson of Columbus, Nebraska -- Jonny played guitar, fiddle, banjo and mandolin, who also wrote two of the songs on this album... No release date on the disc, but I'm guessing mid- to late-'80s. The songs are all Tommy Johnson originals, issued under the Lari-Jon publishing imprint.


<! - #R-1191 - no ASIN 05/26/15 - one listing says 1978 >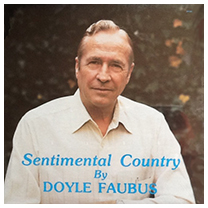 Doyle Faubus "Sentimental Country" (19--?) (LP)
This indie album was written and recorded by songwriter Doyle Faubus, the brother of longtime Arkansas governor Orval Faubus, a figure most remembered for his refusal to integrate the schools in Little Rock, despite a Federal order to do so in the 1950s. Doyle Faubus had a real commitment to his music, performing locally and regionally for several decades, including a gig at the "Lil' Ol' Opry" that ran at least as late as 2011. He wrote all the songs on this album, though sadly I have no info on the musicians backing him.


<! - #DF-101 - apparently all originals: A1 Open Up Your Heart A2 Prairie Trail Ride A3 I Love You A4 Dream World A5 Lonesome Since Your Gone B1 Home Town Memories B2 He Might Be Talking To You B3 Maybe Someday B4 Wild Red Rose - "John's Recording Studio" ("label"?) >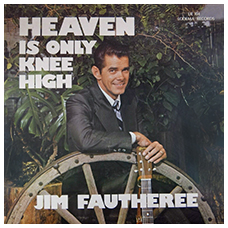 Jim Fautheree "Heaven Is Only Knee High" (Lodema Records, 1979-?) (LP)
(Produced by John Wagner)
A swell set of straightforward country gospel by hotshot picker Jimmy Lee Fautheree, ex-partner of "Country" Johnny Mathis, who helped him record this album. In the 1950s they were known as the fiery hillbilly duo of Jimmy & Johnny, an almost-rock duo that was in the orbit of songwriter Wayne P. Walker, and his patron, country chart-topper Webb Pierce. After their act broke up, they each did some solo work, with Fautheree recording under the name "Jimmy Lee," and Mathis recording a series of excellent gospel records, with plenty of twang. Mathis contributes over half the songs on here, alongside classics by Fanny Crosby and Stuart Hamblen, and one by someone named Tracy Dartt. Fautheree was living in Farmington, New Mexico when he cut this set; twenty-five years later he was brought out of retirement again to record an album for super-picker Deke Dickerson's Ecco-Fonic label. Early recordings by Jimmy & Johnny have been gathered on an ace bunny killer Bear Family collection, as well as a CD's worth of Jimmy Lee's solo stuff.


<! - #104 - date per blog; bc nv Jim Lee (Fautheree) "I Found The Doorknob" (Bear Family Records, 2001) (CD) Jim Fautheree "I Found The Doorknob" (Ecco-Fonic Records, 2004) (CD) >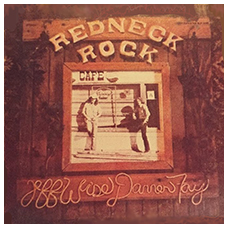 Darren Fay & Jeff Wise "Redneck Rock" (Charter Records, 1975) (LP)
(Produced by Ellis Miller) <! and Ray-? >
Jug-bandy, mostly acoustic hippie twang from the Pacific Northwest... The album title is definitely misleading, since the songs are packed with druggie references, and it sure ain't much of a rock record. Indeed, there's some pretty dorky, sorta-folkie stuff on here, along with some fairly fun twangtunes. Darren Fay and Jeff Wise were pals from Southern California who hoofed it up to Vancouver, Washington to party down and cut a record at Ripcord Studios, with owner-engineer Gene Breeden adding electric guitar and pedal steel to a track or two, his son Danny Breeden on drums, Ellis Miller on bass, and of course, Fay and Wise strummin' guitars and singin' up a storm. There's also some guy named Mark who adds fiddle, flute, or saxophone -- as well as vocals -- to all but two tracks, and you can totally just hear those two guitar dudes, being all, "Oh, man, dude! You know we would put your name on the cover, too, just... like, y'know... you're not on those two tracks!" And Mark was all, "Well, can't we just come up with a band name?" Not like he's pissed, or anything. Anyway, these two (or is it three?) longhaired guys were just about as 1975 as you could get... Dig those shirts, dig that chest hair, and how do you stay that thin?? The dudes returned home, with Jeff Wise being considered an "unofficial mayor" of his hometown of Harbison Caynon, a rural community outside of San Diego where he grew up... As far as I know, this was their only album. It's mostly pretty groovy, with highlights including "Rainy Day Rag," "413," "Yodle Odle Lady" and "Country Catfish" though it must be admitted a couple of tracks are truly dreadful, in a naive, zonked-out hippie kinda way. And of course, that's why many of you will want to check this one out!


<! - #SLP-1040 - https://www.youtube.com/watch?v=zYFLG3obxjw - whole album - hightlights >

Wayne Fehr "Mood Country" (Sunshine Records, 197--?) (LP)
(Produced by Ness Michaels & John Hildebrand)



<! - #SSLP-4005 - year not given - musicians not identified - liner notes say this wasn't his first album, but it is the first one where he wrote all the material >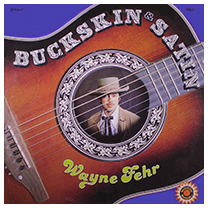 Wayne Fehr "Buckskin And Satin" (Sunshine Records, 1978) (LP)
(Produced by Ron Halldorson & John Hildebrand)
An album's worth of all-original country stuff, recorded in Winnipeg, Canada by a twenty-eight year old songwriter... The liner notes include a testimonial from Jim Zeck, the program director of country station CKLQ, in Brandon, Manitoba. No info, alas, about Fehr's backing musicians...


<! - #SSLP-4011 - 208 11/24/19 - 28 when he made this album - NOTES, tracks >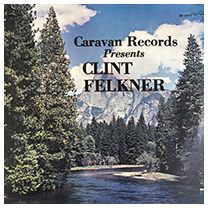 Clint Felkner "Caravan Records Presents Clint Felkner" (Caravan Records, 1977) (LP)
(Produced by Dave Austin, Fritz Brading & Chuck Carson)
The first and I believe only album by a lanky, muttonchopped Midwestern baritone named Clint Felkner... Side One is all gospel, while Side Two spotlights covers of secular country hits such as "BJ The DJ," "He'll Have To Go," and Hank Williams' "Lovesick Blues." The album ends with a pair of originals, "She Loves Me When It Matters" and "House Husband's Lament," a feminist-era, battle-of-the-sexes novelty number co-written a guy named Dennis Standish. This set was recorded at a studio in Hendersonville, Tennessee, and while the backing seems fairly perfunctory, there's definitely a DIY charm... No info on the backing musicians, alas. Felkner's bio remains pretty obscure: a news story mentions him singing at a Minnesota funeral in 2013; around the same time he taped an interview with something called "Old Men Stories," which was apparently appended to a venue called the Kentucky Opry, in Draffenberg, KY, though I'm not sure where Felkner himself was from.


<! - #CF-1977 - (NP) notes >


Dick Feller - see artist discography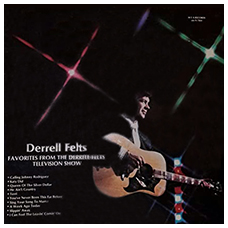 Derrell Felts "Favorites From The Derrell Felts Television Show" (Felts Enterprises, 1974) (LP)
Best known as a one-and-a-half-hit wonder of the rockabilly era, Derrel Felts recorded the songs "Playmates" and "Lookie, Lookie, Lookie" in the late 1950s, and for a while was in the orbit of promoter/producer Norman Petty, who surreptitiously hooked Felts up with legendary rockers The Crickets, not long after Buddy Holly passed away. Felts recorded a couple of singles, then receded into obscurity as the '60s unfolded. Like many former rockabilly firebrands, Felts gravitated towards mainstream country, and by the early 'Seventies he was the host of The Derrell Felts Television Show, a program based in Dallas, Texas that beamed out over much of the Panhandle and Southwest. This album is an interesting set of covers and originals with songs including the 1974 single, "Calling Johnny Rodriguez," "He Ain't Country" and "I Can Feel The Leavin' Coming On" as well as covers of Bill Anderson, Conway Twitty and Porter Wagoner. (Note: as far as I know, this guy was no direct relation to country star Narvel Felts...)


<! - # - (TX) notes >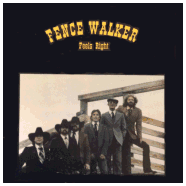 Fence Walker "Feels Right" (Perdue Recording, Inc, 1987) (LP)
(Produced by Dean Elliott & Jim Perdue)
A modestly accomplished band from Amarillo, Texas who made this album just as the alt-country "Americana" scene was gathering steam, though they seem to have been totally outside the popular wave of college-rock twang... I think their real roots were in rock'n'roll, since they start each side of this LP out with more rock-oriented numbers -- the surf-garage tinged "Feels Right" and the bar-band boogie of "Dear John" -- but then they devote themselves to twang, though they don't seem to be as comfortable with country, and it sounds a little awkward. The vocals are also iffy -- if you've heard folks like Dusty Chaps or Chuck Wagon & The Wheels, then you'll know what territory I'm talking about... I wouldn't say these guys were as distinctive as those better-known bands, but it's a similar vibe. Possibly the most interesting tracks are a couple of songs about their experiences as an obscuro-band, Archie Young's rambling "Gone Again," and the more rockin' "Dream And Watch It Grow," which kind of reminds me of Seattle's fabled Young Fresh Fellows... These guys probably could have made a better rock record than twang, but it was nice of them to give the country thing a try. Apparently the band continued to jam together through the early '00s, though it looks like this was their only album.


<! no ASIN - 11/2013 > <! 1987? >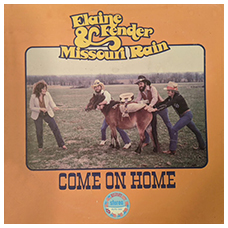 Elaine Fender & Missouri Rain "Come On Home" (History Records, 1981-?) (LP)
(Produced by Brad Edwards)
A singer and keyboardist, Elaine Fender played in a series of local Missouri bands, including a stint in Stan Hitchcock's short-lived opry, and later collaborations with other veterans of the Hitchcock show, notably multi-instrumentalist Larry Smith, who she later married. This solo album was made with bandleader Eddie Pangborn, who also worked in a variety of Ozark "opry" venues and formed his own band, Missouri Rain, in the mid-1970s. The group made two albums of its own before teaming up with Fender for this last hurrah, with Elaine Fender on keyboards and lead vocals, drummer Jerry Dooley, Jerry Ingle (also on drums), Eddie Pangborn (bass), and multi-instrumentalist Larry Smith on banjo, fiddle, guitar and mandolin. This album is self-consciously commercially-oriented, with Fender showing her vocal chops on covers of contemporary pop/country hits, and the boys in the band trying to craft rural power ballads. It's an uneven effort, though, as the male lead vocals (and the original songs) are a bit strained. Still, it's local as all get-out and fills in a few gaps in the Ozarks indie-twang scene. Ms. Fender also recorded with the group Jimmy Carter & Dallas County Green, on their 1977 album, Summer Brings The Sunshine, and on Stan Hitchcock's 1979 opry album, along with Larry Smith and others.


<! - #HLPS-1984 - Larry Smith was in the Plummer Family opry - (MO) notes >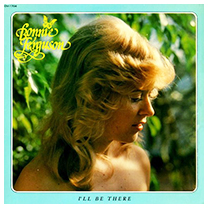 Bonnie Ferguson "I'll Be There" (Ovation Records, 1976) (LP)
(Produced by Dick Schory)
Singer Cheryl ("Bonnie") Ferguson grew up in the Chicago surburb of Markham, Illinois as part of a musically-inclined family. She started performing in public as part of a family band that included seven(!) of her siblings, but broke out as a solo performer after winning a talent contest sponsored by the Coca-Cola company. By the time she graduated from high school in 1969, Bonnie Ferguson was a seasoned artist, touring regionally to Wisconsin, Indiana and throughout Illinois. She also landed slots on the local WGN Barn Dance TV show and later, around 1974, on the Porter Brothers TV Show. In Chicago she was perhaps best known for her industrial work, recording commercials for Schlitz beer and the Chicago Tribune newspaper. She may have recorded a single or two in her teens, as well as a string of singles for the Metro Country label, circa 1971-72, eventually leading to this album for the insurgent indie Ovation Records. Ms. Ferguson was pitched as a dual-genre country and AOR artist, and the ornate arrangements on this disc are notably short of twangy instruments such as fiddles or pedal steel. As with many other early signings to the Ovation label, her career may have been overshadowed by the runaway success of the Kendalls, who ate up most Ovation's promotional power. This appears to have been her only full album, and I'm not sure where she went from here, though she may have done some work in the film industry as well.


<! - # - maybe a bit orchestral - b. circa 1951-? - (IL) ext >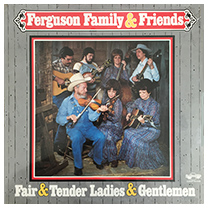 The Ferguson Family "Fair And Tender Ladies, And Gentlemen" (American Artists, 19--?) (LP)
Ozarks fiddler Woodrow Ferguson and his daughters -- Ann, Celia and Sandra - form the core of this old-timey stringband, which was based in their hometown of Warsaw, Missouri. Several other local and regional pickers pitch in, perhaps most notably Arkansas fiddler Donald "Cotton" Combs, who recorded an album of his own, along with guitarists Loy and Euna Sisemore, who also play on this album. Many of these musicians performed regularly at the Silver Dollar City amusement park near Branson City. Not sure when this disc came out; it looks like it might have been an early 'Eighties release.


<! - #AAS-1433-LP >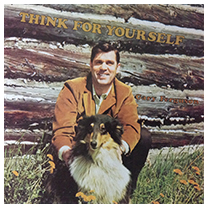 Gary Ferguson "Think For Yourself" (American Music Heritage Corporation, 19--?) (LP)
Born in Canada, but raised in Montana, Gary Ferguson cut a few singles in the '60s, including the song "There Is No Answer," originally recorded in 1966 and included here along with four other Ferguson songs... The remainder of the record is basically honkytonk standards, stuff by Johnny Cash, Merle Haggard, Harlan Howard and Kris Kristofferson. This album was recorded at the AMHC label in Caldwell, Idaho, though unfortunately the liner notes don't include any info on who was backing him up.


<! - # - no info on musicians or studio crew: "(Produced by American Music Heritage Corporation)" - cut a 1966 single on Walker Records >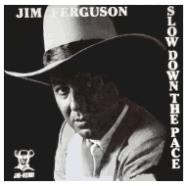 Jim Ferguson "Slow Down The Pace" (Jim An I Records, 1980) (LP)
(Produced by Sharon K. Doherty & Jim Ferguson)
Ultra-indie DIY honkytonk country from Garden Grove, California (in Orange County, near Anaheim...) Ferguson wasn't the world's greatest singer, nor was this the world's greatest band, but he gets major points for taking it seriously, for writing good songs and for being more than a decade ahead of the crowd, recording the kind of rough-edged amateur twang that the "Americana" scene would become known for in the 1990s. There are several really good songs on here, including "Cold Woman" and "The More I Try," all sung with an admirable amount of twang. Ferguson also had a track placed on the Johnny Burger-produced "COWBOY COUNTRY DOZEN" compilation... Anyone out there know if he recorded anything else, or was this it?


<! - # >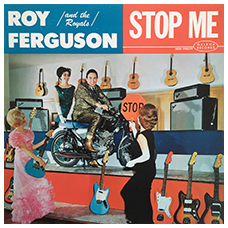 Roy Ferguson & The Royals "Stop Me" (Galena Records, 196-?) (LP)
Hotshot picker Roy Ferguson (1936-2015) played guitar for western swing bandleader Johnny Lee Wills for over twenty years, and also fronted his own group, Roy Ferguson and The Royals, which often backed big-name country stars on tour through Oklahoma. This was probably his first solo album, though he also recorded several singles, including a few on the Galena label, circa 1964-65. Other than a cover of "Make The World Go Away," all of the songs on here are credited to "Ferguson & Duncan," including tunes like "It Was A Lonely Night," "Gonna Start All Over," "Country Ago Go" and "Stop Me." (I don't know if this was singer Tommy Duncan we're talking about -- it's possible, since he was around until 1967, although I don't think he was particularly known for his songwriting. Still, could be, given the Wills connections.) Unfortunately, there are no producer or musician credits, though my guess is these were local Oklahomans backing him, or other members of the Wills band.


<! <! - #G-110 ~ SR4M-5877/5878 - purchased 08/20/17 in KCMO - no ASIN, no dc - is that Candy holding the blue guitar on the cover? - co-writer TOMMY Duncan??? I dunno if one of the gals adoring him on the front cover was his (future?) wife, Candy Noe, but that also seems likely >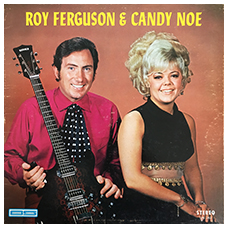 Roy Ferguson & Candy Noe "Roy Ferguson & Candy Noe" (Benson Sound, 19--) (LP)
The husband-wife duo of Candy Noe and Roy Ferguson met in the 1960s when they were working in the Tulsa music scene. Singer Candy Noe originally came from Ohio, where as a teen she sang in the Marion Jamboree -- moving to Tulsa, she landed a job on country deejay Billy Parker's local TV show. Noe and Ferguson met in '65, got married in '66, released an album together, and opened Roy & Candy's music store in the 1970s, which for three decades was a fixture of the Tulsa, Oklahoma arts scene. The Fergusons played with the Wills band until 1984, when Johnny Lee Wills died, and continued to perform locally right up until Roy passed away in 2015. They both released an undetermined number of singles under their own names, but as far as I know, this was their only LP as a duo. Candy Noe also released a solo album in the late 'Seventies, and Roy Ferguson played guitar on a bunch of albums over the years, mostly with other local artists.


<! - #LPS-252 01/14/15 obituary: http://www.tulsaworld.com/news/local/roy-ferguson-former-roy-candy-s-music-owner-guitarist-for/article_7011306d-4cb0-5ca6-94f9-fddfb70a765b.html >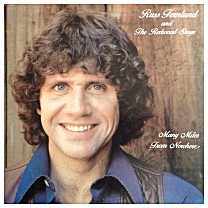 Russ Fernlund & The Redwood Stage "Many Miles From Nowhere" (1985) (LP)
(Produced by Russ Fernlund)
A memento of one of Northern California's many long-lost longhair bands... In the late 1970s, songwriter Russ Fernlund was doing a solo gig in Big Sur, eventually giving that up so he could try his luck in Los Angeles. Like Nashville, LA can be a tough nut to crack, and after knocking his head against that particular wall, Fernlund moved back up North, this time to the sleepy but scenic town of Mendocino. Redwood Stage was a band he led from 1979 on, cutting this album in '85 to document their work. To be honest, I found his vocals a little lethargic, but he grew on me... There's definitely a nice reservoir of original twangtunes on here, and moments that remind me (a lot) of Chip Taylor and Dick Feller, with maybe a smidge of Larry Hosford in there as well... The songs didn't really grab me musically, but this disc is packed with NorCal hippiebilly history, particularly on songs like "Big Sur River," "California Country," "Moonshinin'," and "Okie On Rollerskates." Definitely worth a spin if you can track a copy down.
Russ Fernlund "...And Just Wasting Time" (2013)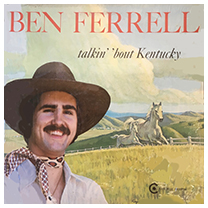 Ben Ferrell "Talkin' 'Bout Kentucky" (Caravelle Records, 1976) (LP)
(Produced by Tony Migliore & Jim Matthews)
Although he sang about the bluegrass state, songwriter Ben Ferrell seems to have pitched his tent out in California, or at least he hooked up with the Hollywood-based Caravelle label, which bankrolled this disc. All the songs are originals, except for a version of Stephen Foster's "Old Kentucky Home," and the backup band includes a lot of top Nashville talent, folks like Harold Bradley, Pete Drake, Lloyd Green, Johnny Gimble, Charlie McCoy and Pete Wade... and they definitely get pretty funky on this album! I mean that literally. The whole "Area 615" crew really let their hair down here, playing some wicked funk and almost acid-rock-like riffs on some of these songs. But it is for sure also twangy and country as well. Pretty frickin' cool, really. Perhaps even a "lost 'Seventies gem. Apparently this was re-released in Australia under the same title, and with the same track sequence. By the early 'Eighties, Ferrell cut his hair and got religion... He still made records, including several in the CD era, but they were part of the "worship music" scene, as he calls it. He also moved to Tulsa... Not sure if he's a relative of Will Ferrell and his dad Lee, but it does seem likely.


<! - #AL-1101 - NOTES, current (2019) website >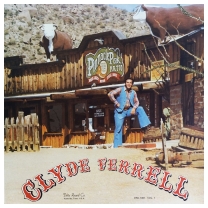 Clyde Ferrell "Clyde Ferrell" (Delta Record Company, 1975-?) (LP)
(Produced by Clyde Ferrell)
Originally from Texas, songwriter Clyde Ferrell was holding down a gig at the Pinnacle Peak Patio, a steakhouse near Scottsdale, Arizona when he recorded this debut album. About half the songs on here are Ferrell originals, along with covers of contemporary hits like "Bad, Bad Leroy Brown," "Polk Salad Annie" and "Help Me Make It Through The Night." It's quintessential lounge band material, with the band jamming a little and sort of farting around on songs they've played a bazillion times and Ferrell, it must be said, makes some interesting choices with the melodies and phrasing on some of these songs; his versions of "I Can See Clearly Now" and "For The Good Times" veer off in directions that border on the bizarre. But overall, this is a pretty likeable record -- the only track that's truly painful is his cover of "You've Got A Friend," though that might be more James Taylor's fault than Mr. Ferrell's. (I'm guessing at the release date based on the song selection and liner notes, which inform us of Mr. Ferrell "going professional" in 1974 and "soon after" working at the Pinnacle Peak Patio in Scottsdale, Arizona...) Goofy, but good-natured.


<! - # - no ASIN 08/15/15 - liner notes mention >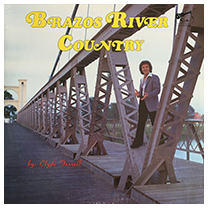 Clyde Ferrell "Brazos River Country" (Clyde Music Company, 1983) (LP)



<! - from Mount Calm, Texas, recorded at Mickey Gilley's studio in Houston - recorded a couple of CDs years later - tracks: Waco I Love You; After The Music's Through; Country Summer; Shoulder To Shoulder; Brazos Queen Cruisin'; Great Texas Raft Race; Rattlesnake Fred; Armadilla-Do Amadilla-De; Tornado-Waco-1953. >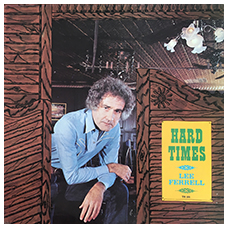 Lee Ferrell "Hard Times" (TMS Records, 1978) (LP)
(Produced by Art Munson & Ernie Winfrey)
You know what would make this record even better? More cowbell!! Why, yes, my friends, this is in fact actor Will Ferrell's dad, aka Roy Lee Ferrell, Jr., a saxophonist and piano player who blew sax with Dick Dale and later signed up with the Righteous Brothers, at the peak of their late-'60s fame. Originally from North Carolina, Lee Ferrell moved to California in 1964, and became firmly embedded in the SoCal music business. He took some time away from standards and blues on this disc to croon some country, and pretty good stuff at that. Ferrell had kind of a... well, funny voice, pretty high, if not quite falsetto, and he sounds a little goofy at time. Indeed, I wonder if this record -- with its improbably slow tempo-ed ballad version of "Ramblin' Man" and a lush rendition of "This Magic Moment" -- was perhaps the occasion for a chuckle or two in the Ferrell household, and maybe even an indirect influence on his son's career. Seriously. I don't mean that as a joke or a slight: this is a professionally produced session, with several Nashville heavyweights on board and while Ferrell has distinct limitations as a vocalist, he also wields a what-the-hell aura of self-confidence that feels similar to Will Ferrell's approach to comedy. Sure, haters can hate, but that's not the Ferrells' problem. From a strictly twangfan perspective, the album highlight is probably "Cross Bar Hotel," an amiable, Jimmy Buffett-flavored novelty number about a guy who gets thrown in the drunk tank and cops an unfortunate attitude with some of his cellmates. His version of "Stolen Wine" (a hit for Tommy Overstreet) is also a decent cheating song, not quite "Third Rate Romance," but close. (BTW, producer Art Munson was also an alumnus of the Dick Dale band, the Del-Tones, and worked as a session guitarist on various 'Seventies pop and rock albums...)


<! - # - see wp > <! Festival "Festival" (1975) (LP) albums: "Nothin' But a Party" (1978), "Just Another Band From Skidmore" (1981), "Live on the Road" (1983), "Tattered Flags / Broken Promises" (1985), "America Called" (1987), and several others. >
Festival "Just Another Band From Skidmore" (Max Stout Records, 1981) (LP)
(Produced by Neal Rieffanaugh & Bill Schnee)
Definitely not your average, garden-variety southern rock band. This group was from Skidmore, Missouri, a microscopic hamlet in northeastern Missouri, halfway between Kansas City and Omaha. The band was the center of a large commune, originally based on a 300-acre farm outside of town, locally known as "the Farm." Festival was led by songwriter Britt Small, an Army veteran who served as a paratrooper in Vietnam, and spent much of the war fantasizing about starting his own rock band. His dream came true in 1971 when Festival was formed, drawing on several late 'Sixties rock groups from Northwest Missouri State University, in nearby Marysville. It was, oddly enough, the push to make the band successful that led to the formation of the commune, which gave the "family" members a sense of cohesion, as well as a place to perform. Self-professed socialists, the communards raised animals and crops, and also decked the band out in shiny, glammy outfits worthy of Jethro Tull or Wizzard, and sent them on the road. Beginning in 1975, the group released numerous singles and LPs, including this one which is perhaps the most country-oriented of the lot, ending with a medley of oldies by the cowboy band, Sons Of The Pioneers. The group included Mr. Small on lead vocals, Stan Funston (guitar) Becky Reinig (keyboards), Mark Reinig (drums), arranger Don Struve on trumpet, and various and sundry others. Although they were mostly rockers, Festival considered themselves distinctly a rural band, and referred to themselves as "the world's funkiest cowboy band." They toured throughout the United States and Canada, though in the early 1980s the tone of the group shifted from a party vibe to a more conservative political perspective, as Britt Small became consumed by POW-MIA issues, and the band's repertoire became almost entirely patriotic music. The commune and the band began to fray in the 1990s, and broke up entirely in the early '00s. [Many thanks to David M. Struve for his amazingly detailed history thesis, which provides extremely granular detail of the Farm, and of his dad's band.]


<! - # ~38798 - FB, thesis (MO) - FILLIES? Becky Reinig (keyboards) - songs include "Stoned On Sunday," "Christmas Day Is Just Another Day Without You," "You've Lost That Lovin' Feeling," and a Sons Of The Pioneers medley >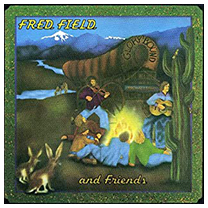 Fred Field "...And Friends" (Maranatha Records, 1976) (LP)
(Produced by Neal Rieffanaugh & Bill Schnee)
California Christian "Jesus-freak" hippie country-rock, with erstwhile Burrito Brother Al Perkins on steel guitar... Some of this is genuine Jesus-y twang, though many tracks have more of a sugary, folkie feel, and some even drift into subpar soft rock, saxophones and all. Fred Field had a pretty thin voice which may have been suited to the 'Seventies AOR sound, but he seems to have had a bluegrassy background, playing banjo, fiddle and mandolin, even though the arrangements are more of a glossy pop tint. This is an intriguing album for the genre, though most twangfans may want to avoid it; it's not all that country, after all. Field seems to have gotten into more jazzy stuff not long after this.


<! - #HS-031 - recorded in Huntington Beach, CA >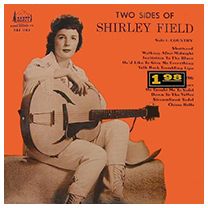 Shirley Field "Two Sides Of Shirley Field" (Banff Records, 1963) (LP)
A Canadian cowgal from Armstrong, British Columbia whose career dates back to the 1940s -- in her early teens Ms. Field was a regional star, playing at rodeos and hosting her own radio show. She landed a gig playing with Evan Kemp's band, then started her own group, the Country Casuals, which she led through the 'Fifties. Later on she and her sister led an all-gal band called the Dartells, while Shirley formed several several long-term duets partnerships over the years. This was her first album, recorded in Ontario after she'd sojourned to Nashville, where she cut a few singles and even played at the Opry the year before. This album featured heartsongs on one side and yodeling on the other... [Many thanks to 45cat.com for their awesome Shirley Field biography, in addition to info about her singles.]


<! - #RBS-1186 - Canadian singer - two other LPs + later cassettes and CDs >

Shirley Field "Yours Sincerely" (Banff Records, 1969-?) (LP)
(Produced by Dougal Trineer & George Taylor)



<! - #SBS-5309 >

Shirley Field & Billy G. French "Together" (Vintage Records, 1972) (LP)
(Produced by Art Snider & Glenn Clarke)



<! - #SCV-115 >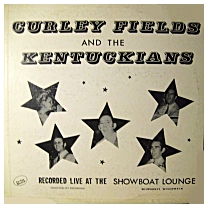 Curley Fields & The Kentuckians "Live At The Showboat Lounge" (Jo-Cur Records, 1969) (LP)
A country covers band from Milwaukee, Wisconsin... Why they billed themselves as the Kentuckians, I have no idea. Vocals are split between Curley Fields, Karen Otis and Jack Abuya. Fields also cut several singles for the Cuca record label in Sauk City.


<! - #JC-1A - no ASIN 06/20/15 >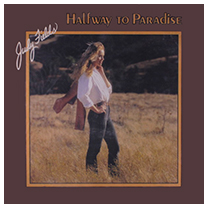 Judy Fields "Halfway To Paradise" (Victory Records, 1985) (LP)
(Produced by Ken Mansfield, Judy Fields & Larry Cumings)
An independently released album by Northern California artist Judy Fields, who moved to Nashville and worked as a songwriter, successfully pitching songs to artists such as Lee Greenwood and Reba McEntire. She was briefly signed to MCA Records, but only released a single or two, with no chart action... Her earlier work can be heard on an uber-indie album called CONTRA COSTA COUNTRY, which was recorded with several other NorCal artists. Unfortunately, this solo debut is fairly dreadful -- she "went pop" in a big way, drenching her songs in tinkly keyboards and glossy early-'80s production. Also, she had a penchant for anthemic romantic refrains which she would repeat and repeat and repeat, unwilling to let any crescendo die a natural death. I guess if you're into this particular era of Nashville gals, this disc could be of interest... The Reba connection certainly makes sense once you've heard this album. Also, David Frizzell produced a couple of tracks on here, including one he co-wrote called "You're The Magician," which also came out as a single.


<! - #V-1036-1 - (CA) >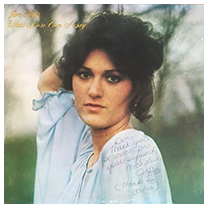 Jan Files "What More Can I Say" (1977-?) (LP)
(Produced by Mike Schrimpf, Jerry Shook & Colin Walker)
Crowned as Miss Jefferson City in 1975, Missouri teenager Jan Files made a serious bid to crack into Nashville -- or maybe move out to LA? -- truckin' down to Nashville to cut this shiny, well-produced countrypolitan/AOR album right after graduating from high school. It's a pretty impressive set, even if the songs and arrangements get to be a bit much... A fine singer, Ms. Files evokes comparison to '70s sirens such as Olivia Newton-John and Karen Carpenter (and even Loretta Haggers, on the twangier tunes) while the musical backing is pretty solid, too, smoothly shifting from disco-tinged pop to generic pop-country. She's backed by the house band at Mike Schrimpf's independent studio, which at the time still included future star Steve Wariner, who plays bass, acoustic and electric guitars, and sings backup. There's also an early song of his on here, "Will You Still Love Me In The Morning," a hookup ballad that's not to be confused with Carole King's similarly-titled girl-group hit... Wariner was already under contract to RCA Records at the time, although hadn't yet released his own first single, and as far as I know, never released this song under his own name. Anyway, this slick-sounding custom-pressed album really coulda-shoulda-woulda made Jan Files a star, if the planets had lined up the right way... As it was, I imagine it mostly made the rounds at county fairs and Christmas parties, though fans of 'Seventies soft-pop (and Steve Wariner devotees) might enjoy tracking it down.


<! - #CLP-16291 - no label name - no ASIN 12/16/17 >

Gerald Finley "The Hurtin's Back Again" (Crusade Enterprises, 19--?) (LP)
(Produced by Gerald Finley)
A picker and singer from Flora, Illinois, leading an all-locals band in an almost-all covers set, including some interesting choices, such as "Only Daddy That'll Walk The Line," "Clap For The Wolfman," "Southern Nights" and "Sixpack To Go." The title track, "The Hurtin's Back Again," was a Gerald Finley original.


<! - #LPS 984 - no ASIN 09/09/15 >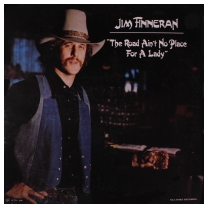 Jim Finneran "The Road Ain't No Place For A Lady" (Sea Port Records, 1979) (LP)
(Produced by Neil Rush, Tex Hughes & Jim Finneran)



<! - #JF-79-101 - Seaport label in Federal Way, Washington - LP made in Canada - near Tacoma - Neil Rush was Merrilee Rush's husband and manager in the 1960s - Finneran also performed on the Wild Bill Oscher "Montana Power" album - Ooh Baby also released as a single - Seaport records... # ... With Doug Heath, Bill Bernard, Larry Fox, Neil Rush and others...Selections are: "THE ROAD AIN'T NO PLACE FOR A LADY, JUST PASSIN' THROUGH, SWAYIN' HIPS AND POKER CHIPS, LADY FROM MISSOULA COUNTY, 57 BLUES, COLLEEN, WARM MODESTO WINE, BELLY UP, SING THE COUNTRY BLUES AGAIN, OOH BABY (I'LL BE THERE), THE ROAD AIN'T NO PLACE FOR A LADY (REPRISE)" >

John Finnigan "Way Up The Sky" (Mid Ear Records, 1983) (LP)
(Produced by John Finnigan & Steve Cooper)



<! - with Maureen Finlon - from Willis(?) Texas >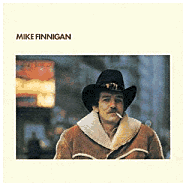 Mike Finnigan "Mike Finnigan" (Warner Brothers, 1976) (LP)
(Produced by Jerry Wexler)
Keyboard player to the stars, Mike Finnigan is perhaps best known as a rock, pop and R&B player, and for his work with rock and pop elite such as Jimi Hendrix, Peter Frampton, and Crosby Stills & Nash, but he also had a country side, as heard in parts of this funky, eclectic album, which includes Texas fiddler Johnny Gimble and picker Pete Carr as part of an impressive studio lineup. At the time, according to the liner notes, his day jobs included backing Maria Muldaur and Dave Mason, and Muldaur sings on here as well... Mostly it's a white soul album -- I'm reminded of Bill Champlin on several tracks -- but on songs like "Mississippi On My Mind," "Southern Lady" and "Misery Loves Company," there's a subtle bit of twang. The Stamps Quartet provides some Southern gospel backup, ala the Oak Ridge Boys... Mostly this is too slick and pop-oriented for me, but it's a good slice of eclectic '70s musicmaking, for the more AOR-oriented among us.


<! - # - (KS) - Mike Finnegan went to KU on a basketball scholarship >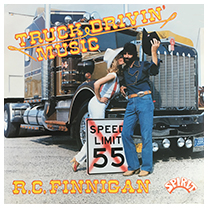 R.C. Finnigan "Truck Drivin' Music" (Spirit Music, 1981) (LP)
(Produced by Bob Baldori & Mark Stebbeds)
Early 'Eighties neo-trad by a guy from Okemos, Michigan, a rural township on the eastern side of Lansing. Plenty of songs about trucks, truckstops, waitresses and diners, plenty of early 'Eighties country swagger. And of course, we can't drive 55, not even in a fully loaded semi!


<! - #LSP-9008 - >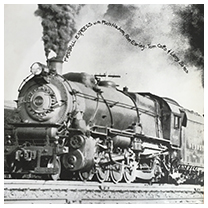 Fireball Express "Fireball Express" (Casino Records, 197--?) (LP)
(Produced by Bart Curtis)
Well, you know me, I'm always a sucker for any version of the 'Seventies oldie, "Aime" -- it's just such a great pop song! These guys seem to have been from around Ithaca, New York -- the album was made at a studio in Elmira, near the Pennsylvania border, and the band played gigs on both sides of the state line. At the time this album was made, the group included Rich Hawkins (lead guitar), Ron Earley (drums), Tom Caffo (bass) and Larry Bates on steel guitar. Although keyboardist Jim DePaul was considered a "guest" artist when they were in the studio, let's just be nice and say he was in the band, too. It was a while ago. Fireball Express was still together in the late '80s, though with a different lineup which still included Earley and Hawkins, as well as a gal singer called Linda Lee, who had experience singing of some regional "jamboree" variety shows. Any additional info about these folks would be welcome!


<! - # - recorded at Revelation Recordings in Elmira, NY - (NY) >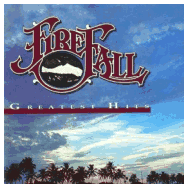 Firefall "The Greatest Hits" (Atlantic, 1992)
I suppose I am obliged to mention the super-slick Top 40 Boulder, Colorado 'Seventies band Firefall, which is perhaps really more of a "soft rock" band, but certainly had a respectable country-rock pedigree. Singer Rick Roberts was in an early lineup of the Flying Burrito Brothers (as was drummer Mickey Clarke) and co-founder Jock Bartley was briefly in Gram Parson's backup band, the Fallen Angels, as well as Chris Hillman's post-Burritos band in the mid-'70s. Et cetera, et cetera. Anyway, there was some residual twang, or at least an acoustic sensibility underneath their slick pop hits, though I suspect many twangfans will find a lot of their material pretty noxious, the very epitome of whiny '70s wimp-rock. (Though I have to confess I still have a positive Pavlovian response to some of these oldies, though I won't say which ones... I have to keep a few secrets!) At their best, they were Crosby Stills & Nash knockoffs (like on "It Doesn't Matter," the first track on their first album...) At their worst, as heard on the later tracks of this best-of collection, they played some truly awful, tepid, heartless, semi-synthy stuff, kind of like Toto, but not even that good. Their early-'80s decline was not a pretty thing. So, yeah, part of the country-rock story, but not as interesting as, say, Pure Prairie League.


<! http://en.wikipedia.org/wiki/Firefall Firefall "Firefall" (Atlantic, 1976) B0000032EX B00123NXLW Firefall "Luna Sea" (Atlantic, 1977) B00006LES4 B0012FB4Y8 Firefall "Elan" (Atlantic, 1978) B00006LES1 B00123G6CU Firefall "Undertow" (Atlantic, 1979) B0000033II B00124HUMY Firefall "Clouds Across The Sun" (Atlantic, 1980) B00018D3SM B0012FCHC6 Firefall "Best Of Firefall" (Atlantic, 1981) Firefall "Break Of Dawn" (Atlantic, 1982) B00018CZL8 Firefall "Mirror Of The World" (Atlantic, 1983) B00018CZL8 Firefall "The Greatest Hits" (1992) Firefall "Messenger" (Sundown, 1994) B00000DHV3 B0013ITMRU Firefall "Colorado To Liverpool – A Tribute To The Beatles" (Winged Horse, 2007) B000UZ4FPG B00196M8PO Firefall "Firefall Reunion Live" (2009) B001UXJJDK B002701NY8 > <! FIRE MOUNTAIN Fire Mountain - Tulsa, Oklahoma band - did they record anything? https://www.tulsaworld.com/archive/fire-mountain-front-man-attracting-rca-s-attention/article_8139b35b-f307-5941-9f4b-02a8717f04cc.html >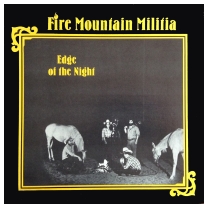 Fire Mountain Militia "Edge Of The Night" (Thunder Lizard, 1981) (LP)
(Produced by Bob Leep, John Altman & Dave Weil)
A swell set of hippiebilly indie-twang from Carmichael, California (near San Jose...) This quartet showcased all original material, songs penned by singers Dean Agee or Bob Leep, with Leep's material being perhaps more decisively "country" and and uptempo, while Agee was fond of sagas of wasted nights and low-rent barroom flings. The sound is mostly plunky bar-band country, ala Chuck Wagon & The Wheels, though there's a trace of bluesy, Dead-like jam-band rock hinted at in a few of the performances. The group also had mixed male-female vocals, with bassist Sharon George mostly sticking to harmony, but also taking the lead on the appropriately-named "Torch Song," which reveals a slightly jazzy undertone. You could pick these guys apart for their amateurism if you wanted to, or you could choose to be charmed by it, in which case you'd find this to be a pretty strong entry for the genre. Northern California strikes again!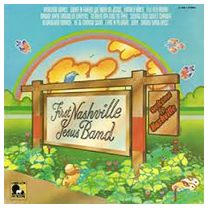 The First Nashville Jesus Band "Welcome To Nashville" (Lamb & Lion Records, 1973) (LP)
(Produced by Billy Linneman & Jack Linneman)
Man, what a great band name! This group, which may have had a shifting lineup, was formed primarily to back singer Pat Boone on some of his more country-flavored gospel outings, though they also backed Del Wood, and released some stuff "solo" under the band's name. Among the session players on this album are guitarist Jimmy Capps, Johnny Gimble, and steel player Jeff Newman. Although I think the sessions were cut in Nashville, Boone's Lamb & Lion label was headquartered in LA, and was associated with the budget-line Hilltop Records. A couple of the tunes were of newer origin, like their covers of "Daddy Sang Bass" and "Bridge Over Troubled Water," as well as an original, "Why," which was composed by the group's pianist, David Reese.


<! - #LL-1103 >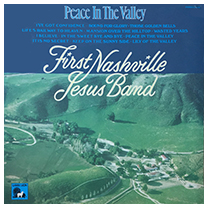 The First Nashville Jesus Band "Peace In The Valley" (Lamb & Lion Records, 1974) (LP)
(Produced by Billy Linneman & Jack Linneman)
Another album of gospel standards, recorded in Nashville with a top-flight studio crew including Jimmy Capps, Paul Charron (drums), fiddler Johnny Gimble, bassist Billy Linneman (who also played in Marty Robbins' band), Jeff Newman (dobro and pedal steel) and pianists David Reese and Jerry Whitehurst -- basically the same lineup as the previous album.


<! - #LL-1108 > <! First National "Second Chance" (LP Records, 19--?) (LP) (Produced by Jerald Hill) - #1201 - from Marietta, GA - no art? on eb w no cover, etc - country? >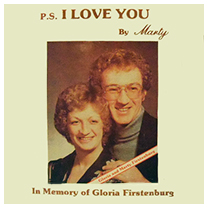 Marty Firstenberg "P.S. I Love You By Marty: In Memory Of Gloria Firstenburg" (1985-?) (LP)
(Produced by Jerry Bradley & Gene Breeden)
Aw. This privately released album is a touching memento recorded by a guy whose wife died in an auto accident along the Oregon coast. The Firstenbergs were square-dancing enthusiasts who participated in and "called" events around Salem, Oregon in the late '70s and early '80s, as part of the Goodtimers dance group. She died in November, 1984, and not long after he booked time at a studio in Nashville and recorded a set of what I assume were some of her favorite songs, drawing mainly on country material, along with some pop tunes such as "PS, I Love You." Many selections are nakedly forlorn and mournful, such as covers of Merle Haggard's "Place To Fall Apart" and "What Am I Gonna Do," or Ken Wesley's "We Never Ran Out Of Love." The backing band included Gene Breeden on guitar and Doug Jernigan playing steel. Sad, but sweet.


<! - # - no label name, no date, no # - she had lupus; part of the proceeds went to lupus research >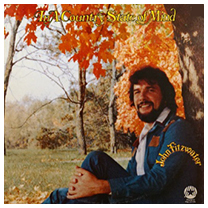 John Fitzwater "In A Country State Of Mind" (Out Of Town Records, 1984) (LP)
(Produced by Johnny Maggard)
Singer-guitarist John Fitzwater started out playing rock in an late-'Fifties/early-'Sixties band called The Tornadoes, playing regionally around Dodge City, Kansas. He moved into a series of country groups, including Don Pray's band, and eventually started his own group, Country Fever, which included guitarist Jerry Wilcox who had been playing with Fitzgerald since the early '70s. Around the time this album was recorded, Wilcox died in a parachuting accident, though Fitzgerald and the band -- which included Wilcox's son, Darrin, on drums -- kept plugging away despite the tragedy. Fitzwater seems to have left Country Fever by decade's end, although the band stayed together for several decades, with a lineup that has shifted over the years. This album was distributed by MCA, though it remained a regional release.


<! - #OTD-8643 - article, lineup(s) (KS) - Judy Gottsch (vocals) in other bands? - distributed by MCA >

The Five Pennies "Joe Paul Nichols Presents..." (Bollman International Music, 19--?) (LP)
(Produced by Joe Paul Nichols & Jerry Abbott)
Introduced in the liner notes as "one of the finest traveling bands in the South," this group from Dallas, Texas was an archetypal working-man's band. Bassist Roy Tunney was the group's lead singer, along with fiddler James Roberson, steel player Carroll Parham, guitar picker Teddy Johnson and Joe Wayne Campsey on drums. The record includes only two vocal numbers, with Tunney singing lead on Red Steagall's "Someone Cares For You" and Ray Price's "Release Me," with all the other tracks being instrumentals. The set list includes a lot of dancehall oldies, like "San Antonio Rose," "Westphalia Waltz" and "Cotton-Eyed Joe," with various bandmembers taking solos, including a version of "Orange Blossom Special" and an instrumental take on Merle Haggard's "Working Man Blues," spotlighting Teddy Johnson. I'm not sure if they backed any particular artists, or if they were just their own, self-contained band.


<! - #LP-5013 - no ASIN 09/16/16 - recorded at Pantego Recording Studio - npx - 01/18/21: LK tried to email via Nichols website, seems buggy http://www.joepaulnichols.com/biography.php - LK: "...with leader Joe Nichols a full-time employee at the Texas Department of Transportation until retiring in the early 'Nineties, when he went into local politics. >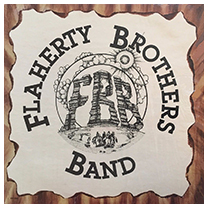 The Flaherty Brothers Band "FBB" (Furry Records, 1979) (LP)
(Produced by Jerry Kirk & Lowell Varney)
Brothers E. J. Flaherty and Paul Flaherty were from Charleston, West Virginia, though they recorded this album in Crum, West Virginia... Their "rural rock" repertoire includes covers of songs from the roots/country rock firmament: Rusty Weir's "Don't It Make You Wanna Dance," Little Feat's "Willin'," and Buffalo Springfield's "For What It's Worth." There's also a healthy amount of original material, such as "Never Thought" and "Diane," written by Paul Flaherty, and two tunes by bassist Tim White -- "Jack And Ginger" and "Brand New Seed."


<! - #FR-1001 - needs research 04/12/18 >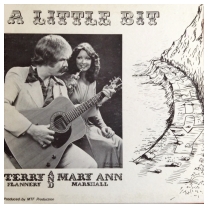 Terry Flannery & Mary Ann Marshall "Little Bit Country" (MTF Productions, 1982) (LP)
(Produced by Sargon N. Yonan)
The lounge duo of Terry Flannery & Mary Ann Marshall -- also known simply as "Terry & Mary Ann" -- recorded this album at the Sargon Recording Studios in Skokie, Illinois and they give a shout-out on the cover to the folks working at the O'Hare-Kennedy Holiday Inn, where I'd assume they had a regular gig. Terry Flannery did the arrangements and plays most of the instruments -- guitars, bass and keyboards -- along with Ms. Marshall on 12-string and 6-string acoustic guitars and drummer Ron Baron rounding out the sound. They cover stuff like "Me And Bobby McGee" and "The Gambler" as well as oldies like "Danny Boy" and "Ghost Riders In The Sky," and Flannery even gets all choppsy with a run-through of the Spanish guitar standard, "Malaguena." The Kenny Rogers cover places this one at least 1979, if not later. They were not great, but this is a very authentic album from a typical '70s lounge act.


<! - # - no ASIN 06/08/15 - LK purchased 06/08/15 - rcvd 06/15 - scratchy >

Neil Flanz "...Et Son Nashville Steel" (Trans-Canada Records, 1962) (LP)



<! - #TC-A-87 - with the Hackamores >
Neil Flanz "Get On The Star Route" (Arc Music, 1964) (LP)
A pleasant set of pedal steel instrumentals showcasing steel player Neil Flanz, who anchored the house band for the Canadian TV show, Star Route, which was hosted by Rod Cameron. Flanz was originally from Montreal and toured with several Canadian country stars before making the move to Nashville, where he worked with several older, more traditionally-oriented artists. Flanz may be best known to modern country fans as part of Gram Parson's early-'Seventies band, The Fallen Angels, which backed Parsons and his then-protege, Emmylou Harris, on their fabled 1973 tour. Of particular interest on this album are the low notes Flanz delves into, as opposed to the standard higher-end tonalities that typify pedal steel work. Nice set!


<! - #A-634 >

Neil Flanz "Special Instructions Album" (Sho-Bud Records, 1972) (LP)
This was an instructional album for learning to play pedal steel, sponsored by the Sho-Bud instrument manufacturers... Maybe not quite as much fun for the average listener, but I'm sure some of you Steel Guitar Forum types out there might get a kick out of it.


<! - # https://en.wikipedia.org/wiki/Neil_Flanz - later moved to Austin, Texas >
Flat Creek Revue "Just For You" (Flat Creek Records, 1979-?) (LP)
(Produced by Rick Salyer)
A country covers band from Kingsport, Tennessee, up in the far northeastern corner of the state... Although the album provides no exact information about where this band was from, the liner notes inform us they played regionally in East Tennessee and Southwest Virginia. Their album came out on a mostly-gospel label from Kingsport, which seems to be where several bandmembers lived as well. Flat Creek Revue included Bill Hass on bass, David Martin (steel guitar), Bobby Schaffer (lead vocals), Carter Stanley (lead guitar), Jane Cox Thompson (piano), and Darris 'Pop' Turner on drums; although some sources call them a bluegrass band, their repertoire was pretty solidly country, electrified instruments and all. Lots of covers, including late-'Seventies hits such as "The Door Is Always Open," from Waylon Jennings' outlaw glory years, and George Jones' 1978 weeper, "I'll Just Take It Out In Love." Alas, there are no songwriter credits, so it's difficult to tell if the album also contains any originals. This seems to be the only Flat Creek Revue album, although a couple of years later they backed another Kingsport musician, singer Ruth Cleek (aka "Ruth E") on her album Tonite I'm Missing You, which featured several songs written by members of the band.


<! - #TSRC-9778 - no address, no date - "bluegrass" (??) doesn't look like it -"Charlie's Angels," - FILLIES? Jane Cox Thompson (piano) >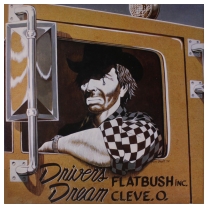 Flatbush "Driver's Dream" (Bush League Records, 1980) (LP)
(Produced by Flatbush & Jerry Bruno)
One of the premiere country-rock bands from Cleveland, Ohio during the late 1970s... These guys apparently broke up in 1981, not long after recording this album...


<! - # - 1979? >

Cliff Flatford "Time With Cliff Flatford" (Time Records, 19--?) (LP)
(Produced by Bud Tido & Cliff Flatford)
Born in Maynardsville, Tennessee, singer Cliff Flatford was in Nashville -- Nashville, Indiana, that is -- when he cut this album with his own band, The Flatlanders(*). The repertoire includes several countrypolitan covers, as well as a few originals by Cliff Flatford and by Paul Flatford, who I'm gonna assume was a relative. [* With apologies to Butch, Jimmie and Joe, of course...]


<! - no ASIN 08/18/15 (his brother??) - "...Nashville, Indiana. Includes three originals. Mix of country/ballads/twangy country lounge rock" >

Flatland Band "Plainly Scene" (Golden Rope Records, 1983) (LP)
(Produced by Tom Deglman & The Flatland Band)
Not to be confused with the legendary Texas band, The Flatlanders, this country-rock crew from Illinois had a guitar-centric sound with some pedal steel on top... All original material written by bandmembers Gordy Cotter, Jerry Reno and Sam Dean. If anyone knows more about these fellas, I'm all ears!


<! - # - no ASIN 11/2014 >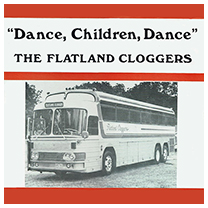 The Flatland Cloggers "Dance, Children, Dance" (Flatland Records, 1980) (LP)
(Produced by Bob Johnson & Dick Smith)
A musical memento of a teenage clogging troupe from Tidewaters, Virginia, near Chesapeake. The group was formed in 1977 and performed locally as well as at live music venues as guests of established artists such as Lester Flatt, Kitty Wells and the Osborne Brothers. This album features four twelve-minute long sets with old-timey backing by bassist Gray Granger, Roher Gray (fiddle), Bill Gurley (banjo), Todd Jefferson (spoons) and Barry McLawhorne on guitar. Bill Gurley also played in a late-'Seventies edition of bluegrass traditionalist Jim Eanes' band, while Granger and Gurley also recorded together in the folk band Morning Flight; guitarist Barry McLawhorne later led a country rock band called Heartland, which made an album in 1985.


<! - # - red-and-white stock cover - bc nv; how country? - four long tracks, about twelve minutes long each - recorded in Williamsburg, Virginia >


The Flatlanders - see artist discography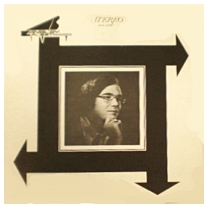 Ansley Fleetwood "Ansley Fleetwood" (ACA Records, 19--?) (LP)
Pianist Ansley Fleetwood is best remembered as the guy who wrote Moe Bandy and Joe Stampley's chart-topping 1979 duet, "Just Good Ole Boys," one of the biggest country hits of the early '80s. Fleetwood was a member of Joe Stampley's band when the idea to have the two singers combine forces was first being batted around, and he penned the redneck novelty number as a showcase for their talents. Fleetwood had been knocking around Nashville since the early '70s, recording on tiny labels and writing several other (far less successful) songs, as well as producing a few singles for other, equally obscure artists. He also composed the song "Finding You," which was a minor hit for Stampley in 1983... Later on Fleetwood worked in Jeanne Pruett's 1980's band and eventually seems to have dropped out of the Nashville scene and become a music educator. I'm not sure where this undated album fits into his career, although from the looks of it, I'm guessing it's a mid-to-late '70s record, made some time before the Moe & Joe thing took off. Maybe around 1977...?


<! - # - (TN) >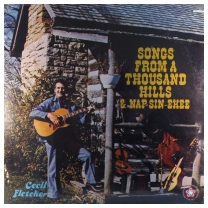 Cecil Fletcher "Songs From A Thousand Hills & Nap-Sin-Ekee" (Thousand Hills Records, 1976)
(Produced by Joe Scaife)
Songwriter Cecil L. Fletcher (1918-2002) lived on a family farm called Napsinekee, near LeClaire, Iowa and right next door to the birthplace of Buffalo Bill Cody. Fletcher was a Buffalo Bill devotee and a folklorist who gathered stories about the area, which he gathered into a book, as well as in several songs that populate this album. Some of his compositions included "Nap-Sin-Ekee Hollow," "My Father Owns The Cattle On A Thousand Hills" and "Thank God That I'm Free" -- the second side of the disc is mainly gospel material, with all the songs on the album being written by Mr. Fletcher except for the tail end of a medley that includes "Old Rugged Cross" and "Amazing Grace." This was one of two albums Fletcher recorded, backed here by a group that included several heavyweight session musicians: Johnny Gimble on fiddle, Lloyd Green playing pedal steel, drummer Randy Cullers and Bobby Ogdin of the TCB band on piano. Other musicians may have been locals, such as singer Linda McCachran and multi-instrumentalist Joe Tanner who I think had been playing on banjo in various Midwestern bluegrass bands over the years. Mr. Fletcher's bio mentions a second album, though I haven't been able to track that one down yet.


<! - #TH-0001 - bio (IA) - 01/17/20 >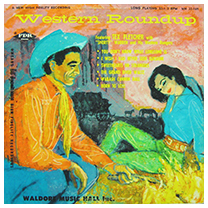 Tex Fletcher "Western Roundup" (Waldorf Music Hall, 1956) (10")
A charming set of cowboy songs by "Tex Fletcher," which was the nom-du-twang of New Yorker Geremino Bisceglia (1910-1987), an actor who worked on Broadway and in film, as well as broadcast and cabaret acts. He's backed by Shorty Warren and His Rangers, an East Coast country band that was active for many years . Nice stuff, actually!


<! - #MH 33-169 Mono - backed by Shorty Warren & His Rangers - David Stone Martin artwork on cover > <! Tex Fletcher, real name Geremino Bisceglia born January 17, 1910, in Harrison, New York died March 14, 1987, in Newburgh, New York), was a singing cowboy with credits as a recording artist, Broadway and movie actor, night club performer, and radio and television personality. >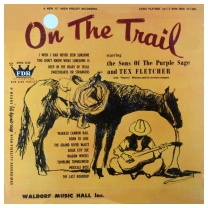 Tex Fletcher/Sons Of The Purple Sage "On The Trail" (Waldorf Music Hall, 1957-?) (LP)



<! - illustration – Tracy Sugarman (per dc) >
Tex Fletcher "The Lonely Cowboy: Complete Decca Recordings" (BACM, 2008) (CD)



<! >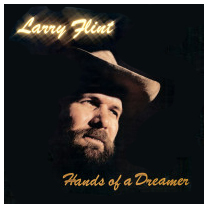 Larry Flint "Hands Of A Dreamer" (Belmont Records, 1986) (LP)
We shouldn't confuse this New England twangster for the notorious celebrity pornographer Larry Flynt, who published Hustler magazine...(although the album title doesn't help!) I dunno, if it was me, I would have maybe considered a different stage name... Anyway, Mr. Flint hailed from Waltham, MA and recorded on the same label as Boston bandleader John Penny... Before cutting this album, Flint played bass and guitar with John Lincoln Wrights, and had been a core member of Rick Robinson's band, The Bayou Boys, touring a recording with them in the early 'Eighties. He also led his own band, the Road Scholars, and released a second album, Ghost Of The Railroad in 2010. A little slick, but rootsy and soulful nonetheless.


<! - #AL 011 - (MA) >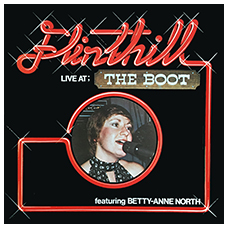 Flinthill "Live At The Boot" (Brothers Records, 1979) (LP)
(Produced by Dennis Thievin, Fran Thievin & Jim Thievin)
A mix of old and new country on this live album, recorded at the Boot cabaret, in Williams Lake, British Columbia. Lead singer and pianist Betty-Anne North is given almost-solo status on the album's cover, but a more democratic inclination won out, and thus we file this one under "F." Only two other members were considered officially part of the band, bassist-songwriter Larry Christensen and drummer Peter Rosk, though several other musicians joined them on the concert, including lead guitarist Don Alden, steel player Randy Pokeda, and Dennis Thieven on keyboards. Along with covers of ABBA and Morris Albert (yikes) this disc is packed with originals -- four songs cowritten by Christensen and North, and three more credited to Ms. North alone. So, maybe we'll forgive them for the covers of "Feelings" and "Fernando..." Or maybe not.


<! - #BP-1062 - from British Columbia, Canada - Larry Christensen (bass and vocals), Peter Rosk (drums) >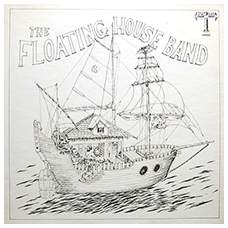 The Floating House Band "The Floating House Band" (Takoma Records, 1970) (LP)
(Produced by Chuck Plotkin, Don Davis & Jim Hobson)
A super-super hippied-out folkie-delic outing packed with simple, strummy acoustic riffs buoying guileless, starry-eyed songs. The photos on the back cover show a trio of splendidly shaggy super-hippies who do actually seem to have been hanging out on a houseboat together, and having a pretty good time. The most notable member of the group was singer-guitarist Shep Cooke, an Arizona country-rocker who moved to LA to be in Linda Ronstadt's early band, the Stone Poneys. Indeed, this album seems to be memento of that gig, as Cooke is joined a couple of other guys from the Poneys, notably guitarist Robert Kimmel, who was the primary songwriter for this set. The rest of the band included John Alderson (guitar and keyboards), banjo player Pat Cloud, Rick Epping (harmonica), and Andy Gold on drums. The lyrics are generally pretty gooey, happy, half-coherent evocations of spaced-out moments of ecstasy and chirpy odes to open-hearted love of mankind and nature. This is a very lazy, relaxed album, and while the guys honed in on a lilting vocal harmony not unlike the Crosby, Stills & Nash sound, the songs don't have a lot of drive to them, or much in the way of memorable hooks. But that may be what gives this disc its charms -- they sound so innocent and sincere, and were clearly tripping balls the whole time. Not much of a country record, though it does fit into the whole Southern California country-rock mosaic. This was hardly a supergroup, though some of the guys were active in various musical projects for the rest of the decade: Shep Cooke recorded a couple of solo albums that are worth checking out, while Pat Cloud became a fairly well-known bluegrass picker, and John Anderson later played with Christian artist Chuck Girard. Far out, man!


<! - #C-1029 - John Alderson (guitar and keyboards), banjo player Pat Cloud, Shep Cooke, Rick Epping (harmonica), Andy Gold (drums), Robert Kimmel (guitar) >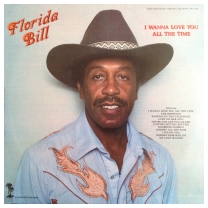 Florida Bill "I Wanna Love You All The Time" (Sunbonnet Records, 1987) (LP)
(Produced by Gene Gordon & Earl Lett)
Pensacola, Florida singer-saxophonist Earl Lett went by the stage name Florida Bill, although he grew up in Alabama and was an R&B musician before he took up his country career. He even had a gig playing sax for the Ike and Tina Turner Revue from 1970-71. From there, he enrolled at the Berklee School of Music and studied arranging and music theory, then started his own band, which by the early '80s had evolved into an all-country act. Lett penned all ten songs on this uber-indie album, all solidly crafted in the mainstream, Top Forty Nashville style, with pretty standard-issue, glossy, pop-country arrangements, sometimes complimented by Lett's own saxophone licks, but mostly it's all about fairly generic electric guitar and keyboard backing, with some tasty though perfunctory pedal steel playing by Doug Jernigan. It's not really my cup of tea, but it's a well-produced, solid set from such an off-the-radar local artist.


<! - # - no ASIN 01/26/15 - year per eB vendor (?) - African-American >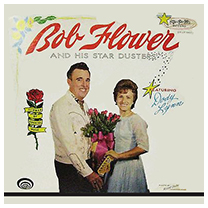 Bob Flower "...And His Star Dusters" (Do-Re-Me Records, 1966) (LP)
Country bandleader Bob Flower had a day job as police chief of Cuba, New York, but he kept busy at nights, taking his band on the road to play gigs and even made the trek to Nashville a few times to cut singles, as well as this LP, which was his only full-length album. Flower described himself as "the poor man's Ernie Ford," and is firmly anchored in mainstream, old-school country. This album is almost all cover tunes, standards like "Cold, Cold Heart," "Four Walls," "Lonesome 7-7203" and the like. Flower sings half the songs solo, as well as a couple of duets with "girl" singer Dody Lynn who was a Cuba, NY native... Ms. Lynn also sings lead on a couple of tracks, including a version of "It Wasn't God Who Made Honky Tonk Angels." Apparently Flower retired from the police force in 1966, and moved to Florida in the early '70s to retire -- Dody Lynn established herself as a solo performer, playing gigs around Cuba with a band called the Guitarmen, and released her own solo album around 1973.


<! - # - no ASIN 01/04/15 - (NY) > <! ROBIN FLOWER >


Danny Flowers - see artist discography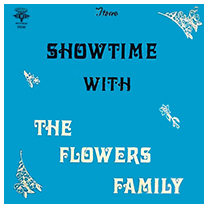 The Flowers Family "Showtime With The Flowers Family" (Jewel Records, 1967-?) (LP)
(Produced by Ron Solomon & Bill Starret)
A family band from Columbus, Ohio, the group was led by parents Pauline Flowers (drums) and Ralph Flowers (steel guitar and mandolin) with backing by siblings Christine, Garland (bass), Lorraine (accordion), and Ralph Junior on guitar. They were more of a pop and gospel band, covering standards such as "Sweet Georgia Brown," "Tea For Two" as well as "Battle Hymn Of The Republic" and whatnot, although with a definite country flavor. I don't think they had much of a professional footprint, though they did perform for various community groups and local events.


<! - #LPS-300 - (OH) >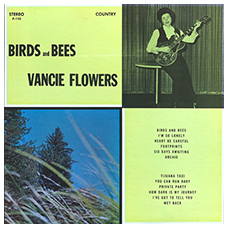 Vancie Flowers "Birds And Bees" (Pampa Records, 1963-?) (LP)
Born in Oklahoma, moved to Bakersfield, singer Vancie Flowers (1924-2008) was about as hardcore and unreconstructed a West Coast hard-country singer as you're ever likely to find. Ms. Flowers was a prolific songwriter and penned most of her own material, including many of the tracks on this album. Included here is "Six Days Awaiting" an answer to Dave Dudley's "Six Days On The Road," sung from the perspective of the loyal gal waiting at home for her trucker sweetie to head back to her loving arms. Also of note is the latin-flavored closing track, "Wet Back," which obviously has an offensive ring in modern times, but is actually a surprisingly progressive song, portraying an undocumented immigrant as a hard-working family man who aspires to become a US citizen, even in the face of racist discrimination. Don't condemn it out of hand. Vancie Flowers also wrote several songs recorded by others, including fellow Bakersfield belle Kay Adams. Unfortunately this record, and others, don't tell us who the backing musicians were, but it's pretty solid stuff from the Southern California scene... Often the arrangements feature a hip, uptempo pop/rock feel, doubtless showing some overlap with the major-label studios in LA. Cool stuff.


<! - #P-110 - last track is "Wet Back" revived in 1982 - also, - Kay Adams cut one of her songs Vancie Flowers 1924 - 2008 Vancie Flowers passed away on August 18, 2008 at her daughter's home in Bakersfield surrounded by family and friends. She is preceded in death by her husband of 66 years Roy Flowers; parents; Will and Eva; brothers, Jay Dean and Charles Littlefield; sister, Grace Devin; and grandson Jeff Royal. Growing up in Oklahoma Vancie learned to play guitar and sing. She wrote and recorded many songs for which she received several awards. >
Vancie Flowers "Soft Rain" (Pike Records, 19--?)



<! - #P-5901-A - dc listing is a cassette: also on LP? A1 Soft Rain A2 California A3 Happy Anniversary A4 Glad I Smelled The Roses A5 Idaho B1 5 Generations Looking Back ( Hiawassee, Ga. ) B2 On A River Bank B3 In This Garden B4 You're Not There B5 You're Blue Eyes >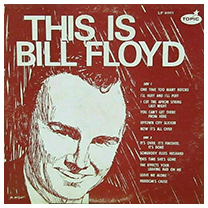 Bill Floyd "This Is Bill Floyd" (Topic Records, 1968-?) (LP)
(Produced by Joe Wright)
Robust, twangy country from one of Tampa, Florida's most popular radio deejays... Born in Willacoochee, Georgia, Floyd moved to the Tampa area as a kid and became a well-known radio personality as well as a popular local performer, cutting a few hillbilly bop/rockabilly singles in the late '50s and this doozy of a disc in the 'Sixties. Around the time this came out, Floyd was headlining at Doc Castellana's Imperial Ballroom, a country music outpost that also often booked nationally-known Nashville stars, as well as local acts. In addition to a bunch of hard country songs like "Now It's All Over," "Uptown City Slicker" and "Somebody Else's Husband," this includes the strident pro-military Vietnam War song, "Freedom's Cause." Often working with his brother, electric guitarist Harold Floyd, Bill Floyd kept his band together through the early 1980s. He released numerous singles, several LPs and CDs, though this seems to have been his first album. Floyd was a featured performer on Jim Foster's Tampa-based "Nite Hawks" TV show sometime around 1971, and later briefly hosted a syndicated TV show of his own in the early 'Seventies. After disbanding his group, Floyd took a job at a local newspaper, though he continued doing private solo gigs on the side. This was his first album... and it's mighty tasty!


<! - #LP-8001 ~ SoN-54901 - distributed by Sound Of Nashville - single 8028 was ~ SoN-40811 - plain blank bc - no ASIN 06/20/16 >

Bill Floyd & The Countrymen "Sunshine Country" (Sunshine Country Records, 19--?) (LP)



<! Tracks: The American Trilogy; Nashville After Dark; War Is Hell; Man Enough To Stay Away; Don't Come Home At All; Nashville You're a Woman; My Whiskey Talk Again; Uptown City Slicker; I'll Do You a Favor; Waitress Wanted; The Legend of Buford Pusser >

Bill Floyd "...Sings Country" (Hillside Country Records, 1973-?) (LP)
(Produced by Alan Smith & Betty Whidby)
A mix of Bakersfield twang and outlaw poetics, with songs by Kris Kristofferson ("Lovin' Her Was Easier"), Billy Joe Shaver ("Black Rose"), Bob McDill, Dallas Frazier and Harland Howard, along with four originals by Bill Floyd, and even a version of Jim Croce's "You Don't Mess Around With Jim," to top things off. Floyd is backed by a small studio crew, with some Nashville A-listers such as Willie Rainsford and Leon Rhodes, along with Gene O'Neal on steel guitar and Horace Whidby on lead. (The Whidbys had recorded at least once before this, a 7" cut for the Rich-R-Tone label sometime around 1970, featuring a pair of original honkytonk weepers, "We Both Were Wrong" and "I'm Tired Of Being Hurt.") Dunno exactly what year this album came out, but '73 seems about right, given the choice of cover songs.


<! - #122 - no ASIN 08/03/17 - date nv Lovin' Her Was Easier" (1971) "You Don't Mess Around With Jim," (1972) "Black Rose" (1973 - Waylon version) - no info about Horace Whidby online, except for YT video that plays the flipside of "We Both Were Wrong" - not sure if it's the same song as the one Edmunds sings - don't think so - that was written by Billy Bremner - Bill Floyd "Looking Back" CD(?) >


The Flying Burrito Brothers - see artist discography




Flying W Ranch Wranglers "An Evening At The Famous Flying W Ranch" (Flying W Records, 1956-?) (LP)
Not to be confused (too much) with the Flying X Ranch Hands below, the Flying W outfit was also from Colorado and was also led by fiddler-guitarist Jim Blanton, but these albums are of a much earlier vintage. It's all old-fashioned, nostalgic, western material, following the Gene Autry/Sons Of The Pioneers model, and there sure is a lot of it. I have several Flying W discs, the highest number of which is Volume 15(!) so it may take a while to really get to the bottom of this particular well. This late-1950s edition of the band featured Jim Blanton, Chuck Camp, George Jackson, Buck Teeter, Cy Scarborough and Russ Wolfe. As with many of these dude-ranch outfits, the lineup changed a lot over the years, I guess depending on who got hired over the summer on any given year. (Note: the trio of Blanton, Scarborough and Teeter broke off from the Flying W in the late 1960s and bought their own ranch in Durango, where they became known as The Bar D Wranglers and recorded quite a few albums under that name.)


<! - # SR4S-0050/0051 >

Flying W Ranch Wranglers "Folk Songs Of The Western Frontier" (Flying W Records, 19--?) (LP)



<! - #FW-5705 - second album? listed on bc of Echo Valley LP >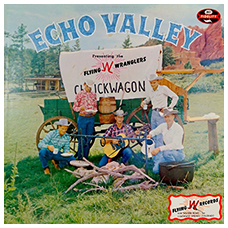 Flying W Ranch Wranglers "Echo Valley" (Flying W Records, 19--?) (LP)
This appears to be their third LP, showcasing a familiar mix of cowboy classics such as "Cool Water," "Cimmaron," and "Tumbling Tumbleweeds," along with three songs credited as Buck Teeter originals: "Echo Valley," "Forget Me Not" and "White Sands." The members of the five-person ensemble aren't identified by name, though an autographed copy reveals Chuck Camp and guitar picker George Jackson as rounding out the quintet, along with Buck, Cy and Jim Blanton. Charles Camp later split off from the Flying W to start his own venue, the Triple C Ranch Chuckwagon, near Tucson, Arizona, which was run as a family business starting out in 1969.


<! - #FW-5705 - 1957-? dc says '64 - no producer or musician credits - Buck Cy, George Jackson (Johnson?) (guitar) >

Flying X Ranch Hands "Campfire Melodies" (A & R Record Manufacturing Corporation, 1975-?) (LP)
A late-edition offshoot of the fabled Fall River Wranglers (above). This Colorado cowboy quartet spotlights fiddler-guitarist Jim Blanton, rhythm guitarist and tenor vocalist J. D. Blanton, and Floyd Luker on bass, all with guest star, western swing fiddler extraordinaire Hugh Farr, to whom they dedicated the album. The small group format seems to be modeled after the four-person jams led by Hugh and Karl Farr, in tandem with their recordings in the larger Sons Of The Pioneers ensemble. Plenty of oldies -- "Draggin' The Bow," "Tumbling Tumbleweeds," "Blue Eyes Crying In The Rain," "Sweet Georgia Brown" -- as well as a few more arcane tunes, such as "Little Rock Getaway" and "What This Country Needs." Alas, no songwriter credits, or production notes.


<! - #97-108 - no producer info, no date >

Flying X Ranch Hands "Bunk House Ballads" (A & R , 1979-?) (LP)
(Produced by Bill Brooks, Gene Burton & Ray Farmer)
This lineup also featured J. D. Blanton and Jim Blanton, along with Guitarist Ron Grimes and co-producer Bill Brooks on bass and lead vocals. Apparently this generally-younger offshoot of the Flying Ranch Hands dynasty headlined a supper-club gig at the Flying X Chuckwagon restaurant, in Carlsbad, New Mexico, which is a fair stretch from the Flying X Ranch, up in Estes Park. Anyway, though the set list here is mostly straight-up cowboy oldies, I get the sense this might have been a slightly hipper and perhaps rowdier combo than the guys up at the ranch. Maybe the older Jim Blanton was there to keep 'em running along? I dunno. There's no date on this album, but based on the catalog number, there's a good chance it might have been from 1979 or thereabouts... That looks right from the photos.


<! - #101-63x75 Engineer - Ray Farmer (was he from some other band?) >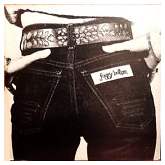 Foggy Bottom "Foggy Bottom" (Real Earth Records, 1979) (LP)
A progressive bluegrass band from the Washington, DC area, populated with folks who worked for NASA and the Library Of Congress. Notable in the band was banjo plunker Ray Hesson (1941-2016) who had some success in the pop world years earlier, playing lead guitar on a Kennedy-era instrumental called "Wheels," which rolled up into Billboard Top Ten back in 1961. The group covers pop and rock material such as "Blue Bayou," "Lay Down Sally" and "Songbird," as well as more traditional bluegrass fare.


<! - # >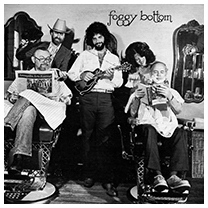 Foggy Bottom "Old Flames" (Real Earth, 1981) (LP)
(Produced by Ron Freeland & Norm Bowland)
A progressive bluegrass band from Clinton, Maryland, with a jaunty mix of originals and covers that show a definite affinity for Emmylou Harris and her crowd. They cover a couple of tunes that Emmylou did on her bluegrass album, "The Darkest Hour" and "Green Rolling Hills Of West Virginia," as well as Herb Pedersen's "Hey Boys" and Hugh Moffat's "Old Flames," which was a hit for Dolly Parton. Other covers include "I Could Sure Use The Feeling" (an actual Top Forty country hit for Earl Scruggs in 1979) along with tunes by by Loggins & Messina and The Louvin Brothers. Foggy Bottom lead singer Karen Belanger contributes one called "Louisiana Morn," while the band's guitarist Ray Schmidt penned "Baby It's Blue" -- probably the most interesting track on the album is banjo picker Ray Hesson's, "Nineteen Sixty-One," while ponders all the changes in the world since the comparatively innocent days of Kennedy's Camelot, and may tangentially reflect Hesson's biographical arc since the days when his guitar licks nearly topped the pop charts. Notable for fans of '80s and '90s bluegrass are the contributions of freshman flatpicker David Grier, who apparently wasn't an official member of the band (and gets a special "thank you" in the liner notes) but nonetheless plays lead guitar on about half the album.


<! - # - band address in Clinton, Maryland - NOTES, links, obit, etc >

The Foggy River Band "Foggy River Band" (FRB Records, 1987) (LP)
(Produced by Garry McDonall)
A rootsy band from Alberta, Canada which was formed in 1984 by some veteran country bar-banders. The group included Rudy Famulak (fiddle), Zigmund Famulak (lead guitar), Lee Penman (drums), Ray Peterson (bass), Vern Peterson (rhythm guitar), and Bobby Wilson (piano). The songs seem to be mostly original material, with the Petersons writing songs, and the Famulaks specializing in instrumentals. Standouts include the Peterson-penned "The Radio Song," and "Beside Me Forever," and regional-pride songs such as "Ballad Of Foggy River," "Edmonton" and "Johnny Canuck And Uncle Sam."


<! - #FRB-1001 - >

The Foggy River Boys "Songs To Remember" (International Artists, 1973) (LP)
(Produced by Joe Higgins)
A gospel quartet from Carthage, Missouri who recorded an album with one side of secular music -- Dallas Frazier's "There Goes My Everything," "Skip A Rope" and "Cool Water" from the Sons Of The Pioneers alongside pop oldies such as "Glow Worm." Side Two is straight gospel oldies... all standards in that department.


<! - #LPS-5003 - label from Springfield, MO - no date - looks early, possibly mid-1970s, - date per AM listing >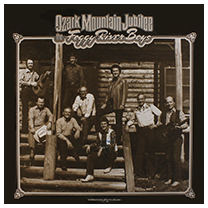 The Foggy River Boys "Ozark Mountain Jubilee" (International Artists, 1983) (LP)
(Produced by David Dombrowski & Winnie Swaim)
A mostly-secular set by a later edition of the band, who by this time had their own prvate theater in the Branson, Missouri ecosystem. This lineup featured the main vocal quartet of Bob Hubbard, Denzel Koontz, John Shepherd and Dale Sullens, backed by Bobby Hill on drums, Mike McCallister (guitar), Bob Moskop (piano) and Rick Taylor on bass. They deliver a heavy dose of chart-toppers by folks such as Alabama and The Oak Ridge Boys, with covers of "Play Me Some Mountain Music" and "Ozark Mountain Jubilee," as well as a "Dixie Trilogy" medley and a version of "Peace In The Valley," along with several other hits of the day. There's no date on the disc, but judging from the early 'Eighties repertoire, this seems to be from 1983 or possibly early '84.


<! - #LPS 5014 "Play Me Some Mountain Music" (1982) "Ozark Mountain Jubilee," (1983) https://en.wikipedia.org/wiki/Foggy_River_Boys "OZARK MOUNTAIN JUBILEE, FLIGHT 309 TO TENNESSEE, GEORGIA ON MY MIND, ALWAYS ON MY MIND, MAMA TAUGHT US HOW TO SING (FOX ON THE RUN), TAKE ME TO THE RIVER, PLAY ME SOME MOUNTAIN MUSIC, HOUSTON (MEANS I'M ONE DAY CLOSER TO YOU), DIXIELAND DELIGHT, PEACE IN THE VALLEY, DIXIE TRILOGY" >


Blaze Foley - see artist discography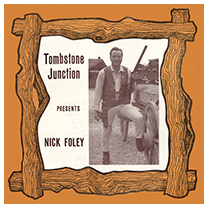 Nick Foley "Tombstone Junction Presents Nick Foley" (TJ Records, 1970-?) (LP)
(Produced by Howard White)
A Kentucky-born country singer and actor, Nick Foley started his career in his teens as a performer at the Renfro Valley Barn Dance, where he eventually became the emcee, as well as the host of regional radio and TV programs such as the Skylight Cavalcade a nationally syndicated TV show. He also had a steady gig at the Tombstone Junction "old west" theme park, which was sort of Kentucky's answer to Silver Dollar City. This short, eight song album is half covers, half originals, with versions of Leon Ashley's "Laura," Conway Twitty's "Hello Darlin'," "Green Green Grass Of Home" and "Peace In The Valley" alternating with four of Foley's own songs: "I'm A Horse's Tail," Love On My Side" "What Is Life," and "Sometimes A Mountain." As far as I know, this was Foley's only album and while I'm not sure how long he was at Tombstone Junction, the park itself was a popular venue throughout the 1970s, but closed in 1991 after a fire razed it to the ground.


<! - #TJ-100 - (KY) >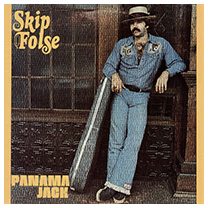 Skip Folse "Panama Jack" (Metan Records, 197-?) (LP)
(Produced by Pete Bordonali & Joe Wilson)
I'm not entirely sure about this one; it seems more like a folk-pop thing, with no steel guitar or fiddle, although Nashville session player Mark Casstevens picks guitar. A keyboard player, Louisiana native Norman ("Skip") Folse seems to have been a protege of (the late) singer-songwriter Jim Croce -- he covers a couple of Croce's tunes,"Workin' At The Car Wash Blues" and "Walkin' Back To Georgia" and most of the songs were from Croce's publishing company, Blendingwell Music, which Folse wrote for as well. Other composers credited include Bob Corbin and Joey George, rounded things out with a cover of Tom Waits's "Looking For The Heart Of Saturday Night." Folse suffered some kind of health setback in the early '80s, which required him to learn how to play guitar left-handed, and to move away from Hammond organ and rely on a MIDI player and pre-recorded backing tracks for his live performances. He also moved to Atlanta at some point, where he specialized in throwing raunchy concerts and dance parties at weddings, bachelorette parties, and the like. Not sure when this came out, but it was certainly after Croce's death in 1973... I'm guessing sometime between 1975-77 or so.


<! - # - "...After a physical setback in 1983..." http://www.mindspring.com/~skip-folse/new/Flyer.htm >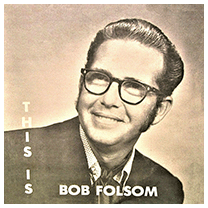 Bob Folsom "This Is Bob Folsom" (World Records, 1974-?) (LP)
The provenance of this album is a little unclear, with no liner notes to speak of, and little info on Mr. Folsom to be found online. The disc was recorded by "Joe Banana Productions," in Brandon, Florida, Mr. Folsom's hometown. I'm guessing at the release date based on the inclusion of a cover of Cal Smith's chart-topping hit, "Country Bumpkin," which came out at the start of 1974, though the record itself is undated. Folsom also covers eclectic numbers such as "Good Time Charlie's Got The Blues," "Everyone's Gone To The Moon" and "Behind Closed Doors," a huge hit for Charlie Rich.


<! - #JBP-2019 - no ASIN 06/28/15 - born 1945, near Brandon, FL >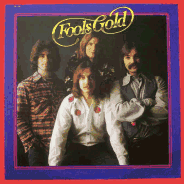 Fool's Gold "Fool's Gold" (Asylum, 1976)
(Produced by Glenn Frey, Joe Walsh, Glyn Johns & John Stronach)
These guys were, literally, Eagles knockoffs: with Glenn Frey as a co-producer, they frequently slide into smooth, mellow group harmonies that will be very familiar to fans of The Eagles. There's a definite Southern California country-rock vibe, as well as a strong strain of pure '70s AOR, which isn't surprising, since their main gig was working as Dan Fogleberg's backing band. They cover a couple of his songs, and Fogleberg co-wrote a third with members of the band; guitarist Joe Walsh also appears on here, playing lead on the first track. This is very soft, very familiar-sounding music, airy, gooey, mildly bland 'Seventies stuff, and even though this band never made its mark as a solo entity, folks who like classic soft-pop of the era will dig this disc. There's a little bit of legitimate twang in here, too -- piano player Doug Livingston also adds some nice pedal steel throughout, and they squeeze some mandolin in there as well.


<! - # >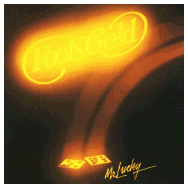 Fool's Gold "Mr. Lucky" (Columbia Records, 1977)
(Produced by Keith Olson)



<! - # >

Footloose "The Day Begins In The Evening" (Mudhen Records, 1979) (LP)
(Produced by Will Spencer)
A bluegrassy string-swing band from Ann Arbor, Michigan... This Footloose (not to be confused with the boogie band from Georgia) was a longhaired acoustic ensemble, mixing old-time mountain music with twanged-up oldies rock tunes, American songbook standards and even a whirl at Louis Jordan's "Barnyard Boogie." They also add a bunch of their own original material, which makes up over half the album. The shaggy-looking group included John Foster, Patti O'Connor, Bill Barton and Myron Grant, who each played multiple instruments. This may have been their first album.


<! >

Footloose "Country In The City" (Mudhen Records, 1981) (LP)





Footloose "Music In The Air" (Footloose Records, 1980) (LP)
(Produced by Gary Raines & Gerald Gibson)
Different group. This was a country boogie/Southern rock band from Atlanta, Georgia with a slew of originals written by singer/guitarists Gerald Gibson and Gary Raines...




Footloose "Footloose" (Thunderhead Sound Studios, 1978) (LP)
(Produced by Charles Whaley)
Hang on now... How many of these darn Footloose bands are there...?? These guys were a bluegrass band including lead singers Steve Kaufman (a champion flatpicker who won the 1977 competition in Winfield, Kansas) and Dan Holman on rhythm guitar, along with old-timer Red Rector on mandolin, and Leesa Nanney on bass. Apparently they were from Knoxville, Tennessee -- in the liner notes, Dan Crary remembers jamming with them in Knoxville, and they recorded there as well.


<! - #TH-1003 ~ RSR-737 >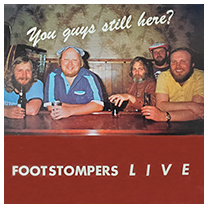 The Footstompers "You Guys Still Here?" (Hybrid Records, 1980) (LP)
(Produced by Dave Lang)
A shaggy-looking, beard-y polka-twang bar-band who cover polka novelty classics such as the "She's Too Fat Polka" and "In Heaven There Is No Beer," but also outlaw country hits like Tompall Glaser's "Put Another Log On The Fire." Music to drink beer by and cheerfully sing along to, fer shure. Not sure, but I think these guys were from Illinois.


<! - no ASIN 07/07/15 >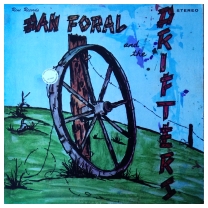 Dan Foral & The Drifters "Dan Foral & The Drifters" (Rene Records, 1971-?) (LP)
(Produced by Bud Comte & Lerry Krenk)
A singer from Columbus, Nebraska, Dan Foral took over the Drifters band in 1970 and led the band for a while, along with bandmembers Ed Julius, Jerry Frey and Ken Jenson. The repertoire here was all country covers, mostly contemporary hits from 1969-70, stuff like "Me And Bobby McGee," "Snowbird," "Bed Of Rose's" and "Ruby." Lead singer Ed Julius also recorded an album on Rene Records, Life Is Hard, which had more original material, including one song credited to Dan Foral, although as far as I can tell, Foral was not directly related to that band. He also recorded a single with a guy named Bill LeGate, who worked in his band throughout the early 'Seventies. (Note: a photo of this edition of the band -- dated 07/24/71 -- is archived on a site maintained by the state of Nebraska, showing all the guys on this album, as well as a teen-looking gal named Debbie Witt, who seems to have been part of their live show.)


<! - #1122 - (NE) >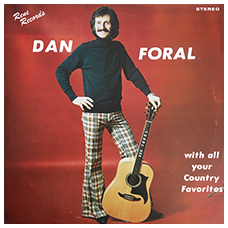 Dan Foral "With All Your Country Favorites" (Rene Records, 197--?) (LP)
(Produced by Bud Comte & Bob Palenesky)
A pretty laid-back set of early-'Seventies midwestern twang, with a mildly off-kilter, Willie Nelson-esque feel, with hints of Jim Ed Brown-ian countrypolitan... The material is mostly cover songs, though there are four originals, including "Black Hills Woman," "Country Lovin' Drifter," the very sunshine-y "The Smile You Gave Me," and a reprise of Foral's 1963 song, "Boy From Alabama," a Hank Williams tribute co-written with his longtime pal, Bill LeGate. This edition of the band included Jerry Frey (bass), Ray Gulley (lead guitar) and Bob Laroe (drums), with backing vocals by the Pat Phillips Singers, a perky gal chorus in the Anita Kerr/Nashville Sound style. Not sure of the date on this one, though it couldn't have been too much later than the album above.


<! - #R-1145 - recorded at Rene Sounds Studios in David City, Nebraska >
Erma J. Ford "...Is Really More Than Half A Woman" (Princess, 1971) (LP)
Pretty twangy, Loretta Lynn-like honkytonk country, from Roanoke, Virginia. This disc was a mix of covers and originals... The super-weird album title comes from her version of a song called "Half A Woman," which still doesn't make it any less weird. Go figure.


<! - # - BB - 03/20/71 >

Jed Ford "Is Anybody Goin' To San Antone" (SRT Productions, 1973-??) (LP)
An early '70s(?) English country crooner, from 1980 to 1985 Jed Ford organized the Peterborough Festival of Country Music, a big event which imported American country stars to British shores where they rubbed shoulders with local artists and thrilled their Stetson-sporting fans... I'm not sure how many albums Ford recorded, though this one seems to date from the late '60s and early '70s, with covers of "Mama Tried," "Blue Side Of Lonesome" and "D.I.V.O.R.C.E." and the title track, "Is Anybody Goin' To San Antone," which was first a hit for Charley Pride in 1970... No info, though, on who the backing band was on this album... alas!


<! - #SRTM-73325 >

Jed Ford "I Saw The Light" (Pixie Records, 19--?) (LP)



<! - #PIX-0005 - no ASIN 08/16/16 - UK artist? YES - UK label >

Jim Ford "Harlan County" (White Whale Records, 1969) (LP)
Kentucky native Jim Ford (1941-2007) made his way out west to California to become modestly successful Top Forty songwriter in the early 1970s. Penning pop, rock, and soul hits for established artists, on his own albums he crafted an odd mix of country and pop. Most of Ford's solo work has been reissued posthumously, with Harlan County being the only "proper" album issued during his lifetime...




Jim Ford "The Sounds Of Our Time" (Bear Family Records, 2007)



<! - includes the "Harlan County" album and a bunch of rare singles and demos. >

Jim Ford "Point Of No Return: Previously Unissued Masters, A Lost 45 & Rare Demos" (Bear Family Records, 2008)




Jim Ford "Big Mouth USA -- The Unissued Paramount Album" (Bear Family Records, 2009)
A tantalizing set of material from one of the odder characters on the 1970's twang scene. Songwriter Jim Ford was a pal of funk-soul pioneer Sly Stone; he played on some Sly & The Family Stone albums, as well as other iconic rock and pop records, but he nurtured an abiding love of country music, and wrote some truly stunning original twang-tunes. He must have had some interesting personal quirks, though, because there is a string of unissued demo material for projects on a number of labels. Maybe the major-label "suits" just weren't ready yet to have some hippie longhair crash the Nashville party, but for whatever reason, Ford faded from the scene and wound up living off the radar, ending his life in obscurity, in a trailer home up in Northern California. In his home was a treasure trove of demo tapes, unissued masters, and a handful of singles that had been issued over the years. Some of it is really great stuff, well-sculpted country songs, often with a novelty twist, as well as some dips into sunshine pop-era rock and soul. This disc, along with the Capitol Album collection below, overlaps with earlier Bear Family releases, but that doesn't detract from their value: if you're hearing of Ford's work for the first time, then these discs will be a real treat. Check it out!


<! This overlaps with previous Bear Family releases... >

Jim Ford "The Unissued Capitol Album" (Bear Family, 2009)




Joy Ford "The First Of Joy Ford" (Country International Records, 1974) (LP)
(Produced by Sherman Ford, Jr. & Fred Christie)
The young Ms. Ford was born in Alabama but grew up near Poplar Bluffs, Missouri... Although there are some cover tunes on here -- "Til The End Of The World," "It Wasn't God Who Made Honky Tonk Angels," "Release Me" -- most of the songs were written by various composers signed to the Rest A While Music Company... Folks like Don Canton, Eddie Fontaine, Janice Torre and Bee Walker who remain as mysterious today as they were back then, though presumably they were all Missouri locals. Sadly, there's no info on the musicians backing her, but this was certainly a very private/indie type of album.


<! - # 1001 - BB - August 3, 1974 - no ASIN 11/30/16 >

Joy Ford "Keep On Truckin'... Keep On Lovin' " (Country International Records, 1977) (LP)



<! - #728 >

Joy Ford "From The Heart Of Joy" (Country International Records, 198--?) (LP)



<! - #LP-CI-734 Tracks: Big City Turn Me Loose, Carousel, Kentucky Serenade, #1 With A Heartache, Baby Have A Baby With Me, Can I Believe, Always In My Heart, String Around His Finger, Survivor In The Fast Lane - 1983--? >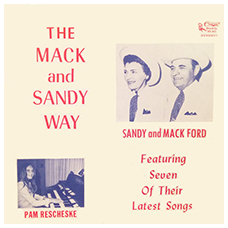 Mack Ford & Sandy Ford "The Mack And Sandy Way" (Cuca Record Company, 196-?) (LP)
(Produced by Mack Lunsford)
The Wisconsin duo of Mack Lunsford (1898-1977) and Bernice ("Sandy") Lunsford (1918-2011) played at rodeos and radio shows, and released at least two singles for the Sauk City-based Cuca Record Company, in addition to this album. About half the tracks on this album were written by the Lunsfords and published by Great Northern Song Publishing; most of the songs were unique to this LP, although one track, "The Squeak In The Old Rocking Chair," also came out on a single. Mr. Mack played harmonica, steel guitar and ukulele, while Ms. Mack played bass and rhythm guitar... They are accompanied here by a young gal named Pam Rescheske, on the organ.


<! - #KS-801 - no ASIN 03/07/18 - tracks, obit (WI) >

Skip Foreman "Presenting Skip Foreman: His First Album" (Shasta Records, 1974) (LP)
(Produced by Jimmy Wakely)
Western movie star and Shasta label owner Jimmy Wakely sure knew how to throw a party... or at least a recording session. Wakely spotted singer Skip Foreman doing a lounge show a Nevada casino and offered him a recording deal on the spot. The studio band he lined up included heavyweight pickers such as electric guitarist James Burton and pianist Glen D. Hardin (both veterans of Elvis Presley's TCB band), as well as pedal steel whiz Red Rhodes and a slightly less-high profile rhythm section. This album obviously didn't burn up the charts, but it is interesting to note that several of these songs -- standards such as "Kaw-Liga," "Me And Bobby McGee" and "Statue Of A Fool" -- were included on a subsequent Shasta LP showcasing Danny Michaels, and also featuring a band led by James Burton, so maybe there was a little bit of paint-by-numbers going on... Anyway, not much info about Skip Foreman outside of the album itself; no info about where he was from or if he made any other records.


<! - #LP-519 - large overlap in repertoire with: Danny Michaels (#525) - 01/08/20 G shows no images, no bio - AP photographer w/ same name >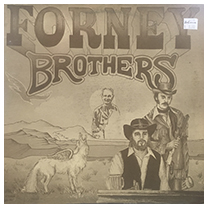 The Forney Brothers "The Forney Brothers" (1979) (LP)
(Produced by Jerry Forney, Phil Forney & Ronnie Light)
Led by guitarist Jerry Forney, this family band hailed from Hopkins, Missouri, a tiny town on the state's northeastern border with Iowa. Although Jerry Forney later focussed on blues music, his early career was in Nashville, where he landed a spot in Charlie Rich's band, straight out of high school. He was working in Nashville when he cut this country-flavored album with his brother Phil, backed by an elite crew of Music City session players (and possibly a few folks from home). Half the songs are Forney originals, including one song co-written with George Couts, and another original credited to "Sonny and Lindsey," as well as a cover of Rusty Weir's "Don't In Make You Wanna Dance," a Bob Wills tune, and a version of "High Time You Quit Your Low Down Ways." These outlaw tunes foreshadowed Jerry Forney's eventual move to Austin, where he established himself in the Texas modern blues scene. The Forney Brothers band also recorded a single or two in the early '80s, including one where they backed a fellow Missourian named John Marriott Jr.


<! - # - fiddler Lisa Silver gets a special shout-out in the liner notes - (MO) notes >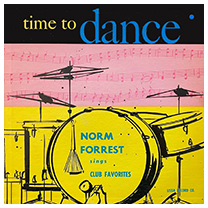 Norm Forrest "Time To Dance: Norm Forrest Sings Club Favorites" (Lissa Records, 196-?) (LP)
There's surprisingly little information to be found about singer-guitarist Norm Forrest, who was apparently on the LA country/country-rock scene through most of the 1960s. He worked with steel player Jay Dee Maness and many others, and cut singles for a variety of small labels, including Challenge Records (circa 1962) and Arco Records, who billed him as a member of the Hollywood Jamboree show, a mid-'Sixties local TV show modeled on the old Hollywood Town Hall programs. This early 'Sixties album seems to be a memento of Forrest's nightclub act and is heavy on country ballads and weepers, with several songs credited to composer Hal Blair, who wrote a bunch of hits for Elvis Presley, including one track also credited to Blair's partner Don Robertson. The credits make it look like several of these songs were co-written with Norm Forrest, though this may be an editorial goof -- there are tons of typos all over this album. Still, Forrest does seem to have been connected to the SoCal singing cowboy scene that Blair and Robertson worked in, alongside folks like Eddie Dean and Hal Souther, which might partly explain how he wound up on Gene Autry's label a few years later. And speaking of Elvis, the album also credits "Glenn Hardin" as conductor and arranger, though I think this is actually pianist Glen D. Hardin, who was doing all kind of random gigs in LA throughout the 1960s -- in the following decade Hardin joined Presley's TCB Band, as well as Emmylou Harris's legendary Hot Band. Not exactly sure when this album came out, but 1963-64 seems about right.


<! - #1001 >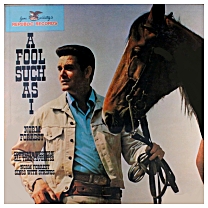 Norm Forrest "A Fool Such As I" (Republic Records, 1969) (LP)
Somewhere along the line, Norm Forrest got signed to Gene Autry's Republic label, a fairly high-profile gig which produced this album, which is mostly comprised of covers of well-known country classics. Forrest continued with his blend of country-folk crooning, in the same resonant, slightly rugged baritone. There's one track credited to Hal Blair's songwriting partner Don Robertson, though alas no indication of the musicians who backed Forrest on these sessions. On the plus side, though, there's a great photo of Norm Forrest on the front cover, and boy, was he hunky. Put that kid in the picture! Forrest was still doing smaller Southern California club dates at least through the early 1970s, although the trail grows cold soon after the decade begins. As far as I know this was his last full album and was apparently the first LP released on Republic.


<! - #RLP-1301 - (CA) notes >

Hank Fort/Various Artists "My Favorite Friend: Original Songs" (Gemini Records, 19--?) (LP)
(Produced by Jerry Crutchfield & Chuck Seitz)
Born in Nashville, songwriter Hank Fort (nee Eleanor Hankins, 1914-1973) was a socialite in Washington, DC, where her husband, Bill McAuliffe was a successful stockbroker... Mr. McAuliffe actually sings on most of the tracks on this album, including one duet with Hank; she sings solo on two songs, while Dottie Dillard (of the Anita Kerr Singers) sings on one, and a vocal group called The Fortunes tackle the remaining track. All the songs were written or co-written by Fort, with backing provided by a Nashville crew helmed by producer Jerry Crutchfield. Fort had a fair amount of commercial success, penning humorous "hick" songs along the same lines as those sung by Judy Canova and Dorothy Shay... Honestly, though, this is a pretty dreadful record, owing more to the bland "pop vocals" sound of the 'Fifties than its Nashville counterparts, and while this isn't quite on a par with, say, the Mrs. Miller albums, there's a similar vibe at work. The very epitome of a vanity pressing.




Hank Fort "...Sings Her Own Great Songs" (Epic Records, 19--?) (LP)



<! "...Singer, actress, composer, songwriter ("I Didn't Know the Gun Was Loaded"), teacher and author, educated at the Peabody Demonstration School. She acted in summer stock and sang cornball songs on television, radio and in night clubs, and made a number of recordings. Also, she wrote scripts and musical commercials, and taught dancing. Joining ASCAP in 1949, her popular-song compositions include "Save Your Confederate Money, Boys, The South Shall Rise Again", "Protocol", "Put Your Shoes On, Lucy (Don't You Know You're In the City?)", "Pic-a-Nic-In the Park", "Lady Bird", "Cherry Blossom Spring", "The Boardwalk", "Southern Cookin'", "My One Track Heart", "I Love Connecticut", "Tall Tales of Texas", "Ah-Nah-Pahp-Pah-La Day", "Can't Wait", "My Favorite Friend", and "The Written Guarantee". IMDb Mini Biography" http://www.findagrave.com/cgi-bin/fg.cgi?page=gr&GRid=50218966 https://en.wikipedia.org/wiki/Hank_Fort >

Elizabeth Foss "Sing For Us, Grandma" (Westmark Custom Records) (LP)
(Produced by Al Opland)
South Dakota native Elizabeth Foss and her husband Wilbur Foss (1921-2015) were devotees in the extreme to the "private label" phenomenon, recording literally dozens of albums, mostly of old-time fiddling music played by regular folks who came to their neck of the woods to take part in musical gatherings sponsored by the family. In the 1940s and 'Fifties the Fosses owned a hardware store, which Mr. Foss apparently gave up during a brief stint serving in South Dakota's state Senate; later in the decade he took a job at a local bank, where he worked for over two decades. In his mid-fifties, Mr. Foss turned to music, learning to play the fiddle at age fifty-five years old, even though he had lost three fingers while still a toddler during an accident on the family farm. The Fosses co-founded the South Dakota Fiddlers organization in 1976, and received numerous musical and civic awards over the years, including an induction into the South Dakota Country Music Hall Of Fame. They were also key members of the Old Time Fiddlers festival, based in Yankton, SD, and produced dozens of vinyl LPs commemorating the event. This album is one of many they recorded through the Westmark custom label network, and is perhaps a more personal record than most, with Mrs. Foss singing a mix of country oldies, gospel hymns and German leider, backed on guitar by Norma Borgheiinick, along with Charles Baker (fiddle and guitar), John McNeil (banjo and guitar), and Annie McNeil on piano.


<! - #WMC-21610 - no ASIN 08/28/18 - from Yankton, South Dakota - NOTES, obit https://www.yankton.net/river_city/article_e0437337-90e7-5ad2-9f78-6c29fb160288.html?mode=jqm https://www.yankton.net/obituaries/article_f758c8f4-9264-11e5-9710-7ba4f52b7162.html >

Wilbur Foss/Various Artists "JARLE, WILBUR AND ELIZABETH FOSS INVITE YOU TO LISTEN TO THEIR FRIENDS PLAY THE FIDDLE, v. 26" (Westmark Custom Records, 19--?) (LP)
(Produced by Al Opland)
I'm not sure what year this disc was recorded, but as the volume number implies, it was one of many recorded as part of the Old Time Fiddlers gathering in Yankton. Jarle Foss was Mr. Foss' father, and a fiddler himself; before learning the fiddle, Wilbur Foss would accompany his dad on piano.


<! - (label?) address in Pipestone, Minnesota >

Wilbur Foss "We Rode Our Horses & Played With Fiddlers From Yankton, SD, To Havana, North Dakota, Volume 36" (1985) (LP)



<! - w/ Norma Borgheiinick - dude ranch album - also pictured on cover: Tony Chytha - label name, ranch name, bc nv >

Wilbur Foss/Various Artists "WILBUR FOSS, v. 40: FIDDLERS OF EVERY AGE AND STYLE COME TO YANKTON, SD" (Westmark Custom Records, 19--?) (LP)
This is the highest volume number I've seen yet in this series. Not much info on the preceding three dozen-plus LPs, but I'm sure they're out there...


<! - #WMC-21749 ALSO: "YANKTON AREA OLD-TIME FIDDLERS" (LP) >

Jerry Foster "Looking Back" (Cinnamon Records, 1974) (LP)
(Produced by Johnny Morris & Lewis Willis)
One of Nashville's most prolific songwriters, Jerry Foster was born in Tallapoosa, Missouri, a tiny town just north of Memphis, and he made his way -- literally -- into the Songwriter's Hall Of Fame. His professional career started in the late 1950s, when he performed on a series of regional "jamboree" revues, including a TV show in Cape Girardeau, not far from Saint Louis. He met lyricist Bill Rice in the mid-1960s and formed a partnership that swept into Music City at the decade's end, placing hit after hit with stars such as Mickey Gilley, Jerry Lee Lewis and Charley Pride. A commercially dominant duo for most of the 'Seventies: they won ten awards at the 1972 CMA ceremony alone, and that was just the tip of the iceberg. Foster recorded albums of his own, including this gentle countrypolitan gem.


<! - #CIN-5003 - born November 19, 1935 in Tallapoosa, Missouri. - also recorded for Hitsville and Monument Jerry Foster "Looking Back" (Phonorama Records, 1982) (LP) - #PR 5629 - bc nv - same guy? >

Jim Foster "The Living Legend: Trooper Jim" (Country Artists Records International, 19--?) (LP)
(Produced by Finley Duncan)



<! - #CA-LP 1001 - no ASIN 07/22/17 - tracks (FL) >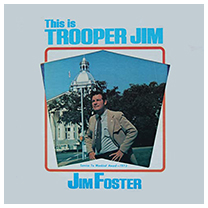 Jim Foster "This Is Trooper Jim" (Country Artists Records International, 1972) (LP)
(Produced by Finley Duncan)
Man! Talk about wearing a lot of different hats! In addition to being one of those "singing cop" country artists, Florida state trooper Jim Foster also worked as a radio announcer and a TV personality (broadcasting weekly public service announcements for the Florida Highway Patrol...) In 1972, Foster leveraged his celebrity into a political career, getting elected to the Florida House of Representatives, where he remained for ten years before returning to the civil service. He recorded this album, as well as a bunch of singles on various labels -- his best-known song was one of his earliest, a drunken-driving novelty number called "Four On The Floor (And A Fifth Beneath The Seat)" which he recorded for United Artists back in 1965. This disc is exclusively packed with original songs written or co-written by Foster, including a re-recording of "Four On The Floor," and a fine recitation tune, "Trooper's Prayer" -- there are even some of the political ad spots used in his campaign for the state House seat! The studio crew were Nashville pros -- guys like DJ Fontana, Johnny Gimble, Weldon Myrick and Buddy Spicher -- and a few of the songs were co-written with songwriting partners Sharon Carroll and Gayle Sheppard, who were presumably Florida locals. Foster had kind of an old-fashion, slightly cornball style, sort of midway between Jim Reeves and Red Sovine, with a dash of Andy Griffith, aw-shucks rural cop humor thrown in for good measure.


<! - # - tracks, info (FL) >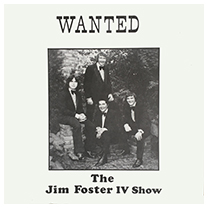 The Jim Foster IV "Wanted: The Jim Foster IV Show" (J. F. Records & Tapes, 1973-?) (LP)
This was a really cheapo dealie -- a plain white cover with xeroxed artwork pasted on the back and front... Apparently it was a souvenir of a lounge gig at the ill-fated Shamrock Hilton Hotel in Houston, Texas, and though there's no date on the disc, it looks like it came out around 1973, with covers of popular hits such as "Bad, Bad Leroy Brown," "For The Good Times," "Good Time Charlie's Got The Blues," and "Tie A Yellow Ribbon Round The Old Oak Tree." Although there's definitely country material on here, the instruments used by the IV were pretty heavy on big band sounds -- clarinet, fluglehorn, saxophone, trumpet and trombone, with nary a fiddle or pedal steel to be seen. The group included Jim Foster playing banjo, guitar and drums as well as several brass instruments, with Barry Burke and Brad Hughes also in a variety of roles, but particularly brass, and Ray Sporrer on piano, organ and accordion. The Shamrock was a massive, 1100-room behemoth which struggled financially and was demolished in the 1980s, though Foster and his crew seem to have enjoyed a long stint as one of the house bands.


<! - #JF-1001 ~ inner: #400, date also from matrix(?) - (FL) >

The Jim Foster IV "1940's Show" (J. F. Records & Tapes, 197-?) (LP)



<! - #JF-1002 - no ASIN 05/11/18 >

The Jim Foster IV "Country" (J. F. Records & Tapes, 197-?) (LP)



<! - #JF-1003 - no ASIN 05/11/18 >

The Jim Foster IV "1950's Show" (J. F. Records & Tapes, 197-?) (LP)



<! - #JF-1004 - not the same guy as the Florida state trooper, right(??) - 1974 show notices: The Brass Monkey, Waco Texas (February 28, 1974) - mentions previous Reno gigs Harvey's Theater Lounge, Reno, Nevada (October 18, 1974) Tegemeyer's - Las Cruces, NM (February 7, 1975) >

Jim Foster & Barry Burke "Once More... With Feeling" (Doggett Records, 1975) (LP)
(Produced by H. W. "Pappy" Daily)
There sure are a lot of these Jim Foster fellers running around, though I do not believe they are all the same person... This here is a live album by a duo that also released several singles on Pappy Daily's "D" label, down in Houston, Texas. The repertoire is packed with country standards, in fact with tunes that were originally recorded by George Jones, back when he was being produced by Daily.


<! - #LP-7010 - instrumentals? - no ASIN 06/04/18 "...Very rare country. Instrumentals of hits by George Jones. Produced by H.W. Daily on his D label. Recorded in Houston, TX. Daily also produced the same hits by George Jones." >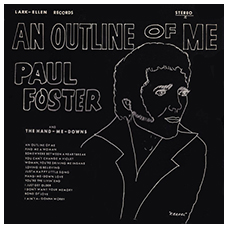 Paul Foster & The Hand-Me-Downs "An Outline Of Me" (Lark Ellen Records, 1974) (LP)
(Produced by Rolf Erickson)
California country on a label from Redondo Beach... Songwriter Paul Foster was originally from Ohio and started his musical career when he was still a kid, apparently landing a contract with United Artists sometime in the 'Sixties, before he moved to L.A. in 1971. He released a string of singles on the Lark Ellen label, which put out a fair number of records up through the 'Seventies, though mostly not country stuff. Paul Foster seems to have found a patron in Ms. Arlene Buckner and Irwin E. Buckner, who I think owned the Lark Ellen label, which seems to have had a "song-poem" component to it. That is, Ms. Buckner seems to have gotten Foster and others to come up with arrangements for her lyrics; most of the songs on here are co-credited to her and Paul Foster. A later release was a 1975 album by Carlos San Paolo (who worked on this record) which has him similarly sharing credits with Ms. Buckner. Paul Foster and his band went up on tour to Alaska right after recording this disc, though he later released at least one more Lark Ellen single in '78 while leading a band called Country Gold. (Note: I'm pretty sure that he was not the same guy as Arizonan Paul Foster who played bass in the old Waylon Jennings band of the early 'Sixties.)


<! - #EP-1106 - (CA) notes, partial band names - the Buckners later moved up to Oregon(?) >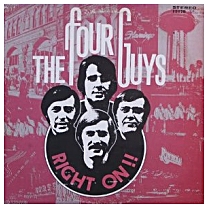 The Four Guys "Right On!!" (NRS Records, 1971) (LP)
(Produced by Col. Dave Mathes)
Sunshine pop and folk-pop vocals from a quartet who were "just as much at home on the stage of the Grand Ole Opry as they are on the Las Vegas Circuit..." (as the liner notes proclaim...) Although several Nashville studio stalwarts such as Weldon Myrick, Jerry Shook and Junior Huskey play on these sessions, there's precious little twang -- it's more of an example of how pop sensibilities bubbled under the surface of Music City. This vocal group originally hailed from Ohio, but found work backing various stars in the mid-1960s and early '70s, including gigs with Jimmy Dean, Charley Pride and Hank Williams, Jr., and many others. This edition of the band featured tenor Gary Buck, a former gospel singer with the Stamps Quartet who apparently came up with the idea of recording an album and eventually became the group's featured vocalist, as they adapted the gospel quartet style into a pop-country sound similar to what groups such as the Oak Ridge Boys and Alabama were developing around the same time. At this point, though, the Four Guys sounded more like the Kingston Trio, and despite a long tenure in Nashville and Vegas, they never quite hit the bigtime. Gary Buck eventually left the band and tried his hand in several music business roles before starting an evangelical ministry and concentrating on Southern Gospel rather than secular stuff; the other guys -- notably Sam Wellington -- kept the band going for decades despite an ever-changing lineup. Among several Stamps Quartet alumni, the Four Guys also briefly included Dave Rowland, who swiftly moved to a solo career as the leader of the vocal group Dave & Sugar.


<! 1972 NRS single: "My Special Angel", "They Call The Wind Maria" The Four Guys "On Target" (xxxxxxxxxxx, xxxxx) (LP) #AG-7791 The Four Guys "Happy Days And Happy Nights: Live At The Harmony House In Nashville" (xxxxxxxxxxx, xxxxx) (LP) #LP-1001 The Four Guys "Opry Encores" (Four Guys Enterprises, 19--?) (LP) - #SO-13452-3 - lineup includes Brent Burkett, Gary Buck, Richard Garrett and Sam Wellington - backed by Jimmy Capps, Sonny Burnette (steel guitar), Jerry Whitehurst (piano), Billy Linneman (bass), Johnny Gimble (fiddle), Joe Edwards (fiddle), Johnnie Barber (drums) - eb copy signed by Brent, Sam, Dave, ("Tomas?") - they cover early 'Seventies hits such as "Catfish John," "Friend, Don't Take Her," "Let Me Be There" and "Top Of The World" The Four Guys "Audiograph Alive" (Audiograph Records, 1982) (LP) - #AA-6006 - aka "Music Row"(?) The Four Guys "A Different Brand" (Homebase Records, 19--?) (LP) - #TFG 001 The Four Guys "Revised Edition" (TFG, 1983) (LP) - #TFG-002 - includes a cover of "Elvira" - date nv - Sam Wellington and Brent Burkett - new members: Laddie Cain and John Frost - backed by "the Shenandoah Band": Matt McGee (bass), Ed Wilson (keyboards), others nv >

The Four Guys "Good" (Garpax Records, 1978) (LP)
(Produced by Gary S. Paxton & Buck Williams)
The Guys recorded quite a few souvenir albums, though this one is particularly intriguing... Somewhere in the 'Seventies they fell into the orbit of West Coast producer Gary S. Paxton, and recorded this album for his independent Garpax label. A lot of originals here: Paxton wrote about half the songs, with additional material from Shirl Milete and others. Some of the songs include twang-specific themes such as "Daddy's Little Cowboy," "Freedom Lives In A Country Song" and "Mother Country Music," while some, such as "Blowing Back & Forth Across My Mind" and "Life Is Better Than Money" may reflect Paxton's semi-aquarian, country-rock gospel leanings. The album's label says this was from 1978, though several tracks were released as singles back in '77. Kinda fancy arrangements, interesting, actually.


<! - #PMR-7010-R - label says 1978 - Paxton thanks "Gary, Brent, Glen and Sam" - is that Brent King, one of the engineers? >
Bubba Fowler "...And Then Came Bubba" (Columbia Records, 197-?) (LP)
(Produced by Bob Johnston)
Pop-folk provocateur Elkin "Bubba" Fowler was the musical partner of the pre-country, pre-"Wheel Of Fortune" Chuck Woolery, as part of a late-'60s prefab psych-pop duo called The Avant-Garde, which scored a couple of semi-hits with pseudo-hippie singles that landed in the back end of the Top Forty. After they broke up, Woolery retooled himself as a would-be country star and Fowler landed a gig as a session musician playing guitar in Columbia producer's Bob Johnston's studio crew. He played on some albums by Leonard Cohen and Bob Dylan, and got the full-on Bob Johnston country-rock treatment on his own, lone solo album, ...And Then Came Bubba. This record is half brilliant, half lame, with Fowler taking on various personae -- rock prophet, folk stoner, artsy fartist -- and the band simply going hog-wild on most tracks, with the drummer in particular given permission to just go for it. On the best songs, Fowler indulges in a broadly-drawn rural accent and digs deep into an earthy swamp-pop vibe akin to that of Tony Joe White, but with a weird agit-prop sensibility. Less fun are the tracks where he half-satirically imitates Bob Dylan, rolling out wordy folk-rock lyrics that ape Dylan's sound but have little of his weight. Fowler wasn't alone in his Dylan homage -- folks had been doing it for years -- but his version is notable since he actually had Dylan's band backing him, or some version thereof. Unfortunately, there are no musician credits on this album, though I'm sure some keen-eared Dylan-ologists could fill in the blanks... A couple of tracks are lively studio session jams, with Fowler presumably cutting loose on the lead guitar. All in all, this is a fun, goofy, hippie-era oddity, ripe for reissue and definitely of interest to a wide variety of music fans, including students of early proto-Americana country-rock. Groovy, man!


<! - # >
Ken Fowler & The Hurricane River Band "Ken Fowler And The Hurricane River Band" (Ozark Sound Studios, 1978) (LP)
Apparently singer Ken Fowler was from rural Missouri and played in local bars and high schools in and around Springfield, later landing a gig at Branson... This indie album came out nearly a decade before Fowler's big shot at fame. In 1986, he cracked into the Top 100 with a slick, very '80s-sounding single, "You're A Heartache To Follow," which hit #96 on the Country charts, but wasn't enough to propel him much further. Don't know much else about him, though...


<! - #D-2068 - (MO) >

Ken Fowler "Forgive Her" (Deja Vu Records, 19--?) (LP)
(Produced by Tommy Overstreet)



<! - # - Branson MO - no steel or fiddles - synths and sax - no ASIN 08/16/16; no G info 01/17/20 - 1980s? >
Wally Fowler/Various Artists "Wally Fowler And His Music City Jubilee" (Nashwood Records, 1982) (LP)
(Produced by Gene Breeden & Jack Smith)
One of the original movers and shakers in the Nashville music industry, Georgia-born Wally Fowler (1917-1994) wrote hundreds of songs, established his own record label, and, perhaps most significantly, founded the Oak Ridge Quartet southern gospel group way back in 1945, the group that would eventually evolve into The Oak Ridge Boys, one of the most popular country acts of the 1970s and '80s. Fowler performed on countless radio or TV shows over the years, was an Opry cast member and formed his own musical revues, including the gospel-oriented All Nite Singing concerts, which were held at the Ryman Auditorium in the 'Fifties and 'Sixties. He later created his own Music City Jubilee, which had earlier incarnations, but opened its doors as a bandstand venue in 1981. This 2-LP set commemorates the short-lived Jubilee, which seems to have lasted a couple of years and showcased a number of younger unknowns. The musicians on this album included vocalists Rick Baird, Chip Huffman, Mark McCauley, Jana Smith and Tim Smith, backed by a house band called the Tennessee Valley Boys, which was comprised of veteran producer-guitarist Gene Breeden, along with Ben Brogden (bass), Gary Smith (piano), Jack Smith (dobro and steel guitar), Steve Taylor (drums) and Phil Watson on guitar. To be honest, the album is a bit underwhelming. The material is fine but the production and the performances are resolutely generic, in keeping with the squeeky-clean production style of the times. Not surprisingly there are quite a few tracks that mimic the then-dominant harmony vocals sound of groups such as Alabama and The Oak Ridge Boys (a style that Fowler helped pioneer) while the Jana & Tim Smith duet delved more into ballads. Fowler sings as well, but he just sounds old and out of touch. I'm not sure how long exactly the Music City Jubilee persisted; there appears to have been a road show that staged concerts as far afield as Oklahoma, and the TVB band released a single in '84, an Oak Ridge-y, half-secular love song called "Lo And Behold" that got some traction on the charts. One of the Jubilee's later performers, Jimmy Ponder, recorded a solo album called Every Drop Of Water after moving to Branson, Missouri for a gig at Silver Dollar City.


<! - #NRW-81082-1 - eight of the songs are Fowler originals - 1983 show notice in Oklahoma, mentions TVB single "Lo And Behold" >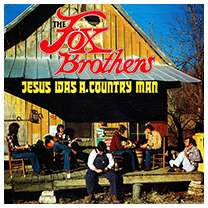 The Fox Brothers "Jesus Was A Country Man" (LSI Records, 1980) (LP)
(Produced by Joe Babcock & Al McGuire)
Hailing from the tiny town of Bending Chestnut, Tennessee, The Fox Brothers -- Lynn, Randy, Roy and Tommy Fox -- were a Southern Gospel family band, and stalwarts of the Nashville country-gospel scene for several decades, dating back to the mid-1970s. They recorded several albums and performed regularly on Nashville-based TV shows such as Gospel Jubilee. On this early album their band also includes Jim Jones, Charlie Trent and Daryl Nelson, and the Nashville studio crew also included A-list pros such as Sonny Garrish, Lloyd Green, Charlie McCoy, and Bobby Thompson... A little slick sounding, but definitely country-flavored, with group vocals very much in the style of the Oak Ridge Boys and Alabama... This may have been their first album, with several more to follow.


<! - #IA-101 - several other albums - how country were they, though? - http://www.foxbrothers.com >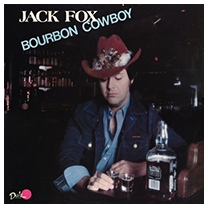 Jack Fox "Bourbon Cowboy" (Dale Records, 1985) (LP)
(Produced by Jack Fox & Gene Rice)
A hometown hero from the Columbus suburb of Dublin, Ohio, Jack Fox stayed local though he went to Nashville to record this set in the mid-1980s. This disc lands on the neotrad end of the commercial country spectrum, with a bit of a Moe Bandy-meets-Hank Junior feel. Judging from a local newspaper profile, Mr. Fox may have been a bit too cantankerous to make it in the music business -- he proudly recalls a few incidents when he told various Top Forty stars who wanted to record his songs to go take a long walk off a short pier. But he's kept busy back home for decades, playing VFW shows and any other gig that pays. He's backed by a mix of Nashville heavyweights -- Sonny Garrish, Charlie McCoy, Hargus Robbins, et.al. -- and lesser-known players, possibly including some Ohio locals.


<! - DR-01 - (OH) ext >
Ray Fox "Missing You Just Started Hitting Home" (1981-?) (LP)
(Produced by Eddy Fox)



<! - #PRT-81-024 - recorded at Marty Robbins studios, though musicians not listed - performed on the Tennessee Valley Barn Dance, and at the Oak Grove Nightclub, in Knoxville - includes "Porter Wagoner And Sad Songs" - (TN) >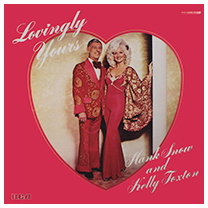 Kelly Foxton & Hank Snow "Lovingly Yours" (RCA, 1980) (LP)
Not a lot of info about Florida-born singer Kelly Foxton, although her partnership with country legend Hank Snow was certainly a pretty high profile gig, even in the twilight years of his career. They recorded two albums together, yielding one single that sneaked into the back forty, the lead track off this album, "Hasn't It Been Good Together." There wasn't a lot of chart action beyond that, though, and even though they recorded another album, Ms. Foxton doesn't seem to have recorded any solo stuff after the Snow duet dissolved. She made a few TV appearances around this time -- on Hee Haw and The Johnny Cash Show -- and also toured with Box Car Willie. She really made her mark entertaining American troops at home and abroad, and hosted her own Las Vegas revue for a while, before retiring in Boca Raton, Florida.




Kelly Foxton & Hank Snow "Win Some, Lose Some, Lonesome" (RCA, 1981) (LP)



<! - # IMDB: "...Kelly Foxton is an actress, known for Running Mates (1986), Hee Haw (1969) and Sing Country (1971)" - retired to Boca Raton, FL sugarbushsquirrel@hotmail.com http://sugarbushsquirrel.com/642345.html "...Kelly Foxton is an entertainer who came up through the ranks of country music as a recording artist, to international stardom, performing around the world. Kelly recorded numerous single hits and duets on RCA Records with one of country music's pioneers, the late Hank Snow. She performed for years on the Grand Ole Opry and also traveled all over Europe with England's Entertainer of the Year, the late Box Car Willie. Later, Kelly put together her own Las Vegas act for cruise ships and conventions. " >
Garland Frady "Pure Country" (Elektra/Countryside Records, 1973) (LP)
(Produced by Michael Nesmith)
A nice one! And well named. With his soulful, understated baritone, North Carolina-born Garland Frady (1941-2004) had a minor hit with "The Barrooms Have Found You," and his barely cracking into the Top 100 on an indie label led, inexorably, to cherished cult status. He was just that good. The rugged-voiced Frady had cut a string of singles dating back to the mid-1960s, but I guess nothing ever quite clicked, and this was his first LP, made while he was living in Los Angeles. An early-'Seventies regular in the Palomino Club's house band, Frady was pretty well-connected and is backed here by label owner Michael Nesmith and The Countryside Band, a group assembled to be the studio crew for the short-lived Countryside label. This was one of only two records released on Countryside, the other being a solo set by steel guitarist Red Rhodes. Speaking of pedal steel, this album is packed with lots of fancy riffs, prominently mixed into a remarkably rootsy, honkytonk-oriented album. On almost all the tracks, J. G. O'Rafferty plays steel, though Red Rhodes and J. D. Maness also play on one track apiece, with Rhodes providing some tasty licks on a more-countrified cover of "Teach Your Children," one of several tracks that give a nod towards the early '70s country-rock scene. Thematically, the song dovetails nicely with the lone song written by Grady himself, "The Barrooms Have Found You," in which a father laments his kid going nuts and partying a little too hardy after turning 21. The rest of the songs reflect a diverse repertoire, with tracks by Johnny Cash, Casey Kelly, a Dave Loggins oldie, Buzz Rabin and Jesse Winchester, as well a countryfied cover of Johnny Nash's "I Can See Clearly Now." All in all, a pretty strong album, sounding sort of like Dave Dudley doing a semi-hippie session, with some funny-smelling smoke in the air. Also on board were fiddler Byron Berline and Linda Hargrove working in the background as a rhythm guitarist... If you see this one, snap it up. It's nice and twangy... Apparently Frady hit on hard times in the music business (see below) but he re-emerged and released at least two more albums in the 1990s, before passing away in 2004. This first album sure is a great legacy.


<! d. 2004 http://countrydiscography.blogspot.com/2012/02/garland-frady.html Garland Frady "Memories And Dreams" (International Music Express, 1991) (LP) Garland Frady "Let Me Go Back" (Barroom, ?) (LP) - no date - Garland Frady "The Cherokee Rose" (Barroom, ?) (LP) - album might not exist, per PF Garland Thomas Frady, *1941, +26-05-2004 - died in Greensboro, NC, born in North Carolina too (apparently) >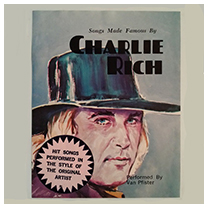 Garland Frady "A Tribute To Charlie Rich" (Sound Alike Music, 1974) (LP)
(Produced by Dick Michaels)
Apparently this "soundalike" album was only released on 8-track tape, so I'm not gonna get a chance to hear it any time soon. Thanks to our cohorts at Discogs for uncovering these records, which were produced by some fly-by-night label in Los Angeles. A little embarrassing, perhaps, but a paycheck's a paycheck, right? Oddly enough, the front label lists "Van Pfister" as the performer, though "Garland Trady" is listed on the back: at least they spelled his name right on the Johnny Rodriguez tape that followed.


<! - #9124 - "Recorded at Sam Studios" - Dick Michaels a pseudonym? for Mike Nesmith? >

Garland Frady "A Tribute To Johnny Rodriguez" (Sound Alike Music, 1974) (LP)
(Produced by Dick Michaels)



<! - #9129 - "Recorded at Sam Studios" - Dick Michaels a pseudonym? for Mike Nesmith? >
Fragile "Fragile" (Renee Records, 1976-?) (LP)
An eclectic offering from a multi-directional band from the heartland... The poorly-named Fragile hailed from Kansas City, Missouri though they headed up to eastern Nebraska to record this album at the uber-indie Renee Records. The group seem to have been part of a stable of for-hire cover bands managed by local promoter Ken Summers and like their contemporaries such as the band Patchwork, they covered a lot of musical ground, playing country stuff (Bobby Bare's "Winners And Losers," "Welcome To My World," "The Auctioneer") alongside pop oldies ("Locomotion," "Let It Be," "Sunshine Of My Life") and more contemporary Top Forty material such as "Laughter In The Rain" and "Listen To The Music." Fragile was led by singer Terry Allen, with Niaomi Allen (his wife, I guess) as the female lead. The band was also notable for having an integrated lineup, including keyboard player Jim Carter, an African-American who stands out less for his skin color than for his lack of general dorkiness and scary 'Seventies hair. Maybe not the twangiest band on Renee Records, but still a good example of what working bands in the mid-'Seventies Midwest were like.


<! - #R-1159 - Terry Allen (bass), Niaomi Allen (vocals), Jim Carter (keyboards) (African American) - Mark ______, Whitey ______ (bc nv) - (MO) (KS?) - unable to find any info online; no record of Niaomi Allen >
Mary Francis "A Little Bit Country" (Ozark Records, 1978) (LP)
(Produced by Buddy Lane)
Not a lot of info on this Missouri gal or who was backing her on this album... Though she proclaims herself a country artist, the material's a bit odd, including tunes such as her own "TV Brainwash" or "Avenue Of My Mind," written by E. Goff, which were released together on the same 7" single. Mostly a mystery disc, though.


<! - #7055-N17 - bc nv >
The Frank & Woody Show "Damn The Luck" (1978)
(Produced by Bruce Bendinger & Billy Culhane)
A local band from Tucson, AZ, fronted by Frank Manhardt and Woody Janda... They sound a whole lot like their Arizonan contemporaries, Chuck Wagon & The Wheels, though with a slightly less biting wit. (In fact, you can see one of the bandmembers wearing a "Disco Sucks" t-shirt in a photo on the back cover, so they were probably all buddies...) Anyway, back to Frank and Woody... This is another one of those time-capsule hippie country albums, oozing with hard-won authenticity... you can definitely imagine them having their fair share of beer bottles tossed at them in a bunch of desert roadhouse bars, and practically hear the whoops of delight from their longhaired fans as they sang novelty songs like "Damn The Luck" (with the cheerful refrain, "...what the f***"). There are some hot licks and a couple of resonant songs, but mostly this is a pretty sloppy, jokey album -- a nice keepsake for those who were actually there and a great snapshot for those of us who weren't.
The Frank & Woody Show "Wrapped Up In The Fun Of It" (Key Records, 1979) (LP)
(Produced by Pete Smith)
Their second album was a much slicker production - they were really trying on this one, and though they're almost a little too smooth, they have some nice tunes. The first big contrast with their first album is how they cleaned up the language on the Tex-Mexish title tune: this time around they hint at a swear word -- and I'm sure they must have sang it in their live shows -- but when it came time to make the album, the rhyme went, "...wrapped up in the fun of it/refusing to give a bit..." which is kind of wimpy, but whatever. This disc is best remembered for the topical novelty song, "One Less Jogger On The Road," which got a lot of airplay at the time... Other winners include the fantasy number, "If I Ever Get Rich" and their cover of "Your Time's Coming," which was co-written by Kris Kristofferson and Shel Silverstein. Guest musicians include stringband revivalist Jay Ungar playing fiddle and mandolin on the title track, and local Tucson legend Shep Cooke plays some really pretty guitar, sitting in on one of his own songs, "Forever." Most of the songs are Woody Janda originals, and although his vocals were a little iffy, the album's charming: these were real guys making genuine DIY country.


<! - # - band, info (AZ) >
Will Franklin "I Get High On Country Music" (Seatac Records, 1974) (LP)
(Produced by Will Franklin)
I really wanted to like this one -- I mean, I get high on country music, too, and I loves me a good novelty song -- but the fact of the matter is, this is pretty rough going, musically speaking. Well, vocally, really... Mr. Franklin booked a high-class Nashville studio band for these sessions, including Kenneth Buttrey, Jimmy Capps, Weldon Myrick, Jerry Shook, Pete Wade and others, but I found these tracks a little hard to listen to. I think the songs themselves might be kinda good, but I'm not entirely sure. I have to go back and give this one another fair shake sometime. Not 100% positive where he was from, either -- some sources say Kentucky, but the label name (SeaTac) suggests the Pacific Northwest. Anyway, despite best intentions and plenty of twang, this one's a bit iffy.


<! - from Kentucky - super twangy!! 1974 Nashville, TN – Will Franklin (Will Franklin [vcl], Billy Sanford [el gt], Jimmy Capps/ Pete Wade/ Jerry Shook [rh gt], Weldon Myrick [steel], Mike Leach [bass], Kenneth Buttrey [drums], Jerry Smith [piano], Frenchy Fagro [bck vcl], The Nashville Edition [bck vcl]. Producer: Will Franklin) >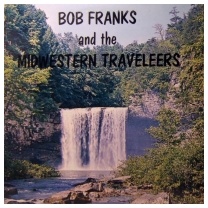 Bob Franks "And The Midwestern Traveleers" (Traveleer Records, 19--?) (LP)
A real mystery record, with minimal liner notes and a plain white, blank back cover. And, yes, it really is spelled with two "E"s.


<! - 1970s rare private press with blank white back cover - no ASIN 01/26/15 - #BF 1005 >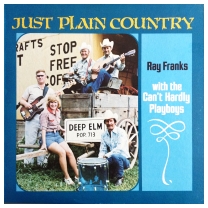 Ray Franks & The Can't Hardly Playboys "Just Plain Country" (Bar-Co Records, 197--?) (LP)
I totally love this album -- I dig the band name, the album title, and hey, the music's pretty great, too. Ray Franks, a self-taught country auteur from Grand Rapids, Michigan, named his band the Can't Hardly Playboys, 'way back when he was teenager in the late 1950s, while he was learning the ropes with Great Lakes western swing bandleader Herb Brown. I dunno what the whole story is with this one... The guys in the band are mostly from around Batesville, Arkansas, where this disc was recorded, and they sound pretty good. The songs are all Franks originals, but they have a powerful streak of unruly, old-school hillbilly music to them... The music is rough-edged and imperfect, also completely heartfelt and authentic. Most of the songs aren't great compositions, but they are fun, and twangy as all getout. I think Franks also recorded a few singles, and kept the band together for decades after this, well into the 2000s, at least. If you can track this one down, definitely check it out.


<! - no ASIN 01/05/15 - guessing at the year - 1978/79? Ray Franks "Burned Bridges" (2006, CD New) - probably the same guy - def. country >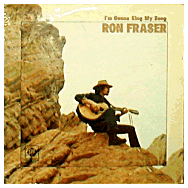 Ron Fraser "I'm Gonna Sing My Song" (Granite Records, 1974) (LP)
(Produced by Cliffie Stone)
I couldn't readily track down the story on this one, though I gather this was kind of a work-for-hire gig for country old-timer Cliffie Stone, who was touching base with the now and happening youth culture of the time... Stone's son Curtis plays several instruments, with hotshot LA picker Don Lee on guitar and J. B. Crabtree playing pedal steel. There's some pretty solid twang behind this one, though I think Ron Fraser was kind of a crypto-Christian singer; the title track has kind of a folk-pop "up with people" kinda feel. Later, recording in the early '80s as R. K. Fraser, he made a poppy Christian-patriotic album called Heroes, in which he tied the experience of Vietnam vets to the need for spiritual rebirth in American culture. Apparently Fraser was in the 173rd Airborne, serving in Vietnam between 1969-70, so that would have been a few years before he cut this album.


<! - #GS-1003 - "ex-con"?? - 1974? - Larry Groce-esque(?) - YT post by Fraser himself(!) (c. 2016) - same as R. K. Fraser ("Heroes" album) also posted on YT R. K. Fraser "Heroes" (Bright Star Records, 1985) - terrible folk-pop/Christian > <! FRASER & DeBOLT - Canadian folk duo Allan Fraser and Daisy DeBolt (1945–2011) Fraser & DeBolt "...With Ian Guenther" (Columbia, 1971) (LP) (Produced by Craig Allen) with fiddler Ian Guenther Fraser & DeBolt "With Pleasure" (Columbia, 1973) (LP) pop and folk >
The Fraternity Of Man "The Fraternity Of Man" (ABC Records, 1968)
(Produced by Tom Wilson)
This short-lived California psych band was definitely not strictly country-oriented, but they recorded one of the great classics of the hippie-country genre, the loopy, zonked-out novelty gem, "Don't Bogart Me" (aka "Don't Bogart That Joint My Friend"), which was prominently featured in the stonersploitation film, Easy Rider. The song is pretty funny, and features one of pedal steel player Red Rhodes' best and most memorable performances. The Fraternity was made up of various Frank Zappa cohorts, including some guys who were in Lowell George's early band, The Factory, as well as Zappa's Mothers of Invention. Given this pedigree, it's not surprising that they played an eclectic, adventurous mix of rock and psychedelic blues-rock, though "Don't Bogart Me" -- which was later covered by Little Feat -- certainly gives them a great alt-twang legacy as well. They recorded one other album, Get It On, in 1969, then went their separate ways.


<! - # >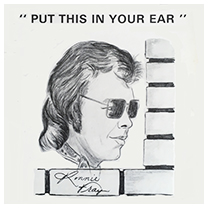 Ronnie Fray "Put This In Your Ear" (Eastown Wreckerds, 1980) (LP)
(Produced by Ronnie Fray, Johnny Powers & Pat Meehan)
An odd and uneven -- but still kinda charming -- album from a longtime member of the Grand Rapids, Michigan music scene. This is an uber-DIY production, notable for its blend of country twang and funky, Southern rock-tinged roadhouse music... Fray is perhaps best compared to Delbert McClinton -- he covers McClinton's "Cold November" and thanks him in the liner notes -- with one foot in the blues/rock and the other in straight-up twang. He was originally from Canada, and moved to Grand Rapids in 1966 while fronting a rock band called the Capers. Gradually Fray established himself as a solo artist and bandleader, and when he made this record he had a regular gig at a Grand Rapids bar called the Eastown Saloon, which helped put out this album. Anyway, this is a nice slice of self-produced roots music... Fray didn't have a killer voice, but his diverse musical tastes and good-natured vibe are pretty compelling. Worth a spin, if you can track it down.


<! - #771150 - no ASIN 03/31/15 - didn't *see* date - could be 1977(?) based on cat# http://www.westmichmusichystericalsociety.com/ronnie-fray-story >
Ron Frazier & Bridge "Local Bar Star" (Dor-Belle Records, 19--?) (LP)
These locals from Fort Wayne, Indiana recorded several originals, as well as covers of "Me And Bobby McGee," and "Lord, I Hope This Day Is Good." I'm not sure when this album came out -- looks early-to-mid '80s? -- but I believe this is the same Ron Frazier who went on to become a country-flavored gospel singer, running the religiously-oriented River City Campground with his wife and singing partner, Sharon Frazier.


<! - #DB 101 - links, contact? (IN) >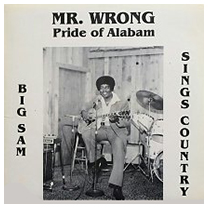 Big Sam Frazier, Jr. "Mr. Wrong/Pride Of Alabam: Big Sam Sings Country" (Blue Rock Records, 1981) (LP)
(Produced by Kenny Wallis)
Sam Frazier was an African-American country singer, part of Birmingham, Alabama's long-running Country Boy Eddie Show, kind of a low-rent, locally produced Hee Haw-style variety/comedy/talk program that aired on early-morning on WBRC-TV for over thirty years (and was a key stepping stone in Tammy Wynette's career). Frazier originally sang in blues and R&B bands, but went into country at the urging of show host Eddie Burns, and performed on the show for several years in the early 1970s. He had several other prestigious gigs, including a job singing at Mickey Gilley's club in Texas, and recorded for the Blue Rock label in the late 1980s. This album has lots of original material, including a Sid Linard song, "There You Go Running Down My Cheek Again" and the sentimental "Grandma Can I Read To You," written by Ruth Finch, an 80-year old who is pictured on the back cover. (Note: this album seems to have a couple of different pressings, including one that just gives "Mr. Wrong" as the title...)


<! - #1001 - label from Torrance, California - recorded in Birmingham, Alabama http://www.bhamwiki.com/w/Sam_Frazier,_Jr >

Fred & Sue "I Don't Mind Old Jordan" (Pathway Records, 196--?) (LP)
(Produced by Red Ellis)
Earthy evangelical bluegrass gospel from the husband-wife duo of Fred & Sue Johns, who were originally from East Tennessee, but lived in Cleveland, Ohio for most of their career. Their musical ministry grew out of Mr. Johns' work as a pastor in a local church, and they performed quite a bit in the region... According to the liner notes, Mrs. Johns formerly sang rock'n'roll under the name Eva Sue Smith, but gave that up all that kooky kids stuff for her marriage and for the Lord. (I wasn't able to find any information about her secular career online, so perhaps she never recorded under that name...?) At any rate, Sue Johns was a driving creative force on these records, composing six songs on this album, along with many other spread out across their LPs. Here they are backed by a vocal group known as the Pilgrim Heirs, and a band called The Crossmen, who also recorded several albums on the Pathway label. The music is straight-up traditional bluegrass, with a strong hillbilly tang; Fred Johns had a pretty standard voice, though Sue Johns' tone is much harder and more unusual, hinting at the rugged rural gospel of country pioneers such as Alfred G. Karnes. Cool stuff!


<! - # PLP-165 ~ T4RM-5864 - the Crossmen recorded several albums on Pathway: https://www.discogs.com/label/646291-Pathway-2 - label seems to have been run by Red Ellis(?) or at least he recorded for them - she wrote six of the songs on here(!); Fred is credited on one >

Fred & Sue "Reunion In Heaven" (Circle B Records, 19--?) (LP)



<! - #REM-1014 >

Fred & Sue "I Dreamed Of A Heaven" (REM Records, 196--?) (LP)



<! - # RL-1026 https://www.discogs.com/label/149375-REM-Records-2?page=2 REM Records owned by Robert E. Mooney >

Fred & Sue "The Old Home Place" (REM Records, 196--?) (LP)



<! - # RL-1033 >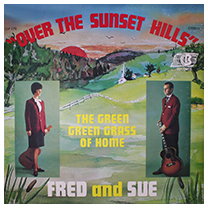 Fred & Sue "Over The Sunset Hills" (Circle B Records, 19--?) (LP)
(Produced by Bill Owens & Louis Owens)
Sue Johns wrote three songs for this album, and even more on earlier LPs. There are also a couple of songs here by their manager, Don Loving, who also contributed the liner notes. I believe the producer, Bill Owens, was a relative of Dolly Parton who recorded for the same label (REM Records) as Fred & Sue on their earlier releases. This was Fred & Sue's fifth album, with backing by the Bluegrass Mountain Boys: Carl Pack (banjo), Lynn Roberts (guitar), Larry Wright (bass) and Lenny Wright (mandolin), as well as piano player Jim Jewel.


<! - #LSP-170 - their fifth album - Circle B label address in Nashville >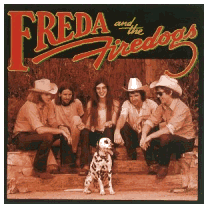 Freda And The Firedogs "Freda And The Firedogs" (Plug Music, 2002)
(Produced by Jerry Wexler)
This beloved early '70s Austin band featured piano and vocals by Marcia Ball, a youngster from Louisiana who became a core member of the Texas indie scene, initially testing her chops in the hippie twang style, but eventually finding modern blues to be more her thing. This album was recorded in the early '70s as part of a tentative deal with Atlantic Records, but wound up getting shelved for over three decades. There are a lot of country and blues cover tunes, but also an original spark that would resurface in Ball's solo career, which wasn't long in coming. Sadly, this archival reissue album is, itself, many years out of print and not available in any other form. But what goes 'round, comes 'round. It'll be back.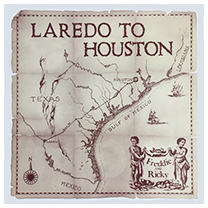 Freddie & Ricky "Laredo To Houston" (Chalk Dog Records, 1981) (LP)
(Produced by Mark Holden)
Just a couple of guys from Houston, strumming tunes and having fun... They cover singalong oldies like "Bloody Mary Morning" and "Louisiana Saturday Night" from the country canon and "Diddy-Wah-Diddy," "Five Foot Two, Eyes Of Blue," and "Norwegian Wood" from the Leon Redbone-ish, pop-standards side of the spectrum. Freddie Matthews sings lead and also composed a couple of sweet, melodic folkish tunes for the album, "I Want To Lose Myself" and "You Can Find Her In Laredo," while Ricky Opersteny plays bass, fiddle and even a bit of sitar, with additional lead guitar added by Brian Kalinec. Nothing mind-blowing here, but a good example of "regular people" music -- some some dudes who liked to sing, and made a record -- they weren't exceptional, but they were sincere. Indeed, the album is perhaps best epitomized by their cover of Harry Chapin's bittersweet "Mister Tanner," all about a smalltown guy who tries a career in music, but decides it's better just to sing for himself at home.


<! - no ASIN 12/16/15 - LK purchased 05/01/16 >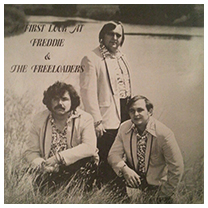 Freddie & The Freeloaders "A First Look At..." (Jester Records, 197--?) (LP)
(Produced by Bob Hale)
A band from Danville, Illinois that was led by singer-piano player Fred Halls, along with Ken Holycross (steel guitar), Jimmy Nichols (lead guitar) and Sandy Wright on drums. They include a couple of originals, "Dirty Dozen" written by Holycross and "I Don't Need The Wine" by Halls, along with a guy named Bobby Fischer who was not in the band but seems to have been Halls' main collaborator. They also cover some stuff by Merle Haggard and Mickey Newbury, though I couldn't quite pin down when this one came out.


<! - #0875 - 1975? >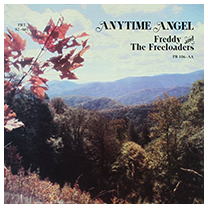 Freddie & The Freeloaders "Anytime Angel" (Progress Records, 197--?) (LP)
(Produced by Fred Halls)
The band still centers around Fred Halls, but a couple of years later, he was working with an entirely new band, which by the way had no steel guitar or fiddle. There are also several original songs on here written by Bobby Fischer, though again, he doesn't perform on the album.


<! - #PR 106-AA / PRT-82-001 - 1982? >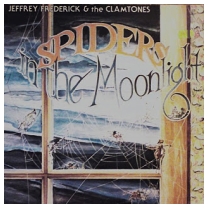 Jeffrey Frederick & The Clamtones "Spiders In The Moonlight" (Rounder, 1977) (LP)



<! (1950–1997) - born in Delaware, raised in Vermont, lived in Oregon, was in Oregon when he made these albums >

Jeffrey Frederick & The Clamtones "The Resurrection Of Spiders In The Moonlight" (Frederick Productions, 2007)
This is a digital-era reissue of Frederick's 1977 Spiders album, with a few bonus tracks added on...


<! 208 JPG available >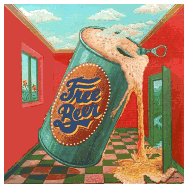 Free Beer "Free Beer" (Southwind Records, 1975) (LP)
This New York City band got together in 1974, with bandmembers Sandy Allen, Michael Packer and Robert Caleb Potter shifting direction and "going country" after the demise of Allen and Packer's previous band, the psychedelic/pastoral folk-rock band Papa Nebo. Potter brought some Nashville country cred to the band, having written a song that rising star Barbara Fairchild recorded on one of her early albums. This indie-ish debut landed them a contract with RCA, though things never quite clicked with the band chartwise... Studio picker Eric Weissberg adds a few licks as well.


<! - NOTES, their own website >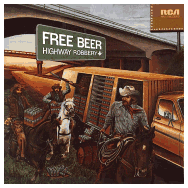 Free Beer "Highway Robbery" (RCA, 1976)
(Produced by Alan Lorber)
The singing, songwriting trio of Sandy Allen, Michael Packer and Robert Caleb Potter are augmented by a few studio musicians, including steel guitarist Dan Daley, and some guy on bongo drums. But even with a few 'Seventies affectations, this is a pretty pleasant country-soft pop set, with a few too-lofty arrangements, but overall a reasonably earthy set with a cheerful cowboy-poet undercurrent. Occasionally they lapse into disco-tinged AOR (as on the breezy "Uptown Lover") but fans of easygoing country-rock will enjoy this album. All but one of the songs were written by the bandmembers -- apparently they didn't write together, but they had a lot of original material to work with.
Free Beer "Noveau Chapeau" (1977)

Free Beer "Best" (Iris Music, 2011)
A best-of collection drawing on the three albums listed above... Nineteen tracks in all; seems like a pretty generous selection!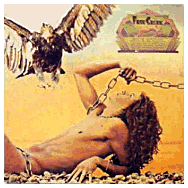 Free Creek "Summit Meeting" (Charisma Records, 1973) (LP)
(Produced by Earle Doud & Tom Flye)
This late-'60s/early-'70s mega-supergroup had some tiny bit of twang in there, along with a whole lot of rock and blues, with rock royalty and studio stalwarts such as Jeff Beck, Eric Clapton, Keith Emerson, Todd Rundgren and Harvey Mandel joined by roots-oriented artists such as Chris Darrow, Dr. John, Bernie Leadon, pedal steel player Red Rhodes and Linda Ronstadt singing lead on a couple of tunes. More of a dino-rock/jam-band record, but might worth checking out for the more adventurous twangfan as well...


<! - # >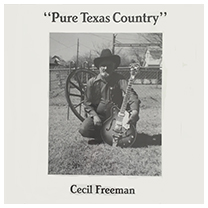 Cecil Freeman "Pure Texas Country" (TSE Records, 19--?) (LP)



<! - # - year-???? SONGS INCLUDE: FAST MOVING TRAIN; LIVING IT UP; WRITING ON THE WALL; I DON'T REMEMBER; U HAUL TRAILER; MAKE MY DAY; I'M COMING HOME TODAY; LOOKING FOR SUNSHINE; RIVER OF TEARS; ITS ALMOST SPRING >

Denise Freeman "A Shoulder To Cry On" (Columbia Records, 1972) (LP)
(Produced by Leo Lagerwey & Robin Netcher)
Although she was born in England, singer Denise Freeman emigrated to South Africa in 1969 and made her name there as a country singer. This album was packed with covers of contemporary country hits, mostly associated with various "girl" singers, including "Harper Valley PTA," Dolly Parton's "Just Because I'm A Woman," Bonnie Bramlett's "Never Ending Song Of Love" and Bobbie Gentry's "Ode To Billie Joe," as well as some stuff by Carole King. There are also two songs written by producer-arranger Robin Netcher, "Mean What You Say" and "A Shoulder To Cry On," which hit #2 on the South African charts. Mr. Netcher was also an emigre from England; he'd been in a couple of pop bands and did arranging and session work for the major labels, moving to Johannesburg around the same time as Freeman... (Perhaps they emigrated together, or worked together in London?) Freeman and Netcher released at least one more record together, a pop-oriented single with another of Netcher's compositions, "It's All Over But The Shouting," also released in 1972.


<! - #SCXJ-11226 - (AF) Denise Freeman "Denise Freeman" (EMI, 197-?) (LP) - same album? >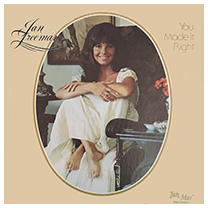 Jan Freeman "You Made It Right" (Jan Mar Recordings, 1976) (LP)
(Produced by Don Johnson)
Originally from Norman, Oklahoma, singer Jan Freeman was probably one of the hardest-working singers in the state when she cut this album... That summer she opened shows for the Oak Ridge Boys (who were struggling at the time to break out of the gospel scene) and later joined the road shows of older, established acts such as Johnny Paycheck, and Leroy Van Dyke's Auctioneers. She did Vegas gigs with both of these artists, accompanied by banjo player Skip DeVol, who had been part of the Vegas-based "Country Music USA: revue; DeVol and Freeman also toured together in '77, when they played shows in Houston, and possibly elsewhere. In September of '77, Freeman was headlining her own club shows in Reno, although she seems to have moved back to Oklahoma not long after that, and was still opening for larger acts in the early 1980s, and in the 1990s performed at the Oklahoma Opry under her married name, Jan Freeman McCaffrey. As far as I know, this was her only album, a pretty straightforward pop-country set heavy on covers such as "I'll Be There (If You Ever Want Me)," "Love Will Keep Us Together," "So Wrong" and "Statue Of A Fool." A few tracks were released as singles: "I Don't Like To Sleep Alone," which was a Paul Anka song, came out in 1975, while "Any Port In A Storm" and "Who'll Turn Out The Lights (In Your World Tonight)" followed after the album was made. I assume that Jan-Mar was her own label.


<! - #LPN-6017 - IRDA distributed - there was a 23-year old stand-in actor for David Cassidy named Jan Freeman (c. 1972): not her though, right? - NOTES, extensive, tracks, links (OK) > <! STEAMIN' FREEMAN - aka Taylor Freeman Lockwood > <! Ted Freeman "Your Love Will Be Enough" (Upland Records, 19--?) (LP) (Produced by Jim Cox & Buddy Pennington) - #RC-001LP - from Bluefield, West Virginia - includes a half-dozen songs by Ralph Carter (who also wrote the liner notes) - Buddy Pennington (steel guitar) > <! Fresh Air "Fresh Air" (Columbia, 1xxxxx) (LP) - Obscure Rural Rock Country B002GR1A6I - ? - #58383 >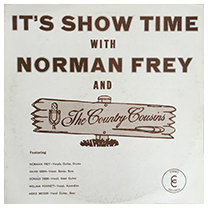 Norman Frey & The Country Cousins "It's Show Time With..." (CC Records, 1972-?) (LP)
A mostly-country mix of polka and twang from a local band that had a weekly radio program on WHOL-AM, in Allentown, Pennsylvania. The group included Merle Becker on bass, Donald Derr (steel guitar), Norman Frey (drums and vocals), David Kern (banjo and bass), and accordionist William Ponnett. The group seems to have been a relatively informal, amateur band, made up of locals from the surrounding area; Norman Frey is a surprisingly common name in that neck of the woods and a little hard to pin down, although Mr. Ponnett lived in Stroudsburg and seems to have played local civic events such as school reunions, etc. dating back to the early 1960s. There are no composer credits on this disc, so I'm not sure how much -- if any -- of this was original music.


<! - #KHP-872 - (PA) notes >
Bob Scott (Frick) "Mr. Gospel Guitar: At Work" (REF Records, 19--?) (LP)
A nice, understated set of country gospel instrumentals by a Pennsylvania guitar picker working very much in the style of Chet Atkins. Billing himself either As "Bob Scott" or Robert Scott Frick, this fella self-released dozens of LPs and CDs over the years, and worked prolifically in the southern gospel scene... I've heard some of his stuff that was more overtly country in style, and presumably there are some cheesier, more "Contemporary Christian" material as well, but as far as this disc goes, it's pretty good. Basic, straightforward pleasant to the ears, with miraculously unfussy, uncluttered arrangements.


<! - #LPA 2002 - aka Robert Scott Frick - from Pennsylvania >

Bob Scott Frick "Everyday" (REF Records, 19--?) (LP)



<! - #LPA 3001 - address in Indiana, PA https://www.musicpage.com/bobfrick "...Bob Scott Frick "Mr. Gospel Guitar" in Concert. Bob has been singing and playing music for 50 years across the United States and Canada. He has traveled 100,000 miles each year and has been in 300 concerts each year. Bob has recorded 72 of his own CD's. He is known for his recording of the gospel version of "Release Me" and his album of "At Work". He has been in concerts with The Rebels, The Jacob Brothers., The Blackwood Brothers., The Shorb Brothers., Henry and Hazel Slaughter and has appeared on The Jerry Falwell show and Jerry Lewis Telethon. Bob owns his own record company, R.E.F. Records, Frick Music Publishing Co. and Sugarbakers Music Publishing Co" >


Kinky Friedman - see artist discography


<! Dwayne Friend "Just Me" (Artist's Recording Co., 197--?) (LP) - #750645 - no ASIN 05/28/17 - guitar album? - mid-1970s? A1 Everywhere I Go A2 A Walk With God A3 Small Lonely Hill A4 Goodbye World, Goodbye B1 Going Nowhere B2 Tired Of Holding On B3 The Gospel "Finger Style" B4 My Mom And Dad B5 Thoughts Dwayne Friend & The Victory Sounds "Singing His Praise" (Artist's Recording Co., 1972-?) (LP) (Produced by Jim Dahlem) - #30541 (Rite?) - eb says '72 - not in dc 12/07/20 - recorded in Spokane, WA - QCA pressing - Mike Deaver (drums), Margie Franz (piano), Dwayne Friend (lead guitar), David Gourley (piano), Lynda Rhoads (bass), Rilla Sikkenga (organ) >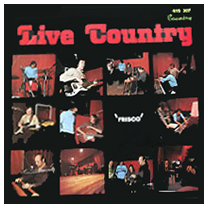 Frisco "Live Country" (Country Records, 1973-?) (LP)
(Produced by Des Dolan, Roger Wilkinson & Derek Chandler)
This shaggy-haired British twangband includes Slim Pickens on steel guitar, fiddle and vocals; Bob Newman (vocals & guitar), Tony Carr (drums) and Frank McCarthy (bass) along with some guest pickers on various tracks. Although the musicians look semi-hippie-ish, the repertoire is pretty old-school, with covers of hits and oldies such as "Peach Pickin Time In Georgia," "Slewfoot," and "I Won't Go Huntin' With You Jake."


<! - #615-307 - no ASIN 01/11/17 - (UK) >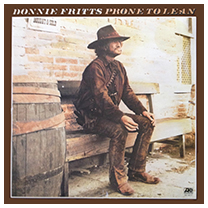 Donnie Fritts "Prone To Lean" (Atlantic Records, 1974)
(Produced by Dan Penn)
Born in Florence, Alabama, keyboardist Donnie Fritts was a vital session player in the Muscle Shoals studio scene of the 1960s and '70s. He found success both as a backing musician and -- more modestly -- as a songwriter, penning tunes for Jerry Lee Lewis, Charlie Rich and others. In the early 'Seventies he hooked up with superstar Kris Kristofferson and worked in his band for decades to come. This solo debut reflected his R&B/soul roots, recorded with Dan Penn and other longtime Muscle Shoals collaborators.


<! - # >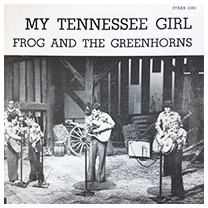 Frog & The Greenhorns "My Tennessee Girl" (Starr Records, 1976-?) (LP)
(Produced by James Stack & Marvin Jones)
A family-based bluegrass band from Radcliff, Ohio, organized by their dad, a regionally-known square dance caller named James "Frog" Stack. The group included siblings Jimmie Stack (lead singer, the oldest at age 18), Barbara (guitar), Alan (fiddle), along with bassist Bret Allman and Clint Richards on banjo. The band formed around 1975 and played a bunch of local gigs, including appearances on Columbus radio station WMNI's "Country Cavalcade," as well as appearing in concert with the Goins Brothers, whose song, "Sweet Face Girl" they cover on this album. There's also one original, "My Tennessee Girl," written by one of the Stacks... Anyone know if these kids played in other bands after this?


<! - #1080 - Recorded at Rome Studios, Columbus, Ohio - "My Tennessee Girl" by "J. Stack" - the dad, or the son? - they put out one single before this album (acc to liner notes) >

Raymond Froggatt "Cold As A Landlord's Heart" (Castle Records, 2003)
Here's an odd one. In the mid-1970s, English rocker Raymond Froggatt was instructed by his label to "go country," presumably because his spacey psychedelic meanderings weren't selling well... As Froggatt confesses, he didn't have any innate interest in country music, or much experience playing it, but he did as he was told, and the results were quite nice. In 1978 he went to Nashville to record Southern Fried Frog, an album that has become a minor cult classic of British alt-country... I didn't have high expectations for this 2-CD set -- which includes copious examples of both his rock and 'billy sides -- but I picked it up on a lark, and now I am quite delighted at the discovery. To his credit, Froggatt took the work seriously, and discovered what many rockers fail to recognize: country is an exacting art form, one that demands real craftsmanship and feeling, both of which he was able to develop as he explored the format. While there are few outright "classics" on here, several songs snuck up on me, and are tunes that would work well in sets of either classic or alternative twang. The rock stuff is a little less enthralling, but if you wanted to give this guy a fair shake, this collection will really fill the bill. Worth checking out.


<! 144 x 144 >


Steven Fromholz - see artist discography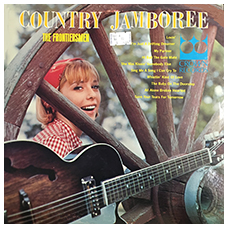 The Frontiersmen "Country Jamboree" (Crown Records, 1962) (LP)
Hopefully you'll forgive the cliche, but this album is one of the jewels in the Crown Records story, a great hillbilly pop album issued on the legendary Southern California super-cheapo label. The Frontiersmen, identified on the album cover only as "Hi, Wayne and Hal" were in fact songwriter-guitarist Hal Southern, bassist Wayne West and a fella named Highpocket Busse who usually played accordion but doesn't seem to on these recordings... They were stalwarts of the 1950's SoCal country scene and frequently backed singer Eddie Dean (who may sing on some of these tracks as well, but there's no credit given...) The music ranges from sweet, Sons Of The Pioneers-style vocals harmony to more rambunctious country bop, with some tasty electric guitar licks... really great stuff! The copy I picked up has terrible sound quality, and it varies from track to track, making me think that this must include songs from several different eras, stretching back into the mid-1950s. (Each side of the album opens with a song with clearer sound quality, which may have been recorded around the time this album came out, but that's just a theory... I'm sure there are uber-collectors out there who would know for sure...) Anyway, it's good stuff -- these tracks have also been reissued on digital downloads (linked to above) but I don't know if they have been recently remastered.


<! - # - date per bsnpubs: http://www.bsnpubs.com/modern/crown/crown5200.html named per: http://countrydiscography.blogspot.com/2010/06/eddie-dean.html >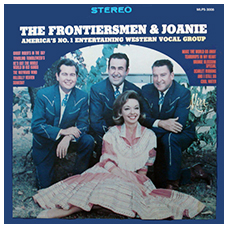 The Frontiersmen & Joanie "America's No. 1 Entertaining Western Vocal Group" (Mira Records, 1966) (LP)
(Produced by M. W. Grimm)
Hanging out in Texas, the trio of Hi Busse and Hal Southern and Billy Armstrong backed a gal identified only mononymically as Joanie on a set of country and cowboy standards, mostly oldies from the '40s and 50s. Joanie also cut several singles with the Frontiersmen, so she was probably part of their regular road show. Although this album was recorded at Tommy Allsup's studio in Odessa, it came out on a short-lived label in LA. The liner notes reflect the band's Hollywood roots, with testimonials by Gunsmoke actors Ken Curtis and Milburn Stone. Their comments are strangely informative, however, with Stone recalling appearances he made with the Frontiersmen at rodeos and county fairs; their performances on various TV variety shows such as the Joey Bishop Show are also mentioned.


<! - #MLPS-3008 A1 Hillbilly Heaven A2 The Wayward Wind A3 Tumbling Tumbleweeds A4 Someday A5 Ghost Riders In The Sky A6 He's Got The Whole World In His Hands B1 Make The World Go Away B2 And I Still Do B3 Teardrops In My Heart B4 Scarlet Ribbons B5 Cool Water B6 Orange Blossom Special >

The Frontiersmen "Wanted Live" (GDS Records, 1977) (LP)
(Produced by M. W. Grimm)
A different group than the Hollywood cowboys listed above, this band from Illinois featured lead singer Chris Allen, backed by Ken Carlyse on banjo and fiddle, Norm Fishman (guitar), John Holm (steel guitar and dobro), Brett King and Roger Cox (percussion), Gary Nabors (keyboards), and Don Vance on bass. (There's also a Connie Smith listed singing harmony vocals... though I doubt it was the Nashville star of the same name... Still, I can dream, can't I?) They cover 'Seventies pop hits such as "Feelings," "Misty," "Torn Between Two Lovers" and "I Honestly Love You," as well as "Thank God I'm A Country Boy," and some country classics like "Take Me Back To Tulsa" and "San Antonio Rose." There may have had a few originals in the mix as well, though the credits aren't clear. The album was recorded at a studio in Morton, Illinois and the band took its name from a now-defunct venue called the Frontier Auditorium, in Pekin, IL, which mostly hosted country acts, with an occasional rock or big band artist coming through town. They were the house band there, and also did a little bit of work on the road, going as far afield as the Spoon River Days festival in Wyoming. As far as I know, this was their only album.


<! - #GDS-2006 ~ 770908 - late '70s? early '80s? - "Connie Smith" harmony vocals... > <! The Fiddle And Banjo Club: Roanoke, Virginia "The Sounds Of..." (Rite Records, 1974) (Double LP) (Produced by James H. Barrett) - #HR-012 - oh no, actually it's a bluegrass comp. see pix >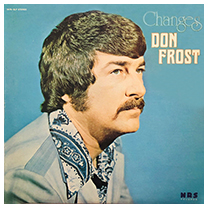 Don Frost "Changes" (Nashville Recording Services, 1975)
(Produced by Col. Dave Mathes)
This album was recorded in Nashville at the Jack Clements Studio with Col. Dave Mathes, head of the NRS label, at the helm... Apparently it was some kind of songwriters' showcase album, with a bunch of songs on it (by different composers) credited to House Of David publishing, which was another Mathes project. But does anyone know more about Don Frost? Was he a Nashviller? Was that his real name? I guess he was a demo singer, but I don't know for sure. As far as I can tell, though, this was his only album -- a single was also released, with material off the album.


<! - #2676 SLP - Col. Dave Mathes - produced the Four Guys, was business partner with Roy Drusky in the 1970s - NRS = Nashville Recording Services - aka C. Donald Frost (song credits) - Tennessee native (per liners) - possibly this guy? The Tennessean, December 7, 1969: "...Plans were announced yesterday for a multi-million dollar business development on Two Mile Pike near Goodlettsville by Nashville's DMC Corp., formerly known as Discount Mart Corp. C. Donald Frost, president, and Alcy Baggott, executive vice president, said the development will be close to the multi-million dollar Rivergate Shopping Center, and will in-elude a department store, motel, two office buildings and a restaurant." - and also? https://books.apple.com/gb/book/02-13-96-state-tennessee-v-james-a-brewer-and-c/id513252403 "...The appellant James A. Brewer was convicted of fourteen counts and the appellant C. Donald Frost of sixteen counts, respectively, of violating the securities laws of the State of Tennessee. Both appellants were also convicted of four counts of obtaining money by false pretenses. Each appellant received an effective sentence of seven and one half years, being ordered to serve one hundred days in confinement in the Davidson County Workhouse with the balance of the sentences to be served on probation. The appellant Brewer was ordered to pay fines in the sum of $3,600.00 and the appellant Frost was ordered to pay fines in the sum of $4,200.00. In addition, both appellants were required to perform two hundred fifty hours of community service work and to make restitution to the victims of their crimes. >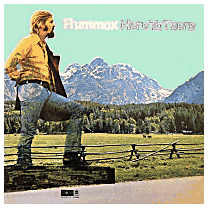 Frummox "Here To There" (ABC-Probe Records, 1969) (LP)
(Produced by Dick Weissman)
The legendary "lost" debut album from Texas singer-poet Steven Fromholz, recorded as a duo with Dan McCrimmon... This album predated and anticipated much of the Texas indie/outlaw music to come, showcasing an interesting variety of styles, with only a little outright country, balanced by a lot of the same kind of poetic musings that Townes Van Zandt championed around the same time. Side One opens with "The Man With The Big Hat," a latter-day cowboy story-song that anticipates songs like Guy Clark's "Desperadoes Waiting For A Train," albeit sung in an earnest-folkie hootenanny style reminiscent of the Kingston Trio, et. al. The album's centerpiece is "The Texas Trilogy," a series of keenly observed vignettes about a small Texas town in decline -- losing its younger residents to the lure of bigger cities, and no longer has scheduled train stops as it did year ago. Work, love affairs, pregnancies and retirements are examined with a forgiving eye, and a clarity and plainspokenness worthy of Studs Terkel. The Trilogy is a well-deserved landmark in Americana music... From there he shifts into the psychedelic "There You Go," which has a funky hillbilly rap vocal that reminds me of John Hartford; the album closes with a couple of softer folk numbers that are closer in feel to Tim Hardin or Tom Rush -- as a folk-and-country period piece, this album holds up well, with some songs clinging to the sound of the early '60s and other tracks, notably the Trilogy, that are remarkably forward-thinking. Guest musicians include Eric Weissberg and Artie Traum, with "Jeff Walker" (Jerry Jeff, I'm assuming?) pitching in with "head help," whatever that meant. An interesting record, definitely worth checking out.


<! - # >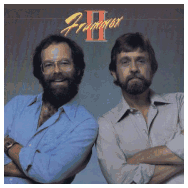 Frummox "Frummox II" (Felicity Records, 1982) (LP)
(Produced by Craig D. Hillis)
This reunion album found Fromholtz and McCrimmon backed by some fine pickers, including fiddler Johnny Gimble, Dick Weissman on banjo, Steve Weiserg playing dobro, and one big celebrity cameo with Ramblin' Jack Elliott, who adds vocals on a tune called "The Angel


<! - # FR-003 >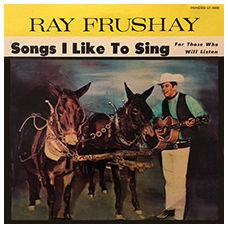 Ray Frushay "Songs I Like To Sing For Those Who Will Listen" (Princess Records, 1966) (LP)
(Produced by Huey P. Meaux & Doyle Jones)
Originally from Dime Box, Texas -- a tiny place out near Austin-- honkytonker Ray Frushay started cutting singles for indie labels in Houston and San Antonio, way back in the early 'Sixties, including a few tracks for the Princess label, which put out this album. From 1968 to '75 he was a major-label artist, recording tunes for Dot and Paramount, although his first (and only) charting single was an independent release, "I Got Western Pride," which cracked the Billboard Top 100 in 1979, peaking at #93. Frushay became well-known on the Austin music scene, as is his daughter, Sheri Frushay, who adopted her own raspy, bluesy roadhouse style.


<! - #LP-4000 - (TX) >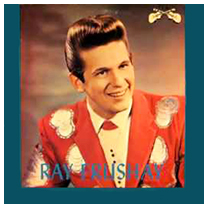 Ray Frushay "Ray Frushay" (Skill Records, 1967) (LP)



<! - # - no ASIN 05/03/16 - >

Ray Frushay "A Portrait Of Ray" (VMI Records, 1973) (LP)
(Produced by Ray Frushay)



<! - # LP-1001 - all songs Ray Frushay originals - was working hotel lounge gigs, doing impersonations (liner notes) >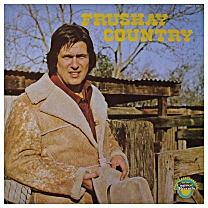 Ray Frushay "Frushay Country" (Casino Records, 1976) (LP)
This was, I believe Ray Frushay's last full LP, although he continued to record singles for several years to come. For the first half of the 'Seventies, he was officially a major-label recording artist, but Dot/Paramount never green-lighted a full album, so Frushay kept chugging along a parallel course as an indie musician. His lone charting single, a private-press release called "I Got Western Pride," came out a few years after this, in 1979, but is not included on this album.


<! - #C-201 - from Dime Box, Texas (near Austin) - in 1979, his single "I Got Western Pride" cracked the Billboard Top 100, peaking at #93 (on this album?) - (TX), tracks, no full bio sheri.frushay1600@gmail.com >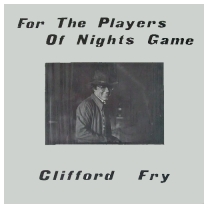 Clifford Fry "For The Players Of Nights Game" (1979) (LP)
Apparently, Dr. Clifford L. Fry, PhD was a professor of economics at the University of Texas who also led a country/rock bar band on the side... And, man, I bet his study groups were fun! His group eventually morphed into the long-lived Dr. Fry's Texas Medicine Band, a group which performed throughout the 1990s and 2000s.


<! Fry, who was an expert in antitrust actions, was an economics consultant who some activists implicated as being in the orbit of Big Tobacco, back in the days when they still were pretending that cigarettes were okay for you... Though whether Fry was directly involved in pro-tobacco activities is up for debate. At the very least, I'm sure he sucked up his fair share of secondhand smoke singing in all those Houston bars. >
The Fugitives "Wanted" (Custom Sound Studios, 1969) (LP)
(Produced by Curtis Kirk)
Some honest-to-god Texas good ol' boys, just singing honky tonk music and having a good, old time. A country covers band from Tyler, Texas, the Fugitives started out in 1964 with Joe Whittfield (lead vocals), Bill Glover (steel guitar), and Wayne Jones (mandolin). They recorded this album in December, 1968, covering Johnny Cash, Merle Haggard, Buck Owens, a couple by Harlan Howard and even a couple of rock'n'roll oldies. Merle Haggard's "Swinging Doors" was their most contemporary selection... Nothing new on here, but these guys sure seem like they were having fun. Just to add a little locals-only authenticity, the liner notes were written by a member of the Shriner's lodge where the six guys originally met one another, while they also stretch back a few decades to cover Jimmie Davis. They're about what you'd expect -- a good but not earthshaking local band: the best songs feature a deep, Ray Price-ish Texas shuffle sound, while the most distinctive track may be a rock/soul flavored rendition of the old hillbilly weeper, "You Are My Sunshine," with a semi-funky feel that I've dubbed "gogo-billy." A pleasant, obscure album that's certainly worth a spin.


<! - #107 - no ASIN 01/26/15, 06/10/15 >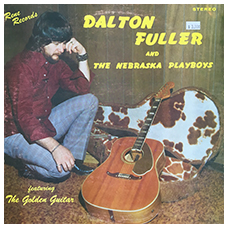 Dalton Fuller & The Nebraska Playboys "...Presents The Golden Guitar" (Renee Records, 197--?) (LP)
(Produced by Bud Comte & Tad Palensky)
Nice, down-to-earth country twang by a guy from from Keith County, Nebraska who later retired to Wyoming. A former rodeo rider and Navy veteran, Dalton Fuller (1940-2019) was a young man when he and his band signed up to do a USO tour of Vietnam, back in 1969, the first of roughly a dozen tours they took over the course of the war. He continued to lead his band, the Nebraska Playboys, for several decades, and also took a keen interest in veterans affairs, frequently performing at his local American Legion post, as well as writing music about veteran's issues. Fuller pursued a variety of professions, notably working as a sound engineer for the Renee Records studio and label, in David City, Nebraska, where this record was made. This edition of his band included steel guitar player Randy Hartman, Joe Sharp on drums, and bassist Francie Allen, who also sang duets with Fuller -- the quartet is pictured on the back cover in front of their USO tour banner, decked out is some truly groovy matching slacks with a patriotic stars-and-stripes design. Overall, the performances are pretty laid-back; Fuller's reedy vocals may remind you of folks like Chip Taylor or Dick Feller.


<! - #R-1154 - NOTES, bio, obit, interview - LK: purchased @ Stranded 10/2019 >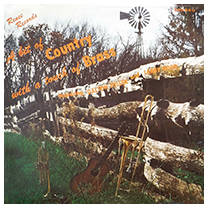 Dalton Fuller & Larry Good "A Bit Of Country With A Touch Of Brass" (Rene Records, 19--?) (LP)
(Produced by Bud Comte & Bill Palensky)
When these two midwestern honkytonkers bumped into one another while cutting their respective albums at Bud Comte's studio in David City, Nebraska, someone came up with the idea of collaborating on a country-big band hybrid record. So a year later Dalton Fuller's band, the Nebraska Playboys hooked up with several regional jazz players -- Marty Grubbs on clarinet and saxophone, Bill Palensky (trumpet), Jack Seckman (trombone), Allen Valish (trombone), Brad Wesely (trumpet) and Dennis Wesely on piano -- crafting brassy renditions of western swing and country oldies. I'm not sure if singer Larry Good is the same as the guy from Kansas City; if so, I'm curious to find out about the solo record made on the Rene label before this project came together.


<! - #R-1168 - honky tonk and western swing - Fuller's band, the Nebraska Playboys: Dalton Fuller (lead guitar), Brent Haight (bass), Randy Hartman (steel guitar), Joe Sharp (drums) - Marty Grubbs (clarinet and saxophone), Bill Palensky (trumpet), Jack Seckman (trombone), Allen Valish (trombone), Brad Wesely (trumpet) and Dennis Wesely (piano), >

Tiny Fuller "My Guitar Does The Singing" (Crazy Cajun, 1978) (LP)



<! - no ASIN 11/25/15 >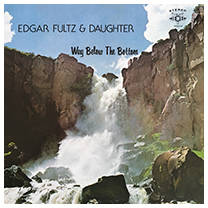 Edgar Fultz & Daughter "Way Below The Bottom" (Jewel Records, 1981-?) (LP)
(Produced by J. D. Jarvis & Rusty York)
A very pleasant, very rootsy country gospel album, featuring Newport, Kentucky's Edgar Fultz and his daughter Patricia Warren, in a series of original songs that resonate with authenticity and emotion. Fultz brings a robust, truly rural sound to this work -- plenty of twang and a sense that when he's singing about redemption and sin, maybe this is a guy who is really speaking from the heart and working through some of his own, personal life choices. Indeed, Fultz had a hard life, complete with run-ins with the law and a long prison term, and talks plainly in the liner notes about how he found religion and was born again in 1979 after trying therapy and AA, and he also mentions running his own business as a tree cutter and stump removal man. The Ohio-based backing band includes Junior Bennett on fiddle, Chubby Howard on steel, and producer J. D. Jarvis on rhythm guitar -- Jarvis also contributes liner notes praising Fultz and thanking him for recording his patriotic song, "Thank God For Old Glory." On the opening track I was immediately reminded of Ricky Skaggs -- hearing that same level of sincerity and devotion to traditional music -- though as the album spun forward, it sounded progressively earthier and raw. A nice record if you like the genre, and also appreciate records that don't sound all smooth and super-slick.


<! - no ASIN 11/25/15 - #JRC-81027 - NOTES, including prison info, etc >

Edgar Fultz & Patricia Warren "I Ain't Lookin' Back" (Nation Wide Records, 19--?) (LP)
Another all-gospel father-daughter album, with one song, "I Ain't Lookin' Back," that also appeared on the album above. I'm not sure which record came first, although I think the Jewel LP was not his first album. This also includes a Christmas song called "A Message to Santa."


<! - no ASIN 11/25/15 >

Edgar Fultz & Patricia Warren "It's Too Late Now" (Jewel Records, 19--?) (LP) (Produced by J. D. Jarvis & Rusty York)
Highlights of album include Fultz originals such as "The Devil's Garbage Can" and "God Is Watching Through A Teardrop," with backing by a band once again anchored by fiddler Junior Bennett and Kenny Holycross on steel guitar.


<! >

Edgar Fultz & Patricia Warren "Mother's Old Washboard" (Jewel Records, 19--?) (LP)
(Produced by J. D. Jarvis)



<! - "The Devil's Geritol" >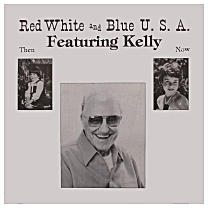 Thomas 'Speed' Funari "Red White And Blue U.S.A." (Nashco Music Service, 1987) (LP)
(Produced by Will Gentry & Ramsey Kearney)
The last of the red-hot vanity pressings... This is a paid-for "song poem" album, with eleven songs written by Mr. Thomas Funari, with arrangements provided by Will Gentry and vocals by song-poem pro Ramsey Kearney, who performed material written by amateurs and non-musicians who nonetheless had a song in their heart. This album includes a track called "Kelly," which was about his granddaughter, and also includes one song performed by a gal just identified as "Mary Ann." (And is it just me, or did Mr. Funari bear an uncanny resemblance to Stan Lee??)


<! - no ASIN 11/25/15 >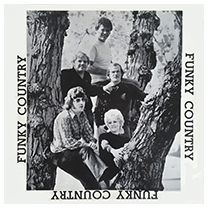 Funky Country "Funky Country" (M&W Records, 1972-?)
Your guess is as good as mine, though I gotta say, this is a pretty fun record. On the cover, it just says "Funky Country," although on the inner label it reads "Woody Mills and Funky Country." Other than that, this one's pretty much a mystery record, with no credits or liner notes to speak of, other than the names of the band's solo vocalists written next to the song titles. In addition to Mills singing lead on three songs, there are Billy Long, Chuck Long, Jerry Patrick and the band's "girl" singer, Del-C-Duncan, who delivers nice earthy versions of "You Ain't Woman Enough To Steal My Man" and "Hurtin' All Over." While the country influence is real and convincing (their raggedy version of "I Thought I Heard You Calling My Name" is a real hoot) the band also has a strong current of rugged, whiteboy garage-R&B, as heard on their versions of "Sea Cruise," "Walk A Mile" and "It Came Outta The Sky." I'm guessing at the release date based on the matrix number inscribed on the deadwax -- 27035 -- and have a theory that the Long brothers may have been from northeastern Ohio, though again this is mostly guesswork. Anyone with more solid info about this band, I'm all ears.


<! - #27035 - Rite number? - Ohio? - ext (NP) >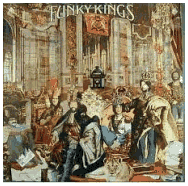 The Funky Kings "Funky Kings" (Arista, 1976) (LP)
(Produced by Paul A. Rothchild)
A pretty dismal AOR/soft-pop album that's notable to alt-country fans for the presence of steel player Greg Leisz and songwriter Jack Tempchin, who wrote "Peaceful Easy Feeling" for the Eagles. Tempchin also apparently wrote "Slow Dancing (Swaying To The Music)" which is included here in its original (boring) version, a song that became a big hit for Johnny Rivers the following year. Also in the band was Jules Shear, pre-solo career, adding his voice and a few songs to this undistinctive, bland '70s pop album. Despite the country talent (including some prominent Nashville studio musicians) this album has very little twang, and you can probably skip it.


<! - Jules Shear from Pittsburgh - Jack Tempchin from San Diego >


Richie Furay - see artist discography



Bryan Fustukian "Fustukian" (Vera Cruz Records, 1979) (LP)
(Produced by Bryan Fustukian & Wes Dakus)
Canadian country singer Bryan Fustukian started his career as '60s pop singer Vik Armen, though he found even greater success as a radio deejay and concert promoter. In the '70s he "went country," and went back to his birth name for a while. This was his first country album, and he sure had a love for the oldies -- real oldies from the honky tonk and pre-honkytonk eras of Hank Williams and Jimmie Rodgers. Amid cover songs such as "Honky Tonk Women," "Red River Valley," "Long Black Veil" and "California Blues," he adds a few tunes of his own, such as "Sing Me A Jimmie Roders Song," "Lonesome Cowboy Song" and "Phyllis (Wait For The Wagon)." Backing him on this disc is his longtime collaborator Wes Dakus, whose 'Sixties band the Rebels was kind of Canada's answer to Cliff Richards & The Shadows... Dakus also went country in the 'Seventies, releasing a string of rootsy records on his Vera Cruz label.


<! - # - (CAN) >
Bryan Fustukian "Always" (Battle River Records, 1980) (LP)
(Produced by Bryan Fustukian & Laurence Pugh)





Bryan Fustukian & The Battle River Band "Live At The Cook County Saloon" (Battle River Records, 19--?) (LP)
(Produced by Bryan Fustukian)



<! - # - no ASIN 11/22/15 - tracks (CAN) >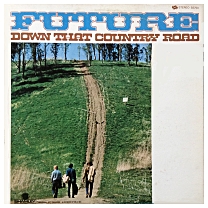 Future "Down That Country Road" (Shamely Records, 1969) (LP)
(Produced by Norm Ratner)
A loosey-goosey, psychedelicized, spaced-out, folk-rock-pop kinda thingie, but it definitely has twang. Future was a trio of kids from Santa Monica, California given an a-list studio crew to work with -- superpickers like James Burton and Dr. John, as well as West Coast pedal steel luminary Red Rhodes adding some sweet, uptempo licks. The pedal steel and twangy guitars add a distinct country vibe that runs almost entirely in parallel to the acid-soaked meanderings of the songs, but there's an undeniable charm on a lot of these tracks. Future rose out of a previous band, the InRhodes, which was formed by the "three Jims" (Jim Bunnell, Jim Burdine and Jim Odom) when they were in high school together, and they'd had considerable experience playing live gigs around LA before they cut this album. The band fizzled out, but apparently they did some session work for a while in the early '70s... (I don't think that this Jim Odom was the same guy who was later in the rock band LeRoux... just one of those odd coincidences in life.) At any rate, even though the songs aren't very cohesive or memorable, this was a great showcase for Red Rhodes' steel guitar work. Definitely worth a spin.


<! - # - country PSYCH Folk - really a twang record? - Jim Bunnell, Jim Burdine and Jim Odom - session players include Jim Burton, Jim Gordon, Mac Rebennack, and Red Rhodes most of the set has an early country-rock vibe. Norman Gregg H. Ratner - well-known LA producer >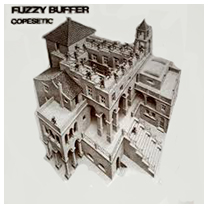 Fuzzy Buffer "Copesetic" (Malaco Records, 1975) (LP)
(Produced by Tommy Couch and Gerald "Wolf" Stephenson)
One of those kooky, crazy, only-in-the-'Seventies albums... This bizarrely-named band from Greenville, Mississippi was led by singer-songwriter James K. Wright, sharing some creative space with fellow composer Will Hegman, who contributed three songs, but apparently doesn't perform on the album. All the other songs are credited to Wright, who was lead vocalist, albeit with a rather... idiosyncratic voice. I guess he's working in that discursive, slightly-geeky-regular-fella, plainspoken folkie ouvre, same as guys like Steve Goodman and Larry Groce. The opening salvo on Side One definitely puts this disc on the radar as "country," although there's an AOR undercurrent that suggests, I dunno... maybe John Denver going on an outlaw bender. They seem to have been aiming for a New Riders Of The Purple Sage/Greezy Wheels vibe -- the tough-talking, hard-drinkin' macho hippie schtick, full of snappy, cynical asides, and a fair amount of genuine twang. Alas, the record quickly shifts into a soft-rock/folk-pop direction, some of it maybe even as dense and self-consciously artful as Harry Chapin or Nilsson. Anyway, the country vibe gives out about a third of the way in, but it's definitely there. Interesting studio band, too, including some of the folks hanging around Malaco at the time, notably bassist Vernie Robbins and drummer (and future Nashville star producer) James Stroud, who was still learning the ropes in the early '70s. A guy named Billy Dear adds lap steel guitar, along with fiddler Mickey Davis, and Carson Whitsett on keyboards, while Wright yields something called a "guitarlele." I liked the country bits.


<! - #MC-1008 - NOTES, players >

---
---