<! MP3 05/26/10 > <! outside 00/00/00 > <! pix 00/00/00 > <! icons 04/19/11 > <! states 05/25/16 > <! UPDATES: 05/26/10 - possibly break Carl Jackson off into separate discography? 02/25/15 - looked up current ASINs, ID'd one w/o 11/30/16 - looked up Anna Jane info 01/21/20 - moved adds 01/23/20 - DE-AMAZONED 02/11/20 - added 208s, reloaded pix folder 07/20/20 - most pix added, a few strays > <! >
---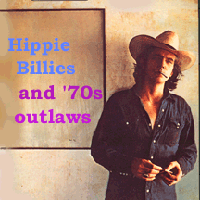 LOCALS ONLY: This is a guide to independent and off-the-radar country musicians from the 1960s, 1970s and early 'Eighties, including hometown performers working in regional oprys, jamborees, dude ranches, casinos, pizza parlors and lounges. They included longhaired country-rockers, red-dirt outlaws, Nashville hopefuls and earnest amateurs, as well as the more country-oriented artists in the bluegrass and southern gospel fields. Many of these musicians toured nationally or regionally while others were strictly hometown folks. These are the people who are often overlooked in the history books but who contributed their talents, hopes and dreams to the country music world, and the aim of this guide is to keep their memories and their work alive. Comments, corrections and suggestions are always welcome.
This page covers the letter "J"




<! OLD LK: (02/15/21) The "twangcore" and "Americana" boom of today owes a large debt to the shaggy twangers and no-hit wonders of yesteryear -- this section looks at the hippiebilly and stoner bands and a few odd, random artists from the 1960s, '70s and early '80s, back before there was anything called "alt-country." >
---
HICKS, HIPPIEBILLIES & NO-HIT WONDERS:
A | B | C | D | E | F | G | H | I | J | K | L | M | N | O | P | Q | R | S | T | U | V | W | X, Y & Z | Compilations | State-By-State

---
About This Guide | Thanks | Other Hick Music Styles

---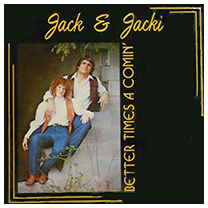 Jack & Jacki "Better Times A Comin' " (C&W Incorporated, 1983) (LP)
(Produced by Frank Evans & Ron Jeffreys)
This bluegrass-meets-country duo hails from Dewitt, Michigan, a northern suburb of Lansing... Bandleaders Jack Clarkson (lead guitar, mandolin and fiddle) and Jacki VanBecelaere (guitar and piano) headed to Nashville to cut these tracks, taking band members drummer Bee Metros and bassist Jim Pearson. Their sound was augmented by a bunch of studio cats, notably steel player Chuck Bartlett, James McKinney on banjo fiddler Vassar Clements, whose studio they were recording at. [Note: Jack Clarkson continues to record and perform for many years, and has this album available on his website.]


<! - #RR-42535 - (MI) >


Carl Jackson -- see artist profile



Jackson Highway "Jackson Highway" (Muscle Shoals Sound, 1977) (LP)
A diverse, uneven, but ultimately winning indie-twang album made by some Alabama natives who were in tight with the Muscle Shoals studio crew... The country stuff on here I like a lot, particularly tracks like "Wayne Co., Tennessee," which sounds like one of those early, non-sucky Eagles twang-tunes, or "Pickup Truck," where he's hitting up some girl with the oh-so-alluring promise of riding around in his truck all day, and, well, doing a little "trucking" as well. Less fun, for me, are the redneck disco tunes and overblown rockers... Guess I'm just not that into electric guitar solos anymore, though I imagine Southern rock fans will find both styles on this album equally groovy. Definitely worth a spin!


<! - # >
Jackson Highway "Jackson Highway" (Capitol Records, 1980) (LP)
(Produced by Jimmy Johnson & David Hood)
Yeesh. Really big change here. This major-label album opens up with a horrible, shrill, pompous rock number that reminds me more of Rush than Charlie Daniels, then careens into "Rock And Roll Man (Hung Up On A Disco Girl)" a novelty song with a promising title, but one that sounds like a Bob Seger outtake. Sadly, it never gets better. They redo a couple of songs from their first album ("Circles" and "Hook, Line And Sinker") and really royally screw them up. There's no twang anywhere on this album, and while there's a definite Southern rock influence, it's so buried in bad, bland, misguided, coked-up overproduction that they wind up sounding like Dee Snyder jamming with Supertramp, which I definitely do not mean as a compliment. It's really not my cup of tea... Probably not yours, either. (Footnote: after writing this I discovered I was right about the Bob Seger thing: one of the guys in this band actually wound up recording with Seger's band, playing lead guitar on his big hit, "Old Time Rock and Roll." So there ya go.


<! - # >
Jerry Jackson & The Inmates "Meet Jerry Jackson & The Inmates" (Vanco Records, 19--?) (LP)
Tons of twang on this robust record from the Pacific Northwest... The Inmates were apparently from Caldwell, Idaho, although they drove over to Vancouver, Washington to cut this album at the Ripcord studios. And it's mighty nice stuff... They kick it off with a rough-hewn cover of Jim Croce's "Don't Mess Around With Jim," but immediately dig into a deeper country vibe with weepers such as "She Called Me Baby," "Curtain In The Window," and "Invitation To The Blues." The band's piano player, Jan Adair, is spotlighted as a vocalist on "Fool Me One More Time," where her rugged, throaty vocals stand out, reminding me a bit of Melba Montgomery, and she plunks out some tasty licks, too, particularly on the bouncy instrumental, "On The Rebound." Most of the songs feature male vocals, though, and they're pretty solid, with an obvious devotion to the Ray Price honkytonk sound. The pedal steel work by Jimmie Collins is strong throughout, including instrumental showcases such as "Wildwood Flower Waltz" and "Orange Blossom Special." A good, solid, late '70s twangband... Unfortunately the album doesn't include any information about all the who-what-where-when of its making, but it's nice for life to have a few little mysteries. At any rate, this is a strong record from an unpretentious but solid local band. Worth tracking down.


<! - no ASIN 08/04/15 same guy? http://www.countrystartpage.com/interviews/jerryjackson.php https://www.reverbnation.com/redriverrevival - no - this band is in NC >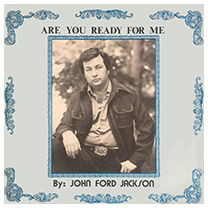 John Ford Jackson "Are You Ready For Me?" (1977) (LP)
A hyper-local neo-trad country singer from Elyria, Ohio, John Ford Jackson won a statewide country music contest in 1977, which was the springboard for cutting this album. He mostly sang cover songs, including stuff by Bobby Bare, Jimmy Buffett, Merle Haggard and Waylon Jennings, including the album's title track, "Are You Ready For The Country," mostly showing mainstream tastes, with definite hard-country leanings. A singer and guitar picker, he's backed here by Sam Logan (lead guitar), Keith Snow (drums) and Bill Walters on bass.


<! - #771044 - no dc 07/20/20 - b. 1945(?) https://law.justia.com/cases/ohio/ninth-district-court-of-appeals/2002/2002-ohio-3499.html - convicted of rape in 1990, appeal denied - same guy? yeah, apparently court documents give an address in Grafton, OH (near Elyria. may have been his prison address) >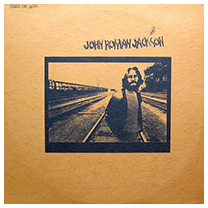 John Roman Jackson "John Roman Jackson" (Oak Records, 1971) (LP)
(Produced by Ernie Freeman & Stan Ross)
Real-deal hippie-folkie outsider twang. This disc would definitely be of interest to students of the freak-folk scene, although I have to confess it's a bit too ramshackle and self-indulgent for me... Jackson tries really hard to grind his way into a gruff, rural vocal style similar to Tony Joe White or Larry John Wilson, but it sounds really artificial and forced, like he was putting on an act. Some songs are better than others, spanning the sure-that's-okay part of the spectrum into what I consider truly torturous. It's hippie rural rock, though there's a legit country strand in the mix, to be sure. Apparently he was from Southern California, though details are scant... Jackson was mentioned in a Billboard plug at the start of 1972, saying that he'd been signed to Ray Ruff's label, Oak Records, so while this has an official copyright from '71, it probably was in (limited) distribution until the following year. Jackson seems to have stuck around the golden state, and settled down near Modesto in the Central Valley; he was still doing shows locally as recently as 2014-15.


<! - #OR-2001 - (CA) notes >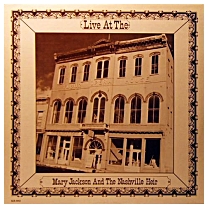 Mary Jackson & The Nashville Heir "Live At Tabor Opera House" (Kowgirl Records, 1981) (LP)
(Produced by Chris Hayden & Jill Hayden)
A country show recorded live at the Tabor Opera House, a historic music hall in Leadville, Colorado... Along with Mary Jackson on vocals, the band included Randy Norton (bass), Ronnie Ray (lead guitar), Rob Reamon (drums), and Tsutomu ("Slim") Yamaguchi on fiddle and pedal steel. The set list ranged from oldies to originals, with a smidge of outlaw material as well, such as "The Devil Went Down To Georgia," Rusty Weir's "Don't It Make You Wanna Dance" and Hank Junior's "South Is Gonna Do It Again." (Of historical note is Slim Yamaguchi's subsequent decades-long stint as the steel guitarist in Top Forty star Mark Chesnutt's band, having joined around 1990. Originally from Japan, he settled into the West Colorado twang scene sometime in the late '70s, and played with Cedar Creek and other local bands...)


<! - #KR-002 - label from Lafayette, California - (CO) >

Norm Jackson "Country Boy" (Charter Records, 19--?) (LP)
(Produced by Gene Breeden)
Not a lot of info about this guy, though he sure had a great voice. It's not clear where Norm Jackson was from, or where he was living when he cut this album, but he was probably living somewhere in the Pacific Northwest, since this was recorded at the fabled Ripcord Studios with the house band -- Danny Breeden on drums, Gene Breeden (lead guitar), Gene Keyes (piano), Ellis Miller (bass) and Don Turner playing rhythm guitar. A few years earlier, around 1971-72, been apparently been playing in Germany with an ex-rockabilly guy (and Elvis Presley pal) named Jerry Cochran, and was likely stationed there as an American military serviceman. This album is packed with cover songs, and while three tracks are credited to Norm Jackson as composer, at least one of these, "This Thing Called Love," was actually a thinly-veiled remake of Ray Price's 1964 song, "A Thing Called Sadness," so one may be skeptical of how original the originals are... Nonetheless, some fine-sounding local twang.


<! - #SLP-1036 - originals: "Long Gone," "Old Bottle" and "This Thing Called Love" plus others not credited to Jackson - (NP) >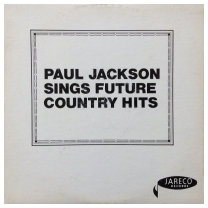 Paul Jackson "...Sings Future Country Hits" (Jarelco Records, 19--?) (LP)
The hopeful album title belies the exceptionally retro feel of this low-key set of homespun hillbilly music, simple twangtunes with an early 1950s feel (though this album looks like it was recorded in the mid-1960s to-mid-1970s...) This appears to have been a mom'n'pop label version of big-city "song-poem" albums, with heartfelt compositions by a dozen-plus amateur songwriters arranged and performed by Paul Jackson -- an obscure, rugged-voiced singer living in Athens, Alabama, with harmony vocals by an unidentified female singer. Most tracks have simple but effective accompaniment by acoustic guitar and modest percussion, though a couple also have some nice steel guitar. The album art is minimal: only the plain title on the front cover, with nothing on the back, though all the song credits are included on the inner label. Fans of oddball hillbilly singers such as Eddie Noack might really enjoy this one: there are sentimental numbers, gospel songs and even a Cold War novelty-gospel number about the spectre of nuclear Armageddon. A humble gem of anachronistic, uber-indie Southern twang.


<! - #JR-120 >
Paul Jackson "...Sings Country and Gospel" (Jarelco Records, 1972) (LP)
Okay, so here's the deal: Mr. Jackson ran an ad in Billboard magazine, on September 23, 1972, offering this album for $5.00 per copy (or free to radio stations) and soliciting lyrics from aspiring songwriters, promising them fifty-percent publishing rights. So, yes, he was a song-poem artist, and this was his general time frame. I'm not sure which of these two records came out first, though...


<! - # - (AL) >
Shot Jackson "...And Friends" (Vetco Records, 1979) (LP)
A native of Wilmington, North Carolina, dobro picker Harold Bradley ("Shot") Jackson (1920-1991) started playing music in the 1940s and worked his way through the country and bluegrass firmament, including stints on the Louisiana Hayride and the Grand Ole Opry, as well as picking on numerous classic recordings. He designed his own model of resophonic guitar, the Sho-Bro, which became a favorite of many musicians, and ran his own instrument manufacturing company for a couple of decades. Here he's joined in a lively set of sentimental oldies by pickers such as Charlie Collins (fiddle and mandolin), jack Fleming (lap steel), Jim Webb (pedal steel) and the legendary Merle Travis on guitar. Not a bad crowd to be hanging out with! (Also check out records by his wife, Donna Darlene, which usually feature his musicianship.)


<! - #514 - no producer info >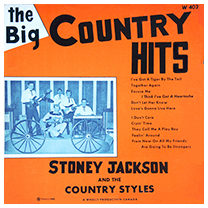 Stoney Jackson & The Country Styles "The Big Country Hits" (Wheels Records, 196--?) (LP)
Canadian honkytonker Stoney Jackson hailed from Quebec and led a compact band from Montreal: Ronnie Cavanagh on pedal steel, Ken Dandy on bass, Jackson on vocals and Sid Menard pickin' guitar. The repertoire is pretty solidly Bakersfield Sound: over half the album is from Buck Owens' catalog, along with covers of Liz Anderson's "From Now On All My Friends Are Going To Be Strangers," which became an early hit for Merle Haggard, and Wynn Stewart's oldie, "They Call Me A Play Boy." Not sure if Jackson recorded other albums, though it doesn't look like it.


<! - #W-403 - incorrect datum on Discogs: says it's circa 1963, but several songs are of later vintage - was Sid Menard any relation to fiddler Paul Menard? - tracks (CAN) >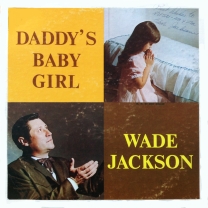 Wade Jackson "Daddy's Baby Girl" (Tennessee Records, 19--?) (LP)
A fun, super-twangy album with kind of unfortunate, unintentionally creepy album art. A 20-year career veteran who served in both the Army and Air Force, singer-guitarist Wade Jackson organized several military bands in the 1950s and '60s. At the time he recorded this album, he was apparently a part-time member of the Grand Ole Opry's road show, touring with them in the summer while making "his winter headquarters" at home in Gallatin, Tennessee. Jackson was a real throwback to the late-'50s/early '60s merging of hillbilly and honkytonk, a rugged singer belting it out over a pure twang band: Texas shuffle rhythm, squeaky fiddle, pedal steel, and twangy lead guitar on a bunch of fun novelty numbers. There's lots of original material on here, with Jackson claiming composer credit on the entire album... These songs were probably recorded over a number of years, since the production sounds noticeably different from track to track, and in a few cases they even sound like on-the-fly jam sessions, such as on "Honky Tonk USA" and "Please Be Mine," where the lead guitars go a little nutty and drown out his vocals. Jackson wasn't an A-list Nashville star by any means, but if you like chunky, old-school twang, this indie outing is definitely worth tracking down.


<! - #LP-101 - no date, producer credits http://www.tennrecords.com/ >
Jada "Introducing Jada" (Coyotee Records, 1978) (LP)
(Produced by Gary Beck)
Singer Jada Vaughn was born in Searce, Arkansas but was working in Corpus Christi, Texas when she cut this album. It features four songs written by Vaughn -- "Haven't Heard A Good Love Song," "I Want You To Know," "Never Been Alone," and "Where Are You Waylon" -- as well as several by producer-arranger Gary Beck: "I'm Trying," "I've Quit Hurting Over You," and "Tell Me Why Why Why," rounding things out with a Hank Williams medley. The band seems like they were all locals -- I don't recognize any of the players -- including Gary Beck on keyboards, pedal steel by Tommy Roots and lead guitar by Allen Hunt.


<! - "Coyotee" (sic) >

Jada "Long Road Home To Texas" (Coyotee Records, 1981) (LP)
(Produced by Gary Beck)



<! - Beck wrote three of the songs on this album, also listed as her manager - dc >


Jana Jae -- see artist profile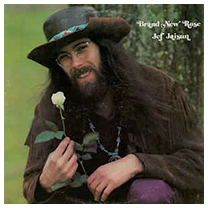 Jef Jaisun "Brand New Rose" (Virgin Vinyl Records, 1978) (LP)
(Produced by Jef Jaisun & Rick Fisher)
Wow, this is like super hippie-dippy spacey longhair stoner stuff... Not exactly country, but, well, close enough that we can add it here. Why not! Jef Jaisun -- with his long, scraggly beard and scraggly, long hair, his leather cloak and big round glasses -- was definitely what you'd call a super-hippie. Jaisun (ne Jeff Jassen) grew up in Seattle and did student radio in high school, 'way back in the Kennedy era. By the Summer of Love, he'd moved down in Berkeley, and was living the high life. Jaisun found eternal fame with his 1969 stoner novelty number, "Friendly Neighborhood Narco Agent," a rambling acoustic rag from 1969 full of tall tales about pot busts,; he'd been playing the song around town for a couple of years before he laid it on wax at the same studio Country Joe & The Fish used for their earlier, similar material. Jaisun was definitely working in that same groove, the neo-retro-acoustic-satiric style as Country Joe, The Bonzo Dog Doo-Dah Band, The Holy Modal Rounders and the like... The song soon made it into heavy rotation on an early incarnation of "The Dr. Demento Show" and still echoes around the ether to this very day. Almost a decade later he cut this full LP, having moved back to Seattle, where the hippies were even more super-groovy and back-to-nature. The album opens on a country note, with the twangy, uptempo "Iggy's Tune ('46 Oldsmobile)" featuring not just the zippy pedal steel guitar of Chris Middaugh, but also some clanky washboard percussion, courtesy of Marc Bristol, another Pacific Northwest super-hippie who made a semi-country record of his own a few years later. Although the music lapses into a slightly more, um, folkie direction, complete with lots of horns, there are several songs that have a twangy feel, particularly the nanny-state anthem, "Gonna Hold Out 'Til My Food Stamps Come," a boogie-rock novelty tune calculated to drive guys like Orrin Hatch nuts. Unfortunately, Jaisun seemed determined to move on from his narco roots, and didn't include his old hit on this new disc, but they certainly were of a piece. He also moved into photography as his primary artistic outlet, notably snapping pix of blues and jazz artists... If you're up for it, on his website Jaisun tells his version of the Dr. Demento saga -- in which the clueless major-label folks at Warner Brothers dropped the ball on his stonerdelic hit single -- and thus sank his career. Anyway, this is pretty far out, man.


<! - #VVR-2001 - http://www.eljefe.net/fnnafaq.html >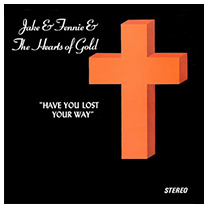 Jake & Fennie "Have You Lost Your Way?" (Dominion Records, 19--?) (LP)
This would be the husband-wife duo of flat-top picker Jacob D. Willard (d. 2011) and Glenda "Fennie" Willard (1931-2010) of Roanoke, Virginia, backed on this early 'Seventies album by a group called The Hearts Of Gold: Burk Barbour (fiddle), Troy Brammer (banjo), Carl Mannix (bass), Larry Robinson (bass, and flat-top guitar) and Jerry Wood on mandolin. Some great down-home bluegrass gospel that nonetheless has a layer of cleancut 'Sixties folk revival to it, a little bit of The Kingston Trio, perhaps, but it gives their music a distinctive feel amid the normally brisk trad-grass scene, and also doesn't resemble the rock-influenced progressive hippie pickers. In a way it reminds me of John Hartford, who enjoyed a similar crossover of styles, conscious of an older, squarer show-business world while deeply rooted in the music of the hills. There are some classic songs by Albert Brumley, three by William York, and two Jake Willard originals, "Have You Lost Your Way" and "Wheels Going Home." For her part, Fennie had a great rural voice with a hint of Kitty Wells to it -- it sure would be nice to hear more of her work! She's credited as playing drums on this disc, though apparently she was a pretty good bass player, too.


<! - #30817 - Salem, Virginia label - Jake b. circa 1928? - (VA) obit - >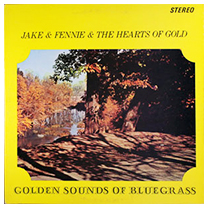 Jake & Fennie "Golden Sounds Of Bluegrass" (Dominion Records, 1973) (LP)



<! - #30820 >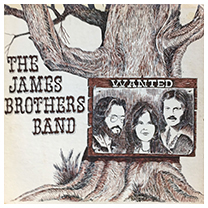 The James Brothers Band "Wanted" (JABRO Records, 1978) (LP)
An absolutely dreadful, horrible album and one that made me think -- man, maybe I've really bottomed out on this whole obscuro country thing. Perhaps it's time to stop? Anyway, the first thing to know about this record is that there's no one named James in the band, although all the songs were written by a J. B. Kimberel, who presumably was related to the band's singer-keyboardist Burt Kimberel and may have been named James(?) so maybe it was some kind of in-joke based on that. The second thing to know is that Burt's keyboard playing is really irritating -- terrible tones, cheesy riffs, consistently overpowering in the mix -- and it's the dominant factor throughout the entire album. Third thing: can't judge a disc by looking at its cover. I was sure that with its wood planks-and-crossed-pistols artwork that this was a hippie-era, country-indie relic, but there are only a couple of tracks that really make the grade, while the rest of it's some kind of watered-down, amateurish, self-indulgent, rock-pop, I'm-not-quite-sure-what-to-call-it mish-mosh. Now, many of you out there will know that I'm not all that big on the hipster habit of mocking "bad" records of the past and making sport of the well-meaning people who made them. But occasionally even I will have to admit defeat and chime in. This is a very bad record. And people who like to make fun of very bad records will love this album and delight in its existence. Have at it. In fact, anyone wanna buy my copy? Okay, there are a couple of songs to keep track of, twangwise -- "I've Been Around" has a galloping trucker music feel, while the album's closer, "My Love's Getting Hard" features some not-too-subtle sexual double entendres and both tracks showcase steel guitar from Randy Shellnut, who also produced the album at his studio in Pensacola, Florida. (Alas, despite its promising title, the song "Funky Country Music," misses on all three counts...) Oh, well. Ya win some, ya lose some.


<! - # - no ASIN 02/20/16 >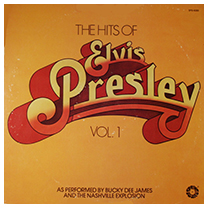 Bucky Dee James & The Nashville Explosion "Elvis: A Tribute To The King" (Springboard Records, 1977) (LP)
This is one of those el-cheapo fly-by night specials... Bucky Dee James may or may not have been a real, actual person, but Bucky Dee James & The Nashville Explosion are credited with several mid-'70s tribute albums, including the pair of Elvis albums that started it all. The only biographical references I could find online came in some snarky music blog which seemed more interested in make clever putdowns than actually talking about the music, so I'm gonna take that one with a grain of salt as far as its historical value goes. Anyway, this was the brainchild of the LA-based Springboard/Buckboard label, which shifted at some point from presumably bootleg reissues of established artists to commissioning iffy original recordings such as this... I'm guessing there's overlap from the musicians in this "band" and players on other Springboard releases, but there's no info about who the session players were, so that's just conjecture on my part. Any actual info is welcome.


<! >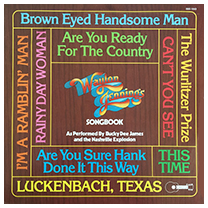 Bucky Dee James & The Nashville Explosion "Hits Of Elvis Presley, v.2" (Springboard Records, 1977) (LP)



<! >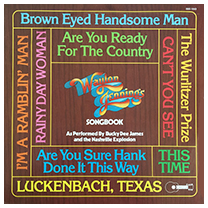 Bucky Dee James & The Nashville Explosion "The Hits Of Glen Gampbell" (Springboard Records, 1977) (LP)



<! >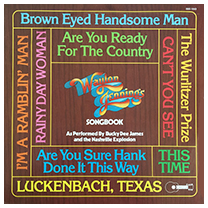 Bucky Dee James & The Nashville Explosion "Waylon Jennings Songbook" (Buckboard Records, 1977) (LP)
(Produced by Larry Walker)
Well, actually, this ain't bad. James had a gruff, smoky, old-dude-sounding voice that mustered a credible approximation of Waylon, and the Explosion band were competent as well, even if their note-for-note recreations of Waylon's hits don't exude the same primal power as the Waylors. But, hey, it still sounds good. You kind of have to wonder what the point of a record like this was, but it was the peak of the Willie & Waylon years and I guess if you could cash in, why not? The funniest moment comes with their cover of "Luckenbach, Texas," where one of the guys in the band even goes as far as trying to do a Willie Nelson imitation... This is definitely not a dazzling or genre-defining album, but it has its moments.


<! - #BBS-1043 http://www.classicalgasemissions.com/2011/08/bucky-dee-james-nashville-explosion.html http://forbiddeneye.com/labels/springboard.html >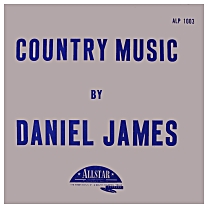 Daniel James "Country Music By Daniel James" (Allstar Records, 19--?) (LP)
A very cheaply-made, super-obscuro, no-art LP pressed in Houston, Texas... Not sure what year, though... Apparently "Allstar" was a song-poem label, which means a company where people would send lyrics for songs they had "written" into the label, which would then cook up an arrangement and make a quickie recording using their own in-house musicians. Apparently, Daniel James Mechura owned the label and recorded some of his own rockabilly and country songs under its banner, as well as releasing singles by honkytonkers such as Link Davis, Jerry Jericho and Eddie Noack, pressing actual singles by established artists as well as vanity singles for the song-poem clientele. This early-1960s(?) album was one of the few Allstar releases that was a full-length LP, otherwise the output was all singles. (Thanks to songpoemmusic.com for their wealth of info on this label...)


<! - # - NOTES, tracks, link >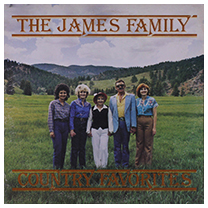 The James Family "Country Favorites" (JNS Records, 1981) (LP) (Produced by Jim Bartholemew & Iain Burgess)
This was a super-private, custom-label recording by the James family of Englewood, Colorado, backed by local musicians. The repertoire is largely covers of country hits, presumably family favorites: "Rose Garden," "Top Of The The World," "Silver Threads And Golden," "San Antonio Rose," several by Kristofferson, a couple by The Carpenters... There's one song that seems to be an original, "Reach For The Light," which is credited to two family members and a friend.


<! - #JNS-101 - no ASIN 12/17/17 - Fillies? - (CO) >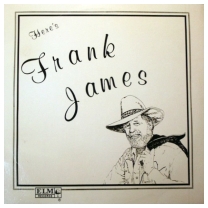 Frank James "Here's Frank James" (Elm Records, 1983) (LP) (Produced by Edd McNeely & Lloyd Green)
Singer Frank James was a native Missourian who did club gigs in Kansas City for several years before heading out West to play Vegas and Reno, and eventually settled down in Orange County, California, where he was living when he cut this record. There were a couple of different sessions, one with some locals in SoCal, and another in Nashville with a bunch of "usual suspect" Music City heavyweights -- Lloyd Green, Dave Kirby, Pete Wade, those kinda guys. James wrote four of the songs on this album, and all the others were originals by folks such as Larry Bales, Geanetta Brown, Gail James, John Lacy, and others, all published by the same publishing company. John Lacy was one of the musicians on the local sessions, though I think he's the only one who was as directly involved... I think James may have made several singles as well, though this might have been his only full album.


<! - # - no ASIN 12/30/15 - is tis the same guy? B00CF4LJSQ >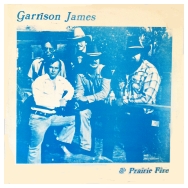 Garrison James "...And Prairie Fire" (DLS Records, 1979-?) (LP)
(Produced by Robert Grogan)
This Los Angeles-area band featured original material by someone whose last name was Scott, published by "Dee Ellis Music" (which I'd guess is where the label name comes from?) and I'm guessing that Scott was the given name of singer Garrison James, who fronts the band. Anyway... James was an amateur, for sure, but he had high hopes. He covers tunes by Roy Orbison and Marty Robbins, and possessed a definite Orbisonesque tone, if not quite the same level of charisma or command... Most of the material isn't that great though one of the originals, a tongue-twister novelty number called "My Tang Gets Tongled Up," is pretty fun, sort of in the same vicinity as Hank Snow's "I've Been Everywhere," Leroy Van Dyke's "The Auctioneer," or Steve Goodman's "Talk Backwards." No date on the album cover - anyone know when this came out?


<! - # - no ASIN 06/14/15 - engineered by Grogan >


Jimmy James -- see artist profile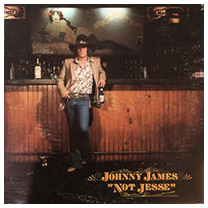 Johnny James "Not Jesse" (Para-Bank Records, 1980) (LP)
(Produced by Johnny James, Annie James & Cary Banks)
Okay, okay... I get it! It's Johnny, not Jesse... I get it already. (And did you say your last name was Cash? Or Paycheck?) Hah, hah. Anyway, here's some indie-twang honkytonk, recorded in Lubbock, Texas with assistance from the Maines Brothers band's extended network: Lloyd Maines adds his usual deft pedal steel licks, and the sessions were recorded at the Don Caldwell studio, same as the Maines clan. All but one song on this album was written or co-written by guitarist-producer Cary Banks, who also recorded with the Maines Brothers on several of their albums; bassist Jack Tyson is co-credited on three of these tracks.


<! - # > <! Mark James? >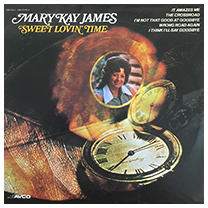 Mary Kay James "Sweet Lovin' Time" (Avco Records, 1975) (LP)
(Produced by Allen Reynolds & Garth Fundis)
A very nice, very understated set of country heartsong ballads... This appears to be the only full LP by Ms. James, a fine singer from Atlanta, Georgia who bore a strong vocal likeness to Loretta Lynn, and was a very confident and compelling performer. The band and studio crew is basically the same cadre that backed Don Williams on his first few albums, including producers Garth Fundis and Allen Reynolds, who would go on to be dominant figures in the country-pop sound of the 1990s, but here were plugging away as young'uns at the Jack Clements studios in Nashville. They also sing backup and play on some of the tracks, along with guys like Danny Flowers and Jimmy Colvard, as well as seasoned A-list studio pros such as Lloyd Green and Buddy Spicher... This record was at least partly a songwriter showcase: Allen Reynolds wrote or co-wrote over half the songs, including one composed with Don Williams; there are also a couple of penned by Williams' longtime collaborator Bob McDill, and the album as a whole feels similar to Williams's own gentle, unhurried folkish-country sound. And that's high praise in my book: this is the kind of record I delight in discovering, nice from start to finish. Mary Kay James also released a fair number of singles on various labels, including some off this album with non-album B-sides. James didn't click as a solo star -- she sang at the Opry, and moved briefly to Columbia Records, then over to Gusto by the decade's end, and seems to have quit show biz around 1980. Later she performed and recorded with some gospel and contemporary Christian bands. This old album is a nice memento of her secular career, though!


<! - #CAV-2510 (or is it CAV-2501) (?) - (GA) >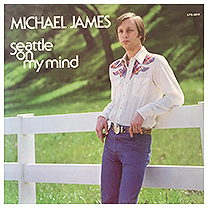 Michael James "Seattle On My Mind" (BOC Records, 1983) (LP)
(Produced by Mike Sikorsky, Brad Edwards & B. J. Carnahan)
Illustrating the interconnections between the square dance "calling" scene and more mainstream country is this album by Michael James, aka Mike Sikorsky, a caller from Southern California who seems to have been performing in one of the Ozarks mini-oprys some time in the early 1980s. Although he also cut numerous calling records, this album is an actual country set, with covers of tunes such as Rodney Crowell's "Ain't Livin' Long Like This," "Good Hearted Woman," and "Ghost Riders In The Sky." Perhaps not too surprisingly for a square dance caller, he also tackles the old Hank Snow tongue-twister "I've Been Everywhere," and if you've ever wanted to hear a cover version of "Grandma Got Run Over By A Reindeer," well, here ya go. There's also some original material, including Sikorsky's own "Queen Of All Ladies." Sikorsky grew up in the greater Los Angeles area, starting his career in calling back in 1972, and was successful enough that he paid is way through college by working the square dance circuit. He's backed here by a bunch of the Missouri locals who formed the house band at the Mack's Creek-based Audioloft Studios, including drummer Jerry Dooley, Brad Edwards (banjo, bass and guitar), Bruce Iveson (rhythm guitar), John McCoy (banjo and guitar), Glen Reasoner (piano) and steel player Myron Smith. On the back cover, Sikorsky provided a home address in Reseda, CA, although he later moved to Mesa, Arizona where he delved even deeper into square dance calling.


<! - #LPS-2017 - NOTES, website, bio, ci - LK emailed 11/05/19 >

Michael James "Bradley The Brown Nosed Reindeer" (History Publishing Company, 1992) (CD)
(Produced by Michael James & Brad Edwards)
A holiday EP, featuring several original novelty numbers written by Michael James/Mike Sikorsky, with backing by Brad Edwards and Rick Hargrove.


<! - #HCDS-1034 >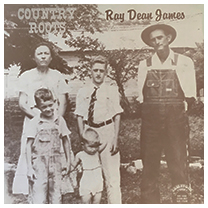 Ray Dean James "Country Roots" (Comstock Records, 1988-?) (LP)
Born in Statesville, Tennessee, songwriter Ray Dean James (1934-2015) served in the Korean War and later lived in both Indiana and Ohio, and was probably a midwesterner when he recorded this album for the Kansas-based Comstock label. He also released a string of singles on Comstock, from the late 1980s to the early '90s. He also cut a 1992 album called I Love The Music with an Indiana band called Wiley & The Road Runners, which included Ken Burns on guitar, Ralph Cook (bass), Rick DeVito (drums) and Delbert Dickey on pedal steel. This was the same band that backed him on his Comstock singles, going at least as far as 1987, which makes me think this was an Indiana-based release as well. Overall, they sounded kind of sluggish (including Mr. James) but his heart was in the right place...


<! - #987 - at Record Man; only mention online is nl list -Comstock label from Shawnee, Kansas (c. 1976-1988) - (IN) obit, notes >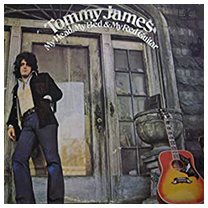 Tommy James "My Head, My Bed, And My Red Guitar" (Roulette Records, 1970) (LP)
(Produced by Pete Drake, Bob King & Scotty Moore)
On this solo album, pop star Tommy James -- yes, he of Shondells fame -- decamped to Nashville to cut this rural-tinted record. James and co-composer Bob King wrote most of the material, then hunkered down in the studio with an A-list crew of usual-suspect superpickers: Pete Drake, Ray Edenton, DJ Fontana, Dave Kirby, Charlie McCoy, Hargus Robbins, Buddy Spicher -- them fellas. Also on the sessions was songwriter Linda Hargrove, before her solo career blossomed -- she plays acoustic guitar and also contributed a song, "Rosalee," one of her earliest successes in Nashville.


<! - # - (MI) >

Anna Jane "Love/Life" (K-Ark Records, 1971-?) (LP)
(Produced by John Capps)
Hailing from Mount Pleasant, Pennsylvania, Anna Jane Hresko was an accountant by profession, though she found time to perform regionally in Pennsylvania, Ohio and West Virginia, making appearances on WWVA's "Jamboree" program, the Dickie Shock show in Sandusky, Ohio and the "Country Junction" TV program. She wrote much of her own material, and recorded several singles for K-Ark before cutting this disc, around 1971. Her band, the Westernaires, included Chuck Rhodes on steel guitar, Lou Rega (lead guitar), Greg Reynolds (drums) and her husband, Andy Hresko, on bass. He was a well-known musician playing in several polka bands, and the Hreskos co-wrote country songs together starting in the late 'Fifties. For several decades they also performed in a multi-generational ensemble called the Anna Jane Allen Family Band. In the late '60s she played local gigs as a solo artist, mainly around Connellsville, PA, and she cut a string of singles. I'm not totally sure when this album came out, but it includes a version of "Stand By Your Man," which was a hit for Tammy Wynette in 1969, and some folks tag her single version with a 1971 release date... so who knows?


<! - #K-ARK 216 - obit, copyrights (PA) >
Bobbi Jane "Bobbi Jane" (Pentagon Records, 1981) (LP)
(Produced by Alan J. Dote)
Some Bay Area country, recorded at Alan J. Dote's Side A Productions studio, based in Millbrae, California, just south of San Francisco. As on other albums Dote produced, there's a profusion of material he wrote himself, although Ms. Jane is credited on two songs, "Looking For Mr. Right," and "I Guess It's Crying Time Again," both songs also published by Dote's own company. Singer Bobbi Jane was decidedly a back-bencher, really not a very good vocalist, although she threw herself into it with great gusto, and a few songs work as rudimentary country thumpers, albeit with a strong whiff of so-bad-it's-good kitschiness. The more straightforward country numbers are best, though a disco-era hangover is present throughout, in the persistent presence of a cheesy keyboard-synth. The keyboards are unleashed in a bombastic solo on "Gone Too Long," a straight disco pop song that's kind of jarring in comparison to the rest of the record. Overall, I have to admit there's not a lot to recommend this record, although obscuro-twang fans (like me) may enjoy it for its very DIY-ishness. The liner notes say she had her own band, and had done gigs in Reno and Vegas, so there may be more to this album than just he pay-to-play vanity pressing it seems to be.


<! - # - (CA) >
Lois Jane (Neal) "One Of God's Sheep" (Lois Jane Neal Records, 1966) (LP)



<! - # - nv - dc: 1966 - Rite 17217/18 - issued under her full name >
Lois Jane "Across The Bridge" (Big Gospel Records, 1968-?) (LP)
(Produced by Wally Fowler & Rick Shea)
A teenage country gospel prodigy from Kentucky, Lois Jane Neal sounded a little like her fellow Kentuckian Loretta Lynn, uptempo and very rural, with legitimately twangy backing. Still in high school when this late-'Sixties album came out, she was a featured performer on Wally Fowler's syndicated TV show. Although this wasn't her first LP, she had been recording singles for several years, at least back as far as 1962, when she would have been about eleven or twelve years old. She built up a loyal following in the regional gospel scene in the 1970's and '80s, and continued her musical ministry online in years to come.


<! - #BGLP-105 ~ 10678 (1978-?) - aka Lois Jane Neal, born in Kentucky (b. 1950) - still in high school when this album came out, scheduled to graduate in 1969 - title track was a Jim Reeves song - later Lois Jane Wallace - FB - 2021: Call (615) 824-7429 loisjanew@aol.com >
Lois Jane "Come Along With Me" (Praise Song Records, 197--?) (LP)
This mid-Seventies album had a not of pop-country twang to it, a nice post-countrypolitan sound.


<! - # - early/mid 1970s -#PLP-1863 - "Christian Praise Song" label? >
Lois Jane "Lois Jane" (QCA Records, 1979) (LP)
(Produced by Vic Clay, Charles Novell & Chuck Seitz)



<! - #QC-3103 - disco-y country-pop sound - bc nv - more albums in the '80s, '90s >

Janice "Janice" (Benson Sound, 197-?) (LP)
(Produced by Larry Benson)
Country gospel singer Janice Stevens made the trip from Antioch, California back east to Oklahoma City, where the Benson studios gave her some pretty decent backing... The album opens with a rollicking, pure country arrangement of "Oh, What A Happy Day," and even on some of the sleepier tracks there's plenty of satisfying pedal steel, courtesy of Doug Campbell, and lead guitar by Charlie Arthur. Sometimes the backing has a lax, indifferent feel, and it has to be admitted that even with her Donna Fargo-esque country influences, Ms. Stevens wasn't always in top form as a vocalist -- keeping the beat was a particular challenge -- but there are hints of a stronger potential. Certainly if given more studio time, she could have held her own as a secular country singer. Not dazzling, by any means, but there are some nice moments.


<! - #LPS-298 - no ASIN 07/30/17 >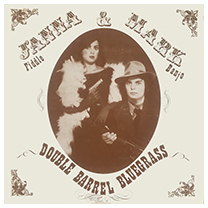 J'Anna & Mark "Double Barrel Bluegrass" (Paradise Arts Publishers, 1980) (LP)
(Produced by Bill Jacoby & Dave Houston)
A fiddle-and-banjo duo from Redding, California, J'Anna Jacoby and Mark Petteys tackled a wide repertoire, ranging from country and bluegrass tunes from the likes of Vassar Clements, Carl Jackson and Earl Scruggs to more esoteric material such as Benny Goodman's "Slipped Disc" and Bob Dylan's "Nashville Skyline Rag." They're joined by guitar picker Lee Brushett and mandolinist Ted Smith of the local, Sacramento-area bluegrass group, South Loomis Quickstep Band. Jacoby later moved into pop and rock music, including one album with the indiepop band The Black Watch, and a longtime position in Rod Stewart's road band.


<! - #VC-5162 - "Girl From Bakersfield" by Junior Daugherty - solo albums under "J'Anna Jacoby" >

Clifton Jansky "Country Music And Old-Fashioned Love" (CMU Records, 1982) (LP)
(Produced by Tommy Melder)
One of the last secular albums by Texas native Clifton Jansky, a regionally popular San Antonio-area performer who had a born-again conversion in 1984 and since became a popular Christian country artist. Jansky was one of several Lone Star musicians -- such as Dennis Ivey -- who were known for singing Terry Stafford's song, "Amarillo By Morning" several years before George Strait made it a national hit. The version on this album was cut three years before Strait's chart-topper came out... The album's title track was written by Jansky, one of three songs he penned for this record... Also noteworthy are a couple of tunes by Mundo Earwood, and among the locals backing him on this album are guitarist Randy Cornor and the record's producer Tommy Melder on steel guitar.


<! - # - no ASIN 08/01/16 - unable to find comprehensive discography online http://www.allmusic.com/artist/clifton-jansky-mn0000159338/biography >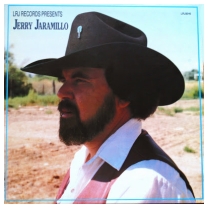 Jerry Jaramillo "LRJ Records Presents..." (LRJ Records, 1989) (LP)
(Produced by Little Richie Johnson)
Born in Belen, New Mexico and raised next door in Jarales, right along the Rio Grande -- singer Jerry Jaramillo (1948-2014) started out as a Christian musician before forming his own secular country group called the Brown River Road Band, which became the house band at an Albuquerque nightclub called Caravan East. Jaramillo held down that residency for over a decade while performing at other local venues, recording two albums and releasing several singles over the years. Both albums are packed with original material, and while Jaramillo never broke out nationally, his music had a strong regional following.


<! - # (d. 2014), age 66 01 Face To The Wall 02 Honky Tonk Cinderella 03 Dancin' With Mona 04 Too Much Of Not Enough Of You 05 If I Live To Be A Hundred 06 I'd Just Be Fool Enough 07 Jeanie Loved The Roses 08 I Don't Deserve Your Love 09 Waltzing My Sweetheart Away 10 Heartaches & Teardrops - no ASIN 06/13/15 http://www.news-bulletin.com/news/features/the-legacy-of-jerry-jaramillo-music-man/article_ab5ea2e4-b732-57bb-b0a5-dd983bbdc7b1.html "...In the '80s, Jerry Jaramillo and the Brown River Band enjoyed a lot of local success, performing regularly at the Caravan East in Albuquerque, and at the Westerner, El Nido, the Red Carpet and a few other bars in Valencia County. http://www.allmusic.com/artist/jerry-jaramillo-mn0001008970/biography "...b. 7 March 1954, Belen, New Mexico, USA. Jaramillo became interested in music as a child and his father gave him his first guitar when he was 12. He began performing locally and eventually formed his Brown River Road Band, with which he played a residency at an Albuquerque nightclub. He has acted as opener for several artists including Loretta Lynn and Faron Young. In 1988, he gained some indie chart successes with 'Face To The Wall', 'Jeanie Loved The Roses' and his self-penned 'Honky Tonk Cinderella'. His recordings generally featured a mixture of down-to-earth honky tonk, bar room ballads and Tex-Mex, while his bilingual talent, like that of Johnny Rodriguez, sometimes gave rise to Spanish as well as English vocals. " >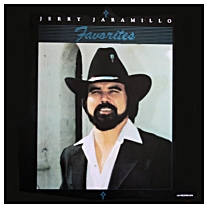 Jerry Jaramillo "Favorites" (LRJ Records, 1990) (LP)



<! - # - late '80s? early '90s? 01 Big Big Love 02 Step Aside 03 Pretty Dark Eyes - Cielito Linda 04 I'm Too Used To Loving You 05 Yellow Bandana 06 Keeper Of The Keys 07 Can't Take Another Chance On You 08 June's Back In Town 09 Where Did She Go New Mexico 10 I Don't Want To See You Cry >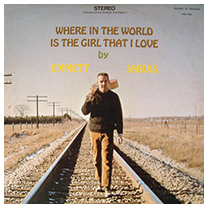 Emmett Jarvis "Where In The World Is That Girl That I Love" (Golden H Records, 196--?) (LP)
(Produced by Robert J. Stone)
How a nice, clean-cut lad from Coosa County, Alabama wound up singing (and recording) up north in Canada is likely to remain a mystery. Can't fault him for his taste in twang, though: plenty of West Coast stuff, including hits by Merle Haggard, Buck Owens and Wynn Stewart, plus a little Waylon Jennings and George Jones thrown in for good measure. I think I like this kid. It's possible that the title track was an original, but sadly there are no songwriter credits. Also, no info on the backing musicians. Oh, well. Apparently, Mr. Jarvis (1934-1995) eventually did head back home, passing away in Alabama, a couple of counties over from where he grew up.


<! - #GHS-1000 - little trace of him online - (AL) >
Arthur Jay "But, I Feel Good For The Shape I'm In" (Ebb Tide III Records, 1988) (LP)
(Produced by Jimmy Angel & Ben David)
An old-timer from Louisiana, Arthur James Tevay (aka Arthur Jay) recorded his first single -- "Goin' Back To Arkansas" -- in 1964, and went on to record for other regional indies such as K-Ark and Rome Records. Nothing really clicked, though, and he gave up on pursuing a career in music. This album seems to have been inspired by his wife, Esther-Marie Tevay, who I suspect said something like, honey, you should really record some of those great old songs you wrote! and prodded him into the studio. The material is all originals, including the title track and another tune called "Sweet Esther-Marie." Interestingly enough, it doesn't seem to include any re-recordings of his older songs. Mr. Tevay is backed by Ben David on lead guitar, Jim Strahan playing steel, as well as some saxophone and string arrangements, and someone called "E.T." on drums... Esther, perhaps? Anyway, for those of you who enjoy hearing old coots playing their old songs, this disc may raise a few smiles.


<! - # nv >
Michael Jay & Friends "An Evening At Sourdough's" (Country Northwest Records, 1983) (LP)
(Produced by Ray Hartman & Michael Jay)
This disc is a memento of Michael Jay Clothier and his band Whistlestop's residency at Sourdough's Lounge, a nightspot in Federal Way, Washington (sandwiched between Seattle and Tacoma). Not a ton of info about this band -- they originally formed around 1975 and went through several lineup changes, with Michael Jay the one constant member. I think this was the group's only album, though they made at least one single as well, issued the following year on the same label.


<! - #CNW-1002 - (WA) notes >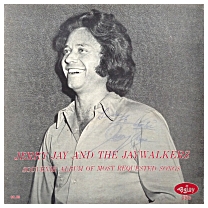 Jerry Jay(e) & The Jaywalkers "Souvenir Album Of Most Requested Songs" (Bejay Records, 1973-?) (LP)
(Produced by Mickey Moody)
This was a seriously-indie, in-between-gigs side session for singer Jerry Jaye, an Arkansas native who had a regional and national pop hit with the 1967 single, "My Girl Josephine" and who toured with both Booker T & The MGs and with the Bill Black Combo in the early '70s. This mostly-covers album seems to be vintage 1972-73, a few years before Jaye's country Top Forty breakthrough, "Honky Tonk Women Love Redneck Men" which is an enduring classic of 1970s honkytonk pop. This disc features Jaye playing with some locals in Western Arkansas on a record that was sold out of the Ben Jack Guitar Store in the K-Mart Plaza of Fort Smith. (Co-producer Ben Jack also played pedal steel on the album.) They cover hits of the day, such as "Help Me Make It Through The Night," "Don't Mess Around With Jim," "Country Roads" and "Don't Get Hooked On Me," and possibly a couple of originals. His name is misspelled on the album cover, but there's no mistaking Jaye's funky, down-home mix of soul and twang... A fun record, though a little goofy at times.


<! - no ASIN 03/30/15 - (AR) >

Jerry Jaye "Honky Tonk Women Love Redneck Men (Plus)" (Edsel Records, 1999)
A fine reissue of Memphis local Jerry Jaye's 1976 album, Honky Tonk Women Love Redneck Men, the title track of which was one of the finest, funnest, most melodic redneck anthems of the 'Seventies neotrad scene. Built on a roller-rinky guitar riff that was lifted straight from Billy Swan's "I Can Help," the song offers one of the most jovial portraits of good-timin' good ole boy life ever committed to wax... The album has several other fine tunes, including "Drinkin' My Way Back Home," and "Standing Room Only," as well as several less-impressive cover tunes, drawing from both the country and R&B sides of Jaye's work. This CD augments his country work with ten bonus tracks drawn from some 1969 white soul sessions with a bunch of Memphis pickers and a Charlie Rich-like vibe... This earlier stuff doesn't blow me away, even though twang-bar king Travis Wammack was one of the backup players... But for southern soul aficionados, these unissued tracks and single sides are doubtless a real find. Still, "Honky Tonk Women" alone is worth the price of admission... What a grrreat song!!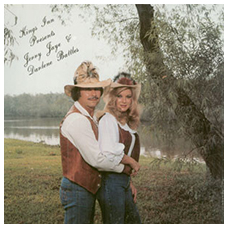 Jerry Jaye & Darlene Battles "Kings Inn Presents..." (Bejay Records, 1984) (LP)
I think this album, recorded with his wife, was the last LP Jerry Jaye recorded, going back to his locals-only roots with the Bejay label...


<! - # - tracks, etc (AR) >
The Jaye Sisters "On Tour With The Jaye Sisters" (Parthenon Productions, 19--?) (LP)
(Produced by Jack Boles)
The credits list the sisters as Pattie and Darlene Jaye, who I think may have been singer Darlene Battles, wife of roots/country/R&B singer Jerry Jaye... I couldn't find any definitive info about when this one came out. It seems to have been recorded in Nashville, at least as late as 1968, since they cover Tammy Wynette's "D-I-V-O-R-C-E," along with a bunch of 1950s and '60s hits, including "Love Of The Common People" "Act Naturally" and others. The Jaye Sisters may have originally been pitched as a pop duo -- they seem to have also recorded a couple of singles for Atlantic in the early '60s.


<! - #JB-1000 - (AR) >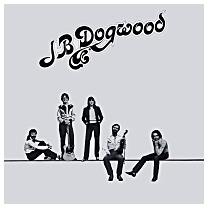 JB Dogwood "JB Dogwood" (Twang Records, 1981) (LP)
(Produced by Jerry McMillan)
There's no one in this band named "JB Dogwood," but that would be a cool name. This band from the Pasadena suburb of Tujunga, California was led by songwriter Jim Jaillet and singer-fiddler Jane Grondin. Plus, they had a dobro player named Norman Rockwell... no kidding!


<! - no ASIN 06/22/15 >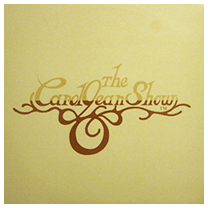 Carol Jean "The Carol Jean Show" (New Pioneer Productions, 198-?) (LP)
(Produced by Lyndon Bartell)
This Minneapolis-area band included lead singer Carol Jean, along with Wayne Danberry (guitar, vocals), Roger Carson (vocals, alto and tenor saxophones, grand piano, electric piano... and... anything else you'd like to add, Mr. Carson? Ah. Okay, sure... also "orchestrator" and "bells." Got it. Drummer Gary Foley sings lead vocals on covers of Marty Robbins' "Lord You Gave Me A Mountain" and "House Of The Rising Sun." Bassist Wayne Danberry sings lead on three oldies -- "Johnny B. Goode," "Out Behind The Barn" and Melvin Endsley's "Singin' The Blues." Ms. Jean solos on four songs, including one she co-wrote called "Whispering Sweet Stories," while musical polymath Roger Carson sings on three songs he co-wrote with a guy named Erik West, who apparently wasn't on this record -- "Daybreak," "Renegade Angel" and "The Winner." Perhaps one day the story of Erik West will be told again as well!


<! - # (MN) >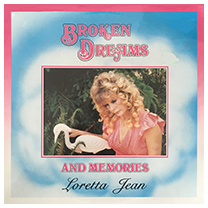 Loretta Jean "Broken Dreams And Memories" (Birch Street Records, 1989) (LP)
(Produced by R. J. James & Dave Kling)



<! - #BSP-0789 - all songs originals - recorded in Paradise, California >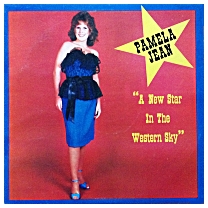 Pamela Jean "A New Star In The Western Sky" (New Pioneer Productions, 1985) (LP)
(Produced by Thomas Griep)
La Puente, California's Pamela Jean was about eighteen years old when she cut this album, which seems to be full of original material, including songs such as "City Outlaw," "Outlaw Ladies" and the intriguing "Fallen Little Sister." Looks pretty mainstream, but when I track down an affordable copy and give it a whirl, I'll give you some more info...


<! - # - (CA) - possibly the same singer: Pamela Jean & George Spicer "Kick It Down" (2001) (CD) B010179TP8 >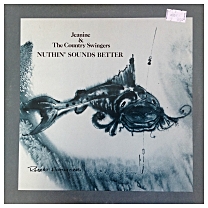 Jeanine & The Country Swingers "Nuthin' Sounds Better" (SyDee Records, 1977) (LP)
This is a very odd and decidedly idiosyncratic album, recorded by Dolores and Willie Monington along with their three grown-up children and a few musician friends from the San Francisco Bay Area. The Moningtons lived in Martinez, California and Dolores was known in the '70s as a motorcycle enthusiast -- on the back cover she's pictured wearing her vest for the Wedded Wheels MC -- and the Jeanine of the band name was one of their daughters. Ms. Monington wrote all the songs on here, though everybody takes turns singing them... And it's a weird mix of styles -- old-timey stuff, country gospel, true twang and some nice, straightforward hillbilly stuff. It's hard to get a handle on exactly where they were coming from, but they did seem to have a lot of fun making this album. The band includes Mark Newsom on drums, Don Paul playing steel guitar, and Doc Quam on fiddle and mandolin -- I believe Quam was also in a band called the Comstock Cowboys.


<! - # - (CA) > <! Jef & Valerie (Mayes) "Jef And Valerie" (Jef Mayes Music, 1981-?) (LP) - #JM-001 - w/ AV Midelstedt - posed naked together cover (ew!) - pix - how much twang? looks pretty iffy >
Russ And Becky Jeffers "...And Smokey Mountain Sunshine" (Royal American Records, 19--?) (LP)
(Produced by Russ Jeffers & Louis Owens)
In 1974, this husband-wife duo started a regular gig playing at the Opryland Hotel, and worked on the road playing concerts at crafts fairs and the like... But Mr. Jeffers wasn't just doing cover tunes -- on this album he includes three of his own original songs -- "Smokey Mountain Sunshine," "When The Blue In My Grass Turns Green" and the rather mopey-sounding, "Does Anybody Want To Sing My Song," as well as "Headed South" by Bill McCallie, who used Jeffers' publishing company. Pete Kirby, Roy Huskey and Buck White are among the studio musicians brought in to back them, while future famous bluegrass fiddler Craig Duncan and banjo picker James McKinney were in their regular Opryland band.


<! - RA-1014 >
Russ And Becky Jeffers "At Opryland" (Lee Ann Records, 19--?) (LP)
The Jefferses continued their tenure at Opryland for several years, also working the county fair circuit and other gigs as they came along, including work at Busch Gardens and Dollywood. In addition to these 1970s albums, they have self-released a bunch of stuff, well into the digital era.
Karen Jeglum & Gene Kennedy "Door Knob Records Presents..." (Door Knob Records, 1981-?) (LP)
(Produced by Gene Kennedy)
A duets set featuring Gene Kennedy, owner of the Door Knob label, and Karen Jeglum, a professional backup singer in Nashville, who started out as part of Christy Lane's road show, then moved into studio work. Door Knob was one of the last real notable indies to crack into the Country charts, fielding singles as late as the early '80s... The liner notes to this album say that Kennedy and Jeglum had a couple of singles chart before recording this album, but if so, it wasn't nationally; no mention of it in Billboard, at least. Anyway, they had a hand-selected Nashville studio crew that included Stu Basore and Russ Hicks on steel guitars, Benny Kennerson playing piano, and Arlene Harden and Bobby Harden singing backup


<! - #DK-LPS-81-1004 - no ASIN 12/09/17 >
Bob Jenkins "Bob Jenkins Sings" (Twentieth Century, 1974)
(Produced by Michael Taylor)
Slick, heavily orchestrated countrypolitan/country-rock, recorded outside of the Nashville studio system. More '70s AOR than "country." I don't know much about this guy, and I'm not sure if he's the same Bob Jenkins who had a minor country hit a decade later with a novelty song about the Rubik's cube... Anyway, Jenkins and his producer Mike Taylor each wrote about half the songs on here, and I'm assuming they were in a band together or something. Nothing charted from this album, but if you like the smoother side of the country-rock sound -- bands like Poco and Firefall -- you might enjoy this as well. (BTW, if anyone has more info, feel free to contact me.)




Buster Jenkins/Various Artists "Buster Jenkins Presents: Rocky Mountain Jamboree" (Band Box Records, 1962-?) (LP)
Fiddler Buster Jenkins was a deejay at Denver radio station KLAK, and also the host of the station's Rocky Mountain Jamboree, a venue that included performers such as Max Allison, Johnny Chase, The Flying W Wranglers, Charles Gordon, Edie Hammons, Jim Moore, Roy Queen... not household names, to be sure, but that what makes records like this so much fun.


<! - #BBLP-1008 - really a comp - NOTES >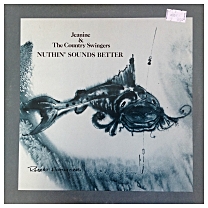 Betty Ann Jennette "Tootsie Sings Country" (Harvester Records, 19--?) (LP)
(Produced by Jeff Newman)
An obscure private-press album, featuring mystery gal Betty Ann Jennette... So far the only clue about her career comes from the album's back cover, which features liner notes by appliance store owner Bill Myers, who also hosted the Goodlettsville, Tennessee TV show, "Country Junction," which Jennette performed on. Although the cover photo shows her sporting a hairdo reminiscent of Norma Jean, circa 1965, this disc appears to be of a later vintage, with several covers songs from around 1966-67 (Lynn Anderson's "Ride, Ride, Ride," Loretta Lynn's "You Ain't Woman Enough" and Dolly Parton's "Put It Off Til Tomorrow") capped off by Merle Haggard's, "Today I Started Loving You Again," which started life as a single B-side in early 1968 and finally charted in '69. If I had to guess -- and apparently I do - I'd tag this as a 1969 release, possibly late '68. Funny album title: if anyone knows about a connection between this gal and bar owner Hattie Louise Bess, please feel free to let me know.


<! - #LP-629-630 - early '70s? late '60s? includes - "Today I Started Loving You Again" (1968-69) - seen this LP listed as 1964, but that's wrong - Tennessee? >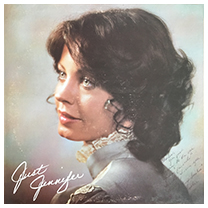 Jennifer "Just Jennifer" (BOC/Audioloft Records, 197--?) (LP)
(Produced by B. J. Carnahan)
Yes, that's "just Jennifer," like "just Cher," although a quick scan of the back cover will reveal this Missouri gal's full name to be Jennifer Wise (nee Jennifer Vogel). Although she's pals with producer B. J. Carnahan -- who was pals with Johnny Cash -- this album has far less twang to it than you'd expect from inside the orbit of the Macks Creek, Missouri mom-n-pop indie scene... Basically, this is a fairly generic, low-energy set of wispy folk-pop, crooned by Ms. Wise in a Karen Carpenter-esque milkiness. She wrote most of the songs on here, including two co-written with Carnahan. She also covers "Welcome To My World," David Mallett's "Garden Song" (aka "Inch By Inch," most famously recorded by Pete Seeger) and the Hank Williams oldie, "I'm So Lonesome I Could Cry," which is the most country-sounding track on the record. The album was arranged by Brad Edwards, who presumably also plays on the sessions (no musician credits, alas...) Not much to get worked up about on this one, though I did like the pedal steel on the Hank song.


<! - #BOC-LPS-2007 >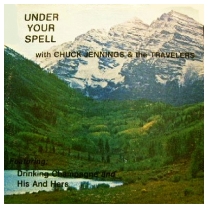 Chuck Jennings & The Travellers "Under Your Spell" (Sandy Land Records, 19--?) (LP)



<! His and Hers I Don't Love You Anymore Drinking Champagne Wicked Woman The Day After Never Tell Me What's Going On Under Your Spell Home Away From Home Stranger in My Arms The Best Part of Leaving Just Once in Awhile When Your House is Not A Home Sumet Bernet Sound - label? >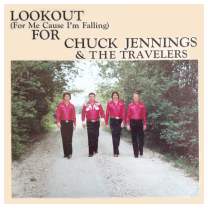 Chuck Jennings & The Travellers "Look Out For Me 'Cause I'm Falling" (Sandy Land Records, 1980) (LP)



<! #KR-002 - no ASIN 02/05/15 - single says 1980 >
Tom Jennings & The Nashville Session Band "No. 1" (T.J. Productions, 1984) (LP)
Not to be confused with Waylon's brother Tommy (below), Irish pop singer Tom Jennings has been leading his hard-working wedding band for decades, dating back to the late 'Sixties. Though he also sings rock and soul, here Jennings concentrates pretty strictly on country stuff, covering hits like "Thirty-Nine And Holding," "Is Anybody Going To San Antone," "Margaritaville," and "I'll Be Your Baby Tonight." I'm not sure where Jennings grew up, but he seems to have been based in London for most of his career... And, by the way, I believe you can still book his band if you go to his website, and pick a date!


<! - #TTBGT 1 - tracks, contact (IRL) >
Tommy Jennings "Then There Was One" (Dimension Records, 1980) (LP)
(Produced by Ray Pennington & Kevin McManus)
Yes indeed, this fella was actually Waylon Jennings' younger brother, and he played in Waylon's band in the early 1960s when the future outlaw was gathering steam for his Nashville career. Tommy Jennings also tried to launch his own career, but met with only middling success -- in the late '70s he had a few songs scrape the back end of the Billboard charts, while this album produced his biggest hit, "Just Give Me What You Think Is Fair," which pegged out at #51. All but three of the songs were written or co-written by Jerry McBee; Tommy Jennings is credited on two songs, "The Monkey," which opens the album, and "My Own Way," which was composed along with McBee and producer Ray Pennington. To be honest, this really does sound like a pale imitation of Waylon's sound, with highly imitative vocals and fairly by-the-numbers, slick pop-country arrangements. Though Tommy Jennings proclaims he's doing things his way, he sure seems comfortable remaining in his brother's rather considerable shadow.


<! - # - bio (TX) >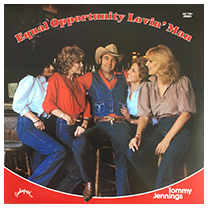 Tommy Jennings "Equal Opportunity Lovin' Man" (Audiograph Records, 1982) (LP)
(Produced by Mike Daniels)
A distinctly commercially-oriented album from the urban cowboy era... On most tracks, Jennings aims for a semi-robust, Johnny Lee-ish early '80s sound, but he's better on the ballads, when he croons a little bit like Don Williams. He's not totally successful in either mode, though -- the truth of the matter is, he just doesn't have the chops and he tries to hit not-that-high high notes that were apparently out of his range. Regardless, this Nashville indie had him cut an album and like many Audiograph releases, it seems to have been a songwriters demo set. There are three tracks written by a guy named Doc Cole, one by a gal named Kim Cole (who also sings backup) and several other songwriters who I've never heard of, either. The studio crew are B- and C-List players who mostly don't ring a bell... I've seen steel player Jim Vest's name a time or two, but that's about it. So, in short, this is a fairly mediocre wannabee Top Forty set, though some of the songs are okay... I think my favorite track here is Byron Hill's novelty number, "Out Of Your Mind," which had been a hit for Joe Sun a few years earlier. Others, like "Lady's Man," "Fantasy Lady" and "Equal Opportunity Lovin' Man" have a little too desperate-for-a-hit feel to them, sensitive studly swagger and all. You can probably skip this one, though it could be worth a spin, depending on what you're looking for.


<! - #AG-7781 - no ASIN 02/05/15 >


Waylon Jennings -- see artist profile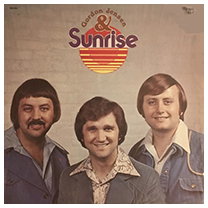 Gordon Jensen & Sunrise "Sunrise" (Rockland Road Records, 1976) (LP)
(Produced by Wayne Hilton & Fred Cameron)
As far as I can tell, this was the first "solo" album by Gordon Jensen, a prolific Christian music songwriter who had previously been in a '70s Southern Gospel band called the Orrells, which he transmuted into the group Sunrise. Jensen was born in Canada, but emigrated to Nashville to be part of the Southern Gospel scene. In 1969 he helped revive the Orrell Quartet along with Larry Orrell and Wayne Hilton, with Jensen as the group's primary songwriter. On this album, Jensen pursues a fairly straightforward country sound, with Tony Brown on keyboards, Fred Newell playing lead guitar, and John Rich on pedal steel; the Carol Lee Singers also back them up on a couple of tracks.


<! - #RR-103 - no ASIN 04/30/18 - Fred Cameron, engineer - CAN-? >

Gordon Jensen & Sunrise "Sing The Best Of The Orrells" (Rockland Road Records, 1977) (LP)
(Produced by Wayne Hilton & Fred Cameron)
This album was a full-on homage to the group that gave Jensen his start, with pretty much the same group of Nashville pros backed Jensen on his previous album. It's worth noting that Tony Brown -- who was on his way to becoming one of commercial country's best and brightest producers -- had come from a southern gospel background himself, including a long stint in the pre-secular edition of the Oak Ridge Boys.


<! >
Gordon Jensen & Sunrise "The Glove" (Essence Records, 1978) (LP)
(Produced by Wayne Hilton)
More country gospel from the Sunrise band... Wayne Hilton is still on board as rhythm guitarist and producer, helming a Nashville studio crew with plenty of oomph... I'd be willing to bet that the "Marty Stewart" credited as playing flat-top guitar and mandolin is in fact Marty Stuart, future country star, probably doing some session work after leaving Lester Flatt's band...


<! - # - 06/19/15 - LK emailed Jensen to ask about the album >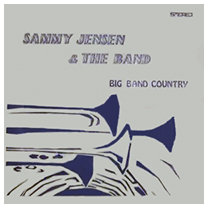 Sammy Jensen "Big Band Country" (IGL Records, 197--?) (LP)
(Produced by Curt D. Johnson & Harvey Nelson)
Oh, dear. Well, if Willie Nelson can do it, I guess anyone can. Iowa bandleader Sammy Jensen released several uber-indie jazz LPs on the IGL label, this one stands out for its embrace of country music source material. But if you're a twangfan, I wouldn't get your hopes up too high.


<! - #134 - no ASIN 03/28/17 - from Iowa - more a jazz thing? horns pictured on cover >

Jimmy Jenson "The Swingin' Swede" (Jay Records, 197-?) (LP)
(Produced by Curt D. Johnson & Harvey Nelson)
There is a lot of real, legitimate overlap between American country and old-timey music and Continental European dance traditions like polka music -- in fact, in the upper plains and Great Lakes regions "old time music" is what they call polka. Minnesota accordionist Jimmy Jenson played those connections for laughs, infusing his Homer & Jethro-style parodies with cheerfully stereotyped Scandinavian-themed humor, producing songs such as "Swedish Orange Blossom Special," "Daddy Played First Base" and "The Battle Of Kookamonga" (a parody of Johnny Horton's "Battle Of New Orleans") The Swingin' Swede is backed here by Whitey Evans on fiddle), bassist Del Pedersen and Ted Van Dusen on drums. Probably not for everyone, but, y'know, there is some history there. By the way, he made a bunch of records! This barely scratches the surface...


<! - #LP-1001 >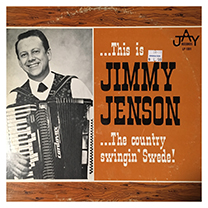 Jimmy Jenson "This Is Jimmy Jenson The Country Swingin' Swede" (Jay Records, 197--?) (LP)
(Produced by Curt D. Johnson, John W. Calder & Don R. Holmes)
This was the fifth album by Minnesota-based accordionist Jimmy Jenson, who expanded his "old-time" polka repertoire to go in a distinctly country(ish) direction. Jenson specialized in comedic and parody material, along the lines of Spike Jones or country music's Homer & Jethro. This album has several Christmas-themed songs ("I Yust Go Nuts At Christmas," "Yingle Bells," etc.) in addition to country parodies like "Daddy Played First Base," "Swedish Orange Blossom Special" as well as pop lampoons such as "Valkin' In My Vinter Undervear" (a send-up of "Winter Wonderland"). The humor is, obviously, a bit dated and perhaps too strained, but this may still be of interest to a few twangfans out there. There's no date on the disc, but he includes a version of Gene McClellan's "Snowbird," so it's at least from 1970... Jenson is backed by a compact band, with Whitey Evans on fiddle, Del Pedersen playing bass, and drummer Ted Van Dusen, recording at the Audiotek Recordings Studios, in Minneapolis.


<! - #LP-1001 - Jimmy Jenson "The Versatile Jimmy Jenson" (Jay Records, 197--?) (LP) - Alexandria, MN address - country material includes "Jambalaya," "We Could," "You Gotta Have A License" >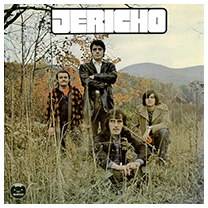 Jericho "Jericho" (Bearsville/Ampex Records, 1971) (LP)
(Produced by Todd Rundgren)
This hip, groovy Toronto rock group was mostly a boogie/jam band, though with a sharper edge than many of their sludgier-sounding contemporaries. That may be due to having Todd Rundgren as their producer -- his intricate, overly-precise engineering style is readily discerned, especially on the more rock-blues oriented tracks. Honestly, there's not a lot here for twangfans to latch onto here, though some of the more laid-back grooves are reminiscent of The Band, and the merry jug-band mayhem of "Going To The Country" does give country-rock historians something to look into... Mostly pretty rockin', though, and often a bit shrill.


<! - # - rock? >


Doug Jernigan -- see artist profile




Sherri Jerrico "Country Heartaches" (Crazy Cajun Records, 19--?) (LP)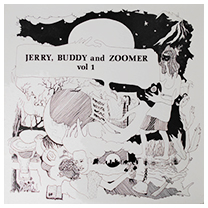 Jerry, Buddy & Zoomer "Volume One" (JBZ Records, 1982) (LP)
Longtime local scenesters, Jerry Boyer, Buddy Winson, and Zoomer Roberts were a trio from El Paso, Texas who were also involved in various bands, including Applejack and the Shade Tree Boys... I think this was the only album they recorded as a trio.


<! - #JBZ 500 - no ASIN 02/25/15 - in the 1980s, Buddy Winson was also in the band Applejack - Zoomer Roberts was formerly in a band called The Shade Tree Boys (circa 1970) > <! Jerry & Jo-Anne - A TON OF RECORDS - 1971-83 https://www.discogs.com/artist/3214926-Jerry-And-JoAnne Gérald Robitaille & Jo'Anne Moreault Country duet from Lennoxville, Québec IN CANADA - expand >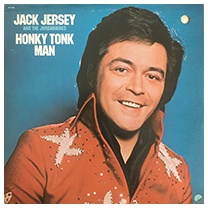 Jack Jersey "Honky Tonk Man" (Capitol-EMI Records, 1975) (LP)
(Produced by Frank Jones)
A country/countrypolitan set by Dutch pop singer Willem de Nijs, who sang English-language material under the stage name Jack Jersey. Backed by the Jordanaires and an all-Nashville studio crew, Jersey shows a clear affinity for old-style rockabilly-pop, ala Elvis Presley, or early Conway Twitty. Not bad! His accent's pretty good, too (although I would prefer hearing him sing in Dutch.)


<! B004QZ5H1C >

The Lee Jessup Band "We Sing Our Songs" (Back Porch Productions, 1980) (LP)
(Produced by Howard Lovett)
A hardworking, outlaw-oriented twang'n'roots band from around Macon, Georgia. Back in the late 1970s, the Lee Jessup Band played in a local live venue called The Swampland Opera, located in the tiny town of Toomsboro, near Jessup's hometown of Dublin. The band was made up of Lee Jessup on lead vocals and guitar, Danny Mayo (lead vocals, rhythm guitar), Gary Mayo (percussion), Mark Owens (guitar), Doug Rogers (bass) and Donny Screws on drums.


<! - #LSR-109 >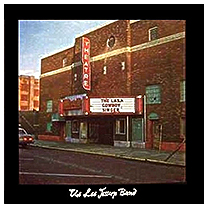 The Lee Jessup Band "The Last Cowboy Singer" (Back Porch Productions, 1981) (LP)
(Produced by Howard Lovett)



<! - #LSR-126 "...Thanks for this! Dublin was always good to the Lee Jessup Band! We only play together once or twice a year now & have all moved on to other musical projects such as The MidLife Chryslers, Mackie Creek Band, etc. Thank you so much for remembering us! It was a Blast!" >

The Lee Jessup Band "This Old Highway" (1989) (LP)



<! >
Jim 'N' Anne "Jim 'N' Anne" (Jim & Anne's, 1978)
(Produced by Marc Jaco)
A surprisingly strong offering by a decidedly amateur, jes'-plain-folks duo from Garland, Texas, in the Dallas-Fort Worth area... Jim and Anne Weaver poured their hearts into this one, which is mostly a set of cover songs, punctuated by two Weaver originals, "Here" and "Take That Truck And Jam It" (which was also released as a 7" single on the Derrick label). The cover tunes include Kris Kristofferson's "Stranger," Freddie Hart's "Easy Lovin'," Jesse Colter's "I'm Not Lisa" and a couple of Shel Silverstein songs: strangely enough they record the male chauvinist anthem, "Put Another Log On The Fire" as a duet, with Anne Weaver mostly murmuring her assent to the over-the-top lyrics until she finally chimes in with a few mild "Tramp"-style comebacks. Jim Weaver was clearly the stronger performer, as heard on his confident solo version of "Margaritaville," but the pickin' and singing is generally pretty good. For uber-indie country DIY, this is an album worth tracking down. My copy came with a xeroxed publicity photo with the Shotgun Sam's pizza parlor logo at the bottom; I'm guessing they had a regular gig there(?)


<! - # - (TX) >
Jim 'N' Anne "Live... Featuring Kristi" (Jim & Anne Records & Tapes, 1981)
(Produced by Dazzlin' Dave Thomas)
Another self-financed album, recorded at the Judge Bean's Restaurant & Cantina, in Addison Texas... You can tell (for sure) this was a self-financed recording because they credit their loan officer at the Town North National Bank(!) and promise to pay him back on time... On this set, they handed over the female vocals to a gal named "Kristi," though I'm not sure who she was -- their daughter, possibly? Anyhoo, I haven't heard this one yet, but when I do, I'll give you a shout.


<! - with "Ralph" on drums and Don Berggren, piano - NOTES, tracks, link >
Jim 'N' Gary "New Faces" (TNS Records, 19--?) (LP)
A countrypolitan lounge duo on a label from Seattle... It's all all cover songs, early '70s stuff like "Help Me Make It Through The Night," "Me And Bobby McGee," "Never Ending Love Song," and "Only Daddy That'll Walk The Line" as well as some pop/AOR hits like the dreadful "Me And You And A Dog Named Boo" and Neil Diamond's "Song Sung Blue." Alas, their last names are not given, nor any indication of where they were from. Country gal Susan Raye contributed the liner notes, saying she'd worked with the duo in the previous year -- maybe they were in her band?


<! - #TNS-101 - no date, no producer info ("Wolfgang Productions") >

Jim & Jennie "I'm Free From Sin" (Jessup Records, 1970) (LP)
(Produced by Kearney Barton)
Straight-up old-fashioned bluegrass gospel, featuring lead vocals by the husband-wife duo of Jim Hall and Jenny Hall, along with assorted friends and relations as The Dixie Mountain Ramblers... Their son, Lynn Hall, plays bass while Tommy T. Hunter chimes in on banjo; Mr. Ed Patrick saws a bit on the fiddle and sings lead on one track, as does the group's bass vocalist, Ernest Welch. Lastly, there's Mr. Welch's son, David Welch on mandolin. Jennie Hall also recorded an album under her own name a few years later, also on Jessup Records.


<! - #MB-103 - from Michigan? - is it Tommy T. Hall(?) or Tommy T. Hunter(?) on banjo Jennie Hall "He Walks Beside Me" (Jessup Records, 1971) (LP) B00HBHS5GQ - #MB-110 >
Jim & Jody (Pearson) "We Have This Moment Today" (Sword & Shield Records, 1982) (LP)
A charming country gospel set by an evangelical husband-wife duo who were also owners of the Double J Ranch in Stamford, Nebraska. They went to Texas to record this at the Sword & Shield studio in Arlington, with a very country-sounding backing band, including Junior Knight on steel guitar and banjo. There are two originals on this album, Jim Curry's "Jesus Feet," and Janet Potter's "You And Me And The Lord," though most of the material comes from established gospel artists such as the Gaithers and the Stamphills, as well as a version of Hank Williams's "I Saw The Light." Plenty of twang (yay!) and although neither one of them can stay in tune, they're so enthusiastic it's pretty hard not to like 'em.


<! <! - #LPS-9220 - no ASIN 12/08/17 - producer not listed - title track is a Bill Gaither song >
Jim & Rich "There's A Light Guiding Me" (Celestial Records, 19--?) (LP)
(Produced by Hal Southern)
Old fashioned country gospel, with stripped down arrangements. Like many Californians, Jim Porter and Rich Amick were born elsewhere, Porter in Illinois and Amick in Colorado... But they both headed out west and met while singing in a local church group in Canoga Park. That inspired this album, which was produced with help from Nashville old-timer Harold Hensley (1932-1988) on violin, along with Charles Thomas playing bass and Larry Thomas on piano... Not sure of the year, but it looks mid- to late-'Seventies.


<! - #CP-1047 - Ripcord related? looks like their graphics - label address in Reseda, California - no song credits, not all chestnuts >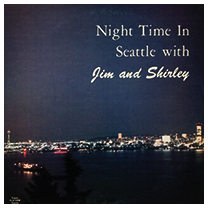 Jim & Shirley "Night Time In Seattle" (Topaz Records, 1973-?) (LP)
(Produced by Kearney Barton)
This disc from Seattle, Washington is the very epitome of a custom-printed vanity album, with married couple Jim and Shirley Taylor singing a few of their favorite contemporary songs, as well as their own composition, "Night Time In Seattle," which doubtless they hoped would become known as a hometown anthem. This disc may be a bit questionable from a twangfan's perspective, with a dash of country amid more soft-pop/lounge-y vocals. Still, along with covers of Kui Lee, James Taylor and the Bee Gees, they play some Kris Kristofferson and Hoyt Axton, along with Billy Craddock's "Rub It In," so they can join the country club. There's no date on the disc, but the autographed copy I've seen had a handwritten date of June 20, 1973, so at least we know it precedes the one below. Anyone out there know more about these folks? I'd love to hear their story.


<! - #TLS-1208 >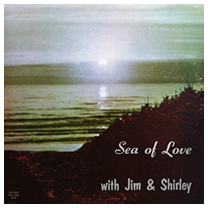 Jim & Shirley "Sea Of Love" (Tareco Records, 1974) (LP)
As with their previous album, this is the very epitome of a custom-printed vanity album, with married couple Jim and Shirley Taylor singing a few of their favorite contemporary songs. It was clearly kind of a family Christmas card kind of album, with photos on the back of her horseback riding and him golfing... The repertoire includes some country-ish stuff, like "Country Roads," "Horse With No Name," "Snowbird" and "Tie A Yellow Ribbon," while on the poppier end of the spectrum, there's more dubious soft-pop material such as David Gates' "If," Neil Diamond's "Sweet Caroline" and "Killing Me Softly." I dunno if I'd call this one a "good" record, but it's definitely very, very Seventies!


<! - #TRO-1001 - (WA) >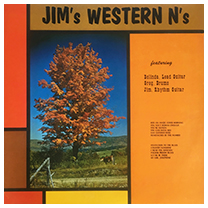 Jim's Western N's "Jim's Western N's" (1974-?) (LP)
(Produced by Johnny Durham)
I'm tempted to say your guess is as good as mine, especially since the back cover on this cheapo-cheapo private pressing is entirely blank, and the musicians are only identified on the front as "Belinda, Lead Guitar; Greg, Drums; Jim, Rhythm Guitar." The inner label is slightly more helpful, informing us that these three were "the only family band in the Osage area," which is only marginally useful information, given that there are over a dozen places named "Osage" in the United States. Thank God for the internet, though, because there was one little mention of these folks, a show notice in the Lime Springs Herald informing us of their performance at the American Legion Hall in Osage, Iowa on April 11, 1974 (admission $1.75, with barbeque included.) That date sounds about right, since this set of country covers and rock'n'roll oldies includes a couple of contemporary hits, such as "Kiss An Angel Good Morning" and "Let Me Be There." But that, my friends, is as far as the trail goes. Or at least that what I thought: turns out Jim was James Nicholson (1936-2004) a local school district employee and flea market owner whose kids, Belinda and Greg, joined him in the family band, which seems to have been a pretty informal group. I guess "N's" stood for Nicholsons? Well, now we know.


<! - #JN-1024 - no date, no address, no label name - (IA) show notice, obit, crime blotters > <! Jo Anna "...Sings Your Favorites" (Jeremiah Records, 19--?) (LP) - #SLP-1001 - Ripcord production, imprint - bc nv, no names, no last name, no address v - secular? >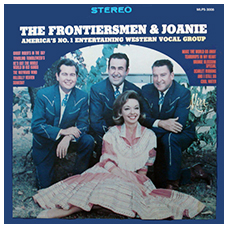 Joanie & The Frontiersmen "America's No. 1 Entertaining Western Vocal Group" (Mira Records, 1966) (LP)
(Produced by M. W. Grimm)
Hanging out in Texas, the trio of Hi Busse and Hal Southern and Billy Armstrong backed a gal identified only mononymically as Joanie on a set of country and cowboy standards, mostly oldies from the '40s and 50s. Joanie also cut several singles with the Frontiersmen, so she was probably part of their regular road show. Although this album was recorded at Tommy Allsup's studio in Odessa, it came out on a short-lived label in LA. The liner notes reflect the band's Hollywood roots, with testimonials by Gunsmoke actors Ken Curtis and Milburn Stone. Their comments are strangely informative, however, with Stone recalling appearances he made with the Frontiersmen at rodeos and county fairs; their performances on various TV variety shows such as the Joey Bishop Show are also mentioned. Anyone know more about Ms. Joanie?


<! - #MLPS-3008 >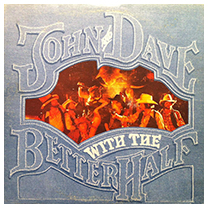 John & Dave "...With The Better Half" (Brown Hound Records, 1974) (LP)
(Produced by John Pete & Dave Rivkin)
A real-deal longhair country-rock band from Minneapolis, Minnesota... They cover several outlaw classics, like "Ramblin' Fever," "Whiskey River" and "Willie, Waylon & Me," while bassist Mike Murtha wrote a couple of their tunes, and singer Dave Simonson pens a tune or two as well.


<! - # - date? >
John And Dave & The Better Half "Do Me A Favor" (Artic Records, 19--?) (LP)



<! #ARTIC LP 1020 >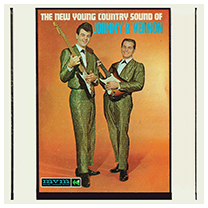 Johnny & Vernon "The New Young Country Sound Of Johnny & Vernon" (Mount Vernon Music, 19--?) (LP)
The duo of Johnny Dubas and Vernon Sandusky, clean-cut lads from Scranton and Caffeyville, Pennsylvania, respectively, who were both 23-years old when they cut this album. This is an early 'Sixties outing -- the liner notes tell us they'd been "performing together since 1959," though I don't know if that means they'd also made other records, or when this one came out. (I'm guessing around 1962-63.) There may have been some original material on here, though songwriter credits weren't included. By 1964 Sandusky and Dubas shifted gears and formed a Beatles-y rock band called the Chartbusters, which supposedly was the inspiration for the greatest movie of all time, the Tom Hanks-directed documentary, That Thing You Do. Vernon Sandusky also had a later album on the GBS label, going back to his country roots sometime around 1980 or so.


<! - #MVM-169 - "So Mixed Up" original? >

Cliff Johnson & The Sooner Heritage "Live From Bluegrass Opryland" (Custom Records Company, 1978) (LP)
(Produced by Curtis Kirk)
This 'grass band from El Reno, Oklahoma included lead singer Cliff Johnson, Albert Brown (mandolin), Johnny Lancaster (bass), and Jim McGaha on banjo. The Bluegrass Opryland was a regional venue located in Cement, Oklahoma, a teeny town just west of Norman.


<! - # - pressed by Tyler, Texas custom label >

Connie Johnson "Love Is What You Make It" (Century VII Records, 1980-?) (LP)
(Produced by David Heavener & Bill Vorndick)
Recorded in Nashville, this would-be Top 40 country-pop outing seems to have mostly been a demo set for executive producer David Heavener, who is credited as composer of six out of ten songs. He doesn't seem to have been in Ms. Johnson's band though two other tracks, "Bits And Pieces" and "Whisper Goodbye," were co-written by Rich Dettman and Tom Hendrickson, who were. No info about Connie Johnson, alas, though she may have been from a small town in northern Kentucky, near the Indiana border: David Heavener also produced some records for radio station WAMZ, Louisville, and she may have been in the orbit of the Lemon Tree Lounge, where he performed. This seems to have been her only album.


<! - #CJ-1012-LP - date per eb, nv - Heavener exec producer; Vorndick engineer - eb copy signed by band: Fenton E. Spark(s), Tony T. Wammack, Tom Hendrickson, others illegible: Nathan W----, Rich(?) Dettman - I think this is her Facebook page: https://www.facebook.com/connie.johnson.796569 >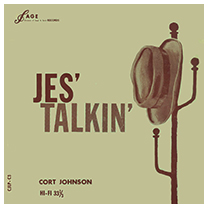 Cort Johnson "Jes Talkin' " (Sage Records, 1957) (LP)
Although you still see his old budget-label recordings around in the dollar bins, biographical info on Cort Johnson is pretty hard to come by... Way back when, he recorded on the Sage/Sand label, a rugged little indie from Hollywood that was home to several California-based "western" artists singing cowboy songs, along with square-peg hillbilly singers like Eddie Dean. Johnson's specialty was in more folk-oriented material, Appalachian ballads and gospel numbers such as "Down In The Valley" and "Black Is The Color Of My True Love's Hair." This generously-programmed twenty-song album was, I think, the first LP of Johnson's material, and includes a number of tracks that were not included in later reissues on Sutton and other cheapo labels... Sadly, the otherwise chatty liner notes neglect to tell us where Cort Johnson was from, or where he worked, although his radio shows are hinted at briefly. Among all the traditional songs, is his signature tune, a novelty number called "Jes' Talkin'," which appears on numerous subsequent releases.


<! - #CJLP-C-3 - date per BB May 13, 1957 >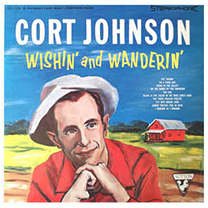 Cort Johnson "Wishin' And Wanderin' " (Sutton Records, 1963-?) (LP)



<! - #SU 334 - (CA)(?) EDDIE DEAN AND CORT JOHNSON "In Person" (Tiara Records, 1960-?) (LP) >
James J. Johnson "...And The James Boys" (Jay Records, 1977) (LP)
(Produced by Terry Marsh & Jim Johnson)
This album is all cover tunes, with some poppy selections such as John Sebastian's "Welcome Back" and John Denver's "Sunshine On My Shoulder," along with a Sons Of The Pioneers medley and Mickey Newbury's "American Trilogy." This Minneapolis band was mainly the quartet of Jim Johnson (who plays guitar, piano, steel guitar and harmonica), bassist Del Pederson, drummer Bones Carlson and Jerry Hermes on lead guitar and mandolin.


<! - #JLP-1001 - not longhairs! >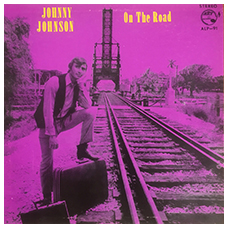 Johnny Johnson "On The Road" (Art Records, 1970-?) (LP)
(Produced by Terry Marsh & Jim Johnson)
This looks like more of a pop vocals/easy listening country-folk set, ala Glen Campbell or Mac Davis, with covers of "By The Time I Get To Phoenix," "My Elusive Dreams," "Raindrops Keep Falling On My Head" and even "Tennessee Bird Walk." The Art label was from Miami, Florida... other than that, this one's a blank.


<! - # ALP-91-5 - songs, album circa 1970/71-? - no producer info seen (no bc scan) - also sings "Route 66" "Everybody's Talkin At Me" and "My Elusive Dreams" (1970) >
Larry Johnson & The Dakota Territory "Live At The Black Stallion" (Black Stallion Records, 19--?) (LP)
(Produced by Larry Johnson & Vaughan Mayer)



<! - # - looks like an earlier album - no date; 1972-ish??? - second name blurry - he was the band's piano player - band originally formed by bassist Chris Cremanos(?) and pianist Vaughan Meyer; Johnson later was added as their frontman (in 1969-?) >
Larry Johnson "And Now Heeeere's Larry Johnson" (Black Stallion Records, 1975-?) (LP)
(Produced by Glenn Barber)
This one's actually pretty good! Larry Johnson was born in Iowa and eventually settled in Colorado Springs, Colorado, where he landed a long-term gig five nights a week at the Black Stallion, a popular country bar owned by Bill and Polly Nuzum. Somehow, Johnson got into the orbit of Nashville back-bencher Glenn Barber, who produced this album and has writer's credit on half the songs. And there is some good stuff on here: "Not Counting Tomorrow" is a decent novelty song with a romantic heart, while "Standing Here Watching" is a soul-searing breakup ballad about a guy who just can't do anything to stop his baby from walking out the door -- an excellent song that would've been worthy of Charlie Rich, delivered in pitch-perfect country-soul style by Johnson. Johnson also provides a surprisingly ragged, rural cover of "Take It Easy" by the Eagles, while on other songs he digs into some oldies-rock riffs, with the claim that he can sound just like Elvis (though I'd peg him as more a Roy Orbison/Charlie Rich kinda crooner) Anyway, the rock guitar solos are a little goofy, but enjoyable in a kitschy way. Unfortunately, the album art doesn't include the release date, although the single for "Not Counting Tomorrow" came out in 1975, so I'm assuming the LP did, too, or maybe in '76. It also doesn't list the backup musicians, which is a shame, particularly in the case of the gal who sings a nice, twangy duet on "Just Between The Two Of Us" -- it's possible she was his wife, Sherri Johnson, but I couldn't say for sure.


<! - # >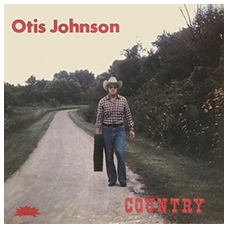 Otis Johnson "Country" (Starr Records, 1981-?) (LP)
(Produced by Jack Casey)
A bunch of country cover tunes on this set from Columbus, Ohio... Mr. Johnson runs a barber shop in Columbus, Ohio (Johnson's Barber Shop, no less!) with a fair number of country music-related pictures up on the wall, including one of him back in 1973, guitar in hand. I'm not sure when this album came out -- the Rome/Starr label usually doesn't say -- but I think 1981 is a good guess, what with him covering "Elvira," since the Oak Ridge Boys had a hit with it that year... He also covers "Tulsa Time" (cool!), "Country Roads," "Rocky Top" and "I'd Just Love To Lay You Down," to name a few... No info about the band, other than who was in it... Connie Sarena (bass), Audie Wykle (lead guitar), Junior Bennett (fiddle), Jim Ebert (piano), Joe Guida (guitars) and Aaron Morris (drums) while producer Jack Casey also plays some bass, with backing vocals by Libby Benson. I think this was his only album, but Mr. Johnson also cut several singles,


<! - #SLP-91981 - (OH) contact # >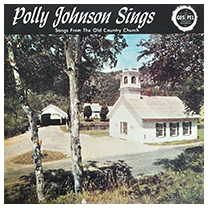 Polly Johnson "...Sings Songs From The Old Country Church" (Gospel Records, 1962-?) (LP)
A nice, understated, and very well-performed set of gospel standards, along with a little new stuff by composers such as Herb Kallman. This is, relatively speaking, a country set, though perhaps in the same sense as -- oh, I dunno, Eddy Arnold's tribute to Fanny Crosby, or all of those Jimmie Davis albums. Mostly the arrangements hinge on a lightly-tinkled piano, although some spotlight a little bit of guitar and steel... though only a little. Her voice is quite good: it's more in the perfect-intonation style of pop singers like Connie Francis, et.al. though also very much like Skeeter Davis, if she were willing to give it a little more ooompf. No hillbilly stuff here. Originally a farmgirl from South Dakota, Polly Johnson (1940-1964) was probably best known for her part in the booming West Coast country-gospel scene of California's Great Central Valley, most notably her collaborations with Contemporary Christian star Mary Jayne Gaither, who was her duet partner in the early 1960s when they both worked up around Sacramento, including co-hosting a local TV show. Before Johnson moved to California in 1962, she had a fairly dynamic career as a secular country gal. Back home around Rapid City, she appeared on radio and TV and even did a brief tour entertaining US troops in Puerto Rico. Although this album's liner notes make it sound like she got born again after moving out West, research done by hillbilly-music.com makes it clear she was getting active in Christian enterprise before then, having already met Mary Jayne in Minnesota, forming a strong friendship with the young religiously-oriented gal before they both headed out West. Polly Johnson's life ended in a spectacularly tragic fashion when she took a flight to Stockton that crashed after a mentally disturbed hijacker shot the pilots and himself, causing the deaths of all on board. Johnson's death was said to have caused singer Sue Brown, another friend from the Valley, to abandon secular country in favor of evangelical gospel music. As far as I know, this was her first album; no info on who was backing her, though the label identifies itself as a "Don Smith Enterprise."


<! http://www.hillbilly-music.com/artists/story/index.php?id=13188 "...Her life came to a tragic end on May 7, 1964. She was aboard the fatal flight of Pacific Air Lines Flight 773. A passenger who was depressed over recent events in his life took a gun into the cockpit and shot both the pilot and co-pilot. The plane, which originated in Stockton, California, crashed near San Ramon, California. Polly was one of the passengers. In December 1964, Billboard notes the release of her last album, "I Found The Answer" >

Polly Johnson "I Found The Answer" (Word Records, 1964-?) (LP)



<! - #W-1331-LP - not in main Locals (06/19/19) >

Polly (Johnson) & Mary Jayne "Singing Together... Like We Did Back Home" (Word Records, 1965-?) (LP)
(Produced by Kurt Kaiser)



<! - WST-8300-LP - not in main Locals (06/19/19) - posthumous? - arrangements by Jim Owens - backing vocals – Dick Bolk Singers - Mary Jayne married to Gene Gaither, a former rockabilly artist who recorded numerous gospel LPs in the late 'Sixties and all throughout the 'Seventies >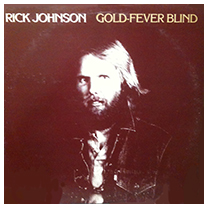 Rick Johnson "Gold Fever Blind" (Mountain Ghost Music, 1984)
(Produced by Rick Johnson & David Lange)



<! - from Tacoma, Washington Tracks: 1. Until It's Told 2. Tomorrow 3. My Honey Wine 4. Gold-Fever Blind 5. Buckle of Gold 6. It Breaks My Heart 7. Walk Away a Winner 8. If I Was In Love With You 9. I Need You 10. Thank You For The Courage 11. Before The Spring 12. Where Would I Be Without The Queen? >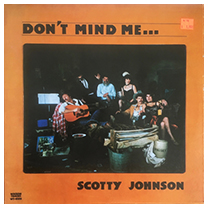 Scotty Johnson "Don't Mind Me" (Wagon Tracks Records, 1981)
(Produced by Scotty Johnson)
Easygoing longhair twang from the same scene (and the same label) in Tucson, Arizona that brought us the legendary Chuck Wagon And The Wheels. Johnson wrote and arranged all the songs on this album...


<! - # >

Warren Johnson "Time And Time: Hawaii's Own Country" (MDL Records, 1988) (LP)
(Produced by Rick Asher Keefer, Eric M. Petersen & Marcelo Vendiola, Jr.)



<! - #HS-549 - Warren B. Johnson - aka MDL Incorporated - address in Waipahu, Hawaii >
Wayne Johnson & The Deep River Band "Dreams" (DRB Records, 1982-?) (LP)
(Produced by John Johnston & Bill Casolari)
Hailing from Indiana, singer Wayne Johnson covers some big hits, songs like "Elvira," "He'll Have To Go" and "Smoky Mountain Rain," and also records several originals. There are three songs written by Johnson: "Dreams, "Tamara" and "I'm On The Road Again," as well as "False Hearted You," by bandmember S. Lawman. Not sure when he started out, but Johnson was still playing local and regional gigs well into the late 1980s. As always, any info about this artist is most welcome!


<! - #NR-12993 - 1970(??) (dc) - no ASIN 07/28/16 - mentioned in a 1987 news article, playing a gig in Logansport, Indiana - includes "Elvira," Smokey Mountain Rain," "I Can Almost See Houston" (probably '81 version), 1980, 1976 >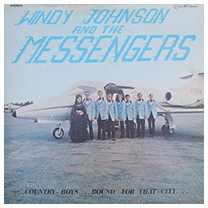 Windy Johnson & The Messengers "Country Boys... Bound For That City" (Score Three Productions, 197-?) (LP)
(Produced by Windy Johnson & Donnie Register)
Darn it! I got all excited because of the overt reference to "country" in the title, but while the album does indeed open with a few promising notes of steel guitar and subdued twang, it quickly settles into a standard-issue Southern Gospel, of the classic Blackwood Brothers/Stamps family style. This group from Jacksonville, Florida recorded numerous albums with various lineups over the years... This edition included Windy Johnson and his wife Mary Ellen, along with three vocalists to provide the quartet sound, as well as lead guitar and producer Donnie Register, drummer Tommy Holloway and bass player Jim Johnson, Jr. There's a distinct lack of restraint as the album goes on: Mr. Johnson and lead vocalist Ronnie Combs try to outdo one another in showboating solos, and while it's swell to hear they both a good set of pipes, it does tend to distract a bit. I picked this one out of a pile of several Windy Johnson albums; it was enough to satisfy my curiosity.


<! - #SM-M-102 - title track, "Country Boy" was written by Karen Register - Donnie Haven Register seems to have died in December, 2016: https://trahanfamilyfuneralhome.com/book-of-memories/2806090/register-donnie/view-condolences.php - also in the Dixie Echoes and a number of other bands >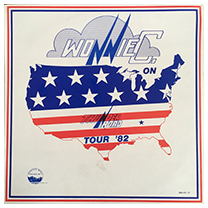 Wonnie C. Johnson "On Thunder Road Tour '82" (Mountain Music Records, 1982) (LP)
(Produced by Jack Eubanks)
Songwriter Wonnie C. Johnson (1945-2013) was a resident of Section, Alabama -- near Scottsboro -- and recorded several singles, including songs from this album. This disc was recorded in Nashville with a big, usual suspects crew: steel player Doug Jernigan, Willie Rainsford, Fred Newell, Leo Jackson, Hoot Hester, and The Cates Sisters... Johnson wrote a couple of originals for this album, including "Rodeo Cowboy" and "Trucker's Rhythm" -- there are also some tunes penned by Buck Moore: "I Stood Your Leavin'," "Diamond In The Rough," and "I'm Coming Home, Louisiana." His 1981 single, "Cowboys And Indians Don't Cry," got a small plug in Billboard. This seems to have been his only full album, and other biographical information remains scarce.


<! - ALSO LISTED UNDER "C" - #MM-001-LP - obit (AL) - 45: "Cowboys And Indians Don't Cry/ I'm Coming Home, Louisiana" (NSD, 1981) "... >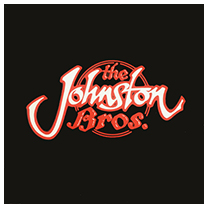 The Johnston Brothers "The Johnston Brothers" (1980) (LP)
(Produced by Mike Mignonga & Marie Caron)
I think these guys were from around Philly... The album was recorded at a studio in Gladwyne, PA, an idyllic setting right next to Bryn Mawr, although the liner notes don't tell us if that's where the brothers themselves were from... This family band included brothers Kurt Johnston (banjo, guitar, piano and steel), Mark Johnston (drums), Wayne Johnston (guitar), their pal Arthur Duhaime on bass, and a few assorted folks chipping in here and there. The most notable of these is future Top Forty country hunk Lionel Cartwright on piano; apparently that was his first instrument, and he musta done some session work in his early twenties. Anyway, this album is packed with original material, with all songs written by Kurt and Wayne Johnson, including the by-then-already-dated "Disco Lady/Country Boy," one of several tracks with background vocals from local gals Ellen and Wendy Britton. The band includes "Jamboree USA" in its thank-you list; not sure if they played there regularly, or just a few times.


<! - # - - recorded in - they thank - songs include >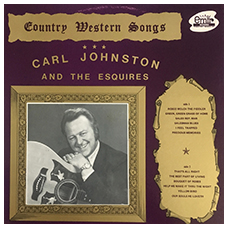 Carl Johnston & The Esquires "Country Western Songs" (Emir Records, 1971-?) (LP)
A middle-aged businessman from Gardner, Kansas, a tiny town in the greater KC area, Carl Johnson took a trip up to Burlington, Iowa to cut this disc with some local kids -- Mike Christy, Dick Seals, and Gary Smith -- who seem to have been the house band for the delightfully obscure Emir label. The liner notes inform us these lads had previously played at the "Gottlinberg Grand Ole Opry," by which they probably meant the Ole Red opry in Gatlinburg, Tennessee. At any rate, I don't think these guys were Mr. Johnson's own band, since Christy and Smith both lived in Burlington. My guess is he didn't really have a band and that music was more of an avocation than a full-time pursuit... Mr. Johnson puts his heart on his sleeve with two rather similar-sounding songs, "Salesman Blues" and "Sales Rep Blues," which I assume are originals, though alas, there are no song credits. There are cover tunes as well, including weepers such as "Bouquet Of Roses" and "Green, Green Grass Of Home," though it's a version of Kris Kristofferson's "Help Me Make It Through The Night" that helps us peg this as an early 'Seventies release, probably around 1971.


<! - #EM-1425 - the backing band is Mike Christy, Dick Seals, Gary Smith, doesn't say who played what - they have performed on the "Gottlinberg Grand Ole Opry" - early 'Seventies(?) includes "Help Me Make It Through The Night" >

John Johnston "Foolin' Around" (Mr. J Records, 1980) (LP)
(Produced by John Johnston & Bill Casolari)
A lone acoustic singer from Champaign, Illinois. This looks mostly folkie, though he does have a couple of songs that specifically call out country music, notably "Pure Country Music" and "Favorite C&W Song," as well as a cover of Steve Goodman's "City Of New Orleans." Bill Casolari chimes in on bass, but mostly this is a solo acoustic set.


<! - no ASIN 02/03/16 >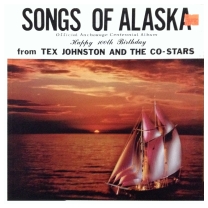 Tex Johnston & The Co-Stars "Songs Of Alaska" (Golden State, 1967) (LP)
This one has an odd geographical history... Tex Johnston was a Lone Star native who moved up to Alaska in the 1950s, lived there for a while, then moved back to the Lower Forty-Eight and eventually he returned to Texas, although he recorded this homage to Alaska for a label in San Francisco, CA. Go figure. It was meant to commemorate the centennial of Alaska's aquistion by the United States. Lots of regional pride songs, and poetic paeans to the great, wide wilderness up North... Speaking of which, it kicks off with -- you guessed it -- a cover of Johnny Horton's "North To Alaska," although most of the others are originals, new to this album, including five written by Johnston, a couple by Ruth Vreeland and one by Lee Sumpter, who were cohorts of Johnston and connected to his band when he was in Alaska.


<! - # - no ASIN 01/09/16 Tex Johnson & His Six-Shooters "Rudolph The Red Nosed Reindeer" (Promenade Records, 19--?) (LP) - Promenade, or Pirouette? - same guy? >
The Jolly Brothers Band "Typical Barroom Scene" (Third Planet Records, 1978) (LP)
(Produced by Butch Dillon)
This live album captures these Kansas City-area longhaired country rockers at their peak, in a remarkably diverse but accomplished set that covers a lot of musical territory, from wistful, Jesse Winchester-ish folk-country ruminations like "Typical Barroom Scene" to the funky, Little Feat-styled Southern funk of "Linda Lee," and a lot of country twang, David Lindley-style slide guitar and rough-edged rock in between. Lead singer Norman Jolly's vocals take a little adjusting to get used to, but he proves as versatile as the band, sounding like Jonathan Edwards or Jesse Colin Young on some songs, then digging into some more rugged Allman Brothers-y grooves a little later down the line. I didn't like the album's opening track, "Horseracin' Blues," which had a whiteboy soul vibe that turned me off, but every track after that was much better, and I've found that this album is pretty durable over repeat auditions. An excellent example of late '70s Midwestern roots music, with lots of original material and well worth searching for.


<! - # - (MO) >
The Jolly Brothers "Masterpiece" (Rebel Rock Records) (LP)
(Produced by Dick Wagner)
I'm not sure when this was made, but I'm gonna guess it was somewhere well into the '80s, with alt-twangsters Norman and Al Jolly going for more of a rock sound on this album, trucking down to Austin to record with the late Dick Wagner of the '60s/'70s Detroit-area hard-psych band The Frost, who was later known for his work with Alice Cooper, Kiss, and other Midwestern rockers. Wagner was the dominant force on this album, writing seven out of ten songs while producing, arranging and engineering the sessions. One for Dick Wagner diehards, to check out, I suppose.


<! - # - no ASIN 09/20/15 >

Dick Jonas "FSH Volume 1" (Goldust Records, 1971)



<! - #LPS-156 >

Dick Jonas "FSH Volume 2" (Goldust Records, 1971)



<! - #LPS-157 >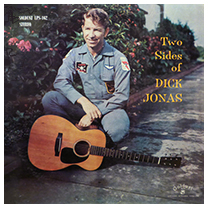 Dick Jonas "Two Sides Of Dick Jonas" (Goldust Records, 1973)
Country-folk singer-songwriter, Air Force veteran and political activist Dick Jonas was a surprise hitmaker for New Mexico's tiny indie label, Goldust Records, a financial rainmaker who bankrolled the rest of their obscure country and folk releases for years to come. Jonas was a highly decorated Vietnam-era fighter pilot who flew over 100 combat missions and recorded at least a half-dozen albums for Goldust, starting out with his biggest hits, FSH-1 and FSH-2, which included numerous songs about his combat experiences and about military aviation in general. I guess the records struck a chord with listeners who felt excluded from the national conversation as the war became increasingly unpopular and love of military prowess became seriously uncool. Jonas also became a spokesman for the POW-MIA movement, which was just gaining momentum as the war wound down and it became apparent that many American servicemen -- many of them downed fighter pilots -- hadn't come home and were still unaccounted for. On this album he adds his working-class bona fides into the mix, with songs about plumbing and farming. It's an odd and very particular slice of folkie-Americana, but certainly authentic, and worth knowing about, especially for military history and political buffs.


<! - # - >

Andy Jones & The Plainsmen "No Letter Today" (Crown Records, 1966) (LP)



<! - #CLP-5505/CST-505 - >


Ann Jones - see artist discography




Avonne Jones "Avonne Jones" (Stop Records, 1972) (LP)
(Produced by Tommy Hill & Scotty Moore)



<! - #1032 - mostly covers, some songs provided by Tommy Hill Music, such as "Each Time I Say It's The Last Time," "Teardrops Around My Ring" - gal singer from Longview, Texas >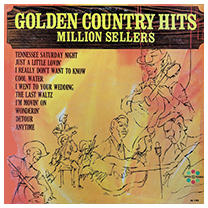 Bob Jones "Golden Country Hits: Million Sellers" (Spin-O-Rama Records, 19--?) (LP)
This budget label cheapo disc is actually pretty darn good. I'm not sure who singer Bob Jones was, or when these recordings were made, but the musicianship and twang factor are consistently strong throughout. Jones covers classic country hits of the 1950s -- "Anytime," "Detour," "I Went To Your Wedding," "Tennessee Saturday Night," and the like, with strong accompaniment on guitar, fiddle and steel, in a pleasantly pure honky tonk style. For the most part, Jones isn't a standard-issue "soundalike" singer -- he's in the Ray Price/Hank Williams school and doesn't bend himself out of shape to sound like Webb Pierce, for example, on his version of "Wondering," although he does do a pinched-nose imitation of Hank Snow on "I'm Movin' On." It seems likely these song were cut in different sessions (possibly first released as 78s?) since some tracks sound quite different than others, but they all sound pretty good. Recommended!


<! - #M-140 >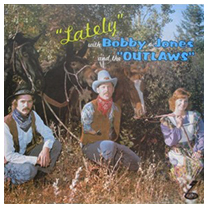 Bobby Jones & The Outlaws "Lately" (American Heritage Records, 1974) (LP)
Songwriter and guitarist Bobby Jones led his band the Outlaws for several years, playing gigs around Pocatello, Idaho while releasing at least two albums in the mid-1970s. Jones only had one arm, and played guitar using a modified right-arm prosthetic that ended in a hook set at the proper length for him to strum the strings. (This prosthetic is shown on the cover of his second album, below...) Jones's tastes ran from true twang to hard-rock, which fit right in with the southern Idaho bar-band scene -- the Outlaws enjoyed a long residency at a nightclub called Myrtle's, in Chubbuck. Also worth noting is that the notorious Pinto Bennett played in the band at some point, though I don't know if he played on either of these albums.


<! - # AH-401-517 - no ASIN 12/18/17 A1 Lately A2 Echoes Of Time A3 Hotel, Motel Time A4 Hookin' In The Boogy A5 Satisfied B1 Dad's Little Band B2 Shambles Of A Man B3 A Song For Mary B4 Our Greatest Hour B5 You Are My Love >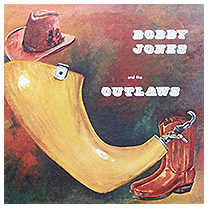 Bobby Jones "...And The Outlaws" (American Heritage Records, 197-?) (LP)
(Produced by Bobby Jones & Arnie Goodman)
This album features Bobby Jones on lead electric and slide guitars, his wife Dianne Jones playing bass, producer Arnie Jones plunking piano, and Lonney Smith playing rhythm guitar and drums. It features songs such as "Idaho (I'm Coming Home)," "Get High On Country Music" and "We Wanna Boogie," as well as covers of Neil Diamond and ZZ Top. I'm not sure how long Jones kept the band together -- local newspapers had show listings from roughly 1974-77.


<! - #AH-401-527 - em? (ID) - year? > <! The Jones Boys https://www.discogs.com/George-Jones-And-The-Jones-Boys-New-Country-Hits/master/628660 >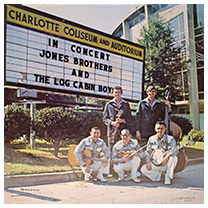 The Jones Brothers "In Concert" (Playhouse Productions, 19--?) (LP)



<! - #LP-257 - bluegrass act, part of the Sand Hill Opry, in SC - pix bc and: >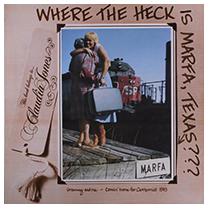 Claudia Jones "Where The Heck Is Marfa, Texas?" (Great American Records, 1983) (LP)
Kind of an odd record... Claudia Jones was a commercial airline pilot by day, performance artist by night who was not actually from Marfa, Texas, but was commissioned to do an art piece on the tiny border town, and went on to make an album as well. An affectionate portrait of a small Texas town, dominated by ranching and agricultural concerns and home to "the friendliest and kindest people this side of heaven."


<! - # - (TX) >
Cletus Jones "Official Arkansas Waltz" (Lawson Records, 1971) (LP)
Fiddler Cletus Jones was also apparently an Arkansas real estate developer, and is posed on the cover of this album in front of the Diamondhead subdivision, near the Hot Springs National Park. He also appears to have been well-connected politically, as his song was indeed proclaimed the official Arkansas waltz by an act of the legislature on March 10, 1971, a fact that is proudly displayed on the album's front cover. Actually, Jones wrote and sang the words, while a guy named Bill Urfer composed the tune. There appear to be several versions of this album, including one where he's standing in front of the capitol building, and another where he's framed by the outline of the state of Arkansas... By the way, those of you who delight in making fun of what people in old photos are wearing (a practice I frown on) will delight in the the pink pinstripe flares that Jones is wearing on the subdivision cover... Whoa, baby!


<! - # - tracks (AR) >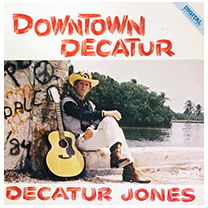 Decatur Jones "Downtown Decatur" (Gopher Creek Records, 1984) (LP)
(Produced by Decatur Jones, Dalles Heyser & Gary Schmitt)
Originally from North Carolina, Thomas Decatur Jones (1953-1999) performed in Chapel Hill for several years before pursuing a music degree at the University of Miami, and was living in Florida when he cut this self-released album. It's filled with all-original material, with Jones playing several different instruments, backed by additional musicians and backup singers. Jones moved around a lot, and had been living in Durango, Colorado for several years before passing away in 1999.


<! - # - (NC) obit >

Doug Jones "Chasing The Dream" (Dominion Records, 1976-?) (LP)
(Produced by Ralph Wright & B. Meavis)
Jones was an African-American country singer Chilocothe, Ohio who had been touring with old-timer Pee Wee King for several years before cutting this album in Nashville. It seems to have been a songwriter's demo set, with three tracks written by producer B. Meavis, two by R. Kirkland and four more by Harold Alexander, along with a version of Boudeleux Bryant's "Hey Joe," and a Ray Griff song, "Tearin' Me Up." I'm not sure exactly when this was released, but the liner notes mention him doing a Bicentennial-themed medley during one of his shows, and though the nation's birthday was celebrated for roughly fourteen years during the '70s, my first guess would be anywhere from 1975-77. And, of course, there are also some comparisons to Charley Pride... go figure.


<! - #7369 - 1976(?) liner notes mention the Bicentennial - no ASIN 10/25/16 >

The Jones Family "Sunnyland Records Presents The Singing Jones Family" (Sunnyland Records, 197--?) (LP)
(Produced by D. L. Hardin)
Nothing flashy here, just a family band singing their little hearts out amid unpretentious, enthusiastic amateur picking and plunking. Sadly, the liner notes to this budget-issue private press album neglect to tell us where the Jones Family was from, though it does list them by name, with mom'n'dad Dot Jones (rhythm guitar) and D. A. Jones (bass) along with their teenage daughters, Linda (piano) and Rose (drums) all pictured together on the back cover smiling in front of their big mobile home/tour bus with "The Singing Jones Family" emblazoned on the side. This is one of the "beach label" private albums, one of dozens that use the same prefab stock photo on the front, along with a Nashville address for the label. Musically, it's a little more old-school than many indie gospel LPs; not so much southern gospel and slightly more country. It's charming.


<! - #LP-1418 ~ SoN-104291 - "beach label" cover >
Gary Jones & Joe Stanley "Letting The Music Take You Away" (Shadow Records, 1979-?) (LP) (LP)
(Produced by Gary Jones, Joe Stanley, George Cumbee)
Formed in 1976, the Jones/Stanley Band was a staple of the southern Illinois rock scene. Songwriters Gary Jones (1948-2015) and Joe Stanley were from the tiny towns of Brookport and Metropolis, Illinois, just across the river from Paducah, Kentucky. They initially had a soft-rock sound similar to that of Top Forty stars England Dan & John Ford Coley -- so similar, if fact, that they reached out for help from Dan Seals' producer, Kyle Lehning, a Nashville insider who grew up in nearly Cairo. Years later, after self-releasing two albums and successfully pitching several songs in Nashville, the group was recruited to become Dan Seals' road band in the early 1980s as Seals was making the transition from pop to country, a move Jones and Stanley had made themselves. Jones worked for Seals for a couple of years, then moved back to Illinois when he decided he'd had enough of life on the road. He opened his own production company, White Noise Studio, and did a lot of advertising work, and also booked country acts and performed at an Ozarks tourist venue in Eminence, Missouri. Although this was primarily a pop album, there were a few nods towards the local twang, as heard on songs like "Grandpa's Old Banjo." Gary Jones also recorded a purely pop-rock solo album called Sweet Jubilation which was released around the same time as this one.


<! - #VI-1269 - dc: "soft rock" Gary Jones "Sweet Jubilation" (Shadow Records, 1979) (LP) - #VI-1273 - one song co-written with Joe Stanley - also in a group called the Cuz Band (circa 1983) >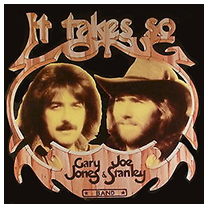 Gary Jones & Joe Stanley "It Takes So Long" (Shadow Records, 1982) (LP)
(Produced by Gary Jones, Joe Stanley, George Cumbee)
This was their most twangy album, and was the swan song for their dreams of making it big... Having plugged away as serious-about-it local rockers, with fancy clothes and long hair, Jones and Stanley decided to go country and get a little greasy, though they were still pretty slick. Around this time they started working for Dan Seals as his road band while he broke into the country market... Local legend has Seals holed up inside the Jones/Stanley's hometown club, Coo Coo's, rehearsing the new act with the musicians and sleeping under the bar. I'm not sure which members of this band went on the road, though, other than Gary Jones who stuck with it for a couple of years, but bailed out just before Seals struck gold with his chart-topping hit, "Bop." As far as I know, none of the guys from Illinois recorded with Seals, but simply backed him on the road. Gary Jones also recorded with the more down-home rock/southern rock group, The Cuz Band, which put out an album in 1983.


<! - #V1-1276 - "Sweet Southern Moonlight" recorded by Narvel Felts - obit, profiles (IL) >

Kim Jones "Leave Him Alone" (Bowen-Arrow Records, 1977) (LP)
(Produced by Jimmy Bowen)
Pretty funky stuff from this Floridian vocalist... She doesn't seem to have composed any of the material on this album, but the song selection is pretty interesting, with a mix of pop and Muscle Shoals-style soul, as well as a hefty dose of modern-day, 'Seventies country-pop. There are songs by Bobby Braddock, Alex Harvey, Dianne Davidson and Jackson Browne, alongside a Holland-Dozier-Holland oldie and some pretty soul-drenched, Memphis-y material. There's kind of a Dusty Springfield-ish, white soul vibe overall, though it's still definitely country.


<! - no ASIN 06/19/17 >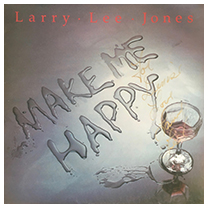 Larry Lee Jones "Make Me Happy" (Memory Machine Records, 1984) (LP)
A longtime fixture on the early-'80s East Coast country scene, Larry Lee Jones grew up in Elizabeth, Pennsylvania, just down the river from Pittsburgh. He launched his professional career as a teen and during the urban cowboy years he held down regular gigs at the now-defunct Ponderosa Park venue in Salem, Ohio and at a West Mifflin honkytonk called the Foggy Bottom Inn, releasing a few singles before cutting this album. The title track has a semi-rootsy/semi-synthy, Johnny Lee-ish feel, sounding like a cross between Kenny Rogers and Neil Diamond, though not all his songs have such a strong '80s pop gloss. The album includes another single, "Sittin' In Atlanta Station," which Jones's son, Todd, also took into the back end of the charts nearly three decades later. Plus his band was called The Sidemen -- how cool is that? The group included Joe Balogh on piano, J.C. Muenzer (lead guitar), Karl Nutt (fiddle and steel guitar), Skip Povanda (bass), and Terry Richardson on drums. They played regularly at a place called the Foggy Bottom, which "went country" after the movie Urban Cowboy came out.


<! - #MMR-EB1 - tracks, pro (PA) >
Larry Lee Jones "One Song At A Time" (Savoy Records, 1995) (CD)



<! - # - tracks (PA) Larry Lee Jones "Ain't No Reason" (Savoy Records, 1995) (CD) - 1995 date also per CMT >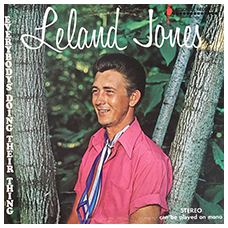 Leland Jones "Everybody's Doing Their Thing" (Redcrest Records, 1970-?) (LP)
(Produced by Jack Logan)
Delightfully twangy hard-country-meets-Nashville material from an energetic second-stringer who started his professional career around 1968. Leland Jones found modest success as a songwriter and performer by the time this album came out... He'd played on the Opry and the Louisiana Hayride, and co-wrote some songs with Nashville star Carl Smith, including "Little Boy Blue," which is on this album, and was also released as a single. The title track, "Everybody's Doing Their Thing," is a shameless ripoff of Joe South's "Games People Play," with Jones trying to sculpt a hip-sounding crossover hit; the rest of the record is more engaging, mostly all originals written by Jones, though he also covers tunes like Wynn Stewart's "Another Day, Another Dollar" and Harlan Howard's "I Don't Believe I'll Fall In Love Today," giving a sense of Jones' jovial, Top Forty-friendly sensibilities. I think this was an early 'Seventies outing and probably his only full album, although Jones also released a handful of singles on Redcrest, mostly made up from cuts from this LP. A later 45 from '74 included some new material, "Take Flowers To Mama"/"You Can't Reach Me Anymore" and was plugged in Billboard -- at the time Jones was working shows near Kansas City. He and his wife Carole later opened their own "opry" in 1982, a modest, weekly variety revue called the Country Pickin' Opry Show, held Saturdays in a barn on their land in nearby Richmond, Missouri. Jones eventually landed a TV gig on TNN, where he performed with a string of touring stars and Nashville regulars. And if anyone knows where else I can hear more by -- or more about -- this guy, let me know - I'm a fan!


<! ‎– #DPX-500 - singles (guys) - tracks (MO) >
Lonnie Jones & The New Grass Express "With A Touch Of Country" (Blue Lake Records, 19--?) (LP)
(Produced by Butch Dillon)
"...Live At The KOA Campgrounds, Nashville, Tennessee." Dude, you don't get more authentic than that. These pickers run through a lot of cover songs, including some country stuff such as "Love's Gonna Live Here" and "Rainy Day Woman." Jones also recorded a few singles, including a couple on Jenmark Records.


<! - no ASIN 02/25/15 - year?? >

Lynn Jones "Roses And Candy" (Arpeggio Records, 1972) (LP)
(Produced by Gary Buck & Happy Wilson)
The first LP by Canadian singer Lynn Jones who had recorded three chart-topping country singles and performed on the "Countrytime" and "The Tommy Hunter Show" TV programs... This album includes songs by Harlan Howard, Curly Putman, "I've Been Down This Road Before" by Gary Buck, as well as a couple written by Neil Merritt, with Lynn Jones credited on one track, "Moods Of My Man," which was co-written with Arlene Gordon.


<! ‎– #ARPS-10001 - her only album(?) - title track written by Steve Stone (Cliffie Stone's son) (??) >
Mark Jones "Snowblind Traveler" (JRM Records, 1979)
(Produced by Mark Jones)
A self-produced set by a songwriter from Salem, Virginia... Maybe a bit more on the folkie, singer-songwriter side of things, though there is some pedal steel in the mix, courtesy of several locals backing him up.


<! - #JRM-101 - no ASIN 02/25/15 >

Ramona Jones "Back Porch Fiddlin', Vol. 1" (Happy Valley, 1974) (LP)
Multi-instrumentalist Ramona Jones (1924-2015) was the wife of country music legend Grandpa Jones, and was herself a tireless champion of the Ozarks cultural heritage. On this back to basics set, she plays fiddle, backed by her son, banjo picker Mark Jones, along with bluegrass legend Red Rector on fiddle, hotshot guitarist Ray Edenton, and Joe Zinkan on bass.


<! - #PRP-43871 >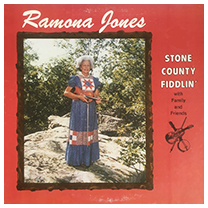 Ramona Jones "Stone County Fiddlin' " (Happy Valley Records, 1975-?) (LP)
(Produced by Aubrey Richardson)
As a cultural activist, Ramona Jones worked with like-minded preservationists such as Billy Edd Wheeler and the Simmons Family -- who back her on this album, along with Grandpa Jones and their kids Mark Jones (on banjo and guitar) and Alisa Jones (on dulcimer) as well as Cathy Barton, who picked some mean banjo herself. As advertised, this is a set of fiddle tunes, heavy on old standards such as "Cluck Old Hen," "Devlish Mary," "Eighth Of January" and "Bonapart's Retreat." Ms. Jones recorded prolifically, both under her own name and on various compilations and other projects... It might take a while to track it all down!


<! ~NR-10274 - date per dc, ib - born in Indiana - Arkansas? https://obits.tennessean.com/obituaries/tennessean/obituary.aspx?n=ramona-jones&pid=176557443&fhid=4478 >

Ramona Jones "Family And Friends -- Live" (History Records, 1983) (LP)



<! - #HLPS-1994 >

Ramona Jones "Lady's Fancy" (County Records, 1984) (LP)



<! - #783 >

Ramona Jones "Old Time Christmas" (Grandpa Jones Records, 1987) (LP)



<! - #RJ-32087 - bc nv >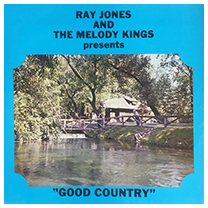 Ray Jones & The Melody Kings "Presents: Good Country" (Starr Records, 1979) (LP)
(Produced by Ray Jones & Martin Rae)
A family band featuring Ray Jones on lead guitar and vocals, Marty Jones (rhythm guitar), David Jones (drums), and Wayne Mills playing bass... I'm not sure where the Joneses were from, but the Starr label was owned by Mary L. Starr, of Des Plaines, Illinois, so I'd guess the Jones family lived not too far away. All the songs were published by Joseph Starr and Mary Starr...


<! - # - Martin Rae = engineer - (IL) >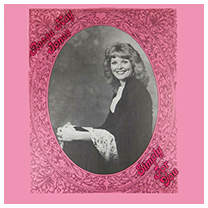 Reesa Kay Jones "Simply For You" (Kacountry Records, 1978-?) (LP)
A native of Ottumwa, Iowa, Reesa Kay Jones (1949-2012) performed with various musical groups and stars such as George Hamilton IV, Jack Reno and Tex Ritter and performed on the Opry stage, also making a few records as a solo artist, including this disc, which was her only LP. More than half of the album was cut in Nashville, with the remaining four tracks recorded back home in Ottumwa, and it appears to be of late-'70s vintage, although there's no date on the record itself. Many of the songs are standard country-covers fare, including "gal singer" classics such as "Blue Bayou," "Crazy" and "Don't Touch Me," as well as a version of Chris Smither's "Love Me Like A Man," which indicates she was a fan of Bonnie Raitt's early 'Seventies glory days... Perhaps more intriguing are four songs by Hugo J. Huck -- "A Loser Either Way," "Cheating Side Of You," "I Sing Everybody's Lovesong" and "I'm Putting Back Together -- and though Mr. Huck remains something of a mystery, I believe he was from Frankfort, Michigan, although that may have been a different person altogether. Still, these songs help us date this disc, as Hugo Huck registered several songs with the Library of Congress between 1976-78, including a 1977 version of one on this record, previously titled "You're A Loser After All." Another song, "Sunday Go To Cheating Clothes," is credited to David Heaurener -- this may be a typo spelling of country songwriter David Heavener, though as far as I can tell this is the only recorded version of this song. Unfortunately there's also no information about any of the musicians who backed Ms. Jones, either in Nashville or in Iowa, although she does thank some folks by name, and several of them -- Tony Blew, Doug Ducey, Dale Kerr and Phil Richardson -- also worked with her on a 1980 7" EP, where they were credited simply as "musicians." (Tony Blew is an established blues guitarist who ran a commercial audio production company with Richardson; he also was in a band called TCB that backed several other local artists.)


<! - #KA-1000 - (IA) obit, info 1980 EP - still being represented by Hal Peebles (Produced by Al Ault) ~ NR-12254 >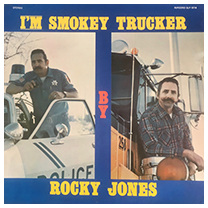 Rocky Jones "I'm Smokey Trucker" (Ripcord Records, 1976-?) (LP)
(Produced by Gene Breeden & Ellis Miller)
Not to be confused with the fictional sci-fi serial character, space ranger Rocky Jones, this Portland, Oregon local banged out a few singles in the 'Sixties, and at least this one LP a few years later. Jones' novelty numbers made some waves in the regional charts, but little else is known about his career. He seems to have been pretty tapped into the Pacific Northwest country scene: in 1974, Billboard listed him as one of the musicians playing a benefit with Rose Maddox to help raise money to pay for her brother, Henry Maddox, to get dialysis treatment after a kidney transplant failed, and not long after that recorded this album with Gene Breeden, who was also on the bill. Along with a few classics ("Mule Skinner Blues," "Night Life") this album features four originals penned by Rocky Jones and one called "My Son," by Evelyn Guffy (who he'd been collaborating with since the early '60s). There's no info on the backing band, alas, but if I had to guess, it's probably Gene Breeden on guitar, along with the usual crew from Ripcord. Jones recorded a few singles in the '60s, including a version of "Mule Skinner Blues," although he was also recording his own material on the flipsides.


<! - #SLP-1014 - (OR) >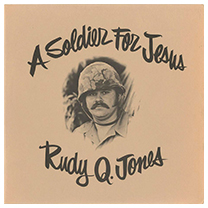 Rudy Q. Jones "A Soldier For Jesus" (Warrior Records, 1968) (LP)
(Produced by Gary Carlson & Dennis Coats)
Originally from Ada, Oklahoma, multi-instrumentalist Rudy Quinten Jones (1943-2015) was best known as a dobro player, as well as a luthier specializing in building resophonic guitars. Before moving to Florida, Jones worked with a number of local Okie artists, notably Ed & Jolene Bullock, whose first couple of albums he played on and helped produce. This disc was his debut, a country gospel set that was both sincere and maybe a bit tongue-in-cheek, with a ragged, amateurish enthusiasm that reminds me quite a bit of Gram Parsons' early stuff. Fascinating bluegrass band backing him: producers Gary Carlson and Dennis Coats had their own bluegrassy duo, later recording a couple fo albums in the early 'Seventies, and Coats landing one of his songs on a John Denver album. Bassist Roger Bush was, of course, an early progressive bluegrass artist, holding down the rhythm section of the fabled Kentucky Colonels, and dobro picker LeRoy McNees was later a co-founder of the Born Again Bluegrass Band. This is a nice little record... A little rough around the edges, but charming and sincere.


<! - # - (OK) > <! Joplin Forte - see "Original Joplin Forte" >
Porter Jordan "Porter Sings Porter" (MC Records, 1977) (LP)
(Produced by Jerry Styner)
I dunno what the whole story was on Mike Curb's short-lived, country-oriented Motown Records offshoot, MC Records, but since most of the titles produced under its imprint -- including this one -- weren't released commercially, it was probably some sort of corporate tax write-off... Anyway, I had no idea what to expect when I picked this disc up, and my hopes weren't that high, but man! what a pleasant surprise! This is a really good, richly produced, fine example of '70s-style honkytonk, with lots of pedal steel and a lazy shuffle beat. He reminds me of folks such as Carmol Taylor or Little David Wilkins, off-the-radar country journeymen who were just a few rungs away from the show biz status of someone like Mickey Gilley, et. al. At any rate, I liked the music a lot -- Porter Jordan didn't have the best voice, but it works for the style, and the songs and arrangements are all pretty good. I couldn't find much info about this album, or about Porter Jordan, but since the song, "Bad Georgia Road," included on this album, was featured in a 1977 film of the same title, I think it's safe to assume that he's the same Porter Jordan who worked on the soundtracks for a series of '70s horror and exploitation films, such as Jennifer, Chain Gang Women and Dixie Dynamite. You'd never think it, though, listening to this fine, rich set of soulful twang. Sadly, the sparse liner notes include no info on the studio musicians, other than Porter and the producer (who also shares some song credits...)


<! 09/2013: no ASIN >
Sarah Jory "Sarah's Steel Line" (Crow Records, 1981) (LP)
(Produced by P. Richardson)
A child prodigy from Berkshire, United Kingdom, steel player Sarah Jory started her professional career when she was only nine years old, playing live on the BBC backed by the English country-rock group Poacher, who back her on this album. She soon joined the lineup of Colorado Country, and established UK twangband from the 1970s, and went on to start her own band and later worked in the road bands of stars such as Van Morrison and Eric Clapton.


<! - #PPC-002 >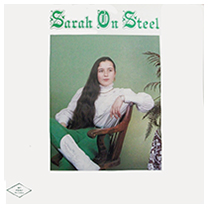 Sarah Jory "Sarah On Steel" (Sarah Records, 1984) (LP)
(Produced by Sarah Jory & John O'Boyle)



<! - #SAR-1001 >

Sarah Jory "Cross Country" (Sarah Records, 1985) (LP)
(Produced by Sarah Jory & Nick Smith)



<! - #SAR-1002 >

Sarah Jory "The Way To Survive" (Sarah Records, 1987) (LP)
(Produced by Sarah Jory & Colin Bainbridge)



<! - #SAR-1003 >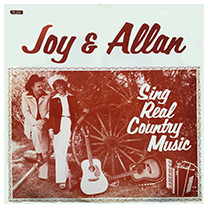 Joy And Allan "Sing Real Country Music" (Western District Recordings, 1981) (LP)
(Produced by Ray Batten)
A husband-wife duo from Australia with deep country roots... According to the liner notes by Tex Banes, singer Joy Pertzel started her musical career back in 1944, performing in the Pertzel Sisters, a family act formed with her sister Dawn. The Pertzels were a popular duo throughout the 'Forties and 'Fifties, and when Joy later married Allan (last name still a mystery...) she formed a new duo with her husband. This album is mostly traditional country, including a fair chunk of western cowboy material, along with a few nods to the modern era, such as a cover of Donna Fargo's hit, "Funny Face," and Shel Silverstein's sexist anthem, "Put Another Log On The Fire." There's some yodeling, a bit of Hank Williams, some Stephen Foster, and a couple of Aussie-specific tunes, "Shearers Jamboree" and Slim Dusty's "When The Rain Tumbles Down In July." The liners indicate that Joy & Allan were planning a second album of original material, although I'm not sure if that one got recorded as well.


<! - #L-005 - (AUS) >
Clyde Joy & Willie-Mae Joy "25 Joy-ous Years" (Soundcraft Associates, 1963) (LP)
(Produced by Daniel N. Flickenger)
New England-based bandleader Clyde Joy started his career in 1938 and built up a regional following for his band, the Country Folks. He married his wife, Willie-Mae, in 1945 and brought her into the band as the bassist... This edition of the Country Folks included fiddler Curly King, a veteran of the Canadian country scene, and picker Mike Longworth from Tennessee, joining Joy's own Maine-based band.


<! - # - (ME) >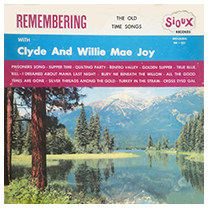 Clyde Joy & Willie-Mae Joy "Remembering The Old Time Songs" (Sioux Records, 19--?) (LP)



<! - # >

Clyde Joy & Willie-Mae Joy "Country Folk Jamboree" (Sioux Records, 19--?) (LP)



<! - #631 >
Clyde Joy & Willie-Mae Joy/Various Artists "Most Requested Songs" (Raycraft Records, 19--?) (LP)
This untitled LP sported a blank white cover and apparently came with a booklet entitled Clyde And Willie-Mae Joy's Book Of Most Requested Songs, Poems, Pictures, which one assumes was sold at their live shows. The Joys sing both duets and solos, and share the spotlight on Side One with singer Mike Longsworth, who solos on a song called "Swampwater," while fiddler Curley King plays "Camptown Races" and "Casey Jones" on Side Two. About as "private" and DIY as it gets!


<! - #MG-79144/79145 - 1979(??) >
Mary Joyce "Country Gospel" (Meadowlark Records, 1978) (LP)
(Produced by Bernie Vaughn & Bob Angel)
A country-flavored gospel album featuring nine original songs composed by Bob Angel... The Meadowlark label was from Grand Forks, North Dakota, though Ms. Joyce went to Nashville to cut this disc at Doc's Place studio, with a top-flight band behind her, old pros such as steel player Sonny Garrish, Bunky Keels, and Greg Galbraith on lead guitar, with vocal backing by the Allen More Singers. Producer Bernie Vaughn plays violin and arranged the songs.


<! - #MR-MJ-1001 - Allen More Singers included Rita Figlio (related to Mike Figlio?) - pix >

Mary Joyce "Country Gospel" (Meadowlark Records, 1989) (LP)
(Produced by Bob Angel, George Hastings & Wayne Edmonton)
Ten years later Ms. Joyce, a Fargo native, went back to Nashville to cut this centennial tribute to her home state. She reunited with several of the Nashville cats who backed her a decade earlier, including Grega Galbraith and Sonny Garrish. Bob Angel once again provided a lot of the original material, as did other locals from Grand Rapids and environs, such as Johnny Bass, George Hastings, Brent Hermans, Verena Sattler, and Bruce Stewart. Although there is some gospel material, most of the songs are regional pride numbers such as "My Heart's In North Dakota," "North Dakota Woman," and "You, And North Dakota Nights," as well as a historical number called "Ballad Of Teddy Roosevelt."


<! - #MR-MJ-1002 ~ NR-17704 >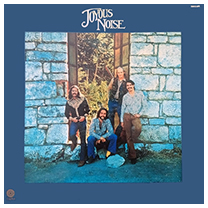 Joyous Noise "Joyous Noise" (Capitol Records, 1971) (LP)
(Produced by Ron Elliott & John Palladino)
These shaggy early-'Seventies stragglers were pretty firmly embedded in the rock camp, but with a rootsy, folkie feel, reminiscent of CSNY, though sometimes with a gruffer, rootsier vocal edge. The group consisted of several long-haired, beardy, guitar-strumming hippie dudes -- Marc McClure, Lee Montgomery, Happy Smith, and Lance Wakley (who all get their pictures on the back cover, while drummer Dennis Dragon is relegated to a text-only mention... geez.) Although I wouldn't place these guys in the country-rock canon, there are still some notable characters in this act. Lance Wakely later refashioned himself into Doctor Harmonica, a bluesy busker and one-man band, Dennis Dragon became a prolific rock/pop recording engineer, working with Captain & Tennille in the disco era, as well as the Plimsouls and the Surf Punks at the dawn of the new wave/postpunk/college rock scene. McClure was meant to be at the center of the band, having previously been in the folk-rock duo Levitt & McClure, which was also produced by Ron Elliott, who kept working with McClure for years after. In contrast to their second album, this has a spacier, gentler sound, with contemplative lyrics and a yearning, searching acoustic vibe. It's kinda nice... worth a spin. I mean, none of these guys was Stephen Stills, but they were trying.


<! - #SMAS-844 - >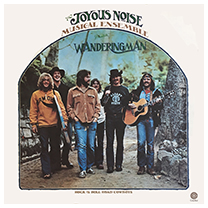 Joyous Noise Musical Ensemble "Wanderingman: Rock & Roll Road Cowboys" (Capitol Records, 1972) (LP)
(Produced by Ron Elliott)
I guess since the groovy acoustic vibe didn't work the first time around, they decided to toughen things up for their second record. The album has a kind of a driving, almost boogie-rockish, folk-psych sound -- nothing really clicks here as a radio hit, and it's a little too aggro for the peace'n'flowers crowd. Side Two is comprised of a massive, seventeen-minute "Wanderingman Suite," composed by Ron Elliott, with is vast and loud and immensely pretentious... Not my cup of tea, but I'm sure hardcore fans of hippiedelic folk-freak and proto-prog might get a kick out of it.


<! - # Lance Wakely (aka Doctor Harmonica), Dennis Dragon, Lee Montgomery, Happy Smith - bassist - in some garage band earlier? >
Juarez "Juarez" (Decca Records, 1970) (LP)
(Produced by John Walsh & Terry Brown)
This is sometimes called out as a "country-rock" record, but that's really a bit of a stretch. This band was mainly the brainchild of Michael Smith, a songwriter from New Jersey who is best remembered as the composer of "The Dutchman," a tune on this album later covered by Steve Goodman, Jerry Jeff Walker, and others. This album marked an ambitious expansion of a '60s folk trio featuring Smith and his wife, Barbara Barrow, along with their pal, Ron Kickasola. Decca Records hooked them up with an all-pro LA studio crew in the orbit of the Wrecking Crew, including drummer Hal Blaine, bassist Larry Knechtel and -- most notably for twangfans -- guitar god James Burton, who was known for his work with Elvis Presley, Ricky Nelson and later with Emmylou Harris. But the record itself is a muddle, with thick, overly elaborate arrangements that sometimes veer into dirge-y territory, despite the bright trio harmonies which were powerfully reminiscent of the commercially successful folkies, Peter, Paul & Mary. I suppose this could be seen as a kind of a bridge between the post-coffeehouse folkies and the '70s singer-songwriter scene, albeit with an unfortunate detour into misguided psych-rock noodliness. If that's your bag, go for it, though many country fans might be advised to steer clear.


<! - # - complex history - Smith from NJ, working in Florida (?) when he started this band, later moved to Chicago - tracks, obit (IL) >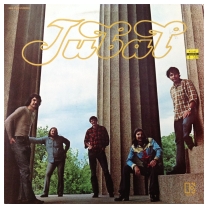 Jubal "Jubal" (Elektra Records, 1972)
(Produced by Wayne Moss, Charlie Tallent & Jubal)
Well, looks can be deceiving, so I guess this one is mostly listed as a warning. Not that it's bad, mind you, it just ain't country, despite the very Southern-sounding band name and the Nashville studio connections. I was drawn to this disc because of bandmembers Rob Galbraith and Dennis Linde, who were sort of on the far edges of the country-rock scene, though there's not much overt twang to be heard here. It's more of a '70s soft-pop-meets-Muscle Shoals whiteboy soul kinda thing, and if you're into that shade of Seventies stuff, this is definitely worth checking out. One of the more interesting tracks is Terry Dearmore's uptempo tune, "Not Really A Rocker," which is a slightly twangy power-pop rock song, worthy of consideration by the Nuggets brigade. But country? Not so much. Denis Linde was a prolific writer and studio musician, later penning "Burning Love," which was a hit for Elvis Presley.


<! - # >

Judy And Johnny "First Time All Over Again" (Gypsy Records, 1980) (LP)
(Produced by Tom Smith & Jerry Abbott)
A country set recorded in Dallas by the duo of Johnny Carroll and Judy Lindsey, from Arlington, Texas. Carroll was a former '50s rockabilly artist who was signed to Decca in 1955 and cut several singles... And like many other early rockers, returned to his country roots as the years went by...


<! - cat# 832 >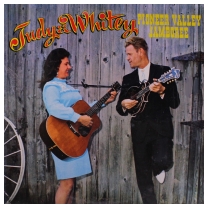 Judy & Whitey "Pioneer Valley Jamboree" (Jay-Vac Records, 1968-?) (LP)
The Pioneer Valley Jamboree was a country variety show hosted weekends on radio station WREB, in Holyoke, Massachusetts... It was started in 1963 by a guy named Lee Roberts, and showcased numerous regional artists, including the husband and wife duo of Judy Ann Reed and Vernon A. ("Whitey") Carrier (1919-1976.) They were featured performers in the late '60s, professionally nicknamed "The Bluegrass Sweethearts." This album featured mostly bluegrass-y/traditionally oriented material, tunes like "Nine Pound Hammer," "Ashes Of Love," and "Blue Kentucky Girl," with a hefty dose of sentimental mountain songs and gospel tunes such as "Where The Soul Of Man Never Dies." The original Pioneer Valley Jamboree fell apart at some point, but the name was revived in the early 1980s for a local folk/bluegrass festival. Whitey Carrier passed away in 1976, in his late 'fifties; several years later, Judy Carrier released at least one album under her own name.


<! - #LP-1168 - date based on cat - tracks, links, obit (MA) > <! Juke Jumpers - mostly blues/rockabilly band featuring Steve Bruton, along with JIm Colgrove http://www.thecoolgroove.com/colegrov.html >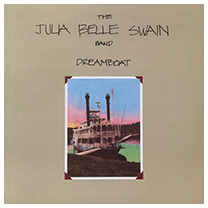 The Julia Belle Swain Band "Dreamboat" (Undertoad Productions, 1984) (LP)
(Produced by Dennis Trone, Pete Vrendenburg & Tonky Berkman)
Recorded in Beardstown, Illinois, this album gathers various old-timey and antebellum songs, played by the band aboard the steamboat known as the Julia Belle Swain... Notable among its members is John Hartford's son, Jamie Hartford (misspelled as "Harford" for some reason...) who sings and plays violin, guitar and bass. Along with all the traditional songs are three written by John Hartford ("Natural To Be Gone," "Steamboat Whistle Blues" and "Hamilton Iron Works"). The record also includes some audio recorded on board the Julia Belle Swain -- steam engines, whistles blowing, and the like.


<! >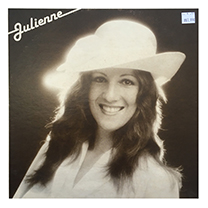 Julienne "Ten Songs From Small Town Band" (1981) (LP)
(Produced by Bob Berry & Russell Brutsche)
You owe me one. I mean, seriously, I took a bullet for you guys on this one. Okay, so it's my own fault I got all excited when I saw pedal steel player Bobby Black had signed up on this rather iffy-looking album, and covers of "The Gambler" and "Don't It Make My Brown Eyes Blue" seemed to confirm the relative country-ness of the project, even if that's not the particular brand of country or country-pop that I prefer. However, this Northern California offering is more in the AOR "pop" camp, with Side One of the disc devoted to original songs by singer-pianist Russell Brutsche, while Side Two is mostly cover songs, with Brutsche singing lead on a few tracks. None of it thrilled me. Julienne Chaillaux was one of those Joan Baez/Judy Collins-influenced '70s gals who come off a little stilted and affected, in an almost art-song kind of way... Her nod towards Crystal Gayle is kind of telling, as there's a similar feel. I don't think this album was really her "fault," though; she seems mostly to have been a vessel for Russell Brutsche's own pop ambitions, but a lot of his work seems overwritten and in need of a little paring down. I suppose it's possible they had a lounge act as well -- the liner notes mention gigs at venues such as Digger Dan's in Gilroy, California, and other up in Canada. The record itself was recorded in San Jose.


<! - # - no "A" in title >

Ed Julius & The Wranglers "Life Is Hard" (Renee Records, 1976-?) (LP)
(Produced by Bud Comte & Dalton Fuller)
Born and raised in Rock Springs, Wyoming, singer Ed Julius (1941-2007) led this twangband for several decades. On this album they played mostly cover tunes, including stuff like "Bandy The Rodeo Clown" and Bob McDill's "Amanda," but they did their own stuff, too: the title track was written by bandleader Ed Julius, with other originals credited to polka king Ernie Kucera and one by Dan Foral. (About five years earlier, Julius was in Foral's Nebraska-based band, the Drifters, as a singer-guitarist, and sang on his album, which was also on Renee Records, though as far as I can tell, Foral wasn't involved in this later record.)


<! - # - no ASIN 02/05/15 >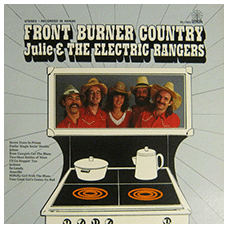 Julie & The Electric Rangers "Front Burner Country" (Lehua Records, 1982) (LP)
(Produced by Charles Bud Dant & Herb Ono)
Recorded in Honolulu, Hawaii, this album captures a band led by itinerant twangsters Julia Gudmundson Shultz (1954-1989) and her husband, drummer-vocalist "Uncle Roy" Schultz (1951-2019) who were originally from Washington state and Minnesota, respectively. The Schultzes both had long musical backgrounds -- she was a multi-instrumentalist who started out in a Bellingham, WA band called Mossy Rock, which played regionally along the west coast of Canada and the US. In 1978 she moved out to Hawaii and was playing in a group called The Foundry when she and Roy met, later forming the Electric Rangers, which became one of the go-to country groups on Oahu. They're backed here Andrew DeVelschow on banjo and steel guitar, lead guitarist J. W. Lathrop and John Schatt on bass. The repertoire is basically that of an Emmylou Harris cover band, a bunch of well-chosen "girl" songs from the country-rock era, including a slew of tunes from various Emmylou albums -- "Amarillo," "Even Cowgirls Get The Blues," "Feelin' Single, Seein' Double," "I'll Go Steppin' Too" and "Two More Bottles Of Wine" -- along with Lacy J. Dalton's "Hillbilly Girl With The Blues," Dolly Parton's "Jolene" and Tammy Wynette's "Your Good Girl's Gonna Go Bad," and even a version of "Jackson." There are two original tracks on here, "Seven Years In Prison (Seven More To Go)," and Julia Schultz's "So Lonely," though mostly this seems to be a set of songs that were just plain fun to sing. The Rangers played a lot of gigs on the islands and probably acted as a house band for numerous touring stars (Loretta Lynn seems to have been a friend of theirs). They also toured on the mainland, mostly in their old Pacific Northwest stomping grounds. In the late 'Eighties the Schultzes were thinking of winding things down and settling down after the birth of their son Jonas; in 1987 Julia fell ill while working in Nashville and was eventually diagnosed with cancer; she succumbed in 1989 after a two-year struggle. Roy Schultz later moved south, to Texas and to Alabama, where he formed a new group and continued to record as the Uncle Roy Band. (Thanks to the Icelandic heritage newsletter Logberg-Heimskringla for their extensive obituary of Ms. Gudmundson Shultz.)


<! - #SL-7051 - ALSO SEE: UNCLE ROY SHOW (had some albums as well) - (HI) ext >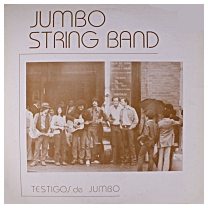 Jumbo String Band "Testigos De Jumbo" (Dreamland Studio, 1980) (LP)
(Produced by Billy Clockel)
An eclectic string-swing band from New York State, these peeps were more in the folkie side of things, though they included versions of country-rock staples such as "Love Has No Pride," "The Night They Drove Ol' Dixie Down" and "Take It Easy." The group included mandolin picker Keith Baumann, Larry Brittain (guitar), Billy Clockel (bass), Jim Coleman (banjo), and Lisa Gutkin on fiddle, along with various and sundry others chiming in... Later in the decade they recorded a coupe fo albums for the Old Homestead bluegrass label.


<! - #BC-100 >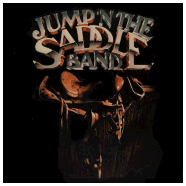 Jump 'N The Saddle Band "Jump 'N The Saddle Band" (Acme Records, 1981) (LP)
(Produced by T. C. Furlong & Mike Daniel)
Most folks (myself included) assumed that this Chicago-based band only recorded one album, their pop-oriented album on Atlantic (below) with the overly-wacky "Curly Shuffle," a novelty hit that put them on the map nationwide, but also caused the band to implode under the pressures of success. But, hey! There was another album -- also self-titled -- that came out first, and it's a nice, twangy, indiebilly outing with a strong western-swing sensibility, a lot like Asleep At The Wheel, with maybe a tad more honkytonk in the mix. Good stuff! This will come as a big surprise to twangfans who have only heard the tepid major-label outing that made them famous. Too bad they weren't able to go back to their roots after the MTV salad days...


<! - Buddy Spicher adds some fiddle >

Jump 'N The Saddle Band "Jump 'N The Saddle Band" (Atlantic Records, 1983)
Hey, these guys aren't really a country band at all! Or at least, they weren't by the time they got around to recording this one-off album in the early 'Eighties. The 'Saddle Band were a veteran Chicago bar-band with early roots in the '70s western swing revival, an early influence you can hear in their song selection, which includes "Ain't Nobody Here But Us Chickens ," "Let Me Go Home Whiskey" and "Deep In The Heart Of Texas," choices that reflected the repertoire of Asleep At The Wheel, the greatest of the hippie hick swing bands. 'Saddle's moment in the sun came with the "Three Stooges"-themed fluke novelty hit, "The Curly Shuffle," which was a staple of the early MTV era. That song, like the rest of the album, was pretty much straight jump blues, leaning towards the bluesy side of things. This disc might evoke some nostalgia for a few MTV babies, but I'm not sure how well it holds up, all these years later...


<! 144 x 144 >
Junction "Miles And Miles Of Texas" (Brylen, 1982) (LP)



<! - no ASIN 03/06/15 >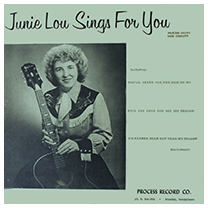 Junie Lou "...Sings For You" (Process Record Company, 1961-?) (LP)
A mix of secular country and gospel from a gal who was born in Pennsylvania hill country and sang on local radio stations and in regional jamboree shows, starting out in a duo with her sister, Bonnie Jo, while still a kid. She formed her own band, the Pine Hedge Ranch Hands, and worked with regional country empresario Howard Vokes on a radio show led by a fella named Uncle Early. At the time of this album, Junie Lou was working a gig at a venue called the Shady Lake Jamboree, backed by a vocal trio apparently made up of three of her younger sisters -- Linda, Nancy and Sue -- who were billed as the Jamboree Sweethearts. There's no release date on here, but the liner notes mention that the song "Caroline" was penned in honor of Caroline Kennedy's fourth birthday, so that would place this session sometime in '61. The disc was pressed by Rite records, for those of you who keep track of such things.


<! - #PRLP-1 - Rite Records pressing - performed on radio station WELD - several singles: >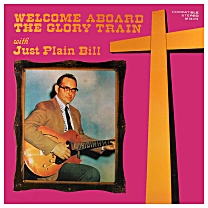 Just Plain Bill "Welcome Aboard The Glory Train" (More Records, 1973-?) (LP)
(Produced by Leo A. Campbell)
Sorry, folks, but I am a total sucker for unpretentiousness, and a guy who uses "Just Plain Bill" as his stage name has got me in his corner from the word go. Bill, as it turns out, was Mr. William Bewell, of Litchfield, Maine, who played guitar and sang at Spears Corner Baptist Church in the nearby town of Gardiner. He was a big rig truck driver by profession, but also a songwriter, penning all the songs on this album of original material. Alas, the musicians backing him are not listed by name, so that information is probably lost to the tides of time... but the music still exists, as does the charm of his gosh-shucks presentation.


<! - #MR-BB-1973 - >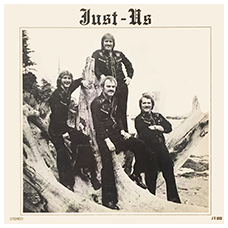 Just Us "Just Us" (Sierra Nevada Recording Studio, 1979) (LP)
(Produced by Jody Pederson)
A pretty low-rent private-press album by a band from up around Reno, Nevada... Their music ranges from mid-tempo country (with a slight outlaw edge) to more sluggish ballads, reminiscent of late-vintage Conway Twitty. These dudes were definitely longhairs, but they dipped into some pretty cheesy stuff, including a cover of the then-popular Kenny Rogers hit, "She Believes In Me." Lead singers Clifford Kay and Rick Warren also penned a few originals for this album -- "Alright With Me" and "Running Away" by Warren, one called "Can't Get You Off Of My Mind" by Kay, and "Breezy," a track they co-wrote. The album kicks off with a boogie-rock rendition of the Jimmie Rodgers oldie, "California Blues," and they also a thumpy, rocked-up rendition of Waylon Jennings' "Are You Sure Hank Done It This Way," an anthem of the outlaw scene. The originals are pretty dreadful -- AOR pop ballads that are totally at odds with the country vibe of the rest of the record... But maybe that was the kind of stuff that could make you popular with chicks back then? Maybe...


<! - #JU-1000 - George Kay (bass), Bill Franklin (drums) >
Just Us Brothers Band "J. U. B. And Me!" (TCC, 1978) (LP)
(Produced by Robert Keyth Dickerson)



<! - from Florida - looks good! (maybe...) - no ASIN 01/22/15 >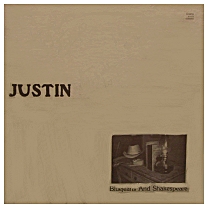 Justin "Bluejeans And Shakespeare" (Lemco Records, 1974) (LP)



<! - #61653 - from Lexington, Kentucky - bluegrass?? "Obscure 70s backwoods rural folky record..." - 1974? - 1976? - date above per rateyourmusic Ken Lindsey & Mike Shakelford on vocals and guitar, also Steve Lyon on piano, Phil Copeland on harmonica. credits given to Kent Lindsey & Mike Shakelford on vocals and guitar, Pete Horine on bass, also Steve Lyon on piano, Steve Goetzman on drums, Phil Copeland on harmonica, Bob Sollee on lead guitar. A1 Where Have All The Cowboys Gone A2 Windless Bell A3 Stranger A4 Half-Written Poet A5 Child's World B1 Three Days Of Hungry B2 Do A Little Living Once Again B3 Don't Tell Me B4 Summertime B5 Road B6 Bluejeans And Shakespeare >
Justin "Games Of Chance" (Mills Point Music, 1978) (LP)
(Produced by Phil Copeland & Charlie Stone)



<! - # >

---
---