<! MP3 05/28/10 > <! outside 00/00/00 > <! pix 00/00/00 > <! icons 04/24/11 > <! states 06/06/16 > <! UPDATES: 04/24/11 - added Rick Nelson, Gary P. Nunn links, probably need NRPS and Nesmith pages as well 08/22/13 - completed, posted NRPS and Nesmith pages 12/23/14 - no ASINs for most adds - Bill Nash could be added with some more research 01/29/20 - DE-AMAZONED > <! ACTIONS: EMAIL? Ronnie Gantt of the North Brook Gang (below) > <! >
---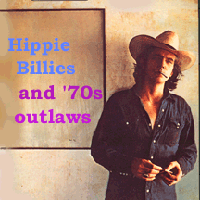 LOCALS ONLY: This is a guide to independent and off-the-radar country musicians from the 1960s, 1970s and early 'Eighties, including hometown performers working in regional oprys, jamborees, dude ranches, casinos, pizza parlors and lounges. They included longhaired country-rockers, red-dirt outlaws, Nashville hopefuls and earnest amateurs, as well as the more country-oriented artists in the bluegrass and southern gospel fields. Many of these musicians toured nationally or regionally while others were strictly hometown folks. These are the people who are often overlooked in the history books but who contributed their talents, hopes and dreams to the country music world, and the aim of this guide is to keep their memories and their work alive. Comments, corrections and suggestions are always welcome.
This page covers the letter "N."





---
HICKS, HIPPIEBILLIES & NO-HIT WONDERS:
A | B | C | D | E | F | G | H | I | J | K | L | M | N | O | P | Q | R | S | T | U | V | W | X, Y & Z | Compilations | State-By-State

---
About This Guide | Thanks | Other Hick Music Styles

---



Johnny Nace "The Fabulous Johnny Nace/Sometimes I Wonder" (Topic Records, 1969-?) (LP)
Born in Kansas City, singer-guitarist Johnny Nace (1934-1990) played old-school country music in a variety of bands dating back to the 1950s, with some of his earlier, more rugged material claimed retroactively by the rockabilly camp. He spent his entire career in Missouri, working as a deejay on stations such as KOKO, Warrensburg and KDRO, Sedalia, as well as hosting a TV show called "The Circle 6 Ranch." In addition to leading his own band, Nace was one of those hard-working locals who would back Nashville stars traveling through the Midwest, rubbing elbows with folks such as Buck Owens, Elvis Presley, Dottie West and Faron Young. He recorded a ton of singles on indie labels such as Rimrock, Topic and Starday's custom series, though I think this was his first full LP. Nace passed away in his hometown of Sedalia at age 56 from a heart attack; his sons Dave and Jimmy formed a band of their own, a roots-rock group called the Nace Brothers.


<! - #8002 Sometimes I Wonder; Turn Around And She'll Be Gone; I Thought I Knew; One Down And Two To Go; Unless It's Happened To You; Today Is Tomorrow; Sherry Ann; Brand New Kind Of Love; Remember Who You Are; Sing Me The Blues; My Love For You; Look Don't Touch - no ASIN 02/23/17 >

Johnny Nace "Music Nace And Country" (Topic Records, 1970-?) (LP)



<! - #8021 - title per PF... oh wait, I get it now... First Time For Everything; Nice Way To Say You Don't Love Me; Carelessly; Sittin' On A Barstool; The Finish Product; Midnight Train To Georgia; Heartbreak Hall Of Fame; Blue Notes; The Kind You Find Tonight; Up Town City Slicker; Somebody's Else's Husband; Wanted And Needed >

Johnny Nace "Live" (Topic Records, 197--?) (LP)
This album spotlights Nace and his band The Midnighters playing a show at a place called Maxine's, back in 1977...


<! >

Johnny Nace "In The Country With Johnny Nace" (Nova Records, 19--?) (LP)



<! - #7004 Straight Down To Heaven; When I Look At You; Laura; I've Never Been This Gone Before; Like A River Flows; Until You Said Goodbye; Since Baby Left Town; Cincinnati; Freedom As Far As I Can See; The Love I've Given You >

Johnny Nace "Love Songs" (Ethics Records, 1980-?) (LP)
(Produced by Jack Eubanks & Harold Shedd)



<! - #001 - liner notes dedicate the album to Elaine Nace, who it says passed away in March, 1980 of cancer http://www.nacebros.com/johnny.html - lots of info on their site >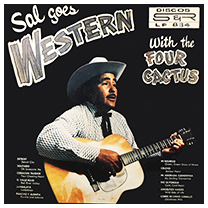 Salvador Najera "Sal Goes Country - With The Four Cactus" (Discos S&R, 197--?) (LP)
Bilingual country -- or at least Spanish-language translations of old country hits -- sung here by Sal Najera, a Korean War vet who was born in El Paso, Texas back in 1933. Najera sang pop-rock and ranchero material on other albums, but here he goes whole hog into twang territory... Some songs are chestnuts such as "Frankie And Johnny" (rendered here as "Pancho Y Juanita"), "Mi Adorada Clementina" and "El Valle Rojo," although most are (relatively) modern country songs, including Bobby Bare's "Detroit City," Don Gibson's "Oh Lonesome Me," and "Wild Side Of Life." Hank Williams looms large, with covers of "Cold, Cold Heart," "Jambalaya," and "Your Cheating Heart." And, this being from the era, of course there's a version of "Green, Green Grass Of Home," rendered here simply as "Mi Regreso." He's backed by Fidel S. Najera on piano, Bob Trujillo (lead guitar), Ray Vaca (drums) and Ronnie Villa on bass -- I'm not sure if these are the same guys who backed him on an earlier album as "The Libertines," though it seems likely that they were. Apparently he later moved to California, first in Orange County, and later retiring near Fresno.


<! - #LP-834 - no producer info, no date - looks late(?) Seventies; maybe '77, 78? - no other record of this album online, 12/14/19 - NOTES >
Lonnie Nance "Lov'en The Country" (Caprice Records, 19--?) (LP)
(Produced by Roger LeBlanc)



<! - no ASIN 08/11/15 - #CALP-1007 - single on "Checkmate" imprint #CK-3077 - 1977 release(???) - Nashville label - solid honkytonker - from North Carolina(???) - born in Alabama (according to liner notes) worked in coal mines - songs credited to Lonnie Nance, others to Roger LeBlanc, Dean Chatfield, Ron Gillam and Rick Jacques - obit for Mrs. Lonnie Nance 07/07/87 in Lexington, NC newspaper >
Bill Nash "Bill Nash" (A. V. Mittelstedt Productions, 1980) (LP)
(Produced by A. V. Mittelstedt)
Before setting out as a solo artist, singer Bill Nash was part of the Nash Family Trio, a gospel group which recorded a pair of albums on Columbia in the early 'Sixties. He was later briefly signed to Mercury Records, and claims credit as the first person to record Kris Kristofferson's "For The Good Times." This more-indie album was a straight-up secular country album, with weepers and cheating songs, recorded at A. V. Mittelstedt's studio in Houston, Texas, with a locals-only Lone Star crew that included Randy Cornor on guitar. Included are tracks such as "Two Drinks From Forgettin'," "Ready To Take My Chances" and "You're The Most I Ever Was In Love." In later years, Nash enjoyed success as a Top Forty songwriters, penning hits and album tracks recorded by artists such as Eddy Arnold, Diamond Rio, Highway 101 and Reba McEntire, who took his song, "They Asked About You" into the Top Ten in 1994.


<! - recorded in Houston, Texas, with http://www.discogs.com/Bill-Nash-Bill-Nash/release/6273924 http://bknash.com/bio/ >

Bill Nash "Country" (T Records, 1980-?) (LP)



<! - #T80-1 - NOTES >
Buddy Nash "The Agony And The Ecstasy" (Two Breau's Records, 1978) (LP)
(Produced by K. C. Ramsey)
This isn't really a country album, though it is very "local" and does have one noteworthy twangtune on it, the perky country-rock novelty number, "Interstate 85," which features steel guitar picking from a guy named Glenn Childress. Mostly, though, the SF Bay Area's Buddy Nash seems to have been a straight-up lounge singer, '70s style, fusing pop vocals and disco with a curious undercurrent of rootsy twang... But really, I'd have to simply classify this as a lounge album, and leave it to experts in that field to assess the record on those terms. Nash called the Bay Area home, but he toured extensively and played lounge gigs throughout the South, and for a while he was a featured performer on a couple of Nashville radio and TV shows... The album mentions that he was a child performer and that his parents were show business professionals (though sadly the liner notes don't mention their names, and for the life of me I couldn't figure out who they were by searching online...) Anyway, Mr. Nash seems to have stuck around San Francisco, and became a vocal coach, community theater actor and music shop salesman, also playing cabaret shows from time to time... This seems to have been the only release on the Two Breau's record label, which was located in San Antonio, Texas, though I'm not sure if this was the only album Nash recorded.


<! - label in San Antonio, Texas "GEORGE ELPHICK KNOWN AS BUDDY Nash (drummer) -????? - Bay Area actor -- ??? - Bay Area piano teacher -- ???? 1120 Grove Cir. Benicia, CA - also B003NXABLE - LP http://issuu.com/beniciapcs/docs/spring14_final/8 "Buddy Nash's Glee Class with Youth Voices of Benicia Rem Djemilev's Benicia Youth Orchestra Does your child like to sing?" + Buddy's Relatives, Josephine Nash, Dorothy Ladd, Margaret Nash Professional Status: Teacher/performer/sales Music Exchange at Music Exchange in Walnut Creek - played recently at "Wine And Waffles" >
Eddie Nash & Joy King "Live At Ghost Town, Maggie Valley NC" (Hill Country Records, 19--?) (LP)
This record was an early 1970s souvenir of Ghost Mountain Park, in Maggie Valley, North Carolina. Eddie Nash played several instruments and also did country music impersonations; his father, "Panhandle Pete" was also a performer at the park. The repertoire was a mix of old-timey standards and contemporary country-pop hits like "Snowbird," "Never Ending Love" and Lynn Anderson's "Ride Ride Ride."


<! - no ASIN 07/08/15 >

Eddie Nash & Joy King "By Request" (Galaxie III Studios, 197--?) (LP)
(Produced by Harry Deal)



<! - #NR-6610 - liners say this was their second album - Side One features Joy King on vocals, Side Two spotlights Eddie Nash, including two songs where he plays as a one-man band, versions of "Help Me Make It Through The Night" and "Me And Bobby McGee" - same lineup as previous album: - Eddie Nash, Joy King, w/ Denny McCoy on piano, David Johnson on steel, Jim Deal on bass, Gerald Taylor on drums >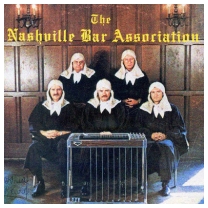 The Nashville Bar Association "The Nashville Bar Association" (Chimer Records, 1977) (LP)
A cleverly-named pedal steel lovefest, featuring Music City heavyweights Jimmy Crawford, Buddy Emmons, Sonny Garrish, Russ Hicks, and John Hughey... If you like steel guitar, this is your record! (Many thanks to the folks at www.buddyemmons.com for their info on this album...!)


<! 01/06/16: LK emailed Ernie Renn to ask what year this came out. If he replies, post a link: http://www.buddyemmons.com/index.htm #8-) >

The Nashville Cats "Smash Hits Country Style" (Windmill Records, 1970) (LP)
I'm guessing this anonymous, budget-label studio crew was not the same group as the Cats listed below... but I wouldn't swear on it... This group covered plenty of obvious '50s/'60s standards, stuff like "Release Me" and "He'll Have To Go" along with more contemporary 'politanesque songs such as "Gentle On My Mind" and Nobody's Child," as well as "A Boy Named Sue" and "Ruby, Don't Take Your Love To Town," all of which points to a 1969-70-ish release date. No idea who the pickers were on this one... but the label says it was recorded in Spectro-Dimension Stereo, so that's cool!


<! - #WMD-170 - issued under the title "Country Hits" on the Chevron label = B004C3H9RS >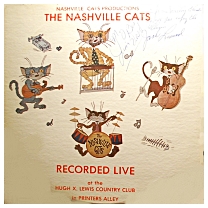 The Nashville Cats "Recorded Live" (Nashville Cat Productions, 19--?) (LP)
This one's a real obscuro-mystery album... Apparently this was a group of guys trying to make it in Nashville, recorded during a live set at the Country Club, a joint that was owned by Nashville second-stringer Hugh X. Lewis. No idea who these guys were, or if they were related to the faux-band above.


<! - no ASIN 11/11/15 >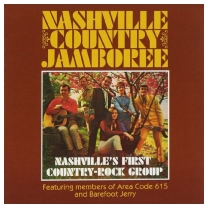 The Nashville Country Jamboree "Nashville's First Country-Rock Group" (SPV-Yellow Label, 2011)
At some point, devoted country music cratediggers will come across some goofy-looking old LPs by the Nashville Country Jamboree, a group with a name and an image as nondescript and generic as the dozens of other Nashville "soundalike" bands of the 1960s and early '70s. The soundalikes were the product of the lower-rent end of the music industry, generally anonymous studio crews who banged out cover versions of hits of the day, which were then sold at cut-rate prices at truckstops and drug stores, particularly in rural areas where there were no record stores or five-and-dimes, and where faux hits were better than no hits at all. The thing about the Nashville Country Jamboree, though, was that the group actually recorded a fair amount of original material, most of it written by Johnny Elgin -- one of the in-house bandleaders at the spunky indie Spar Records -- and his right-hand man, Jerry Foster, who went on to become a major hitmaker in the 1970s. These originals are gathered here, and while derivative of contemporary stars such as Buck Owens and Roger Miller, they're also pretty fun and definitely worth a whirl. The Jamboree band also featured some massive talent -- their singers included Elgin and Foster, as well as Bobby Russell and songwriter Marijohn Wilkin (best known for penning "The Long Black Veil" for Johnny Cash.) The pickers listed in this release are a Music City who's-who A-list, with basically every heavyweight studio player you can think of from the '70s, with the core group being the band that centered around Mac Gayden, Wayne Moss and Charlie McCoy, the group of superpickers who would later branch out into bands such as Area Code 615 and Barefoot Jerry. Sure, if you listen closely you'll hear flubs and perfunctory run-throughs on some of these songs -- no one expected any hits off of these albums -- but you cal also hear the confidence and competence of the backing bands. This CD release also includes excellent liner notes that go into unusually rich detail about the people who were chugging along on the underbelly of Nashville's massive music machine. It's a fun collection of quirky, twangy tunes, as well as an excellent document of a time when indie labels were still a vibrant part of the Nashville scene. Recommended!


<! - sounds like early Willie, Hank Locklin, Webb Pierce >
The Nashville Country Jamboree "Greatest Country Hits Of The '60s" (Cormar International, 19--?) (LP)

The Nashville Country Jamboree "20 #1 Country Hits" (Cormar International, 1972-?) (LP)



<! "Kiss An Angel Good Morning" - 1971 - Charley Pride "Me And Bobby McGee "Woman Sensuous Woman" - 1971 Don Gibson "Made In Japan" Buck Owens - 1972 >
The Nashville Country Jamboree "The Saturday Night Sound Of..." (Spar Records, 19--?) (LP)



<! - #3017 all originals (!) >
The Nashville Country Jamboree "Country Hits By The Nashville Country Jamboree" (Spar Records, 19--?) (LP)



<! SPAR 4182 >
The Nashville Country Jamboree "...Sings A Boy Named Sue And 11 Other C&W Hits" (Spar Records, 19--?) (LP)



<! - >
The Nashville Country Jamboree "Straight From Nashville" (Spar Records, 19--?) (LP)
(Produced by Tommy Downs)



<! - #4810 >
The Nashville Country Singers "Country And Western Hits, Volume XII" (Mountain Dew Records, 19--?) (LP)
Lavish, baroque, occasionally bizarre cover versions of early '70s country hits, songs such as Freddie Hart's "Easy Loving," Charlie Pride's "Kiss An Angel Good Morning" and Dolly Parton's "Coat Of Many Colors," as well as a slew of less memorable minor works, such as "Only Love Can Break A Heart" (which was originally recorded by Sonny James) and Glen Campbell's "Oklahoma Morning." The recordings cycle through male, female and group vocals, and both pickers and singers tend to indulge themselves and overplay or oversing the material, a habit that can be fun sometimes, in a kitschy kinda way. I'm not sure if this was the Nashville Country Jamboree crew recording under a slightly different name, or yet another goofy fly-by-night prefab studio crew... At any rate, for those of us who actually do enjoy these cheapo-exploito album this one's a fine example of the genre.




The Nashville Cousins "Golden Country Hits: New Country Sounds" (Premier Records, 19--?) (LP)
Another one of the many anonymous "bands" that recorded for the cheapo budget labels of the '60s and '70s... No info about who was in the group or when these tracks were recorded, though it does seem that the same material was recycled over the course of several LPs... Just a guess, but I think these are basically the same record, with different covers.


<! - #9001 - also alternate ASIN (w/ good pic) >

The Nashville Cousins "Harper Valley PTA/By The Time I Get To Phoenix" (Premier Records, 19--?) (LP)



<! - older songs also covered "Running Wild," etc - instrumental album? - #9059 >

The Nashville Cousins "Country And Western Spectacular" (Premier Records, 19--?) (LP)



<! "...includes: True Grit, Folsom Prison Blues, Little Green Apples, Harper Valley P.T.A., Son Of A Preacher man, Gentle On My Mind, Wichita Lineman, Galveston, By The Time I Get To Phoenix, Yesterday, When I Was Young." >

The Nashville Convention "Hopelessly Devoted To You" (Springboard Records, 1978) (LP)
(Produced by Steve Lisi)
A country covers album (hopelessly) devoted to Olivia Newton John songs. Really. I'm not kidding. Also, I think this is another one of those "Nashville" albums that wasn't made in Nashville: at the time, the Springboard label was headquartered in LA.


<! >

Nashville Enterprise "Nashville Enterprise" (Nashville North Records, 1973-?) (LP)
Although they had Nashville in their name, these kids from Saint Louis, Missouri -- singer Vonna Faye, along with David Spier, Bob Rolens and Larry Rolens -- were "show me" staters all the way. The liner notes helpfully inform us that the quartet formed in March, 1972, and go into great detail about the shows they played, boasting of tours as far afield as Nebraska, South Dakota and Colorado Springs... Vonna Faye also released at least one single under her own name, though doesn't seem to have pursued music as a career... The three guys, Spier on bass, Larry on lead guitar and brother Bob on drums, later formed a country-rock bar-band called Cottonwood, recording an album in 1979, and then spent a chunk of the 'Eighties rocking out in a group called Bay Wolfe, which was notable for helping start the career of Top Forty redneck country queen Gretchen Wilson. After their hair-band folded, the Rolens brothers went deeper into the country music mainstream, with Larry Rolens joining the Bellamy Brothers and Bob Rolens helping anchor Wilson's band, after which he became part of the Well Hungarians indie-twang band. *Whew!* Quite a story, eh?


<! - #MRC-100 - no ASIN 02/05/18 - bc nv, p nv "COUNTRY RURAL ROCK" - album recorded at Midwest Recording Studio, in Saint Louis, Missouri - was this the only Nashville North release? http://www.45cat.com/artist/vonna-faye Vonna Faye (Arch Records) (7") #NR 2238 A: As You Say Goodbye" (c: Vonna Faye & Dariol Stephens) B: Turn Me Away" (c: Vonna Faye & Dariol Stephens) - St. Louis label, recorded at Scotty's Music - ALSO: Cottonwood >
Nashville Fiddles "Nashville Fiddles, Volume One" (Little Darlin' Records, 1969) (LP)
(Produced by Aubrey Mayhew)
This cheapo instrumental album was a showcase for Nashville fiddler Buddy Spicher, one of the most ubiquitous session players of the 1960s and '70s, and was also released under his name, as well as reissued under the Certron label's imprint. Spicher is credited as arranger and conductor, although the other musicians are unknown. The set list is a pretty unsurprising mix of (mostly) late 'Sixties country and pop hits, with chestnuts such as "Apartment #9," "Folsom Prison Blues," "Galveston," "Gentle On My Mind" and "Norwegian Wood," as well as fiddle showcase numbers such as "Black Mountain Rag," "Orange Blossom Special" and "Rocky Top." The "band" seems to have put out several records, though this one and the Johnny Cash tribute below are the only one's I've seen to date.


<! - #SLD-8019 >
Nashville Fiddles "Country Giants" (Certron Records, 1970) (LP)
This was a straight-up reissue of the Little Darlin' album, with vague liner notes that nonetheless declare it to be the first of many Nashville Fiddles albums - later CD reissues seem to indicate there were a lot of these records, but it may be hard to track them all down.


<! - #CS-7017 >
Nashville Fiddles "All Wrapped Up In Cash" (Certron Records, 1970) (LP)
(Produced by Aubrey Mayhew)
A Johnny Cash tribute album from the "Folsom Prison" era... As with the other Nashville Fiddles LP, there's no indication of who the other musicians were.


<! - #CS-7006 - >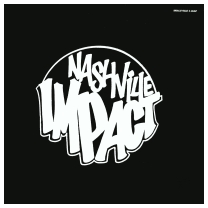 Nashville Impact "Nashville Impact" (Smallville Records, 19--?) (LP)
(Produced by Kevin McManus)
This band of struggling Nashville locals featured steel player Ron Crawley, singer Jill Crawley, Jerry Penrod on vocals and guitar, drummer Michael Cignarale (drums), and singer-bassist Michael Dukes (bass), as well as Marvin Steffens on keyboards, with Penrod and Dukes acting as the main songwriters. Additional studio crew included recording pros Terry McMillan and Doug Jernigan... They made at least two LPs, though I'm really not sure which came first. (When I find out, I'll let you know...)


<! - no date? - #104 - black cover >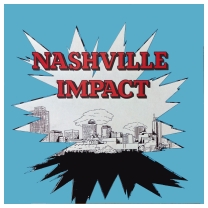 Nashville Impact "Nashville Impact" (Fargo Records, 19--?) (LP)
(Produced by Kevin McManus)
Wow! They made two albums... although honestly, I'm not sure which one came first. As on the other album, this has a lot of original material -- all original, actually -- though this time around there are no songs by Jerry Penrod, and four each by Michael Dukes, Jill Crawley and the new member, singer Patti Stephens.


<! - band featuring Ron Crawley, Jill Crawley, Jerry Penrod, Michael Cignarale (drums), Michael Dukes (bass), Patti Stephens (vocals) - #F-1022 >

The Nashville Marimba Band "The Nashville Marimba Band" (Cracker Barrel Records, 1977) (LP)
Wanna hear "Orange Blossom Special" done on the marimba? How about "Ruby, Don't Take Your Love To Town?" "I Fall To Pieces?" "Running Bear?" No? Oh, come on... they worked so hard!! Anyway, no info on the session players on this album, though in teeny, tiny letters at the top, they tell us that this was Mac Curtis's Nashville Marimba Band, so maybe there was an actual live act associated with this album... your guess is as good as mine. Chances are they weren't even from Nashville: according to the back cover, their distribution company was headquartered in Los Angeles.


<! - # - no producer info - distributed by Ray Lawrence, from Studio City CA >

The Nashville Now Band "From The Band To Our Fans" (Downs, 1985) (LP)
(Produced by Steve Schafer)
A truly dreadful album of bland, glossy Nashville pap -- I mean, pop -- from the house band of Ralph Emery's long-running Nashville Now TV program, which was on the air from 1983-93. There are a few usual suspect studio musicians in the band -- Hoot Hester, guitarist Fred Newell, steel player Larry Sasser... One of the backup singers is identified as Donna Rhodes, and I'm not sure if that's the same gal as was in the Rhodes Sisters duo. Otherwise, these are all pretty unknown artists, hopeful stars, I'm sure, but the music on here is just terrible and not worth knowing about unless you're a weirdo like me. 'Nuff said.


<! - Fred Newell nicknamed "Wichita" (? what's up with that?) - Sadly, no appearances by Shotgun Red - no ASIN 11/11/15 - TOM GRANT on here? - NO - looked through the liner notes >

The Nashville Rhythm Section "Keep On Dancing (Country Style Swing), Volume One" (Silver Bear-Koala Records, 1981) (LP)
(Produced by Wes Sanborn & Bernie Vaughn)
A wildly cheesy set of country-disco exploitation tunes, mixing aggressively dated covers of late-'Seventies/early-'Eighties pop hits such as Dan Hartman's "Instant Replay," Kenny Loggins' "I'm Alright," "Celebration," "September," "Hot Stuff" and a particularly horrific and unnecessary version of "Reunited." Of note are the A-list Nashvillers on this album, with steel player Sonny Garrish and lead guitarist Greg Galbraith anchoring the sessions, along with Bruce Watkins on banjo and fiddle, and several uber-generic backup singers working in a distinctly disco-y mode. The arrangements are actually fascinating, lacking the robust sway of the line-dancing songs of later years, opting instead for a full embrace of the tinny disco beats that had already died in '78-'79... Despite coming late for the party, this record has had surprising durability, spawning several followup albums as well as being reissued on CD and downloads. Wow. Go figure.


<! - 1981 seems kinda late!! - reissued in 2013 on CD and MP3 - B00843T33K - OTHER ALBUMS: The Nashville Rhythm Section "Keep On Dancing (Country Style Swing), Volume One" (Silver Bear-Koala Records, 1981) >

The Nashville Seven "Country And Western Instrumentals" (Spur Records, 19--?) (LP)
Your guess is as good as mine. The label is from Toronto, Canada, although the liner notes claim the (unidentified) musicians are from Nashville. Instrumental versions of oldies and standards.


<! - # - >

The Nashville Silver Strings "The Silver Strings" (197-?) (LP)
At some point these guys -- Dennis, Rick, Travis and Willie -- were the house band at the Longbranch Saloon, near Opryland. Other than that, I was able to find out very little about the group, outside of this album. They covered a lot of 'Seventies country, pop and southern rock hits, with the majority of them from around 1974-75, songs such as BTO's "You Ain't Seen Nothin Yet," the Eagles' "Best Of My Love," "Ramblin' Man," and the Charlie Daniel's anthem, "South's Gonna Do It Again."


<! - #ST-375 1. Listen To A Country Song (Lynn Anderson, 1972) 2. Rainy Night In Georgia 3. You Ain't Seen Nothin Yet (1974) 4. Please Come To Boston (1974) BTO 5. Rocky Top 6. Best Of My Love (1974, Eagles) 7. South's Gonna Do It Again (Charlie Daniels, 1975) 8. I Can Help 9. Ramblin' Man 10.Trilogy - Rick, Willie Carroll (bass), Dennis Guy (banjo and keyboards), Travis - "Nashville Silver Strings" or just "Silver Strings"? - G searches in 2015, 2019 fruitless >

The Nashville Sounds With Tom Grant "The Nashville Country Club Proudly Presents..." (Nashville Country Club, 19--?) (LP)
Not to be confused with the smooth jazz pianist, singer Tom Grant was a Wisconsin native who led a house band in Milwaukee at a club called Nick's Nicabob, and later found a slot in an obscure Indiana-based venue called the Nashville Country Club. He eventually made it to Nashville, signing to Republic Records in 1979, where he landed two singles in the Billboard charts, though he may be better known as a member of the band Trinity Lane. Although his solo career didn't really take off, Grant stuck around and worked on several Nashville-based TV shows, including TNN's 'Eighties-era "Nashville Now" and "The Ralph Emery Show," on NBC. This album was recorded during his Indiana days, with a band called Nashville Sounds, which included Darrel Young on bass, Larry Young playing lead guitar, Billy Powell on steel, and Dale Greene thumping the drums. Apparently future star Steve Wariner also apprenticed in the band at some point, though I don't think he plays on this album.


<! - # - look into Grant's career? needs his own page? YT: "...I used to go to "Nick's Nicabob" in Milwaukee to listen to Tommy Grant in the 70's. He had the house band at the time. I had a 45 of a song called, "The Streets of Old Milwaukee" - listed under Grant's name as well >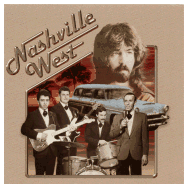 Nashville Train "...Presents ABBA Our Way" (RCA Records, 1978) (LP)
(Produced by Hazze Ostlund & Nashville Train)
A Swedish country band, covering ABBA classics? Oh, god yes. Thank you! Thank you, thank you, thank you. I could give you more information about this one... But for now, just let me bask in the glory.


<! - #AFS1-2630 - originally copyright 1977; came out in Europe first? >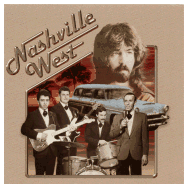 Nashville West "Nashville West" (Sierra Briar Records, 1978)
These loose, easygoing sessions were recorded on the fly in 1967 during the short, mayfly lifepsan of Nashville West, an early, influential country-rock combo that featured Gib Guilbeau on vocals, along with Clarence White on guitar, Gene Parsons playing drums, and Guilbeau's longtime friend Wayne Moore playing bass. The group broke up when White was tapped to join the Byrds, and their rehearsal tapes sat unused for over a decade until their release in '78.


<! - # > <! Natural Act "Natural Act" (Calgem Distributing, 197--?) (LP) (Produced by Rick Keefer) - Canadian, from Moose Jaw, Saskatoon - described as "country rock," but looks more like a rock record - longhairs, no fiddle banjo or steel - mainly Andy Greenwald (lead vocals), Alan Gould (guitars), Ron Holland (lead guitar) - not pictured on bc: drummer Chris Marcellus and bassist Gordon Lockard >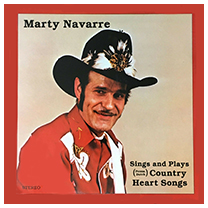 Marty Navarre "Sings And Plays (Penna, Dutch) Country Heart Songs" (Fun-nel-Aires Records, 1983-?) (LP)
Definitely an odd one here... Dubbed "the queen of the funnel cake," Pennsylvania baker Alice Reinert was known as the gal who popularized traditional Dutch funnel cakes, selling them at county fairs from her family-run kiosk, and even wrote a book about 'em. Apparently she also composed some country music, which local picker Marty Navarre recorded, backed by his band the Country Jades. Navarre is a pretty obscure figure; I could only find one mention of him playing a live show, a 1983 appearance at a mall in Trexlertown, PA. And, unfortunately, while the Jades are mentioned on the back cover, no individual bandmembers are listed by name. Another footnote to this album is that it was also released under Reinert's name, with very similar artwork, and the track listing jiggled around a little.


<! - # (none) - Reading, PA label - recorded at Helfrich Studios - NOTES, more about her than him >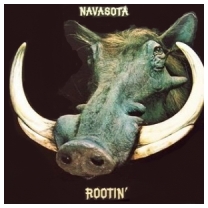 Navasota "Rootin' " (ABC Records, 1972) (LP)
(Produced by Gary Kannon & Dennis Collins
There was, I suppose, some actual twang on this album, although these guys were pretty much a hard rock band in the early '70s mode -- hints of Southern rock, Creedence-style swamp boogie, and thuddier-sounding stuff in the style of -- I dunno -- Grand Funk Railroad or Spooky Tooth, though not without a hefty dose of Spinal Tap in the mix as well. These Texas boys -- who were originally from around Houston -- did dabble in country-rock on "Ballad Of A Young Man," which has good pedal steel but rather insincere vocals: haw! I'm singing like a hick! hyuck hyuck!! The steel guitar comes courtesy of Jeff "Skunk" Baxter, no less, who also plays on another of the album's twang tunes, a coked-up version of "Ole Slew Foot." Probably the most noteworthy thing about this record is the presence of Donald Fagan and Michael Brecker, who were still paying their dues as studio musicians in the early days of Steely Dan, but they got a chance to do some horn and string arrangements, and I'm sure that came in handy later on... They contributed a song as well, the jittery-sounding "Canyon Ladies," which serves as a good lesson on how the Steely Dan guys could play their own material 'way better than, well, pretty much anyone else. Oh, and there's one more twangtune on here, the oddly-titled but pleasantly weird "P. Fahm," which qualifies as an early '70s oddity possibly worth resurrecting on a compilation album somewhere, sometime. Mostly, though, this album seems like a pretty formulaic, fairly sterile album. They try really hard, but I don't think they caught fire here. One final note: singer Dicky Sony, who does get a good soulful snarl going on several songs, later adopted the stage name King Cotton, and became a fairly well-known blues musician. So now ya know.


<! "...Recorded in 1972 in Los Angeles... >

Carmen Neal "A Tribute To Patsy Cline" (Sutton Records, 19--?) (LP)



<! - #Sutton 303 - no ASIN 10/03/15 - also issued on the "Shield" label >

Sam Neal & Kay Neal "The Best Of Sam And Kay Neal" (Blake Records, 1971-?) (LP)
I can't tell you much about this duo who presumably were husband and wife, and who also released a string of singles for the Memphis-based Blake label around 1971-74. They frequently recorded as a duo, although Sam Neal also cut a bunch of tracks under just his own name, including an earlier single from 1966 ("I'd Rather Say Hello"/"I Won't Be Disappointed") on the equally obscure Allendale label. I couldn't find any biographical info on these two, but any leads would be welcome...


<! - no ASIN 03/15/17 - beehive hair - #LP-1-121 - "I Can't Feel The Pain" (7") from 1971(?) http://www.45cat.com/artist/sam-and-kay-neal2 http://www.45cat.com/label/allandale - I doubt that this was the same Kay Neal: http://www.hillbilly-music.com/groups/story/index.php?groupid=12504 "...All we have to go by is what little we've found in a couple of old WHO picture booklets. In 1938, the group was comprised of Ada Beth Peaker, Kay Neal and Catherine Wenass. The booklet described them as "...three solo voices that blend in perfect harmony and rhythm." Kay played the role of "Lily" in Sunset Corners on the WHO Iowa Barn Dance Frolic show and was in love with the character "George Phillips" who was played by Loren Cunningham. >
Near Beer "Last Night -- What A Party We Had" (Cowboy Carl Records, 1978) (LP)
(Produced by Carl Schneider & Near Beer)
A live show held July 3-4, 1978, at the American Legion post 474, in Matteson, Illinois... This set is packed with outlaw classics from Waylon and Merle and the rest of the gang, including yet another cover of "Up Against The Wall, Redneck Mother" as part of a "redneck medley" that also includes "London Homesick Blues" and "Boney Fingers." The band also included a gal named Peggy Lynn Fargo, with lead vocals by Wade Rivers, who also wrote some originals for the band: "Longneck Kicker" and "I Like Country Music (With My Beer)." The set was poorly recorded, with pretty flat sound quality, but it's authentic as all get-out -- some 1970's young folk getting on with their hard-country groove.


<! - # >
Nechako "Nechako" (Roost Records, 1979) (LP)
(Produced by Nechako & Willie MacAlder)
This four-song EP was, I think, the only release from this Canadian country-rock outfit... Pity, since they were a pretty solid band! Good stuff, though hard to find. Anyone know more about these guys? They were from Prince George, British Columbia, but that's all I know.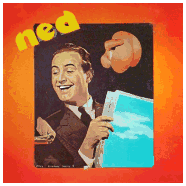 Ned "Ned" (Polydor, 1973) (LP)
(Produced by Bill Stewart)
Amiable longhair folk-rock, with a hint of country, and a dip into a longer, fusion-y jam session on the album's last track... I guess these happy-looking Bostonians fit into the "country-rock" category, mostly because of lead singer Nick Talantis' twangy vocals, but also because of the CSN&Y-derived mix of melodic guitar rock and hippie-twang. It's a pleasant record, though -- looking a few decades ahead, I'd say that folks who like Victoria Williams and Mark Olson's Creekdipper records might like this a lot. I also like the photo on the back cover where they're all holding big cuddly dogs who are licking their faces. Nothing says "hippie album" like big, cuddly dogs on the album art. Not sure if any of these guys stuck with music professionally, but this is a nice album for the times. (Also worth noting: Tommy Talton of the band Cowboy also sits in as a session guitarist on a few tunes.)


<! - # - http://www.nedband.com >
The Needham Twins & Gemini Express "Double Shot: Country - '50s" (Identical Productions, 1983) (LP)
(Produced by Kit Grove, Jerry Needham & Larry Needham)
Identical twin brothers Larry and Jerry Needham hailed from Cleveland, Ohio and got their start as a musical duo while serving a Vietnam War-era tour of duty in the armed forces. After their discharges, they moved to Nashville, where they worked throughout the '70s, then moved to Detroit Lakes, Minnesota, where they were living when they cut this kooky album. The repertoire is split between country (ranging from hillbilly oldies to newer stuff like "Bobbie Sue," "On The Road Again" and "I'm Gonna Hire A Wino To Decorate Our Home") and rock'n'roll oldies ("At The Hop," "Blueberry Hill," "Oh, Pretty Woman," "Big Girls Don't Cry," et.al.) On the back cover they have two pictures, one in their cowboy duds, the other in Sha-Na-Na muscle shirts, both brothers doing a bicep-flexing Bowzer pose. (Dunno if they ever did live shows where they switched costumes backstage, but that would have been kinda cool... ) Apparently, they travelled to Fargo, North Dakota to record this album, at Kit Grove's studio, Audio Media.


<! - # - engineered by Kit Grove - Gemini Express band only identified by their first names: Mike, Char (fem) and Mark - date per WorldCat, but with a (?) added The Needham Twins "Songs Of The Needham Twins" (xxxxx, xxxxx) The Needham Twins "Branch Two" (Identical Productions, xxxxx) - no ASINs for any albums 02/10/15 http://www.needhamtwins.com/ >

Bill Neely "Texas Law And Justice" (Arhoolie Records, 1974)
One of the most unusual-sounding albums in the Arhoolie catalog (and that's saying a lot!) This CD is an expanded version of a 1974 LP made by an obscure white Texas country/blues picker who plays a basically acoustic style, though amplified in a rather remarkable way. The overall effect is spooky and unnerving, which, as it turns out, is perfectly suited to the intense, unsettling nature of the songs themselves. Neely, a lifelong devotee of the legendary Depression-era country pioneer, Jimmie Rodgers, dwells in the darker areas of the country blues tradition, with stream-of-consciousness tunes about jail time and street crimes. Particularly striking are the preachy-but-raw religious tune "Satan's Burning Hell" and the previously unreleased "Skid Row," which detailed the seaminess of life in the lower rungs of big city life. I thought this album was particularly compelling, and certainly worth checking out. Just the kind of record that only Arhoolie could put out.


<! 144 x 144 >

Bill Neely "Austin's Original Singer-Songwriter" (Lost Art Records, 2002)




Leonard Neely "Sings The Sacred Songs Of Hank Williams" (Cardinal Records, 1979) (LP)
Singer-picker Leonard Neely grew up in Spottsville, Kentucky and was working as a pastor in an Indianapolis church when he recorded this album, sometime in the mid-to-late 1970s, from the looks of it. This is a stripped-down acoustic tribute to the religious side of country legend Hank Williams, and as many fans will already know, ol' Hank certainly wrote some great gospel songs.


<! - #CR-LN-103 - no ASIN 02/10/16 - no pix - no producer or musician credits >


Sam Neely - see artist discography



Carla Neet & Jerry Blanton "Our Way" (Axbar Records, 1985) (LP)
(Produced by Joe Scates)
Yeesh. Well, it is indie... and it was under the radar... and I guess technically it was country... But this sure ain't my kinda twang. An uneven set of would-be Top Forty type stuff with tinkly keyboards, airy synths and generally bland musical backing, draped around the mismatched duo vocals of Blanton and Neet. And they are definitely mismatched: she overshadows him, in part because he's kind of a weak singer, and partly because she's a total showboater, sounding Cher-like at times, emoting powerfully whenever possible. It's possible that with more thoughtful production and more attention paid to "fixing" things in the studio this could have been a stronger record, though I suppose it's fine for what it is: '80s commercial country ballads done on a shoestring budget. Blanton is notable here as a songwriter, writing or co-writing over half the songs on the album, with Neet credited on two. Again, it's not my kinda country, but if I frame him as a Don Williams-y guy, I can see where he was coming from... and Blanton's originals are definitely better than the cover of "Wind Beneath My Wings" that closes out Side One of the record. Brr-r-r-rrr. No info on the backing musicians, though the liner notes claim that some Nashville pros were involved. The Axbar label was from San Antonio, Texas, although Neet later moved to Tennessee; her recording of "Here We Are Waltzing Again" (from this album) was also featured on a compilation of women artists who recorded for the Axbar label.


<! http://www.mysanantonio.com/news/local_news/article/Scates-was-a-country-music-producer-who-first-1390267.php - Scates d. 2011 - Scates producer? no actual credit, though he did write the liners >
Steven Neil "The Rising Star" (Mariner Records, 1982) (LP)
(Produced by Dave Hieronymous, Dave Shipley & Fred Vail)
Fiddler Steven Neil wrote several original songs for this album, which also includes some Hank Williams, one by Chuck McCabe, one by Mentor Williams, and a version of Randy Newman's "Louisiana, 1927." This set was recorded in Nashville, with Neil singing and playing fiddle, backed by several different keyboardists (including Ron Oates and Tony Migliore), Bruce Dees on dobro, and Terry McMilllan playing harmonica.


<! >

Bonnie Nelson "Meet Bonnie Nelson: International Truck's Sweetheart Rose" (Squire Records, 1976) (LP)
(Produced by Kelso Herston)
A local performer from Colorado Springs, Ms. Nelson worked steadily through a procession of smalltime gigs in Colorado and Nevada, methodically building a regional fan base and work resume that is minutely (and charmingly) detailed in the liner notes. In 1972 Nelson won a contest sponsored by radio station KPIK, and was signed to a five-year deal offered by producer Kelso Herston, who more or less took over her career. She went to Nashville to cut a few singles for United Artists in 1973-74, and later recorded this album, with some studio pros backing her up on a set heavily populated with covers of hits from "lady" country stars. There are a couple of Patsy Cline classics, "Top Of The World," stuff like that, along with a few new tunes. Oddly enough, nothing she did made a dent on the charts... not until over a decade later, when she cracked into the Back Forty with a couple of singles in the late 1980s. (Thanks to Kim Sloan's blog for helping piece this info together...)


<! I'm not sure if this is true... LK: "A local performer from Colorado Springs, Ms. Nelson worked steadily through a procession of smalltime gigs in Colorado and Nevada, including several albums as part of the F.A.B. folk-pop trio. She methodically..." >

Bonnie Nelson "Good Nights Make Good Mornings" (Hop-A-Long Records, 1977) (LP)
(Produced by Travis Turk & Kelso Herston)



<! - #HPS-110 >

Bonnie Nelson "Live At The Country Palace" (Hop-A-Long Records, 1977) (LP)
(Produced by Travis Turk & Kent Hopper)
A concert show with some tracks spotlighting Speedy Haworth and his band, Stateside Express, as well as Bob Britton, and even Terry McMillan in there, playing the harmonica. This was recorded at The Country Palace nightclub, in Littleton, Colorado ... It's mostly a predictable set of cover tunes, though one standout is "Love From A Woman's Point Of View."


<! #HPS-111 >

Bonnie Nelson "Meet Bonnie Nelson" (Door Knob Records, 1987) (LP)



<! Bonnie Nelson "Bonnie Nelson" (xxxxxxx, xxxxxx) (Produced by Travis Turk & Kelso Herston) - did a few singles for United Artists, in 1973-74 Bonnie Nelson "God And Country" (xxxxxxx, xxxxxx) CD - B005AA0M3A - the same artist?? https://books.google.com/books?id=TygEAAAAMBAJ&pg=PA59&lpg=PA59&dq=%22Mountain+Music+Opry%22&source=bl&ots=sprrLpQXXM&sig=ACfU3U385bAoogGYyLbu_uMd6lA0YklGLw&hl=en&sa=X&ved=2ahUKEwjd17jO_NfnAhUILKwKHakkANcQ6AEwBXoECAkQAQ#v=onepage&q=%22Mountain%20Music%20Opry%22&f=false - big article about Colorado country scene c. 1975; info on Bonnie Nelson's business interests(!) >
Cliff Nelson "Oh Baby" (Sunbird Records, 19--?) (LP)
(Produced by Rick Miller)
This one belongs strictly in the "Warning, Will Robinson!" column... Although the Tennessee-based Sundance label did record some country stuff, and though this fella Cliff Nelson did croon a couple of tunes that were technically considered country at the time ("Annie's Song," "Me And Bobby McGee") his focus was mainly straight-up cheesy pop-lounge schmaltz -- Billy Joel's "Just The Way You Are," Barry Manilow's "Copacabana," a goofy version of "On Broadway." I seriously doubt that Nelson -- apparently an Englishman backed by a six-piece band of Filipino musicians -- was an actual working lounge singer, and I'm fairly certain this album was strictly a vanity disc. Though I'm sure he had fun recording it, you can skip this one, really, particularly if you're a twangfan. (Although connoisseurs of loungecore kitsch might get a giggle out of it....) But country? No, not so much. Includes two original songs, Nelson's own "Reflections" and "Oh Baby."


<! - no ASIN 08/04/15 >

Gwinn Nelson "Sings About El Paso" (El Paso Records/Food For The Ears, 1981) (LP)






Rick Nelson - see artist discography



Tommy Nelson "Cookin' Country" (Regard Records, 1975) (LP)
(Produced by Tim R. Nelson & Tom Russell)
Oklahoman Tommy Nelson is best known for his 1960 rockabilly song, "Hobo Bop," though he definitely had a country edge on this mid-'70s LP, recorded for a label out of Tulsa.


<! - #1274 - no ASIN 02/08/16 http://billgronos.blogspot.com/2010/10/tommy-nelson-rockabilly-legend.html >


Willie Nelson -- see artist profile





Tracy Nelson - see artist discography



The Neon Philharmonic "The Moth Confesses" (Warner Brothers, 1969) (LP)
A very weird record from Nashville. This faux-psychedelic pop odyssey was helmed by Don Gant (1942-1987), a singer who paid his dues first as a would-be teenpop star on Roy Acuff's Hickory label, then as a staff writer and executive at the Acuff-Rose publishing company. Nashville classical pianist and anti-government conspiracy theorist Tupper Saussy (1936-2007) composed and arranged the album's "mini-opera," more or less as a joke. It's supposedly written from the point of view of a moth, hatching out into the bright, beautiful world, although it sounds more like a send-up of rock music's starry-eyed, dilated-pupil hippiedelic orchestral meanderings, with classical-tinged arrangements reminiscent of the Left Banke, or late-vintage Zombies. Worth noting, amid the wind instruments, brass and strings are A-list Nashville sessionmen Kenny Buttrey, Jerry Kerrigan, Norbert Putnam and Chip Young, though their twangy touches are infrequent and largely subsumed to the album's pop-psych sensibilities.


<! - #WS-1769 >

The Neon Philharmonic "The Neon Philharmonic" (Warner Brothers, 1969) (LP)
(Produced by Don Gant, Ronald Gant & Tupper Saussy)
Another insanely manic, over-the-top outing from Saussy and Gant, though even less country-flavored than before. The album begins with the propulsive, forceful classical-rock juggernaut of "Are You Old Enough To Remember Dresden," and chugs along from there. They relax a little bit at the end of Side One with "Harry," a chamber-pop tune in the Left Banke style that sounds like it may have been an actual attempt at crafting a radio-friendly pop single. Then they go nuts again on Side Two, working their way up to the album's closer, "The Mordor National Anthem." Although they are kind of cagey about the musicians involved (referring to them by first name only) it is largely the same crew as before, with some additional help from several other first-name-only players, including "Sadao," who I assume was horn player Sadao Watanabe. Nutty stuff.


<! - #WS-1804 >


Michael Nesmith - see artist discography



The Nestor Haven Band "One Lane Bridge" (Icarus Records, 1983) (LP)
A country-folk band from Colorado Springs, Colorado, with some banjo and steel guitar... They released two albums, although I haven't been able to track down info on the other one yet.


<! - 208 available A1 One Lane Bridge A2 My Friends A3 Let Them All Go Crazy A4 Sweet Mountain Memories A5 Asking You to Stay A6 Running From a Dead Man's Name B1 Love on the Rise B2 Red Sky B3 Never Meant to Be Here B4 (The Girl With) the Scarlet Eyes B5 Witchi-Tai-To http://www.legacy.com/obituaries/gazette/obituary.aspx?pid=167132483 : Tom Williams, Kip Linebarger (d. 2013, age 70) - was there a guy named Nestor Haven? I can't find any record of him online (10/15) >

Rick Neufeld "Hiway Child" (Alshire Records, 1971) (LP)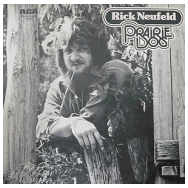 Rick Neufeld "Prairie Dog" (RCA-Canada, 1974) (LP)
(Produced by Rick Neufeld)
A spacey country-rock offering from a Canadian folkie whose career included hosting a music show on CBC-TV, and recording these three few albums. This one doesn't do much for me, though it has its moments. The opening track, "Country Pride," is a nice back-to-nature hippie anthem, but when the rock'n'roll vibe takes over, as on the too-cosmic "Falling And Breaking," it gets pretty iffy. Backing him on this album are several members of the Canadian Top 40 rock band, The Guess Who, playing in a very mellow mood. Worth checking out if you're on a seventies cosmic-cowboy kick, or are more into folkie meanderings than me... It's a gentle record, and might grow on you after a while.


<! 06/13: no ASIN >

Rick Neufeld "Manitoba Songs" (1978) (LP)




Bob Neuwirth "Bob Neuwirth" (Asylum Records, 1974)
(Produced by Antonino Reale)
A folk-rock Zelig, songwriter Bob Neuwirth spent a big chunk of the '60s hanging out with luminaries such as Joan Baez and Bob Dylan, and later with Janis Joplin and her crew. This country-rock solo album, which was recorded before he joined Dylan's Rolling Thunder tour, is liberally packed with high-powered musicians -- ranging from stars such as Rita Coolidge, Cass Elliot, Don Everly, Kris Kristofferson and Dusty Springfield to rootsier supporting players -- John Beland, Stephen Bruton, Richie Furay, Chris Hillman, Ben Keith, Thomas Jefferson Kaye, et. al. Most of the songs were written by Neuwirth, with a few additional tunes like Don Gibson's "Legend In My Own Time" as well as tunes by Donnie Fritts and Bobby Charles, showing his connections to Southern soul and the Muscle Shoals scene. A lot of roots-rock firepower for one little album! Just for good measure, Neuwirth closes the album out with a version of "Mercedez Benz," that timeless ditty he co-wrote with Janis Joplin...


<! - # 7E-1008 >

Nevada Slim "Singing Songs Of The Wild West" (Rural Rhythm Records, 19--?) (LP)
(Produced by Uncle Jim O'Neal)
Born in Washington state, Dallas Turner (1927-2014) -- aka Nevada Slim -- grew up on a cattle ranch in Oregon, but dreamed of becoming a different kind of cowboy. In 1946 he headed south and got a job singing on one of the border radio behemoths and eventually formed a partnership with one of his musical idols, Cowboy Slim Rinehart. Turner became a nationally-known "western" singer, cutting several albums for Rural Rhythm, including this one, which appears to have been reissued at least a couple of times.


<! - #RRNS-164 - obit (OR) >

The Nevadans "Virginia City's Bonanza Presents The Nevadans" (Tab Records, 19--?) (LP)
Alas, neither of the guys in the duo called "The Nevadans" was actually from Nevada... Merle Bartlett and George La Ferry were from Arkansas and Sacramento, California (respectively) and the Tab label was, oddly enough, based in San Jose. Nonetheless, the Bonanza nightclub sponsored their lounge-act souvenir album, which is packed with honky-tonk cover songs and oldies... Not sure of the year on this one; late '60s/early '70s perhaps?


<! - La Ferry from Sacramento - Bartlett from Arkansas - Tab Records a San Jose label - honky tonk covers - no ASIN - 03/01/15 >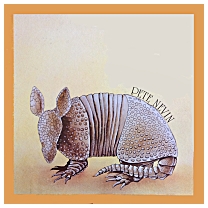 Pete Nevin "Pete Nevin" (LPN Records, 19--?) (LP)
(Produced by Kerry Marx)
This off-the-radar indie set was recorded in Garland, Texas and has some true twang in it, but has perhaps more of a folkie tilt, in that Nevin explores personal, confessional themes and drifts into some rambling lyrics. He has a great, rural voice and the songs that are straight-up country are the best... There are also several songs on here that are a little too personal -- a trio of breakup songs that doubtless reflect his own upset, but don't translate that well for the rest of us -- as well as a few rock tunes and pop ballads that are musically pretty dreadful. On the plus side, this disc is packed not just with original material but also with locals musicians, none of whose names I recognize, which I personally find fun. Ultimately, this is one of those self-released records that are just too inwardly-directed and lack the universal touch: his that-chick-is-crazy songs are kind of embarrassing, though I guess most of us have been there a time or two ourselves, right? Nevin later moved to Nevada and became a real estate broker specializing in selling ranches and other rural spreads, and played music on the side, though as far as I know this was his only record.


<! - @ - folkie, but with country arrangements - all originals by Nevin - from Garland, Texas - don't recognize any of the musicians - no ASIN 11/12/15 - Nevin later (?same guy?) moved to Nevada and became a real estate broker specializing in selling ranches and other rural spreads. pete@petenevin.com >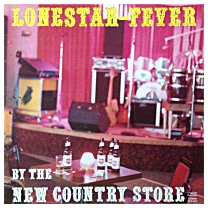 The New Country Store "Lonestar Fever" (Hilltop Records, 19--?) (LP)
(Produced by New Country Store, Kevin McManus & Tom Harasmisz)
A pretty strong set from a young band out of Orlando, Florida... Eight of the ten songs were written by singer Eddy West, with two more credited to a "B. Nelson," who wasn't in the band. It's all good stuff, ranging from a number of mellow-tempoed, John Denver-esque ballads to the jovial stoner song, "Stems And Seeds," which has a Buck Owens-meets-the-Statler Brothers feel (and namechecks Jerry Jeff Walker, John Prine and David Allan Coe!) Throughout are several solid country numbers, neither stomping honkytonk or wimpy countrypolitan, but a strong mix of styles. What's most evident about this album was they were serious about the music, and fine craftsmen -- maybe they didn't stand a chance commercially, but they made a damn fine album. The album was partly recorded in Nashville, partly in Orlando, with Johnny Gimble, Jack Blanchard and Misty Morgan pitching in on the Nashville sessions. Not sure when this came out - late '70s or early '80s, I'm guessing.




The New Day Country Band "The New Day Country Band" (CEC Records, 1975) (LP)
(Produced by Richard Carpenter, Earl Cowart & Marc Pruett)
A progressive bluegrass band from Asheville, North Carolina, this group featured banjo picker Marc Pruett, who later became a solo artist and nationally-known performer. The full band was Richard Carpenter on drums, Wayne Carter (rhythm guitar), Earl Cowart (guitar), Boyd Dills (guitar), Mike Hunter (mandolin), J. B. Passmore (bass), and Marc Pruett on banjo and dobro. At the time Pruett ran a music shop in Ashville, while Cowart lived in nearby Franklin. Pruett cut his teeth as a performer playing bluegrass music in western-themed amusement parks such as Ghost Town (in Maggie Valley) and Franklin's Gold City; later he landed a gig with the Jimmy Martin band, which placed him on ahe national stage. I'm not 100% sure, but I think this was Pruett's first album.


<! - # - Pruett's first album? >

The New Day Country Band "The New Day Country Band" (Wes Sound Shop, 19--?) (LP)



<! - #RSR-866 - bluegrass? standards like "Woah Mule," "John Henry," "Orange Blossom Special" - no ASIN 03/15/17 >
New Deal String Band "Blue Grass" (London-Sire Records, 1970) (LP)
This was apparently a different crew than Tom Paley's '60s band of the same name... These guys, who hailed from North Carolina, are credited as the "first" hippie-longhair bluegrass band -- which I seriously doubt, but I suppose it's all about how you define things. Anyway, they made a big impression on the early 1970s festival scene, reportedly inspiring Sam Bush to create a style called newgrass that fused mountain music with countercultural sensibilities, while folks in the old guard, like Bill Monroe, are said to have hated them. I have to say, Monroe may have had it right on this one. Although I can see what they were aiming for, the musical end of this particular album doesn't do much for me: there's plenty of energetic, enthusiastic playing, but it's undisciplined and a little scattershot, and I really don't care for lead singer Leroy Savage's vocals. There's also a vague sense of them not really taking the music seriously, or at least being a little too loosey-goosey with it... This is borne out by the half-praise/half-mockery of the liner notes which proclaim that "underneath their long haired, unwashed exteriors there beats the hearts of six redneck farmers." (Admittedly, they might not have had much to do with the writing of the liners, but the comments do underscore an undercurrent of condescension that creeps into the recordings...) Historically, though, this is noteworthy for several grassed-up covers of classic rock songs, including the Rolling Stones' "No Expectations," a Dylan song, and the country-ish "Don't Pass Me By," by the Beatles, which was kind of novel at the time.


<! - # - NOTES, alt text (LK?) > <! New Heavenly Blue "New Heavenly Blue" (Atlantic Records, 1972) (LP) - Country Rock~Atlantic SD 7247 - twang?? yeah, I think so NO: rock boogie band >

The New Issue "Rogers Gold: The Best Of Kenny Rogers As Played By The New Issue" (Cumberland Records & Tapes, 1979) (LP)
Well now, here's some truth in advertising: they do tell you that the artist is actually "The New Issue," but you might need a magnifying glass to read the "as played by" part... No info on who these musicians were, though the album was on a super-generic "label" from Encino, California.


<! - #CUL-7000 >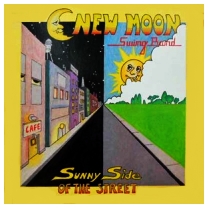 New Moon Swing Band "Sunny Side Of The Street" (Redbud Records, 1980) (LP)
(Produced by Richard Fish & The New Moon Swing Band)
An acoustic string-swing band with three-part vocal harmonies, violin, bass and guitars... This album -- which I think was their only LP -- was recorded in the bands stomping grounds of Bloomington, Indiana.


<! "... a group devoted to 3-part vocalese and jump swing." http://teresabroadwell.com/bios.html >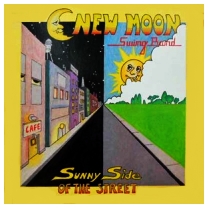 Paul New & The Sounds Of New "Today/Tomorrow" (The Sounds Of New, 1969-?) (LP)
Despite the groovy psychedelic artwork, keyboard player and bandleader Paul New (ne Paul Stewart) was definitely playing country stuff... and pop, and rock, and big band. New seems to have been a Midwesterner who started his career back in the 1950s, and led his group for decades, performing all across the United States. On this album he's backed by drummer Dan Edie, Bob Polihan (piano, saxophone and clarinet), Larry Syrett (banjo and bass), and Wink Tyler on lead guitar. Bassist Larry Syrett backed New for years and years, touring with him at least as years as 1961, when a show notice billed that as a "versatile show and dance band" playing "sweet, romantic dinner music." Like many professional dance bands, The New Sound was attuned to many styles of popular music, country included, so while this includes a Don Ho song and they were playing "Caravan" and "Wipeout" at their live shows, they also had originals such as "Country Music and Red, Red Wine." Apparently in later years, Paul New staged an Elvis Presley tribute show, so he was also an oldies kinda guy.


<! - #PN-1 - aka Paul New Stewart - (NP) (IN?) - LK emailed 10/14/20 - second album info in NP >

The New Playboy Band "Back On The Road" (Mark Five Studios, 1979) (LP)
(Produced by Nick Bruno & Eddie Howard)
Songwriter Mitch Snow was a North Carolina native who grew up in a musical family and headed out to Las Vegas when he was young, notably working in Toni Ingraham's band before returning home to start his own band. He first joined a group called the Country Playboys, who were working as Freddy Fender's backing band, eventually changing the name and recording this "solo" set with Fender's blessing. This seems to be the group's only album, and it sports an impressive wealth of original material penned by Snow, who sings and lead guitar, joined by Bucky Edwards on drums, Doug Reeves (bass), Tom Reeves (steel guitar) and Craig Southern on rhythm guitar and vocals. In addition to Snow's brace of new tunes, two cover songs round out the album, a version of the hillbilly oldie, "Chew Tobacco Rag," and Randy Howard's "All American Redneck." The group was short-lived, though, and Snow worked his way through a variety of bands, including a stint with the Easter Brothers gospel group and his own Mitch Snow Band during the 'Eighties. He quit working on the road in 1994, opening a production studio in Thomasville, North Carolina, where he helped local independent artists self-produce their own private records. Keeping the torch burning!


<! - #PB-5731 - Snow's dad had a group called the Colonial Trio - this album recorded in Greenville, SC - blurry pix - current contact 05/2020 (NC) >

The New Prairie Ramblers "The New Prairie Ramblers" (1980) (LP)
(Produced by Peter Ostroushko & Steve Weiss)



<! - # - with Peter Ostroushko, Butch Thompson, Bob Douglas - "house band" for Prairie Home Companion?? >


New Riders Of The Purple Sage - see artist discography




New River Train "New River Train" (Oglala Records, 1979) (LP)
(Produced by Larry D. Zierath & Wes Homner)
Freshly-minted bluegrass twang from a South Dakota/Iowa band, recorded over a period of years between 1976 and '79...


<! - no ASIN 03/05/15 >

Jim Newberry "I Love Being In Love With You" (Playback Records, 1986-?) (LP)
(Produced by Jack Gale & Jim Pierce)
Born in Chatanooga, Tennessee, Jim Newberry was a businessman and amateur musician who decided to cut an album, and booked a session in Nashville to fulfill his dreams. Alas, the musicians backing him are not identified, though several songs seem to be from Nashville song pluggers. Newberry also covered some old faves from Ray Griff ("Beautiful") and Willie Nelson ("Half A Man.") A single was also broken off this album, and released the same year.


<! - #L-13009 - date nv on fc, bc - Miami label: did Newberry live in Florida? - Playback single (nd) P-1321" "Bed Of Roses" / "Was I Wrong" >


Mickey Newbury -- see artist profile




Gene Newby & The Round Mountain Boys "...Play Mountain Music" (Go Records, 19--?) (LP)
This bluegrass-y band was affiliated with the Texas-based Grapevine Opry... Fiddler Gene Newby hailed from Fanshawe, Oklahoma, although most of the other guys in the band were from Arkansas. This album includes one original by Newby, "Round Mountain," along with a bunch of cover tunes. An accomplished musician, Newby also went into politics, serving as a Democratic member of the Oklahoma legislature; he passed away in 1990 at age fifty while campaigning for a seat on the state Senate. I'm not sure if he's the same Gene Newby who is described in Steve Burton's (rather bitchy) book Back Home, re: membership in and conflict over the San Jose country bar-band, Touch Of Texas... Anybody know for sure?


<! http://www.tulsaworld.com/archives/former-legislator-gene-newby-dies/article_5645711f-95be-50be-8b20-52ed0cd21a5c.html >

Gene Newby & The Round Mountain Boys "Live On Stage" (Go Records, 19--?) (LP)
Bandleader Gene Newby wrote some original material, such as his songs "Old Red" and "Oklahoma," along with covers of tunes such as "Foggy Mountain Breakdown" and "Fire On The Mountain."


<! - # GO-7810 - no ASIN 01/13/17 >

Gene Newby & The Round Mountain Boys "Sunday On Round Mountain" (Go Records, 19--?) (LP)



<! - no ASIN 01/13/17 >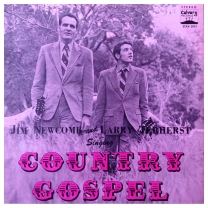 Jim Newcomb & Larry Terherst "Country Gospel" (Calvary Records, 19--?) (LP)
An absolutely delightful, unusually rambunctious religious album, recorded sometime in the 1960s by the duo of mandolin player/lead singer Jim Newcomb and rhythm player/harmonist Larry Terherst, who were fellow church members at a congregation in Concord, California. Newcomb is the star, but the whole band was totally rocking: they blend Southern gospel sentiments with bouncy Buck Owens-y West Coast honkytonk and raw, undisciplined bluegrass, with a ragged fiddle (played by Jim LaRoque) playing off an equally energetic steel guitar (Daymour Moses), with Newcomb's mandolin coming in for resonant, Jesse McReynolds-style leads. There's a pleasant amateurishness to the project, but also a ton of energy and enthusiasm... This is an album by true believers, sure, but it's also a lot of fun, and certainly accessible to more secular-minded twangfans. A gem. (Note: Jim Newcomb also recorded with The Countrymen, a Stockton-based country gospel group with a similar affinity for true twang.)


<! - no ASIN 03/17/15 - did Larry Terherst go on to become a pastor? https://pipl.com/n/larry_terherst/ >

Bob Newkirk "Let Me Be The One" (Bareback Records, 1977) (LP)
(Produced by Scott P. Schreer)
Schmaltzy independent country-pop by aspiring actor and cabaret singer Bob Newkirk (1936-2005), who was perhaps aiming at a Mac Davis-type vibe here, with a hefty dose of Barry Manilow thrown in for good measure. It's hard to assess Newkirk's vocals on the original material, but compare and contrast his versions of hits like "Always On My Mind" and (especially) on Marty Robbins' "El Paso," and you can say with greater clarity that, yes, he was pretty cheesy and over-the-top. Nonetheless, the novelty number "Country Disco" is a real blast from the past. Newkirk was originally from St. Louis, Missouri, though the Bareback label had a New York City business address... Newkirk's previous album from 1972, Bob Newkirk Sings For You, was mostly showtunes, although he also covered country oldies such as "King Of The Road" and "Green, Green Grass Of Home." This album is definitely meant to be all-country, and he had a competent studio crew backing him up, with plenty of pedal steel amid the glossy, disco-era production.


<! - # label address: 1650 Broadway, New York, NY 10019 A1 Not At This Stage Of The Game A2 I've Been Alone Too Long A3 Losing A Love A4 Always On My Mind A5 Country Disco B1 El Paso B2 What I Did For Love B3 Let Me Be The One Tonite B4 My Song Bob Newkirk "...Sings For You" (Gemini Productions, 1972) (LP) B00ICYYJOY >

Jeff Newman "Music To Steel By" (Jeffran Records, 1969) (LP)
Pedal steel player Jeff Newman was a Nashviller who played on various indie albums, Nashville sessions, bluegrass records and other projects, in addition to running his own label, which was devoted to steel guitar music... I believe this was his first solo album; he also released a few singles on the Jeffran label.


<! - #DM-260 >

Jeff Newman "Music To C6th By" (Jeffran Records, 1972) (LP)



<! - #DM-300 >

Jeff Newman "Music To Back-Up By" (Jeffran Records, 19--?) (LP)



<! - #DM-400 >

Jeff Newman "Steelin' Feelin' " (Jeffran Records, 1972) (LP)



<! - #DM-500 >

Jeff Newman "The Gospel Steel Guitar Course" (Jeffran Records, 1972) (LP)



<! - #DM-600 dc: Bass – Billy Linneman Drums – Paul Charron Guitar – Jimmy Capps, Steve Chapman Piano – Jerry Whitehurst >

Jeff Newman "...And A Few Good Friends" (Jeffran Records, 19--?) (LP)



<! - #JF-700 - late '70s-? Great country instrumentals – one side with steel guitar, the other without – and featuring some great support on rhythm guitar, and some drums from DJ Fontana! https://www.discogs.com/artist/1044431-Jeff-Newman - other albums: Jeff Newman "Music To Steel By" (Jeffran Music Company, 1969) (LP) #DM 260 Jeff Newman "Music To Back-Up By" (Jeffran Music Company, 1972) (LP) #JF-400 "...Instructional album for playing different styles of "back-up" music on the pedal steel guitar. Vocals by Bob Browning" Mike Auldridge "Slidin' Smoke" (Flying Fish, 1978) (LP) - side player Jeff Newman "...And A Few Good Friends" (Jeffran Music Company) (LP) Jeff Newman "Mother's Favorite Tunes" (Harvester Records) (LP) Jeff Newman "Music To Get C6th By" (Jeffran Music Company) (LP) Jeff Newman "Steelin' Feelin' " (Jeffran Music Company) (LP) Jeff Newman "The Gospel Steel Guitar Course" (Jeffran Music Company) (LP) Jeff Newman "Wanted: For Steeling" (Jeffran Music Company) >

Joe Newell "Local Boys First" (Jack The Bear Records, 1983) (LP)
(Produced by Joe Newell & Karen Hing)
Independent twang from Arvada, Colorado...All but one of the songs were written by Joe Newell, with one, "Daddy's Farm," composed by his guitar player, Michael Frazier.


<! - private Colorado country rock - pedal steel from Bobby Murphy >

The Nichols "The Nichols" (Rome Records, 198--?) (LP)
(Produced by Jack Casey, Tim Sheppard & The Nichols)
A family band from Columbus, Ohio with commercial, Top 40 aspirations... The band's name is The Nichols, but the family name is actually Ginelli -- Tony, Joe, Fred and Jim... Guitarist Jimmy Nichols moved to Nashville and became an in-demand session player, backing Faith Hill and Mindy McCready, and was the tour bandleader for Reba McEntire. Not sure what year this album came out - early '80s sometime, from the looks of it... Most of the songs are originals, written by Jim Ginnetti and Tony Ginnetti, with lead guitar by Audie Wykle.


<! - #RLT 43083 - from Ohio, possibly Cleveland(?) - manager's address is in Cleveland, album was recorded in Columbus >

Cal Nichols & The Westernaires "...Sings Your Requests" (Big Sky Records, 1970-?) (LP)
(Produced by Jack Miller)
Country crooner Cal Nichols hailed from Casa Grande, Arizona and was backed by a band including locals Lester Buie, Ben Day, Douglas Hersey, Bob Mullen, and George E. Monk. This album includes four songs written by George Monk: "End Of The Show," "I Just Hate To Go," "I've Been Thinking," and "When I Remember," some of which date back to 1967 or so, when they were copyrighted under Monk's name. I'm not sure "Cal Nichols" was a pseudonym or not, but the band was playing local gigs in the late 1950s and seems to have had a pretty steady history. Nichols was one of those less-robust rural balladeers, reminiscent of Jim Reeves and Eddy Arnold, while the Westernaires were plodding but authentic, a real-deal regional band.


<! - #1-33-970 - 1970(?) - no ASIN 06/16/17 George E. Monk, Jr (88 years old, as of 11/10/17) >

Joe Paul Nichols "Country Gold" (Custom Records, 1981) (LP)
(Produced by Curtis Kirk)
Country veteran Joe Paul Nichols (1941-2011) was apparently a longtime member of the Hank Thompson band, though he recorded numerous indie albums of his own, as well as singles dating back to the mid-'60s. He also played in the same band with Ernie McDuff when they had a gig on the Dallas-based "Big D Jamboree" in the early 1960s, and covers McDuff's big hit, "Hello, Trouble" on this album. This disc is almost all covers of country classics -- oldies by Lefty Frizzell, Rex Griffin, George Morgan, Ernest Tubb and Hank Williams -- "Born To Lose," "Letters Have No Arms," "He'll Have To Go..." Stuff like that. though there is one original on here, "Hallelujah Jones," which was co-written by producer Curtis Kirk and originally released as a single in 1972. Nichols and Kirk worked together for nearly two decades, dating back at least to 1966. Nichols was living in Jacksboro, Texas at the time, but like his other albums on Custom, this was recorded in Tyler... Alas, no info on the musicians in the backing band.


<! - #LP-127 ~ 8104-54 - musicians not listed - address in Jacksboro, Texas >

Joe Paul Nichols "These Old Eyes Have Seen It All" (Custom Records, 1989) (LP)
(Produced by Johnny Hawkins, Bill Foshee & David Mitchell)
This disc was recorded in Tyler, Texas with Lone Star stalwarts Tommy Morrell on steel guitar and Marc Jaco on bass... It's mostly country standards, but there are also a couple of new tunes written by Chuck Cusimano. Nichols seems to have self-released over two dozen albums, recording right up until he passed away in 2011. Pretty impressive!


<! - # - mostly cover songs, but a couple of originals by Chuck Cusimano (and others?) - Custom Records, out of Tyler Texas - no ASIN for this one, but he has several CDs, etc - no ASIN 02/14/15 >

Harry C. Nickelson "Am I Losing You" (American Sound Records, 197--?) (LP)
As far as I can tell, Mr. Nickelson was from Illinois; newspaper listings have him playing shows in Marengo, IL, circa 1981. Other than that, I haven't been able to find out much about this guy...


<! - # - no ASIN 02/14/15 >

The Nickerson Brothers "Donnie And Duane" (Imperial Records, 1979-?) (LP)
(Produced by Mark Wellman & Dick Stacey)
A country duo who had a late 1970's gig playing with Maine country music impresario Dick Stacey, owner of the Plaza Motel, in Brewer, Maine, and sponsor of a television show called Country Jamboree, which he took over int he early 'Seventies and kept on the air until 1984. The musicians on this album included Donnie Nickerson on guitar, younger brother Duane Nickerson playing bass, Rodney Overlock (drums), Harry King (piano) and Mark Wellman playing lead guitar and engineering the sessions. They cover various 'Seventies hits, including "The Gambler" and "Why Me Lord," as well as some Merle Haggard and a little regional pride material, with a version of "Prince Edward Island." That last one makes me think they might have been Canadian, though maybe it was just what was popular with the locals. The Nickersons were just a couple of the many obscure artists, mostly locals, who appeared on the Jamboree program, which was known in part for its low-budget approach and lack of pretentiousness. I also love how uncomfortable Duane Nickerson looks in all the photos (though Donne definitely looks like he was into it!)


<! - #CJ-12779 - Dick Stacey info (lots online) (ME) >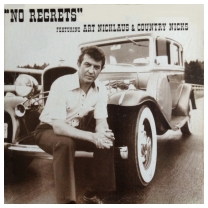 Art Nicklaus & The Country Nicks "No Regrets" (Greatheart Records, 1977-?) (LP)



<! - date? - #GH-001-77 - same label as the Linder-Lawson Band (who Nicklaus produced) http://nwmusicarchives.com/label/greatheart-records/ >


Chris Nielsen - see artist discography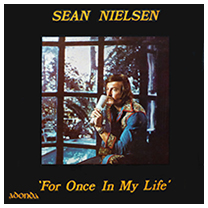 Sean Nielsen "For Once In My Life" (Adonda Records, 1977-?) (LP)
(Produced by Harrison Tyner & David McKinley)
Alabama native Sherrill "Shaun" Nielsen (1942-2010) sang in several well-known Southern gospel bands, notably with the Speer Family, The Statesmen and Jake Hess's Imperial Gospel Quartet... When Nielsen turned towards secular music, pop superstar Elvis Presley -- a longtime fan of Nielsen's religious singing -- brought him to Las Vegas and invited him to become part of his road show. This country-oriented album was recorded in Nashville, and seems to have come out while Presley was still alive. Although there's no release date, Nielsen's signing with manager Harrison Tyner got a plug in Billboard in the summer of '76, so I'd guess this was a 1977 release. The album includes secular material, including covers of pop-vocals hits such as "Killing Me Softly," and "You've Lost That Loving Feeling," and a wonderfully over-the-top rendition of "Delilah," which is a pretty over-the-top tune to begin with. Backing Nielsen is his own road band, called Voice, credited here as bassist Jim Green, Jay Johnson (keyboards), Gene Williams (guitar), and Mike Taylor on drums.


<! - #SNAD-008 - backing band called Voice: Jim Green (bass), Jay Johnson (keyboards), Gene Williams (guitar), Mike Taylor (drums) - LK: (His name seems to be misspelled on the album jacket -- elsewhere, it's spelled "Shaun".) - same as Top 40 guy Shaun? >

Shaun Nielsen "The Songs I Sang For Elvis" (Adonda Records, 1980) (LP)



<! - #SNAD-28076 http://www.elvis.com.au/presley/interview_shaunnilson.shtml http://www.findagrave.com/cgi-bin/fg.cgi?page=gr&GRid=62861247 http://www.sghistory.com/index.php?n=S.Sherrill_Nielsen?from=S.Shaun_Nielsen >

The Night Raiders "Super Hits Performed By The Night Riders" (Music Trends, 1973) (LP)
One of a series of flat-out, aboveboard, blatantly imitative country cover albums recorded by several "bands" for an budget-line offshoot of the Cadet label. The other albums listed on the back cover of this disc include groups such as Aces High, the Country Busters, the Country Spurs, King's High, the Full House, the Night Raiders and The Leather Thongs. Hmmmm. Okay, then. Anyway, I'm not even sure if the other albums listed were ever made -- this Night Riders LP was apparently the first in the series (#MTS-4101 in a series going up to #4108). Naturally there's no info about the musicians listed anywhere, although I'm sure there was plenty of overlap between the sessions. I'll keep looking and see what I can find...


<! - #MTS-4101 - no ASIN 12/05/17 >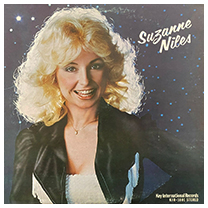 Suzanne Niles "Suzanne Niles" (Key International Records, 1983) (LP)
(Produced by Robby Adcock, C. Peter Leggetts & David Vaught)
A very "Nashville" album, even though it was recorded in LA. Not sure if Ms. Niles was originally from California, but these sessions were recorded in Hollywood and Van Nuys, with musicians who were definitely not country insiders. Although Niles was clearly being pitched as a potential early '80s country diva, with big hair and a Flashdance-era, new wave-ish look, similar to that of established stars such as Barbara Mandrell and Lynn Anderson. (Just dig those spandex tights with the bluejeans "pockets" printed on the back!) This mostly seems to have been a songwriters demo set, with four songs by composer Chuck Rains (who did make it in Nashville), a couple more by Bob Morrison, and one original by Niles, "He Only Comes Callin' In Her Mind." Most of the musicians don't ring a bell, though just in case I'll mention a few names: producer David Vaught plays bass and synthesizer, along with Randy Mitchell and Josh Leo on guitar, steel player Gary Morse, and Bruce Windham doing double duty on lead guitar and fiddle. Among the many backup singers a couple are worth noting -- Susie Allanson and Carol Chase both made a few waves as solo performers around this time. Not sure what the story was on Ms. Niles herself... in the liner notes she thanks some old-time country dudes, notably Ferlin Husky and Billy Walker, so I suppose she may have worked as a backup singer at some point... Also possible that she later moved into singing Christian music, though I couldn't confirm it was the same person.


<! - #KIR-1001 - 04/28/20 no dc, 45c - Key Intl related to the old SoCal label? - (CA) >

The Nite Capps "The Nite Capps" (American Heritage Music Corporation, 197-?) (LP)
(Produced by Gene Capps & Dean Narramore)
A family band from Idaho, led by patriarch Gene Capps, along with his wife Darlene and daughters Carla and Darla... In his liner notes Mr. Capps explains that actually the band's history stretched back to the Depression, when his parents toured around the Southwest and in California as the Capps Family. He joined the band as a kid in 1940(!) was was still plugging away when this record was made more than three decades later, and didn't retire the band until 1999. Most of the tunes are country standards, many from the bygone era of the 1940s, although there are covers of a couple of more contemporary hits, such as Mac Davis' "I Believe In Music" and Tanya Tucker's "Delta Dawn." Gene Capps claims arranger credits on many of the oldies, although there is one original song on here, Darla Capps' "Lonely." Not sure when this LP was released, but it was either late, late '70s or early, early '80s -- sideman Bobby Allen joined the band in 1978.


<! - no ASIN 06/17/15 - np 09/30/20 Lewiston, Idaho Tribune article: http://lmtribune.com/announcements/anniversaries/th-wedding-anniversary-gene-and-darlene-capps/article_ff5f4647-ad40-57a3-9e77-df6211aef02e.html >

Nitehawk "Nitehawk" (Nitehawk Productions, 1981) (LP)
(Produced by Andy Van Lendt & Phil Van Lente)
Southern rockers from 'way up north. This Michigan band included Bob Green, Bob Lacy, Michael Taylor, and Russ Van Hall, with a couple of other guys chiming in at the studio. Lacy and Taylor were the principal songwriters, though drummer Bob Green contributes two songs. The album is almost all original material, with a couple of cover songs, "Massachusetts" (by the Bee Gees) and "All My Life" (from Uriah Heep). Not sure exactly where these guys were from, though they recorded the album at a studio in Grand Rapids.


<! - #RR-42075 - "country-rock"(?) - from? - 02/08/20 no info about the band on g >


Nitty Gritty Dirt Band - see artist discography




Chip Nix "Seventh Story" (Triple Tree Records, 1981) (LP)
(Produced by Vickie Lancaster)
This one was disappointing... Sure looks like it would be twangy, but it ain't. More of a muddled folk-eclectic kinda thing, not really my bag. Country fans, consider yourselves warned.


<! - Vickie Lancaster plays Moog, keyboards, guitar and drums... Is this really her record?? > <! DON NIX - more R&B really >

Ford Nix "Walker Records Presents Ford Nix" (Walker Records, 19--?) (LP)
(Produced by Fred F. Cutler)
Michigan bluegrass from banjo player Cranford Nix (1936-2012) who was part of the northern folk'n'twang scene from the 1960s onward. Mr. Nix also appears on the DETROIT COUNTRY compilation, and is perhaps best remembered as the inventor of a double-necked, ten-string banjo (pictured on the cover) which must have made Joe Maphis green with envy. Speaking of Joe Maphis, his kid Jody Maphis plays on this album, along with Josh Graves, Gary Scruggs, and a few other high-powered pickers.


<! - #WLP-1002 - he had several other albums, recording both as Ford and Cranford - two other Walker Records picture on bc: "here's Leon" (artist name nv) >

Nick Nixon & The Country Soul Band "Live" (Nashville North Records, 1973) (LP)
(Produced by Michael Redford)
A concert album from a Midwestern guy who was slowly winding his way into the Top Forty country scene. Born in Poplar Bluff, Missouri, Hershel Paul Nixon (1939-2013) first broke through as a songwriter, most notably penning Barbara Fairchild's 1973 smash, "The Teddy Bear Song," a super-corny novelty number that doesn't really give you a sense of how rootsy he actually sounded. Nixon had been plugging away since the 'Sixties and had already made a couple of major label singles before this ultra-indie LP came out. He kept cutting singles for Mercury Records for several more years before his "debut" album came out in '77 though his career never really took off nationwide. The Nashville North was a nightclub in Saint Louis; backing Nixon on this R&B-tinged outing are steel player Wally Murphy, drummer Bob Noah, Cloyce Phillips on bass, and John Phillips on lead guitar.


<! - # NN2 - no ASIN 03/15/17 >

Nick Nixon "Nick Nixon" (Mercury Records, 1977) (LP)
(Produced by Jerry Kennedy & Glenn Keener)
Pleasantly twangy commercial country from the waning days of the countrypolitan era. Nick Nixon wasn't quite Moe Bandy or Gary Stewart-level neotrad, but this disc was still a breath of fresh air, considering the style of the times. It was a modestly successful release, though Mercury let him go not long after it came out, and Nixon's next gig was a brief fling with MCA, after which he more of less retired from show business, playing local gigs around Saint Louis while working as a real estate agent. He also started a nonprofit group, the Gateway Country Music Association, which was devoted to documenting and promoting eastern Missouri's regional country music scene; the organization too root and continued to sponsor live shows many years after Nixon passed away. Anyway, this album is definitely worth a spin as are many of Mr. Nixon's far-flung singles; someone might want to gather his work into a unified collection someday.


<! - #SRM-1-1175 - (MO) > <! No Name Band "Bulls Hit!" (Rodeo Records, 19--?) (LP) - Dutch import - where's the band from?? - #84701 - bc, labels nv - no info online 06/20/19 >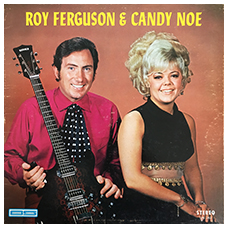 Candy Noe & Roy Ferguson "Roy Ferguson & Candy Noe" (Benson Sound, 19--?) (LP)
The husband-wife duo of Roy and Candy Ferguson met in the 1960s when they were working in the Tulsa music scene -- Roy played guitar for Johnny Lee Wills for over twenty years, and also fronted his own group, Roy Ferguson and The Royals, which often backed big-name country stars on tour through Oklahoma. Singer Candy Noe originally came from Ohio, where as a teen she sang in the Marion Jamboree -- moving to Tulsa, she landed a job on country deejay Billy Parker's local TV show. Noe and Ferguson met in '65, got married in '66, released an album together, and opened Roy & Candy's music store in the 1970s, which for three decades was a fixture of the Tulsa, Oklahoma arts scene. The Fergusons played with the Wills band until 1984, when Johnny Lee Wills died, and continued to perform locally right up until Roy passed away in 2015. As far as I know, this was their only album as a duo, although Roy Ferguson played guitar on a bunch of albums over the years...


<! >

Candy Noe "Candy Noe" (Branch International, 1978-?) (LP)
A solid solo set from sooner songbird Candy Noe... Most of these tracks originally were released as single, including "Before Charlie Gets Home" and "In Between Honky Tonks," which were on a single back in '76, and "Drive It On Home To Me," from 1975, et. al.


<! - #12278 - from Ohio - Roy Ferguson's partner A1 Baby, Baby, Why Do You Always.... (finish so quick) A2 Before Charlie Gets Home A3 Drive It On Home To Me A4 Shadows On The Wall A5 Now I Do It All The Time B1 Lovers Question * B2 In Between Honky Tonks B3 I Love You Is Not That Easy To Say B4 It Don't Take Much To Get Me By B5 Before You Say Good Bye * >

Josh Noland Guitar Duo "New Horizons" (Empire Records, 1968) (LP)
Fancy guitar work by a guy from Louisville, Kentucky, performing here as a duo with Jim Morris. The set list includes some country stuff -- "By The Time I Get To Phoenix," Ode To Billy Joe" "The Three Bells," a Chet Atkins tune -- but mostly it comes from the 'Sixties pop landscape, along with a couple of Noland's own compositions, "Funky Blues" and "Guitar Rock." Dunno that much about this guy, though he also cut a string of singles on various labels, and one from 1973 on the major-ish label Plantation Records, so it seems possible he may have been doing some studio work at some point as well.


<! - # - material by Chet Atkins, The Browns, etc >

Josh Noland "Pick-Tar Pickin' " (Empire Records, 1970) (LP)
(Produced by Josh Noland, Dave Chiodo & Kevin McManus)
Plenty of country-sourced material on here - "Groovy Grubworm," "San Antonio Rose," "Steel Guitar Rag," "Wildwood Flower" -- though he's still mixing it up with pop hits like "Lara's Theme," etc. On this disc Noland gets sympathetic backing from drummer Paul McCrea, Buford Moore on bass, and rhythm guitarist Bob Watson.


<! - # - (KY) >

Johnny Noles & The Pretenders "Front Row Seat" (Hillside Records, 1971-?) (LP)
(Produced by Jack Linneman & Gene Lawson)
A covers band from Fort Myers, Florida... Not sure of the date, but it definitely looks 1970s... anywhere from 1973-76, I'd guess. Johnny Noles (1937-2014) was a popular local performer for much of the '60s and '70s, keeping his band going for years and years, with a revolving cast of sidemen. This edition of the group was called the Pretenders, in honor of his song, "I'll Pretend," which was a regional hit in the early part of the decade.


<! - #CHS-102 band: Dave Harris - lead guitar, Steve Williams, bass - Kenny Byrd - drums, with Dave Reece - piano, Mike Edling, steel - covers "Hello Darling" (Conway Twitty hit, 1970) - NOTES >

Johnny Noles "Original Songs" (Hillside Country Records, 197--?) (LP)
(Produced by Jack Linneman & Johnny Noles )
Lively, uptempo novelty-oriented country with plenty of originals by Dave Anderson, Lonnie C. C. Mills and Johnny Noles. This album was a souvenir of the Noles band's long tenure as house band for a club called The Big Still, located in Fort Myers, Florida. The Big Still was originally known as The Checker Club in the 'Forties and 'Fifties, but changed its name in the '60s, and keeping it until the bar closed in 2005. Noles played there for years, starting in the 'Sixties, with a parade of local pickers moving through his band; this edition of his group included bassist Tommy Floyd, Gene Lawson on drums, an outstanding steel payer named Gene O'Neal and Horace Whidby on lead guitar. Noles had a fairly plain, homespun vocal style, reminiscent of Roger Miller or Don Bowman -- he knew he wasn't a Caruso, and kept things simple rather than try and get all fancy. The songs are all pretty good, though you might want to take the claims of authorship with a grain of salt: one tune that lists Noles as the composer was "Oh, Ain't It A Beauty" (aka "The Garden Hose Song") a dopey sexual entendre song that's been recorded by numerous artists and seems to have been an old English music hall song, with numerous people claiming "authorship" over the years. Anyway, this is a fun disc, packed with good originals and stronger musically than many off-the-radar country discs. Definitely worth a spin.


<! - #HSC-146 - NOTES, long post, band Noles (1937-2014) >

The Noonday Express Band "At Last!" (Cowpatty Records, 1981) (LP)
(Produced by Dewayne Phillips & Rusty Matheny)
A modestly shaggy outlaw band from Hallsville, Texas, featuring Joe Dorsey (rhythm guitar and vocals), Larry Barker (lead guitar), Bob Bueche (bass) and David Gilbert (drums), with additional backing by Tony Harrell (piano) and Dewayne Phillips (percussion and backing vocals). Noonday Express (later shortened to Noonday) grew out of am early 'Sixties highschool garage band called The Plain Facts, which Bueche and Dorsey started in '64, after watching the Beatles play The Ed Sullivan Show. That teen combo eventually broke up, but it being Texas, Bueche and Dorsey eventually "went country" and formed this group in 1979, playing local gigs through most of the '80s. The repertoire here is a mix of mainstream country hits, stuff like Hank Junior's "Eleven Roses" and Marshall Tucker Band's "Heard It In A Love Song" alongside more distinctly outlaw-identified material such as "Willie, Waylon And Me," "Good Hearted Woman," "London Homesick Blues," and perhaps most intriguingly, a cover of The Amazing Rhythm Aces' "The End Is Not In Sight." I'm not sure, but this might have been their only record.


<! - #CR-323(?) - produced at Robin Hood Studios in Tyler, Texas - Dewayne Phillips adds backing vocals >
Norfolk Southern Lawmen "Ride The Train" (Forest Records, 1985) (LP)
(Produced by Otis Forest)
A North Carolina bluegrass/old-timey band with an all-cop membership, playing a mix of bluegrass standards ("Rocky Top," "Foggy Mountain Breakdown") and older, pre-bluegrass stuff such as "Wreck Of The Old 97" and "Life Is Like A Mountain Railway." The train-related songs are appropriate since all the bandmembers (except the bass player) worked for the Southern Railway Police Department, either in Ashville, North Carolina, or nearby Hickory and Piedmont, NC. Apparently they they made quite a few albums, and went through a few permutations on the bandname, eventually settling on calling themselves "The Lawmen," although they shouldn't be confused with the Denver, Colorado band of the same name. A couple of these guys were older, having already retired from railroad work by the time they made this album.


<! - NOTES, info on CD >

North "Live" (Jaspir Records, 1978) (LP)
(Produced by Rick Trusty)
This Texas lounge band's lone album features both male and female vocals, and has been a longtime ironic favorite of kitsch devotees, with some describing it as "Caucasian funk," though that tagline may be a little too optimistic regarding the level of musical vigor involved. Anyway, they do play some country stuff -- yet another bar-band version of "Up Against The Wall Redneck Mother," along with "Blue Bayou," which was a hit for Linda Ronstadt around this time. But they also cover "Brickhouse," "Send In The Clowns" and "You Light Up My Life." So, they were very, um, of their times, as the saying goes. In 1976, North also released a single version of "Misty," so maybe they weren't as hardcore and funky as you might have imagined. But still, oh the delicious badness of it all!


<! - no ASIN 02/14/15 >

The North Brook Gang "Saddle Sore And Busted" (NBG Records, 1981) (LP)
(Produced by Glen Heffner, Tim Berry & The North Brook Gang)
Kind of a mystery disc here from North Carolina... This album is packed with original material, mostly written by lead singer Ronnie Gantt or lead guitarist Randy Johnson, along with three songs composed by female lead singer Pam Gantt. I couldn't find any mention of this group outside of the record itself, though the Gantts seem to have settled down in Vale, NC; the album was recorded at the Fantasy Sound studios in nearby Granite Falls, not too far away from Charlotte, NC.


<! - #NBG-282423 - contact? (NC) >

North Country "North Country" (NC Records, 1972-?) (LP)
These fellas were apparently from western Canada, with lead singer Cal Tiendeau (or Riendeau?) looking like he was in his early thirties, while the other two bandmembers, guitarist Bryan Ferguson and banjo picker Tom Rolston, look like they were about 16, though maybe they were in their early twenties. They covered country and pop classics such as "Country Roads," "Teach Your Children," "He Ain't Heavy" and "You've Got A Friend," as well as chestnuts like "Rocky Top."


<! - # NC-721003 - manager: Don Sheets, DS Talent Agency >

North Country Band "North Country Band" (NCB Records, 1978) (LP)



<! - # Wisconsin RURAL ROCK >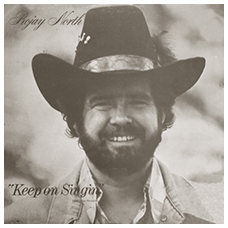 Rojay North "Keep On Singin' (And Other Thoughts)" (Cherry Pie Records, 1981) (LP)
(Produced by Rojay North)
An oddball custom-country set from Rojay North, a robust and determined singer from Spokane, Washington whose previous album from 1977, Punch Mellow, is a famously horrendous white soul set with a slew of truly terrible tunes sung in the styles of brothers-from-another-mother Barry and Tony Joe White. A few years later, though, and Mr. North switched gears to try his hand at twang. All these tunes were written by North, with a few co-credited to Joe Gibson. While they sound equally forced and more than a little iffy, I gotta confess, country music was a better fit than soul. In real life, North was a former TV and future B-movie actor named Robert J. Youngs, who had moved up to Washington after spending most of the 'Sixties and 'Seventies knocking around LA. Both of his albums were produced at a studio in Hollywood, though his country set is perhaps understandably the lesser-known of the pair. This is worth checking out, though North is one of those folks that it's difficult not to be snarky about, particularly when the back cover of his record reads like the turntable version of Bambi Meets Godzilla, with Rojay's name plastered across all the credits. There's no mention of the other musicians involved, though one assumes Joe Gibson was doing some of the picking, as he's credited with the arrangements. At least one of North's songs was covered elsewhere, a tune called "Looking For Love" was recorded by Swiss country singer John Brack. (Note: There is a particularly mean-spirited post about Rojay North on Yowp, a blog devoted to the old Hanna Barbara cartoons; I didn't like the tone, but it is pretty informative...)


<! - # - singles distributed by NSD - (WA) >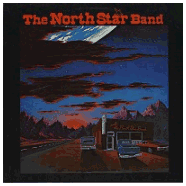 The North Star Band "Tonight: The North Star Band" (Adelphi Records, 1979) (LP)
(Produced by Chuck Chellman & Bob Dawson)
The first album from this Maryland-based alt-country group, a band that really typified the "hippie country" sound of the era... They had a pretty big, accomplished sound, too. The "hit" on this one (at least from my days as a hardcore KFAT listener...) was the great singalong anthem, "Redneck Hippie," along with its companion piece, "Country Boy," about the collision of country and rock in longhaired culture. They dip into a little western swing and sing one Conway Twitty cover, although the rest of the record is all original material. Unfortunately they also sang a lot of ballads, and these slower songs don't hold up well, since none of the guys in the band really had the vocal chops to pull it off. The uptempo songs are fun, though, and the band's musicianship is uniformly solid, particularly pedal steel player Jay Jessup, who adds sweet licks throughout. One of the better records of the era, even if only a tune or two really hold up over time.
North Star Band "Live At Eskimo Nell's" (Eskimo Brand Records, 1981) (LP)
(Produced by The North Star Band & Mark Greenhouse)

Bobbi Northrup & Reid Northrup "Sunday Afternoon" (Tarot Records, 19--?) (LP)
(Produced by Tony Balunas)
A charmingly rough-edged (yet ambitious) set of regional twang by a husband-wife duo who were active in the Northwestern country music scene. The Northrups were from East Berne, New York (near Schenectady) and performed with various backing bands for many years in the late '60s and early '70s, most notably this group, the New Arkansas Travelers. The Northrups also acted as officers in Eastern States Country Music, Inc., a boosterism group that also included Doc Williams, and were in the general orbit of the WVVA Wheeling Jamboree. By the early 'Eighties, Mr. Northrup had retired from the stage and moved into a top position with the Altamont Fair, managing the three-county venue up through the 1990s, when an economic downturn led to a falling out with the fair's board of directors. As tensions mounted, Mr. Northrup retired and moved to Florida, where he passed away in December, 2000. As far as I know, this was their only album, but it's a doozy. It opens with a gloriously flawed rendition of "Jackson," where both singers flub their delivery, and seem to forget the lyrics while their hotshot guitarist keeps the hot licks coming. There are nods to Johnny Cash, hints of Dave Dudley, covers of Merle Haggard, Hank Williams and Mickey Newbury, as well as a slew of original tunes. The album includes two songs credited to Reid Northrup (the death-row dirge, "13 Steps" and "Knock Knock") and a couple by guitarist Dick Spensley ("Jody," "Restless Kind"), as well as one other possible original, "Short And Sweet," by B. Slater. All in all, a fine example of "real people" regional twang, with some lively, committed performances, particularly my Bobbi Northrup, who combined a mousy little voice with a wicked, Wanda Jackson-style snarl. Fun stuff!


<! - # - no ASIN 08/21/18 - Reid Northrup (d. 2000) - recorded at Vibra-Sound Recording Studio, in Schenectady - other musicians include: Dick Spensley, Tony Spadero, John Cefala >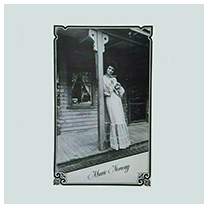 The Northwest Passage "Ladies And Gentlemen... The Northwest Passage" (TWC Records, 1977) (LP)
(Produced by Walter Balderson, Jerome Haggart & Doug DiFranco)
A twangband apparently from Long Island, New York, Northwest Passage seems to have recorded two albums worth of material down in Nashville, this one and a second disc released under the name of singer Tommy Blue. As on that album, they included material by an R. Sanders, as well as several songs by guitarist Neil Hartmann and steel player Fred Hartmann, Junior. Also in the group were Tommy Blue, pianist John Carlten (ne John C. Chumbley), drummer Tony Casilli, and Ron McLaughlin on bass. Couldn't find a lot of info about these guys, but I'll keep pokin' around.


<! - #47711 - no ASIN 03/02/18 - connection to Tommy Blue, who also had an album out on this label https://www.discogs.com/Northwest-Passage-Ladies-And-Gentlemen-The-Northwest-Passage/release/6608242 Me." >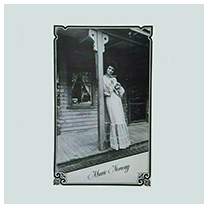 Marie Norway "Marie Norway" (Foxfire Records, 1976) (LP)
(Produced by Jerry Fox & Peter Troisi)
Originally from Massachusetts, singer Marie Norway cut this album with the help of several Boston-area and regional bands, including members of Wheatstraw, The Mission Band, Them Fargo Brothers, and The Estes Boys. She also played clubs like the Hillbilly Ranch and toured throughout New England with various pickup bands. This album is mostly packed with cover songs, though she also plays several locally crafted songs, including "For A Song" which was co-written by producer Jerry Fox, and "Calvin Cole," written by Allen Estes, as well as her own "Green Eyed Monster." Eventually, Norway made a go of it in Nashville, moving there a couple of years after cutting this album. She stayed there, plugging away for years doing commercial work for TV and jingles, as well as some songwriting and whatnot... After returning to New England, she briefly hosted a local country music TV show up in Norfolk, MA, after which she left show business and moved, decisively, to North Carolina. Decades later she digitized her recordings and reissued this album (with some bonus materials) on the collection below. Norway also wrote a show business memoir called "It Started With A Dare," which talks about her career in the 1970s and '80s.


<! - #FPP 1001 - label from New Hampshire - recorded in Mass, Vermont - also thanks John Penny for booking her (what clubs did he book?) http://www.marienorway.com/ >

Marie Norway "Country Dreams: Marie Norway's Greatest Hits" (Third Rock Records, 2007)
Originally out on CD, this album mostly gathers tracks off of her self-titled 'Seventies LP, along with some stuff from her later singles...




The NorWesterners "Your Choice" (Ripcord Records, 197--?) (LP)
(Produced by Gene Breeden)
According to the liner notes, the NorWesterners had been playing together in the Tacoma, Washington area for about fifteen years by the time this album came out, and had a regular gig at the Rainier Sportsmans Club, on the first Saturday of every month... The lineup here included Ken Quick (lead guitar), Dottie Lee (piano and vocals), Leo DeRocher (steel guitar), Karl Heinz Eisen (rhythm guitar), Dennis DeRocher (bass) and Charlie McClure (drums) and singer Dottie Lee also worked as a "solo" artist with her husband and son (the DeRochers backing her up in a version of the band called the Nite Lites. For this disc they mostly stick to covers of country and pop-vocals standards, stuff like "Cab Driver" and "Don't Be Cruel," as well as Roy Orbison's "Blue Bayou" and Jimmy Buffet's "Margaritaville." Guitar picker and band emcee Ken Quick contributes an original to start off Side Two, "Your Friends Still Call," though mostly this disc seems like a reflection of the group's live shows, rather than a showcase for their own material. Not sure of the year, but it looks mid-to-late 'Seventies.


<! - #SLP-1055 (1065?? a little blurry) - no ASIN, no dc 08/25/18 >

Toy Norwood "Live! At Village Creek State Park, Arkansas" (1981) (LP)
This album was more of an old-timey folkloric/outsider art kind of thing... Ms. Norwood was an older resident of Parkin, Arkansas who played folk music at the Village Creek State Park, on the state's Eastern border. She's backed here by two younger guys, songwriter Bill Haymes (who lived in Little Rock) and Terry Mitchell, who was from nearby Memphis.


<! - 1978? '79? '81? - #TN-LP-581 - no ASIN 03/22/15 > <! NRBQ!! - no page, 03/20/20 >


Gary P. Nunn - see artist discography




Stu Nunnery "Stu Nunnery" (Evolution Records, 1973) (LP)
(Produced by Al Gorgioni)
This is one of those odd, eclectic, missing-gem albums of the 'Seventies, more of a soft-pop/experimental album than a country thing, though there's some plausible crossover into countrypolitan and singer-songwriter territory that makes this of interest to a certain slice of twangfans... Plus, bluegrass/twang pickers Eric Weissberg and Ken Kosek were in the studio band, so that may turn a few ears towards this album as well. Originally from Massachusetts, Nunnery was a quintessential folk-rock mystery man, releasing this lone album in the waning glow of the hippie era, then fading from sight after it failed to make a dent in the American charts. Admittedly, it may have been a hard sell: mixing willowy, folk-freak mysticism with rootsy Leon Russell-esque boogie tunes and lavish soft-rock, along with hints of contemporary auteurs such as James Taylor and Harry Nilsson... Nunnery was a singular performer, though, not quite as arresting as, say, Nick Drake, but similarly drifting beyond the edges of mainstream pop. The record got some buzz abroad, in Europe and in Brazil (of all places!) and after the independent Evolution label folded, he earned a contract with Columbia's Epic label, though he was dropped around 1977 and later went into jingle writing, where he was quite successful. In the early '80s, Nunnery lost half his hearing and had to retire from music when it became too difficult for him to stay in key... At some point he retained control of his music, and reissued this album on CD, so it's much easier to find now. Definitely worth a spin!


<! - # http://rockklassics.blogspot.com/2008/12/whatever-happened-to-stu-nunnery.html Bass - Andy Muson , Kirk Hamilton , Stu Woods Drums - Alan Schwartzeberg , Rick Marotta, Fiddle - Eric Weissberg , Ken Kosek; Guitar - Al Gordoni , David Spinozza , Elliot Randall , Hugh McCracken , John Tropea, Buzzy Feiten; Guitar, Bass - Buzzy Feiten, Kirk Hamilton, Andy Muson, Stu Woods; Guitar, Vocals - Stu Nunnery >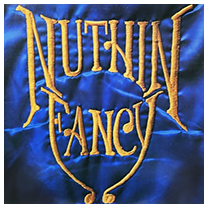 Nuthin' Fancy "Nuthin' Fancy" (Project One Records, 1985) (LP)
(Produced by Buddy Strong)
Slick, bland, would-be Top Forty country music, early '80s style -- late-vintage indie twang with antiseptic. poppy production anchored by tinkly keyboards rather than twangy guitars or pedal steel. These guys hailed from Brevard, North Carolina and distinguish themselves with a full slate of all-original material, most of it penned by lead singer John Zachary Hamilton. Other band members included Jeff Delk on bass, drummer Chris Pangle and Stan Stone on keyboards, with some assistance from unknown players in the Mark V studios. If anything really redeems this album, it's Hamilton's improbably rough vocals -- he's not singing off-key or anything, it's just that he has an unconventional, throaty vocal tone and a hyper-rural accent, not the kind of polished, cookie-cutter pretty-boy sound that had taken over country music by this time. I'm not a fan of their style of modernized twang, but the Hamilton's earnestness and sincerity emanate out of every note he sings, and equally appealing is the album's weird balance between mighta-coulda and never-gonna-happen. A few tracks might sneak up on you, like "You And Tennessee," where some legit twang finally comes out and takes over the rest of the record, though overall this disc is just a little too 'mersh for me.


<! - #CSS-72485 - recorded at Mark V studios, in Greenville, SC >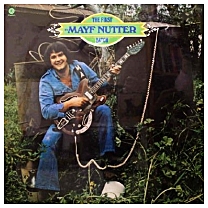 Mayf Nutter "First Batch" (Capitol Records, 1973) (LP)
(Produced by Mayf Nutter)
Perhaps the weirdest thing about Mayf Nutter is that Mayf Nutter really is his name -- Mayfred Nutter Adamson, actually -- though his odd career trajectories are noteworthy as well. Born in West Virginia, Nutter started out as a rocker, playing lead guitar in Del Shannon's band, then hopped onto the folk bandwagon in the '60s, as part of the New Christy Minstrels, and finally into country, with a little help from Buck Owens Enterprises, which kind of had the run of Capitol Records in the early '70s. His first album has a slightly manic, try-anything-and-see-what-sticks feel to it, and with the exception of a few singles which were semi-hits in the Back Forty, nothing much came of it. There are some mildly desperate novelty songs, such as "The Litterbug Song" and "The Sing-Along Song," as well as his cover of Delaney Bramblett's pop smash, "Never Ending Song Of Love," which peaked at #57 on the Country charts. Mayf's real bread and butter came as an actor, with a string of minor roles on shows such as Gunsmoke, Charlie's Angels, and The Waltons. This album's kind of perky, but also strangely bland -- an example of an indie-ish oddball cutting an album for a major label, perhaps?


<! - # - bio (WV) >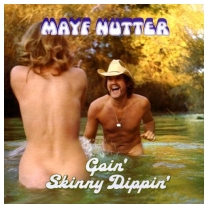 Mayf Nutter "Goin' Skinny Dippin' " (GNP Crescendo, 1976) (LP)
(Produced by Mayf Nutter, Scotty Moore & Don Tweedy)
Yee-haww! Whoo-hoo!! Yeah, baby!! ...Although, actually, I have to confess this album art makes me a little uncomfortable... and I lived through the 'Seventies! Amazing that a major-ish label okay'd a semi-nude front cover, but that's the kind of decade it was, back then. Groovy, man.
---
---