<! MP3 05/26/10, 04/17/11 > <! outside 00/00/00 > <! pix 04/17/11 > <! icons 04/17/11 > <! states 05/10/16 > <! UPDATES: 02/16/17 - mostly cleared the decks/backlog while in Kansas 01/20/20 - DE-AMAZONED 08/05/20 - extensive pix add 02/15/21 - Fillies, note, intro > <! RESEARCH: Bobby Green, Davey Gibbs (added w/o Google info 02/16/17) >
---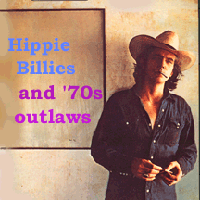 LOCALS ONLY: This is a guide to independent and off-the-radar country musicians from the 1960s, 1970s and early 'Eighties, including hometown performers working in regional oprys, jamborees, dude ranches, casinos, pizza parlors and lounges. They included longhaired country-rockers, red-dirt outlaws, Nashville hopefuls and earnest amateurs, as well as the more country-oriented artists in the bluegrass and southern gospel fields. Many of these musicians toured nationally or regionally while others were strictly hometown folks. These are the people who are often overlooked in the history books but who contributed their talents, hopes and dreams to the country music world, and the aim of this guide is to keep their memories and their work alive. Comments, corrections and suggestions are always welcome.


This page covers the letter "G."





---
HICKS, HIPPIEBILLIES & NO-HIT WONDERS:
A | B | C | D | E | F | G | H | I | J | K | L | M | N | O | P | Q | R | S | T | U | V | W | X, Y & Z | Compilations | State-By-State

---
About This Guide | Thanks | Other Hick Music Styles

---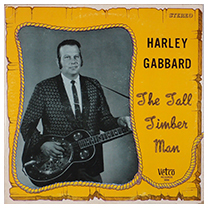 Harley Gabbard "The Tall Timber Man" (Vetco Records, 1971-?) (LP)
Dobro player Harley Gabbard (1935-2003) was born in West Harrison, Indiana and started out playing guitar in various hillbilly and bluegrass bands, switching to dobro later in life. Gabbard performed at the Grand Ole Opry and the Wheeling Jamboree; he also toured with The Osborn Brothers, The Goins Brothers and also with Jimmie Skinner, who contributed this album's liner notes. Along with Aubrey Holt, Gabbard was a founding member of the Boys From Indiana bluegrass band, starting that band a few years after cutting this solo album. Alas, no info on the backing musicians here.


<! - #3006 ~ 01214 >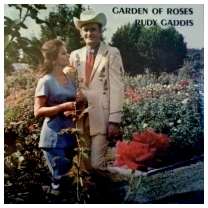 Rudy Gaddis "Garden Of Roses" (Custom Sound Studios, 19--?) (LP)
Way back in 1955, Texas native Rudy Gaddis (1926-2006) recorded an Atomic Age hillbilly novelty single for the Starday label called "Uranium Fever," as well as this album's title track, "Garden Of Roses" which was originally released as a 78, way back in 1954, on a Lone Star indie label called Liberty Records. The arrangement was a rehash of Hank Williams' "Kawliga," with Gaddis' vocals strongly recalling those of Hank Snow, and the single was one of a handful he released over the years. This album seems to be his only full-length release... It's all original material recorded several years later (though I'm not quite sure when...) and the Rudy Gaddis pictured on the cover looks pretty durn middle aged... It looks early '70s to me, but the tracks may have been recorded much earlier...


<! - # Garden Of Roses; Magic Elixer; My Love; Countryville; New Blues; Old Ely; I've Been There Once; How Much Is A Memory Worth; Sandy Land Farm; Memory Millionaire (1926-2006) http://countrydiscography.blogspot.com/2011/12/rudy-gaddis.html - Liberty label from Mount Pleasant, Texas >
Bobby Gage "Leaving It Up To You" (R & G Record Productions, 196--) (LP)
(Produced by Joe Saia)
A very private pressing from an East Coast bar-band singer working his way through a bunch of melodic country standards of a late '50s/early '60s vintage, stuff like "Fraulein," "Wolverton Mountain" and "King Without A Queen." No date on this album -- I'm guessing 1964 or '65, but it coulda been a couple of years earlier -- or later, either way. Anyway, Gage and his band weren't all that great, but they sure were authentic. If you wanna hear what a country covers artist sounded like in Boston, circa '65, this album's worth a spin. Not sure if Gage recorded other albums, but he did play at various clubs in Massachusetts at least through the 1980s, when he was fronting a band called The Countriaires. Anyone have more info about this guy?


<! Bobby Gage posted some YouTube videos in the 2000s > <! - was he the same Bobby Gage who was a football player in the '40s and drafted into the NFL in 1948(49?) >
Gail And Denny (Secord) "Grand Ole Opry Dream" (Full Circle Records, 1982-?) (LP)
(Produced by Van Barker & Bobby Bradley)
A middle-aged couple from the rural suburbs near Seattle, Washington, Denny and Gail Secord both came from musical families, with Ms. Secord's parents not only playing in local bands but also running a bar called the Wagon Wheel, while Mr. Secord's dad was a popular dancehall fiddler. The Secords led their own band for many years, with backing from locals such as fiddler Jerry Critchfield. They first formed a group called Country Express back in 1976 when they were living in Port Ludlow, with her fiddling prowess (and super-fab go-go boots!) as the main attraction. In 1981 they won a talent contest sponsored by the National Grange Association, and not long after that traveled to Nashville to record this album, with backing by guitarist Greg Gilbraith, Hal Rugg on steel guitar, pianist Mike Shrimpf, and others. They played some standards, with a hefty dose of tuneful heartsongs by Hank Snow and his generation -- "You're The Reason," "It Don't Hurt Anymore," "Bumming Around," "Time Changes Everything" -- as well as instrumental showcases such as "Chime Bells," "Draggin' The Bow" and "Orange Blossom Special." The title track, "Grand Ole Opry Dream," may have been an original. The Secords continued to perform locally for many, many years, with Ms. Secord retiring in 2009 (but Denny continuing to play) and their son, Denny Secord Jr., later forming his own group, the Luck of the Draw Band.


<! - #DGS-32885 - 1981-? 82-? - maybe '85, per cat#(?) unable to determine - also under "S" - (WA) ext >
The Gairrett Brothers "The Garrett Brothers Band" (Karavan Records 1977) (LP)
(Produced by Jerry Abbott, Jerry Hudson & The Gairrett Brother Band)
A family band from Billings, Montana this group featured three brothers, bassist Darrell Gairrett, steel player Jim-Bob Gairrett and John Gairrett (1956-2006) on guitar, with a fair-sized backing band whose membership evolved over the years. First formed in 1968, the band built up a strong regional fan base through the 1980s, breaking up at the decade's end, with brother John getting a day job and moving to Salt Lake City, Darrell going into ranching, and Jim-Bob moving to Nashville and a successful career as a Top Forty country music sideman. Along the way they made a few records, including this LP which was cut in Texas, with their Montana-based band augmented by pianist-producer Jerry Abbott, who ran the Pantego Sound Studio. The Gairretts don't seem to have written any songs themselves on this album, though they cover stuff by Curt Massey, Kenny Seratt and Dan Fogelberg, as well as a serviceable version of Jimmy Buffett's "Margaritaville." About half the are songs credited to a Acuff-Rose staff writer, "L. Steele" -- who may have been the prolific Lois Roberts Steel, best known for the 'Fifties hit, "Ivory Tower" -- suggesting that they were able to make records partly by acting as a demo band for established songwriters. At any rate, they were a pretty solid-sounding group, with crisp, no-nonsense arrangements and a decent amount of twang. (Note: the group's name seems to have been misspelled on the front cover, though this was definitely the same bunch of Gairretts as below.)


<! - #KRLP-1001 - >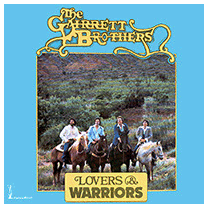 The Gairrett Brothers "Lovers And Warriors" (Black Gold Records 1981) (LP)
(Produced by Billy Stull & Norman Petty)
"...and warriors??" WTF? Oh, well, whatever. I dunno what all that warrior jazz was about, but this disc finds the Gairrett Brothers once again down in Texas, and once again workshopping songs by established composers. In this case, it's songwriter Milton Carroll, who contributes four songs including the goofy-sounding title track. However, the band asserts its own creative voice as well, with several songs penned by John Gairrett, as well as others by Brad Maule, Billy Stull, and Scott Vaughn. (Perhaps also worth noting: Maule and Vaughn worked together on an earlier project, Scott Vaughn's 1976 solo album, which was also produced by Norman Petty, so they were probably not part of the Gairrett Brothers hometown crew...) The band broke up in the late 'Eighties, though they staged a few reunions over the year, including a stint where they simply called themselves "The Outfit" after John W. Gairrett passed away in 2006.


<! - # - (MT) ext >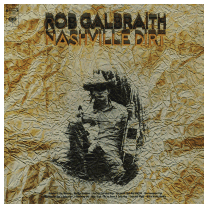 Rob Galbraith "Nashville Dirt" (Columbia Records, 1970)
Originally with a background in R&B and soul, Rob Galbraith was a fixture in late 1960s/early '70s Nashville scene, working as a session musician and producer, notable for his work with country superstar Ronnie Milsap in the '70s and '80s, and for producing several albums for the musically eclectic cult favorite Larry Jon Wilson. This was Galbraith's first solo album, a mix of rock, soul and country that reflects the musical diversity bubbling under the surface of Music City's countrypolitan monolith; in 1972 he recorded an album with songwriter Dennis Linde, in the semi-rootsy rock band called Jubal. Galbraith's efforts as a recording artist weren't commercial triumphs, and he found more success behind the scenes, notably as co-owner of a music publishing company formed in partnership with Ronnie Milsap.


<! - # >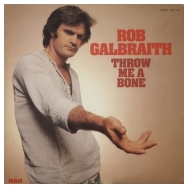 Rob Galbraith "Throw Me A Bone" (RCA, 1976)
(Produced by Rob Galbraith)
This one's more of a horn-rock/white soul album, but again, that does show some of the musical diversity bubbling underneath the surface of Nashville's country music monolith...


<! - # - NOTES, extensive (TN) >
Rob Galbraith "Too Long At The Fair" (Tri-State Records, 2004)

Patty Gallagher & The Showdowners "By Request" (Little Richie Records, 197--?) (LP)
(Produced by Bob Hale)
Ms. Gallagher was identified with the Denver, Colorado country scene throughout the entire 1970s... I'm not sure when this album came out, though the boys in the band look pretty darn "Seventies" to me, so I'll go out on a limb and guess this was recorded around 1975-76... It includes some original material, notably "She Goes Runnin' Round" by bassist Wil Karl and "My World Is Sittin' Tipsy" by Gallagher. She gets top billing, though an awful lot of the spotlight gets shed on Gary Courtney, who's pictured with her on the cover; other band members include guitarist Gary Courtney and steel player Harley Brendal. To be sure, this is not a top-notch production, even for the indiebilly genre, but it is the kind of record you can get to love just for it's sheer authenticity and undisguised flaws. Also, when they burst into an uneven lounge-funk riff on their version of "Crawdad," it's a real hoot. The original songs are pretty charming, though like the rest of the record, they're a little clumsily laid out. It's fun stuff, though... definitely locals!


<! - # - from Billings, Montana - Gallaher identified with the Denver, CO scene in 1975 - BB, (CO) > <! Tony Gallant "A Dream Of You" (Galaxia Records, 1977) (LP) - #TG-1224 - looks super-sketchy - country??? - arranged by Andy Badale "...PRIVATE POP ROCK Disco Country Lounge ELVIS PRESLEY" >
Kay Gallo & The Country Men "Yankee Go Home" (Big-E-Nuff Records, 197--?) (LP)
(Produced by Kay Gallo, Richard N. Gallo & Denny Hardesty)
Nicknamed "the sweetheart of the Ponderosa," Mrs. Gallo was born in West Virginia but moved out to California where she married and raised a family... (The liner notes inform us that she had four grandchildren by the time this album was recorded...) In 1967 she got a gig singing at a place in Pomona called the Ponderosa Club, though it's not clear when this album was recorded -- it could have been many years later. Anyway, this is definitely a "private" release, with backing by local musicians such as guitarist Warren Flock, Jess Owen on steel, bassist Lucky Shanon (sp?) and Carl Walden on keyboards and rhythm guitar.


<! - #100 - nee Audie Buffey - label/home address in Ontario, CA >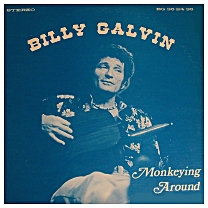 Billy Galvin "Monkeyin' Around" (Audio Media Records, 1975-?) (LP)
(Produced by Mike Stone & Billy Galvin)
A comedically-themed album from a guy who started out in Nashville doing bar gigs at Roger Miller's club in the early 1970s. Galvin later moved into television, becoming the producer of the "Country Standard Time" and "Music City Tonight" variety shows, along with countless one-off specials, including several projects developed with producer Jim Owens. The album title is a reference to the novelty number "Signifyin' Monkey," which leads the album off... He also covers "She's Acting Single (I'm Drinking Doubles)," "Every Time You Touch Me I Get High" and (frighteningly enough) a version of Olivia Newton John's "I Honestly Love You." I'm not sure when this one came out, but it must have been close to the beginning of his career, not long after he came to Nashville in '72. Apparently super-picker Phil Baugh sat in on these sessions, though no other musicians are identified in the liner notes...


<! - #36-24-36 - 12/15 - posted on YouTube - no ASIN 12/29/15 http://www.billygalvin.com/ "I Honestly Love You" - 1974 hit https://www.youtube.com/watch?v=f8knGK7ayek >
(Johnny Galvin &) The Pioneers "By Request" (Fathom Records, 197--?) (LP)
(Produced by Kearney Barton)
The Pioneers were a honkytonk band from Oak Harbor, Washington (just north of Seattle) led by guitarist Andy Stevens, who is credited as arranger on this album. They're backing local lad Johnny Galvin, who sings a couple of his own originals, "I Tell Myself A Lie" and "Secret Meeting Place," in addition to a full course of Johnny Cash and Merle Haggard tunes, some Hank and Buck, and (of course!) a version of "Green Green Grass Of Home." Galvin released another album on Fathom, with more of his originals.


<! - #FRS-1002 - (same # as Bob Taylor LP) (?) - 228 loaded 02/01/21 - same lineup?? Bob Taylor's band included local musicians such as Rey Brown (bass), Dave Darragh (piano), Andy Stevens (guitar) and Lanny West on drums. >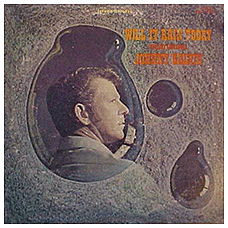 Johnny Galvin "Will It Rain Today" (Fathom Records, 1975-?) (LP)
(Produced by Johnny Galvin)
Great, mopey, broken-hearted honky tonk hard country, with delightfully forlorn vocals. West Coast legend Tommy Collins wrote some cheerful liner notes for this album, recalling some gigs he played with Galvin up in the Pacific Northwest, so that certainly got my attention. Although Collins talks about playing at a bar in Oregon, it looks like Johnny Galvin was actually from around Spokane, Washington... This album is mostly cover songs, but with some tasty choices, such as the Bonnie Owens song, "Somewhere Between," which was on a Merle Haggard album in 1967... There's also another inevitable rendition of "Me And Bobbie McGee," as well as three originals written by Galvin.


<! - #FR-S-1002 - (WA) >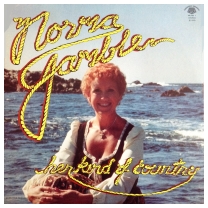 Norma Gamble "Her Kind Of Country" (Pentagon, 1979) (LP)
(Produced by Alan L. Dote)
Ms. Gamble was a singer from Santa Clara, California (near San Jose) who wrote most of the songs on this album, with one credited to producer Alan L. Dote, and a couple co-written by Anna Pierce. The liner notes say she played gigs in Vegas and Reno, though overall this seems like a pretty "private" private-press album.


<! - no ASIN 12/23/15 >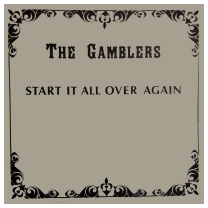 The Gamblers "Start It All Over Again" (Grenadier Records, 1983-?) (LP)
(Produced by Bob McCracken & Tom Soares)
A surprisingly strong, independently-produced pop-oriented country album by a band from Fall River, Massachusetts... This album features a wealth of well-crafted original material and strong performances by the band, all well framed by the slick-but-not-too-slick production, which really was on a ready-for-radio level. The only weak link is from the band's female singer -- who like the rest of the band is unidentified in the liner notes, but sings lead on several songs, and is not quite on the same level as the rest of the band. Overall, though, this seems like a band that really coulda-shoulda made it. Oh, well -- go figure! Not sure of the release date - some folks say the "late '70s," though one source says 1983, and the catalog number might suggest a 1977 release. Any info would be welcome!


<! - #NR-14770 - 04/08/15: LK emailed Farias with Qs - tracks, bio, links (MA) >
Dave Gann "Crystal River Valley" (CMC Records, 1985)
(Produced by Mark Macgruder)
A picker-singer from Grand Junction, Colorado... I haven't heard this one, but I'm curious. It looks like it would be more of a folk album, although he does have a song promisingly titled, "Willie Sings With Everyone But Me," which I'm gonna add to my list of Willie Nelson tribute songs...


<! - no ASIN 07/01/15 >

Gene Rockwell Gant "Makin' Sweet Music" (Morrhythm Records, 19--?) (LP)
(Produced by Gene R. Gant & Cliffie Stone)



<! - MORRHYTHM-043 - mostly Gant originals - arranged by David Gates(!) in LA >
Bill Gardner "First Time Around: Songs Of The Country" (Studio 40 Studios, 1981-?) (LP)
Country ballads and a bit of West Coast twang, with covers of stuff like "Crazy," "From A Jack To A King," "Funny How Time Slips Away" and bouncier tunes like "Rollin' In My Sweet Baby's Arms" and Buck Owens' "Hello Trouble." The record label was from Denver, Colorado, so I imagine that Gardner was also from thereabouts...


<! - no ASIN 07/17/15 - #811084-3314 - tracks (CO) >
Jay Gardner & The Wranglers "Some Favorites Of Mine" (Sierra Records, 19--?) (LP)
A Utah local, Jay Gardner was the program director for country stations KSOP, in Salt Lake City, and led a band which was apparently made up of some other station members. Here, he's playing country standards such as "Cheating Heart," "Jambalaya," "Smoke, Smoke, Smoke That Cigarette," Johnny Horton's "Honky Tonk Man" and "All For The Love Of A Girl," with musical backing that includes a little bit of flashy, note-happy guitar playing (by Mr. Gardner?) along with pretty primitive rhythmic backing on bass and drums. The choice of an Ernest Tubb tune is pretty apt, since Gardner had a rather simple vocal style as well... There's no artwork on the back cover, and not much info on the disc, either. All the songs are country standards, though there is one tune, "Looking Glass" without any songwriter credit that might be an original... And there's no release date, either, of course, though I'm gonna say 1963 or '64, since that's when the band was mentioned in a few local newspapers, playing gigs like cattlemen conventions and whatnot. Not really a great record, but certainly authentic and raw, and charming if you're into the whole digging-amateur-musicians aesthetic.


<! - no ASIN 01/08/16 - (UT) > <! Kossi Gardner "Organ, Nashville Style" (RCA Victor, 1970) (LP) (Produced by Chet Atkins) - #LSP-4419 Pretty durn corny. Kossi Gardner "Plays Charlie Pride" (RCA Victor, 1972) (LP) (Produced by Ronny Light) - #LSP-4710 - "jazz"? organist Bass – Bobby Moore*, Bobby Dyson, Henry Strzlecki* Drums – Larrie London* Electric Guitar – Grady Martin, Pete Wade Fiddle – Johnny Gimble Organ – Kossi Gardner Piano – David Briggs (2), Hargus Robbins Producer – Ronny Light Rhythm Guitar – Chip Young, Dave Kirby*, Jimmy Capps Steel Guitar – Lloyd Green >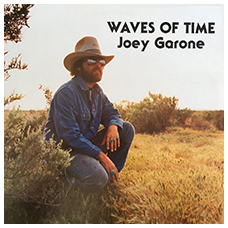 Joey Garone "Waves Of Time" (1981) (LP)
You'd be forgiven for thinking (as I did) that this is an old indie-twang album, what with Mr. Garone pictured on the cover, clad in denim, sporting aviator glasses and several massive turquoise rings, and of course a cowboy-ish Panama hat... But in fact, this is a really weird, sorta-folk/sorta-rock album, full of bizarre, rambling lyrics and strange, possibly drugged-out preoccupations and obsessions galore. It's not a country album -- consider this fair warning -- but for folks who enjoy kooky, outsider-art bizarro records, this one's a doozy. The opening track, "Gasoline Junkies," isn't quite the earnest critique of our petrochemically propelled populace that you'd expect, but rather an opening salvo for a very odd album, with Garone musing authoritatively about UFOs, including the ones he says he's seen with his own eyes. Despite this album being pirated and sampled by numerous interwebsters, its origins remain obscure -- there's no discographical info on the album itself, or even a mention of where Garone was living when he made it. (Off the grid, perhaps? In a tinfoil-lined shack?) It's possible that the low-level notoriety of this LP inspired the character of nightclub singer Joey Garone in the 2009 feature film, "Once More With Feeling," but that's mostly just me speculating in the absence of fact. Anyone out there have real info about this guy? If so, I'd be much obliged!


<! - #38833 - no label name, label info, producer or musician credits - unable to find info about him online 11/06/12 - not placed >


Pat Garrett -- see artist profile



Glen Garrison "Country! Country!" (Imperial Records, 1967) (LP)
(Produced by Scott Turner)
An ex-rockabilly rebel-gone-West Coast country singer and session guitarist, Harold Glen Garrison (1942-1971) adopted a sound stylistically and vocally very much like Buck Owens, and released two major-label LPs at the height of the Bakersfield Sound. Garrison only placed two songs chart in the Top 100, including "Goodbye Swingers," off this album, which peaked out at #72 on the Billboard charts. He was born in Searcy, Arkansas and moved out the California, where he played in Wynn Stewart's band before pursuing his own solo career. Despite the lack of commercial success, this is still fun stuff, and if you dig vintage Buck Owens, there's no reason not to turn up the volume on this album, as well... Even ol' Buck agreed: he wrote the liner notes, opining on the differences between Hollywood and Nashville country. Garrison died young, passing away in Joy, Arkansas just a few years after these albums came out... He certainly seems like an artist ripe for reissue, though, particularly if anyone wanted to collect his earlier rock'n'roll records, which for years have only been available on some far-flung rockabilly comps.


<! - # - RIP? - (CA) >
Glen Garrison "If I Lived Here: The Country Soul Of Glen Garrison" (Imperial Records, 1968) (LP)
(Produced by Scott Turner)



<! - # - tracks (CA) >
Jess Garron "Jess" (Brylen Records, 1982) (LP)
(Produced by Charlie Fields)
Solid early '80s pop-country, including a mildly bilingual Spanish-English tune, "Lo Que Sea," a modestly successful single that cracked the country Top 40 in 1979. It's one of four tracks on this album written by Garron under his given name, Roberto Ruiz, accompanied by four songs credited to producer Charlie Fields and a couple random others. Garron's bio on the back says he was born in San Juan, Puerto Rico, but grew up in Chicago, which is where he built up his musical cred, including a stint with a soul band called Crosstown Express in the mid-1970s The backing is from an all-star Nashville studio crew, including folks like Carol Lee Cooper, Gregg Galbraith, Sonny Garrish, Doug Jernigan, Dale Sellers Bruce Watkins, et. al.


<! - #BN-4449 - no ASIN 12/05/17 - (IL) 1975 single : https://www.discogs.com/artist/7526000-Robert-B-Ruiz >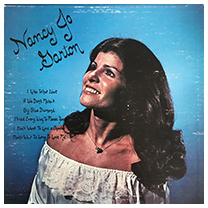 Nancy Jo Garton & Ken Holiday "Ken Holiday/Nancy Jo Garton" (G Bar Records, 1978) (LP)
(Produced by Ken Holiday)
This looks like a split LP - him headlining on one side, her on the other -- although it's all from the same recording session. Holiday and Garton were from Depew, Oklahoma, where they co-owned the G-Bar Ranch, a name they also used for their own short-lived indie label. Like many regional artists, they made the trek to Nashville to record, and cut this album at Jack Clements' studio, with a big cast of studio superpickers, including the Jordanaires on backup vocals. Nancy Jo Garton had apparently a regional radio hit with a cover of the country/R&B oldie, "Big Blue Diamonds," but her success was strictly local -- no Billboard action for these singing Sooners... Still, I like it. Mr. Holiday had one of those gangly voices that makes an unlikely match for a recording session but winds up sounding authentic and sincere -- I'm thinking of folks like Dick Feller and Deadly Ernest -- and he picked more novelty-oriented material to match his vocals. Ms. Garton was the stronger singer in the "normal" sense -- derivative, perhaps, but not bad. She starts out sounding like mainstream country-pop gals such as Lynn Anderson or Donna Fargo, but by the end of her side, she's solidly in a Dolly Parton mode, trilling her little heart out. One assumes it's her busting in on the end of Side One, to belt out a duet with Holiday on "I'm Mad In Love With You." In addition to this LP, they also released at least one single under Garton's name, distributed by the folks at NSD in Nashville.


<! - # >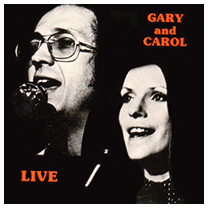 Gary & Carol "Live" (Licorice Records, 1975) (LP)
(Produced by Gary Nieland)
A quintessential 'Seventies lounge act, featuring the duo of Gary Nieland (vocals, drums) and Carol Van Nordstrand (vocals, bass and organ) in a live set recorded April 17-18, 1975 at a Salem, Oregon venue called the Keg & Platter. The repertoire spans pop and soul songs such as "I Honestly Love You," "For Once In My Life" and "Mustang Sally," counterbalanced by a hefty chunk of country tunes, including Act Naturally," "Oh Lonesome Me" and "Stand By Your Man." None of it's really all that good -- Van Nordstrand is planted firmly in the spotlight, though Nieland was the better singer -- but it's also not all that awful. Just a couple of reasonably talented locals, living the dream.


<! - #USR-8097 - no ASIN 07/25/18 >

Gary & Eddie "...Live!" (Carousel Productions/Cartay Records, 1972-?) (LP)
(Produced by Don Weyand)
No. Way. No frickin' way. Okay, well, let me back up a little... This is a funky (as in kinda clunky) live album recorded at the fabled Taylor's Supper Club, a Denver, Colorado nightclub that also ran its own record label and released a few LPs like this one. So here's the "no way" part: the duo of Gary and Eddie, though not fully identified on the album's liner notes, were actually two kids from Fort Worth, Texas named Eddie Johnson and Gary Morris... Yes, that Gary Morris, the guy who later moved to Nashville and became one of the cheesiest and most successful of the 1980s pop-crossover country ballad singer of the synthy-tinkly piano era, and who recorded one of the earliest hit versions of "Wind Beneath My Wings." Johnson and Morris formed a duo in 1969 and played regular gigs at Taylor's for the next five years -- this album is probably circa 1972, with a brace of late '60s/early '70s hits such as "Snowbird," "Never Ending Love," "Gentle On My Mind" and the inevitable run-throughs of "Proud Mary" and "Me And Bobby McGee." The album is just two long tracks of live performances, with no grooves between the song... It's a lively show, though the guys get kind of goofy with their vocals and seem more like a Kingston Trio-ish folk act at times... They are joined on a few tunes by gal singer Teri Hernandez, who the liner notes say was a teenager at the time, and who has two solo numbers, on "Snowbird" and "Crazy Arms..." Dunno what she did later on. The Gary and Eddie duo broke up when Morris moved to Nashville, where he plugged away for several years until his 1981 breakthrough. Eddie Johnson stayed in Colorado and also played in the singing-policemen band, The Lawmen -- he later formed an act with that band's leader, Bo Cotrell and has been in a string of bands over the years. But here is where it all began.


<! - # - http://www.allinthefamilyband.com/#!news/cb30 - no ASIN 08/05/15 >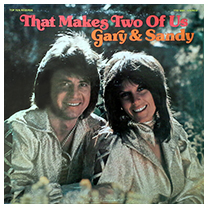 Gary & Sandy "That Makes Two Of Us" (Top Ten Records, 1977) (LP)
(Produced by Jerry Fuller)
Though Gary Raffanelli and Sandy Selby were both decent singers, this is a majestically terrible album, 'Seventies easy listening disco-pop kitsch at its apex, a gooey, bombastic set of would-be soft-pop hits, helmed by veteran producer Jerry Fuller, who also wrote about half the songs. Despite the presence of country pickers like Glen Campbell and Billy Walker, the twang influences are mostly theoretical, overshadowed by swelling string arrangements courtesy of Larry Mahoberac and Sid Feller. This seems to be a songwriter's demo with Fuller working out some pop-related ideas -- devotees of so-bad-it's-still-bad '70s schmaltz might dig it, though for most twangfans this one's a record you can skip. Some background info: Gary and Sandy were from the SF Bay Area -- Raffanelli grew up in Richmond; Selby was from Berkeley -- and they formed their duo in 1973, moving up to Lake Tahoe for casino gigs and later to Reno, where they held down a nineteen-year residency at the Reno Hilton. Their act went through a lot of permutations, eventually forming an ABBA covers band called Abbacadabra. So... now you know.


<! - #TTR-1001 "Produced at Footprint Sound Studios in Sherman Oaks, California on September 27 & 28, 1977" Gary Raffanelli (??) - in an early '60s Richmond, CA pop covers band called the Vandells http://danieljselby.com/GarySandy/gs-start.html >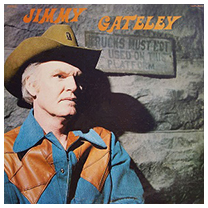 Jimmy Gateley "Jimmy Gateley" (Westwood Records, 1980) (LP)
(Produced by Frank Evans, Dave Lindley & Billy Troy)
Born in Springfield, Missouri, Jimmy Gateley (1931-1985) was a successful Nashville songwriter who composed hits for Bill Anderson, Sonny James and Webb Pierce. He was in Anderson's band, the Po' Boys, for several years and recorded some singles under his own name for Chart Records, ABC-Dot, Decca and other labels, but never quite clicked as a solo artist, and later became a gospel artist. This album features all original material and was recorded on the independent Westwood label, which was briefly a home for a slew of older Nashville stars who had been left behind during Nashville's big shift in the 'Seventies. He's got a pretty solid crew backing him, including studio pros such as guitarist Greg Galbraith, Sonny Garrish and Jim Baker playing pedal steel, and Buddy Cannon on bass.


<! - WRS-145 - no ASIN 12/09/16 - date is for UK release - did it come out earlier in the States? - UK artist(?) - NO - recorded singles for Chart, ABC-Dot, Decca (! same guy??) http://www.allmusic.com/artist/jimmy-gateley-mn0001780547/biography - recorded in Nashville, at the Directions studio >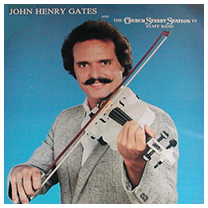 John Henry Gates "...And The Church Street Station TV Staff Band" (1984-?) (LP)
(Produced by Pat Holt & Glenn Longacre)
Florida fiddler John Henry Gates did some session work in the Orlando area, and appears to have been employed in the house band for Church Street Station, a long-running country television program that generally showcased famous Top Forty artists from Nashville. This souvenir album was recorded mostly in Nashville, with backing by studio pros such as Phil Baugh, Buddy Emmons and Dave Kirby, although Canadian-born pianist Glenn Longacre was also part of the Orlando contingent, having moved to Florida in 1981, where he later set up his own recording studio and did a lot of advertising work in addition to recording local artists. The repertoire on this album includes jazz standards as well as country tunes; several cajun-flavored tracks like Link Davis's "Big Mamou" and "Diggy Liggy Lo," and of course a version of "Orange Blossom Special."


<! - #JHG-455 - (FL) - dc has wrong date, lk posted comment 06/10/20 >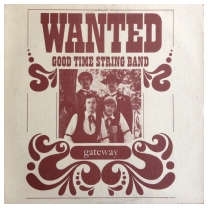 Gateway "Wanted: Good Time String Band" (Whacks Jawburz) <! - no ASIN - >
(Produced by Tom Reynolds)
Goofy independently produced folk music... Not as twangy as the stuff I'm into, though they do mix in a bit of bluegrass pickin'... They cover stuff like "Rocky Top," Jack Tempchin's "Peaceful Easy Feeling," John Stewart's "Cody," and the lovely "I'm Going Home," which was written by Fred Geis of the Kingston Trio. There's also a bunch of original material, notably the title track, "Good Time String Band," which extols the virtues of joyfully making music and the super-goofball medley of "People Poems" which is pretty much the album's showcase song. This didn't really resonate with me, but as indie-twang from Indianapolis goes, this is probably worth knowing about. (BTW, the album art is really confusing, but the band's name was Gateway - the credits read: "All songs arranged by Gateway..." and then give all their names. There's also a more modern group called the Good Time String Band up in Maine, but they're a different band.)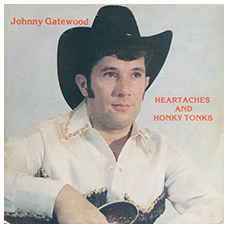 Johnny Gatewood "Heartaches And Honky Tonks" (Kash Records, 198-?) (LP)
(Produced by Sonny Deaton & Phil Harris)
Honkytonker Johnny Gatewood was born in Independence Missouri and played in the Kansas City area, as well as touring in various country road shows during the '60s and '70s. He later settled down in tiny, rural Inman, Kansas (just north of Wichita) and for many years played shows in the nearby towns of Hutchinson and Salina. For this album he traveled to Nashville to get studio pros like steel player Doug Jernigan to back him Somewhere I heard that this was his second album, and that the first one was also recorded in Nashville, though I haven't been able to confirm that info yet; he also released several singles, though I don't have all of that info either.


<! - #KASH-LP-1005 - b. 1948 - second album, first one was recorded in 1981 in Nashville, with Buddy Emmons, other studio pros - NOTES - Fillies(?) album below has gals on it >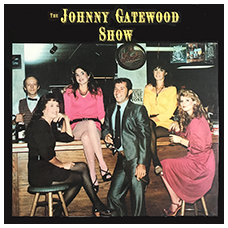 Johnny Gatewood "The Johnny Gatewood Show" (Horse Shoe Records, 1986) (LP)
(Produced by Mike Frazier & Johnny Gatewood)
I kinda dig the country album covers that picture the artists in bars... Sometimes they tell you a lot about the musicians or their fans, and the kinds of places they called home. I'm not sure which (if any) of the gals posed with Johnny Gatewood were in his band, though it's possible they all were: the liner notes credit the band as Dell Daugherty on steel guitar, Roger Enns (steel), Maxine Gatewood (harmony vocals), Shirley Gatewood (bass), Diane Jackson (vocals), Allen Jones (banjo), Susie Schrag (drums), Tom Swofford (vocals) and Joe Wieneman on fiddle. It's cool that this was an all-local crew, as opposed to his previous pilgrimage to Nashville... The Jimmy Gatewood Show performed regularly in central Kansas throughout the mid-to-late '80s, as seen in numerous 1984-88 show notices in local papers from Hutchinson and Salina. On the back cover, Gatewood gives an address in Sterling, Kansas, which like Inman was a little north of Hutchinson. Alas, no mention of which bar they were in.


<! - CR-1057 - 1984-87 show notices in local Hutchinson and Salina newspapers - >
Gator Alley "It Takes Time" (Gator Alley, 1982) (LP)
(Produced by Gator Alley & Leon Reeder)
This Midwestern band featured three sisters -- Dawna, Debbie and Dina Nelson -- who wrote most of the songs on the album, backed by Dwayne Nelson on bass, steel guitar by Don Kates and lead guitar by Jerry Fitzpatrick. The album was recorded at Creative Audio studios, Champaign, Illinois and features liner notes by radio deejay Jerry Brock of WCCR, 1540-AM.


<! - - no ASIN 07/25/15 >

Mike Gavin "Eagle Bones And Sunsets" (Country Time Productions, 19--?) (LP)
(Produced by Mike Bishop & John Miller)



<! - no ASIN 06/05/18 - from Russellville, Arkansas; recorded at John's Recording Studio in Russellville - all songs originals written by Mike Gavin, with some arrangements by Darel Snodgrass - there's a George Scrivner playing mandolin - is that also Gove Scrivner?? - no, don't think so - Mike Gavin (acoustic guitar), Dean Porter (lead guitar), Danny Herbert (bass), Billy Dale Sexton (steel guitar), Dave Massey (banjo), Mike Bishop (bass), Tonette Rodgers (backing vocals) >
Mac Gayden "Skyboat" (ABC, 1976)
(Produced by Buzz Cason & Mac Gayden)



<! >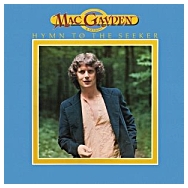 Mac Gayden "Hymn To The Seeker" (MCA Records, 1976)
(Produced by Mac Gayden)
Session guitarist Mac Gayden played on Dylan's Nashville Skyline and led the Nashville-based jam bands Area Code 615 and Barefoot Jerry... Although he plays banjo and mandolin (somewhere in the mix), there's not a lot of twang on this spacey, spiritual set of disco-tinged white funk, some of it quite monotonous. Didn't do much for me, sorry to say.


<! http://en.wikipedia.org/wiki/Mac_Gayden http://www.macgayden.com McGavock Gayden (1972) (produced by Bob Johnson) Skyboat Hymn to the Seeker Nirvana Blues (CD) >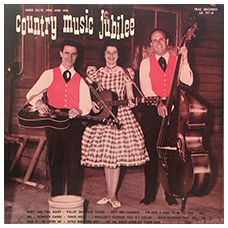 Abbie Gaye, Ken And Mel "Country Music Jubilee" (Trac Records, 196--?) (LP)
(Produced by Stan Anderson)
The bluegrass-y trio of Abbie Gaye, Ken Stephens and Mel Johnson are perhaps best known for their stringband parody of the Buck Owens song, "Tiger By The Tail," which they recorded for Starday Records in 1965 as "I've Got A Polecat By The Tail." This album is less novelty-oriented, filled with earnest covers of bluegrass classics by Jim Eanes, Flatt & Scruggs and Bill Monroe, along with a few gospel tunes and a zippy rendition of "Ruby Are You Mad." There are also several songs credited to "M. Johnson," who I think was Mel, and these seem to be originals or his adaptations of traditional material. This may have been the first LP issued by Trac Records, a label based in Fresno, California -- I could find very little info out about these folks online, so I'm not sure if they were a California-based band or not... At any rate, it's nice stuff. Resolutely old-fashioned, these plainspoken performances harken back to the heartfelt, no-frills styles of artists such as Molly O'Day or Wilma Lee and Stoney Cooper.


<! - #SA-101-8 - no ASIN 12/07/16 TRAC RECORDS FUNDRAISER/ALBUM: https://www.gofundme.com/p9vycuuc http://www.tracrecordingstudio.com/ Stan Anderson tracrecording@pmicp.com - new owner Dan Greer >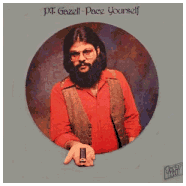 P. T. Gazell "Pace Yourself" (Sugar Hill, 1978) (LP)
Another odd one: Johnny Paycheck's harmonica player Phil Gazell fronts a studio band that includes Jerry Douglas playing dobro and Ricky Skaggs on mandolin, in a mostly-bluegrass set, with some dips into sentimental Antbellum-style material, a few Irish jigs, and a little bluesy swing. Originally from Oconomowoc, Wisconsin, Gazell moved to Lexington, Kentucky in the late '70s, where he cut this album with the cream of the crop of new-generation newgrass musicians. He mostly blows the harp but also sings on a tune or two: the CD/MP3 reissue includes some twangier bonus tracks with an Asleep At The Wheel feel to them. Not bad! And is sure is interesting to hear the harmonica in a bluegrass context...


<! - # >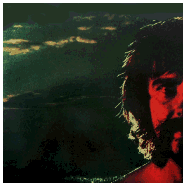 Arthur Gee "Arthur Gee" (Tumbleweed Records, 1970) (LP)
This review is more of a warning sign, I guess. Apparently from Kitchener, Ontario, Canada's Arthur Gee is another one of those weird, eclectic 'Seventies obscuro artists who get lumped in with "country rock" music just because there's some banjo or pedal steel somewhere in their mix. But really, this is a far-flung, spaced-out experimental rock album with proggy and psychedelic folk leanings... If you're into the harder core of '70s experimentalism, this record could be cool... He dips into mellower, Emmitt Rhodes-y territory, but a lot of this is pretty challenging, in more of a Kingdom Come pop-blender style. But if you're looking for a missing Chris Hillman folk-rock album, this ain't it.


<! - Canadian?? per: https://thebestmusicyouhaveneverheard.com/tag/arthur-gee/ http://citizenfreak.com/artists/95613-gee-arthur-the-arthur-gee-whizz-band >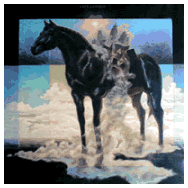 Arthur Gee/Arthur Gee-Whizz Band "City Cowboy" (Tumbleweed Records, 1971) (LP)
This album is slightly more twangy and a lot more accomplished than Gee's self-titled debut, also edgier with passages that evoke some of the choppier prog and freak-folk of the era. It's mostly spacey and playful, but there are a few abrupt curves into harder "boogie rock" material that have an unexpected severity that suggests pre-punk and avant-rockers such as Alice Cooper or demos-era Devo. A little bit of twang and a few semi-pastoral passages, but this ain't the country-rock gem you might expect from the album title. If you're a twangfan, consider yourself forewarned. This is probably best celebrated as weirdo-obscuro experimentalism, but there are some more accessible tracks as well, such as the rocker "Green Countryside," although a bunch of the spacier stuff seems ripe for modern-day tributes, ala Vashti Bunyan.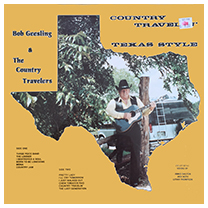 Bob Geesling & The Country Travelers "Country Travelin', Texas Style" (Star Trail Records, 1984) (LP)
(Produced by Bill DeJarnatt)
A real country old-timer, Bob Geesling is probably best remembered as co-composer of the song "The Heart You Break May Be Your Own," which Patsy Cline recorded back in 1956. His own recording career goes back at least as early as 1955, when he cut a fabulously twangy gospel single; he was also known for his work in Tiny Colbert's band, a true-Texas outfit that cut several sizzling discs way back in the late 1940s and early '50s. This late-life album showcases a half-dozen originals by Geesling, including "The Last Generation," one of his fab 'Fifties gospel tunes, and "I Destroyed A Soul," which previously came out as a Star Trail single back in the late '70s. He also covers one of Tiny Colbert's postwar oldies, "Pretty Lady," a jaunty tune that dates back to 1949. Bob Geesling and his wife, drummer Nita Geesling, owned a music store in Denison, Texas, about an hour north of Dallas on the "Texoma" state border. The Geeslings are joined by several locals on this album, including Leon Elliot on banjo, bassist Jack Noth and Luther Thompson playing mandolin and steel guitar. Mr. Geesling seems to have been born in either 1931 or '32, and since passed away, although I couldn't find out exactly when.


<! - #RSR-1221 - (TX) notes, no obit for Bob G - LK: "...Mrs. Geesling continued to operate the music shop for several years after he passed away." - FILLIES? >


The Geezinslaw Brothers -- see artist profile



The Gems/The Nashville Sound '70s "Dream Baby And Other Country Hits" (RCA Camden, 1971) (LP)
(Produced by Bob Ferguson, Ethel Gabriel, Chuck Seitz & Roy Shockley)
This is one of those quickie-cheapie anonymous-band truckstop albums that flooded the bins in the 1960s and '70s, although in this case, the band wasn't as completely anonymous as those playing on the smaller, non-major label records. The Gems were the full-time backing band of Nashville star Jim Ed Brown, anchored in the early 'Seventies by steel player Hank Corwin and lead guitar picker Earl Erb. The band's name was a take on Brown's own name -- Jim's Gems, get it? -- a play on words that also provided the title of one of his late '60s albums. Anyway, the Gems were for real, although I think there were a few RCA studio ringers on this disc as well, guys like Bunky Keels and Jerry Shook. Anyway, it's a legit "solo" album by a working Nashville band. Likewise, the Nashville Sound 70s vocal group -- Dianne Hines, Dottie DeLeonibus, Richard Law and Ronnie Drake -- were also part of Brown's entourage, originally singing on his TV show, starting in 1970. The songs include covers of a few big "sunshine country" hits, along with a bunch of other obscuro tunes that were probably written by some of the musicians themselves.


<! - #CAS-2526 - (TN) Fillies? >

The Gems "The Gems" (1980-?) (LP)
(Produced by Dan Gant)
Sometime around 1975, '76, there was a big shakeup in Jim Ed Brown's band, though steel player Hank Corwin stuck around and led the band for a few more years... This album features Corwin anchoring a new crew including Bruce Osborn (lead guitar), Ed Chambliss (drums), Jerry Braswell (bass), Tim Atwood (piano) and Tom Rutlege (banjo, rhythm guitar) and I'm guessing this was an early '80s lineup, just since they look so much like Alabama or the Oak Ridge Boys. Porter Wagoner wrote the liner notes for this album and is pictured on the back with the band, sitting in front of a giant mixing board, so possibly he produced the album as well. Eventually he poached some of these guys for his own band, notably Hank Corwin, who then played with Wagoner for several years. This disc has a lot of cover tunes, and possibly a couple of originals, although it's hard to tell, since there are no composer credits...


<! - #SO-16107/16108 - no ASIN 12/21/16 >

Gene & Debbe "Hear And Now" (TRX Records, 1968) (LP)
(Produced by Dan Gant)
The Nashville duo of Gene Thomas and Debbe Neville had their biggest success as '60s pop artists, although they dabbled with country and there's definitely an element of twang in the mix as well. They seem to have been pals of songwriter Mickey Newberry -- in addition to several songs written by Thomas, they recorded a couple of Newberry's early tunes, as well as one by John D. Loudermilk and a few others. Thomas had some commercial successes as a songwriter, and remains a cult fave for some retro-pop fans. There's also a generously programmed reissue CD on the Sundazed label that gives a pretty full picture of their career.


<! - #LPS-1001 >

Gene And Joe & The Valley Troubadours "Sing Favorite Songs" (Seneca Records, 1965-?) (LP)
A brother duo who modeled themselves after bluegrass legends Reno & Smiley, Gene and Joe Winebrenner formed their first band in 1963. Early on, they won a local talent contest in Seneca, West Virginia, where they caught the attention of their idols... Reno & Smiley! The brothers were invited to join the cast of a local country program, "The Big Valley Barn Dance," on station WSVA-TV, in Harrisonburg. I'm not sure where they were from originally, but the Winebrenners certainly moved around a lot, as many country musicians did in the old days, finding berths at several radio and television stations over the years.


<! - # - from Somerset, Pennsylvania(?) - Sumit single produced by Bob Crissey - (WV) >

Gene & Joe "In The Big Country" (Major Label Records, 19--?) (LP)
(Produced by John Major)
A more country-oriented album here, recorded for John Major's label in Waynesboro, Virginia sometime in the early 'Seventies. It's nice mix of original material (about half the album) and covers, including old-school honkytonk and heartsongs from folks such as Wiley Walker and Hank Williams, as well as a couple of newer, West-er, Coast-ier songs from Merle Haggard. The Winebrenners were living in Burlington, West Virginia when they cut this disc, and were backed by their band, The Country Kings, though alas the liner notes don't provide any names for the musicians.


<! - #MRLP-1071 - no date, inner nv - LK eb 01/24/20 - profile (WV) >

General Store "Off The Shelf" (Ripcord Records, 1979) (LP)
(Produced by Blaine Allen & Ellis Miller)
This band from Seattle, Washington looks kind of rock-oriented, but twangy. The lineup featured Carlos J. Dominguez on bass, Brian Dunn (synthesizer and mellotron), Allan T. Flaa (lead guitar and steel), David Philip Haynes (drums), and Judy Walker on piano and vocals.


<! - #SLP-1057 - date on LP (Billy Armstrong's liner notes) - recorded at the Vancouver studio - RESEARCH >
Gentle Ben "Gentle Ben" (Loggerhythm Records, 1980-?) (LP)
(Produced by Jim Flannigan & John Austin)
This country-rock band from Boise, Idaho split its album between (mostly) cover songs on Side One and original material on Side Two... Keyboard player Bill Truitt wrote most of the material, with drummer Dennis Carrasco penning a couple of tunes. In addition, they delve into stuff by Dylan ("Billy The Kid"), Mickey Gilley ("Don't The Girls All Get Prettier At Closing Time") and Willie Nelson ("Bloody Mary Morning," "Me And Paul") with guitarist Mark Lucas adding some rock-flavored licks throughout. There was another band called Gentle Ben active around the same time, but they were from Cincinnati, Ohio and had no connections to these guys.


<! - album review in The Borah Senator 01/27/81: http://bsn.stparchive.com/Archive/BSN/BSN01271981p05.php >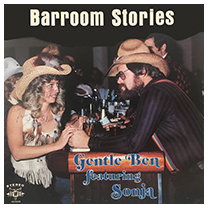 Gentle Ben - Featuring Sonja "Barroom Stories" (Jewel Recordings, 1981-?) (LP)
(Produced by Junior Bennett)
Strangely enough, I believe this Gentle Ben was an entirely different group than the Idaho band listed above. These folks were from Cincinnati, Ohio, led by the main songwriter Ben Nielsen, his wife Sonja and fiddler Junior Bennett, who produced the album. Their sound is fleshed out with help from steel player Dale Wagner, and the Jewel label's Rusty York, who sits in on banjo and dobro. Overall, this one didn't wow me... The band is pretty clunky and clompy, aiming for an outlaw country/boogie rock sound... real-deal bar-band stuff, but not the best I've heard. The cover songs include a belabored version of Tompall Glaser's infamous "Put Another Log On The Fire," recast as a "Tramp"-style bickering couple song, with the Nielsen's dishing out jabs at one another in what I guess was a chance to, ahem, liberate the song from its agitprop male chauvinist origins. Worth a spin, but not as much fun as I'd hoped.


<! - #81063 >

Gordon Gentry "Life's Railway To Heaven" (19--?) (LP)
Not a lot of info about this one. Gordon G. Gentry (1927-2002) was an old-school county gospel singer from Loxahatchee, Florida, near Palm Beach, who recorded several albums and performed locally with a group called the Gospel Strangers, which also included mandolin player Fran Gentry, who I think was his daughter. I'm not sure when any of these albums were made, though the Gospel Strangers performed regularly at the Florida Folk Festival during the early 1990s. Mr. Gentry also appears to have been the host of an evangelical lecture program, God's Miracle Hour, which he broadcast on shortwave radio.


<! - # - no ASIN 04/10/17 - no pix, references 01/08/20 - NOTES (FL) Gentry, Gordon God's Miracle Hour LP Gentry, Gordon He Brought the Light LP Gentry, Gordon Life's Railway to Heaven LP Gentry, Gordon When We March Thru LP Gordon Gentry "Sea Walker" >

The (Swingin') Gentry Singers "Pop Goes The Country" (Hickory Records, 1966) (LP)
(Produced by Wesley Rose)
I think this was a "band" album by the Gentry Singers, a Nashville studio group modeled on the Anita Kerr Singers, and led by Sharon Gentry. They did a lot of session work, particularly for the Hickory label, and a few singles also came out under Sharon Gentry's name. The repertoire is typical cheapo-label, fake-band fare, mostly oldies by Hank Williams, Don Gibson, Marvin Rainwater, etc., including a version of the Everly Brothers classic, "All I Have To Do Is Dream." Not sure who produced this, but the sessions were conducted by John Cacavas, with an eye towards the same pop-country crossover market that had been tapped by Ray Charles and Patti Page.


<! - #LPM-137 - file under S or G (??) - this was Sharon Gentry, right? >

The (Swingin') Gentry Singers "Come Swing With Us" (Hickory Records, 1967) (LP)
(Produced by Nick Firth)
I guess "swinging" was their thing! Easy listening country... just as you like it. Maybe.


<! - #LPM-142 > <! Bobby George? >
Lowell George "Thanks, I'll Eat It Here" (Warner Brothers, 1979)
(Produced by Lowell George)
One of the great lost albums of the 1970s! The late, great Lowell George was lead singer of the roots-rock/funk-jazz superband, Little Feat... On this solo outing, he let go of Little Feat's rougher edges, in favor of a mellower, more conventionally "pop" sound. The album covers blues, country and soulful rock -- plus, it's jam-packed with fun, enjoyable songs. My favorites include the mariachi-flavored "Cheek To Cheek," his versions of Rickie Lee Jones' "Easy Money," and the old Ann Peebles soul ballad, "I Can't Stand The Rain," as well as a great remake of the Little Feat classic, "Two Trains..." Heck, the whole album is great. Also includes a couple of mournful acoustic numbers that are some of the most melancholy tunes I know: "20 Million Things To Do" and "Find A River." I'm happy to report that this record is back in print at last... You should really snap this one up!
Buzz Gertson "God Loves Country Music" (Ripcord Records, 1978-?) (LP)
Lewiston, Idaho's Robert O. ("Buzz") Goertzen helpfully misspells his own name as "Gertson" on the album cover to help the more phonetically-minded among us, but spells it properly on the song credits. According to the liner notes, he worked for several years as a police officer in Boise, then moved into drug counseling and finally became a full-time preacher -- but not just any preacher, mind you, he was a singing, yodeling country music preacher! This album features some country-gospel oldies, along with more contemporary numbers, including several that Goertzen co-wrote or adapted. The album includes novelty gems such as "Jesus Put A Yodel In My Heart" and "This Motor Home Is In God's Hands," as well as "I Don't Sing Those Songs Anymore." The pickin' is pretty good, while Goertzen has a slightly reedy voice, as well as a dewy-eyed disposition which all reminds me of John Denver, albeit a yodelin'-mad John Denver! The religious lyrics are a little blunt and artless for my tastes, but whatever -- he's honest and sincere, and when you settle into it, this disc'll draw you in. Like many Ripcord releases, this doesn't give the year or any info on the musicians, but it seems to have come out around 1978. I think he also re-released this on his own a few years later. Goertzen went on to self-release over a dozen albums, generally a mix of old-school secular yodeling/western songs and gospel material. He also maintains a website called The Idaho Yodeler which gives a lot of information about his career.


<! - looks like Ripcord in one picture - was it reissued privately? - BZ-001 - no ASIN 06/22/15 - Lewiston, Idaho http://www.theidahoyodeler.com/ buzz@theidahoyodeler.com - he might need a page of his own, to make up for the different spellings, also multiple sites: Locals, Idaho, Gospel - USE THIS PAGE FOR TEXT >
Buzz Gertson "The Idaho Yodeler" (Ripcord Records, 197--?) (LP)
(Produced by Gene Breeden & Ellis Miller)



<! - #1038 >

Buzz Goertson & Family "God's Love Call" (Family Records, 19--?) (LP)
(Produced by Blaine Allen, Gene Breeden, Ellis Miller, and Dan Duncan)



<! - #FR-1011 - with his kids, Kelly and Tammy - recorded at Ripcord - Dan Duncan wrote the liner notes and was the "producer" >

Buzz Goertson "God Put A Yodel In My Heart" (19--?) (LP)



<! - #BZ-002 - producer, musicians not listed - includes two songs by Penny Baker (who recorded an album of her own): "God Put A Yodel In My Heart" and "" - this as the most recent LP; the others are pictured on the bc >

Davey Gibbs "...And His Country Hoppers" (RCA-Camden, 1962) (LP)
Nicknamed "The Country Kid," Davey Gibbs was a bluegrass-influenced bandleader from Kingston, Ontario who formed his band in the late 1940s, and kept on truckin' right through the days when he cut these albums. This one has a slightly fusty song selection, but was pretty country and robust -- the band featured a pedal steel player, standup bass, fiddle, guitars... Not sure how extensively his discography was, but this is pretty solid material!


<! - #CAL-704 - no ASIN 10/05/16 - eb says "bluegrass" though band picture shows a pedal steel player, standup bass, fiddle, guitars "...Davey Gibbs and His Country Hoppers. Davey and the Hoppers began in 1948 as the "Riders of the Southern Trails" and went on to broadcast out of Kingston, Ontario and later Peterborough at the time of the album's release (1962). They are considered to be amongst the finest Canadian bluegrass country bands of their time." >

Davey Gibbs "Mister Hoedown" (RCA-Camden, 1963) (LP)



<! - #CAL-775 - looks more rockin' - no ASIN 10/05/16 >
Richard Gibbs "No Use To Grieve" (Malinda Records, 19--?) (LP)
Ultra-forlorn, booze-soaked 1960's honkytonk from an unknown Louisiana singer, on an album I've only heard of courtesy of the Waxidermy website... This is kinda like the album that No Show Jones would have made if old George had gone down an indie path or been even more forthcoming about his drinking problem(s). The title track is a glorious mega-bummer about a divorced and down-on-his-luck dad, while other songs deal more explicitly with the themes of alcohol abuse, including the crushingly harsh "Drinkin' Spree," in which the narrator gets his ass royally kicked in a bar fight, which is illustrated in grim, explicit detail, but with a jaunty little lilt, with just the sort of bemused detachment you'd expect from someone who was drunk enough to stay conscious during the ordeal. This is a really good record: any chance the uber-collectors who have it (or Mr. Gibbs himself) could reissue it sometime? Love to hear the rest!


<! - #101 - (LA) > <! Terri Gibbs - first album >

Marshall Gibson "I Can't Forget" (Lincoln Jamboree Records, 19--) (LP)
(Produced by Wayne Sexton)
A singer and piano player, Marshall Gibson was a member of one of the later editions of Joel Ray Sprowls' country revue, the Lincoln Jamboree, located in Hodgenville Kentucky. There's no info about him online, and no date on the disc or the album art, though it looks like it might have been early/mid-1980s(?). The repertoire is mostly classic country covers, though Marshall wrote the title track, "I Can't Forget." He's joined here by Carlton Noel on steel, Charles Durham (drums), Jack Lewis (bass) and Ronnie Benningfield (backup vocals), as well as Darrell Tubb on lead guitar. (Tubb is also a dobro and steel player who worked in numerous regional country and bluegrass bands over the years, right up into the 2010s, when he helped anchor the house band for the Corydon Live jamboree, in Corydon, Indiana.)


<! - #DRP-9969/9970 - no ASIN 09/11/17 - Darrell Tubb later in something called the Corydon Jamboree (2010s) - was in a bluegrass band called Fiddler's Ridge (ST, Davis Unilimed, 1975) with Bud Meredith http://www.corydon.live/about.html >

Bobby Giles "Never Gonna Roam" (BG Records, 19--?) (LP)
(Produced by Jerry Abbott)
Contemporary Christian music, with a Texas country spin. This was recorded at Jerry Abbott's studio, Pantego Sound, in Arlington, Texas with a studio band that included Abbott on keyboards, pedal steel player Junior Knight, guitar picker Jerry Metheny and backup singer Sally Gardner, who also played on plenty of secular indie sessions. All the songs are originals written by Giles, though they seem to have primarily spiritual themes, and few nods towards country conventions.


<! - #BG-1 - late '70s? early '80s? >

Larry Gillaspie "Walks Of Life" (Daven Records, 1989) (LP)
(Produced by Pat Holt & Johnny Howard)
A twenty-nine year veteran of the Davenport, Iowa police department, Larry Earl Gillaspie (1945-2020) penned the song "Little Blue Knight" to pay homage to his fellow officers. The song was released as a single, and as one of several originals on this album, which Mr. Gillaspie recorded during a trip to Nashville. He had a long history making music: in the 1950s he was in a high school band called The Townsmen, and much later in life he organized a church group called the New Life Christian Singers. Unfortunately, the musicians backing him on this album aren't identified, though presumably they were some Music City hired guns; the backing vocals are credited to the Sudi Baker Singers, who seem to have been an offshoot of the late '70s chorus that Nashville producer Mike Figlio employed as the "Bach Ahp Singers."


<! - # - with the Sudi Baker Singers >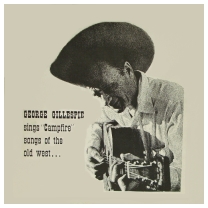 George Gillespie "Cow Camp Songs Of The Old West" (Thorne Records, 19--?) (LP)
Hardcore, old-fashioned cowboy and western songs sung by a dude wrangler and ranch hand from Scottsdale, Arizona. Pretty much the real deal.


<! - #200 >


Jimmie Dale Gilmore - see artist discography



Calvin Gilmore/Various Artists "Calvin Gilmore Presents: The Carolina Opry, v.1" (Candock Records, 1987) (LP)
(Produced by Calvin Gilmore & Jim Rhodes)
A souvenir album of one of the many mom'n'pop "opry"-style variety shows that dotted the landscape over the years... This one was out of Surfside Beach, South Carolina and featured bandleader Calvin Gilmore along with a group that includes Steve Templeton, Janet Smith and others. This one seems to be more of a "band" record, rather than a compilation - many of the same artists play on various tracks. I also think Gilmore may have gone on to become a gospel artist...


<! - went on to sing gospel? >
Calvin Gilmore/Various Artists "Calvin Gilmore Presents: The Carolina Opry, v.2" (Candock Records, 1988) (LP)



<! - Calvin Gilmore (two songs), Steve Templeton, Calvin Gilmore, Rita Reaves, Rocky Fretz >
Joanie Gilmore & The Cascades "Joanie Gilmore And The Cascades " (Gil-Key Records, 1962-?) (LP)
(Produced by R. M. Caskey)
An ultra-DIY set from 1960's Topeka, Kansas, with cool, Wanda Jackson-ish vocals by Ms. Gilmore. By the way... Anyone out there have a copy they could lend me?


<! - no ASIN 07/14/15 - #SoN 21321 - adjacent Gil-Key single (by The Key Brothers) 1962, dc >


Johnny Gimble - see artist discography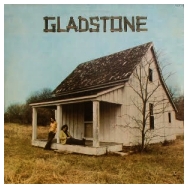 Gladstone "...From Down Home In Tyler, Texas, USA" (ABC, 1972) (LP)
A soft-sounding Southern rock set, with a healthy undercurrent of twang. This band was a rainmaker project for producers Robin Hood Brians and Randy Fouts, whose Brians Studio was a focal point for local artists in and around Tyler, Texas. Apparently this record was released twice, the first time with the Tyler Texas title, and then again, with different album art as just plain old "Gladstone." They had an almost-Top 40 single with "A Piece Of Paper," but the mojo wasn't quite there for mainstream success... Apparently Mike Rabon, formerly of the pop band The Five Americans, was hooked up with this band, after his earlier country-rock efforts with the band Choctaw, though after this he bailed on the music business and went back to school.


<! was Michael Rabon in this edition of the band? > <! gladstone_1972_from-down-home >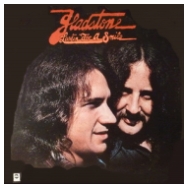 Gladstone "Lookin' For A Smile" (ABC, 1973) (LP)
(Produced by Robin Hood Brians & Randy Fouts)
Nice mellow stuff, particularly the skillful pedal steel by Bobby Tuttle... Admittedly, this is a pretty uneven album, pulled in several directions stylistically, ranging from some pretty nice cosmic-cowboy stuff and mostly-mellow Southern rock, to more "epic" guitar rock (as on the album's closer, a lazy, hazy stoner anthem called "Here Comes That Feeling'," which also features some nice harmonica by Mickey Raphael...) There are a couple of Michael Rabon songs on here, including a remake of "Texas Sparrow," which was originally part of his Choctaw album. I don't think he was on this record, though, unless he was playing under some alias... There's only one really big, hard-edged Southern rock song on here, "Dixie Woman," which I didn't like, but I imagine is a cult favorite for the genre. Mostly, this is a pretty mellow album, and I enjoy the softer steel-drenched stuff. Worth a spin. (BTW: anyone know if the Tom Russell who sang backup on here is the same guy as the Texas singer-songwriter folkie, who was in Texas around this time? Just curious.)





Tompall Glaser - see artist discography




Glasgow - Lord - Woods "Rock'n' Chair" (1979) (LP)
(Produced by Danny Glasgow, Bill Woods & Mike Lord)
The folk-country trio of Danny Glasgow, Mike Lord and Bill Woods were apparently from California -- some folks say Northern California, but I'm guessing they're really from around LA, since one song on this album is called "Salt Creek," which is a popular beach in Orange County. Not a lot of info on these guys, though.


<! - Possible the band name is "Glasgow Lord Woods" - no ASIN 09/18/15 With Danny Glasgow, Bill Woods, and Mike Lord... Selections are: "BACK TO THE COUNTRY, EVERY TIME YOU'RE NEAR, REMEMBER THE WAY, DO I STAND A CHANCE, FRIENDS OR LOVERS, REFLECTIONS, TURNAROUND, BACK WITH YOU, A SHOULDER TO CRY ON, SALT CREEK I think this is Glasgow's page - he links to a "Bill W." as an AA buddy https://www.facebook.com/danny.glasgow.5 >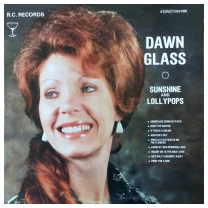 Dawn Glass "Sunshine And Lollypops" (R. C. Records, 1976) (LP)
A perennial second-stringer, Louisiana's Dawn Glass was a regional performer, doing concerts and TV shows in the Shreveport area while trying to make it on the national level. She recorded a few singles on a variety of labels, including ABC-Paramount, and Chart Records, and was signed by Columbia Nashville in the 1967, but as far as I know this was her only album. It was released on the Waco, Texas RC label, though perhaps the most interesting thing about this album is that all but two of the songs were written by Ann J. Morton, who was herself at the time an aspiring country musician. (I wrote to Ms. Morton to ask about the connection, and she said she had pitched some songs, including "Sunshine And Lollypops," to Glass and she wound up recording several others... One of these, "Kentucky Boy," was previously recorded as a single on Chart Records in 1973.) Even better, this is a nice record. Ms. Glass was an appealing vocalist, with a bright rural twang that strongly resembled that of Loretta Lynn, and while a couple of tracks on here sound less well-rehearsed than they could have been, mostly this is pretty solid musically speaking. A strong song selection as well, with a lot of stuff that should be of interest to any of Ann Morton's fans -- there's also a swell version of Ray Griff's "Pour A Little Water On The Flowers" that kicks off Side Two. All in all, definitely worth a spin!


<! - #DGS-1020 - RC label part of the short-lived "Rodco Talent" in Waco, Texas - only mentions of Rodco online are three articles from 1976 - release date per article in Waco News-Citizen April 22, 1976: https://www.newspapers.com/newspage/56022354/ >
Glass Hammer "On Our Own" (Crescent Hill, 1979)
Although they went on to become famous as a prog-rock powerhouse, Nashville's Glass Hammer first album spotlighted them as a '70s sunshine-y soft-rock band with a penchant for pop-twang similar to the stuff Mac Davis had been recording years earlier... There's a plain country vibe here, but it comes amid perky pop and disco, it feels pretty tongue-in-cheek... The "rebel shout" lyrics in the opening track sound satirical, and likewise, covers of Steve Goodman's "You Never Even Call Me By My Name" and Kenny Rogers' "We've Got Tonight" seem to underscore a Southern rocker's sense of irony or distain towards mainstream country, while their real creative mojo was somewhere else. I've seen this cited as a country-rock gem, but I'm not quite buying it...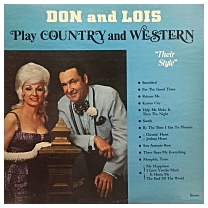 Don Glasser & Lois Costello "Don And Lois Play Country And Western Their Style" (Cha Cha Records, 197-?)
A ballroom danceband/lounge duo from Chicago doing a country set... Despite this being his fourth album, bandleader Don Glasser really seems to have been conflicted about how to present himself -- the front cover pitches this as a duet act, Don and Lois, but he takes top billing on the back, albeit with an odd permutation of his own name, which is spelled "DON GLASSer," as if he was considering shortening the surname to make it sound more showbiz, but couldn't quite pull the trigger on it. Pretty goofy. As near as I can tell, Glasser normally played old-school post-big band dance music, but "went country" on this album, covering a lot of legit country hits, stuff like "Release Me," "San Antonio Rose," There Goes Everything," "For The Good Times," et.al. with a tilt towards songs that were standards in the early 'Seventies, notably "Help Me Make It Through The Night" and "Snowbird," which place this one at least as late as 1970. Super-minimal liner notes, which give a label address in Chicago, and imply that the Don Glasser Orchestra had gigs in New York and Dallas, but sadly do no give any info about the backing band or producers.


<! - #C-1450 - 1971? >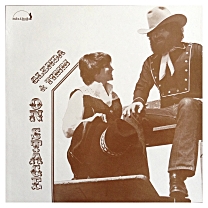 Glenda & Timm "On Stage" (Shiloh Productions, 1981) (LP)
This duo from Colorado Springs, Colorado wore their musical hearts on their sleeves... but they sure did have good taste in stuff to play. There are a bunch of cover songs, with a heavy, heavy debt to the Emmylou Harris repertoire, including songs such as "Feelin' Single, Seein' Double," "Too Far Gone," "Leavin' Louisiana In The Broad Daylight," "Two More Bottles Of Wine" and "One Of These Days..." (*whew!*) There are also some some classic Patsy Cline material and a few interesting late '70s countrypolitican/country-pop songs, such as "Somebody's Knockin'," "Wildfire" and "Waiting For The Time To Get Better."


<! - # >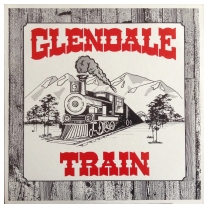 Glendale Train "Glendale Train" (Point Five Art & Design, 1981) (LP)
(Produced by Glendale Train)
Presumably this Wisconsin-based band took its name from the song by the New Riders Of The Purple Sage... They had an unusual, far-flung mix of country, rock and bluegrass, ranging from hippie twang of "This Ole Cowboy" to the new wave-ish power-pop of "What Will It Take." They had two lead singers, and while the dude, J. D. Cunningham, was fine for the genre, I have to confess that singer Theresa Sanders kind of got on my nerves -- the timbre of her voice, along with the folkie, Joan Baez-ian phrasing doesn't fit in with what the rest of the band sounds like. At best, I found it distracting... Regardless, this is an interesting, ambitious set of all-original indie-twang, and certainly worth a spin if you're digging deep into the crates.


<! from Wisconsin >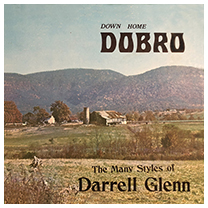 Darrell Glenn "Down Home Dobro" (Laurel Records, 1976-?) (LP)
(Produced by Bob Henry & Monte Stephens)
Some fancy picking from a seventeen-year old kid named Darrell Glenn Henry, backed by a band called Cast Iron Country, which included steel player Charlie Finger. Not a lot of info about this guy, though I'm pretty sure he's not the same artist who recorded singles for Columbia Records and the Longhorn label, way back when.


<! - #LL-0101 ~466676 - no date - recorded in Maryville, Tennessee - (NP) >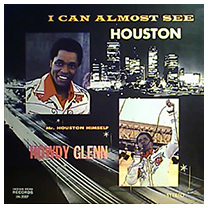 Howdy Glenn "I Can Almost See Houston" (Indian Head Records, 1978) (LP)
(Produced by Euel Mills, Rue Barclay & Howdy Glenn)
Although he nicknamed himself as "Mr. Houston" -- presumably after the title track of this album -- singer Howdy Glenn was from Southern California and made his name singing in clubs and contests around Los Angeles and San Bernardino. This album is packed with original material, mostly songs credited to Ray Willis and Tom Willis, with tasty titles such as "Lucy, Ain't Your Loser Looking Good," "I'm Here To Drink It All," "Has Been Honky Tonk Queen," and "Who Makes A Wino's Bed." There's along with a cover of cover Tom T. Hall's "Old Dogs, Children & Watermelon Wine," which was a staple of his live show...


<! - #IH- 2007 - African-American artist, aka "Mr. Houston Himself" - tracks (CA) - 1976? >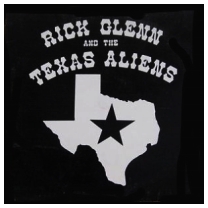 Rick Glenn "...And The Texas Aliens" (RGA Records, 1985) (LP)
(Produced by Larry Staffen, Miles Granfield, Rick Glenn & Mike Solie)
It's possible that there were some genuine Texans in this band, but if so, they made their home in sunny San Bernardino, California, where they played regularly in the early '80s at venues such as the now-defunct Mule Lip Saloon. The album is mostly cover songs, well-chosen stuff from folks like Guy Clark, Billy Joe Shaver and Gary P. Nunn, with some swing material ala Asleep At The Wheel in the mix as well. There are also three original songs, two by bandleader Rick Glenn -- the Willie Nelson-styled "A Rose That Lasts A Lifetime" and "Long Distance Lady" -- as well as one written by bassist Debbie Duschel, a SoCal native whose parents, Jean Davidson and Johnny Duschel, played in a number of high-profile West Coast bands in the '50s, including the Bob Wills band, and on Cliffie Stone's TV show. She sings lead on several songs, including a version of the Judds' "Girls Night Out," and a very Wheel-ish version of "Bump Bounce Boogie." It's hard to gauge the strength of the musicians from this recording -- it's okay, but a little flatly produced, and they may have had more oomph as a live band. Nonetheless, this is another nice document of a hard-working local band from years gone by, and the the original material is all pretty good.


<! - # - (CA) >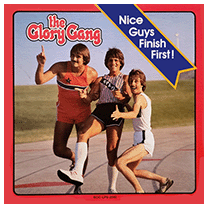 The Glory Gang "Nice Guys Finish First!" (BOC Records, 1982-?) (LP)
(Produced by B.J. Carnahan & Gene Reasoner)
A country-gospel featuring several members of the house band at BOC's Audioloft recording studios, as well as guys who were in various "oprys" in the orbit of Missouri's homegrown country scene. At the time, drummer Perry Edenburn and steel player Myron Smith were in Chuck Watkins' Ozark Jubilee show, while bassist Brad Edwards and pianist Gene Reasoner were working on numerous projects with Grandpa Jones and his wife Ramona; guitarist Stan Friend worked with several of these guys on this and other albums. The album is also noteworthy for the abundance of original material, written by Mills Caraway, Don Hulse and Steve Shotts, who are listed simply as "performers," which probably meant they were singing their own songs with backing from the studio band.


<! - #BOC-2040 - only album? - guessing at date, from other BOC numbers - related records: Steve Cantrell, Southards & Thomson >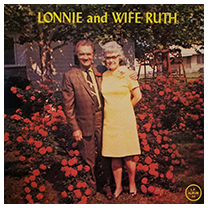 Lonnie Glosson "The Living Legend" (Rimrock Records, 1982-?) (LP)
(Produced by Wayne Raney)
A late-life recording by Arkansas native Lonnie Glosson, one of the major stars of the postwar, pre-rock'n'roll hillbilly country era. Glosson partnered up with singer Wayne Raney after Raney split with the Delmore Brothers, and the Glosson-Raney duo developed a propulsive sound, buoyed by their chugging harmonicas and an aggressive guitar style that presaged the rock sound by several years. Along with others, they helped define the dynamic, edgy style of their label, Starday Records. That being said, both Glosson and Raney were never my favorites fo the hillbilly and hillbilly-boogie era, with Glosson in particular striking me as a bit static, stylistically speaking. According to Prague Frank, this album draws on sessions from 1960s that were previously leased to Starday, though the tracks on here mostly went unissued... That's understandable: these are pretty laidback recordings, mostly Glosson blithely strumming his guitar, and occasionally tootling on the harmonica, but not the cannonball-country chugga-chuggers Glosson was known for... Starday put those tracks out as singles. What's on this disc might fit into the various waves of folk-scene revivals where authenticity was prized above all else, but may be slow-going for many country fans. The other big disappointment is that, if you just look at the front cover, you'd think this was an LP called Lonnie And Wife Ruthie, and that Mrs. Glosson would be on here as well: she's not -- it's just him performing solo. Oh, well. Fans of old-old-school country gospel and sentimental songs will appreciate the revivalism of this disc, but it's not really an earthshaker.


<! - # HLP-104 - date per dc; they give this cat# for a previous release, and don't count this as a Rimrock LP >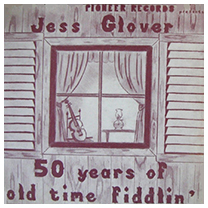 Jess Glover "50 Years Of Old Time Fiddlin' " (Pioneer Records, 1984-?) (LP)
(Produced by Dave Cole & Charles Harding)
A pretty straightforward set of classic fiddle tunes, sawed out by Texan Jess Glover, with backing by Charles Harding on guitar, bassist Scott McGriff, and Bill Schuller on guitar. Mr. Glover was born in Greenbrier, Arkansas in 1918, and moved to El Paso after serving in World War Two. There's no date on this disc, but from the looks of it, it's probably a mid-1980s affair; another album released on the Pioneer label came out in '84.


<! - #40039 - Recorded at Bittersweet Studios, in El Paso, Texas > <! Gnawbone? >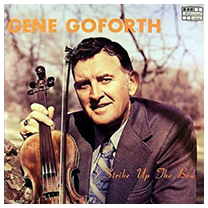 Gene Goforth "Strike Up The Bow" (Professional Artist Records, 19--?) (LP)
An old-timey/traditional fiddler from Shannon County, Missouri, Gene Goforth (1921-2002) worked as a heavy machinery operator in Saint Louis while also playing down-home music at the highest level. He toured with fellow Ozarkers such as Dub Crouch and Norman Ford, as well as nationally famous bluegrass auteur John Hartford, with whom he recorded an album in the 1990s. The Goforth family, including his father Josh and brother Cecil, was deeply enmeshed in the musical culture of the regions and had connections to bluegrass stars such as fiddler Kenny Baker and fellow Missourians, The Dillards. If you're looking for sincerity, authenticity and soul, this disc's for you.


<! - #PAS-7433-21 - (MO) ext >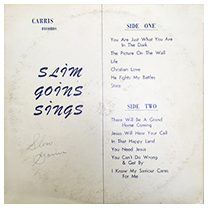 Slim Goins "Sings" (Carris Records, 19--?) (LP)
Super-rough country gospel with a delightfully amateurish edge. Carris Lee Goins (1909-2000) was, as far as I can tell, born in South Carolina but settled down around Baltimore, Maryland for most of his life. He started writing music decades ago, with copyrights going back at least as far as 1945, with some songs on this album written around 1971. His earlier work, including some songs that got recorded, was at least partly secular material, though this is all gospel. Although the record label bears his first name, Goins performed under the nickname "Slim," while song credits and later song publishing were usually as "C. L. Goins." As mentioned earlier, he was really on the rough side, a clunky but compelling guitarist and ukulele strummer, and an equally unusual-sounding vocalist. There are strong hints of Hank Snow and Ernest Tubb in there, though with an alluring lack of finesse; you can start getting all into his timbre, but the phrasing gets a little odd. I mean that in a good way. Anyhoo, this is about as authentic a "real person" artist as you'll ever hear. Alas, there's little information about Goins and his career, much less his life outside of music, and this low-budget LP is about as barebones as possible, just the album title and song names on the front cover, and a blank white back cover. The inner labels offer little else, although some Carris singles provide an address on Baltimore, presumably Goins's home.


<! - #RI-3131 (Recordings Incorporated) - NOTES, tracks, bio, obit, copyright info >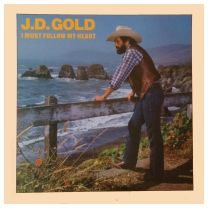 J. D. Gold "I Must Follow My Heart" (Sun Song Records, 1986) (LP)
(Produced by John D'Andrea & Carmine Rubino)
Jovial, uptempo indie country from Southern California singer J. D. Gold. Most of the songs are credited to I. Rettig, which I thought must have been Gold's real name, but apparently it was actually Iona B. Rettig... At any rate, the songs are pretty good, even with the gallumphing, wannabee-commercial arrangements, synth-ish '80s stuff that places Gold in the same range, stylistically, as Moe Bandy or folks like that. There are rueful drinking songs ("Life Of The Party," one of two songs not written by Rettig) and a couple that explore ambivalent feelings about California's fabled Golden State mythos... I don't recognize most of the players on here, other than steel player J. D. Maness, but the musicianship is all pretty solid. There are a few rough edges, to be sure, but overall this is a nice indie effort.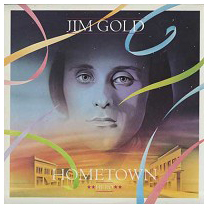 Jim Gold "Hometown Hero" (CBS-Tabu Records, 1978) (LP)
(Produced by Mike Theodore & Dennis Coffey)
Songwriter Jim Gold struck it big in the early '70s with his sunshine-y pop band Gallery (known for the hit "I Believe In Music") but struggled to recreate that magic in later years. He dabbles in country-rock twang on this album -- I was drawn to pedal steel and mandolin listed in the credits -- but ultimately it winds up being more of a stylistic affectation rather than a commitment to the style. So, I guess I'm listing this one more as a warning to twangfans -- now you don't have to spend that dollar in the cheapie bin -- although fans of 'Seventies pop and AOR will probably find a lot to enjoy on this diverse disc. One interesting note was how much some of the guitar tones on a few tunes resembled early Dire Straits... guess it was just the technology of the times, or something.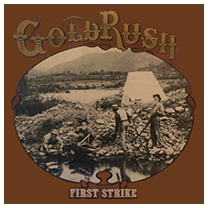 Gold Rush "First Strike" (Gold Rush Records, 1981) (LP)
(Produced by Billy Oskay & Rob Perkins)
Amazingly enough, this bluegrass quintet from Portland, Oregon was not the same group as the Gold Rush below, who hailed from Colorado. Portland's Gold Rush featured Greg Baker on fiddle, Hugh McClellan (guitar, piano), Bob Misley (banjo), Monte Trautman (bass), and Loren Wolfford (mandolin, guitar). Wolfford contributes two original songs -- "Cowboy Clothes" and "New Log Cabin Home On The Hill" -- to an eclectic mix that includes Peter Rowan's pothead anthem, "Panama Red," as well as material by Bill Monroe, Townes Van Zandt, and Bob Wills. Misley and Trautman each add a tune to the mix, and the group re-works a few older, traditional songs as well, including the album's closer, a version of "Mama Don't Allow," which gives them all a chance to solo on an instrument or two. Dunno if these fellas recorded anything else, though I'm sure any confusion between the band name(s) didn't help...


<! - # (none?) (il nv) - recorded in Portland, Oregon >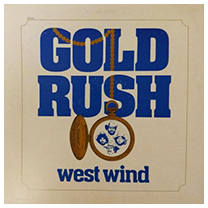 Gold Rush "West Wind" (Bare Records, 1981) (LP)
(Produced by Jim Ransom)
The first(?) album by this eclectic band out of Elizabeth, Colorado. Some originals and lotsa cover tunes, including some tasty picks from the 'Seventies scene, such as Jim Silvers' "You Gotta Let All The Girls Know You're A Cowboy" and Paul Craft's "Midnight Flyer." The originals include "Distemper" by mandolinist Charlie Provenza and the title track, "West Wind," by bassist Larry Fries. Various bandmembers previously worked with producer Jim Ransom during his tenure with the Biscuit City label; at this point they were an all-guy group, though they later added fiddler fatale Suzanne Roberts, who recorded with them on their next LP.


<! - # - bc blurry - songs by B. Graves >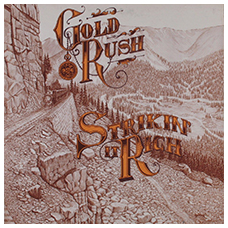 Gold Rush "Strikin' It Rich" (Bare Records, 1982) (LP)
(Produced by Gold Rush & Pete Dockendorf)
A lively, inventive set of progressive bluegrass, with clear country touches... This energetic, ambitious band from Elizabeth, Colorado had plenty of talent, notably fiddler Suzanne Roberts, dobro guitarist Al Goll and mandolin picker Charles Provenza, who floats off on Grisman-inspired solos on a tune or two, including the track, "Alturas," which is credited to him but sounds an awful lot like one of those old DGQ songs. There's a wealth of original material on here, including seven songs written by bassist Larry Fries, who often cedes the spotlight to guitarist/lead vocalist Jerry Magnetti. Some of these tunes are a little overwritten, tapping into the poetical streak in '70s progressive 'grass, but that's cool: this record is well-crafted and well-produced, and holds up well against other albums in the style, evoking in particular the spirit of fellow Coloradans Hot Rize. There's also a nice cover of the Dickey Betts song, "Blue Sky," reworked with a nice acoustic feel. Most of these guys went on into a variety of other bands and projects... The liner notes say that this was their second album, although I haven't been able to track down the first one yet...


<! - # - bios (CO) >
Gold Rush "Headed South" (Blue Moon Records, 1983) (LP)
(Produced by Roger Fortner)



<! - #0085 - bluegrass Banjo – Jim Locke Double Bass – Don "Smokey" Wyrick Fiddle – Ron English Mandolin – Mike Garrett Rhythm Guitar, Lead Guitar – Tony Brown (38) >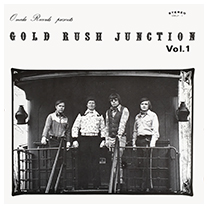 Gold Rush Junction "Volume One" (Omeda Records, 1978) (LP)
(Produced by W. M. Copenhaver, Dumpy Rice and Harry Urschel)
A twangband from Dayton, Ohio, or thereabouts, recorded at Rusty York's Jewel Studios in Cincinnati... The band consisted of a main quartet with Arlis J. White (lead vocals, guitar), his son Mike White on drums, Terry Burke on bass, and Mike Copenhaver (lead guitar), with additional backing by York cohorts Dumpy Rice on piano and acoustic guitar and Chubby Howard playing steel guitar. The material is apparently all originals, including songs such as "The Homesick Hillbilly Blues," "I Just Don't Care" and "The Last Drink For This Evening." According to the liner notes, the group first recorded with York back in 1968 (presumably there's a single or two out there?) and though their name coincides with the name of a country music venue in Pigeon Forge, Tennessee (later the site of Dolly Parton's Dollywood amusement park) it's not totally clear if they were connected to the park -- I haven't found any info that indicates this was the case.


<! - #OMLP-1 - (OH) >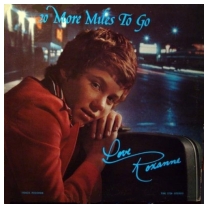 Roxanne Goldade "20 More Miles To Go" (Track Records, 1977) (LP)
(Produced by Peter Bentley)
A teenaged pop-country hopeful from Alberta, Canada, starting at age seven, Roxanne Goldade was a child performer on a TV show based in Calgary, and cut this album when she was fourteen years old. The record has "big" sounding production, matched by Roxanne's forceful, emotive vocals, and although she undeniably sounds very young, there's still a confident, Anne Murray-esque feel to her singing, a brash, cheerful wholesomeness. Most of the songs are originals, credited to either Roxanne Goldade or Agnes Goldade -- the song "Mama Take My Hand" was also released as a single... Some of the tracks were recorded in 1975, others in '77, and on the earlier songs she sounds much, much younger. I wonder if she made more recordings... Anybody out there know more about this gal?


<! - no ASIN 06/09/15 >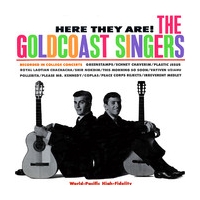 The Goldcoast Singers "Here They Are!" (World Pacific Records, 1962)
A prescient set of political satire from the Kennedy era, recorded live at the San Francisco State Folk Festival in 1962. This isn't a "country" record, per se, but since the Greenwich Village folk scene so quickly coalesced around the New Left, the biting satire of the Ed Rush/George Cromarty duo stands out, particularly its insightful (and pointed) lampooning of the Civil Rights Movement. In one deft, catchy chorus of the uptempo "Peace Corps Rejects," they critique the white, liberal Ivy League college students who became Freedom Riders in the South, as well as the NAACP for putting them in danger, and questioned the effectiveness of civil disobedience as a tactic: "We come on the Greyhound bus/thirty-seven of us/the NAACP paid our fees/put in in jail/don't accept bail/integrated buses will set the South free..." The song reflects an extremely brief moment in time when satirists could poke fun at these campaigns, though events such as the March On Washington and the passage to the 1964 civil rights bill, and the numerous bombings and lynchings that were given national attention soon made the Civil Rights Movement a sacred icon in mainstream, middle America. This record was also remarkable for its early criticism of America's involvement in Viet Nam (at the time still limited to a small number of "advisors" on the ground) with biting songs such as "The Royal Laotian Cha-Cha-Cha" and "Please Mr. Kennedy," which dealt more broadly with the Cold War and the draft. The best-known song on this album is "Plastic Jesus," a cheerful critique of consumerized and hypocritical religiosity and evangelicism. Although they had some of the same level of wit and bite as Phil Ochs, the duo's career was cut short when Cromarty was drafted in '63. He reemerged a decade later with an innovative and influential album of new acoustic music entitled Grassroots Guitar; I'm not sure what Rush went on to do, musically, if anything. [Footnote: the song "Please Mr. Kennedy" was revived -- in altered form -- in the Coen Brothers film, "Inside Lloyd Davis," where is was remade into a calypso-rock novelty number about nuclear war. Indeed, the Coens gave credit to the Goldcoast Singers... as well they should!]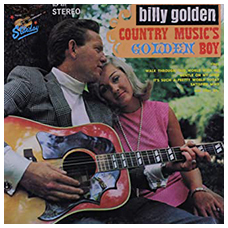 Billy Golden "Country Music's Golden Boy" (Starday Records, 1968-?) (LP)
(Produced by Don Pierce)
Alabama honkytonker Billy Gene Golden (1938-2003) got his big break when he landed a slot on what was then called the "WWVA Big Country Jamboree." He appears to have been a cast member at the time he cut this album, as well as several singles, including some tracks that are on here as well. A bunch of it looks like original material, though there are covers songs as well. Versions of Wynn Stewart's "It's Such A Pretty World Today" and the George Jones 1967 hit "Walk Through This World With Me" place this disc sometime around 1968 or so. Not sure how far his career went -- there's not much of a trail after the early 'Seventies. Mr. Golden seems to have moved to the Mohave Desert at some point, passing away in Bullhead City, Arizona, near the border with California.


<! - #SLP-431 - (AL) >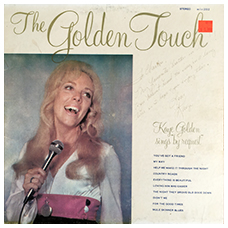 Kaye Golden "The Golden Touch" (Music Industries Incorporated/MIC Records, 1972) (LP)
(Produced by Bud Billings)
A Nashville hopeful who apparently had a gig at Roger Miller's motel-based King Of The Road nightclub around the time this record was made, back in December, 1971. It's not a songwriter's demo set, though: all the songs are covers, including Kris Kristofferson's "For The Good Times" and "Help Me Make It Through The Night," Ray Stevens' "Everything Is Beautiful," "Country Roads" and "The Night They Drove Old Dixie Down" by the Band.


<! - no ASIN 02/08/16 >

The Golden Voyage "The Golden Hits Of Country Music" (1981-?) (LP)
This early '80s cover band plays versions of a couple of dozen hits, mainly stuff from the '60 and '70 such "Crazy" and "Thank God I'm A Country Boy," as well as oldies by the Carter Family and Hank Williams. The most contemporary tracks seems to be a cover of Dallas Frazier's "Elvira," which was a hit for The Oak Ridge Boys in '81. This nondescript set was recorded at Bradley's Barn in Nashville, and though I assumed the band was made up entirely of nobodies, it turns out it was led by pianist Little David Wilkins, a songwriter and Music City session player who made some mid-'Seventies albums that were actually pretty good.


<! - #DW-1001 - no ASIN 10/16/16 - there's also a real band called Golden Voyage - reissued on Real Gone >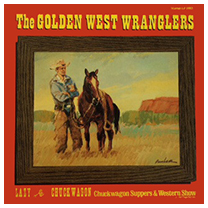 The Golden West Wranglers "Lazy B Chuckwagon: Chuckwagon Suppers And Western Show At Heritage Square" (Golden West Records, 1983) (LP)
(Produced by Al Ehlers)
A dude ranch band from Golden, Colorado, featuring Al Ehlers on mandolin and fiddle, Dennis Bailey (banjo, guitar and dobro), Gary Davis (8-string guitar), Jim Dunham (emcee) and Lynn Campbell (bass and 12-string guitar). It's all western-style cowboy music, sung with plain, simple arrangements.


<! - #LP-1983 - musicians on other records? >


Joe Goldmark -- see artist discography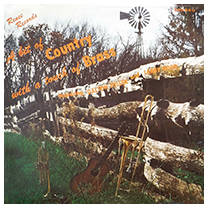 Larry Good & Dalton Fuller "A Bit Of Country With A Touch Of Brass" (Rene Records, 19--?) (LP)
(Produced by Bud Comte & Bill Palensky)
When these two midwestern honkytonkers bumped into one another while cutting their respective albums at Bud Comte's studio in David City, Nebraska, someone came up with the idea of collaborating on a country-big band hybrid record. So a year later Dalton Fuller's band, the Nebraska Playboys hooked up with several regional jazz players -- Marty Grubbs on clarinet and saxophone, Bill Palensky (trumpet), Jack Seckman (trombone), Allen Valish (trombone), Brad Wesely (trumpet) and Dennis Wesely on piano -- crafting brassy renditions of western swing and country oldies. I'm not sure if singer Larry Good is the same as the guy from Kansas City; if so, I'm curious to find out about the solo record made on the Rene label before this project came together.


<! - #R-1168 - honky tonk and western swing - Fuller's band, the Nebraska Playboys: Dalton Fuller (lead guitar), Brent Haight (bass), Randy Hartman (steel guitar), Joe Sharp (drums) - Marty Grubbs (clarinet and saxophone), Bill Palensky (trumpet), Jack Seckman (trombone), Allen Valish (trombone), Brad Wesely (trumpet) and Dennis Wesely (piano), >
Larry Good "Movin' Country" (Lari-Jon Records, 19--?) (LP)
This indie album includes a bunch of original songs, including two by Kansas City honkytonker Larry Good, two more by Charlie Craig and a couple by old-timer Redd Stewart... Apparently Good was a minor-league baseball player 'way back in the '50s, but got into music after that, first as a rockabilly artist, and later singing country. Not sure, but I think this album was from the late '70s -- he also has a bunch of singles. (Thanks to the KCLawrencevinyl blog for background info on this one...)


<! - # R-1179 - 1979-? - (MO) >
Larry Good "Trying To Reach The Ground" (Third Rail Records, 19--?) (LP)

The Good Old Boys "Pistol Packin' Mama" (United Artists/Round Records, 1976)
(Produced by Jerry Garcia)
Longhaired hippie bluegrass at its finest... The presence of the Dreadful Grate's Jerry Garcia as the album's producer ensured a wide listenership among certain segments of the rock scene, and (at least up here in Northern California) fairly wide distribution of this 'Seventies classic... Good thing, too: this record's pretty damn satisfying. Pure, twangy, all-acoustic truegrass that stretches into country material such as Joe Maphis' "Dim Lights, Thick Smoke," Johnnie And Jack's "Ashes Of Love" and Al Dexter's "Pistol Packin' Mama," alongside bluegrass standards such as "Toy Heart" and new stuff like "Glendale Train." The picking is solid from start to finish -- mandolinist Frank Wakefield was well-liked by many on the bluegrass scene, but recorded only sparingly -- his duet with banjoist Don Reno, on "Banjo Signal," is a real scorcher, and the rest of the album, with some sweet licks on the fiddle from Chubby Wise, sizzles as well. Recommended!


<! 144 x 144 >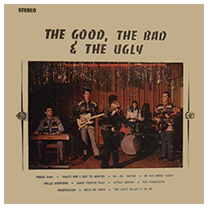 The Good, The Bad & The Ugly "The Good, The Bad & The Ugly" (Dominion Records, 1969) (LP)
(Produced by Jury Krytiuk)
An eastern Canadian trio made up of steel player Mickey Andrews, Gerry Hall on guitar, Randy McDonald playing bass, along with a few assorted friends, from the looks of the cover. In the late 'Sixties, they were the house band at a fabled Toronto music hall called The Horsehoe Tavern, and they backed Stompin' Tom Connors when he first played there, in 1968 and '69. They also backed Stompin' Tom on his first LP for the Dominion label, a success that led to Connors starting his own label, Boot Records, in partnership with producer Jury Krytiuk. The band also recorded an album of their own, a mix of oldies and twangy instrumentals, with a little bit of rock in the mix; "Proud Mary" and "Games People Play" next door to "That's How I Got To Memphis" and "Me And Bobby McGee." A fine snapshot of a successful Canadian bar band, working at the upper end of the country music foodchain.


<! - #LPS-48504 - (CAN) tracks >

The Good, The Bad & The Ugly "...At The Horseshoe Tavern" (Vintage Records, 1969) (LP)
(Produced by Art Snider)



<! - #SCV-113 ~12120 - pix - Snider also plays piano - live album' - liner notes by Stompin' Tom https://www.discogs.com/The-Good-The-Bad-And-The-Ugly-At-The-Horseshoe/release/8161584 >

The Good, The Bad & The Ugly "All Over The Road" (Periwinkle Records, 1969) (LP)
(Produced by Art Snider)



<! - #PER-7303 / CSPS-688 Drums, Vocals – Patti Burns Steel Guitar, Dobro – Mickey Andrews Vocals, Bass – Randy MacDonald (3) Vocals, Lead Guitar – Jerry Hall* - also a soundtrack on Periwinkle "Dream On The Road" PER-7315 (1974) >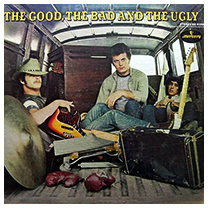 The Good, The Bad & The Ugly "The Good, The Bad & The Ugly" (Mercury Records, 1970) (LP)
(Produced by Huey P. Meaux & Inez Foxx)
Different group than the Canadian band listed above; less country, though there are some connections worth pursuing. This bluesy Southeast Texas trio included Bubba Goode, Joe Pipps and Kenny Yetman, who came from around Beaumont and Port Arthur... The band's main songwriter, Joe Pipps, continued to work with producer Huey P. Meaux and later recorded an album with him on the Crazy Cajun label.


<! - #61253 "...'70 Texas blues rock power trio LP" >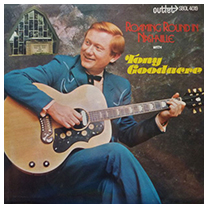 Tony Goodacre "Roaming Round In Nashville" (Outlet Records, 1974) (LP)
(Produced by Bill McBurney & Keith Murray)
A popular English country star, known for championing homegrown UK songwriters. Originally hailing from Leeds, singer-guitarist Tony Goodacre started out in a an early 'Fifties skiffle band, later gravitating towards straight-up American-style country music by decade's end. In the late '60s he formed a band with steel guitarist Arthur Leyfield, who plays on here... Apparently Cliff Ledger & His Country Boys also back them on this album.


<! - #SBOL-4019 >

Tony Goodacre "Grandma's Featherbed" (Outlet Records, 1975) (LP)



<! - #SBOL-4021 - looks like kids' music, but it's probably just a gimmicky cover >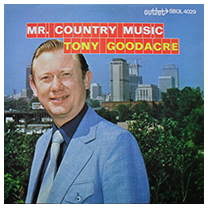 Tony Goodacre "Mr. Country Music" (Outlet Records, 1975-?) (LP)



<! - #SBOL-4029 - no ASIN 04/24/18 >


Steve Goodman - see artist discography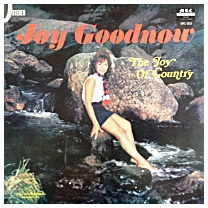 Joy Goodnow "The Joy Of Country" (Major Record Company, 1974-?) (LP)
New England's Joy Goodnow was a longtime fixture on Boston's 1970s country scene, singing with the John Penny Band and others, before recording a handful of singles and two LPs over the course of the decade. Her career is a little hard to map out very clearly, though she seems to been on the scene in Massachusetts and Vermont at least through the mid-1980s, and sang lead for a series of groups. She later married and moved to Oklahoma, then to Texas, where she performed at some local events.


<! - #MRC-2015 - no ASIN 12/18/15 "...Joy Goodnow's debut album in 1974." (this one, or the other?) - married name(?) Joy Goodnow Pigott(?) YES - Joy Goodnow Pigott FB: https://www.facebook.com/joy.g.pigott - NOTES (VT) >
Joy Goodnow "Joy Goodnow" (TNT Records, 1976) (LP)
(Produced by Tom Dishaw)



<! - no ASIN 12/18/15 Larry Deshaies: lead guitar, rhythm, piano, background vocals Tom Dishaw: bass, drums, strings, background vocals Gary Lacourse: drums Carl Davey: strings Leroy Love: steel guitar Cindy and Chris Dishaw: background vocals - later worked with John Penny and put out a 45 on the Belmont label >
Dennis Goodrich "A Busy Body" (Liz-De Records, 1973-?) (LP)
(Produced by Betty Goodrich & Dennis Goodrich)
A few low-rent, generic-looking self-released record from an aspiring songwriter from Lorain, Ohio. Although he booked studio time at the Rite Records studio, I guess Mr. Goodrich didn't want to spring for full graphics, instead opting for a plain white background with plain black text on both the front and back covers. He also didn't want to pay for any retakes: the rather charming liner notes that explain that one of the songs has a glitch in it due to a sound engineer's flub, but that Mr. Goodrich decided to leave it in, to be "honest with you the record buying public." We appreciate that. The songs are all Dennis Goodrich originals, though sadly there's no information about the backing musicians or who actually produced the sessions. There's also no date, though the copy I saw had "72" handwritten on it; a string of singles including some of these songs also came out, with some sources placing these seven-inches starting around 1971, and Mr. Goodrich may have recorded some stuff later in the 'Seventies.


<! - #100 ~ Rite: 32109/10 (1973-ish) - dc says '73; eb copy has # "72" written on it - any copies with photo art? >
Jim Goodrich "Country Magic" (Gold Star Records, 1983) (LP)
(Produced by Nick St. Nicholas)
Recorded in Minneapolis, Minnesota, this was a set of all-original material from Jim Goodrich, who was originally from Waterloo, Iowa...


<! - from Minneapolis, Minnesota - private Midwest hillbillly MN Waterloo IA all originals: 1. On The Couch Again 2. Dusk Till Dawn 3. My Bible, My Guitar, & Me 4. Messin' Around 5. America Your Beautiful 6. Cold, White, Fluffy Stuff 1. World Situation 2. Hat Full Of Dimes 3. Roads Of Life 4. Key's Not In The Mailbox 5. Memories Of A Cowboy 6. Puff Of That Stuff Dan Lund: Lead Guitar Mike Cass: Pedal Steel Nick St. Nicholas: Bass, Producer, Engineer Yolanda: Backing Vocals Jim Goodrich: Vocals, Rhythm Guitar John O'Gorman: Rhythm Guitar David Stensel: Fiddle Kurt Jones: Drums - "...Recorded in Minneapolis, Jim was a 20-year Navy vet who hailed from Waterloo, Iowa and decided to cut an album after spending most of his career on nuclear subs with his guitar" >
Bill Goodwin "Walk Through This World With Me" (Arc Records, 1966) (LP)
This fella was an American artist, although he was backed by a Canadian band. Originally a rocker from Colorado, songwriter Bill Goodwin made a go of it in Nashville in the early 1960s, and recorded a string of singles on various labels, though as far as I know this was his only album, mostly cover songs, but also some originals. Alas, I don't know who was in the studio band...


<! - #ARC-717 - 1967? - ex-rockabilly - in Canada, ADD to Arc list >

Goose Creek Symphony "Est. 1970" (Capitol Records, 1970)
(Produced by Ritchie Hart, Floyd Ramsey & Tim Ramsey)
This longhaired Arizona ensemble started off with a wild mix of goofy country clompers, disjointed hillbilly psychedelia, old country gospel numbers, and plenty of good, old-fashioned '70s style boogie rock. Their debut album is pretty cool -- veering off in various directions, with gems in all the categories mentioned above, and many songs that creep through the stylistic margins. A weird, but relatively cohesive record that is pleasantly emblematic of its times. Experimental, eclectic and filled with chaotic good humor and energy -- definitely worth checking out!


<! 144 x 144 >

Goose Creek Symphony "Welcome To Goose Creek" (Capitol Records, 1971)
(Produced by Goose Creek Symphony)
Unfortunately on their second album, the band chose to pass their country side off as a Hee-Haw-ish hick-hoedown joke, hamming it up on all the overtly hillbilly tunes, while concentrating their "serious" efforts on the more acid-laced rock numbers and feedbacky guitars. Still an interesting, eclectic album, but it's sad that the country stuff simply doesn't hold up. After a while they settle into a smooth groove that sounds an awful lot like Garth and Rick and Levon and all the boys from The Band.


<! 144 x 144 >

Goose Creek Symphony "Words Of Earnest" (Capitol Records, 1972)
(Produced by Goose Creek Symphony)
Perhaps their best album, this shows a much-welcome slide back into a more heartfelt country mode, an increased affinity to rootsy sound of The Band, more coherent attempts at serious psychedelicized songwriting, and some goofy stuff to balance it out, including a cover of Janis Joplin's "Mercedes Benz" and several druggy celebrations which make explicit mention of all the tokes, hits and trips it took to get this album together. Interesting cultural artifact and a pretty good record, to boot! Recommended.


<! 144 x 144 >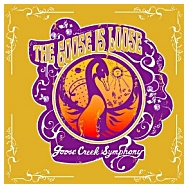 Goose Creek Symphony "The Goose Is Loose" (Bo Records, 2007)
A new album from this still-active hippie-era experimental country/rock jam band from Arizona -- in this case, it's a 2-CD set taken from a 1994 reunion concert. Haven't heard it yet, but I'm quite curious. (There's more info at the band's website: www.goosecreeksymphony.com )


<! GIF loaded: 144 x 144 > <! May/2010: a LOT of other albums on Amazon; mostly newer vintage? >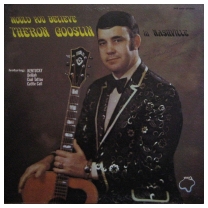 Theron Gooslin "Would You Believe" (Viper Records, 19--?) (LP)
(Produced by Darrell Glenn & Thomas Wayne)
A Kentucky native, singer Theron Gooslin had a regular gig playing at the Continental Inn in Lexington, Kentucky during the 1970s. On this album he hammers hard on regionally-themed tunes like "Coal Tattoo" and "Kentucky," along with a bunch of country covers -- "Cattle Call," "Green Green Grass Of Home, "Six Days On The Road," "Is Anybody Going To San Antone" and "Ring Of Fire." No info on when this one came out, though it looks early '70s -- maybe '72 or '73?


<! - # - was "I'd Rather Fight Than Switch" an original? or the Jack Barlow song? - obit, single (KY) >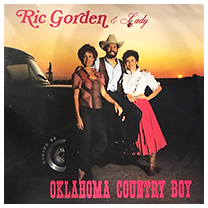 Ric Gorden & Lady "Oklahoma Country Boy" (Prosodia Records, 1983) (LP)
(Produced by Larry Benson & Gary Duggan)
Dunno much about this Norman, Oklahoma trio, although I guess they were going for kind of a Tony Orlando & Dawn/Dave & Sugar kinda look here, with "Lady" being Gorden's wife Cherie and her sister, Marilyn Woodard... They could just as easily named the band Ric Gorden & Larry, though, since the studio band included lead guitar by Larry Kent and keyboards by studio owner Larry Benson... Anyway, Ric Gorden had been a modestly successful song and jingle writer before recording this album, and really made a go of it, getting local airplay on KOMA and other stations, and even heading out to LA to try and rustle up some major label interest. This is a very commercially-oriented album, with plenty of 'Eighties-style tinkly keyboards, strings and slightly saccharine vocals. The Gordens eventually decamped to Guthrie, Oklahoma where in 1997 they opened an antique store and crafts gallery, which remained open well into the 2010s. Not sure if they still play music or not...


<! - #PM-1950 - all originals? - no fiddle or steel? - links, contact (OK) >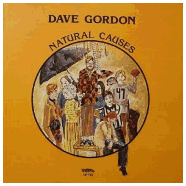 Dave Gordon "Natural Causes" (Vetco Records, 1978) (LP)
(Produced by Lou Ukelson)
Connecticut-based folksinger Dave Gordon and his then-wife, Kay Gordon, recorded several albums in the late '70s and early '80s, perhaps the best-known of which is this uptempo, country-flavored set recorded for the bluegrass indie, Vetco Records. It includes two great, Dr. Demento-ready, Larry Groce-esque novelty songs, a tall tale about spending gone wrong entitled "The Mad Consumer" and the giddy, malaprop-laden "You Getting Bothered Doesn't Marry Me," one of the most cheerful scary-stalker songs ever recorded, and an old favorite of the KFAT crew. Their other album were a little too mainstream folkie for me, but I crack up every time I hear "You Getting Bothered" -- it's a pretty durable novelty song.


<! ...and other albums... Dave Gordon & Watershed "Falling Rock" (xxxxxxxxxxxxxx, xxxxxxxxxxxxxx) Dave Gordon "Room To Grow" (xxxxxxxxxxxxxx, xxxxxxxxxxxxxx) children's a lbum Dave & Kay Gordon "Corduroy Road" (xxxxxxxxxx, xxxxxxxxxxxxxx) >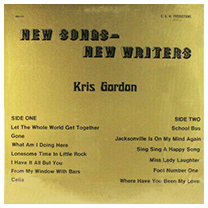 Kris Gordon "New Songs And New Writers" (CGM Productions, 19--?) (LP)
A song-poem set from a custom label in Saint Louis, Missouri. Apparently this features singer Kris Gordon singing the lyrics of numerous unknown "poets" -- too numerous and too obscure to catalog right now. This album came with a plain white back cover and includes no recording info, nothing about the studio or producer, or the musicians involved. Also, no date, alas, though your guess is as good as mine. I would guess sometime in the mid-1970s, just from the look of it.


<! - #TRM-101 - plain white bc - no good pix 03/18/20 - M or F? >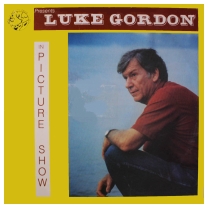 Luke Gordon "Picture Show" (World Artists Productions, 1983) (LP)
(Produced by Dick Hawkins & Luke Gordon)
A former '50s honkytonker from Quincy, Kentucky who was a regular on the Old Dominion Barn Dance and other country revues, Luke Gordon cut several singles for Starday, as well as albums on L&C Records and MVM. He's probably most familiar to cratediggers from various budget-label releases on cheapo labels such as Coronet and Spin-O-Rama, albums that often paired him with other artists, to fill out the disc. Despite this dubious legacy, he was a pretty decent singer, as this late-vintage indie album demonstrates.


<! - #WAPS-001 - no ASIN 12/18/17 Luke Gordon/Jimmy Dean "Featuring The Country Singing Of..." (Spin-O-Rama Records, 1961-?) (LP) - #108 B01HNACCRS Luke Gordon/Jimmy Dean "Country Round-Up Starring..." (Spin-O-Rama Records, 196--?) (LP) B003A5IGUS Various Artists/Luke Gordon "Swingin' Shindig Starring Johnny Rivers" (Coronet Records, 19--?) (LP) B002BCKW1M - #CX-246 - division of Premier Albums, Inc. - also (originally?) released under the Premier label, with the same title B0010KNTZ2 >
Luke Gordon "...Sings Dark Hollow And Other Classic Numbers" (BACM, 20--?) (CD-R)
A fuller reading of Gordon's career can be found on this generously-programmed CDR from Europe...


<! - # B009TA52U0 Tracks :- Dark Hollow ~ You May Be Someone Where You Come From ~ Eight Years In Atlanta ~ When It's Time For The Whippoorwills To Sing ~ Thirteen Steps Away ~ Lonely Heartache ~ Goin' Crazy ~ Married Life ~ Don't Say Goodbye If You Love Me ~ Goin' Down The Road Feelin' Bad ~ I Believe I'm Entitled To You ~ Is It Wrong ~ Let the Kiss Bid Goodbye ~ Swing Wide Your Gate Of Love ~ On The Banks Of The Old Pontchartrain ~ Christmas In Tennessee ~ Racetrack Blues ~ Dark Years Ahead ~ Fool that I Am ~ Moustache On The Cabbage Head ~ When You Cross Your Heart ~ Why Do You Treat Me This way ~ Changing Company ~ Pastures Green ~ Big New Dance ~ Just Doin' What's Right ~ What Can You Do. >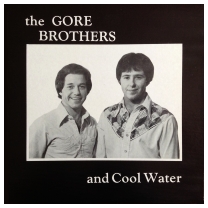 The Gore Brothers "...And Cool Water" (Gore Brother Records, 1978) (LP)
(Produced by Don Caldwell)
Lubbock, Texas siblings Gary and Ron Gore were veteran players on the Lone Star folk and bluegrass scene who formed their own band, Cool Water, in the 1970s. Their repertoire is what could be described as "progressive" bluegrass, though with distinct traces of outlaw country and old-school coffeehouse folk. This is a nice record, with strong performances by Ron Gore on mandolin and banjo plunking by Bruce McBee; the electric bass playing by Gary Gore feels like a poor fit, even lackluster at times, though I'm not sure if it's one of those "new to the studio" DIY things, or maybe he just wasn't that comfortable playing electric. Overall, this is a strong record for the '70s indiebilly scene, and definitely worth checking out. Includes covers of Dylan's "Knocking On Heaven's Door" and the newly-minted "Song For The Life," by Rodney Crowell, as well as a couple of Gary Gore originals, "Our Love Can't Be," and the hippie-ish "Hope In The Country," which sings the praises of the rural life.


<! - # - no actual producer credit on the album "Recorded at Don Caldwell Studios, Lubbock, Texas" - info (TX) >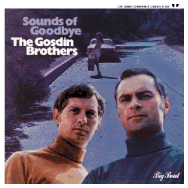 The Gosdin Brothers "The Sounds Of Goodbye" (Bakersfield International/Capitol Records, 1967)
Long lost amid the cavernous Capitol vaults, the 1968 debut of the Gosdin Brothers -- future country superstar Vern Gosdin and his brother Rex -- was recorded after their shift from straight-up bluegrass into the world of folk-rock. This is a genuine lost gem from the early California country-rock scene. While many mainstream country artists who tried to approach rock music and the youth culture during the hippie years often sounded hopelessly like fish out of water, the Gosdins were perfectly at ease. Although they were country boys tried and true, the Gosdin's psychedelic bona fides were pretty impeccable: they played in bluegrass bands with Chris Hillman, then hooked up with Hillman's Byrd buddy Gene Clark on his early solo career during the Summer Of Love. When they got their own shot at a solo career, they came out with an album that was surprisingly adventurous and electrified, with superpicker Clarence White laying down some delightfully noodly billy-delic folk-rock riffs. Re-released on CD with extra material... see below.
The Gosdin Brothers "Sounds Of Goodbye" (Ace-Big Beat, 2003)
This CD reissue jumbles up the track order of the original LP, but adds a bunch of extra material that kinda makes up for it. Even though I've been a big Vern Gosdin fan for years (his later solo work is fantastic), I was really surprised by how much I got into this record... It's goofy, heartfelt and fun. Not merely a nostalgic curio, but actually a fine set of music. Check it out!
Bobby Gosh "Bobby Gosh" (Polydor, 1971) (LP)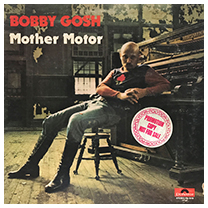 Bobby Gosh "Mother Motor" (Polydor, 1972) (LP)
(Produced by Bobby Gosh)
Well, this one sure looks like it would be a hidden country-rock gem, but it's really more on the pop side of things, in an early '70s experimental/clompy roots-rock kind of way. Songwriter Bobby Gosh came to rock music from an old-school Pop background: as a teen, he backed singer Kitty Kallen and later worked with Paul Anka writing and demo-ing songs in his Brill Building/Tin Pan Alley years. As a solo artist, Gosh seemed like a pretty unlikely hitmaker, with his rough, limited vocals, but here he found a stylistic niche in the roots-boogie rock sound -- the opening tracks sound like Dr. Hook songs, and indeed, Gosh had one of his biggest hits the following year, when that band recorded his song, "A Little Bit More" into the Top Ten. There is some overt country-rock on here, particularly the twangy "Butterfly Mind," which showcases session picker Eric Weissberg on pedal steel, playing in that kind of chunky hippie-country steel style popularized by Jerry Garcia. Eventually Gosh settles into a sort of soul-roots sound, reminiscent of Leon Russell, though much rougher vocally and musically. There's not a lot of twang on here, but if you're into the '70s roots-pop thing, this one's definitely worth a spin.


<! there's a violinist playing under the alias of "Seafiddle" - anyone know who that was? Richard Greene? >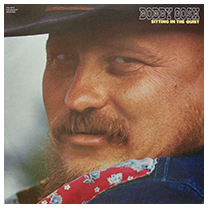 Bobby Gosh "Sitting In The Quiet" (Paramount Records, 1973) (LP)
(Produced by Lynn Barkley)
This album features Gosh's own versions of two of his biggest hits, "A Little Bit More" and the theme to the movie, "Bang The Drum Slowly." Dunno how country-sounding any of this is, but it might be worth a spin.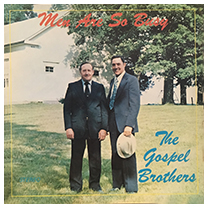 The Gospel Brothers "Men Are So Busy" (MMP/Mountain Music Productions, 1973) (LP)
(Produced by W. A. Masden)
Awesome, super-twangy country gospel from the duo of Willard Crase and J. C. Reliford, two resolutely old-fashioned country boys from Kentucky. This is very much in the style of the Louvin Brothers, though perhaps with a more rough-cut edge. Heavenly, if you ask me.


<! - #MM-TGB- - connected to WSLM in Salem, Indiana - cut a single for them in 1960 >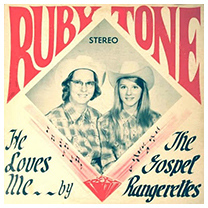 The Gospel Rangerettes "He Loves Me" (Rubytone Records, 19--?) (LP)
An adorable mother-daughter duo from Portland, Oregon. Elizabeth Van De Venter (1928-2009) and her teenage daughter Karen are backed by guitar picker B. F. "Lucky" Mason and fiddler Reverend Roy Sims. Most of the songs were composed by Mrs. Van De Venter, with some additional tunes coming from the Gaithers and Rambos, as well as one called "When The Storm Passes," written by Mosie Lister of the Statesmen Quartet. Mrs.Van De Venter was not a professional musician, and in the liner notes even demurs about her own guitar work, while Mr. Mason was a multi-instrumentalist from Tennessee who played banjo, bass, lap steel and mandolin, and who hosted a long-running "Shut In Club" radio show on KVAN, Portland. Mr. Sims also played several instruments and was a former rodeo rider who switched to circuit rider, evangelizing up in Alaska for a couple of years, and presumably in the Pacific Northwest as well.


<! - #9310-A/B - producer not listed - no year, though liners say Mason's "Shut In Club" was in its fourth year - NOTES >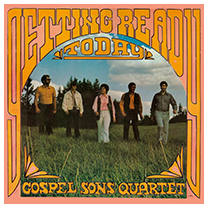 The Gospel Sons "Getting Ready Today" (Vanco Records, 197--?) (LP)
Christian harmony vocals from the Pacific Northwest. Alas, there's no liner note info giving us the musicians' names, or the producer, or where these guys were from, although Vanco was a subsidiary of Ripcord Records, so we know they were probably from that Washington state/Oregon/Idaho axis... Any info is welcome!


<! - #SLP-1011 - lots of Dottie Rambo and Bill Gaither - bc nv dc >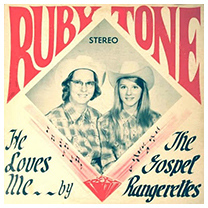 The Gospel Sons "Love Him So" (Vanco Records, 197--?) (LP)



<! - #SLP-1015 - no musician, producer info - Ripcord label - 208 loaded 08/04/20 >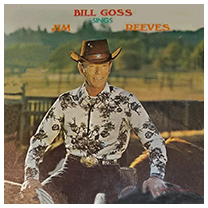 Bill Goss "...Sings Jim Reeves" (Ripcord Records, 1980) (LP)
A real-deal West Coast Okie, Bill Goss was born in Coweta, Oklahoma, but came out to California when he was a child, way back in 1936 during the Dust Bowl. Initially the Goss family lived in a tent, while his mother worked picking fruit, and later picked cotton. Goss grew up in the San Joaquin Valley, near San Jose, and it was here that he started out as a live performer, including a regular slot on Culver City radio station KFVD. Although this album was a tribute record to his idol, country crooner Jim Reeves, Bill Goss also released at least one single on Ripcord which included an original song, "My Divorce Day," with a cover of "Adios Amigos" as the flipside. According to Goss's bio, he composed "My Divorce Day" with Reeves in mind, and had successfully pitched the song to Reeves just before his death. Jim Reeves had told Mr. Goss he intended to record the song, but fate intervened, and it sat on the shelf until Goss cut his single in 1980. Only one thing wrong about this album: it only includes cover songs, and leaves "My Divorce Day" out. Darn it.


<! - #1081 - Ripcord single, "My Divorce Day"/"Adios Amigos" (May, 1980, per bc) - Breeden one of two engineers/bcnv >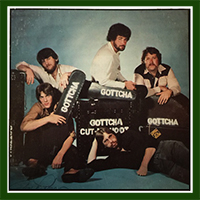 Gottcha "Gottcha" (Gottcha Records, 1983) (LP)
(Produced by Maurice Bittick & Jeff Smith)
This band, also known as Jim Ponder & Gottcha, was from Conroe, Texas, a northern suburb of Houston. Their music had a country base, but they added some questionable pop/lounge touches, with saxophones and keyboards, but no pedal steel and a little fiddle on just one song. In this case, the collision of styles could get a little torturous, but to their credit, the group did have a sound that was truly their own. Not necessarily my cup of tea, but they were distinctive.


<! - pix Xy - no label name? - no ASIN 05/05/16 - Discogs says 1978. other sources '83 or '84 - Jim Ponder & Gottcha single "Next Time This Time/Bar Room Lines" (KIllerman Records) from Conroe, TX >
Jerry Graham "From Nashville To You" (1980) (LP)
(Produced by Eddy Fox)
Assuming it's the same guy, I think Jerry Graham was the longtime host of the United States Air Force's Country Music Time transcription disc service, where he interviewed and presented numerous country artists. Here, Mr. Graham's in the spotlight himself, recording at the Marty Robbins Studios in Nashville, with backup musicians that included Dolly Fox and Melba Montgomery(!) doing backup vocals, Dave Kirby on electric guitar, and Larry Sasser playing steel... Quite a lineup, especially for a diehard Melba Montgomery fan like yours truly!


<! - # - no ASIN 03/02/15 >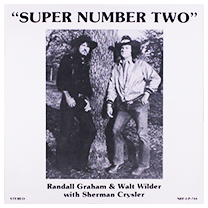 Randall Graham, Walt Wilder & Sherman Crysler "Super Number Two" (CMM Records, 19--?) (LP)
(Produced by Ralph Davis, Kevin McManus & Walt Wilder)
This would appear to be a Nashville songwriter's demo disc, with vocal contributions from three dudes who kinda knew one another, but not well enough to come up with a band name. Sherman Crysler was the son of songwriter/empresario Gene Crysler, and Mr. Crysler contributes brief liner notes briskly praising his son and his pals, as does outlaw star David Allan Coe. Walt Wilder (aka Earl Walter Rodden, 1936-2013) was an Oklahoma native and Vietnam veteran who had been kicking around Nashville since the 'Sixties, and was apparently a fixture at Tootsie's lounge, and a relatively successful songwriter. He worked with the elder Mr. Crysler for much of that time; they also collaborated on Wilder's 1974 solo album, Ode To Country Music. Several "usual suspect" studio musicians are also on here, including Willie Rainsfield, Leon Rhodes, and Jerry Shook.


<! - #NF-LP-744 - >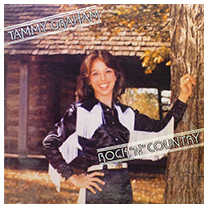 Tammy Graham "Rock 'N' Country" (Twin Cities Records, 19--?) (LP)
(Produced by Harold Bradley & Bobby Bradley)
In the early 1980's Tammy Wynette Graham, a teenaged piano-player from Little Rock, Arkansas went to Nashville, where she cut this private-press LP as a demo set. She was working with a top producer of the classic Nashville Sound era -- in addition to producing, Harold Bradley plays lead guitar, rhythm, mandolin, banjo and synths(!), with an A-list crew including fellas like David Briggs and Buddy Harman, steel players Lloyd Green, Sonny Garrish and Hal Rugg, as well as Hank Strzelecki on bass... As the title implies, it's mostly a set of country and rock oldies, stuff like "Johnny B. Goode" and "Whole Lotta Shakin' Goin' On," as well as "Jambalaya" and "Blue Kentucky Girl" on the country side of things. There's one short track credited to Graham at the end of Side One, "Tammy's Boogie," and a couple of tracks by other composers that may have been original to this album. Graham made it to the majors, eventually, recording a self-titled album for Arista in 1997.


<! - #TG-3172 (--?1972 release?) - b.1968 >
Cuzzin Tom Graham "I Can Scratch Where You Can't When It Itches" (Cuzzin Records, 1983) (LP)
Songwriter Tom Graham carved a niche for himself in the early-1980's Austin scene performing kooky novelty songs delivered in a musically awkward style that I assume is half-intentional, playing up his own limitations as a vocalist, as a form of corn-pone humor. Like a lot of comedy, it may not appeal to everyone. The themes and the music can sound strained, but he does have some good gags. With songs like "Never Ask a Computer about Love," "I'm In Love With My Mother-In-Law," and "Put Back On Your Makeup Baby," this album has plenty to recommend it to fans of wacky comedy and hick-humor. He's backed on this album by a small band of Austin locals...


<! Songs: I Can Scratch Where You Can't When It Itches; Never Ask a Computer about Love; Kissin' Toad; Old Mutt; Them Danged Old Cows; I'm in Love with my Mother-In-Law; Put Back on Your Makeup Baby; I Got Lips. Produced and engineered by Ju Wray. Piano and fiddle: Danny Levin; Drums: Donny Dolan; Guitar: John Huddard; Bass: Dale Dennis; additional guitar: Les Huff; additional frog sound: Jay Graham - no pix - 11/2013 >

Cuzzin Tom Graham "Two Step Waltz" (Cuz Records, 1985) (LP)
More corn-pone humor, including tracks such as "When You Love An Ugly Person Everything Is Beautiful," "The They Done Took Away My Government Check Blues" and "The Two-Step Waltz."


<! Songs: The Two-Step Waltz~The Nose Knows~I Call My Farm The See I Know~The Wildest Woman I Ever Knew~The Cuz Wake Up Jingle~All That I've Learned About Women And Love~When You Love An Ugly Person Everything Is Beautiful~The They Done Took Away My Government Check Blues~Something There Is That Draws Women To Truck Driving Men >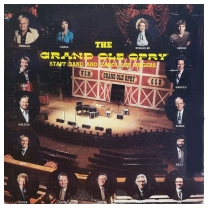 The Grand Ole Opry Staff Band & The Carol Lee Singers "The Grand Ole Opry" (Woodsmoke Records, 1980) (LP)
I guess this was some sort of house band for one of the Opry's regular venues during the early '80s... The group included Nashville studio pros such as Sonny Burnette, Jimmy Capps, Weldon Myrick and Leon Rhodes, with vocals by a group called the Carol Lee Singers. Hey man, a paycheck is a paycheck!


<! - #BA-001 - no ASIN 09/20/15 - Fillies? >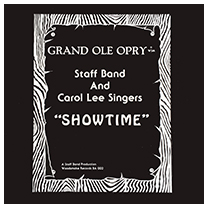 The Grand Ole Opry Staff Band & The Carol Lee Singers "Showtime" (Woodsmoke Records, 1983) (LP)
Plenty of cover tunes, including some fun singalong songs such as "Take Me Back To Tulsa" and "I'm My Own Grandpa." And if you've ever wanted to hear superpickin' steel player Weldon Myrick step in front of the mic and sing, check him out on their version of "Even Tho." Lots of instrumentals, as well!


<! - #BA-002 - no ASIN 01/20/16 - no producer credit - recorded at Woodland Sound Studio in Nashville. >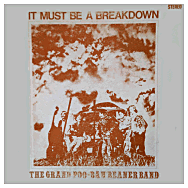 The Grand Poo-Bah Beaner Band "It Must Be A Breakdown" (Rising Star Records, 1976) (LP)
(Produced by Chuck Chapman)
Basically a decent "progressive" bluegrass band from the Kansas City area, with Byrds-y harmonies and a repertoire that spanned from traditional material to more rock-pop oriented stuff such as covers of Dylan's "I Shall Be Released," "Friend Of The Devil" by the Dead, and Gordon Lightfoot's "Early Morning Rain." The vocals aren't great, but the picking was fine, particularly Jan Carlson's banjo, and some sweet mandolin riffs on their version of "Somewhere Over The Rainbow," which is an album highlight. On their version of "Cold Sailor," they give Kansas a little shout-out, which is cute. No original material on here, as far as I can tell, but some nice picking.


<! - no ASIN 04/26/15 - (KS) >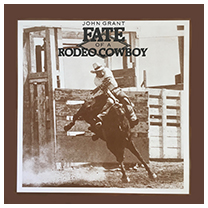 John Grant "Fate Of A Rodeo Cowboy" (CIS Northwest, 1981) (LP)
Real-deal rodeo cowboy music from central Oregon. For a while singer John Grant called his group "Big John & The Rednecks," but updated his vibe and renamed the group John Grant & The Western Revue, sometime around 2005... Since then this album has been retroactively available under that name. Anyway, this is a set of mostly original material penned by Grant; his second album, Cowboy's Paradise, is all originals.


<! - #CIS-107 https://cowboyjohngrant.com "...John Grant & The Western Revue have been entertaining country western audiences around the Pacific Northwest since 1981... He wrote most of the songs on his first album, Fate of a Rodeo Cowboy, released in 1981 by CIS Northwest. In 1987, he produced and recorded a second album called Cowboy's Paradise. All ten songs on the album are John's original tunes. The newest album, Love Has Its Ways, is an entire album of true western music with the heart and feelings that come from years of love and loss." "Big John and the Rednecks" >

John Grant "Cowboy's Paradise" (1987) (LP)



<! >

Tom Grant & The Nashville Sounds "The Nashville Country Club Proudly Presents..." (Nashville Country Club, 19--?) (LP)
Not to be confused with the smooth jazz pianist, singer Tom Grant was a Wisconsin native who led a house band in Milwaukee at a club called Nick's Nicabob, and later found a slot in an obscure Indiana-based venue called the Nashville Country Club. He eventually made it to Nashville, signing to Republic Records in 1979, where he landed two singles in the Billboard charts, though he may be better known as a member of the band Trinity Lane. Although his solo career didn't really take off, Grant stuck around and worked on several Nashville-based TV shows, including TNN's 'Eighties-era "Nashville Now" and "The Ralph Emery Show," on NBC. This album was recorded during his Indiana days, with a band called Nashville Sounds, which included Darrel Young on bass, Larry Young playing lead guitar, Billy Powell on steel, and Dale Greene thumping the drums. Apparently future star Steve Wariner also apprenticed in the band at some point, though I don't think he plays on this album.


<! - # - look into Grant's career? needs his own page? YT: "...I used to go to "Nick's Nicabob" in Milwaukee to listen to Tommy Grant in the 70's. He had the house band at the time. I had a 45 of a song called, "The Streets of Old Milwaukee" - list both ways but this actually is: The Nashville Sounds with Tom Grant "The Nashville Country Club Proudly Presents..." () (LP) - pals with Karen Wheeler (ONIE WHEELER'S DAUGHTER) Tom Grant "At Last" (Merinet Music Series, 1985) (LP) - per dc >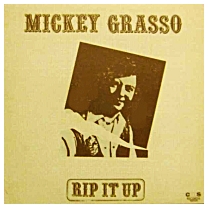 Mickey Grasso "Rip It Up" (CMS Records, 1977-?) (LP)
(Produced by Bebe Allen)
Independent Minnesota twang, with about half the songs written by singer Mickey Grasso or by his pals, along with covers of songs like Neil Diamond's "Sweet Caroline," John Hartford's "Gentle On My Mind" and Freddie Hart's "Easy Lovin'," and of course the rockabilly classic, "Rip It Up." The most promising song title would be Grasso's own "Good Manly Cry." Before recording this album, Grasso performed on the short-lived North Country Shindig program, broadcasting from Cloquet, Minnesota.


<! - Private Minnesota Country - '70s? - #33CMS-014 - cat# between CMS releases identified as '77 and '78 A1 Sweet Caroline A2 Amazing Love – J. Schweers* A3 Gentle On My Mind A4 Come The Springtime – M. Grasso* A5 Orange Blossom Special B1 Rip It Up – Marascalco, Blackwell* B2 Easy Lovin' B3 Good Manly Cry – M. Grasso* B4 What Will My Mary Say – Vance Snyder B5 Steel Guitar Rag >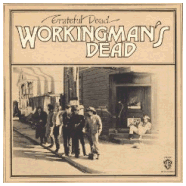 Grateful Dead "Workingman's Dead" (Warner Brothers, 1970)
(Produced by Bob Matthews, Betty Cantor & Grateful Dead)
Well sure, maybe this isn't a proper "country" album, but what with Jerry Garcia's later involvement in Old & In The Way, and the overall backwoods vibe of this album, it's certainly a major link from the hippie rock scene into the world of country and folk. Plus, it's one of the Dead's best (and most accessible) albums, recorded when they were at their poppy peak. A classic album, with a big old Appalachian streak running right through it. Totally worth checking out.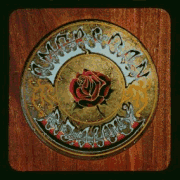 Grateful Dead "American Beauty" (Warner Brothers, 1970)
(Produced by Grateful Dead & Steve Barncard)
Their best, or certainly their most accessible early album, with many of the band's best-known songs. The track song titles alone are emblems of the undulating heart of hippie culture: "Box Of Rain," "Ripple," "Sugar Magnolia," "Candyman," "Truckin' " and -- of course -- "Friend Of The Devil." The country-roots influence is strong here as well, in a more cohesive and captivating way than on later albums. A highwater mark for hippie rock and early alternative country.




Pete Graves "Peter 'Bumming Around' Graves Sings Good Country Music" (Hoss Records, 1974) (LP)
(Produced by Ray Lawrence)
This album, recorded by a genuine old coot named Pete Graves, was recorded in Los Angeles and features nine songs written by Mr. Graves. These include his best-known song, "Bumming Around," originally a big country hit for Jimmy Dean in the early 1950s, and a pop crossover when Dean Martin covered it in 1967. The other songs are less well-known, but even just that one great old song is a heckuva legacy.


<! A1 Bummin' Around A2 Blind Girl A3 Easy Goin' A4 Passing Heartache Around A5 I Believed In Love A6 Smokey Mountain Dew B1 Little Pink Elephants B2 One Little Secret B3 Make The Teardrops Go Away B4 Steppin' Out, Sneakin' In B5 Hillbilly Heart >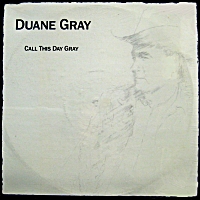 Duane Gray "Call This Day Gray" (EJ Records, 1986) (LP)
(Produced by Duane Zaloudek & Eddie Joy)
Here's one that's got a more-interesting-than-usual back story... Duane Zaloudek (aka Duane Gray) was a reasonably well-known abstract and modernist painter of the post-WWII era who also moonlighted as a country singer, leading a for-real twangband in New York City during the early 1980s. Born in Oklahoma back in 1931, he grew up in Oregon and moved around quite a bit, including a stint in the Air Force during the Korean War. Zaloudek's musical roots go back to his school days in the late 1940s, when he sang topical folks songs at labor union rallies, though he'd upped the ante and formed his own country band by the time he moved to New York. In his late-1960s heyday, Zaloudek produced a series of maybe-not-so-abstract, erotically charged geometric paintings that were said to extol the Tibetan tantric yoga practice known as karmamudra, though the seemingly drab, sketchy artwork on this album cover is perhaps more reflective of the more minimal approach his work took in later years. At any rate, this has an interesting song selection: you've got your traditional cowboy stuff like "Red River Valley," some classic country hits such as Eddy Arnold's "Make The World Go Away" and Ernest Tubb's "Waltz Across Texas," a more modern songs by Terry Allen, Billy Joe Shaver, and a couple of Zaloudek originals, "Call This Day Gray" and "Sally Hit And Run." The backing band included Rick Hozza on guitar, Slats Kluge (piano), Loren Robert Kluge (backing vocals) and Sprocket J. Royer playing bass; Hozza and Zaloudek also collaborated with Tom Wesselmann, a fellow modern artist who also enjoyed playing country music. As far as I know, this is the only "Duane Gray" album.


<! - # - (NY) lots of art links >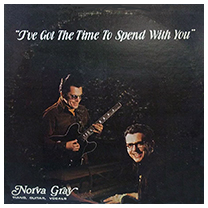 Norva Gray "I've Got The Time To Spend With You" (Corene Records, 19--?) (LP)
(Produced by Norva Gray & Devere Anderson)
Singer-pianist Norva Gray was born in Des Moines, Iowa and worked regionally for several decades, with a day job as a self-employed music teacher. He's backed here by steel player Devere Anderson (1944-2007) who owned a music shop in nearby Indianola. The liner notes reference Gray's gig at a hotel piano bar, but sadly doesn't tell us where the venue was located... While in his twenties, Gray performed on a local television show, and also played gigs at various hotels, conventions and other venues. He later moved to Arizona and became a music teacher at a charter school in Gilbert, AZ. The repertoire on this album is mostly country, with tunes by Floyd Cramer, Tom T. Hall, Eddie Miller, Kris Kristofferson, Willie Nelson and Marty Robbins, as well as dips into pop material by Frankie Carle and Tony Bennett. The title track, "I've Got The Time," was written by Mr. Gray, and is the only original on the album.


<! - #CR-900 - no date -early '80s?? - (IA) >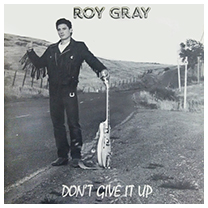 Roy Gray "Don't Give It Up" (C'n'G Music, 1988) (LP)
(Produced by Curt James & Frank Anderson)
Rockabilly pop-twang from Sacramento, California -- retro, Elvis-y stuff with a slick, post-Stray Cats style reminiscent of Chris Isaak, another San Joaquin Valley local who was still coming up in the regional Northern California scene at the time... Though this album has a contemporary sound, Gray also got into full Elvis imitator mode when he wanted to, just as bohunky and hip-twisty and uhn-uhh-huh as you please. Dunno much about this guy, but I think he was still playing gigs well into the 2010's.


<! - #711056XA - no ASIN 09/14/16 - graduated from McClatchy High in '82 - advertising his band for gigs as of 09/15/16, living in Carmichael >
Jack Grayson "A Loser's Night Out" (Silver Bear/Koala Records, 1981) (LP)
(Produced by Bob Morris, Bernie Vaughn & Jack Grayson)
Colorado-born Jack Lebsock (aka Jack Grayson) was pretty strictly a Back Forty kinda guy, but he did make it onto the country charts, and also placed a few of his own songs with better-known, established country artists, notably Hee Haw star Roy Clark. Grayson cut a few singles for Capitol in the early '70s, though after they tanked he went indie and had a fair amount of success on the charts, even cracking into the Top 40 on a couple of occasions. Not earthshaking stuff, but perfectly competent examples of slickly produced, low-end early '80s country-pop, with kind of a whiteboy soul feel. Basically, if you felt like you were running short of Joe Stampley albums, Jack Grayson was there to fill the void.


<! >
Jack Grayson "When A Man Loves A Woman" (Koala Records, 1981) (LP)

Jack Grayson "Jack Grayson Sings" (Joe-Wes Records, 1982) (LP)
(Produced by Bernie Vaughn & Jack Grayson)
This album appears to include re-recordings of several of his older hits ("A Loser's Night Out," "When A Man Loves A Woman," etc.) though it might also be a compilation album, drawing on his earlier albums... The liner notes mention that this was recorded at the Koala studios. At any rate, it's okay stuff... Commercially oriented pop-country, with uneven vocals and slick production. I could live without all the saxophone, though.


<! - # >
Rudy Grayzell "Let's Get Wild" (Starday Records, 19--?) (LP)
This custom pressing seems to have been a reissue of 'Fifties-era material from Texas rockabilly pioneer Rudy Grayzell -- ne Rudolph Paiz Jimenez (1933-2019) -- whose sizzling singles have been reissued on Bear Family and other collector labels. I'm not sure if there were any more contemporary (1960s) tracks on here, but regardless, it's great stuff.


<! - # - very "custom" look, no real liner notes, just song titles - with instr by Buddy Dee https://en.wikipedia.org/wiki/Rudy_Grayzell http://www.rockabillyhall.com/RudyGrayzell1.html >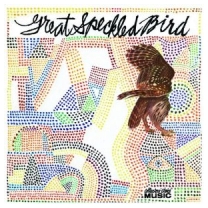 Great Speckled Bird "Great Speckled Bird" (Bearsville Records, 1970)
(Produced by Todd Rundgren)
Canadian folk-pop icons Ian & Sylvia Tyson "went country" on this experimental album, which featured musical assistance by blues-roots guitarist Amos Garrett and steel player Buddy Cage, as well as the Bearsville label's own "wrecking crew" of guitarist Jim Colegrove, piano player Jeff Gutcheon and drummer N.D. Smart, who formed the band Hungry Chuck in 1971, just as Great Speckled Bird was running out of steam... Only briefly in print, this is considered by many to be a landmark album from the early years of the country-rock genre. It's eclectic, to be sure, but if we're being completely honest, it's also kinda rough going, particularly in the vocals. It's admirable that they were pushing their own creative boundaries, but while Ian & Sylvia may have had it going on as far as the coffeehouse scene went, they come off kind of screechy on a lot of this album. Let's call it "challenging," and leave it at that.


<! Withdrawn shortly after release - on Ampex, or Bearsville??? - >
Great Speckled Bird "You Were On My Mind" (Columbia Records, 1972) (LP)





Great Speckled Bird "Great Speckled Bird" (197-?) (LP)
(Produced by Tom Dotson & Craig Rousch)
Not to be confused with the East Coast country-rock band that backed Ian & Sylvia in the early '70s, this obscure Colorado trio included drummer Greg Eden, bassist Steven Wilcox, and guitarist/singer Fred Walking (aka Rattlesnake, who wrote most of the songs.) They were perhaps more of a rock-oriented bar band, playing surf songs and rock originals, apparently with no "country" instruments such as fiddle, banjo or pedal steel. Not sure what year this came out -- some sources say 1973, but the band's portrait on the front cover definitely looks like more of a late-1970s thing, with post-feathered hair and aviator glasses. According to the liner notes, they group had been playing together for five years when they recorded this album: the music was recorded live at the Rialto Theater in Florence, Colorado and Pueblo Mountain Park in Beulah, CO, on September 1st and 2nd, and one of the shows was the band's fifth anniversary concert. Anyone out there have more info about these guys?


<! - Greg Eden, Steven Wilcox, and Fred Walking (aka Rattlesnake) >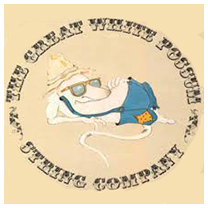 The Great White Possum String Company "The Great White Possum String Company" (Professional Artist Records, 1977) (LP)
(Produced by Parvin Tramel)
Formed at the start of 1976, this bluegrassy band took their name from an early, pioneer-days nickname for Kansas City... According to the liner notes, they met at a KCMO music shop called the Possum Trot Pickin' Parlor, which was defunct by the time this album came out, and played local festivals and fairs. Lead singer Don Hupp lived in nearby Olathe, Kansas, and the other members -- Gary Gray (banjo), Bill Norton (bass), Mark Pusell (lead guitar), and Tony Rodriguez (fiddle and mandolin) -- were from Kansas City and environs, augmented by fiddler Kirk Brandenberger, of Kirksville, Missouri, in the northern end of the state. As far as I know this was their only album, and has them trotting their way through a mix of bluegrass and stringband standards like "Make Me A Pallet On Your Floor," contemporary bluegrass numbers from J. D. Crowe and Tony Rice, country standards and folk-rock tunes such as Gene Clark's "Tried So Hard."


<! - #PAS 7733150 - recorded in Saint Louis >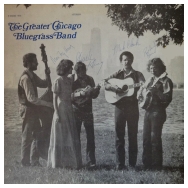 The Greater Chicago Bluegrass Band "The Greater Chicago Bluegrass Band" (Fargo Records, 1975) (LP)



<! - #975 - 188 loaded Bass – Rex Waters Rhythm Guitar – Mark Clark (12) Vocals – Mose Foy Hood Vocals, Banjo – Richard Hood Vocals, Mandolin – Chuck Kling Written-By – Richard Hood (tracks: A2, A3, A6, B1 to B3) >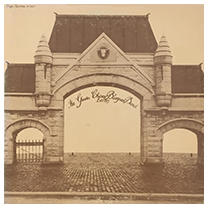 The Greater Chicago Bluegrass Band "Est. 1973" (Fargo Records, 1980) (LP)
(Produced by Bill Landow & Greg Trafialo)



<! - # 1327 - Roger Bellow (fiddle), Scott Kieffer (bass), Chuck Kling (mandolin), Jeff Krause (banjo) and Greg Trafialo (guitar) >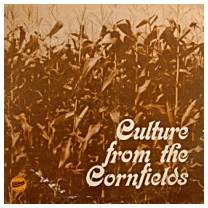 Greater DeKalb Area Municipal Footstompin' Ensemble "Culture From The Cornfields" (Hybrid Records, 19--?) (LP)
(Produced by Andy Waterman)
Dunno much about this one, just whispered rumors from frightened men with broken minds who tried to crack the mysteries of the universe, in defiance of the will of the gods. Oh, wait... where was I? Oh, yeah, this looks like an interesting album late 1970s longhair jug band... Could be lots of fun, if you can track it down!


<! *** - # 43126 - no ASIN 03/05/15 - pic >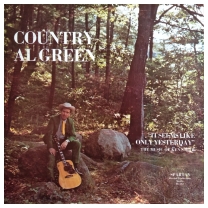 Country Al Green "It Seems Like Only Yesterday: The Music Of Ken Smith" (Spartan Records, 1972) (LP)
(Produced by Rocky Stone)
A New England artist on a Boston label, Country Al Green sang country ballads in the style of Eddy Arnold and Hank Locklin -- smooth, croony stuff with a deep sentimental vein. All the songs were written by his pal, a guy named Ken Smith, and his ouvre taps into the rich, rewarding tradition of country weepers of the 1940s and '50s. The songs may be better than the performances -- though Green ends up as a likeable figure, the anonymous backing band do sound a bit lax and even awkward at times. Overall, though, a swell album for fans of old-school Nashville Sound music who might be looking for some records that are a little more obscure and off the beaten track. Includes laudatory liner notes from Dick Curless.


<! - no ASIN 01/24/15 >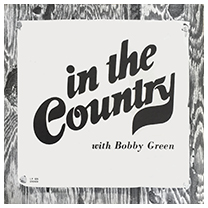 Bobby Green "In The Country With Bobby Green" (MajLin Records, 19--?) (LP)
Country gospel singer Bobby Green was born in Bentonville, Arkansas, though this album was released on a label from Escondido, California... Anyone know much about this guy?


<! - #LP-626 >

Dale Green & The Country Ramblers "Country Green" (Tank Records) (LP)
(Produced by Monty Bird & Bob Young)
This UK band hailed from England's short-lived Humberside County, which was adjacent to Yorkshire in the North. The group included Dale Green (lead vocals and guitar), Barry Schiech (rhythm guitar), Ken Wood (bass), Mick Edwards (drums) and Dave Wheelhouse (pedal steel) and had been together for two years before recording this album... The set list was packed with American cover songs, with material by Buck Owens, Freddy Fender, Kris Kristofferson, et. al.


<! - # - recorded at Bird Sound Studios in Stratford-Upon-Avon, with Monty Bird and Bob Young as sound engineers - Humberside County, liner notes by country DJ Tex Milne - no ASIN 05/05/16 >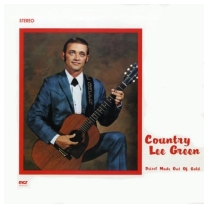 Country Lee Green "Diesel Made Of Gold" (MCR Records, 1974) (LP)
Solid honkytonk by a fella from Oklahoma City who wrote a bunch of original material for this album... Green started out in his teens, working regionally in the mid-1950s, notably performing on radio station KLPR, which also boosted the careers of fellow Okies such as Tommy Collins and Wanda Jackson... On this uber-indie album he plays mostly his own compositions, including "And They Tell Me You Don't Care," "Diesel Made Out Of Gold," "This Bar Room Is My Home" and "You'll Tear My World Apart."


<! - #MCR1255 - NOTES, tracks >
Green Mountain Fever "Green Mountain Fever" (Lunker Records, 1981) (LP)



<! - Obscure Vermont Country Dave Davis (Performer), Rick Davis (Performer), Ken Norcross (Performer), Pooh Sprague (Performer), & 4 more Format: Vinyl TRACKS: A1 Wild Daisy A2 Honky Tonk Highway A3 Long Way Around A4 Just Plain Lovin' You A5 Rodney's Rag A6 Let The People Dance B1 Me I'm Feelin' The Same B2 Six Pack Of Love B3 Love Ain't Bad B4 (It's) Still Nice To Know B5 One Foot In The Door, One Foot In The Snow B6 The New Grass Special >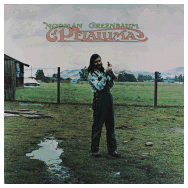 Norman Greenbaum "Petaluma" (Warner Brothers, 1972)
After making a bundle on his Top-40 pop hit, "Spirit In The Sky," Greenbaum tuned in and dropped out, investing his cash in a chicken farm out in Petaluma, California (which at the time was way out in the boonies...) The quiet life agreed with him, and this goofy little album is one of the hidden gems from the early '70s, featuring some nice assist by Ry Cooder on mandolin and guitar. The title track is great, along with the other enchanting ditties on here.


<! 188 x 188 looks murky > <! Norman Greenbaum "Spirit In The Sky" (1969) B00005K9QL Norman Greenbaum "...With Dr. West's Medicine Show And Junk Band" (1969) Norman Greenbaum "Back Home Again" (1970) B000024L1S Norman Greenbaum "Petaluma" (1972) Norman Greenbaum "Spirit In The Sky/Back Home Again" (Demon, 1996) B000024L1S - twofer >

Norman Greenbaum "Spirit In The Sky: The Best Of Norman Greenbaum" (Varese Sarabande, 1995)
A strong best-of set, which is only deficient in one regard: his rock stuff takes precedence over the twang of the Petaluma album, from which they pluck a couple of songs, but not nearly enough. Still, if you just want to hear that big, fat rhythm riff from "Spirit In The Sky," well -- here it is!


<! 144 x 144 >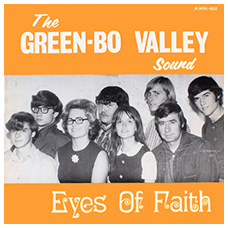 The Green-Bo Valley Sound "Eyes Of Faith" (K-Ark Records, 197--?) (LP)
(Produced by John Capps)
Lead singer and songwriter Joe Hicks was a self-taught five-string banjo player from Kentucky whose idiosyncratic style, by his own admission, didn't fit in with the local mountain music scene. He played in several in several small groups before landing a gig in the house band of the Green-Bo Valley Jamboree, a short-lived "opry" venue that started in the summer of 1968, housed in an old barn in rural Boyd Country, but had folded by the time these two albums were recorded in the early 1970s. Hicks memorialized the show by naming his own band after it, and seems to have cut two albums worth of material at the same time during a trip to Nashville. This first album unfortunately doesn't list all the musicians, notably omitting two gals pictured on the cover, one of whom may have been his wife(?) and another gal who looks like she was in her teens or early twenties. Mr. Hicks seems to have been the oldest member of the band, and one of the kids in the picture is probably drummer Mike Hicks (his son?) who played on the other LP. (The folks pictured on this album look much younger than the other, though the catalog numbers are quite close; I think this one is using an older picture, possibly from their jamboree days...) The songs are all originals written by Mr. Hicks, and most had an overt spiritual theme ("Eyes Of Faith," "Railway Station In Life," "Trinity," etc.) though others ("Everybody's Talking But Nobody's Listening," "If You Can't Beat 'Em, Join 'Em,") "Slick Pickin' Chicken") stray from a strictly gospel path. Mr. Hicks seems like he was a real character: other than the albums themselves, though, there's not a lot of information out there about him or the band. Alas, no dates on these discs, though some sources place them as 1970 releases.


<! - #K-6032 >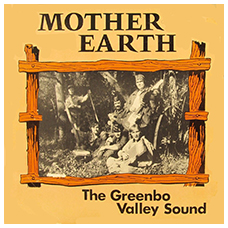 The Greenbo Valley Sound "Mother Earth" (K-Ark Records, 197--?) (LP)
This second Greenbo album seems to have been recorded contemporaneously with the first, though this one has more complete liner notes which give us the name of the folks in the band. In addition to Joe Hicks on lead vocals and banjo, there's Mike Hicks on drums (I assume he's Joe's son?) along with saxophonist Byron Laird, bass player Wayne Lafferty and Ricky Yates on lead guitar. Once again, all the songs are originals, with nine songs by Joe Hicks, two by Laird, and one written by Lafferty. Along with a reprise of the song "Mother Earth" (which was also on the first LP) this includes tunes such as "Coffee Slurper," "Confusion," and "Plant A Tree Of Hope" -- not your usual backwoods fare, for sure!


<! - #K-6034 - (KY) notes >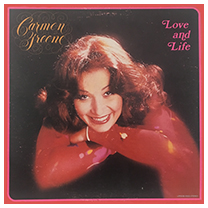 Carmen Greene "Love And Life" (Fishmann Records, 1980-?) (LP)
(Produced by John Fisher)
Stunningly bad country-pop sung by a Roumanian gal with a very thick accent, despite having lived in the United States since 1965... Ms. Greene and her sister Liana originally had an act called the Dmitri Sisters which started out entertaining American troops stationed in Germany, then made it to America, where they found nightclub work, including a three-year stint working for the Playboy company's clubs. I doubt country music was her "first language," musically speaking, though they certainly lined up a lot of top Nashville talent for these sessions, including folks like David Briggs, Jimmy Capps, Ray Edenton, Dale Sellers, and the like. Perhaps most intriguing are some original songs credited to Austin, Texas scenester Dee Moeller -- "It's Gone Away," "What's Going On" and "Where You Lay" -- three songs by a well-regarded songwriter whose own career yielded few recordings. Almost all the other tracks were composed by the team of Christina Carroll and Jay B. Loyd, which suggests to me that this was some kind of songwriter's demo. Probably this was never actually released, at least not in the format I found it -- the liner notes are chock full of typos, many of which were hand-corrected on the album jacket. Also a bit odd are pictures on the back cover advertising two alternate versions of this album, one in French, and one in Spanish. If I every find one of those, too, I will let you know.


<! - #LPFM-80-102(E) > <! Evelyn J. Greene "You Got What It Takes To Take What I Got" (Pledge Records, 19--?) (LP) - California record label - if same, her obit: (1923-2013) Fort Wayne, Indiana https://www.dignitymemorial.com/obituaries/fort-wayne-in/evelyn-thain-5385512#remembering >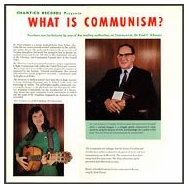 Janet Greene "Country And Spanish Flavors" (CAM Records, 1980-?) (LP)
This is not strictly a country album, but it does have a great back story... Formerly a TV entertainer and lounge singer in Cincinnati and Columbus, Ohio, Janet Greene moved to Long Beach, California after being recruited by John Birch conservatives to become "the right wing Joan Baez," a far-right guitar-strumming siren for the nascent New Right. From 1964-67 Greene (nee Janet Marcum) appeared at press events with her political mentor, Dr. Frederick C. Schwarz and recorded several faux-folk singles with caustic satirical lyrics. She sang at Goldwater rallies, anti-Communist lectures and pro-war demonstrations throughout Southern California, hobnobbing with the Orange County hyper-conservatives who helped propel Ronald Reagan into the governor's mansion and onto the national stage. By the time she cut this album, Green had abandoned her political persona and was doing supper club gigs in Southern California and Vegas... The liner notes mention painter Jose Nieto, who translated one of the songs into Spanish, and who was also Green's companion for several years before his death in 1984. This album is mostly covers of country classics such as "Crazy" and "Easy Lovin'," as well as Spanish-language standards such as "Amapola" and "Cucuru Paloma." Several originals are credited to Greene and her collaborators: she wrote "I Am Only One" and "Just For A Little While," while Long Beach country crooner Clarke C. Rohn contributes one called "Secretly," and quite likely backs her on this album. (Thanks once again to the Conelrad website for their informative profile of Ms. Greene's career!)


<! - b. 1930 >
Johnnie Greene & His Zane Valley Boys "Twelve Songs" (Zane Records, 196--?) (LP)
There's no date given on this album, but it's old enough that the inner label includes a note, "vocal with string inst. acc.," the kind of thing you'd see on 78s from the 1930s and '40s. This record is more modern than that, though: the liner notes are from deejay Bob Duff, host of the "Country Junction" program on radio station WCIT, a 250-watt microstation in Lima, Ohio, which went on the air in 1959. Plus the repertoire includes songs by Jim Reeves and early stuff by Willie Nelson, so I'm guessing this disc came out during the station's first incarnation, before it began playing Top Forty pop, maybe around 1963-64. Anyway, the Zane Valley Boys played straight-up old school country stuff, covers of hits such as "Frauline," "Funny How The Time Slips Away" and "Little Ole Dime" and some oldies like Hank Williams's "Cold Cold Heart" and Bob Wills's "San Antonio Rose." The band included Bobby Reber on steel guitar, Kenny Haugh playin lead on an amped-up Spanish guitar, Farrall Walty on bass and Bill Barry on drums.


<! - no ASIN 12/23/15 >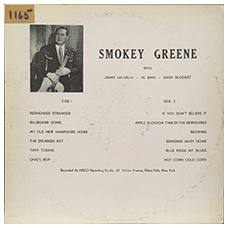 Smokey Greene "...With Jimmy Hamblin, Al Bain, Gary Blodget" (Green Mountain Records, 1967-?) (LP)
Legend has it that East Coast old-timer Walter George ("Smokey") Greene hosted the first bluegrass festival in New York State, way back in 1972, although by that time he had already been a fixture on the New England country scene for many years. Born in Tinmouth, Vermont in 1930, Mr. Greene settled on the other side of the state line around Glens Falls, New York, taking a day job with the Schuylerville school district, while moonlighting with his band The Green Mountain Boys, opening a music club in 1966, and founding the Corinth, NY music festival, which he ran for over sixteen years. Although seen as a bluegrasser, his musical roots stretched back to an earlier, pre-Monroe-vian era of sentimental mountain songs and blues yodelers such as Jimmie Rodgers and Cliff Carlisle, who were his early idols. In 1946 he briefly landed a gig playing banjo for Slim Clark, though soon after he enlisted in the Air Force, eventually getting stationed in Fairfield, California, where he formed a band and cut his first single, back in 1956. After leaving the military, Greene moved back east and gravitated towards bluegrass music, opening a nightclub in Thompson, NY that became a waystation for various musicians during the 'Sixties and 'Seventies. This generic-looking but super-groovy LP seems to have come out in the late 1960s (as seen by the inclusion of "Tippy Toeing," which was a hit for the Harden Trio in 1967). Smokey Greene had a remarkably long musical career, launching a 2015 "farewell tour" that found him still performing locally as recently as 2019... [Thanks to Discogs for their extensive biographical entry on Greene and his career.]


<! - # 001 - (b. 1930) - (NY) extensive notes - "RARE '64? MONO private press upstate NY country artist" - recorded at ARCO studios in Glen Falls, New York - songs include "Red Headed Stranger," "The Billboard Song" and "Tippy Toeing" - NOT '64 - had to be at least '67 - "Tippy Toeing"a hit in 1966/67 - very DIY, plain white art, etc - autobiography: B003SA7D18 Smokey Greene "The Friendly Voice Of Smokey Greene" (Pinecastle Records, 1996) The first Bluegrass Festival held in New York State was Smokey Greene's, held in Corinth, New York in 1972 " https://airplaydirect.com/music/TheFriendlyVoiceofSmokeyGreeneSmokeyGreene/ "...Biography (c. 2019) This album marks Smokey Greene's 50th anniversary as a performer of country music. Around age 13, he learned to play his first instrument, the tenor banjo. By age 16 he had added the guitar, mandolin and fiddle to his skills. That same year he made his first professional appearance with his long time mentor, yodeling Slim Clark. After a nine year career in the Air Force he spent 20 years working radio, clubs, town halls, grange halls, and appeared on various TV shows in the Glens Falls, NY and Rutland, VT area. In 1966 he opened his own club where he booked many of the nation's top country and bluegrass acts. In the 70's he toured New England with his band the Green Mountain Boys and started his own bluegrass festival which enjoyed a 16 year run. In 1992 he retired from his day job with the Schuylerville school system and began spending his winters in Florida, where he quickly became part of the bluegrass community and performs as a solo act to this day." https://www.facebook.com/SmokeyWalterGreene "About: Smokey Greene was born March 10, 1930 and grew up in a musical family. He has entertained fans all over through the years and is now on his farewell tour." http://www.smokeygreene.com/ - website defunct 11/10/16 - links to Japanese site his sister's obit: http://poststar.com/lifestyles/announcements/obituaries/ann-elizabeth-greene-goodnow/article_7bb3a2c3-49ed-5c46-8bb9-7da0c1f562f7.html "... >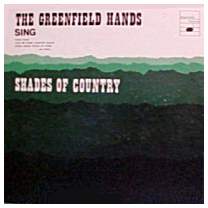 The Greenfield Hands "Shades Of Country" (Greenfield Records, 1974) (LP)
A longhaired country band from Newton, Kansas (near Wichita). They play country standards, with some original material, such as guitarist Jon Miller's "Sagebrush."

The Greenscreek Band "Down Home Weekend" (Pisgah Records, 1978-?) (LP)
A North Carolina country-rock band with a largely original repertoire, The Greenscreek Band are a genuine enigma -- they played a few shows locally in their hometown of Sylva, NC, in the state's rural Green's Creek region near Asheville, and they recorded this lone album, then vanished from sight. The record seems to be split between original material on Side One, and covers of southern rock and '70s pop hits on Side Two, including tunes like "Sweet Home Alabama" and James Taylor's "Carolina On My Mind." Unfortunately, the LP has minimal liner notes -- the musicians aren't listed and there are no songwriter credits either. Other than a couple of show notices in the local Sylva Herald newspaper from early 1978, I could find little mention of this band online. Anyone out there have insights or info?


<! - #RSR-145 - no ASIN 07/15/15 - manager, Ken Beck, was in Sylva, NC - rockers? - manager Ken Beck was from Sylva, North Carolina "...One side seems to be all originals. Side two is covers of Lynyrd Skynyrd, ZZ Top. Eagles, James Taylor (Carolina on My Mind) - a couple of show notices in the Sylva Herald, in Feb and May, 1978 >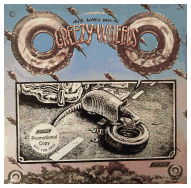 Greezy Wheels "Juz Loves Dem Ol' Greezy Wheels" (London Records, 1975) (LP)
(Produced by Garrison Leykam & Peter Hay)
The first album by this venerable Texas band... an admittedly iffy mix of hippiedelic boogie-rock with a hint of Grateful Dead-ish jam-band-ism, and lots and lots of conga drums. The opening track, "Get My Mind Together," features gruff, swampy vocals by bandleader Cleve Hattersley and has a weird kind of Jerry-Reed-meets-the-Grateful-Dead sound. The next few tracks add female vocals into the mix, provided by Hattersley's sister Lissa and by his wife, fiddler "Sweet" Mary Hattersley, giving the band a passing similarity to Dan Hicks & The Hot Licks. The Wheels enjoyed a long stint as the house band at Austin's fabled Armadillo World Headquarters concert hall, and as a result were lumped in with the indie/outlaw country scene. That connection was borne out more on their second album, but on this debut disc they were way more of a ragged hippie rock band, while taking a few dips into jazzy riffs and regional styles. Take for example the Spanish-Latin tinge of their cover of Willie Nelson's "I Never Cared For You," one of only a few cover tunes on this album. Lissa and Cleve Hattersley wrote most of the original material, with her "Standing In The Light" being an album highlight, particularly with her proto-Lucinda Williams-y vocals. This album is a good document of its times, though less twangy than one might hope... You really gotta be a fan of hippie grove music to get into this one.


<! Interesting to note that they went to a studio in Louisiana to record this album -- I guess the indie scene in Austin hadn't grown enough to support top-flight recording studios yet(?) > <! pedal steel guitar by "Jimmy" - Jimmy who?? > <! 10/2013: 191 x 188 GIF is off-center >
Greezy Wheels "Radio Radials" (London Records, 1976) (LP)
(Produced by Garrison Leykam & Peter Hay)
Perhaps you can mark the moment when Texas country became cooler than Texas rock as falling somewhere between the first and second Greezy Wheels albums: Willie Nelson had ascended to full godhood, and these scruffy jammers went for full-on twang. The album opens with an odd, hybrid reggae-boogie funk tune, but it's track #2 that seals their fate in the outlaw country canon. "Country Music And Friends" is a stone cold classic, with its faux evangelical Christian lyrics paired with an awesome, irresistible chorus (cataloging the best things in life, circa 1976 Austin: "cocaine, country music, and good old Lone Star beer...") while Mary Hattersley's elegant fiddle break provides some truly classy twang. Deeper into the album, the band's Dan Hicks-ishness is cemented on acoustic jive tunes like "Feel Like A Devil," "Heartburn" and "Dirty Old Man" (all with Lissa Hattersley singing lead...) There are still a few clunkers on here, but this album is much smoother and less rock-oriented than their debut, and generally more fun. I don't like all the songs, but it's hard to imagine there ever coming a time in life when I wouldn't get a little jolt playing "Country Music And Friends" just one more time. That's really what makes this album a keeper.




Jim Gregory & Brenda Davis "Somewhere Over The Rainbow" (Country Showcase Records, 1978) (LP)
Guitarist Jim Gregory was born in Oklahoma, grew up in California, and moved to North Carolina as an adult; singer Brenda Davis was his niece and joins him here on this mixed set of pop vocals/standards (on Side One) and country-oriented material, such as "Blue Eyes Crying In The Rain," "Cattle Call" and "Tennessee Waltz" (on Side Two.) Not a lot of info about this one: Mr. Gregory apparently recorded a few singles as well, including one distributed by the NSD consortium in Nashville, though the Country Showcase label (and presumably Mr. Gregory) was from Bailey, NC.


<! - #2062-A/B - no ASIN 10/27/17 >
Wayne Gregory "Here I Am" (Soundtech Studios, 1985) (LP)
(Produced by Hal Rugg, Joe Gibson & Milton Blackford)
A Nashville outing from an Arizona bar-band singer... All the songs were written by a fella named Gary W. Allen, and recorded at the Jack Clements studio with Jerry Reed playing acoustic and electric, Lloyd Green and Hal Rugg on steel, Hargus Robbins on piano and Gary Allen singing backup...


<! - # - LK emailed 03/02/15 (no reply) - fb (AZ) >
Wayne Gregory & CC Company "Live At The Brite Spot" (Flo-Ren Records, 1985)
(Produced by Chris Gussa)
Recorded live in 1985 at The Brite Spot, in Palominas, Arizona... The set list is all cover songs, stuff like "Release Me," Lay Down Sally," "Rose Colored Glasses" and "It's Such A Pretty World Today." His band included Larry Paycheck and Patty Paycheck, with Jimmy Curl on drums.


<! - no ASIN 03/02/15 >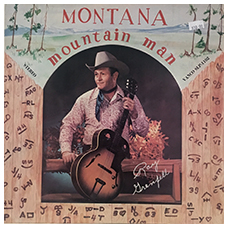 Ray Grenfell "Montana Mountain Man" (Vanco Records, 19--?)
(Produced by Gene Breeden & Ray Eldred)
A devotee of old-school country yodelers and balladeers such as Elton Britt, Wilf Carter and Jimmy Rogers, mountain man Ray Grenfell was born in Florence, Montana, in the Bitterroot Valley and was a quintessential Northwesterner, woking as a logger, rancher and rodeo rider... even as a boxer and an auctioneer. Mr. Grenfell also recorded a couple of albums later in life, one in the mid-1990s and another around 2002, as well as several singles in the 'Seventies, including a few tunes which are also on this album.


<! - #SLP-1102 - Ripcord related - age 82 in 2004 (b. 1922-??) - (MT) story about suing label - supposedly made in 1970: originally on a different label?? >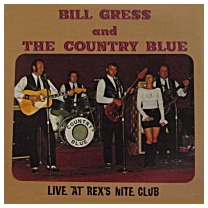 Bill Gress & Country Blue "Live At Rex's Nite Club" (Glacier Records, 1974) (LP)
High plains country-pop bandleader Bill Gress led the house band at Rex's Nite Club, a watering hole in Kalispell, Montana (in the West end of the state's Flathead Valley, just north of Missoula...) This album has a lot going for it, starting with the tinny, fake-live applause, which sounds like it was stripped from an old Beatles concert. The music is perky, with bouncy guitar riffs and charmingly uneven vocals... Bassist-emcee Gress has a sort of optimistic, can-do style, reminiscent perhaps of Del Reeves, while his sister, "girl" singer Betty Lou Armstrong -- pictured on the cover in provocative though hopelessly outdated go-go boots and midi skirt -- had a slightly folkish sound, equal parts Judy Collins and Donna Fargo. Some groovy chicken-pickin' guitar and really nice pedal steel... All in all, a swell example of a real-live, working country-lounge band in the upper plains states during the "Me Decade" early '70s. Fun stuff!


<! - #CAS-1003 - (MT) ext >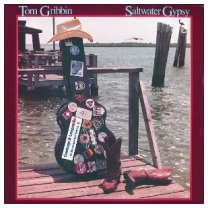 Tom Gribbin "Saltwater Gypsy" (Mariner Records, 1981) (LP)
(Produced by David Williamson, Harry Dailey & Tom Gribbin)
Hailing from St. Petersburg, Florida, corporate lawyer-turned-honkytonk-outlaw Tom Gribbin may have paid allegiance to Jimmy Buffett, but he sounds most like Waylon Jennings, growling in a Waylonesque brogue and covering "Waymore's Blues" along with a strong set of mostly-original material in the same mode. Gribbin seems to have been tight with songwriter Danny Flowers, who plays guitar on this album and co-wrote one of the tracks with Gribbin. Also in studio was keyboardist Biff Watson and some other Nashville session players, although this album album wasn't just packed with Music City hired guns. Gribbin wrote or co-wrote five of the songs, and his harmonica player wrote a sixth... Perhaps the biggest surprise is an original reggae song, "Johnny Deepwater," and a cover of the punk anthem "Guns Of Brixton," by the Clash (Gribbin went to England and played some clubs during the early punk era, and came back impressed by the DIY ethos. This album's kind of slick and commercially oriented, but definitely as indie as they come. (Note: this was reissued in the UK as Son Of Lightning with a different track sequence, though the songs are all the same.)
Tom Gribbin & The Saltwater Cowboys "Useppa Island Rendezvous" (Mariner Records, 1984) (LP)



<! - Mariner label, or Range Records??? >
Tony 'Jarfly' Griffin "Southbound Train" (Bellaphon Records, 1982) (LP)
(Produced by Wayne Goforth)
Cowboy-ish folk-blues in a Ramblin' Jack Elliott/Townes Van Zandt-ian mode. Griffin was a Californian who got rambling fever and made his way to Nashville, where he got into music and learned to play while hanging out with bluegrassers such as Red Rector and Phil Ledbetter, who he credits with giving him his nickname. Although he learned to play from bluegrassers, this is much more of a folk-roots poet type of album, with several traditional songs along with a bunch of Griffin originals that sure sound like traditional songs. Townes fans, in particular, might really like this one.


<! no ASIN 06/23/15 - original(?) issue on a Knoxville label: Thunderbird Sound Studio #1077 >

Big Jim Griffith "The Dixie Cowboy" (Sonyatone Records, 1976) (LP)
Down-to-earth, stripped-down old-timey revivalist twang from a Tucson, Arizona college kid who picked banjo and sang, backed by guitarist Dave Luckow and Bob Sayers on fiddle and mandolin. No producer credits, alas.


<! - # >
Glenda Griffith "Glenda Griffith" (Ariola Records, 1977) (LP)
(Produced by Don Henley & Jim Ed Norman)
A very, very, very LA in-crowd album with backing by a sizeable portion of The Eagles (Don Henley on drums, Don Felder and Joe Walsh playing guitar and Eagles producer Bill Szymczyk mixing the tracks...) as well as Carole King playing piano on a couple of songs and contributing a song called "Eagle," as well as a whole slew of folks from the Southern California soft-rock/country-rock studio scene in tow: Karla Bonoff, Valerie Carter, Danny Korchmar, J.D. Souther, Waddy Wachtel, et. al. Griffith seems to have been a particular protegee of Danny O'Keefe, recording four of his songs and getting him to back her on one track; she herself contributes two originals to the repertoire. This is mostly a '70 pop record, in a lush, sometimes overripe Carole King/Carly Simon-esque mode, though with enough hints of twang to qualify it for mention here... The songs featuring the Eagles dudes sound very Eagles-y, with specific riffs and production touches that are lifted straight from the Hotel California playbook, just with a gal singing rather than Henley and his peeps. Really, though, I guess this is more of a buyer-beware review: I kept seeing this popping up in country bins and finally had to check it out, but there isn't really much twang on it. Her cover of Marty Robbins' "Don't Worry About Me" spotlights Sneaky Pete Kleinow on pedal steel and has a nice, plinky honky-tonk vibe, though her vocals are underwhelming; some nice steel work on O'Keefe's "Quits," which appropriately enough closes the album out.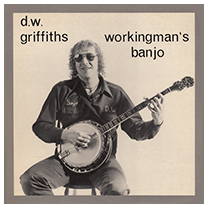 D.W. Griffiths "Workingman's Banjo" (BMA Records, 1978) (LP)
(Produced by D.W. Griffiths, George Eliot & Ron Eliot)
Experimental bluegrass instrumentals by banjo plunker D.W. Griffiths, who hailed from Little Silver, New Jersey. Most of these East Coast pickers are unfamiliar to me, except for Andy Statman, who plays mandolin; Tony Trischka contributes liner notes, in which he speaks of Charles Ives, and hints at how challenging this album might be for many mainstream 'grass fans.


<! - # 138 >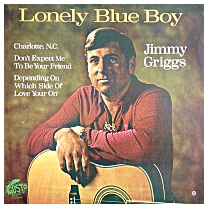 Jimmy Griggs "Lonely Blue Boy" (Gusto Records, 1973) (LP)
(Produced by Tommy Hill)
An interesting mid-period album from Gusto Records, and a nice break from their usual 'Seventies mode of cheapie reissues of trucker tunes and old Starday sessions. This is an odd but ultimately charming set of original material, some of it clunky and some of it reasonably robust, with a mix of would-be countrypolitan and goofy novelty numbers. Objectively speaking, the more emotive numbers are kind of "bad," but they have their charms -- mainly, that Griggs was really putting his heart into the performances. The highlight is probably the topically-themed, moodily apocalyptic "Beginning Of The End," where he comments on the "free love" scene of the early '70s, and wonders aloud what the world is coming to... There are also several decent straight-ahead country numbers, including "Charlotte, North Carolina," an early Gary Stewart song which was the flipside to the single, and one of the strongest tracks on the album, along with "Overloaded Diesel," a Dave Dudley-style saga about a trucker being chased by an angry husband across several state lines. Griggs had previously released several singles on the Boot Heel label and the ready availability of promo copies of this album suggests that Gusto really made a go of getting him in the charts. But for whatever reasons it didn't quite click and he faded from view. The record's worth checking out, though, both as kitsch and as country, and was a noble experiment on the part of the normally rather conservative Gusto label.


<! - # >

Frank Grill "The Hands You're Holding Now" (Custom Fidelity, 19--?) (LP)
(Produced by David A. Owens)
A singer from Pittsburgh, PA, Frank Grill sang mostly covers -- of George Jones, Marty Robbins, Waylon Jennings, Pee Wee King and others -- as well as two originals that he wrote, "Face In The Mirror" and "We'll Be Together." Among the musicians backing him is Ron Mesing on dobro...


<! - #? - no ASIN 09/07/16 >
Gord Grills "Songs And Recitations" (Paragon Records, 19--?) (LP)
(Produced by Jack Boswell & Bill Bossey)
Canadian country from Ontario, with fiddler Carl Elliott, Dusty Stokes on bass, and Joe Aylward on lead guitar; Aylward later recorded as a solo artist... Lead singer Gord Grills was a farm kid who grew up around near Workworth, Ontario, and cut his teeth playing country gigs in smalltown bars 'way back in the early 'Sixties and started this band, the Road Rangers, in 1966. He mixes original material, super-oldies such as "Wreck Of The Old '97," and several recitation numbers, a style you don't hear much of these days... not even back when this album was made!


<! - #ALS-183 - year? >
Michael 'Bo' Griner "Takin' The Chance" (Blue Horizon Records, 1982-?) (LP)
(Produced by Joe Bob Barnhill & Gene Rice)
Hailing from Atlanta, Georgia singer Bo Griner had been in both secular and gospel bands, had quit music and come back to it before traveling to Nashville to cut this disc, which is packed with songs he wrote. Although he clearly had Top Forty aspirations, he never really made the leap to Nashville, and headed back to Atlanta, where he played hotels and clubs and whatnot. Several Nashville "usual suspect" studio guys are backing him here, with Hoot Hester and Mark O'Connor playing fiddle, Hargus Robbs on piano, Hal Rugg playing steel guitar...


<! - # - looks pretty cheesy - '80s-style romantic top 40(?) - Gene Rice was the engineer - liner notes mention him moving to Atlanta in 1981, so this is at least after that SONGS: Taking The Chance; The Love in My Lady's Eyes; I'm Just Too Shy; Give This Broken Heart a Break; Trust In Each Other; This Time The Broken Heart Is Mine; Everytime Her Memory Rings a Bell; Boy Was I Wrong; Your Lies; Spend A Little Time. >


David Grisman -- see artist profile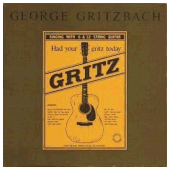 George Gritzbach "Had Your Gritz Today?" (Kicking Mule Records, 1976) (LP)
East Coast blues picker George Gritzbach's played folk and blues clubs throughout Massachusetts and greater New England in the early '70s before recording this fine acoustic album, which is deeply rooted in the "country blues" style of the 1920s and '30s. It's a fine album, similar to the work of contemporaries such as Bob Brozman and Stefan Grossman, though this blues revival work doesn't show the same unique flair of his original material that he'd record on his next album. Acoustic blues fans will want to check this one out, though Americana/alt-country fans might enjoy his later stuff more.


<! 170 x 170 (?) >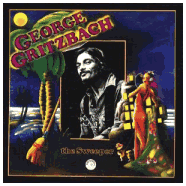 George Gritzbach "The Sweeper" (Kicking Mule Records, 1979) (LP)
(Produced by David Budries)
Another solid acoustic blues set, mostly of original material, including a few songs that adventure forth into funkier, more inventive blues-Americana territory... The uptempo title track, "The Sweeper And The Debutante" is a lusty, steamy novelty song that recalls David Bromberg's "Sharon," while on the other end of the emotional spectrum, the eerie, spectral "Mr. Fat's Sad Surprise" tells the tale of a rich tycoon meeting up with Death itself, with Gritzbach accompanied by what sounds like the mournful ghost of a tortured oboe. "Long As It's Green" is another nice, good-natured tune, while much of the rest of the record fits right into the straight-and-narrow of the '70s acoustic blues revival. I remember hearing "The Sweeper" on KFAT a bazillion times, back in the goodle days, and enjoyed playing it on the air myself a time or two. Afterwards, Gritzbach went for a heavier, more electrified sound, but this early acoustic set was a real gem.


<! - # >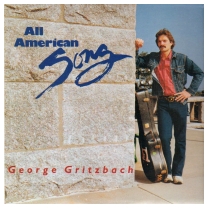 George Gritzbach "All American Song" (Flying Fish Records, 1984) (LP)
(Produced by David Budries & George Gritzbach)
A mellow, rather subdued in which Gritzbach strikes a contemplative tone and even tackles some political themes, particularly the issues of nuclear proliferation and the Cold War tensions of the Reagan era. The arms race is most directly addressed on "Talkin' Freeze," a song inspired by the grassroots "nuclear freeze" movement, with an urgency and earnestness that is reprised on "Red Alert." He also sings about economic inequality ("Off The Wall Street Blues"), evolution ("Common Denominator") and ecology ("Creole Chill") as well as love and romance, as of old. The album's most durable song may be the closing number, "Seeds Of Tomorrow," which echoes the political themes explored earlier, but more gently and more subtly. This can be seen as a transitional album -- still anchored in the acoustic rag-and-blues style of his earlier albums -- though it's also a lot more glum and downcast. Even though he's preaching positive social change, Gritzbach sounds kind of low-energy and down in the dumps... I guess looking into the abyss can do that for you. At any rate, although this album isn't as vibrant as his stuff from the '70s, it's still got some good stuff on it, and is certainly worth checking out.


<! - 1984, or '85? >
Larry Groce "The Wheat Lies Low" (RCA-Daybreak Records, 1970)



<! - from Dallas, Texas - was Daybreak a Christian imprint? - moved to West Virginia in '72(ish?) - became an ordained minister(?) https://mentalitch.com/the-story-and-music-of-larry-groce/ >
Larry Groce "Crescentville" (RCA-Daybreak Records, 1972)

Larry Groce & The Currence Brothers "Larry Groce And The Currence Brothers" (Peaceable Records, 1975) (LP)
(Produced by Michael Lietz & C. Randolph Naurt)
Listeners and fans who want to get a sense of Groce's roots music origins might get a kick out of this pleasantly twangy, all-acoustic album... A nice, straightforward set of traditional-sounding bluegrass, with a repertoire that mixed in plenty of "progressive" material, such as Dylan's "You Ain't Going Nowhere," the Johnny Cash oldie, "I Still Miss Someone" and Rodney Dillard's "The Biggest Whatever." The Currance Brothers were a family band from Randolph County, West Virginia who provided solid though unflashy accompaniment for the equally unhurried lead singer... The Jimmie and Lorie Currance Brothers went on to record a few albums of their own, though I think this was their debut LP.


<! - # >
Larry Groce "Junkfood Junkie" (Warner Brothers, 1976) (LP)
It can be hard not to be considered a "one-hit wonder," especially when your big hit blows up as huge as the title track to this amiable folk-pop outing. The bouncy, deliciously delivered song was a good-natured spoof of the growing "natural foods" movement of the 'Seventies, and it became one of the biggest radio hits of the Bicentennial, as popular with the hippie-hating "straights" as with the longhairs and liberals who if nothing else proved that they could take a joke as well as the next guy. It's funny, though, it never occurred to me, until just now, that Larry Groce might have actually written -- hell, he might even have sung -- other songs besides "Junkfood Junkie," and that he might actually deserve a spot in the '70s hippie-country pantheon. That suspicion is borne out by a cursory Google search which reveals that Groce was the founder of the venerable "Mountain Stage" radio show, which helped give national exposure to many to some of the biggest stars of the budding Americana and Adult-Alt music genre in the 1980s and '90s. Go figure. Heck, maybe some day I'll have to check the rest of this record out!


<! - # includes a version of "Coal Tattoo" >
Larry Groce "Please Take Me Back" (MC Records, 1977) (LP)
(Produced by Mike Curb)
On what amounted to his major-label swansong, Larry Groce hooked up with hotshot producer Mike Curb for a smooth set of flowery folk-and-twang, backed by an impressive roots music studio crew. Ry Cooder plays on a couple of tunes, along with pedal steel players J. D. Maness and Sneaky Pete Kleinow, fiddler Richard Greene, a couple of guys on loan from the Emmylou Harris Hot Band (Emory Gordy and Glen D. Hardin) with Nick De Caro slumming on accordion... Heck, they even got Melissa Manchester to sing harmony on a tune or two! For me, the most intriguing sideman was banjo picker and backup singer Rob Quist, a veteran of the regionally-based group, the Montana Band, who was probably playing with Groce at the time. Like Quist, Groce preferred the smalltown life, and sings of his happiness in a "Big White House In Indiana," along with other pastoral, rural inclinations. Most of this album is too wishy-washy for me, with pop-folk/singer-songwriter material reminiscent of Harry Chapin and Jim Croce, though the opening track, "Entertainment Nightly," is a satisfyingly twang-filled tune about "a great big star in a little beer joint," who doesn't mind pickin' and singin' far away from the LA and Nashville lights. Other tracks are mildly evocative, but that one's the real winner.


<! Larry Groce "Peace And Joy And Power" (The Christian Science Publishing Society, 1970) - words by – Mary Baker Eddy Larry Groce "The Wheat Lies Low" (RCA-Daybreak, 1970) Larry Groce "Crescentville" (RCA-Daybreak, 1972) Larry Groce "Junkfood Junkie" (Warner Brothers, 1976) (LP) - after this all Disney albums >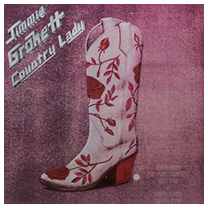 Jimmie Grokett "Country Lady" (AMI/Tamara Records, 1986) (LP)
(Produced by John Beland & Bernie Vaughn)
This album by Sherman, Texas singer and keyboardist Jimmie Grokett was a side project of erstwhile Flying Burrito brother John Beland, who had earlier produced a single for Grokett's band, Red Horse. There are several songs on here credited to Beland and several obscure cover songs, including a little-known Rodney Crowell song, "The Best I Can." The title track was co-written by Jimmie Grokett and Danny Batchelor of Red Horse, although that seems to be the only original on his part. The massive Flying Burrito Brothers website says this album was "unreleased," but it looks to me like it it went through the whole Nashville custom/indie label process, and was pressed with proper graphics and everything. It was recorded in Hendersonville, Tennessee with several Music City pickers as back-up, and the single, "Country Lady," got a plug in Billboard at the end of the year. Apparently the Red Horse Band also went to AMI and cut an album at the same time, but had parted ways with Grokett before they went into the studio. That must have been fun for Beland, who produced both albums.


<! - #TA-2002 - spelled "Jimmy" on inner label >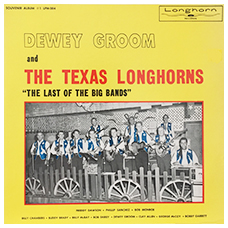 Dewey Groom & The Texas Longhorns "The Last Of The Big Bands" (Longhorn Ballroom, 1966-?) (LP)
(Produced by Dewey Groom)
The Texas Longhorns were a long-lived Texas dance band, led for several decades by producer Dewey Groom. The group's career dates back to the 78 era, when they recorded for Imperial Records and other labels, though most notably for Groom's own Longhorn label, which was a powerhouse for regionally-produced traditional country. This disc is notable for its wealth of original material, including a slew of tunes from singer Clay Allen, who is described on the back cover of Groom's "second in command," as well as one each credited to lead guitar picker George McCoy and steel player Bobby Garrett. The Longhorn label was also the mid-1960s home for hotshot guitarist Phil Baugh, and though he's not in this lineup of the band, this album also features two songs by Baugh's musical partner, Vern Stovall. The music's groovy, but maybe even better are the brisk bios of all eleven guys in the band at the time, telling us both about the family men and the guys who liked to chase after gals, as well as the guys who had careers outside of the band.


<! - #LPM-004 - (TX) - guessing at date, per dc pegging LP-002 (Phil Baugh) as 1965 >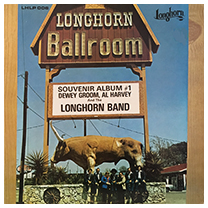 Dewey Groom & The Longhorn Band "Souvenir Album #1" (Longhorn Records, 1978) (LP)
(Produced by Dewey Groom & Jerry Abbott)
This album was made to be sold at Dewey Groom's dancehall, the Longhorn Ballroom, located in Dallas, Texas... This was a much smaller group than the old Longhorns band Groom led in the 1950s and '60s, just six guys who were the house band at the time, including steel player Junior Knight and lead singer Al Harvey, who gets equal billing on the front cover, and was probably the day-to-day leader of the band. Mostly covers tunes, fairly predictable stuff such as "Faded Love," "Jole Blon," "Six Days On The Road" and "Orange Blossom Special."


<! - # >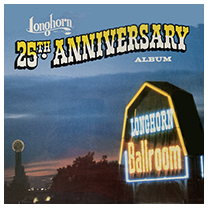 Dewey Groom/Various Artists "Longhorn 25th Anniversary Album" (Longhorn Records, 1983) (LP)
(Produced by Dewey Groom & Keith Rust)
Dallas, Texas nightclub owner and country promoter Dewey Groom leads a band of younger musicians on a set recorded in honor of the Longhorn Ballroom's twenty-fifth anniversary. The Longhorn was built in the late 1950s as a home for western swing legend Bob Wills, and Mr. Groom managed it for about a decade before becoming the full owner in 1967. The backing musicians were presumably the early '80s house band, younger dudes who included Buddy Brady on fiddle, bassist Van Crane, Donnie LaValley on steel guitar, piano plunker Kenny Martin, Shane McCauley on drums and lead guitarist Curt Ryle. While Mr. Groom croons on some oldies ("Faded Love," et. al.) he mostly lets the spotlight fall on the young'uns, and this album is packed with original material -- six songs written or co-written by Curt Ryle, including two co-composed with Kenny Martin. They all take turns on vocals, recorded in the studio at Crystal Clear Sounds in Dallas. Not long after this was recorded, Oklahoma-born Curt Ryle headed for Nashville, where he found success as a sideman, songwriter and producer; some of his most successful tunes include "Storm In The Heartland," a mid-1990s single by Billy Ray Cyrus, and several songs recorded by Clinton Gregory.


<! - # - (TX) >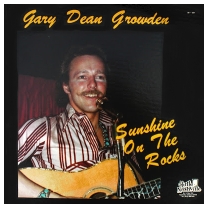 Gary Dean Growden "Sunshine On The Rocks" (Little Nashville, 1977) (LP)
(Produced by Don D. Sheets & Joe Edwards)
Except for a cover of Neil Diamond's "Gichy Goomy," this is a set of all original material... And it was recorded in Nashville, too, but not the Nashville you're thinking of... In this case it was Nashville, Indiana, an itty bitty little hamlet just East of Bloomington. Where, apparently, they have country singers! This looks like it might have been a "song-poem" album, with producer Don Sheets and his wife, Marti Mae Sheets, along with other family members and hired hands, playing the music that was "provided" by Gary Growden. The band also includes steel guitar by Joe Tippie and backup vocals by the Marti Mae Singers, led by Ms. Sheets.


<! http://recordoobscura.blogspot.com/2009/08/sunshine-on-rocks.html - from Michigan(?) - "folk-rock"? >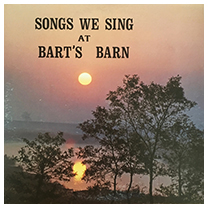 Bart Grubbs "Songs We Sing At Bart's Barn" (Bart's Barn Records, 19--?) (LP)
(Produced by Anthony JP & George Walck)
A memento of an old-time country duo from the Great Depression era of the 1920s and '30s... Bart and Bill Grubbs were a brother act billed as the Harmony Boys, who played at regional talent shows and other live venues in Colorado, Nebraska and the Midwest, at least according to this album's back cover. They don't seem to have left a big footprint, though -- I couldn't find any mention of them online, or even where they were from, though Bart Grubbs and his wife Emelia seem to have been living in the Denver suburb of Longmont, Colorado at the time this album was made. He's backed by an all-local group drawn from Longmont and nearby Wheat Ridge, including members of his family, such as Jim Grubbs on guitar. I'm not sure if the old Grubbs brothers duo ever recorded back in their heyday, though this album is probably a good reflection of their act. Amid sentimental chestnuts such as "Lamplighting Time In The Valley" and "Silverhaired Daddy Of Mine," there are slightly more modern classics such as "Amigos Guitar," and "All For The Love Of A Girl," as well as Freddie Hart's early 'Seventies hit, "Easy Lovin." There are also three newly minted originals by Bart Grubbs, "Birdies In The Treetops," "Walk To The End Of The World" and "What Makes The World Go 'Round." I'm not sure when this family album came out, though it could have been any time from the early 1970s to early '80s, from the look of it.


<! - #SG-BG-5125 - wife Emelia was from Scottsbluff, Nebraska - Emelia's sister's obit mentions: "She is survived by her sister Emelia (Bart) Grubbs of Longmont, Colorado..." (The Star-Herald from Oct. 9 to Oct. 11, 2007) George Walck - business in Longmont, CO DeMott family in Wheat Ridge, Colorado >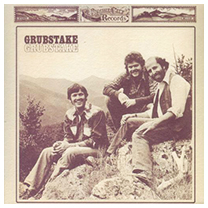 Grubstake "Grubstake" (Biscuit City Records, 1977) (LP)
(Produced by Jim Ransom & N.C. Bull)
The acoustic trio of Steve Abbott, Jack Stanesco along with Harry Tuft, who was the owner of the Denver Folklore Center. The three got together in 1972 and worked up an impressively diverse repertoire spanning old-timey music, Celtic folk, gospel, calypso, country and cowboy tunes. It's decidedly on the folkier end of the spectrum, but nonetheless a nice taste of the 1970's Denver scene.


<! - # >


Gib Guilbeau -- see artist profile




Guilbeau & Parsons "Louisiana Rain" (Ace/Big Beat Records, 2002)
Gib Guilbeau and Gene Parsons were both stalwart members of the Southern California psychedelic country scene, with stints in the Burrito Brothers and the Byrds, as well as numerous other country-rock projects that dotted the landscape back in the 1960s and '70s. This disc gathers a trove of dimly-remembered 1967-70 work on Gary Paxton's independent Bakersfield International label, which served as a fermenting pot of the nascent hippiebilly sound... These guys'll sound instantly familiar to anyone who's grooved to Gram Parsons or the country-era Byrds, with the same whiny, wandering vocals and tentatively twang and slightly constricted pedal steel playing, and -- of course -- guitarist Clarence White anchoring the later sessions. Guilbeau, who had been working as a country and folk singer for over a decade before hooking up with Parsons, wrote almost all of the material and added a cajun flair to many of the songs, also writing plenty of spaced-out, searching lyrics. In country terms, it's not great material (though there are a few catchy tunes), but seen as a stepping stone into the bigger LA country-rock scene, this material is historically quite important. It's also pretty good for what it is -- just 'cause I have trouble getting into this kind of stuff doesn't mean you shouldn't check it out. If you're a Byrds fan, in particular, you're gonna love it.


<! 144 x 144 >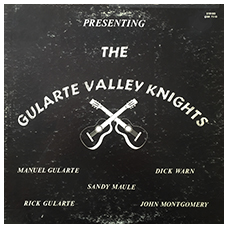 The Gularte Valley Knights "Presenting..." (GBR Studios, 1975-?) (LP)
(Produced by Gary Boyd)
A super-obscuro, locals-only band from California's Great Central Valley, this back-to-basics, early '70s set features some guys from Delhi, CA, a tiny town south of Modesto. As far as I can tell, there's no actual place called Gularte Valley; the group takes its name from bassist Rick Gularte and mandolin picker Manuel Gularte, who anchored the band along with lead guitarist John Montgomery, singer Sandy Maule and drummer Dick Warn. Steel guitarist Ivan Ward -- who played on a few Northern California records during the '70s -- also chips in, as well as bass player and pianist Reggie Folks. The repertoire mixes early '70s roots hits like "Polk Salad Annie," "Good Time Charlie's Got The Blues," Ronnie Milsap's "Pure Love" and Billy Swan's "I Can Help" with oldies like "White Lightning" and a little bit of old-school pop-soul, including covers of Nat King Cole's "Mona Lisa" and Gene McDaniels' "100 Pounds Of Clay." There's one original tune, Sandy Maule's "I'm Sorry Too," a nice country weeper that was recorded separately from the rest of the album (maybe he made a solo single?) I'm not exactly sure when this one came out, or how long the band was together... They also recorded at least one single ("Your Cheating Heart" backed with "That's Alright Mama") and the band was still doing gigs like local rodeos and the Mariposa Country Fair as late as 1980 and '81. Also, Sandy Maule seems to have stuck around the Modesto area, and was singing in local bars as recently as 2015. Anyone out there with more info about these guys? I'm all ears!


<! - #GBR-7510 - no ASIN 12/06/16 >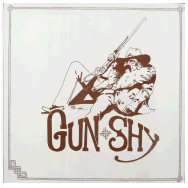 Gun Shy "Gun Shy" (Centron Records, 1979)
A moderately competent bar band from Chico, California, led by guitarist Cliff Mickelson, which as far as I know just made this one record. Mickelson wrote three of the seven original songs on here, including "Sweet Country Living," which is the album's most overtly twangy tune. The record is packed with cover tunes such as "Battle Of New Orleans," "North To Alaska," and "Rocky Top," and these tracks are at odds with the originals by Mickelson, lead singer David William Peck and bassist J. B. Keator. This is both because they veer into a kind of bright, sunshine-pop AOR style, and because they play their own songs with much more vigor and conviction than the cover songs. It really sounds like they were just padding the album out and didn't give a hoot about the oldies. Nothing earthshaking here, but another memento of a locals-only band, this time from California's Central Valley. Guess it also didn't help that some rock band came up with the same band name a couple of years later... Oh, well. Them's the breaks. (BTW - I googled Mickelson and apparently he became some kind of anti-government/anti-CDC conspiracy theorist -- it's too twisty for me to delve into. I'm not sure if he also kept the band going, though he did have a Facebook page up with old pix and whatnot.)


<! - # >
Stan Gunn "Two Sides Of Stan Gunn" (Sugar Hill Records, 19--?) (LP)
Stan Gunn was a former rockabilly singer, perhaps best known for his novelty classic, "Baby Sitter Boogie," which he recorded with his brothers Elmo and Leon. Like many rockabilly rebels, Gunn later went country, working the Midwestern country lounge circuit, from Iowa and South Dakota over to the Rocky Mountains and down to Kentucky. He recorded several albums, often emphasizing the theme of his versatility, i.e. his ability to sing both "country" and "pop." Gunn was apparently born in Kentucky, though he moved around a lot, and made Iowa his base of operations for several years, around the time he recorded these records.


<! - #SHS-001 - NOTES >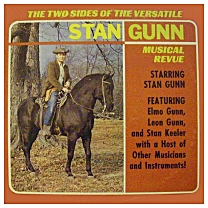 Stan Gunn "Two Sides Of The Stan Gunn Musical Revue" (Y Records, 19--?) (LP)
This album also includes contributions from Elmo Gunn, Leon Gunn and Stan Keeler...


<! - also on Sugar Hill? "...Some of the songs include: ring of fire, king of the road, houston, hello dolly, try to remember, yesterday, downtown and many more" >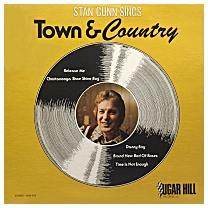 Stan Gunn "...Sings Town And Country" (Sugar Hill Records, 1974) (LP)
Recording for a label in Springfield, Illinois, crooner Stan Gunn once again "shows versatility" on a set that includes country standards such as "Release Me" and "I'm So Lonesome I Could Cry" with a few "town" pop songs such as "Danny Boy" and "Spanish Eyes," as well as contemporary hits like "Sunday Morning Coming Down." The defining quality of this album seems to be its connection to songwriter Alex Zanetis, a Nashville pro who probably had a few new tunes to promote at the time, leading me to believe that this disc was a publisher's showcase album.


<! - #SHA 004 "... >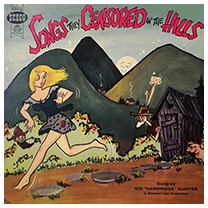 Hardrock Gunter "Songs They Censored In The Hills" (Seeco Records, 1958) (LP)
A set of mildly risque novelty tunes by hillbilly legend Sidney Louie Gunter (1925-2013), an Alabama native whose hard-driving 'early 'Fifties boogie style was seen as a precursor to the rockabilly explosion of the 1950s. Some of these chestnuts, like "Blood Shot Eyes," "It May Be Silly!" and "Rye Whiskey" were a little bit tame, though others, such as "Right Key But The Wrong Key Hole" and "A Little Bit Ain't Gonna Help Us Much" have an enduring bawdiness. These tracks were reissued on vinyl by the German collector label, Cowgirlboy Records, in the 1990s.


<! - # >

Rock (Hardrock) Gunter "Popcorn Dancing For The Social Set" (Gee Gee Records, 1961) (LP)
Pretty much a straight set of country covers, big hits from big stars such as Red Foley, Marty Robbins and Hank Williams.


<! - #LP-161 >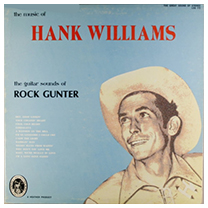 Rock (Hardrock) Gunter "The Music Of Hank Williams" (Heather Records, 1972) (LP)
An homage to honkytonk deity and fellow Alabamian Hank Williams, who was one of Gunter's country contemporaries, back in the early 1950s. By the time he released this LP, Gunter had pretty much retired from the music business, though obviously he still had plenty of twang to swang.


<! - #LSG-172 - no ASIN 03/20/16 - ordered via Amoeba >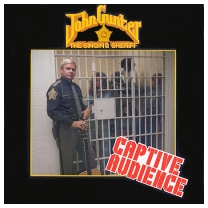 John Gunter "...The Singing Sheriff: Captive Audience" (Captive Audience, 1980) (LP)
(Produced by Darrell Powell & Rick Smith)
A veteran paratrooper decorated in the Korean War, John Gunter returned to civilian life and became sheriff of Madison County, Indiana. He also developed a sideline as an entertainer, and recorded at least two albums as "the singing sheriff," working with locals from around his hometown of Anderson, IN. This album features a bunch of original songs written by producers Rick Smith and Darrell Powell, though neither songwriter played in the band. The musicians included Larry Agee on steel guitar, Keith Bridges (bass), Danny Daniels (keyboards), Joey Grubbs (drums), Jeff Hardin (fiddle), Randy Melson (lead guitar), Paul Thomas (bass) and Doyle Williams on rhythm guitar... Backup singer Cindy Loewen also co-wrote one of the songs, "I Still Burn The Flame," with Rick Smith. One track, "Truck Drivin' Woman," features lead vocals by Steve Prentice, and was also released under his name; he also performed as part of the folk-rock duo Prentice & Tuttle.


<! - #CAP-0001-GS - aka - backing Vocals – Bucky Powell, Cindy Loewen, Danny Daniels (4), Greg Alexander (5) >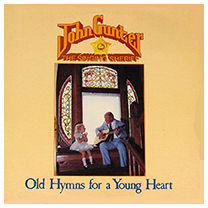 John Gunter "Old Hymns For A Young Heart" (Captive Audience Records, 1981) (LP)
(Produced by Darrell Powell)
An all-gospel set by "the singing sheriff," with some overlap in musicians, but basically an all-new backing band, notably steel guitarist Rex Thomas. The album was recorded at a studio called The Barn, which was run by Danny Gaither, brother of southern gospel legend Bill Gaither.


<! - #BN-1015 Danny Daniels (keyboards) John Govro (banjo) Ron Jakeway (drums) Dan Marler (guitar) Randy Melson (bass) Tom Silvey (fiddle) Rex Thomas (steel guitar) Don Boyer (harmonica) - recorded at The Barn, in Alexandria, Indiana - Danny Gaither, owner of The Barn (related to Bill Gaither?) yes, his brother >
Gustafson "Long Time Layin' Down" (Royalty Records, 1977) (LP)
He was Canadian... looks pretty "outlaw..." But I'm still looking for more info...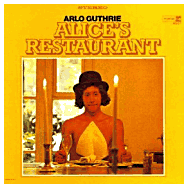 Arlo Guthrie "Alice's Restaurant" (Reprise, 1967)
Arlo's first album. If the truth be told, there was a time in my life when I was able "Alice's Restaurant" word for word, even the Don Bowman cover version. But those brain cells are gone now. Probably just as well. Also includes the original, less fun, studio version of "The Motorcycle Song," and several folk-psychedelic songs that aren't all that memorable, although they did reveal the young Mr. Guthrie as a surprisingly mature, self-possessed musician, especially for someone as stoned as he must have been at the time.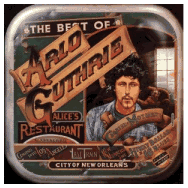 Arlo Guthrie "The Best Of Arlo Guthrie" (Warner Brothers, 1977)
A nice best-of set that includes most of his best-known songs, and a couple of off-the-radar tunes as well. It kicks off with Arlo's sprawling, freakulent shaggy-dog classic, "Alice's Restaurant Massacree," and adds "The Motorcycle Song," the bouncy smuggler's ballad, "Coming Into Los Angeles," and several soulful acoustic tunes such as the mournful "Last Train," "Darkest Hour," and his big hit version of Steve Goodman's "City Of New Orleans." It's a modest set, though, and could be longer -- mostly what I'd like to have added is my other Arlo Guthrie fave, "Hobo's Lullaby," although I guess in an age of digital downloads, that's less of a bummer than it used to be. This is a good introduction to Guthrie's work and probably for most listeners about as much of it as they'll need. Sweet stuff, though.


<! ARLO GUTHRIE Arlo Guthrie "Alice's Restaurant (1967) Arlo Guthrie "Arlo (1968) Arlo Guthrie "Running Down the Road (1969) Arlo Guthrie "Alice's Restaurant Soundtrack (1969) Arlo Guthrie "Washington County (1970) Arlo Guthrie "Hobo's Lullaby (1972) Arlo Guthrie "Last of the Brooklyn Cowboys (1973) Arlo Guthrie "Arlo Guthrie (1974) Arlo Guthrie "Together In Concert (1975) Arlo Guthrie "Amigo (1976) Arlo Guthrie "The Best of Arlo Guthrie (1977) Arlo Guthrie "One Night (1978) Arlo Guthrie "Outlasting the Blues (1979) Related: Don Bowman Peter Ritchie "Alice's Restaurant Massacree (Complete)" (Design) (LP) >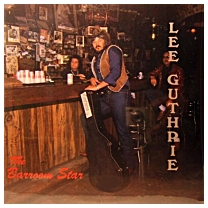 Lee Guthrie "The Barroom Star" (Zeta Records, 199--?) (LP)
(Produced by Lee Guthrie & Dee Keener)
An all-original set of hard country tunes from songwriter Lee Guthrie who is seen on the cover posing in front of the "wall of fame" at the bar of the fabled Tootsie's Orchid Lounge in Nashville. He recorded this album outside of Nashville, however, mostly at the Ripcord studios in Washington state, as well as a place in Arkansas (which makes me think that's where he was from... Why else make a record there?) Gene Breeden is one of several guitarists on this album, with Eddy Lane playing steel and Hargus Robbins in on some of the sessions as well. The liner notes allude to Lee Guthrie being "born of a great musical heritage," but they don't specify what that means... Was he a relative of Woody or Jack? Could be, though I couldn't find any info about it online. At any rate, there's plenty of outlaw twang to be heard on here, with songs like "Honky Tonk Music (And Barroom Time)," "You Don't Have To Be From Texas To Be A Cowboy." To which I say, bartender: another round!


<! - Dee Keener listed as engineer - looks good! - #NR14587 - Dale Guthrie plays bass "and a couple of tracks that have "T-Town" in the title... " >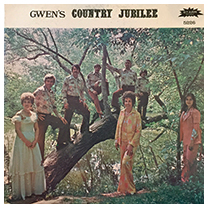 Gwen's Country Jubilee "Gwen's Country Jubilee" (Starr Records, 1973-?) (LP)
(Produced by Jack Casey & Marvin Jones)
Although her group's "jubilee" band name made it sound like Gwen Turner was running her own mini-opry, this was actually an informal, self-contained group that made live appearances at the Mountaineer Opry House in Milton, West Virginia, just on the state line about fifty miles from Cincinnati. The Mountaineer Opry opened in 1972, and Turner's band recorded this album the following year. The liner notes say that Mrs. Turner "gave up a career" to start this band, apparently corralling several friends and acquaintances to start a band, ranging from thirteen-year old singer Sandy Powers to guitarist and aspiring songwriter Bill Wurts, as well as Sue Conley (vocals), Jim Lyons (rhythm guitar), Larry Lyons (bass), and Jim Reed (drums), and Jerry Van Hoose on steel guitar. Around the same time Gwen and her husband "Doc" Turner started something called the Appalachian Country Jubilee, Inc., in their home state of Kentucky, and may have been hoping to create a local venue of their own. The liner notes say that Gwen Turner mostly sang harmony and was reluctant to sing lead; as far as I can tell she didn't have an earlier career as a solo performer, and hadn't recorded anything before this album. Steel player Jerry Van Hoose recorded an album called Steel Memories," and seems to have moved down to Florida. Other than that, this record is a bit of a mystery.


<! - #5226 - NOTES, links, unable to track down the Turners - LK emailed Van Hoose 09/28/19 - August, 2018: "...please contact Jerry Lee Van Hoose, (606) 369--2311 or email jerryvanhoose@hotmail.com >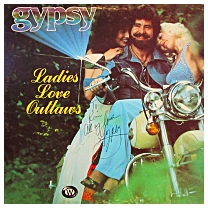 Gypsy "Ladies Love Outlaws" (Worldwide Records, 1979) (LP)
(Produced by R. Copp & Ted Mather)
Vrrrrm! Vrrrrumm!! A solo set by Robert Copp, aka Gypsy, a biker-y dude from Connecticut who sang about Harleys and outlaws, but wasn't strictly a "country" singer. This album includes several of his own songs, including "Highway Gypsy," "I Love You (For Gale)" and "Ladies Love Outlaws" (not the same as the Waylon Jennings hit), as well as "Long Road To Nashville," which was penned by the album's producer, Ted Mather. The album's second side was a live set, with pop vocal covers such as the song "Mariah" (from the musical "Paint Your Wagon") and "The Quest" (from "Man Of La Mancha"). So go figure.


<! - from Groton, CT >

---
---