<! MP3 03/17/10 > <! update 00/00/00 > <! pix 03/17/10 > <! icons 01/31/11 >
---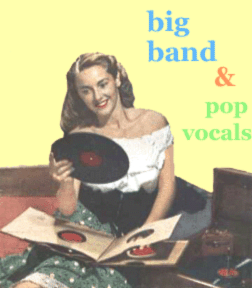 <! Need ASINs: Bob Chester "...And His Orchestra: 1940-1941" (Circle, 1983) (LP) Buddy Clark "xxxxxxxxxxxxxxxxx" (Murray Hill, xxxxxxx) Although the cover proclaims that this 2-LP set includes material dating back to 1927, in reality there's only one song here from the Roaring Twenties, while all rest of the the tracks are post-WWII, from 1947. By this time, Clark was strictly a Bing Crosby imitator, with no glimmer of an original voice, and plenty of conservative, bland arrangements. Better to look for the early stuff. >

Hi -- welcome to my Jazz and Swing music section. This page includes reviews or records by artist under the letter "C". More reviews and artist profiles can be found at the Main Jazz Index




---
A | B | C | D | E | F | G | H | I | J | K | L | M | N | O | P | Q | R | S | T | U | V | W | X, Y & Z | Comps | Main Jazz Index | Jazz Books & Music Guides
---
Judy Canova "Ozark Nightingale" (Collector's Choice, 2004)


She wasn't really a country singer, but like many mainstream pop artists such as Dorothy Shay and Arthur Godfrey, Canova played on a broad "hillbilly" stereotype to deliver warped versions of popular songs of the day. These radio performances (from the 1940s perhaps?) capture Canova at her best: playful, corny yet canny, and a powerful performer. Included are several of her signature tunes, such as her rollicking versions of "Just Because" and "The Wabash Cannonball," and omits other songs that play more into the hick schtick... All in all, this is a pretty fun set, although it really should be classed more closely with pop vocals and show tunes than with legitimate country stuff. But does that really matter? Check it out for yourself, and find out.

Russ Carlson & The High Steppers "The Crown House Bands, Volume 1" (The Old Masters, 1998)


Pure, delightful sweet-band novelty tunes and sentimental love songs. Deliciously dainty and genteel -- yummy vocals and solid musicianship. The material comes from the vaults of Crown Records, a long-forgotten budget line distributed through Woolworth's department stores in the 1930s. The repertoire is full of stock arrangements, but that's half the fun -- once you settle into the band's comfortable, ebullient mood, it's nonstop fun from the first track to the last. Nice to hear all those antiquated orchestrations, too, the banjo next to the tuba and whatnot, plus all the goofy lyrics. Highly recommended!


<! 130 x 130 >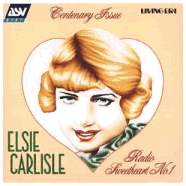 Elsie Carlisle "Radio Sweetheart #1" (ASV Living Era, 1999)


Manchester-born Elsie Carlisle sang with many of the top British dance bands of the 1930s and '40s, including Ambrose and his orchestra, Jack Hylton and Jack Harris. She was a frequent duet partner with Sam Browne and a popular performer on both radio and the cabaret stage. Her repertoire was broad, encompassing novelty numbers and romantic ballads, as well as a fair number of saucy old music-hall numbers and risque blues tunes, both styles toned down musically, but with eyebrow-raising naughtiness intact. This is a nice selection of her classic work, much of it pre-WWII.
Elsie Carlisle "Volume 1: My Canary Has Circles Under Her Eyes" (Dutton-Vocalion, 2004)

Elsie Carlisle "Volume 2: I Poured My Heart Into A Song" (Dutton-Vocalion, 2004)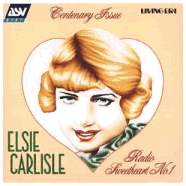 Elsie Carlisle "And The Band Played On" (Pegasus)


The Cats And The Fiddle "We The Cats Will Swing For You" (ASV Living Era, 2003)


The Cats & The Fiddle band, originally a four-piece quartet from Chicago, are known partly as the band that launched guitarist Tiny Grimes to fame (he replaced an earlier bandmember) and as one of the early pioneers of the group vocal sound that led to the doo-wop music of the 1950s and '60s. The Cats started out in 1937, and started recording in 1939, initially to fairly limited regional success. Their peppy, upbeat style was a mix of the sleek vocal harmonies of contemporary acts such as the Mills Brothers and Inkspots, and the wilder showmanship of Cab Calloway... the guys sang sweet, sly, bluesy hepcats lyrics -- generally songs about good times, fast gals and a little bit of weed -- with a rambunctious, mostly rhythmic, guitar accompaniment. It's fun stuff! This single-disc, 27-song selection is one of the liveliest, most compact readings of their career available, and is highly recommended, as are the more thorough, multi-CD retrospectives reviewed below.

The Cats And The Fiddle "Volume 1 -- Killin' Jive: 1939-1940" (Dee Jay, 1999)


This series collects the complete studio recordings of The Cats & The Fiddle, taking them from their early days recording on the Bluebird label -- the recordings most blues-jazz fans know them for, due to a swell 2-LP set that came out in the 1970s. It's great stuff with a raw feel to it and a kooky swing vibe that fans of Slim Gaillard will instantly pick up on. This collection comes from various collector's personal troves of old 78s, and is generally of high quality, although obviously it's not as sonically pure as the original Bluebird masters, which BMG now owns... Still, it's a killer-diller set, and if you're looking for an extra dose of the Cats' best stuff, this disc oughtta fill the bill. Recommended!
The Cats And The Fiddle "Volume 2 -- Hep Cats Swing: 1941-1946" (Dee Jay, 1999)


The Cats And The Fiddle "Volume 3 -- Start Jive Talkin': 1947-1950" (Dee Jay, 2000)


Although still worth owning, this volume of the Cats saga documents their decline as stylistic innovators, and is largely packed with uninspired, derivative material. Numerous personnel changes and the eventual disintegration of the original band took their toll, and the edition of the band that guitarist Austin Powell cobbled together in 1949 simply lacked spark or fire. Partly, this undynamic feel was on purpose, as the cool, lounge-y, jazz-tinged sophistication of Nat King Cole and the West Coast blues-jazz crossover was all the rage at the time. Tiny Grimes had long since abandoned the Cats, but he'd left his mark on their sound, with jazzy lead guitar laced throughout many tracks. They'd also added female vocals, but in general these singers were pretty subpar and their weak stylizations, along with the jazz affectations, made the Cats sound like just another wannabee hepcat band. This material is okay, but it ain't great. I've kept my copy, though, just 'cause that era of pop music was so sweet... But it is kind of sad to hear how such a vibrant ensemble lost its way while trying to keep up with trends in a musical style they had once helped pioneer.

The Charioteers "The Best Of The Charioteers" (Collector's Choice, 2003)


A delightful collection of vocal tunes recorded between 1937-1948 by a gospel group gone pop, following very much in the footsteps of the Mills Brothers and Ink Spots. There's also a trace of hipster jive, ala Slim & Slam, on nonsense numbers such as "Calliope Jane," "The Mumble Song," and the hepcat novelty number, "Open, The Door Richard." The group excelled at slicked-up, sweetened versions of cover tunes, and had a big hit in 1940 with "So Long," one of many fine oldies included in this 24-song set, including '40s pop standards such as "We'll Meet Again," "I Got It Bad," and the like. It may take a while to settle in on this band's wavelength, which is closer to the corny sentiment of the sweet band era than to the postwar R&B scene which eventually displaced them. But for nostalgia fans, whether you like tricky harmonies or vocalese, or just dig the corniness of old-school showbiz, this is a really fun record.
Bob Chester "...And His Orchestra: 1940-1941" (Circle, 1983) (LP)


Nice, perky, uncomplicated white big-band swing, very much in the smooth, melody-oriented style of Glenn Miller. In fact, according to the liner notes, bandleader Bob Chester's band was bankrolled by Tommy Dorsey in 1939 as a way to get back at Miller, whom Dorsey thought owed him credit for the launching of his band: the story goes that Dorsey set Chester up as a form of direct competition with the Miller band, and that Miller got so irked by the similarlity of their sound that he threatened to leave the Bluebird label if they let Chester keep copying his style. (When this album first came out in '83, all of Chester's hundred-plus Bluebird recordings were all stull out of print: this disc draws on radio transcriptions instead.) It's fun stuff, with punchy, sweet swing songs galore, and Betty Bradley, Bill Darnell and Dolores O'Neill, backed by a tight, professional band. Definitely worth a spin.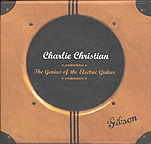 Charlie Christian "Genius Of The Electric Guitar" (Columbia Legacy, 2002)



Rising to fame as a soloist in Benny Goodman's band, guitarist Charlie Christian was one of jazz music's most prominent and influential champions of the electric guitar as a solo instrument. His rich, loud tones and amplified leads were new to the jazz vocabulary, and opened the path for everyone from Barney Kessel, Wes Montgomery and Charlie Hunter on down. Christian only basked in the limelight for a few years, though -- joining Goodman's band in 1938 after a few years in the Southwest jazz circuit, the guitarist was felled by tuberculosis and died in March, 1942, less than a year after his final studio session dates. This 4-CD set tracks his entire career with Goodman, highlighting his revolutionary work in Goodman's various small combo sextets, septettes and trios. Christian's style of matching other soloists such as Goodman and Lionel Hampton note-for-note was nothing short of revolutionary: up until then, the guitar had been primarily a rhythm instrument, and though Eddie Lang had pioneered its use as a lead voice in jazz, it was Christian who brought the amplified guitar into play, finally introducing an six-string sound that could be hear at the volume level of the big bands. Included here are over two dozen tracks that have never been released in the US before, including Christian's last studio sessions in 1941. Listening to it all at once may be a bit much -- it's super-sweet music, but admittedly it's also a bit noodly and repetitive. But taken in small portions (like a chocolate mousse, or anything similarly rich), it's heavenly.
Charlie Christian "Genius Of The Electric Guitar" (Columbia Legacy, 1990)



This earlier single CD collection (with the same name as the box set) is also pretty sweet, and perhaps more ideal for the casual listener. Still, I gotta say the 4-CD collection really does present a much richer -- and more surprising -- overview of Christian's work. Either way you go, it's great music.

Buddy Clark "Remembering Buddy Clark" (Collector's Choice, 2004)


When Frank Sinatra swept across the wartime big band scene, crooner Buddy Clark was hailed as a "safe" alternative to the sexier antics of Ol' Blue Eyes. Singing in more of a staid, mom'n'pop style, Clark was a major draw during the 'Forties, singing with numerous bandleaders and working on several nationally syndicated radio programs. This disc collects two dozen of his best-known hits, including early material from his Vocalion contract, as well as songs recorded after the war, when he landed a contact on the Columbia label. It's schmaltzy, cornball, nostalgic material, with obvious debts to both Crosby and Sinatra, and features Clark singing with the orchestras of Michael Ayers, Xavier Cugat, Eddie Duchin, Ray Noble and others. A little on the stiff side for me, but still nice stuff from a bygone era.

Rosemary Clooney "Jazz Singer" (Columbia Legacy, 2003)



A fine, generously programmed selection of Rosemary C's early jazz-oriented recordings made for the Columbia label between 1951-57, following her exit from her partnership with her sister Betty and bandleader Tony Pastor. Of course, at the time she was famous for her big novelty hits such as 1951's "Come On-A My House," which were masterminded by pop arranger Mitch Miller... As mentioned in this collection's liner notes, Clooney hated recording that material, and after she established herself as a major star, she broke away from Miller, and lined up work with weightier talents such as Duke Ellington, Benny Goodman, Billy Strayhorn, and Gene Puerling of the Hi-Lo's. It all sounds pretty nice to me! This is a great introduction to her work as a serious ballad singer and song stylist... recommended listening!

Nat "King" Cole "A Mis Amigos" (Capitol, 1959/Collector's Choice, 2007)



This was one of three latin-themed albums pop crooner Nat "King" Cole recorded back in the Eisenhower era... Although we'd hardly consider this "world music" today, this excursion was pretty hep back in the late 1950s, particularly since Cole flew down to Rio and recorded with the locals while on tour in South America. Unfortunately, the liner notes don't say just who was backing him here -- apparently bandleader Dave Cavanaugh went with him to help run the sessions -- but from the brassy tones one might imagine that jazz/gafieira bandleaders such as Astor Silva, Zaccarias or Radames Gnattali were involved. The flexibilty of Brazilian sensibilities is readily apparent since only a handful of these tunes were originally of Brazilian vintage -- most are tangos and boleros from elsewhere in Latin America, but the Brazilians breeze through them all without batting an eye. Cole's phonetically-based pronunciation is atrocious, moreso in Portuguese than in Spanish, but it also lends a kitschy, retro charm. I'm sure everyone appreciated the thought, anyway. This new edition greatly expands on the 1959 original, including several recordings that were previously only available on collector's records in Europe and Latin America, and in a couple of cases, only as singles in Brazil! It'll grow on you.

Russ Columbo "Prisoner Of Love" (ASV, 1998)

For a brief, glimmering period in the early 1930s, Russ Columbo was Bing Crosby's big rival as King of the Crooners... He was certainly made fun of just as much as Crosby was for championing the goofy new vocal style. Columbo died young -- shot by a friend under mysterious circumstances in 1934 -- and, of course, with only Rudy Vallee left as his competition, Crosby then took the title... Still, I've always been a bit partial to Columbo's singing -- generally speaking he played things somewhat smoother and straighter than Crosby did, and seemed less stylized, or at least not so partial to overt vocal trickery. It's a pity he only recorded 32 songs total (!) and that so little of it remains in print, but this collection on the ever-fab ASV label should whet your appetite. 25 out of 32 tracks ain't bad... A highly recommended record!
Russ Columbo "Prisoner Of Love" (Take Two, 1999)


More great material by Columbo, with considerable overlap between this and the ASV collection. This disc may be a little harder to find, but Take Two releases are usually worth the search.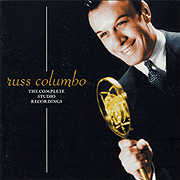 Russ Columbo "The Complete Studio Recordings" (Taragon, 2003)


Ah, at last! All thirty-two of Columbo's studio work collected together in one place at one time (there are rumors of "lost" sessions, but after more than seventy years gone AWOL, I think it's safe to assume they are, indeed, lost.) There is some controversy on Amazon about the sound quality on these discs; I thought they sounded fine. It's classic, delicious sweet band crooning with some of the finest musicians of the day backing Columbo up. Great stuff... highly recommended!

Eddie Condon "Town Hall Concerts v.1-11" (Jazzology, 2001)


Guitarist Albert "Eddie" Condon was perhaps best known as a scene-maker -- when he shifted his base of operations from Chicago to New York in the late 1930s, Condon set up an ongoing series of gigs with many of the big-name artists of the day, along with a floating cast of his lesser-known nightlife pals. These jam sessions became formalized in the nationally-broadcast "Town Hall Concerts" radio series, timeless material that has been gathered on a series of albums and various Condon collections. Although I haven't heard any of the CD reissues, I have most of the old LPs, and wouldn't trade them for the world. These are real standouts among the countless radio "airshot" albums out there -- the relaxed, informal atmosphere and the wide range of styles are quite remarkable. Also, the caliber of his collaborators is phenomenal. Pianist Jess Stacy, torch singer Lee Wiley and trad-jazzers like Muggsy Spanier and Pee Wee Russell are all on board, along with hotshot guests such as Sidney Bechet and the Dorsey Brothers... These discs give a flavor not only of the cool approach the Condon crowd took to "hot" music, but also a swell glimpse at wartime broadcasting, with perky announcements between most tracks, and even the occasional interruption to announce an Allied victory overseas. Great stuff -- highly recommended!

Eddie Condon "Dixieland All-Stars" (Decca/GRP, 1994)


A more formal atmosphere prevails on these studio recordings cut for the Decca label between 1939-46. It's '20s-style trad jazz, but played with a smooth modernity and technical proficiency that can win over even the most staunch anti-dixieland jazz fan. Maybe that's because players such as Bud Freeman and Bobby Hackett are included in the sessions, along with torch siren Lee Wiley, who turns in some of the most direct, least affected performances of her career on a small batch of tunes herein. Admittedly, overall this is a bit repetitious, but the straight Dixie stuff is balanced out by some sweet ballads, giving a nice sense of the stylistic range of these immensely talented players.

Eddie Condon "Eddie Condon And Friends" (Soundies, 2000)


Hail, hail! The gang's all here... Condon, Max Kaminsky and Wild Bill Davison tootle away in all their trad-jazz glory on this set of transcription disc recordings made for the World Transcription Service, back in 1944. It's all familiar territory, and all very nice. No vocals, but some nice Dixie-tinged jams.
The Coon-Sanders Nighthawks "Volume 1" (The Old Masters, 1999)

The Coon-Sanders Nighthawk Orchestra "Volume 2" (The Old Masters, 1998)

The Coon-Sanders Nighthawk Orchestra "Volume 3" (The Old Masters, 1998)

The Coon-Sanders Original Nighthawks "Volume 4" (The Old Masters, 1999)

Count Basie - see the letter "B"
Bing Crosby - see artist profile

Frank Crumit "The Gay Caballero" (ASV Living Era, 2003)


A gifted comedic singer and energetic ukulele player, Ohioan Frank Crumit hit Broadway in 1918 after several years on the vaudeville circuit, and swiftly became one of the best-known performers in the country during the early 1920s. He retired for a couple of years towards the end of the decade, but it didn't last long, and when he reemerged as a radio singer, he was at the peak of his powers. This fine retrospective collects many of his best songs, including several ethnic-stereotype novelty songs such as "The Gay Caballero" and "Abdul Abulbul Amir" which -- with the distance provided by the decades -- now seem mildly offensive and pretty boring, whereas on straight-out comedy numbers, such as "I Married The Bootlegger's Daughter," "Thanks For The Buggy Ride" and the Bonzo Dog-ish "What Kind Of Noise Annoys An Oyster" (all included on this disc), Crumit is an absolute genius. Plus, it's got the Hawaiian-themed "Ukulele Lady," which is simply one of the sweetest, cutest songs ever recorded; it brings a smile every time I hear it. If you like Cliff "Ukulele Ike" Edwards or George Formby, you ought to love Frank Crumit, and this is a very strong selection of his best work. Highly recommended.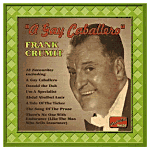 Frank Crumit "The Gay Caballero" (ProArte/Naxos, 1992/2000)


There's a lot of overlap between this disc and the ASV album reviewed above of the same name, though each has a few songs not included on the other that are worth checking out. This one has "Plink! Plunk! (I Pluck My Guitar)", which is quite a treat. There were a few tunes included on an earlier edition of this disc (the one on the ProArte label) that were cut out of the reissue on Naxos, but between these two Crumit best-ofs, you'll find a lot of delightful music to enjoy. It's fun stuff, definitely from a different era.
---
More Jazz Reviews -- Letter "D"
---



Main Jazz Index
Pop Music Index



---