<! MP3 03/19/10 > <! update 03/19/10 > <! pix 03/19/10 > <! icons 01/31/11 > <! Anne Lenner - recorded with Carroll Gibbons > <! Lambert Hendricks & Ross >
---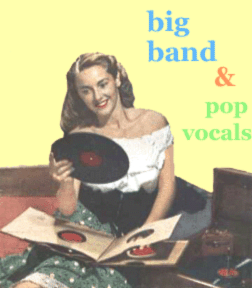 Hi -- welcome to my Jazz and Swing music section. This page includes reviews or records by artist under the letter "L". More reviews and artist profiles can be found at the Main Jazz Index
---
A | B | C | D | E | F | G | H | I | J | K | L | M | N | O | P | Q | R | S | T | U | V | W | X, Y & Z | Comps | Main Jazz Index | Jazz Books & Music Guides
---

Peg LaCentra "The Complete Recordings: 1934-1937" (Baldwin Street, 2002)


A generous 2-CD set gathering all the studio sides of one of Artie Shaw's main vocalists of the early swing era. As acknowledged in the liner notes, Ms. LaCentra evokes strong reactions and sharp differences of opinion among big band fans -- I have to say, despite the presence of Shaw's super-capable orchestra, I have to place myself among her detractors... LaCentra was a brittle and mediocre singer, similar to Ethel Waters in that she mixed a bluesy inclination with somewhat stilted artsiness; Waters could pull it off, but LaCentra just sounds so-so. That being said, this collection is a welcome addition to the pool of big band reissues... It's an authoritative look at both a lesser player (LaCentra) and some neglected work by a towering talent (Shaw). I'd say it's worth checking out at least once; I didn't keep my copy, but I'm glad I gave it a shot.
Dorothy Lamour "The Moon Of Mankoora" (ASV Living Era, 1997)


In the various Bing Crosby/Bob Hope "Road" movie, Dorothy Lamour often held up the romantic interest end of things -- she also sang onscreen, giving husbands a chance to get up and buy popcorn or, in the home-video era, an opportunity to press "fast forward" and avoid her drippy, sometimes dreary vocals. While not quite as bland as, say Irene Dunn or Rosemary Lane, Lamour did embody the schmaltzy vocal style of many 1930s and '40s Hollywood crooners. There are a few tunes on here with a smidge of "rhythm," but mostly it's pretty cloying, cutesy orchestral pop, nothing to write home about. Clearly there will be devotees out there who will delight in these old recordings being available again: more power to you. I'm more of a Mae West guy, myself.
Dorothy Lamour "Lovelight In The Starlight" (Jasmine, 2000)



Although there is some overlap between this collection and the ASV set above, there are fifteen out of he twenty-five tracks that are different. Now you know.


<! Fifteen of the twenty-five tracks on here don't overlap with the ASV set >

Eddie Lang & Joe Venuti "The Classic Columbia And Okeh Sessions" (Mosaic, 2002)


When live amplification and modern electric recording techniques evolved in the late 1920s, jazz and popular music underwent a stylistic revolution -- suddenly, people could hear the softer instruments that had been previously buried onder the clatter and wail of pianos and brass. Among the first stars to exploit these opportunities were guitarist Eddie Lang and violin whiz Joe Venuti, an Italian-American duo who worked together throughout the Great Depression, adding ingenious melodic oomph to countless recordings by many of the biggest hitmakers of the jazz era. Venuti and Lang were primarily session men, who ostensibly worked in the background, yet indelibly shaped the melodic vocabulary of American pop, taking advantage of the new technologies that enabled their sweet leads to be heard note for note, at last. Their influence is best heard in a sweeping, authoritative 7-CD box set, available through the exclusive Mosaic label. These recordings highlight Venuti and Lang in a variety of settings, backing stars such as Bing Crosby, Paul Whiteman and Clarence Williams, as well as in their own innumerable acoustic combos. No matter who they played with, the stamp of their joyful, expansive style comes through as the dominant driving force, adding a delightful and irresistible lilt to even the corniest material. An amazing collection, without a single dull moment or "filler" track.


<! 03/10: Is ASIN correct? Amazon has different album title >

Layton & Johnstone "Bye-Bye Blackbird" (ASV-Living Era, 2002)


Depression-era recordings by the duo of Turner Layton and Clarence Johnstone, an African-American vocal act that made its fortune in England singing standards at the height of the Tin Pan Alley era. Their approach is a bit prissy and refined, but fans of sweet bands and crooners may find familar charms in these stripped-down performances.
Harlan Leonard "The Chronological Harlan Leonard: 1940" (Classics, 2009)





<! "...And His Rockets" >

Sydney Lipton/Sydney Kyte "The Two Syds" (Dutton-Vocalion, 2000)

Sydney Lipton "Looking On The Bright Side" (Dutton-Vocalion)

Sydney Lipton "Sweet Harmony/Dancing At Grosvenor House" (Dutton-Vocalion)

Sydney Lipton "Just Dance" (Hallmark, 2009)

Frank Loesser "An Evening With Frank Loesser" (DRG, 1992)


Frank Loesser "Frank Sings Loesser" (Koch, 1995)


An absolutely charming collection of rare performances by this renowned songwriter... Television and radio outtakes and some random records, such as a series of children's songs based on fairy tales like "The Emperor's New Clothes" and "The Ugly Duckling"... Loesser's wit and playful good humor shine through on every single track... He's one of those guys who make it all seem so easy... A relaxed fella, and obviously the life of the party wherever he went. This disc might be hard to find, but it's certainly worth tracking down!
Frank Loesser/Various Artists "Capitol Sings Frank Loesser: I Hear Music" (Capitol, 1995)



Dean Martin, Peggy Lee, Jo Stafford, Kay Starr, even lanky old Chet Baker and jovial Benny Goodman get in on the fun when the stars of the Capitol label cover the work of a great American pop composer. These recordings span several decades, so they aren't necessarily a cohesive whole, but the glue that binds them together -- the songs of Frank Loesser -- is pure gold. Give it a spin!
Frank Loesser/Various Artists "American Songbook Series: Frank Loesser" (Smithsonian, 1994)


A wider talent pool -- not just artists from one label -- delve into Loesser's work here. What can folks like Bing Crosby, Billie Holiday, Dinah Washington, Dinah Shore and Doris Day make of these classic songs? Tune in and find out!

Vincent Lopez "Musically Speaking: At The Grill Room, Taft Hotel, New York" (Collector's Choice, 2004)


Genteel dance music from the bandleader who discovered the Hutton Sisters, Marion Hutton (who sang with the Glenn Miller Orchestra) and actress-comedienne Betty Hutton, who he hired as singers in the mid-'30s edition of his band. Lopez was a relic of the 1920s "sweet band" era, where he shared the limelight with the likes of Paul Whiteman and Isham Jones, though he kept his band up and running for decades to come. Starting in 1941, he held a twenty year residency at the Taft Hotel -- these late '50s recordings came towards the end of that stint, with Lopez's well-polished showmanship much in evidence. The material was antiquated even when he was performing it here, in the heart of the rock'n'roll/pop vocals era -- although for many, that fustiness will definitely be part of the appeal. Cute stuff, even if he was a little long in the tooth at the time...
Bert Lown "Bert Lown's Biltmore Hotel Orchestra" (The Old Masters, 1998)


Nick Lucas "Tip-Toe Through The Tulips" (ASV-Living Era, 2000)


'Twenties twee, from the fellow who introduced "Tip-Toe Through The Tulips" to the world... It's fitting that Tiny Tim chose that song as his signature piece in the 'Sixties, as the guy he copped it from, singer-guitarist Nick Lucas, also affected a trilling, sissified vocal tone. A little bit of that goes a long way, but taken in small doses, these sentimental oldies are a real treat to listen to... While his vocals might be a bit much, Lucas excelled as a guitar stylist, and has some hot numbers on this collection, including the aptly-titled "Pickin' The Guitar." There's a surprisingly sophisticated grasp of the soulful side of the blues laced throughout his playing, which is also in odd contrast to the fey vocals... Lots of fine tunes here, though, including standards such as "I'm Looking Over A Four-Leaf Clover," "Bye, Bye, Blackbird," "I'll Get By," and Lucas's other big hit, "Painting The Clouds With Sunshine." This New Jersey-born crooner was a major star in the 1920s, scoring numerous Top Ten hits, and in the 'Thirties he rolled with the times and hired a swing band to back him. This disc includes several tracks by Lucas and The Crooning Troubadours, as well as his earlier recordings where he accompanies himself... I have to confess, this collection got on my nerves a little when I listened to it from start to finish, but I'm sure it's the kind of thing that'll grow on me over the years... Worth checking out.
Nick Lucas "Painting The Clouds" (Soundies, 2000)


Art Lund "Band Singer: The Best Of Art Lund" (Collector's Choice, 2000)


For several years, this fellow was something of an also-ran in the big band scene. He was a featured vocalist with the Benny Goodman orchestra from 1941-46, but time and time again songs that he recorded with Goodman were scooped up by rival bands, who scored with the hit version first. This fab collection includes several such songs, some of which (like "I've Got A Gal In Kalamazoo") remained unreleased until now, because the label figured, "why bother?" Pity for folks back then, but nice for us right now, since Lund was a great singer, in the classic, cornball schmaltz style of the times. Another strong entry in CCM's fascinating big band series.

Nellie Lutcher "The Best Of..." (Capitol, 1995)



A Louisiana native who made it big as a swinging hep chick in postwar Hollywood, Nellie Lutcher was a fine piano player and a slick singer, albeit with a chirpy little voice. Not as birdlike or novelty-oriented as, say Rose Murphy, but kind of in the same range, Lutcher is best known for her bouncy jazz jive numbers, although for my money she was most moving on slower ballads. Her first hit was with an cover of the old Isham Jones tune, "The One I Love Belongs To Somebody Else," which again seems a little rushed. This twenty track best-of has plenty of variety, balancing soulful material with slick uptempo tunes. Fans of Nat King Cole oughtta check this gal out.
Vera Lynn "We'll Meet Again -- The Early Years" (ASV-Living Era, 1995)


Vera Lynn "It's Like Old Times" (Jasmine, 1999)


Perhaps the most celebrated of Great Britain's WWII-era female singers, Lynn's somewhat florid delivery prefigured the pop vocals sound that eventually surpassed the Depression-era big band scene. These old recordings, mainly culled from the 1940s, may be a bit inaccessible to modern listeners and those unimpared by the rosy filters of nostalgia. Overall, I found her to be a bit too mannered (ease up on that vibrato, honey!) and yet, she may grow on you, once you get in the right mood. Various bands back her here, though Len Edwards and Bob Farnon are the main musical directors.

Vera Lynn "The Early Years, v.1" (Naxos, 2001)


Vera Lynn "The Early Years, v.2: 1935-42" (Naxos, 2002)


I still don't entirely get Lynn's appeal, but I do admire this reissue series, which presents her early work more or less chronlogically, and with greater thoroughness than many of the best-of sets out there. On the first volume you can still hear a hint of the old music hall tradition that she must have learned from, but as time goes on, she becomes more mannered and staid. Although she covers many of the same standards of the day, Lynn's delivery is far less earthy than her American counterparts... Still, this is the music that helped keep British spirits up during the darkest days of World War Two, and that's gotta count for something...! Also of interest here are some of her accompanists, including soft swing bandleader Bert Ambrose, and -- get this -- a young-ish Anunzzio Mantovani, featured on over a half dozen tracks. Doesn't entirely ring my bells, but these discs are a fine way to check out this much-revered oldies vocalist.
---
More Jazz Reviews -- Letter "M"
---



Main Jazz Index
Pop Music Index


---