<! MP3 03/22/10 > <! update 03/22/10 - 03/10: tons of post-Lang Venuti to add > <! pix 00/00/00 > <! icons 01/31/11 >
---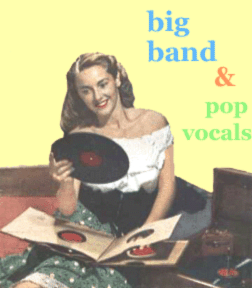 Hi -- welcome to my Jazz and Swing music section. This page includes reviews or records by artist under the letter "V". More reviews and artist profiles can be found at the Main Jazz Index
---
A | B | C | D | E | F | G | H | I | J | K | L | M | N | O | P | Q | R | S | T | U | V | W | X, Y & Z | Comps | Main Jazz Index | Jazz Books & Music Guides
---
Rudy Vallee "The Vagabond Lover" (ASV-Living Era, 1993)

Rudy Vallee "Heigh-Ho Everybody, This Is Rudy Vallee" (ASV-Living Era, 1994)

Rudy Vallee "Heigh-Ho Everybody!" (Flapper, 1981)

Rudy Vallee "Volume One: You're Driving Me Crazy" (Dutton-Vocalion, 2010)

Rudy Vallee "Volume Two: I'm Just A Vagabond Lover" (Dutton-Vocalion, 2010)

Rudy Vallee "The Kid From Maine" (RKO, 1957)



Later recordings by this classic cornball crooner, mellow tracks made decades after his 1920s heyday. This set preserves much of his hokey charm, but lacks the goofy, perky vitality of his early years.

Dave Van Ronk "Two Sides Of Dave Van Ronk" (Fantasy, 2002)


More odd explorations from this late acoustic blues iconoclast. This CD reissues two of Van Ronk's jazz-oriented albums -- on 1963's In The Tradition, he indulges a sweet tooth for Dixieland jazz, backed by the cheerfully riotous Red Onion Jazz Band. The second half of this CD reprises a lesser-known 1981 album, Your Basic Dave Van Ronk, where he mugs it up on solo versions of various blues and jazz standards, including "St. James Infirmary," "God Bless The Child," "Candy Man" and others -- his stream-of-consciousness rendition of "Cocaine Blues" brings a frankly bitter, world-weary wisdom to bear that could only have come from experience itself. This is unusual, sometimes challenging material, but certainly worth the effort it may take to get on Van Ronk's wavelength. Recommended.
Joe Venuti "Violin Jazz: 1927-1934" (Yazoo, 1989)

Joe Venuti "The Chronological Joe Venuti: 1926-1928" (Classics, 2002)


Joe Venuti "The Chronological Joe Venuti: 1928-1930" (Classics, 2002)


Joe Venuti "The Chronological Joe Venuti: 1930-1933" (Classics, 2004)

Joe Venuti "The Chronological Joe Venuti: 1933" (Classics, 2004)



Joe Venuti & Eddie Lang "The Classic Columbia And Okeh Sessions" (Mosaic, 2002)


When live amplification and modern electric recording techniques evolved in the late 1920s, jazz and popular music underwent a stylistic revolution -- suddenly, people could hear the softer instruments that had been previously buried onder the clatter and wail of pianos and brass. Among the first stars to exploit these opportunities were guitarist Eddie Lang and violin whiz Joe Venuti, an Italian-American duo who worked together throughout the Great Depression, adding ingenious melodic oomph to countless recordings by many of the biggest hitmakers of the jazz era. Venuti and Lang were primarily session men, who ostensibly worked in the background, yet indelibly shaped the melodic vocabulary of American pop, taking advantage of the new technologies that enabled their sweet leads to be heard note for note, at last. Their influence is best heard in a sweeping, authoritative 7-CD box set, available through the exclusive Mosaic label. These recordings highlight Venuti and Lang in a variety of settings, backing stars such as Bing Crosby, Paul Whiteman and Clarence Williams, as well as in their own innumerable acoustic combos. No matter who they played with, the stamp of their joyful, expansive style comes through as the dominant driving force, adding a delightful and irresistible lilt to even the corniest material. An amazing collection, without a single dull moment or "filler" track.
Joe Venuti & Eddie Lang "Vol. 1 & 2: The 1920s & 1930s Sides" (JSP, 2001)



A 2-CD set with plenty of fab tunes...
Joe Venuti & Eddie Lang "Wild Cats" (ASV-Living Era, 2001)

---
More Jazz Reviews -- Letter "W"
---



Main Jazz Index
Pop Music Index


---