<! MP3 03/23/10, 01/31/11 > <! update 00/00/00 > <! pix 03/23/10 > <! icons 01/31/11 >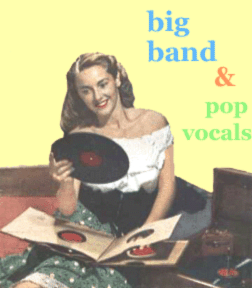 ---
My taste in jazz is, as they say, strictly from Squaresville. The stuff I love -- "sweet" dance band music and crooner tunes -- doesn't get a lot of respect in "real" jazz circles. Only recently have the jazz purists reluctantly and begrudgingly admitted that some of the big bands actually had it going on... For the most part, the hep cat crowd would prefer to believe that real jazz music began with Dizzy Gillespie, and only really picked up steam in the smoky confines of the 1950s. I, on the other hand, adore the softer stuff, and love delving into the corny but well-crafted sentimentality of the Tin Pan Alley tradition. And, frankly, I prefer listening to something I can hum along to, rather than some squonky improvisation that requires concerted effort to really "get." Hard jazz is just too damn cerebral for my tastes.. so here is my celebration of good old-fashioned corny, simple love songs, backed by perky little melodies.
Obviously, there are tons of great jazz collections I could mention here... I'll keep adding to this list as time and resources permit. Thanks for dropping in!
---
A | B | C | D | E | F | G | H | I | J | K | L | M | N | O | P | Q | R | S | T | U | V | W | X, Y & Z | Comps
Main Jazz Index | Jazz Books & Music Guides
---

Various Artists "ART DECO: THE CROONERS" (Sony Legacy, 1993)


A fine set of silly, sissified singers from the 1920s and '30s. It's great stuff, packed with plenty of rarities and dimly-remembered artists such as Willard Robison, Smith Ballew, Seger Ellis and Harlan Lattimore, as well as a bunch of the big-name softies such as Gene Austin, Bing Crosby, Eddy Howard and (sigh) Frank Sinatra, whose names have better stood the test of time. I picked this collection up for the rarer material, and was not disappointed.

Various Artists "BERLIN: 1925-1936 -- THE CABARET YEARS" (EMI, 2001)


An outstanding collection of German popular songs dating from the downhill side of the Weimar years, and cautiously edging into the Nazi era. Some obvious big names are here -- Marlene Dietrich and the Comedy Harmonists -- but this album is primarily a treasure trove of lesser-known German stars such as Paul Linke, Marek Weber, the Weintraub Syncopators and the delightful English-born UFA Studios movie star, Lilian Harvey, who is probably my favorite new discovery on this disc. Obviously, there are hundreds and hundreds of other great songs that could have been anthologized, but this is a nice way to get your feet wet if you want to check out some of the best music that the Weimar Republic had to offer. Recommended!
Various Artists "BRITISH DANCE BANDS, v.1" (Naxos Nostalgia, 2003)

Various Artists "BRITISH DANCE BANDS, v.2" (Naxos Nostalgia, 2003)

Various Artists "BRITISH DANCE BANDS, v.3" (Naxos Nostalgia, 2003)


Super-soft, charmingly cornball British sweet band music recorded between 1928-1949, featuring some of the giants of the genre, such as Ted Heath, Jack Hylton, Roberto Inglez and others, as well as lesser-known figures such as Teddy Joyce, Ken "Snakehips" Johnson, and Henry Jacques and his aptly-named and rather prim Correct Tempo Orchestra. It's all great, thoroughly charming material, stuff that definitely takes oyu back to another time and place. Apparently, international copyright law prohibits the sale of Volumes One and Two here in the United States... pity, since I love this stuff and would love to check more of it out. But once I figure out how to smuggle the discs out of Canada, I'll be sure to review them as well! In the meantime, y'all sweet band fans should check this disc out!

Various Artists "CAN'T HELP LOVING THAT MAN" (Sony Legacy, 1993)


A campy collection of old crooner tunes from the Art Deco era in which men sang love songs about other men. The liner notes, from Village Voice critic Michael Musto, claim that this practice was widespread in the early years of popular recorded music simply because the music publishers were very persnicketty about any changes being made to the songs they plugged, and threatened to sue anyone who reworked a song in any way (ie, to straighten out any gender issues by changing "him" to "her"). Thus, record labels and artists were hesitant to change the pronouns to fit the heterosexual norms, and the wacky gender-bending ensued. (The same thing happened in early country music, too, but for different reasons -- there, male singers would sing female parts because so few women were allowed into show business, with or without a chaperone... but the results had a similarly delicious irony, particularly given the somewhat macho context.) Anyway, ya still gotta wonder. It's fun to hear these old-fashioned ditties, be they queer anthems by choice or by happenstance, and the performances are all pretty good, too, just on their musical merits. One of many great collections in Sony's Art Deco archival series -- out of print, but definitely worth looking for.

Various Artists "THE ESSENTIAL GEORGE GERSHWIN" (Sony Legacy, 2003)



A beautifully programmed 2-CD set which runs the breadth of Gershwin's work, leaning heavily on vocal performances by pop crooners, torch singers and stage performers of all stripes and variety. I find the straight-up symphonic presentations (by Morton Gould, the Los Angeles Philharmonic, etc.) less engaging, but the vocal work by everyone from Mel Torme and Frank Sinatra to Jane Russell, Ethel Waters and Ella Fitzgerald, is uniformly fabulous. And, of course, Columbia had one great secret weapon, jazz diva Billie Holiday, who infused Gerhwin tunes like "Summertime" and "The Man I Love" with the dignity and emotional ooomph they deserved (and a steamy sensuality that few other performers could ever match). Several sweet Fred Astaire numbers as well, along with some rarities and offbeat choices. There's no shortage of great George & Ira Gershwin collections out there, but this one is certainly a doozy. Highly recommended!

Various Artists "FASCINATIN' RHYTHM -- THE BROADWAY GERSHWIN: 1919-1933" (BMG-RCA, 1998)


This CD celebrates the obscured, dimly-remembered rough edges of George Gerhwin's early years, rather than the smooth, swank pop renditions of his classics and standards that we have come to know and love. Here, rather, are rare (and often unreleased) early renditions of tunes taken from his copious work as a Broadway composer, including many big hits and a few lesser-known ditties. The performances also include B-list bands alongside stars such as Gertrude Lawrence and Paul Whiteman; many of these old Victor sessions have a rinky-dink feel, reminiscent of jazz's Dixieland and trad-jazz heritage, and probably reflect the musical sound of the 1920s better than the cleaned-up later versions would. Nice to know Broadway music wasn't always so perfect and lavishly arranged! Some of these recordings feature original cast performances, although many do not, and frequently these cover versions are instrumentals, rather than vocal renditions. Once again, this is a potential plus: it's interesting to hear George Gershwin's music shorn of the poetry, in a setting that gives a clear idea of what it must have sounded like back in the day. Don't buy this album looking for classy, sleek pop balladry; but if you like the antique sounds of the past and are interested in the history of popular music and musical theatre, then check this puppy out!

Various Artists "FROM AVENUE A TO THE GREAT WHITE WAY: YIDDISH & AMERICAN POPULAR SONGS FROM 1914-1950" (Columbia Legacy, 2002)



This fine 2-CD set traces the growth of Jewish American popular music from its roots as an Eastern European dance style, through the thriving Yiddish theatre scene, and into its role as one of the pillars of modern American pop. The first CD may be rough going for the Yiddish-impaired; very "ethnic" sounding, and slightly impenetrable, although it does feature rare recordings by many of the genre's biggest stars -- Molly Picon, Abe Moscowitz, and klezmer pioneer Abe Schwartz... Disc Two kicks off with an Irving Berlin song, and proceeds straight into the American mainstream, and an increasingly English-speaking and bilingual mileaux. Eddie Cantor, Fannie Brice, Sophie Tucker, Benny Goodman and the Gershwin sibs all get their due, and a parade of great recordings zip by. Some of the skits are hilarious, but as they are chosen for historical relevance as well as artistic content, some listeners (depending on their temperament) may find the content -- particularly the ethnic stereotypes that thrived in the vaudeville and Catskills theatre circuits. Anyone who wants to research this subject, though, will find this collection invaluable. Great liner notes -- both informative and hilarious -- by producer Harry Sapoznik. (For more about these artists, see the Jewish Music section.)

Various Artists "THE GOLDEN AGE OF AMERICAN SWEET BANDS: 101 ORIGINAL MEMORIES" (Jasmine, 2002)


A delightful 4-CD collection of some of the best sweet-band performances from 1929-1940. Features many of the big names of the golden days -- Ben Selvin, Rudy Vallee, Leo Reisman, Fred Waring, Larry Clinton, Isham Jones -- along with some of the lesser well-known artists of the time, Ted Fio Rito, Johnny Green, Jimmy Grier, Lud Gluskin, et al. Each disc is programmed to include tracks from a specific time period -- 1929-33, '33-'35, '35-37, '37-'40 -- and each is nicely sequenced to bring out the best in the style. While not strictly "American" (the discs include tracks by Enric Madrugada of Scotland, Xavier Cugat, Ray Noble and other expatriate artists) it is definitely sweet. A great introduction to the style, as well as a plentiful and enjoyable listening experience. Highly recommended!




Various Artists "THE GREATEST BLACK BIG BANDS: 1930-1956" (Fremeaux & Associes, 2010)
A swell introduction to several of the best African-American jazz pioneers, working in the big-band and orchestral jazz styles of the 1930s and '40s, and a bit into the '50s as well. The players are pretty well-known: Duke Ellington, Cab Calloway, Count Basie, Fletcher Henderson, Louis Armstrong, Earl Hines, Chick Webb, et. al. with a few less-well known bandleaders such as Harlan Leonard and Buddy Johnson. The material is first-rate, although one peculiarity to this collection is that the songs are presented in alphabetical order, according to artist name(!) rather than chronologically or according to perceived importance... Not that this diminishes the music itself... hardly! Might not offer much to established jazz hounds, but for newcomers, this is a nice overview. Recommended.


<! 03/11: no ASIN >

Various Artists "HITS OF '49" (ASV-Living Era, 2000)


Strictly the hits, straight off the charts... By this time, cornball pop vocals had firmly displaced the livelier big band sound, so this collection -- featuring folks like Perry Como, Bing Crosby, Doris Day, Vic Damone and Evelyn Knight -- is pretty syrupy and sappy. It's also well-selected and kind of fun, in a guilty pleasure kinda way. You gotta be in the mood, though.
Various Artists "KISS THE BOYS GOODBYE, v. 1-2" (RCA, 1995)


Like Rhino's SONGS THAT GOT US THROUGH WWII collections (reviewed below), these CDs concentrate on 1940s wartime pop songs. But whereas the Rhino comps are perky and hook-laden, this series veers more towards the syrupy, sometimes lethargic pop vocals style that supplanted big band following the war. Certainly there's great material on here -- Spike Jones' "In Der Fuehrer's Face" is worth the price of admission alone, though these discs are also packed with lesser versions of songs that were big hits on labels other than RCA... Charlie Spivak's version of "It's Been A Long, Long Time," for example, is perky and bright, but doesn't approach the sultry eroticism of The Kitty Kallen/Tommy Dorsey version that came out on Columbia around the same time. Maybe I'm just a quibbling, though: anyone looking into WWII-era pop could do worse than checking this set out.

Various Artists "LULLABY OF BROADWAY: THE BEST OF BUSBY BERKELEY AT WARNER BROTHERS" (Rhino, 1995)



If you haven't seen the musicals these recordings come from, the songs may seem a bit thin, or overlong. But if you have an appreciation of the lavish nuttiness of Berkeley's best work, then these tunes may conjure delightful images of Dick Powell and all them leggy dames, and the crazy kaleidoscopic dance routines that made these films so fab. This 2-CD set includes material from 42nd Street, Gold Diggers of 1933, Footlight Parade, Wonder Bar, Fashions of 1934, Dames, Gold Diggers of 1935, In Caliente, Gold Diggers of 1937, and Hollywood Hotel. Harry Warren's scores are often frivolous and dingbatty, which is part of what made them so much fun in conjunction with the spectacles on screen. They also work fine on their own, at least to a certain degree. For fans, this collection is a must.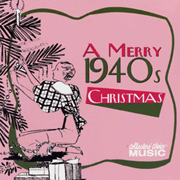 Various Artists "A MERRY 1940s CHRISTMAS" (Collector's Choice, 2004)


What fun! A swingin' seasonal set that gathers together some of the best-known and most enjoyable holiday hits from the 1940s, including a bunch of songs that are pleasantly off the beaten track for folks in the modern era who have heard nothing but Bing, Bing, Bing all these years. Gems like Les Brown's "When You Trim Your Christmas Tree" and Dinah Shore singing "Ol' Saint Nicholas" and "The Merry Christmas Polka" pepper this collection, as well as non-pop tunes like a lofty "Adeste Fidelis" by the Lyn Murray Singers and Richard Keyes Biggs pumping out "The First Noel" on a gigantic church organ... Gene Autry, Pearl Bailey, Frankie Carle, Buddy Clark, Benny Goodman,Woody Herman, Kay Kyser, Frank Sinatra... It's a who's-who of old-school pop stars, all speading holiday cheer... and it's a swell little record, to boot. Hang your stockings with care, put out some cookies and milk, and leave this on the stereo for Santy Claus to rock out to when he visits your house... Ho-ho-ho!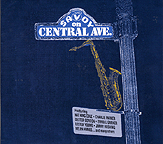 Various Artists "SAVOY ON CENTRAL AVENUE" (Savoy, 2003)



Central Avenue in Los Angeles was the West Coast's equivalent of Harlem's 125th Street, a vibrant, buzzing hub of artistic ferment, and the center of a booming postwar jazz and R&B scene. This 2-CD set gathers some of the finest material from the long-lived Savoy label, one of the key players in the scene. It's a well-selected cross-section of the 1940s scene, ranging from swank jazz crooners like Nat King Cole and up-and-comers like Kay Starr and Johnny Otis, as well as a slew of the running-in-place, straight-up jazz players that tootled and squonked their ways across the West Coast, folks such as Dexter Gordon, Harold Land, Illinois Jacquet, etc. In general, I've always found this particular time and place in American jazz to be rather tedious -- a lot of players making a lot of noise, but precious little interpretive depth. However, by emphasizing vocal performers, the compilers of this collection have assembled a pretty listenable set, while also paying a respectful nod towards the instrumental side of things... It's a good collection, particularly if you want to school yourself on the Southern California jazz scene of the postwar era...


Various Artists "SONGS THAT GOT US THROUGH WWII, v.1" (Rhino, 1990)


Various Artists "SONGS THAT GOT US THROUGH WWII, v.2" (Rhino, 1994)


These two discs are so-o-o-o-o-o-o-o-o-o sweet! These really are the big hits of the wartime years... And you know why they were big hits? Because they were such great songs! If your appetite for the swing era extends further than the last Gap ad, then you owe it to yourself to check these CDs out. Not all of these songs were overtly war-related, but the ones that were (such as "Coming In On A Wing And A Prayer," "G.I. Jive" and "When The Lights Go On Again" are great. And "It's Been A Long, Long Time," a song about a soldier coming home to his sweetie's eager arms, is one of the most frankly erotic tunes of the era, sung in a whisper by the young Kitty Kallen. Both volumes of this series are highly, highly recommended.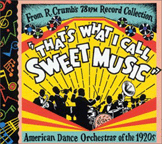 Various Artists "THAT'S WHAT I CALL SWEET MUSIC!" (EMI Songbook, 2000)


Cartoonist R. Crumb has long had a sweet-tooth for old-time music; along with his duties as a countercultural icon, he's also spent decades obsessively collecting old blues and jazz 78s, and during the 1970s, '80s and '90s was a member in good standing of the old-timey revivalist stringband, the Cheap Suit Serenaders. In keeping with this passion, Crumb has put together this delightful -- if wildly overpriced -- collection of his favorite 1920s jazz 78s, highlighting the "sweet band" style that many jazz purists scorn as too pop-oriented. Rudy Vallee, Red Nichols and Paul Whiteman share disc space with more obscure acts such as Herman Kenin and His Ambassador Hotel Orchestra, and the bouncy, perky mix is irresistible. The CD also features plenty of swank R. Crumb drawings that his print-only fans should appreciate as well. Highly recommended!
---
More Big Band
---



Main Jazz Index
Pop Music Index



---