<! MP3 03/20/10 > <! update 03/20/10 - Rollini has tons to add; Reser, too; need a Reinhardt discography as well? > <! pix 03/20/10 - a few > <! icons 01/31/11 >
---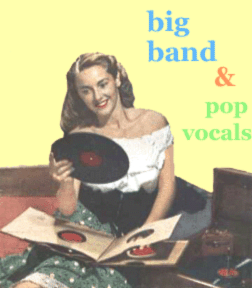 Hi -- welcome to my Jazz and Swing music section. This page includes reviews or records by artist under the letter "R". More reviews and artist profiles can be found at the Main Jazz Index
---
A | B | C | D | E | F | G | H | I | J | K | L | M | N | O | P | Q | R | S | T | U | V | W | X, Y & Z | Comps | Main Jazz Index | Jazz Books & Music Guides
---

Oscar Rabin & His Romany Band "An Apple For The Teacher" (Dutton/Vocalion, 2001)
Delightfully corny, yet quite vigorous British sweet band music from 1939-42 (and a few postwar tracks, added on for good measure). This band featured the twin talents of violinist Oscar Rabin and frontman Harry Davis, older brother of songbird Beryl Davis (who croons on several of these tracks). The Rabin-Davis band originally formed in the 1920s, and was a well-seasoned outfit by the time of these wartime recordings. It's nice stuff, pleasantly hokey, and very much in the non-improvisational "strict tempo" camp, in which msuical flights of fancy take second place to keeping dancers up on their feet all night long. Nothing particularly "Romany" about the band though: the name, which was pretty much an affectation, was later dropped and the group became known simply as the Oscar Rabin Orchestra. Nomenclature aside, they were a perfectly enjoyable example of British sweet band style... and this is a fine look back at the band's glory years. Great sound quality, too.
Oscar Rabin "Two In Love" (Cream, 1998)

Oscar Rabin "You Danced To These Bands" (Castle, 2001)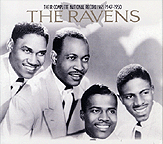 The Ravens "Their Complete National Recordings: 1947-1950" (Savoy Jazz, 2003)



One of the key bands in the development of the group vocals sound, the Harlem-based Ravens developed a smooth harmony sound built around the low, rumbling basso profundo of leader Jimmy Ricks. The group went through constant lineup changes (Ricks, apparently, was difficult to get along with...) but their overall sound remained constant. This 3-CD retrospective -- which replaces a double-LP set Savoy put out in the 1980s -- gathers all their studio recordings made for the National record label between 1947-50, the group's peak commercial years. Initially, the Ravens dipped into the swinging R&B style of postwar pioneers such as Nat King Cole, and that early stuff is pretty fun. Soon, though, they settled into a more staid, sedate style, informed by the pop vocals sound rising to dominance at the time; the first disc in this collection is fun, but the second is kind of a snooze, while the outtake-heavy third CD is midway between the two. The Ravens were a headliner act at the Apollo and other African-American venues, but gradually their approach fell out of sync with popular music, and Ricks went on to become a solo singer of middling success. Nonetheless, they are credited as one of the major influences on the doo-wop musical groups that arose in their wake, and this is the group's legacy almost in its entirety... Perhaps this is more Ravens music than the average listener requires, but it's certainly a definitive look at a once-major musical act.

Leon Redbone "On The Track" (Warner Brothers, 1976)



Well, okay, maybe it's stretching it a bit to call Redbone's retro-crooning style "jazz," per se, but if we labelled it "roots music," would that make you feel any better? With a boozy, bluesy, cheerfully dissolute vocal style, Redbone approached various oldies and standards with a refreshingly relaxed attitude, not the glitz of the Manhattan Transfer/Bette Midler scene, or the mystifying inscrutiablity of Tom Waits, nor the eager-to-please loopiness of Dan Hicks... But all of these contemporaries are good touchstones to help frame Redbone's place in the experimental clime of the mid-1970s. Indeed, Redbone's renditions of "Ain't Misbehavin' " and "Lazy Bones" may well have been the "definitive" versions for many a hippie/disco-era music fan... What stands out most, though, about this fine debut album is its sheer listenability, and good-natured relationship to the world of old jazz: there's not a bad track on it, and listening back to it after all these years, it completely holds up. Recommended!
Leon Redbone - see artist profile
Django Reinhardt - see artist discography

Harry Reser "Banjo Crackerjax: 1922-1930" (Yazoo, 1992)



Hot picking from jazz banjoist Harry Reser, who performed in several early jazz bands, but also made a series of recordings (many collected here) that showcased his dazzling work as a soloist. This album is a delight for fans of hot picking, as well as old-fashioned jazz and vaudeville music.. Of course, Reser took is all to another level -- it must have been mind-blowing to see him play live.
Harry Reser "Harry Reser's Six Jumping Jacks, Vol. 1" (The Old Masters, 1998)


Banjo virtuoso Harry Reser led a number of great bands in the 1920s, including the lively -- and aptly named -- Jumping Jacks. This is full-speed ahead 1920s novelty music, with kooky tunes such as "Hooray For The Irish," "Chick, Chick, Chick, Chick, Chicken," "Say Mister, Have You Met Rosie's Sister," and the immortal gender-bender classic, "Masculine Women, Feminine Men." The songs reflect a lot of popular themes of the era: college life (and the allure of co-eds!), modern newfangled gadgets like cars (and joy rides! and rumble seats!) and a newfound ability to talk about (or hint at) sexuality. The musicianship is consistently top-flight, if a bit unrelenting and manic, and the goofy lyrics are often quite amusing. A little bit goes a long way, but if you're looking for early comedy songs, these songs, all recorded in 1926, are a real goldmine. Fans of the Cheap Suit Serenaders will definitely want to check this stuff out!

Harry Reser "Harry Reser's Six Jumping Jacks, Vol. 2" (The Old Masters, 2001)


This disc picks up where the first one left off, with two tracks from 1926, and the rest from 1927-28. It's more high-energy, manic musicmaking, with gems such as "Cock-A-Doodle, I'm Off My Noodle," "You'll Never Get Nowhere Holding Hands," "She's Got It," "I Love The College Girls" and "I Wonder How I Look When I'm Asleep," and the classic "Crazy Words - Crazy Tune," which was pretty much a statement of purpose for Reser and his crew. Great stuff - one of those records you can buy just for the song titles alone, and not be disappointed a bit. Recommended!
Harry Richman "Puttin' On The Ritz" (ASV Living Era, 2002)


Adrian Rollini "Tap Room Swing" (ASV Living Era, 2002)


A fun collection highlighting the session work of Depression-era baritone saxophonist Adrian Rollini, who worked with many of the leading artists of the pre-big band era, including Miff Mole, Benny Goodman, Bix Beiderbecke, Red Nichols and Joe Venuti. Although Rollini typically worked as a sideman, this disc also includes several examples of him as a bandleader, with the Tap Room Gang, etc. For jazz playing, the baritone is a notoriously clumsy instrument, but Rollini was a master, making it sound like a more freewheeling tuba, buoying numerous Dixie and trad-jazz tracks. A nice set, well worth checking out!
Adrian Rollini "...And The Golden Gate Orchestra: 1924-1927" (Timeless, 2006)






<! aka The Goofus Five, The University Six, The California Ramblers, The Varsity Eight... >
Adrian Rollini "...With His Novelty Trio And Quintet" (Swing Time, 2001)


Transcription disc recordings (with great sound quality!) that feature Rollini performing in small group settings, playing lead on the vibraphone, a "novelty" which he pioneered as a jazz instrument. These songs sound great, although you might want to mix 'em up with some other stuff... after listening to this disc from end to end, it starts to sound a little static. It's cute music, though!


<! 03/10: a BUNCH of other Rollini releases >

---
More Jazz Reviews -- Letter "S"
---



Main Jazz Index
Pop Music Index


---