<! MP3 03/18/10 > <! update 00/00/00 - make Tommy Dorsey separate? > <! pix 03/18/10 > <! icons 01/31/11 >
---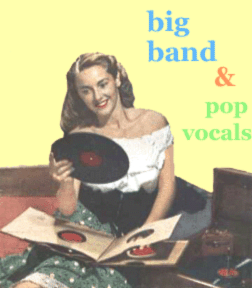 Hi -- welcome to my Jazz and Swing music section. This page includes reviews or records by artist under the letter "D". More reviews and artist profiles can be found at the Main Jazz Index
---
A | B | C | D | E | F | G | H | I | J | K | L | M | N | O | P | Q | R | S | T | U | V | W | X, Y & Z | Comps | Main Jazz Index | Jazz Books & Music Guides
---
Putney Dandridge "The Chronological Putney Dandridge: 1935-1936" (Classics, 1996)

Putney Dandridge "The Chronological Putney Dandridge: 1936" (Classics, 1996)


Putney Dandridge "The Complete Putney Dandridge: 1935-1936" (Timeless, 1995)

Bebe Daniels "Stop, It's Wonderful" (Empress, 1995)

Bebe Daniels "Your Company's Requested" (Dutton-Vocalion, 2004)





<! an American singer who emigrated to England... with Ben Lyon >

Joe Daniels And His Hot Shots "Swing Is The Thing" (Empress, 1999) <! year? >

Joe Daniels And His Hot Shots "Drummer Goes To Town" (Dutton-Vocalion, 2000)

Joe Daniels And His Hot Shots "Drummer Goes To Town" (Hallmark, 2010)


This is a different album than the CD listed above... There is some overlap, but this has a shorter playlist (sixteen songs as opposed to twenty-five) and there is some material unique to each album.


<! Miles Davis "Sketches Of Spain" (Legacy Edition) too severe and cerebral for me. Legacy edition includes many bonus tracks, including the only live performance -- ever -- with arranger Gil Evans >

Wild Bill Davison "The Jazz Giants" (Sackville, 1968)



Like lots of folks, I'm not a wild-eyed fan of Dixieland jazz -- peppy as it is, it still seems rather limited stylistically. Also, as a style that's been largely left by the wayside, the bulk of modern Dixieland recordings have been done for teeny independents, labels that have limited resources, and often stylistic or technical tradeoffs have had to be made, just in order to get the records out. That being said, there are plenty of dixieland/trad jazz recordings that stand out as sublime, and this is one of them. They year was 1968, too late in the game, one might assume, for the music to still have any zip. But this particular gathering, of coronetist Wild Bill Davison along with pianist Claude Hopkins and fellow old-timer Benny Morten, captured an unexpected lyrical richness, the same sort of soulful feel that Louis Armstrong and other old masters could conjure up in their later years. This is a compelling and deeply rich, melodically nuanced album, that simply defies you not to become entranced by the thoughtful, beautiful performances. If you're not a fan of the style, consider trying this classic album out, just to see if you might not change your mind...

Dolly Dawn "You're A Sweetheart" (Collector's Choice, 2001)


Not a major star, but an appealling pop singer of the swing era, Dolly Dawn was one of the hundreds of "girl" singers running about about in the late 1930s, as the big bands really started to take off. She had the good fortune to wind up fronting George Hall's Taft Hotel Orchestra, a rather bland band which nonetheless landed a daily noontime radio broadcast on the CBS network. Because Hall rarely used innovative arrangements, the musical end of these recordings tends to be rather flat, although Dawn's vocals are usually perky and fun -- appropriately, she benefited from Hall's lack of oomph in a rather unusual way: Hall was one of the first vocalists to really become the sole focus of a band, back at a time when bands and musicians were supposed to be the real draw in the dance halls. In many ways, the rinky-dink nature of these recordings is a big part of their charm: we're so used to hearing the great singers and great bands of the era (Ellington, Fitzgerald, etc.) that its the lesser lights that really bring out the charm of the material. At any rate, this is cute stuff, really fun in small doses, and well worth checking out!
Peter Dawson "A Song For You And Me" (ASV Living Era, 2002)


A pleasant surprise! I hadn't expected to enjoy this album as much as I did, as Dawson's repertoire tilted towards light opera and antiquated, classical-derived vocals. But his robust baritone is packed with gusto and his delivery is far less stilted than many of his highbrow contemporaries. An Australian who made his way to the English stage in the early 1900s, Dawson recorded prolifically (over 1800 songs!), tackling popular material of all brands, from Victorian schmaltz to contemporary music hall numbers and numerous arias, all with a forthrightness and power that transcends style and modern tastes. Fans of Gilbert and Sullivan, in particular, might enjoy this quite a bit.

Delta Rhythm Boys "Masters Of Hip Harmony" (Collector's Choice, 2003)


Nice rarities set. These wartime radio recordings feature the hip vocal harmony ensemble at their most showbiz savvy. The first half of disc features the Delta Rhythm Boys backing Mildred Bailey on her radio show, which she hosted while riding high on her hit recording of "Old Rockin' Chair." Later, they theyselves were riding high on "Old Dry Bones," which is delivered with typical aplomb. The sound on Bailey's radio show transcriptions is a little rough (though the music is great!)... The later tracks sound awesome.

Paul Desmond "Take Ten" (RCA, 1963)



For anyone who ever wished Dave Brubeck's "Take Five" could just keep going on, and on, and on, here's an album that's pure heaven. Saxophonist Paul Desmond, who wrote "Take Five," led his own bands on comparatively few occasions (apparently he was quite shy and demure...), but when he did, it always sounded heavenly. This disc features some of his best work as a bandleader, all of it typified by the light, melodically-defined approach that made his power-behind-the-throne contributions with Brubeck so memorable. One of Desmond's most sympathetic and well-suited collaborators, guitarist Jim Hall, accompanies throughout, and his dreamy, light touch is a perfect compliment to Desmond's own delicate style. A very pleasant album, with several bossa nova and Brazilian-flavored tunes, as well as stuff from closer to home... highly recommended!

Paul Desmond & Gerry Mulligan "Two Of A Mind" (RCA/Bluebird, 1962/2003)



A nice, informal session with cool jazz alto saxophonist Paul Desmond and his likeminded West Coast pal, baritone Gerry Mulligan. This disc features several songs that were skillfully edited together from multiple studio takes -- pretty seamlessly, when you listen to them -- and they show the deft, good-natured interplay and genuine warmth these two shared. The CD reissue adds five new tracks, only two of which are alternate (or unedited) versions of songs that appeared on the original 1962 album. Included are two loose-limbed jam sessions that also featured guitarist Jim Hall, one of Desmond's most sympathetic creative partners. Perhaps a bit forceful overall, and not as fluid and soft-touched as Desmond's best work, but still a fine jazz album.

The Dinning Sisters "Best Of The Dinning Sisters" (Collector's Choice, 1998)


Wildly popular in the 1940s, the Dinning Sisters, fellow Midwesterners and followers of the better-known Andrews Sisters, followed the same perky vocal trio formula laid down by the Boswells, although with a notably smoother style. Although they did do some swinging material, the Dinnings seem to have dampened down the jazzier edges of the Boswell/Andrews sound, rounding out the notes, softening the rhythms, sweetening the melodies. This CD collects over two dozen of their best-known recordings made for Capitol Records between 1943-47. It's good stuff, and nice for the devoted nostalgia buff, but it didn't quite capture my imagination the same way those other gals did. Still, it's totally worth checking out.

The Dinning Sisters "Back In Country Style" (Jasmine, 2002)


A famly act that had its roots in Oklahoma's Depression-era country music scene, the Dinnings took western swing and added the sleek, jazzy harmony vocals of the Boswell and Andrews Sisters, a cosmopolitan style which they excelled at. They became a national act and for many years were major competitors of the Andrews Sisters... It might be easy to dismiss them as mere imitators, but as this disc demonstrates, their country roots set them apart and made them distinctive... It's nice stuff, maybe a little too jazzy for some twangfans, but still quite fun. Guitarist George Barnes, whose own career also spanned country, pop and jazz, backs the Dinnings on about two-thirds of the tracks of this generously programmed set... Recommended!

The Dorsey Brothers "Live In '55: At The Holiday Ballroom" (Collector's Choice, 2003)


This 2-CD set perfectly captures the swinging ambience of the mid-'Fifties ballroom scene, with cha-cha-chas, wham-bam swing arrangements and gloriously cornball love songs. The Dorseys, as solo bandleaders and as a reunited team, were among the few big band stars to successfully make a go of it in the pop vocals era, and are heard here in fine form, just before their untimely deaths in 1956 (Tommy; died in his sleep) and 1957 (Jimmy, after a battle with cancer). This collection gathers the best of their performances during a stint at Chicago's Holiday Ballroom, during a brief period of truce in which their notorious personal feud was thankfully set aside. Although these recordings have been tightly edited to trim out stage banter, much of the ambience and tone of the ballroom scene comes through, with faint whispers of dinner conversations and maybe even the squeak of a shoe or two. Charlie Shavers is a featured soloist, Pearl Bailey one of the singers. Maybe not as zippy or energetic as their classic work of the 'Thirties, but still pretty darn nice.
Jimmy Dorsey "The Complete Standard Transcriptions" (Soundies, 2000)





<! with Maynard Ferguson and Charlie Teagarden >

Tommy Dorsey Orchestra w/ Frank Sinatra "All Time Greatest Hits, v. 1" (RCA, 1990)


Tommy Dorsey Orchestra w/ Frank Sinatra "All Time Greatest Hits, v. 2" (RCA, 1990)



I've never been a big Sinatra fan (guess I grew up hearing too many of his overinflated cornball pop records), but I do have these two excellent CDs of his early work as the star singer for the Tommy Dorsey Orchestra, and I have to admit, they're worth keeping around. Even as a young man, Sinatra was a little too showy and full of himself, and his immense star power as a singer was almost unprecedented in the dance-oriented big band era. Still, he sings these bobbysoxer ballads with gusto and pep, and Dorsey's band was really a force of nature. So what if Sinatra killed the big bands? While he was in the scene, he made some swell swing recordings, with syrupy splashes of old-fashioned crooning and a hint of the pop vocal era to come.

Tommy Dorsey "The Complete Tommy Dorsey: 1928-1935" (Classics, 1995)



I am a big fan of this French reissue series, which follows jazz artists chronologically through their careers... In this case, the Tommy Dorsey story starts with the formation of a proper Dorsey band, back in 1928, when Dixieland-tinged trad jazz and "hot band" music was the order of the day. Tommy Dorsey and his brother Jimmy were prolific sidemen, and many of the artists they backed appeared on the Dorsey Brothers recordings as well. This first volume follows them through their early jazz origins into the birth of swing; Tommy and Jimmy had a long, cantankerous on-again, off-again relationship -- most of the fame and acclaim went to Tommy, who led one of the most successful swing bands of the 1930s, which is amply documented in the volumes that follow.
Tommy Dorsey "The Complete Tommy Dorsey: 1935-1936" (Classics, 1996)


Tommy Dorsey "The Complete Tommy Dorsey: 1936" (Classics, 1996)

Tommy Dorsey "The Complete Tommy Dorsey: 1936-1937" (Classics, 1997)

Tommy Dorsey "The Complete Tommy Dorsey: 1937" (Classics, 1997)

Tommy Dorsey "The Complete Tommy Dorsey: 1937, v.2" (Classics, 1998)


Tommy Dorsey "The Complete Tommy Dorsey: 1937, v.3" (Classics, 1998) <! date? >


Tommy Dorsey "The Complete Tommy Dorsey: 1937-1938" (Classics, 2000)


Tommy Dorsey "The Complete Tommy Dorsey: 1938" (Classics, 2000)

Tommy Dorsey "The Complete Tommy Dorsey: 1938, v.2" (Classics, 2001)


Tommy Dorsey "The Complete Tommy Dorsey: 1938-1939" (Classics, 2002)


Tommy Dorsey "The Complete Tommy Dorsey: 1939" (Classics, 2002)


Tommy Dorsey "The Complete Tommy Dorsey: 1939, v.2" (Classics, 2003)


Tommy Dorsey "The Complete Tommy Dorsey: 1939, v.3" (Classics, 2004)

Tommy Dorsey Orchestra "Stop, Look & Listen" (ASV Living Era, 1994)


A typically strong, well-selected ASV set, with the same title as the later US album listed below, but only about a 50% crossover in the track listings. Hard to go wrong with these Living Era collections.
Tommy Dorsey Orchestra "Stop, Look & Listen" (RCA Victor, 1999)



The instrumental ooompf of the Dorsey organization, circa 1936-39, is highlighted in this 21-track collection, with plenty of great sidemen, including Bunny Berrigan, Bud Freeman, et al on hand to pep things up. I have to confess, though, that without vocals to break up the Dixie-tinged bounciness, this does get a little monotonous. This is a good collection for folks who want to assess the purely musical chops of a big band giant in mid-stride, but the casual swing-oriented music fan might wanna track down some stuff where the singers take a more prominent role.

Tommy Dorsey "The Complete Standard Transcriptions" (Soundies, 2000)



The Dorsey band as a working organization is the focus of this massive 4-CD set, collecting dozens of live radio recordings made for the Standard Transcription Service, between 1951-52, when the big band era was long over, but Dorsey was still going strong. The heavy hitters in this late edition of thr Dorsey band were trumpet player Charlie Shavers and arranger Bill Finegan (of the famed Sauter-Finegan Orchestra)... The music isn't as sparkling or fluid as in Dorsey's wartime heyday, but it's still pretty zippy. Nice chance to hear what Dorsey sounded like working live, later in the game. Nice document of late-vintage swing...
---
More Jazz Reviews -- Letter "E"
---



Main Jazz Index
Pop Music Index


---