<! MP3 03/18/10 > <! update 00/00/00 > <! pix 00/00/00 > <! icons 01/31/11 >
---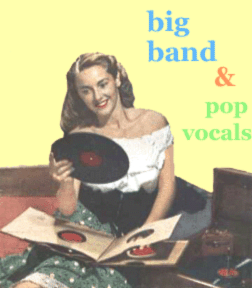 Hi -- welcome to my Jazz and Swing music section. This page includes reviews or records by artist under the letter "G." More reviews and artist profiles can be found at the Main Jazz Index
---
A | B | C | D | E | F | G | H | I | J | K | L | M | N | O | P | Q | R | S | T | U | V | W | X, Y & Z | Comps | Main Jazz Index | Jazz Books & Music Guides
---
Jan Garber "The Uncollected Jan Garber: 1939-1941" (Hindsight, 1995)

Jan Garber "The Hot Years: 1925-1930" (The Old Masters, 1998)

Jan Garber "A Melody From The Sky" (ASV-Living Era, 2004)

Carroll Gibbons "Volume One: Ooh, That Kiss!" (Dutton Vocalion, 1998)

Carroll Gibbons "Volume Two: Broadway Rhythm" (Dutton Vocalion, 2001)

Carroll Gibbons "Volume Three: Black Coffee" (Dutton Vocalion, 2006) <! date? >

Carroll Gibbons "Volume Four: Please Remember" (Dutton Vocalion)





<! 1936-1944 >

Carroll Gibbons "Volume Five: On The Avenue" (Dutton Vocalion)





<! also B000NA2PHI >

Carroll Gibbons "Volume 6" (Dutton Vocalion)

Carroll Gibbons "Volume 7: Fascinating Rhythm" (Dutton Vocalion)

Carroll Gibbons "Volume 8: On The Air" (Dutton Vocalion)

Carroll Gibbons "Volume 9: Build A Little Home" (Dutton Vocalion)

Carroll Gibbons "Volume 10: Dancing On A Dime" (Dutton Vocalion, 2010)

Carroll Gibbons "Volume 11: Anything Goes" (Dutton Vocalion, 2010)

Carroll Gibbons "Volume 12: Let's Stop The Clock" (Dutton Vocalion, 2010)

Carroll Gibbons "Volume 13: Rustic Rhapsody" (Dutton Vocalion, 2010)





<! OLD TEXT: Benny Goodman - as with many of my favorite swing artists, I mostly know Goodman's work from old vinyl LPs, and haven't found the time (or money) to discover the CD-era equivalents. Anyway, for now suffice it to say that I totally dig him, and I strongly recommend tracking down the old Bluebird double LP sets from RCA-- they are all great fun. And, as time permits, I will also start making recommendations for CDs below. >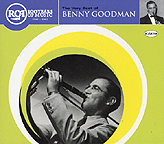 Benny Goodman "The Very Best Of Benny Goodman" (RCA Victor, 2001)



I guess this is the current standard-issue BG best-of, at least for his early years on Victor Records... Personally, I'm more of a BG completist, but this CD sure packs a lot of firepower... "Sing, Sing, Sing," "Bei Mir Bist Du Schoen," "Moonglow," "Stompin' At The Savoy," and sixteen other swingin' tunes from 1935-39... What's not to love? Definitely worth picking up, especially if you're just starting to check Goodman out.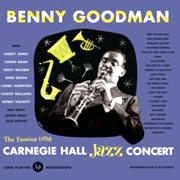 Benny Goodman "Carnegie Hall Jazz Concert" (Sony, 1999)



Benny Goodman was a true believer in the power of swing music and jazz, and an avatar in its complete sweep of American popular culture in the 1930s. Legend has it that following his success on the West Coast, Goodman set his sights on Carnegie Hall, the bastion of "high" culture in the United States, and finally there came the day that his popularity was so great that Goodman brought the "low-class" music of jazz to the Big Apple's big concert hall. The results were dazzling, a powerful set of music, with big bands and small combos that all simply sizzled with Goodman's rigourously arranged, undeniably infectious musical vision. Swing was seldom better. This 2-CD set is different that the old, original LP version (and Sony's first CD reissue, which followed the LPs to a "T")... there's more background noise, and several performances are reinserted that are less than perfect, and were (perhaps wisely) cut from the first version of this concert album. Still, with Harry James, Gene Krupa, Teddy Wilson, Count Basie, Johnny Hodges, Lester Young, Buck Clayton and Martha Tilton in for the ride, how bad could it be? This is a high point in the history of swing, and either edition of this classic recording you find will be sure to keep your toes tapping for a long time to come. Recommended!

Benny Goodman "The Benny Goodman Small Groups: Class Of '39" (Collector's Choice, 2003)


A great collection of live Goodman recordings, taken from various broadcasts on the CBS "Camel Caravan" show, all throughout 1939. Teddy Wilson, Jess Stacy, Lionel Hampton and Charlie Christian are among the sidemen and, as you might imagine, these instrumental tracks are all really wonderful to listen to. A mellow, relaxed set that showcases some extraordinary musicianship, but that also has a nice little rhythm that can get you moving across the floor. Recommended.

Benny Goodman "Complete Capitol Trios" (Capitol, 1999)



An absolute delight! Goodman only recorded a little material for Capitol, but these sparkling trio recordings (from 1947 and 1954) are certainly among the best music he ever made. Part of the attraction, of course, is hearing him work practically one-on-one with pianist Teddy Wilson, who is featured on the first ten tracks of this album. The ivory tinklers on the other sessions, Jimmy Rowles and Mel Powell, are no slouches, either, but there's always something so delicious and gratifying about Wilson's work, that any chance to hear him in an intimate setting like this is a treat not to be missed. And Goodman, a notorious stickler for details and a real hardass as a bandleader, is remarkably relaxed on these sessions, playful even, and exploratory. Rather than hearing him in the elaborate tapestries of of his dance music arrangements, here we get a feel for his improvisational side, and a sense of how he could skip around inside a melody. Beautiful, bare-bones performances which show all the musicians at their best... Recommended!
Betty Grable "The Pin-Up Girl " (Jasmine, 1997)


A 2-CD set...

Betty Grable "Sweetheart Of The Silver Screen" (Collector's Choice, 2004)


Say what you will about actress Betty Grable, but she was not a terribly good singer. Still... if she was married all those years to bandleader Harry James, she must have had something on the ball. At the very least, she's game for anything and throws herself into whatever material she's matched up with, and in a "who-cares-what-she-sounds-like?" kinda way, I suppose she's just fine. The more novelty-oriented, burlesque-y material suits her best, though when she tries to sing more serious romantic material, the results are pretty sketchy. Still, as a pop culture artifact, this is a nice item. Pity, though, that the minimal liner notes fail to mention when, or where, or with who any of these tracks were recorded. Still, it's good, campy fun.
Betty Grable "More From The Pin-Up Girl " (Jasmine, 2006)


A 2-CD set...
Stephane Grappelli "1935-1940" (Classics, 1994)

Stephane Grappelli "1941-1943" (Classics, 1994)


The famed partnership of swing violinist Stephane Grappelli and the extraordinary gypsy jazz guitarist Django Reinhardt came to an end in 1939, when their band, the Hot Club of Paris was touring in England and war broke out on the Continental mainland. Rinehardt rushed back to France, where he worked throughout the war and the Nazi occupation, while Grappelli opted to stay in the UK, where he promptly picked up the pieces and started a new musical career. This is a the second volume of an outstanding series collecting Grappelli's wartime work in chronological order. The album opens with some unusual large-combo recordings, made in a style that sounds more appropriate to a Fred Astaire dance film, than the sleek, sweet and somewhat spicy jazz of the Hot Club years. A harp and second fiddle blunt the distinctive lilt of Grapelli's bow, while piano lines and a vibrophone fill in for the counterpoint parts previously taken by Rinehardt... The pianist in this case, and throughout the rest of the CD, is none other than George Shearing, one of England's best-known musicians, and later quite the king of easy listening style... Also of note are the vocals by Beryl Davis, one of the best singers of the UK's booming sweet band scene. An intriguing look at Grapelli's early solo work!

Stephane Grappelli "Stephane's Tune -- Original Recordings: 1938-1941" (Naxos Jazz, 2002)


This disc covers much of the same time period as the Classics album above, but also includes a few earlier tunes recorded with Django Reinhardt, and features Grappelli working with British pianist Arthur Young, who recorded with Hatchett's Swingtette until a war-related injury sidelined him, making room for the young George Shearing to enter the band. Shearing is heard on the last few tracks of this set; Beryl Davis also sings on several numbers. It must be said that many of these arrangements are pretty wimpy or florid, and that Grappelli's jazzy tendencies are often buried in pure schmaltz. Still, there's plenty of fun stuff to be heard on here!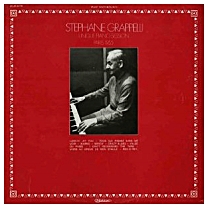 Stephane Grappelli "Unique Piano Sessions: Paris 1955" (Jazz Anthology/Musidisc France) (LP)


While a master of the bow, Grappelli was also adept on piano, as heard on these relaxed, informal sessions recorded in a trio with bassist Guy Petersen and drummer Andre Reilles. According to the liner notes, Grappelli got his start in show business playing piano accompaniment to silent films, and while he is nowhere near as adept on keyboards as on the violin, he is still expressive and brisk, with a joyful melodic touch. The repertoire includes several Grappelli originals, a couple of Cole Porter tunes and some FRench standards from the work of Charles Aznavour and Charles Trenet. Though not as sleek as his regular records, these tracks still have a sweet, sentimental feel, and shed new light on a musical master. Definitely worth checking out!

Glen Gray & The Casa Loma Orchestra "The Complete Okeh and Brunswick Hits" (Collector's Choice, 2001)


A name which frequently elicits distain from jazz purists, bandleader Glen Gray rivaled Paul Whiteman as one of the most famous "commercial" dance band artists to tame and co-opt the explosive jazz sound of the 1920s, offering a more genteel version of the raucous rhythms of the Prohibition era. Gray also helped pave the way for the "big band" boom, both as a businessman running a large band as a tight ship, and because his orchestra was the training ground for some of "white" jazz's best soloists (including crooner Bing Crosby). This CD features some of the Casa Loma Orchestra's best early recordings, from 1931 to 1934, and traces the progression from a would-be "hot" band into a decidedly "sweet", schmaltzy pop band. Gray abandoned the flash and sizzle of the Dorseys in favor of the polish of the hotel ballrooms... A nice sampling of one of the corniest (but most successful) Depression-era bands.
Glen Gray "...And The Casa Loma Orchestra: 1939-40" (Hindsight, 1977)


Glen Gray "Best Of The Big Bands" (Sony, 1989)

Glen Gray "Smoke Rings" (ASV-Living Era, 2002)

Glen Gray "Sonic Tonic: 1939-1946" (Jasmine, 2007)


A 2-CD set...
Lil Green "Chicago: 1940-1947" (Rosetta Records, 1985) (LP)


Part of Rosetta Records outstanding "Foremothers" blues series, this features the mousy-voiced Chicago blues-jazz pianist, Lil Green at her peak. I love Lil Green. Her charming, winsome personality and wry, raunchy sense of humor shine through on all these tracks, and she is a wonderfully expressive performer. This features the strikingly erotic "Romance In The Dark," along with a sprightly 1941 version of Jessica Rabbit's big hit, "Why Don't You Do Right?"... Packed with plenty of first-class material, this is must-have record for fans of the old blues gals. (For more info, check out the link to Lea Gilmore's blues site, below...)
Lil Green "Why Don't You Do Right" (EPM Musique, 1996)


This import CD includes several of the songs on the Rosetta LP (but lacks several of my favorites... Nevertheless, the "hits" are on here, and with nearly two dozen tracks, this is a disc well worth picking up... One of the best wartime blues gals you're ever likely to hear!
Lil Green "The Chronological Lil Green: 1940-1941" (Classics, 2003)

Lil Green "The Chronological Lil Green: 1942-1946" (Classics, 2004)

Lil Green "The Chronological Lil Green: 1947-1951" (Classics, 2005)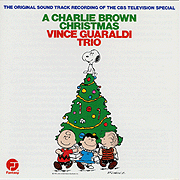 Vince Guaraldi "A Charlie Brown Christmas" (Fantasy, 1964)



San Francisco's jazz pianist Vince Guaraldi is best known for his work on the mid-1960s Peanuts TV specials, crafting irresistible ditties like "Linus And Lucy" and the oh-so-mellow "Blue Charlie Brown." His version of West Coast jazz is, admittedly, a bit on the light side, but for decades has caught the ears and imagination of an eager listening audience. For many, he was the gateway drug of Jazz, leading some onto harder stuff, while many others were content with the happy buzz his deceptively simple songs could induce. This is the classic Guaraldi-Peanuts soundtrack, with all the right songs, all at the right tempi... For sheer swinging, relaxing melodic pleasure, this disc is hard to beat.
Vince Guaraldi "Oh Good Grief!" (Fantasy, 1968)



Mining the "Peanuts" vein a little while longer, Guaraldi produces more mellow, moving, smooth jazz tunes. Nice stuff!

Vince Guaraldi "The Charlie Brown Suite & Other Favorites" (RCA Bluebird, 2003)



An interesting, odd album that features extended explorations of the poppy ditties that made up the Charles Schultz section of the soundtracks to our lives. The disc kicks off with a rockin' jazzed-up tune, "Linus And Lucy With The Band," which has a few unexpected sonic twist and turns; the Suite itself is an impressive, if somewhat sugary, 1968 live performance which runs the Guaraldi gamut from florid orchestral work ala his "Cast Your Fate To The Wind"-era soundtracks to the smooth bossa nova of the "Charlie Brown Theme" and the moody, atmospheric take on "Peppermint Patty..." Just when you think he's gone soft, Guaraldi sneaks in something really cool and subtle. And once you realize that the seven songs of the Suite itself were performed live (with studio-like sleekness), the project seems all the more impressive. If you're already a Guaraldi fan, you'll definitely want to pick this one up.
---
More Jazz Reviews -- Letter "H"
---



Main Jazz Index
Pop Music Index



---