<! MP3 03/20/10 > <! update 03/20/10 - mostly no adds > <! pix 03/20/10 - a couple > <! icons 01/31/11 >
---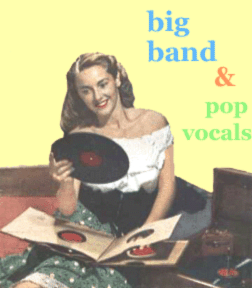 Hi -- welcome to my Jazz and Swing music section. This page includes reviews or records by artist under the letter "P". More reviews and artist profiles can be found at the Main Jazz Index
---
A | B | C | D | E | F | G | H | I | J | K | L | M | N | O | P | Q | R | S | T | U | V | W | X, Y & Z | Comps | Main Jazz Index | Jazz Books & Music Guides
---

Charlie Palloy "Vocals And Guitar" (The Old Masters, 2002)


Not much is known about the jovial, guitar pickin' crooner Charlie Palloy, other than of course his unabashed imitation of the young Bing Crosby. These recordings, made between 1932-33 for the cheapo Crown label, were sold through Woolworth's stores as a bargain-basement version of the new crooning fad. Nonetheless, even though Palloy's act was patently derivative, these recordings are just as entertaining as any others of the era. Palloy was a robust, cheerful performer and, as the liner notes point out, a fairly pioneering jazz guitarist. Plenty of hits of the day, including "It Don't Mean A Thing," "Brother Can You Spare A Dime?" and "Try A Little Tenderness," as well as less renowned tunes like "Hustlin' And Bustlin' For Baby" and "One Word Led To Another" that convey the offbeat, cutesy charm of the old Tin Pan Alley repertoire. As with other TOM releases, this disc has great sound quality, and is a real find for fans of Depression era pop.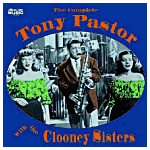 Tony Pastor & The Clooney Sisters "The Complete" (Collector's Choice, 2000)


Saxophonist Tony Pastor was an alumnus and former star performer of Artie Shaw's swing orchestra... During one of Shaw's periodic creative regroupings, Pastor hit out on his own, and scored a major coup in 1946 by signing up the Clooney Sisters -- Rosemary and Betty -- as featured vocalists in his already-thriving big band. Somewhat unfairly, Pastor is mainly remembered as a footnote in the early career of George Clooney's older auntie, but he was a compelling performer in his own right. This CD concentrates on his more comedic side -- with plenty of bouncy Louis Prima-flavored novelty tunes (for his more serious ballads and instrumental numbers, you'll have to look for the radio transcription discs reissued several years ago on the Circle label...) Inevitably, Rosemary Clooney became the real star of the show, although this collection is particularly cool for bringing sister Betty back into the limelight. (And whatever happened to Betty, you might ask? Well, apparently in the '50s she pulled a Lucy and married latin dance bandleader Pupi Campo, then dropped out of the public eye...) For some perky, fun old big band pop, this just can't be beat.
Tony Pastor "Mr. Pastor Goes To Town" (ASV-Living Era, 2007)

Tony Pastor "1941-1945" (Circle, 1994)

Tony Pastor "1945-1951" (Circle, 1994)





<! 03/10: LOTS of other Pastor discs, but diminishing results. didn't check MP3 lists >

Les Paul "The Best Of Les Paul - Millennium Collection" (MCA/Universal, 2001)



Guitar whiz Les Paul is best known for his groundbreaking 1950s pop/instrumental work on the up-and-coming Capitol label. This WWII-era material on Decca Records is relatively unknown to most music fans. Some of it is session work, with Paul adding some sweet licks to pop tunes sung by Bing Crosby, Dick Haymes, and the Andrews Sisters. Most of this album, though, is devoted to straight jazz recordings, mellow small-combo material with plenty of standards such as "Blue Skies" and "Begin The Beguine"... It's nice stuff, a bit off the beaten track, and a nice glimpse at his career in the years before he experimented with multitracking and all the other studio wizardry he's reknowned for pioneering.

Les Paul & His Trio "California Melodies" (Collector's Choice, 2003)


Well before his popular successes with multi-tracking and media marketing, Paul has long apprenticeship stints on radio and TV, which is where these zippy WWII-era sessions come from. This disc includes recordings with the Frank DeVol orchestra, as well as Les Paul's own trio, with his smooth electric guitar right up front and center. As entertaining as the music itself are the "hip" lead-in comments by the announcer, one of those delightfully archaic touches that make old transcription discs so much fun. If you're a Les Paul fan, this disc is a must!

Oscar Peterson "This Is Oscar Peterson" (RCA-Bluebird, 2003)



This 2-CD set gathers the early recordings of future jazz legend, pianist Oscar Peterson, including his very first sessions made back in 1945, when he was just 19 years old, and struggling along as a nightclub performer in his native Montreal. These tracks are sprightly and dynamic, even a little bit untamed and haphazard, as Peterson dips back into the Dixieland and boogie-woogie traditions that formed the early jazz piano repertoire. In part, it turns out, the jaunty approach was dictated by Peterson's label, the Canadian division of RCA Victor, which told him to record salable, poppy, Fats Waller-ish boogie woogie material, and save the wilder, more experimental stuff for his nightclub gigs. That's alright by me: even though Peterson wound up being one of the mellower post-Bop stylists, the bouncy, straightforward melodic appraoch heard here is pretty darn fun. I was familiar with this material from some late-'80s import vinyl reissue; according to the liner notes here, many of these European editions featured alternate takes that weren't on the original 1945-'50 RCA albums. In some cases, the original acetates have long since been missing in action, so a few tracks had to be recovered from discs or duplicate masters, and have slightly fuzzy sound quality. It's okay, though -- this is still fun stuff, and it's interesting to hear this lively, energetic young artist chafing at the bit and strutting his stuff.

The Pied Pipers "Whatcha Know, Joe?" (Razor & Tie, 1999)


Big band more or less died after WWII; slowly during the course of the War, singers began to assert their ascendancy over instrumentalists, and even before Pearl Harbor, crooners and crackerjack vocal groups dotted the landscape. One of the best vocal ensembles was the Pied Pipers, a quartet that came out of the Tommy Dorsey Orchestra. Featuring the warm, girl-next-door vocals of Jo Stafford and tight (but swinging) harmonies of her male cohorts, the Pipers were fun, clever and catchy. These 1940-41 recordings capture them at their best: from straight moon-june love tunes to hep jive like the title track, and nonsensical hilarity such as "Friendship", it's all great stuff. Frank Sinatra, who was still pulling his bobbysoxer apprenticeship with the Dorsey band, also pipes up on a couple of tracks. Fun stuff; highly recommended!

Dick Powell "Lullaby Of Broadway" (ASV, 2000)


This 24-song retrospective covers the pop/swing material of actor Dick Powell, who made his name in Hollywood acting in comedic-romatic roles in the lavish musicals of Busby Berkley and the like. Powell later came to resent being typecast as a cornball and a smoothie, pushing the studio bosses to let him break out of his rut, and soon became a superior actor in hard-edged crime films and westerns. But, ah, the innocence of his early years as a crooner! Granted, he wasn't really in the same league as Fred Astaire or Russ Columbo (not to mention Crosby!), but Powell's moon-june tunes have much the same softness and old-fashioned charm. If you're on a crooning kick, then these are recordings you have to check out as well...
Dick Powell "The Man From 42nd Street" (Flapper, 1996)


Dick Powell "In Hollywood: 1933-1935" (Sony, 1995)

Jane Powell "A Heart That's Free" (Flare, 2001)


Yeesh. Picking up where Irene Dunne left off, actress Jane Powell specialized in swooping, trilling, irritating operatic artsy soprano songbirdisms. It's no fun, though: too much technique, not enough feeling or simplicity of presentation. On a few tunes taken from these 1946-51 Hollywood clips, she dips into lowbrow Vaudevillian cabaret routine, and these tunes resonate okay, but for the most part this disc is packed with showy, queeny, highbrow dreariness. I'll pass.

Louis Prima "...And His New Orleans Gang: 1934-1935" (Classics, 1999)



It's certainly instructive to find out that Prima, the archetypal Vegas lounge lizard, had his start in a real big band-style trad jazz act... True, his "debt" to Louis Armstrong was a bit embarassingly blunt (the vocals and trumpet work are shameless steals), but the music is still a lot of fun. Worth checking out, though you could just stick with Satchmo.
Louis Prima "...And His New Orleans Gang: 1935-1936" (Classics, 1999)

---
More Jazz Reviews -- Letter "Q"
---



Main Jazz Index
Pop Music Index


---