<! MP3 03/17/10 > <! update 00/00/00 > <! pix 03/17/10 > <! icons 01/31/11 > <! Harry Babbitt "Pocketful Of Dreams: Teh Best Of Harry Babbitt" (xxxxx, xxxxx) - with Kay Kyser >
---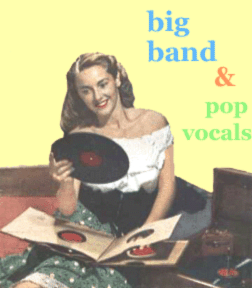 Hi -- welcome to my Jazz and Swing music section. This page includes reviews or records by artist under the letter "B"; more reviews and artist profiles can be found at the Main Jazz Index
---
A | B | C | D | E | F | G | H | I | J | K | L | M | N | O | P | Q | R | S | T | U | V | W | X, Y & Z | Comps | Main Jazz Index | Jazz Books & Music Guides
---
Mildred Bailey - see artist profile

Chet Baker "Chet!" (Riverside, 1959/2007)



(Produced by Orrin Keepnews)
A fairly perfunctory set, partly "cool" jazz, partly just plain jazz. Fabled producer Orrin Keepnews helmed these sessions, although apparently at the time he was kind of irked with Baker for being too drugged-out to act professionally as he should. Still, it's credible effort, with a first-tier lineup backing him, including Pepper Adams, Kenny Burrell, Paul Chambers, Bill Evans, Connie Kay and Herbie Mann... It's well-produced, but never really gives off any sparks. (Note: the 2007 remastered edition includes one bonus track, "Early Morning Mood.")

Chet Baker "Chet Is Back!" (RCA Bluebird, 1962/2003)



In 1959, following a string of drug busts in the United States, troubled trumpeter Chet Baker split for Italy... where he promptly got arrested for some pill-related scam, and started up his same self-destructive patterns. But while Baker was having a hard time finding collaborators to work with back in the States, in Italy he was still lauded as a groundbreaking, idealized romantic player, and landed a sweet contract with the Italian branch of RCA Records. These sessions, cut in early 1962 with various European sidemen (after his release from prison), are mainly competent, bop-flavored instrumentals, a notable change of pace from his usual penchant for ballads and softer material. The real draw on this CD reissue are a quartet of bonus tracks cut with a young Italian named Ennio Morricone as the house arranger. As Baker croons softly in Italian, there's a hint of Morricone's future lavish, expansive style, and the two meld quite nicely. Worth checking out, even if it's not the most sublime material Baker ever recorded.
Chet Baker "Oh, You Crazy Moon" (Enja, 1978/2003)



Baker's later years are notoriously wobbly, but this nice, understated set from the late '70s is surprisingly solid and pleasantly soulful. It opens with a couple of incandescent, heartfelt vocal numbers, and moves on to more standard-issue instrumental workouts (which I found less interesting, but which are still pretty top-notch). If you're in search of more obscure, yet still scintillating Chet Baker material, this disc is a pretty good catch.
Billy Banks/Jack Bland "The Chronological Classics: 1932" (Classics, 1997)


Singer Billy Banks hailed from the Midwest, and moved up from gigs in Cleveland and Chicago to residencies at clubs in New York, and various tours of Europe. This disc gathers all of his pre-war recordings as a bandleader, with sweet backing by players such as Red Allen, Pee Wee Russell, Eddie Condon and Gene Krupa, and even Fats Waller sitting in on a few tracks(!) Guitarist Jack Bland sat in on several sessions, and the disc is rounded out with four tracks Bland recorded with many of the same artists, with Chick Bullock singing on a couple of songs, and Henry Allen on the other two. It's all great stuff; the four songs with Fats Waller are particularly sweet.


<! also B00007GXG5 >
Charlie Barnett "Cherokee" (ASV, 1999)


Charlie Barnett - as with many of my favorite swing artists, I mostly know Barnett's work from old vinyl LPs, and haven't found the time (or money) to discover the CD-era equivalents. Anyway, for now suffice it to say that I totally dig him, and I strongly recommend tracking down RCA's old Bluebird double LP sets from the '70s-- they are all great fun. And, as time permits, I will also start making recommendations for CDs below.
Charlie Barnett "Classic Jazz Archive" (Membran, 2004)

Alex Bartha "Alex Bartha's Hotel Traymore Orchestra & Roane's Pennsylvanians" (The Old Masters, 2000)

Count Basie "1936-1938" (Classics, 1994)


A stellar series, produced in France, which reissues all of Basie's classic early material in chronological order. So far I've only listened to the volumes spanning 1936-42, but I've included information on the other discs as well since, if you're a Basie fan, this is the real motherlode. In all honesty, I have to admit that I find much of Basie's instrumental material a bit monotonous -- the horn sections are way too punchy and the arrangements, while undeniably swank, are also quite repetitive. But the vocals...? OH BABY! With Helen Humes and Jimmy Rushing splitting the microphone time, what's there to complain about? Her voice is oh-so-sweet and he's got the soulful blues 'way down deep inside. Later on Earl Warren and Lynn Shelley croon a tune or two, pointing the way for Basie's increasingly smooth approach. It's kind of interesting to hear how Basie tries to balance R&B-tinged muscularity with elegance; personally I think Ellington had him permanently outclassed in the latter regard, and the more wham-bam stuff is what I find irritating. Still, the jazz-oriented non-vocal material is also not to be ignored... With Coleman Hawkins, Lester Young, Buck Clayton, Jo Jones, Dickie Wells, Don Byas and a slew of other famous jazz cats running around, this is, indeed, historic music that has to be checked out by the true student of jazz... no matter what I think!
Count Basie "1938-1939" (Classics, 1996)

Count Basie "1939" (Classics, 1996)


Count Basie "1939, v.2" (Classics, 1996)


Count Basie "1939-1940" (Classics, 1996)

Count Basie "1940-1941" (Classics, 1996)


Count Basie "1941" (Classics, 1996)

Count Basie "1943-1945" (Classics, 1996)


Count Basie "1945-1946" (Classics, 1997)

Count Basie "1946-1947" (Classics, 1998)

Count Basie "1947" (Classics, 1999)

Count Basie "1947-1949" (Classics, 2000)

Count Basie "1950-51" (Classics, 2002)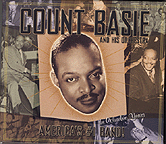 Count Basie "America's #1 Band: The Columbia Years" (Columbia Legacy, 2003)



This is a swell 4-CD box set that covers all of Basie's studio work for the Columbia label, from 1936-51, working in a variety of configurations, from small combos to the full-on Basie Orchestra, including several songs with Basie backing up Billie Holiday, and plenty of other vocal tunes featuring Basie regulars Helen Humes and Jimmy Rushing. This collection also marks the first time Columbia has officially delved into the wealth of live transcription performances and radio broadcasts featuring the Basie band... This material was previously the sole province of various European collector labels; Sony shows it's able to do this material up right, with meticulous scholarship and great sound quality. Doubtless, many of the sniffier jazz scholars will find some reason or another to pooh-pooh this collection, but for us regular folks, it's mighty tasty. Recommended!
---
Jazz Reviews -- More Letter "B"
---



---