<! MP3 03/20/10 > <! pix 03/20/10 > <! icons 01/31/11 > <! UPDATES: 03/20/10 > <! Sidney Torch http://en.wikipedia.org/wiki/Sidney_Torch >
---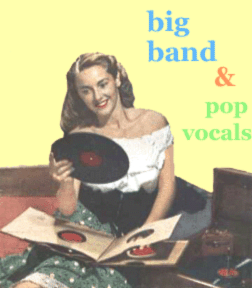 Hi -- welcome to my Jazz and Swing music section. This page includes reviews or records by artist under the letter "T". More reviews and artist profiles can be found at the Main Jazz Index
---
A | B | C | D | E | F | G | H | I | J | K | L | M | N | O | P | Q | R | S | T | U | V | W | X, Y & Z | Comps | Main Jazz Index | Jazz Books & Music Guides
---
<! really 180x180 >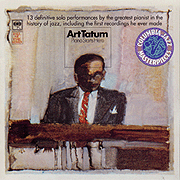 Art Tatum "Piano Starts Here" (Columbia, 1995)



Well, here's where I'm gonna lose the respect of many of you true jazz fans out there: I'm not really a big fan of pianist Art Tatum, despite the knowledge that he is one of the great genius players of the 20th Century, etc., etc. I dunno, maybe I just haven't delved deeply enough into his recordings and found the work that's fluid or lyrical enough to turn me on, but there's a certain sense of refined flashiness and technical perfection that makes his style seem a bit rigid to me... Yeah, I can tell he's a phenomenal musician, but he doesn't usually "move" me... This old album, graciously reissued on CD, was for many years one of the standard introductions to Tatum's work, and it encapsulates his early sound well, including four studio recordings from 1933, at the start of his career, along with nine live recordings from 1949, when he was well established as one of the preeminent jazz pianists. Some tracks are lovely, with Tatum's mindblowingly smooth, note-heavy runs matched up with a light melodic touch, but on many performances it just seems like he's showing off, and (for me, at least) there seems to be a lack of feeling and emotion. Tatum famously spent his career playing solo -- either because of his temperament or his surplus of talent, depending on who you talk to -- but I find these solo pieces a bit arid. I suppose Tatum may be an artist I'd like better if I created my own song-by-song mixes, but going through his catalog to find the songs I like seems more effort than it's worth... (That being said, any jazz fans out there with suggestions of records I should check out...? All comments are welcome!) Anyway, if you wanted to check Tatum out, this is the standard-issue introduction...

Art Tatum "The Best Of The Complete Pablo Group Masterpieces" (Pablo, 2003)



On the other hand, this set of later recordings, culled from a highly-regarded series of small group recordings, shows that Tatum could sound quite lovely when playing with other musicians. These sets were recorded in 1955-56, just before Tatum's untimely death in November of '56, and they showcase a seasoned musican with a rich harmonic sensibility. Musical partners here include Benny Carter, Red Callendar, Roy Eldridge, Lionel Hampton, Buddy Rich and Ben Webster -- heavyweights all -- and the spirit they add to Tatum's playing makes a world of difference... For folks interested in the whole Pablo series, I'll add the individual titles below...
Art Tatum "Art Tatum Group Masterpieces, v.1" (Pablo, 1991)



With Benny Carter and Louis Bellson...
Art Tatum "Art Tatum Group Masterpieces, v.2" (Pablo, 1991)


Art Tatum "Art Tatum Group Masterpieces, v.3" (Pablo, 1991)



With Lionel Hampton and Buddy Rich...
Art Tatum "Art Tatum Group Masterpieces, v.4" (Pablo, 1991)



With Lionel Hampton and Buddy Rich...
Art Tatum "Art Tatum Group Masterpieces, v.5" (Pablo, 1991)



More sessions with Lionel Hampton and Buddy Rich, along with Red Callendar and Berney Kessel...
Art Tatum "Art Tatum Group Masterpieces, v.6" (Pablo, 1991)



With Red Callendar and Jo Jones...
Art Tatum "Art Tatum Group Masterpieces, v.7" (Pablo, 1991)



With Red Callendar, Buddy DeFranco and Bill Douglass...
Art Tatum "Art Tatum Group Masterpieces, v.8" (Pablo, 1991)



With Red Callendar, Ben Webster and Bill Douglass...

Eva Taylor "Complete Recorded Works, v.1: 1922-1923" (Document, 1995)



The wife of bandleader Clarence Williams, vocalist Eva Taylor started her career as a child performer in vaudeville, and matured into one of the finest blues and jazz singers of the Prohibition era and Great Depression. This is the first volume of several that gather her recorded works, mostly made with the various Williams bands. Taylor's one of my favorite classic blues singers -- check this disc out and find out why!
Eva Taylor "Complete Recorded Works, v.2: 1922-1923" (Document, 1995)


Eva Taylor "Complete Recorded Works, v.3: 1928-1932" (Document, 1995)


Eva Taylor "Edison Laterals, v.4" (Diamond Cut, 1997)


A set of about a dozen previously unreleased transcription disc recordings from 1929, augmented by several later recordings (from the 1970s!) by a much older (and perhaps wiser) Eva Taylor... Cool stuff!
Jack Teagarden "The Complete Chronological Jack Teagarden: 1939-1940" (Classics, 1991)


After a decade in the big leagues, and a long stint with the Paul Whiteman orchestra, trombonist Jack Teagarden set out as a bandleader himself... His WWII-era big band was a bust financially, but he sure recorded a lot of great music! This is the Classic label's first volume of Teagarden's solo recordings - fun stuff, with a few wobbly numbers...
Jack Teagarden "The Complete Chronological Jack Teagarden: 1940-1941" (Classics, 1991)


As his band soldiered on, Teagarden lost some of his top talent, but still made steady recording dates, albeit on smaller, indie labels. This disc is dominated with vocal sides, mostly lackluster, indifferent performances (which I still find charming in their own retro way...) The most famous of these vocalists is Kitty Kallen, who sings on the four tracks that kick off this disc; others include Marianne Dunne, Lynne Clark, the super-schmaltzy David Allen, and of course Teagarden himself on a track or two. On the bigger arrangements there's a strong whiff of Glenn Miller's sound, though trad jazz and blues come through on the smaller combo stuff. The handful of instrumental performances include one gem, "The Big Eight Blues," which has some sweet, quiet riffing, although some of the other cuts seems pretty workmanlike and uninspired. Still, I liked it!
Jack Teagarden "The Complete Chronological Jack Teagarden: 1941-1943" (Classics, 1996)


The Three Peppers "The Chronological Three Peppers: 1937-1940" (Classics, 1996)


A small novelty swing vocal ensemble that took its cues from acts such as the Spirits Of Rhythm, the Mills Brothers, Cats & A Fiddle and Slim Gaillard, the Three Peppers were formed in Saint Louis in the mid-1930s, and stuck together in one form or another until about 1950... They weren't the top of their game, to be sure (see all the guys listed above...) but they were a pretty good group with plenty of perk and wit, and great delivery. Some of this material is stuff you've heard elsewhere ("Shiek Of Araby," "Down By The Old Millstream," etc.) but there are some nice "new" tunes as well... The real gem on this collection is "It's A Puzzle To Me (So What)," an education-oriented novelty tune that has real sparkle to it... This disc is certainly worth checking out... and not just for that one great song!

Martha Tilton "The Liltin' Miss Tilton" (Collector's Choice, 2000)


Tilton started off her career singing with the Benny Goodman Orchestra in 1937, and during her two years with Goodman she became nationally known as one of the best big band singers. Tilton's style, though, was less swing than pop, and along with other singers such as Doris Day and Peggy Lee, she soon proved to be well-suited to the pop vocals style that emerged out of Hollywood, in the wake of the swing scene. This spiffy 44-song, two-CD set covers all of her recordings for the Capitol label, made from 1942-55, when the new style was solidifying. A lot of the songs are from Hollywood films, as well as singles cut with bandleaders ranging from Gordon Jenkins and Paul Weston to Dean Elliott and Frank DeVol (and even a track reuniting her with Goodman, when he moved to the label in the '50s). It's great stuff, packed with standards and languid pop songs full of the charmingly repressed eroticism of postwar pop. An excellent retrospective of one of the now-forgotten pop stars of yesteryear.
<! GIF really 130x130 >

Martha Tilton "The Complete Standard Transcriptions" (Soundies, 1999)



This fab set of radio transcription recordings features Tilton at her swinging best... if anything, she sounds even better here than she does in the Capitol studio session collected on the Liltin' Miss Tilton set reviewed above. The bulk of these recordings come from 1941, just before she became a Capitol hitmaker; other sessions date from the end of the War, and from around 1948. They're all quite good, and feature some lesser-known songs from the era (as Tilton set out as a solo artist at just the same time as ASCAP mounted an unsuccessful boycott of he recording industry; hence many relatively obscure composers who had signed up with BMI made it onto her playlists. What comes through more than anything else, though, is Tilton's command of the pop vocal format, and her dynamic embodiment of the lightly-disguised eroticism of many of the romantic lyrics of the time. One song in particular stands out, though, and that's Hy Zaret and Joan Whitney's "My Sister And I," an absorbing and rather unusual ballad about two sisters who have fled oppression and war to live in America, with a chorus in which they recount their night terrors and guilt about the friends and family they left behind, with a chorus that ends, "...But we don't talk about that." Pretty heavy stuff, and more directly political than your average big band dance tune! Anyway, this is a great collection, and raised my appreciation of Tilton's work to a much higher level.

Mel Torme "Spotlight On Mel Torme" (Capitol, 1994)



A great set of Torme swingin' his way through the standards, recorded in 1949-51, during a stint with Capitol Records. Mel twists the well-known melodies in unexpected, wildly inventive ways, and the arrangements -- Torme working with the likes of Pete Rugolo, Nelson Riddle, Frank DeVol and Red Norvo -- have that sweet, solid post-big band sound that Capitol pioneered in its postwar years. The pacing and selection on this 18-track CD are quite nice, and the set includes several previously unreleased songs... A real treat for fans, and also a beautiful introduction to Torme's work.

Mel Torme "The Complete World Transcriptions" (Soundies, 1999)



Subdued yet compelling performances by one of the greatest pop/jazz singers of the postwar era. Torme takes on various standards at a uniformly moderate pace, with a solid, but undistinguished (and unfortunately, anonymous) studio orchestra backing him up. Just 'cause we don't get the panache of his later collaborations with arranger Marty Paich, though, doesn't mean this collection isn't an absolute goldmine for Torme fans to revel in. These early-1950s recordings are a nice portrait of his postwar prime, made even more valuable by their previous unavailability... Nice stuff by one of the masters!

Mel Torme "Sings Fred Astaire" (Bethlehem, 1956/2000)


The Velvet Frog, er, Fog -- possibly the best singer of the 'Fifties -- pays tribute to hoofer Fred Astaire, who himself had a plainspoken, yet debonaire, way with a song. This disc is packed with great standards culled from the classy musicals Astaire starred in, songs like "Nice Work If You Can Get It," "Something's Gotta Give," "Let's Face The Music And Dance" and "Let's Call The Whole Thing Off." Torme had an uncanny knack for recapturing Astaire's plain, conversational style, yet building on it, adding a touch of '50s hepcat swing, a bounce that is uniquely his own. The musical arrangements and backup are by bandleader Marty Paich, whose collaborations with Torme rank among the smoothest and slyest jazz-pop vocals crossovers ever set to wax. This is latter-day crooning at its best, an album that was simultaneously nostalgic and tremendously modern at the same time. Highly recommended!
Mel Torme "Lulu's Back In Town" (Bethlehem, 1957/1999)


Mel swings insouciantly through a grand series of standards, all sung with a healthy dollop of playful, coy irony, as well as sheer delight. Marty Paich backs Torme again, with a crackerjack band that includes Bud Shank and Red Mitchell, as well as Mel Lewis bopping away on the drums. There's an affectionate, yet tounge-in-cheek air about this recording, and a masterful nonchalance that just makes it irresistible. One of my faves!

Arthur Tracy "The Sweetest Song In The World" (Conifer/Happy Days, 1993)


Super-schmaltzy, old-fashioned vocals, stilted and sentimental, utterly serious and resolutely sluggish and un-swinging. But, on the plus side, this style of singing has fallen so far out of fashion that it really sounds different than anything else you'll hear these days. A Russian-American singer who hit it big in Great Britain, "The Street Singer" had his heyday in the 1930s, when the War put a break on his trans-Atlantic career. Although nominally a crooner, Tracy was a big fan of Caruso, and you can certainly hear it in these vintage recordings. Even for me, this is a bit too corny... but more-hardcore nostalgia freaks than I might still really dig it.
---
More Jazz Reviews -- Letter "U"
---



Main Jazz Index
Pop Music Index


---