<! MP3 03/19/10 > <! update 00/00/00 - can expand > <! pix 03/19/10 > <! icons 01/31/11 >
---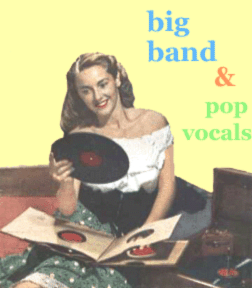 Hi -- welcome to my Jazz and Swing music section. This page includes reviews or records by artist under the letter "M". More reviews and artist profiles can be found at the Main Jazz Index
---
A | B | C | D | E | F | G | H | I | J | K | L | M | N | O | P | Q | R | S | T | U | V | W | X, Y & Z | Comps | Main Jazz Index | Jazz Books & Music Guides
---
Percival Mackey "A Tiny Flat Near Soho Square" (Dutton-Vocalion, 2008)


British dance-band from the 1920's featuring pianist/bandleader Percival Mackey, along with several long-forgotten singers such as Maurice Elwin, Harry Fay, Harry Glen and Jack Morrison. Mackey worked extensively on numerous stage productions, as well as in several films, and as a bandleader for singing stars including Jack Buchanan and Gracie Fields. This collection spans 1926-31, and has some choice material, mostly perky, Dixieland-tinged ditties, foxtrots, novelty songs and the like.
Wingy Manone "The Complete Brunswick Recordings Of Louis Prima & Wingy Manone: 1927-1937" (Mosaic)


A 6-CD box set...
Wingy Manone "The Chronological Wingy Manone: 1927-1934" (Classics, 1994)


Wingy Manone "The Chronological Wingy Manone: 1934-1935" (Classics, 1995)



Wingy Manone "The Chronological Wingy Manone: 1935-1936" (Classics, 1995)



Left-handed trumpeter Wingy Manone (he lost his right arm in a childhood accident) hailed from New Orleans and served a long apprenticeship in a variety of regional bands throughout the South and the Midwest in the 1910s and '20s and landed prime gigs by the end of the hot-band era. Here, in the mid-1930s, he's in fine form, leading a studio band that included hotshot players such as Bud Freeman and Jack Teagarden and his longtime cohort, Joe Marsala. They're all in a loose, funky, bluesy mood, mugging it up in a gutteral, garrulous, Armstrong-ish, Dixie-tinged jam session style. It's a little minstrel show-ish, but still joyful and tons of fun, with mighty fine musicianship all around. Manone also jams with songwriter Johnny Mercer on a loopy Mercer tune, "I've Got A Note," which appears here in two different takes. Highly recommended!
Wingy Manone "The Chronological Wingy Manone: 1936" (Classics, 1996)

Wingy Manone "The Chronological Wingy Manone: 1936-1937" (Classics, 1996)


Wingy Manone "The Chronological Wingy Manone: 1937-1938" (Classics, 1995)


Wingy Manone "The Chronological Wingy Manone: 1939-1940" (Classics, 1999)

Wingy Manone "The Chronological Wingy Manone: 1940-1944" (Classics, 2000)


Wingy Manone "The Chronological Wingy Manone: 1944-1946" (Classics, 2006)

Frankie Masters "The Best of Frankie Masters" (Collectables, 2006)

Frankie Masters "...And His Orchestra: 1940-1946" (Circle, 1994)

Frankie Masters "...And His Orchestra: 1947" (Circle, 1999)


Marilyn Maxwell "Darling Diva: Popular Lady Of Song" (Collector's Choice, 2004)


A welcome look at one of the neglected "songbirds" of the Big Band era... Actress Marilyn Maxwell sang for the John Scott Trotter Orchestra, which put her pretty squarely in the orbit of Bing Crosby and his organization. This disc gathers a dozen tracks, all with nice fidelity, from Bing's old radio show, circa 1944. A handful of duets with Crosby are a highlight of this disc -- they complimented each other quite nicely -- but Maxwell sounds pretty nice on her own, fronting Trotter's band. She's not dazzling or emotionally powerful, but she sounds nice and, like Trotter himself, she doesn't call a lot of attention to herself. It's workmanlike material, but it's kinda sweet.

Memphis Minnie "Hoodoo Lady: 1933-1937" (Sony Legacy, 1991)



Great stuff. This disc opens up with the marvellously raunchy "Down In The Alley," and continues along with a generous selection of twenty of the best recordings made by this vigorous, dynamic, groundbreaking blues picker. A completely arresting performer, Memphis Minnie was the first gal to excel at the same game as the boys: hot guitar playing, the kind of stuff that rock'n'roll comes from. Great singer, too. This disc is one of the highlights from the outstanding Roots & Blues series which inaugurated Sony's real commitment to quality archival releases in the CD era. It's great stuff.
Felix Mendelssohn "Volume One: Blackpool Walk" (Dutton Vocalion, 2001)
British "sweet band" leader Felix Mendelssohn specialized in ersatz Hawaiian music, spicing his cornball dance tunes with a bit of droopy steel guitar. Other collections of his work tend to focus on one style or the other, though this disc includes both the Hawaiianized material and the straight "jazz" numbers... Pretty bland stuff, mostly, but some of it has an antique/kitschy charm.


<! 09/11: not listed on Amazon >

Johnny Mercer "Collector's Series" (Capitol, 1989)



Songwriter Johnny Mercer had considerable success in Hollywood before co-founding Capitol Records in 1942. The maverick Los Angeles-based label had some of the biggest pop hits of the wartime era, starting with Ella Mae Morse's "Cow Cow Boogie," and continuing on through a slew of other great artists. Mercer himself recorded prolifically, and though his own versions of his songs tended to sell less spectacularly than versions cut by various popular bandleaders, he did alright as a singer, too. Mercer's bluesy, hepcat vocal style is a little hokey, but fun nonetheless, and no expense was spared on the punchy big band arrangements. This disc is packed with great Mercer originals, such as "G.I. Jive," with its goofy Slim Gaillard-style scatting, "Ac-Cent-Chu-Ate The Positive," "Glow Worm" and "The Atchison, Topeka And The Santa Fe." Mercer also did fine versions of songs by other standards writers, such as "Zip-A-Dee-Doo-Dah," and Frank Loesser's "Baby It's Cold Outside." Backing him up throughout are Jo Stafford and the Pied Pipers, top talent of the time. The Capitol studios had a great, readily identifiable production style -- clean, punchy, solid arrangements, pointing to a new "vocal" style that would redefine pop music in the wake of the big band era. And there was Johnny Mercer, right at the heart of it all. This is a great collection, well worth looking for.
Glenn Miller - as with many of my favorite swing artists, I mostly know Miller's work from old vinyl LPs, and haven't found the time (or money) to discover the CD-era equivalents. Anyway, for now suffice it to say that I totally dig Glenn Miller, although many jazz fans, even those who go for the goofy old big band sound, find him to be a bit square. So, yeah, Miller was firrst and foremost a pop artist, but hey... what's wrong with that? He was also a uniquely effective pop artist, and his old RCA recordings hold up remarkably well. Plus, with hundreds of songs under his belt, there's more than enough material to keep surprising fans who delve deep enough. I strongly recommend tracking down the old Bluebird double LP sets -- they are all great fun. And, as time permits, I will also start making recommendations for CDs below.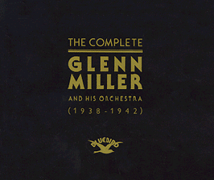 Glenn Miller "The Complete Glenn Miller And His Orchestra: 1938-1942" (BMG/RCA Victor, 2004)



Well, shucks, I saw this used and shelled out the big bucks to bring it home, and boy am I glad I did. This is some of the most finely crafted pop music you'll ever hear. Miller's music immortalizes the pop culture of white, mainstream America in the wartime era in a way that few other works of art do... Although it's clearly a big nostalgia trip for us all today, this music also holds up on its own over the decades... heck, even over the centuries, as it turns out. It's both corny and elegant, populist and refined, sweet and hot, jazz and pop, packed with immortal melodies like "In The Mood" and tons of fluffy, workmanlike tossoffs (which I find equally entertaining). Above all, it's is a joy to listen to... thirteen CDs that can just fill your home with music from dawn to dusk -- every commercial recording Miller cut for the RCA label when his band was at its absolute peak... It's pricey (and, criminally, out of print...) but this box set is really the way to go for Miller's best work... why settle for less? When I picked this up, I already owned the multi-volume Bluebird LP sets from the 1970s, yet I can hardly describe what a pleasure it is to also have them in digital form as well... This is the kind of collection you can enjoy for weeks on end. Highly recommended!

Glenn Miller "The Centennial Collection" (BMG/RCA Victor, 2004)



This is a pretty cool set -- one fabulous CD's worth of Miller's best, including several live tracks recorded at the height of the band's fame. Not only that, but this new best-of also includes -- get this -- an extra DVD of video material as well! Admittedly, this video bonus could have been more glamorous... There's only one full cut of Miller and his band playing in their prime (taken from the 1941 film, Sun Valley Serenade), while the other clips include TV appearances by later editions of the band, years after Miller's untimely death, as well as old movie trailers, 'Fifties advertisements for the first Miller LPs on RCA, and -- most intriguing -- vintage footage of the Miller Orchestra pepping up the troops at a War Bond rally in England, as well as some heartwarmingly informal home movies shot on tour by Miller's bass player back in the band's heyday. I'm sure licensing all the sexiest Miller material is hard, but it still would have been nice to see more material from, say, the 1942 film Orchestra Wives (which had a plot that revolved around the Miller Orchestra), some more concert footage, or even something from the documentary America's Musical Hero (which was produced by BMG, after all!) However, despite its shortcomings, the DVD is in itself an indication that the major labels are coming to see that multimedia packages -- with both music and video -- may be an added incentive for an info-savvy public that wants to feel it's getting its money's worth... Let's hope they go on to do similar, bigger, better projects for other artists soon! And that they come back to Miller and throw in a ton more archival material... We'll be here, eager and willing to snap it up!

Glenn Miller & The Andrews Sisters "The Chesterfield Broadcasts, v.1" (BMG/RCA Victor, 1998)



These live radio broadcasts, made in 1939-40 with the Glenn Miller Orchestra backing up the Andrews Sisters, document the brief, four-month association between two of the greatest pop acts of the WWII era. The collision between Miller's muscular, monolithic big band music machine and the Andrews's deft vocals is overall a bit brusque and edgy, with a juggernaut-like quality that may be surprising to fans of both acts... Still, what a combo! Big band fans will definitely want to check this out.
Glenn Miller "Secret Broadcasts" (BMG, 1996)


Following the success of the Lost Broadcasts collection, BMG gathered this 3-CD set of Miller's wartime transcription discs, featuring punchy renditions of old hits and some new material performed by his hand-picked Army Air Force Band. Honestly, speaking as a devoted Miller fan, I found these recordings to be kind of irritating. His fascination with orchestral string arrangements make the softer pieces sound like flowery '40s movie scores, while elsewhere occasional short bursts of modernist atonality, and a mountain of too-solid horn arrangements are another element that may get on the nerves of longtime fans looking for Miller's trademark melodic smoothness. If Miller had lived through the war and continued these sonic explorations, moving into the same classical-influenced space later taken by Stan Kenton, then these wartime recordings would have been seen as interesting stepping stones on the path to a more expansive style. But as the final legacy of a truly great pop arranger, they're a little too stiff and workmanlike, for me at least. Still, anyone curious about his final recordings should definitely check this set out.
Glenn Miller "Army Air Force Band" (Box Set) (BMG, 2001)



An even more definitive (or exhaustive) overview of Miller's final lineups. This 4-CD set reissues a 5-LP set issued right after the war, a pretty cohesive look at Miller's studio recordings from 1943-44.

The Mills Brothers "Four Boys And A Guitar: The Essential Mills Brothers" (Sony Legacy, 1995)


Pivotal early pioneers of the group vocals sound, the Mills Brothers built their reputation around a novelty routine: they imitated jazz instruments like the trumpet and trombone, using their voices to mimic the bluesy growls of the horns, and provided their own rhythm with smooth, hip vocalizations. That technique is prominent on this collection of early sides recorded for the Brunswick label between 1931-34, but it's a legitimate musical innovation, and not simply a vaudevillian showstopper, and a nice twist on the ever-expanding jazz dialect of the time. These early recordings are a bit rough in some ways, and while quite pleasant they do start to blue together after a while... The Mills Brothers are featured alongside headlining star performers like Cab Calloway, Bing Crosby and Duke Ellington, whose backup bands featured instrumental giants such as Bunny Berigan, The Dorsey Brothers, Johnny Hodges, Eddie Lang, Don Redmon and Juan Tizol... Their stature riding alongside the greats is confirmed by the album's other tracks, where it's just the Mills siblings, with their fine family harmonies. Most of their best early hits on on here, tunes such as Chinatown, My Chinatown," "Diga, Diga Doo," and "Swing It, Sister," as well as novelty classics like the "Bugle Call Rag," where they imitate the military reveille, and moan about having to wake up so early in the morning. The smooth, timeless sound of their later pop hits such as "Glow Work" and "Paper Doll" is still only hinted at here, but for those who treasure the older, jazzier material, this is a great collection.

Vaughn Monroe "Sentimental Gentleman Of Song" (Collector's Choice, 2003)


A 1940s bandleader who did double duty as a baritone crooner, Vaughn Monroe epitomized the schmalztier side of the big band era, intoning low and slow through many of the big hits of the day. This 2-CD set of old radio broadcast recordings doesn't include his best-known hit, "Ghost Riders In The Sky," but it does have over three dozen other cornball oldies that you'll either love or loathe. I have to say, I may prefer his studio work to the live recordings -- there's an aggressive edge to the performances here that plays against his mellow, lugubrious style. Still, it's always interesting to hear how these professionals sounded back when radio was still a live, dynamic medium, and this set is pretty generously programmed, for those who are so inclined. (Available through the Collector's Choice website.)
Vaughn Monroe "Racing With The Moon" (ASV Living Era, 2000)


A nice sampling of his studio work for the RCA label...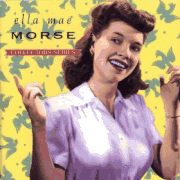 Ella Mae Morse "Collector's Series" (Capitol, 1992)



Ella Mae Morse "The Very Best Of..." (EMI/Collectibles, 1998)

Her big hit, "Cow Cow Boogie," was one of the most irresistible pop tunes of the 1940s, a catchy bit of faux-western pop bluesiania that in 1942 was one of the biggest hits on the newborn Capitol label. Morse started her career out with a magical and memorable hit record; it was a hard act to top, but her later recordings were also pretty consistent. Morse, backed by the Freddie Slack band, specialized in songs with bluesy phrasing and pseudo-boogie riffs... Sometimes the material was a little forced, but in general it was fun stuff, from the swankier side of the big band spectrum. This is a nice collection which covers her entire career, from "Cow Cow Boogie" until her retirement in the late '50s. (The songs on these two releases are identical; only the artwork has been changed to protect the innocent.) Definitely worth checking out!

Ella Mae Morse "The Dynamite Texas Diva - Live" (Collector's Choice, 2002)


A great set of live performances, recorded for the Armed Forces Radio Service between 1942-45, when Morse's star shone the brightest. This disc features her with a variety of musical collaborators, starting with Freddie Slack, and working through a variety of AFRS-sponsored orchestras. It's all top-notch stuff, Ella Mae's irrespressible spunkiness melding with the optimistic cheerfulness of the American show-biz community. The onstage/in studio banter is consistently entertaining: this is one of the best airshot collections of its kind that I've ever heard. In fact, I'd hazard to say that this disc actually more fun to listen to than the standard collections of her studio work. Recommended!
Ella Mae Morse "Barrelhouse, Boogie And The Blues/Sensastional" (Timeless 'N' Tunes, 1997)


A reissue of two uptempo albums made in the 1950s, when the jazz/vocals world confronted the existential threat of greasy, grimy, libidinous rock'n'roll. Ms. Morse met this challenge with a wholehearted embrace of the new style, fingers snapping, saxophones honking and backbeat thumping as she plowed through a heady set of bouncy R&B and a brassy ballad or two. Morse, who was kind of a rocker in her youth, emerges as something of a soul sister here -- she sounds a lot like the young DInah Washington, with funky, well-rounded tones and great phrasing. I liked this a lot more than I thought I would; better sound quality than I expected as well. Reissues the albums: 1955's Barrelhouse, Boogie And The Blues (with Big Dave & His Orchestra) and Sensastional, a collection of '50s recordings which came out in '57. Definitely worth checking out.
Ella Mae Morse "Barrelhouse, Boogie And The Blues" (Bear Family, 1999)


Ah, leave it to Bear Family to up the ante: this 5-CD set covers Morse's career from the early '40s through 1957, when she quit the music business, from "Cow-Cow Boogie" to "Solid Potato Salad" and, appropriately enough, "I'm Gone." Included among the gems are nearly three dozen songs that were previously unreleased. And, of course, a fabulous LP-sized booklet full of archival pictures and discographical info, as well as Bear Family's trademark solid sound and scholarship. Quite a treat.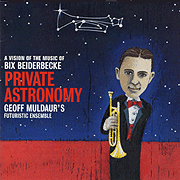 Geoff Muldaur's Futuristic Ensemble "Private Astronomy: A Vision Of The Music Of Bix Beiderbecke" (Universal Classics/Edge, 2003)


This post-millennial tribute to legendary live-fast, die-young 1920s jazz pioneer Bix Beiderbecke reimagines the trumpeter's legacy in lush, expansive terms... Beiderbecke is best remembered as a lightning-fast soloist, a precursor, if you will to the bebop style of the '30s and '40s, but only a handful of tunes exist that are credited as actual Beiderbecke compositions. These are all included here, along with several popular songs of the time that were apparently in Beiderbecke's repertoire. Simply put, this one of the most listenable records I'd heard in a long, long time. I literally had to leave this disc in the carousel for a few weeks until I burnt out on it, it was just so much fun to listen to... Former jug-bander Muldaur -- who was once king of a scene packed with record collector-musicians who prided themselves on their knowledge of obscure old 78s and the early links between jazz and the blues -- has picked his cohorts well, and the Futuristic Ensemble invests these songs with a new life and a playfulness and warmth that made the whole album a delight. Of particular note are a couple of numbers spotlighting Martha Wainwright, daughter of Loudon Wainwright III, sets the digital world a-sizzle with some sultry, insistent blues vocals that oughtta make your head spin. Yow! There's a gal to keep an eye on. The whole record is quite nice, though... highly recommended.
Rose Murphy "The Chee-Chee Girl" (ASV Living Era, 2005)


If you haven't yet encountered 1940s jazz-cabaret pianist Rose Murphy, well then, you're in for a treat. Her kooky, quirky riffs on vocals standards such as "I Can't Give You Anything But Love," et. al., feature winsome, carefree piano playing, along with her helium-powered, goofball, little-girl vocals: if Betty Boop had been a soloist with the Duke Ellington orchestra, it might have sounded a bit like this. Often, with Murphy's idiosyncratic phrasing what's left out -- amid the silences and truncated melodies -- sometimes matters more that what she does play, as if she were asserting that her familiarity with and willingness to mess around with all these songs was more important than showing musical mastery over the genre. Serious jazz fans might find this a little too novelty-oriented, but casual listeners are likely to find it irresistibly cheerful and sweet. Happy-sounding music, in a big, big way.
---
More Jazz Reviews -- Letter "N"
---



Main Jazz Index
Pop Music Index


---