<! MP3 03/22/10 - still some gaps in French Classics > <! update 03/22/10 - non-Classics, other titles not researched > <! pix 03/22/10 > <! icons 01/31/11 >
---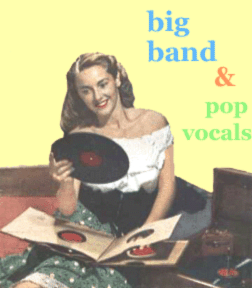 Hi -- welcome to my Jazz and Swing music section. This is the second page of reviews and records by artists under the letter "W". More reviews and artist profiles can be found at the Main Jazz Index
---
A | B | C | D | E | F | G | H | I | J | K | L | M | N | O | P | Q | R | S | T | U | V | W | X, Y & Z | Comps | Main Jazz Index | Jazz Books & Music Guides
---
Ted Weems "Greatest Hits" (Collector's Choice, 2000)


One of the most antiquated sounding (and delightful) of these recent "sweet band" reissues, this disc features early works from the 'Twenties and 'Thirties by this Dixie-tinged, comedy-oriented bandleader. Ranging from his debut 78 (recorded in 1923!) to his best-known instrumental hit, "Heartaches", this is an infectiously cheerful collection, full of a couple dozen of the sort of perky, tinny-toned tunes that turn up as campy novelties in movie soundtracks from time to time. This is decidely pop music, as opposed to "real" jazz, and it's all the more enjoyable for it. At one point the Weems band included Red Ingle, who carried the wacky goofball banner high, with the postwar hit, "Tim-Tay-Shun." Fun stuff -- fans of Spike Jones and the like might wanna check this disc out.
Ted Weems "Greatest Hits" (ASV-Living Era, 2000)

Ted Weems "From Saturday Night 'Til Monday Morning" (Jasmine, 2001)

Ted Weems "The Essential Ted Weems: 1923-1930" (Revival, 2002)



A generously-programmed 2-CD set which covers the golden years of the Weems band...
Ted Weems "The Complete Ted Weems, v.1: 1923-1926" (Renovation, 2005)


Ted Weems "The Complete Ted Weems, v.2: 1926-1928" (Renovation, 2007)



Elisabeth Welch "Harlem In My Heart" (ASV-Living Era, 2001)


Fine swing vocals and cabaret jazz from this New York native, who sang and acted in revues on both sides of the Atlantic. Welch's long career started in 1923 with her introduction of a new dance -- the Charleston (!) -- in the Runnin' Wild revue, an entrance into showbiz that led to roles in several of the most notable shows of the next decade. In the early '30s, Welch emigrated to England, and though she recorded infrequently, she worked constantly. This disc recaps the best of her studio work, featuring collaborations with Ted Lewis, Paul Robeson, Ivor Novello and swing saxophonist Benny Carter. It's nice stuff, showing Welch as a capable jazz singer -- maybe not as soulful as Ivie Anderson or as genteel as Ethel Waters, but definitely pitching in the same league. Worth checking out!


<! 03/10: still the only EW collection in print >
George Wettling "The Chronological George Wettling: 1940-1944" (Classics, 1997)


A swell set of restrained, economical Dixie-tinged trad jazz from combos led by drummer George Wettling, one of the key members of Eddie Condon's wartime jam sessions. There's a whole slew of top talent here, with a lot of the usual suspects -- Jess Stacy, Mezz Mezzrow, Jack Teagarden and Joe Marsala, as well as jazz royalty like Coleman Hawkins, all playing sweet, crisp melodies and the tight but not aggressive style of the Condon coterie. Nice stuff! Definitely worth a spin.

Margaret Whiting "Capitol Collectors Series" (Capitol, 1990)


Margaret Whiting "Spotlight On Margaret Whiting" (Capitol, 1995)


Margaret Whiting "The Complete Capitol Hits" (Collector's Choice, 1999)


The daughter of Richard Whiting, one of the earliest Tin Pan Alley tunesmiths to hit it big in Hollywood, Maggie Whiting had an early and fortuitous opening into show-biz high society. When songwriter Johnny Mercer, a friend of the family, started up Capitol Records in 1942, Whiting was one of his early signings, and as the wartime recording ban became a thing of the past, she became one of the guiding lights in Capitol's campaign to re-shape the world of pop vocals. The label was a key player in the entertainment industry's seismic shift away from instrumental-oriented hot swing dance bands towards pop vocals as the dominant commercial style. Whiting, with her slushy, emotive, and eminently "white" torchsong style, typified the new pop vocals style. This excellent 2-CD set gathers together no less than 45 of her best songs, recorded between 1945-1956. Naturally, there are a ton of classic standards, many of which were originally in films and musicals of the time. Capitol was also a haven for some of the most dynamic and accomplished country music in the postwar era, and early on Whiting was teamed up with the softspoken cowboy singer, Jimmy Wakely -- no less than eight of their duets are included here (...and they are all quite nice. For more of Wakely's capitol material, check out the super-cool Capitol Vintage series.)
Margaret Whiting "Moonlight In Vermont" (ASV-Living Era, 2000)

Margaret Whiting "The One And Only" (Jasmine, 1995)

Margaret Whiting & Jimmy Wakely " 'Til We Meet Again" (Jasmine, 2006)

Margaret Whiting "My Ideal: The Definitive Collection" (Jasmine, 2007)


A 4-CD box set...

Lee Wiley "Night In Manhattan" (Collector's Choice, 2001)


This disc reissues three separate 10" LPs recorded for Columbia in 1951-52: Night In Manhattan, Lee Wiley Sings Victor Youmans, and Lee Wiley Sings Irving Berlin. Wiley is a superior torch singer, although these recordings may strike modern-day fans as a bit stark or severe... They certainly are a wisp of a much older style of presentation, arch and even austere, the arch delivery of a seasoned performer momentarily dislodged from her nightly cabaret gig and transplanted into a studio sound booth... Yet Wiley has a great knack for bringing out the lyrics, even when her presentation is not as melodic or lush as we are used to in our singers. Sadly, although the booklet faithfully reproduces the original cover art from all three albums, there are no accompanying liner notes to describe Wiley's importance to jazz vocals, or the high regard with which she is held by her fans -- Night In Manhattan, which features arrangements by Bobby Hackett, was actually a huge hit in the early '50s, going gold and garnering many cover versions of the lyrics Wiley composed. (Here's a link to a rather critical profile on the Songbirds website that may help put her career in context...) If you like standards, particularly for the interpretation of lyrics, then these are great recordings to check out.
Clarence Williams "1921-1924" (Classics, 1993)


I first came to know pianist-composer Clarence Williams through an excellent old LP that featured the bluesy vocals of his wife, Eva Taylor (one of many fine records I foolishly donated in Thidwickian fashion to my old radio station...) I was enchanted by Taylor's recordings, but when I stumbled across this series of Williams's old catalog, I was captivated by a different sound altogether... Although Williams backed Taylor on her blues numbers, his own work spanned a broad range of styles, from whiskey-soaked piano solos to rollicking Dixieland and trad-jazz... Williams had a certain touch that exuded playfulness and magic; he also worked with many of the indisputable giants of the early American jazz scene -- Coleman Hawkins, Fletcher Henderson, James P. Johnson, King Oliver, just to name a few. Apparently, Williams really made his fortune through his music publishing ventures, and as a talent scout and arranger for numerous labels. Anyway, there are other series similar to this one, on the EPM and Document labels, but this is the one I settled on, and I've been uniformly pleased with each album I've bought. Heck, maybe someday I'll track 'em all down... But for now, here are a few recommendations...
Clarence Williams "1924-1926" (Classics, 1993)


Here's some of the bluesiest work in the Clarence Williams catalog... His wife, Eva Taylor, is featured on all but four of the tracks, singing in a lively Bessie Smith-like blues style... This is a fine showcase for her work (which I always find quite nice), as well as Williams's trad-jazz tinged blues arrangements. Apparently Louis Armstrong, Sidney Bechet, Coleman Hawkins and Don Redman are among the hot players on here... Quite a lineup, eh? And it sounds every bit as good as it ought to... Recommended!
Clarence Williams "1926-1927" (Classics, 1993)

Clarence Williams "1927" (Classics, 1993)


Where earlier volumes highlighted singing by Eva Taylor, this disc puts Williams himself in the vocal spotlight for a few tunes, as well as the somewhat unusual stylings of singer "Clarence Lee" (a pseudonym for Williams?) which have a slight eerieness about them, as well as a novelty quality. Several songs on here originate from the 1927 stage revue "Bottomland," which Williams wrote and produced, and these are worked around in various arrangements with different vocalists, etc. with interesting results. There's a strong, solid trad-jazz/Dixie feel to these recordings, and while in a sense this fourth volume is fairly static, it's also got that great antique-y feeling of fine music from the now-otherworldly musical past. Recommended.

Clarence Williams "1927-1928" (Classics, 1994)



These Dixie-drenched recordings are pretty remarkable... Although the sound quality is rough on several songs, the music is amazing. It's straight-up Dixieland/trad-jazz and old-school blues, but the intricate riffing and interplay of the musicians is a thing of wonder. Their mad, manic, curliqued toot-tootlings echo across the decades with surprising vitality and charm. That, along with some equally lively vocal performances, make this a wildly entertaining album... Williams was criticized in the 'Thirties for not keeping up with the times and jumping on the swing bandwagon, but with recordings like this under his belt, what did he have to prove, really? This is one of the strongest volumes in this series -- highly recommended!
Clarence Williams "1928-1929" (Classics, 1996)


Clarence Williams "1929" (Classics, 1994)

Clarence Williams "1929-1930" (Classics, 1995)



Clarence Williams "1930-1931" (Classics, 1995)



A fun collection of early-1930s work by bandleader Clarence Williams, one of the most intriguing and underrated figures in the early jazz scene. This album opens with several vocal tracks, easygoing riffs on bluesy standards such as "Michigan Water Blues" and "You Rascal You," followed by a dozen or so instrumental tracks. In this case, the instrumental recordings are actually more compelling -- Williams sounded like he was mostly goofing around on the vocal tunes, but the groovy instrumental tunes form a perfect bridge between his kinetic trad-jazz origins and the more rounded, swank sound of classic big band swing. Also included are a few songs featuring Williams' wife, singer Eva Taylor, who I always find delightful. Great stuff - highly recommended!


<! 03/15/10: posted on Amazon >

Clarence Williams "1933" (Classics, 1998)


Clarence Williams "1933-1934" (Classics, 1995)


Clarence Williams "1934" (Classics, 1995)



Clarence Williams "1937-1941" (Classics, 1995)



This CD gathers 20 later recordings from blues-jazz bandleader Clarence Williams, whose career dated back to the early dawn of the recording industry, in the early 1920s. This is one volume in a superb series from the now-defunct Classics label that presents all of Williams' studio work in chronological order. On this disc, Williams is firmly in the big band era, and while he retains his early roots in Dixieland and the blues, the sound is definitely punched up and often features larger, more muscular arrangements. Also of interest is the preponderance of religious material -- most of the songs are blues-swing reworkings of gospel standards such as "Jericho" and "Go Down Moses," with vocals by Babe Matthews. There are a handful of secular tunes as well, including a couple with Williams' wife, Eva Taylor. Mostly, though, it's gospel material, given a big band twist. Secular-minded music fans might be turned off by all the preachifying, but if you like Sister Rosetta Tharpe's recordings of the same era, you might want to check this disc out.

Mary Lou Williams & Andy Kirk "Mary's Idea" (MCA/GRP, 1993)


In 1931, when bandleader Andy Kirk found himself stuck in Kansas City with one of his key musicians unable to perform, he lucked out by finding pianist Mary Lou Williams available to fill the slot. Williams, one of the most gifted musicians of her time, soon joined Kirk's Twelve Clouds Of Joy as a full-time composer, arranger and soloist. Williams had a deft, fluid touch, and swiftly established herself as one of the most unique voices in modern jazz. These recordings, made for the Brunswick and Decca labels, are from 1936-41, all several years after Williams had joined the ensemble. As the title implies, these all bear the soft but solid stamp of her artistry -- like many swing albums, it does get a bit repetitive taken as a whole, but song by song, it's all sublime. This disc is predominantly instrumental, although there are several lovely vocal numbers, featuring Harry Mills, Pha Terrell, and one by drummer Ben Thigpen. Sweet stuff! This particular CD seems to be out of print, but it's worth searching for, as are any other Kirk/Williams collaborations of similar vintage.
Mary Lou Williams "The Chronological Mary Lou Williams: 1927-1940" (French Classics, 2006)


This is the seventh volume in the French Classics series of the solo work of jazz pianist Mary Lou Williams, giving a good, strong impression of her broad artist growth during the explosive early years of jazz. A lot of the early work fits broadly into the Dixie-inflected "hot jazz" style, a sound that some jazz fans may have a hard time getting into, particularly the earliest tracks with the John Williams' Synco Jazzers band. As time goes by, a sly, bluesy sensibility creeps in and by the end of the album she's mixing that sensuous melodic streak with the uptempo rhythms of bebop, crafting catchy, bouncy, poppy toe-tappers. A lot of these recordings are repetitive, but again, this could be seen as a good reflection of jazz in general, as it moved from its roots into its full flower. Certainly students of Williams' work will want to check this one out!
Mary Lou Williams "The Chronological Mary Lou Williams: 1953-1954" (French Classics, 2006)


This is the seventh volume in the French Classics series of the solo work of jazz pianist Mary Lou Williams, documenting her tenure in Europe, beginning with a few recordings made in England, with the remainder of the tracks recorded in France, where Williams worked for a few years before her (temporary) mid-1950s retirement. In Paris she recorded extensively with bassist Buddy Banks and a revolving cast of musicians in various small groups. This disc includes an eight-song session with saxophonist Don Byas, some of the strongest material on this collection. Williams left show business after this period, returning in the late '50s, with a more expansive compositional vocabulary... But this is solid 'Fifties small-combo jazz, certainly worth checking out, particularly if you are a Williams aficionado.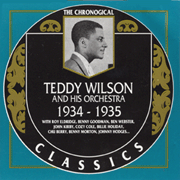 Teddy Wilson "The Chronological Teddy Wilson: 1934-1935" (Classics-France, 1990)



Teddy Wilson's legacy will always be closely entwined with that of Billie Holiday; his light, dancing piano style helped define her sound and provided the bright counterpoint for her sometimes dark interpretations of torch and swing standards. Accordingly, this excellent series of chronologically-arranged disc features a healthy dose of Billie Holiday classics (with a half dozen on this one alone...) But placing them alongside Wilson's other work from the same time lends a new perspective to these well-known songs... Plus it's just a damn fine record. I could listen to this series from now 'til Doomsday and be happy as a clam. This first set also includes a bunch of piano solos and small ensemble work, all of it with Wilson's deft, endlessly entertaining style on full display. (Wilson's work with the Benny Goodman band is conspicuously lacking from this series, presumably because it's showcased elsewhere... Nonetheless this series is a fabulous retrospective of a major player in the early world of popular jazz... Lovely stuff!

Teddy Wilson "The Chronological Teddy Wilson: 1935-1936" (Classics-France, 1990)



Wilson's ebullient piano style is on full display here, on a varied set featuring a handful of Billie Holiday classics, a couple of really sweet solo pieces, and two tunes apiece from Ella Fitzgerald and Helen Ward. There are also a slew of instrumental performances with various talent-packed combos, many of which tilt towards a riotous Dixie-tinged trad-jazz sound. The piano gets buried on many of these tracks, but it's still nice to hear Wilson and his pals cutting loose and having a good time.

Teddy Wilson "The Chronological Teddy Wilson: 1936-1937" (Classics-France, 1990)


This one is really heavy on the Billie Holiday quotient, with sixteen out of twenty-three songs coming straight from her catalog... Of the remaining tracks, two feature vocals from Red Harper (rare recordings that were apparently that singer's only studio sessions...) and two by Midge Williams, who later recorded with John Kirby. Then there are all the amazing sidemen, including Wilson's boss, Benny Goodman, on clarinet, as well as bandmates like Gene Krupa, Buck Clayton, Joe Jones and Johnny Hodges... the usual assortment of amazing geniuses... It's all great music, but if you already have all the Holiday material, this will definitely seem repetitive. Still... how can you not love this stuff??

Teddy Wilson "The Chronological Teddy Wilson: 1937" (Classics-France, 1990)


This disc is heavy on vocals... It opens, unsurprisingly, with a couple of wonderful Billie Holiday tunes, and then provides some interesting contrast, with a trio of recording where Wilson and his band back Helen Ward; the style is the same but the results are quite different. Then it's back to Billie for another half dozen songs (there are ten Holiday recordings in all on this volume, and 14 songs without her), and onto other vocalists such as Boots Castle and Frances Hunt. None of them are on a par with Lady Day (naturally!) but again, it's in providing the context for Wilson's accompaniment that this series sparkles. More great stuff... highly recommended!
Teddy Wilson "The Chronological Teddy Wilson: 1937-1938" (Classics-France, 1990)

Teddy Wilson "The Chronological Teddy Wilson: 1938" (Classics-France, 1990) <! verified date on album art >



More great stuff. The last half of the disc features a bunch of Billie Holiday tracks, while singer Nan Wynn delivers five songs at the start, balanced by several piano solos... All of which, of course, is delightful. Hard to go wrong with these vintage Teddy Wilson tunes.

Teddy Wilson "The Chronological Teddy Wilson: 1939" (Classics-France, 1991)


Here Wilson is at the top of his game, recording with small combos or backing vocalists such as Thelma Carpenter and Jean Eldridge... There are also four sweet Billie Holiday tracks which are all slam dunks, little pearls of perfection, but Wilson's other work around this time is on an equally sublime par. This disc also features a handful of wonderful solo pieces in which the deft, bouncy Teddy Wilson style is stretched out a bit and given more room to grow. All in all, a great collection.
Teddy Wilson "The Chronological Teddy Wilson: 1939-1941" (Classics-France, 1996)


Teddy Wilson "The Chronological Teddy Wilson: 1942-1945" (Classics-France, 1996)



Wilson toured prodigiously, but recorded sporadically, during WWII. During the late '30s and through most of the War he led his own highly-vaunted sextette, and backed Billie Holiday on numerous sessions, but rejoined the Benny Goodman band in the middle of the decade. Like many swing stars during the wartime recording ban, Wilson cut several V-Disc sessions, many of which are gathered on this disc. As with many of his jazz compatriots, Wilson's transcription disc recordings tend to be looser and more improv-oriented, as opposed to the sleek, tightly-crafted swing he was best known for. Personally, I prefer the poppier, tighter studio work, but if you're interested in hearing Wilson touring with a looser, funkier musical vocabulary, this collection may be of special interest.
Teddy Wilson "The Chronological Teddy Wilson: 1946" (Classics-France, 1998)


Teddy Wilson "The Chronological Teddy Wilson: 1947-1950" (Classics-France, 2002)



Maurice Winnick "Sweetest Music This Side of Heaven" (Dutton Vocalion, 1999)


British sweet-style big band, from one of the most highly-regarded and professional bandleaders of the 1930s. Winnick consciously modeled his orchestra on that of Guy Lombardo, and appropriately enough, this is soft-edged, overly delicate material -- even a bit prissy and mincey, as only English dance bands could be. Of course, that's what makes it so great... There are also plenty of vocal performances on here, featuring Sam Costa, Judy Shirley and a few tracks with the great Al Bowlly. Great material recorded between 1935-'37, and well worth tracking down.


<! 130 x 130 >
George Scott Wood "Hot Pie" (ASV Living Era, 2003)

George Scott Wood "Volume One: Keep Tempo" (Dutton Vocalion, 2000)

George Scott Wood "Volume Two: Swing For Sale" (Dutton Vocalion, 2000)

George Scott Wood "Volume Three: Jazz In The Rain" (Dutton Vocalion, 2000)

George Scott Wood "Volume Four: Tick-Tock" (Dutton Vocalion, 2000)

---
More Jazz Reviews -- Letter "X"
---



Main Jazz Index
Pop Music Index



---