<! cd=11/21/03 > <! MP3 12/17/08, 10/06/09 > <! outside 12/17/08 > <! pix 00/00/00 > <! icons 11/30/10 > <! UPDATES: 12/17/08 10/06/09 > <! Damon Black - wrote for Mel Tillis and others, though apparently he didn't record on his own(??) Don Robertson "Heart On My Sleeve" (RCA Victor, 1965) (LP) - wrote "I Don't Hurt Anymore," "Please Help Me I'm Falling" "Ninety Miles An Hour Down A Dead End Street" Lawton Williams "Lightning Jones" (Bear Family, 1985) (LP) - wrote "Fraulein" - became a police officer later in life > <! Gary Sefton >
---
Country songwriters walk a fine line...
---
Recommended Records
---




Bill Anderson -- see artist discography





Liz Anderson -- see artist discography


<! Max D. Barnes >


Matraca Berg -- see artist profile





Shawn Camp -- see artist discography



Jenny Lou Carson "The Chin-Up Girl" (BACM, 2007)


One of the most successful songwriters of the WWII era hillbilly scene, Jenny Lou Carson (nee Virginia Lucille Overstake) was also one of the first female country stars. Carson started out in a family trio with two of her sisters, billed as the Overstake Sisters, and as "The Little Country Girls"; she also recorded under the pseudonym of Lucile Lee, and finally as Jenny Lou Carson, the name where she found her greatest fame. Carson wrote numerous hits, including "You Two-Timed Me Once Too Often," "Let Me Go, Lover," and "Don't Rob Another Man's Castle." This disc gathers her recordings as a solo performer, mostly with sentimental songs like "I L-O-V-E You" and "I Feel Like Crying Over You," but also with spicier novelty songs such as "I Married A Mouse Of A Man..." Rare recordings from an artist best remembered as a composer... Nice nostalgic material!


<! tribute album B000CA2T20 >
Wayne Carson "Life Lines" (Monument, 1972) (LP)





<! AM: "...What I can tell you is this songwriter/entertainer/performer, was and still is one of the best who ever did it with some 20 to 25 #1's and biggest selling songs of all time to his credit as a songwriter. The music and vocals on this album is nothing short of the songs either' if you're an Analogue lover and appreciate songs with meaning, this is part of your dream! This writer brings it from all four corners to the center of us all. " - Wayne Carson Thompson - Songwriter, born in Denver, Colorado. Since the 1960s he has composed an impressive string of hit records and platinum selling albums. Had his first US #1 hit record in 1966, with Eddy Arnold's Somebody Like Me. He received a Grammy Award in 1982 for Willie Nelson's recording of Always On My Mind. >
Buzz Cason "Hats Off To Hank" (Palo Duro, 2007)



(Produced by Buzz Cason & Parker Cason)
A rambling, discursive, roots-rock set from craggy-voiced veteran songwriter Buzz Cason, a Nashville old-timer who formed one of Music City's first rock bands, back in the 1950s and has been plugging away ever since. This album echoes the weather-worn, stream-of-consciousness style of JJ Cale or maybe even someone more crotchety, like Jim Dickinson, with a dose of geezerly discontent and anger fueling some of the songs. These aren't pop songs, or even conventional-sounding country or blues -- they ramble and detour all over the map, and I'll be danged if I can really tell you what half of them are about. Personally, I'd go for a little pruning down and editorial control, but folks who like weird, swampy, unusual stuff might get a kick out of this... File it along with Swamp Dogg, Hasil Adkins, Chip Taylor and Guy Clark. Not bad company, depending on your taste!
Bill Caswell "Oklahoma Backroads" (Flying High Records, 1980) (LP)


(Produced by Slim Richey & Bill Caswell)
A very strong set of understated but finely crafted country ballads -- soulful, contemplative and quietly compelling. Songwriter Bill Caswell hailed (not surprisingly) from Oklahoma, but he cut a fairly wide swath for himself in Nashville, helped in part by his friendship with Rodney Crowell... He wrote several songs covered by major artists such as "Kentucky Homemade Christmas," which Kenny Rogers included on one of his holiday albums. The songs on this album are sturdy, finely-crafted bones of potential hits -- you can easily imagine Randy Travis or Merle Haggard digging into these rough-hewn gems, and Caswell himself accepts his own limitations. He's not a great singer, but he is a true craftsman, and he keeps things simple throughout, with modest though rich acoustic backing. Caswell also had deep folk and bluegrass bona fides, with liner notes by fiddler Byron Berline, who recalls playing in a band with Caswell back in his college years. His song, "Sweet Allis-Chalmers" -- a love song to a tractor -- has been adopted as a bluegrass standard, notably by Country Gazette, in their fine 1982 version -- the band recorded several more of his songs on their early '80s albums, though Caswell's own versions are quite rewarding. Recommended!
Bill Caswell "Love Lost And Found" (Flying High Records, 1980)





<! 1. Love Lost and Found 2. Think it Over 3. Sugar Mama 4. Too Late in the Ballgame 5. Plumb Nuthin' 6. Nothing is Left but the Blues 7. Slipped Stumbled and Fell 8. If I ever Fall in Love Again 9. Drinkin' Kitchen Whiskey 10. Rusty Old Shovel 11. Grizzly Whiskers 12. It Won't Be because Haven't Tried > <! 208 x 208 - posted 01-2014 >


Guy Clark - see artist discography





Jack Clement - see artist discography





Hank Cochran - see artist discography





Tommy Collins - see artist discography



Paul Craft "Brother Jukebox" (Strictly Country, 1998)



His name may not roll right off your tounge when asked to name some great country songwriters, but when you give this disc a listen, you'll be amazed at how many of these tunes you'll recognize - and what a high calibre they all are! There is, of course, the original 1976 demo version of title track, covered most famously by Mark Chesnutt and Keith Whitley, and most effectively by Don Everly on his late-'70s album of the same title. Then, there's "Midnight Flyer" (The Osborne Brothers, Eagles), or "Hank Williams, You Wrote My Life," "Ancient History," and a slew of others that are perhaps less well known, but no less well-crafted. This is a nice, relaxed set, with subtle backing by a slew of talented well-wishers (including Rob Ickes, John Starling, Scott Vestal, Charlie Sizemore, and others from the Nashville/bluegrass axis...) Some of the songs may suffer in comparison to the punchier, bigger-sounding hit versions, but there's a lot to be said for Craft's low-key, unpretentious approach. This disc's a real gem.
Paul Craft "Songs And Legends Of The Outer Banks" (Kitty Hawk, 1996)


Paul Craft "Raised By The Rail Road Line" (Strictly Country, 2002)






<! kinda John Hartford-y >

Paul Craft "Warnings" (Strictly Country, 2008)






<! lots of blue material... cheaply produced... late 1970s? >

Paul Craft "Too Bad You're No Good" (Strictly Country, 2007)


Howard Crockett "Out Of Bounds: The Johnny Horton Connection" (Bear Family, 2007)


Songwriter Howard Hausey is best known as the guy who gave Johnny Horton some of his biggest hits -- "I'm A Honky-Tonk Man," "Ole Slew Foot," "Whispering Pines," and several others. He took the stage name Howard Crockett and tried to make it himself as performer, but his legacy is mostly one of obscure singles and a few "soundalike" recordings (when an otherwise anonymous singer tries to cash in on the success of a more famous artist by copping their sound; Hausey specialized in Johnny Cash-ish numbers...) Naturally, he's got a cult following in Europe, and they've finally given their hero his due, with this generously-programmed set of demos, one-offs and oddities. There's lots of material here in the cornball "historical" and folk-country vein that was popular during the Kennedy era, and some catchy honky-tonk as well. I wouldn't say Hausey was a great singer, but on some of the straight-ahead country tunes he does sound pretty rugged and nice. This is a fairly ephemeral release, mainly of interest because of the Johnny Horton connection, but for folks who groove on the obscure, it certainly has its charms. As with all Bear Family releases, it's got the best sound quality and copious archival documentation.... Certainly worth checking out.
Rodney Crowell -- see artist profile
Melvin Endsley "I Like Your Kind Of Love" (Bear Family, 1992)


Endsley wrote the super-bouncy singalong classic "Singin' The Blues," a big 1950s hit for both Marty Robbins and Guy Mitchell. Sadly, his own version of his signature tune isn't included on this disc, though plenty of similar recordings are. Following the success of "Singin' The Blues," Endsley had an all-too-brief whirl on Nashville's wheel of fame, but after a wild couple of years, interest in his songs completely evaporated. These demo-y tracks on this album aren't the best country records ever, but they are charming, and some are quite good. Endsley wasn't really much of a performer, and as a composer was perhaps a bit formulaic, but it's always nice to hear songwriters cover their own material.
Danny Flowers - see artist discography
Dallas Frazier - see artist discography
Nanci Griffith - see artist discography
Tom T. Hall - see artist discography
John Hartford - see artist discography
John Hiatt - see artist discography
Harlan Howard -- see artist profile
Dave Kirby "Singer, Picker, Writer" (Dot, 1973) (LP)


The lone solo album by the late Dave Kirby (1939-2004), who was one of Nashville's most sought-after session guitarists in the 1960s and '70s, and had written several extraordinarily successful songs as well. It turns out he wasn't half bad at singing a tune, either. Oh, sure, he had the same sort of rough-edged dorkiness as, say, Roger Miller or Harlan Howard, but he wore it well, and a whole lot of personality comes through on these sessions, which were produced by Pete Drake. This album starts off with a folkie rendition of one of his best-known songs, "Is Anybody Goin' To San Antone," and slides into other songs from his repertoire, more off the beaten track, but no less engaging. Many of Kirby's songs are more like rough outlines, deft, evocative phrases lined up with catchy choruses -- like many songwriters of his era, he mined his own particular turf, mainly songs about drifters who were nostalgic for the comforts of their backwoods Southern homes. The sentiments of "San Antone" are repeated in "Streets Of Chicago" and "Alabama Sundown," while other songs like "I Wish I Didn't Have To Miss You" take a more interpersonal tack. Kirby didn't score any chart hits off this album, but for fans of 'Seventies country, this one's a gem.
Dave Kirby "I Got Here As Fast As I Could" (Self-Released, 2006)


Dave Kirby "Is Anybody Going To San Antone?" (Heart Of Texas, 2008)

Kostas "XS In Moderation" (Liberty, 1994)


(Produced by Val Garay & Kostas)
Although he was born in Greece, songwriter Kostas Lazarides certainly made a name for himself in American popular music. Starting with the 1989 Patty Loveless #1, "Timber, I'm Falling In Love," he cut a wide swath through the Nashville music machine, penning numerous Top 10 hits, and bazillions of songs on albums by artists such as Wynonna, Brooks and Dunn, Tracy Byrd, The Dixie Chicks, Vince Gill, Emmylou Harris, The Mavericks, Jo Dee Messina, George Strait, Trisha Yearwood, and others. This is his sole album as a performer, recorded at the peak of his fame, with backing vocals from Patty Loveless, the artist whose career probably most benefited from his work. This is his lone solo album, and though it didn't make a dent in the charts, it's a true testament to his power as a songsmith... and, surprisingly, as a relatively rootsy performer, putting a catchy country backbeat on tunes like "She's So Lonely" and "Blame It On Your Heart." He did have kind of a thin voice, which is why I suppose he didn't really go for a recording career-- but actually, after a few tunes, I found myself really enjoying the way he sounds. It's interesting to hear his versions of songs that other artists recorded... Too bad he didn't include more of the big hits, but this is still a swell showcase for his work. A nice album, definitely worth checking out!


<! 11/11: iffy GIF >

Kostas "Paradise Valley" (Recording Edge, 2006)


Kostas "That's My Ocean" (Recording Edge, 2006)


Kostas "Kostas Songs" (Recording Edge, 2009)







<! Biography: Kostas and his family immigrated to Montana from Greece when he was seven years old. He now has homes in Montana and Nashville, and aside from songwriting and performing, he enjoys hunting, fishing and raising vintage guitars on his "guitar ranch." Kostas received his first No. 1 Country hit with his first single release. The single entitled, "Timber I'm Falling In Love," was recorded by Patty Loveless. He also penned the songs "The Lonely Side Of Love," and "On Down The Line" for her follow-up albums which also reached Top 10. Kostas went on to write many more Top 10 singles including: "Heart Full Of Love," by Holly Dunn, "Turn It On, Turn It Up, Turn Me Loose," and "Nothing's Changed Here," by Dwight Yoakam, "Lord Have Mercy On The Working Man," by Travis Tritt, "Going Out Of My Mind" and "Love On The Loose, Heart On The Run," by McBride and The Ride and "Life ..9" by Martina McBride. He also scored two more No. 1 country hits with Dwight Yoakam's "Ain't That Lonely Yet" and Patty Loveless' first Epic release, "Blame It On Your Heart," which was BMI's most performed country song of 1994. His songs have been recorded by Wynonna, Trisha Yearwood, Allison Krauss, Brooks and Dunn, Etta James, Vince Gill, George Strait, The Dixie Chicks, Jo Dee Messina, Marty Stuart, Conway Twitty, Emmylou Harris, The Bellamy Brothers, Sammy Kershaw, Tracy Byrd, The Mavericks, John Berry, Neal McCoy, Rick Trevino, Freddy Fender, Marie Osmond, Kelly Willis, Joy White, Buck Owens, Great Plains and Prairie Oyster.>


Kris Kristofferson -- see artist discography





Jerry Max Lane -- see artist discography



Red Lane "The World Needs A Melody" (RCA, 1971)


(Produced by Ronny Light)
An interesting -- and unusual -- item from the countrypolitan/sunshine country days. I think this was the only album from songwriter Red Lane, who was best known for penning Merle Haggard's hit, "My Own Kind of Hat" and "Miss Emily's Picture" for John Conlee. Those hits were a long way off from this early album, though: he had more modest hits in the late '60s with folks like Waylon Jennings and Dottie West. This disc is kind fun, though, and has a distinctive sound, with an almost folk-scene acoustic feel that probably sounded pretty close to the demos he cut for his own songs (although the tracks have various levels of arrangements and added instruments). Lane's delivery sounds like a mix of early Merle Haggard and old Jerry Reed, not too robust or too gimmicky in either direction, but you can hear the similarities. All the songs are Lane's original work, including a collaboration with Wayne Kemp and two songs co-written with Hank Cochran. It's all pretty good, and surprisingly low-key and un-flowery for the era; the only bum note comes on the novelty song, "The Courtroom," which is a creepy, sexist song about a woman who falsely accuses a preacher of raping her, but the case gets thrown out when it is disclosed that the good Reverend "got so shot up back during the war/that he couldn't even take him a wife," and the naughty girl is duly reprimanded. But I guess that's just a product of its time... Not a song to remember, but not one to worry much about, either. Overall, this is a nice record, and a good document of an artist not well-remembered these days. One footnote: Lane toured and recorded with Haggard in the early '80s, and continued to write hits well into the decade.
Jim Lauderdale - see artist discography
John D. Loudermilk -- see artist discography
Bob McDill - see artist discography
Roger Miller - see artist discography
Melba Montgomery - see artist discography
Willie Nelson - see artist discography
Mickey Newbury -- see artist profile
Paul Overstreet - see artist discography
Buck Owens - see artist discography
Dolly Parton - see artist discography
Leon Payne -- see artist discography
John Prine - see artist discography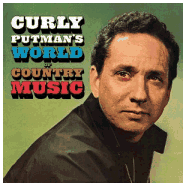 Curly Putman "The Lonesome Country Of Curly Putman" (ABC, 1967) (LP)

Curly Putman "Curly Putman's World Of Country Music" (ABC, 1969)


(Produced by Paul Cohen)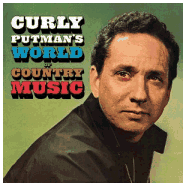 Curly Putman "The Lonesome Country Of Curly Putman/Curly Putman's World Of Country Music" (Omni Recordings, 2013)


A re-release of two albums that Nashville songwriter Curley Putman recorded for the ABC label, 1967's The Lonesome Country Of Curly Putman and Curly Putman's World Of Country Music, from 1969. Putman is best known for composing "The Green, Green Grass Of Home," a big hit for Porter Wagoner in 1965 that went on to become a country standard. He also co-wrote classics such as Tammy Wynette's ""D-I-V-O-R-C-E" and "He Stopped Loving Her Today," possibly the weepiest George Jones song ever. Like a lot of songwriters, Putman enjoyed only marginal success as a performer -- he had a couple of singles from his first album that almost cracked the Top 40, but not quite. Nothing charted off of the sleepily-arranged second album, but that was okay -- the hits kept coming anyway, and Putman's name pops up all over the place on many excellent '70s albums. Here's a chance to hear him singing his own stuff... if only they'd been able to add a few of his stray, non-album singles as well!
Curly Putman "Write 'Em Sad: Sing 'Em Lonesome" (2010)



Schuyler, Knobloch & Overstreet "SKO" (MTM, 1986)
The trio of Thom Schuyler, J. Fred Knobloch and Paul Overstreet, three successful songwriters, combined in a would-be supergroup. After recording this album, Overstreet went on to a very successful solo career...
Schuyler, Knobloch & Bickhardt "No Easy Horses" (MTM, 1987)

(Produced by James Stroud)
A fairly horrific pop-country outing by an odd sort of modern country supergroup... As individuals, the trio of Thom Schuyler, J. Fred Knobloch and Craig Bickhardt each had successful careers as top Nashville songwriters... Teamed together, they managed to not exactly integrate their hitmaking skills and savvy as merely overlay them atop one another: this disc is so heavily overproduced and glossy, so packed with hooks, hooks, hooks and hackneyed themes that you could almost believe that each man was assigned to make their own musical tracks for the various songs, and producer James Stroud just played each tape at the same time. There's never a quiet moment, or a particularly reflective feel to the entire album. It just feels so contrived and manipulative, so factory-made and so removed from anything gritty or emotionally direct, it's hard to get into. Nonetheless, that didn't stop them from scoring a few modest hits with this disc, most notably "Givers And Takers," which cracked the Top Ten. Also of note is "American Steel," a patriotic song that laments the decline of American industrial power.
Thom Schuyler "Brave Heart" (1983) (LP)

Thom Schuyler & Craig Bickhardt "Precious Child" (Warner, 1993) <! with Janis Ian? >


A dramatic, gospel-themed nativity album recorded with Schuyler's former SKB bandmate, Craig Bickhardt...
Thom Schuyler "Prayer Of A Desperate Man" (2008)

Whitey Shafer - see artist discography
Shel Silverstein -- see artist profile
Hal Southern "You Got A Man On Your Hands" (Sand, 1965) (LP)


Hillbilly songwriter/sideman Hal Southern (aka Hal Clark) struck gold in the 1940s when he penned the novelty classic "I Dreamed Of A Hillbilly Heaven," which became a huge hit for Eddie Dean, Tex Ritter and others... Southern moved to Los Angeles in the early 'Fifties and was part of the whole West Coast country scene. He also got bit parts in some TV shows (mostly westerns) and cheapo "hillbilly" movies...
Hal Southern "Mr. Hillbilly Heaven" (El Dorado, 1971) (LP)





<! - date per Billboard charts http://countrydiscoghraphy2.blogspot.com/2014/01/hal-southern.html Hal Southern "Frettin' Around" (Country Gold, 1975) (LP) Hal Southern "Mr. Hillbilly Heaven" (Country Gold, 1977) (LP) Hal Southern "Here Comes The Sun Again" (Vee Jay, 1977) (LP) Hal Southern "I Remember Jim" (El Dorado, 1978) (LP) - a Jim Reeves tribute album - IMDB: Hal Southern was born in 1919. He was a composer and actor, known for Country Cuzzins (1970), Tobacco Roody (1970) and Midnite Plowboy (1971). He died on July 15, 1998 in Nashville, Tennessee, USA. >


Chip Taylor - see artist discography





Cindy Walker - see artist discography





Marijohn Wilkin - Marijohn Wilkinsee artist profile





Hank Williams - see artist profile





Lucinda Williams - see artist discography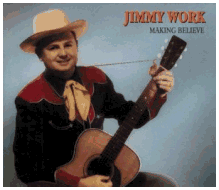 Jimmy Work "Making Believe" (Bear Family, 1993)


Like many Southerners, songwriter Jimmy Work headed up to Detroit looking for work during the Second World War, and was lucky enough to land a gig singing on a local radio station. A prolific compser, Work made his mark both as a hillbilly singer and as a songsmith, eventually racking up a couple of Top Ten hits and penning several songs that became some of the biggest hits of a generation. His biggest success was "Making Believe," which was recorded by Kitty Wells at the height of her fame (and revived by Emmylou Harris in the 1970s); he also wrote "That's What Makes The Jukebox Play" (a hit for himself, and later for Jimmie Skinner) and "Tennessee Border," which was recorded by several top stars in the early '50s. This 2-CD set, which reprises two LPs that came out in the '80s, gathers nearly fifty of his recordings from 1945-59, nearly all of them songs written by Work himself. Compared to the rollicking honkytonk and hillbilly boogie artists of the time, Work's style is smooth and subdued, but it's undeniably real hillbilly music (not countrypolitan) and the softer approach fits his modest vocal talents. If you're on the right wavelength, this is pretty sweet stuff, and a rare chance to hear the entire career of a country craftsman, pretty much from start to finish. Recommended!
---