<! MP3 03/31/10 > <! update 03/31/10 > <! pix 00/00/00 > <! icons 01/30/11 > <! Various Artists "CLASSIC BLUES AND VAUDEVILLE SINGERS" (Document) (series - at least five volumes) Various Artists "FEMALE BLUES" (Document) (series - at least 13 volumes!) - alphabetical by artist - example v. 4 is Alice Leslie Carter to Anna Belle Coleman Various Artists "JAZZ WOMEN: A FEMINIST RETROSPECTIVE" (Stash) Various Artists "The Best of the All-Girl Bands: 1928-1947" (Fuel, 2013) B00FI2PIPM Various Artists "TERRITORY SINGERS, v.1: 1922-1928" (Document, 1996) B000000JF6 B000V5R1QK Various Artists "TERRITORY SINGERS, v.2: 1928-1930" (Document, 1996) B000000JF7 B000UXW90Q Various Artists "VOCAL BLUES AND JAZZ" (Document) (series - at least four volumes) >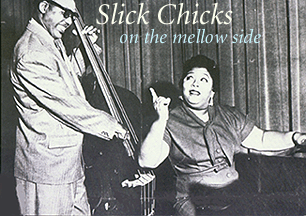 ---
This is the third page of a quick look at some bluesy wimmin singers and musicians who rock my world. I'll try to keep these recommendations a little off the beaten track, just so the page will be a little more fun. But I'm sure I'll work in a gal or two whose name will ring a bell as well... The first page of this section is here.
---
Sisters Who Swung!! A | B | C | D | E | F | G | H | I | J | K | L | M | N | O | P | Q | R | S | T | U | V | W | X, Y & Z | Compilations
Main Jazz Index | Hillbilly Fillies - Women In Country | Girl Groups & Teen Pop

---

<! Various Artists "xxxxxxxxxxxxxxxx" >

Various Artists "BARRELHOUSE WOMEN, v.1: 1925-1930" (Document, 1995)


Various Artists "BLUES BELLES WITH ATTITUDE" (Ace, 2009)

Various Artists "BETTER BOOT THAT THING" (RCA-Bluebird, 1992) <! also: B00000EUM1 >

Various Artists "COME ON DADDY" (El Toro, 2003)

Various Artists "GIRL SINGERS OF THE BIG SWING BANDS: 1936-1952" (Fremeaux, 2004)


A 2-CD set...
Various Artists "GOSPEL SISTERS AND DIVAS: 1943-1951" (Fremeaux & Associes, 1980)


They may be sanctified, but that don't mean they can't swing: this 2-CD set features a bunch of gospel gems from singers such as Martha Bass, Sister Wynona Carr, Bessie Griffin, Georgia Peach, Ernestine Washington, a young Mahalia Jackson, Sister Rosetta Tharpe, Clara Ward and others. It's an all-star collection, sung with plenty of soul...


<! Ira Mae Littlejohn Goldia Haynes Marie Knight Vivian Cooper Willie Mae Williams Bessie Griffin >

Various Artists "I CAN'T BE SATISFIED, v.1: COUNTRY" (Yazoo, 1997)



That's "country," as in, country blues, the rough-hewn acoustic stuff from the farmlands and rural areas outside the range of the bright lights of the big towns. A fine set of obscure female singers from the Great Depression era, mostly lesser-known artists who didn't get the historical acclaim (or the business opportunities) of their sisters in town...
Various Artists "I CAN'T BE SATISFIED, v.2: TOWN" (Yazoo, 1997)






<! 1920s >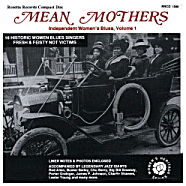 Various Artists "MEAN MOTHERS: INDEPENDENT WOMEN'S BLUES" (Rosetta, 1980)


One of the greatest collections of classic female blues ever set to wax, and one of the jewels from the Rosetta Records catalog. The bent of this collection is on women who are sick and tired of taking crap from their men, and aren't hesistant to let them know that things are about to change. There are so many great Depression-era blues tunes on here, it's kind of silly to single any one out in particular -- suffice it to say that this is a must-have record. Highly recommended... pity it appears to be out of print, but it's definitely worth tracking down.
Various Artists "MISSISSIPPI GIRLS: 1928-1931" (Story Of The Blues, 1980)





<! The complete recordings of... Rosie Mae Moore Mary Butler Mattie Delaney Geechie Wiley Elvie Thomas >

Various Artists "OH RUN INTO ME, BUT DON'T HURT ME -- FEMALE BLUES RARITIES: 1923-1930" (Sub Rosa, 2008)

Various Artists "SONGS WE TAUGHT YOUR MOTHER" (Prestige, 1961)



Various Artists "TALK TO ME DADDY" (Flyright, 1991)


Saucy late-'40s/early-'50s R&B from women singers with varying degrees of name recognition. Under-recognized vocalists such as Thelma Cooper and Ella Johnson share disc space with bigtimers Sarah Vaughan and Lil Armstrong, as well as a bunch of complete nobodies who make the obscure-o-meter ring off the scale. Several of these tracks are killer, some are less great than similar material to be found elsewhere.


<! 130 x 130 >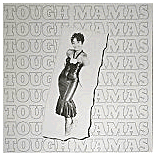 Various Artists "TOUGH MAMAS" (Krazy Kat, 1989)
WOW. This hard-rocking collection of postwar R&B tunes knocks it out of the ballpark, packed with sassy, raunchy songs such as Big Bertha Henderson's "Ain't I Talkin' To You Baby?" and Ann Carter's "You Oughta Quit It." The highlight is the boisterous, outrageous sexual double-entendre tune, "Drill, Daddy Drill," by Dorothy Ellis, which could easily be the theme of the entire Bush-Cheney presidency, if it weren't so damn nasty! Sadly, I don't think Krazy Kat has reissued this on CD, but the LP is a must-have item!
---
More Swingin' Gals -- Letter "A"

---
Links
---
It's A Girl Thang! - Lea Gilmore's website is pretty classy, full of artist profiles, essays, and well-chosen links... and now she's announced plans to branch out into gospel music as well. Nice site -- check it out!
Songbirds is a pop/jazz vocals treasure trove, collecting articles written by a wide-ranging list-serve group. Includes sappy pop singers and jazz musicians alike... Lotsa great info here, although it looks like the site went on hiatus sometime in 2000... So I'd recommend you check the site out now... while you can!
---



---

<! A Ora Alexander[1] B Mildred Bailey Mildred Bailey Blue Lu Barker Gladys Bentley Esther Bigeou Lucille Bogan Ada Brown[2] Bessie Brown Eliza Brown[3] Kitty Brown[4] C Alice Leslie Carter[5] Martha Copeland[6] Ida Cox[7] Katie Crippen[8] D Madlyn Davis[9] E Susie Edwards F Ethel Finnie[10] Miss Frankie[11] G Cleo Gibson[12] Lillian Glinn[13] Lillian Goodner Ida Goodson Fannie May Goosby[10] Coot Grant H Bertha Chippie Hill, New York City, between 1946 and 1948 (William P. Gottlieb) Lucille Hegamin[7] Edmonia Henderson[14] Katherine Henderson[14] Rosa Henderson[7] Edna Hicks Bertha "Chippie" Hill[7] Mattie Hite[15] Rosetta Howard Helen Humes Alberta Hunter[16] I Bertha Idaho[17] J Edith North Johnson[18] Lil Johnson Mary Johnson Merline Johnson Maggie Jones[19] L Virginia Liston[20] M Hattie McDaniel, 1941 Daisy Martin Sara Martin Viola McCoy[15] Hattie McDaniel Hazel Meyers[10] Josie Miles Lizzie Miles[21] Florence Mills Monette Moore P Billie Pierce R Ma Rainey[7] S Bessie Smith Bessie Smith[7] Clara Smith[7] Laura Smith[22] Mamie Smith[23] Ruby Smith Trixie Smith[24] Victoria Spivey[7] Mary Stafford Hannah Sylvester[25] T Eva Taylor Sister Rosetta Tharpe Bessie Tucker Sophie Tucker Lavinia Turner[10] W Ethel Waters Sippie Wallace[26] Ethel Waters [24] Georgia White Edith Wilson[27] Lena Wilson Y Estelle Yancey >