<! cd = 01/15/13 > <! MP3 01/15/13 > <! pix 01/15/13 > <! icons 01/15/13 > <! outside: 00/00/00 > <! UPDATES: 01/15/13 - posted new, expanded section, with artist adds and updates, new ASINs, etc > <! OTHERS: Thelma Terry Virginia Liston / Lavinia Turner Bessie Tucker Sophie Tucker >
---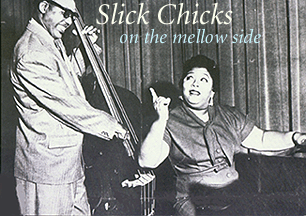 This is a look at some bluesy-jazzy wimmin singers and musicians who rock my world, musical foremothers whose voices echo as strongly today as they did decades ago. Crooners, shouters, songwriters and bandleaders, sirens and songbirds of years gone by... Let's get hep!
---
Sisters Who Swung!! A | B | C | D | E | F | G | H | I | J | K | L | M | N | O | P | Q | R | S | T | U | V | W | X, Y & Z | Compilations
Main Jazz Index | Hillbilly Fillies - Women In Country | Girl Groups & Teen Pop

---

Eva Taylor "Complete Recorded Works, v.1: 1922-1923" (Document, 1995)



The wife of bandleader Clarence Williams, vocalist Eva Taylor started her career as a child performer in vaudeville, and matured into one of the finest blues and jazz singers of the Prohibition era and Great Depression. This is the first volume of several that gather her recorded works, mostly made with the various Williams bands. Taylor's one of my favorite classic blues singers -- check this disc out and find out why!
Eva Taylor "Complete Recorded Works, v.2: 1922-1923" (Document, 1995)


Eva Taylor "Complete Recorded Works, v.3: 1928-1932" (Document, 1995)


Eva Taylor "Edison Laterals, v.4" (Diamond Cut, 1997)


A set of about a dozen previously unreleased transcription disc recordings from 1929, augmented by several later recordings (from the 1970s!) by a much older (and perhaps wiser) Eva Taylor... Cool stuff!
Koko Taylor "Koko Taylor" (MCA/Chess, 1969)


Koko Taylor "What It Takes: The Chess Years" (Hip-O, 2009)






<! KOKO TAYLOR -- a bazillion more CDs available > <! Thelma Terry: http://www.redhotjazz.com/thelmaterry.html http://www.redhotjazz.com/terry.html >


Sister Rosetta Tharpe - see artist profile




Big Mama Thornton "In Europe" (Arhoolie, 2005)



Oh, those lucky Europeans! Before the Stones and Yardbirds really got the point across and all the old Chess bluesmen found a welcoming embrace in the American hippie/acid rock scene, some of the most talented blues artists in the world went on long, tough European tours. Here's Big Mama Thornton, one of the greatest blues belters of her generation, wowing the old world with sidemen like Eddie Boyd, Buddy Guy, Walter Horton and Fred McDowell backing her up. These 1965 recordings were made in a British studio, but they capture the loose, funky, fiery power that the band brought to their live shows in Germany and elsewhere on the Continent. The wealth of sheer firepower and talent here is enough to make a blues fan drool just looking at the album cover -- and when you put the disc in, it gets even better! Highly recommended.

Martha Tilton "The Liltin' Miss Tilton" (Collector's Choice, 2000)


Tilton started off her career singing with the Benny Goodman Orchestra in 1937, and during her two years with Goodman she became nationally known as one of the best big band singers. Tilton's style, though, was less swing than pop, and along with other singers such as Doris Day and Peggy Lee, she soon proved to be well-suited to the pop vocals style that emerged out of Hollywood, in the wake of the swing scene. This spiffy 44-song, two-CD set covers all of her recordings for the Capitol label, made from 1942-55, when the new style was solidifying. A lot of the songs are from Hollywood films, as well as singles cut with bandleaders ranging from Gordon Jenkins and Paul Weston to Dean Elliott and Frank DeVol (and even a track reuniting her with Goodman, when he moved to the label in the '50s). It's great stuff, packed with standards and languid pop songs full of the charmingly repressed eroticism of postwar pop. An excellent retrospective of one of the now-forgotten pop stars of yesteryear.

Martha Tilton "The Complete Standard Transcriptions" (Soundies, 1999)



This fab set of radio transcription recordings features Tilton at her swinging best... if anything, she sounds even better here than she does in the Capitol studio session collected on the Liltin' Miss Tilton set reviewed above. The bulk of these recordings come from 1941, just before she became a Capitol hitmaker; other sessions date from the end of the War, and from around 1948. They're all quite good, and feature some lesser-known songs from the era (as Tilton set out as a solo artist at just the same time as ASCAP mounted an unsuccessful boycott of he recording industry; hence many relatively obscure composers who had signed up with BMI made it onto her playlists. What comes through more than anything else, though, is Tilton's command of the pop vocal format, and her dynamic embodiment of the lightly-disguised eroticism of many of the romantic lyrics of the time. One song in particular stands out, though, and that's Hy Zaret and Joan Whitney's "My Sister And I," an absorbing and rather unusual ballad about two sisters who have fled oppression and war to live in America, with a chorus in which they recount their night terrors and guilt about the friends and family they left behind, with a chorus that ends, "...But we don't talk about that." Pretty heavy stuff, and more directly political than your average big band dance tune! Anyway, this is a great collection, and raised my appreciation of Tilton's work to a much higher level.


<! GIF really 130x130 >

Anita Tucker "Slow, Smooth And Easy" (Capitol, 1956) (LP)


I don't know much about this gal, only that I picked up this reissue of a 10" EP she put out in the 1950s, and it's pretty smoking. I've never seen mention of her in books or articles... although I think she may have recently popped up on a few compilation albums. One thing I can tell you: she sure did rock!


<! SOPHIE TUCKER >
Lavinia Turner/Virginia Liston "Volume Two: 1924-26" (Document, 1996)



A split album, with ten tracks by Turner and thirteen more from Liston...
---
More Swingin' Gals -- Letter "U"
---



---