<! MP3 03/31/10, 01/13/13 > <! pix 01/13/13 - a couple adds > <! icons 01/13/13 > <! update 03/31/10 01/13/13 - need Alberta Hunter adds - Ella page? - review stuff I own > <! Elsie Janis "Sweetheart of the A.E.F." - musichall? Edith North Johnson Lil Johnson Mary Johnson Merline Johnson - numerous volumes on Document label Maggie Jones Mahalia Jackson >
---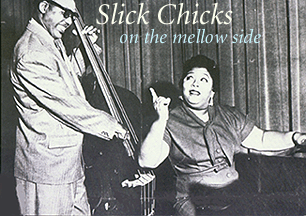 This is a look at some bluesy-jazzy wimmin singers and musicians who rock my world, musical foremothers whose voices echo as strongly today as they did decades ago. Crooners, shouters, songwriters and bandleaders, sirens and songbirds of years gone by... Let's get hep!
---
Sisters Who Swung!! A | B | C | D | E | F | G | H | I | J | K | L | M | N | O | P | Q | R | S | T | U | V | W | X, Y & Z | Compilations
Main Jazz Index | Hillbilly Fillies - Women In Country | Girl Groups & Teen Pop

---
Mahalia Jackson "The Apollo Sessions: 1946-1951" (Pair, 1994)

Mahalia Jackson "How I Got Over: The Apollo Records Sessions" (West Side, 1998)


A 3-CD set...
Mahalia Jackson "Forgotten Recordings" (Acrobat, 2005)



A 2-CD set...


<! Mystery surrounds these never before reissued on CD recordings by Mahalia Jackson that were only ever released on three LPs in France. One theory is that over the Summer of 1947, Mahalia recorded the sides collected here. Why these excellent recordings were never issued anywhere until after Mahalia's death when they appeared in France is beyond comprehension. A second theory holds that Mahalia recorded this material during her first trip to Paris in 1952. Whatever the truth, Acrobat is proud to present these rare recordings for the first time on CD by the greatest of all female Gospel singers. >

Etta James "Tell Mama - The Complete Muscle Shoals Sessions" (MCA-Universal, 2001)



The ever-vivacious Etta James is one of R&B's true greats, an artist whose work will always stand the test of time and this album, originally released in 1968, is one of her best-known and most powerful. More dynamic than expressive, James was a gal who clearly knew how to rock, capable of the same sort of expansiveness as Jimmy Rushing or even jump blues shouters such as Wynonie Harris, but also with a touch of the sleekness seen in Dinah Washington and Ella Fitzgerald. The Tell Mama album is a flawless crowd pleaser, packed with upbeat, compact material, a tailormade showcase for James' mousy snarl. Backed by the best of the Muscle Shoals crew, this is music that can't easily be faulted; with ten bonus tracks added on for good measure, this CD edition is pretty hard to resist.
Lilette Jenkins "The Music Of Lil Hardin Armstrong" (Chiaroscuro, 1995)


Ella Johnson - see artist profile
Margaret Johnson "In Chronological Order: 1923-1927" (Document, 1996)


Mary Johnson "In Chronological Order: 1929-1936" (Document, 1995)


Merline Johnson "The Yas Yas Girl - Complete Works, v.1: 1937-1938" (Document, 1994)


Merline Johnson "The Yas Yas Girl - Complete Works, v.2: 1938-1939" (Document, 1994)


Merline Johnson "The Yas Yas Girl - Complete Works, v.3: 1938-1939" (Document, 1994)


Betty Hall Jones "The Complete Recordings: 1947-1954" (Blue Moon, 2005)





<! Boogie woogie! > <! Maggie Jones - only recorded four songs - Faye Barnes was born in Texas around 1900. She moved North sometime around 1920 and worked on the T.O.B.A. vaudeville circuit and in clubs in New York. After her first record was released on Black Swan records in August of 1923 she only used the name Faye Barnes one other time when she was accompanied by Fletcher Henderson's Orchestra in June of 1924. All of her other records were released under the name of Maggie Jones. The reason for this name change is unknown. She is best remembered today for the recordings she made in November and December of 1924 for the Columbia label which featured Louis Armstrong on cornet and Fletcher Henderson on piano. She continued to perform in vaudeville throughout the 1920s and had a small role in Lew Leslie's musical revue "Blackbirds of 1928". She is known to have toured the East coast of the United States and France with this show. Sometime in the early 1930s she returned to Texas and was last known to have been performing in Fort Worth area in 1934. >

---
More Swingin' Gals -- Letter "K"
---



---