<! MP3 03/31/10, 01/12/13 > <! pix 01/12/13 - a bunch of adds > <! icons 01/30/11 > <! UPDATES: 03/31/10 01/12/13 - adds including Hadda Brooks - could do more artist searches - Dinning Sisters, Ruth Etting, Lizbeth Cotten etc. But still a good update > <! OTHERS: MARTHA DAVIS Madlyn Davis Dorothy Donegan Evelyn Dall - British Peggy Dell - British Betty Driver - British Arizona Dranes "He Is My Story: The Sanctified Soul Of Arizona Dranes" (Tompkins Square, 2012) B008DL3YJC - with 50-page booklet - Arizona Dranes "Complete Recorded Works: 1926-1929" (Document) B000000J7A B000UWR1LE Arizona Dranes "1926-1929" (Herwin) (LP) B005H5TDME Eunice Davis Varetta Dillard Vaughn De Leath >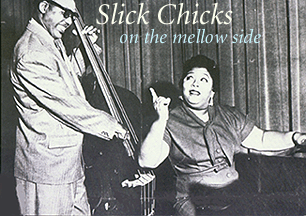 ---
Here's a quick look at some bluesy wimmin singers and musicians who rock my world. I'll try to keep these recommendations a little off the beaten track, just so the page will be a little more fun. But I'm sure I'll work in a gal or two whose name will ring a bell as well...
Some other pages of interest:
---
Sisters Who Swung!! A | B | C | D | E | F | G | H | I | J | K | L | M | N | O | P | Q | R | S | T | U | V | W | X, Y & Z | Compilations
Main Jazz Index | Hillbilly Fillies - Women In Country | Girl Groups & Teen Pop

---
Bebe Daniels "Stop It's Wonderful" (Empire, 1995)

Bebe Daniels "Your Company's Requested" (Dutton Vocalion)





<! This is a splendid compilation of recordings by Bebe Daniels, accompanied by Ronnie Munro and Jay Wilbur, and duetting on eight tracks with husband Ben Lyon. They were American stars of stage and screen who endeared themselves to British audiences by taking up residency here. They became household names largely through their radio programme "Hi Gang" and the later series "Life With The Lyons". >
Eunice Davis "...Sings The Classic Blues" (L & R Records, 1980) (LP)


Includes covers of blues oldies by Victoria Spivey, Memphis Minnie and some new tunes by Ms. Davis...


<! 09/14 - have GIF >
Martha Davis "You're On The Right Track Baby" (Jukebox Lil, 1987)


Dolly Dawn "You're A Sweetheart" (Collector's Choice, 2001)


Not a major star, but an appealling pop singer of the swing era, Dolly Dawn was one of the hundreds of "girl" singers running about about in the late 1930s, as the big bands really started to take off. She had the good fortune to wind up fronting George Hall's Taft Hotel Orchestra, a rather bland band which nonetheless landed a daily noontime radio broadcast on the CBS network. Because Hall rarely used innovative arrangements, the musical end of these recordings tends to be rather flat, although Dawn's vocals are usually perky and fun -- appropriately, she benefited from Hall's lack of oomph in a rather unusual way: Hall was one of the first vocalists to really become the sole focus of a band, back at a time when bands and musicians were supposed to be the real draw in the dance halls. In many ways, the rinky-dink nature of these recordings is a big part of their charm: we're so used to hearing the great singers and great bands of the era (Ellington, Fitzgerald, etc.) that its the lesser lights that really bring out the charm of the material. At any rate, this is cute stuff, really fun in small doses, and well worth checking out!
Dolly Dawn "Smooth As Silk" (Audiophile, 1999) <! date? >

Vaughn De Leath "Ukulele Lady" (ASV Living Era, 2006)

Vaughn De Leath "The Radio Girl: 1921-1929" (Van Up, 2009)

Vaughn De Leath "The Edison Collection: Dancing The Devil Away" (Document, 2006)


Vaughn De Leath "Volume One: Recorded 1925-1927" (MC Productions, 2012)


Vaughn De Leath "Volume Two: Recorded 1927-1928" (MC Productions, 2012)


Vaughn De Leath "Volume Three: Recorded 1928-1938" (MC Productions, 2012)



Sugar Pie DeSanto "Down In The Basement" (MCA/Chess, 1988)


Oakland, California's #1 soul sister, Sugar Pie DeSanto blew the roof off many a local club, as these sizzling '60s tracks suggest. Sugar Pie paired up with the similarly spunky Etta James on a couple of tracks -- the irresistible "In The Basement" and explosive "Do I Make Myself Clear?" -- with this collection's title track standing as one of the all-time great evocations of urban teen culture: a record hop in the basement! What could be more innocent? And who could be any cuter, or any gnarlier, than this perky-but-tough post-teen queen? A dazzling collection of old Chess singles that form a perfect bridge between inner-city R&B and chirpy girl-group pop. HIGHLY recommended!!


<! born Umpeylia Marsema Balinton in SF >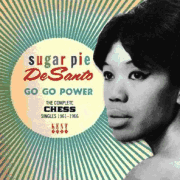 Sugar Pie DeSanto "Go Go Power -- The Complete Chess Singles: 1961-1966" (Ace, 2009)

Sugar Pie DeSanto "Sugar Is Salty" (Jasman, 1999)


Sugar Pie DeSanto "Classic Sugar Pie" (Jasman, 1999)


Sugar Pie DeSanto "A Slice Of Pie" (Jasman, 2000)


Sugar Pie DeSanto "Refined Sugar" (Jasman, 2005)


Varetta Dillard "Mercy, Mister Percy" (Blue City)

Varetta Dillard "Complete Recordings, v.1: Got You On My Mind" (Bear Family, 1989)

Varetta Dillard "Complete Recordings, v.2: The Lovin' Bird" (Bear Family, 1989)

Varetta Dillard "R&B Legend '56-61" (Master Classics, 2011)


The Dinning Sisters "Best Of The Dinning Sisters" (Collector's Choice, 1998)


Wildly popular in the 1940s, the Dinning Sisters, fellow Midwesterners and followers of the better-known Andrews Sisters, followed the same perky vocal trio formula laid down by the Boswells, although with a notably smoother style. Although they did do some swinging material, the Dinnings seem to have dampened down the jazzier edges of the Boswell/Andrews sound, rounding out the notes, softening the rhythms, sweetening the melodies. This CD collects over two dozen of their best-known recordings made for Capitol Records between 1943-47. It's good stuff, and nice for the devoted nostalgia buff, but it didn't quite capture my imagination the same way those other gals did. Still, it's totally worth checking out.

The Dinning Sisters "Back In Country Style" (Jasmine, 2002)



A famly act that had its roots in Oklahoma's Depression-era country music scene, the Dinnings took western swing and added the sleek, jazzy harmony vocals of the Boswell and Andrews Sisters, a cosmopolitan style which they excelled at. They became a national act and for many years were major competitors of the Andrews Sisters... It might be easy to dismiss them as mere imitators, but as this disc demonstrates, their country roots set them apart and made them distinctive... It's nice stuff, maybe a little too jazzy for some twangfans, but still quite fun. Guitarist George Barnes, whose own career also spanned country, pop and jazz, backs the Dinnings on about two-thirds of the tracks of this generously programmed set... Recommended!


<! Dorothy Donegan (?) http://en.wikipedia.org/wiki/Dorothy_Donegan 1946: September Song (Jubilee) 1954: Dorothy Donegan Piano (MGM) 1955: Dorothy Donegan (Jubilee) 1957: Dorothy Donegan at the Embers (Roulette) 1957: Dorothy Donegan Live! (Capitol) 1959: Donnybrook with Dorothy (Capitol) 1960: It Happened One Night (Roulette) 1963: Swingin' Jazz in Hi Fi (Regina) 1975: The Many Faces of Dorothy Donegan (Mahogany) 1979: Makin' Whoopie (Black & Blue) 1980: Sophisticated Lady (Ornament) 1980: Live in Copenhagen 1980 (Storyville) 1986: Live at the Widder Bar (Timeless) 1990: Live at the 1990 Floating Jazz Festival (Chiaroscuro) 1991: The Incredible Dorothy Donegan Trio (Chiaroscuro) 1992: Dorothy Donegan Trio with Clark Terry (Chiaroscuro) 1995: I Just Want (Audiophile) >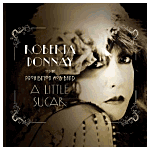 Roberta Donnay & The Prohibition Mob Band "A Little Sugar" (Motema, 2012)



(Produced by Roberta Donnay & Sam Bevan)
Sleek, sly, sexy torch songs from jazz-blues revivalist Roberta Donnay, who worked with Dick Oxtot's trad-jazz band in the early 1980s and, more recently, with roots-kook Dan Hicks in a revamped lineup of his Lickettes backup singers. Her compact, six-person band on this record has a big sound, ranging from robust New Orleans-style blues to more winsome arrangements that showcase pianist John R. Burr, a subtle accompanist who gives a sophisticated, lounge-y tone to much of the album. Nice song selection, with tasty classics from Ida Cox, Fats Waller, Irving Berlin, Hoagy Carmichael and -- a nice surprise -- a couple of tunes from pioneering African-American bandleader Clarence Williams. The album closes with one of her own songs, "Empty Bed Blues," a languid, steamy number that would make Ethel Waters or Maria Muldaur proud.

Arizona Dranes "Complete Recorded Works: 1926-1929" (Document, 1994)



A raspy-voiced, energetic piano plunker, blind Pentecostal gospel singer Arizona Dranes was one of the first African-American recording artists, and one of the first to add accompaniment to the once-primarily vocal style. While exuberant and joyful, her music is also haunting and other-worldly, a raw, unfiltered glimpse into the old gospel styles that predated the recording industry. While Dranes adds profane, bluesy rhythms from the gin-halls and bars (barrelhouse blues and ragtime piano) she still represents a bedrock, fundamentalist religion, pure and unfettered by the concerns of the earthly world. This disc also includes tracks by the Texas Jubilee Singers and the shouting preacher Rev. Joe Lenley, which delve even deeper into the gospel styles of the 19th Century. Pretty cool stuff -- it might be inaccessible to many modern listeners, but for those who do get into it, this is a very rewarding record.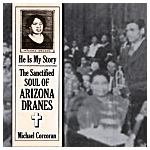 Arizona Dranes "He Is My Story: The Sanctified Soul Of Arizona Dranes" (Tompkins Square, 2012)


Her entire recorded output was only 16 songs, so pretty much every Arizona Dranes record on earth is going to cover it all... This deluxe edition takes things up a notch with the addition of a 50-page booklet of scholarship by music critic Michael Corcoran, delving into the life of this obscure but arresting artist. This is, and will probably remain, the definitive Arizona Dranes collection.


<! Arizona Dranes "He Is My Story: The Sanctified Soul Of Arizona Dranes" (Tompkins Square, 2012) B008DL3YJC - with 50-page booklet - Arizona Dranes "Complete Recorded Works: 1926-1929" (Document) B000000J7A B000UWR1LE Arizona Dranes "1926-1929" (Herwin) (LP) B005H5TDME >
Arizona Dranes "1926-1929" (Herwin, 1976) (LP)


And for you vinyl lovers out there, this is the old, 1980s-era album that first introduced Dranes to the blues-gospel archivist audience... I still have my old copy tucked away somewhere around here...
---
More Swingin' Gals -- Letter "E"
---



---