<! cd = 01/15/13 > <! MP3 01/15/13 > <! pix 01/15/13 > <! icons 01/15/13 > <! outside: 00/00/00 > <! UPDATES: 01/15/13 - posted new, expanded section, with artist adds and updates, new ASINs, etc > <! OTHERS: >
---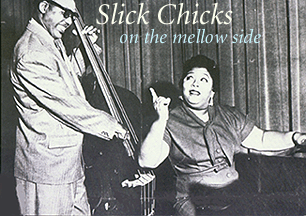 This is a look at some bluesy-jazzy wimmin singers and musicians who rock my world, musical foremothers whose voices echo as strongly today as they did decades ago. Crooners, shouters, songwriters and bandleaders, sirens and songbirds of years gone by... Let's get hep!
---
Sisters Who Swung!! A | B | C | D | E | F | G | H | I | J | K | L | M | N | O | P | Q | R | S | T | U | V | W | X, Y & Z | Compilations
Main Jazz Index | Hillbilly Fillies - Women In Country | Girl Groups & Teen Pop

---

Helen O'Connell "Sweetheart Of Song" (Collector's Choice, 2001)


All too short, but still rather sweet, this 10-song sampler showcases O'Connell as the "girl" singer in the Jimmy Dorsey Orchestra. Bright-toned and sassy as all getout, O'Connell blows her corny-sounding bandmate Bob Eberly out of the water on several tracks, while generally projecting a good nature and a lot of what they used to call "pep". The sound quality on some of these songs is kind of iffy -- the notes don't say so, but I'd guess at least some of these recordings were from radio broadcasts. All things considered, it's pretty fun stuff! One highlight is her version of "Six Lessons with Madame LaZonga," a theme revisited years later by country singer Hank Snow, in his 1950 hit, "The Rhumba Boogie."

Anita O'Day "And Her Tears Flowed Like Wine" (ASV, 2001)


Like many "serious" jazz singers, bop vocalist Anita O'Day apprenticed as a big band singer back in the swing era... This generously programmed collection gathers 25 tunes from her early years working with Gene Krupa, Stan Kenton, Will Bradley and others... At first she sounds undistinctive, just another songbird who couldn't hit the golden tones of Helen Forrest or Ella Fitzgerald. Then, as time passes and her records get more daring, O'Day's unique voice emerges, including the harder tones and hornlike bursts that set her apart from the pop vocals crowd. This is a great set for anyone interested in her early years.


<! 130 x 130 >
Anita O'Day "Pick Yourself Up With Anita O'Day" (Verve, 1957/1992)



What a gas... O'Day is cool as cool can be, a real jazz stylist, but she's also accessible and fun, an unsnobbish, unabashed pop singer as well. This is a big band-ish set with bandleader Buddy Bregman backing her most tracks, providing his trademark soft-pedalled whomp-bomp-oomp, and O'Day gliding on top with characteristic ease and delight. She'll wow you with her fascinating, original new takes on standards such as "Let's Face The Music And Dance" and "Sweet Georgia Brown," where she shifts the tempo and melody to suit her own needs... From start to finish, this is a very fine record, torchy at times, playful at others. The CD reissue adds nine new tracks, including some outtakes from the Pick Yourself Up sessions, a few songs originally released as 45rpm singles, and a couple of tracks that were shelved for a few decades. The bonus materials don't all match the tone of the original LP, and in some regards detract from the purity of such a fine record, but they're also great recordings, and welcome additions to this generously programmed disc. Nice stuff... highly recommended!
---
More Swingin' Gals -- Letter "P"
---



---