<! cd = 01/15/13 > <! MP3 01/15/13 > <! pix 01/15/13 > <! icons 01/15/13 > <! outside: 00/00/00 > <! UPDATES: 01/15/13 - posted new, expanded section, with artist adds and updates, new ASINs, etc > <! OTHERS: St. Louis Bessie/Alice Moore "St. Louis Women" split (Document, 1995) B000000JA6 Nice solid blues set Big Time Sarah - modern blues singer Mary Stafford/Edith Wilson "Ain't Gonna Settle Down" (split) (Archeophone, 2008) B0019LRGHO Mickey And Sylvia Anne Shelton - British Marjorie Stedeford - British Blossom Seeley B004U017AI http://en.wikipedia.org/wiki/Blossom_Seeley > <! DINAH SHORE > <! BESSIE SMITH > <! Beverley Stovall Clara Smith - numerous volumes on Document label Laura Smith http://www.redhotjazz.com/laurasmith.html Mamie Smith Ruby Smith Trixie Smith - numerous volumes on Document label Victoria Spivey Mary Stafford Hannah Sylvester >
---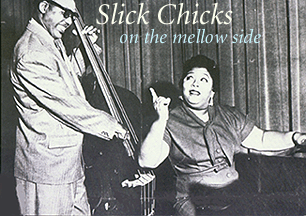 This is a look at some bluesy-jazzy wimmin singers and musicians who rock my world, musical foremothers whose voices echo as strongly today as they did decades ago. Crooners, shouters, songwriters and bandleaders, sirens and songbirds of years gone by... Let's get hep!
---
Sisters Who Swung!! A | B | C | D | E | F | G | H | I | J | K | L | M | N | O | P | Q | R | S | T | U | V | W | X, Y & Z | Compilations
Main Jazz Index | Hillbilly Fillies - Women In Country | Girl Groups & Teen Pop

---
Marylin Scott "I Got What My Daddy Likes" (Whiskey, Women, And..., 1988) (LP)


Sexy secular blues numbers recorded between 1943-53 by gospel singer Marylin Scott who used the name Mary Deloatch for her R&B recordings...


<! "...Play My Jukebox Ð East Coast Blues 1943-1953" Marylin Scott (gospel singer) AKA Mary Deloatch (R&B singer). >
Irene Scruggs "The Remaining Titles: 1926-1930" (Document, 1995)



This disc is shared with tracks by blues singer Martha Copeland, whose 1927-1928 work fills out the first dozen or so tracks...
Anne Shelton "In the Still Of The Night" (Dutton-Vocalion, 1988)


English singer Anne Shelton started her career in the 1930's as a teenage radio star, entertained the troops in World War Two, and really made her mark in the postwar pop vocals era... This collection includes several of her early hits, including her version of "Lilli Marlene."


<! DINAH SHORE > <! BESSIE SMITH >

Effie Smith "The Chronological Effie Smith: 1945-1953" (Classics, 2004)


Cool stuff from one of the California blues scene's great unsung heroines... Effie Smith worked with Benny Carter, Lionel Hampton and Johnny Otis before setting out on her own after WWII... Smith's background as a comedienne may help explain why her work is so much sly and expressive than many of her contemporaries; she really gets into the groove of these tunes and puts a lot of feeling into the words. She also excels at a variety of styles -- smooth ballads, uptempo blues and even a scorcher or two, such as the sizzling "I Been Down In Texas." This disc is a gem, a nice discovery for folks looking for rockin' foremothers to groove out on. The liner notes are nice, too -- Smith and her husband, John Criner, were both intimately involved in the growth of the West Coast blues scene, from their own efforts on a variety of independent labels, to the the teen-oriented R&B-pop scene of the early '60s (her son wrote the Olympics' big hit, "Western Movies") and Effie's second career as a behind-the-scener, doing promotional work for the Stax label in the '70s. At any rate, this disc is fun... Smith's approach may have been a little laid-back, but she sounded pretty darn cool.

Lavay Smith & Her Red Hot Skillet Lickers "One Hour Mama" (Fat Note, 1996)


Great revival of the upbeat postwar R&B sound, from one of the most hard-working members of SF's mid-1990s club scene. Smith's biggest debt is to early Dinah Washington -- not the Dinah Washington of "What A Difference A Day Makes" fame, but the younger Dinah who recorded raunchy blues with Charles Mingus plunking away on the bass behind her. It's a nice goal to aim for, and Smith hits the target right smack in the middle. Fine and mellow, as they used to say -- Lavay and her band were several years ahead of the corporatized zoot suit "swing" revival, and they were also a lot more fun and more interesting than most of the hyperactive, testosterone-soaked outfits who hopped onto that particular bandwagon. If you want a subtler, more soulful and more historically cognizant, take on the old-time swing sound, then this is a record you might wanna look for!

Lavay Smith & Her Red Hot Skillet Lickers "Everybody's Talkin' 'Bout Miss Thing!" (Fat Note, 2000)


The band sounds less rollicking and more swanky 'n' fat than on the last album... kind of taking on a Doc Severinsen sophistication. They still rock, though; it's just that now the sound is more big band specific and a bit less R&B. About a third of the tracks are originals, and pretty good ones at that. And of course the cover tunes are all top-notch, including material originally recorded by Joe Williams, Jimmy Rushing, Helen Humes and Billie Holiday. Rounding things off is a cute New Orleans-ed out version of the holiday chestnut, "Winter Wonderland".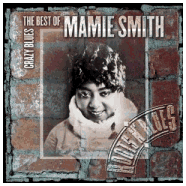 Mamie Smith "Crazy Blues: The Best Of Mamie Smith" (Sony-BMG Legacy, 2004)



A dazzling, authoritative collection of classic early blues songs by singer Mamie Smith who, along with Bessie Smith was one of the undisputed foremothers of the 1920's blues scene. Her "Crazy Blues," which opens this album, was a huge hit, and it reveals the template for her work -- a delirious, loopy horn section wildly bops and curlicues its way through the song, filling the canvas with a sort of slowed-down Dixieland/trad jazz improv, while Smith confidently soars above their controlled pandemonium. This meeting between jazz and blues seems improbable, but it's her vocals that pull it all together, and despite the distant, antique sound of these nearly-century old recordings, her voice comes through with astonishing vitality. You can find a lot of blues recordings from the 1920s that have a generic or imitative feel to them: Mamie Smith, however, was a powerful and imaginative singer, with an immediacy and modernity that's really quite striking. If you're looking for some of the best music of this era, something to compliment artists such as Louis Armstrong and Bessie Smith, then definitely check this out.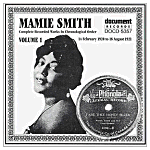 Mamie Smith "Complete Recorded Works, v.1: 1920-1921" (Document, 1995)



If you want to delve even deeper into Smith's work, this extensive collection fills in the gaps of the Sony best-of above... The Document label is sometimes criticized for its sound quality, but has improved in the digital era, and may match the mastering of the Sony set, making up in brighter sound what they lose in surface noise (pops and clicks) that are less present in the major label release. It's all great stuff, true classic blues.
Mamie Smith "Complete Recorded Works, v.2: 1921-1922" (Document, 1995)


Mamie Smith "Complete Recorded Works, v.3: 1922-1923" (Document, 1995)


Mamie Smith "Complete Recorded Works, v.4: 1923-1942" (Document, 1995)






<! Trixie Smith >

Valaida Snow "Valaida Vol. I: 1935-1937" (Harlequin, 1992)


Cotton Club-style jazz, recorded abroad by a spunky African-American female vocalist-trumper player with a heavy Louis Armstrong bent. Snow started her career in the black song reviews of the 1920s, during the Sissle and Blake era, and continued on in the nightclub circuit, briefly playing in Earl Hines' band. In the 1930s she set out to become a solo star by moving to Europe, where jazz was very much in vogue, but "authentic" jazz players were hard to find. These two discs document her recordings for the Parlophone label in Great Britain, as well as several later sessions in Sweden and Denmark. Muffled sound quality mars these discs, but they are still worth checking out. The bands themselves were not top-flight and occasionally muff their riffs or fall a bit flat -- Volume 1 opens with a set of songs on which the trumpet and sax players are wildly unable to play in tune -- but fans of Tin Pan Alley pop should still dig these rare recordings. At peak form, Snow was cute as a button, and sizzling hot as well.
Valaida Snow "Valaida Vol. II: 1935-1940" (Harlequin, 1992)

Valaida Snow "Queen Of Trumpet And Song" (DRG, 1999)


A 2-CD set...
Valaida Snow "The Chronological Valaida Snow: 1933-1936" (Classics, 2000)


Valaida Snow "The Chronological Valaida Snow: 1937-1940" (Classics, 2001)


Valaida Snow "The Chronological Valaida Snow: 1940-1953" (Classics, 2004)


Victoria Spivey "Complete Recorded Works, v.1: 1926-1927" (Document, 1995)


Victoria Spivey "Complete Recorded Works, v.2: 1927-1929" (Document, 1995)


Victoria Spivey "Complete Recorded Works, v.3: 1929-1936" (Document, 1995)


Victoria Spivey "Complete Recorded Works, v.4: 1936-1937" (Document, 1995)


Victoria Spivey "Queen Victoria: 1927-1937" (EPM, 2003)

Victoria Spivey & Lonnie Johnson "Idle Hours" (Prestige, 1961)

Victoria Spivey "The Blues Is Life" (Smithsonian Folkways, 1976)


Victoria Spivey "...And The Easy Riders Jazz Band" (GHB, 1990)

Victoria Spivey "The Essential Victoria Spivey" (Classic Blues, 2001)


A 2-CD set...

Jo Stafford "On Capitol" (Collector's Choice, 2000)


Among the dozens of swing gals and singing starlets of the 1940s, Jo Stafford stood out as one of the most natural, relaxed vocalists of the era... Comfortable with up-tempo jive and slushy sentiment alike, Stafford led the transition from big band to pop vocals. Along with her husband, the equally versatile Paul Weston, Stafford helped define the post-war pop sound, combining a legitimately bluesy jazz sensibility with a semi-squaresville style of presentation. Stafford was one of Capitol Record's earliest stars, and this CD is a nice cross-section of her work. This is actually a bit of an odds-and-ends collection, but it's got plenty of great stuff. One highlight is the stunningly sexist "Housework," an Irving Berlin song from 1949 in which Rosie The Riveter recants her career ambitions, in favor of "baking the pie/that will keep my guy/at home..." Yow! Who could ask for more??

Jo Stafford "Autumn In New York" (Capitol, 1955)


Jo Stafford "Starring Jo Stafford" (Capitol, 1955)


Stafford at her slushiest, and Weston at his most subdued. These two mid-'Fifties albums, which have been reissued together on a single CD, find Jo cooing and mooing in the Eisenhower era fashion; the melody and bounce of the band seems almost entirely subsumed to her voice: "pop vocals" taken to the extreme. I had a hard time getting into this, and found both albums to be rather static and monotonous.

Jo Stafford "The Columbia Hits Collection" (Collector's Choice/Corinthian, 2001)



When Stafford and Weston moved over to Columbia Records in 1950, their proclivity for novelty tunes far outpaced the straight romantic material. Country covers were particularly big, as seen in several early '50s Hank Williams songs, done cornball pop style, and remakes of hits by Lefty Frizzell and Pee Wee King. The arrangements are generally not as classy or considered as the Capitol material -- Sinatra's muse suffered suffered mightily under the Columbia system around the same time -- but there are still great moments here. Sometimes it's just fun to hear the corny techniques they tried in the studio; on other songs they would let Stafford loose on a legitimate ballad, and she would invariably shine like a diamond. Overall, this 29-song sampler of her Columbia years is pretty sweet.

Kay Starr "The Best Of The Standard Transcriptions" (Soundies, 1999)



An absolute delight for fans of this husky-voiced, savvy pop singer, performing both with a punchy studio orchestra, and in the most intimate of settings, accompanied only by guitar and violin (Les Paul and Joe Venuti, no less!) Starr's command of phrasing and emotion are masterful; she nails song after song in this rich collection of torch songs and standards... A great 2-CD set of rare recordings from 1948-49, when her postwar career was really starting to take off, revealing a confident Starr giving the world her best. Recommended!


<! 130 x 130 >

Kay Starr "The Essential RCA Singles Collection" (Tarragon, 1999)


Right at the height of her popularity on the Capitol label, Starr jumped ship over to RCA, where she promptly scored a #1 Pop hit with the 1955 novelty number, "The Rock And Roll Waltz." It was a mixed blessing: Starr thereafter found herself saddled with goofball material for the remainder of her four-year tenure on the RCA label. It was all a lark for the bandleaders at the time, as studios sped up tempos and glitzed up the arrangements in an odd, schitzophrenic attempt to keep up with the kids, and yet not admit that they were pandering to their audience. Here, Starr works with the likes of Hugo Winterhalter, Pete King and Joe Reisman, none of whom seem to connect with the sultry depth she was capable of summoning, particularly with her old arranger, Harold Mooney. Nonetheless, she delivers sincere and solid performances, amid the manic, whizz-bang clatter of the post-big band pop arrangements... Her stuff on Capitol is more noteworthy, though, and while this disc brings back some of her neglected material, I personally didn't find this to be a disc that I would return to often.


<! Beverley Stovall >

---
More Swingin' Gals -- Letter "T"
---



---