<! cd = 01/15/13 > <! MP3 01/15/13 > <! pix 01/15/13 > <! icons 01/15/13 > <! outside: 00/00/00 > <! UPDATES: 01/15/13 - posted new, expanded section, with artist adds and updates, new ASINs, etc > <! Jessie Matthews - British - male or female? > <! OTHERS: St. Louis Bessie/Alice Moore "St. Louis Women" split (Document, 1995) B000000JA6 Nice solid blues set Lee Morse Luella Miller Daisy Martin - only a handful of recordings, c. 1921 Sara Martin - Bessie Smith contemporary - several volumes on Document http://www.redhotjazz.com/martin.html Roberta Martin Brigitte McCoy (sp?) Viola McCoy Hattie McDaniel Ruth McFadden Edna McGriff Bette McLaurin Hazel Meyers Mickey And Sylvia Josie Miles Lizzie Miles Florence Mills Alice Moore Monette Moore - aka Susie Smith http://www.redhotjazz.com/monettemoore.html Lee Morse >
---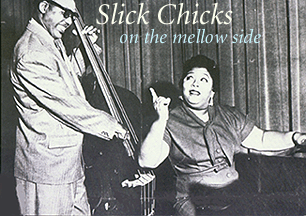 This is a look at some bluesy-jazzy wimmin singers and musicians who rock my world, musical foremothers whose voices echo as strongly today as they did decades ago. Crooners, shouters, songwriters and bandleaders, sirens and songbirds of years gone by... Let's get hep!
---
Sisters Who Swung!! A | B | C | D | E | F | G | H | I | J | K | L | M | N | O | P | Q | R | S | T | U | V | W | X, Y & Z | Compilations
Main Jazz Index | Hillbilly Fillies - Women In Country | Girl Groups & Teen Pop

---

Marilyn Maxwell "Darling Diva: Popular Lady Of Song" (Collector's Choice, 2004)


A welcome look at one of the neglected "songbirds" of the Big Band era... Actress Marilyn Maxwell sang for the John Scott Trotter Orchestra, which put her pretty squarely in the orbit of Bing Crosby and his organization. This disc gathers a dozen tracks, all with nice fidelity, from Bing's old radio show, circa 1944. A handful of duets with Crosby are a highlight of this disc -- they complimented each other quite nicely -- but Maxwell sounds pretty nice on her own, fronting Trotter's band. She's not dazzling or emotionally powerful, but she sounds nice and, like Trotter himself, she doesn't call a lot of attention to herself. It's workmanlike material, but it's kinda sweet.
Ellen McIlwaine - see artist discography

Memphis Minnie "Hoodoo Lady (1933-1937)" (Sony Legacy, 1991)



Great stuff. This disc opens up with the marvellously raunchy "Down In The Alley," and continues along with a generous selection of twenty of the best recordings made by this vigorous, dynamic, groundbreaking blues picker. A completely arresting performer, Memphis Minnie was the first gal to excel at the same game as the boys: hot guitar playing, the kind of stuff that rock'n'roll comes from. Great singer, too. This disc is one of the highlights from the outstanding Roots & Blues series which inaugurated Sony's real commitment to quality archival releases in the CD era. It's great stuff.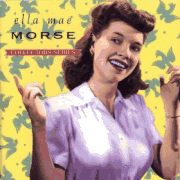 Ella Mae Morse "Collector's Series" (Capitol, 1992)



Ella Mae Morse "The Very Best Of..." (EMI/Collectibles, 1998)


Her big hit, "Cow Cow Boogie," was one of the most irresistible pop tunes of the 1940s, a catchy bit of faux-western pop bluesiania that in 1942 was one of the biggest hits on the newborn Capitol label. Morse started her career out with a magical and memorable hit record; it was a hard act to top, but her later recordings were also pretty consistent. Morse, backed by the Freddie Slack band, specialized in songs with bluesy phrasing and pseudo-boogie riffs... Sometimes the material was a little forced, but in general it was fun stuff, from the swankier side of the big band spectrum. This is a nice collection which covers her entire career, from "Cow Cow Boogie" until her retirement in the late '50s. (The songs on these two releases are identical; only the artwork has been changed to protect the innocent.) Definitely worth checking out!

Ella Mae Morse "The Dynamite Texas Diva - Live" (Collector's Choice, 2002)


A great set of live performances, recorded for the Armed Forces Radio Service between 1942-45, when Morse's star shone the brightest. This disc features her with a variety of musical collaborators, starting with Freddie Slack, and working through a variety of AFRS-sponsored orchestras. It's all top-notch stuff, Ella Mae's irrespressible spunkiness melding with the optimistic cheerfulness of the American show-biz community. The onstage/in studio banter is consistently entertaining: this is one of the best airshot collections of its kind that I've ever heard. In fact, I'd hazard to say that this disc actually more fun to listen to than the standard collections of her studio work. Recommended!
Ella Mae Morse "Rocks!" (Bear Family, 2010)





<! Lee Morse >

Rose Murphy "The Chee-Chee Girl" (ASV Living Era, 2005)


If you haven't yet encountered 1940s jazz-cabaret pianist Rose Murphy, well then, you're in for a treat. Her kooky, quirky riffs on vocals standards such as "I Can't Give You Anything But Love," et. al., feature winsome, carefree piano playing, along with her helium-powered, goofball, little-girl vocals: if Betty Boop had been a soloist with the Duke Ellington orchestra, it might have sounded a bit like this. Often, with Murphy's idiosyncratic phrasing what's left out -- amid the silences and truncated melodies -- sometimes matters more that what she does play, as if she were asserting that her familiarity with and willingness to mess around with all these songs was more important than showing musical mastery over the genre. Serious jazz fans might find this a little too novelty-oriented, but casual listeners are likely to find it irresistibly cheerful and sweet. Happy-sounding music, in a big, big way.
Rose Murphy "The Chee-Chee Girl" (Scimitar Entertainment, 1998)

Rose Murphy "I Wanna Be Loved By You" (Body & Soul, 1998)

Rose Murphy & Major Holley "Mighty Like A Rose: The Definitive Black & Blue Sessions" (Black & Blue, 2002)


---
More Swingin' Gals -- Letter "N"
---



---