<! cd = 01/15/13 > <! MP3 01/15/13 > <! pix 01/15/13 > <! icons 01/15/13 > <! outside: 00/00/00 > <! UPDATES: 01/15/13 - posted new, expanded section, with artist adds and updates, new ASINs, etc > <! Lambert Hendricks & Ross - Annie Ross on her own page to cover both L & R? Annie Ross: Annie Ross "Singin' And Swingin' " (with Dorothy Dunn and Shelby Davis) (1952) Annie Ross "King Pleasure Sings/Annie Ross Sings" (1952) Annie Ross "Tony Crombie And His Orchestra" (1954) (Decca DFE6247) Annie Ross "Annie By Candlelight" (1956) B004JAUCZA Annie Ross "Nocturne For Vocalist" (EP) (1956) Annie Ross "Sings A Song With Mulligan!" (1958) B004JAUCZA Annie Ross "A Gasser!" (with Zoot Sims) (1959) B004JAUCZA Annie Ross "Gypsy" (1959) B004JAUCZA Annie Ross "Loguerhythms" (1962) Annie Ross "Sings A Handful Of Songs" (1963) Annie Ross "Facade" (1967) Annie Ross "You And Me Baby" (Live at Hampstead Theatre) (1970) Annie Ross "In Hoagland" (with Hoagy Carmichael and Georgie Fame) (1981) Annie Ross "Music Is Forever" (1995) Annie Ross "Cool For Kids" (2001) Annie Ross "Let Me Sing" (2005) Live albums Annie Ross "Annie Ross & Pony Poindexter" (1967) Annie Ross "You And Me Baby" (1971) Annie Ross "In Poland, 1965" (2002) Annie Ross "Live In London, 1965" (2006) >
---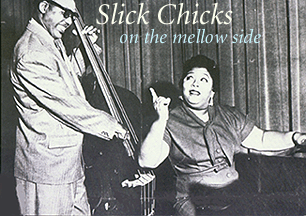 This is a look at some bluesy-jazzy wimmin singers and musicians who rock my world, musical foremothers whose voices echo as strongly today as they did decades ago. Crooners, shouters, songwriters and bandleaders, sirens and songbirds of years gone by... Let's get hep!
---
Sisters Who Swung!! A | B | C | D | E | F | G | H | I | J | K | L | M | N | O | P | Q | R | S | T | U | V | W | X, Y & Z | Compilations
Main Jazz Index | Hillbilly Fillies - Women In Country | Girl Groups & Teen Pop

---


<! MA RAINEY >


Bonnie Raitt - see artist profile


<! MARTHA RAYE > <! Francine Reed - transfer from Americana >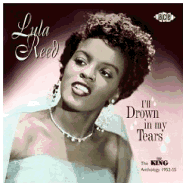 Lula Reed "I'll Drown In My Tears" (Ace, 2003)


The first time I heard a record by Chicago R&B singer Lula Reed, I was floored: her style was forceful though her voice often sounds mousy... On her best material she's basically singing rock'n'roll -- or at least proto-rock -- often with wicked electric guitar or a jovial, propulsive jump-blues horn section. She's one of those artists who bridged the worlds of regional celebrity and wider recognition, between local black nightclubs and the world of radio airplay and national tours. So there's often a sense that she's hipper sometimes than she sounds on wax, or that the hipness is being tailored to a more mainstream audience. And, like lots of blues and R&B of the era, her arrangements can either be all-atomic and superpowered, or on other occasions a little drab and by-the-books. Nonetheless, she's got a distinctive personality and her best stuff will really wow you. This disc covers her work for the King label, between 1952-55, and includes stuff recorded with her husband, bandleader Sonny Thompson, who she worked with well into the early 1960s. Some folks prefer these earlier, rawer sides, although I kind of am partial to the smoother stuff from the '60s, which accented a more poppish, rock'n'roll sound. Still, you'll want to check this gal out, and any era is fine.
Lula Reed "The Chronological Lula Reed: 1951-1954" (Classics, 2005)


This disc has pretty much the same playlist as the Ace collection above, with a few different tracks... Good stuff, either way!
Lula Reed "Blue And Moody" (King, 2004)





<! JUNE RICHMOND > <! Annie Ross >

---
More Swingin' Gals -- Letter "S"
---



---