<! cd = 01/15/13 > <! MP3 01/15/13 > <! pix 01/15/13 > <! icons 01/15/13 > <! outside: 00/00/00 > <! UPDATES: 01/15/13 - posted new, expanded section, with artist adds and updates, new ASINs, etc > <! OTHERS: Kansas City Kitty & Georgia Tom (Document) Brigitte McCoy (sp?) St. Louis Bessie/Alice Moore "St. Louis Women" split (Document, 1995) B000000JA6 Nice solid blues set Big Time Sarah - modern blues singer Mary Stafford/Edith Wilson "Ain't Gonna Settle Down" (split) (Archeophone, 2008) B0019LRGHO Various Artists "FEMALE BLUES" (Document) (series - at least 13 volumes!) Various Artists "JAZZ WOMEN: A FEMINIST RETROSPECTIVE" (Stash) Josie Miles Lizzie Miles Luella Miller Maggie Jones Mickey And Sylvia Edna McGriff Ruth McFadden Bette McLaurin Virginia Liston / Lavinia Turner Josie Miles Alice Moore Edna Winston Little Esther >
---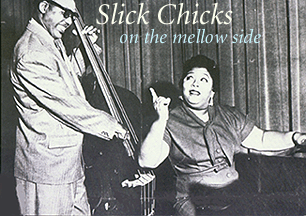 This is a look at some bluesy-jazzy wimmin singers and musicians who rock my world, musical foremothers whose voices echo as strongly today as they did decades ago. Crooners, shouters, songwriters and bandleaders, sirens and songbirds of years gone by... Let's get hep!
---
Sisters Who Swung!! A | B | C | D | E | F | G | H | I | J | K | L | M | N | O | P | Q | R | S | T | U | V | W | X, Y & Z | Compilations
Main Jazz Index | Hillbilly Fillies - Women In Country | Girl Groups & Teen Pop

---

Kitty Kallen "The Kitty Kallen Story" (Sony, 1992)


As the sultry songbird on the steamy WWII Harry James chart-topper, "It's Been A Long, Long Time," Kitty Kallen was one of the best-known and most adored big band singers. She did alright for herself as a solo artist as well, racking up several Top 40 hits until a bout of psychosomatic mic fright left her unable to sing for several years in the late 1950s. Later, after a brief early '60s comeback, other health problems permanently prevented her from continuing as a performer, sadly sidelining one of the purest voices American pop had heard in its formative heyday. This 2-CD set covers the breadth of Kallen's career, starting with her best-known hits from the early '40s, then topping those off with a perhaps-too-generous helping of later recordings, including several remakes of wartime favorites, rearranged in the '50s and '60s. This collection is definitely too light on her early work, but still pretty nice for anyone who wants to appreciate Kallen as a stylist in the pop vocals era, and it generously gathers material from several different labels. A nice set, certainly worth checking out, especially with the inclusion of some highly informative and entertaining liner notes that feature extensive interview quotes from Kallen herself... who was quite a character!


<! 133 x 130 >

Kitty Kallen "Band Singer" (Collector's Choice, 2001)


If you felt miffed by the dearth of older, classic Kallen crooning on the Story collection reviewed above, then check this puppy out... It's got all her early recordings with the Jack Teagarden and Harry James' bands, made for the Columbia label in the early 1940s, when she was clearly at her peak, and even has alternate takes of "Long, Long Time" and "I'm Beginning To See The Light..." A fan's delight! Sadly, her recordings with Artie Shaw and Jimmy Dorsey aren't also included, but nonetheless, this disc is probably the single best Kallen collection out on the market today. Recommended!
Helen Kane "Boop-Boop-A-Doop" (ASV Living Era, 2004)

Helen Kane "The Boop-Boop-A-Doop Girl" (Bygone Days, 2009)


Helen Kane "Betty Boop Best Of" (Master Classics, 2009)





<! Dolly Kay http://www.redhotjazz.com/dollykay.html -- dozens of recordings, nothing on CD -- (01/13) Dolly Kay was a vaudeville and cabaret singer who started performing sometime around 1920 on the Orpheum curcuit accompanied by pianist Phil Phillips. According to an article that appeared in the September 28th, 1923 issue of the Los Angeles Times Dolly Kay was a stenographer who was living in New York City with her parents. After seeing her first vaudeville performance she was so affected and inspired that she introduced herself to a vaudeville agent who gave her a tryout and he immediately hired her as a vaudeville singer. This story may or may not be true, but Dolly Kay continued to be a popular vaudeville and cabaret singer throughout the 1920s and early 1930s. Dolly Kay's solo recording career spanned the years 1921 to 1928. She also appeared as a vocalist on records made by the University Six (Harmony 581-H) and the Georgians (Columbia 117-D, 70-D). Lincoln 2096 was released under the pseudonym of Margaret White, Harmony 107-H was released under the pseudonym of Sally Freeman. The last mention I've been able to find of Dolly Kay performing was at the Knights of Columbus Music Hall in Los Angeles on April 18th, 1965. The French Canadian Club presented "Fifi D'Orsay's Ruby Jubilee," a variety show honoring the stage and screen star's 40th year in show business, at the Knights of Columbus music hall. >

Jo-Ann Kelly "Jo Ann Kelly" (Epic, 1969)


Jo-Ann Kelly "Jo Ann Kelly" (Blue Goose, 1972)
An important forebearer of Bonnie Raitt (and pretty much all female blues revivalists who came in her wake...), acoustic guitarist Jo Ann Kelly is one of the forgotten greats of the British blues revival. Kelly was kicking around in the early 'Sixties, along with John Mayall, Eric Clankton, and all those other dudes. She had a marvellously growly, dangerous voice, with phrasing swiped directly from Memphis Minnie's old repertoire, and she could pick like the devil herself. These are two of her best, and best-known, albums -- she's also enjoyed several great CD retrospectives and reissues in recent years, all of which are worth looking for. Sure... her uptempo country blues style gets to sounding a little repetitious after a while, but it's still awesome music. (You might also want to check out this German fan page, which has a more complete discography...)

Jo-Ann Kelly "Key To The Highway" (Moon Crest, 2000)

Jo-Ann Kelly "Talkin' Low -- Rare Unissued Recordings: 1966-1988" (Moon Crest, 2000)

Jo-Ann Kelly "Tramp 1974: Rare & Unissued Recordings, Vol. 3" (Moon Crest, 2001)

Jo-Ann Kelly "Blues & Gospel: Rare And Unreleased Recordings" (Blues Matters, 2004)

Jo-Ann Kelly "Do It & More" (Manhaton, 2008)


The King Sisters "Swingin' On A Star" (Collector's Choice, 2001)


For those who found the Andrews Sisters sound too rough-hewn and not "pop" enough, came the King Sisters, the Salt Lake City siblings who were the vocal centerpiece of Horace Heidt and Alvino Rey's prewar bands. This disc gathers some of their wartime 1944-45 Armed Services recordings, made after Alvino Rey had actually enlisted disbanded his orchestra... It's an able recap of their repertoire along with plenty of popular hits of the day, such as the title track and Bobby Troup's "Route 66..." Not as jazzy as other big band-era vocal groups, but a fair glimpse of things to come in the postwar vocal world.


<! EARTHA KITT >
Christine Kittrell "Call Her Name -- The Complete Recordings: 1951-1965" (Bear Family, 2010)





<! MARIE KNIGHT Judy Clay/Marie Knight "Bluesoul Belles, v.4: The Scepter And Musicor Recordings" (Westside, 2001) B00005O063 >

---
More Swingin' Gals -- Letter "L"
---



---