<! MP3 03/31/10, 01/13/13 > <! pix 01/13/13 - a couple adds > <! icons 01/13/13 > <! update 03/31/10 01/13/13 - need Alberta Hunter adds - Ella page? - review stuff I own > <! Ethel Finnie - no listings 01/2013 Miss Frankie - no listings 01/2013 Gracie Fields - British >
---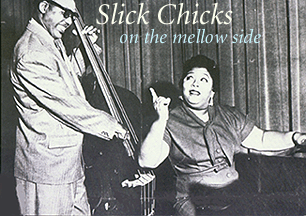 This is a look at some bluesy-jazzy wimmin singers and musicians who rock my world, musical foremothers whose voices echo as strongly today as they did decades ago. Crooners, shouters, songwriters and bandleaders, sirens and songbirds of years gone by... Let's get hep!
---
Sisters Who Swung!! A | B | C | D | E | F | G | H | I | J | K | L | M | N | O | P | Q | R | S | T | U | V | W | X, Y & Z | Compilations
Main Jazz Index | Hillbilly Fillies - Women In Country | Girl Groups & Teen Pop

---

Alice Faye "You'll Never Know" (ASV Living Era, 2000)


Husky-voiced '30s starlet Alice Faye might not have been the world's greatest singer, but she performed with gusto and guts, and infuses these robust torch songs and B-grade showtunes with a pleasant, earnest sexiness. This disc collects all the songs from her various films that came out as singles on the Columbia label (as well as several previously unissued tracks, a treasure trove of dimly-remembered, though thoroughly enjoyable material. There's a Sophie Tucker-ish bluesiness to her work, and while she's kinda clunky around syncopated beats, Faye's still fun to listen to. She also reminds me of Mae West, but without as much overt campiness. This set probably represents her at her best, musically... Well worth checking out!

Alice Faye "The Complete ARC & Brunswick Sides" (Collector's Choice, 2003)


Pretty much the same record as the one listed above, just with fewer tunes. Again, Faye was no great shakes technically, but she delivers these Tin Pan Alley oldies with plenty of feeling, even if it does take her forever to find what key she's singing in. Plus, the songs are great old bits of nostalgia... Some are well-known standards, many are more off the beaten track. This is a fun set of Depression-era music, with that mix of super-white sorta-blues and pure Hollywood schmaltz that I find hard to resist. This disc follows the playlist of the ASV series above, song for song, with about a half dozen fewer songs on it. Still, it's pretty nice... Either way you go, these discs are a fine introduction to a likable minor figure in the '30s hit parade.

Gracie Fields "Our Gracie - 28 Favorites: 1928-1947" (ASV, 1998)


Lancashire-born English comedienne Gracie Fields was one of the greatest stars of the British music halls, and certainly one of England's most colorful celebrities of the pre- and postwar eras. Rising from humble beginnings to the top of show business, Fields fled England at the onset of World War Two, as her second husband was an Italian film director and, technically speaking, a citizen of a hostile foreign power. Although she "deserted" England during the conflict (she actually performed countless benefit shows for the troops, even though she had emigrated to America for the duration...) Fields held onto the hearts of her countrymen, and returned to the UK briefly after the War, before retiring to Capri with her third husband in 1952. This collection concentrates, wisely, on her prewar glory years, spanning the range from comedic to prissier romantic material... For my tastes, it's a bit light on the novelty material (what, no "Will You Love Me When I'm Mutton"??) and gives short shrift to the more ebullient side of her personality, in favor of more "serious" singing. Still, it's a class act and a fine introduction to one of England's most charming performers... If this sampler sparks your interest, other Fields albums are also worth tracking down.

Ella Fitzgerald "The Chronological Classics: 1947-1948" (Classics, 1999)



Nearly a decade after she took over the late Chick Webb's orchestra, Ella was a full-fledged powerhouse, solid and professional in the postwar years, but not quite as formal and stately as she would become in the '50s. This disc is part of the outstanding chronologically-arranged releases on the French Classics label -- and it's all first-class material. Lots of examples of Ella fronting poppily-arranged group vocals, with Pied Piper-ish backup singers toot-toot-tootling along. She also gets funky and scats a bit, although this is mostly pretty restrained material, more pretty pop than sly jazz vocals. Plus, it's Ella -- which is to say, it's great! Notable tracks include her first scat version of "How High The Moon," which became a concert staple, heard later on her fab "Live In Berlin" album. Then there's "My Baby Likes To Bebop," which makes the postwar jazz revolution sound as if it were just a dance craze like the jitterbug -- silly novelty material, which Ella transcends by an effortless, and incredibly complex scat solo at the end. Great CD -- highly recommended!

Ella Fitzgerald "The Chronological Classics: 1949" (Classics, 1999)



More classic Ella. When I saw the cover, "Ella Fitzgerald - 1949," I just snapped it up, knowing I would not be disappointed. And how could you be, with Ella backed by the likes of Sy Oliver and Louis Jordan? One of the Jordon duets is a fab rendition of Frank Loesser's "Baby It's Cold Outside..." Other highlights include a breezy reading of "I'm Gonna Wash That Man Right Out Of My Hair" and the ever-sultry "Black Coffee." Here Ella's cruising into a more solid, masterful style, relaxed and yet transcendant. Great stuff from start to finish.

Ella Fitzgerald "The Chronological Classics: 1950" (Classics, 2001)



As the new decade opened, Ella immersed herself in poppier material, but even on forced, subpar songs like "Santa Claus Got Stuck In My Chimney," the clap-hands gospel of "Standing On A Rock," or "Molasses" (with its giggling kiddie chorus), Ella's crystalline voice rises above the mediocrity. She also still kept good company -- this disc features duets with Sy Oliver, Louis Armstrong and Louis Jordan, and a couple of tunes with the Inkspots, show there was no shortage of talent to jam with. But her muse was definitely in a lull, as she adjusted to the rise of the pop vocals era... Some of the more interesting, experimental stuff on here includes a brace of slowed-down ballads, with Ella shedding the swing bounce she had perfected in order to linger on the lyrics. This disc is less accessible than some of her more swinging oldies... it isn't the cotton-candy goodness of her best work, but hey, man, it's still Ella, and she's the best there ever was.
Ella Fitzgerald "The Chronological Classics: 1951" (Classics, 2002)


Ella Fitzgerald "The Chronological Classics: 1952" (Classics, 2004)


Ella Fitzgerald "The Chronological Classics: 1953-1954" (Classics, 2006)


Ella Fitzgerald "Ella Swings Lightly" (Verve, 1959)



Ella backed up by arranger Marty Paich and his ever-bouncy, streamlined, melody-driven Dek-Tette. It's great. Ella's smooth as silk, and Paich's trademark gentle backbeat fits her like a glove. Fans of either artist will be pleased by this collaboration...!

Ella Fitzgerald "Mack The Knife: The Complete Ella In Berlin" (Verve, 1960)



A classic. Backed by Paul Smith's combo, Ella ploughs through an upbeat, high-power scat singin' lovefest, live in Berlin at the height of the Cold War. She pays tribute to the locals with a playful, dazzling rendition of "Mack The Knife," in which she charmingly forgets the lyrics and just free-associates her way around the gaffe; likewise, her live version of "How High The Moon" is a real show-stopper. Apparently this album was a big pop hit in the Billboard charts when it first came out, although it's very much a swingin' jazz album. Fun stuff -- recommended!

Ella Fitzgerald "Ella At Juan-Les-Pins" (Verve, 1964/2002)



Bleahh. I love Ella, but I hate this kind of brash, brusque, overly muscular jazz singing... This features Ella plowing her way through a couple of nights sets at a jazz fest on the French Riviera, with one poundingly robust performance after another, ranging from showtunes such as "Hello Dolly" and "People" to salty standards like "That's Why The Lady Is A Tramp," "A Tisket, A Tasket," "Mack The Knife," and others from the Fitzgerald canon. There are a couple of mild surprises, such as her surprisingly clumsy cover of the Beatles hit, "Can't Buy Me Love," but by and large this seems like a lesser effort from the illustrious Ms. Fitzgerald... She's clobbering the tunes and clowning around, but nowhere on here is there the elegance and range that makes her best work so good. (Note: I seem to be in the minority on this one. Other reviewers praise the presence of pianist Tommy Flannagan, trumpeter Roy Eldridge, et al., so I guess it's just one of those "jazz things." I wouldn't understand.) Anyway, I can't say that I'd recommend this one -- it's noisy and loud. (Note: the two disc 2002 CD reissue restores the concerts to their full length; the performances are still brassy, but you can compare her approach on different nights...)

Ella Fitzgerald "The Best Of The Concert Years: Trios And Quartets" (Pablo, 2003)



A fine sampling of Ella's performances at the Jazz At The Philharmonic (JATP) concert series, catching her live in 1953, '67, '72 and '83, with a variety of small groups backing her. In the 'Fifties she sang wildly, with an experimental, scatty edginess that, perhaps, has aged less well than the exquisite ballad singing heard in later years. 'Sall good, though. Her sweetness of tone, playful phrasing and boundless energy are apparent throughout.

Aretha Franklin "The Queen In Waiting" (Sony Legacy, 2002)



Aretha Franklin started out singing in her father's gospel choir; many know the legend of how the great A&R man John Hammond picked her voice out of the many in the chorus off of a tape someone sent him, and searched her out to offer her a contract at Columbia Records. (The less glamorous verrsion is that she sent him a regular old demo tape and he was likewise floored by what he heard...) Common wisdom has it that Franklin's Columbia sessions were subpar and that it wasn't until Atlantic's Jerry Wexler got ahold of her that things really started to cook. There's a lot to be said for that theory; her voice definitely dwarves most of the arrangements heard on this 1960-65 set, mainly simple approximations of the formulae that had made Dinah Washington and Mahalia Jackson into pop-crossover divas. But it's still pretty cool to hear Aretha working through the lush pop stylings of a pre-Motown world, and astonishing to realze what a tremendous voice she had, even at such an early age. It ain't Aretha that's holding things back, she's just working within the conventions of the time. Her fans will not be disappointed, though -- this 2-CD set definitely delivers the goods on her formative years, and even though ultimately this wasn't the right material for her to sing, she holds her own in comparison to Dinah and the others. Not bad for a kid.


<! 130 x 130 >


Helen Forrest - see artist profile




---
More Swingin' Gals -- Letter "G"
---



---