<! MP3 03/31/10, 01/12/13 > <! pix 01/12/13 - a bunch of adds > <! icons 01/30/11 > <! UPDATES: 03/31/10 01/12/13 - adds including Hadda Brooks - could do more artist searches - Dinning Sisters, Ruth Etting, Lizbeth Cotten etc. But still a good update > <! Susie Edwards - Butterbeans & Susie http://en.wikipedia.org/wiki/Susie_Edwards Dollie Elsie - British - only a couple of tracs on comps 01/2013 >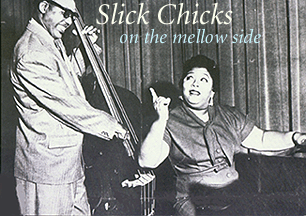 ---
Here's a quick look at some bluesy wimmin singers and musicians who rock my world. I'll try to keep these recommendations a little off the beaten track, just so the page will be a little more fun. But I'm sure I'll work in a gal or two whose name will ring a bell as well...
Some other pages of interest:
---
Sisters Who Swung!! A | B | C | D | E | F | G | H | I | J | K | L | M | N | O | P | Q | R | S | T | U | V | W | X, Y & Z | Compilations
Main Jazz Index | Hillbilly Fillies - Women In Country | Girl Groups & Teen Pop

---

Ruth Etting "Ten Cents A Dance" (ASV, 1994)



Ruth Etting "America's Sweetheart Of Song" (ASV, 2001)


Ya gotta love Ruth Etting. Possibly the greatest torch singer of the 1920s, and certainly one of the biggest stars in American show biz during the pre-Depression "Jazz Age," Etting combined a lightness of touch with a heaviness of heart, half-chirping, half-crooning her way through morose, bluesy, romance tunes, along with simple, elegant accompaniment from the likes of pianist Rube Bloom, the Dorsey Brothers, Joe Venuti and Eddie Lang, and a host of other top-flight players. The snobbier end of the jazz intelligensia sometimes downplays Etting's skills as an interpretive vocalist, but I find her moving and effective, and on a tune like "If I Could Be With You (One Hour Tonight)," she proves herself quite an evocative and erotic singer, surprisingly so, given the era she was recording in. That song should be all it takes to get yourself onto her wavelength: after that, go on to listen to the rest of her catalog, and you'll find it rich and rewarding... I've been a fan of Etting's work for many, many years, having glommed onto the old Columbia LP that used to be the standard collection of her work... These two fine CDs gather all that material and then some... A real treasure trove for the retro-riffically minded among us... Highly recommended!
Ruth Etting "Love Me Or Leave Me" (Flapper, 1996)

---
More Swingin' Gals -- Letter "F"
---



---