<! MP3 03/31/10, 01/13/13 > <! pix 01/13/13 - a couple adds > <! icons 01/13/13 > <! update 03/31/10 01/13/13 - need Alberta Hunter adds - Ella page? - review stuff I own > <! Bertha Idaho - only on Rosetta comps (01/2013) > <! May Irwin/Clarice Vance "The High Priestess of Jollity & The Southern Singer" (Archeophone, 2011) B0057Y4SKM Here is the complete recorded output by two former legends of the stage, May Irwin and Clarice Vance. Each of these women was so fully booked in variety and legitimate shows that neither hardly ever had the time to make it to the studio to record. Thus, the few recordings they did wax were treated by the companies as celebrity "events," which the theater-going public would recognize as such. Recorded between 1905 and 1909, the selections on this CD are now very scarce, and putting them all in one place has taken hard work from the production team and our dedicated network of private and institutional collectors. >
---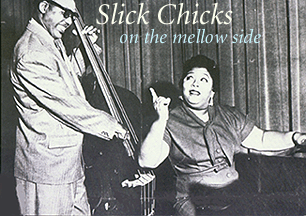 This is a look at some bluesy-jazzy wimmin singers and musicians who rock my world, musical foremothers whose voices echo as strongly today as they did decades ago. Crooners, shouters, songwriters and bandleaders, sirens and songbirds of years gone by... Let's get hep!
---
Sisters Who Swung!! A | B | C | D | E | F | G | H | I | J | K | L | M | N | O | P | Q | R | S | T | U | V | W | X, Y & Z | Compilations
Main Jazz Index | Hillbilly Fillies - Women In Country | Girl Groups & Teen Pop

---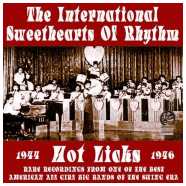 International Sweethearts Of Rhythm "Hot Licks: 1944-1946" (Sounds Of Yesteryear, 2006)


A popular "all girl" orchestra of the big band era, the Sweethearts made its mark not only from its hot swing style and considerable pool of talent, but also from its "international," multi-racial membership. Asian, white, latina and African-American musicians filled the lineup, which also boasted a powerful horn section. The band toured extensively during the 1940s and took part in "battle of the bands" shows, lined up against some of the top swing groups of the era. They broke up in 1946, and although very popular the Sweethearts only recorded four songs for commercial release: this album is made up of live recordings and radio airshots, complete with stage patter from the emcee. Also highly recommended is the earlier LP on Rosetta Records which brought the International Sweethearts back into the public eye.


<! The recordings are of mid 40s Jubilee Radio Show Broadcasts, and include introductions by Ernie "Bubbles" Whitman -- old stash LP - B0011X587A >

---
More Swingin' Gals -- Letter "J"
---



---