<! MP3 03/31/10, 01/12/13 > <! pix 01/15/13 - a bunch of adds > <! icons 01/30/11, 01/15/13 > <! UPDATES: 03/31/10 01/15/13 - posted new site - C: could do more artist searches - Rosemary Clooney, Lizbeth Cotten etc. > <! OTHERS: Faye Carol "The Dynamic Miss Faye Carol" (2002) B00006H328 Bay area jazz singer Faye Carol "Faye Sings Lady Day: Live At Yoshi's" (2008) MP3 only: B001JTU2D6 Alice Leslie Carter Katie Crippen Barbara Carroll - tons of other albums Dorothy Carless - British >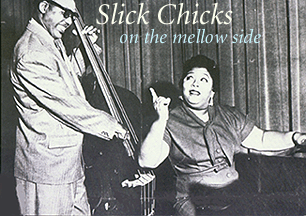 ---
Here's a quick look at some bluesy wimmin singers and musicians who rock my world. I'll try to keep these recommendations a little off the beaten track, just so the page will be a little more fun. But I'm sure I'll work in a gal or two whose name will ring a bell as well...
---
Sisters Who Swung!! A | B | C | D | E | F | G | H | I | J | K | L | M | N | O | P | Q | R | S | T | U | V | W | X, Y & Z | Compilations
Main Jazz Index | Hillbilly Fillies - Women In Country | Girl Groups & Teen Pop

---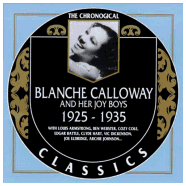 Blanche Calloway "The Chronological Blanche Calloway: 1945-1953" (Classics, 1994)



Cab Calloway's older sister, Blanche Calloway started her career in the early years of blues recordings... She was a good blues growler, but it must be admitted that she had serious limitations... When she wanted to swoop up into the falsetto range, or attempted glissandi, her shortcomings as a singer became all too clear. Also, she had some really bizarre pronunciation at times... Still, she recorded with plenty of major talent -- Louis Armstrong, Cozy Cole, Ben Webster and others -- and when she had hold of a good novelty song, she could be tons of fun. There are plenty of tracks on this disc that you don't need to listen to more than once, but a few that would be nice to keep in your early blues/jazz playlist for years to come. Generously programmed and definitely worth checking out, although maybe you don't need to knock yourself out to track this disc down.
Judy Canova "Ozark Nightingale" (Collector's Choice, 2004)


She wasn't really a country singer, but like many mainstream pop artists such as Dorothy Shay and Arthur Godfrey, Canova played on a broad "hillbilly" stereotype to deliver warped versions of popular songs of the day. These radio performances (from the 1940s perhaps?) capture Canova at her best: playful, corny yet canny, and a powerful performer. Included are several of her signature tunes, such as her rollicking versions of "Just Because" and "The Wabash Cannonball," and omits other songs that play more into the hick schtick... All in all, this is a pretty fun set, although it really should be classed more closely with pop vocals and show tunes than with legitimate country stuff. But does that really matter? Check it out for yourself, and find out.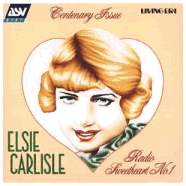 Elsie Carlisle "Radio Sweetheart #1" (ASV Living Era, 1999)


Manchester-born Elsie Carlisle sang with many of the top British dance bands of the 1930s and '40s, including Ambrose and his orchestra, Jack Hylton and Jack Harris. She was a frequent duet partner with Sam Browne and a popular performer on both radio and the cabaret stage. Her repertoire was broad, encompassing novelty numbers and romantic ballads, as well as a fair number of saucy old music-hall numbers and risque blues tunes, both styles toned down musically, but with eyebrow-raising naughtiness intact. This is a nice selection of her classic (mostly) pre-WWII work, recorded between 1926-1940 .
Elsie Carlisle "Volume One: My Canary Has Circles Under His Eyes" (Dutton-Vocalion)

Elsie Carlisle "Volume Two: I Poured My Heart Into A Song" (Dutton-Vocalion, 2005)

Elsie Carlisle "And The Band Played On" (Pegasus, 2002)

Una Mae Carlisle/John Kirby "The Complete..." (RCA-France, 1992)





<! full title: "The Complete Una Mae Carlisle (1940-1942)/John Kirby (1941-1942)" >

Una Mae Carlisle "The Chronological Una Mae Carlisle: 1938-1941" (Classics, 1994)

Una Mae Carlisle "1942-1944" (Harlequin, 1994)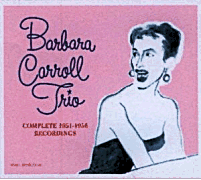 The Barbara Carroll Trio "Complete 1951-1956 Recordings" (Jazz Connections, 2007)


A 4-CD set covering the early work of pianist Barbara Carroll, who was involved in the 1940's bebop scene, and later became a fixture on the New York City cabaret scene. In between, she worked with country-pop musicians Kris Kristofferson and Rita Coolidge, before shifting decisively towards nightclub singing... This is a good look at her jazzier solo stuff from the 'Fifties.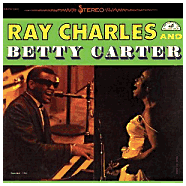 Betty Carter & Ray Charles "Ray Charles And Betty Carter" (ABC Paramount, 1961)


(Produced by Sid Feller; Arranged by Marty Paich)
Every Christmas, this one gets dusted off so we can play "Baby, It's Cold Outside," a duet version that's perhaps the definitive version of that sly Frank Loesser oldie. R&B swingster Ray Charles and jazz stylist Betty Carter hit a perfect groove together on this swank, mellow, playful set -- he gives her a pop smoothness, while she brings out a soft, subtle side to his work that makes this a truly intimate album. A few tunes have orchestrations that may be a bit much for non-jazz/non-pop vocals fans, but so much of this is so sublime that you just gotta give in. Also recommended are their versions of "Side By Side," "Takes Two To Tango" and "People Will Say We're In Love." Sweet stuff!


<! Betty Carter: Betty Carter & Ray Bryant "Meet Betty Carter And Ray Bryant" (Columbia, 1955) B000002ADV B0013AYWYQ Betty Carter "Social Call" (Columbia, 1955) B000002Z5I Betty Carter "Out There" (Peacock, 1958) B006YTLOT2 Betty Carter "The Modern Sound Of Betty Carter" (ABC Paramount, 1960) B006YTLOT2 Betty Carter "Ray Charles And Betty Carter" (ABC Paramount, 1961) Betty Carter "Round Midnight" (Atco, 1963) B000002IHK Betty Carter "Inside Betty Carter" (United Artists/Capitol, 1964) B000005HEI B000T02MRK Betty Carter "Finally, Betty Carter" (Roulette, 1975) (live) (1965-????) B000005HGC Betty Carter "Round Midnight" (Roulette, 1975) (live) (1965-????) Betty Carter "Now It's My Turn" (Roulette, 1976) (1966-????) Betty Carter "At The Village Vanguard" (Verve/Bet-Car, 1970) (original title Betty Carter) (live) Betty Carter "The Betty Carter Album" (Verve/Bet-Car, 1976) B00000477Q Betty Carter "The Audience With Betty Carter" (Verve/Bet-Car, 1979) B00000477S B000WTA66W (live) Betty Carter "Whatever Happened To Love?" (Verve/Bet-Car, 1982) (live) Betty Carter & Carmen McRae "The Carmen McRae/Betty Carter Duets" (Verve/Bet-Car, 1987) (live, with Carmen McRae) Betty Carter "Look What I Got!" (Verve/Bet-Car, 1988) Ð Grammy Award for Best Jazz Vocal Performance, Female Betty Carter "Droppin' Things" (Verve/Bet-Car, 1990) (live) Ð nominated for the Grammy Award for Best Jazz Vocal Performance, Female Betty Carter "It's Not About The Melody" (Verve/Bet-Car, 1992) Ð nominated for the Grammy Award for Best Jazz Vocal Performance, Female Betty Carter "Feed The Fire" (Verve/Bet-Car, 1993) (live) Betty Carter "I'm Yours, You're Mine" (Verve/Bet-Car, 1996) Compilations Betty Carter "Compact Jazz" (Polygram, 1990) Ð Bet-Car and Verve recordings from 1976 to 1987 Betty Carter "I Can't Help It" (Impulse!/GRP, 1992) the Out There and Modern Sound albums on one compact disc B000003N6D B0090OSGL2 Betty Carter "Priceless Jazz" (Verve, 1999) Ð ABC-Paramount and Peacock Recordings from 1958 and 1960 Betty Carter "Betty Carter's Finest Hour" (Verve, 2003) B00008RV03 B000W07DMG recordings from 1958 to 1992 >
Mickey Champion "Bam-A-Lam -- The R&B Recordings: 1950-1962" (Ace, 2008)


A Louisiana native who made the Los Angeles R&B scene in the early 1940s, Mickey Champion had about as dramatic a career as anyone could imagine. A deep-voiced shouter who was equally comfortable with wild jump blues or grinding, Dinah Washington-style ballads, Champion exemplified the explosive power of the West Coast blues style. She got an early break in 1950, when bandleader Johnny Otis drafted her as a "double" for the fiery Little Esther Phillips, who -- fourteen years old, and addicted to drugs -- was unable to tour with the Otis band. Champion cut her teeth pretending to be Phillips, but soon emerged as a solo recording artist, fronting bands that included top players such as Red Callendar, Chico Hamilton, Ben Webster, Jimmy Witherspoon, and most notably Roy Milton, who she married in the mid-'50s. This collection covers over a decade of her early career -- not all of the performances are top-flight; at time the workmanlike bands sound weary or indifferent, though on other songs they're on fire, and Champion is too. But there's definitely a spark in all of it, a roughness and vibrancy that captures a bygone era of one of the hottest blues and jazz scenes of the postwar era. Champion might not have been the top gal singer of the time, but she's definitely worth checking out, and this is her prime material. Give it a spin!


<! Mickey Champion - also some later recordings on CD >

Savannah Churchill "Time Out For Tears" (Jukebox Lil)





<! big-band songbird - not the best voice, really >

Savannah Churchill "The Queen Of R&B" (Dipper, 2001)





<! Italian boot covering 1946-56 >

Savannah Churchill "I Want To Be Loved" (Acrobat, 2006)

Savannah Churchill "Portrait" (2009)





<! JUDY CLAY Judy Clay/Marie Knight "Bluesoul Belles, v.4: The Scepter And Musicor Recordings" (Westside, 2001) B00005O063 >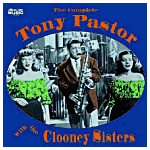 The Clooney Sisters & Tony Pastor "The Complete" (Collector's Choice, 2000)


Saxophonist Tony Pastor was an alumnus and former star performer of Artie Shaw's swing orchestra... During one of Shaw's periodic creative regroupings, Pastor hit out on his own, and scored a major coup in 1946 by signing up the Clooney Sisters -- Rosemary and Betty -- as featured vocalists in his already-thriving big band. Somewhat unfairly, Pastor is mainly remembered as a footnote in the early career of George Clooney's older auntie, but he was a compelling performer in his own right. This CD concentrates on his more comedic side -- with plenty of bouncy Louis Prima-flavored novelty tunes (for his more serious ballads and instrumental numbers, you'll have to look for the radio transcription discs reissued several years ago on the Circle label...) Inevitably, Rosemary Clooney became the real star of the show, although this collection is particularly cool for bringing sister Betty back into the limelight. (And whatever happened to Betty, you might ask? Well, apparently in the '50s she pulled a Lucy and married latin dance bandleader Pupi Campo, then dropped out of the public eye...) For some perky, fun old big band pop, this just can't be beat.


<! 109 x 108 > <! 150 GIF colors wrong? >

Rosemary Clooney "Jazz Singer" (Columbia Legacy, 2003)



A fine, generously programmed selection of Rosemary C's early jazz-oriented recordings made for the Columbia label between 1951-57, following her exit from her partnership with her sister Betty and bandleader Tony Pastor. Of course, at the time she was famous for her big novelty hits such as 1951's "Come On-A My House," which were masterminded by pop arranger Mitch Miller... As mentioned in this collection's liner notes, Clooney hated recording that material, and after she established herself as a major star, she broke away from Miller, and lined up work with weightier talents such as Duke Ellington, Benny Goodman, Billy Strayhorn, and Gene Puerling of the Hi-Lo's. It all sounds pretty nice to me! This is a great introduction to her work as a serious ballad singer and song stylist... recommended listening!
Ann Cole "In The Chapel" (Blue City)





<! 30 tracks She then released (again as Ann Cole with The Suburbans) the first cut of a song composed by Preston Foster that would lead to a legal dispute, I've Got My Mojo Working (But It Just Won't Work On You) on Baton 237 b/w I've Got A Little Boy. That same week early in 1957 the great Muddy Waters released his own version, with slightly different lyrics, for Chess, and would later claim to have written Mojo. As it turns out, however, Ann had been using it in her live appearances while touring with Muddy and his band and Waters subsequently took credit. A court ruling would later decree that Foster was the legitimate author, a significant decision because the song would go on to be recorded by a multitude of artists across the entire spectrum of popular music (to name just a few - Louis Jordan, Conway Twitty, Manfred Mann, The Zombies, Carla Thomas, Canned Heat, Elvis Presley, B. B. King, Buddy Guy, Otis Rush). Ironically, the only hit version was by Jimmy Smith, who reached # 17 R&B/# 51 Pop in the spring of 1956 for the Verve label. Even so, the song would become # 359 in Rolling Stone's controversial list of the 500 Best Songs Of All Time, and in 2000 would be inducted into the Grammy Hall of Fame. >

Ann Cole "The Very Best Of..." (Master Classics, 2010)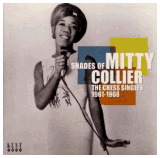 Mitty Collier "Shades Of Mitty Collier: The Chess Singles 1961-1968" (Ace-Kent, 2008)


A sizzling set of killer R&B from an Alabama soul sister who ripped up the microphone on a series of singles throughout the 'Sixties. Collier was never hugely successful, but these funky tracks are packed with power -- Collier's throaty voice and raunchy intonation seethe with erotic power, with the sleek, bluesy backing is '60s Southern soul at its best. This generously-programmed album gathers all the A-sides of her 1961-68 singles on the fabled Chess label, along with nine more B-sides or equal calibre... All in all, music with a real wallop, and almost all of her Chess output... In 1971, Collier's career was sidelined when she developed vocal polyps; eventually she became a gospel singer, a move foreshadowed here by a number of songs that were secular adaptations of gospel material originally by James Cleveland and others. If you're into power-packed classic '60s R&B, this one ought to really wow you.
Mitty Collier "The Chess Singles" (Geffen, 2008)


This appears to be the same 24-track collection of Collier's work on Chess, reissued for a domestic, digital audience...


<! DOLLY COOPER - possibly the same person as Thelma? LP only available as of 04/10. >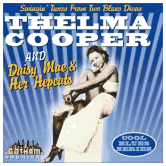 Thelma Cooper/Daisy Mae & Her Hepcats "Swingin' Tunes From Two Blues Divas" (Collectables, 1990)



It has to be admitted, reluctantly, that despite her super-foxy publicity photos, East Coast R&B singer Dolly Cooper wasn't really "all that": Cooper sings on the first six tracks of this split-album set, and her material is cheerful but subpar, with fairly indifferent backing by the band credited as "her boys." She's okay on uptempo tunes, less so on slower numbers -- her best tunes are probably "Talk To Me Daddy" (collected elsewhere on a comp or two...) and "I Need A Man," as well as the overly-obvious sexual innuendo tune, "Ooh Daddy." Like Cooper, her labelmate Daisy Mae remains a historical mystery, with a handful of tunes to her name (well, eight are collected here) all recorded for the independent Gotham blues label. Although she hardly had what can be called a "great" voice, Daisy Mae really threw herself into her work, and her tracks crackle with vitality and good cheer... A lot of the energy comes from the band, which has a big, chunky, electrifying sound (once again, the musicians are unidentified, although the liner notes include a lot of well-informed speculation...) Daisy Mae, whoever she was, keeps up and gives as good as the guys, and several tracks stand out as above-par for mid-'50s R&B. I'm particularly fond of the raucous, irresistible "That's The Stuff You Gotta Watch," a women-be-wise/this-gal-don't-take-no-crap novelty song I used to play on the radio a lot, back in the goodle days. Maybe not the best blues material ever, but certainly worth a spin.


<! originally 1981? >
Martha Copeland "Complete Recorded Works, v.1: 1923-1927" (Document, 1995)


Martha Copeland "Complete Recorded Works, v.2: 1927-1928" (Document, 1995)



This disc is split with lesser-known blues singer Irene Scruggs, whose work fills out the last dozen or so tracks...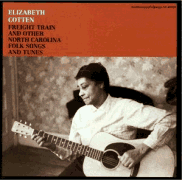 Elizabeth Cotten "Freight Train..." (Smithsonian Folkways)



One of the sweetest, most lulling old-timey country blues performers ever. Elizabeth Cotten was a self-taught guitarist who wrote several songs which became standards in the jug ban/folk music revival of the late 1950s and '60s, including "Freight Train" and "Oh, Babe It Ain't No Lie." These Smithsonian recordings are the foundation of her legacy, and are, quite simply, pure gold. (Note: Arhoolie Records have recently reissued some of Cotten's live recordings, which are also wonderful.

Elizabeth Cotten "Live" (Arhoolie, 1984)



Equally charming are these concert recordings taken from various live performances in the early 1980s, a few years before Cotten passed away in 1987. The warmth with which her audiences greeted her, and the good humor she projected come through loud and clear, although she herself is almost quiet as a mouse. Some of the most enchanting acoustic music you're ever likely to hear.


<! IDA COX - many others >

Ida Cox "Complete Recorded Works, v.1: 1923" (Document, 2001)


Ida Cox "Complete Recorded Works, v.2: 1924-1925" (Document, 1995)


Ida Cox "Complete Recorded Works, v.3: 1925-1927" (Document, 1995)


Ida Cox "Complete Recorded Works, v.4: 1927-1938" (Document, 1995)


Ida Cox "Complete Recorded Works, v.5: 1939-1940" (Document, 2000)





<! lots of multiple takes - eleven songs spread out between twenty tracks... >

Ida Cox "Blues For Rampart Street" (OJC/Riverside, 1961)



With the Coleman Hawkins Quintet...
Ida Cox "The Essential Ida Cox" (Classic Blues, 2001)


A 2-CD set...
Joan Crane "Dirt Pushers Blues" (Philo/Fretless, 1976) (LP)


Gritty, rootsy acoustic guitar music, mixing Delta and Appalachian old-time influences. Folks who like pickers such as Jo Ann Kelly, Bob Brozman and Duck Baker might like this, too.


<! also B005PAI2IC >

Joan Crane "Foothills" (1995)


(Produced by Jeff Townsend)

Joan Crane & Friends "Back Home" (2002)
Live performances, mstly of the same songs as on the Foothills album...
---
More Swingin' Gals -- Letter "D"
---



---