<! cd = 01/15/13 > <! MP3 01/15/13 > <! pix 01/15/13 > <! icons 01/15/13 > <! outside: 00/00/00 > <! UPDATES: 01/15/13 - posted new, expanded section, with artist adds and updates, new ASINs, etc > <! OTHERS: Little Esther Anne Lenner - British http://thatera.com/makers/l/anne-lenner.html Vera Lynn - British Lambert, Hendricks & Ross - Annie Ross on her own page to cover both L & R? http://en.wikipedia.org/wiki/Lambert,_Hendricks_%26_Ross Lambert, Hendricks & Ross "Sing A Song Of Basie" (Paramount, 1957) Lambert, Hendricks & Ross "Sing Along With Basie" (1958) Paramount? Lambert, Hendricks & Ross "The Swingers!" (1958) Lambert, Hendricks & Ross "Lambert, Hendricks, & Ross!" (aka "The Hottest New Group In Jazz") (1960) Lambert, Hendricks & Ross "...Sing Ellington" (Columbia, 1960) Lambert, Hendricks & Ross "The Real Ambassadors" (1962) Lambert, Hendricks & Ross "High Flying With Lambert, Hendricks & Ross" (aka The Way-Out Voices of Lambert, Hendricks and Ross) (1962) >
---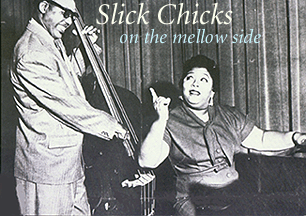 This is a look at some bluesy-jazzy wimmin singers and musicians who rock my world, musical foremothers whose voices echo as strongly today as they did decades ago. Crooners, shouters, songwriters and bandleaders, sirens and songbirds of years gone by... Let's get hep!
---
Sisters Who Swung!! A | B | C | D | E | F | G | H | I | J | K | L | M | N | O | P | Q | R | S | T | U | V | W | X, Y & Z | Compilations
Main Jazz Index | Hillbilly Fillies - Women In Country | Girl Groups & Teen Pop

---

Peg LaCentra "The Complete Recordings: 1934-1937" (Baldwin Street, 2002)


A generous 2-CD set gathering all the studio sides of one of Artie Shaw's main vocalists of the early swing era. As acknowledged in the liner notes, Ms. LaCentra evokes strong reactions and sharp differences of opinion among big band fans -- I have to say, despite the presence of Shaw's super-capable orchestra, I have to place myself among her detractors... LaCentra was a brittle and mediocre singer, similar to Ethel Waters in that she mixed a bluesy inclination with somewhat stilted artsiness; Waters could pull it off, but LaCentra just sounds so-so. That being said, this collection is a welcome addition to the pool of big band reissues... It's an authoritative look at both a lesser player (LaCentra) and some neglected work by a towering talent (Shaw). I'd say it's worth checking out at least once; I didn't keep my copy, but I'm glad I gave it a shot.
Annie Laurie/Various Artists "Regal Records In New Orleans" (Specialty, 1991)


Vintage, old-school New Orleans R&B from Dave Bartholemew's stable of regulars, including composer-producer Dave Bartholemew, Paul Gayten, Roy Brown and the spunky singer Annie Laurie. She isn't on every track (in fact, this is really more of a compilation collection, with Laurie featured on a handful of tracks...) but the gal is certainly worth knowing about if you want to check out soul sisters of years gone by...


<! This is a great compilation of releases(and some unreleased tunes) by Paul Gayten and Annie Laurie. A nice combination of up tempo rocking tunes and blues ballads. Some of the songs even feature the Basie tenor player Buddy Tate who takes a few very tasty solos. A special bonus is a couple of tunes by the legendary Roy Brown(good rockin' tonight) that were previously unreleased. >
Annie Laurie "Rhythm & Blues Greats: 1951-1959" (Master Classics, 2012)






<! Official LP B00164JSN4 >

Bonnie Lee "Sweetheart Of The Blues" (Delmark, 1995)

Bonnie Lee "I'm Good" (Wolf, 1998)


Julia Lee "Kansas City Calling" (Jasmine, 2005)


Pianist Julia Lee was the queen of the Kansas City swing-blues scene, leading a powerful big band packed with some of the best KC musicians of the post-WWII era. She specialized in raunchy, even scandalous novelty songs in which sexual matters were dealt with in honest appraisal. This is a generously-programmed single disc retrospective, with nearly two dozen tracks culled from Lee's career... Plenty of her well-known raunchy novelty songs are included -- "My Man Stands Out," "King Size Papa," "Snatch It And Grab It," "Chuck It In A Bucket," "I Didn't Like It The First Time," etc. and a couple of less-salacious numbers added in the margins. Odd that they included "Don't Save It Too Late," but didn't pair it with the companion number, "Don't Come Too Soon." Still, a pretty good introduction to her work... If nasty novelty blues tunes appeal to you, you'll definitely want to check Ms. Lee out.

Julia Lee "Kansas City Star" (Bear Family, 1995)


This extensive, 5-CD box set offers a fuller version of Lee's work than the standard compilations of her risque novelty hits... Which isn't to say there isn't plenty of smut on here as well, but you also get a chance to hear her cut loose with the groovy blues riffs without the potential distraction of the novelty tropes... Pretty cool stuff!
Julia Lee "Ugly Papa" (Jukebox Lil, 1995)



Julia Lee "The Chronological Julia Lee: 1927-1946" (Classics, 2005)


Julia Lee "The Chronological Julia Lee: 1947" (Classics, 2005)

Virginia Liston "Volume One: 1923-24" (Document, 1996)


Virginia Liston/Lavinia Turner "Volume Two: 1924-26" (Document, 1996)



A split album, with thirteen tracks by Liston and ten more from Turner...

Little Ann & Tarheel Slim "The Red Robin & Fire Years" (Collectables, 1990)


Singer-guitarist Alden Bunn (aka) Tarheel Slim and his wife and singing partner Little Annie (Anna Lee Sanford) were cut from much the same mould as Ike and Tina Turner -- a blazing guitarist and powerful singer, A veteran of '50s R&B and group vocals, Bunn was clearly the driving force behind the duo, while Little Ann often rose to the fore in their duets with her piercing, slightly eerie voice. Slim's powerful voice is remarkable as well, and after a while you may wish they'd recorded more solo tunes -- although they both sound great, their duets don't always mesh as well as you'd want. The best tracks on this collection are electrifying, although there is a great deal of variability from track to track. For one thing, they seem to have chased several popular styles -- there's an "Unchained Melody" soundalike, a few Dinah Washington-style ballads - and these attempts to fit the sound a la mode don't always work as well as the spine-tingling blues that was really the pair's forte. But that blues stuff is pretty awesome: if you like sizzling old-school electric blues, you'll want to check this one out!
Little Esther "Memory Lane: The Best Songs Little Esther Ever Recorded" (King, 1959)


Little Esther "The Early Hits: 1949-54" (JSP, 2010)

Little Esther "I Paid My Dues" (Proper, 2006)

Little Esther "Better Beware" (See For Miles, 1999)





<! 20 Great Tracks from the Original Early 50's Federal Recordings >
Little Esther "The Best Of Esther Phillips: 1962-1970" (Rhino, 1997)

Little Esther "The Chronological Little Esther: 1952-1953" (Classics, 2005)





<! LITTLE ESTHER: a bazillion later pop-vocals albums also on CD >
Little Miss Cornshucks "The Chronological Little Miss Cornshucks: 1947-1951" (Classics, 2003)


Nellie Lutcher "The Best Of..." (Capitol, 1995)



A Louisiana native who made it big as a swinging hep chick in postwar Hollywood, Nellie Lutcher was a fine piano player and a slick singer, albeit with a chirpy voice. Not as birdlike or novelty-oriented as, say Rose Murphy, but kind of in the same range, Lutcher is best known for her bouncy jazz jive numbers, although for my money she was most moving on slower ballads. Her first hit was with an cover of the old Isham Jones tune, "The One I Love Belongs To Somebody Else," which again seems a little rushed. Still, this twenty track best-of has plenty of variety, balancing soulful material with slick uptempo tunes. Fans of Nat King Cole oughtta check this gal out.
Nellie Lutcher "...And Her Rhythm" (Box Set) (Bear Family, 1996)


A 4-CD box set... yummy!!
Nellie Lutcher "Real Gone!/Our New Nellie" (Collectables, 2000)


A more-or-less straight-up reissue of two albums, Real Gone! (on Capitol) and Our New Nellie...


<! on Vik? >

Nellie Lutcher "Hurry On Down" (ASV-Living Era, 1995)

Nellie Lutcher "Real Gone Gal" (EMI-Statewide, 2001)

---
More Swingin' Gals -- Letter "M"
---



---