<! MP3 09/25/08 > <! update 09/25/08 > <! pix > <! icons 02/02/11 > <! Les Plus Belles Chansons Volume 1 - 1890 - 1905 [1 CD Variété franćaise - Marianne Melodie] V. Marcoux : Le Temps des cerises - C. Paccou : Fanfan la tulipe - R.Couzinou : Le Clairon - M. Malloire : En revenant de la revue - A. Bruant : Nini peau de chien - Bach : La CaissiŹre du grand café - Y. Guilbert : Le Fiacre - A. Bruant : Le Chat noir - Y. Guilbert : Madame Arthur - T. Botrel : La Paimpolaise - J. Dyt : Fascination - F. Mayol : Viens Poupoule - E.Lekain : Le Petit CŌur de Ninon - G. Elval : Le Rźve passe - P. Darty : Amoureuse MM1298 - Paru le 30/11/2006 Indisponible ce jour : Ajouter aux alertes 10,49 Ř Les Plus Belles Chansons Volume 2 - 1905 - 1920 [1 CD Variété franćaise - Marianne Melodie] Fragson : L'Amour boiteux - Urban : Ah Mlle Rose - Fragson : Je connais une blonde - Fragson : Si tu veux Marguerite - Polin : Ah je t'attends - Dranem : Tu sens la menthe - Georgel : Le Tango de Manon - Aristide Bruant : Belleville Ménilmontant - Aristide Bruant : ň la Bastille - Bach : Quand Madelon - Nine Pinson : Le Cri du Poilu - Georgel : Sous les ponts de Paris... MM1299 - Paru le 30/11/2006 Ce produit n'est disponible qu'en téléchargement. Cliquez ici. Les Plus Belles Chansons Volume 3 - 1920 - 1925 [1 CD Variété franćaise - Marianne Melodie] Georgel : C'est une gamine charmante (Phi Phi) - Dréan : Cach'ton piano - Raquel Meller : La Violetera - Fred Gouin : Les Millions d'Arlequin - Berthe Sylva : Du gris - Félix Mayol : Les mains de femmes - Esther Lekain : Tout ća n'vaut pas l'amour - M. Chevalier et Urban : Dans la vie faut pas s'en faire - Berthe Sylva : Arrźtez les aiguilles... MM1300 - Paru le 30/11/2006 Ce produit n'est disponible qu'en téléchargement. Cliquez ici. Les Plus Belles Chansons Volume 4 - 1925 - 1930 [1 CD Variété franćaise - Marianne Melodie] H. Garat/L. Harvey : Tout est permis quand on rźve - Dréan : Elle s'était fait couper les cheveux - Marie Dubas : La Charlotte - M. Chevalier : Dites-moi ma mŹre - Milton : La Fille du bédouin - B. Sylva : les roses blanches - Maurice Chevalier : Valentine - Ramona :Saint-Granier - Ca, c'est Paris : Mistinguett - Jean Sablon : Ce n'est que votre main, Madame... MM1301 - Paru le 30/11/2006 Indisponible ce jour : Ajouter aux alertes 10,49 Ř Les Plus Belles Chansons Volume 5 - 1930 - 1935 [1 CD Variété franćaise - Marianne Melodie] Georgius : On l'appelait Fleur de Fortifs - F. Gouin : Bonsoir Madame la lune - L. Boyer : Parlez moi d'amour - Pills et Tabet : Couchés dans le foin - J. Baker : J'ai deux amours - Jean LumiŹre : Fermons les rideaux - A. Baugé : La ronde des heures - Tino Rossi : O Corse Ile d'Amour - Lys Gauty : ň Paris dans chaque faubourg - Alibert : Adieu Venise Provenćale - Mistinguett : C'est vrai - Simone Simon - M. Tabet : Toi c'est moi - Lyne Clevers : Mandarines - Damia : En maison... MM1302 - Paru le 30/11/2006 Ce produit n'est disponible qu'en téléchargement. Cliquez ici. Les Plus Belles Chansons Volume 6 - 1935 - 1940 [1 CD Variété franćaise - Marianne Melodie] F. Adisson et son orchestre : Avec les pompiers - Reda Caire : Les Beaux Dimanches de printemps - Lucienne Boyer : Viens donc chez moi - T. Rossi : Marinella -Guy Berry : La Révolte des joujoux - Rina Ketty : J'attendrai - Reda Caire : Si tu reviens - Fréhel : Tel qu'il est - M. Chevalier : Y'a de la joie - E. Piaf : Mon légionnaire - Tino Rossi : Tant qu'il y aura des étoiles... MM1303 - Paru le 30/11/2006 Ce produit n'est disponible qu'en téléchargement. Cliquez ici. Les Plus Belles Chansons Volume 7 - 1940 - 1944 [1 CD Variété franćaise - Marianne Melodie] J. Sablon : Je tire ma révérence - L. Marjane : Attends-moi mon amour - Léo Marjane : Seule ce soir - D. Reinhardt et son quintette : Swing 41 - M. Bizet : L'Hôtel des trois canards - C. Trénet : Verlaine - T. Rossi : Maria - Danielle Darrieux : Premier rendez-vous - M. Chevalier : āa sent si bon la France - Suzy Solidor : Lily MarlŹne - Charles Trenet : Mam'zelle Clio... >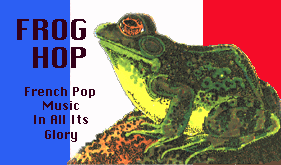 ---
CHANSON et MUSETTE
---

<! Vedettes chanson franćaise (series - 78s by label) (MM) La Chine en Chansons" (MM) B001ANZR5O B0026D0ZXG Le Sport en Chansons [1 CD Variété franćaise - Marianne Melodie] > <! VA "LES PLUS BELLES VALSES MUSETTE" (Fremeaux) >

"Chanson" music, or French popular romantic vocals, is a tradtion spanning back to the music hall days, a cohort of musette music, the accordion-dominated music of the Depression-era bal musette dance halls, where vice and romance mixed amid the dimmed lights and humid halls. Here's a quick look at some of the best chanson and musette collections I've heard. Albums focussing on individual artists are reviewed on a separate page.



---
Recommended Records: A | B | C | D | E | F | G | H | I | J | K | L | M | N | O | P | Q | R | S | T | U | V | W, X, Y & Z | Compilations | French Rock & Pop
---
Various Artists "36 SUCCES DE L'ACCORDEON MUSETTE" (Fremeaux & Associes, 1996)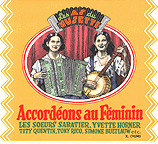 Various Artists "ACCORDEONS AU FEMININ" (Paris Jazz Corner, 2000)


The handsome R. Crumb cover is sure to get the attention of more than a few non-musette fans; the music inside may make some new converts. A fascinating collection of rare 1930s recordings by female musette players, most of whom are rather obscure, even to fans of the genre. For rarities, this material is of high calibre -- the tempo is generally hot -- breakneck, even -- on most of these songs. The collection runs the risk (as do many of the musette records) of sounding monotonous if listened to from start to finish, but taken in moderate doses, has several real gems to offer. A great document of several under-recognized pioneers of French popular music, including artists such as Simone Bultiauw, Paula Chabran, Yvette Horner, Tity Quentin and Tony Rico. Recommended!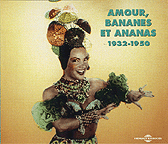 Various Artists "AMOUR, BANANES ET ANANAS: 1932-1950" (Fremeaux & Associes, 2003)


The French fascination with "exotic" performers -- music from Africa, the Orient and the Americas -- was greatly enhanced by the wild night life in Paris, where thousands of expatriate musicmakers came to live and work in the 1910s, '20s and '30s. Along with the American jazz bands, Cuban, African and Brazilian artists came by the truckload, and while many found steady work in the French music halls and hotels, plenty of French musicians took up their styles as well. This 2-CD set collects several dozen classic tracks from the French side of the equation... I have to confess, however, I was disappointed by this collection. I saw the cover art, then snapped it up when I figured out that it wasn't actually a Carmen Miranda record, but it turned out not to be the sweeping set of ebullient Latin-French kitcsch I was hoping for. Although a few big artists such as Fernandel and Henry Salvador are included, this collection concentrates on less well-known figures such as Lyne Clevers and Lily Fayol, who specialized in Latin American and other "ethnic" styles. Also included are Fred Adilson, Simone Alma, Andrex, Bourvil, Suzy Delair, Jacques Helian, Rose Maria, Raymond Legrand and bandleader Ray Ventura... Several important singers, such as Mistinguett and Jean Sablon, who also recorded Latin-style songs are omitted, and the pacing of the collection becomes monotonous with too many songs in a row by certain artists who don't change the tenor of their performances much from track to track. The material is great, but the pacing could have been better, and a wider range of voices could have made this a much funner collection. I expected to treasure these discs, instead, I took them back to the Record Hut, and looked for something new to warm my twilight years. It was worth checking out, but wasn't a keeper.
Various Artists "AU BAL DES CHANSONS ETERNELLES" (Marianne Melodie, 2009)


A generously-programmed 5-CD set of songs made famous in the bal musette dancehalls, including a hefty dose of Latin-themed tunes -- tangos, boleros, pasos, etc. Many of these recordings are of a later, 1950s vintage, and not from the 1920s/'30s heyday of the bal musette... But they are all still richly nostalgic and redolent of a sentimental and corny vibe that can be quite fun. With material like Jacques Helian's version of "Hernando's Hideaway" ("Amour, Castagnettes et tango") this certainly has some gems to offer... Perhaps more kitschy and less sincere than some might like, but still pretty fun.
Various Artists "LES CHANSONS DE CETTE ANNEE: 1929" (Forlane, 1995)


Oh. My. Goodness. A fabulous series of the biggest hit songs in French popular music, year by year, starting in the 1920s. Oh, how I wish I had them all!
Various Artists "LES CHANSONS DE CETTE ANNEE: 1930" (Forlane, 1995)

Various Artists "LES CHANSONS DE CETTE ANNEE: 1931" (Forlane, 1995)

Various Artists "LES CHANSONS DE CETTE ANNEE: 1932" (Forlane, 1995)

Various Artists "LES CHANSONS DE CETTE ANNEE: 1933" (Forlane, 1995)

Various Artists "LES CHANSONS DE CETTE ANNEE: 1934" (Forlane, 1995)

Various Artists "LES CHANSONS DE CETTE ANNEE: 1935" (Forlane, 1995)

Various Artists "LES CHANSONS DE CETTE ANNEE: 1936" (Forlane, 1995)

Various Artists "LES CHANSONS DE CETTE ANNEE: 1937" (Forlane, 1995)

Various Artists "LES CHANSONS DE CETTE ANNEE: 1938" (Forlane, 1995)

Various Artists "LES CHANSONS DE CETTE ANNEE: 1939" (Forlane, 1995)

Various Artists "LES CHANSONS DE CETTE ANNEE: 1940" (Forlane, 1995)

Various Artists "LES CHANSONS DE CETTE ANNEE: 1941" (Forlane, 1996)

Various Artists "LES CHANSONS DE CETTE ANNEE: 1942" (Forlane, 1996)

Various Artists "LES CHANSONS DE CETTE ANNEE: 1943" (Forlane, 1996)

Various Artists "LES CHANSONS DE CETTE ANNEE: 1944" (Forlane, 1995)

Various Artists "LES CHANSONS DE CETTE ANNEE: 1945" (Forlane, 1995)

Various Artists "LES CHANSONS DE CETTE ANNEE: 1948" (Forlane, 1999)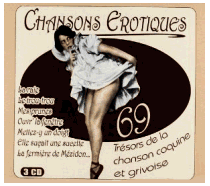 Various Artists "CHANSONS EROTIQUES" (Marianne Melodie, 2006)



An impressive archival set of risque, sexually suggestive songs from the glory days of French chanson, featuring naughty numbers from several cabaret stars, mainly less well-known artists who specialized in this sort of material. There's also a large batch of songs by the film star Fernandel (who, I'm guessing, may have released an entire album's worth of smutty songs at one point?) although mostly these are more obscure artists, such as Lyjo, Paul Lack, Sandrey, Dranen and others... This 3-CD set has sixty-nine songs (get it? sixty-nine?) all with the vintage 1930s/'40s sound of classic French chanson... Admittedly, a little bit goes a long way, and perhaps this big set of novelty songs will wear thin after a while... Or maybe not. But if you're in the market for a little old-fashioned Frenchie-style ooh-la-la, this compilation might be sort of a wet dream.
Various Artists "COLONIES" (Chansons Actualites, 1995)


One of a series of odd, fascinating collections which combine classic songs with archival "actualities" (sound bites) that illumiante a given theme. In this case, the theme was the French colonial empire, which spanned over much of the African coast, and well into the Arabic world. Some of the songs are historical in nature, though most are ethnic-themed novelty tunes, generally with bouncy little melodies that mask the insidiousness of the power relationships between the colonizers and the colonized. Be that as it may, this is a marvellous collection, both in terms of entertainment value -- many of France's greatest stars as well as many more obscure entertainers -- and as an historical archive. Worth tracking down!
Various Artists "FRENCH BALL ROOM" (EPM, 1995)


Some lovely examples of old, classic musette, accordion-led dance music from the French bars and "ball rooms" of the early 20th Century. This collection features four artists -- Fredo Gardoni, Emile Prudhomme, Leon Raiter and Jean Vaissade -- each of whose recordings have a delightfully nostalgic feel. This is an album that sings to us from another time and place, a lost era that still echoes out there in the ether... If you like antique-sounding music, but music that still swings, then this is a disc you'll want to check out.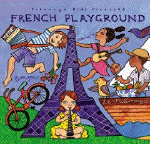 Various Artists "PUTUMAYO PRESENTS: FRENCH PLAYGROUND" (Putumayo, 2005)


Tres super-cool! This is a really sweet set of music which, apparently, is children's music from France and various French-language outposts, such as Haiti and Quebec. For kid's music, the arrangements sound pretty darn "adult," but I ain't complaining. Sounds nice, is what it sounds, and well worth checking out. Plus there's not a single artist on here that I'd ever heard of, but also not a single track I disliked, so that's a pretty good formula, as far as I'm concerned. It's a keeper!
---




Various Artists "LES ACCORDEONS DE FRANCE" (Arkadia, 1999)


Various Artists "LES CHANSONS SOUS L'OCCUPATION" (Arkadia, 1999)


Various Artists "LES GRANDES CHANSONS FRANCAISES" (Arkadia, 1999)


Various Artists "PARIS EN CHANSONS" (Arkadia, 1999)


The NYC-based Arkadia jazz label has taken an interesting turn in issuing these excellent collections of classic pre- and post-war French chanson recordings. Each volume is of exceptionally high calibre -- and compared to the standard European imports, these are quite affordable and accessible to all us folks stateside. The ACCORDEON collection has some dazzling displays of musicianship -- it might be hard to listen to all at once, but if you're a fan of the style, this set includes many of the best known French accordionists of the 1930s such as Gus Viseur and Tony Murena, and holds its own next to similar collections from France. All the other albums are top-notch as well; the CHANSONS SOUS L'OCCUPATION disc is notable for the military strain that runs through these wartime recordings. Also, it includes the famous anthem, "Lili Marlene", which still conveys the passion of the times, even after all these decades. This is an outstanding series -- also worth checking into are the label's profiles of individual artists, such as Josephine Baker, Edith Piaf and Charles Trenet... with even more on the way sometime soon.
---
Various Artists "LES GRANDES DAMES DE L'OPERETTE" (EPM, 1998)


The light opera of the French music halls is highlighted on this collection of female artists, including greats such as Yvonne Printemps, and less well-remembered songbirds such as Mireille Berthon, Lemichel Du Roy, Edmee Favart, Loulou Hegoburu, Jane Marnac, Sim Viva and others... Honestly, the prissified trilling and exaggerated vocal swoops might be a bit much for most listeners, even fans of old-fashioned chanson from the 1920s and '30s. Still, as a document of a long-forgotten and somewhat arcane musical style, this is an excellent album. If you do like French operette, this is probably a must-have collection.
Various Artists "LES GRANDES DAMES DU MUSIC-HALL, v.1" (EPM, 1999)

Various Artists "LES GRANDES DAMES DU MUSIC-HALL, v.2" (EPM, 1999)


An excellent set of vintage recordings of some of France's finest female singers of the postwar era, including Nita Berger, Marie Bizet, Suzy Delair, Lily Fayol, Yvette Giraud, Annette Lajon, Renee Lebas, Line Renaud and even a tune or two from Jacqueline Francois... These 1940s singers are less well-known than Piaf and the gals of the '30s, but the music is still quite nice, and still rootedin the older music-hall style. Nice collection... recommended!

Various Artists "LES GRANDES DUETTISTES DU MUSIC-HALL" (EPM, 1999)


This collection of humorous music hall duets has some great material on it, most notably some 1948 jazz-jive, boogie-woogie vocals by Charles Aznavour (singing with P. Roche). These three tracks, which open the disc, are modeled after the work of African American singers such as Slim Gaillard and Nat King Cole, and are a real change of pace for the normally-stuffy Gallic pop star. Charles Trenet has some similarly upbeat, jazzy turns from a decade earlier. Some other tracks on here are a bit prissier and more old-school -- perhaps it would have been better if the entire album stuch to this style of swinging "boogie Americaine" vocal -- but really all the material on the album is pretty good. Definitely worth tracking down!
Various Artists "LES GRANDES ORCHESTRES DU MUSIC-HALL, v.1" (EPM, 1997)

Various Artists "LES GRANDES ORCHESTRES DU MUSIC-HALL, v.2" (EPM, 1997)


These 1940s recordings follow the template set down by the Hollywood-oriented wing of America's big band scene, with poppy, lightly swinging takes on the styles of Cab Calloway and Harry Warren. This collection includes three bands -- the orchestras of Jacques Helian, Raymond Legrand and Alix Combelle

Various Artists "JAVAS MUSETTE: THE GENUINE FRENCH JAVA" (EPM, 1993)


A fun, fab collection of vintage 1930s "javas," the half-waltz, half-mazurka dance music with a big bounce in the middle. The style supposedly got its name from the mispronounciation of the phrase "ca va," from a drunken Auvernese barkeep in the dancehall where the rhythm was first played... Whatever the true provenance, these accordion-based musette tunes are a real blast, with an unmistakable air of antiquity to them, but also a playfulness that still leaps out, all these decades later. The "dance craze" aspect of the java fad is also heard in the many tunes that include trick arrangements and novelty instruments such as slide whistle and piccolo. Most of all, though, what comes through is the infectious, dancable fun of these old records. This is musette music at its best, and perhaps its most accessible. Artists include Alexander, Deprince, Medard Ferrero, Fredo Gardoni, Emile Prud'homme, Emile Vacher and Jean Vaissade, all recording between 1929-1939.
Various Artists "JAZZ GITAN: 1939-1943" (EPM Jazz Archives, 1999)


Everybody knows about Django Reinhardt, right? King of the "gypsy jazz" guitarists and all? But how about the Ferrat family? Matlo, Barro, Challin, Jean and Serane Ferrat -- who learned from and competed with the almighty Django as stars of the new jazz guitar style -- are the real focus of this astounding collection. This disc should blow your mind. There is one token Reinhardt track, but mostly this is all about the Ferrats, playing in a variety of combinations and settings, and man, were they good. In some ways, sure, they sounded a lot like Django. There's a strong surface similarity -- you hear that wicked acoustic guitar and recognize Django's influence, but the Serrat's had an unruly edge, a slightly less tamed, less refined feel that's hard to put your finger on. The template is the same, but the results are unique, and it's fascinating to hear some "new" voices arise from a style that historically has been so completely dominated by a single artist. At any rate, this is a very, very nice collection. Serious gypst jazz fans will definitely want to track this one down. Highly recommended!


<! In others, they were actually a bit less monochromatic and more lyrical. >
Various Artists "JAZZ IN PARIS: JAZZ SOUS L'OCCUPATION" (Universal/Gitanes, 2003)



A swell set featuring Eddie Barclay, Christian Bellest, Andre Eykian, Dany Kane, Jo Reinhardt and others...


<! NUMEROUS other "Jazz in Paris" collections in this series >
Various Artists "LE JUKE-BOX DE MA JEUNESSE" (Marianne Melodie, 2010)



A 4-CD set...


<! http://www.mariannemelodie.fr/fr/musique/chanson-retro/juke-box-ma-jeunesse-coffret-4-cd/6606149.html >

Various Artists "MAMBO A PARIS: 1949-1953" (Fremeaux & Associes, 2007)


This is a frantic, fun 2-CD collection of homegrown Latin dance music performed by French orchestras in the post-WWII era. Parisian nightclubs and Riviera casinos had hosted a large Latin-American contingent for several decades before these recordings were made, with numerous top-tier artists moving to France from Cuba, Puerto Rico and elsewhere. The cabaret scene changed in the war years as American-style swing became the big rage; after the war, the newer, harder-edged mambo craze brought Latin music back into style, and several bands excelled at reproducing the crazy, cha-chadelic rhythms. You'd think there would be nothing but "ringers" in these bands -- Latin-American musicians propping up Gallic frontmen, but actually there were a lot of homegrown French performers who mastered the new music. A few, like Venezuelan-born Benny Bennet, had a natural Latin dance pedigree; others just picked up on it because it was cool. This collection concentrates on a handful of artists, including the prolific and dynamic German-born Eddie Warner (he emigrated to France in 1934, and fought with the French Resistance during the War), as well as playful practitioners like Sebastien Solari and Henri Rossotti, who was one of the earliest mambo maniacs. Most of these artists hewed pretty closely to the tight, muscular arrangements favored by Perez Prado, although they were often unable to get past the severity of Perez's style and find the more fluid groove favored by other bandleaders (contrast Henri Rossotti's "Almrendra" to Tito Puente's version, for example... ) Although these Gallic cha-cha orchestras were comparatively rigid and sluggish, this is still a fun set and sounds surprisingly authentic. Indeed, the biggest disappointment was that so many of them sang strictly en espanol -- only one song on here is sung in French; I would love to hear more of this material with French lyrics. Overall, this is worth checking out, and not just as a historical curio. Although for pure mambo action you might want to go straight to the original source, this is still pretty groovy.
Various Artists "MLLE. SWING & M. ZAZOU" (Chansons Actualites, 1995)


A swell overview of 1930's French swing, with artists such as Irene De Trebert, Johnny Hess, Jean Sablon, Ray Ventura and the fabled Hot Club of France, along with a few examples of the American swing songs that inspired them... Fun stuff!


<! Quintette Du Hot Club De France (Artist), Johnny Hess (Artist), Charles Trenet (Artist), Irene De Trebert (Artist), Guy Viseur (Artist), Ray Ventura & Ses Collegiens (Artist), Jacques Pills (Artist), Jean Sablon (Artist), Leo Marjane (Artist), Georgius (Artist) >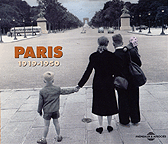 Various Artists "PARIS: 1919-1950" (Fremeaux & Associes, 2001)


Thirty-six songs about Paris, the city, its people and sights, with songs such as Paris Paris" by Josephine Baker, "La Tour Eiffel Est Toujours La" from Mistinguett, "Les Quais De La Seine," "Montparno," "Pigalle..." etc. The big-name stars are on here, including Maurice Chevalier, Edith Piaf, Tino Rossi, Berthe Sylva and Charles Trenet... But also a host of less well-remembered artists such as Perchicot, Maray, Gesky and Lucienne Deleye... The singing is all very old-school, the operatic-romantic music of the French music halls, but for a patriotic, notalgic stroll down memory lane, this set is hard to beat.
Various Artists "PARIS AFTER DARK" (EMI, 1995)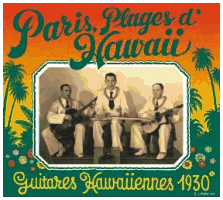 Various Artists "PARIS, PLAGES D'HAWAII: GUITARES HAWAIIENNES 1930s" (Paris Jazz Corner, 2006)


A delicious collection of Depression-era French recordings of Hawaiian and Hawaiian-flavored oldies, including many songs that are Polynesian-themed, and others that are French chanson with steel guitar added in the mix. Most of the tracks are by Parisian guitarist Gino Bordin, mirroring a recent collection of his work on the Grass Skirt label (which is also highly recommended!) There are also a slew of more obscure artists, including several vocal numbers, as well as delightful versions of unlikely tunes, such as classical pieces by Chopin and Rimsky-Korsakoffsky and a gentle, simple rendition of "Amapola," along with waltzes and snippets of French operetta, all given a little steel guitar zing. There are a few other France-meets-Hawaii collections out there, but this is certainly one of the finest. A real winner!


<! Les plus belles sambas Forlane? MM website 10/07 part of a series -- javas, swings, tangos, slows , charlestons >

Various Artists "ROUGH GUIDE TO PARIS CAFE MUSIC" (Rough Guide, 2002)


Kind of a weird set of tunes, leaning heavily on more challenging, modern artists, bands that have mutated French musette into a jittery, gypsied-out, modern circus music. Towards the end of the disc a few vintage voices come out of the woodwork -- accordionists Jo Privat and Gus Viseur, downcast torch singers Edith Piaf and Frehel -- but for the most part I would say this is a collection that's best suited to folks who are already fans of the style, and are looking to discover new bands that are keeping the style fresh. Listeners who want a more general introduction to older Parisian pop will find a little bit of the old stuff on here, but might want to try out French-produced collections on labels such as Fremeaux and EPM instead. But for the territory it's staked out, this is a pretty cool compilation.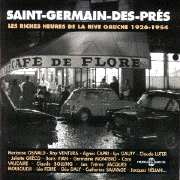 Various Artists "SAINT-GERMAINE-DES-PRES -- LES RICHES HEURES DE LA RIVE GAUCHE: 1926-1954" (Fremeaux & Associes, 2006)


This relaxed 3-CD set traces the musical history of Paris' fabled Left Bank... There are swing-oriented bandleaders such as Claude Bolling, Jacques Helian, Ray Ventura and Boris Vian, classic chanson singers such as Lys Gauty, Marianne Oswald and the emergent song stylists of the postwar era, like Juliette Greco Germaine Montero, Catherine Sauvage, and Leo Ferre. The early works by Greco, from 1950-1951, are particularly appealing, giving a glimpse of her raw, bright talent, before the excessive stylizations of the late '50s and '60s had set in. There's also a healthy dose of American-style jazz, with expatriate Americans such as saxophonist James Moody leading a mixed European-American band. All in all, this is a sweeping, cheerful, celebratory overview of one of the world's great cultural watersheds. A great collection that can lead you down many rewarding pathways.


<! a heavy representation of Jean Tranchant's work >

Various Artists "THE STORY OF CHANSON" (Capitol/Metro Blue, 2000)


An outstanding single-CD overview, considering how much territory there is to cover, and how wide a timespan this disc takes in. This ranges from the early 1930s to the late '70s, and includes early giants of the genre, such as Piaf, Trenet and Sablon, as well as later, lesser lights such as the folk-tinged '60s singer, Barbara. There are also a slew of lesser-known, but quite compelling vocalists on here -- this disc is easy to find and recommended for Americans looking to find out more about this style.

Various Artists "SWING DE MUSETTE" (Iris Musique, 1996)


Anyone who wants to look into the French love of American-style jazz should try their best to track down this fab set of sweet swing-flavored musette from the 1930s and '40s. The masters of the genre are all present, including accordeonists Tony Murena, Gus Visuer and Vetese Guerino, along with gypsy jazz guitarists Django Reinhardt and his protege/competitors the Ferrats, and brother Joseph Reinhardt. Great stuff - an indispensible collection for fans of the style.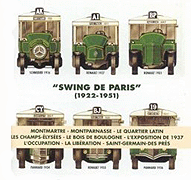 Various Artists "SWING DE PARIS: 1922-1951" (Fremeaux & Associes, 2005)


Classic jazz recorded in Paris, both by French artists and visiting Americans... This is a solid set for old-school jazz fans, although I was disappointed it didn't have a more "local" flavor... I was hoping for a heftier dose of gypsy jazz and Pills & Tabet-style hepcat swing. Indeed, a lone track by Jacques Pills was pretty much the only French-language vocal track on the entire album(!) and while this disc faithfully tracks the penetration of jazz into the Parisian nightlife -- from the jittery rhythms of the early '20s through the jumping dance bands of the '30s and the cool and bebop camps -- it's mostly a parade of instrumental performances imitative of and in thrall to the American model. There's also a healthy brace of tracks laid down by American jazzcats such as Erroll Garner, Jonah Jones, Bud Powell, Sammy Price, Zoot Sims, et al., with song titles such as "Headin' For Paris," "Eiffel Tower," "Stridin' Down The Champs-Elysees," etc. One gem is a 1937 recording of "Hangin' Around Boudon," by Dicky Wells and his band, where Django Reinhardt takes a fine solo; also noteworthy are contributions by guitarist Sarane Ferre (a top-flight Django wannabee) and Jerry Mengo, who makes several appearances both as a composer and as a semi-anonymous bandmember... I fell for a few tunes, and there are plenty of rarities included here (for the completists among us...) but if you're not a devoted jazz fan, there's also a lot of the tedium associated with the genre -- most of it sounds like stuff we've all heard before. Where are ze theeck accents and ooh-la-las? Guess I'll have to stick with that old Johnny Hess and Charles Trenet stuff!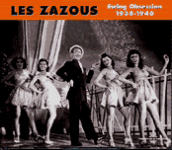 Various Artists "LES ZAZOUS - SWING OBSESSION: 1938-1946" (Fremeaux, 2005)


A delicious, delightfully playful 2-CD set of vintage French swing, with bouncy dance tunes and bluesy novelty songs galore. Includes several chanson superstars -- Charles Aznavour, Charles Trenet, Yves Montand -- who adopted the style on some of their songs, and others such as Fred Adison, Johnny Hess, Irene Trebert and Ray Ventura, who built their careers around swing. Also a hefty dose of gypsy jazz from Django Reinhardt and his cohorts, as well as accordion-wielding musette instrumentalists who dug the jive as well. There is considerable overlap on this collection and various single-artist releases by Fremeaux (and other labels) but it's hard not to love this well-curated, compact overview -- it's a really fun, enjoyable record! And if you don't have any of this music already, then this is a definite must-have. Highly recommended!
---
Films
---
"Under The Roofs Of Paris" (1930, Filmsonar)


A heartbreaking, beautiful portrait of urban life in the City of Love. This was director Rene Clair's first sound film, built around the concept of following a street musician through his daily life. Clair uses the occasion to play with the concept of sound recording: many dramatic scenes are played out silently, while an entire apartment building softly hums the catchy tune sung by chanteur Albert Prejean; in the film's climactic scene, a record on the stereo begins to skip as rival suitors quarrel over the Roumanian belle, Pola Illery. The sound design is as playful as it is inventive, and Clair's command of image and editing is superb. Fans of French musette music owe it to themselves to check out this film, which skillfully depicts the nightlife inside one of a Parisian bal mussette dancehall, populared as it was by seedy ruffians and disheartened lovers. A wonderful film; highly recommended.
---
Links
---
---



French Music Index
French Rock & Pop



---


EeepEeepEeepEeepEeepEeepEeepEeepEeepEeepEeepEeepEeepEeepEeepEeepEeepEeepEeepEeepEeepEeepEeepEeepEeepEeepEeepEeepEeepEeepEeepEeepEeepEeepEeepEeepEeepEeepEeepEeepEeepEeep...