<! MP3 09/25/08 > <! update 09/25/08 > <! pix > <! icons 02/02/11 > <! jean solar - on Zazou Swing collection Berthe Sylva Les Introuvables de Berthe Sylva [2 CD Variété franćaise - Marianne Melodie Jean Segurel - a bunch of releases, many of later vintage Jean-Michel Sonnerat "Au Royaume du Musette Vol. 2" (MM) old or new? >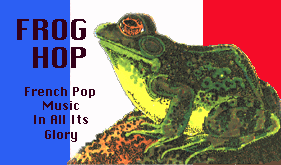 ---
CHANSON et MUSETTE
---
This page is part of a larger guide, reviewing various French chanson and musette recordings, focussing mainly on older, classic material, but also branching out to include some newer performers working in the same styles. Suggestions, recommendations and corrections are always welcome...
This page covers the letter "S"
---
Recommended Records: A | B | C | D | E | F | G | H | I | J | K | L | M | N | O | P | Q | R | S | T | U | V | W, X, Y & Z | Compilations | French Rock & Pop
---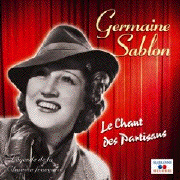 Germaine Sablon "Le Chant Des Partisans" (Marianne Melodie, 2005)



A worthy retrospective of singer-actress Germaine Sablon, the sister of famed crooner Jean Sablon (see below). Originally a star onstage in the operette, Germaine moved into films in the 1920s and '30s, and recorded popular songs during these years. During the occupation of France in World War Two, she fled to England where she acted in a propaganda film called "Le Chant Des Partisans," and recorded the title track, which is included here. It is a strident, fairly artless song, stirring but blunt, although well-suited to her vocal style with is a bit brusque and matronly compared to many chanteuses of the classic chanson era. This is interesting material, but I have to confess I don't care much for her voice, or for her phrasing. Now her brother, however, totally rocks my world... Read on!


<! Germaine Sablon "1932-1939" Forlane? >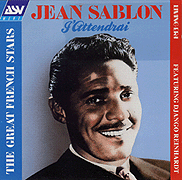 Jean Sablon "J'Attendrai" (ASV Living Era, 1995)


Of the great Depression-era French singers, Jean Sablon may be my favorite. He had a natural, easygoing grace, and a jazz-informed Tin Pan Alley feel that makes him sound like sort of a Gallic Bing Crosby. These two dozen tracks -- all recorded in the 1930s -- are Sablon at his peak, and the several tracks which also feature the great gypsy jazz guitarist Django Reinhardt are just icing on the cake. Lovely, warm-hearted, eminently enjoyable music.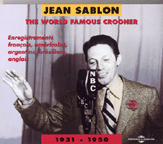 Jean Sablon "World Famous Crooner: 1931-1950" (Fremeaux & Associes, 2003)


The title of this 2-CD collection is kind of a pun: this is a collection of recordings Sablon made abroad, while in England, Argentina and the U.S. Unfortunately, it's also not the best stuff he'd ever recorded -- he's working with unfamiliar bandleaders, and musicians who also were clearly not familiar with him or his musical strengths. It's an interesting historical curio, but the music doesn't swing as his best records do.

Jean Sablon "C'est Si Bon" (Naxos, 2003)


Another glorious collection of sweet, sweet songs from Jean Sablon's golden years...This disc easily rivals the ASV album listed above; it's well-programmed and packed full of delicious, doleful, delightfully corny romantic songs (and a few comedic numbers as well...) And oh, that voice! Oooh-la-la! Sablon was surely the greatest crooner in all of France. Highly recommended.

Jean Sablon "100 Chansons" (EMI-France, 2008)


This is a generously-programmed 4-CD set of his later recordings, which are still corny and cute, although they lack the antique charm and freshness of his early work. I like the old stuff better, but this certainly has a strong kitschy attraction. Oooh-la-la.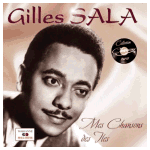 Gilles Sala "Mes Chansons Des Iles" (Marianne Melodie)



A sweet set of Latin-themed material -- songs about Brazil, Cuba, Mexico, the Antilles, etc. -- with reserved but authentic arrangements. I like Sala's voice -- he has a nice, light touch that reminds me somehow of Sam Cooke, light, playful, clear, a little prissy and genteel, but still earthier than many bolero specialists and romantic singers. The production is a bit modern, in a transition between the antique acoustics of the classic prewar era and the slicker '50s/'60s sound -- the later tracks get a little too syrupy, but overall I find this delightfully nostalgic. Love hearing all those Latin American-y songs sung in French!


<! Ma Doudou - Monsieur le Consul ą Curityba - Chodo Chodo - Une écharpe de mousseline - Petite poupée des Antilles - L'abeille et el papillon - Rźve Antillaise - Mélodie Mexicaine - La voyageuse - La fźte des fleurs - Ah! N'aimez pas sur cette terre - J'ai peur de revenir - Carnaval au Brésil - Les anges noirs - Le Diable est dans ton coeur - Ave Maria (d'un triste coeur) - Marie des Iles - Tu jouais la comédie - Kalou - Adieu foulards, adieu madras >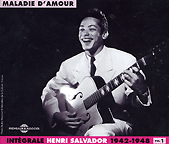 Henri Salvador "Volume 1: Maladie D'Amour: 1942-1948" (Fremeaux & Associes, 2000)


Cool old recordings from a remarkably multi-talented guitarist and vocalist who was a disciple of Django Reinhardt's, back in the WWII era. Following the war, Salvador swiftly went his own way, carving out a career that found him recording big band swing, Brazilian-style samba and other exotica, latin jazz, takeoffs on American rock, romantic ballads and humorous ditties. Some of the material is super-schmaltzy, in a Carmen Dragon kinda way, although other tunes swing mightily, and even have a Slim Gaillard-ish hepcat edge. This 2-CD set is the second in a series that gathers dozens of hard-to-find recordings. Salvador appears as a featured artist in various orchestras and small combos led by Ray Ventura, and as a bandleader himself. It's great stuff, and by Disc Two, which picks up in 1947, he's really found his groove. Hepcat big band material not unlike Louis Prima or Cab Calloway (who gets a Gallic shout-out in the soundtrack to the film, Mademoiselle S'Amuse...) -- boisterous yet classy, and well worth checking out!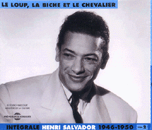 Henri Salvador "Volume 2: Le Loup, La Biche Et Le Chevalier: 1946-1950" (Fremeaux, 2001)


More great oldies by this unique postwar showman. This second 2-CD set features Salvador working again with bandleader Ray Ventura, as well as Katherine Dunham, Emil Stern and Jo Boyer. C'est magnifique!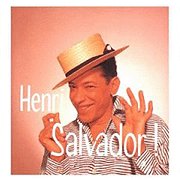 Henri Salvador "Ses Plus Grandes Chansons" (Universal, 2001)


A somewhat woeful 2-CD set of his later work. This collection is divided into two parts: Disc One is of "Chansons Douces," sweet songs, recorded between 1955-63 for the Barclay, EMI and Mercury labels, while Disc Two is of comedy numbers, recorded in the 1950s, '60s, '70s and early '80s. The romantic material is mostly pretty torpid, deeply, deeply mired in the too-classy, over-orchestrated, syrupy pop vocals style of the 'Fifties pop vocal genre. (Admittedly, Salvador does have a nice voice for crooning, but the music will literally put you to sleep... There's a nice remake of "Le Loup, La Biche Et Le Chevalier," but that's about it for this disc. The comedy numbers have much more to offer, but it's still slim pickin's. I mean, what can you say when a Frenchified remake of the disco hit, "Shame Shame Shame" actually is the best thing on the album? Well, there's also "Mais Non, Mais Non," Salvador's too-literal remake of Piero Umiliani's "Mna Mna," and the "Dracula Cha Cha Cha," but really: how many "Listen! I-Am-Pouring-Booze-Into-A-Cup-And-Clinking-My-Glass-Oh-How-Tipsy-I-Am!!" novelty numbers do you need? Or fake laughter songs? Or stuttering imitations of mental disabilities? Salvador's career seems to have lost its fizz fairly early on... What's missing is the swing and bounce of his earlier work, and the sharp Latin flavor. Or really, any spark or spontaneity at all. A disappointing retrospective.

Henri Salvador "Room With A View (Chambre Avec Vue)" (Blue Note, 2001)



A remarkably vigorous album for a fellow who's been recording since the 1940s... This disc sticks to jazz ballads and is very slick, and often quite goopy... but it's also got some lovely, lyrical moments. Even this late in the game, Salvador is certainly worth checking out.
Henri Salvador "Performance!" (Koch, 2002)


Henri Salvador "Ma Chere Et Tendre" (EMI, 2003)



Henri Salvador "Reverence" (V2/Circular Moves, 2007)



Elegant, modern-day French chanson pop vocals from onetime swing-cabaret guitarist Henri Salvador, who was a firebrand in his youth, but who is much mellower nowadays. Salvador recorded most of the tracks in Brazil, and from the cover art -- which features hints of Brazilian bossa nova -- and the track listings, which include duets with Brazilian superstars Caetano Veloso and Gilberto Gil, I had expected a full-on Braziliophilic lovefest. In some regards, this is true: most of the songs are arranged and led by cellist Jacques Morelenbaum, who was Veloso's bandleader for much of the 1990s, and he leads a large group of musicians in Rio, including pianist Joao Donato, who rides elegantly atop the lush orchestrations. The sound, however is mostly straightforward chanson set, with echos of French crooners such as Charles Azvanour and Serge Reggiani, with some brassy big band interludes that seem a bit Tony Bennett-ish. Both Gil and Veloso acquit themselves nicely, neither being a stranger to classy, croony vocals. The first couple of times I auditioned this disc, I was a bit put off -- it seemed a little overripe -- but it's growing on me. Definitely worth checking out.
Sanseverino "Le Tango Des Gens" (Saint George, 2002)



Sanseverino "Les Senegalaises" (Saint George, 2004)



Very fun, very manic acoustic swing with wry lyrics and a wicked sense of humor... Very much like a French Dan Hicks, with a frenetic, puckish feel and plenty of hot musicianship to back it up. A couple of songs were too zippy for me, but most of the album has a really fun feel. Recommended!
Sanseverino "Live Au Theatre Sebastopol" (Saint George, 2005)


Sanseverino "Exactement" (Saint George, 2006)


Sanseverino "...Aux Bouffes Du Nord" (Saint George, 2008)





<! Stéphane Sanseverino >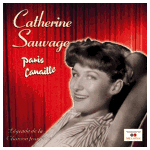 Catherine Sauvage "Volume 1: Paris Canaille" (Marianne Melodie, 2006)



Early work by singer Catherine Sauvage, a latter-day chanteuse who came to the fore after WWII... It's nice someone was there to pick up the torch, but I have to say I don't care much for her vocals, which I find a little brusque and hurried. Her phrasing is too forceful and blunt, and overall she seems like more of a nostalgia act rather than an innovative artist. But, of course, I'm just a dumb American, so what do I know? Apparently she was one of the early interpreters of songwriter Leo Ferre, and one of his personal favorites. I dunno, though. Doesn't quite hit the same evocative notes for me as do Frehel, Piaf, Boyer, et. al.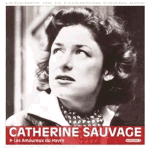 Catherine Sauvage "Volume 2: Les Amoureux Du Havre" (Marianne Melodie, 2009)


Ms. Sauvage in the '50s... The perky pop arrangements include lots of cutesy, unnecessary ornamentations, and her singing is forceful and assertive in a way that I find showy and off-putting. I think the party was over by this time: I'll stick to chanson from the 1930s and '40s instead.
Vincent Scotto/Various Artists "52 Chansons De Vincent Scotto" (Music Memoria, 1991)

Vincent Scotto/Various Artists "25 Chansons De Vincent Scotto" (Music Memoria, 1995)





<! 1. Le plus beau tango du monde-Alibert~~2. Je ne suis pas bien portant-Ouvrard~~3. Le trompette en bois-Milton~~4. Ah, si vous roulez d'l'amour-Esther Lekain~~5. Marinella-Tino Rossi~~6. Le p'tit Bosco-Berthe Sylva~~7. Pirouli-rouli- Elyane Celys~~8. Deux grands yeux noirs-Darcelys~~9. Adieu, Venise provencale-Alibert~~10. La java bleue-Frehel~~11. Prosper-Maurice Chevalier~~12. Sous les ponts de Paris-Georgel~~13. Tchi tchi-Tino Rossi~~14. Mon Paris-Emma Liebel~~15. Tout autour de la corniche-Rellys~~16. Les Pescadous-Fernand Sardou~~17. Celestine-Fernandel~~18. A petit pas (la valse marseillaise)-Andrex~~19. La petite tonkinoise-Josephine Baker~~20. Vous seule que j'aime-Reda Caire~~21. Viens Fifine-Jean Gabin~~22. Les momes de la cloche-Edith Piaf~~23. Sans toi-Lucienne Boyer~~24. Dis-moi tout bas-Damia~~25. Elle rendait des petits gateaux-Mayol. >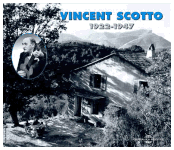 Vincent Scotto/Various Artists "1922-1947" (Fremeaux, 2005)


A 2-CD set celebrating the compositions of songwriter Vincent Scotto, gathering dozens of recordings by some of the greatest French stars of the early 20th Century. The talent pool includes well-remembered stars of the golden age of chanson -- Alibert, Josephine Baker, Reda Caire, Tino Rossi, Ray Ventura -- but also spans back to the 1920s, with more obscure music-hall performers of yester-yesteryear... A nice selection of songs, including several novelty-themed numbers about Hawaii, Indochine, etc. Definitely worth a spin!


<! Ah! Si vous voulez de l'amour - Esther Lekain • Elle vendait des petits gateaux - Mayol • Caroline, Caroline - Mireille Ponsard • Sous les ponts de Paris - Léo NoĎl et son orgue de Barbarie • Mon Paris - Emma Liebel • Guitare d'Hawaē - Georgel • La petite Tonkinoise - Joséphine Baker et le Mélodie Jazz du Casino de Paris • Rosalie est partie - Alibert • J'ai deux amours - Renée Viala • A cause du bilboquet - Géo Koger • Zou, un peu d'aēoli - René Sarvil • Miette - Andrex • J'ai rźvé d'une fleur - Cora Madou • A petits pas (la valse marseillaise) - Andrex • A Toulon - Darcelys • Vieni... Vieni... - Réda Caire • Adieu Venise provenćale - Monty • Chanson pour Nina - Tino Rossi • Prosper (yop la boum) - Maurice Chevalier • Le plus beau tango du monde - Mireille Ponsard & Josselin • Les Pescadous ouh! ouh! - Georges Sellers et son orchestre de jazz • J'aime la mer comme une femme - Georges Sellers et son jazz marseillais • AprŹs toi, je n'aurai plus d'amour - Réda Caire • Piroulirouli - Elyane Celis • Ô, Corse jolie - René Lenoty • J'aime les femmes, c'est ma folie - Tino Rossi • Marinella - Ray Ventura et ses Collégiens • Tchi-Tchi - Le "chanteur sans nom" (Roland Avellys) • Laissez-moi vous aimer - Ray Ventura et ses Collégiens • Les mômes de la cloche - La Môme Piaf • Loin des guitares - Tino Rossi • Tout autour de la corniche - Alibert • OĚ est-il donc? - Fréhel • Ecoutez les mandolines - Tino Rossi • La chanson de la Sierra - Jaime Plana • Si tu revois Paris - Alibert • Le bal défendu - Roberte Marna • Ramuntcho - André Dassary. >

Vincent Scotto/Various Artists "Les Chansons Eternelles" (Chansons Eternelles, 2007)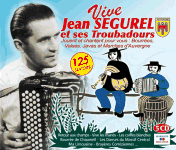 Jean Segurel "Vive: Jean Segurel Jouent Et Chantent Pour Vous" (Marianne Melodie, 2011)


A 5-CD set of accordion music from the Auvergne, with Segurel performing in a variety of styles, including lots of songs where he sings as well as plays the squeezebox. Segurel had a long career, but this collection includes a hefty dose of vintage material, which might be more fun than the later revival/nostalgia recordings that are also available on CD.


<! Jean Segurel et ses Troubadours ... " : Valses, Javas et Marches d'Auvergne" > <! Guy Severyns 1950s 02/11: only a few MP3s >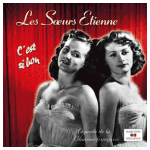 Les Soeurs Etienne "C'est Si Bon" (Mariane Melodie, 2006)



A sisters-harmony duo that aimed to be "the French Andrews Sisters," but fell short, primarily because they simply did not swing. The brass-laced arrangements echo American big band, and they cover several big band-era hits, but they never cut loose vocally and find anything close to the jazzy groove the style requires. It's like they're singing "Alouette" over and over. Well, okay, maybe that's not entirely true: they do loosen up and get a little uptempo on a tune or two but overall this is pretty conservative and dowdy. If you're looking for cool French swing, I'd stick with Charles Trenet or Irene de Trebert instead.




Les Soeurs Etienne "Leurs 44 Plus Beaux Succes" (Mariane Melodie, 2006)
A 2-CD set


<! 07.12: no ASIN Les soeurs Etienne, un son unique, reconnaisable entre tous, la fraĒcheur, la justesse, le rythme, deux personnalités incontournables de l'aprŹs-guerre! Retrouvez ici 44 titres jamais réédités en CD de nos "Andrew sisters" franćaises, reines du boogie woogie et du swing made in France, qui parachŹveront enfin votre collection jusqu'alors incomplŹte, autant de succŹs rares attendues depuis longtemps et que Marianne Mélodie vous offrent aujourd'hui! >

Suzy Solidor "1933-1939" (Chansophone)


Suzy Solidor "1933-1952" (Fremeaux, 2005)

Suzy Solidor "Escale" (Mariane Melodie, 2006)






<! Raymond Souplex & Jane Sourza "Carmen, La Hourette, Et Cie" (Marianne Melodie) 2 CD >

Berthe Sylva "Les Roses Blanches" (EPM, 1998)


Billed as the greatest of the Depression-era chanteuses, Sylva certainly had a strong, authoritative air about her -- not strident or overstated, simply very clear and very perfect. She sounds rather reserved in comparison to Edith Piaf, but these 1930s Odeon recordings are still very moving and will captivate your attention. The arrangements are also quite striking -- compact, tightly crafted, and the apex, perhaps, of monophonic recording. Nothing is lost, cramped or muddled, and the light orchestrations by bandleaders Andre Valsien and Andre Cadou are, well, simply perfect for every tune. Sylva apparently lived a fast life, and died penniless and young in 1941. A pity, but these pre-war performances are quite a legacy.
Berthe Sylva "Coeur D'Or" (Forlane, 1995)



<! 1. Celosa 2. C'est Mon Gigolo 3. Le Tango Des Fauvettes 4. La Legende Des Flots Bleus 5. Viens, Maiman 6. Du Gris 7. La Voix De Maman 8. Le Jouet 9. Ferme Tes Jolis Yeux 10. Lettre Enfantine 11. Rends-Moi Mon Papa 12. Lilas Blanc 13. Un Soir A La Havane 14. Les Momes De La Cloche 15. Les Nocturnes 16. Mon Vieux Pataud 17. Le P'Tit Boscot 18. On N'a Pas Tous Les Jours 19. Bercuese Tendre 20. Arreter Les Aiguilles >
Berthe Sylva "Coeur D'Or, Volume 2" (Forlane, 1995)


<! 1. Sou Les Toits De Paris 2. Tu M' Oublieras 3. Tout Est Permis Quand On Reve 4. Ta Voix 5. Si L'on Ne S'Etait Pas Connu 6. Il Est Un Petit Nid 7. Musette 8. Une Larme 9. Le Clown Et L'Enfant 10. Bonte De Gosse 11. Les Tisseurs De Reve 12. Eperdument 13. Amour Nouveau 14. Bonhomme Noel 15. Les Nuits 16. J'Attends Le Train Du Reve 17. Le Petit Ballon Rouge 18. Desir 19. Lorsque Je Vois Tes Yeux 20. Rodeuse De Barriere >
Berthe Sylva "Souvenirs" (Dom, 1996)

Berthe Sylva "Les Chansons Eternelles" (Chansons Eternelles, 1998)

Berthe Sylva "Etoiles De Chanson" (1999)

Berthe Sylva "Succes Et Rarites: 1928-1937" (Chansophone, 1999)

Berthe Sylva "1929-1937" (Fremeaux, 2005)

---
More Chanson > Letter "T"
---



French Music Index
French Rock & Pop


---