<! MP3 09/25/08 > <! update 09/25/08 > <! pix > <! icons 02/02/11 > <! UPDATES: 08/01/12: MM-based update, new reviews, pix > <! LETTER B: MORE GILBERT BECAUD MORE BRASSENS JACQUES BREL Marcel Bianchi - gypsy jazz guitar Marie Bizet - on comps AndrŽ BaugŽ (Marianne Melodie) - several albums; operette Henri Bourtayre "Chevalier Du Ciel/Miss Cow-boy/Tout Pour Elle" (Marianne Melodie) OpŽrettes de Henri Bourtayre "Chevalier du Ciel", "Miss Cow-boy" & "Tout pour elle" / avec Luis Mariano, Victoria Marino, Yvonne Printemps, Jacqueline Roland... Adolphe Berard "L'ocŽan (Dernire sŽrie)" 1900s music hall Also on this comp: B0014S2G2W Guy Berry "La rŽvolte des joujoux" 1936 song on several comps, no album ASIN by Berry as of 08/12 >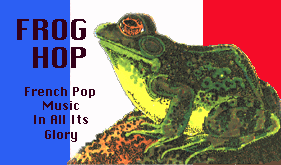 ---
CHANSON et MUSETTE
---
This page is part of a larger guide, reviewing various French chanson and musette recordings, focussing mainly on older, classic material, but also branching out to include some newer performers working in the same styles. Suggestions, recommendations and corrections are always welcome...
This page covers the letter "B"
---
Recommended Records: A | B | C | D | E | F | G | H | I | J | K | L | M | N | O | P | Q | R | S | T | U | V | W, X, Y & Z | Compilations | French Rock & Pop
---

The Baguette Quartette "Rendezvous -- Parisian Cafe Music" (1997)



This San Francisco Bay Area ensemble plays French musette along with the occasional tango, and is one of the coolest acoustic acts around. Expatriate accordionist Odile LaVault contributes driving accompaniment to dozens of faithful renditions of Parisian cafe music from the 1920s and '30s, performed with a compelling, enthusiastic love of the material, and plenty of sheer musical know-how. Her fellow musicians also have great feeling for the style, and both of these albums are a treat. Check out The Baguette Quartet webpage for more information.

The Baguette Quartette "L'Aire De Paris" (1998)



The Baguette Quartette "Chez Moi" (2001)



Another nice album, with plenty of classic compositions written by the likes of Gus Viseur, Charles Peguri and Paul Misraki. Bay Area jazz guitarist Will Bernard is on board for this edition of the band, and adds some nice, sleek touches. Stylistically, this has some new sounds, mainly a couple of swing-flavored tunes, including Viseur's "Matelotte," a snappy late 1930s nod towards the gypsy jazz giant, Django Rinehardt. Warm, original takes on this old style -- check it out!
The Baguette Quartette "Toujours" (2004)


The Baguette Quartette "Bon Appetit! Cafe Classics" (Avalon, 2004)


Josephine Baker "Cocktail Hour" (Allegro, 2000)


Jazz singer Josephine Baker is one of the most fascinating stars of the old, Depression-era French music halls... An African-American expatriate who found greater acclaim on the Continent than in the colonies, Baker ditched her bluesier Stateside competitors such as Bessie Smith and Ethel Waters, and found fabulous celebrity as a French cabaret singer. She sang bilingually, in a chirpy voice which may take some acclimation on the part of new listeners. This 2-CD set shows Baker's breadth, with semi-operatic swoops countered by blues-laden sizzles. As with the other Allegro Cocktail collections, this is an affordable, idiosyncratic and rather enjoyable. Two CDs for the price of one, with the main drawback being the complete lack of liner notes. It's barebones packaging, but spiffy musique.
Josephine Baker "The Fabulous Josephine Baker" (RCA, 1962)

Josephine Baker "Josephine Baker" (Sandstone, 1992)

Josephine Baker "The Art Deco Series: Breezin' Along" (Sony, 1995)


Josephine Baker "Star Of Les Folies Bergeres" (ASV, 1998)

Josephine Baker "A Portrait Of Josephine Baker" (MCI, 1998)

Josephine Baker "Bonsoir My Love" (DRG, 1998)

Josephine Baker "1927-1939" (Fremeaux, 2003)





<! B00161WF6E MP3 "Harcourt m. de la culture france" (real title??) >

Josephine Baker "Star Of Les Folies Bergeres (International French Stars series)" (EPM, 2008)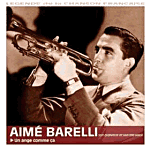 Aime Barelli "Un Ange Comme Ca" (Marianne Melodie, 1999)


Jovial, robust postwar swing music from French bandleader, Aime Barelli, a trumpet player who was a fixture on the 1950's Monaco nightclub scene. Barelli was sort of a Harry James/Russ Morgan type player, on the simpler, poppier end of the spectrum, but with a certain uncomplicated charm. In contrast to his rather bland instrumental numbers, these tracks from 1949-55 are mostly fun, French-language vocal performances, with Barelli splitting the lead vocals with Jose Bartel, and chanteuse Lucienne Delyle singing on "Monte Carlo." An excellent set of lively big-band bombast, with a groovy Gallic twist.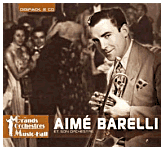 Aime Barelli "Grands Orchestres De Music Hall" (Marianne Melodie, 2007)


A gentle set with Barelli dipping into Dixieland and light R&B, covering songs by Cab Calloway, Lionel Hampton, Glenn Miller, et.al., all in a pointedly smooth style... Mostly the emphasis is instrumental, with less French-language vocals than one might like, but there are a few tunes that are fun... The instrumental-only tunes aren't really any different than American or British bands of the same era (or earlier: this 2-CD set covers 1950-55...) and as a result don't really wow me. Nostalgic material, but not essential; I'd recommend the collection above before this one.
Aime Barelli "Un Ange Comme Ca" (Marianne Melodie, 2006)





<! 07/12: others by Barelli available on AM >

Luc Barney "J'ai Du Boire Un Peu Trop" (Marianne Melodie)

Joss Baselli "Les Archives De L'Accordeon" (Marianne Melodie)

Gilbert Becaud "Salut Les Copains" (Marianne Melodie)


Raquel Bitton "Rhythm Of The Heart" (RB Records, 2013)



(Produced by Raquel Bitton & Rafa Sardina)
A sweet, subtle, classy album by French-born chanteuse Raquel Bitton, who is best known for her stage show in tribute to Edith Piaf. On this album, Bitton glides skillfully and soulfully through a number of Latin American styles -- tangos, boleros, bossa nova and rumba -- with wonderful French-language tunes gleaned from the repertoire of Corsican crooner Tino Rossi, a French superstar who specialized in "Latin" flavored material in the 1930s and '40s. Bitton's versions are sublime, and bring a richness and immediacy to these songs that is a pure delight. Lush, emotive, redolent with melodrama and romance, this is exactly the way these songs should sound. Recommended!
Bob & Bobette "Chansons De Bob Et Bobette: 1929-1937" (Marianne Melodie, 1995)





<! Avec Lisette Jambel et AndrŽ Claveau - are B&B performers? novelty oriented duets; squeaky she, robust he > <! is there a newer edition?? >

Raymond Boisserie "Anthologie D'un Virtuose De L'Accordeon: 1951-59" (Marianne Melodie)


A 2-CD set of instrumentals by accordionist Raymond Boisserie, mostly with minimal backing by guitar, though sometimes by larger bands or light orchestras...
Marcelle Bordas "Succes Et Raretes" (Marianne Melodie)

Gino Bordin "Virtuose De La Guitare Hawaiienne: 1930s Paris" (Grass Skirt, 2009)


In the dawning years of the 20th Century, Hawaiian music hit the shores of France pretty much the same way as it did elsewhere, through showcase performances at grand fairs and exhibitions, swiftly followed by tours by pioneering Hawaiian performers. Although the exotic appeal of the new style clicked with listeners, few French musicians were able to master the style, at least not until guitarist Gino Bordin stepped up to the plate. Born in Vincenza, Bordin was one of the tens of thousands of Italian immigrants coming to France after the First World War -- he swiftly moved up in the ranks of France's musical elite, and when the Hawaiian music bug hit him, Bordin became the dominant figure in a particular musical niche. Bordin was one of the first French players to master Hawaiian-style slide guitar, and he applied it to a variety of popular genres, including waltzes, French chanson and musette, as well as good old "hapa haole" Hawaiian songs (novelty pop songs written to appeal to non-Hawaiian listeners). This disc gathers twenty-five prime recordings from Bordin's extensive catalog, recorded for a variety of labels between 1931-1937. The sound quality is great, the accompanying booklet is both chatty and informative, and the music is a lot of fun (although, admittedly, a bit more prim than some of the tunes being recorded by actual Hawaiians during the same era...) All in all, a great historical document with a lot of groovy vintage music... This is the second release from the fledgling Grass Skirt label: let's hope number three is equally exciting.
Bourvil "Le Milleur De Bourvil" (EMI-Odeon, 1998)

Bourvil "L'Essential" (EMI, 2002)

Bourvil "1946-1953" (Fremeaux, 2007)

Bourvil "C'est L'Piston" (Rym Musique, 2001)

Bourvil "A Bicyclette -- International French Stars series" (EPM, 2008)

Bourvil "La Tactique Du Fantaisiste" (2008)

Bourvil "Chansons Francaises : La Tactique Du Gendarme" (Stick Music, 2008)

Bourvil "Paris Music Hall" (Orphee, 2008)

Henri Bourtayre/Various Artists "Les Chansons De Ma Jeunesse" (Marianne Melodie, 2006)






<! collection of hit songs by composer Henri Bourtayre, covered by a variety of artists >
Lucienne Boyer "Parlez-Moi D'Amour" (ASV Living Era, 1997)



I'm not sure how big a shadow Boyer cast in the annals of legend, but I certainly have a soft spot for her tender, fairy-tale arrangements and lilting songs of love and regret. These sentimental tunes were recorded in the 1930s, during the peak of her fame, and represent a softened, somewhat genteel take on the French cararet style. Lovely stuff with rather sparse arrangements. Recommended!
Lucienne Boyer "The Lady In Blue" (EPM, 1998)


Lucienne Boyer "Les Etoiles De Chanson" (MME, 1999)

Lucienne Boyer "Les Etoiles De Chanson, v.2" (MME, 2004)

Lucienne Boyer "1930-1948" (Fremeaux, 2003)


Another excellent collection of classic chanson from this famed chanteuse... This 2-CD set spans nearly a decade past the sinlge-disc ASV album listed above, and as such only overlaps it by about ten songs -- the entire second disc is devoted to Boyer's work in the 1940s, and it's lovely stuff. Although the arrangements flirt with the lush orchestrations of the pop vocals era, for the most part, it's still straight, old-school chanson, with fuller, richer modern sound quality. Boyer's voice is lovely throughout, although she did become more fluid and lyrical as she became a more seasoned performer... Great stuff: highly recommended!
Georges Brassens "50 Succes Essentiels: 1952-60" (Marianne Melodie)



A 2-CD set covering the yearly years of French songsmith George Brassens...


<! Jacques Brel >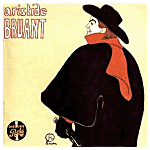 Aristide Bruant "Le Meilleur De Aristide Bruant" (EMI-Odeon/Disques Pathe, 1998)


A 2-CD set of this famed cabaret singer and comedian Aristide Bruant (1851-1927), who is famously recognized, swaddled in his trademark red scarf, from the paintings of Henri de Toulouse-Lautrec... Bruant's career preceded the advent of the record industry by several decades, but he was still around in the 1920s and made some notable recordings for Pathe, many of which are collected here...
Aristide Bruant "Montmerte - Enregistrements Originaux: 1905-1914" (Demon, 1995)


A 2-CD set...


<! EugŽnie Buffet et Polaire? B000008D9E BUFFET EUGENIE BUFFET, EugŽnie (1866-1934) interprte En son pays natal, lĠAlgŽrie, elle dŽbute en 1883 puis tente de percer ˆ Marseille en 1886, sans succs. MontŽe ˆ Paris, elle tient de petits r™les obscurs au Bataclan, puis, en 1890, dŽbute ˆ la Cigale o elle crŽe le type de Òla pierreuseÒ. Elle est lancŽe. EugŽnie Buffet interprte Bruant, Botrel et devient cŽlbre avec Les Gueux et La SŽrŽnade du pavŽ quĠelle chante dans les rues pour rŽcolter des fonds en faveur des blessŽs de lĠexpŽdition de Madagascar en 1895. En 1902, elle fonde le cabaret de la PurŽe, tourne en Europe et en AmŽrique du Sud jusquĠen 1914 o, patriote convaincue, elle chante ˆ nouveau dans les rues et fonde ÒLa Chanson aux blessŽsÓ. Aprs guerre, elle retourne en AmŽrique (Nord et Sud et Antilles), tourne en Europe, au Maroc, se produit aux Noctambules en 1921, ˆ lĠEldorado et ˆ lĠEmpire en 1924, ˆ la Scala en 1925 avant de jouer, la mme annŽe, dans le ÒNapolŽonÓ dĠAbel Gance. Au seuil dĠune carrire bien remplie, elle grave heureusement, ˆ la toute fin de sa vie, quelques-unes de ses chansons dans la cire. -- Jean Buzelin -- İ FRƒMEAUX & ASSOCIƒS BIOGRAPHIE (BIO EUGENIE BUFFET) > <! Eva Busch "1939-1940" mp3 only... nice voice & arrangements GERMAN NATIONAL? >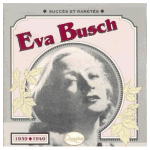 Eva Busch "1939-1940" (Chansophone, 1995)+


Lovely stuff from a German singer, Eva Busch, who left Deutschland when Hitler came to power in 1933. She reestablished her career in Paris, where she recorded and performed for several years until her 1941 arrest in Nazi-occupied France, subsequently spending several years in prison. These prewar, French-language recordings are sublime -- perfectly performed chanson from an artist entirely comfortable singing in a second language. Great music, highly recommended.


<! When the Nazis came to power in 1933, Eva Busch and her husband, Ernst Busch, left Germany. They went to Holland where she appeared on radio and made recordings in several languages. She even went to the USA to record a few records. After she and Ernst Busch divorced, Eva settled down in Paris to continue her singing career. Her German citizenship was revoked in 1937. At the outbreak of WWII she was detained with other Germans in Gurs, but was let go after a few weeks, since it was well known she was anti-nazi. She returned to Paris and continued her career, now in the occupied Paris... In 1941, on the third day of her show at the ABC Music Hall, she was arrested by the Gestapo and sent to RavensbrŸck, where she was a political prisoner for almost 3 years. "The hatred kept me alive", she would later comment... Finally, her mother Emmy Burg-Zimmermann, a well known opera singer managed to get her out. Eva, however, now had to perform for military and civilian audiences... After the war she and Ernst Busch are reconciled in the ruins of Berlin. Eva Busch returns to France in november 1945 and resumes her career. She meets journalist George Sinclair and the 2 women share their lives until George's death in 1985... Rudolf Nelson, the famed Berlin composer and showman, was a fellow exile and Eva frequently starred in his shows. He wrote the beautiful "Zigarette" for Eva... She sings "Du hŠltst in der Hand Deine Seligkeit, eine Zigarette lang..." or "Your happiness lasts as long as the cigarette in your hand"... She recorded the song in August 1940, Rudolf Nelson's name was changed to "Lemaire". Nelson's music was banned since he was jewish. Rudolf Nelson survived the war and eventually returned to Germany, where he died in Berlin in 1960. >

---
More Chanson > Letter "C"
---



French Music Index
French Rock & Pop


---