<! MP3 09/25/08 > <! update 09/25/08 > <! pix > <! icons 02/02/11 > <! UPDATES: 08/01/12: MM-based update, new reviews, pix > <! Irene Hilda - need to review album below >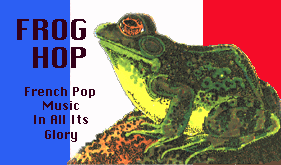 ---
CHANSON et MUSETTE
---
This page is part of a larger guide, reviewing various French chanson and musette recordings, focussing mainly on older, classic material, but also branching out to include some newer performers working in the same styles. Suggestions, recommendations and corrections are always welcome...
This page covers the letter "H"
---
Recommended Records: A | B | C | D | E | F | G | H | I | J | K | L | M | N | O | P | Q | R | S | T | U | V | W, X, Y & Z | Compilations | French Rock & Pop
---

Jacques Helian "Jacques Helian Et Son Orquestre" (EMI/Disques Pathe, 1997)


A graduate of French bandleader Ray Ventura's big band, saxophonist Jacques Helian set out on his own just before World War Two, and found success when Ventura was off in South American exile. This 2-CD set starts off with a bang, or rather, a "boum," with two long, cornball medleys of old Charles Trenet hits, presumably taken from an early LP from 1953. The big band sound is too smooth here, and the tunes go on and on... Things improve considerably when Helian's own hits come into play: "Fleur De Paris," from 1945, was one of the anthems of liberated France, and the other tunes from the postwar years are similarly fun, including "C'est Si Bon," heard here with vocalist Jean Marco. Like his American contemporaries, Helian held out for as long as he could against the changing tides of popular culture -- as in the States, vocal stars (and later rock'n'roll music) steadily overshadowed big bands and swing bandleaders tried all sorts of strategies to remain relevant. Helian finally disbanded his orchestra in 1956 -- at the end of Disc Two, we hear where his struggle had led, when he was recording songs such as "C'est Le Rock And Roll" and "La Ballade De Davy Crockett." There was plenty of schmaltz and corn in between, including cover tunes of old Tin Pan Alley tunes and Disney themes, versions so lame that they would have made even Bing Crosby blush. There's also some fun stuff, including a bit of lively Latin American-themed exotica, and a goofy, lovable cover of Hank Williams' "Jambalaya." This set is a mixed bag, but it's worth checking out, particularly if you're an aficianado of French swing. More of the stuff from the 'Forties would be nice.

Jacques Helian "Volume 1: Mon Petit Fichu" (Marianne Melodie, 2004)



These late-1940s, early '50s swing recordings have a lot of "pep" to 'em, at least compared to a lot of other French pop from the era. There's a lot of mimickry of American big band and swank orchestral dance music, with clear echoes of Glenn Miller, Cab Calloway and some Latin dance music ala Tito Puente or Xavier Cugat... It's often shrill, and patently derivative of the music it emulates... But it's also fun, and worth checking out for some good, clean, kitschy fun. (Available through www.mariannemelodie.com )
Jacques Helian "Volume 2: Etoile Des Neiges" (Marianne Melodie, 2006)


Jacques Helian "Grands Orchestres Du Music Hall" (Marianne Melodie, 2007)



A generously programmed 2-CD, 55-song set with dozens of tracks by Helian's orchestra, as well as Helian backing various little-known artists from years gone by...
Johnny Hess "Les Etoiles De La Chanson" (MME, 1996)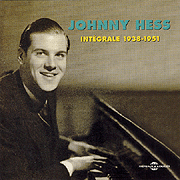 Johnny Hess "L'Integrale: 1936-1951" (Fremeaux & Associates, 2004)


This 2-CD set explores the career of pianist-singer Johnny Hess, who was the first musical partner of Charles Trenet, one of France's great, legendary performers. Their comedic, boogie and swing-oriented duo split up in the mid-1930s, with Trenet skyrocketing into the upper stratosphere of notoriety, while Hess struggled to find his footing as a solo performer. He did okay for a while, but began to stumble when public tastes changed, and his stylizations did not. This generous retrospective gathers his work with a number of bandleaders and his solo recordings (his earlier collaborations with Trenet are gathered in a separate series of Trenet's work)... The music is generally ebullient and glib; it's fun stuff, although it does tend to blur together after a while. One is forced to admit that Hess was a comparatively limited musician, yet these recordings are still quite fun, and once again, the Fremeaux label has done a superlative job rescuing yet another performer's legacy from oblivion... This collection is certainly worth checking out, and works well in a mix of music of similar vintage.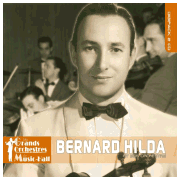 Bernard Hilda "Les Grands Orchestres Du Music-Hall" (Mariane Melodie, 2007)



A run 2-CD set of robust, though corny, late-1940s French big-band recordings, music with a delightfully second-hand, imitative sound. Hilda covers American jazz/rhythm classics such as Slim Gaillard's "Cement Mixer" and "Open The Door, Richard" (thankfully in French!) and numerous danceband standards. There's a softer, orchestral feel reminiscent of Glenn Miller and his followers, but in my book that's a good thing, and when combined with the sometimes hip source material, it's a beguiling mix. There are also some fun novelty numbers, such as "Ca C'est La Samba," a Latin-dance medley of various French folk tunes ("Alouette," et.al.) and a less-satisfying version of the Woody Woodpecker song. Vocals trade off between Mssr. Hilda and American-born Jane Morgan, who sings in French, but with a pronounced American accent. Morgan worked with Hilda for several years in Paris, but found that when she returned to the States, she'd been stereotyped as a "French" singer, an image that took several years to shake off; later she became a popular pop vocalist and Broadway star, but she kept a soft spot for French material, introducing material by Gilbert Becaud and others to an American audience. Fun to encounter her here at the start of her career.


<! "Champs-Elysees Club" http://www.mariannemelodie.fr/fr/musique/autres-styles/bernard-hilda-son-orchestre-champs-elysees-club-grands-orchestres-du-music-hall/2452043.html >
Irene Hilda "Mes Chansons Preferees" (Marianne Melodie, 2006)






<! bluesy! >

Rudy Hirigoyen "Ma Belle Au Bois Dormant" (Marianne Melodie)


Rudy Hirigoyen "Les Voix D'Or, v.1" (Marianne Melodie)


Rudy Hirigoyen "Les Voix D'Or, v.2" (Marianne Melodie)


Yvette Horner "Tonnerre De Musette" (Marianne Melodie, 1996)



Tour-de-force accordion music...
---
More Chanson > Letter "I"
---



French Music Index
French Rock & Pop


---