<! MP3 09/25/08 > <! update 09/25/08 > <! pix > <! icons 02/02/11 > <! UPDATES: 08/01/12: MM-based update, new reviews, pix >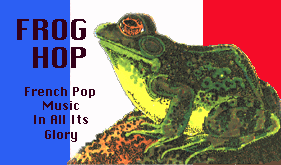 ---
CHANSON et MUSETTE
---
This page is part of a larger guide, reviewing various French chanson and musette recordings, focussing mainly on older, classic material, but also branching out to include some newer performers working in the same styles. Suggestions, recommendations and corrections are always welcome...
This page covers the letter "J"
---
Recommended Records: A | B | C | D | E | F | G | H | I | J | K | L | M | N | O | P | Q | R | S | T | U | V | W, X, Y & Z | Compilations | French Rock & Pop
---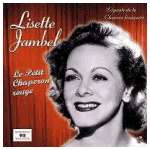 Lisette Jambel "Le Petit Chaperon Rouge" (Mariane Melodie)
A playful, songbirdish singer who dances atop brisk orchestrations in deft, precise vocal fillips... It's easy to picture the chirpy Mlle. Jambel gamboling about in a flowing gown, singing these flowery tunes in a film while waltzing or capturing the spotlight with her smile; there's a bouncy, dancelike feel to her work, a cheerful enthusiasm that's quite attractive. She is backed by various orchestras, notably those of George Briez, Marius Coste, Jack Ledru, Jacques-Henry Rys and, on one tune, Raymond Legrand; in each case the bandleader seems perfectly willing to match his arrangements to her style, although on a few tunes a brassy big-band vibe comes through. This disc covers 1946-61 -- I'd love to hear more!


<! 07/12: no ASIN >

Lucien Jeunesse "A La Francaise" (Marianne Melodie, 2007)



Jaunty comedic/romantic vocals, with arrangements that dip into both sweet-band and big-band swing. Kinda fun, and thankfully not very syrupy. Worth a spin!


<! Lucien Jeunesse, avant de devenir l'emblŽmatique animateur de radio que l'on sait ("Le Jeu des 1000 francs" sur France Inter), a Žgalement ŽtŽ un excellent chanteur de charme dans les annŽes 40 et 50, ˆ la discographie plus qu'abondante. D'abord chanteur d'orchestre et ce, avec les meilleurs du genre, tel Ray Ventura, et les plus cŽlbres accordŽonistes, d'Emile Prud'homme ˆ Louis Ferrari en passant par Etienne Lorin, il devient trs vite l'un de nos plus brillants chanteurs de charme ; de dŽcembre 1945 ˆ dŽbut 1956 il va graver plus d'une soixantaine de 78 tours, sur prs d'une dizaine de labels diffŽrents ! Le paroxysme de sa carrire se fera chez Sofradi, Festival, Pacific et Decca, firmes pour lesquelles il prte sa voix et offre d'excellentes versions de tous les grands succs du moment. Afin de rendre hommage ˆ notre ami Lucien Jeunesse, ce sont les 25 meilleurs titres qui ont ŽtŽ retenus ici ; Marianne MŽlodie est heureuse de vous les offrir aujourd'hui, et de rŽhabiliter gr‰ce ˆ ce CD, le parcours quelque peu mŽconnu d'un homme plein de talent et qui mŽritait vraiment que l'on s'y attarde un jour. B000N2H882 >

Marie Jose "Tangos Et Chansons Rares" (Marianne Melodie)





Marie Jose "Vous Que J'aimais" (Marianne Melodie)



A 2-CD set...
Marie Jose "Ses Plus Belles Chansons D'Amour " (Forlane)


Georges Jouvin "100 Titres D'Or" (Marianne Melodie)



A 4-CD set from the Harry James of France... Mellow, mostly instrumental music featuring trumpet player Georges Jouvin, often with a sleepy organ and modest orchestral accompaniment. Actually, I take back the Harry James comparison -- this music is far more lethargic than James' poppy big band sound, and far more limited. I mean, really: anyone who can transform "Rum And Coca-Cola" into a boring lounge tune is doing something remarkably wrong. Maybe the "sound library" set can find something to celebrate here, but they'd really be stretching it, if you ask me.
---
More Chanson > Letter "K"
---



French Music Index
French Rock & Pop


---