<! MP3 09/25/08 > <! pix > <! icons 02/02/11 > <! UPDATES: 09/25/08 07/26/12 - added MM titles, Anny Flore reviews, pix 08/14/12 - added stragglers, need to research Leo Ferre > <! LEO FERRE: need more(?) > <! Ferret brothers - gypsy jazz http://en.wikipedia.org/wiki/Pierre_Ferret >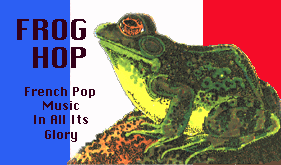 ---
CHANSON et MUSETTE
---
This page is part of a larger guide, reviewing various French chanson and musette recordings, focussing mainly on older, classic material, but also branching out to include some newer performers working in the same styles. Suggestions, recommendations and corrections are always welcome...
This page covers the letter "F"
---
Recommended Records: A | B | C | D | E | F | G | H | I | J | K | L | M | N | O | P | Q | R | S | T | U | V | W, X, Y & Z | Compilations | French Rock & Pop
---

Lily Fayol "Rue De Lappe" (Marianne Melodie, 2006)



A sometimes-lively, sometimes-dour cabaret singer with a husky voice and an obvious debt to Edith Piaf, as well as a tendency to dabble in styles such as American showtunes and swing where she is notably uncomfortable. On tracks such as "Berceuse" and "Ca Vient Tout Naturellement" (a Gallicized cover of Berlin's "Doin' What Comes Naturally") Fayol sounds resistant to the rhythm and the material, and her resistance makes her delivery quite clumsy... But on the jauntier French tunes and even on the rumbas and other Latin-dance numbers, she's pretty fun. Definitely worth checking out, though there are a couple of clunkers on here.

Fernandel "Etoiles De La Chanson" (Disky, 1999)


The horse-faced comedic actor Fernandel, a major box office draw in the 1930s, was surprisingly effective as a serious singer. To be sure, there are galloping comic recitations on here, but also plenty of "straight" songs that sound pretty swell. This is a generously programmed 25-song collection which includes many of his best musical numbers from 1931-42... all of it quite enjoyable. Recommended.
Fernandel "1931-1948" (Fremeaux, 2003)

Fernandel "Fernandel" (EMI-Pathe, 1997)

Fernandel "Le Flamboyant" (EMI, 2006)


A 2-CD set, presumably similar to the earlier collection of Pathe material above...
Fernandel "Harcourt M. De La Culture France" (Rym Musique, 2008)





<! not sure about this album title....>

Fernandel "Fernandel Of Marseille" (2008)

Fernandel "Paris Music Hall" (2007)

Louis Ferrari "Les Archives De L'Accordeon" (Marianne Melodie, 2011)



Musette accordion music, with hefty dips into Argentine tango and other Latin styles...
Jean Ferrat "Volume 1: 1961-1962" (Temey, 1988)






<! Deux Enfants Au Soleil - Ma Mome >

Jean Ferrat "Volume 2: 1963-1964" (Temey, 1988)


Jean Ferrat "Volume 3: 1965-1966" (Temey, 1988)


Jean Ferrat "Volume 4: 1967-1969" (Temey, 1988)


Jean Ferrat "Volume 5: 1970-1971" (Temey, 1988)


Jean Ferrat "Volume 6: 1972-1975" (Temey, 1988)


Jean Ferrat "Volume 7: 1979-1980" (Temey, 1988)


Jean Ferrat "Les Annees Barclay" (Box set) (Temey, 1988)


A 5-CD box set, covering his work through the 1960s...


<! Jean Ferrat "Annes Barclay..." series> <! LEO FERRE: a few titles... "Les Chansons Interdites Et Autres, v.2" B00008ZPCO "Les Chansons D'Aragon Chantees Par Leo Ferre" (L'IntŽgrale 1960-1974, Vol. 1) B000006YNU "La Langue Francaise (Vol4)" B00008ZPCQ "Pote... Vos Chansons" (title? ) B0002CHIP6 B0015PB3S2 >

Leo Ferre "Les Annees Odeon: 1953-1955" (Versailles, 1996)


Leo Ferre "Chanson Francaise" (Universal, 2010)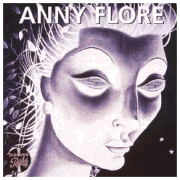 Anny Flore "Anny Flore" (EMI-Pathe, 1998)


I have lusted after this 2-CD collection for a few years now, and having finally tracked down the Duex Sons D'Violettes album below, I want it even more. Sigh. Well, someday my day will come...!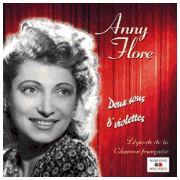 Anny Flore "Duex Sons D'Violettes" (Marianne Melodie, 2001)



Delicious, robust romantic chanson from the late 1940s and early '50s, with majestic, emotive vocals in the classic tradition of Edith Piaf, Lucienne Boyer, et. al. Flore is perhaps a little more buoyant than those downcast grand dames, but she's also not a chirpy songbird. She is backed by a variety of bandleaders, including Paul Benneau, Rene Joly and Henri Leca; the disc closes with one interesting anomaly, a Brazilian themed tune called "Carnaval," which features a lively electric guitar -- all the other tracks feature standard orchestral backing. Great stuff from a singer with a really nice voice.
Harry Fragson "Succes Et Raretes: 1903-1912" (Chansophone, 1995)





<! One of the most popular singers in BELLE ƒPOQUE era,FRAGSON actually became popular in FRANCE and in ENGLAND singing in both languages,a rare feat at the time.This was a time when the voice of the singers were recorded without the microphone.Those recordings are of particular interest,if you have a passion for that era.That kind of singing of course became old hat after world war 1 ,when new stars like MAURICE CHEVALIER and MISTINGUETT emerged.Along with his contempories POLIN,DRANEM and MAYOL,FRAGSON came to symbolize his time very well.Like MARVIN GAYE,FRAGSON'S life ended tragically at age 44, when his father shot him because he thought his son wanted to send him to an old age house.The last songs in the collection are in ENGLISH.For today's crowd,they sound perhaps unintentionnaly funny.It is interesting to note that many of FRAGSON'S songs are ironic and mysogyne(excuse my french).L'AMOUR BOITEUX,JE CONNAIS UNE BLONDE and SI TU VEUX MARGUERITE were big hits. >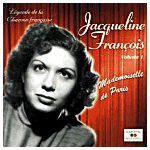 Jacqueline Francois "Volume 1: Mademoiselle De Paris" (Marianne Melodie, 1999)



I've always instinctively avoided Jacqueline Francois' records - too many of them, and obviously she was a pointedly mainstream artist, perhaps a little too accessible to the tastes of American audiences during the 1950's pop vocals era. Anyway, I figured if I was ever going to check her out, it would be a good idea to start at the beginning, and this disc, which covers 1948, when she was working primarily with bandleader Paul Durand, looked like a good option. On the opening bars of the first track, I thought, ooooh, pretty voice - smooth, confident phrasing -- classy! But then it all started to sound the same, with Francois loping gently over Durand's sleek, velvety string arrangements and light orchestrations. She clearly intended to poise herself as the next big thing, and went about it with a very professional demeanor, but it's all too controlled. She tackles the signature songs of 1930s stars, like Edith Piaf's "La Rose En Vie" and Charles Trenet's "La Mer," but these have the same smooth, authoritative, businesslike feel as the other tracks -- there's none of Trenet's giddiness or Piaf's ragged emotionalism, just classy songs sung in a too-perfect style. It's not unpleasant in any way, but it doesn't move me. Looks like there are several other volumes to go in this series (and countless other releases over her decades-long career...) but this might satisfy my curiosity for now.
Jacqueline Francois "Volume 2: Il Avait Toutes Mes Preferences" (Marianne Melodie, 2006)


Jacqueline Francois "Volume 3: Tu N'peux Pas Te Figurer" (Marianne Melodie, 1999)


Jacqueline Francois "Volume 4: Moi Je Dors Pres De La Seine" (Marianne Melodie, 2006)


Jacqueline Francois "Volume 5: Lavandieres Du Portugal" (Marianne Melodie, 2008)


Anne Fratellini "Anne Fratellini" (EMI-Pathe, 1997)

Frederica "Mes Chansons Intimistes" (Marianne Melodie)


Frehel "Frehel" (EMI-Odeon/Disques Pathe, 1998)


A stellar collection of one of the most fabled and tragic of the great "realistic" singers of the prewar era. Like Edith Piaf, who revered her, Frehel (nee Marguerite Boulch, 1891-1951) learned her craft on the streets, and was "discovered" and became a star when still a teenager. As "Pervenche," she was the toast of Paris before World War One, but left France for over a decade, returning in the early 1920s to take the town again, this time as Frehel. She recorded prolifically and acted in over a dozen films, yet died a pauper at the age of 59. She put in a lot of living before then, though, and took popular chanson to new heights. This excellent 2-CD set gathers three dozen of her best tracks, programmed chronologically from 1931-1939. To put it simply, her voice is just wonderful -- plainspoken, but rich, full-toned and powerful, and packed with emotion. The earlier recordings appeal to me the most, but this is all very fine material, one sad, beautiful song after another. The sound quality is wonderful as well: the entire Pathe series is a delight, and the transfer from LPs to digital format has hurt it not a bit. Highly recommended!
Frehel "Les Chansons Eternelles" (Chansons Eternelles, 1998)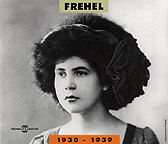 Frehel "Volume 1: 1930-1939" (Fremeaux, 1999)


Another excellent 2-CD set... Like the Pathe collection above, this gathers thirty-eight of Frehel's classic recordings of the 1930s, and there is considerable overlap between the two. I'm glad I have them both, though, since there is a 13-song difference between the two, and having an extra album's worth of Frehel's work is definitely worth it. Taken on its own, though, this is also a very strong set -- either collection would be great to have; this one is a gem.
Frehel "1909-1930" (Chansophone)

Frehel "1926-1936" (Chansophone)

Frehel "Paris Music Hall" (Orphee, 2007)

Frehel "La Java Bleue" (Intense, 2006)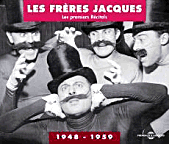 Les Freres Jacques "Les Premiers Recitals: 1948-1959" (Fremeaux, 2010)


A jolly, boisterous 3-CD set celebrating one of postwar France's best musical acts. Les Freres Jacques were a comedic quartet who came together while doing radio work in the late 1940s and, discovering how well they harmonized vocally and artistically, they created an delightfully playful repertoire that celebrated and teasingly lampooned the best of the then-modern French popular song. A lot of the wordplay is beyond me, but the infectious good humor of their performances comes through decades later, especially on the live tracks, where the audiences roar with delight. These discs are intriguing in that they recreate the quartet's carefully rehearsed stage shows, arranging studio recordings in the same order as their old set lists and, in the case of the live tracks, capturing an actual show, complete with the banter and the palpable thrill of the crowd. These discs are a lot of fun, and a great historical treasure, reviving one of the most vigorous musical groups from an era when French music (like American) was moving towards more staid orchestral style. Not this stuff: there's wit, whimsy and plenty of rhythm here... Highly recommended!
Les Freres Jacques "Les Freres Jacques" (EPM, 2009)

Les Freres Jacques "Saint Medard" (Membran, 2006)

Les Freres Jacques "Barbara" (2006)

Les Freres Jacques "Les Freres Jacques" (Mercury, 2008)


3-CD box set
Les Freres Jacques "L'Entrecote" (Le Chant Du Monde, 2010)

---
More Chanson > Letter "G"
---



French Music Index
French Rock & Pop


---