<! MP3 09/25/08 > <! update 09/25/08 > <! pix > <! icons 02/02/11 > <! UPDATES: 08/01/12: MM-based update, new reviews, pix >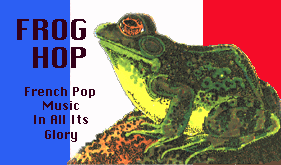 ---
CHANSON et MUSETTE
---
This page is part of a larger guide, reviewing various French chanson and musette recordings, focussing mainly on older, classic material, but also branching out to include some newer performers working in the same styles. Suggestions, recommendations and corrections are always welcome...
This page covers the letter "K"
---
Recommended Records: A | B | C | D | E | F | G | H | I | J | K | L | M | N | O | P | Q | R | S | T | U | V | W, X, Y & Z | Compilations | French Rock & Pop
---

Karady Katalin "Archiv Felvetelek: 1939-1949" (Pepita, 1979)
Okay, this isn't quite proper chanson, but it sure is cool. I stumbled across this LP in a local used bin a while back, and took a shot, since it looked so groovy. Sure enough, Karady was exactly what she looked like -- a masterful Hungarian torch singer, their version of Marlene Dietrich, or even Edith Piaf. She was apparently a big film star in the '30s and '40s, and recorded widely over several decades. This LP concentrates on her work during the 'Forties, and it's all great material, with strong arrangements and solid vocals. I've tried looking up information about Katalin, but there isn't much out there, even in Hungarian. An internet DJ from Budapest wrote me to say that Karady is an iconic figure for her country, but fairly old-fashioned. As he put it, everyone has a Karady Katalin album in their house, but it's usually left over from their grandparent's record collection. Karady emigrated to the U.S. during the Cold War, living in New York through the 1990s. Any other information readers can offer about Karady's career is certainly welcome. (Note: Hungarians, like some Asians, apparently write their names "backwards," so the family name of Karady comes before her first name, Katalin...)
Rina Ketty "Rina Ketty" (EMI/Disques Pathe, 1998)


A 2-CD set...
Rina Ketty "Etoiles De La Chanson" (Disky, 1999)


Rina Ketty "J'Attendrai" (Intense, 2006)


A beautiful collection of classic recordings from one of the finest "realistic" singers of the 1930s and '40s. Ketty, whose real name was Rina Piccheto, was born in Italy, but she emigrated to Paris in the late 1930s, and became one of the leading stars of the WWII era. Her voice is absolutely gorgeous! Also, her phrasing is much smoother and more elegant than many of the other chanson divas, perhaps becuase she did not have formal training, and retained fewer of the stagy affectations of other cabaret and music-hall singers. Regardless, her singing is a constant delight, with a mix of Latin-themed numbers, rollicking musette and waltzes, a touch of swing -- this is one of the most pleasant album of its kind, well worth tracking down! (Despite a slight tape hiss underneath some songs, this edition has very good sound quality -- a full, well-rounded sound that is a delight to hear...) Recommended!


<! pretty voice, nice sound quality, often Spanish-themed material > <! Rina Ketty (neŽ Rina Piccheto, 1911 in Torino, Italy)emerged in Paris in the late 1930s as the famous accordeon vituoso, Jean Vaissade's lover (and later - his wife). Her small, yet strong and crystal clear voice soon became one of the best known voices in the field of French romantic song. Rina did not have any musical education, her only singing ... >

Rina Ketty "Volume 1: Montevideo" (Marianne Melodie)


Rina Ketty "Volume 2: Priere A La Madone" (Marianne Melodie)


Rina Ketty "J'Attendrai" (EMI/Disques Pathe, 2011)


A greatly diminished, single-disc reedition of the fab 2-CD Pathe collection above... Downsized from forty tracks to fourteen. Oh well; it's still great stuff!
---
More Chanson > Letter "L"
---



French Music Index
French Rock & Pop


---