<! MP3 09/25/08 > <! update 09/25/08 > <! pix > <! icons 02/02/11 > <! UPDATES: 08/01/12: MM-based update, new reviews, pix > <! Felix Chardon - swing - on comps No'l Chiboust et son orchestre - 08/12: on fake EP Coccinelle "Star Du Carrousel De Paris" (Marianne Melodie) B00026WSGG B0026DI0KG Jane Chacun "Mon costaud de Saint-Jean" [MC3152] Incontestablement l'une des plus grandes chanteuses populaires des annŽes 40. 02/11, 08/12: NO ASINs, only on comps George Chepfer "32 Paysanneries Et Saynetes Lorraines" (Marianne Melodie) B000N2H87I B0026D2X7M Maria Candido "Ciribiribin" (volume 2) (Marianne Melodie) Jean Chevrier "La MŽmoire du Coeur" poetry & comedy Nane Cholet - singer, wife of Jean Tranchant - no albums as of 08/12 Jose Christian >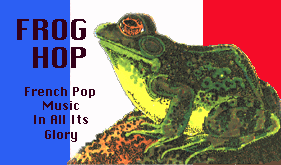 ---
CHANSON et MUSETTE
---
This page is part of a larger guide, reviewing various French chanson and musette recordings, focussing mainly on older, classic material, but also branching out to include some newer performers working in the same styles. Suggestions, recommendations and corrections are always welcome...
This page covers the letter "C"
---
Recommended Records: A | B | C | D | E | F | G | H | I | J | K | L | M | N | O | P | Q | R | S | T | U | V | W, X, Y & Z | Compilations | French Rock & Pop
---
Reda Caire "Le Seducteur" (Forlane, 1992)






<! includes 10 tracks not on the Succes Et Raretes album below >

Reda Caire "Succes Et Raretes - Enregistrements Originaux: 1933-1946" (Chansophone, 1998)





<! also on CD, but not through AM >

Reda Caire "Un Soir A Havana" (Musique De France, 1999)

Reda Caire "1934-1962" (Fremeaux, 2004)

Maria Candido "Volume 1: Le Torrent" (Marianne Melodie, 2006)






<! Maria Candido "Volume 2: Ciribiribin" (Marianne Melodie) B000MTEGEK B0026D2ZLQ Maria Candido "Volume 3: Jardins d'Andalousie" (Marianne Melodie) B004FFBM4E B004IE7LEC >

Maria Candido "Le Gondolier" (Vintage Music, 2011)



Digital reissue of a 45rpm single, originally from 1958.


<! Maria Candido Maria CANDIDO, la voix la plus ensoleillŽe de la Chanson Franaise, forgŽe ˆ la dure Žcole du chant Classique, a abordŽ avec talent, une parfaite ma"trise et beaucoup de sensibilitŽ, un rŽpertoire de soprano lyrique qui lui permet, chose rare, de passer des mŽlodies ˆ la chanson de charme rythmŽe et inspirŽe d'exotisme, sans oublier bien sžr la chanson populaire dans la plus pure tradition. Aujourd'hui encore, son seul nom Žvoque la plus ravissante et toute dernire divette de l'‰ge d'or de l'OpŽrette Franaise. Dans cette compilation, la deuxime consacrŽe ˆ notre vedette dans notre prestigieuse collection "LŽgende", ces nombreux et fidles admirateurs retrouveront avec plaisir les 22 autres titres enregistrŽs sur le label "La Voix de son Ma"tre" entre 1952 et 1956, lesquels forment avec les 20 titres prŽsents sur notre premier volume, l'intŽgralitŽ de sa discographie chez PathŽ-Marconi. > <! Carline 1950s "PrŽparez une coupe de champagne, une lumire plut™t tamisŽe et invitez votre partenaire ˆ danser quelques slows ou bolŽros langoureux, au son de la voix mŽlodieuse de notre interprte Carline. Sans que l'on s'en aperoive, le charme agit et d'autres couples s'enlacent en Žcoutant ces chansons d'amour. Et voilˆ, vous tes sŽduit par cette voix nouvelle, et c'est bien normal. Chanteuse de charme idŽale, Carline, authentique voix des 50's, nous fredonne ici 24 succs inoubliables, que vous rŽentendrez sans nul doute avec beaucoup de bonheur et peut-tre un brin de nostalgie..." >

Agnes Capri "Succes Et Raretes" (Marianne Melodie)

Elyane Celis "Baisse Un Peu L'Abat-Jour" (Marianne Melodie)

Elyane Celis "Le Rossignol Du Music-Hall" (Marianne Melodie)


Elyane Celis "Volume 2" (Marianne Melodie)





<! operette >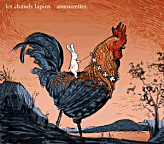 Les Chauds Lapins "Amourettes" (Barbes, 2010)



(Produced by Les Chauds Lapins & Pat Dillett)
A delicious update of old-school French chanson and musette from Brooklyn acoustic hipsters Meg Reichardt and Kurt Hoffman, whose affection for this antique music comes through on every track. The repertoire leans towards the songbook of 1930s diva Mireille, and echoes her lighthearted approach. The arrangements include some instruments that are unusual for the genre, such as cello, viola, banjo and ukulele -- they sound cool but also signal that Hoffman and Reichardt aren't tying themselves down to a fossilized, museum-y idea of what French Chanson has to sound like. Indeed, they readily admit that they aren't all that fluent in French itself; they just really like the music. New York jazz/klezmer luminary Frank London chimes in on trumpet, adding his talent to a very satisfying, freewheeling romp through classic French pop.

Maurice Chevalier "Louise" (ASV, 1997)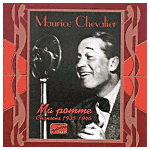 Maurice Chevalier "Ma Pomme: Chansons: 1935-1946" (Naxos, 2000)


This set of comedic oldies was, I'll admit, a bit too rarified for simple little old me. Chevalier gallops through one brisk, musichall-ish tune after another; I'm sure the wordplay is a gas for those fluent in French, but for those of us who aren't as adept, the musical end may fall flat. Nice archival material, but not as fun to listen to as some of the more melodic chanson of the same era. Includes a Frenchified version of a Brazilian samba standard, "Mama Eu Queiro," which was first made famous by the great Carmen Miranda... This version, while not as dazzling as hers, is still a nice slice of cross-pollinating world culture...

Maurice Chevalier "Cocktail Hour" (Allegro, 2000)


The good-natured Chevalier is perhaps best known to American audiences for his timelessly lecherous "Gigi" -- this 2-CD set of English-language recordings will help reinforce whatever pleasurable stereotypes come from that association. The man had a knack for infusing his songs with a figurative wink and a leer... no matter what language he sang in. These are later recordings, but no less enjoyable for their lack of Gallic "authenticity"... As with the other Allegro Cocktail collections, this barebones 2-CD set lamentably has no liner notes, but has the advantage of providing a lot of cute music for a very modest price.


<! 108 x 108 >

Maurice Chevalier "Etoiles De La Chanson" (Disky, 2000)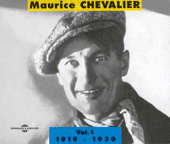 Maurice Chevalier "Volume One: 1919-1930" (Fremeaux, 2003)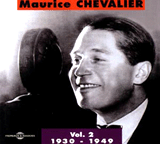 Maurice Chevalier "Volume Two: 1930-1949" (Fremeaux, 2003)

Maurice Chevalier "Le Plus Belles Chansons" (Coppelia, 2003)

Bruno Clair "Mes Plue Jolies Chansons" (Marianne Melodie)



Andre Claveau "Andre Claveau" (EMI/Disques Pathe, 1998)


A 2-CD set of this mellow, milquetoast-y Gallic crooner... Claveau had a mild, yet declarative delivery -- suave yet masculine, and very easy on the ears. The arrangements tend to be subdued and undistinctive, though this collection is nice to listen to, in a relaxing, mellow mode.
Andre Claveau "Etoiles De La Chanson" (Melodie, 2002)

Andre Claveau "Etoiles De La Chanson" (Disky, 2002)


This is the exact same playlist as the Melodie set listed above... 22 prime recordings from Claveau's heyday. <! 1. Chez Moi 2. Cette Melodie 3. Berceuse Tendre 4. Je Veux Ce Soir 5. Quand un Petit Oiseau 6. J'Ai Quatre Chanson 7. Attends Moi Mon Amour 8. Chanson de Mon Coeur 9. Tendrement Tristement 10. Ma Vieille Jument 11. Ah C'qu' on S'Aimait 12. Toujours dans Mon Coeur 13. Tu Pourrais Etre au Bout 14. Tout Me Rappelle Sa Chans 15. Vieux Moulin 16. Je Vous Ai Tout Donne 17. Ma DeRniere Chanson 18. En Fredonnant La Meme Cha 19. Mon Chemin N'Est Pas le V 20. Yeux Fermes 21. Tout en Flanant 22. Valse Que Nous Dansons >
Andre Claveau "Cerisier Rose Et Pommier Blanc " (Universal, 1998)

Andre Claveau "Domino" (Rym Musique, 2008)

Philippe Clay "CD Story" (Universal, 2006)

Philippe Clay "Cigarettes, Whisky Et P'tites Pepees" (Forlane, 2008)



An overly comedic collection of '50s/'60s recordings by actor Philippe Clay, who is likable but lacking in gravitas. On purpose, no doubt, pursuing music as a lark, and seeking to project a lighthearted, bon vivant image in contrast to the tragedy-bound old-guard of classic French chanson. But I prefer the old stuff -- this modern clowning around, with novelty arrangements and manic digressions, doesn't really wow me.
Philippe Clay "Le Danseur De Charleston" (Marianne Melodie, 2008)


Bruno Coquatrix/Various Artists "Ses Premires Chansons, Ses Premiers Interprtes" (Marianne Melodie)






<! 3 CD - Chansons et OpŽrettes (1935-1959) - Inclus dans ce coffret un CD inŽdit de 20 enregistrements ÇliveÈ rŽalisŽs ˆ lÕOlympia entre 1954 et 1959 par les plus prestigieuses vedettes de lՎpoque >

Joseph Columbo/Various Artists "Compositions: 1924-1942" (Fremeaux & Associates, 1993)


An outstanding archival collection of musette accordionist Joseph Columbo, featuring recordings by Columbo and his family, as well as other stars of the genre, such as Guy Viseur and Guerino. An immigrant of Italian background, Columbo wrote many of the most enduring tunes of this style, including "Germaine" and "Passion", both included here. It's lovely stuff, though best taken in small doses. There's a bit of gypsy guitar thrown in, as well as some clarinet work that gives a Little Rascals tone to some of the songs. Recommended!


<! Alix Combelle - jazz player, Ray Ventura alum, several CDs available, including a series in Classics label >

Alix Combelle "The Swinging Mister Alix: 1937-1942" (EPM Jazz Archives, 1998)

Alix Combelle "Chronological: 1935-1940" (Classics, 1998)





<! also B00007GX9P >

Alix Combelle "Chronological: 1940-1941" (Classics, 1994)


Although charming, these early, all-instrumental wartime recordings are also illustrative of a history of Eurpoean jazz in which enthusiastic Continentals didn't quite "get it." The jovial, toot-tootling arrangements are powerfully reminiscent of the pre-big band, post-Dixieland American dance bands, with Combelle's lush saxophone framed by romping, relentlessly cheerful ensembles and rather perfunctory solos. It's cute, but not always that compelling, or at least not the kind of thing "serious" jazz fans would give much credit to... Of course, there's nothing wrong with lightweight dance-band jazz: just look at how much I enjoy the British "sweet bands" of the same era. The most notable element of these recordings by Combelle and his crew are the guitar solos by the fabled Django Reinhardt and his brother Joseph Reinhardt, which pepper several tracks with a bit of gypsy jazz -- it doesn't really feel like it fits in with the easygoing schmaltziness of the rest of the band, but it's still cool to hear how other French musicians were approaching the style. Plus, what a difference a year makes: midway through this disc, when Combelle enters 1941, the arrangements get smoother and more sophisticated, with a strong Glenn Miller-style influence coming to the fore. The recordings of just a couple of month earlier were a little too bouncy for me, but the second half of this collection is much more enjoyable. Worth a spin if you like corny big band music, and also for gypsy jazz fans, the handful of Reinhardt tracks should be of interest (although they are also collected elsewhere on his albums...)


<! also B000001NOW >

Alix Combelle "Chronological: 1942-1942" (Classics, 2001)





<! also B000001NPP >

Les Compagnons De La Chanson "Les Trois Cloches" (Marianne Melodie, 2001)



<! 07/12: several collections w/ same name - no ASIN for MM version >

Eddie Constantine "Cigarettes, Whisky Et P'tites Pepees" (Marianne Melodie, 2008)


Eddie Constantine "Ah! Les Femmes" (Marianne Melodie)


Annie Cordy "Volume One: Les Trois Bandits De Napoli" (Marianne Melodie)


Annie Cordy "Volume Two: Miss Pommarole" (Marianne Melodie)


Annie Cordy "Les Annees Columbia-Pathe: 1952-1969" (Marianne Melodie, 2010)



A 15-CD(!) box set? Holy kazoley!!
Annie Cordy "Disques Pathe" (EMI)


A 2-CD set...
---
More Chanson > Letter "D"
---



French Music Index
French Rock & Pop


---