<! MP3 09/25/08, 02/02/11 > <! update 09/25/08, 02/02/11 > <! pix > <! icons 02/02/11 > <! UPDATES: 08/01/12: MM-based update, new reviews, pix > <! Christophe Lampidecchia "Valse En Fete" (Marianne Melodie) - classic or newer? Valse baroque - La valse ˆ Polo - GŽraldine - Tournerie manouche - Tie break - Niglo - FrŽquence musette plus - Voisine - La 215 - Croque musette - Turbulence au musette - La valse ˆ Polo - Embuscade - Coeur de swing - Frissonnante - Happy days > <! Franz Lehar La Veuve joyeuse - Le Pays du sourire [1 CD VariŽtŽ franaise - Marianne Melodie] OpŽrettes de Franz Lehar avec Jean Lumire, Germaine Cernay, HŽlne Regelly, Louis Arnoult, JosŽ Janson, AndrŽ BaugŽ... > <! Francis Linel "Monsieur Le Consul A Curityba" (Marianne Melodie) B000FFJQR8 B0027ZLQ2M Pierre Louki > <! Emma Liebel "1923-1927" ** > <! Germaine Lix -02/11: only one song ASIN > <! Michel Lucky - 02/11: only a couple of tracks on MP3 > <! Francis Lemarque - songwriter and recording artist > <! Robert Lamoureux J'ai un moral ˆ tout casser" (MM) > <! Lucien Lupi - super-schmaltzy singer - later vintage? Francis Lopez "Tete De Linotte" RenŽ Louis Lafforgue "Julie-La-Rousse" (MM) B001IAGQJU B0026CZ0R8 >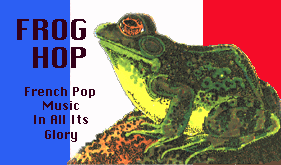 ---
CHANSON et MUSETTE
---
This page is part of a larger guide, reviewing various French chanson and musette recordings, focussing mainly on older, classic material, but also branching out to include some newer performers working in the same styles. Suggestions, recommendations and corrections are always welcome...
This page covers the letter "L"
---
Recommended Records: A | B | C | D | E | F | G | H | I | J | K | L | M | N | O | P | Q | R | S | T | U | V | W, X, Y & Z | Compilations | French Rock & Pop
---
Rene Louis Lafforgue "Chante" (Pathe) (LP)





<! Pathe double LP chanson >

Rene Louis Lafforgue "Julie-La-Rousse" (Marianne Melody, 2008)


Rene Louis Lafforgue "Marguy" (EP) (Vintage Music, 1956/2011)


Annette Lajon "Grandes Chansons" (TSK, 2012)





<! 1935-47 >

La Palma "1930-1936" (Chansophone, 1996)







Simone Langlois "Succes Et Raretes" (Marianne Melodie)



<! Collection 78 tours...et puis s'en vont http://www.mariannemelodie.fr/fr/musique/chanson-retro/simone-langlois-succes-raretes-collection-78-tours-et-puis-s-en-vont/4043246.html >

Gloria Lasso "Gloria Lasso" (EMI-Pathe, 1998)

Gloria Lasso "Du Moment Qu'On S'Aime: Collection Pathe" (EMI-Pathe, 2004)

Gloria Lasso "Platinum Collection" (EMI-Pathe, 2008)


A 3-CD set...


<! Spanish -language? > <! several other titles on Amazon 07-08 > <! Gloria Lasso (b. November 25, 1922 - d. December 4, 2005) was a Spanish-born singer, long based in France. In the fifties, she was one of the major competitors to Dalida. Born as Rosa Mar'a Coscolin in Vilafranca del Peneds, Catalonia, she achieved a degree of fame and success in the 1950s and 1960s, with songs such as Amour, castagnettes et tango (1955), Etranger au paradis (1956), a French version of Stranger in paradise by Tony Bennett), Buenas noches mi amor (1957) and Bon voyage (1958). Eventually superseded by Dalida, she moved to Mexico, but attempted a come back in France in 1985 at the Paris Olympia. She was reportedly married six (6) times. She passed away on the from a heart attack, aged 83, at her Cuernavaca, Mexico home. > <! Odette Laure 2080673866 (book) >

Odette Laure "Mes Chansons Coquines" (Marianne Melodie, 2006)



Renee Lebas "Etoiles De La Chanson" (Marianne Melodie, 1995)


I imagine Lebas was a secondary figure in wartime chanson, (although, with Piaf around, who wasn't a second-stringer?) Still, these tracks, recorded from 1942-44, have their charm... Leblas seems to have specialized in songs that had a blues and swing influence... She's not the most moving of singers, but the recordings themselves have a certain nostalgic air to them, and with songs such as "La Legende Du Swing" and a Frenchified version of "Ridin' Home," this disc has definite novelty appeal.
Renee Lebas "Renee Lebas" (Box Set) (Universal, 2006)


A 3-CD collection..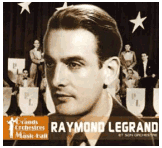 Raymond Legrand "Grands Orchestres Du Music-Hall: El Rancho Grande" (Marianne Melodie, 2006)



An excellent 2-CD set of classic material by Raymond Legrand, a popular 1940's bandleader also known as the father of composer Michel Legrand. He had several wives, including swing-chanson singer Irene de Trebert, who is featured extensively on this collection. (All the Irene de Trebert tracks on this collection are also included in the 2-CD set of her work put out by Fremeaux & Associes, an overlap of twenty tracks, about half the material on either collection.) Other artists are included as well, such as Blanche Darlys and Roger Toussaint and some comedic numbers credited to a vocal trio. All in all, a marvelous set, with great nostalgic material and a "softie" feel compared to some American big band, as well as a whiff of older French musical motifs. Nice stuff!


<! http://www.mariannemelodie.fr/fr/musique/chanson-retro/raymond-legrand-son-orchestre-el-rancho-grande-grands-orchestres-du-music-hall/2463040.html http://fr.wikipedia.org/wiki/Raymond_Legrand first wife was Jacques Helian's sister - Michel's mom > <! Raymond Legrand, musicien exceptionnellement douŽ, et dont le succs se rŽsume surtout ˆ la seule pŽriode 1940-1944, demeure dans la mŽmoire collective gr‰ce ˆ des musiques merveilleuses, pleines de rythme et de "swing", ainsi qu'ˆ une bonne dizaine de tubes chantŽs principalement par Roger Toussaint et Irne de TrŽbert, et qui, nous pouvons le dire, contriburent au bon moral des Franais dans les jours sombres de l'Occupation. Qui, en effet, n'a pas fredonnŽ "El Rancho Grande", "Parlez-moi du printemps", "Dans le chemin du retour" et bien sžr l'incontournable "Mademoiselle Swing", immortalisŽ au cinŽma en 1942 par Irne de TrŽbert ? Parce que Ray Ventura a quittŽ la France pour l'AmŽrique du Sud et que Raymond Legrand n'est pas mobilisŽ, il fonde son propre orchestre avec les meilleurs musiciens disponibles, parmi lesquels AimŽ Barelli, Michel Warlop, Loulou GastŽ et Hubert Rostaing. Pendant 5 ans, les activitŽs scŽniques et discographiques de Raymond Legrand sont des plus incroyables : plus de 60 faces seront enregistrŽes ! >

Francis Lemarque "In Paris" (Intense, 2006)

Francis Lemarque/Various Artists "Chansons De Ma Jeunesse" (Marianne Melodie, 2008)



A collection of hit songs by composer Francis Lemarque, covered by a variety of artists...


<! "...25 Artistes Chantent Les Refrains De Francis Lemarque" >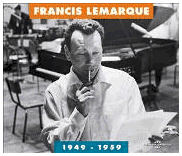 Francis Lemarque "1949-1959" (Fremeaux, 2011)


As French popular music changed radically after World War Two, shedding its rougher edges in favor of a swank, more sophisticated sound, a new generation of artists emerged to define the new style. One of the key players in this shift was songwriter Francis Lemarque, who was best known for his association with film star and pop crooner Yves Montand, for whom he wrote numerous new songs. Lemarque penned hits for many artists, including some older chanson stars but largely for the new generation of singers who took up the torch in the late '40s and early '50s. He also became a performer in his own right, and this deluxe 2-CD set collects dozens of tracks Lemarque recorded for the Fontana label in the decade between 1949-59. It features Lemarque singing in front of the orchestras of Michel Legrand, Emil Stern, and Rudi Revil (whose career was closely linked to his own...) as well as a number of tracks with Lemarque as bandleader. Some of the arrangements are dynamic and inventive, some feel staid or antiseptic, compared to the accordeon music and swing jazz of the prewar years. It's a fine document of French music transitioning into the modern postwar era, of sure interest to student of French pop.
Lily Lian "Chansons Des Rues" (Marianne Melodie, 2007)






<! Lily Lian "Chansons des rues" (MM) A la LibŽration, Lily chantait dans les rues de Paris, munie de sa prŽcieuse permission dŽlivrŽe par la PrŽfecture de Police. AccompagnŽe d'un accordŽoniste, la jeune femme chante inlassablement, dans son porte-voix en fer blanc, tous les succs du jour, jusqu'ˆ ce que toutes les partitions soient vendues. Aujourd'hui, Lily, la dernire chanteuse officielle des rues de Paris, aprs avoir usŽ ses souliers sur le pavŽ parisien, fte ses 90 ans en robe longue, mise en plis laquŽe et maquillage soignŽ, et se souvient... Elle se souvient du temps o elle fut la muse de Vincent Scotto, du temps o Maurice Chevalier l'appelait "La Duchesse du Trottoir", de Piaf, de FrŽhel, avec qui elle a partagŽ quelques instants de vie, de Jean Lumire... Et du public qui s'arrtait pour entendre chanter leur Lily Paname dans les parages du mŽtro Barbs ou Place de la Madeleine, les pieds gelŽs lors des hivers impitoyables de l'immŽdiat aprs-guerre. Et bien sžr de toutes ses chansons, ˆ jamais gravŽes dans sa mŽmoire, qu'elle clamait, accompagnŽe de son accordŽoniste aux doigts solides, dans son porte-voix aujourd'hui exposŽ au MusŽe des Arts et Traditions Populaires. La voix de Lily est authentique, belle, ses refrains populaires, tristes ou gais peu importe, Lily chante la vie, celle de tous les jours, celle qui nous ressemble si Žtrangement. Une belle Žpoque o les gens s'arrtaient pour Žcouter la vie chantŽe...>

Robert Lamoureux "Mes Toutes Premieres Chansons: 1949-1952" (Marianne Melodie, 2007)


Robert Lamoureux "La Chasse Au Canard" (Forlane, 2008)






<! ROBERT LAMOUREUX operette? MANY albums - long career >

Lily Lian "Chansons Des Rues" (Marianne Melodie, 2007)






<! Emma Liebel "1923-1927" ** 07/12: still no ASIN > <! Germaine Lix - 02/11, 07/12: only one song ASIN > <! Michel Lucky - 02/11, 07/12: only a couple of tracks on MP3 >

Jean Lumiere "Le Charmeur Des Ondes" (Forlane, 1992)



Delightfully prissy, maudlin love songs, recorded between 1932-39. This is about as twee as early French pop can get, solidly within the "sweet band" tradition of American bandleaders such as Jean Goldkette and Glen Gray, or Britain's Ray Noble Orchestra. Great stuff.

Jean Lumiere "Etoiles De La Chanson" (Disky, 1999)


A nice 22-song collection... Only three tracks overlap with the Le Charmeur Des Ondes collection above... Like that volume, this is exceedingly fey and genteel, but also delicious. The tracks where he sings with just piano accompaniment are quite revealing; when he's got a full orchestra behind him, though, it can feel a little smothering.
Jean Lumiere "La Petite Eglise" (Marianne Melodie, 2006)


Jean Lumiere "Le Prince De La Chanson De Charme: 100 Titres D'Or" (Marianne Melodie, 2009)



A 4-CD set...
Christiane Lys "Mes Chansons d'Amour" (Marianne Melodie, 2006) *






<! Nice stuff - lovely voice with arrangements that are modern, but restrained. A nice update of the old musette sound... Elle est belle, elle a un talent fou, elle chante l'amour et les jours heureux comme nulle autre, Christiane Lys est l'une des nouvelles venues les plus remarquŽes dans la chanson en 1945. Elle a une voixqui fait rver, douce et caressante, chaude et nuancŽe, qui chante l'amour, ses exaltations et ses peines, avec une extrme sensibilitŽ et un charme exceptionnel. Retrouvez dans ce CD unique et rare la totalitŽ des enregistrements en 78 tours (1946-1950) de Christiane Lys. >

---
More Chanson > Letter "M"
---



French Music Index
French Rock & Pop


---