Charles Trenet "Boum! His Earliest Recordings: 1937-1943" (ASV Living Era, 1995)


As one of the French stars with the longest-lived careers, Charles Trenet had plenty of opportunity to re-record older material and continue along making records well into the 1950s and '60s, when much of the vigor was gone from the French chanson scene. These early tracks, however, capture him at his most robust and playful. Fun, sometimes zippy, sometimes sappy material with a touch of the "sweet" dance band sound. Features his buoyant theme song, "Boum!" and plenty of other rollicking, fun, upbeat tunes. Recommended!

Charles Trenet "Y'a D'la Joie" (Arkadia, 1997)


This well-programmed disc collects Trenet's best recordings from 1937-39, including, of course, "Boum!" and numerous other upbeat songs of equal caliber. There's big band-influenced swing, as well as a smattering of rumba and a few briskly paced romantic tunes. This is a very nice set, with eighteen songs that highlight young Trenet at his best. Highly recommended.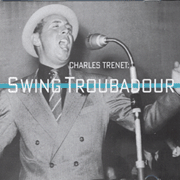 Charles Trenet "Swing Troubadour" (Arkadia, 2002)


A swell set of wartime recordings, from 1938-44, many of which are, once again, deeply tinged with American-style swing. Another tasty Trenet offering, and as with the other Arkadia collection listed above, perhaps a bit more compact and focused than other retrospectives... The downside, though, is the sparseness of the liner notes -- they note when the songs were recorded, and coo a few nice words about Trenet and his career, but other than that, they aren't terribly informative. Still, this is a great record to listen to, definitely recommended!

Charles Trenet "Cocktail Hour" (Allegro, 2000)


As with the other Allegro collections, this is an affordable, idiosyncratic and rather enjoyable. Two CDs for the price of one, with the main drawback being the complete lack of liner notes. It's barebones packaging, but spiffy musique. I'm not sure when these recordings were made -- some sound pretty old, others more recent. (NOTE: for more info about Charles Trenet, check out his epitaph in the Slipcue Obituary Section)


<! 108 x 108 >

Charles Trenet & Johnny Hess "Charles Et Johnny: 1933-1936" (Vanny, 1990)
An early reissue of the early duets of Charles Trenet and Johnny Hess. I've seen this album, but haven't heard it: the same material is covered in the more extensive Charles Trenet - Integrale collection, reviewed below.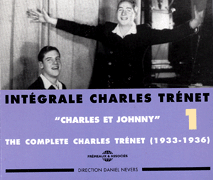 Charles Trenet "Integrale, v.1: 1933-1936 - Charles Et Johnny" (Fremeaux & Associes, 1996)


The French label Fremeaux may have the final word on the Trenet canon, with this authoritative chronological series of double-disc collections, tracing Trenet's career, step by step, year by year, song by song. This first volume gathers all of Trenet's collaborations with pianist-composer Johnny Hess, his first musical partner, whom Trenet met when they were both teens. Hess and Trenet shared a love for American-style swing, and when they started performing together, the Parisian jazz scene was coming into full bloom. The duet of Charles et Johnny swept through the city's cabaret circuit, and made Trenet a star. These early recordings burst with exuberance and good nature -- the boys were clearly having a blast. Included are all thirty-six songs released by the Pathe label, along with one alternate version, and two songs recorded with Fred Adison's big band, just before the duo dissolved its partnership in the Fall of '36. Although these tracks are buoyant and joyful, I would caution that they really need to sampled sparingly, taken in small portions, like fine French cuisine. Listened to end-to-end, it might be a bit much. It's great stuff, though -- I love vintage French swing songs! (Note: a separate collection of Johnny Hess's solo work is also reviewed in this section, under the letter "H.")
Charles Trenet "Integrale, v. 2: 1934-1938 - Y'a D'La Joie" (Fremeaux & Associes)

Charles Trenet "Integrale, v. 3: 1937-1941 - Boum" (Fremeaux & Associes)

Charles Trenet "Integrale, v. 4: 1943-1947 - Que Reste" (Fremeaux & Associes)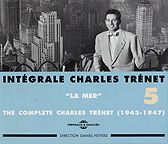 Charles Trenet "Integrale, v. 5: 1943-1947 - La Mer" (Fremeaux & Associes, 1998)


Wartime conditions meant that Trenet, like many others, went from project to project with less of a chance to develop a coherent artistic path (indeed, working at all under the Nazi rule was considered quite controversial...) The first disc of this 2-CD set features a hodgepodge of recordings, including numerous Trenet songs being covered by other artists (Lucienne Boyer, etc.) as well as performances culled from films (the soundtrack to 1943's Adieu... Leonard) and even an example of a Trenet song being re-recorded with altered lyrics, as part of the Allied radio propaganda campaigns (Pierre Dac's "La Compainte Des Nazis," which was a parody of "La Romance De Paris"). Trenet was criticized for touring and giving concerts during the Occupation, but his popularity was such that he transcended these complaints, and was not seen as a collaborator; regardless, in 1945 he was able to record "Liberte," ringing in the freedom from German rule, and on the second disc of this volume, his postwar recordings show greater stability and liveliness, as he recorded extensively with bandleader Albert Lasry. Another nice offering from the Fremeaux label!
Charles Trenet "Integrale, v. 6: 1939-1951 - L'Ame Des Poetes" (Fremeaux & Associes)

Charles Trenet "Integrale, v. 7: 1947-1951 - Formidable!" (Fremeaux & Associes)

Charles Trenet "Le Fou Chantant: 1937-1950" (Fremeaux, 2003)

---
More Chanson > Letter "U"
---



French Music Index
French Rock & Pop


---