<! MP3 09/25/08 > <! update 09/25/08 > <! pix > <! icons 02/02/11 > <! UPDATES: 08/01/12: MM-based update, new reviews, pix > <! StŽphane Golmann "Enregistrements Originaux: 1952-1954" (MM) Connu pour ses crŽations poŽtiques, fantaisistes et contestataires, StŽphane Golmann est avant tout un artiste complet au talent exceptionnel ! Juliette Greco "Je Hais Les Dimanches" (MM) >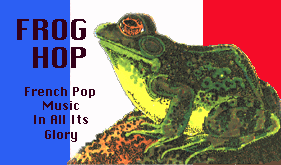 ---
CHANSON et MUSETTE
---
This page is part of a larger guide, reviewing various French chanson and musette recordings, focussing mainly on older, classic material, but also branching out to include some newer performers working in the same styles. Suggestions, recommendations and corrections are always welcome...
This page covers the letter "G"
---
Recommended Records: A | B | C | D | E | F | G | H | I | J | K | L | M | N | O | P | Q | R | S | T | U | V | W, X, Y & Z | Compilations | French Rock & Pop
---

Jean Gabin "La Compilation: 15 Titres" (Forlane, 1993)


Actor Jean Gabin, one of French cinema's first great male sex symbols, was also a heck of a singer. This collection opens with "Maintenant Je Sais," a later recording in which Gabin growlingly recites the text... I guess it was a hit at the time, but it stands out like a sore thumb and has a kitschy feel to it. Fortunately the rest of the album comes from his real heyday, the 1930s, and features Gabin crooning suavely over elegant, lively arrangements. It's great, classic stuff. Even includes a couple of charming 1928 comedic duets with Mistinguette.
Jean Gabin "Les Plus Grandes Chansons" (Coppelia, 2004)

Jean Gabin "L'Integrale" (Fremeaux & Associes, 2003)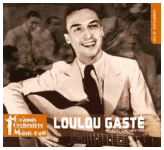 Loulou Gaste "Les Grands Orchestres Du Music-Hall" (Marianne Melodie, 2006)



Genteel, somewhat milquetoasty sweet-band music from a bandleader best known as a composer, and for establishing chanteuse Line Renaud as a major French star of the 1950s. Oh, and he's also known as the original composer of the song known in English as "Feelings": he had to sue Morris Alpert for credit and royalties, and finally won the case in the '80s. Gaste was a veteran of the Depression-era music-hall scene and formed his own band after working in the Ray Ventura orchestra; even for me this band is a little too prissy, with xylophones and harmonicas where trumpets ought to be... Some okay vocals, but nothing really amazing or particularly resonant. Worth checking out, I suppose, but I think I'd stick to Adilbert, Helian and Ventura instead.


<! Le Rythme amŽricain - http://www.mariannemelodie.fr/fr/musique/autres-styles/loulou-gaste-son-orchestre-rythme-americain-grands-orchestres-du-music-hall/2450047.html >

Lys Gauty "1930-1939" (Chansophone, 1996)





Lys Gauty "1932-1933" (Chansophone, 1996)

Lys Gauty "1933-1939" (Chansophone, 1996)

Lys Gauty "Lys Gauty" (Peters Music, 1997)





<! Lys Gauty (Alice Gautier) is perhaps the greatest of all the chanteuses. While some would prefer the more overt emoting of Piaf, the classically trained Gauty was the most vocally accomplished of all. She is by far the most subtle of her number, inflecting the text wonderfully according to the mood of each song and able to conjure up an astonishing range of vocal colours, from robust mezzo for "men's" songs to light soprano for more feminine numbers. In her hands, each song becomes a miniature play, and it's easy to see why she was one of Kurt Weill's favourite interpreters of his songs. The CD covers a good selection of her songs - its one drawback is that it will leave you wanting for more, and though she recorded extensively from the twenties to early fifties, there is little else available at present. (Amazon review) >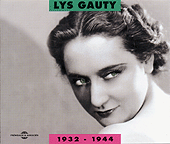 Lys Gauty "1932-1944" (Fremeaux, 2004)


One of the reigning chanteuses of the early 1930s -- before Piaf hit the scene -- Lys Gauty (nee Alice Gautier) sang in a more formal, classically-informed style than many of her contemporaries. Her voice was beautiful, her phrasing elegant, and yet many modern listeners may find themselves with a similar reaction as some of Gauty's cabaret contemporaries: that the diva was a bit of a prig, at least stylistically speaking. Although she dips lightly into genre styles such as accordion-driven musette and only the teensiest hint of Broadway-inflected jazz, Gauty was most at home with French stage and operetta music, and as such, her arrangements and vocal approach -- in particular, her emotional range -- all start to sound the same after a half-dozen tunes or so. She expressed distain for Latin-flavored material, and didn't seem to have much affinity for the blues, either, and while she was undeniably a great star of the Depression-era French popular song, her perfectionism and polish gives these recordings a smoothness that undercuts the otherworldly charm of recordings from that period. Some of it I like, but I have to confess listening to this collection was a bit of a chore, unlike many other recordings from the same era. Worth checking out, though -- she certainly had a lovely voice!


<! Disc: 1 1. Chaland Qui Passe 2. J'Aime Tes Grands Yeux 3. FinancŽe du Pirate 4. Chant de Barbara 5. Qui J'Aime? 6. Paris Dans Chaque Faubourg 7. DŽpart 8. Loin de Toi 9. Ballade du Cordonnier 10. C'est le Plaisir Que J'Aime 11. Mon Coeur Est LŽger 12. Isra'l Va-T-En 13. Chanson de l'Escadrille 14. Bistro de Port 15. Complainte de la Seine 16. Je Ne T'Aime Pas 17. Complainte DŽsabusŽe 18. Soir d'Hiver...Tard Disc: 2 1. Moulin Qui Jase 2. Nostalgie 3. Libre de Moi 4. Belle Escale 5. Revoir...Bon Voyage 6. 'a Sent la Friture 7. Mirages 8. Jour de DiffŽrence (What a Difference a Day Made) 9. Quel Beau Dimanche! 10. J'Attends un Navire 11. Sammy de la Jama•que 12. Dis-Moi Pourquoi?/Le Bonheur Est EntrŽ Dans Mon CÏur 13. Bassin de la Villette 14. Echanges 15. On Me Prend Pour un Ange 16. Aujourd'hui, Bal de Nuit 17. Soir Sur le Port 18. Echos > <! Lys Gauty "La valse au village (Dernire sŽrie)" through MM >

Henri Genes "Tantina De Burgos" (Marianne Melodie)






<! 25 titres inoubliables interprŽtŽs par Henri Gens entre 1950 et 1957 / Henri Gnes, chant > <! Georgel - on comps >

Georgius "Georgius" (EMI-Pathe, 1998)





<! several other Georgius titles >

Roland Gerbeau "Mes Chansons D'Hier A Aujourd'hui" (Marianne Melodie)








Roger Gerle "The Dansant Chez Roger Gerle" (Disque Az)



<! [ST1162] - different label? La voix merveilleuse du chanteur de charme Roger GerlŽ accompagnŽe par quelques-uns des meilleurs accordŽonistes des annŽes 40. 08/12: no ASIN >

Gilles Et Julien "1932-1936" (Chansophone, 1996)





Gilles Et Julien "Integrale: 1932-1938" (Fremeaux, 1998)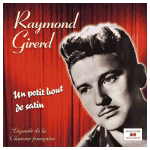 Raymond Girerd "Un Petit Bout De Satin" (Marianne Melodie, 2002)
A super-cornball crooner from the early 1950s who specialized in covers of foreign hits such as "Goodnight Irene" (here, in 1950 as "Bonsoir Irene"), "Mona Lisa" and others, along with French-composed hits of the era. Now, I like corny music as much as the next guy, but I have to confess Mssr. Girerd was too challenging for me... A round-toned, cheerful ham echoing some of the silky cool of Bing Crosby, but just a little too square overall. The orchestrations by bandleaders Jo Boyer, Emile Deltour, Jack Ledru and Raymond Legrand are equally unhip, plummy at times, mildly bombastic at others. This does have nostalgia/kitsch value, but more of the nudge-nudge, wink-wink kind, as opposed to the love-of-the-past archival type. It's okay, but it didn't resonate with me.
Yvette Giraud "Disques Pathe" (EMI)

Yvette Giraud "Volume 1: L'Ame Des Poetes" (Mariane Melodie)


Yvette Giraud "Volume 2: Raconte Grand-Mere" (Mariane Melodie)


Yvette Giraud "Volume 3: Un P'tit Peu D'Argent" (Mariane Melodie)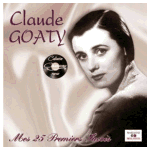 Claude Goaty "Mes 25 Premiers Succes" (Mariane Melodie) <! year? >


Modernized chanson from the 1950s, with brisk, glitzy pop orchestrations and a somewhat brusque vocal style from Ms. Goaty. Doesn't do much for me... it's too sterile and mannered, if you ask me.


<! Fred Gouin - on comps, faux EP series B004RCME0G B003O2CQQC >

Anny Gould "Printemps A Rio" (Mariane Melodie)





<! [MM1835] Anny Gould, notre grande Amie depuis plusieurs dŽcennies, continue de chanter et de nous enchanter, avec toujours sa belle voix grave, rauque et puissante; ne l'a t-on pas encore applaudie cette annŽe sur l'une de nos plus prestigieuses scnes parisiennes ? Aprs un premier volume consacrŽ ˆ Anny et paru dans notre prŽsente collection "LŽgende", le deuxime s'imposait et c'est avec un plaisir non dissimulŽ que Marianne MŽlodie vous invite ds aujourd'hui ˆ redŽcouvrir 25 nouvelles chansons de son rŽpertoire, toutes plus belles les unes que les autres, dont certaines marquŽes ˆ jamais par son Žcrasante personnalitŽ : "Sous le ciel de Paris", "Avril au Portugal", "Domino", "La plus belle nuit", "Padam, padam"... Des tubes, rien que des tubes, enregistrŽs au dŽbut des annŽes 50, et interprŽtŽs ˆ la perfection par Anny Gould, la plus inimitable de nos Artistes FŽminines de la Chanson Franaise. Also - EMI B000UQOFTQ "Cocktail Party 1954-1955" >

Anny Gould "Copacabana" (Mariane Melodie)


Anny Gould "Anny Gould" (EMI-Pathe, 1998)

Francisco Grandey "Mes Chansons Du Soleil" (Marianne Melodie)






<! Juliette Greco >

Juliette Greco "La Muse De Saint-Germain: 1950-1957" (Fremeaux, 2009)

Juliette Greco "Juliette Greco" (EPM)






<! an alt CD ASIN available >

Juliette Greco "Je Suis Comme Je Suis" (Universal, 1998)



A 2-CD set...
Juliette Greco "Jolie Mome: 1959-1963" (Philips, 2001)

Juliette Greco "Deshabillez Moi: 1965-1969" (Philips, 2001)

Juliette Greco "xxxxxxxxxxxxxxxxxxxxx" (Marianne Melodie)


Juliette Greco "xxxxxxxxxxxxxxxxxxxxx" (Marianne Melodie)






<! Fabia Gringor 1950s on a few comps >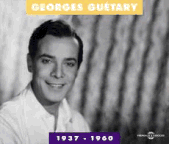 Georges Guetary "1937-1960" (Fremeaux, 2011)



Excellent! This 3-CD set profiles French vocalist Georges Guetary, a star of the 1940s perhaps best known to American audiences for his role as Henri, in the film "An American In Paris." Guetary was a Greek immigrant, born and raised in Egypt, who came to Paris as a teenager and who quickly came into the spotlight thanks to his uncle's connections to the classical music salon scene. He became a protegee of the chanson diva Mistinguett, and was poised to become a star himself when World War Two interrupted life as usual; by the early 1940s, however, he had several hits under his belt, and he became a headliner before the war was over. This collection is quite strong, tracking Guetary's career from his rare first recording (made under his real name, Lambros Worloou, in 1937) to later pop-vocals material in the late '50s and early '60s. The songs are sentimental yet sincere, flowery but not saccharine, bridging the trilling style of of French operette and more tragic romanticism of chanson pop ballads. Included are two tracks from the "An American In Paris" and an entire CD's worth of recordings with bandleader and arranger Jo Moutet, which many consider the apex of Guetary's career. This retrospective towers over other Guetary collections I've heard elsewhere: the scope and the pacing are superb, allowing listeners to really settle into the singer's gentle, joyful vibe, and shows the progression of Guetary's art as well as the changing musical modes of several decades' worth of song. An excellent, authoritative overview of a classic French performer.

Georges Guetary "Ma Belle Marguerite" (ASV Living Era, 2003)


Goofy, grandiose, deliciously schmaltzy performances by this bombastically cheerful chansonnaire. These two dozen performances come from later in his career, the years between 1946-51, which coincided with Guetary's greatest successes in the world of film. It opens, lamentably, with a quartet of English-language songs taken from the film Bless The Bride, followed, thankfully, with a dozen or so songs sung in French, and this is where the fun really begins. He slips back and forth between linguistic barriers -- I by far prefer the French stuff, but it's nice to hear his songs from An American In Paris, the film that most folks in the non-Gallic world will know him from.
Georges Guetary "In Paris: 1941-1966" (DRG, 1990)

Georges Guetary "Les Plus Grandes Chansons" (Coppelia, 2004)

Georges Guetary "Bolero" (EPM, 2001)

Yvette Guilbert "La Fiacre" (Pearl, 1991)

Yvette Guilbert "Ses Grands Succes" (EPM)

Yvette Guilbert "Chansons De La Belle Epoque" (Etoiles De La Chanson, 1999)







Yvette Guilbert "Yvette Guilbert" (Music Memoria)
<! A rather prim set of recitals, accompanied for the most part with a single, solo piano. Guilbert's style is simple, declarative, authoritative, and unadorned; her diction is grand and unchallengable, as well as unmistakably antique and somewhat schoolmarm-ish. This might not be for everyone, but it certainly has the delights of antiquity about it, and will envelope receptive listeners in the comforts of a remote, patrician past. >


<! Amazon France: B00004S6DZ >

---
More Chanson > Letter "H"
---



French Music Index
French Rock & Pop


---