<! MP3 09/25/08, 02/02/11 > <! update 09/25/08 > <! pix > <! icons 02/02/11 > <! UPDATES: 08/01/12: MM-based update, new reviews, pix >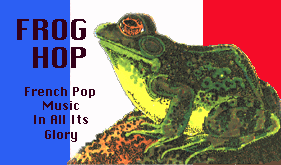 ---
CHANSON et MUSETTE
---
This page is part of a larger guide, reviewing various French chanson and musette recordings, focussing mainly on older, classic material, but also branching out to include some newer performers working in the same styles. Suggestions, recommendations and corrections are always welcome...
This page covers the letter "N"
---
Recommended Records: A | B | C | D | E | F | G | H | I | J | K | L | M | N | O | P | Q | R | S | T | U | V | W, X, Y & Z | Compilations | French Rock & Pop
---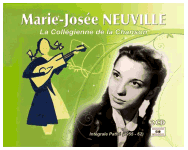 Marie-Josee Neuville "La Collegienne De La Chanson - L'Integrale Pathe: 1955-1962" (Marianne Melodie, 2010)



A generously programmed 2-CD selection of folkie-acoustic recordings by "the schoolgirl of chanson," teenaged Marie-Josee Neuville, whose guileless, plainspoken vocals are in some ways a precursor of the French ye-ye teenybopper rock scene... Disc One is dominated by acoustic recordings, just Ms. Neuville singing solo while strumming her guitar; on Disc Two they add light pop arrangements and these tracks are more charming and musically diverse, including a few goofy rock/R&B approximations. She really does straddle the worlds of old-school chanson and rock, fitting roughly into the same ecosphere as Annette Funicello or Connie Stevens in the USA. Not great, but kind of cute.

Noel Noel/Raymond Souplex "Les Princes De L'Humour Montartois" (Forlane, 1992)


Two comedic singers whose solo recordings (Noel's work dating from 1930-32, Souplex's from 1934-35) are gathered together on this generously programmed disc. A diehard fan of French cabaret may find this a real gem -- musically, though, these tracks may be too firmly anchored in the traditions of the music hall. The halting, nudge-nudge delivery of these world-play romps is less inviting and less rewarding than other chansonniers of the time, who managed to be both glib and melodic. Historically of interest, but not that much fun just taken as music.
---
More Chanson > Letter "O"
---



French Music Index
French Rock & Pop

---