<! MP3 09/25/08 > <! update 09/25/08 > <! pix > <! icons 02/02/11 > <! Raymond Wraskoff - bandleader Jean Yavote Eddie Warner "...Et Sa Musique Tropical" (Marianne Melodie) 07/12: no ASIN Eddie Warner "Mambo En Sax" (EP) (Vintage Music, 2011) B0040EZUNO - MP3 >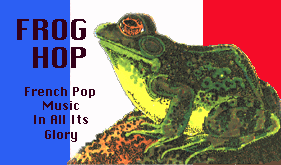 ---
CHANSON et MUSETTE
---
This page is part of a larger guide, reviewing various French chanson and musette recordings, focussing mainly on older, classic material, but also branching out to include some newer performers working in the same styles. Suggestions, recommendations and corrections are always welcome...
This page covers the letters "W", "X", "Y" and "Z"
---
Recommended Records: A | B | C | D | E | F | G | H | I | J | K | L | M | N | O | P | Q | R | S | T | U | V | W | X, Y & Z | Compilations | French Rock & Pop
---
Michel Warlop "Modernistic: 1933-1943" (EPM, 1993)


French violinist Michel Warlop came onto the booming Parisian music scene of the 1930s as an accompanist for such stars as Germain Sablon and Maurice Chevalier; in his own work he pursued a more swinging style, drawn to the "hot" jazz of gypsy guitarist Django Reinhardt and his longtime partner, violinist Stephane Grappelli. Warlop also indulged in somewhat riper, more romantic material, popular dance music with an orchestral hue -- this generously programmed album gathers fine examples of both styles. Among the any musicians are Django and Joseph Reinhardt, Alix Combelle, Andre Ekyan, and a host of French jazz and pop luminaries. Nice collection of a lesser-known French jazz pioneer. Includes some fun vocal numbers, too!
John William "Si Toi Aussi Tu M'abandonnes" (Marianne Melodie, 2007)





<! http://www.mariannemelodie.fr/fr/musique/chanson-retro/john-william-si-toi-aussi-tu-m-abandonnes-collection-voix-d-or/2433043.html Versions originales (1951-1955). Si, jusqu'ˆ aujourd'hui, et en compagnie de sa fille Maya, John WILLIAM s'est consacrŽ, en France et ˆ travers le monde, aux rŽcitals de Gospel et de Negro Spirituals dans les Žglises et les basiliques, il nous a paru indispensable de rappeler aux jeunes gŽnŽrations qu'il fut, ds le dŽbut des annŽes 50, l'un des chanteurs les plus populaires, en mme temps que le crŽateur d'immortels succs et le merveilleux interprte des plus belles chansons de films dans lesquelles sa voix chaude et grave fit merveille. Les fidles admirateurs de ses dŽbuts retrouveront avec Žmotion les chansons qu'il a enregistrŽes ˆ partir de 1952 qui, jusqu'ˆ ce jour n'ont jamais ŽtŽ rŽŽditŽes sur CD dans leurs versions originales. Cette impardonnable lacune se trouve aujourd'hui heureusement comblŽe avec la parution de cet album. John WILLIAM, de son vrai nom Armand Huss, est nŽ le 9 octobre 1922 ˆ Grand-Bassam prs d'Abidjan en C™te d'Ivoire, d'un pre "toubab" (ce qui signifie blanc) d'origine alsacienne et d'une mre ivoirienne. Avec ses parents et ˆ l'‰ge de huit ans, il quitte la terre natale pour s'installer en France afin d'y poursuivre des Žtudes pour devenir ingŽnieur des Arts et MŽtiers. Durant les difficiles annŽes d'occupation il doit exercer diffŽrents mŽtiers dont celui de mŽcanicien dans une usine ˆ Montluon. Dans cette mme ville, en 1944, il participe activement au sein d'un rŽseau de rŽsistance ; mais un sabotage ayant eu lieu dans l'usine qui l'emploie, il est pris en otage, arrtŽ par la Gestapo et dŽportŽ au camp de concentration de Neuengamme en Allemagne. DŽlivrŽ par les services de la Croix-Rouge suŽdoise, il rentre en France en 1945 et retrouve ˆ Montluon ses camarades de captivitŽ qui se souviennent des chansons qu'il interprŽtait instinctivement et "a cappella", mais dŽjˆ d'une belle voix grave et chaude, pour leur remonter le moral les soirs de cafard. EncouragŽ par ses compagnons d'infortune, John WILLIAM, comme beaucoup, "monte" ˆ Paris et dŽcide de se consacrer exclusivement ˆ la chanson en prenant sŽrieusement des cours de chant au Conservatoire de la Chanson que dirigent Rose No'l et Paul BarrŽ. Les qualitŽs indiscutables de sa voix le font immŽdiatement remarquer et c'est au cinŽma "Les Folies" dans le quartier de la RŽpublique qu'il signe son premier contrat pour passer en attraction et dŽbuter dans le monde de la chanson. Pourtant la consŽcration ne lui parvient que quelques annŽes plus tard, aprs sa rencontre avec Pierre HiŽgel, directeur artistique des disques PathŽ, homme de gožt, avisŽ et intelligent (oui, cela existait et se cumulait ˆ l'Žpoque !). >
John William "Toi, Dans Ta Chapelle" (Marianne Melodie, 2007)

---
More Chanson > Compilation Albums
---



French Music Index
French Rock & Pop



---