<! MP3 09/25/08 > <! update 09/25/08 > <! pix > <! icons 02/02/11 > <! UPDATES: 08/01/12: MM-based update, new reviews, pix > <! Claire Elzicre "La Vie Va Si Vite" (Saravah, 2003) B000087RG3 B0013GKBPY Claire Elzicre "Chansons D'Amour De Paris" (Fremeaux, 2010) B0038P935W >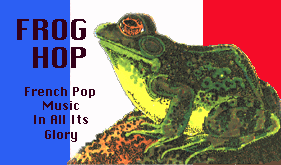 ---
CHANSON et MUSETTE
---
This page is part of a larger guide, reviewing various French chanson and musette recordings, focussing mainly on older, classic material, but also branching out to include some newer performers working in the same styles. Suggestions, recommendations and corrections are always welcome...
This page covers the letter "E"
---
Recommended Records: A | B | C | D | E | F | G | H | I | J | K | L | M | N | O | P | Q | R | S | T | U | V | W, X, Y & Z | Compilations | French Rock & Pop
---
Claire Elzicre "La Vie Va Si Vite" (Saravah, 2003)






<! modern artist >

Claire Elzicre "Chansons D'Amour De Paris" (Fremeaux, 2010)


Eliane Embrun "Eliane Embrun" (EMI-Odeon/Disques Pathe, 1998)


A delightful 2-CD set of classic postwar recordings by one of the softest and most restrained singers of French chanson's golden era. Actually, Embrun became famous just as that era was coming to a close, first recording in 1947 (when this collection begins) at the very juncture when French popular music, like its American counterpart, was losing the rough edges of its roots and tilting towards the "classy" orchestral stylings of the "pop vocals" sound. There are hints of that change in Embrun's work, but she largely seems to have held onto the spirit of early chanson -- romantic, sad, evocative, wonderful. More important than her repertoire, though, was Embrun's voice: it is divine. I was instantly taken by her mellow, relaxed approach, and the simple richness of her tone. This is a marvelous retrospective, gathering her best work on the Pathe label, from 1947-1953, working with a variety of bandleaders (Raymond Legrand, Albert Lasry, Daniel White and others...) It's great stuff: if you see this album, don't hesitate to pick it up.




Eliane Embrun "La Fontaine Aux Fees"



<! Eliane Embrun "La fontaine aux fŽes" MM latin themed? >

Michel Emer/Various Artists "Les Chansons De Ma Jeunesse" (Marianne Melodie, 2006)






<! hit songs by composer Michel Emer, covered by a variety of artists >

---
More Chanson > Letter "F"
---



French Music Index
French Rock & Pop


---